My friends Sher and Sam visited in January, which made for the perfect excuse to plan a new Norwegian adventure.
I always try to share my Norway itineraries, as personally I get so much inspiration from other people's itineraries when I'm planning a trip. And I put a lot of thought into this one, as this was Sher and Sam's first visit to Norway, so I wanted them to experience a good variety of places. I also really wanted them to fall in love with Norway so that they would visit me again. And I think I achieved that? I mean, I really hope so.
And yes, this was a winter trip, but you could do this any time of year – this route would be particularly magical in the summer, as it includes lots of islands and coastal stops.
First of all, I wanted to include a big city. While a lot of people start their Norway trips in Oslo or Bergen, I personally prefer Trondheim, plus that way we could focus more on the northern half of the country, which is my favorite area as the landscape is the most dramatic and there's the midnight sun in the summer and northern lights in the winter.
They then really wanted to see Lofoten, because Instagram, which made for a good end point because it's far north enough for good chances of seeing the northern lights.
But I've also sort of gone off Lofoten lately. Or at least, while the islands are undeniably beautiful, they've become so touristy that I don't feel like they really give visitors a sense of what Norway is all about. And so I decided to include a couple of islands along the Helgeland coast, for a more authentic taste of Norwegian island life.
Personally I think these islands are equally as beautiful as Lofoten, and I swear the Helgeland islanders are the loveliest people in Norway.
I did have to think for a while about how best to share this itinerary with you, because it involved a lot of driving, and I planned it out of Mosjøen, because that's where my car and I live. But you probably won't be flying in and out of Mosjøen. I mean we do have an airport, but it's tiny and flights can be expensive.
Sam and Sher flew into Trondheim and out of Evenes, up north by Lofoten, connecting to their international flights in Oslo. So it would be ideal if you could do the same, but then there's the matter of the car.
Probably the hardest thing about planning a road trip in Norway is that in most cases you'll need to pick up and drop off your rental car in the same location. Sometimes you can pay a fee to drop off somewhere else, but it is not cheap. And because most of Norway is long and thin with just one main highway running from north to south, it's not always possible to plan your road trip in a loop. In other words, at some point you're likely going to have to turn around and drive the same route back to where you came from.
But I think I've come up with a few ways to get around that with this itinerary, combining car and train journeys and switching around a few of the destinations.
This is a two week trip, though you could very easily extend it for longer, and I'll give some suggestions for how to do so at the end. Alternatively you could make this shorter, cutting out one or two of the stops, or even just doing half of it – either from Trondheim up to Mosjøen or Mosjøen up to Bodø (I would recommend the latter, unless you really want to see Trondheim).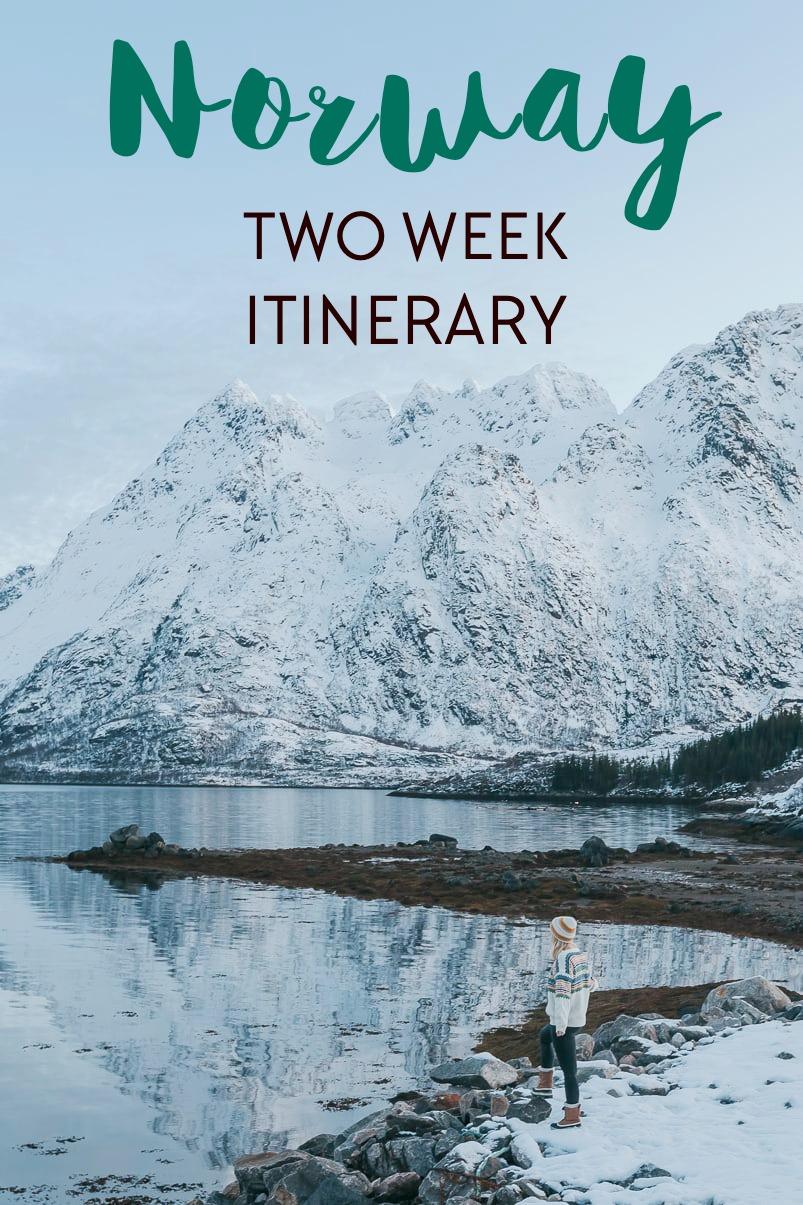 Day 1: Arrive in Trondheim
I love starting a trip in Trondheim, and I think it makes for the perfect introduction to Norway.
The downtown area is really pretty and the Bakklandet neighborhood has those cute colorful wooden houses that Norway is known for, but it's also a proper city, which we don't really have in northern Norway (Tromsø has a population of only about 70,000 and feels more like a big town).
Trondheim accommodation
We kicked our trip off in style by staying at the Britannia Hotel in downtown Trondheim. The Britannia Hotel first opened in 1870 and over the years has hosted many notable guests including royals from Norway, the UK, and the US (Beyoncé and Jay-Z, of course). Last year the hotel completed a massive renovation, and the inside now is seriously impressive.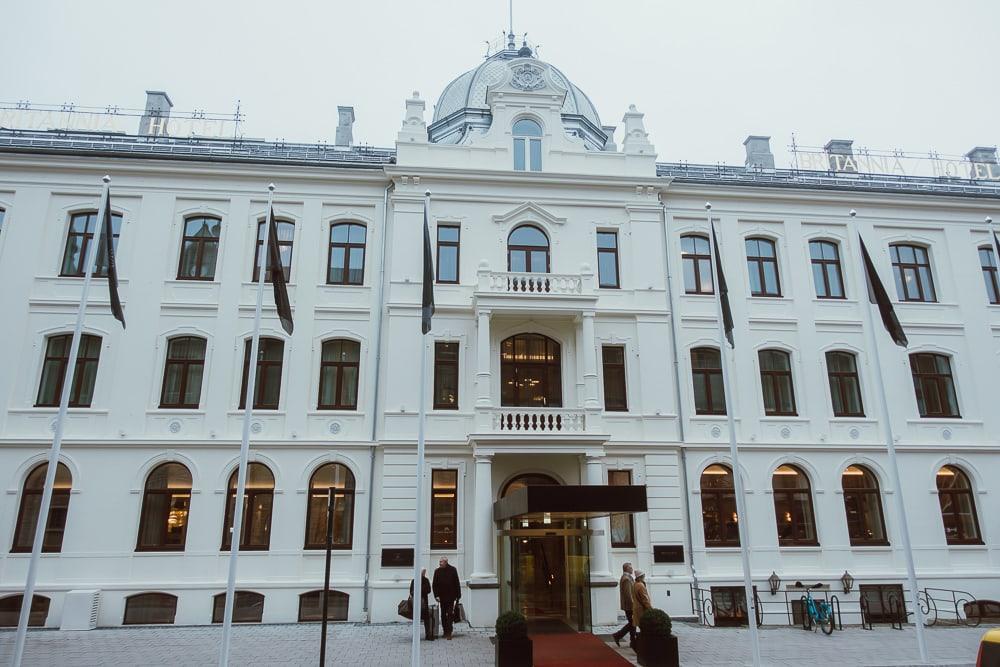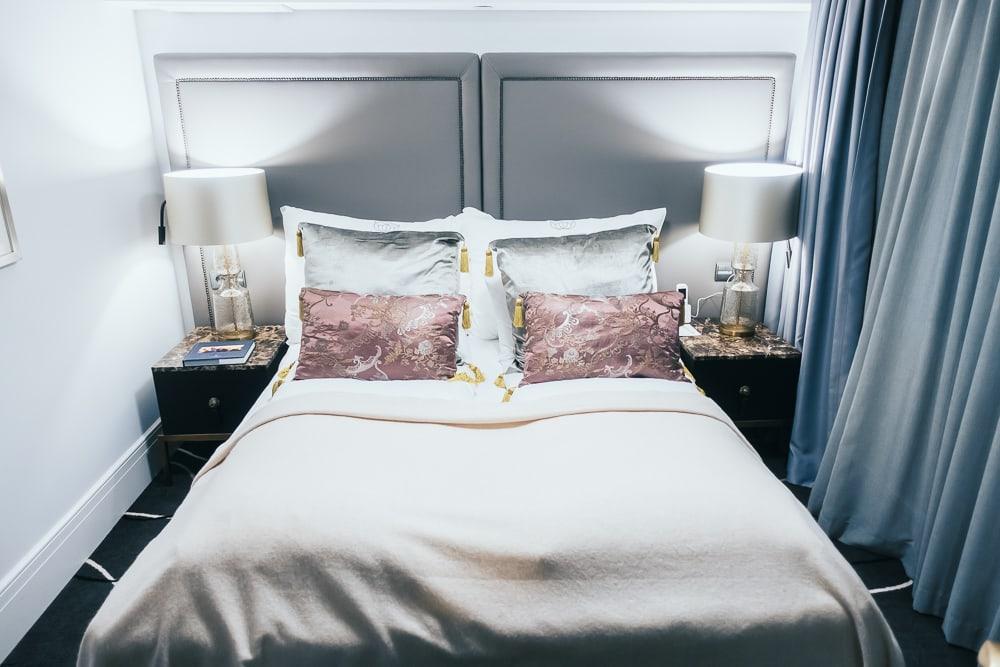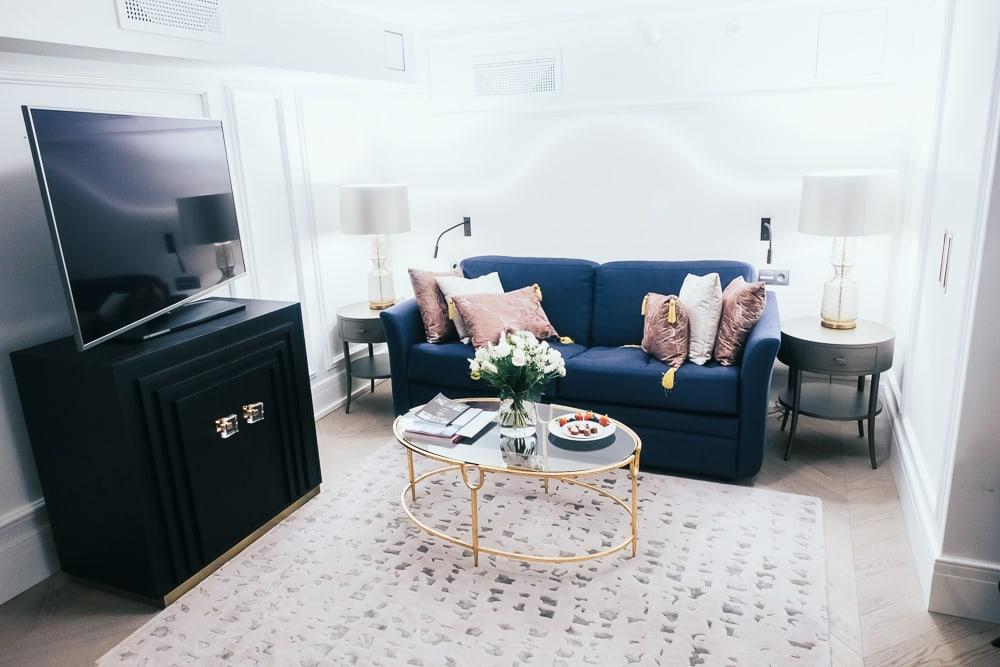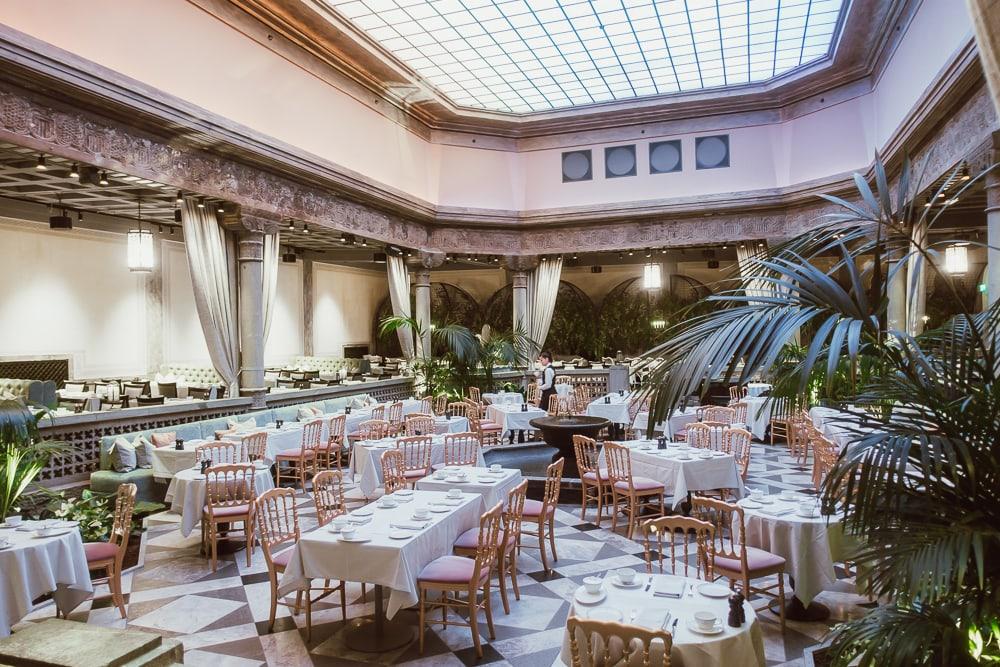 You can find more Trondheim accommodation options for every budget here.
Day 2: Trondheim
While you could stay longer in the city, one full day is really plenty of time to see Trondheim's highlights.
I used to live in Trondheim so I could go on and on about all there is to do there. Oh wait, I already have – you can find my guide to things to do in Trondehim here.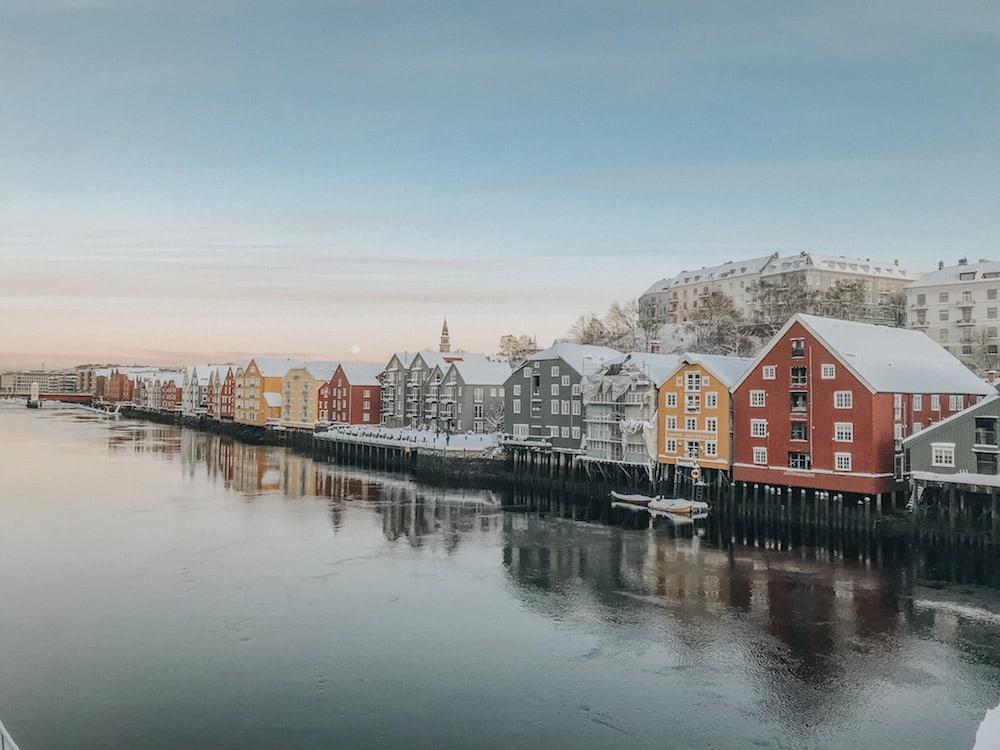 Day 3: Trondheim to Mosjøen
We got the evening train to Mosjøen, but if you're visiting in the winter and want views out your window you should get the morning train. Though to be honest this train ride goes through a lot of flat, boring areas, so you won't be missing much if you go at night instead, plus then you can spend the first half of the day in Trondheim.
You can book your train tickets at vy.no up to three months in advance – the earlier you book, the cheaper the tickets will be.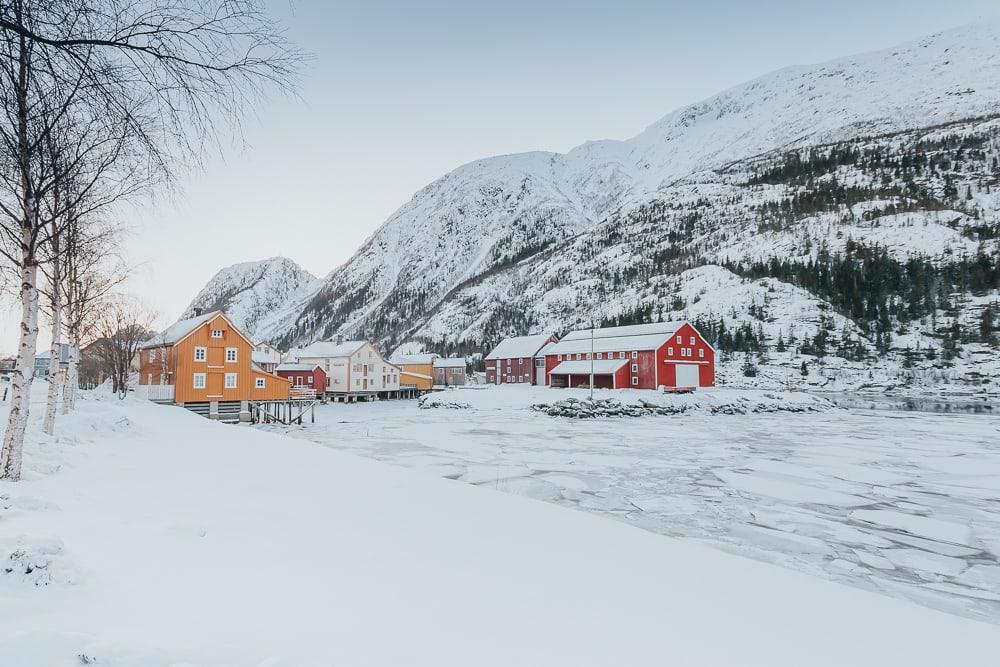 Mosjøen accommodation
The nicest hotel in Mosjøen would be Fru Haugans Hotel, right at the end of Sjøgata. Dating back over 200 years, Fru Haugans is Northern Norway's oldest hotel and while I haven't actually stayed here, I've eaten at their restaurant Ellen, which is excellent, and their bars tend to be the center of nightlife here. Check prices and availability here
I've also stayed at Mosjøen Hotel, which is right across the street from the train station, and about a ten minute walk to the town center. The hotel is older but perfectly comfortable, and I'd say this is the most convenient place to stay since it's right by the station, so you won't have to walk far with your luggage. Check current rates and availability here
On my first visit to Mosjøen I stayed in one of the historic apartments on Sjøgata, which are self-catering holiday apartments on Mosjøen's most beautiful street. They are decorated to look like they did in the 19th century, and while they're more basic you'll certainly feel immersed in the culture staying here. You can book the apartments here.
There are also a few Airbnb options in Mosjøen, which you can find here. And if you're new to Airbnb you can get a discount by signing up through my link here. 
Day 4: Mosjøen
Okay so obviously I included Mosjøen in our itinerary so that I could show Sher and Sam where I live, but actually I think Mosjøen is worth the visit on its own as well. It's a really cute town with lots of cosy cafes and restaurants, and the history of how Mosjøen developed and grew from a small port town to an industrial center is really interesting and offers a great look into life in northern Norway.
I've written more about things to do during a visit to Mosjøen here. Definitely take a stroll down Sjøgata, our historic street downtown, and pop into the museum at Jacobsenbrygga to learn more about the area and its history. They also have a really cute gift shop where Sher and Sam bought some Norwegian knitted mittens – a must if you're visiting in winter.
View this post on Instagram
Day 5: Husky sledding in Susendal
This was my favorite day of our trip, mostly because huskies, but also because Susendal was so beautiful covered in snow.
First off you'll want to pick up your rental car. There are a few car rental places in Mosjøen, so you can compare prices on AutoEurope. The Avis office is most central, while the others are a bit of a walk from downtown, but you can probably get them to pick you up at your hotel if you ask nicely.
And then you can drive to Susendal! Susendal is about an hour and a half from Mosjøen, though it took us closer to two hours because of all the snow. Okay and maybe I'm a really slow driver.
The weather along the Norwegian coast can be unpredictable, and you're never guaranteed snow, even as far north as Tromsø, so if you want a true winter experience in Norway it's always a good idea to spend some time inland or in the mountains. Mosjøen already tends to have a lot more snow than the coast, but Susendal was even snowier when we arrived.
I've been husky sledding in Susendal before, and it's still probably my favorite husky sledding place in Norway. Linda of Aaslid Polar houses the huskies on her farm and you can see that each of the dogs totally adores her.
This experience was particularly fun because we started during daylight and then continued into the night. There's something so incredibly peaceful about sledding in the dark, especially through the Susendal woods, where we were often making our own tracks.
And if you're visiting in the summer, I'd still recommend a trip out here, as there are tons of hiking trails! It's a really peaceful part of the country and I'd say one of the best quiet escapes I know.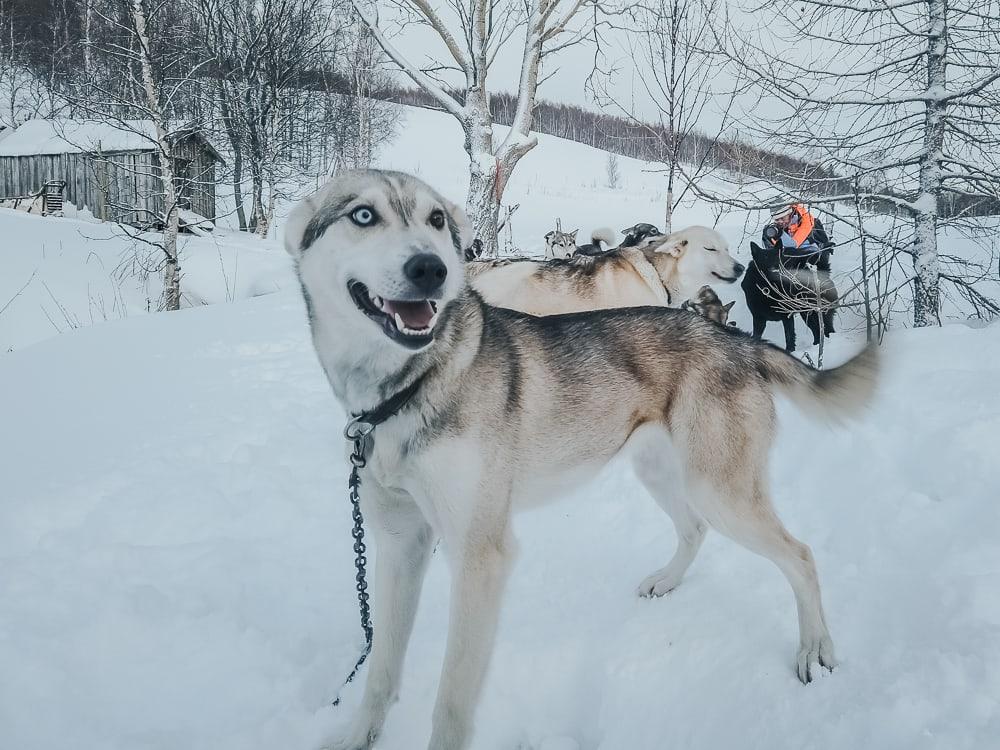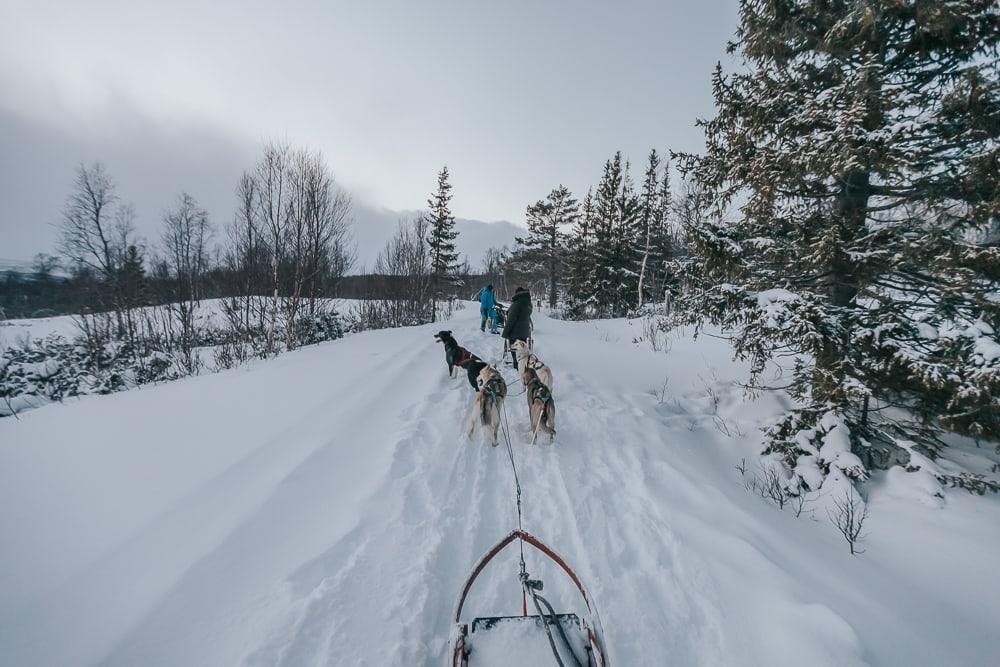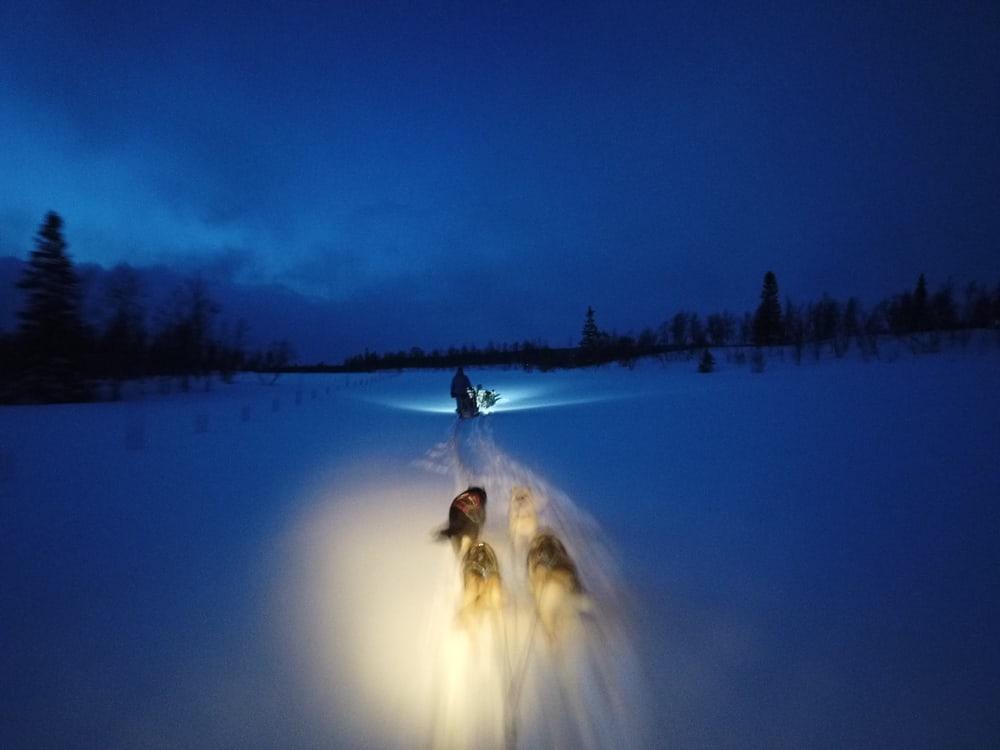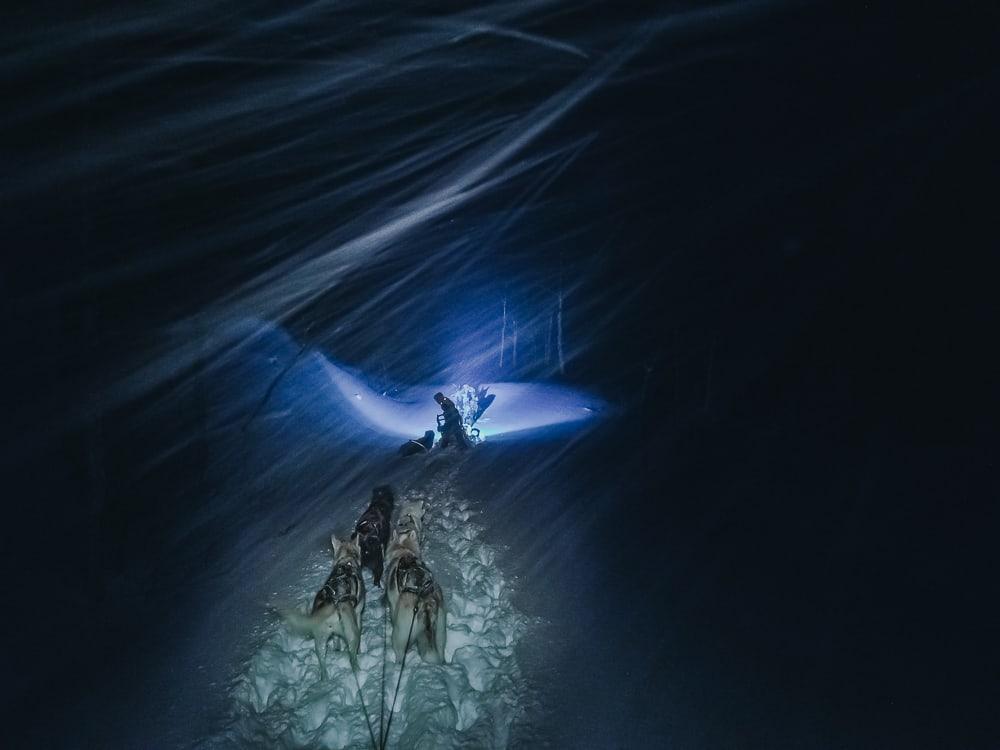 Susendal accommodation
Depending on when you finish, you might want to spend the night in Susendal, or somewhere on the way to Brønnøysund to shorten your drive tomorrow.
In Susendal I've stayed at Furuheim Farm, which I absolutely love. The woman who runs it is so sweet, and it's a great way to get a peek into rural life in Norway. I'd especially recommend this if you're traveling with a family, as a farm stay is so much fun!
This cabin near Trofors would be another great option, otherwise I would check Airbnb and look for something on the way to Brønnøysund (this vacation home looks nice).
Day 6: Brønnøysund
Today you'll drive to Brønnøysund and depending on when you arrive, you could either catch the ferry to Vega today or explore around Brønnøysund for the day. The Vega ferry leaves from Horn, which is about a fifteen-minute drive from Brønnøysund. You can check the ferry schedule here – you'll be leaving from Horn (Brønnøy) and going to Igerøy (Vega).
Brønnøysund is a cute little coastal town, and as it's one of the Hurtigruten stops it is set up quite well for tourists. That said, I'm pretty sure we were the only tourists visiting in January. But it was still lovely! It's definitely at the top of my bucket list for summer now though – I would love to see Brønnøysund and Vega in the summertime.
I've written more about our visit to Brønnøysund here.
Brønnøysund accommodation
We spent the night at the Corner Hotel in downtown Brønnøysund. The rooms are basic, but the location was perfect, the staff friendly, and rooms come with breakfast. Check current rates and availability here
The seaside cabins at the Aquaculture Center are also super cute, though they are a fifteen minute drive out of town. Check current rates and availability here
And then you could also stay at Torgarhaugen for budget friendly accommodation right across from Mount Torghatten. Check current rates and availability here
Day 7: Vega
The Vega archipelago is a UNESCO World Heritage Site and a fantastic place to learn about Norway's coastal history. The islands are also stunning and there are some lovely hikes here. We went up the Vega Stairs, which has beautiful views out over the coast and other islands.
I've written more about our visit to Vega here.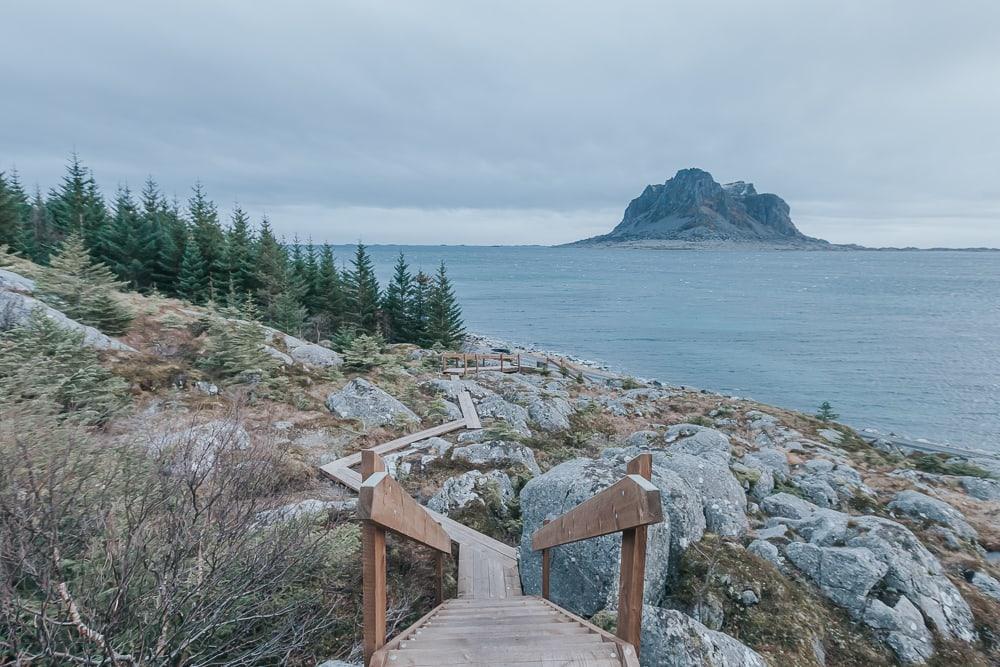 Vega accommodation
On Vega we stayed in a lovely cabin right on the water at Vega Opplevelsesferie. I loved being on the water, and the cabin had a kitchen so we were able to make dinner and breakfast here. Plus there was a cosy wood burning oven, for optimum hygge. Check current rates and availability here 
And then again there are a bunch of lovely looking options in Vega on Airbnb, which you can find here.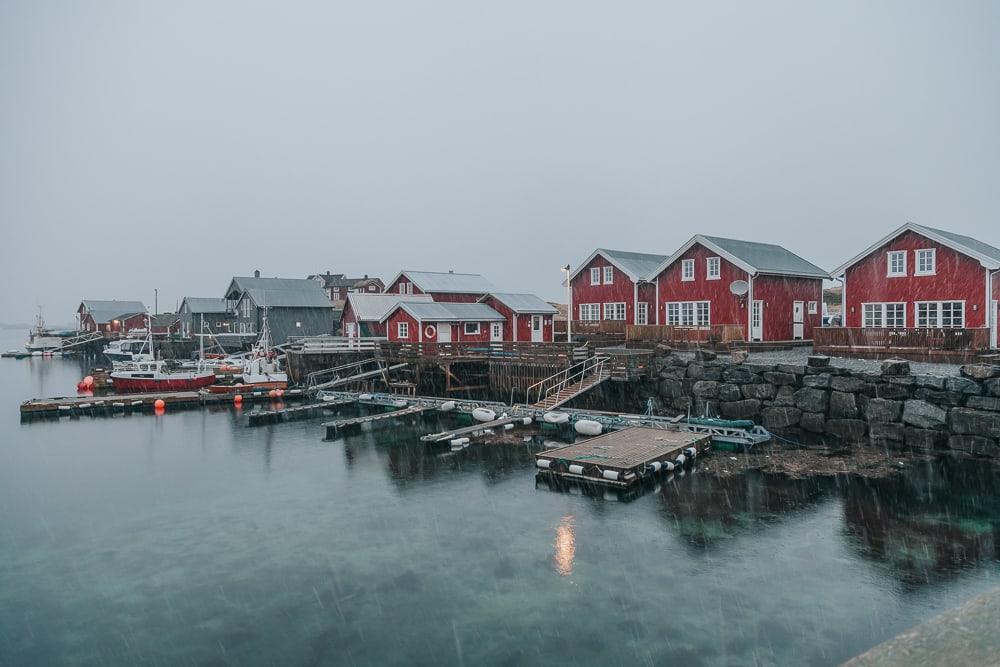 Day 8: Vega towards Stokkvågen
Vega is just a bit too far from Lovund to make the journey in one day (also because of the ferry schedule), so you'll need to break up the journey somewhere. We drove back to Mosjøen and spent the night there, mostly because we could stay at my apartment for free.
But I would actually instead recommend you take the coastal road up towards Stokkvågen, where you will catch the ferry to Lovund tomorrow, and spend the night somewhere along the coast. That way you don't have to drive the same road back to Mosjøen, plus the coastal route is incredibly beautiful.
The only thing you'll need to be careful about is timing your ferries. Easiest would be to get the ferry from Igerøy (Vega) to Tjøtta, near Sandnessjøen, which is more direct and will cut out one ferry. But the Igerøy – Tjøtta ferry only goes a few times a week during the winter (Tuesdays and Fridays, with an evening departure on Sundays), so you'd need to time your visit accordingly.
Otherwise you'll need to get the ferry from Igerøy back to Horn, and then from Horn to Andalsvågen, and then the ferry from Forvik to Tjøtta. And then if you're going all the way to Nesna you'll get the ferry from Levang to Nesna. None of these have to be booked in advance – you pay by credit card on board – but you do need to time your drive so that you make all of the ferries (the times are set up so that usually if you make the first ferry you can make all of them). You can check all the ferry times here.
If you wanted to extend your trip, you could also spend a night or two on Dønna or Herøy.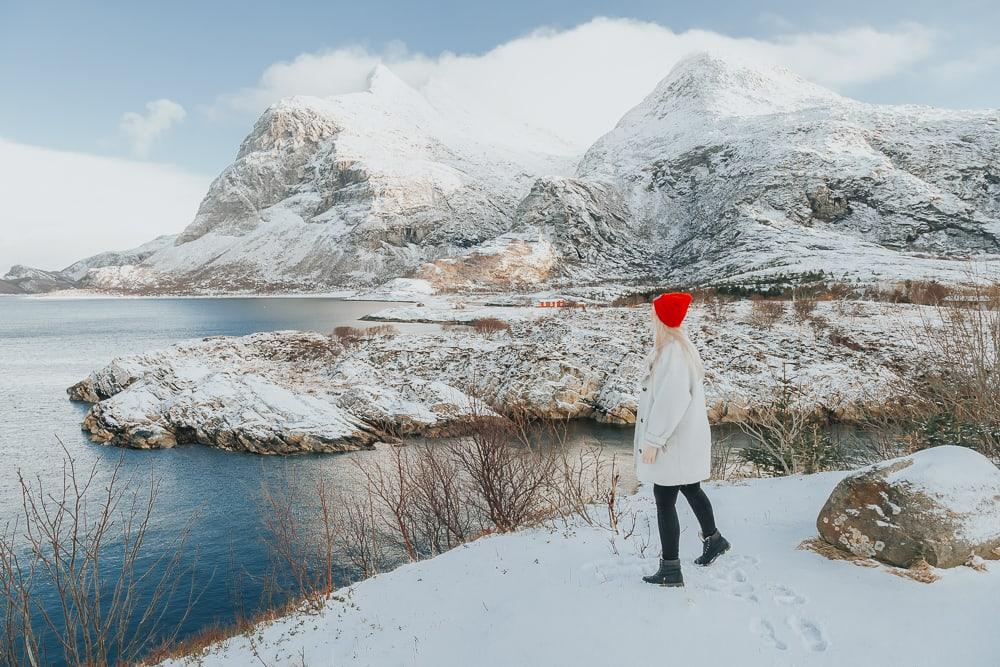 Helgeland coast accommodation
If you want to stay at a hotel, the Scandic in Sandnessjøen is a great option, or if you're up for the long drive you could stay at Havblikk Helgeland. Or you could check Airbnb for somewhere to stay along your drive – search for Sandnessjøen and then look at the map view to find a place on your route. Some places do require longer stays, but both this cabin on the water and this cottage look lovely and are open for single night reservations.
I keep recommending Airbnb because a lot of Norwegians have cottages and cabins that they rent out (which is great, because otherwise they'd sit empty for a lot of the year), and cabin life is such a key part of Norwegian culture that it's something you definitely want to experience while here.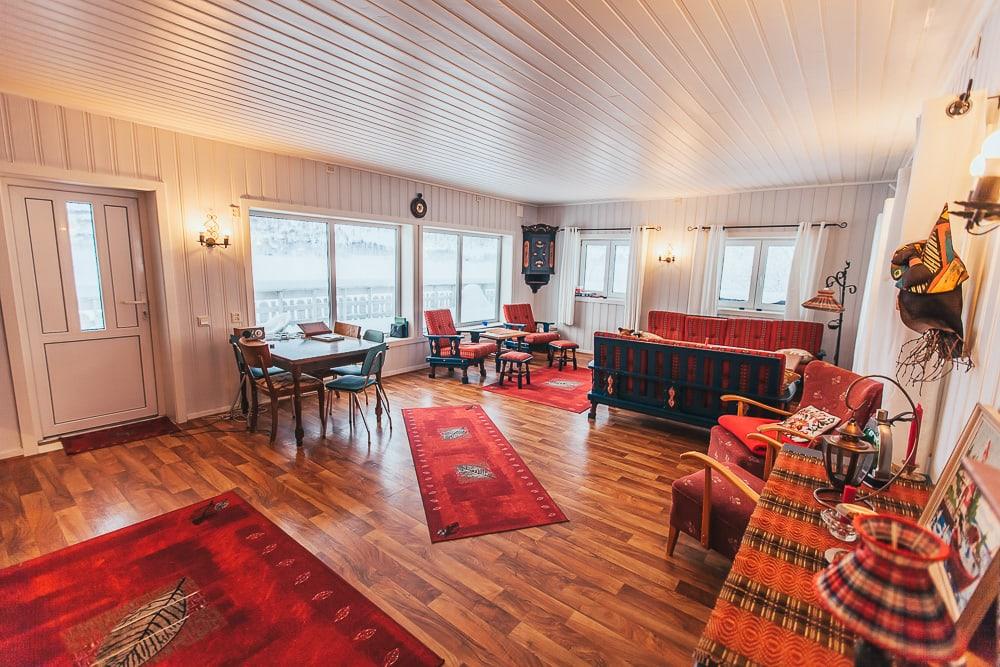 Day 9: Lovund
Aside from husky sledding, Lovund was probably the highlight of this trip for me, so I would definitely try to fit it in if you can (if you only have time for one island I would choose Lovund over Vega).
You'll get the ferry from Stokkvågen to Lovund, and while there is a car ferry going to Lovund there's no need to bring a car there – plus that way you can take either the ferry or the passenger boat. There's free parking at the Stokkvågen ferry terminal, so I left my car there for the night we were on Lovund.
I've written about our visit to Lovund here.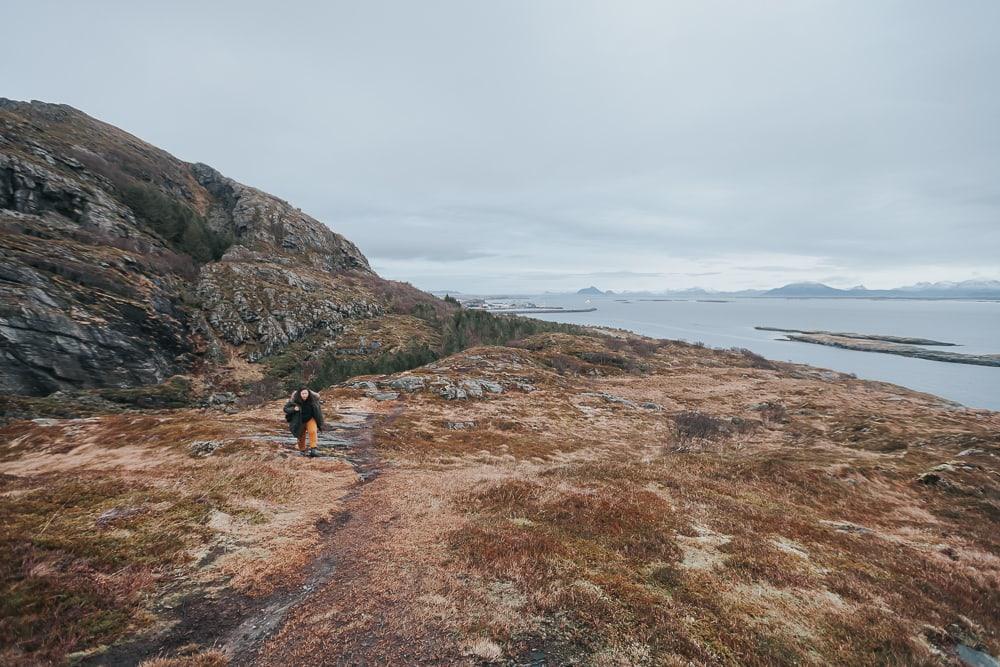 Lovund accommodation
We stayed at Lovund Hotel, which is an experience in itself. The restaurant especially is fantastic, and the views from the rooms are stunning. I'd say this is one of my favorite places I've stayed in quite a while, and definitely worth the trip to Lovund. Check current rates and availability here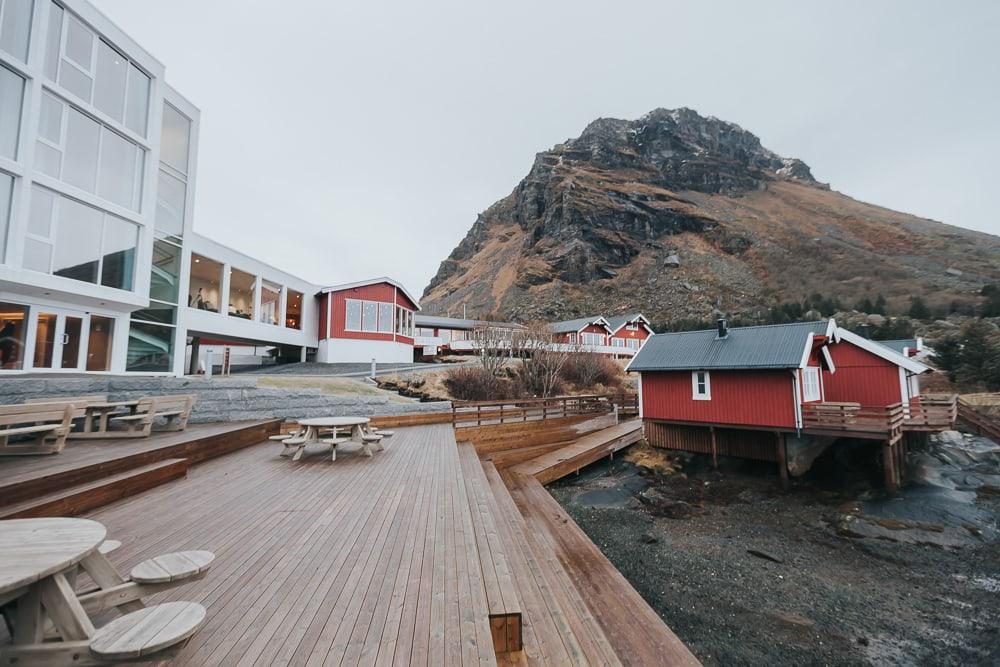 Day 10: Lovund to Nesna to Mosjøen
From Lovund we headed north towards Lofoten, overnighting at Ulvsvåg Guest House before getting the ferry from Bognes to Lodingen the next morning and then driving down through Lofoten.
But if you've rented a car in Mosjøen you'll want to head back there to return it, unless you're happy to make the drive from Lofoten back down to Mosjøen at the end of your trip, which honestly would be more of a pain than it's probably worth.
The drive from Stokkvågen to Mosjøen takes two and a half hours, but I would recommend breaking it up with a stop in Nesna.
VisitNesna have a RIB safari, where you can go out on their boat to see sea eagles! I haven't done this myself but I've been meaning to. I think this would be a great addition to the itinerary, as it's always fun to get out on the water, even in the winter. And the sea eagles here are definitely worth seeing.
I did a similar sea eagle safari in Lofoten (which actually you could also do when you're up there!) and was amazed by how much I loved it.
And then in the evening you can return your rental car and overnight in Mosjøen.
Mosjøen accommodation
This time I'd opt for Mosjøen Hotel, so you'll be right by the train station. Check current rates and availability here 
Day 11: Mosjøen to Bodø
Today you'll get to experience Norway's most beautiful train journey! The train from Oslo to Bergen and the Flåm railway are probably the two most famous train journeys in Norway, but I find the train ride from Mosjøen to Bodø much, much more beautiful and dramatic.
If you want to extend your trip, you could take the train to Mo i Rana and spend a night there, maybe renting a car for the day and hiking to the spectacular Marmorslottet. 
Once you arrive in Bodø you'll want to get a rental car to take across to Lofoten. Public transport in Lofoten is very limited, so I would definitely try to have a car there, if at all possible. Sixt is my go-to car rental in Norway, but you could also compare prices here.
It's probably easiest to pick up your rental car when you arrive at the train station in Bodø, but if you want to save money on parking and the rental fee you could pick up your car in the morning instead. Bodø is quite walkable, so you should be able to get from the station to your hotel on foot.
If you have time to explore Bodø, I've written about visiting Bodø in winter here, and things to do in Bodø here.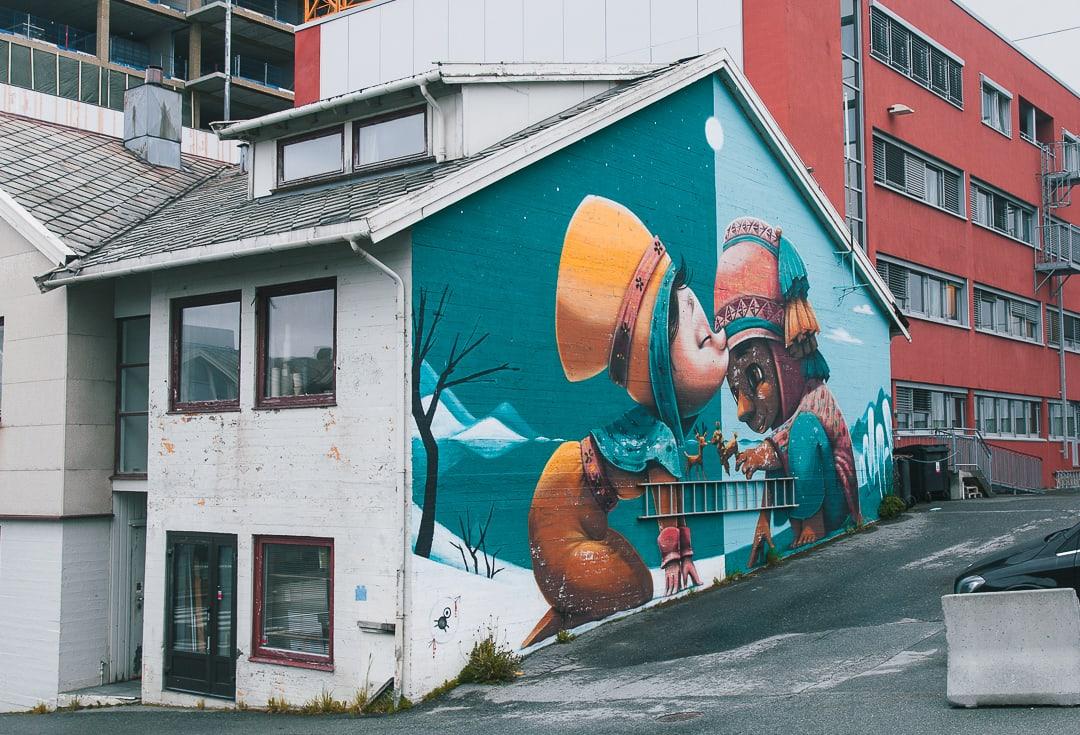 Bodø accommodation
There are a lot of hotel options in Bodø, but my favorite is the Thon Hotel Nordlys, which has the best breakfast buffet in all of Norway – no exaggeration!
I've also stayed at both the Scandic Bodø and Bodø Hotel, both of which are also very nice and a bit cheaper than the Thon Hotel. And then if you want a good budget option near the station, City Hotel is perfect. In fact if you're happy to stay somewhere basic, City Hotel would be the most convenient location.
Day 12: Bodø to Lofoten
Today you will get the ferry from Bodø to Moskenes in Lofoten. You actually might want to book this in advance here (though usually it's fine to show up the day of). And sometimes the voyage can get rocky, so if you're prone to motion sickness bring some Sea-Bands!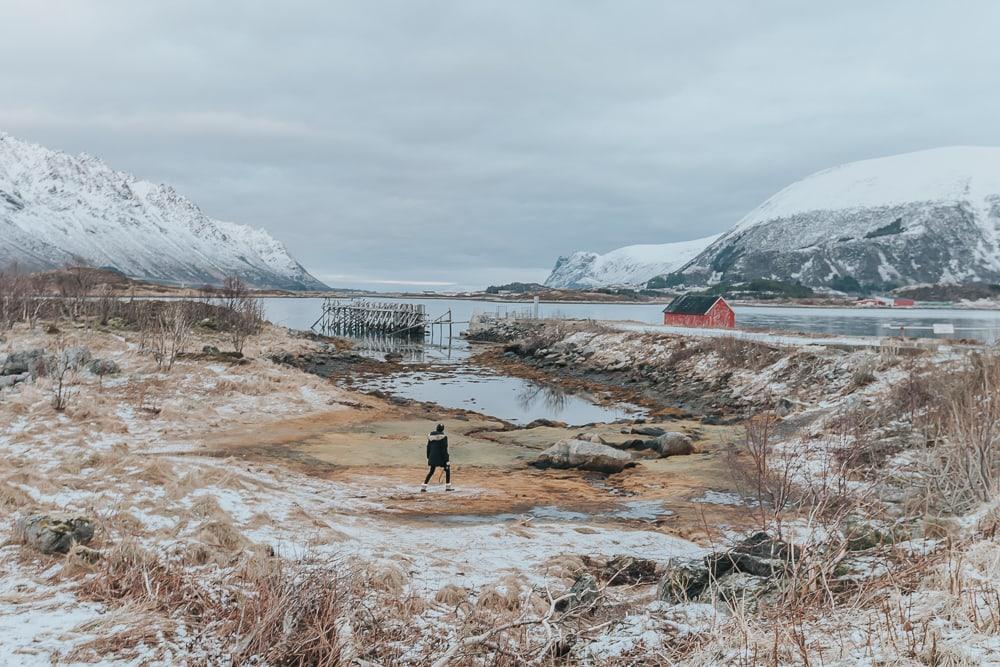 Lofoten accommodation
There are so many accommodation options on Lofoten, so first I would try to narrow down to where you want to stay.
Southern Lofoten is the prettiest, with lots of cute fishing villages, but it's also the most touristy. Personally I wouldn't want to stay here in the summer as it gets so crowded with visitors, but if you're visiting in the winter it won't be quite as busy.
In the south I absolutely love Eliassen Rorbuer on Hamnøy. Here you get to stay in one of these pretty red cottages!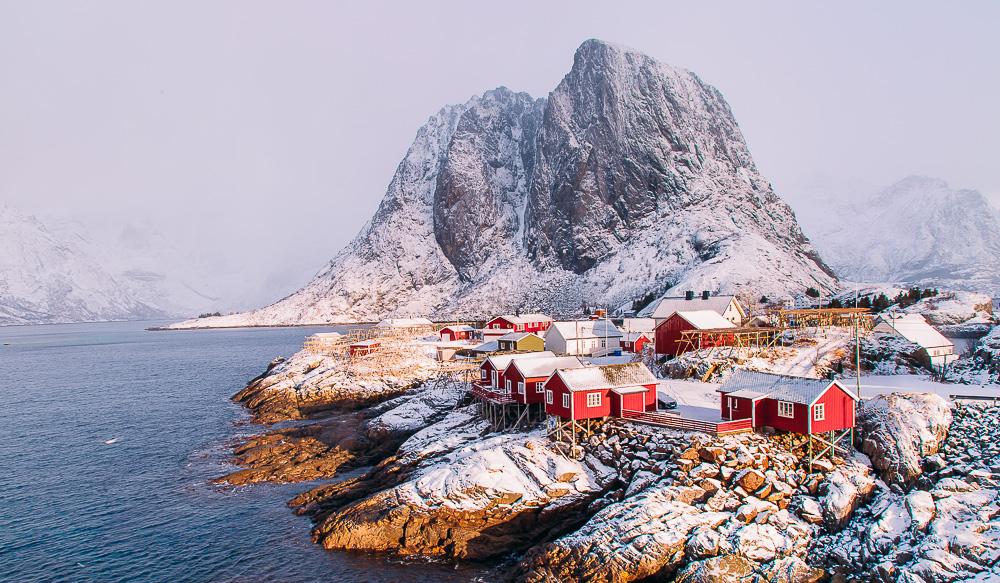 And then farther north my usual go-to is Svinøya Rorbuer, which also has super cute red fisherman cabins right on the water.
This time we stayed at the Scandic Svolvær, which again was right on the water. It's also right by the harbor so especially convenient if you'll be doing any tours leaving from Svolvær harbor.
And if you want to get off the beaten path a bit, I can highly recommend Lofoten Links Lodges on Gimsøy, which is ideally situated for northern lights viewing. In fact this is actually the only place I've managed to see the northern lights from Lofoten. The cabins have huge windows facing north, and Gimsøy is super dark, which is perfect for aurora hunting.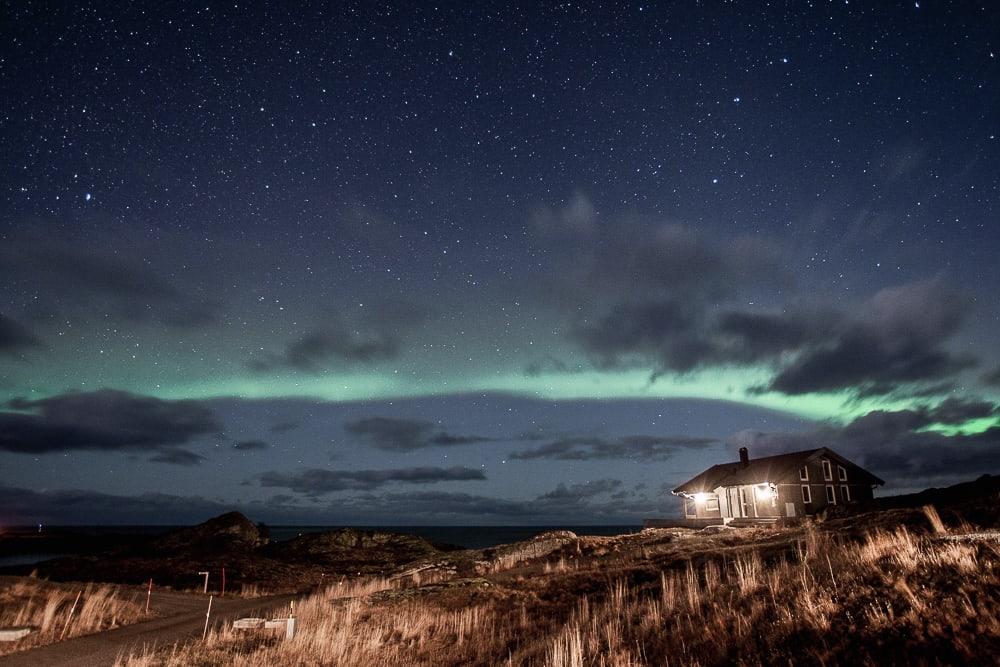 Day 13: Lofoten
You can of course spend as long on Lofoten as you wish, but I would definitely try to have at least one full day here to explore – two or three would be even better.
I have a bunch of Lofoten travel guides, including planning a Lofoten road trip, things to know for your Lofoten trip, horseback riding in Lofoten, taking a day trip to Lofoten, and taking a sea eagle safari in Lofoten.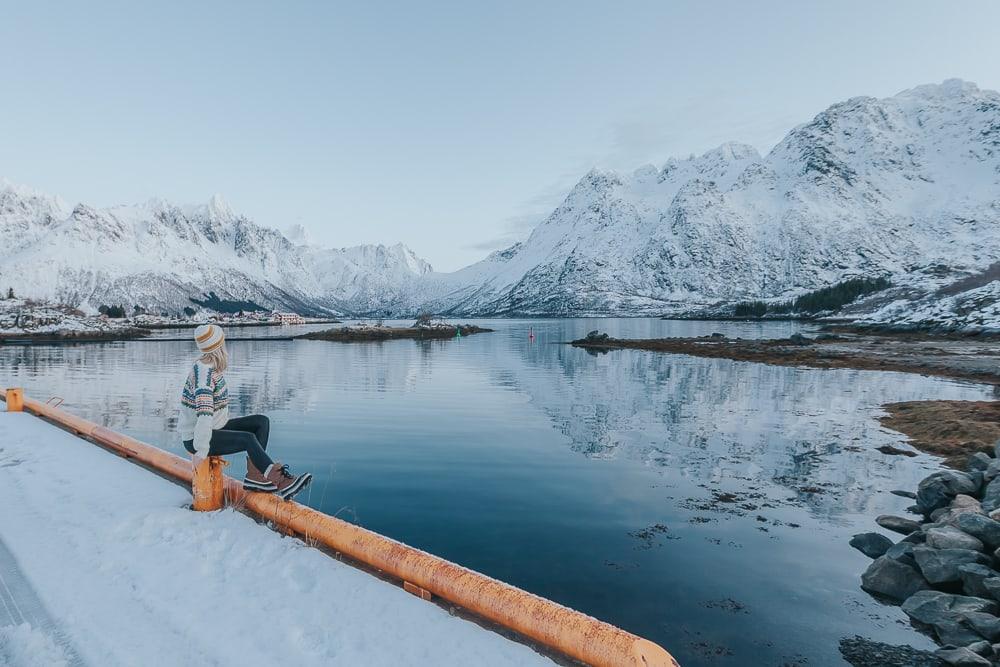 Day 14: Lofoten to Bodø -> Home
And then when you're ready you can get the ferry back to Bodø, return your rental car, and fly home from Bodø! You might need to spend an extra night in Bodø, depending on when your flight leaves and when the ferry gets in.
If you want to extend your trip, you could drive from Lofoten up to Vesterålen. Vesterålen is a bit less touristy than Lofoten, plus you can see whales and reindeer here! I've shared more things to do in Vesterålen here.
And then from Vesterålen you could continue over to Narvik and spend a night in this incredible Arctic Dome. From Narvik you can drive back down to Bodø to return your rental car and fly home.