After finishing up at the sea eagle safari in Svolvær, I headed to the island of Gimsøy, which my Northern Lights tour guide Jann had told me is one of the best places in Lofoten to see the Northern Lights. But I wasn't just driving up in search of the aurora – I was going horseback riding!
Hov Gård Riding Centre offers horseback riding tours along the beach, facing the midnight sun in the summer and, if you're lucky, the Northern Lights in the winter. They have 48 Icelandic horses, and meeting them was such a unique thing to do on Lofoten.
This area of Lofoten is also believed to have been an important landing point and home for Vikings over a thousand years ago. So it's definitely worth spending some time here. I stayed at the Lofoten Links Lodges, which are brand new lodges near the golf course and riding center. It was incredibly peaceful, plus it's just really beautiful there!
At least, it looked beautiful in the dark. Unfortunately I had to leave the next morning at 4 am to drive up to Vesterålen to catch a whale safari (it's hard to complain about getting up early when you're about to see whales), so I never got to see Hov in the daylight.
And because I was leaving so early the next day, I joined an early horseback riding tour. They also offer tours around 10 pm, but while I was there they had a group stopping with the Hurtigruten earlier, which meant that I could get a bit more sleep, but also that we were out a bit too early for the Northern Lights. Because while it's definitely possible to see the aurora early in the evening during polar night, with the way the aurora oval is positioned, usually chances are better a bit later at night.
But still, riding along the beach was so lovely, and a nice break from my hectic travel schedule. Our guides told us how Icelandic horses are the descendants of the horses of Norway's Viking Age, and it was crazy to think about the Vikings that could have been riding on this same path so many years ago.
I also secretly appreciated that it was too dark to take photos, as I could just sit back and relax. I did try to snap a photo of my horse and one of the guides when we got back though – isn't she so pretty?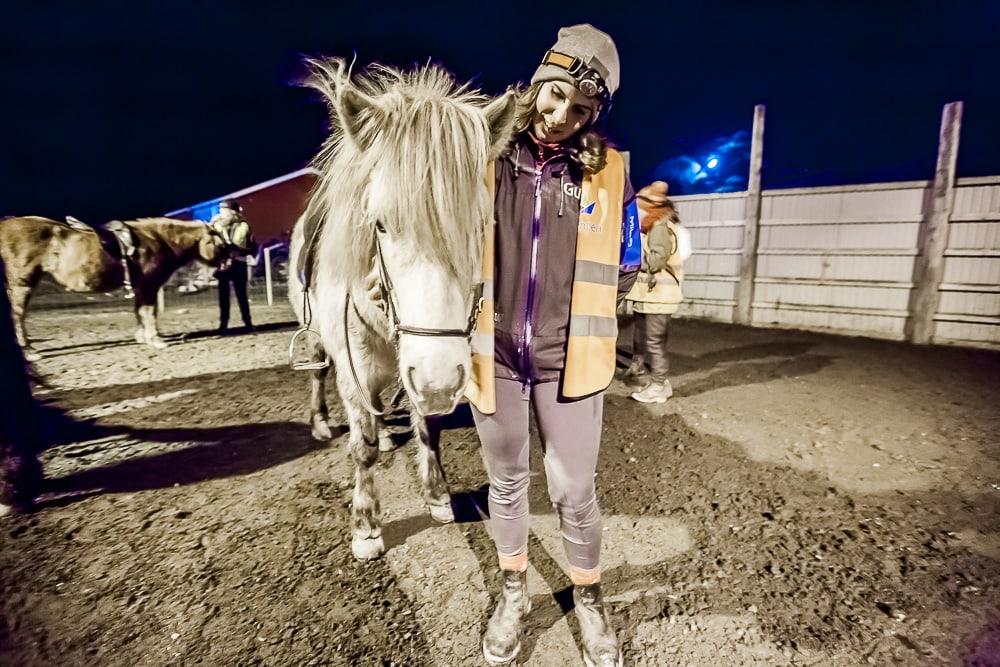 All of the horses are really gentle and know the route we walked well, so it didn't matter that the last time I was on a horse was… I don't know – in Kyrgyzstan? In other words, a long time ago.
Even if you're not into horses, the Hov farm is a really special place to visit on Lofoten. It's now owned and run by Frode Hov, who also grew up here, and in fact the farm has been in his family for hundreds of years. You can tell that he's really passionate about the area, and he even recently renovated the old barn into a restaurant and concert area now called Låven at Hov.
While I was staying there Låven was hosting many Christmas parties with live music, so I even got to have an early Christmas dinner with pinnekjøtt and Norwegian caramel pudding.
The restaurant is also open for regular meals during other times of the year too – you can find the hours here.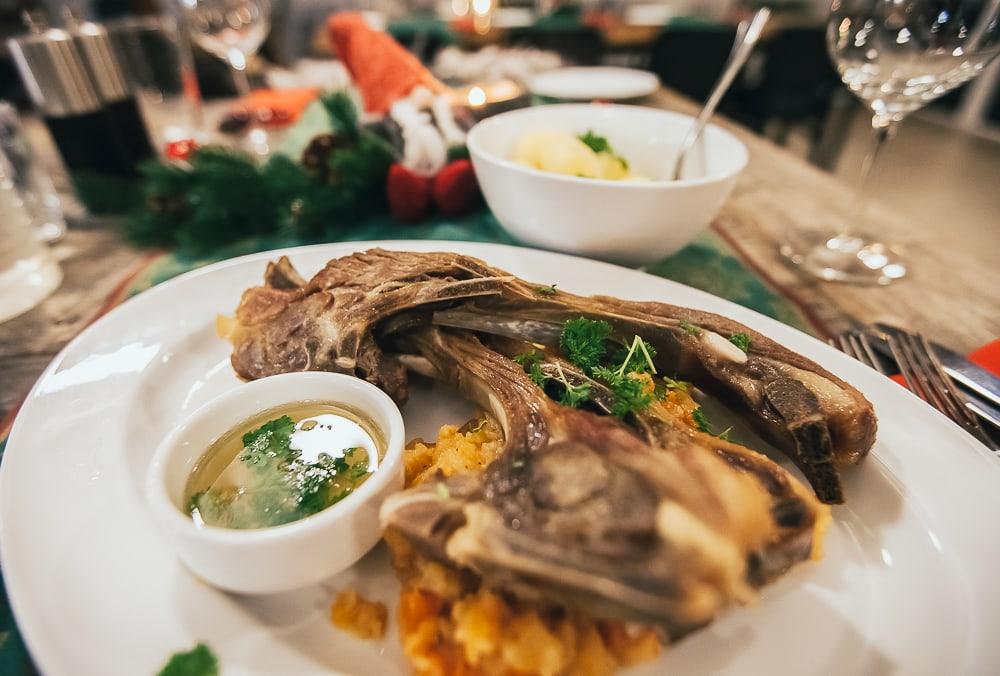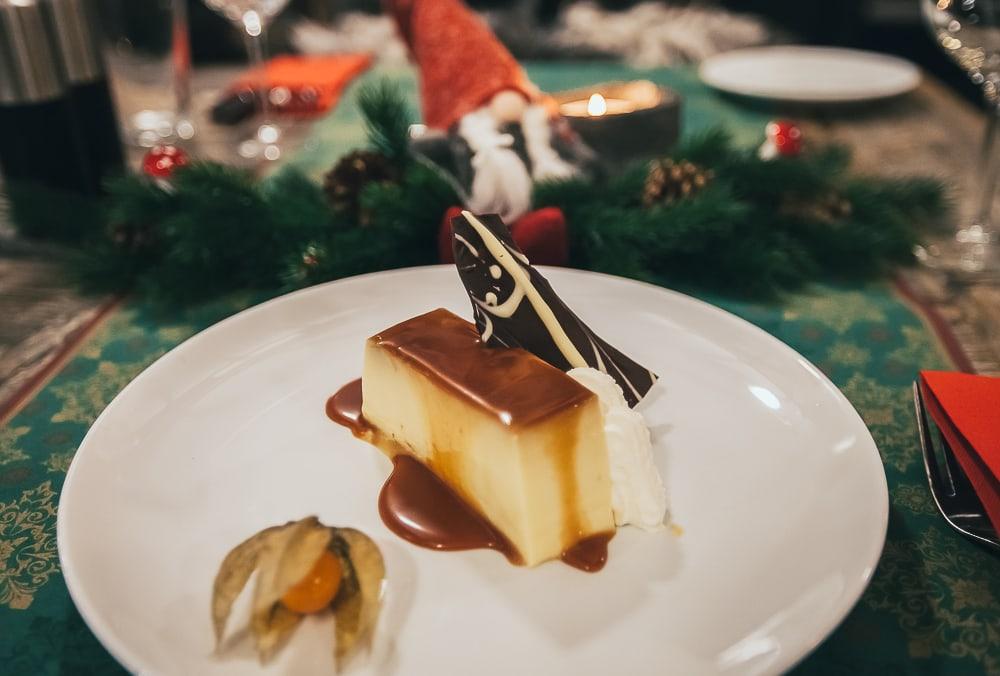 I love how they've used their old milk jugs for lamps!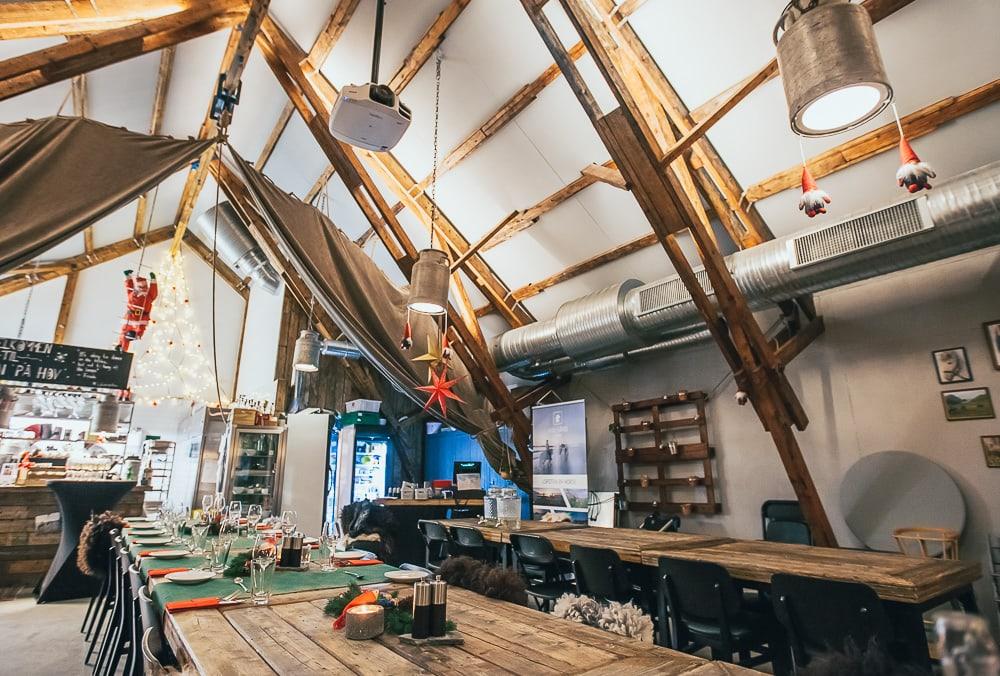 My lodge at Lofoten Links Lodges was just a short drive down the road from the farm. I was surprised by how big it was – and immediately wished I could call my friends to come join me – and I loved the huge glass windows facing north for the northern lights and midnight sun. You can check availability and rates at Lofoten Links here.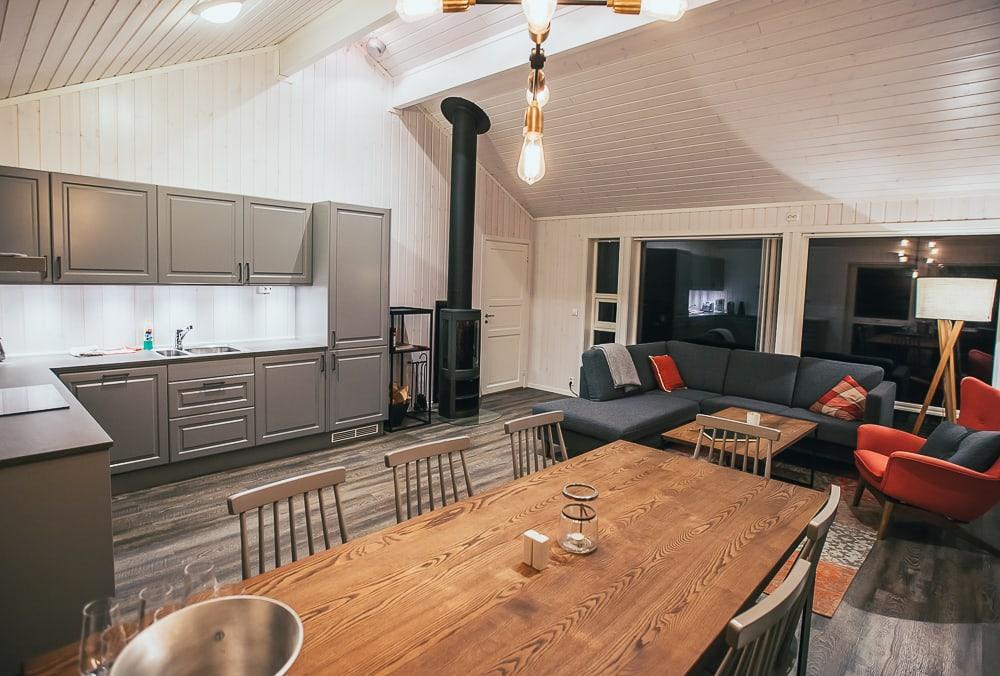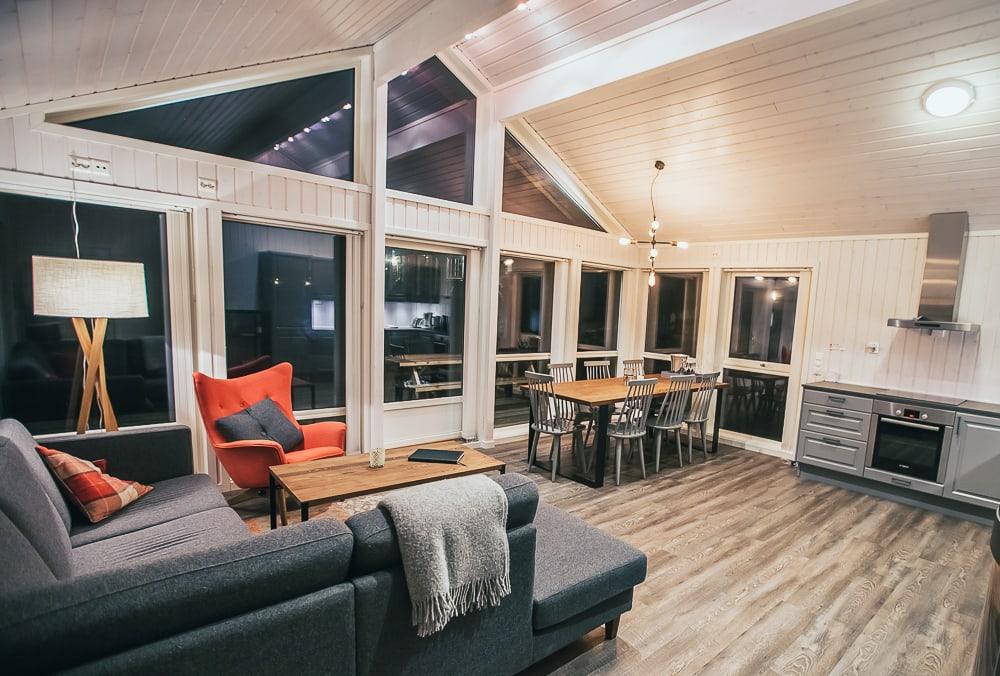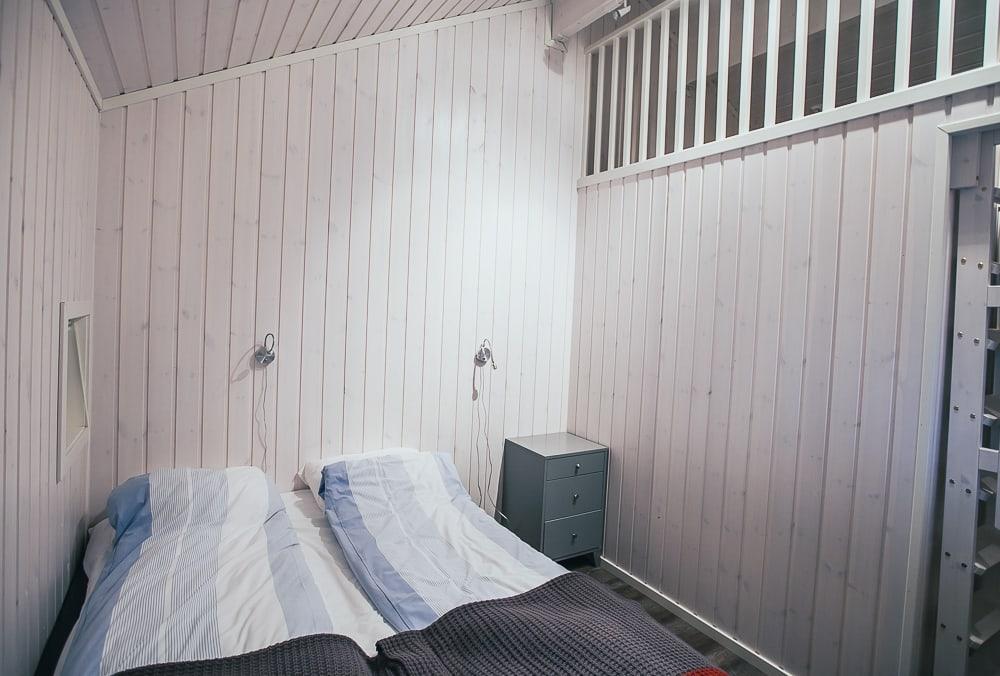 Since I wouldn't be able to see the area in the daylight I set up my tripod to take a nighttime photo of the cabin, and when I turned around I saw that the Northern Lights had finally come out!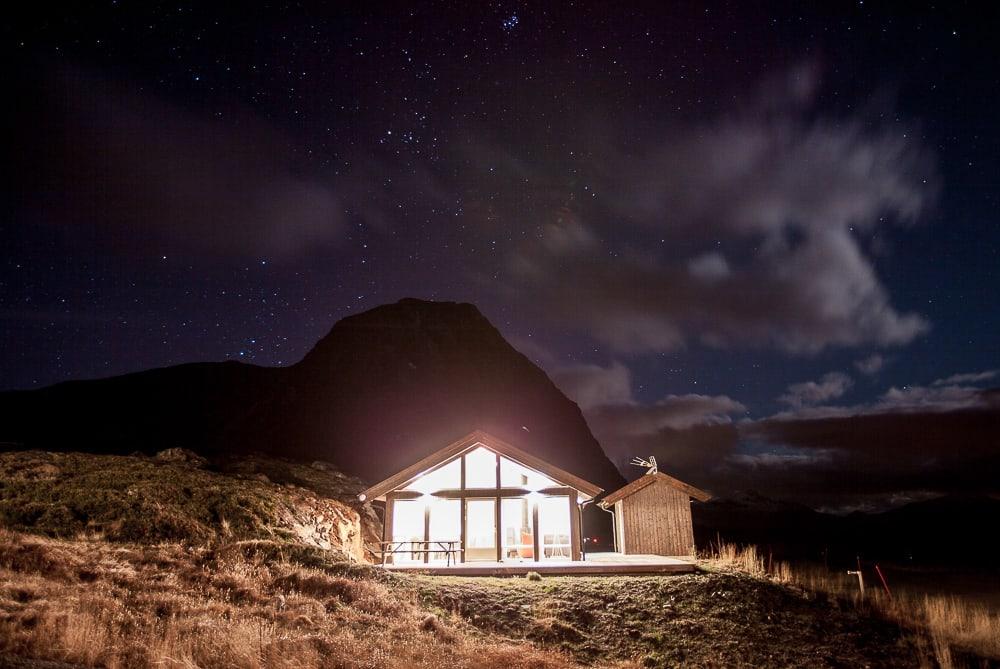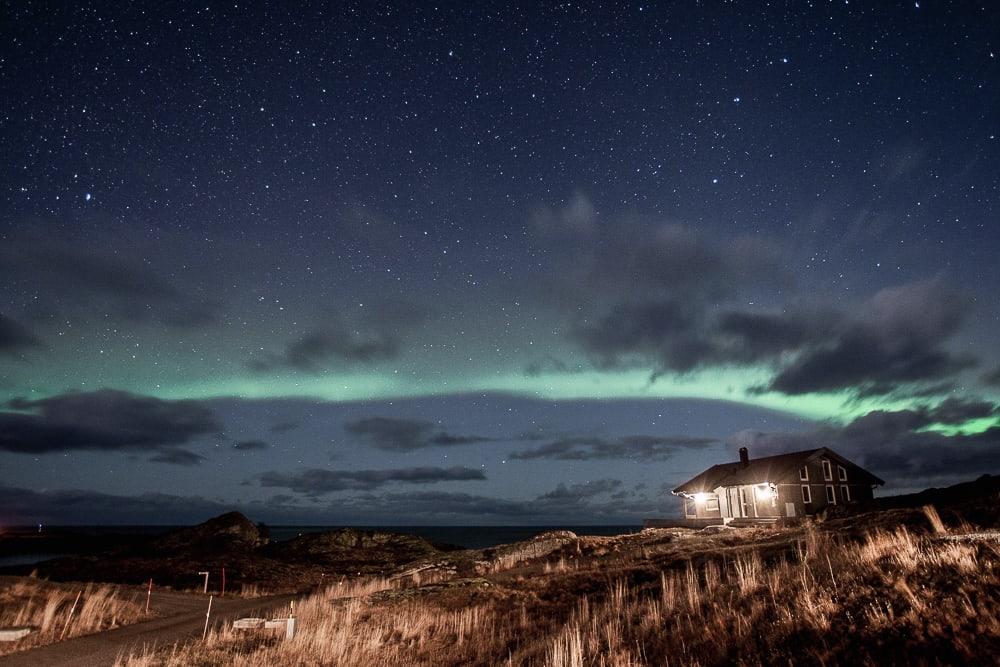 And this was the first time in my life that I went to sleep while the Northern Lights were still active – I wish I were one of those people who can function on no sleep, but I'm not! I'm a bit sad now that I didn't stay awake for them, but I did at least take a short time lapse on my camera before heading in for the night.
What do you think – would you enjoy exploring Lofoten by horseback?