If you've gone on Instagram like, ever, you've probably heard of Lofoten. If the name doesn't jog your memory, this photo surely will: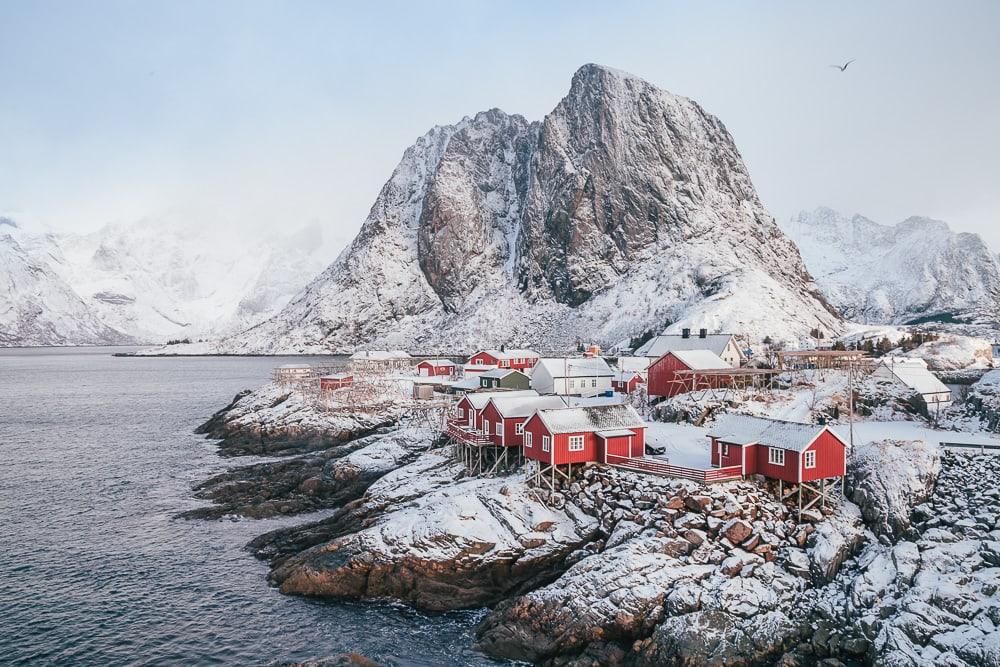 Right, we're talking about those fairytale islands in Northern Norway with all the mountains and adorable red fishing houses.
Lofoten has always been well known for its painting-come-to-life landscapes amongst Norwegians, but in the past few years the islands' popularity has blown up on an international scale.
But I've been impressed to see that that Lofoten has responded to its newfound fame with enthusiasm and – luckily for us tourists – so many cool new places to stay and fun activities to take part in. If you're looking for a beautiful place to visit in Norway with tons of unique activities on offer, Lofoten is your place!
And perhaps this is a good time to add a short caveat: yes, it's totally possible to wild camp and hike for free in Norway, but Lofoten isn't the place for that. Lofoten receives a lot of visitors (especially in the summer months), so it doesn't really have the space for wild campers. But also, of all the places you're going to visit in Norway, Lofoten has probably the coolest accommodation and activity options (you can even stay in those gorgeous red fishing cabins!).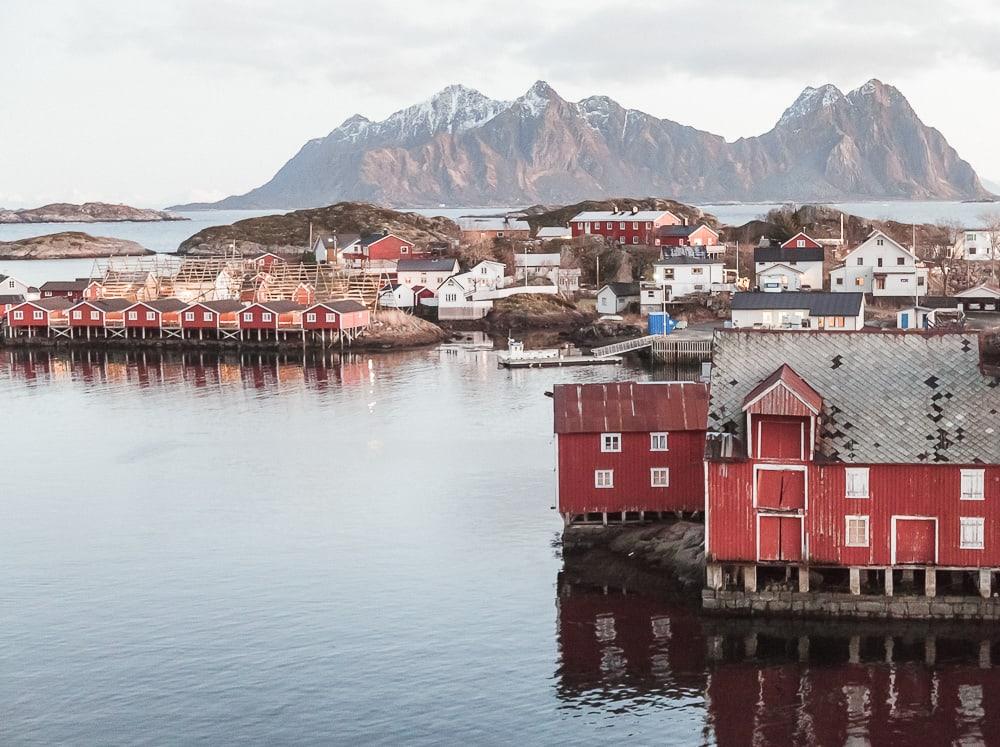 So save your tents for Norway's more remote areas where it's hard to find a room, and instead take advantage of all the unique places to stay and tours and activities offered in Lofoten.
You can read about a past winter road trip to Lofoten I took here and a summer Lofoten trip here, and here's a guide for things to know before making your Lofoten trip. 
Where to stay in Svolvær for your sea eagle safari
Since the sea eagle safari through Trollfjord leaves from Svolvær, it will be easiest to stay at a hotel here in the town center.
Svinøya Rorbuer
My number one choice for Svolvær accommodation is Svinøya Rorbuer – in fact this might be my favorite place to stay in all of Lofoten.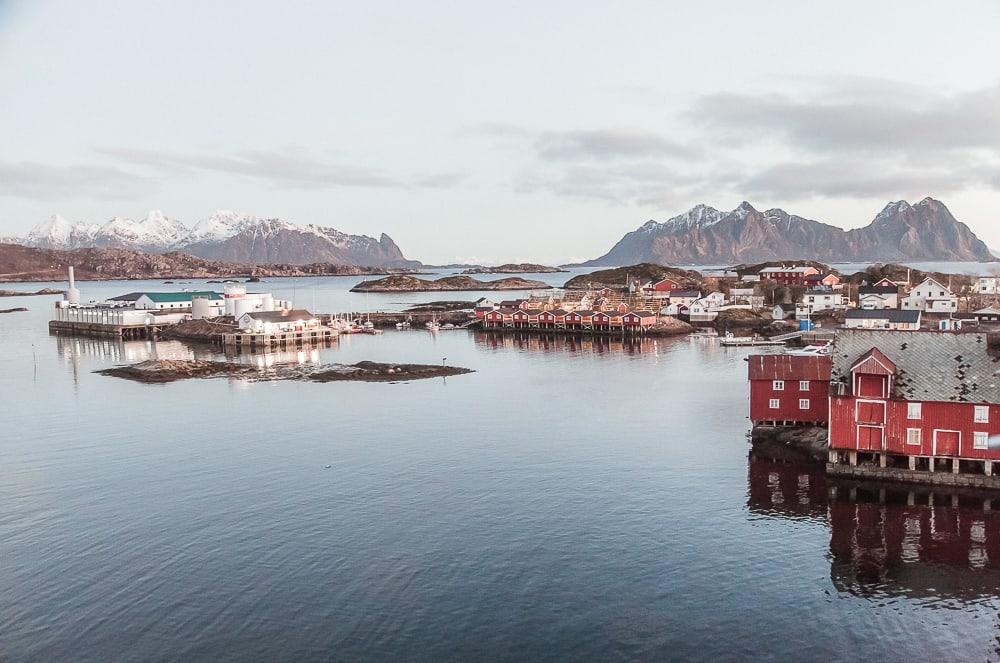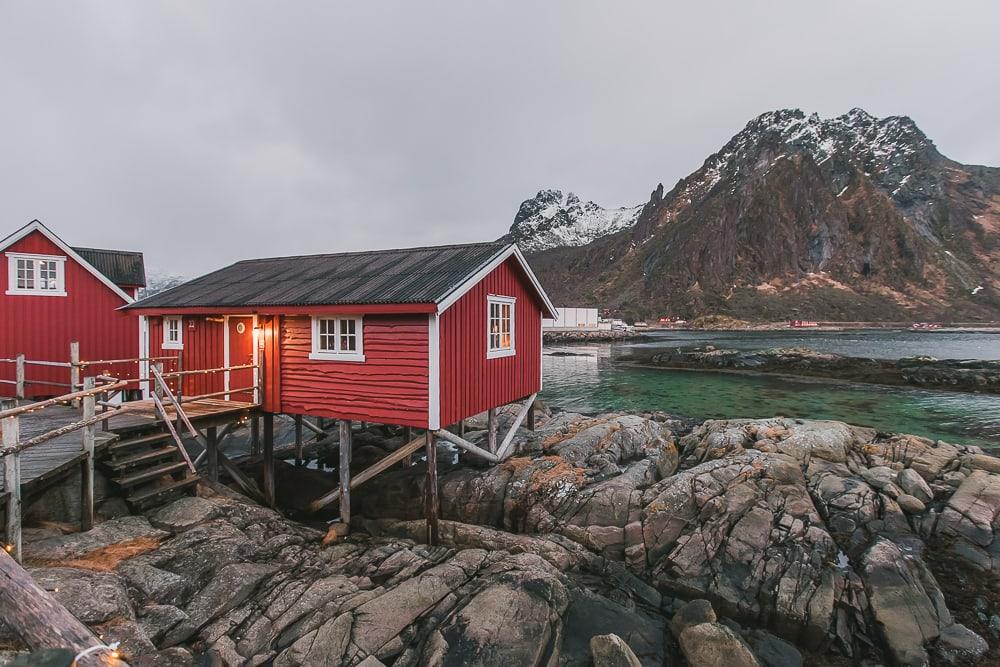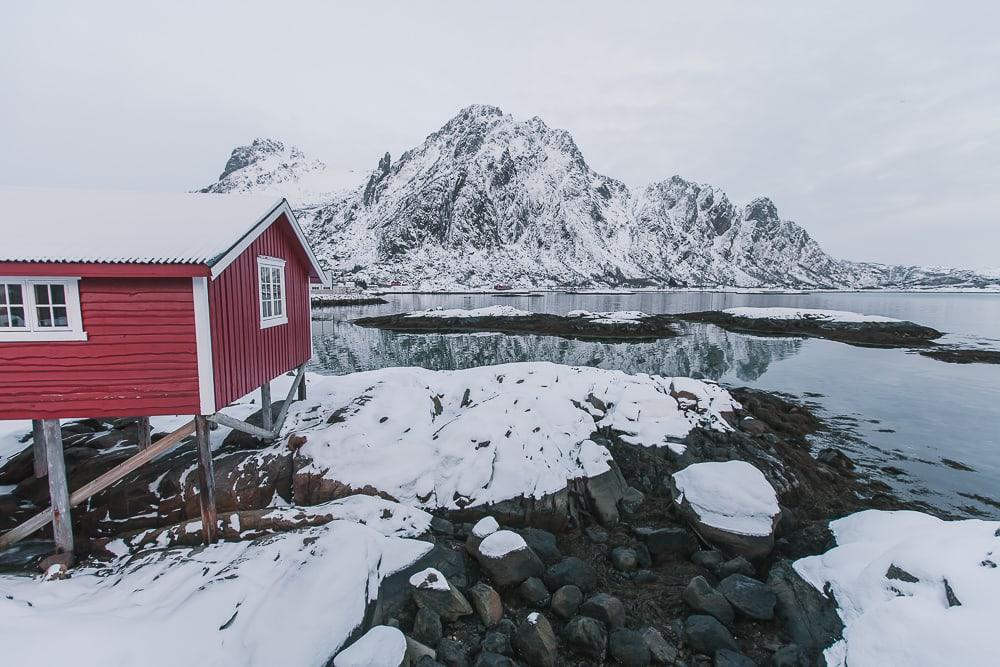 At Svinøya you can stay in an original rorbu, which are cabins used by fishermen. They're right on the edge of the water, with views of Svolvær's most beautiful peaks on one side and the open sea on the other. And they're fitted with kitchens, so they'd make a perfect base if you want to stay there for your entire time on Lofoten.
Check current rates and availability at Svinøya Rorbuer here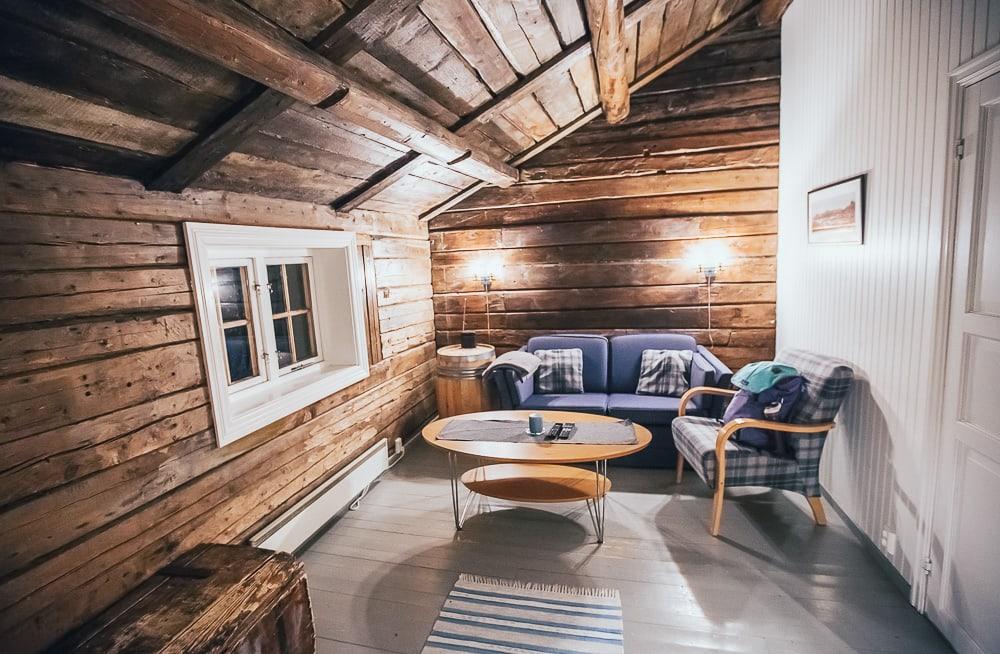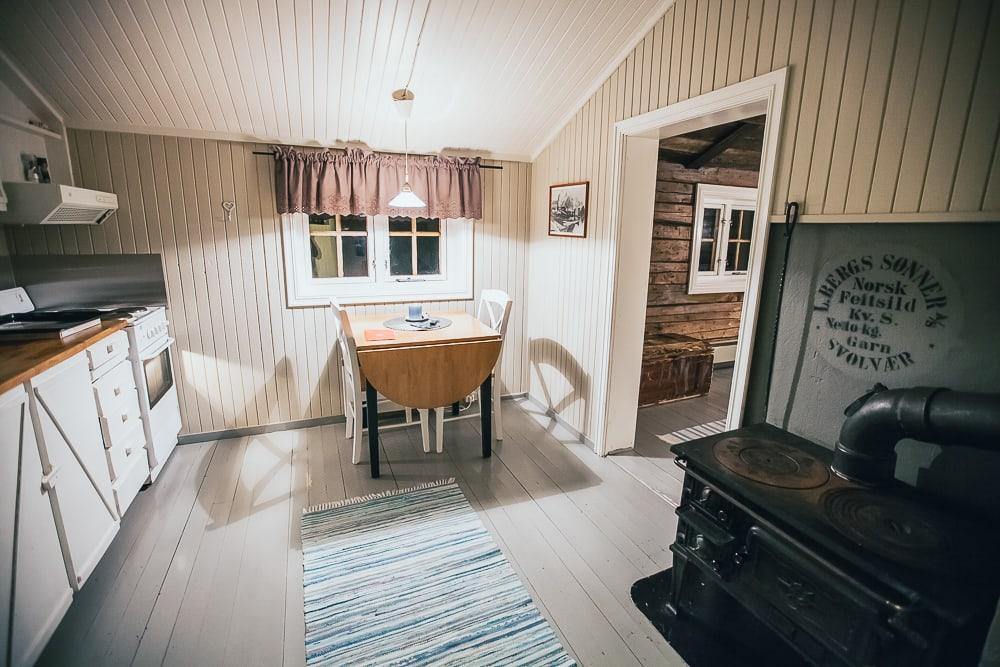 You also should check out their restaurant, Børsen Spiseri, which I'm tempted to say is one of the best places to eat in Lofoten. They serve traditional food and the atmosphere in the restaurant is so incredibly cosy, and very Lofoten.
It's a great place to try Lofoten's famous stockfish.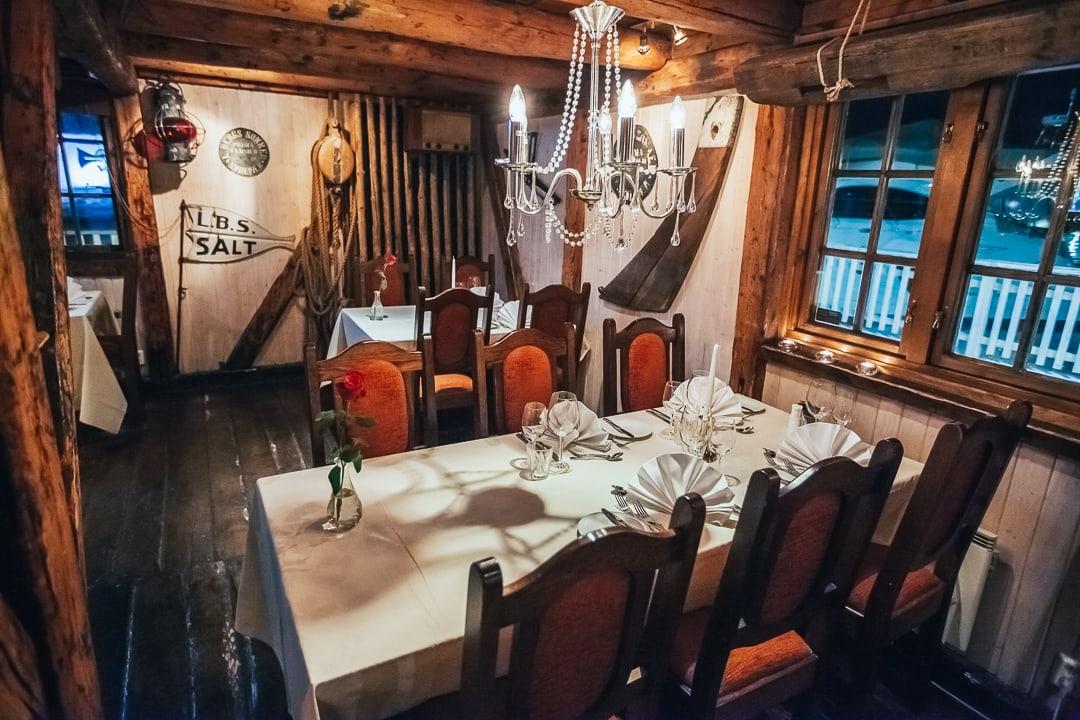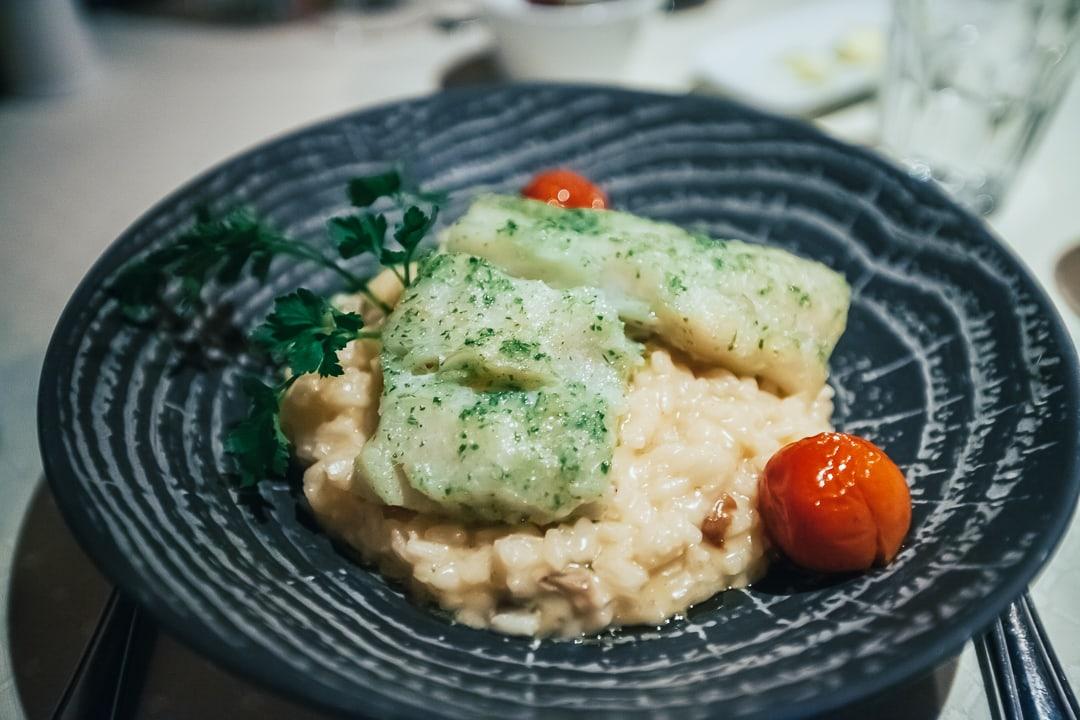 Scandic Svolvær
I've also stayed at the Scandic Svolvær, which is right by the harbor where the sea eagle safari leaves from, so very convenient if you don't want to drive.
The Scandic isn't as unique as Svinøya Rorbuer, but it still has rooms right above the water so you can hear the waves crashing at night. Plus the Scandic rooms come with an amazing breakfast buffet, which is definitely a plus! Check current rates and availability at the Scandic Svolvær here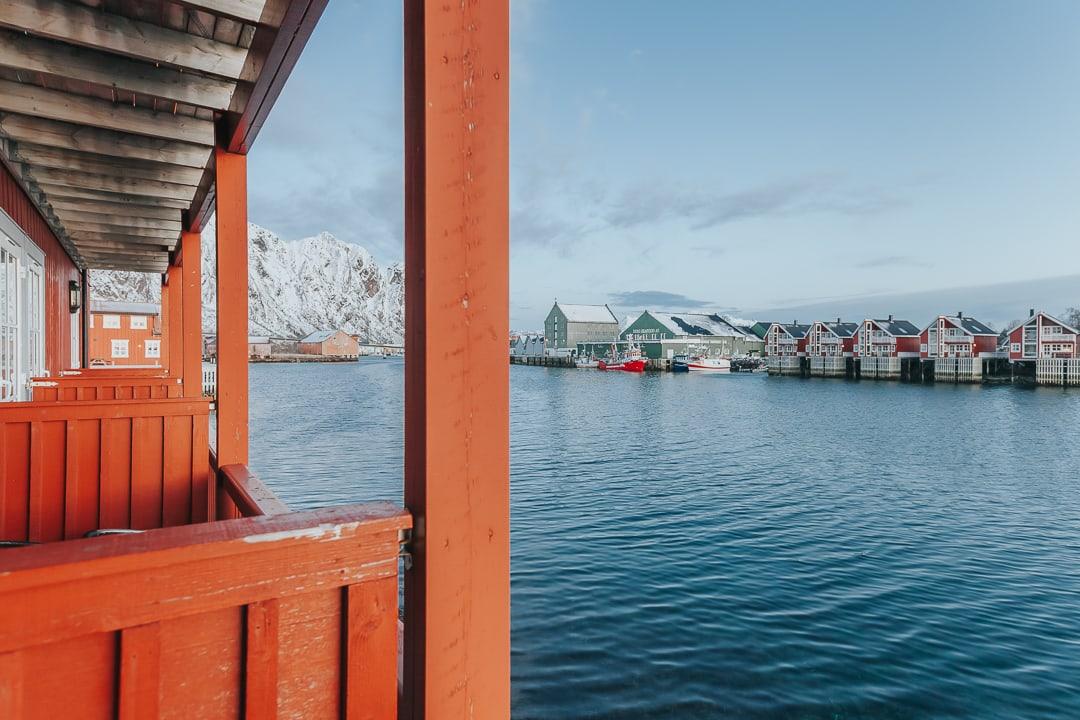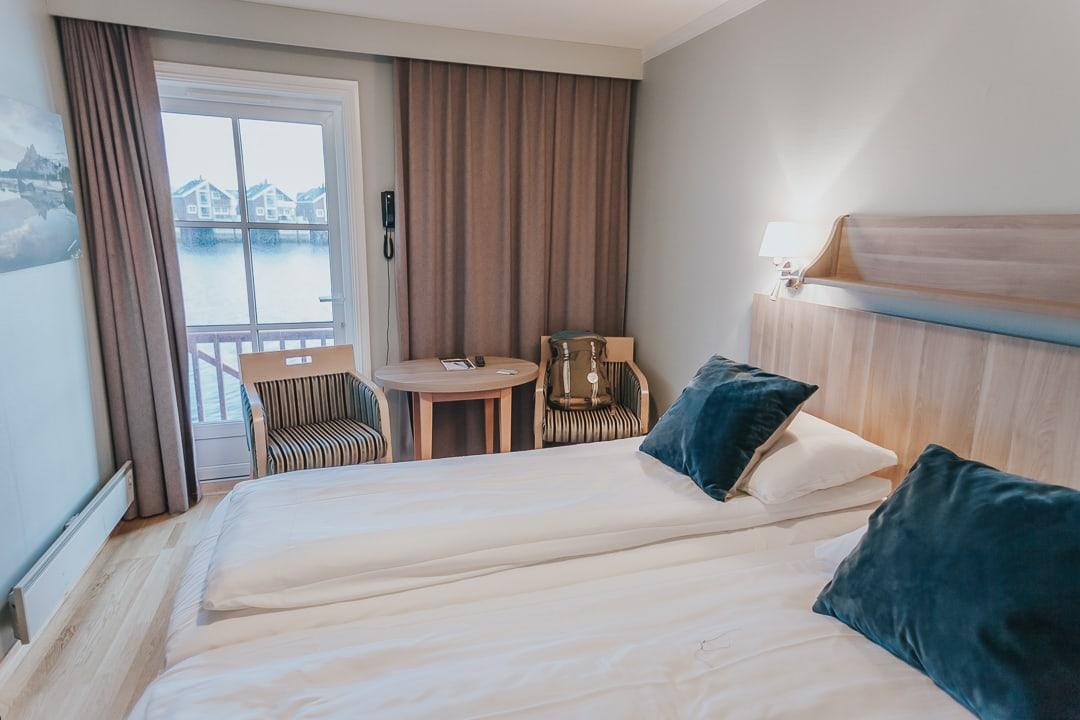 Sea eagle safari to Trollfjord
And then since in the winter Lofoten is covered in snow, making hiking tricky, I opted to see the islands by boat on a RIB safari. I took this Lofoten Trollfjord & Sea Eagle Safari and it's funny, I was so excited to go into Trollfjord that I sort of forgot about the second part of the safari: the eagles!
Okay so I was definitely most excited about seeing Trollfjord, as I had heard that the best way to see Lofoten's more remote views and untouched beaches is by boat. And those views did not disappoint.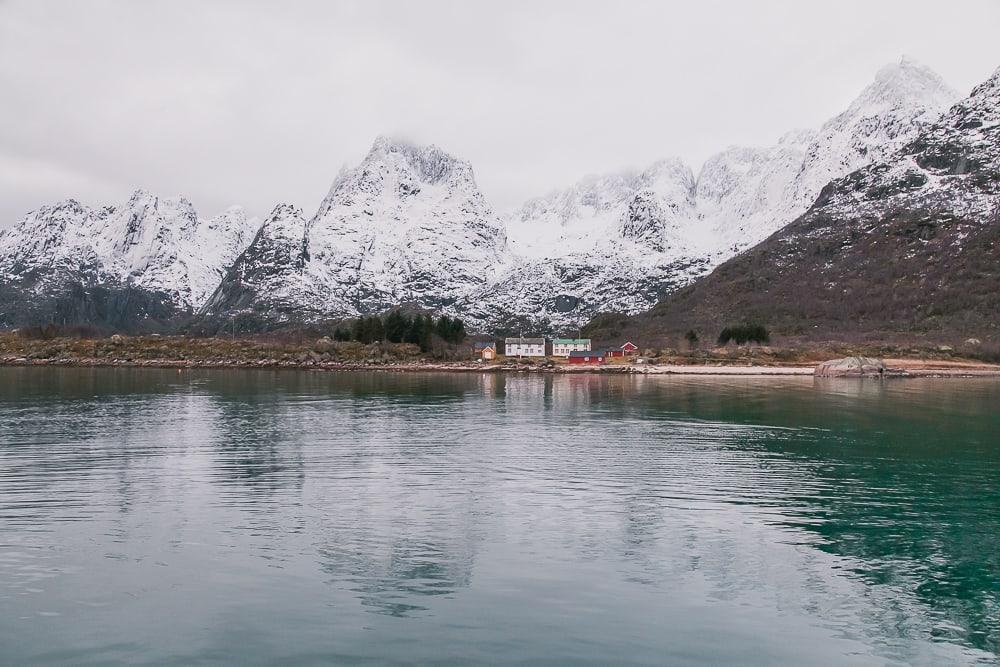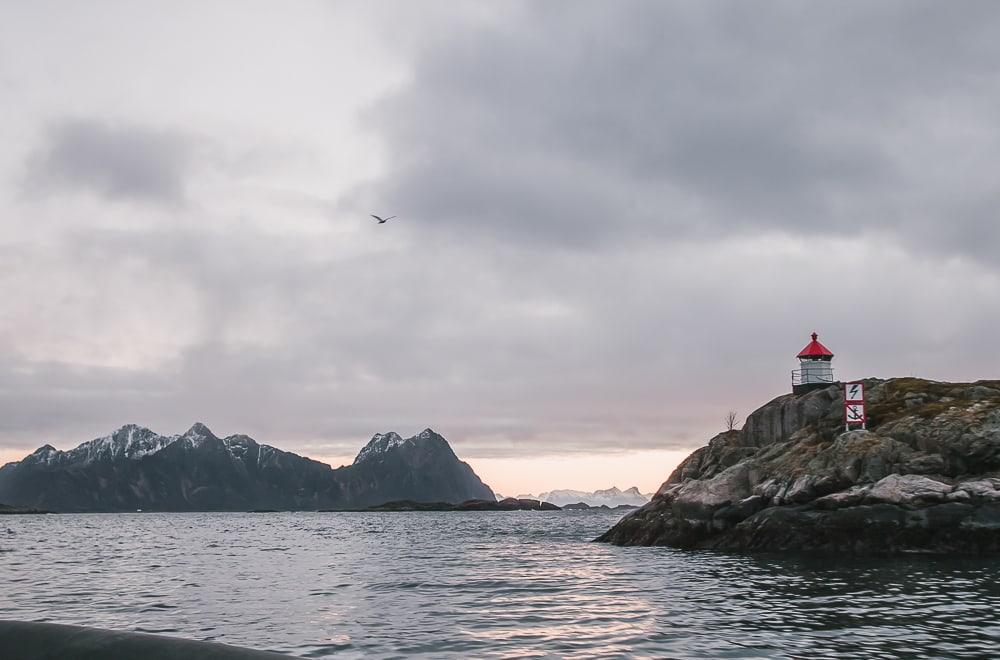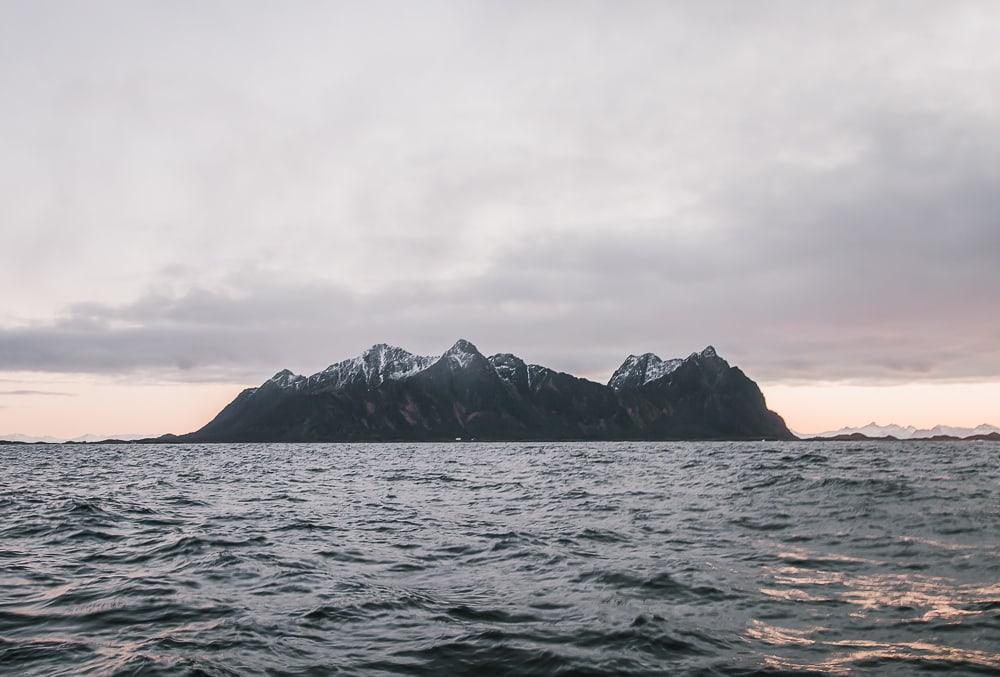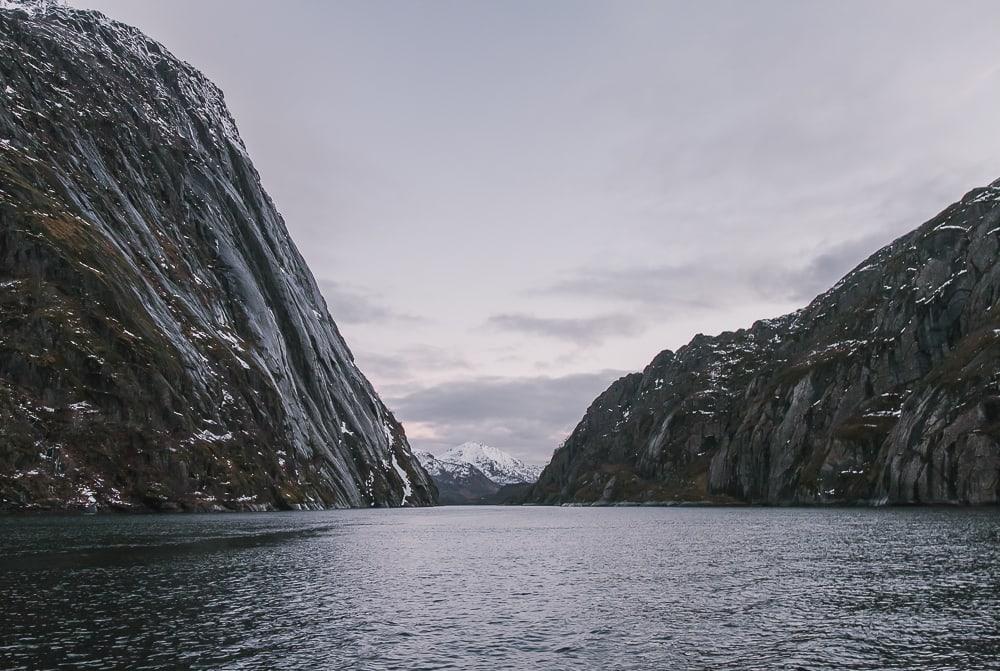 But the boat excursion ended up barely being about those beautiful landscapes, because we were all too distracted by the giant eagles flying around us! Our sea eagle safari guide had a bucket of fish and when an eagle got close he'd throw a piece up for them to catch and fly off with. It's the closest I've ever been to eagles – and some of them were huge.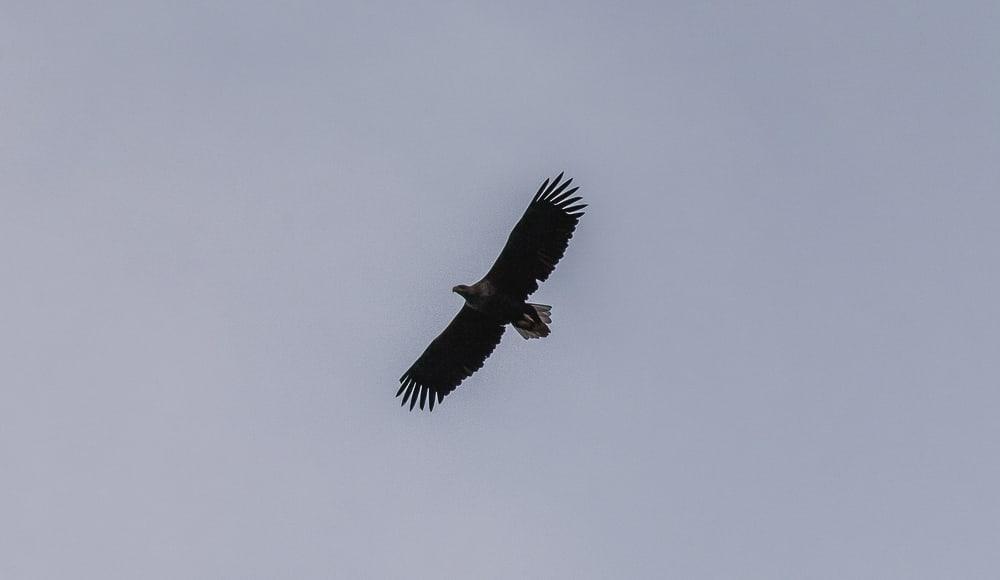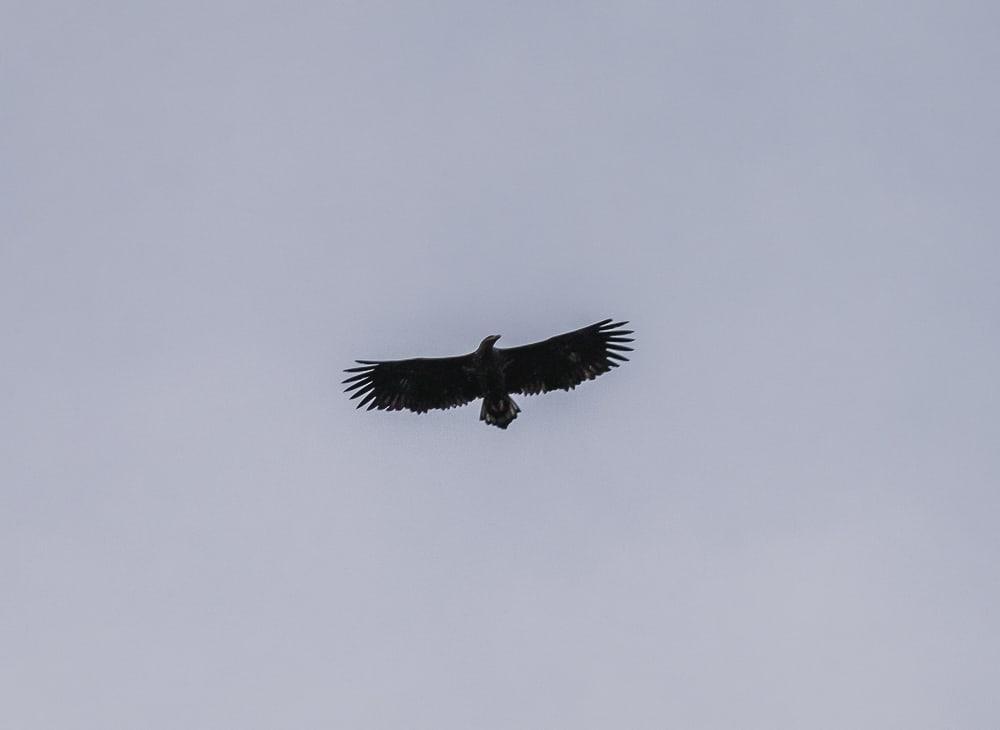 And don't worry, the safari company provides everyone on the boat with warm floating suits and gloves. Though I would recommend wearing a hat without a bobble on top so that you can pull the suit's hood over it as well.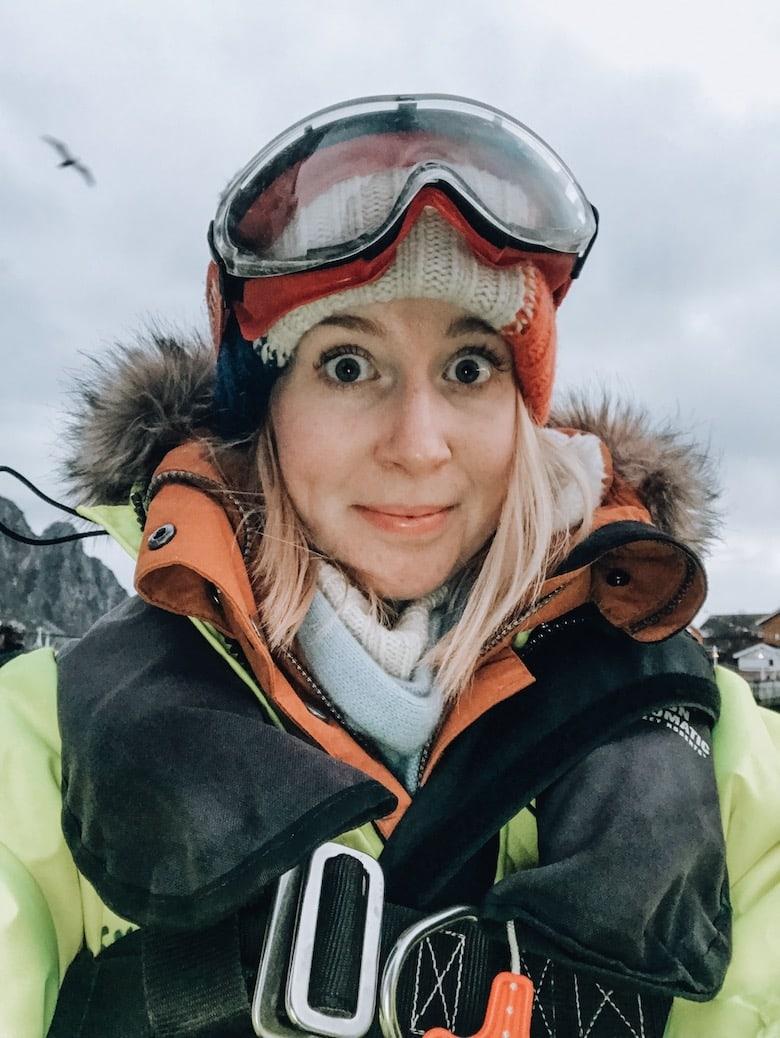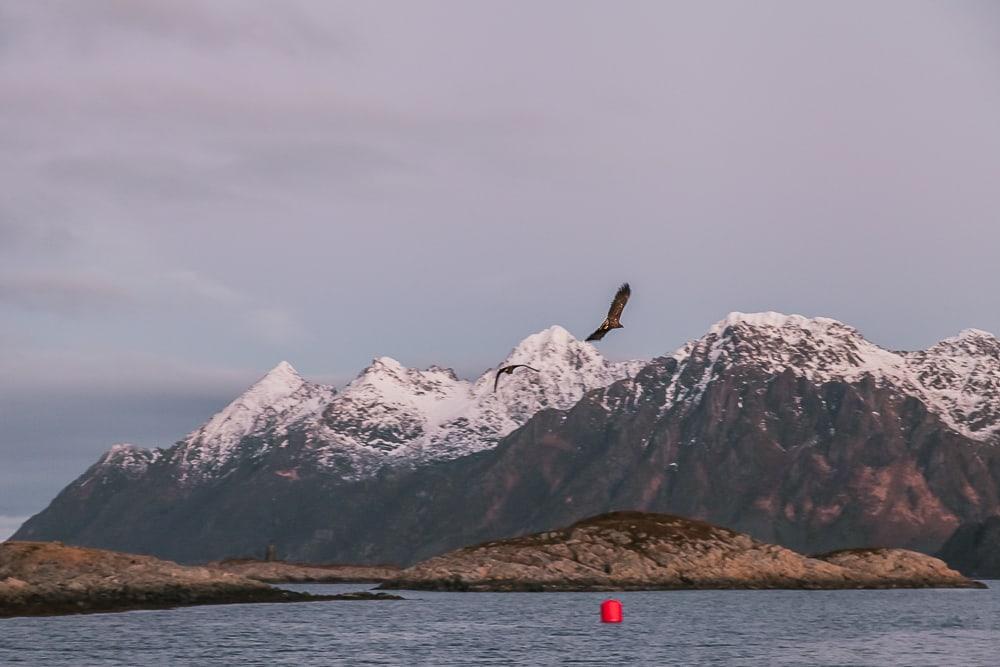 The boat ride was quite rough, so I wouldn't recommend this if you get easily seasick or have mobility issues. It's also not recommended for pregnant women. Some of the waves were quite big so there were a few times that the boat landed really hard – which I imagine wouldn't be very pleasant if you have back or knee issues. I actually often do get seasick, but I found it really fun!
Check current rates and availability for the Lofoten sea eagle safari here
I didn't really get any great photos because I kept getting too excited to think about my camera, plus while the pretty pink light made a beautiful backdrop for watching the eagles, it wasn't quite light enough for my camera to capture quickly moving objects.
Though I did get a bunch of video clips of the safari as the eagles caught the fish, which you can watch here: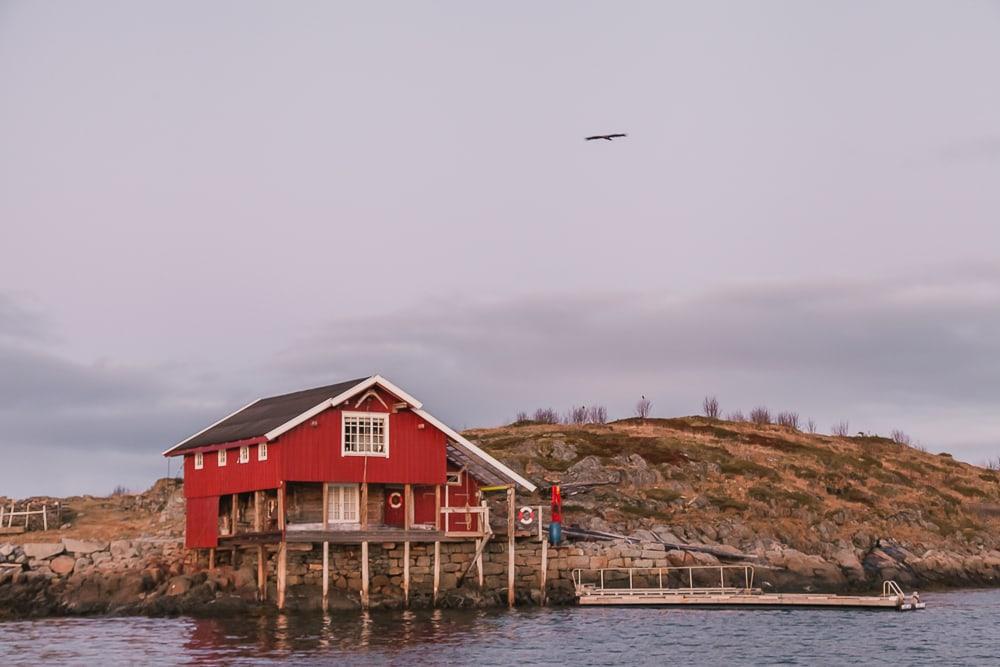 Which reminds me: if you're considering visiting Lofoten in December you probably have the same concern I did – will there be enough light to see anything in December?
The best time to take a sea eagle safari in Lofoten
The sea eagle safari is offered year-round, so you can really do this any time of the year. But I do have some thoughts about when the best time to visit Lofoten is.
During this trip I was on Lofoten in mid-December, which is the very darkest time of year, but we still had a solid two hours of daylight, plus another hour where it was at least light enough to see. The sun didn't rise at all, but instead the sky had those beautiful pink and orange sunset/sunrise colors all day. Like, I just sighed loudly thinking back to it – it was so pretty.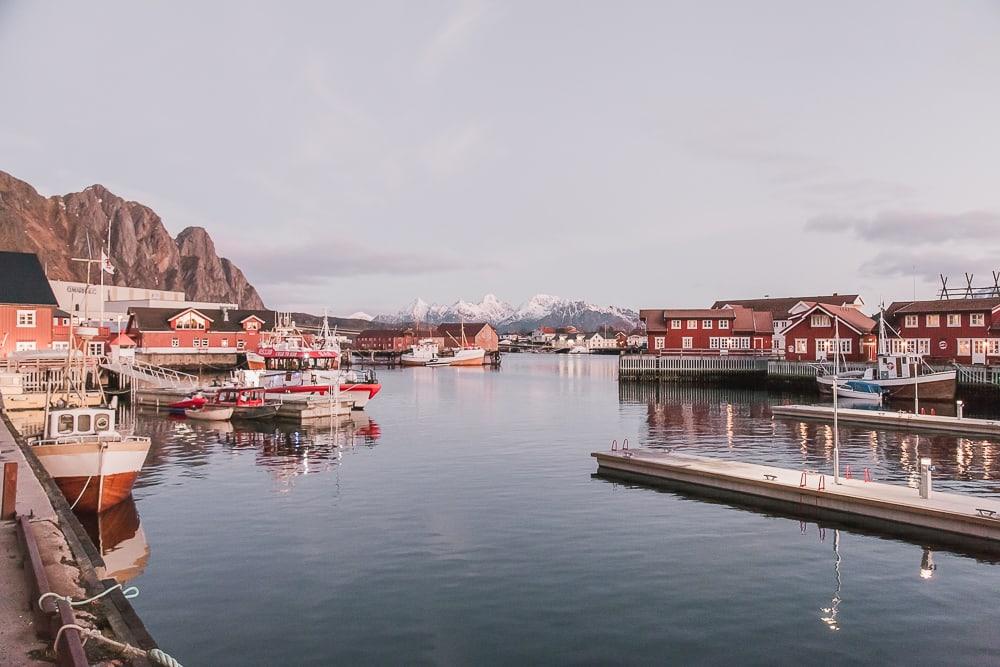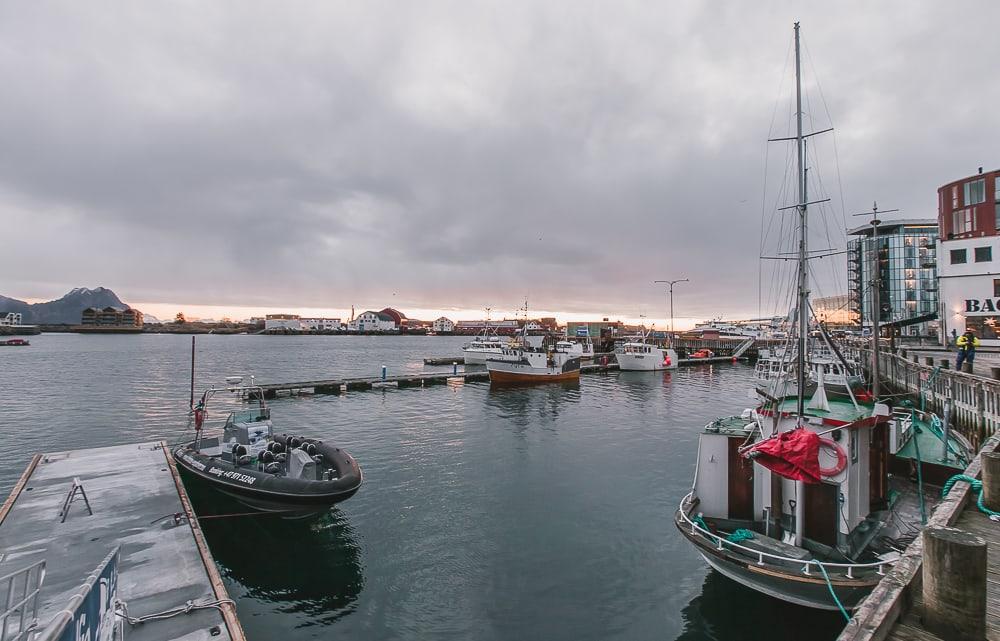 In fact, I've now visited Lofoten in January, March, June, and December, and I think my favorite times to visit were December and January! The light is so beautiful, there are fewer tourists, and at night I could spot the northern lights. Plus the mountains are so beautiful covered in snow.
Though if you want to go on mountain hikes, you'll want to visit between May and early October.
And personally I would do my best to avoid visiting Lofoten in July. It gets so overrun by tourists then to the point where it's really not that enjoyable.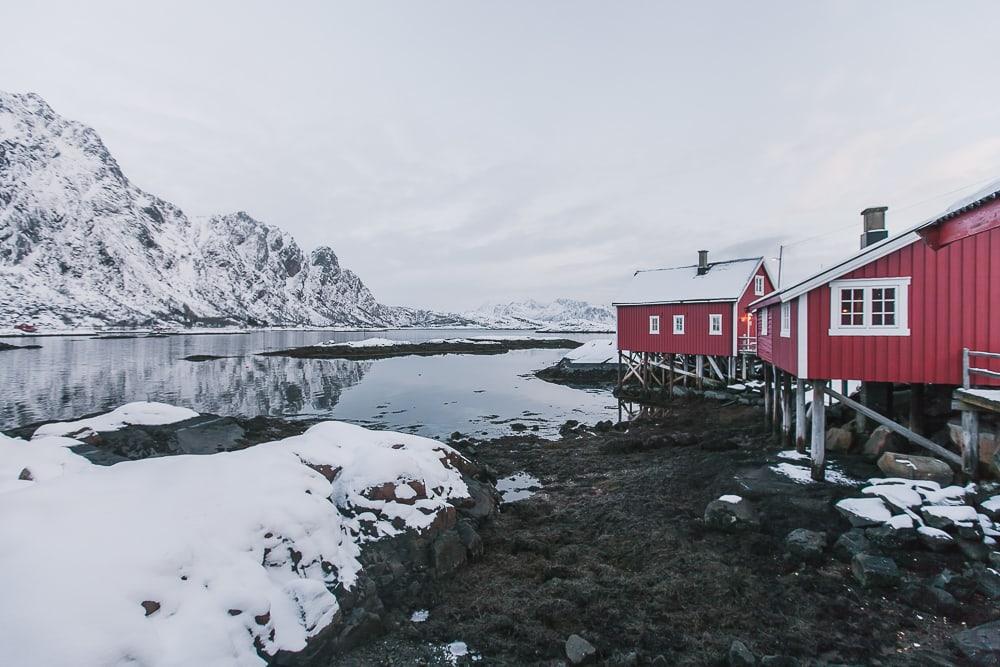 Chasing the northern lights in Lofoten
Speaking of visiting Lofoten in winter, in the evening of my sea eagle safari day I went on an aurora hunt! I booked this northern lights tour from Svolvær and I learned so much this evening.
My guide has been working as a guide in Lofoten for over thirty years, and for him sustainable tourism is all about teaching people. So we spent the beginning of the evening in front of his laptop, where he gave the best explanation I've heard for what is actually happening when we see the northern lights. Like, I had read so much about the aurora in the past and sort of knew that it had something to do with sun particles and magnetic forces, but now I finally actually understand what's going on.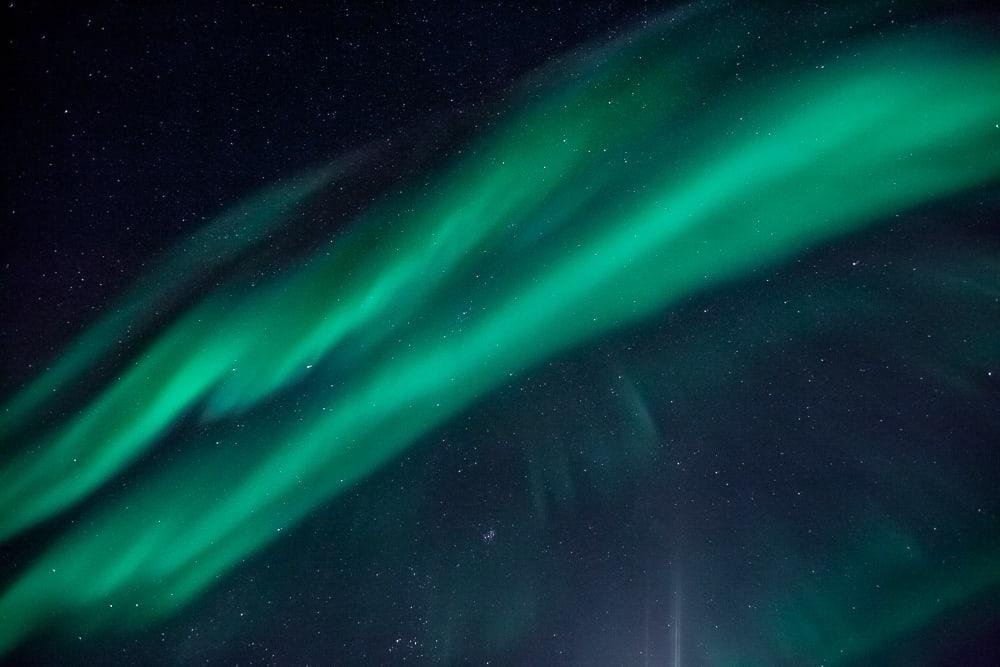 And why does it matter? You can much more effectively chase the northern lights if you actually know what's going on up in the sky. He then showed me the different websites he uses to measure the likelihood of us seeing the aurora, as well as the best spots to look for it. It sort of felt like I was taking a mini training in becoming a northern lights tour guide myself.
Update: in fact, after another year living in northern Norway I've become such a northern lights expert that I've released my own northern lights guide so that you can have the best chances possible to see the aurora on your trip up north!
This ebook includes the best places in the Nordics to see the northern lights, the best time to see the northern lights, my top accommodation choices, tour options, how to chase the northern lights, how to photograph and film the northern lights, what to pack for your trip, and other exciting Arctic activities to try on your trip up North.
If you want to ensure you have the best northern lights trip possible, you can purchase the ebook here.
Packing for Lofoten
If you're wondering what to bring on your trip to Lofoten, you can find my winter packing guide for Norway here and my summer packing guide for Norway here.