Enough waffling from me though – let me tell you what we actually did in Hattfjelldal!
That's what I wrote at the end of my previous post about inner Helgeland, before I realized that I had already written several thousand words and maybe that was enough for one day.
Quick refresh: I was talking about the recent three-day trip I took to inner Helgeland in collaboration with Visit Northern Norway and Visit Helgeland.
The trip was planned by Naturlige Helgeland, a local travel operator here in Mosjøen who specialize in designing tailored adventures around Helgeland.
We started and ended our journey in Mosjøen because that's where I live, but if you're coming from somewhere else I think Mosjøen is still a great base from which to explore the region. You can fly directly here, or if you want to experience a Norwegian city as well you could fly or take the train to Trondheim or Bodø and then take the train down to Mosjøen.
The train ride from Bodø to Mosjøen is stunning, though Trondheim is a more exciting city so I would probably recommend you start there. Plus there are so many international flights into Trondheim so you could fly directly there.
I traveled with Merethe from Naturlige Helgeland, however they also offer self-drive options, so you could definitely rent a car in Mosjøen and explore on your own.
Day 1: Mosjøen to Susendal
Our first destination in Hattfjelldal was the small village of Susendal, right on the edge of Børgefjell National Park. It's about 1 hour 40 minute drive from Mosjøen, but we split up the journey by first stopping at Grane Bygdetun, which is part of the Helgeland Museum.
Grane Bygdetun, Helgeland Museum
This is one of those open air museums featuring traditional Norwegian houses and buildings with a gallery detailing the local history and culture.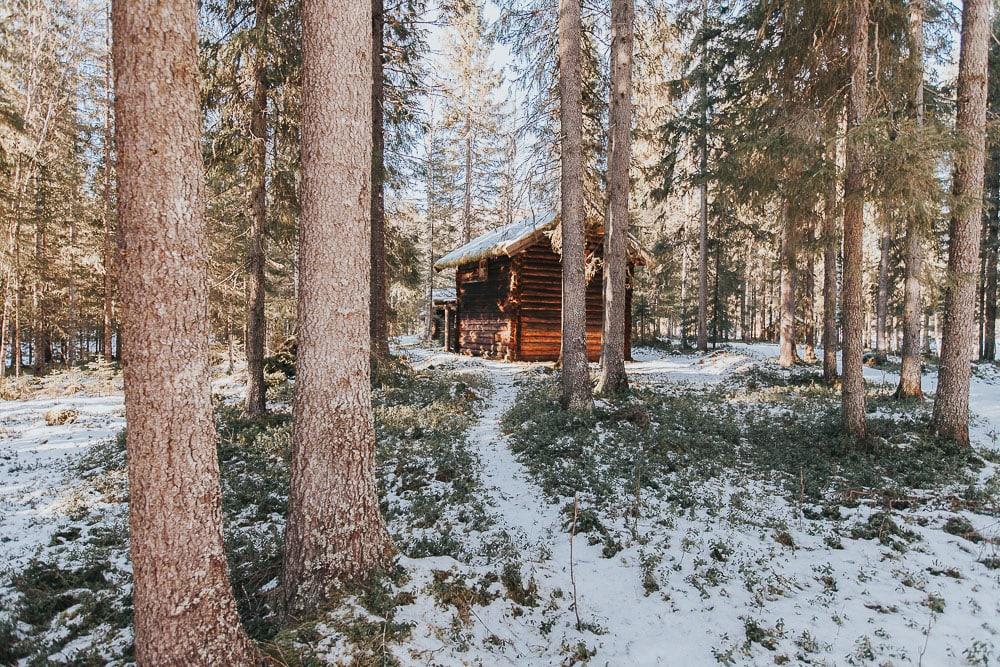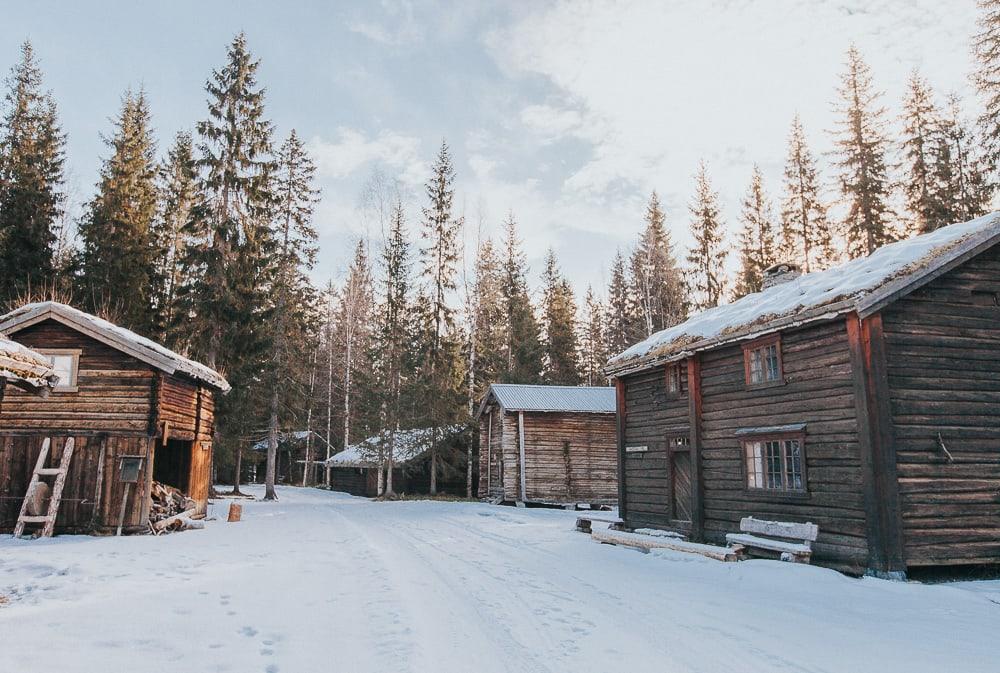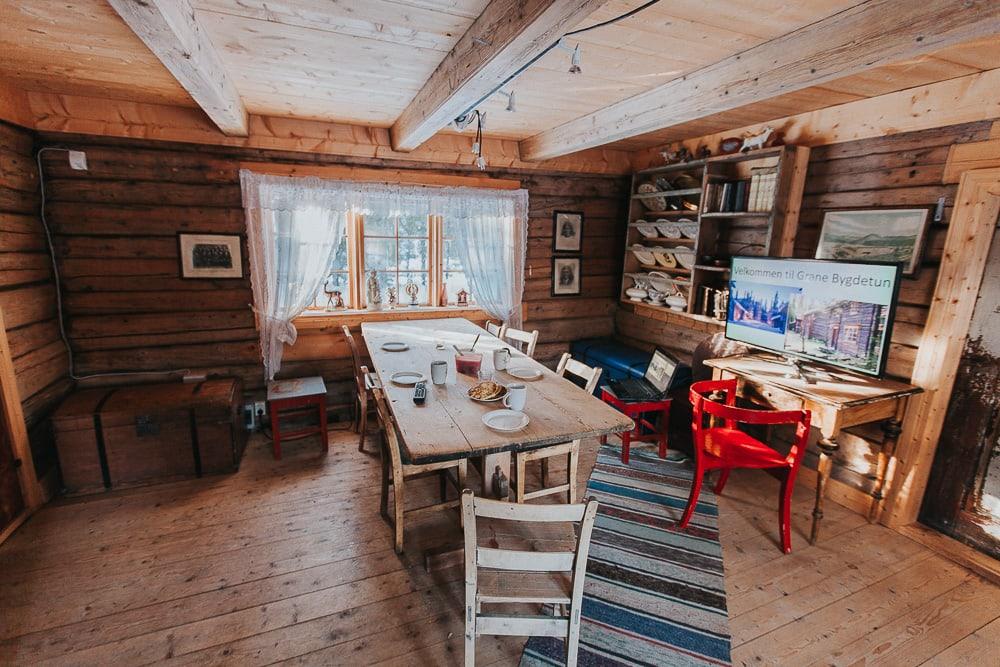 It also happens to lie right on the Vefsna River, which was the route the British used to send lumber down to Mosjøen where it would be picked up and shipped across the sea.
It's an important source of salmon and I loved hearing about the British lords coming with their fancy angling gear for some sport fishing – I can just imagine the miffed reactions from local Norwegians who fished in the river to you know, get food.
Stopping here was a great way to start off the weekend, as it gave a nice overview of the area's history. Plus we got to make pancakes over a fire!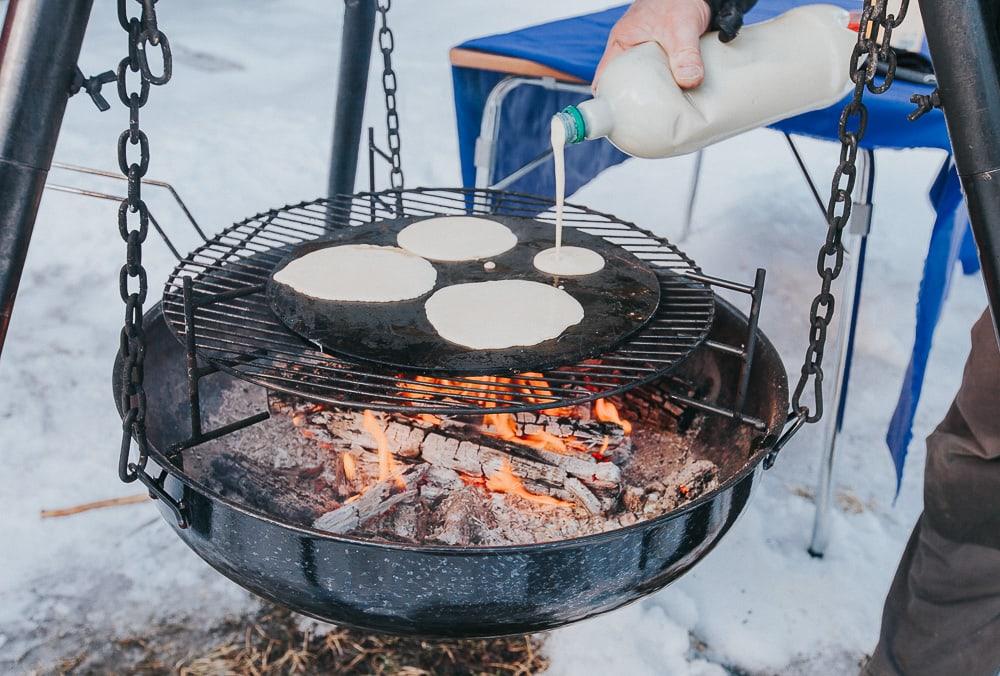 Husky Sledding in Helgeland with Aaslid Polar
I probably shouldn't have used part of my precious exclamation mark quota on pancakes, because our next stop was to see huskies! And husky puppies!!!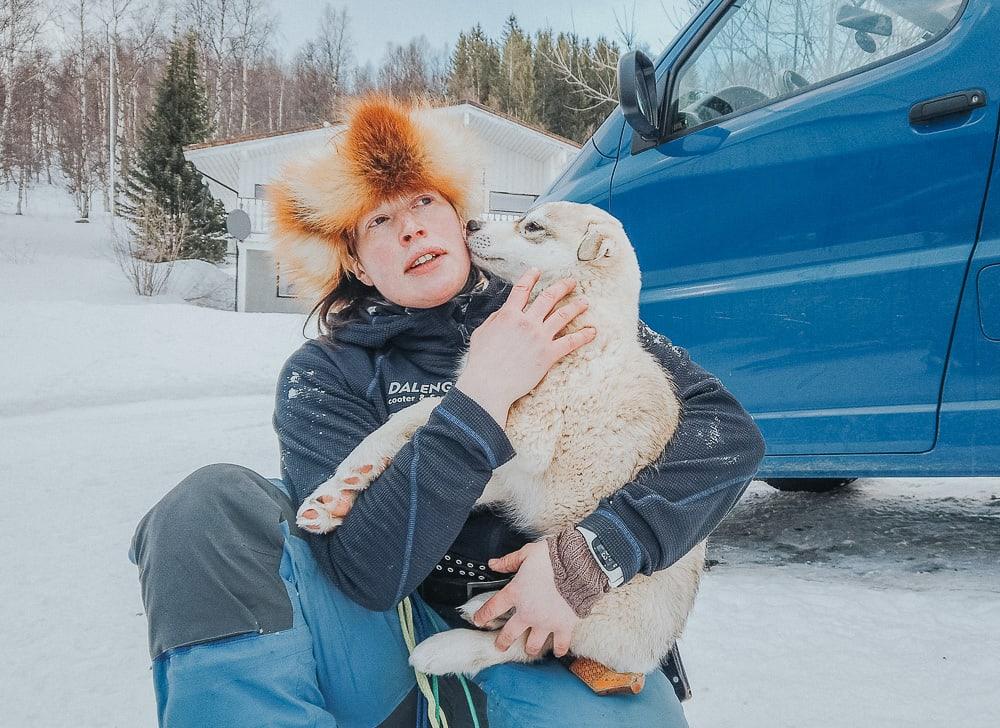 It's funny that after a lifetime of winters spent in Norway without ever going husky sledding this was now my third time husky sledding in a single winter. Then again it's not really a coincidence, as once I spent an afternoon with huskies I realized that's pretty much all I want to do ever.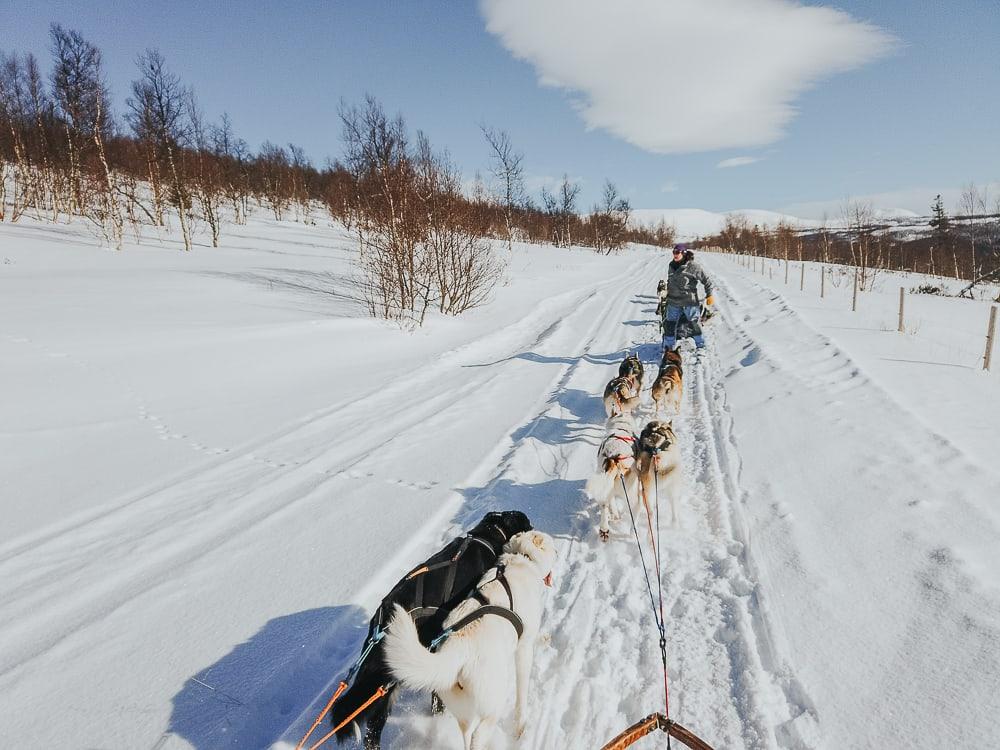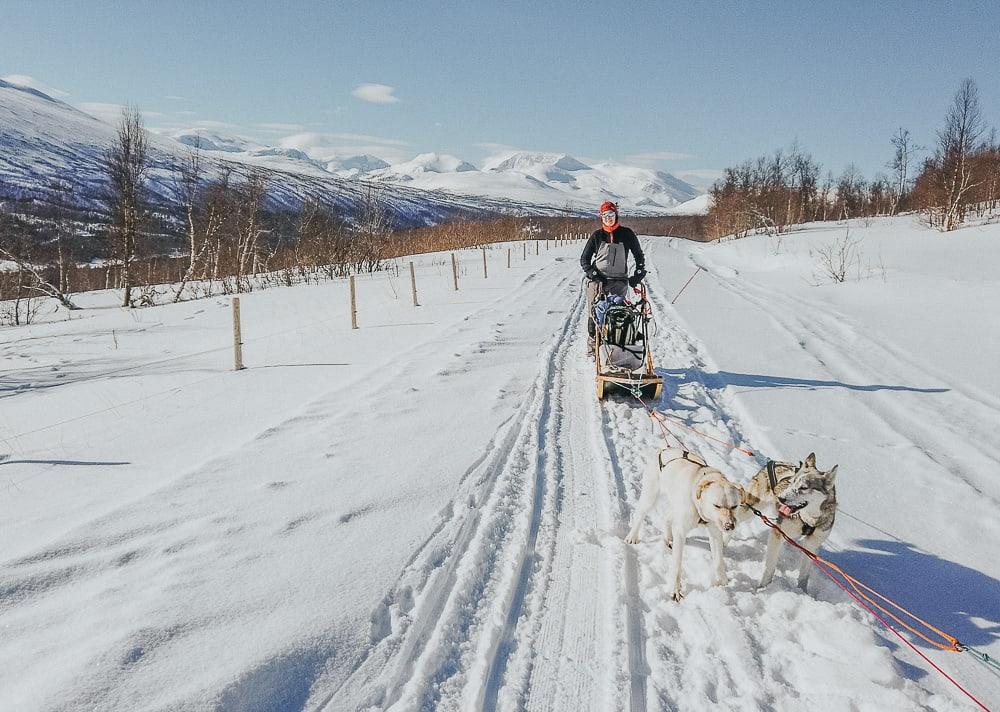 But I will say that my experience husky sledding with Aaslid Polar was quite different than the previous times.
Instead of the usual short 1-2 hour trip to experience husky sledding, we loaded up our sleds with supplies and headed up for a day in the mountains. We stopped at a frozen lake, where we unharnessed the dogs and set out building a fire and digging holes in the ice to go ice fishing.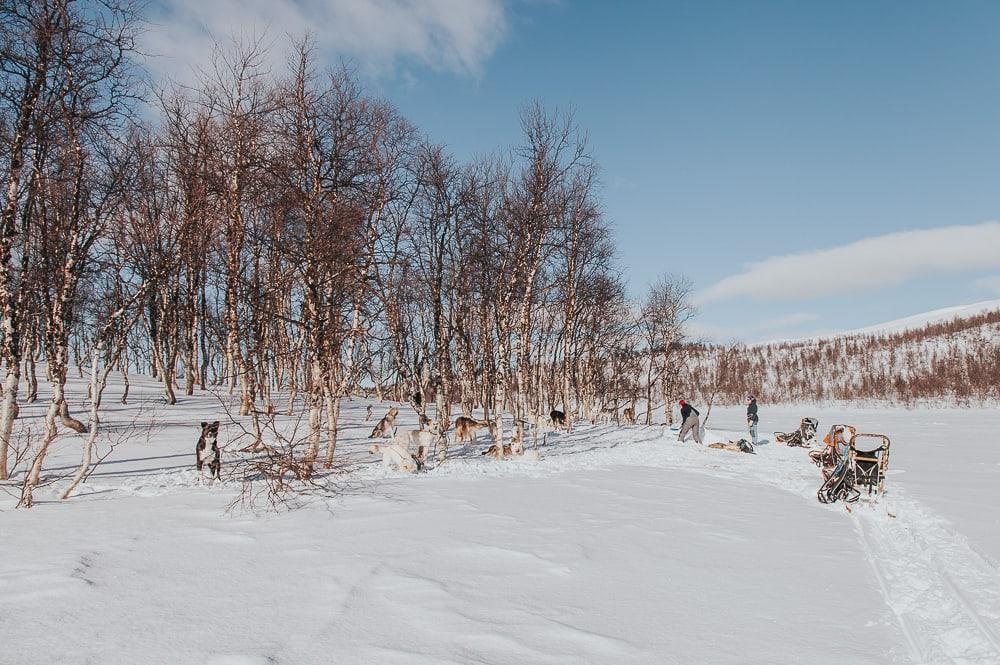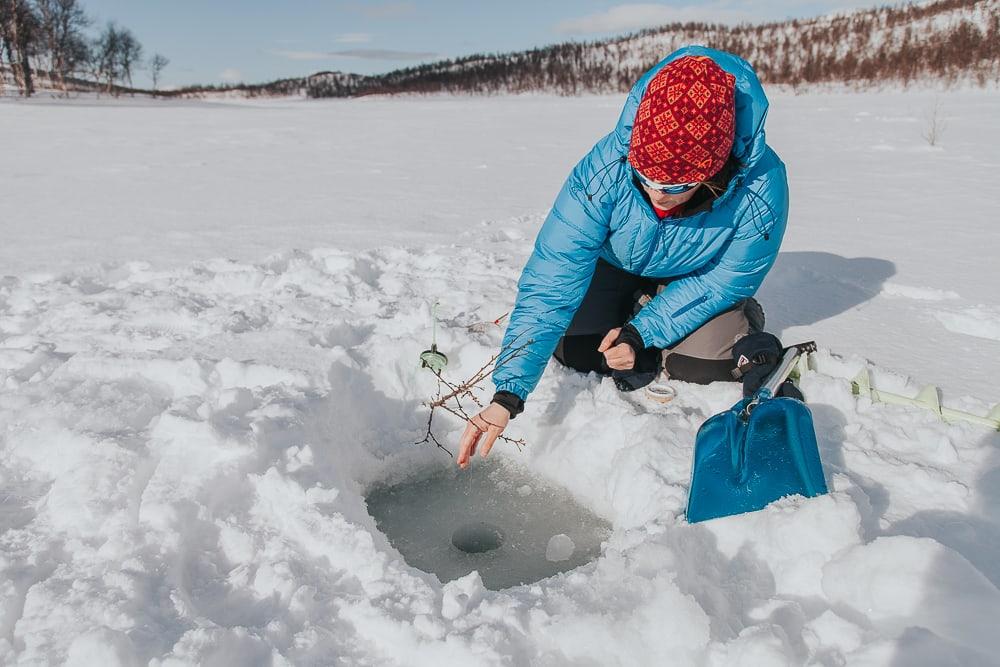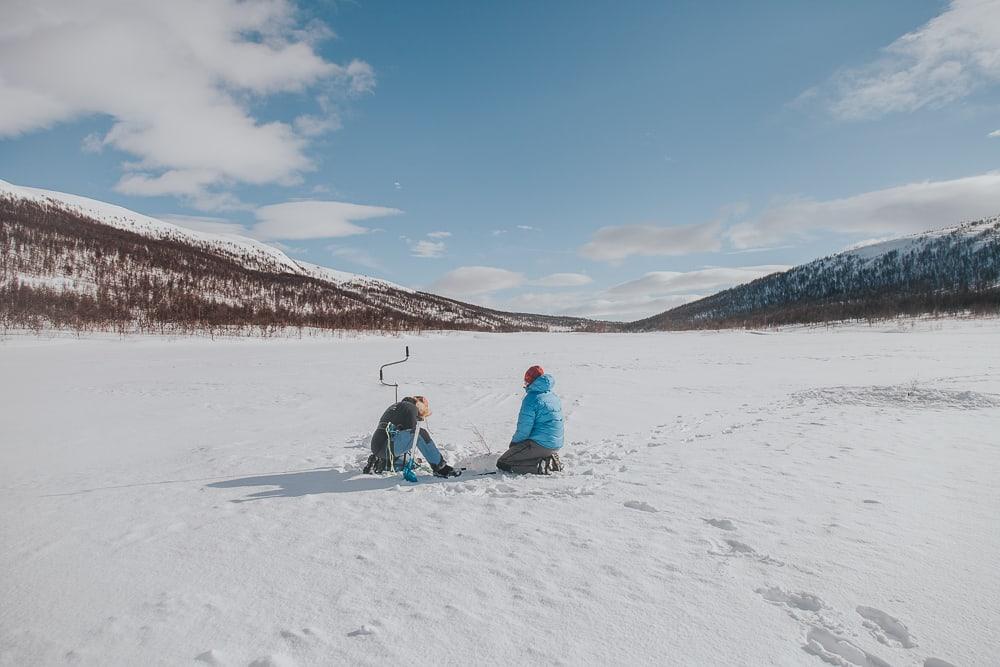 Then we warmed up with steaming cups of coffee and milk chocolate (not for warmth, but obviously necessary) and had a delicious lunch of reindeer stew cooked over a campfire.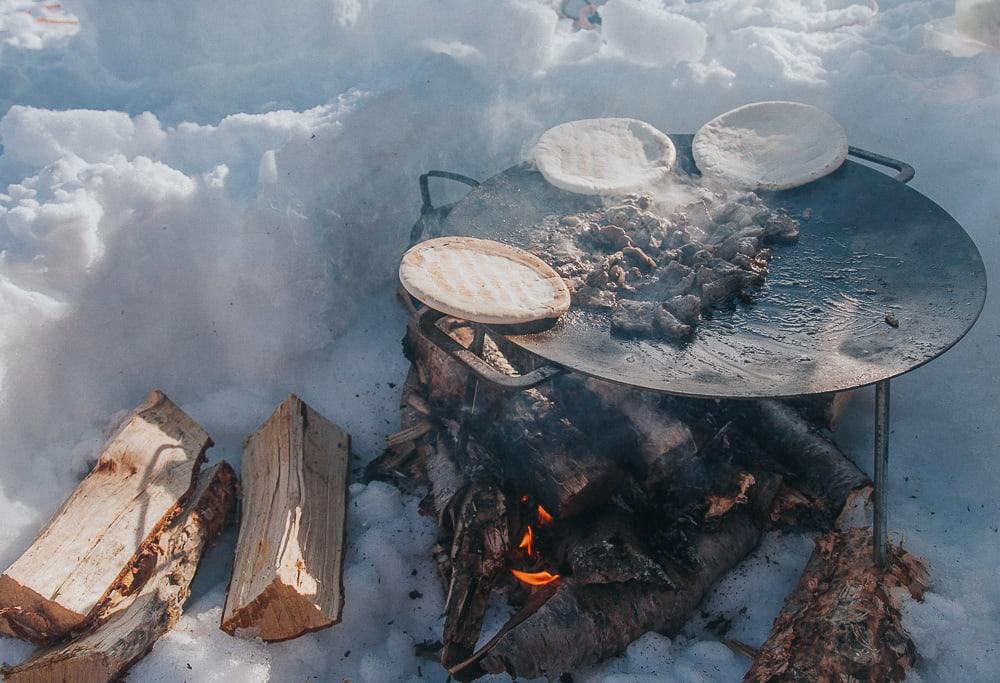 And then we harnessed up the dogs again and headed home!
My past husky trips have taken me on a nice loop where I'd see some beautiful scenery and get a feel for driving a husky sled, but this time felt like we actually had a purpose with our huskies. We were driving the huskies to a particular destination, using the sleds to carry our supplies. It was a much fuller experience of husky sledding, and I loved that it gave me the chance to bond with the dogs even more.
And, as I always note with husky sledding, it's clear that these dogs are cared for and loved as part of the family, and this isn't a big tour company where the dogs' carers switch out every year but instead part of a farm that has been in the same family for generations.
Furuheim Farm
We then drove down the road to Furuheim Farm, run by Trine and Morten, which would be our home for the night. And oh goodness, what a lovely home.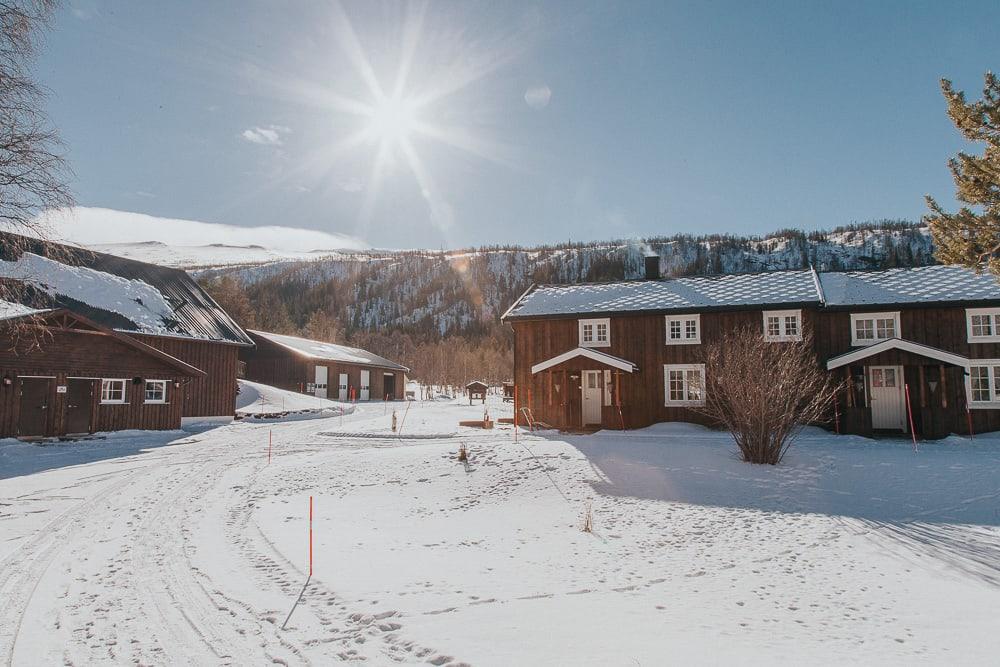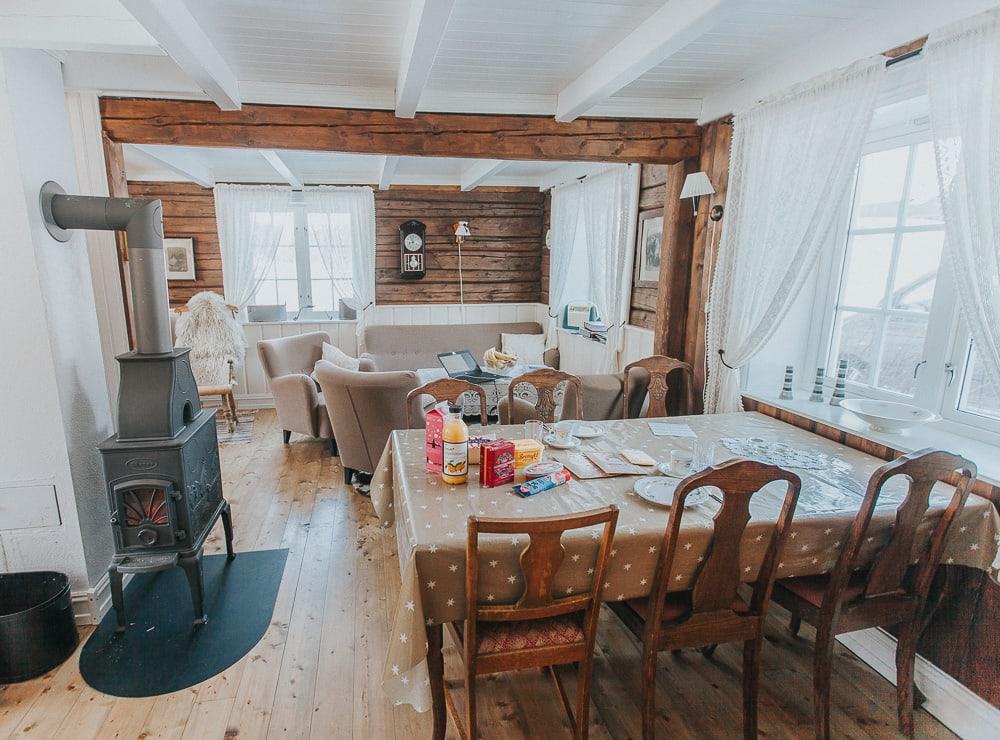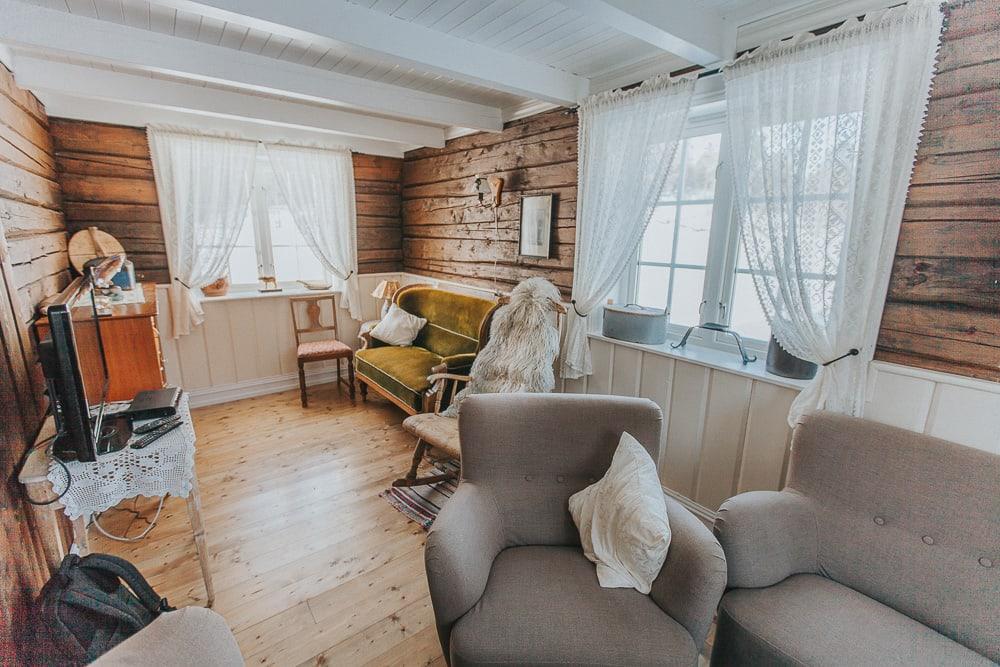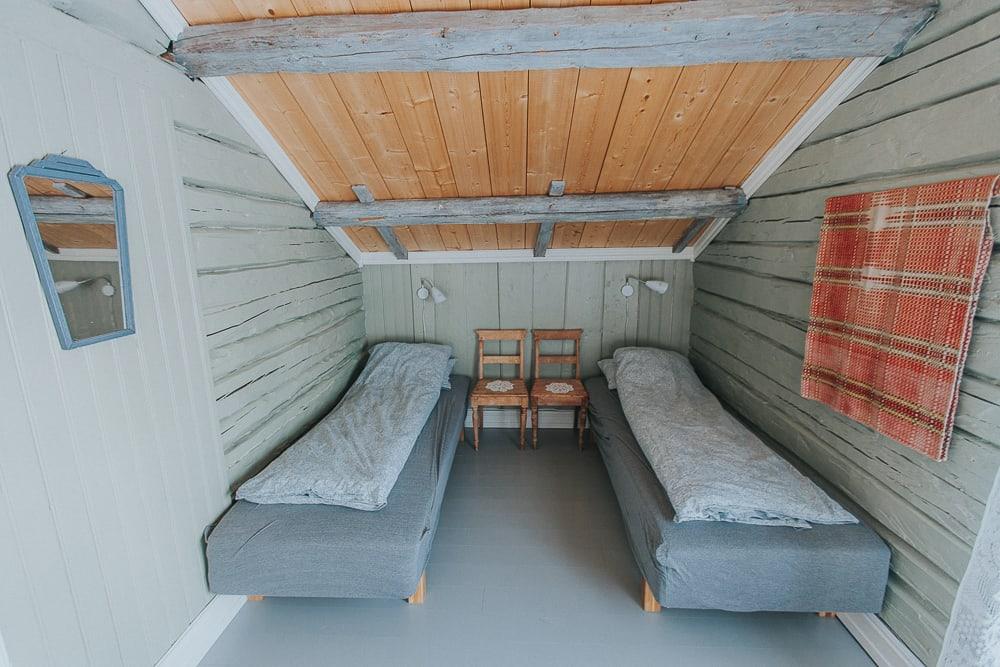 Furuheim Farm partner with Aaslid Polar, so if you come out for husky sledding you can make a full day (or weekend!) of it and stay right in Susendal.
Furuheim Farm has two 4-bedroom houses for guests, and as soon as we checked in I instantly felt like I was on a Norwegia hytte holiday. I loved every last detail of the design of our house, and if you want a truly Norwegian experience, this is so perfect. Plus it's on a farm, which means farm animals!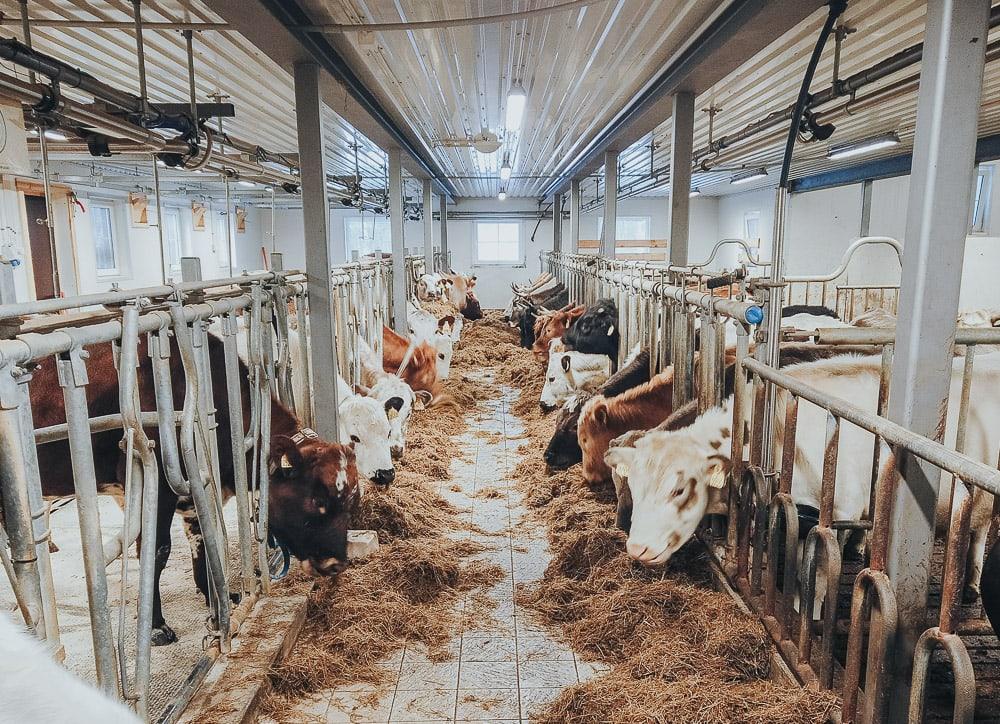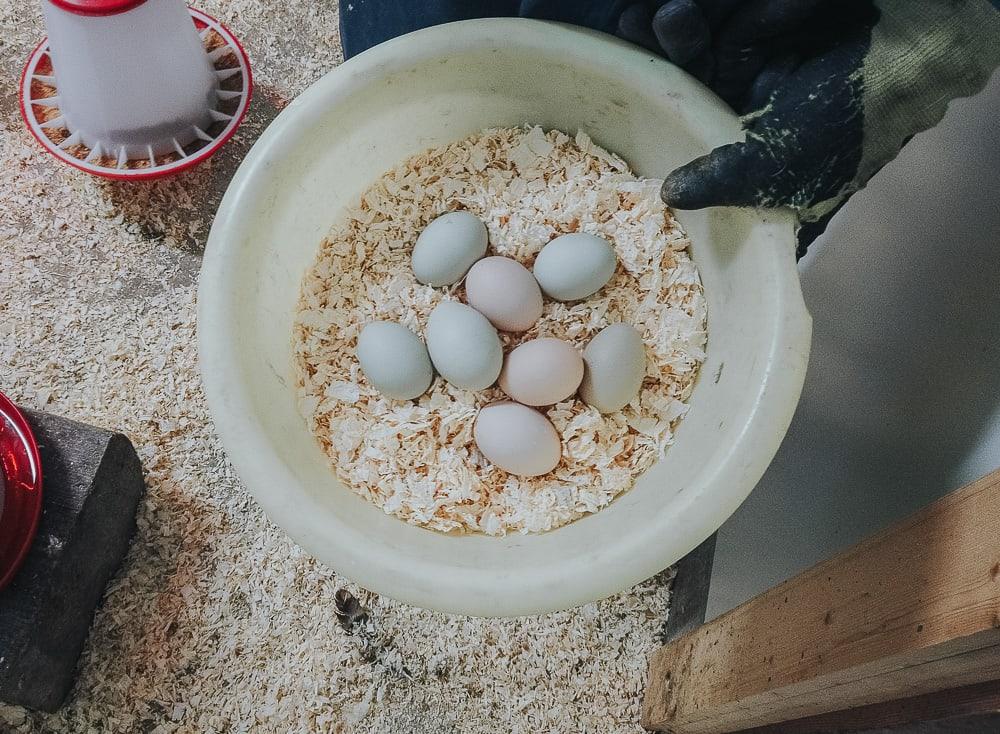 Furuheim Farm offers the option of including meals, and for dinner and breakfast we had the best local products with fresh baked bread – another great way for you to get a taste (literally) of the local culture.
Day 2: Susendal to Røssvatnet
The next morning Trine took us on a moose safari drive around Susendal where we spotted lots of animals (we did see a moose as we were leaving, but it was too shy for a photo).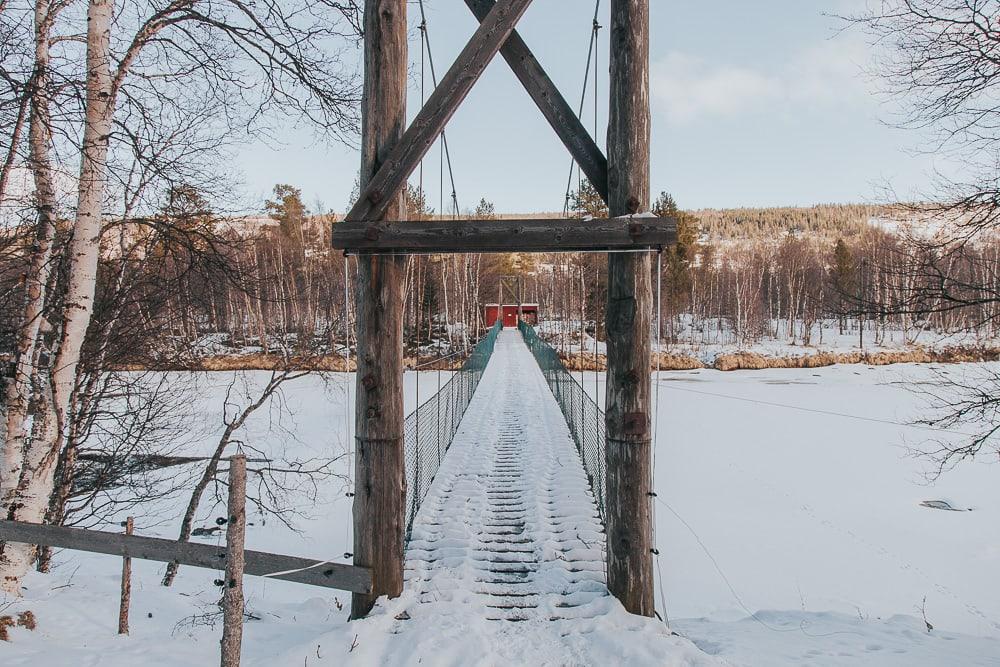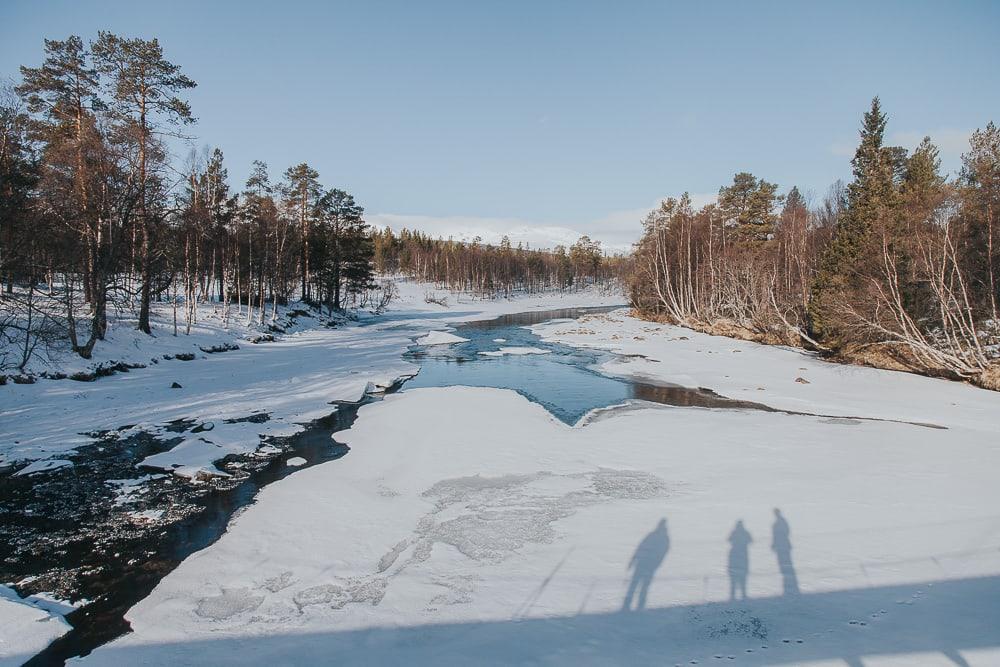 She told us more about Susendal's history, and how the community works together on projects – they even built their new church as a village volunteer project.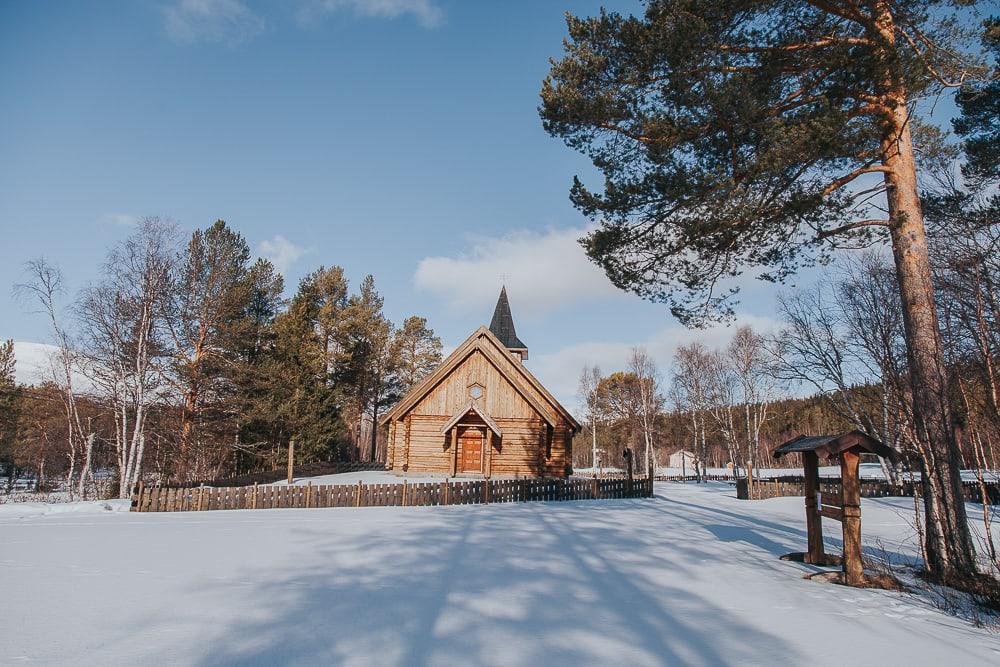 This is a great place for walks and hikes as well, as it's right on the edge of Børgefjell National Park.
Sæterstad Farm
Then we drove to our next home for the night: Sæterstad Farm, an organic mountain farm run by Knut Kastnes and his wife Siri.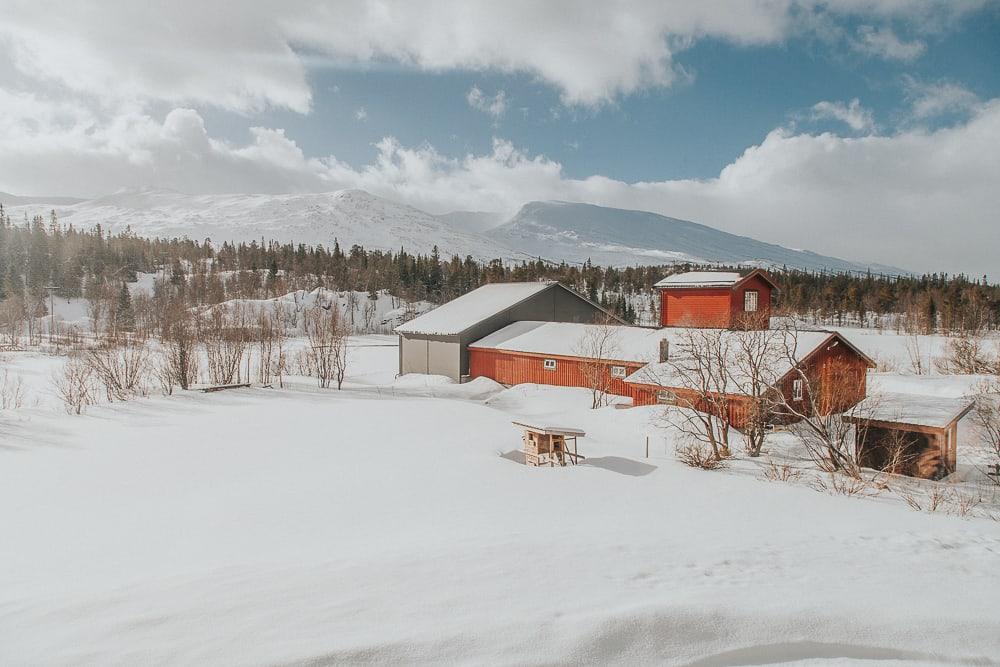 Sæterstad Farm is right by the big Røssvatnet Lake, and while the accommodation at Furuheim Farm was very traditional Norwegian, I'd say the house at Sæterstad Farm is more Norwegian luxury.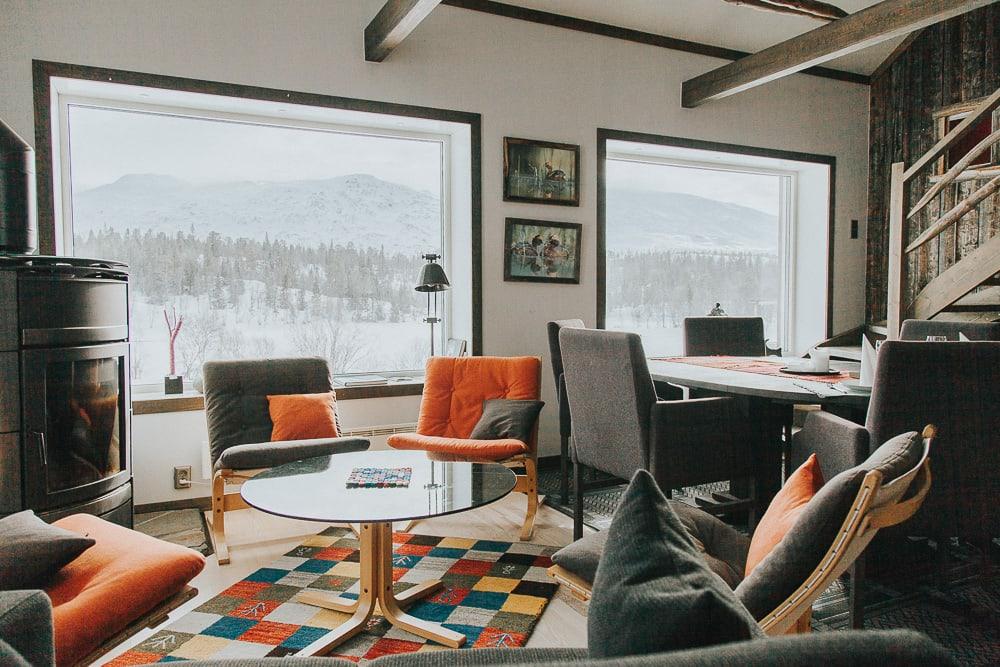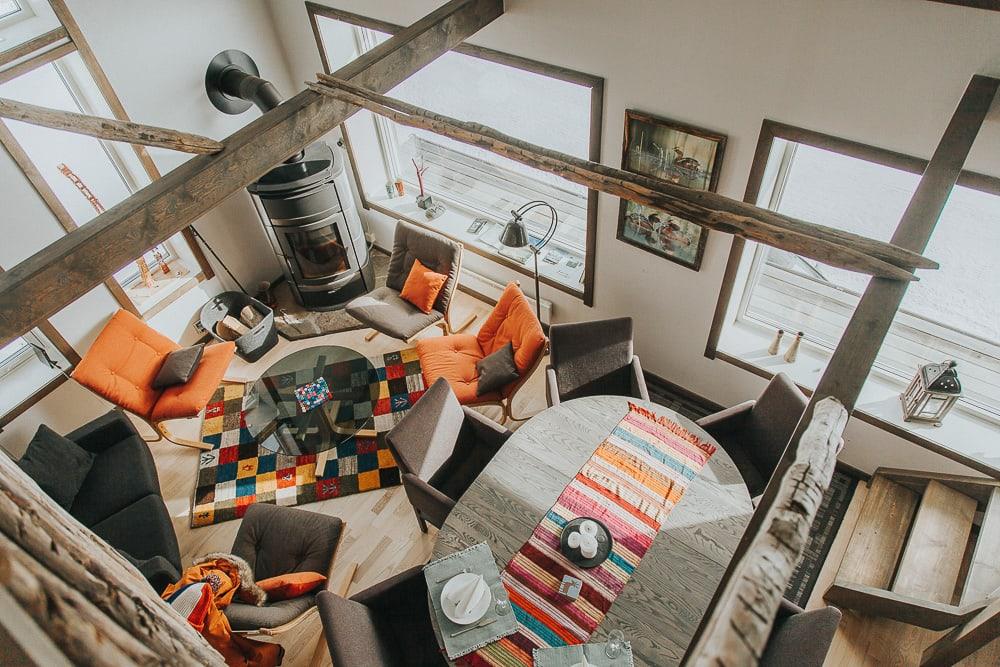 The view from the accommodation is beautiful, and you can enjoy it from their sauna and jacuzzi. And they even have a healing salt cave, because apparently that's a thing.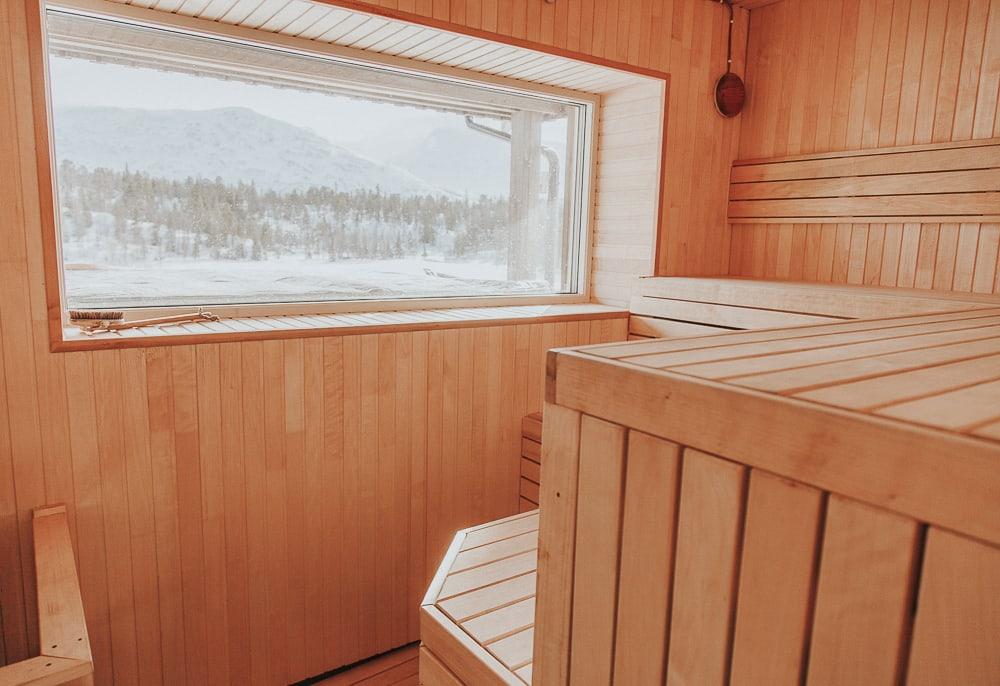 As soon as we arrived we were served lunch with Arctic char and feta cheese both straight from the farm. There's nothing quite like eating food right where the ingredients came from.
We were lucky with sunny weather, so we took advantage by taking a snowshoe hike with Knut and Siri's daughter Anja to the family's cabin on the lake, where we refueled with some freshly baked rolls from the farm.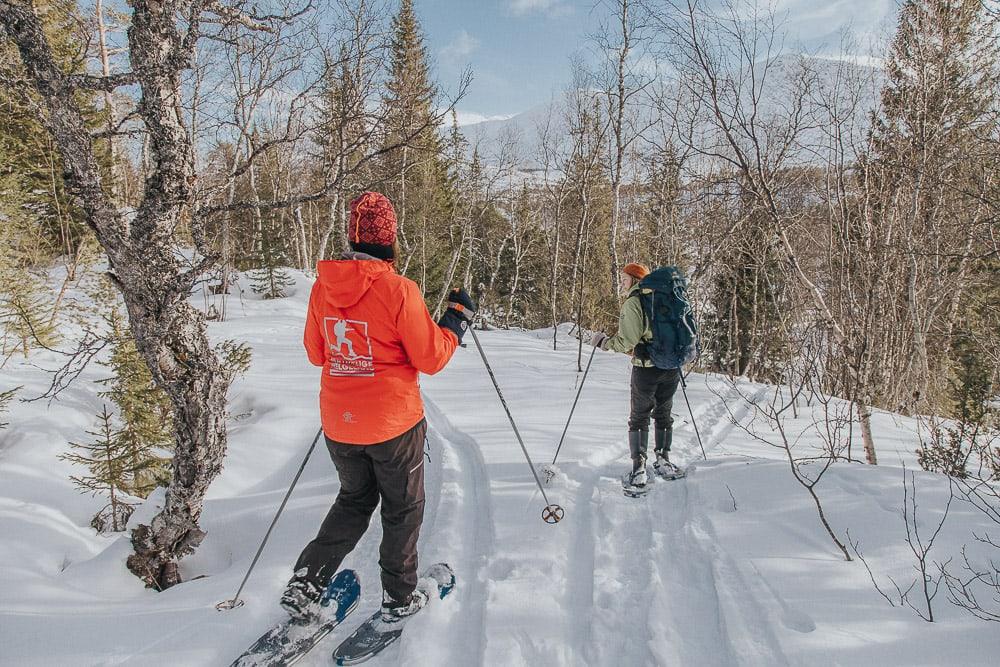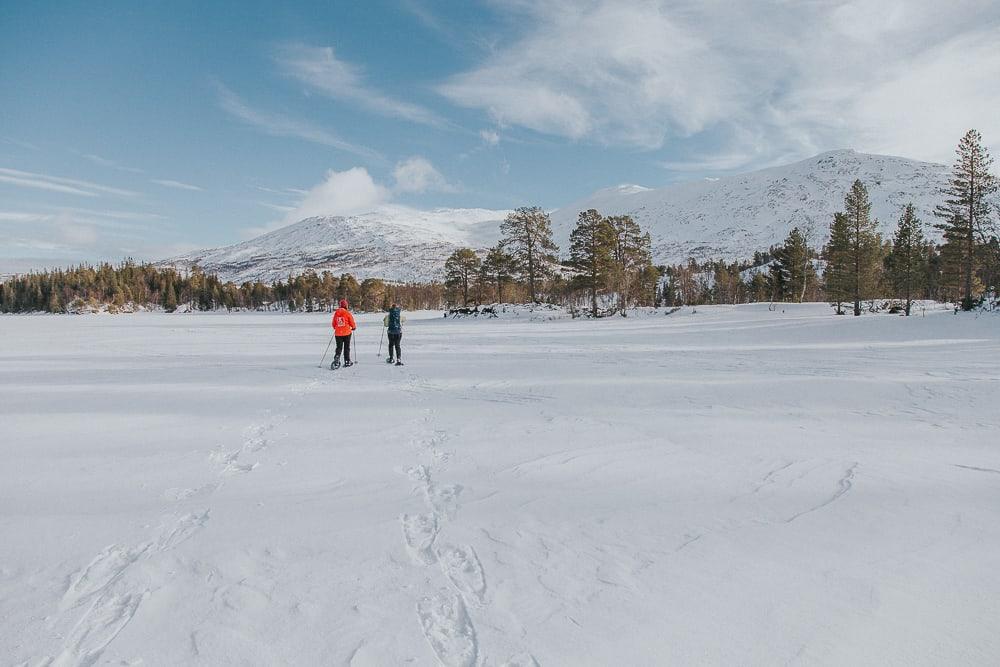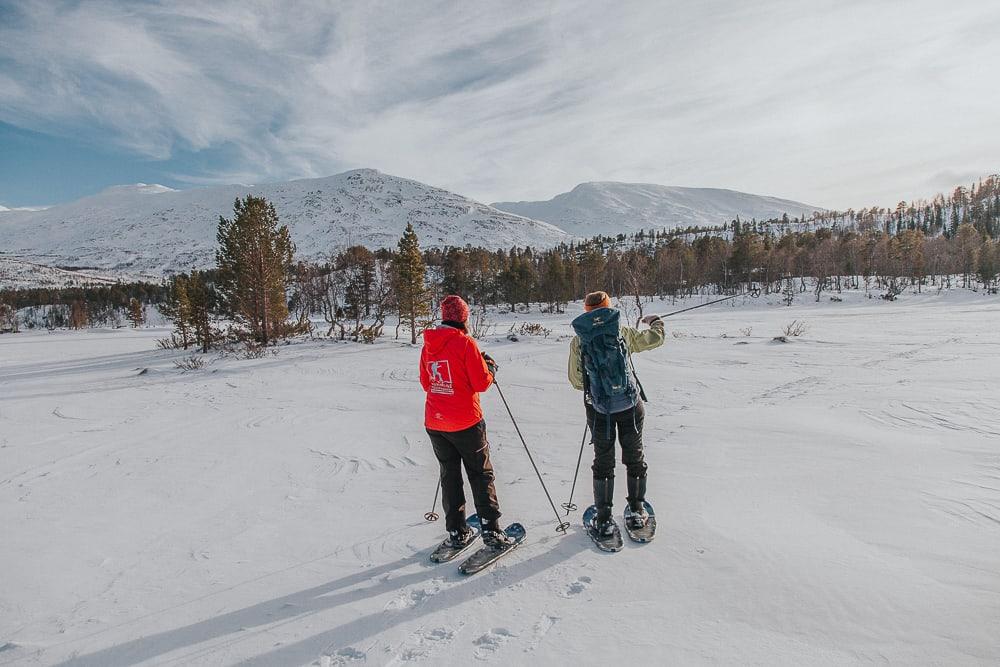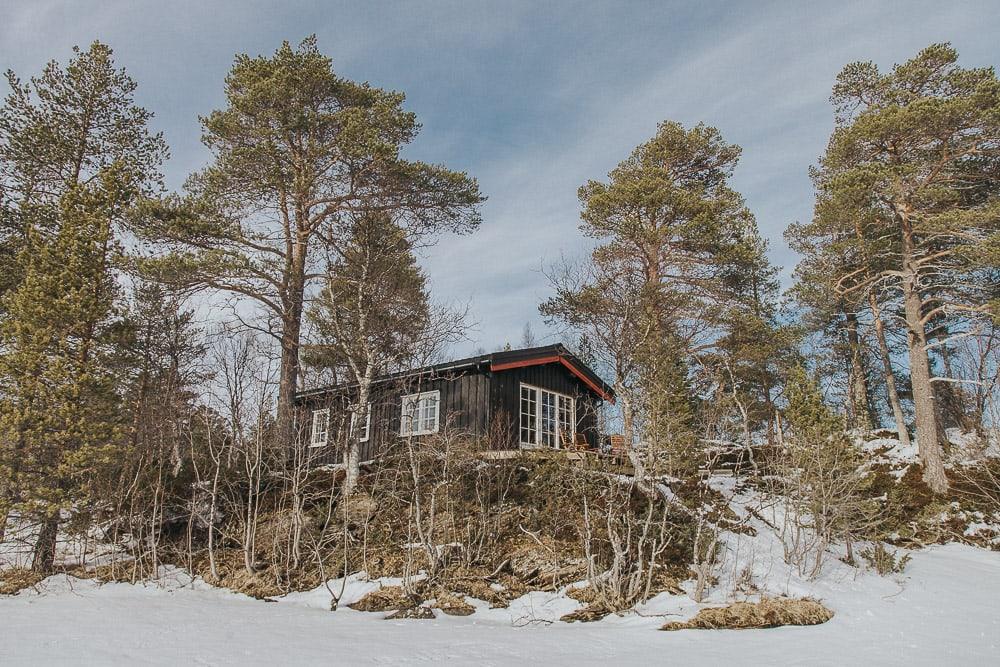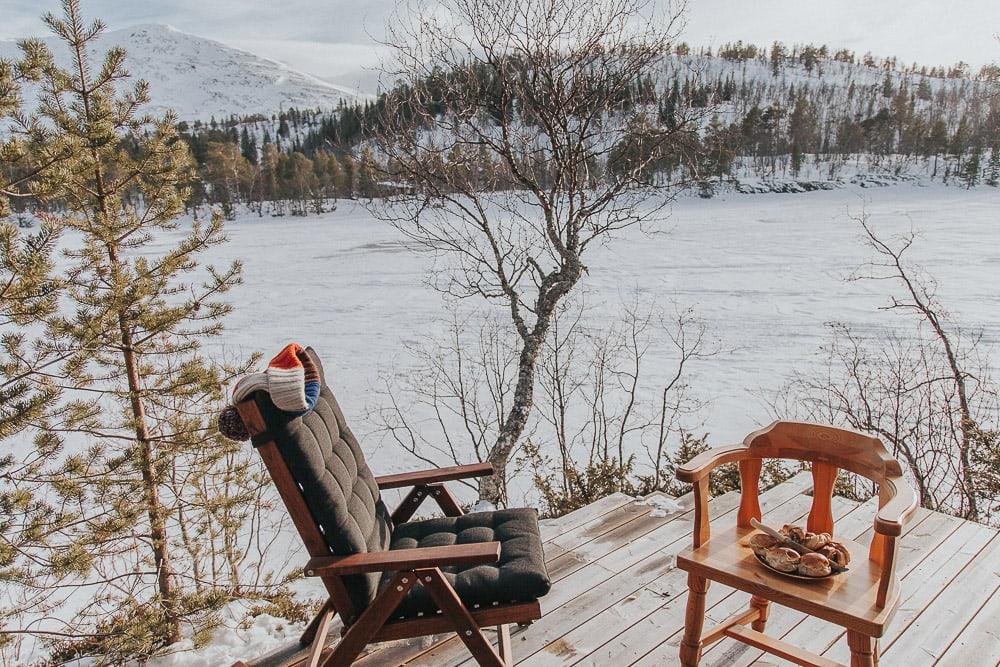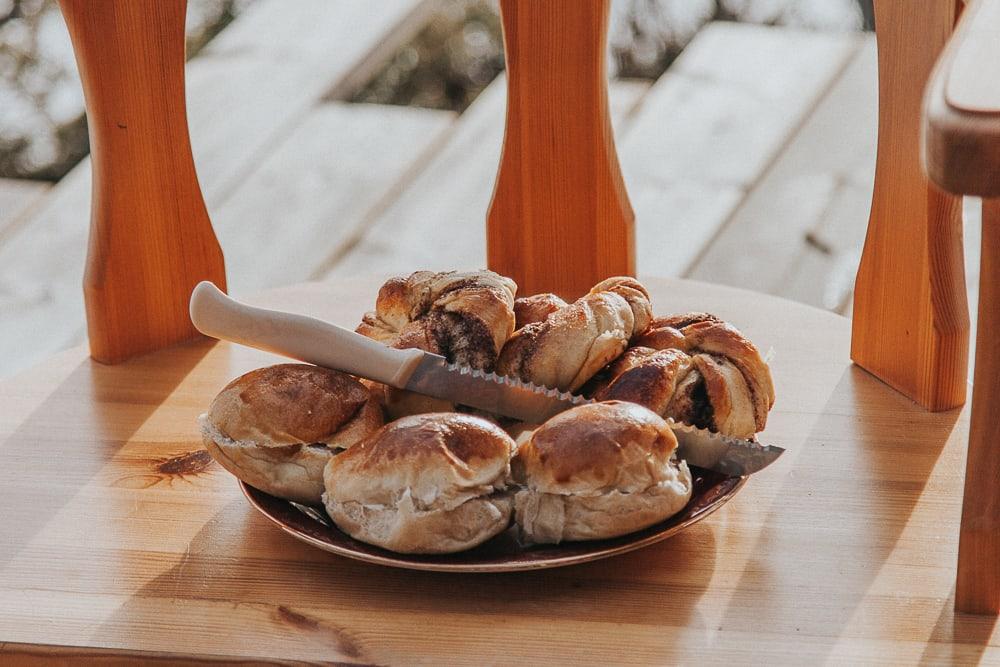 When we returned we relaxed after all the hard work snowshoeing (jk, snowshoeing is really easy) with a spa evening in the jacuzzi and sauna. So bliss.
And then in the evening we joined some local school students who were visiting the farm and made some pizzas in their wood burning oven.
Day 3: Hattfjelldal to Mosjøen
In the morning we took a little tour of the farm to see their goats and fish, as well as where they were making brown cheese. I'm not much of a brown cheese fan (I guess because I'm only half Norwegian?) but even my mouth was watering watching how the cheese is made. It looks like caramel!
While Trine at Furuheim Farm was super friendly and talkative, Knut and Siri were a little more shy but also so sweet, and they clearly love the work they do at the farm. I was so sad to leave the quiet escape we had found at Sæterstad Farm.
But Merethe and I had one last activity on our itinerary: snowmobiling!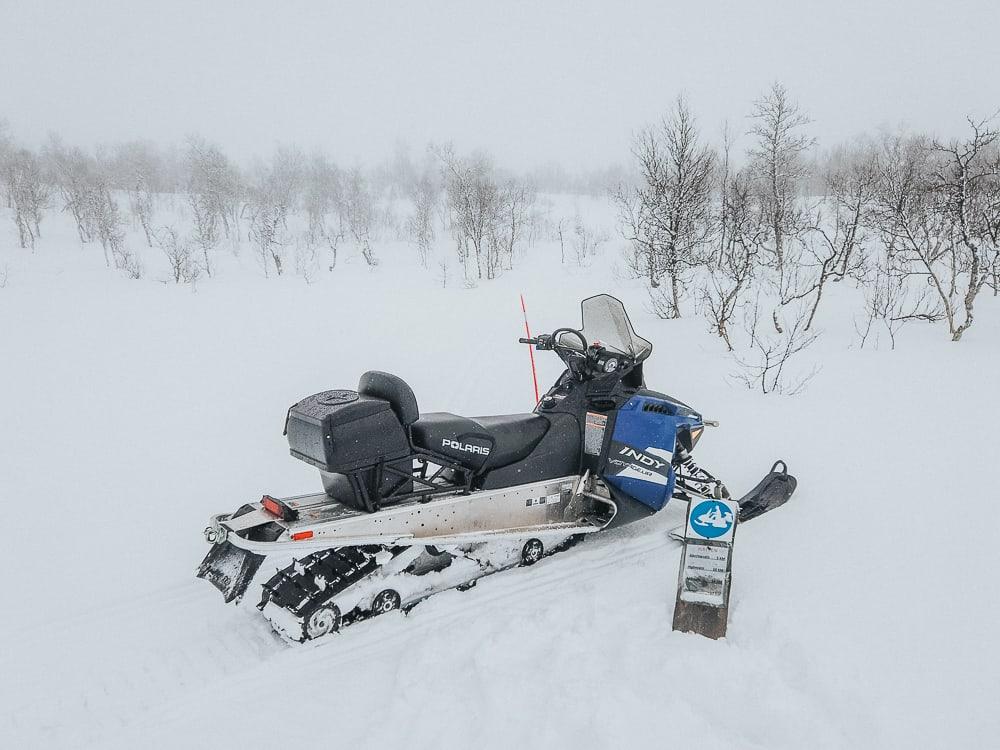 My first introduction to snowmobiles was listening to my mother huff and puff at the snowmobilers who disturbed our idyllic ski trips in the cross-country ski area near our home in Worcester, MA. My mother never huffed or puffed (because Norwegian), so I knew those snowmobilers must have been bad news.
In retrospect she was probably just using them to vent her frustration over having given birth to two half-American children who could not ski. I mean, serves her right for ever leaving Norway.
And yet all these years later, I've always stayed away from snowmobiles!
So I was excited to finally try it out with Merethe, and while our luck with the weather did change and we essentially drove into a white-out blizzard, it was really fun! And again it was such a great local experience, because oh my goodness, Hattfjelldal is obsessed with snowmobiling. My mother would hate it. But the rest of us can take advantage and have some fun in the snow!
I didn't bring my big camera out with me on the snowmobile, but I did film a little bit for my video from Hattjfelldal:
And then we headed home!