Trondheim was the first place in Norway I lived in, so I guess it makes sense that Trondheim seems to be the city in Norway that people most often ask me about. I feel like at least once a week someone asks me for tips about the best things to do in Trondheim, when to visit, what to see, where to eat, and where to stay in Trondheim. Like, questions that should be really easy for anyone who has lived in Trondheim to answer.
And I'm always like… have you considered visiting Ålesund? Or Bodø? Let me tell you about them!
Lol I'm the worst. And it's ridiculous, because Trondheim is actually one of the top Norwegian cities I recommend people visit.
The downtown is small enough to explore in just a day, but offers so many epic views and photo opportunities, and it's on the train line so gives you easy access to both southern and northern Norway.
So after my most recent visit to Trondheim, I decided to pull myself together and finally write that guide to what to do in Trondheim that I've been meaning to write for, oh, about a year and a half? Because as far as Norwegian cities go, if you're looking for fun things to do Trondheim has got you covered. So here are all my top tips for things to do in Trondheim. 37 to be exact! Edit – after my last trip to Trondheim I had to add two more so now there are 39!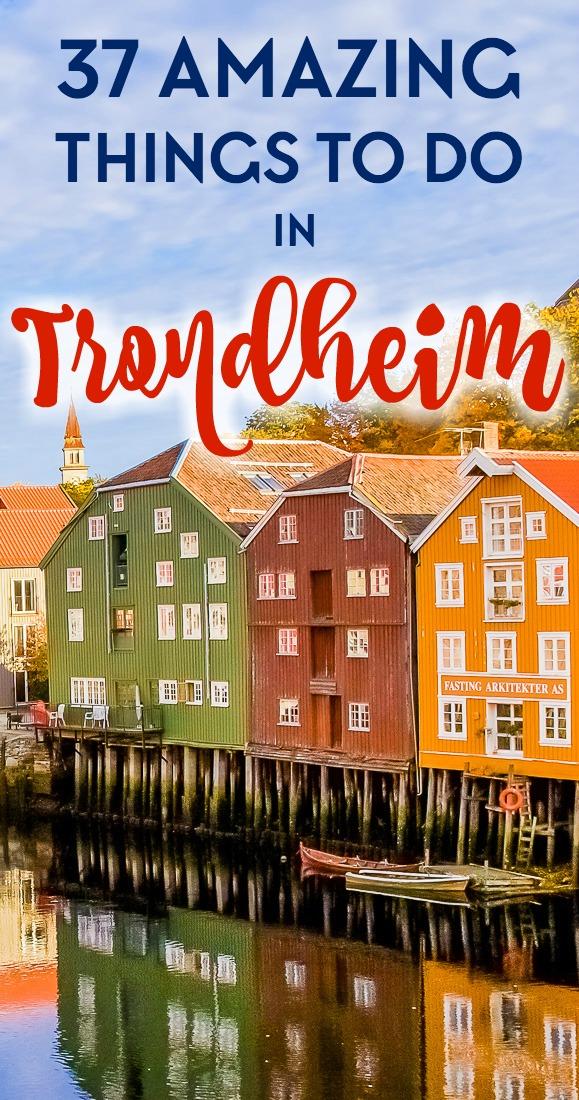 Southern Norway Guide!I've gathered all my best advice for planning an incredible trip through southern Norway (from the far south up to Trondheim) in a 93-page ebook covering my top recommendations for places to visit (both on and off the beaten path), the best times of year to visit, how long to visit for, the best accommodation choices, transportation, what to eat, what to pack, and a sample itinerary that covers my personal favorite route through the south.
The Best Things to Do in Trondheim, Norway
Walk through Bakklandet
Bakklandet is my favorite area of Trondheim and really the main reason why I think tourists might want to consider adding Trondheim to their Norway itinerary.
In fact, a family friend from Oslo visited Trondheim while I was living there and I took him around Bakklandet and he said he had never realized Trondheim was so nice. At the start of the day he was saying how odd he thought it was that I had chosen to move to Trondheim of all places, but by the end of the day he was talking about how he might like to live here too!
Bakklandet is famous for its old wooden homes, café culture, and cyclists. The streets are cobbled, but they have special paved sections for cyclists – there's even a bicycle lift to help cyclists up the steepest hill. It also happens to have some of the prettiest views in all of Trondheim.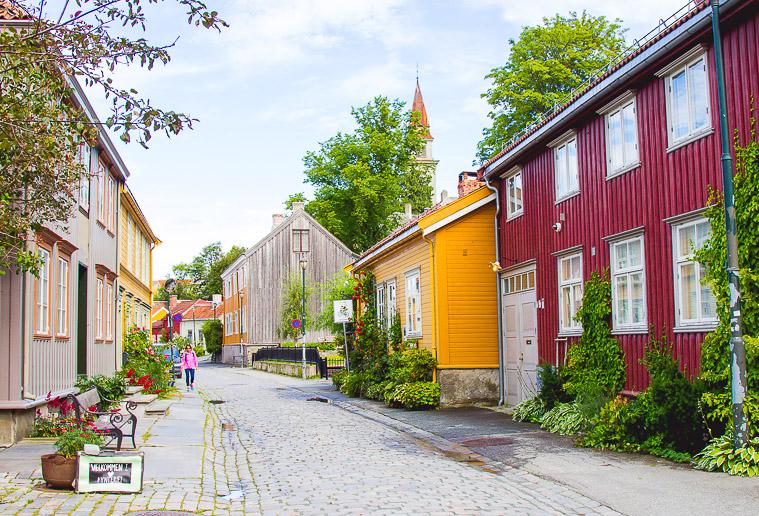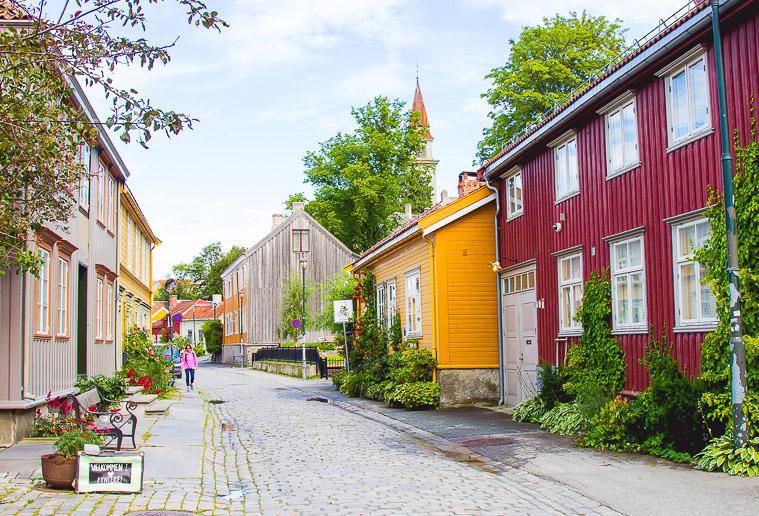 But what I love about Bakklandet is that unlike other old wooden neighborhoods in Norwegian cities, Bakklandet really isn't that touristy. It's mostly young people living there and just has a really nice, laid-back vibe.
If you're looking at tours, Bakklandet is included in this alternative tour, and if you'd like to stay in this area, try the Scandic Bakklandet.
Take photos from Gamle Bybroa (the Old Town Bridge)
Because this view: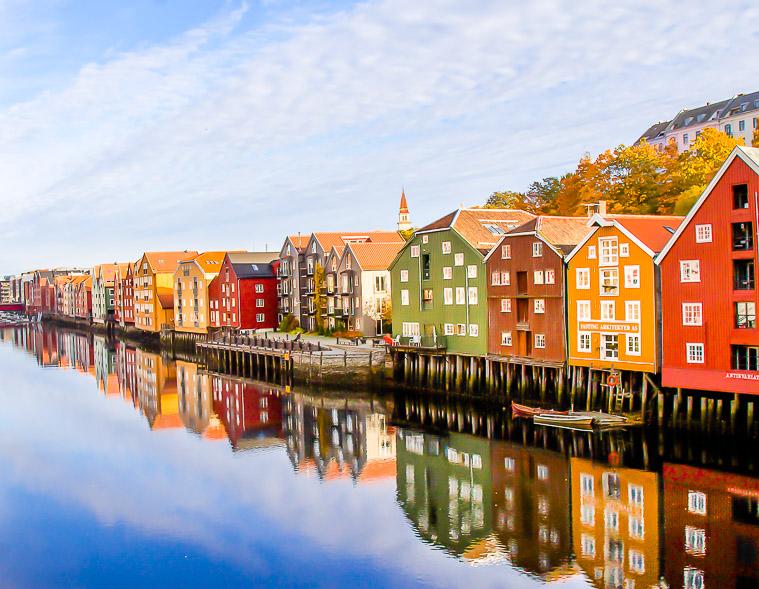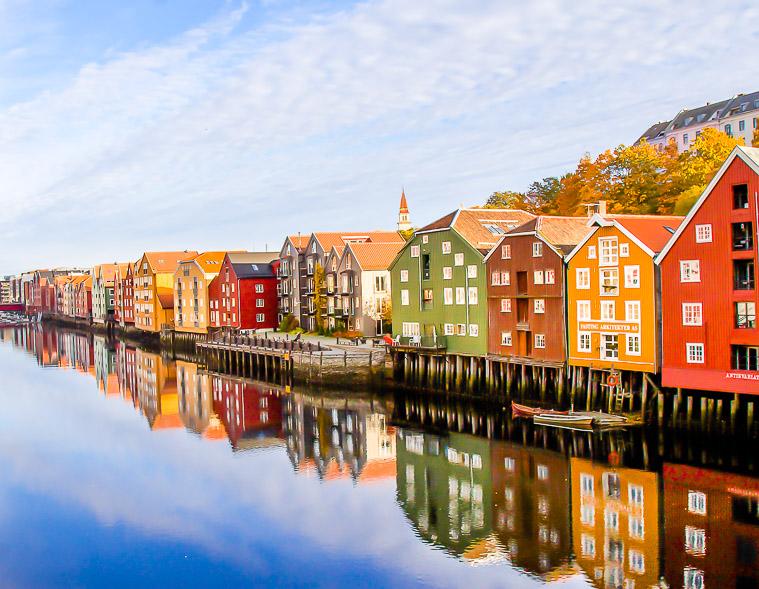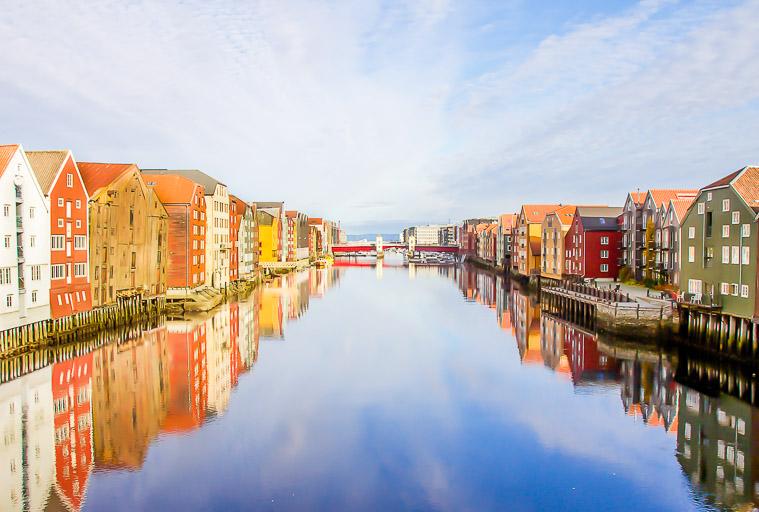 Visit Nidaros Cathedral
This is funny, but visiting Nidaros Cathedral is always one of my top recommendations for what to see in Trondheim, but I've never actually been inside!
I can't remember how much the entrance fee is (it's 90 NOK – thanks, Google), but I've been to enough cathedrals to feel like it's not really worth it. BUT you definitely need to see the outside of Nidaros while in Trondheim. It's also right in the center of the city, so you're not likely to miss it anyway.
Nidaros Cathedral is also included in the alternative tour of Trondheim.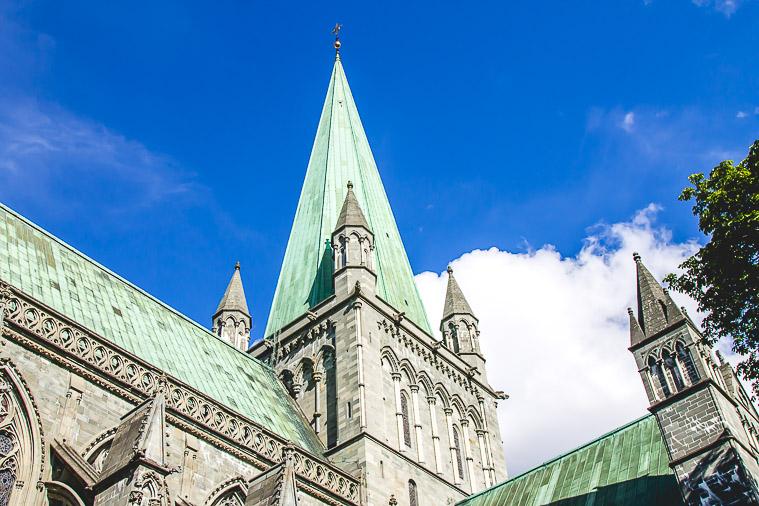 Explore Trondheim with a local
Trondheim is a peculiar city and definitely has a different vibe to Oslo and Bergen (read: a lot of people from Southern Norway make fun of Trondheim), so I've found that the best way to fall in love with Trondheim is to see it through a local's eyes.
Trondheim locals are incredibly proud of their city and can show you the best spots and tell you lots of interesting stories (I assume some of them might be true?). So consider booking a customizable private tour for a few hours – they're surprisingly affordable and will give you a unique perspective on the city. Click here for prices and availability
Take the tram up to Lian
Did I mention that these recommendations for things to do in Trondheim are in order of importance? They are (at least, so far they are).
One of my favorite things to do in Trondheim, in all seasons, is to take the tram up to Lian. You can catch it on St. Olav's Gate in the city center.
In the winter there will be snow up there before we get it down in town, and in the summer you can go swimming in the lake! It feels like a little nature escape from the city, plus you can get some great views of the city from up there as well.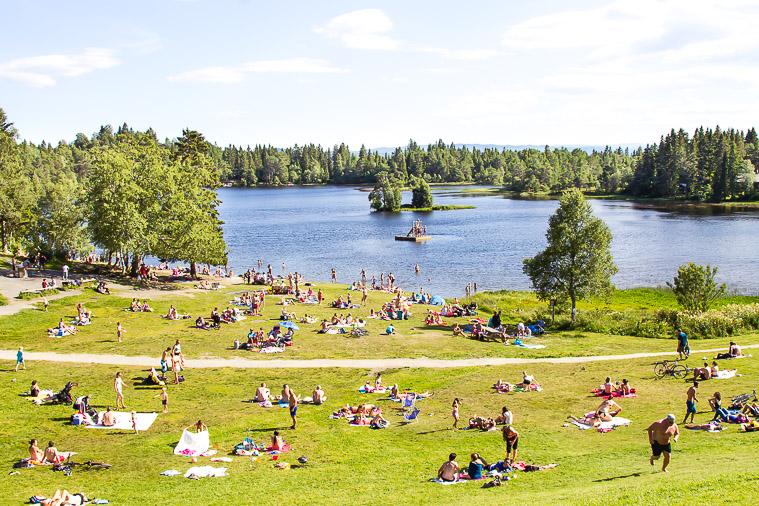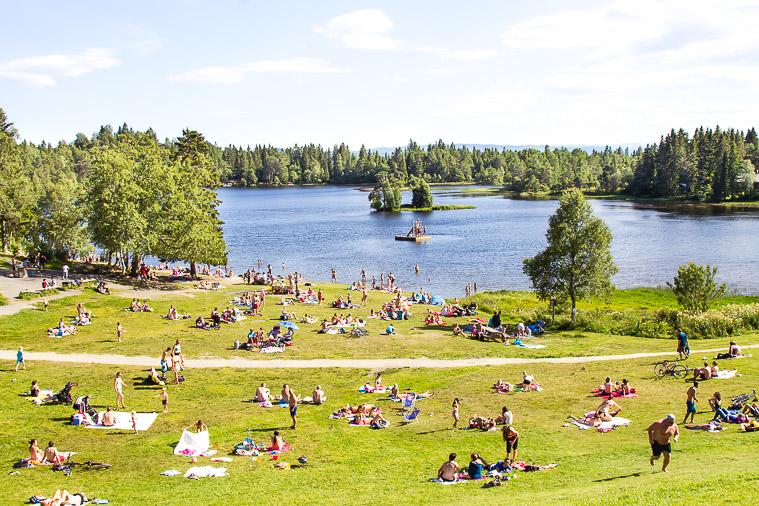 summer vibes much?
Walk around Bymarka
And while you're up at Lian, explore the surrounding woods! There are so many pretty paths here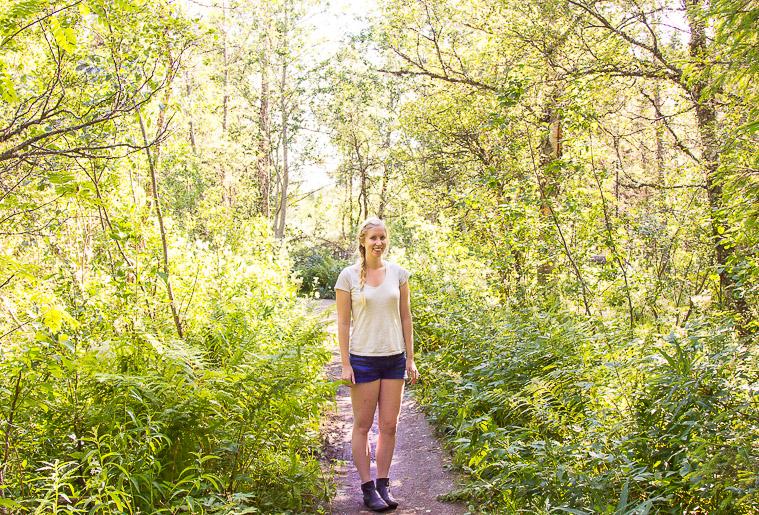 Have a picnic at Kristiansten Fortress
I used to live right by Kristiansten Fortress and it's one of my favorite places in Trondheim. In the summer the park here is full of people sitting on the grass with picnics or grills.
Uh, just if you do bring a one-time grill, maybe don't put it on a wooden chair.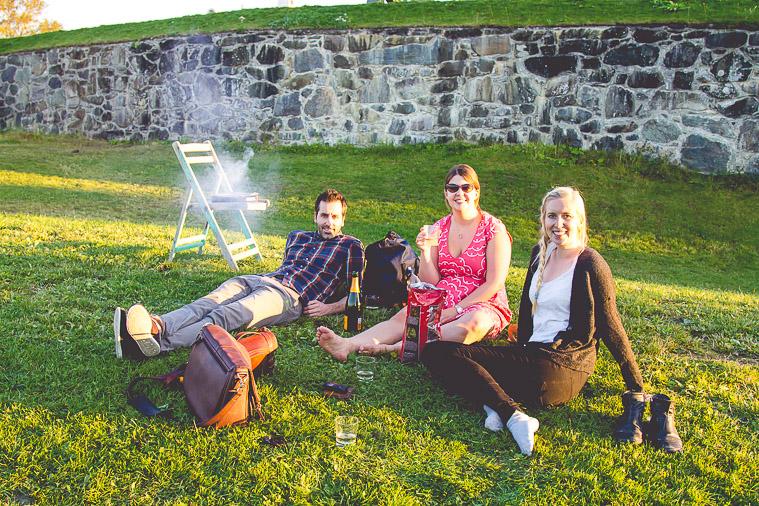 Go swimming in the fjord
Yes, even in August it will be crazy cold, but if you want Norwegians to take you seriously you're going to have to do it. At least that's what my Norwegian friends told me…
Watch the Northern Lights
Okay, probably not. But, if you're really, really lucky you might get to see the Northern Lights in Trondheim! At least I did once (but yeah, only once).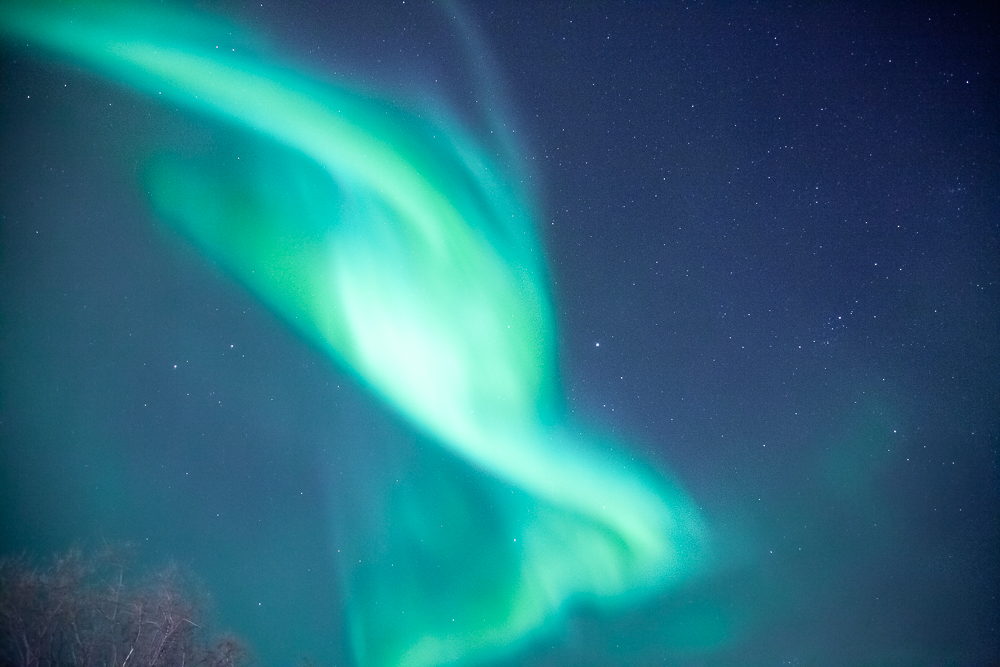 If you really want to see the northern lights, you should travel north of the Arctic Circle (so Bodø or farther north).
I've written an in depth ebook covering all aspects of planning your northern lights trip, including the best places in Norway (and the Nordics) to see the northern lights, the best time to see the northern lights, my top northern lights accommodation choices, tour options, how to chase the northern lights (including which apps I use), how to photograph and film the northern lights, what to pack for your trip, and other exciting Arctic activities to try on your trip up North.
If you want to ensure you have the best northern lights trip possible, you can purchase the ebook here.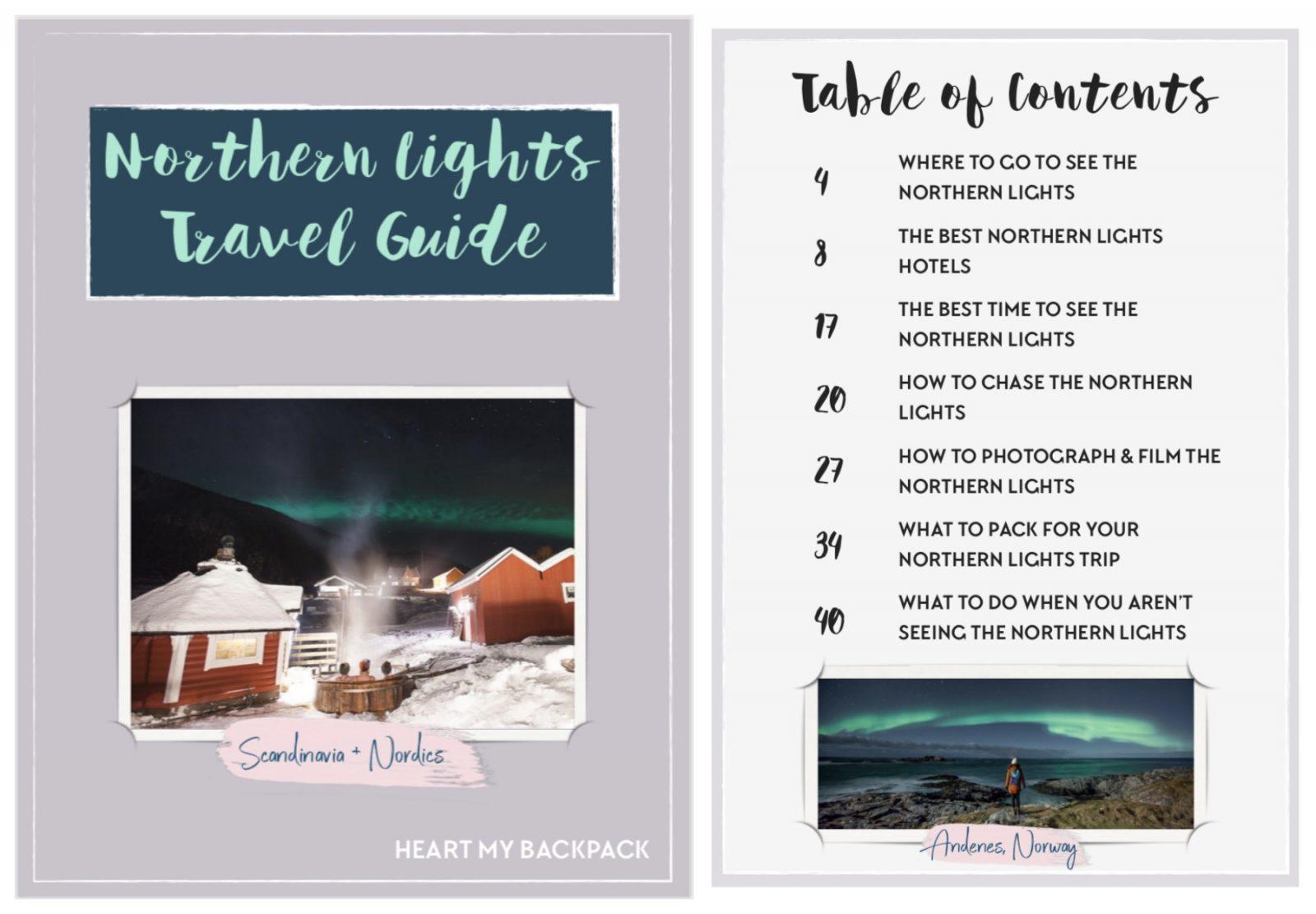 Eat something with seafood (or just have a beer) at Kafé Skuret
This pub is right on the water and is so, so nice on a sunny day (though the inside is also nice on a not sunny day). Something about sitting on the seafront always makes me want to eat seafood here, but apparently, some people can enjoy it with just a drink. You decide!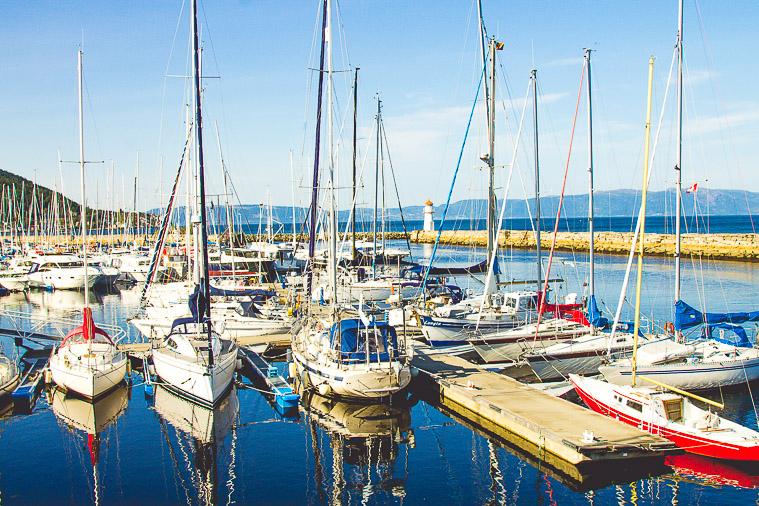 Visit Trondheim's many trendy coffee shops
Honestly, there are so many hip cafés in Trondheim, and it seems like a new one pops up every week, so I don't even have one to recommend to you. Maybe just go to them all.
Have a meal at Kalas & Canasta
Kalas & Canasta is a wonderful gem in Bakklandet that mostly only locals seem to know about. From the entrance it looks like a modern cafe, but if you walk farther inside you'll find a super cosy dinning room in the old Bakklandet style. I had the 3-course set menu with wine pairings and it was seriously one of the best meals I've had in Trondheim. They also have a daily lunch special for 149, which is definitely a bargain for the area.
Have a meal at Troll
So the best meal I've ever had in Trondheim was at Troll. My friend Danielle was visiting and she's a huge foodie (and works in a restaurant) so she did tons of restaurant and chose Troll. And like, whoa it is so good.
We split one 3-course set menu (we didn't have time for the 5-course meal) and a fish dish and it was so much food between the two of us. If you want an amazing meal in Trondheim, go here.
Enjoy the long summer days (or… long winter nights?)
Trondheim is quite a ways north from Oslo, so if you've only been hanging out in Southern Norway you'll be surprised at how much longer the days are up in Trondheim in the summer! But if you come in the winter be prepared for very little sunlight.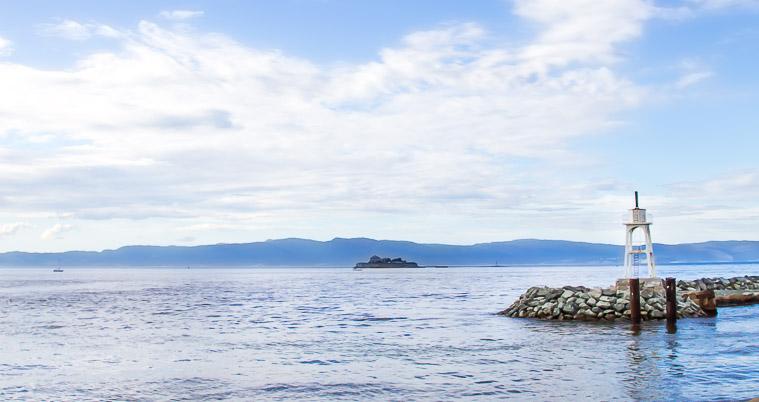 Catch a coffee, drink, and/or show at Antikvariatet
I mostly love Antikvariatet because it looks like a library inside. On a sunny day you'll see tons of people sitting outside here, and on cold/rainy/snowy (aka most) days you can stay inside and enjoy the super cozy setting, even along with some live music if you're lucky!
Watch an Arsenal game at the Three Lions pub
Uh, did I really just write that?
I'm not the biggest sports fan, but it's actually really fun to watch Arsenal games at the Three Lions (treat yourself to a burger too!) as this is where all Trondheim's Arsenal fans gather – and there are a lot of them.
But no worries if you're not an Arsenal fan, or into football at all. The Three Lions has tons of different rooms, all showing different sports (and actually during Arsenal games, they'll show the same match in two different rooms – one for the Arsenal fans and one for whomever they're we're playing).
Have a drink with locals at Bobby's Bar
Okay, so I'm really unsure whether I want to share this secret, because Bobby's Bar is so special. It's a tiny little bar right in the center of the city frequented by the same group of old men each night. The owner is the nicest guy and when I've gone everyone has chatted with each other.
It's so special, partly because it feels so local. So I don't want to ruin it by making it touristy! Like, the first time I walked in everyone looked up to see who the strange new girl was. I feel like they don't get a lot of non-regulars here – but they're so welcoming (they didn't even let me pay for my drinks the first time I went).
So seriously, only go here if you actually are interested in meeting locals. And no photos are allowed inside!
Eat some soft serve ice cream
In rain or shine, because Norway. And also because Norwegian soft serve is amazing. You can get it at most of the convenience stores in Trondheim during the summer.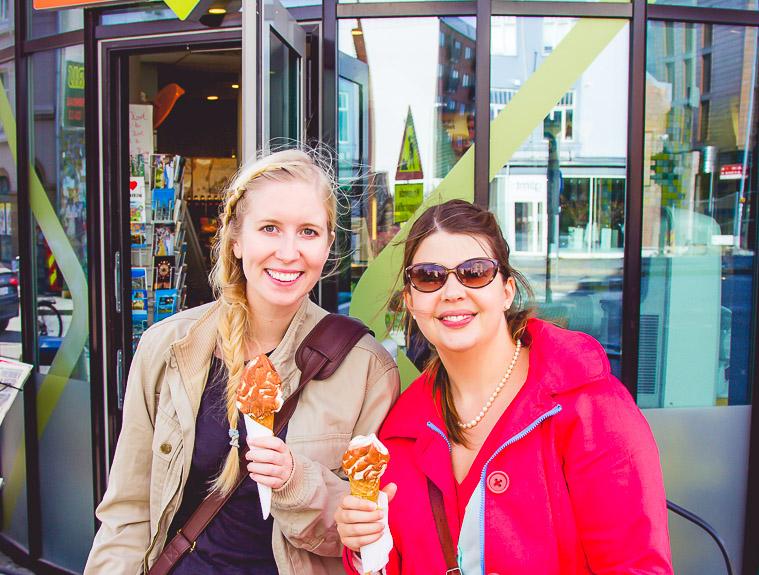 Rent a bike
With all its bike lanes (someone once told me Trondheim has 12% more bike lanes than any other city in Norway, though I can't promise that's true) Trondheim is a great city for cycling, and it's worth renting a bike here to join in on the fun.
If you're really brave you could even try out the bike lift in Bakklandet! (Though you seriously do have to be brave for this – I've seen many a cyclist make a fool of themselves trying to maneuver up this lift.)
Watch cyclists try to use to bike lift
In fact, forget cycling yourself, just head to the bike lift in Bakklandet and watch people trying to use it instead – that'll be way more entertaining. The best is when a tour group comes through and tries it out – so many lols.
Go thrift shopping
Trondheim has so many good thrift stores! You can start at the Fretex (Norwegian Salvation Army) downtown, but you'll find loads of small secondhand shops sprinkled throughout the city center. And there are always so many good finds here!
Wander through Møllenberg
This is my old neighborhood, and full of pretty wooden houses and views over the water. I think it's one of the prettiest neighborhoods in Trondheim, yet bizarrely this is where tons of students live – like, how do they afford it?
Oh right, because they're Norwegian.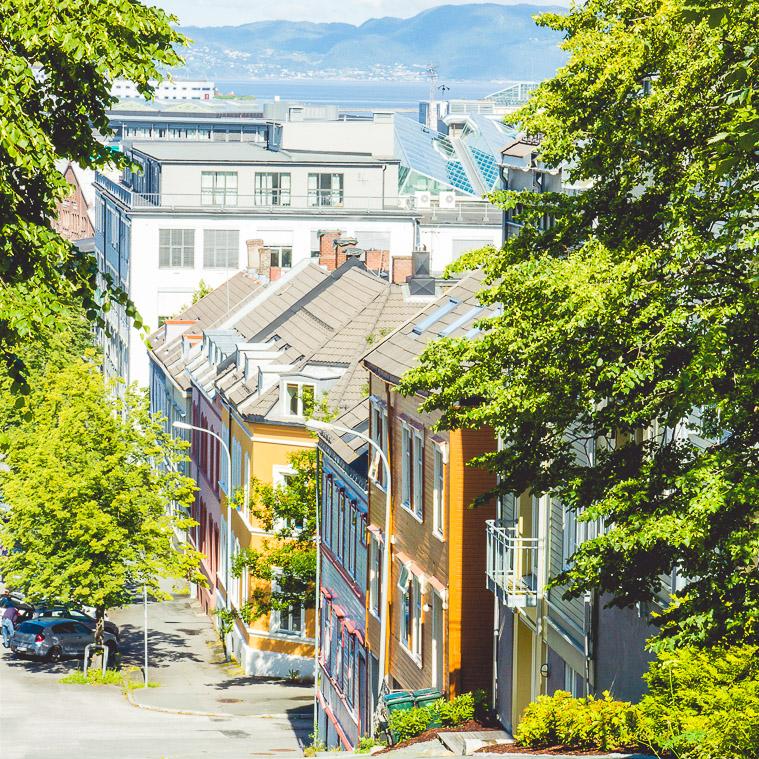 Check out the record shops in Trondheim
While you're being all hipster at the thrift stores, why not check out some good old fashioned record stores as well?
Trondheim has a bunch of record shops, though All Good Clean Records on Nonnegata 25, is probably my favorite – solely because it has a coffee shop inside as well. Haavard Holm Aftermath Music is also really good. It's right next to the tram stop at St. Olav's Gate. It's one of those hole in the wall places with lots of random and obscure records.
Eat lunch at Baklandet Skydsstation
Aka the most adorable restaurant in Trondheim (and the world). They often have a herring buffet for lunch, but they also have tons of other amazing things to eat if herring isn't quite your thing. So yum, so cute. No really, so cute.
Take a walk along the river
One of my favorite things to do in Trondheim is actually just to follow the route the river takes through town. I like to start in Bakklandet and then walk away from the fjord, into the city.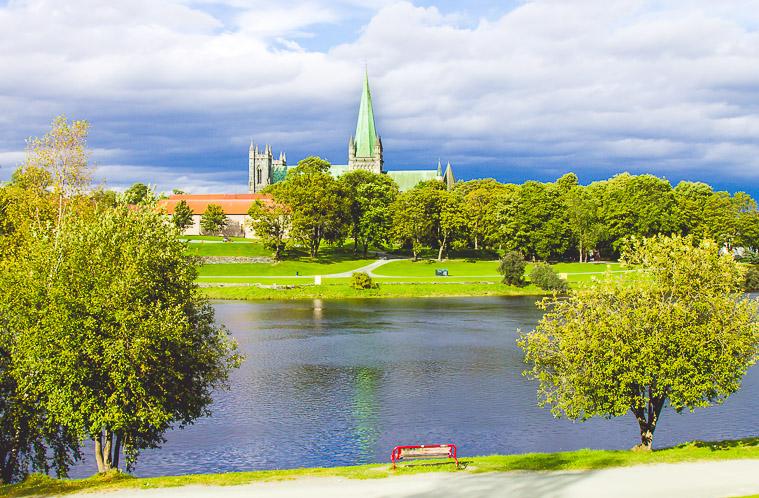 Visit Svartlamoen, or "Little Christiania"
Trondheim's hippie paradise Svartlamoen is basically a much smaller version of Copenhagen's Freetown Christiania.
Rockheim Museum
I'm not a museum person at all, but people tell me Trondheim's museum of pop and rock music really is fun. I'm just not sure I believe them – so maybe you could go and report back to me?
Take the ferry to Munkholmen
Munkholmen – The Monk's Island – was used by the Vikings as an execution site, later a monastery was built here, and then in the 17th century it became a prison, and now it's a popular outing for both Trondheim locals and tourists.
You can either get a direct ferry there, or you can take a longer boat ride that will take you around town through Nidelva first. Both ferries leave right in front of the Ravnkloa fish market and you can buy tickets on board.
Sunbathe on Korsvika Beach
Lol jk, you're probably not going to catch many sun rays in Trondheim (though maybe you will!). The walk from the city center to Korsvika Beach is really nice though – just pop "Korsvika" into Google maps and follow their route.
Sample the local beer
I mean, I know nothing about beer, but I do know that Trondheim has some local ones that people drink. Dahl's is the local lager, and then the Trondhjem Mikrobryggeri is, well, a microbrewery. And Den Gode Nabo is a bar that has a floating deck on the river during the summer!
There, your expert guide to Trondheim's beer scene sorted.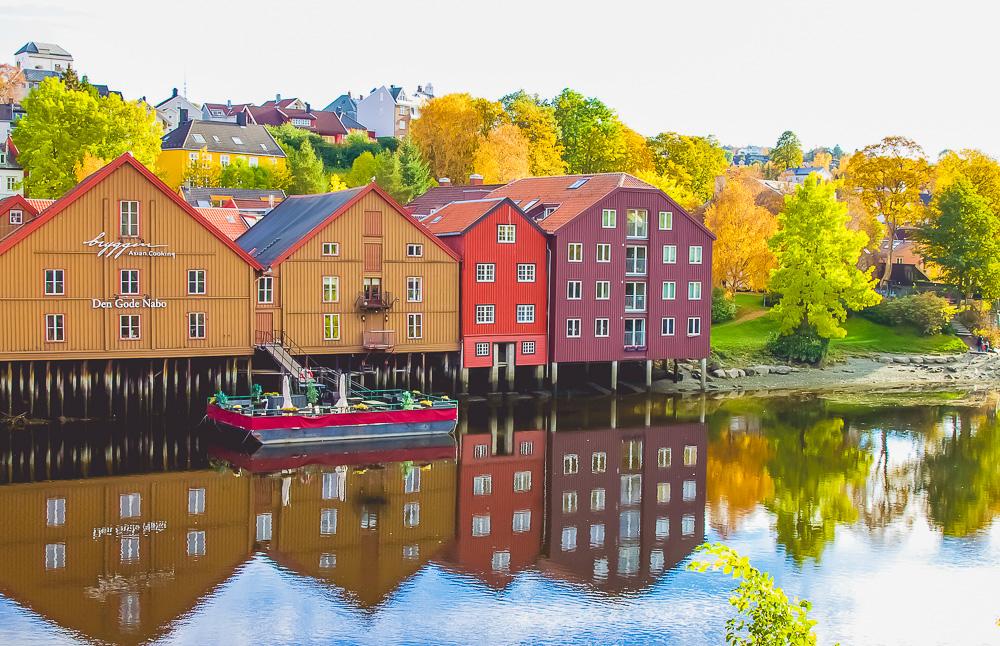 And then try some Linie Aquavit
Just kidding, don't really do that – I have yet to see a foreigner try aquavit and enjoy it.
But if you're feeling daring, Trondheim is the birthplace of Linie Aquavit, Norway's oldest producer of aquavit, so this would count as a cultural experience.
Check out the Christmas Market!
Uh, only during Christmastime though, duh.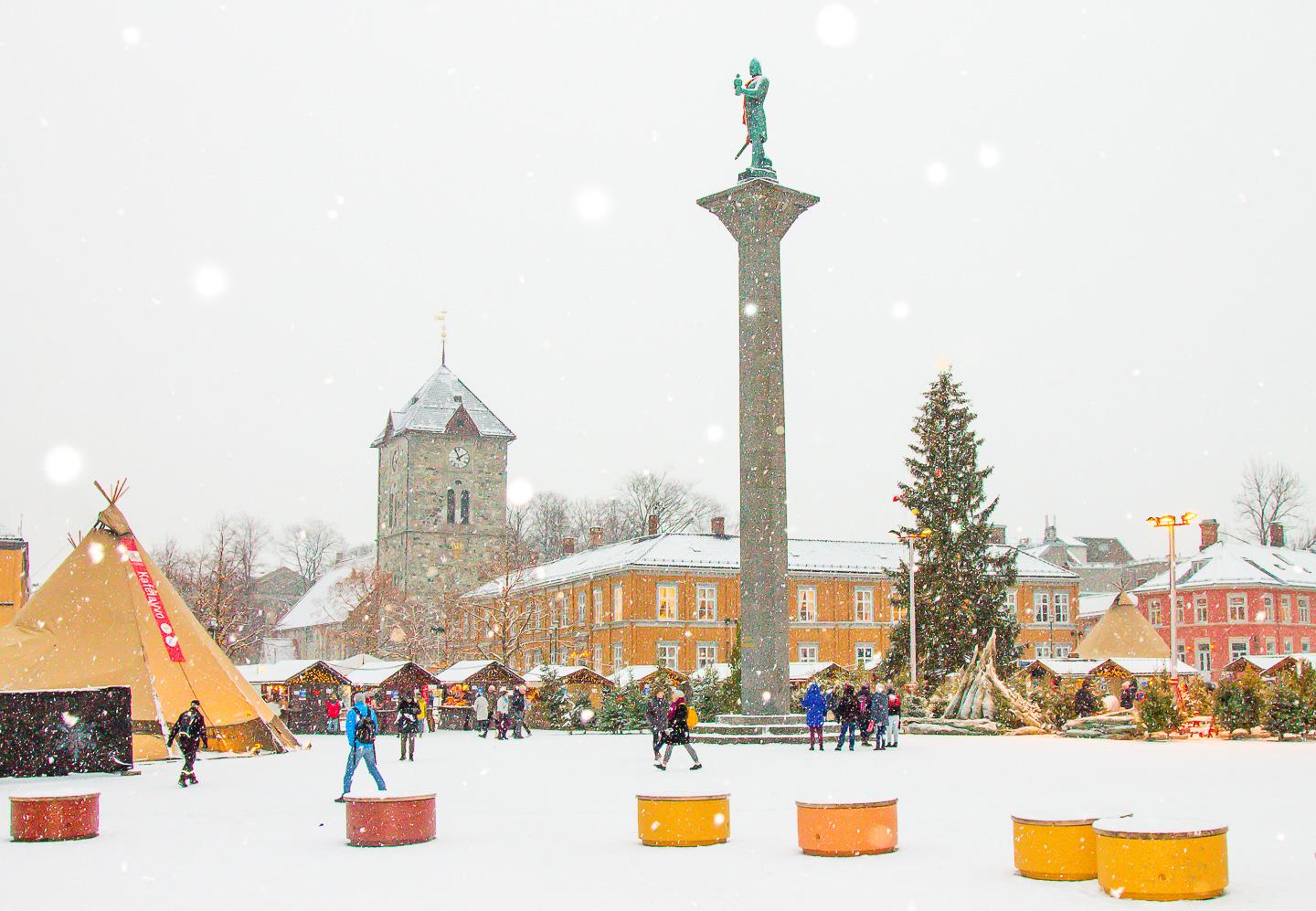 Go cross-country skiing in Bymarka
Again, this one is only for the winter. But my friend helps make the ski tracks, so they're sure to be excellent!
Catch a metal concert (or… cd) at Fru Lundgreen
Because when in Scandinavia.
Get the bus to Ikea
Or is that just something locals like to do? What can I say, Ikea's restaurant has some of the best deals on food in Trondheim!
Browse through Norwegian crafts at Husfliden
I'm not saying you should necessarily buy anything (everything here is super expensive) but Husfliden has lots of beautiful traditional and modern Norwegian art and crafts. I always enjoy peeking inside to see what they have.
Again, I'm not a fan of museums, but this one is actually really cool! It's made up of old houses and buildings from around Trøndelag and give you an idea of what life in Norway used to be like in the old days. Plus in the summer they often have outdoor concerts and performances here.
Eat at The Tavern
This restaurant is next to the Folkemuseum and serves lots of traditional Norwegian dishes, giving you an even better insight into Norwegian culture.
Go kayaking in the river
I know this is a thing because I've seen a lot of people kayaking down Nidelven. But I have no further information.
Ugh, fine, I just Googled it for you: you can find info for booking kayak trips here.
Eat at Solsiden – maybe
Solsiden is a shopping center near the train station with lots of restaurants where you can sit either inside or outside by the water. I actually always used to judge the people eating outside at Solsiden because they tend to be the preppy crowd of Trondheim – like they wouldn't be out of place in Stockholm if you know what I mean.
But during my last visit to Trondheim my friends and I went for pizza at Selma at Solsiden and it was super tasty and totally affordable. So I take back all my hate for Solsiden (or at least some of it).
Visit the city square
I've put this way at the bottom of the list – even after Solsiden! – because the city square in Trondheim is actually ugly and kind of depressing? At least, I'm not a fan. But then, there's something cool about that too, and now you'll probably have to go just to see if you agree with me or not.
The best way to get to Trondheim
Flights to Trondheim
One of my very favorite things about living in Trondheim was how convenient the airport connection to the city is. It's just a 20-minute bus ride from Trondheim's city center to the airport. Okay, so in retrospect maybe it was a little problematic that one of my favorite things about Trondheim was its proximity to an airport, but hey, at least it's super convenient for anyone looking to visit Trondheim!
Trondheim actually has some really good deals on international flights – when I lived there I flew to Boston via Iceland for just a few hundred dollars – but it would probably also be worth searching for flights to Oslo or Bergen and then transferring up to Trondheim. Check current prices for flights here
Taking the train to Trondheim
Trondheim is also on the train line. This last time I went up to Trondheim I took the day train up from Oslo, and then the night train back. If you book really early you can find really cheap tickets – I paid 249 NOK each way from Oslo to Trondheim.
Just be aware that if you're booking online with a card from the US, Canada, or Australia you may have to pay either with PayPal or by calling their customer service number. Check the train schedule and current prices here
Renting a car in Trondheim (and other parts of Norway)
You might also consider renting a car in Trondheim, or for your journey there if you'll be coming from a different Norwegian city.
You guys know by now that I'm a huge fan of road trips in Norway – there really just is no better way to explore Norway's gorgeous nature, plus since public transport is quite expensive in Norway you can sometimes save money by renting a car instead. Click here to check current car rental prices and save 10% (and if you're renting for a week or longer click here to save up to 35%)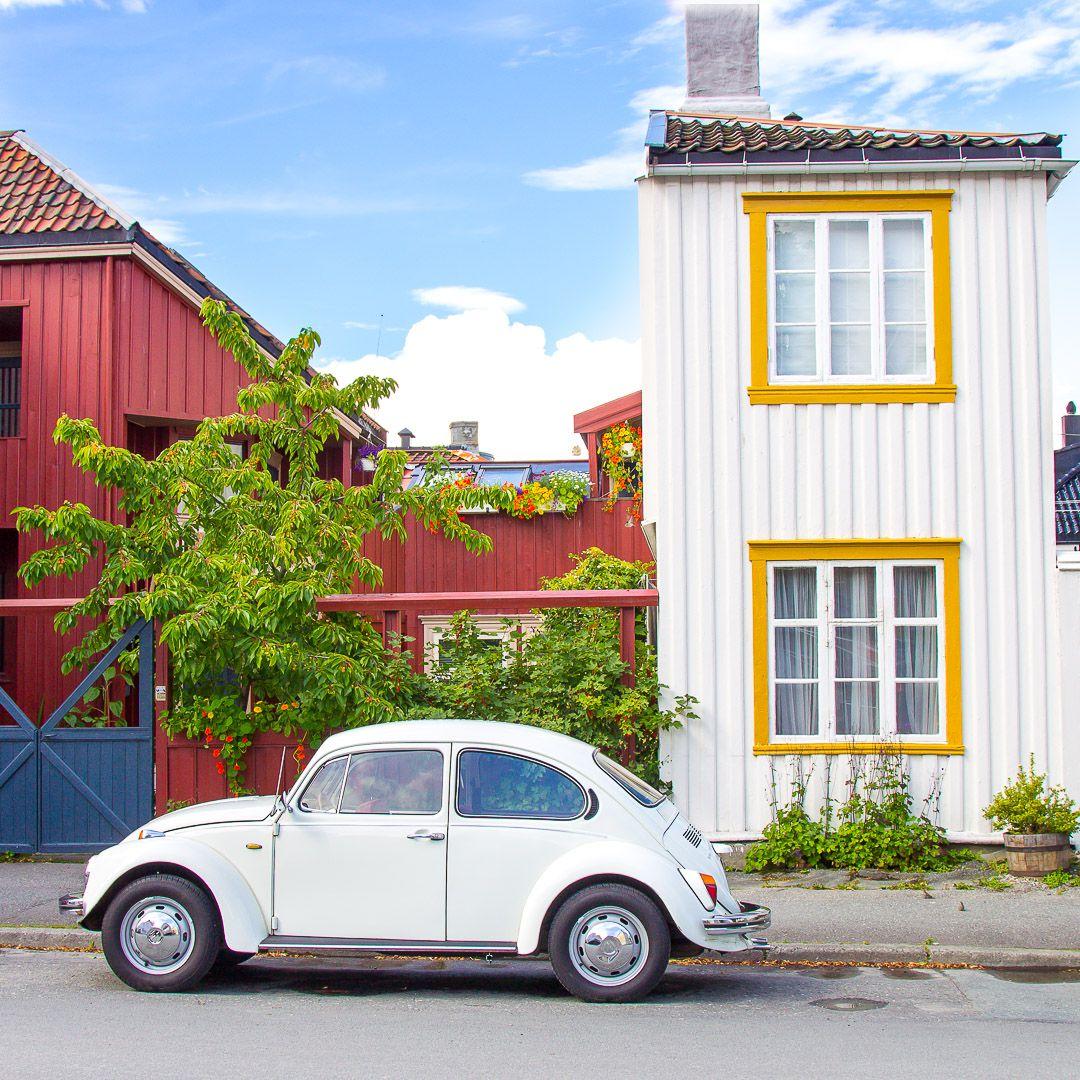 Where to stay in Trondheim
And of course if you want to have an amazing time in Trondheim, you'll need an amazing place to stay. I've actually written up a guide to the best hotels and accommodation in Trondheim, so you should be able to find exactly what you're looking for there.