I talked to a few different people in Mosjøen and when I told them about my road trip through Northern Norway everyone had the same question: but why did I come to Mosjøen?
And I mean, in many ways adding Mosjøen to my Northern Norway itinerary did seem like an odd choice. In fact it sort of happened by accident.
When I was first planning out my itinerary I thought it would be nice to start off the trip in Helgeland and then make a loop up north from there. Mosjøen was on the train line and seemed like a good enough place to start. But then other things came up that meant it would make more sense to fly back to Oslo instead of getting the train, and as flights to Oslo were cheaper from Bodø than from Mosjøen and it was cheaper to return my rental car in the same location I picked it up, I decided to start in Bodø instead.
And yet I couldn't quite let go of the idea of visiting Mosjøen.
I wanted to see the oldest town in Helgeland, which also happens to be home to Northern Norway's longest cluster of 19th-century wooden houses and piers. And I had read that it's known for having lots of cafés, restaurants, and shops, and I love cafés, restaurants and shops! Plus after examining a map I realized that visiting Mosjøen would mean that I could drive down a large portion of the stunning Helgelandskysten, so I decided to go for it.
And I'm so glad I did, because after two days in the town the only question I had was why doesn't everyone go to Mosjøen?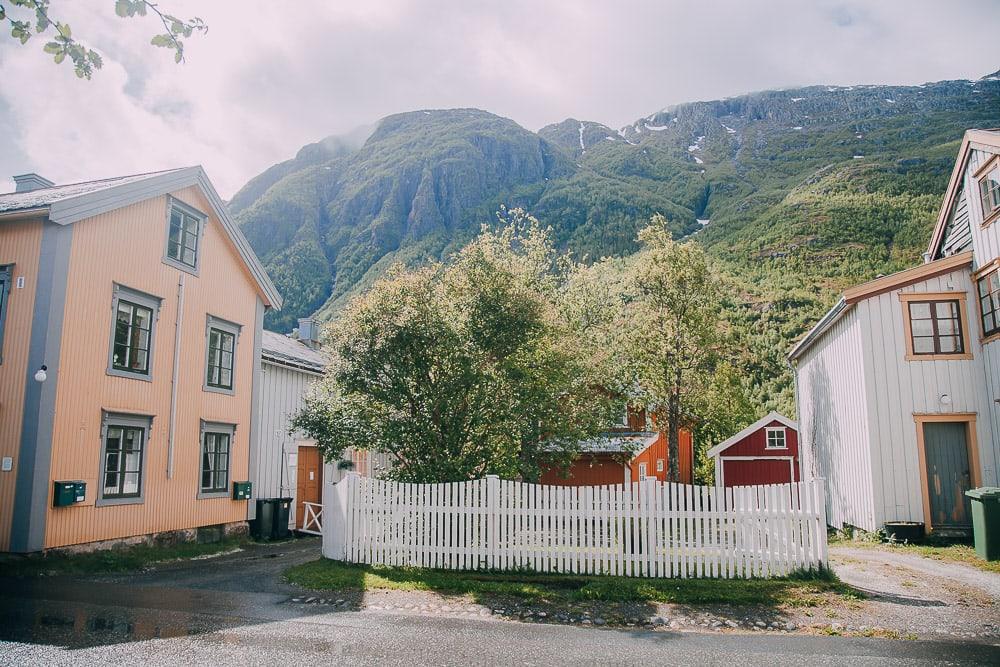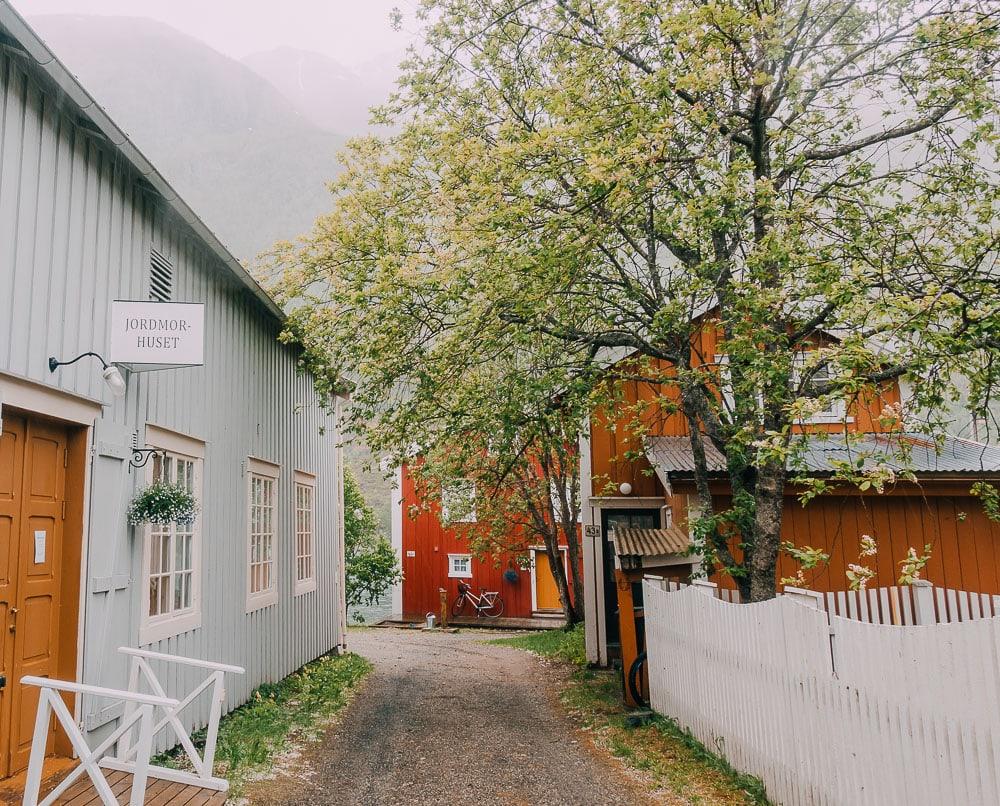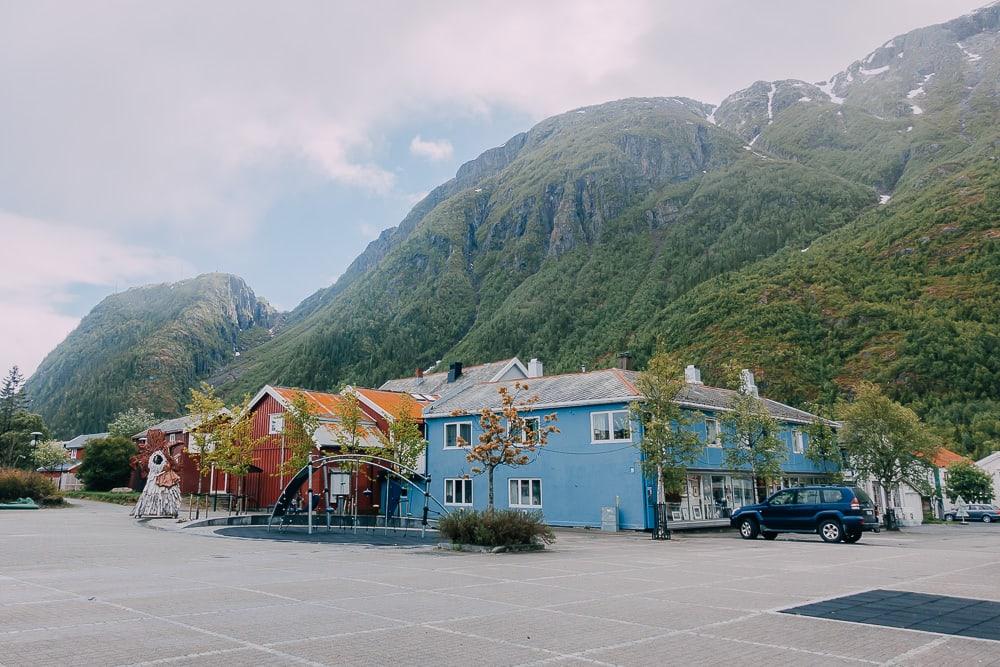 Seriously though, I was so enchanted by Mosjøen that I was also a bit confused. Why hadn't I heard more about this place?
I even wrote to a few of my friends asking if they had been, and if Mosjøen is just this magical little town that Norwegians are keeping secret from the rest of the world. Most of them claimed not even to know where Mosjøen is, though I learned a long time ago not to trust Norwegians when it comes to revealing their favorite spots – usually the secrets involve berries or mushrooms, but I wouldn't put it past them to keep an entire town a secret.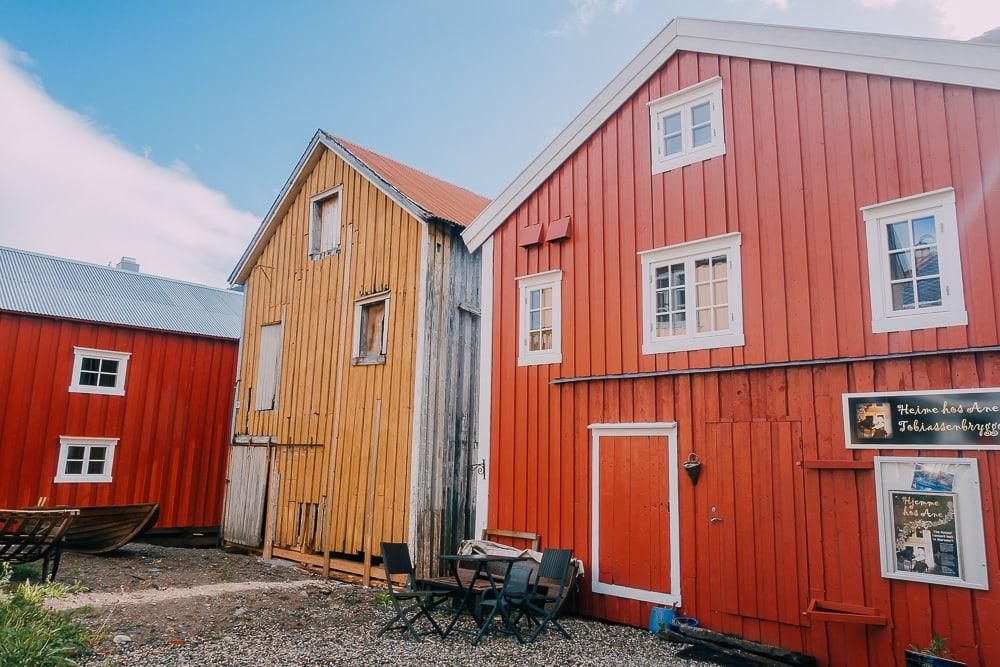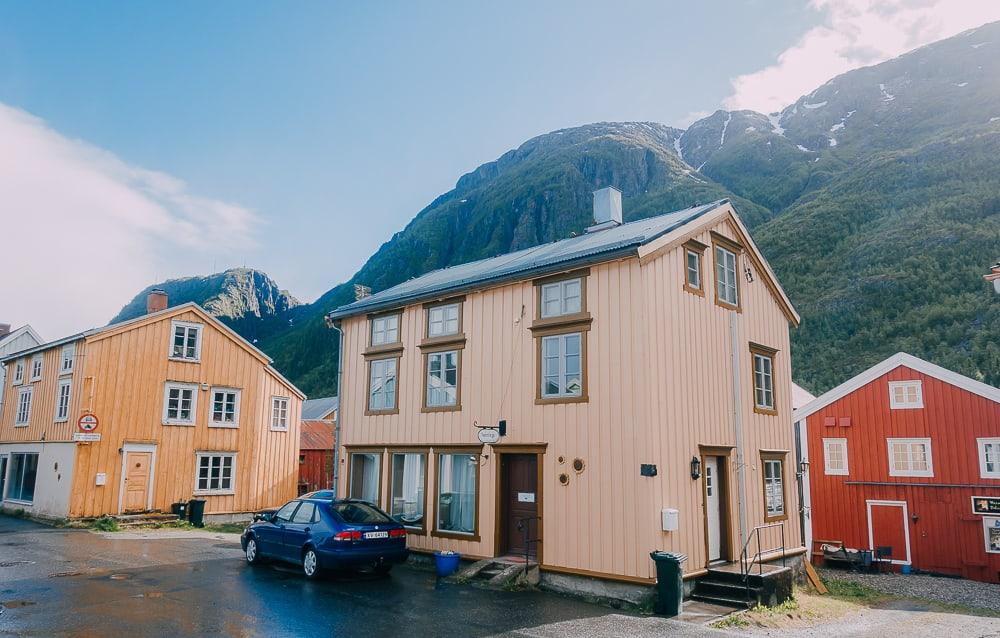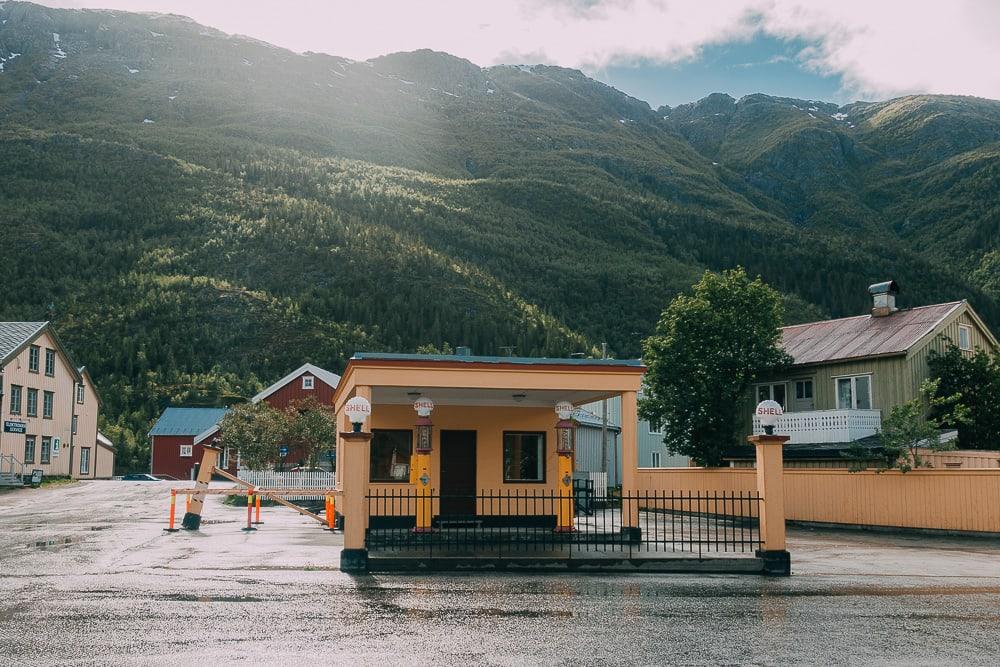 Luckily I'm only half Norwegian, and the American side of me is totally happy to tell the world about this lovely little town.
First of all, walking down Sjøgata is like taking a stroll back in time, except instead of feeling like a perfectly preserved museum the street is full of life. There are people living in the old 19th century houses (people who hopefully don't mind tourists peeking in their gardens and taking photos), as well as cafés, restaurants, art galleries, and shops here.
While it might look like something straight out of a history book, Sjøgata is very much alive today. Though it almost wasn't.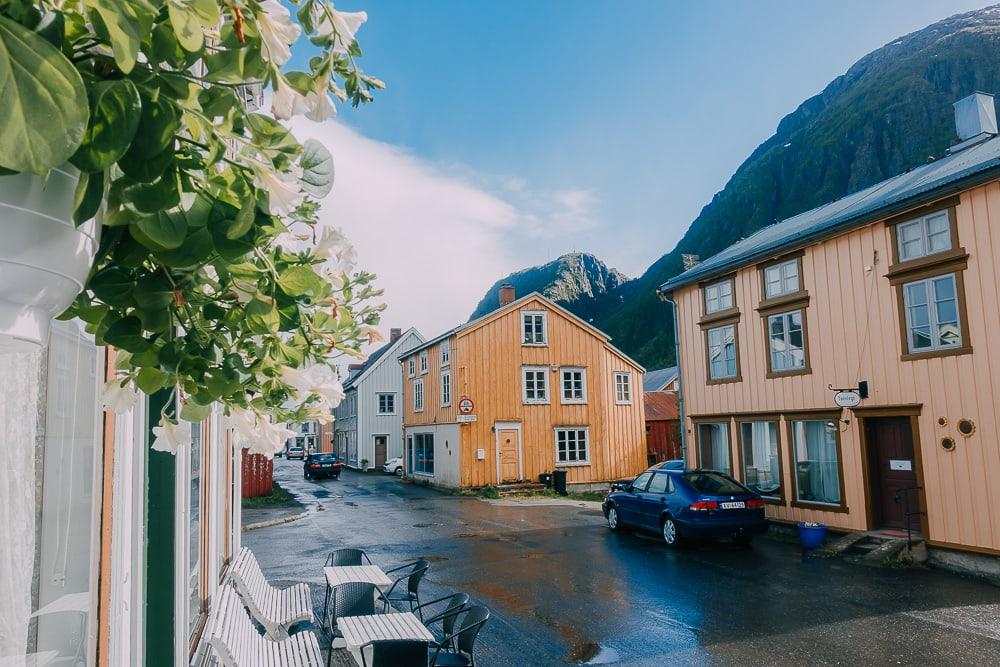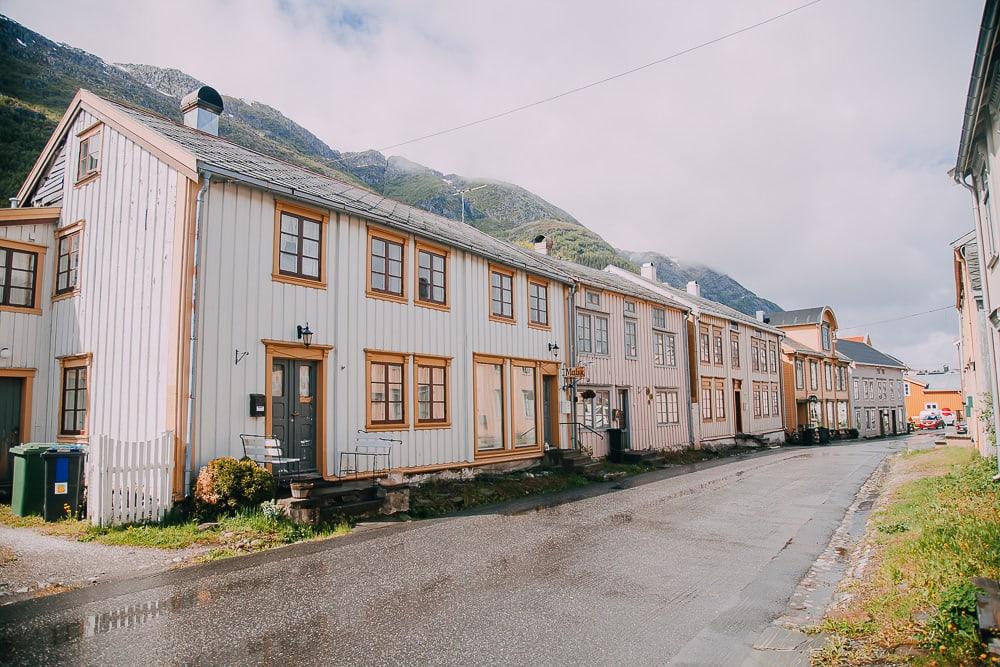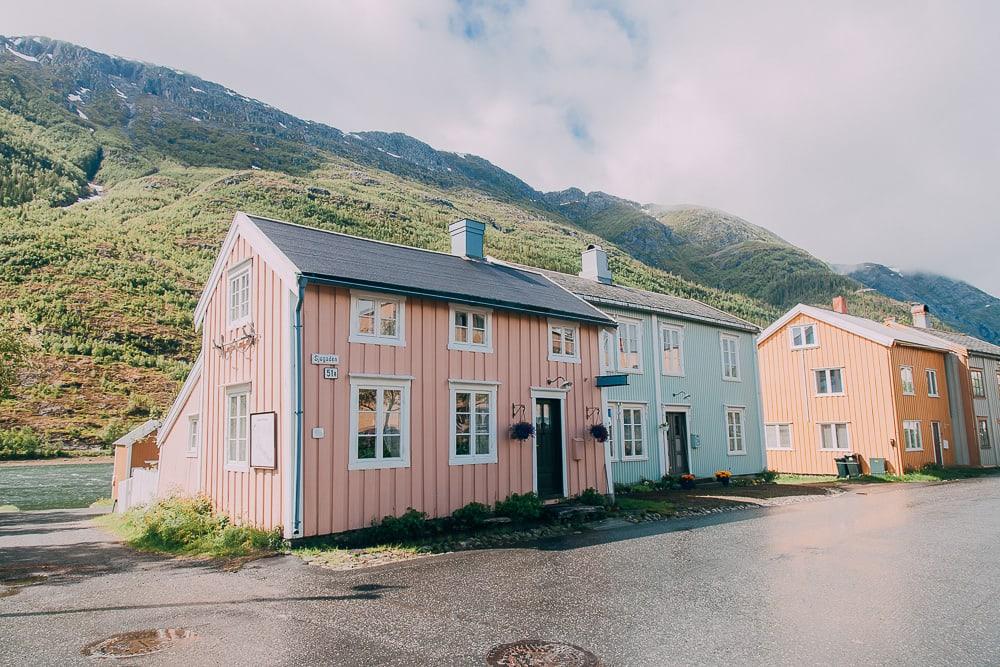 In the 1970s the municipal council proposed a plan to demolish Sjøgata in order to build a parking lot, but enough local residents protested and were able to generate nationwide publicity that helped them gain funding to preserve the town's historic center.
And you can still see that same local pride in the town's historic roots today. I mean, I don't think I've ever seen as many old photos decorating the walls of a town's establishments as I did in Mosjøen. My three favorite places I visited were probably the Kulturverkstedet, Matkollektivet Vikgården, and Gilles Café.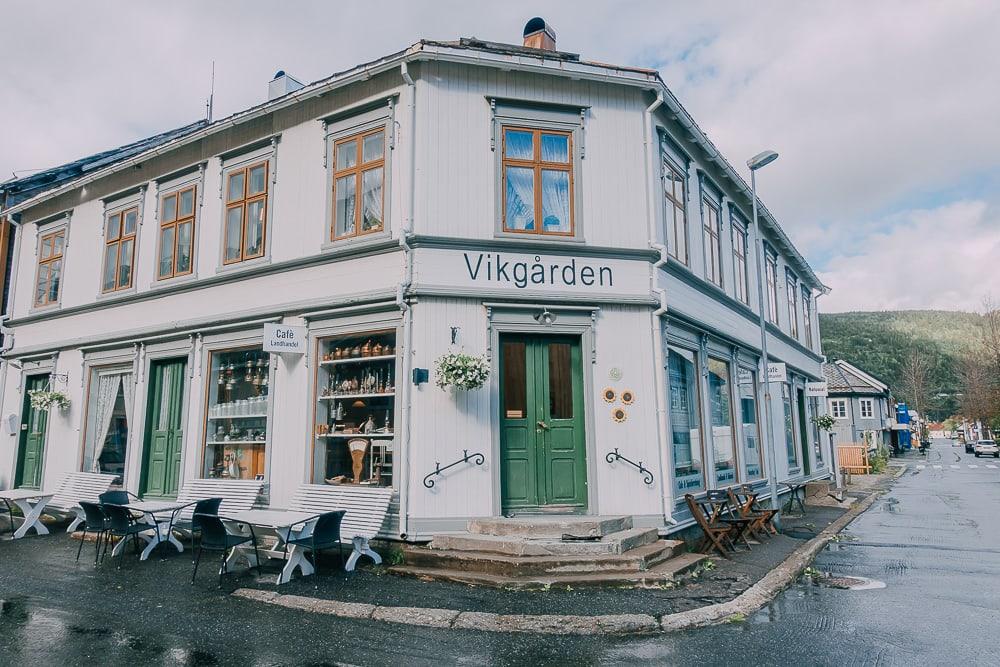 The Kulturverkstedet is a social center and café housed in a grand mercantile building built in 1862. I had breakfast here one morning and eavesdropping on the conversations around me gave me a little taste of local Mosjøen life. The café offers traditional dishes from Vefsn, hosts a gallery area where you can view and purchase the works of Northern Norwegian artists, and even serves as a venue for meetings, conferences, and concerts.
And on my second day I had breakfast at Matkollektivet Vikgården, a café housed in an old-fashioned general store from the 1880s, where coffee is brewed "the old way." Unfortunately I don't know enough about coffee to really know what that means, but wow were the cinnamon buns there delicious!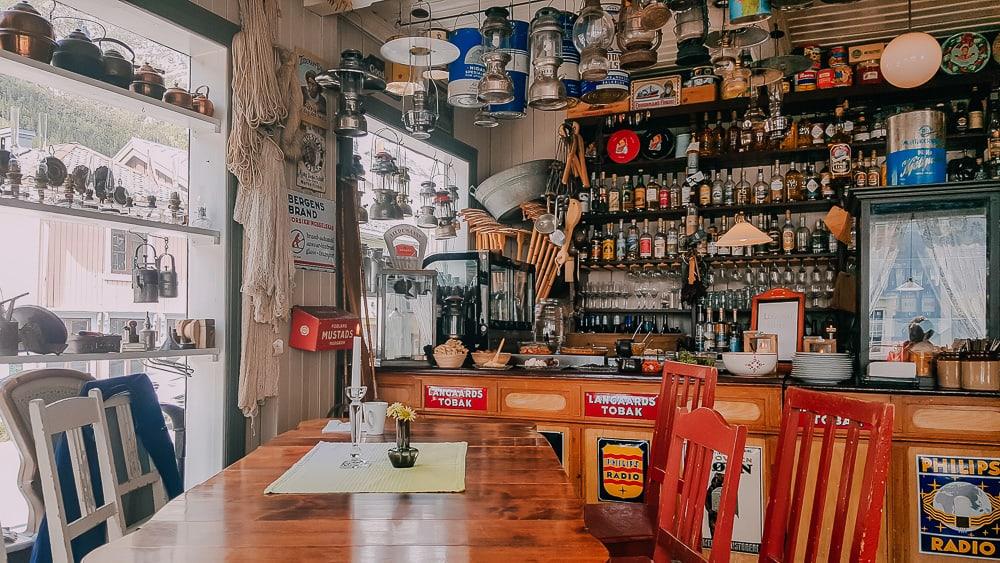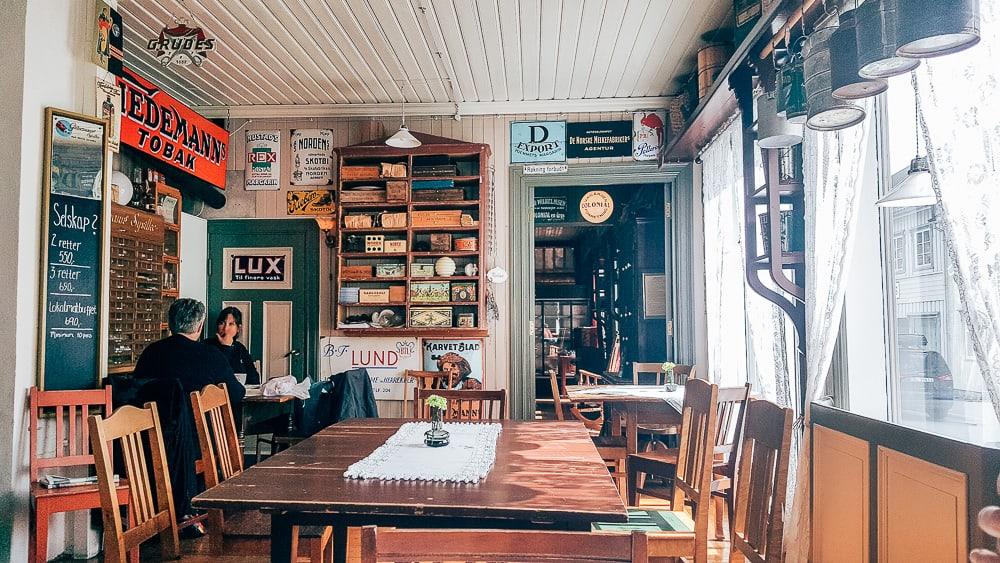 I then popped into Gilles Café for a quick dinner before catching a movie (which I do pretty much whenever I'm anywhere big enough to have a cinema), and I was surprised to find yet another lovingly decorated space complete with photos from the early days of Mosjøen and a stage for small concerts. The food was also delicious – I can definitely recommend eating here if you're in Mosjøen!
But aside from its historic center, what I found so special about Mosjøen was the beautiful landscape surrounding the town.
I walked up Helgelandstrappa, a set of 1,000 steps laid down by sherpas up Øyfjellet which towers 800 meters above Mosjøen, offering lovely views of the town.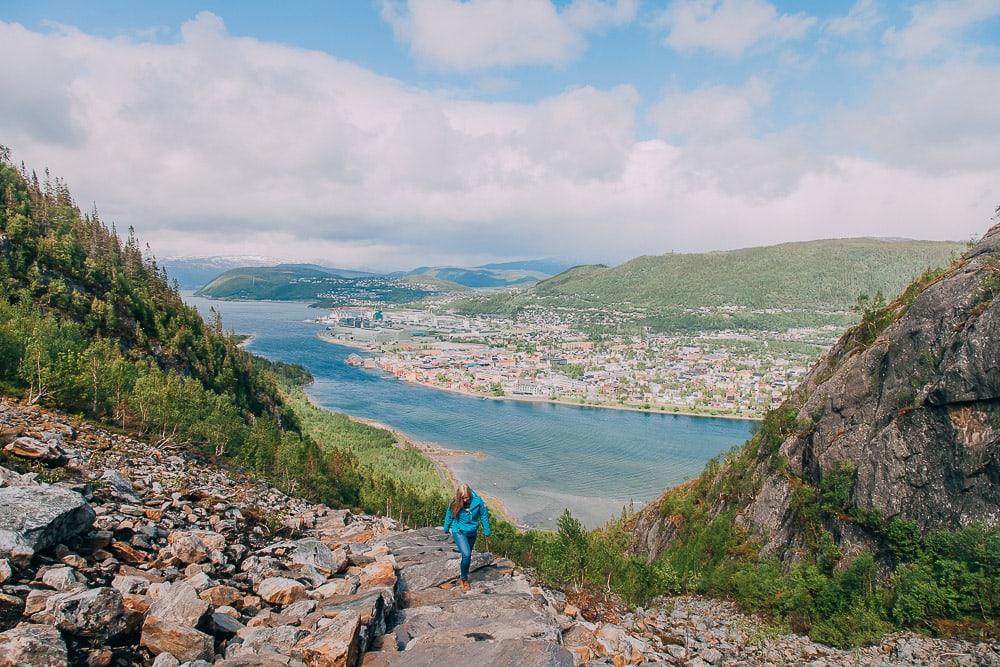 There are lots of other hiking paths in the area, as well as a via ferrata and even a zipline.
Or if you want something a little less physically demanding, walk along the river to Marsøra. I didn't make it far before heavy rain set in, but it looked like a lovely walk!
Where to stay in Mosjøen
I stayed in one of the historic apartments on Sjøgata, which are self-catering holiday apartments on Mosjøen's most beautiful street. They are decorated to look like they did in the 19th century, and I'd say it's the sort of accommodation you'd probably either love or hate (I loved it).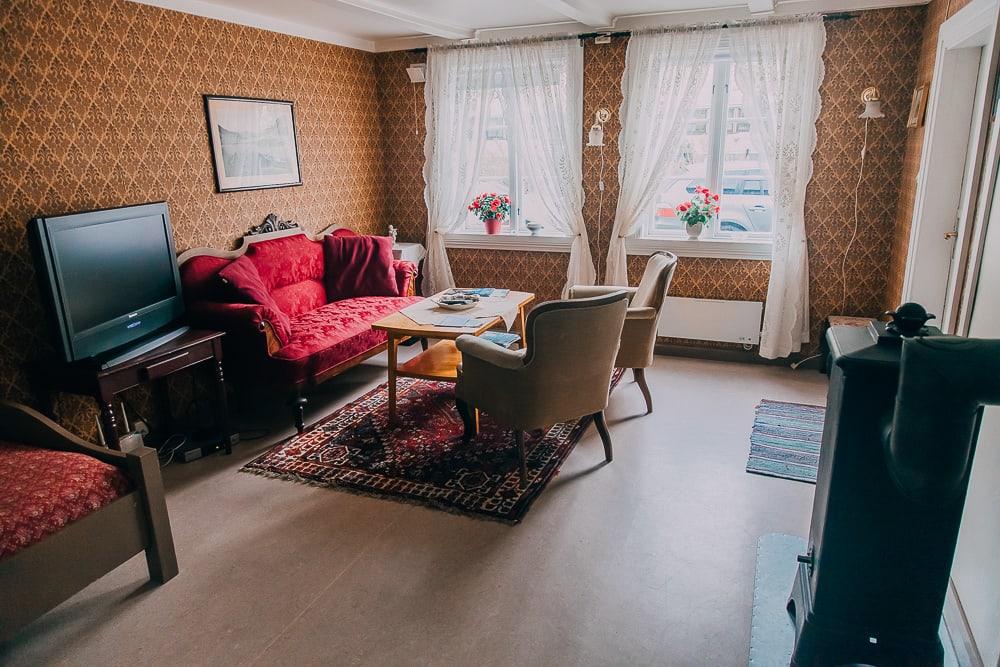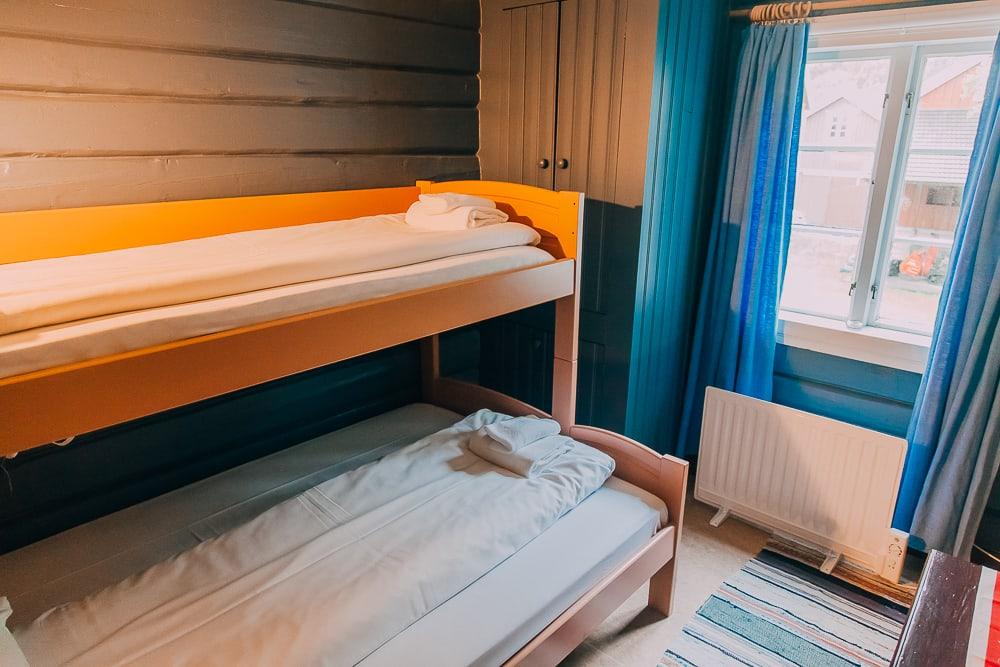 You'll certainly feel immersed in the culture staying here, though if you're looking for optimal comfort and privacy (I had to go through a common area shared with the upstairs apartment to get to the kitchen and bathroom) you might prefer staying in a hotel. You can book the apartments here.
And if you're looking for something a bit more luxurious, Fru Haugans Hotel is right at the end of Sjøgata. Dating back over 200 years, Fru Haugans is Northern Norway's oldest hotel and while I didn't see the inside I'm sure it's lovely. Apparently it has also always been run by women! Check prices and availability here
I visited Mosjøen in collaboration with Northern Norway and Visit Helgeland