I visited Bodø for the first time a few years agao as part of my trip to the Lofoten Islands. I flew into Bodø in the morning, had lunch, and caught the ferry to Lofoten. And on my way back my ferry got in late at night and I flew back to Oslo early the next morning. In other words, I didn't really see anything of the city during my first trip to Bodø. I guess I just didn't thing there were so many things to do in Bodø?
But this time around as I was planning two week road trip through Northern Norway I figured why not start off with a couple of days in Bodø? I didn't know much about the city, but a few of my friends had talked about how cool it is so it seemed worth checking out.
I loved Bodø. Like, I could have happily spent a lot more time there, and I hope to return many times in the future. And if you are thinking about passing through the city – stay a while! I promise it will be well worth your time.
In fact since first writing this article I've now returned to Bodø eight times, with plans to go back at least once more this winter. You can read more about visiting Bodø in winter here. And if you're wondering what to do in Bodø, read on!
And if you're planning a bigger trip through Norway, I've also gathered all my best tips in two 95-page ebooks that cover my top recommendations for places to visit (both on and off the beaten path), the best times of year to visit, how long to visit for, the best accommodation choices, transportation, what to eat, what to pack, and tips for planning a Norway itinerary that you will love. You can purchase my Norway travel guides here.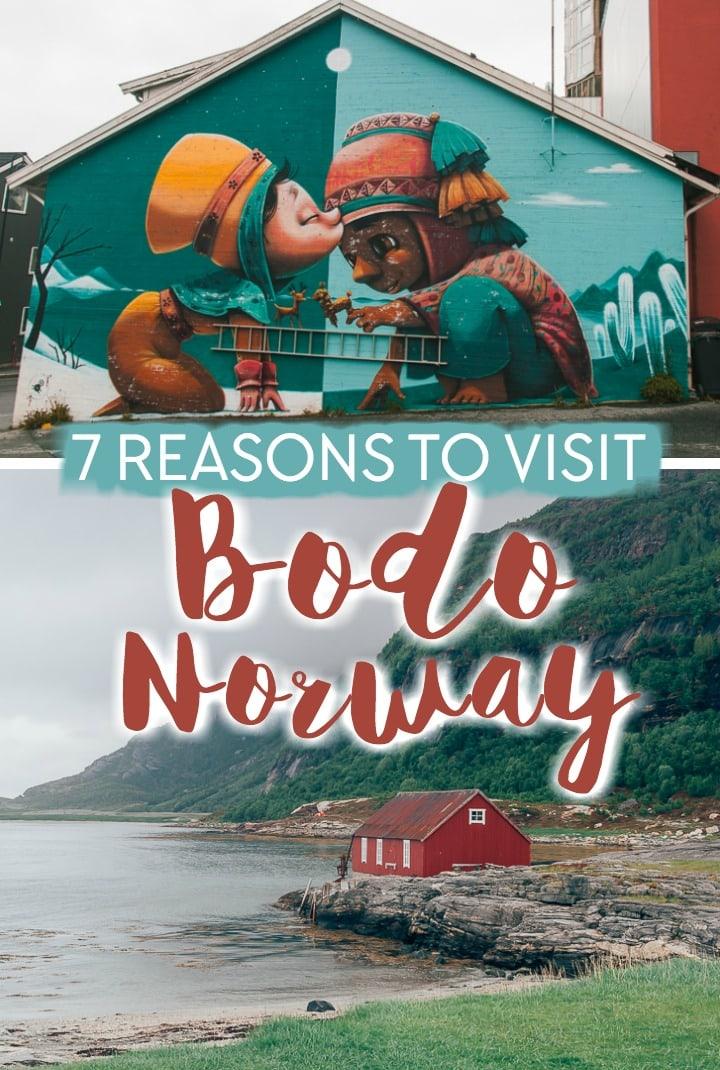 Bodø is the northern end of the train line
The train line in Norway doesn't go all the way up north, so if you want to see the Northern Lights or Midnight Sun but want to travel by train, Bodø is the perfect destination!
The first time I visited Bodø I got the overnight train from Oslo to Trondheim, which was my first time staying in a sleeping compartment on a Norwegian train. The sleeper costs 930 kroner on top of the ticket price and fits two people (annoyingly you do have to reserve the entire compartment even if you're traveling alone). So if you're traveling with someone else I'd say it's definitely worth it! It was probably the nicest sleeping compartment I've experienced on a train – and I've taken a lot of sleepers over the years.
And then in the morning I caught the train from Trondheim to Bodø.
I loved being able to sleep through the Oslo – Trondheim leg, as I've taken that train many times, and I found the Trondheim – Bodø leg of the trip much more beautiful. I would say the most beautiful part of the journey is from Mosjøen to Bodø. It's a long journey – from boarding my bus in Rjukan to arriving in Bodø took just over 23 hours – but I got a much better feel for the country by traveling overland. Plus it's better for the environment!
The train station and airport are walking distance to the city
This might seem like a small thing, but I love that both Bodø's train station and airport are within an easy walk to the city center, so you don't need to worry about paying for taxis or buses to get to your hotel (if you don't want to). So convenient!
Bodø's street art
I kept thinking what a cool vibe Bodø has, and I think that was partly due to the amazing street art scattered around the city center. Most of the art is from UpNorth, which is a traveling art festival that focusing on urban art. In 2016 the festival came to Bodø with international artists decorating the sides of buildings downtown.
You can find a map of the UpNorth murals here, which will also take you on a nice little walking tour of the Bodø city center.
I don't want to spoil the surprise, so I'll just show you a few of my favorites: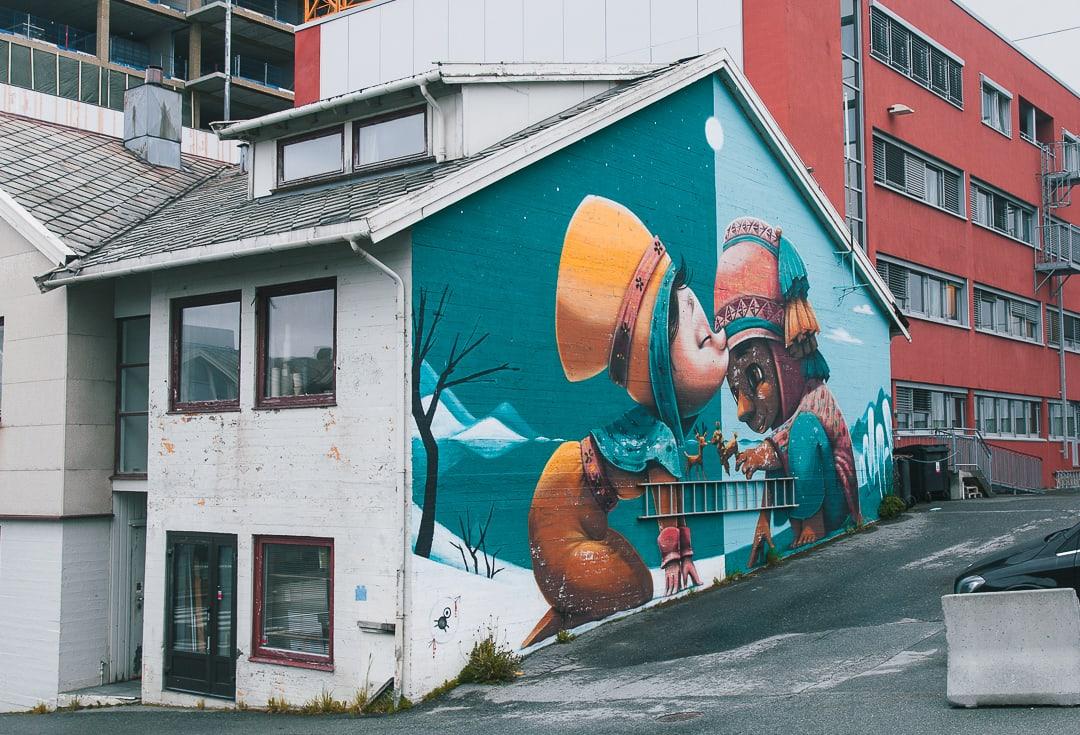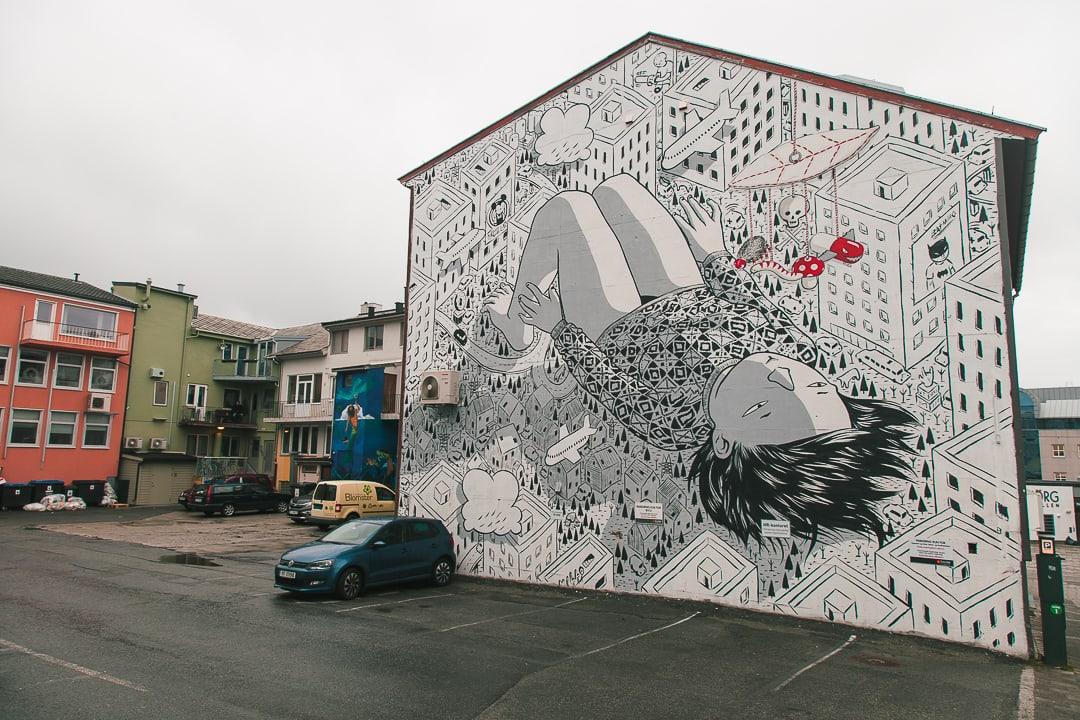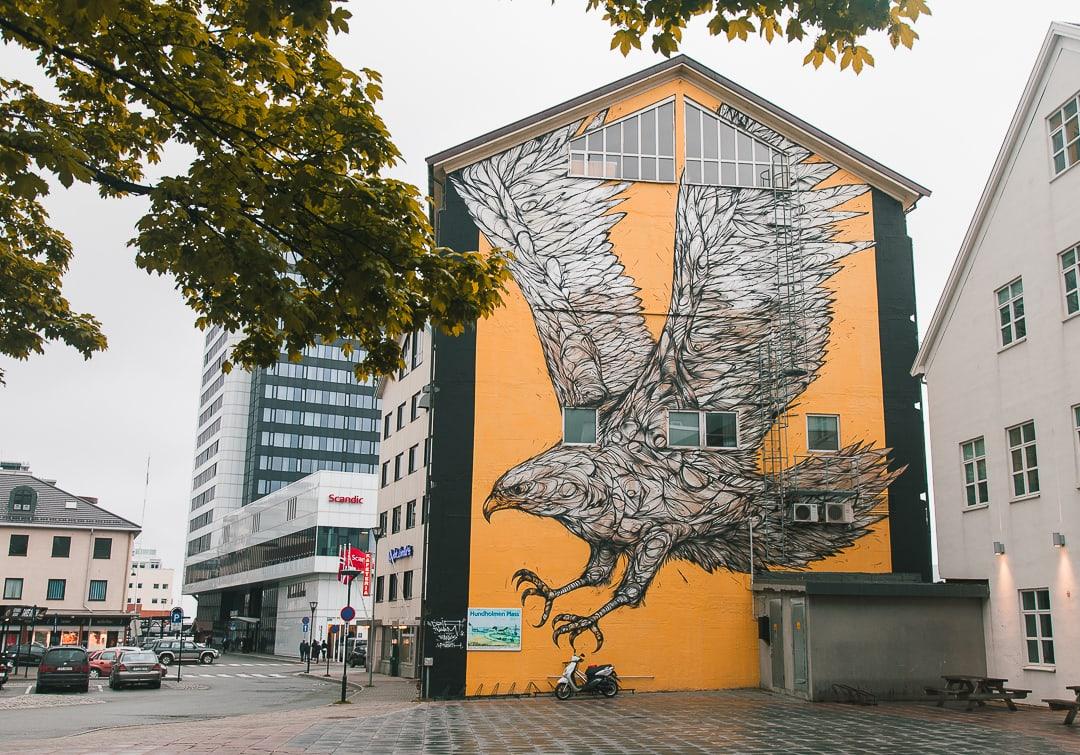 The northern lights
For the best chance of seeing the northern lights you should visit somewhere above the Arctic Circle, and I always tell people coming to Norway for the northern lights to visit Bodø or above.
Bodø is great for watching the northern lights because it's surrounded by nature, so you can get away from the city lights really easily (plus it's small enough that there isn't too much light pollution anyway).
I've also written an in depth ebook covering all aspects of planning your northern lights trip, including the best places in Norway (and the Nordics) to see the northern lights, the best time to see the northern lights, my top northern lights accommodation choices, tour options, how to chase the northern lights (including which apps I use), how to photograph and film the northern lights, what to pack for your trip, and other exciting Arctic activities to try on your trip up North.
If you want to ensure you have the best northern lights trip possible, you can purchase the ebook here.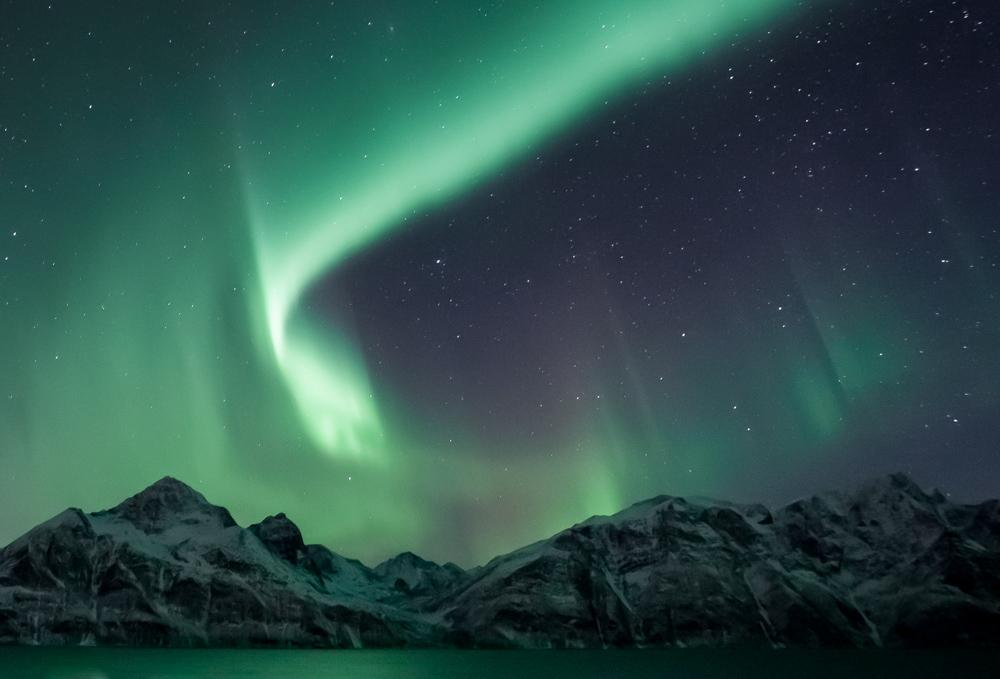 Bodø has a beautiful harbor
Norway has a lot of beautiful harbors, but I think the one in Bodø's center is one of my favorites. The harbor is lively throughout the day and its beautiful backdrop of mountains make it particularly picturesque.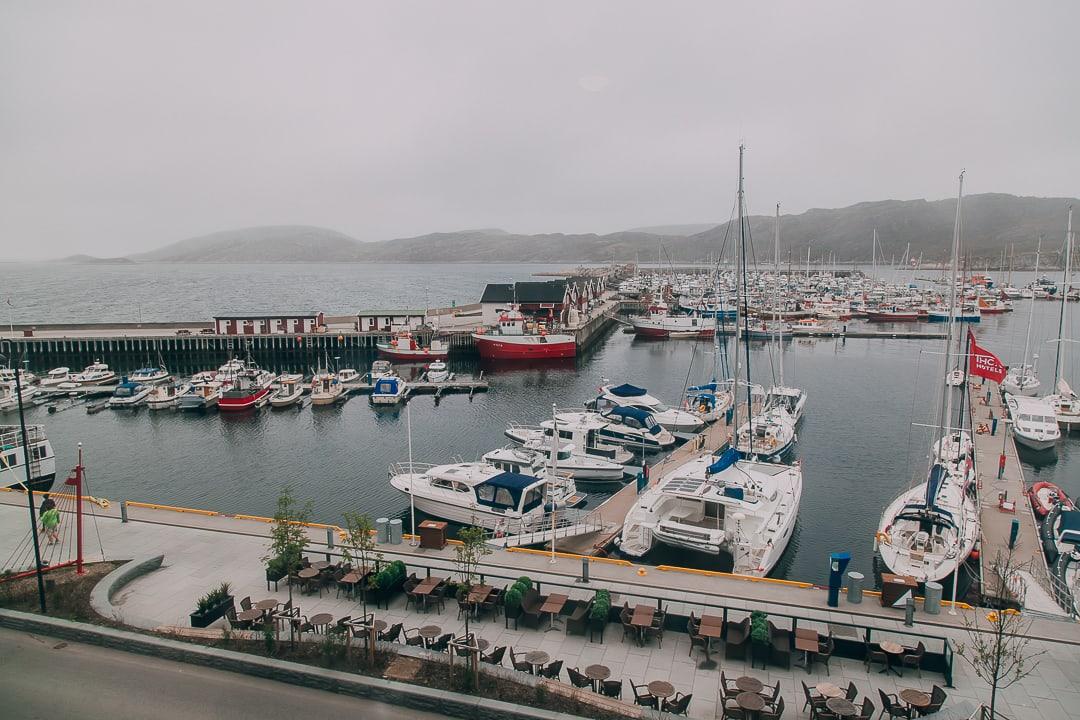 You can travel back in time on Kjerringøy
Half an hour outside of Bodø you'll find Kjerringøy, which with its alpine landscape and white sandy beaches is well worth a visit. Kjerringøy also happens to be home to the Kjerringøy Trading Post, Norway's best preserved trading post from the 1800s.
I wandered around here and it almost did feel like I had traveled back in time.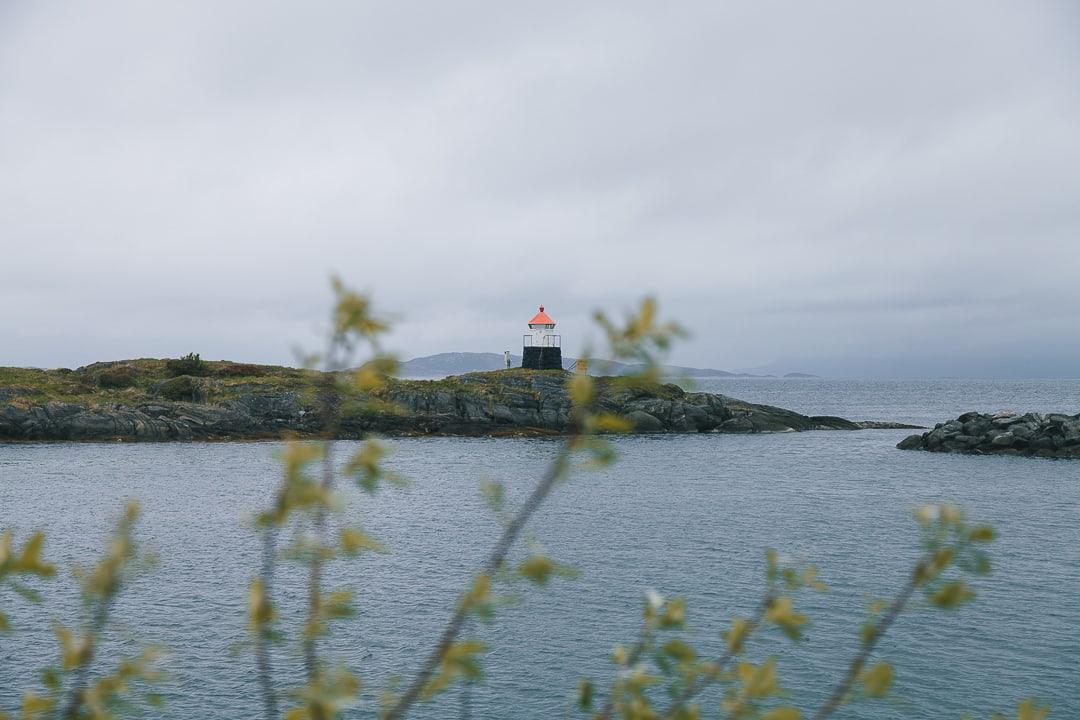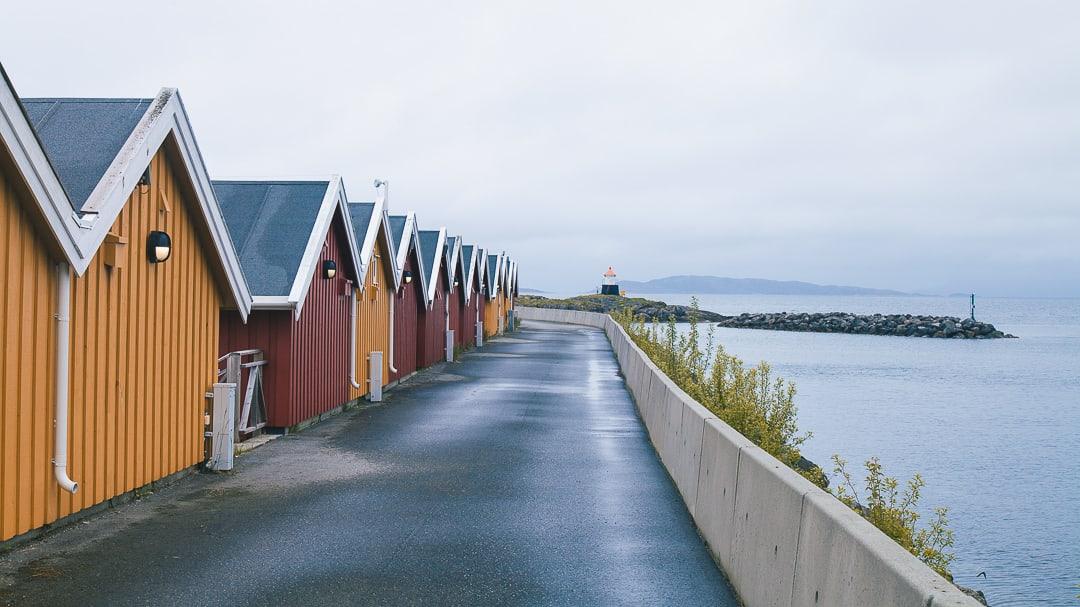 Bodø is surrounded by some of Norway's most beautiful beaches
One of my main complaints with living in Trondheim was that the nature surrounding the city was a little lackluster (I mean, only by Norwegian standards). Bodø certainly doesn't have that problem. The mountains around Bodø are so much more dramatic than the mountains I'm used to seeing in southern Norway, and even on a cloudy day the beaches look downright tropical.
On my way back from Kjerringøy I stopped at Mjelle beach, which is famous for its reddish sand. The beach itself is just a short walk from the parking lot at Mjelle so it's super accessible, but it still feels remote – it's hard to believe it's only a half hour drive from Bodø's city center.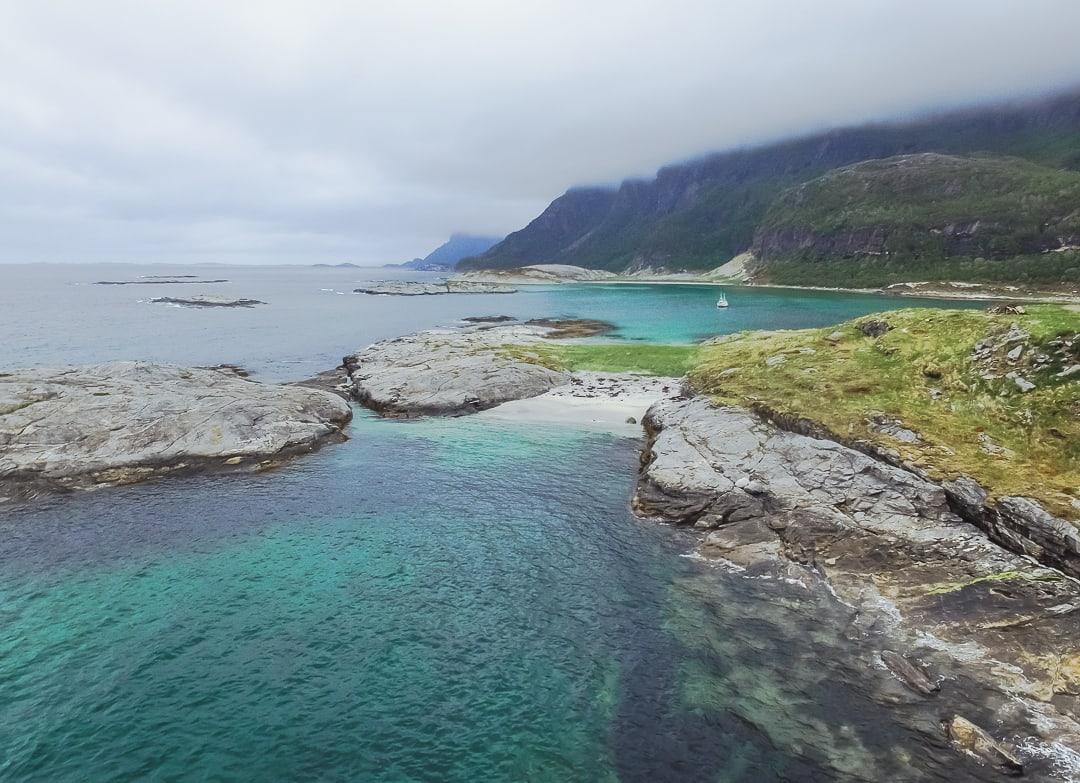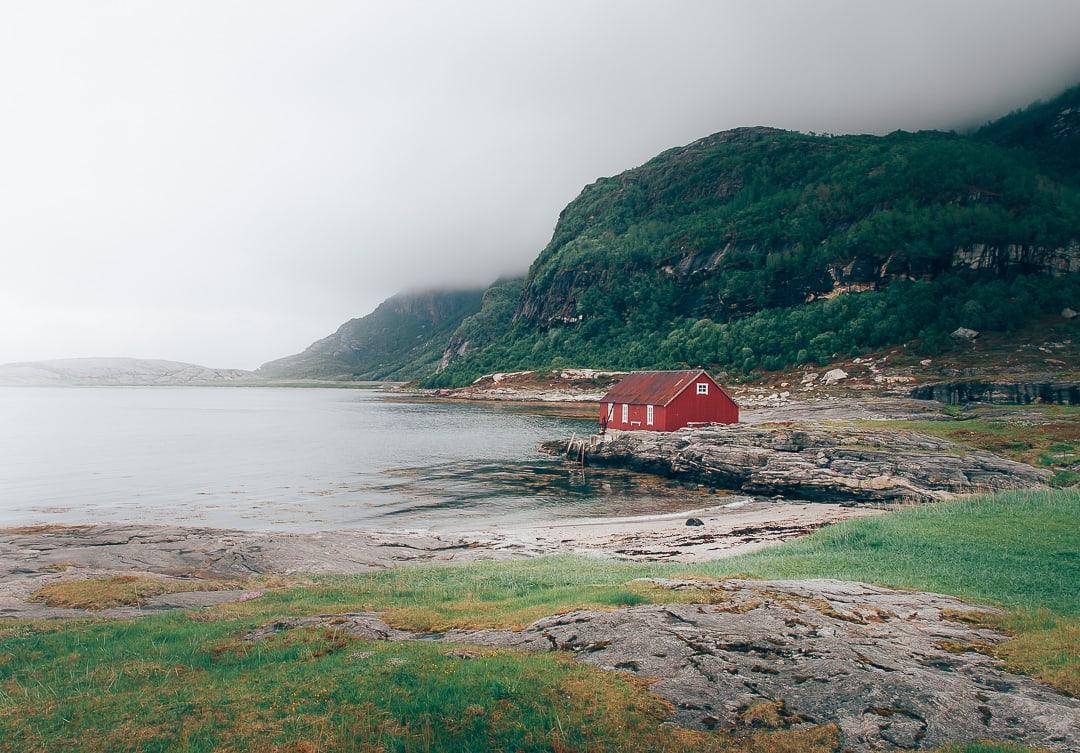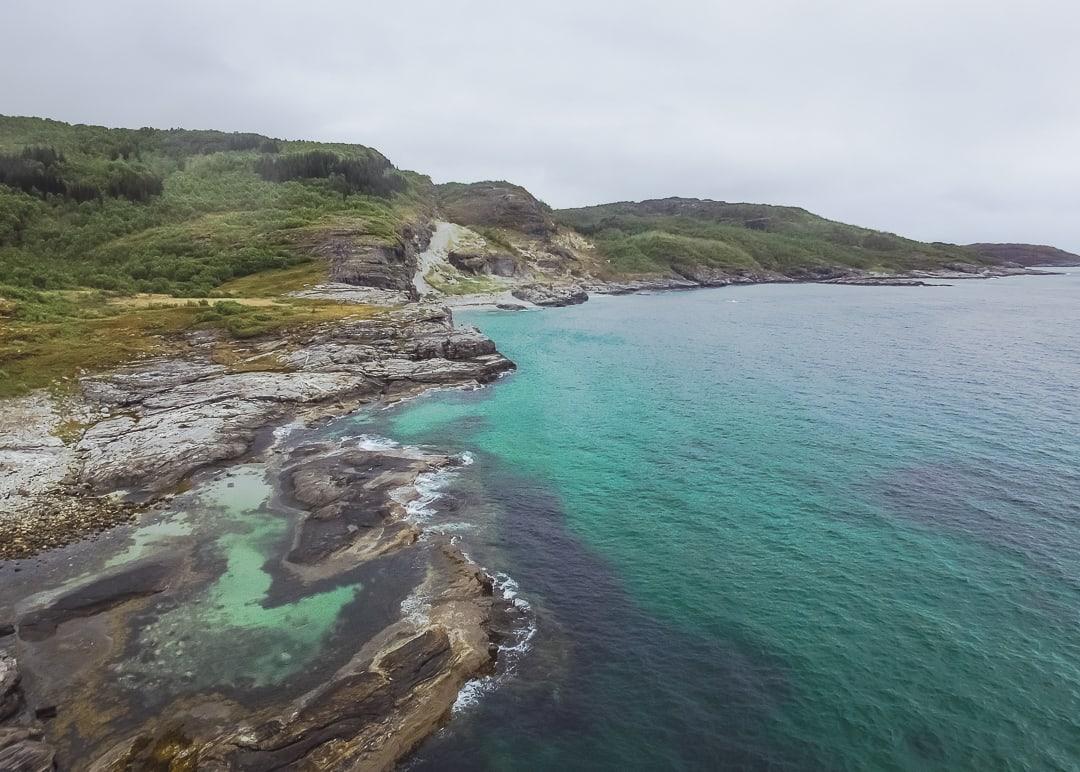 Visit Saltstraumen
Just thirty kilometers outside of Bodø you'll find the world's largest maelstrom, Saltstraumen. Waters rushing through the 150 meter wide and 3 kilometer long sound connecting Saltfjord and Skjerstadfjord create huge whirlpools up to 10 meters in diameter and 4-5 meters deep. You can check when the whirlpools will be at their strongest here.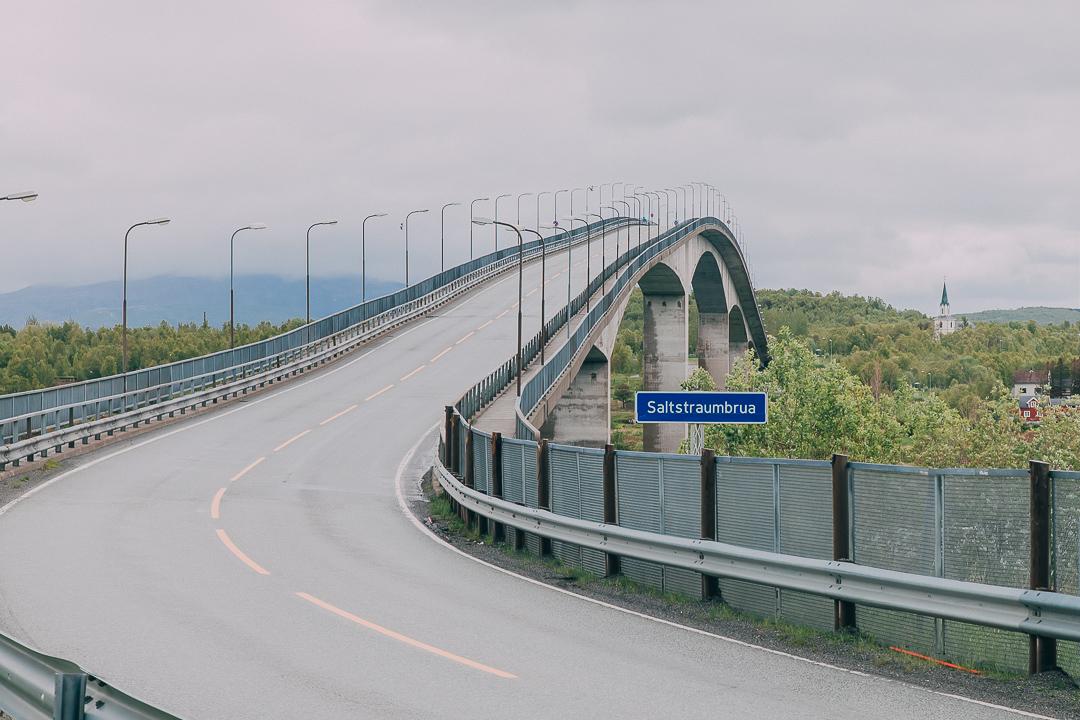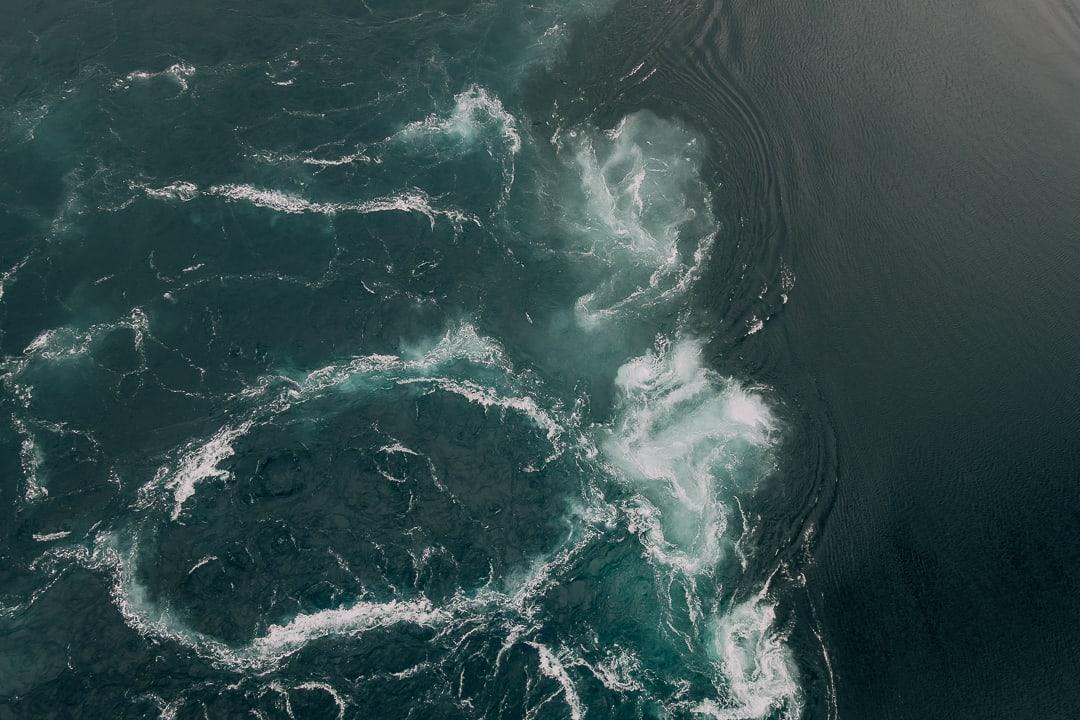 I had been really excited to see the whirlpools, but I was surprised by how beautiful the area around Saltstraumen is as well. It's a big fishing area so you'll see a lot of fishing boats, and the bridge that you peer down on Saltstraumen from is also really beautiful with a dramatic mountain backdrop.
In fact I ended up returning to Saltstraumen at the end of my two week trip to stay at the Saltstraumen Hotel the night before my flight back to Oslo. And the view from the hotel parking lot out over the bridge and whirlpools below was incredible! Definitely check it out if you can.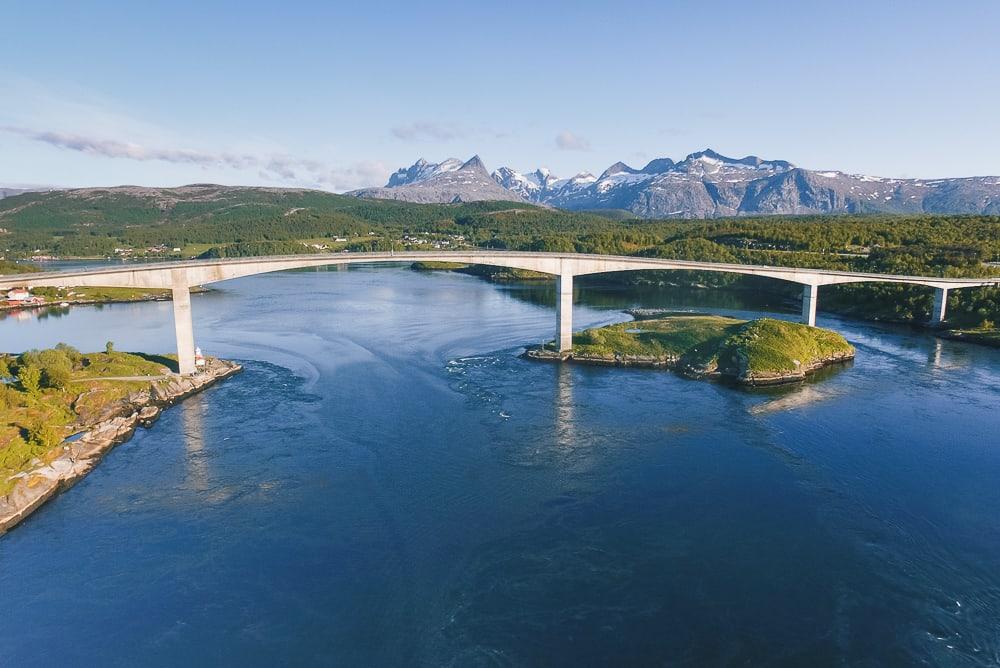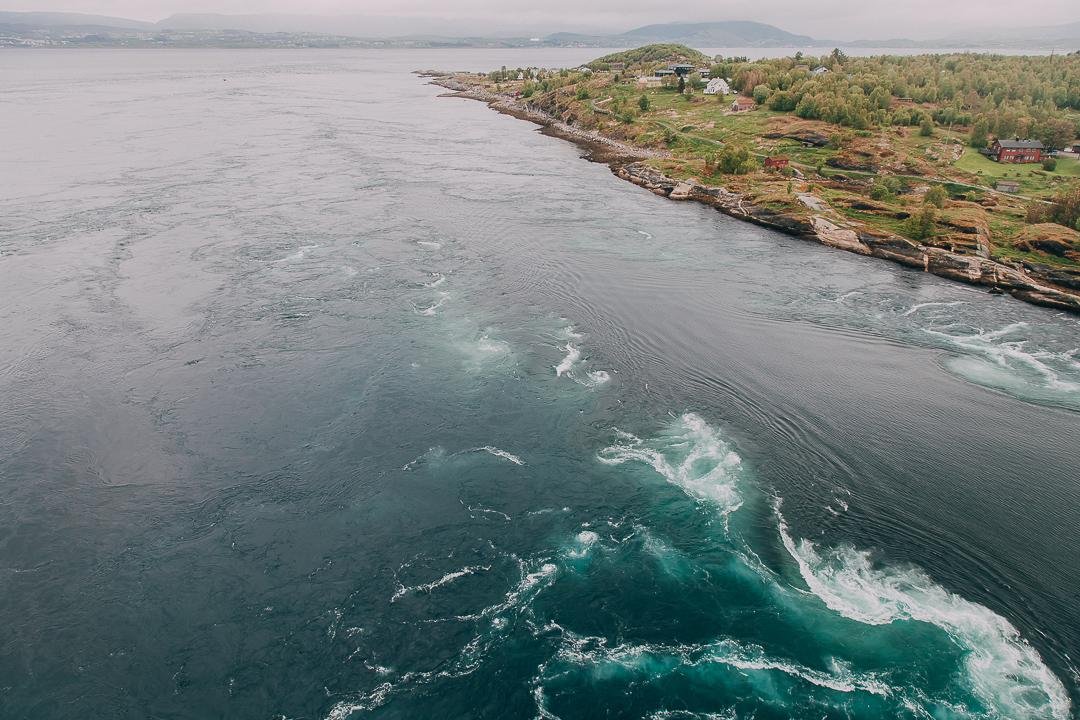 Cool bars and restaurants
Bodø also has so many great bars and restaurants, so even if the weather is less than ideal when you're there you can have a great time hanging out inside.
I had dinner at the Hundholmen brewery and gastropub, which has a really lively atmosphere. I had the burger, which was amazing – so amazing in fact that it seemed to be what everyone around me had ordered as well.
I also had a peek inside Dama di, which has a really cool atmosphere. Like, if I lived in Bodø I would totally want to hang out there.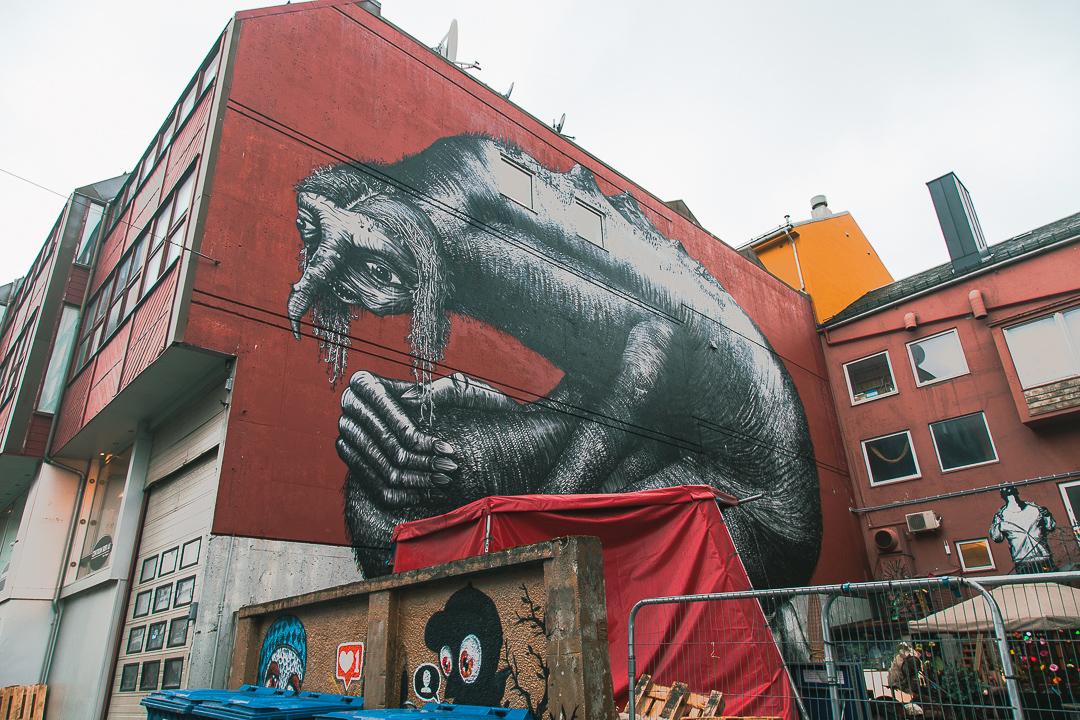 Where to stay in Bodø
I stayed at the Thon Hotel Nordlys right in the city center, which ended up being one of my favorite hotel stays of the entire trip. My room had a view out over the harbor, and the breakfast buffet was incredible. They even had a chocolate fountain! Definitely, definitely try to stay here, if you can. I've actually gone back and stayed here several times again. Check current rates and availability here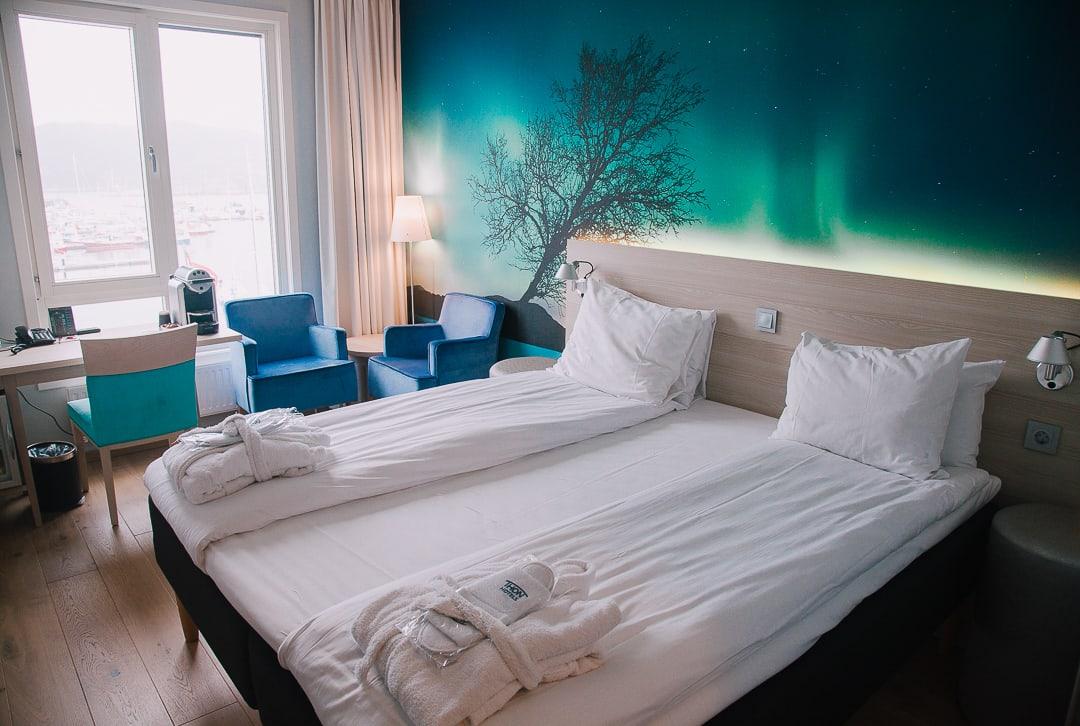 And then before my flight out of Bodø I stayed at the Saltstraumen Hotel, which is a really lovely option if you want to be somewhere quieter, but still with good access to Bodø. The highlight of the hotel was definitely its amazing location right on the water overlooking the Saltstraumen Bridge. Check current rates and availability here
I visited Bodø in collaboration with Northern Norway and Visit Bodø