I love places where you can easily get around using solely public transportation, but unfortunately Norway isn't really one of those places. I mean, if you stick to the cities then public transport will be fine, but if you want to venture into the countryside? You'll need to rent a car for that in Norway.
Luckily driving in Norway is an amazing experience – in fact I tell everyone who visits that they have to consider a road trip when planning a trip to Norway! I have lived in Norway for eight years, and all of my best trips here have been road trips.
Plus, public transport can also be really expensive in Norway, so if you're traveling with other people and want to see as much of Norway as possible, you're definitely best off renting a car here.
Renting a car in Norway is actually a really good option for budget travelers not only because public transport is expensive here, but also because the cheapest accommodation options are usually outside of the main tourist areas where buses might only pass through once or twice a day. So by renting a car in Norway you can potentially save on transportation AND accommodation.
Plus road trips are so much fun!
If you're looking for the perfect Norway road trip itinerary, I have put together over thirty Norway itineraries here, most of which are best done by car.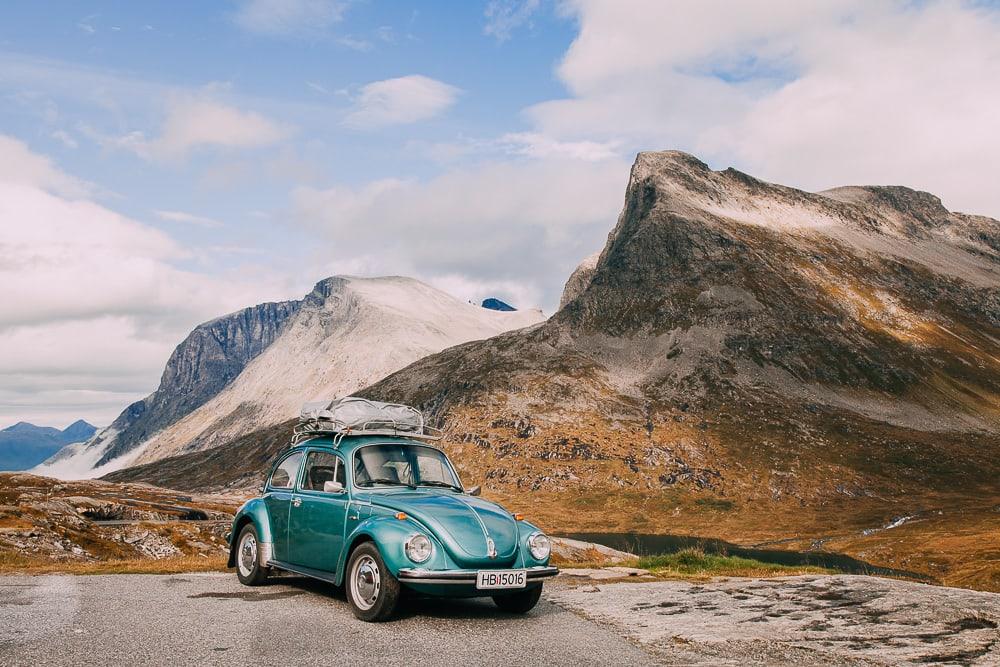 While I've now been living in Norway for eight years, I've also spent most all of my summers in Norway since I was a kid (visiting family here), so I've definitely learned a thing or two about the whole process of renting a car and planning a road trip in Norway.
I mean, with Norway's nonstop breathtaking nature it's kind of impossible to have a bad road trip here, but here my best tips for making yours truly epic.
Norway Travel Guides! I've gathered all my best advice for planning an incredible trip through Southern and Northern Norway in two 95-page ebooks covering my top recommendations for places to visit (both on and off the beaten path), the best times of year to visit, how long to visit for, the best accommodation choices, transportation, what to eat, what to pack, and how to plan the perfect itinerary.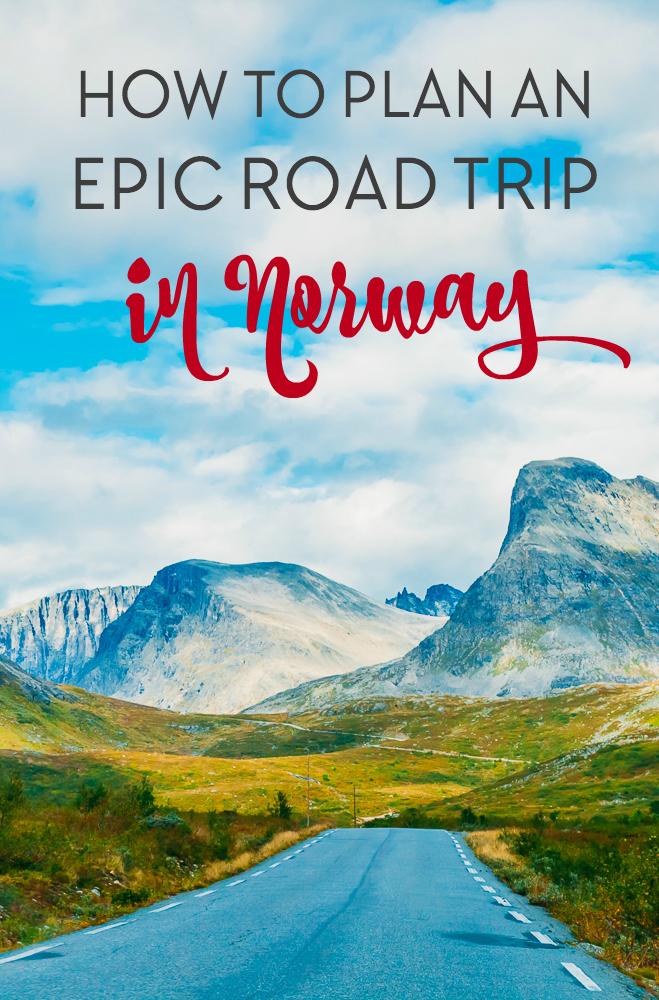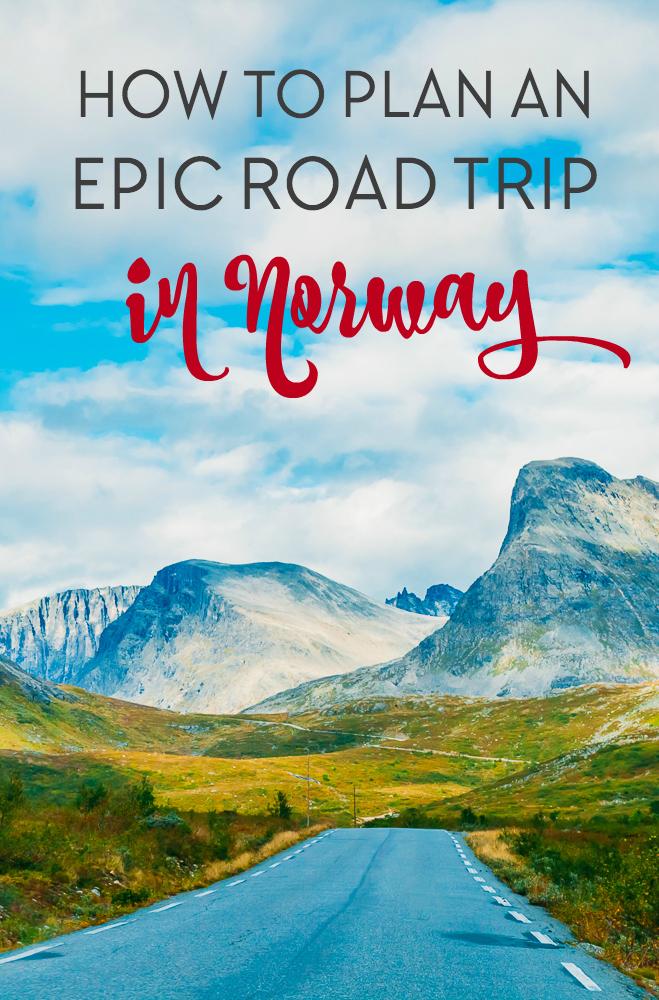 Car rental in Norway – things to know about renting a car in Norway
The good news is, if you're traveling with multiple people, renting a car in Norway is going to be a lot cheaper than relying on public transport here. Plus driving in Norway is really easy, as the roads are all well-maintained and there's very little traffic. Of course the bad news is, it's still going to be expensive.
At least, a car rental in Norway is going to cost more than rentals in southern Europe where you can get a car for like $50 per week. But! If you book well in advance you can actually get some really good deals on car rentals in Norway too.
I always recommend Auto Europe for car rentals in Norway because they compare prices to give you the best deal. Norwegian laws are quite strict with car rental companies, so you can rest assured that any car rental agency in Norway will be reliable.
And as fuel in Norway is expensive, definitely go for the smallest, most fuel efficient car you can find.
You'll also likely be covering huge distances, as Norway is a really big country, so I always opt of unlimited mileage. Or at least make sure you get a minimum of 200 – 300 km a day, depending on what you have planned.
And don't worry, all cars in Norway have to have winter tires in the winter by law. This isn't the case in other places in Europe, though. My family has rented cars during the winter in Germany before and then driven up to Norway with them. And it's always incredibly difficult to drive in Norway on year-round tires!
Driving in Norway – all your questions answered!
Toll Roads in Norway
In Norway toll roads are managed by AutoPASS with toll booths that take photos of your license plate automatically and send a bill at the end of the month. This happens automatically, so you don't even need to slow down as you pass under the toll cameras. You will receive a bill from your Norwegian car rental company after your trip. You can contact the car rental company if you have more questions about when you will receive the bill for the toll roads.
However if you're driving a foreign vehicle not registered in Norway, paying Norwegian tolls is a bit more complicated. AutoPASS will send an invoice to the registered address of the vehicle. But you can actually speed up the process by registereing with Euro Parking Collection (EPC), which will give you access to all your invoices online. I definitely recommend doing this if you'll be driving a foreign car in Norway! But also don't freak out if you forget – you'll just get your invoice in the mail instead.
Car ferries in Norway
Probably one of the most common questions I get about driving in Norway is how to use the car ferries.
No, you don't need to book short ferries in advance (in fact you usually can't). You will want to try to arrive fifteen minutes before the ferry leaves to ensure you get a place on the ferry, but to be honest I sometimes arrive right before it's leaving and I'm almost always able to get on (I think the only exception would be in July when Norway is more crowded).
You will usually pay for the ferry as you're driving on. There will be someone with a credit card reader at the entrance to the ferry, so as you're driving onto the ferry you'll stop, roll down your window, and pay for your ticket by card. If there's no one taking payments as you're driving on, someone will come around taking payments when you're on the ferry (either while you're in your car on a super short ferry, or in the passenger room on slightly longer ferries). I think you can only pay by card – at least I've never seen someone paying for ferries in Norway by cash.
Someone will wave you onto the ferry and tell you exactly where to park. On most car ferries everyone gets out of their car and goes to a communal area. If you're unsure of whether or not to wait in your car, just watch what everyone else does and do the same. On longer (30 minutes +) ferries there will be a cafeteria selling sandwiches, hotdogs, waffles, and coffee.
Plan for winding roads
If you'll be driving with anyone prone to getting carsick, you might want to come prepared as Norwegian roads are very curvy. In fact I pretty much always get a bit carsick when riding in a car or bus as a passenger. Though one thing that has really helped me has been sea-bands. It doesn't seem like they should work, but I promise they do! You can buy them in most pharmacies in Norway, or you can be on the safe side and order them in advance on Amazon here.
Driving in the dark during polar night in winter
Another big concern people have about driving in Norway is driving during polar night.
In the winter northern Norway experiences polar night, which means that it will be dark for most of the day. However even when the sun doesn't rise, mainland Norway still gets a few hours of daylight each day, so you will still be able to see the beautiful landscape here. In fact I find the colors during polar night incredibly beautiful and well worth the trip.
Roads here are dark with very few streetlights, but the edges are always marked by reflective sticks, so you can easily see where the road is. We actually have to have our headlights on at all times in Norway – even on sunny days – but then of course you can use your high beams when it's really dark (just remember to turn them off if you pass another car!).
Driving in snow in Norway
Okay this is a big one. Should you plan a winter road trip in Norway if you've never driven in snow before?
This is of course something you need to decide for yourself, but I can give you a bit of an overview of what driving in snow in Norway is like.
As I mentioned before, you'll definitely want to rent a car from Norway (or the Nordics) as we all have winter tires here, which is very important! In fact in northern Norway most cars will have studded tires, which is the best for driving on icy roads (you can ask your rental company for a car with studded tires).
Speaking of icy roads, yes, expect a lot of snow and ice! We don't really salt the roads here, so in the winter there is almost always a thick layer of snow and ice on the roads. Trucks will of course still plow and grit the roads, but if you're driving in a snow storm there's a good chance you could be driving on thick snow.
This isn't actually as scary as it sounds though. I know a lot of people who have driven in snow for the first time during their Norway road trip. Most important is not to drive too quickly and use the brakes as minimally as possible, as braking is when you risk skidding. Either pump the brakes or slow down by gearing down instead. You should be fine as long as you take it really slowly (don't worry about the cars behind you – it's better to be slow than to get in an accident).
The same applies for starting a car in the snow. You'll want to be very gentle when pressing the gas so that the wheels don't dig into the snow. Ease out of your parking spot as slowly as possible and then you should be ok. And if you do get stuck in the snow somewhere, just wait for someone to drive by to help you. Most Norwegians with larger cars will have equipment to pull other cars out of the snow here, as it happens so often. So be patient as help will arrive!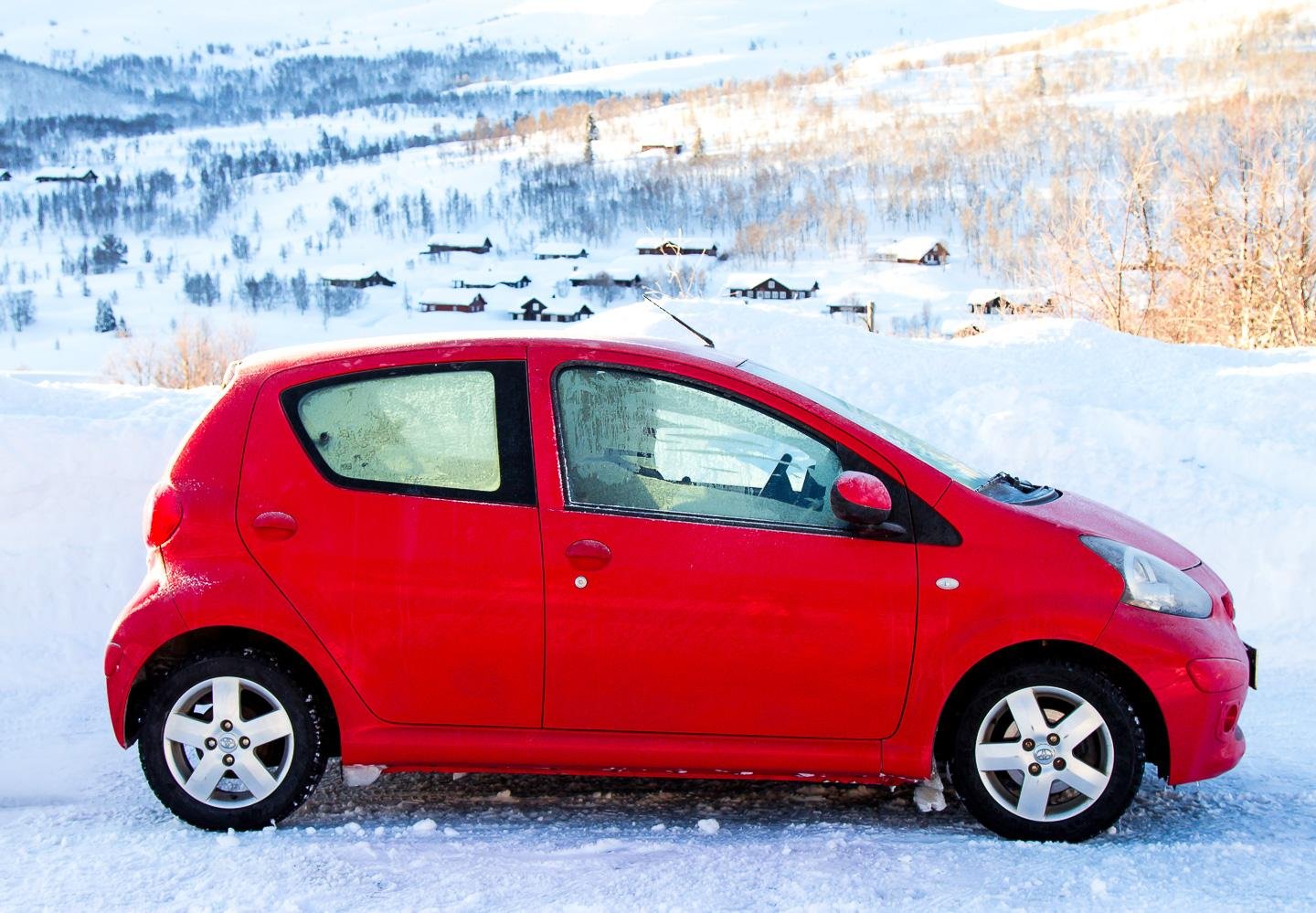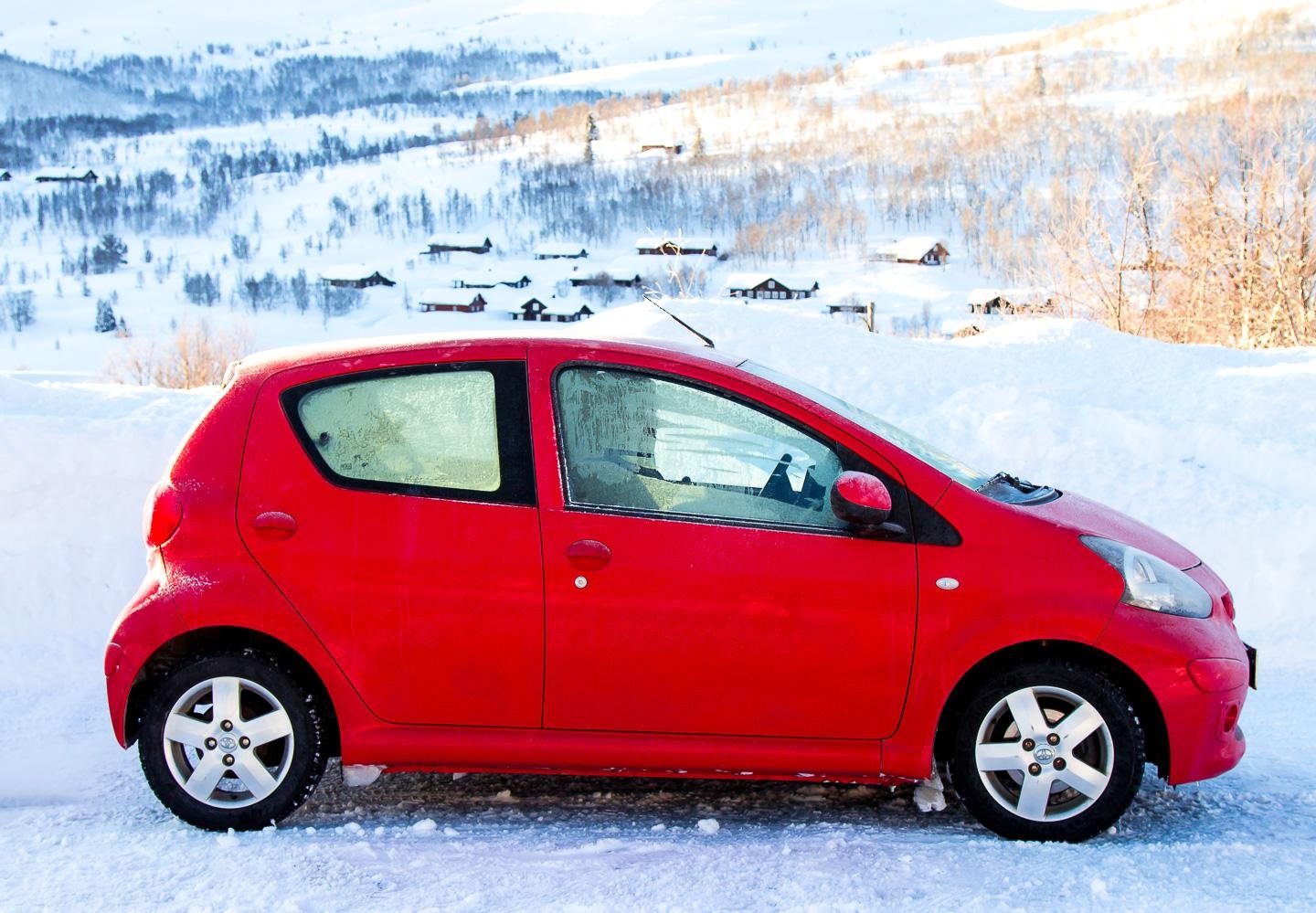 Parking in Norway
A lot of towns have free parking, but if you do have to pay there will be a meter, or you can pay on the EasyPark app or Parklink app. These are the two most popular parking apps used all over Norway.
I'd definitely recommend downloading the apps and setting them up (adding your payment method and car license number) beforehand, as it's always much easier to simply use the app to pay for parking. Plus with the apps you can adjust your parking time as necessary, instead of running back to the meter or overpaying in advance.
Choose your starting point wisely
Norway is enormous, and with all those mountains and fjords even what look like short distances on a map can take a really long time to cover. Luckily Norway is full of airports, many of which have international flights, so I'd highly recommend deciding what you want to see in Norway before choosing your flights. And if you can't find a direct flight into the region you'd like to explore then check out the domestic flight options.
The main international airports in Norway are in Oslo, Bergen, Stavanger, Tromsø, Trondheim, Ålesund, and Haugesund.
As a (very) general guide:
If you're interested in Norway's cities and mountains fly into Oslo.
If you're interested in the fjords but still want to see a city fly into Bergen.
If you want to do Preikestolen, Kjeragbolten, and Trolltunga – probably the three most famous hikes in Norway – fly into Stavanger. (Though if you only want to do Trolltunga then Bergen is closer.)
If you're interested in fjords and mountains, including Geirangerfjord, Trollstigen, and the Atlantic Road, fly into Ålesund.
If you want to see the Northern Lights, the Arctic, and Lofoten fly into Tromsø or Bodø.
If you're still unsure of where to go, click on the different regions of the map below for a summary of the region's main attractions and links to my blog posts about each area.

Norway
Use the National Scenic Routes in Norway as a guide
Norway has a lot of absurdly scenic roads, but it also has its fair share of boring highways. And you definitely don't want to spend the bulk of your epic Norwegian road trip driving through tunnels, which Norway has a lot of.
An easy way to find Norway's most scenic roads is by using the National Tourist Routes map. Just to warn you, their website is super glitchy and I still haven't managed to get the map to load on my phone, but it's 100% worth pulling out your laptop to check out this site, because every single road listed on it is guaranteed to be amazing.
I always check the map before setting out on a road trip and I try to take detours through as many of the tourist routes as I can. I've now driven 15 of the 18 routes and have never been disappointed. In fact driving in Norway is kind of my favorite thing ever, thanks to all the amazing views!
VARANGER: The far north of Norway truly does feel like the edge of the world. This is actually one of my favorite areas to drive in, especially in the summer when it's one of the few places in Norway that isn't crowded with tourists. Plus in the summer you'll find lots of reindeer roaming the roads! Just be careful not to hit any.
HAVØYSUND: This is another stunning northern route, and can be combined with the Varanger scenic route above. You can find my full road trip itinerary including both Varanger and Havøysund here.
SENJA: Senja has been growing in popularity but is still way less crowded than places like Lofoten and the fjords in southern Norway. The mountain peaks here are stunning, and personally it's one of my top picks for northern lights viewing in the winter. You can read about my winter trip to Senja (including the best accommodation) here.
ANDØYA: The Vesterålen islands are a great quieter alternative or addition to a trip to Lofoten. Again I can particularly recommend this route in the winter, where you can see whales, the northern lights, and the most beautiful pink skies during the polar night. You can find my guide to the Andøya route in Vesterålen here.
LOFOTEN: This is widely considered amongst Norwegians to be the most beautiful drive in Norway. Here you'll find jagged mountains rising out of the water with lots of cute red fishing cabins, as Lofoten is a center for cod fishing in Norway. Lofoten is incredibly touristy these days, but still worth the crowds for those beautiful mountain views and picturesque red cabins. I have a bunch of Lofoten guides on my site, but you can start with this guide to planning a Lofoten trip.
HELGELANDSKYSTEN: The Helgeland coast is my favorite are in all of Norway! In fact I love Helgeland so much that I ended up moving here. The Helgeland coast is spotted with countless islands, with similar jagged mountains to Lofoten but far fewer tourists. If you want to get off the beaten path a bit, I definitely recommend Lofoten. You can read my Helgelandskysten guide here. It's best in the summer, but Helgeland is also beautiful in the winter.
ATLANTIC OCEAN ROAD: The Atlantic Road is probably one of Norway's most famous roads. This road includes lots of bridges connecting islands, and it was incredibly expensive to build, so Norway put a lot of marketing behind it to draw in visitors. I'd say it's certainly one of Norway's most impressive roads, but I wouldn't put it at the very top of the list – maybe around #10. It's similar to the Helgeland coast and Lofoten, but the landscape isn't anywhere near as dramatic. You can read my experience driving the Atlantic Ocean Road here.
GEIRANGER – TROLLSTIGEN: I always say if you only have time to visit one place in Norway, one of my recommendations would be the Geiranger – Trollstigen area (you can find my other recommendation here). Trollstigen is famous for its many hairpin turns, but actually I find the mountain views at the top the most impressive. And Geirangerfjord is widely considered one of Norway's most beautiful fjords. You can read my guide to the Geiranger – Trollstigen scenic route here.
GAMLE STRYNEFJELLSVEGEN: This is probably my favorite drive in southern Norway. It's only open in the summer as the road winds high up into the mountains, but definitely try to make it here if you get the chance. You can read about my experience driving Gamle Strynefjellsvegen here.
RONDANE: This is apparently the most dry area of Norway, and the landscape here really is unique for the country. I've written about my trip to Rondane National Park here as well as here.
SOGNEFJELLET: This route isn't too far from Bergen, and takes you from beautiful fjord views up into a barren mountain landscape.
AURLANDSFJELLET: The Sognefjellet scenic route leads into Aurlandsfjellet as you head south, which will take you down into the beautiful fjord area outside of Bergen. You can read about my experience driving on both Sognefjellet and Aurlandsfjellet as well as wild camping here.
VALDRESFLYE: Farther inland than the Sognefjellet and Aurlandsfjellet routes, the Valdresflye scenic route is a great option if you are heading north (or south) and don't have the time to take lots of ferries along the coast. I used to drive this route when driving from southern Norway up to Trondheim and back, and it never disappointed. You can read more about my experience driving the Valdresflye scenic route here.
GAULARFJELLET: If you want to spend more time along the fjords, take this route along the fjord and up into Gaular Mountain. This is also a great place to spend the night (or several nights!). You can find my guide to the best accommodation along Sognefjord here.
HARDANGER: This coastal drive is especially beautiful in the spring, when the fruit trees along Hardangerfjord are in bloom, but you can take this route any time of year. You can read about my experience driving the Hardanger scenic route here.
HARDANGERVIDDA: I used to live at the foot of Hardangervidda National Park, but while I'm a huge fan of the park, this is one of my least favorite of the 18 Norwegian scenic routes. Yes, you'll get to go up on Hardangervidda, the largest plateau of its kind in Europe, however the road itself is just a busy highway. If you do choose to take this route I would try to stop along the way to hike into the park a bit. Or you could take the ferry into Hardangervidda instead.
RYFYLKE: This is one of the most famous drives in all of Norway, and for good reason. You'll be passing by two of Norway's most popular hikes, Pulpit Rock (Preikestolen) and Kjeragbolten, and then ending up near Norway's third most famous hike, Trolltunga. You can find my itinerary including this drive in my Norway itinerary guide.
JÆREN: Last and, unfortunately least. This drive is surprisingly boring and I can't quite understand why it's one of Norway's scenic routes. This is just a busy road along the coast, and not a particularly scenic piece of coastline at that. I would skip this, unless you'll already be heading this way, for example if you're driving from Kristiansand to Stavanger.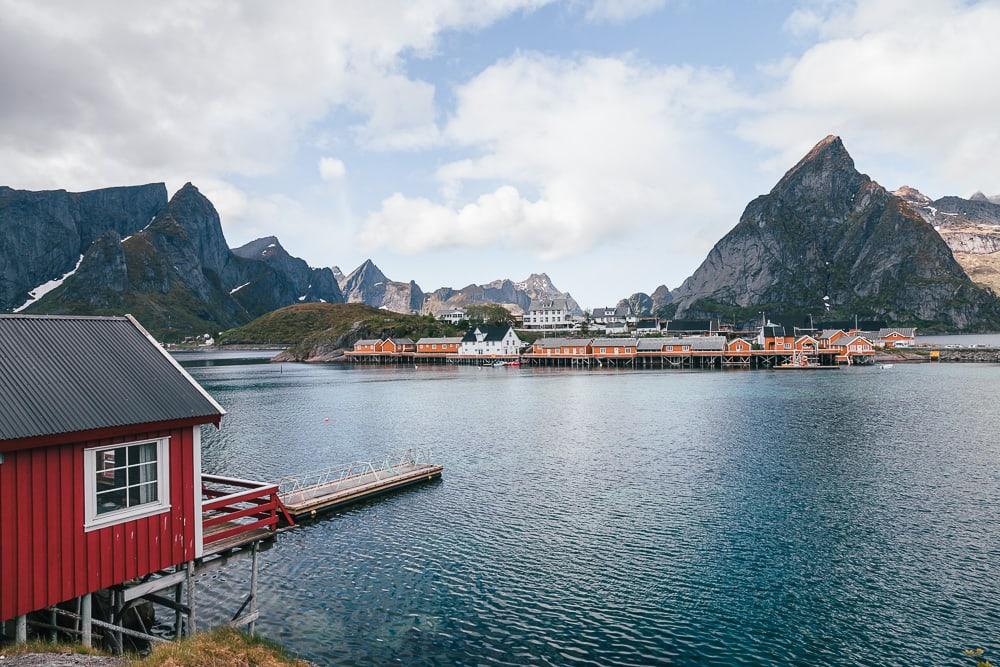 Connect with people on Couchsurfing and Facebook
Of course not every scenic road in Norway has made it onto the list of National Tourist Routes, so to find more beautiful drives you're best off asking locals! Norwegians love to gush about the beautiful nature here, and I feel like at least once a week someone is telling me about a drive that I just have to do here.
I personally love to use Couchsurfing to connect with locals from an area (even if I'm not planning to use it for accommodation) but of course you can also find people on Facebook or other social media channels.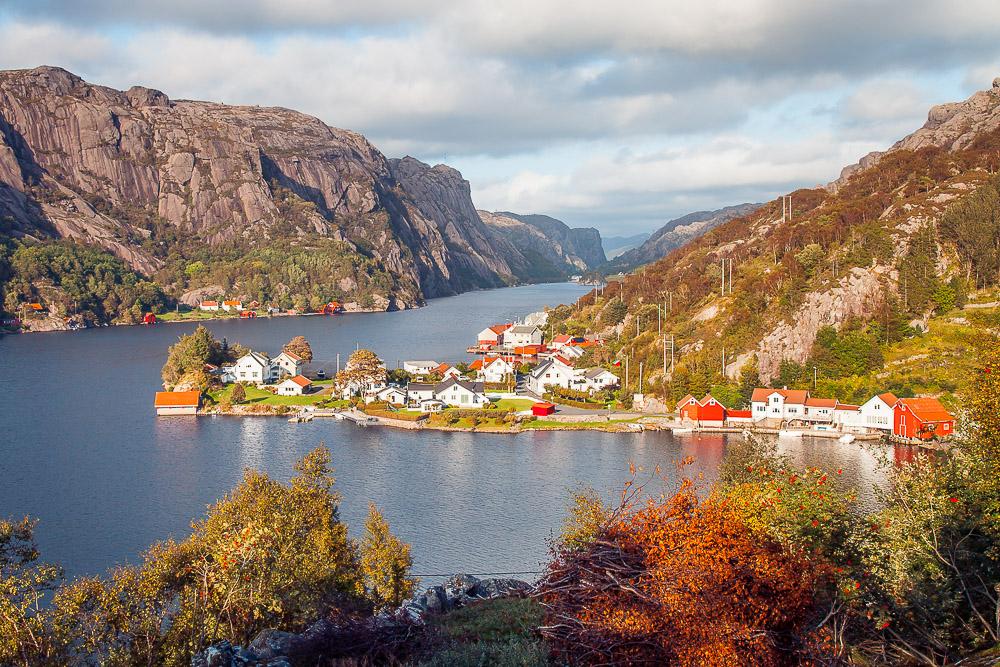 I never would have visited Åna-Sira if a local hadn't told me about it!
Keep an eye out for the northern lights
If you'll be traveling to Northern Norway in the winter, one of the best things about traveling by car is getting to chase the northern lights!
You'll want to keep track of both the weather and aurora forecasts and try to get to clear skies, especially with views north. It's definitely worth marking out the spots on your route with good views north (you can often tell simply by looking at a map), and then stopping in those areas to check the skies.
Northern Lights Guide!
I've also written an in depth ebook covering all aspects of planning your northern lights trip, including the best places in the Nordics to see the northern lights, the best time to see the Northern Lights, my top accommodation choices, tour options, how to chase the northern lights (including which apps I use), how to photograph and film the northern lights, what to pack for your trip, and other exciting Arctic activities to try on your trip up North.
If you want to ensure you have the best northern lights trip possible, you can purchase the ebook here.

Check if the roads are open when planning a trip to Norway
A lot of the high mountain roads close during the winter, and it's easy to forget that winter in Norway can mean September to June.
You can check the current status of roads at on this map, though unfortunately it's only in Norwegian. If a road is closed for the season Google will tell you – something which is important to keep in mind if you are mapping out your route in the winter, as Google will avoid any roads that are closed unless you change the dates to the summer.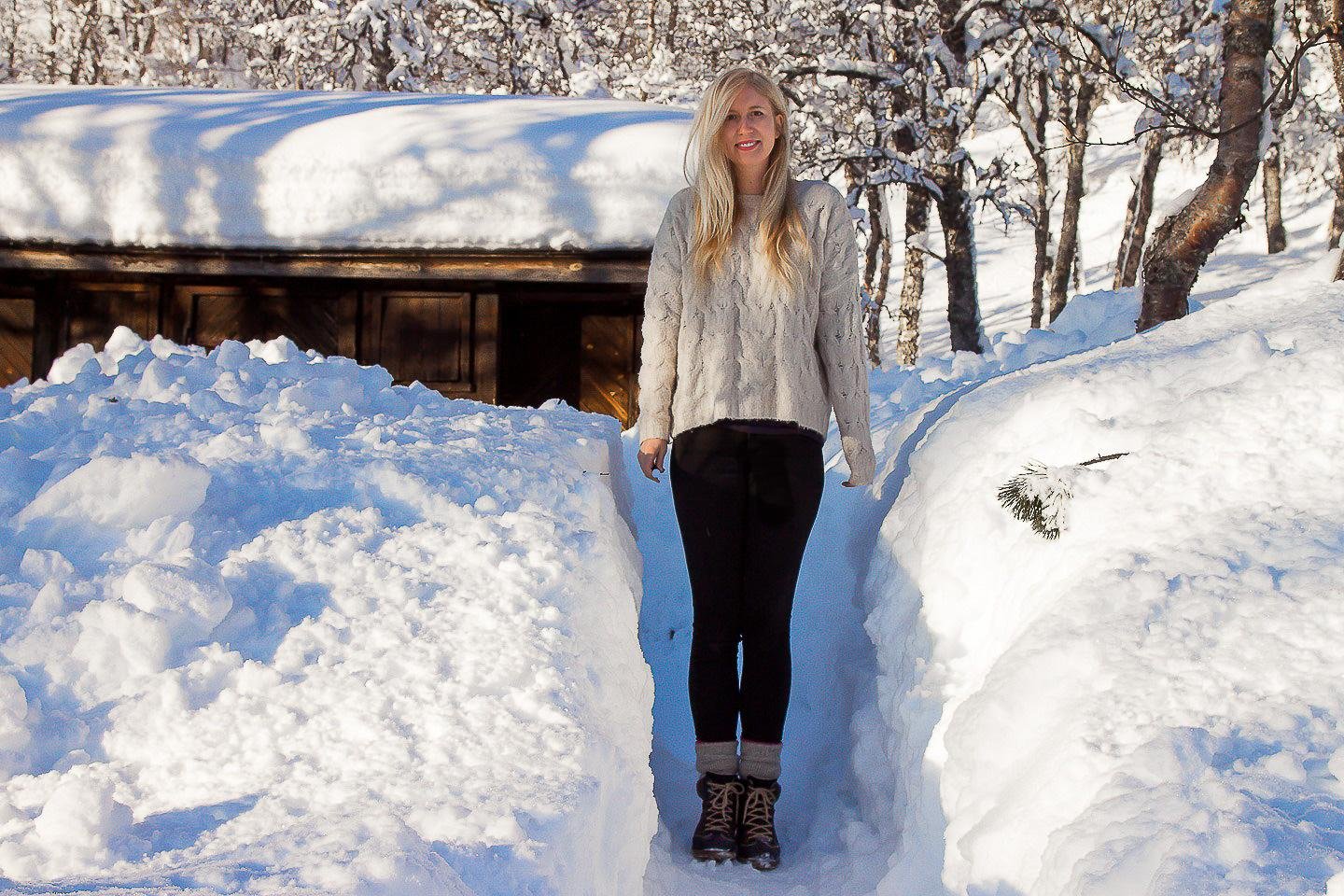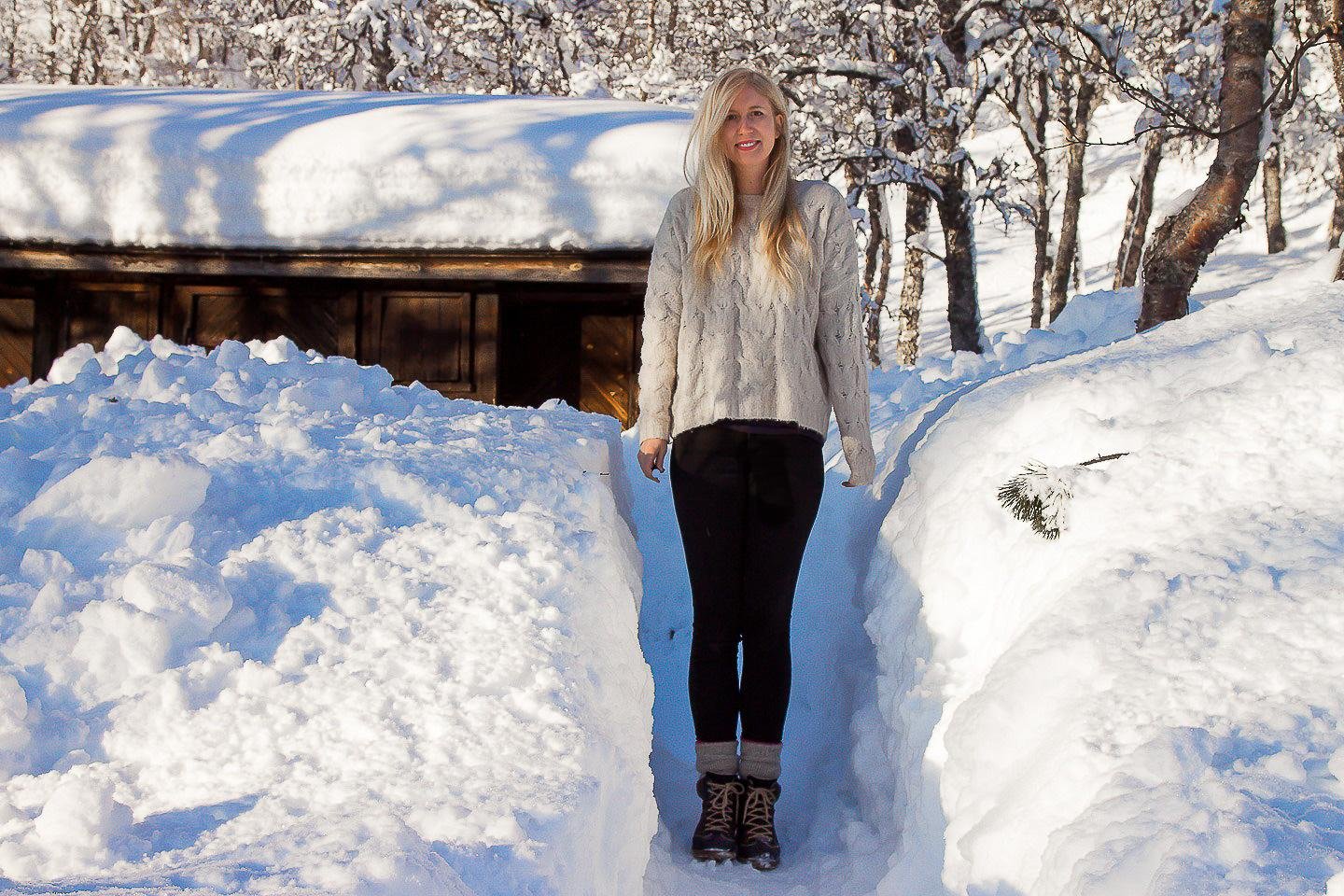 Schedule at least one free day to make up for bad weather
Even if you're traveling on a tight schedule, it can still be worth leaving one day free. I'd especially recommend doing this if you'll be visiting a particular place that you've always dreamed of seeing, because the weather here can be really unpredictable so you might end up needing an extra day to (hopefully!) let the skies clear.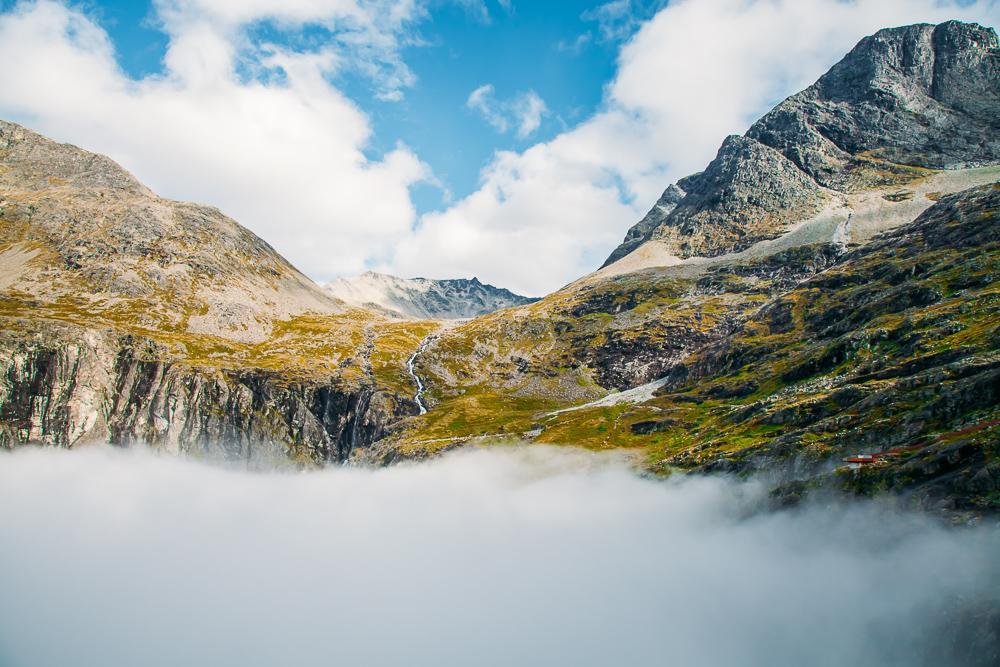 I wish I could have stayed an extra day to see Trollstigen without the fog!
Pack rain gear and warm clothing
Even if you're visiting Norway in the summer, you'll need some warm clothing – especially if you' be driving up into the mountains. And if you have a good waterproof jacket and waterproof trousers (I love these ones!) then you won't need to let bad weather stop you from enjoying Norway's nature.
Even in the summer I would recommend bringing warm thermals to wear under your clothes while in the mountains, a good quality wool sweater, and of course a raincoat and rain pants.
If you're camping, bring a really warm sleeping bag and pitch away from the main road
Even in the summer the nights in the mountains get really cold, so make sure your sleeping bag can withstand freezing temperatures.
And while wild camping is totally legal here, I do try to camp out of sight of the road. Last summer there was a lot of press in Norway about European tourists loading their cars with food and camping their way through Norway, spending almost no money while here, so a lot of locals don't look too kindly on tents.
It's really silly, but the one time I did camp by the side of a road I was honked at all night, and when I asked other travelers about it many had experienced the same thing. Besides, it's much nicer camping away from the noise of traffic anyway!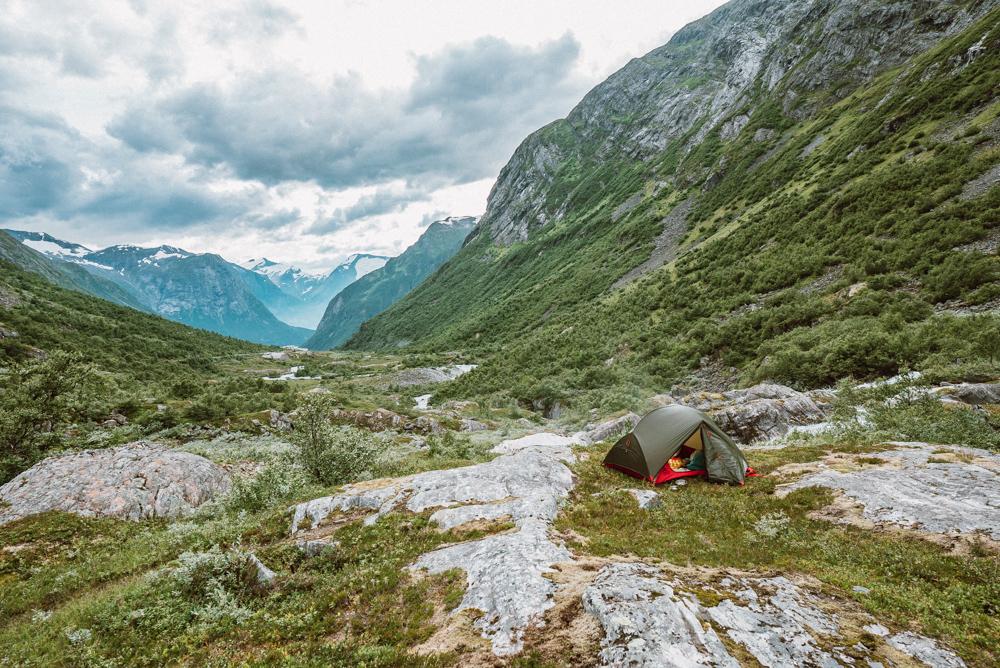 Alternate between grocery store meals and restaurants
Having the extra space of a car makes it a lot easier to buy and store food for meals, which can save a ton of money while traveling in Norway. I generally eat one restaurant meal a day on my travels and balance out the expense with cheap grocery store meals the rest of the day.
If you are traveling on a tight budget then read my post about eating on a budget in Norway.
Anyone have any tips to add? Share them in the comments!
P.S. I've written up loads of guides for the best accommodation in Norway for different budgets, including lots of hidden gems in the more popular areas. You can see all my accommodation guides here.