I haven't had a great past couple months. My friend Rachel passed away suddenly, and I haven't had the heart to post lots of photos and write about how beautiful the world is. Because I guess I've mostly just been really mad at the world.
My go-to remedies to cheer myself up have always been lots of cooking and lots of exercise (because balance?), but the other week I realized that neither seemed to be working. So I turned to the one thing that always lifts my spirits, regardless of what I'm going through: the mountains.
Now, since this is Norway the mountains are literally everywhere – I mean, I'm looking out my window right now at a snowcapped peak. But there were some particular mountains I had been wanting to explore for a while.
I wanted to see more of the Helgeland coast.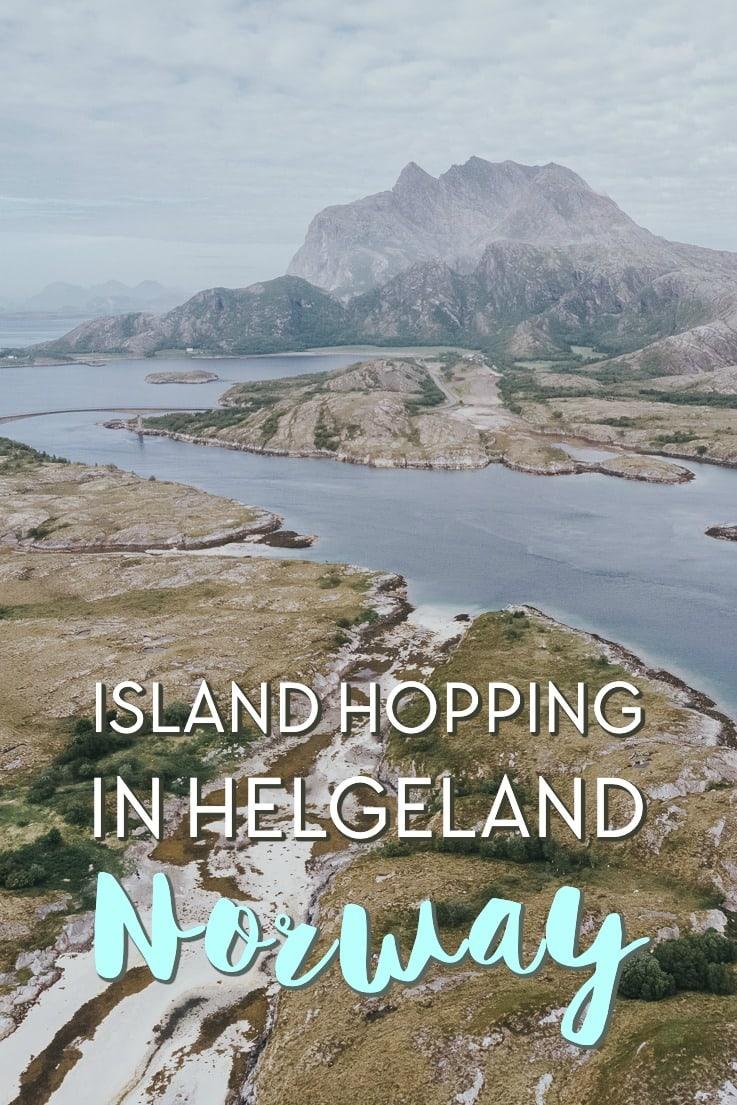 Remember when I visited Støtt in the winter and vowed to return in the summer? Well this is the first of what I hope will be many blog posts about the magic of the Helgeland coast in the summertime. Though I am quickly running out of summer – maybe the next posts will have to wait until future summers.
The other day I jumped on Airbnb to see if there were any last minute rentals available for the weekend. And as luck would have it, one of the only options was this cottage on the island of Dønna. I say luck because just a few days prior I had hosted a Couchsurfer who had just returned from a trip to Dønna and the neighboring island of Herøy and she couldn't stop raving about them. It seemed like fate!
What's crazy is that I was a little reluctant to book this place because it didn't look so nice in the photos, but ultimately I chose it for the location. Dønna sounded amazing, plus this cottage was just a few meters from the water!
But oh my goodness, the Airbnb photos did not do it justice at all – so of course I had to take my own.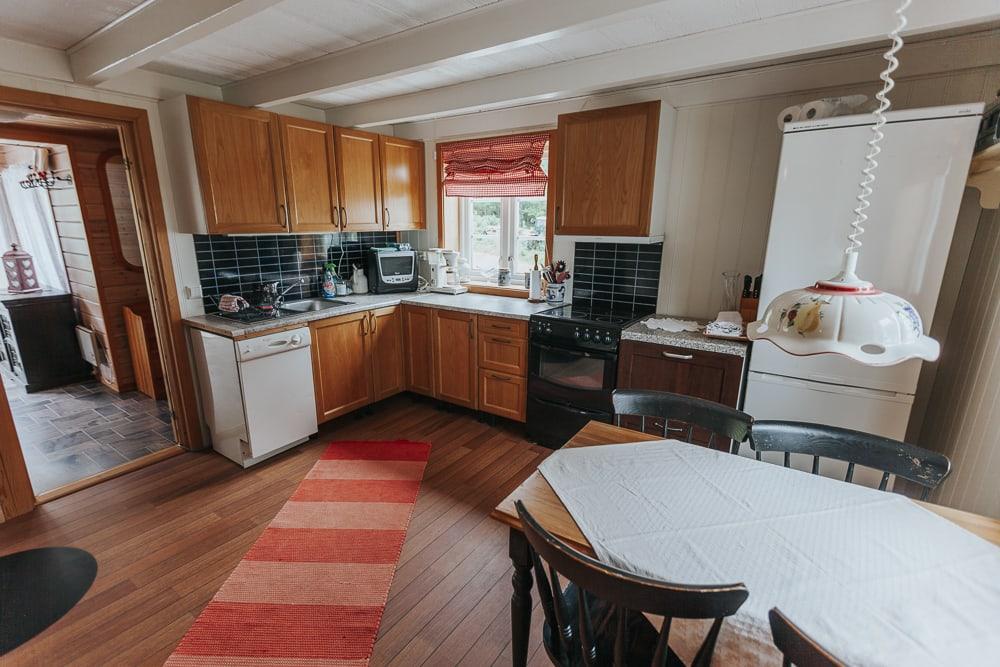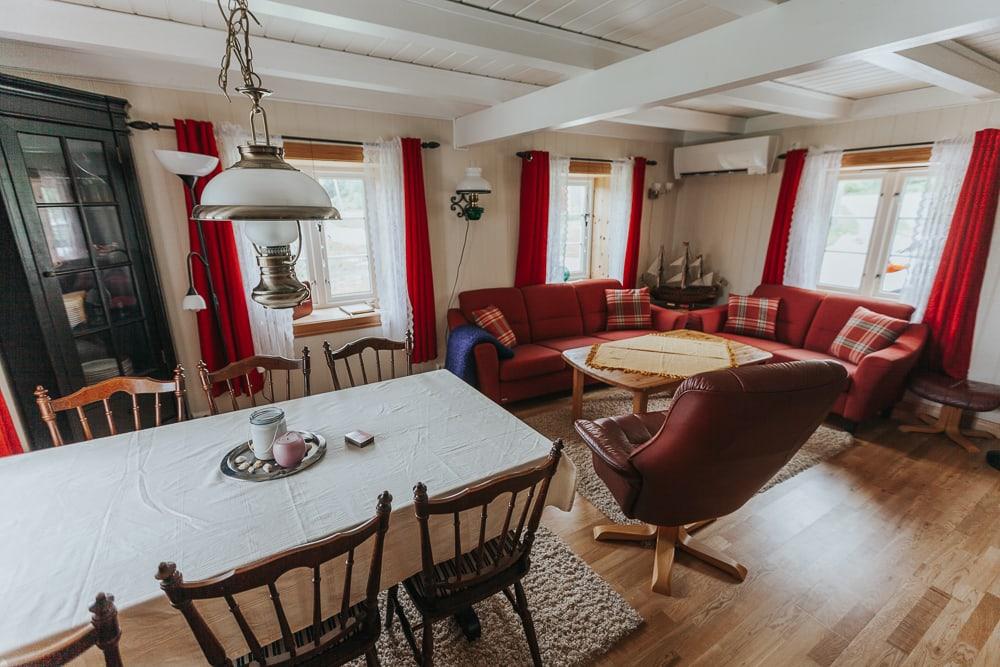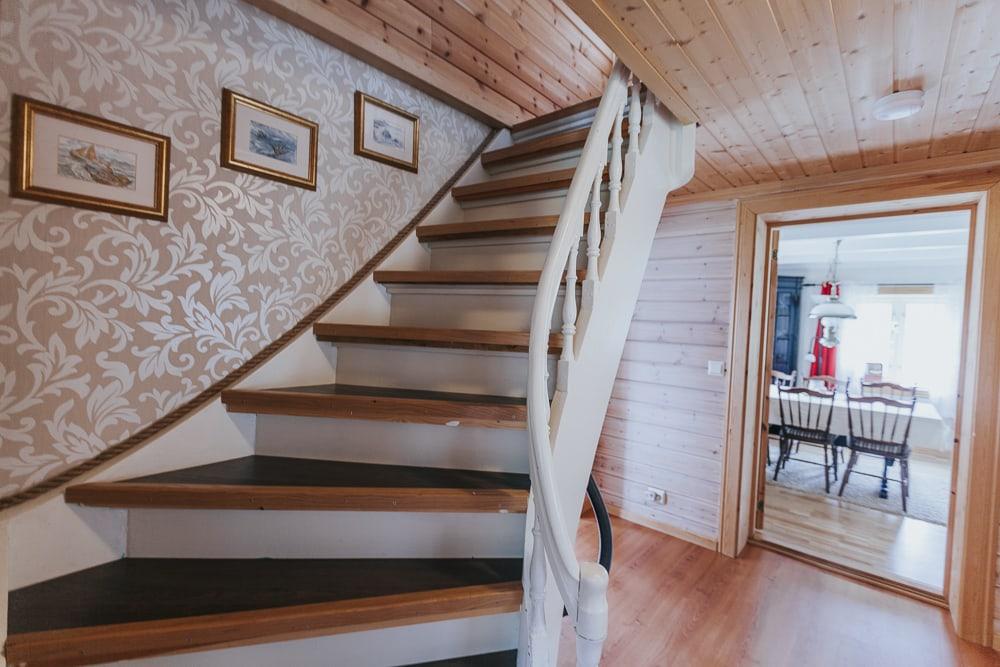 The cottage is owned by a fisherman who has worked all over the world, so he had lots of stories to tell in the short time he handed over the keys. This was his old family cottage that he had renovated, so it felt just like the Norwegian family cottages I grew up spending my summers at.
Again this is something I love about Airbnb in Norway – a lot of Norwegian families have cottages and cabins they barely use, so it's wonderful that Airbnb gives them an opportunity to rent them out, plus cabin life is such an integral part of Norwegian culture that foreign visitors should get a chance to experience as well.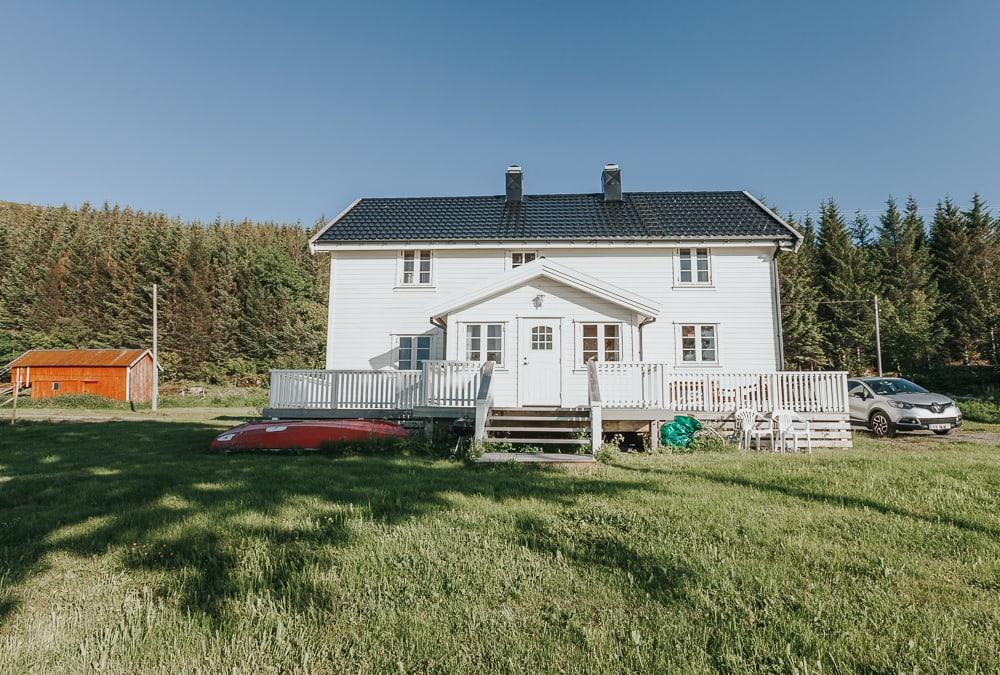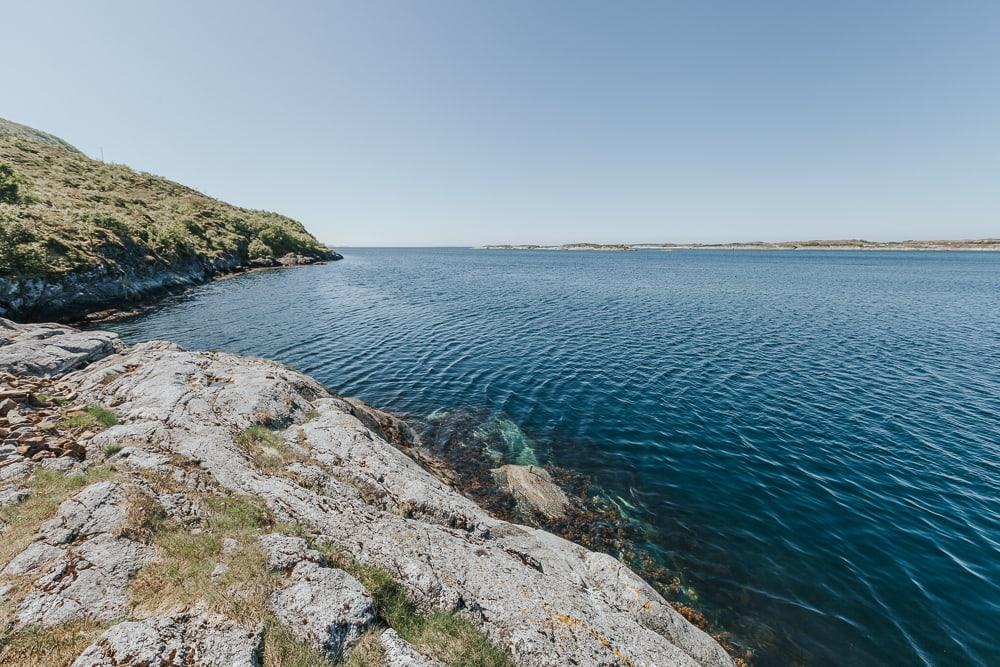 It's funny how grief changes everything. And by funny I don't actually mean funny at all, but I'm trying to use positive adjectives to keep things light hearted. Because the truth is, lately I've been anything but. Seriously, my poor friends. Like, I've had downs in the past – sometimes for prolonged periods of time – but I've never experienced anything quite like this.
I think the main difference is that while moments of joy usually help to lift me out of sad periods, now they're painful reminders of the life that Rachel is missing. And on Dønna there was a lot of pain.
Which actually is the highest compliment to Dønna! It's such a special island and I wish everyone could experience it.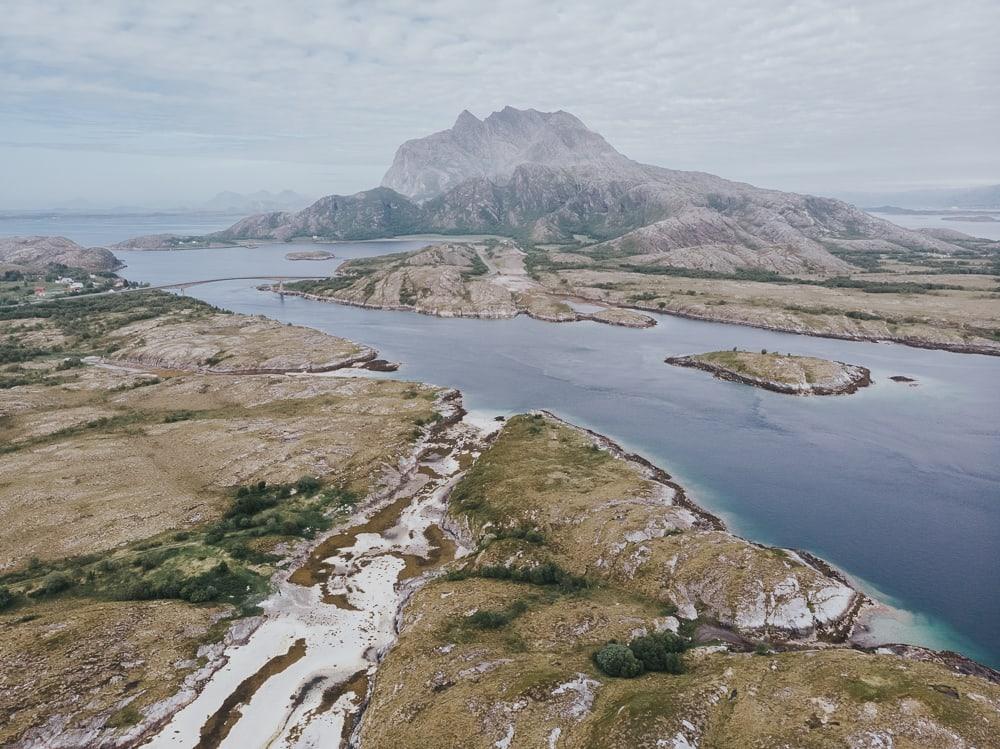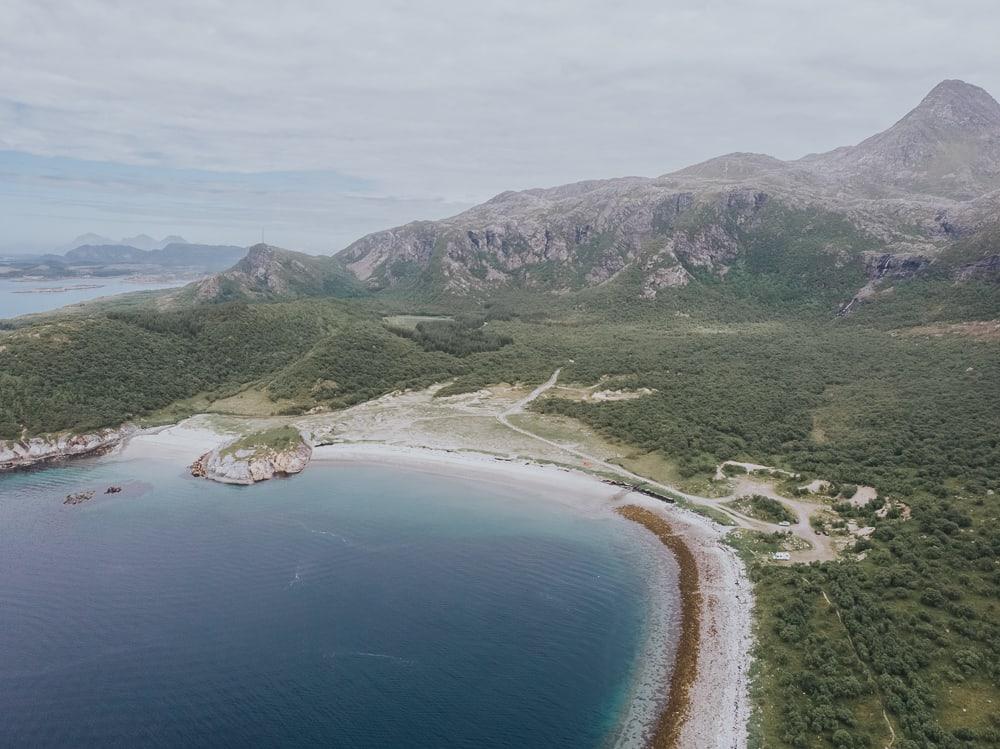 Another wonderful thing I discovered about Dønna is that, at least in June, even on a weekend the hikes were totally empty, so I could cry my way up the mountains without worrying about awkward encounters with other visitors. It's a sort of peace and quiet that I'm not sure even exists in southern Norway – at least not in the areas I know.
My couchsurfer had climbed Dønnamannen, or "the Dønna Man," with her friend and raved about the views, but locals told me it was too dangerous to attempt alone. I still drove to the Einvika trailhead for Dønnamannen, but instead of heading up the mountain I mostly stayed down by the beach.
And if you're wondering why it's called the Dønna Man, just tilt your head.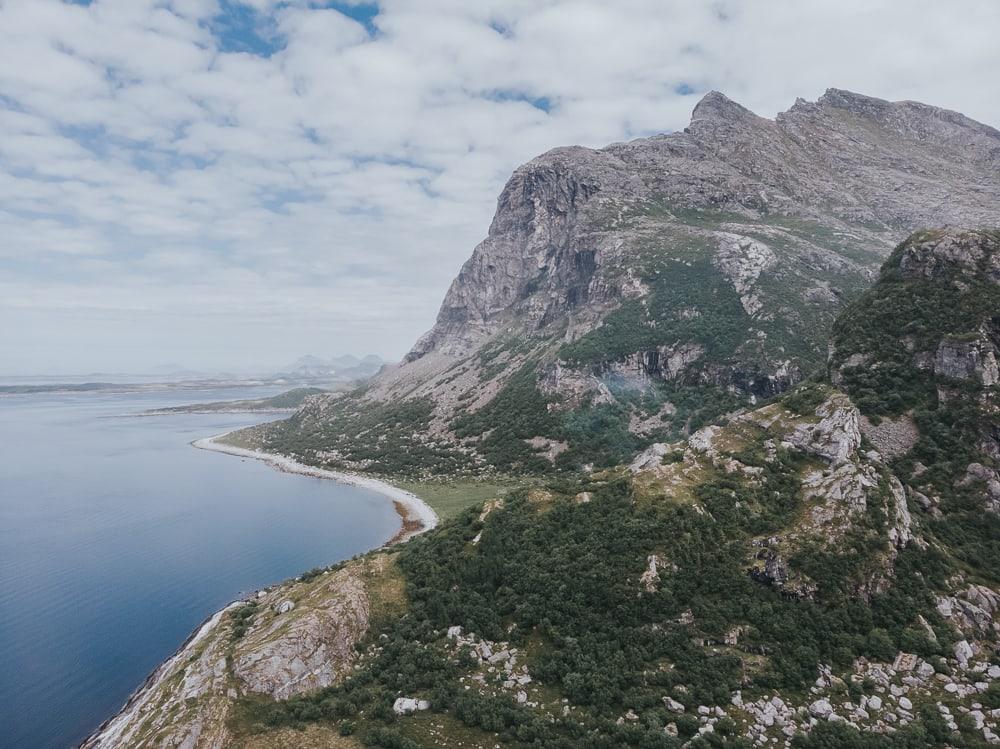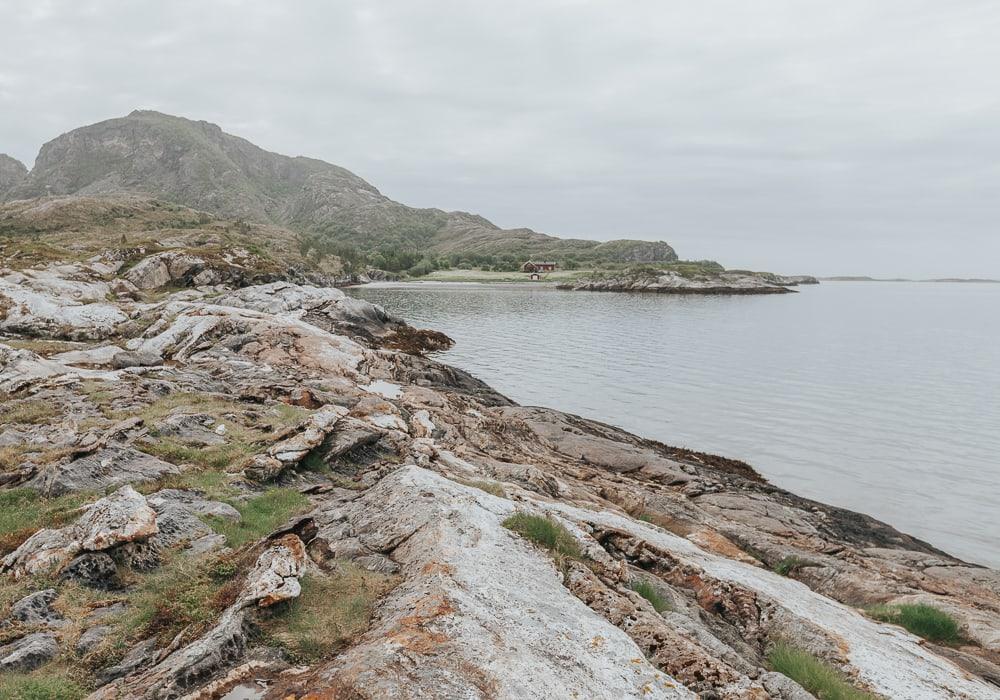 I did climb up from the beach a little to get a better view, but I didn't go too far up.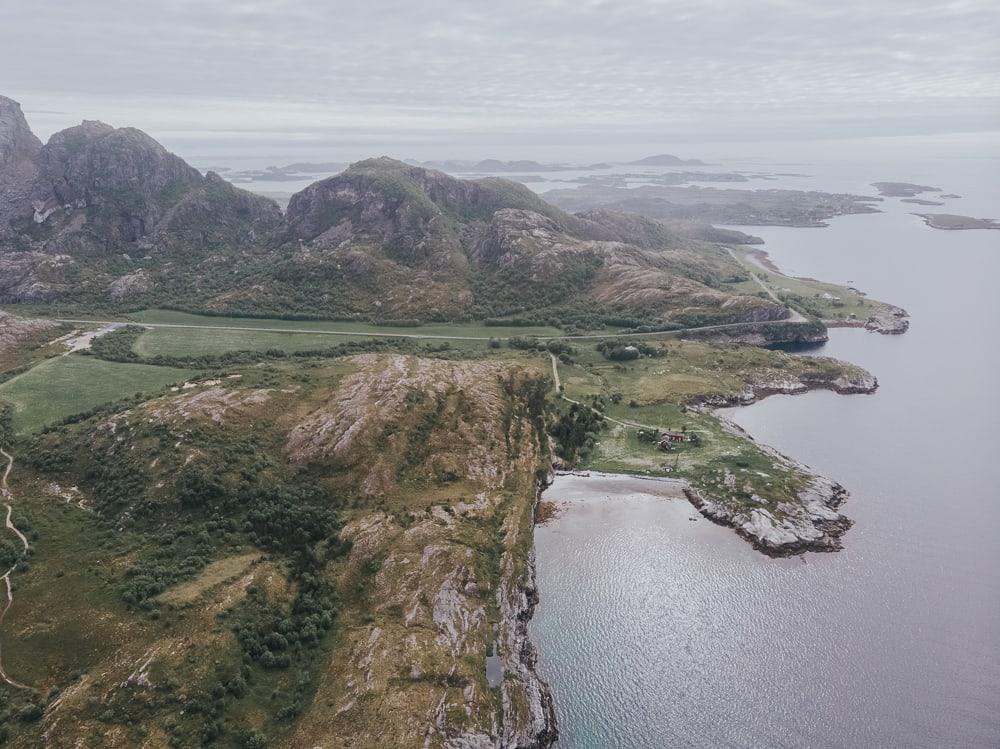 And then from Einvika it was just a short drive to the Åkviksundet bridge that connects Dønna to the neighboring island of Herøy.
Herøy is really small and has beautiful views of both Dønna and the Seven Sisters peaks overlooking Sandnessjøen.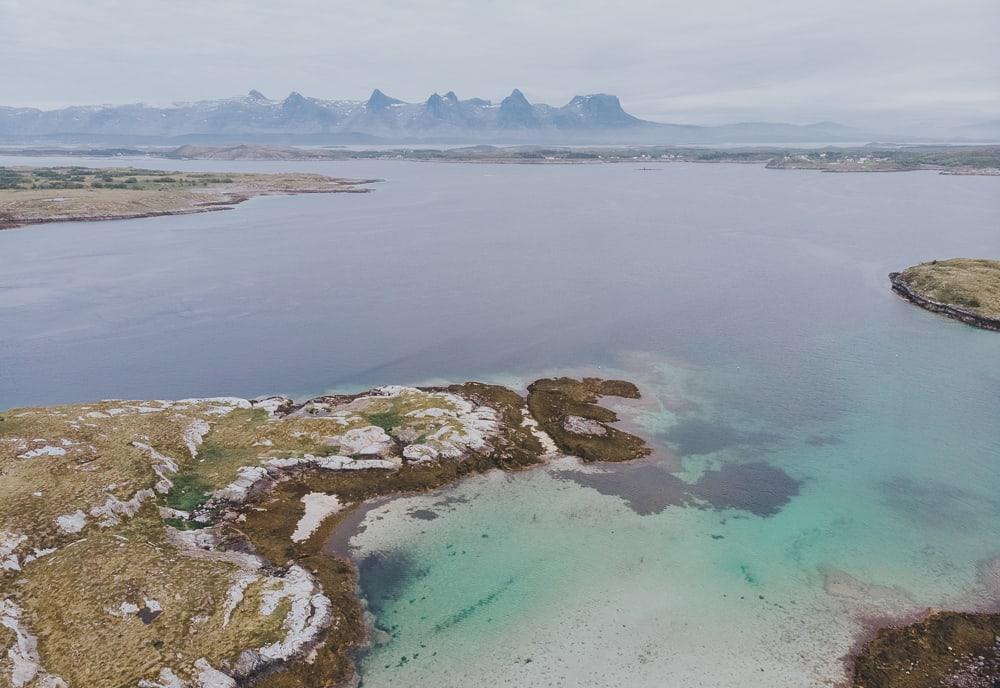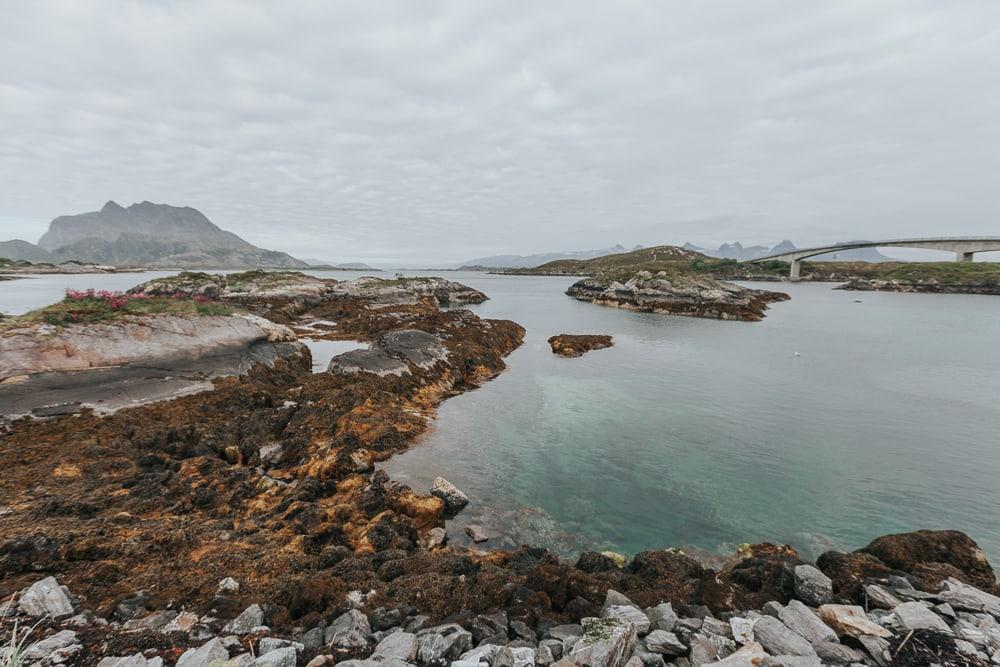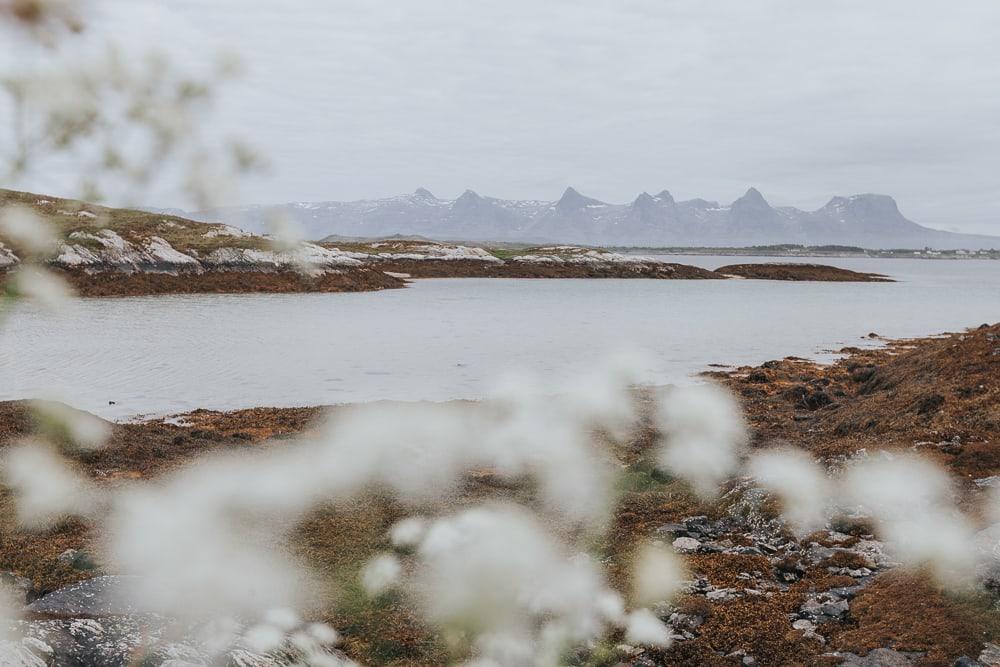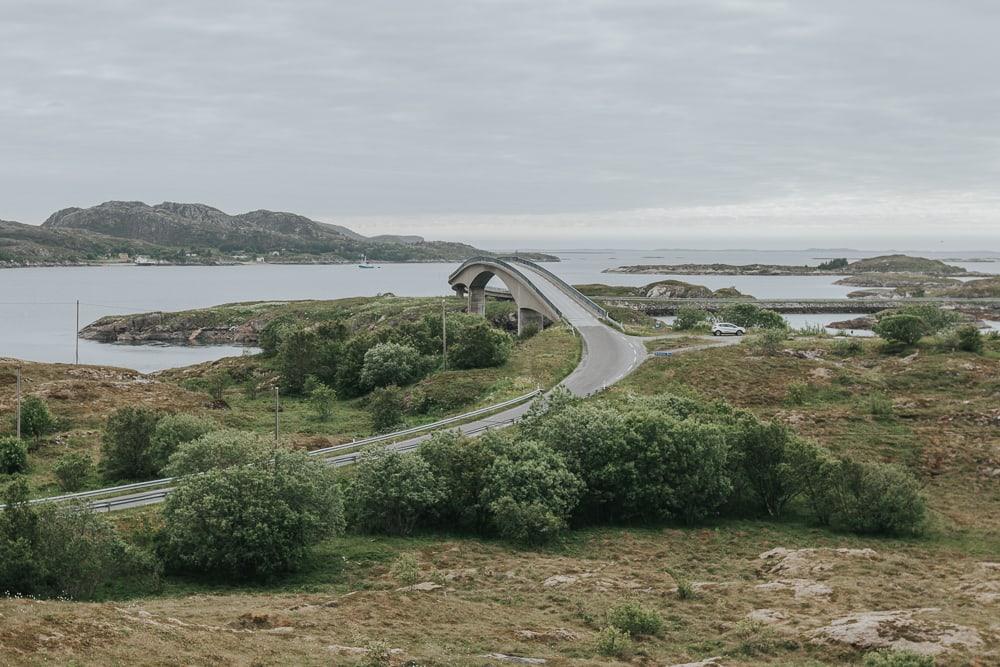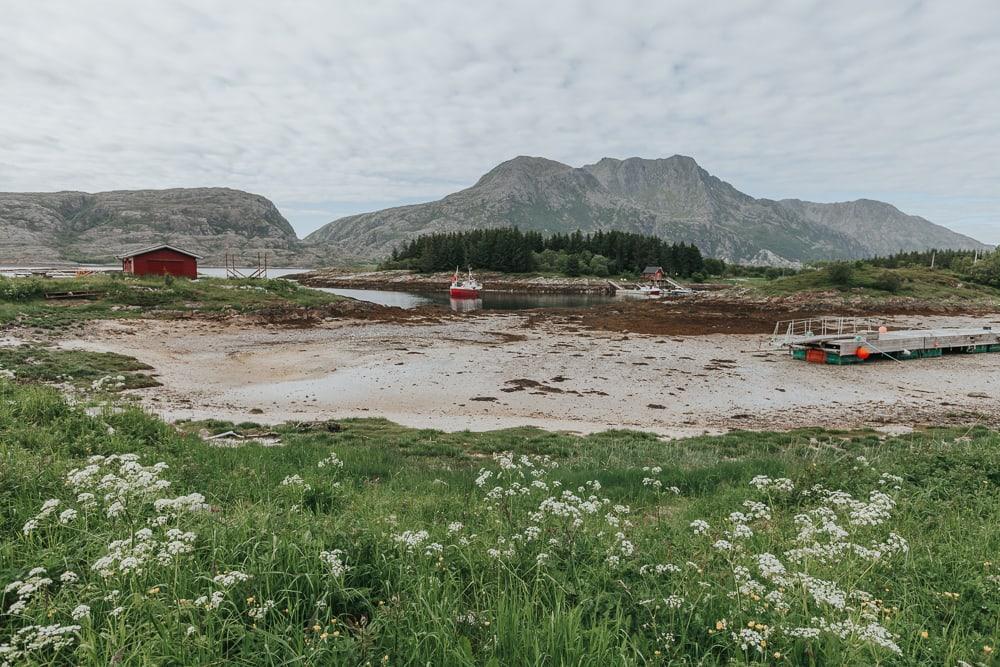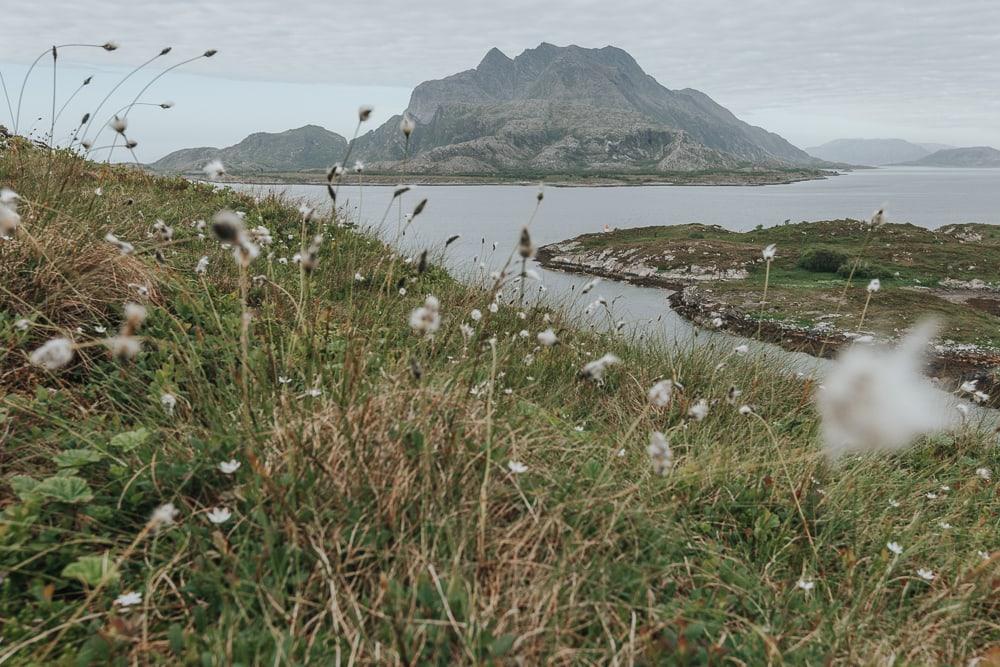 There's also a famous flower shop and garden on Herøy called ETCETERA that apparently you shouldn't miss, but I missed it. If you do go, be sure to check out the toilet!
After exploring Dønna and Herøy on my first full day on the island, the next day I was a bad blogger and relaxed on the back porch in the sun all day.
Though in the evening I did walk down to Breivika beach, which has a view of Dønnamannen from the other side – along with a very pretty beach! I even made it into the water. Very, very briefly.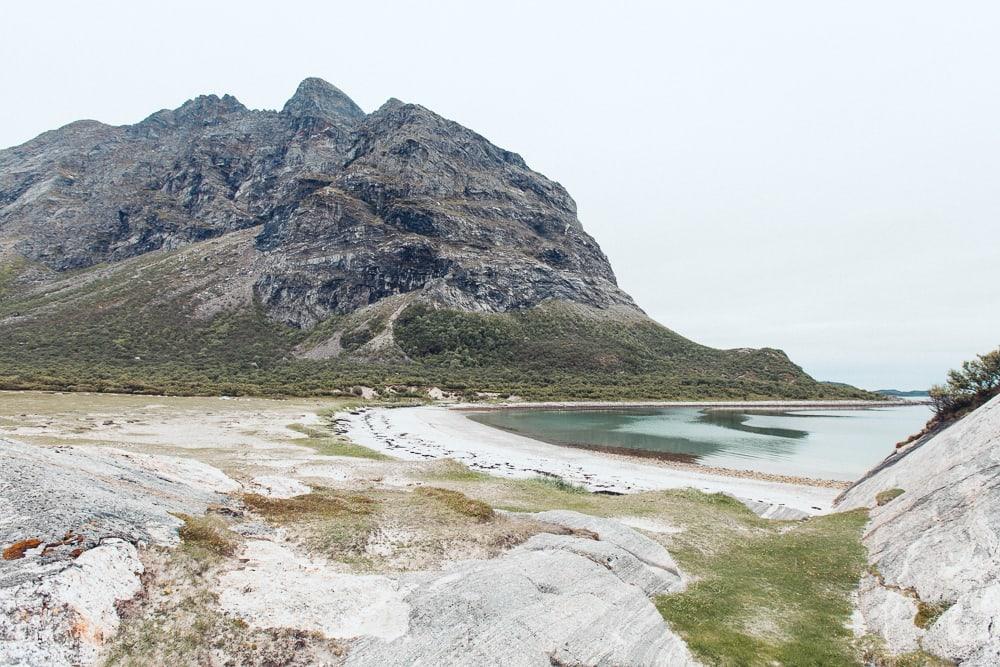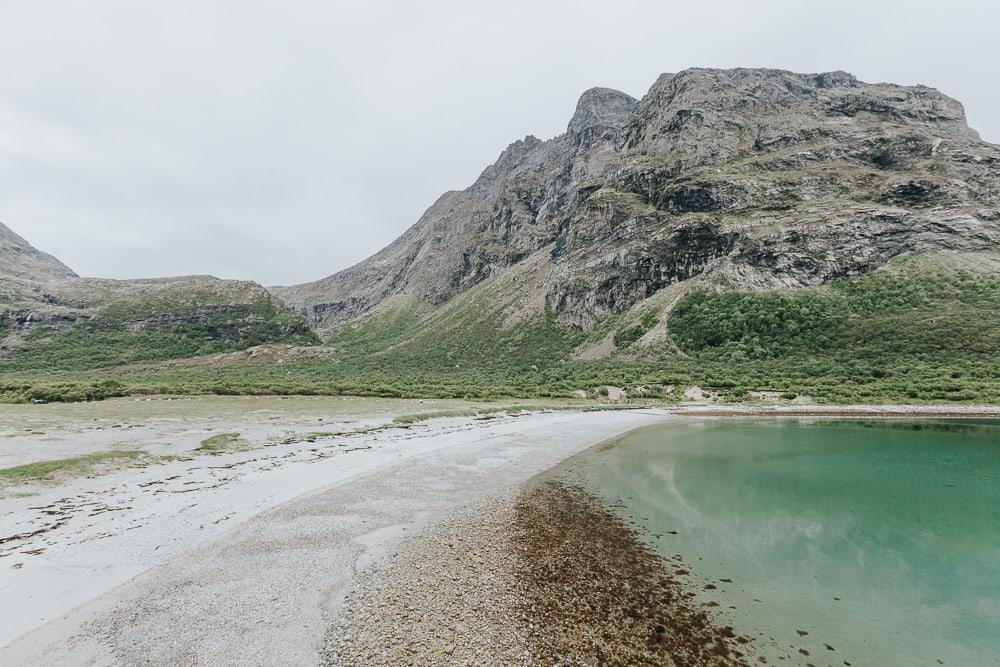 I also enjoyed watching the midnight sun dip down to the water and then back up again each evening from my spot on the back porch. Norway in June really is something special.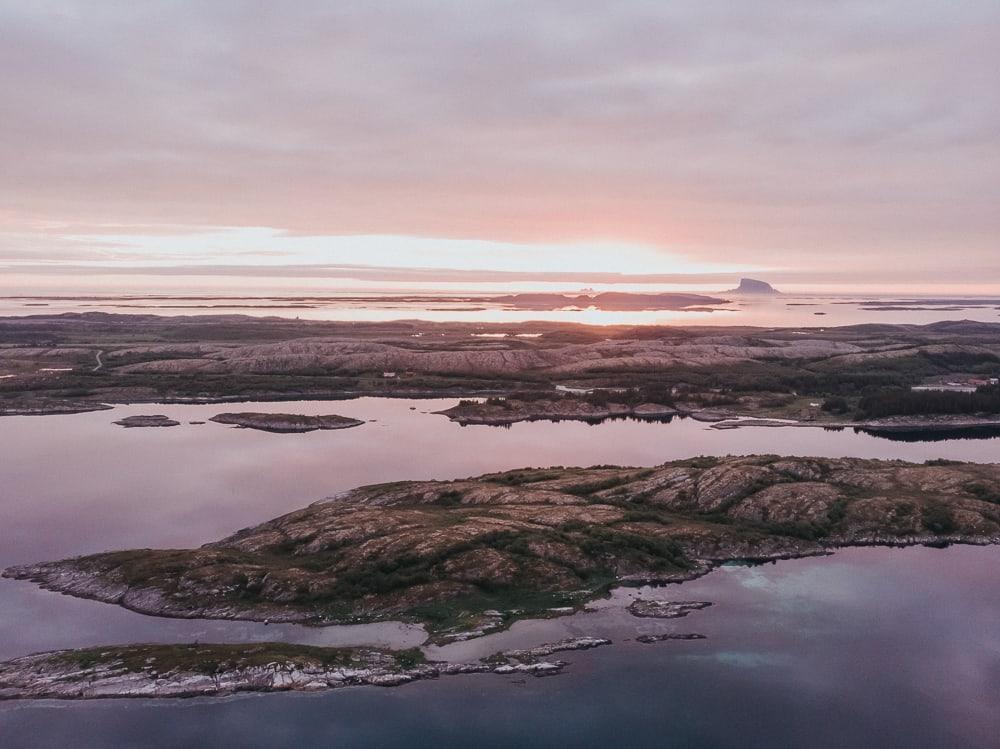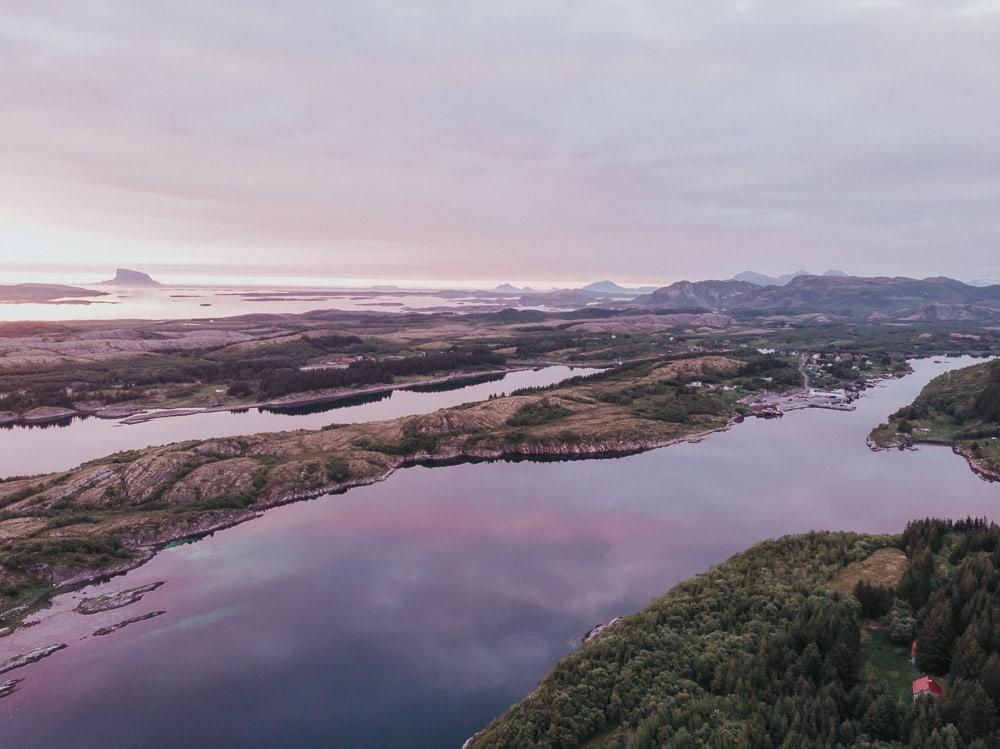 Getting to Dønna and Herøy
Getting to Dønna is quite easy. There's a ferry from Sandnessjøen, which you can reach by bus from the train station in Mosjøen. The bus lines up with the train, so it always leaves a few minutes after the train arrives.
I drove to Dønna (using the ferry from Sandnessjøen), and while I love the idea of exploring the island on foot or by bicycle, I was glad to have my car with me so I could see all of the island and also drive across the bridge to the neighboring island of Herøy.
Though the drive from Mosjøen to Sandnessjøen was a little bit scary.
Anyone who has done that drive probably thinks I'm referring to the 10+ kilometer tunnel between Vefsn and Leirfjord, which certainly is a bit anxiety inducing. But what really made me anxious was the Helgeland Bridge to Sandnessjøen.
I already have a slight fear of driving over bridges (it's a real phobia, I swear), and this one curves around in what I would probably consider a very beautiful manner as a passenger, but as a driver it feels like I'm about to drive straight off the edge of the earth.
So you can look forward to that on your way to Dønna.
But I'm still glad I took my car, because the drive around the islands was so pretty and I honestly could have happily spent all weekend driving around and around Dønna and Herøy.
Though actually now that I think about it I could have left my car in Sandnessjøen and just brought my bicycle to Dønna. Maybe I'll do that next time.