Okay, maybe you don't actually need to forget Lofoten – in fact next up on my itinerary after Meløy would be the Lofoten islands.
But, as you might know, Lofoten's popularity has exploded in recent years, and it seems like the islands are getting more and more crowded with tourists each year. At the same time, this means that more and more fun activities and unique accommodation options have emerged, so I do think the region is still very much worth visiting.
Plus, while you can find dramatic mountain landscapes in other parts of Norway, what makes Lofoten particularly special is its history as a fishing center in Norway, which means that the islands are covered in those iconic red fishing cabins that have become so famous on Instagram.
At least that's what I always tell people when they ask if Lofoten is still worth visiting even now with all the tourists. But if crowds aren't your thing, there's another, much smaller, and much quieter fishing island you can visit: Støtt. You'll still be surrounded by gorgeous Norwegian mountains, and you can even stay in an old fishing wharf!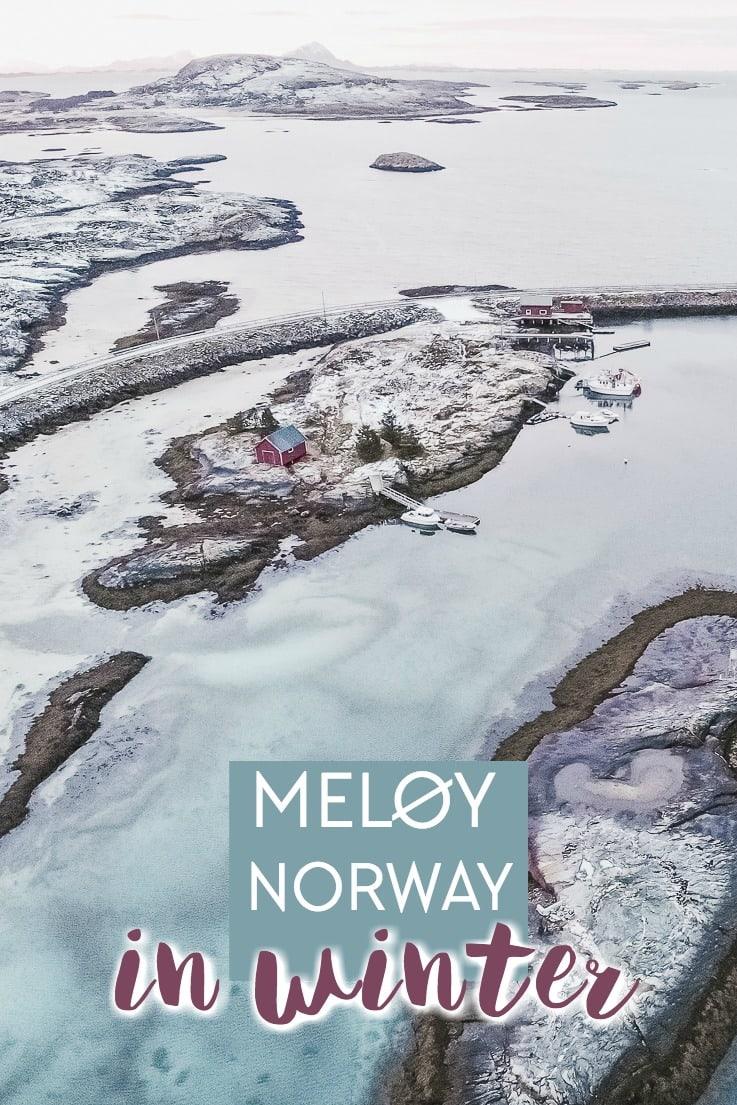 After saying goodbye to my friends Catriona and Viv after our weekend on Senja and Dyrøy, I flew down to Bodø to begin a week of exploring on my own. And first up on my itinerary was a small island that, to be honest, up until a few months ago I had never even heard of before.
I took the express boat from Bodø to Støtt, which is part of Meløy commune, and guys, that's the first great thing about visiting Støtt: you don't need a car!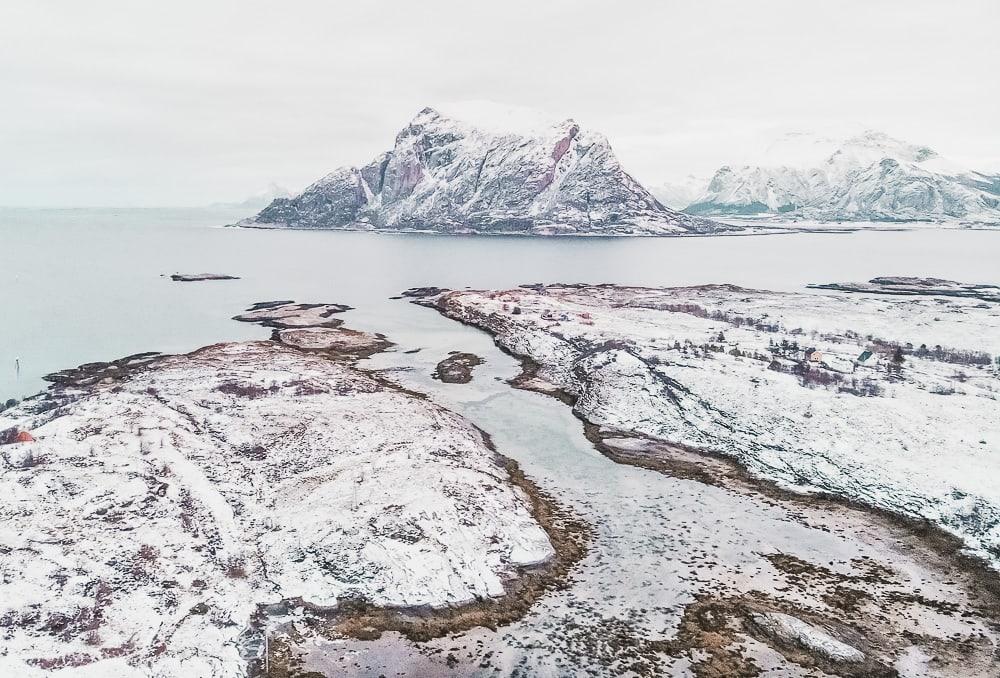 I am all for using public transport when possible, which makes it all the sadder that whenever someone asks me for advice about visiting Norway I pretty much always tell them to rent a car. It's just really hard to get around here without one!
But you won't need a car on Støtt, as it's such a teeny tiny island you can easily walk around it. And the people at Støtt Brygge can arrange activities and tours for you so you can still explore the Meløy area.
The express boat from Bodø only takes one hour, so you could easily add a night in Støtt to your Bodø/Lofoten itinerary. Though to be honest once you're at Støtt Brygge you're going to wish you were staying there longer.
That's the second great thing about visiting Støtt: Støtt Brygge.
When I arrived on Støtt I was met by Eva, who runs Støtt Brygge, where I stayed for my two nights on the island.
And let me just say, Eva is the coolest. Like I kind of immediately started thinking of her as a big sister and asked her all sorts of life advice hope that wasn't awkward. But it was her enthusiasm and love for Støtt that really struck me.
She has family roots on Støtt dating back generations and after working in high powered positions in consultancy and finance in Oslo she returned to her family property on Støtt to transform the old fishing and trading post into the beautiful restaurant and accommodation it is today.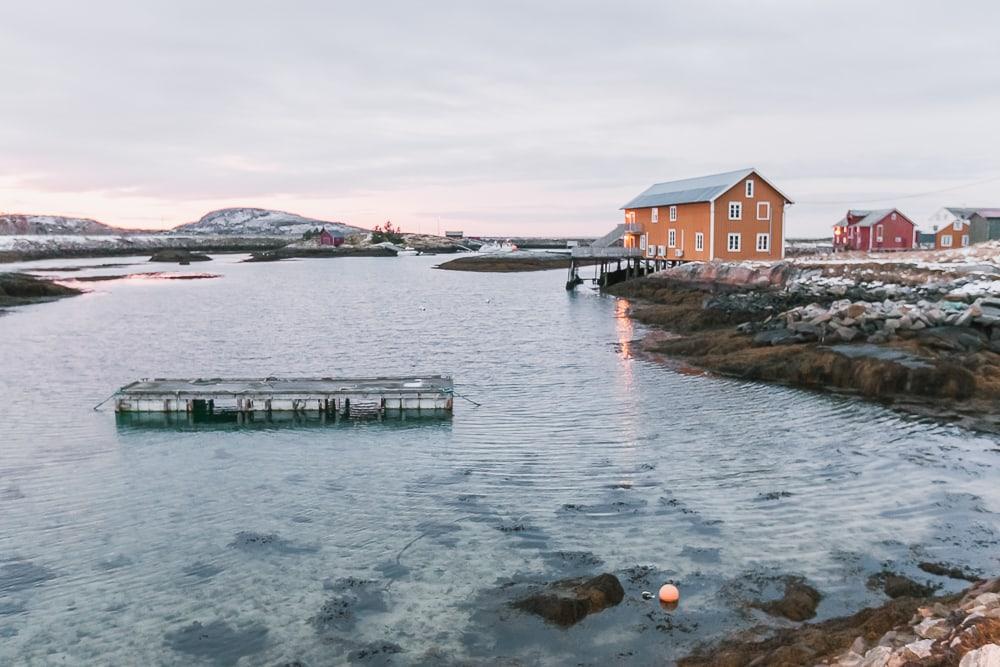 Here you can stay in an authentic rorbu, or fisherman's cabin, furnished with period pieces. Staying here really felt like traveling back in time and immediately gave me a sense of life on the Norwegian coast. Plus it was just so cosy!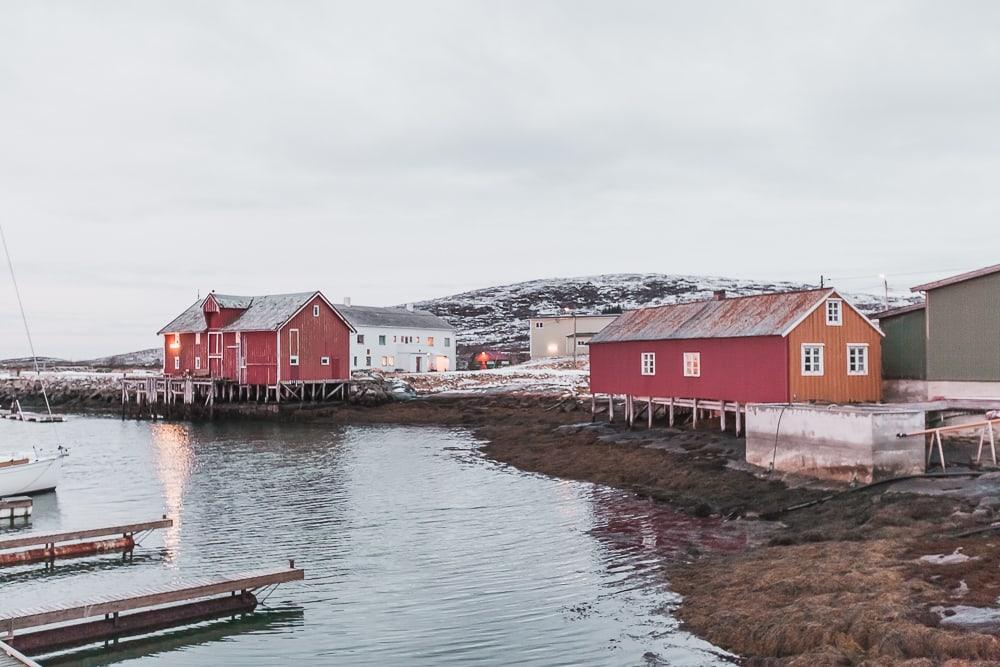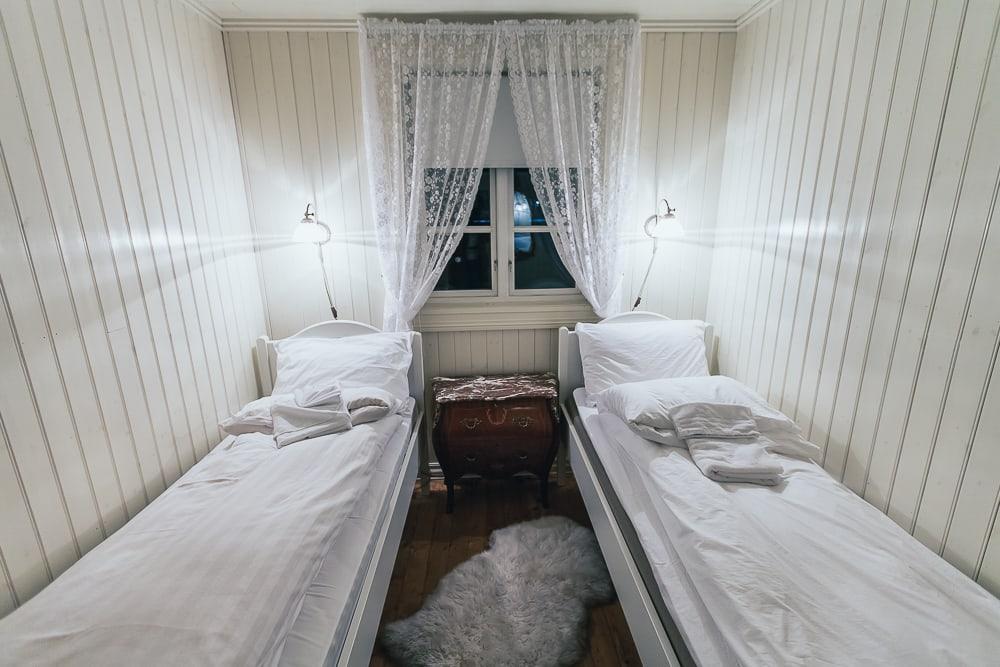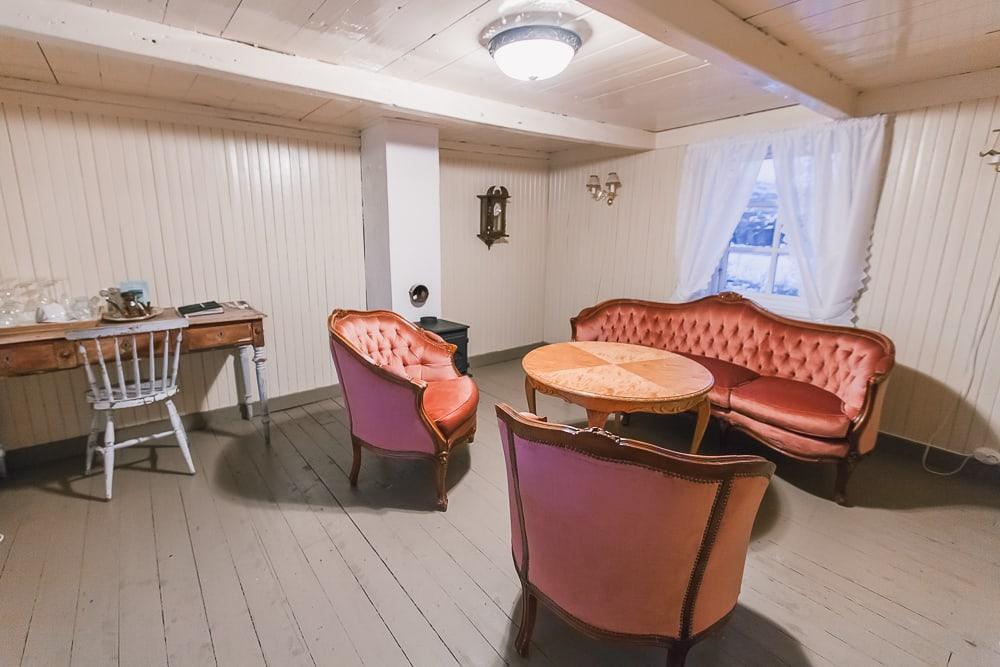 You can either stay in your own little rorbu with several bedrooms, a bathroom and living room, or the old bakery building has been fitted with individual rooms and even a little apartment with a kitchen.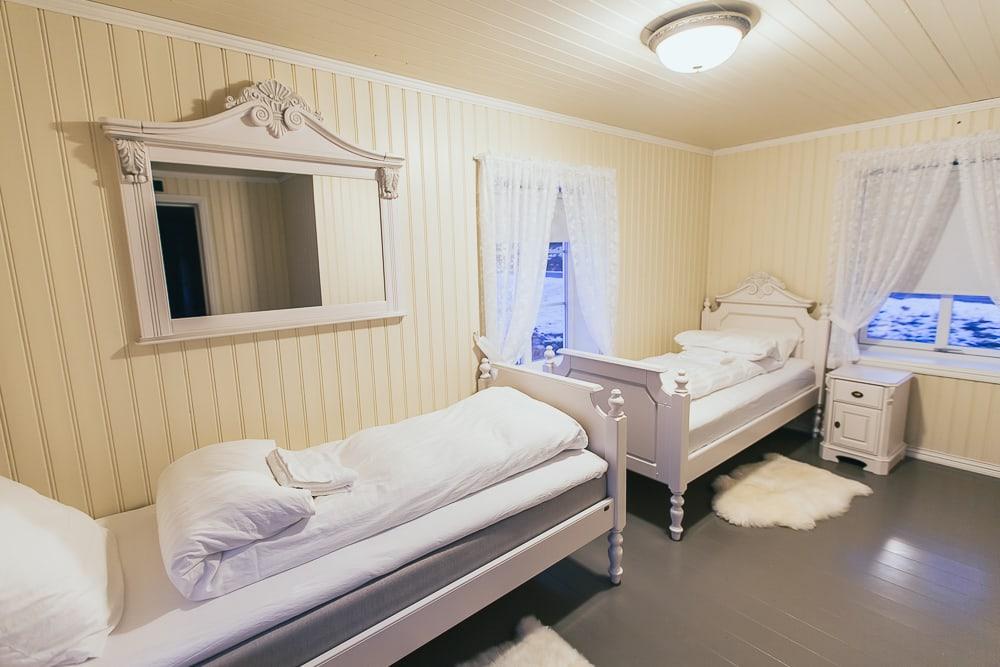 A lot of people also visit Støtt Brygge for its restaurant, which is in the island's old general store from 1878.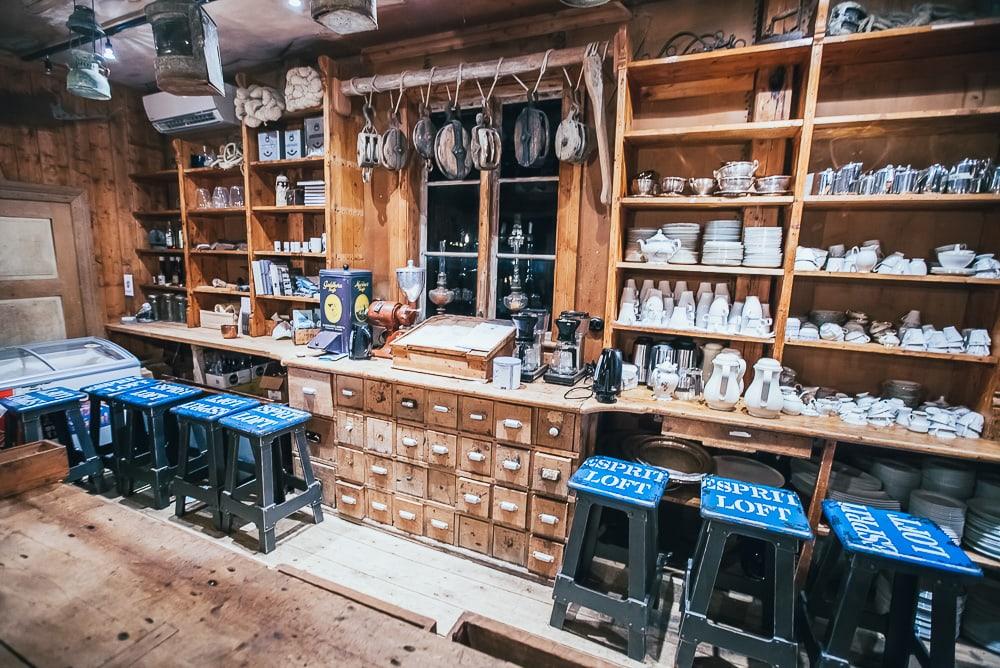 They specialize in seafood made with locally harvested ingredients, and they even make their own stockfish and cured cod. If you want to try Norwegian specialties like stockfish soup, whale tenderloin, and dried salted cod, this is the place! Seriously, dinner here was one of the best meals I've had in Norway.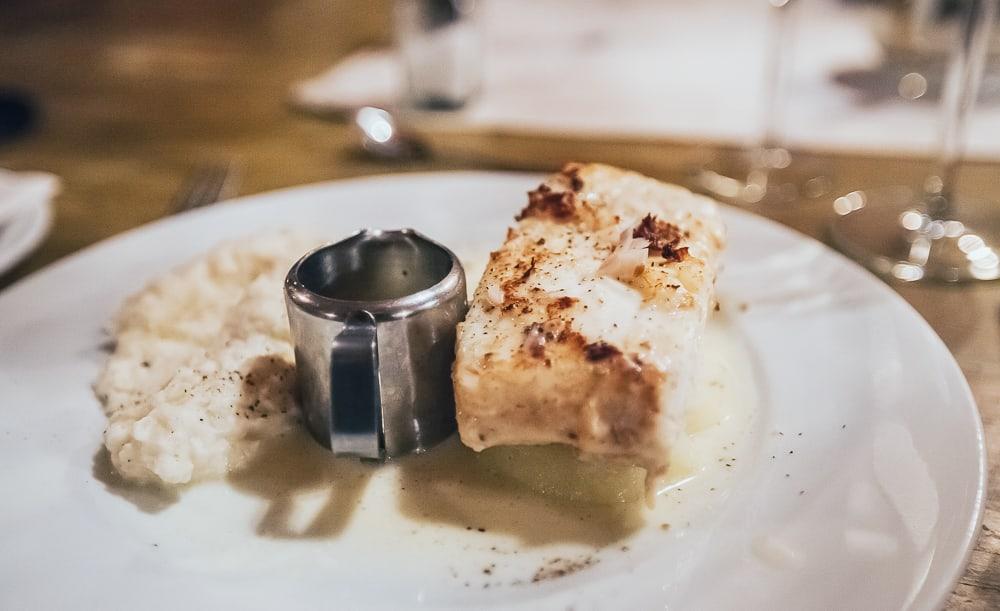 Above the restaurant is a conference room and museum, where I learned all about Meløy's history. I actually knew embarrassingly little about the fishing industry in Norway before visiting, but here I learned so much not just about Meløy but also about the fishing routes around all of Norway.
Støtt used to be an important trading post along the shipping route and it was so interesting to hear about life back then. Definitely take a look here if you come to Støtt!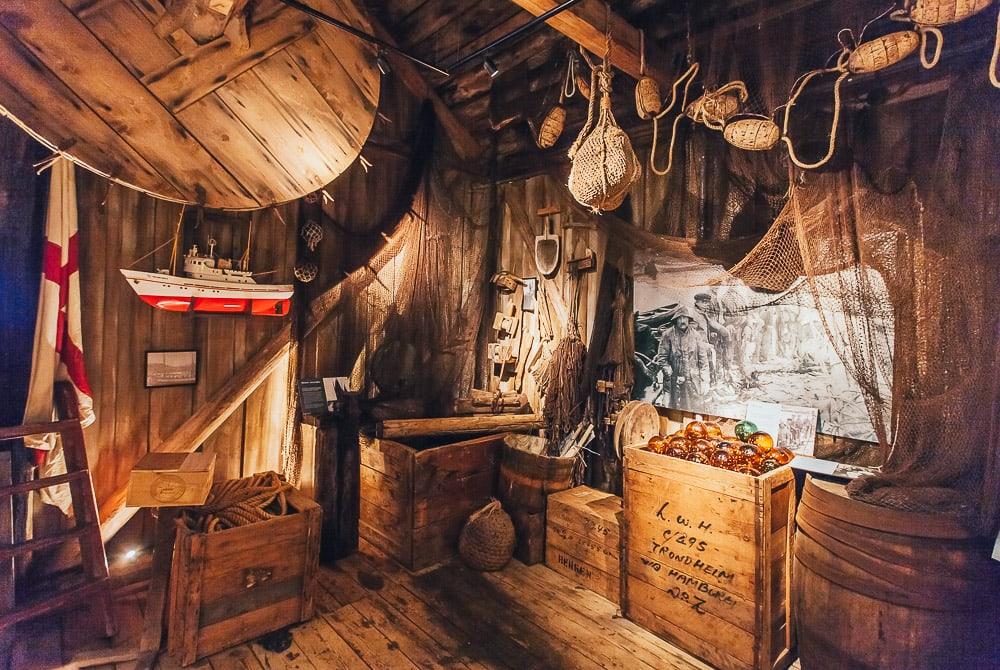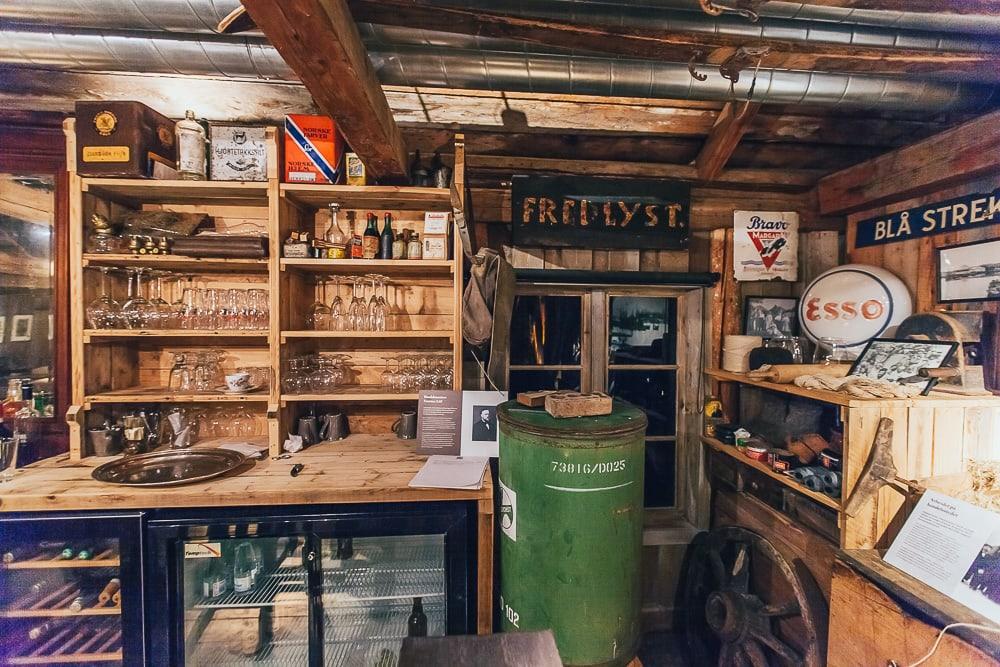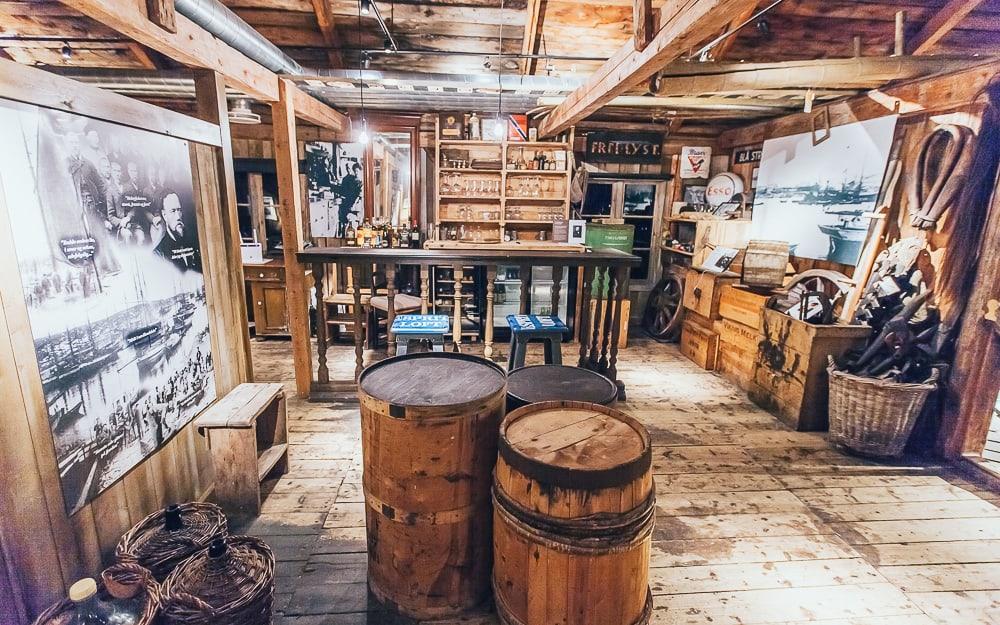 If you visit Støtt in the winter, Støtt Brygge can arrange lots of different activities, including kayaking, fishing, skiing, and even hunting for the Northern Lights! They have a lavvu tent on the top of a hillside where you can listen to folk stories and keep warm while waiting for the aurora to come out.
Eva said that in the summer Støtt Brygge becomes much more lively (so you'll probably want to book well in advance) and you can go cycling or kayaking around the area. They also have lots of tours, like taking a RIB boat out to Norway's famous Svartisen glacier.
And while Støtt is beautiful in the winter, it definitely seems like the sort of place that would be so idyllic in the summertime, with its turquoise waters and fishing boats.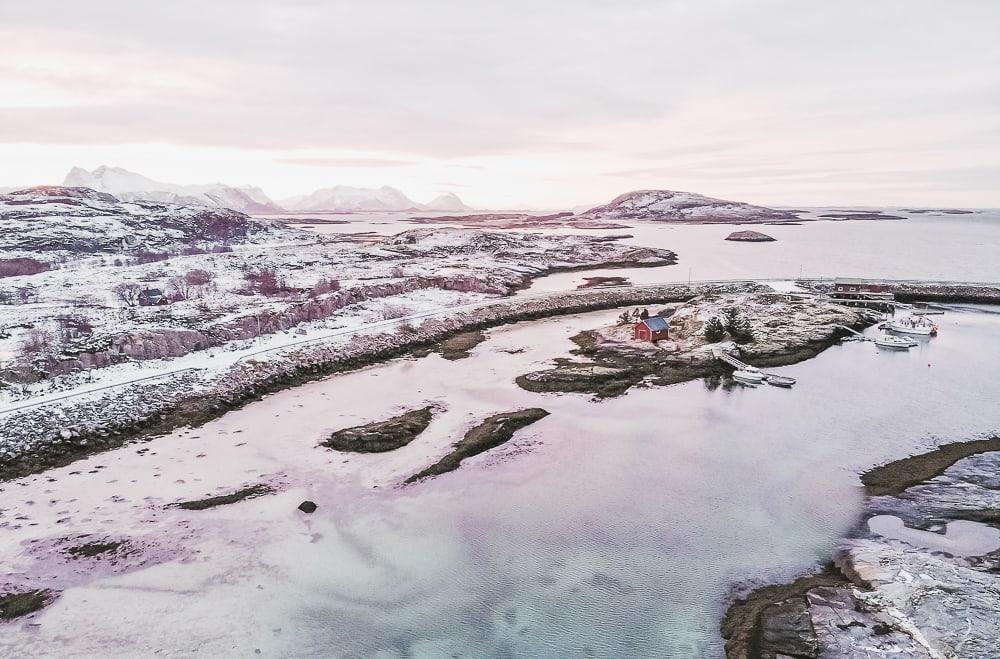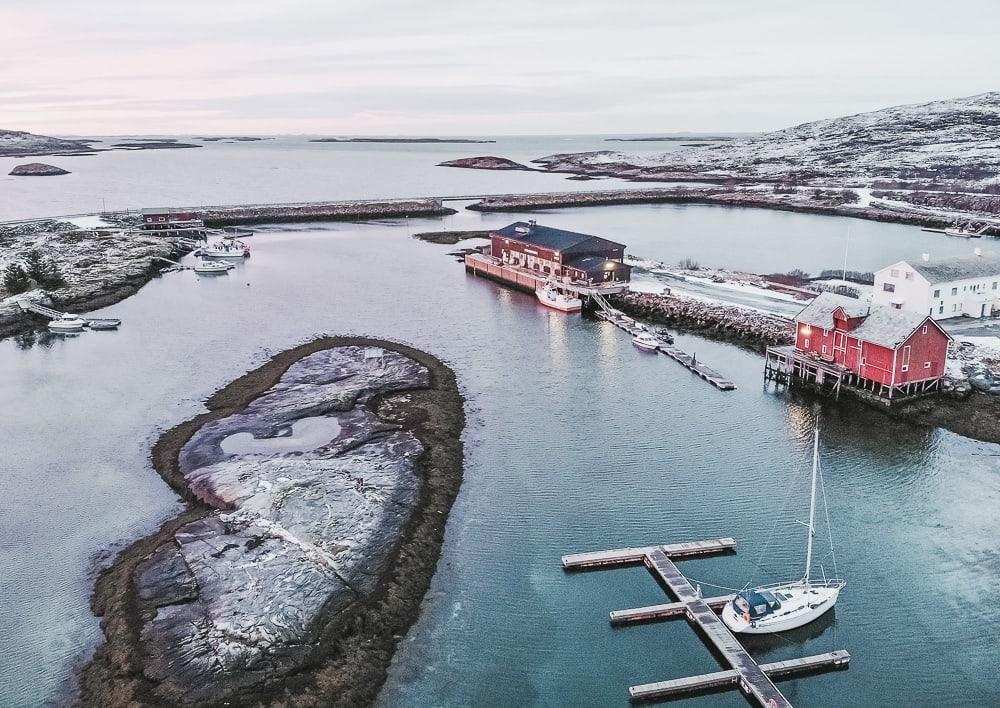 If you want to see more of the Meløy area, Støtt partners with Meløy Adventure, which offers different tours and activities in the area. I organized a hike one day with them, which I think actually didn't end up being like their usual hikes but oh my goodness, what a day.
Eva drove me by boat over to the mainland where I met up with Øyvind Gjersvik, who runs Meløy Adventure. But it turned out that he was in the midst of a bit of a crisis with construction at one of his accommodation properties so he asked if I wouldn't mind going on a hike around Reipå with his mother Gunnlaug instead.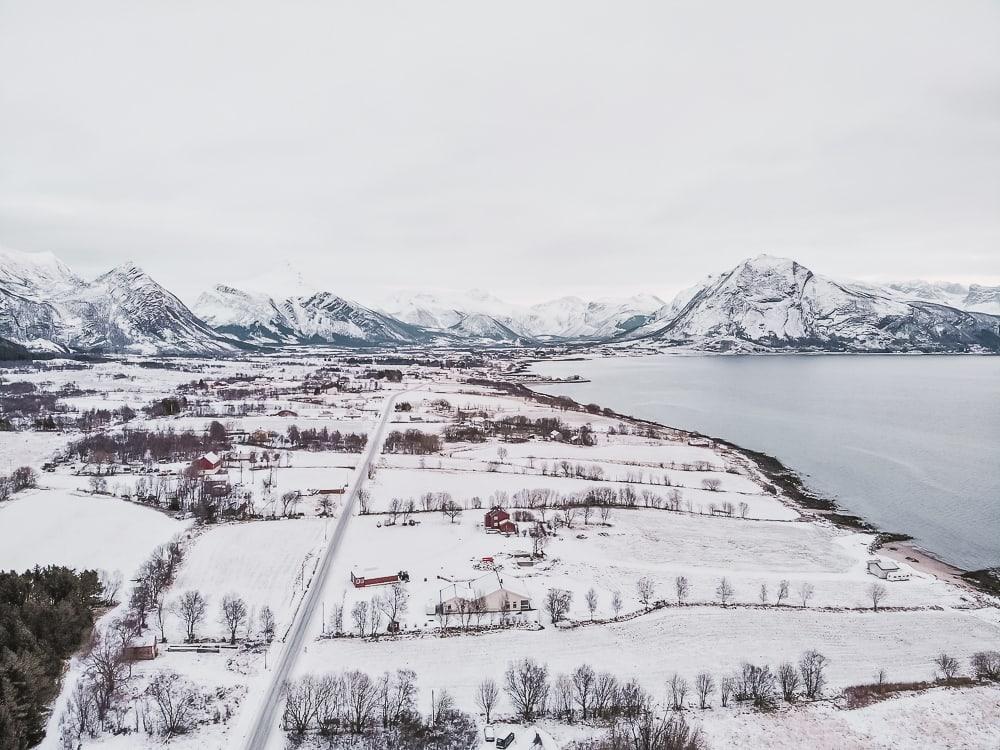 I really wish that Gunnlaug were actually a guide with Meløy Adventure, because we had the best day together and I would love for you to have the same experience! Like, I'm sure Øyvind is great as well, but my hike with Gunnlaug was probably the most authentically Norwegian "tourist" experience I've had in Norway. It reminded me exactly of hanging out with my grandmother in Norway when I was a little girl.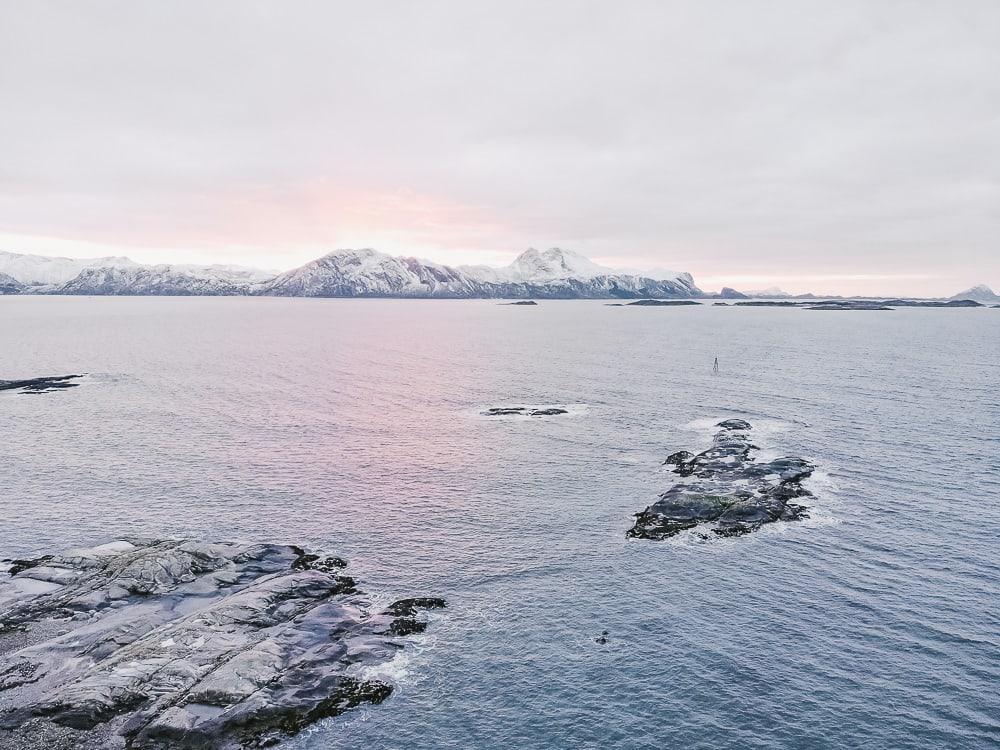 People often tease me for being so enthusiastic about Norwegian nature – like I'm that person who gets teary eyed on every single hike because the beauty just feels so overwhelming. But I think in Gunnlaug I met my match!
She goes on this walk all the time (in fact it seems like she goes on a hike most days #goals), and every few hundred meters she'd stop to tell me a story from a previous visit and I swear sometimes her eyes would tear up with emotion. Are we somehow secretly related??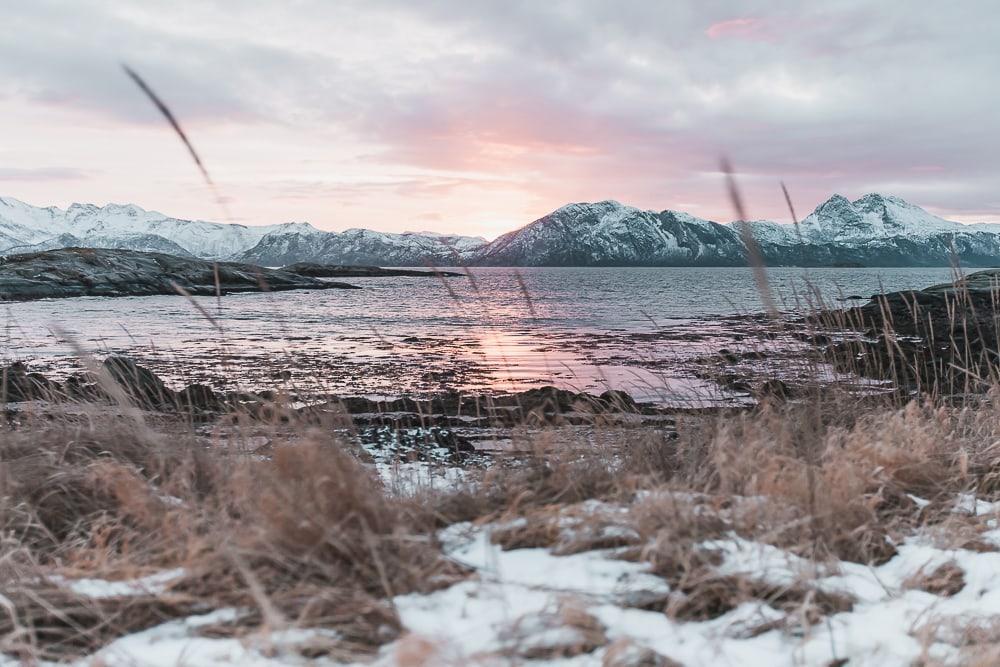 We walked through the forest and along the coast to a picnic area where Gunnlaug made a fire and we had a lunch of hot cocoa and St Lucia lussekatter buns, as it happened to be St. Lucia's Day.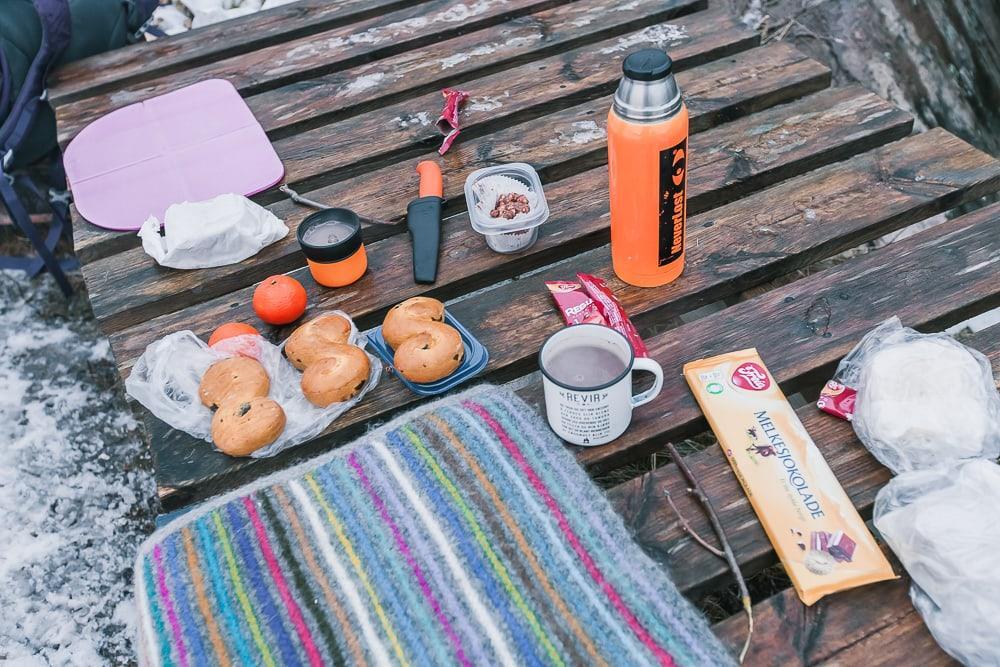 And then she pulled out her phone to show me some mittens she had just finished knitting. The day before she had wrapped them up and left them as a gift in a wilderness hut on one of her hikes, with a note saying that whoever found them could keep them as long as they sent her a photo of themselves with the mittens – which they did! And I vowed to finally learn how to knit so I can do the same thing next Christmas.
As it began to get dark Gunnlaug asked if I wanted to see her family's cabin, so we took a little detour to enjoy some clementines in her cabin while watching the moose who was snacking outside the window – because apparently life in Meløy is an actual fairy tale.
We talked about religion and love and family and I remember thinking that I was so happy that Øyvind was having problems with his building. Then again, he is Gunnlaug's son, so chances are a hike with him would be equally special.
At the end of the day Gunnlaug drove me to Ørnes, where I caught a boat back to Støtt. There were only a few of us on the boat, and as the steward passed around coffee and cookies and everyone chatted I thought back to my first day of work at the supermarket in Rauland.
I was having lunch with Symre and she asked me how long I wanted to stay in Rauland. I told her that I only planned to be there for a few months, as I was still deciding where I wanted to settle down in Norway. And she looked at me and said that that was a hard choice, but for what it was worth, the one place she had been in Norway with the friendliest people was the Helgeland coast.
Practical information for visiting Meløy
You can find the boat schedule for Bodø (Sentrumsterminalen båt) to Støtt hurtigbåtkai (Meløy) here. You can reserve your ticket from Bodø online if you want, and then when you arrive at the boat terminal go to the desk and they'll scan your ticket and give you a boarding pass (or you can simply buy your ticket there). On the way back to Bodø you buy your ticket on board.
The express boat terminal in Bodø is downtown (next to the Scandic Havet) and in walking distance to both the airport and train station. So you can take a train or fly to Bodø and then just walk to the terminal.
If you want to see more of the coast, you can buy the Travel Pass Nordland for 990 NOK, which gives you access to all of the buses and express boats (not the ferries) in Nordland for one week, so you can island hop as much as you want.