Shortly after I convinced Danielle to come visit me in Norway she sent me over a list of things she wanted to experience here. And at the top of the list was staying in a glass igloo.
My stomach dropped when I read it, because the only glass igloos in Norway I knew of where all the way up in Lyngen, which would be a very long way to drive from my home in Mosjøen. But then I remembered that while glass igloo hotels are more of a Finnish thing, in Norway we have something just as cool: Arctic Domes!
Arctic Domes are made by a Norwegian company, and you can now find them all over Norway. They're sort of like plastic igloos, so you get amazing views outside while staying in a warm little bubble – perfect for experiencing Norway.
I've seen these domes at some hotels, and even along hiking trails used as places for people to take a little rest. But I had also heard of some people setting up domes as hotel rooms, and that's what I wanted to experience.
So I did a quick search on Airbnb, and sure enough, there was an Arctic Dome offered as lodging in Narvik!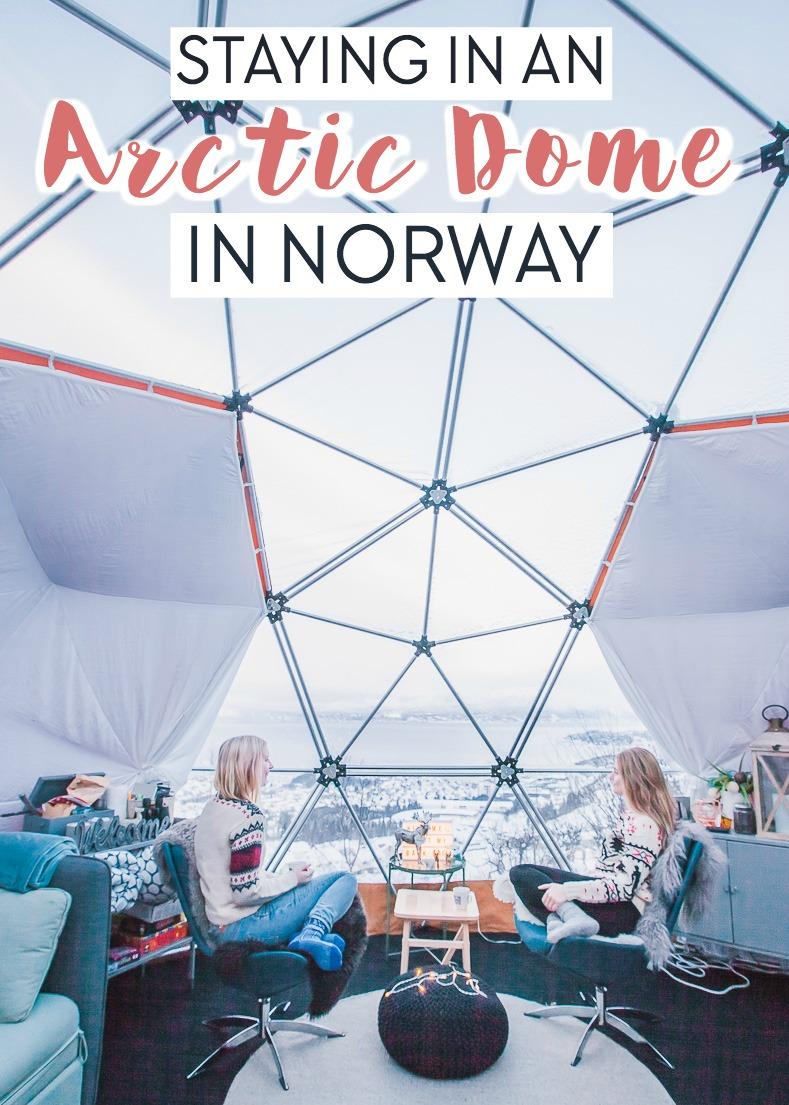 I was super excited to see this not only because Narvik is a lot closer to me, but also because Narvik is the perfect place to chase the Northern Lights. It's well above the Arctic Circle so every night offers strong chances of seeing the aurora, plus if the weather is really cloudy it's not too far of a drive to Abisko's blue hole.
It's also close to Lofoten, Vesterålen and Sweden, so I could include it in a nice itinerary for seeing Northern Norway. Personally I prefer this area over the area around Tromsø, as Tromsø gets so overwhelmed by tourists in the winter, whereas here stays relatively quiet.
The dome at Narvik Adventures is right on the mountainside overlooking Narvik, which gave us amazing views over Narvik both day and night. And they've made it so lovely and cosy inside.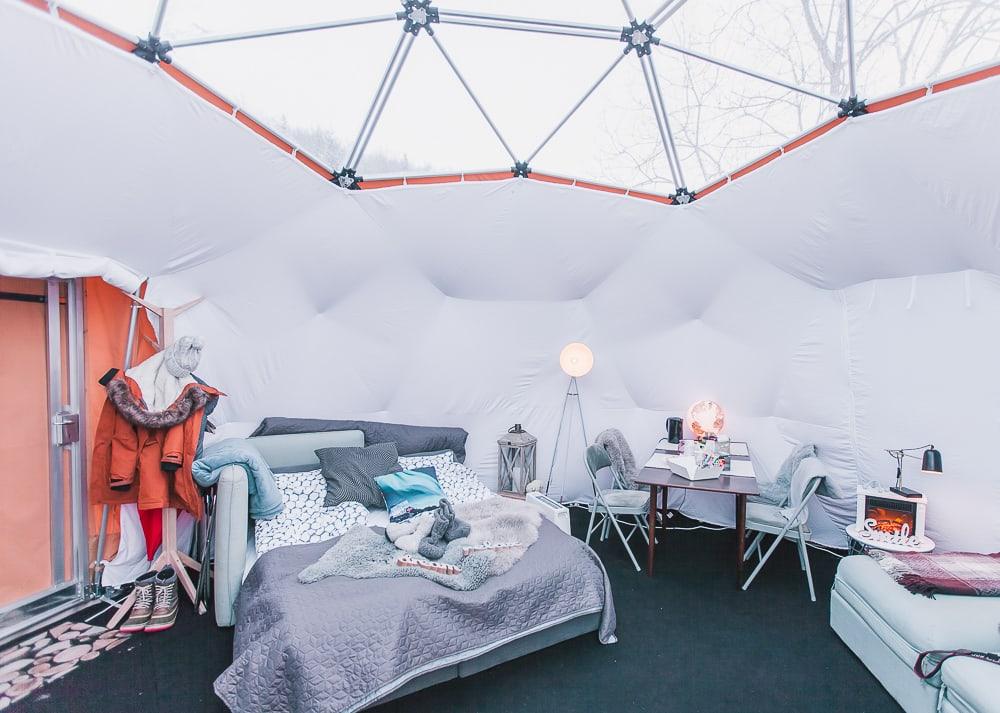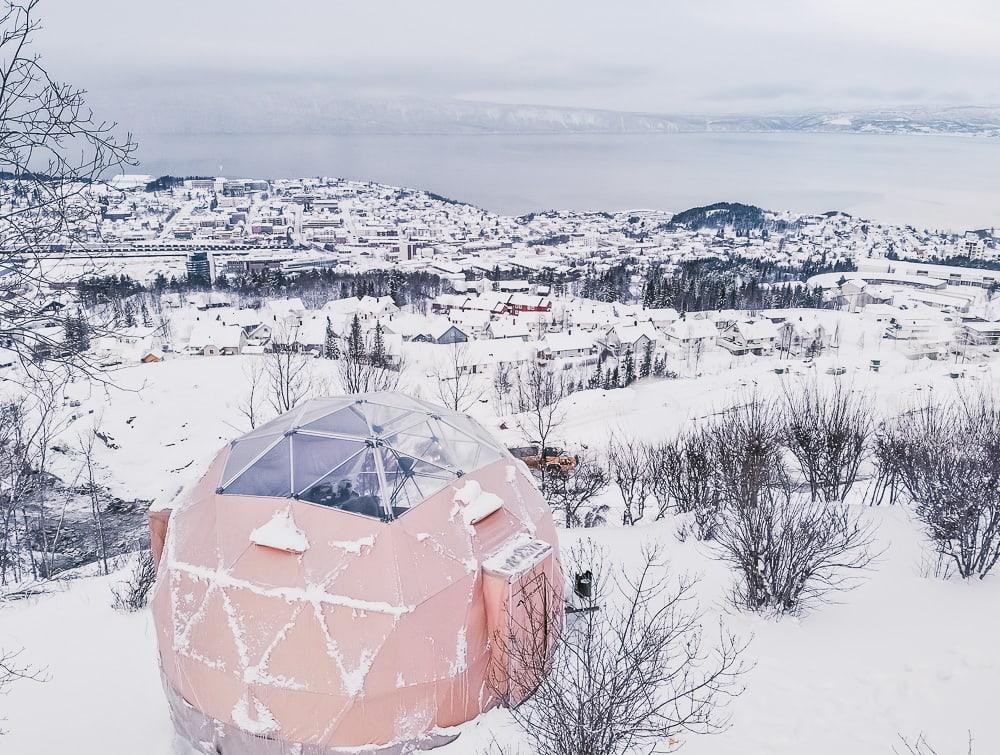 There's a toilet in a separate building (very close to the dome, I promise), as well as a well-equiped kitchen. You can ask to have breakfast here as well, which includes eggs, bread, and all the best Norwegian toppings.
Narvik Adventures can help you organize activities like husky sledding and Northern Lights chasing, plus they have snowshoes and various other snow equipment you can borrow during your stay.
I'd love to stay again when it's lighter because the daytime views over Narvik were so beautiful, but a highlight for us coming in the winter was of course getting to see the Northern Lights!
The thing with the Northern Lights is that they can appear and then disappear again in a matter of minutes, or even seconds, so if you really want to see them you have to be watching the skies all night, which means a lot of waiting outside in the cold – and I mean cold. So staying in a clear dome is perfect, because you can wait for the aurora without freezing your fingers and toes.
Danielle and I turned off all the lights in the dome and stayed up most of the night talking about life and waiting for those glimpses of the aurora. It flashed up a few times and this was the best Northern Lights we saw during our trip, but the flashes were so quick that I didn't get a chance to photograph them (okay and I was super warm and cosy inside and didn't really want to go out into the freezing cold – can you blame me?).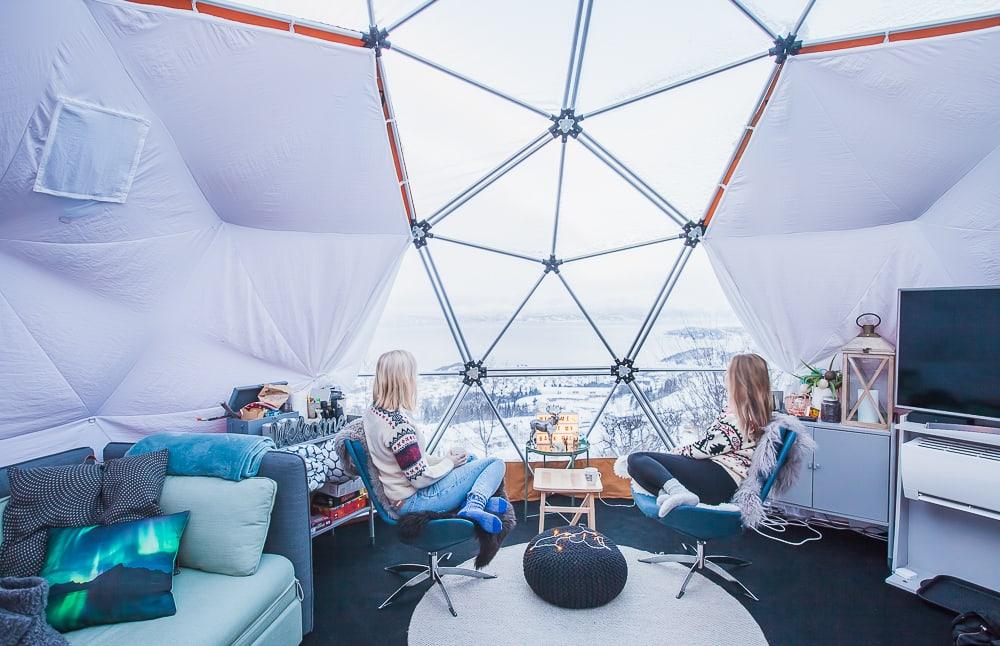 Danielle asked me at the end of our ten days together in Norway where my favorite place we stayed was, and it was a tough choice but I had to say the Arctic Dome. It was like nothing I had experienced in Norway before, and a perfect example of what Norway does best: quiet escapes with beautiful views. You can check prices and availability here. And if you're new to Airbnb, get a discount by signing up here.