After flying over Norway on my way back from the United States, I promised myself that I would get myself to the mountains asap. Norwegian nature is simply too beautiful to spend all my time in a city. So I asked Eirik and Dalila, aka my only two friends in Trondheim, if there's a nice place to go camping nearby.
One of the things I love about Norway is that you can camp wherever you want, as long as it's at least 150 meters from the nearest house or cabin. But do you know what's even better about Norway? Most families have a cabin or cottage, usually in the mountains or on the seaside, that they go to to escape big city life (I'm saying that with irony, as Norway's "big cities" are anything but).
And sure enough, the day after casually asking about camping spots I received a message from Eirik saying that his family had invited us to use their mountain cabin, and would Dan and I be interested in renting a car with him and Dalila and driving up for the weekend?
Of course I said no, because how boring does that sound?
Just kidding, mountains foreveeeever!!!!
The cabin was in Einunndalen, which is about a 3-hour drive from Trondheim and on the edge of Rondane National Park, which is Norway's oldest national park. We broke up the trip by first visiting Hjerkinn, which is where I learned something very special about Norway.
This is my first autumn in Norway, and to be honest, I had had pretty low expectations for the season. Norway is full of evergreen trees, and while I'm no scientist, I was pretty sure that that meant zero fall colors.
I guess it's a good thing I'm not a scientist, because I was oh so wrong.
Apparently berry bushes, shrubs and even moss change colors in the fall. Who knew?
I also hadn't known that Hjerkinn is one of the driest places in Norway, or that it's home to Snøhetta, a super cozy viewpoint.
I would love to visit in the winter when there's a fire lit, and just sit inside and stare out at the mountains. Eirik told us that sometimes there are even tiny concerts in the Snøhetta!
The only downside to the weekend was that Eirik and Dalila had just gotten engaged and were just so in love. Gross.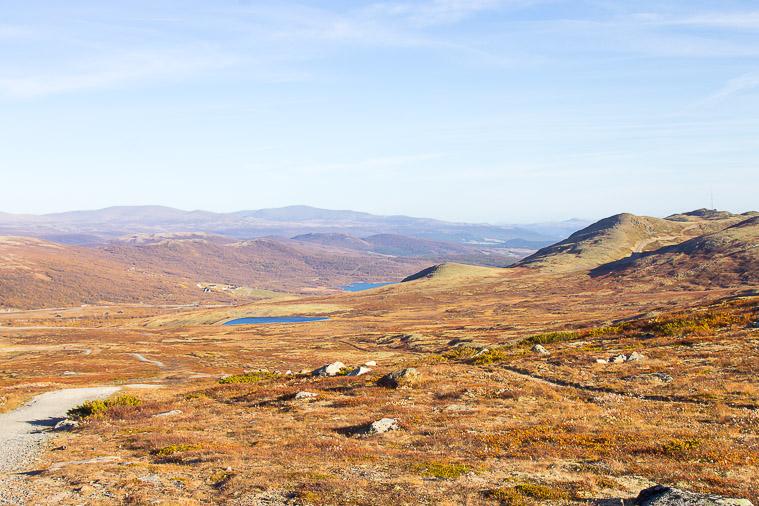 And then we drove up to Einunndalen!
I've written about my grandmother's cabin before (both in the winter and in summer), which is one of my favorite places in the world. Her cabin used to be an inn, so it has plenty of room for huge family parties and, aside from the outhouse, has all the amenities of a normal home. Most traditional cabins here, however, are much more simple, and I was pretty excited that Eirik's family's cabin was the traditional kind – think no electricity and water fetched from a well.
But I was even more excited by the view from the cabin!
There really is nothing better than a weekend in the mountains.
Where to stay in Hjerkinn, near the Snøhetta viewpoint
If you want to be near Snøhetta, I'd recommend staying at either the Furuhaugli Tourist Cabins or Hjerkinn Fjellstue.
The Furuhaugli cabins are really good value and again, a much more authentically Norwegian experience (I think!) than staying at a big hotel. Check current rates here
Hjerkinn Fjellstue is a little more pricey, but also a bit more luxurious with an on-site sauna and hot tub. Plus it just looks sooo cosy inside! Check current rates here
Where's the prettiest autumn you've seen?
PIN IT!