I visited the island of Senja in Northern Norway about four years ago in the winter and I loved it so much that I knew I had to see it in the summer as well. And considering Senja is just a three hour drive from my home in Tromsø, I'm not really sure why it took me so long to return. But wow was this second visit to Senja worth the wait.
Visiting Senja in winter is of course fantastic for northern lights chasing and all the fun snow activities like husky sledding. But in the winter there's very little daylight and too much snow on the mountains for hiking, so I was very excited for this summer adventure. In fact I'm already thinking about returning to Senja in a few weeks to see the island dressed in autumn colors.
And now that I've experienced Senja in both summer and winter, I thought I could put together a guide for everything you need to know to plan an amazing trip to Senja, including how to get there, where to stay, fun things to do in Senja, and what to pack for your trip.
And if you want more in depth Norway advice, I've also gathered all my best tips for planning an incredible trip through both Southern and Northern Norway in two 95-page ebooks that cover everything you'll need to know to plan a Norway trip that you will love. You can purchase my Norway travel guides here.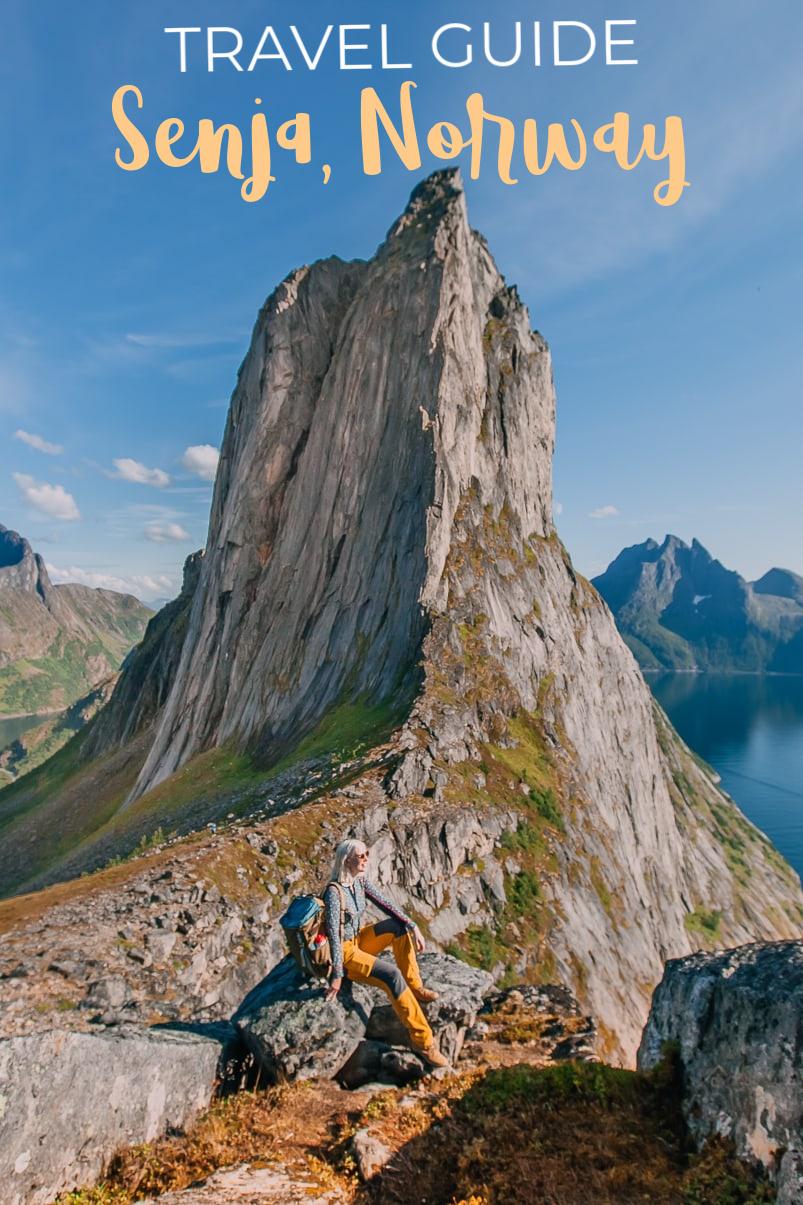 Getting to Senja
I really recommend renting a car for your trip to Senja, as it will be so much easier to get around and see all the prettiest parts of the island if you have your own car.
You'll probably want to fly into Tromsø and rent a car from the airport. Alternatively you could fly into Bardufoss, which is an hour closer to Senja but has fewer flight connections. Or you could fly into Harstad and take the boat to Finnsnes and rent a car there, though I just had a quick look and car rentals from Finnsnes are way more expensive than Tromsø.
You can compare rental company prices and book your car on AutoEurope.
If you're traveling from Tromsø, you can also take the car ferry from Brensholmen, about an hour from the airport, to Botnhamn on Senja. However this ferry can get crowded with long waits, so I opted to just drive the whole way instead. Plus the three hour drive from Tromsø to Senja is really pretty!
Senja accommodation
While you could visit Senja on a long day trip from Tromsø, I definitely recommend spending a couple of nights on Senja if you have the time. I would try to stay at least two nights so you have a full day to explore the island – of course if you stay longer you can see more.
During my last visit to Senja my friends and I stayed at Norwegian Wild, and I loved it so much that of course I wanted to stay there again. This time I was traveling with my friend Jessica, who was visiting from Amsterdam, and I sent her the Norwegian Wild website to see if she liked any of the accommodation choices. And I was thrilled when she replied that she wanted to stay in the lighthouse, which is where I stayed last time as well. Our stay was gifted by Norwegian Wild.
The best thing about the lighthouse is that it's right on the water and has the most incredible views. I kept saying to Jessica that I wish I could live in this little lighthouse.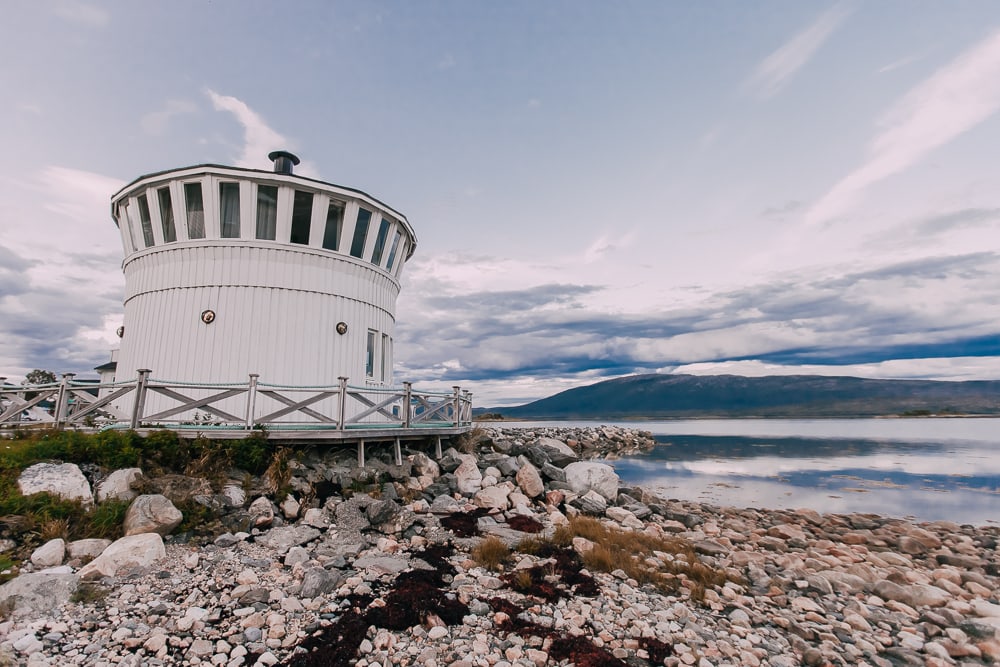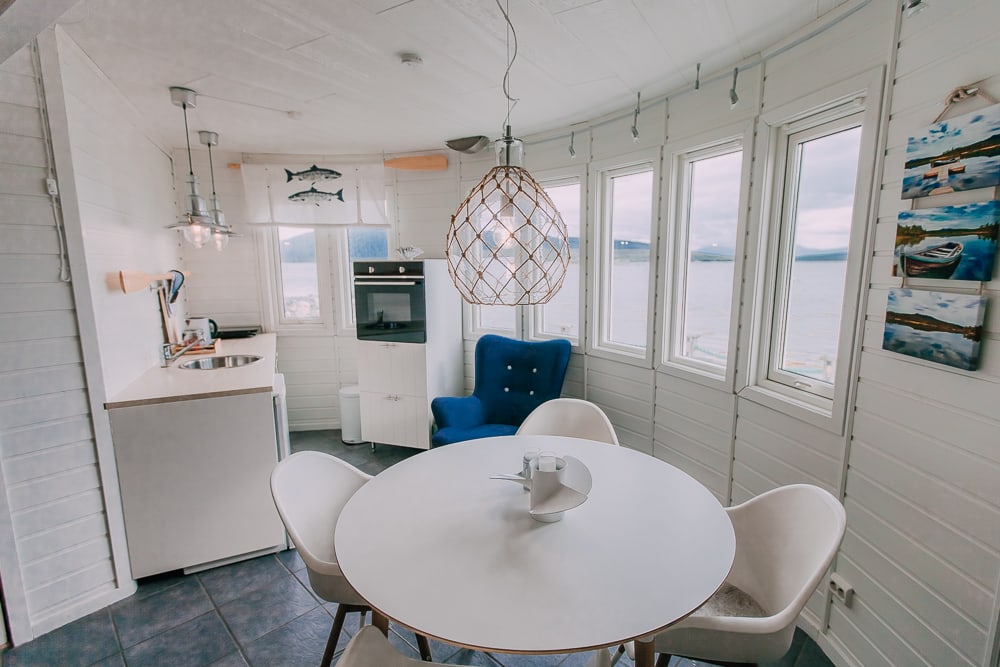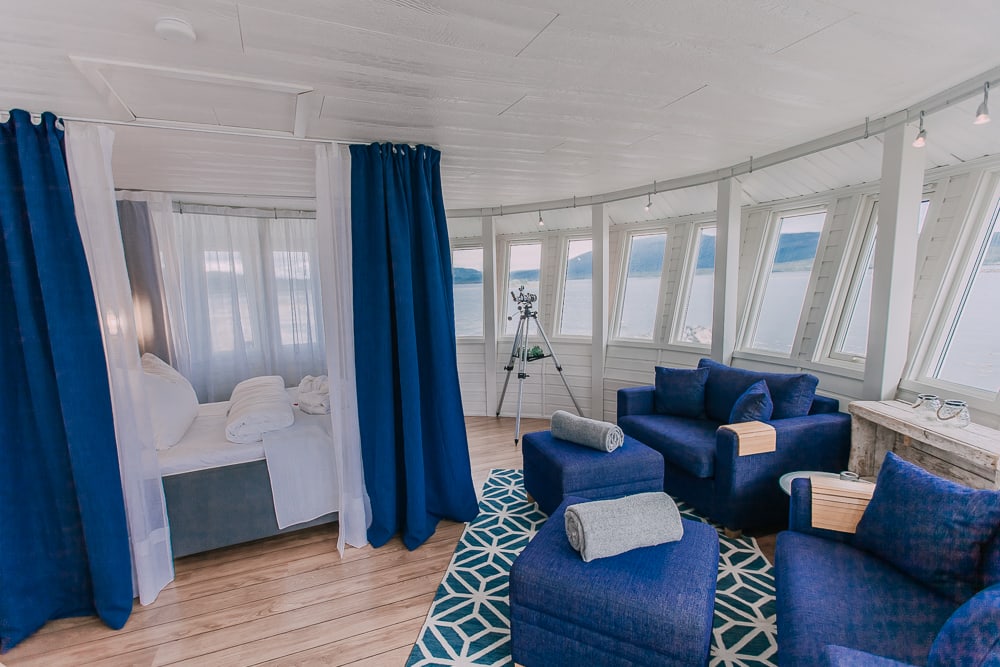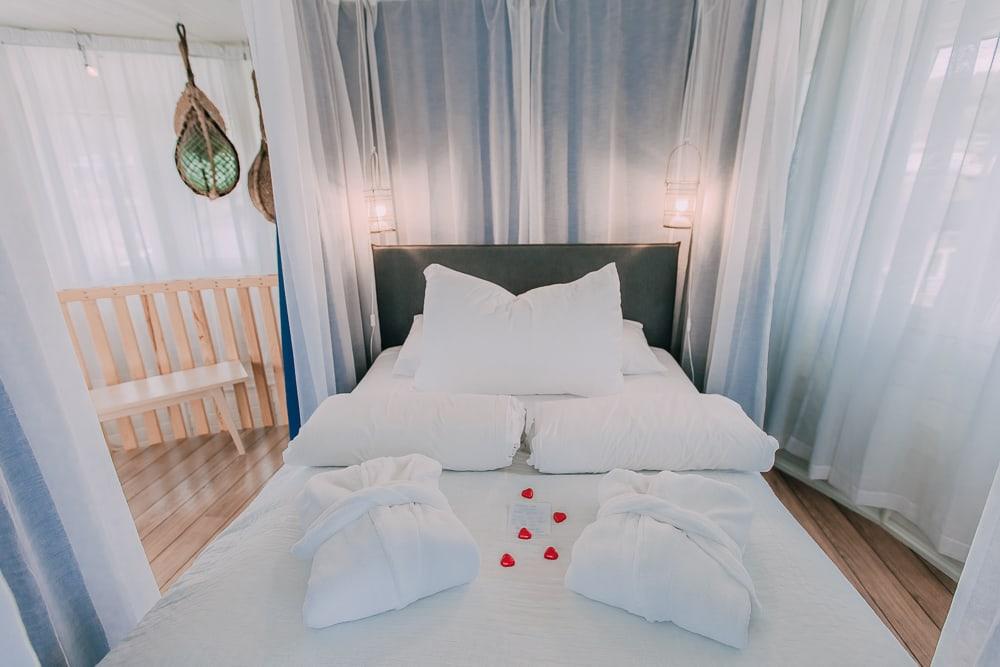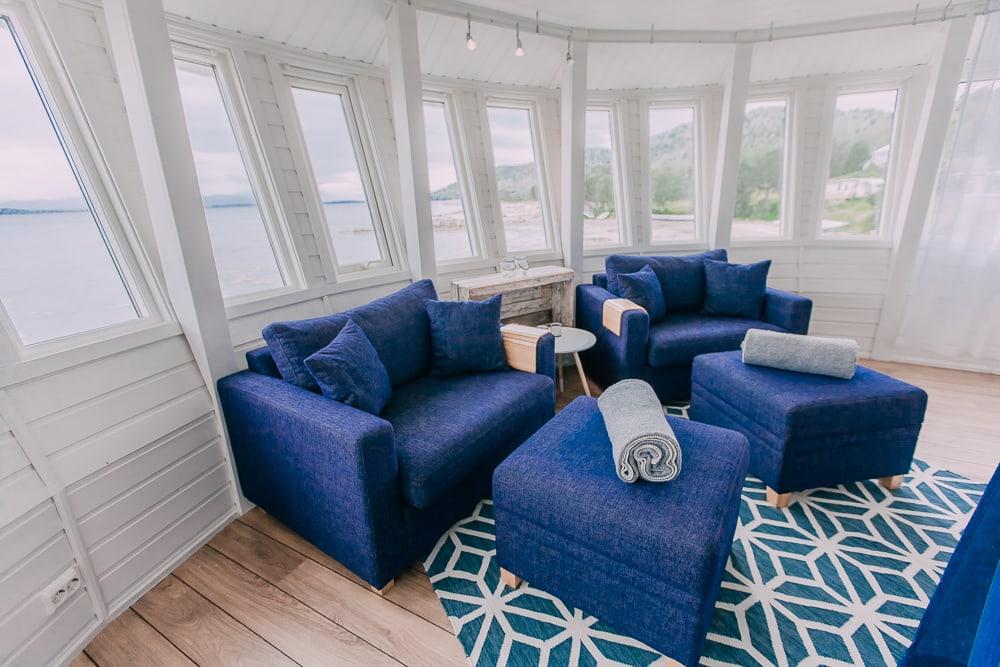 Norwegian Wild also has an Arctic Dome, which is a great option if you're visiting during northern lights season, though I love that the lighthouse also has a kitchen, especially as there aren't many places to eat on Senja.
And then Norwegian Wild also has a bunch of different cabin options, including some pet friendly cabins. The lighthouse is not pet friendly, so I left Alfie at a farm near Tromsø for the two nights we were gone. This was my first time leaving him overnight and I'm happy to report that he had a great time without me, and I'm embarrassed to report that I missed him every minute we were apart and somehow managed to turn every conversation with Jessica into one about how I missed Alfie – I think I'm going to have to work on that.
Things to do in Senja
Polar night and Midnight Sun
As Senja lies above the Arctic Circle, there are periods of the year when the sun doesn't rise at all, and then periods where the sun never sets. Polar night on Senja lasts from the end of November until the middle of January. During this time the sun never rises, however even on the darkest day in December there are still a couple of hours of a beautiful blue light. So if you visit Senja during polar night you will still have a couple of hours to see Senja in the daylight. And then at night you will have a chance to see the northern lights!
If you are interested in seeing the northern lights, I put together an ebook covering all of my best tips for planning the most epic northern lights trip in Norway. You can find more details and purchase the ebook here.
And then the Midnight Sun, when the sun never sets, lasts from late May to late July. This is an especially wonderful time to visit Senja for hiking. There's something so magical about hiking at midnight and still seeing the sun.
Senja National Scenic Route
If you only have time for one thing on Senja, you need to drive along the Senja National Scenic Route.
All of Senja is beautiful, but if you want those dramatic mountain views you've seen in photos of Senja then you really need to head to the northwest of the island, where the National Scenic Route runs. The route is quite long at 102 kilometers, but the entire stretch is stunning, with lots of viewpoints set up with parking for photo opportunities.
And then at the top of the route you'll get to Botnhamn, where the ferry to Brensholmen leaves from, if you want to take the ferry route back to Tromsø.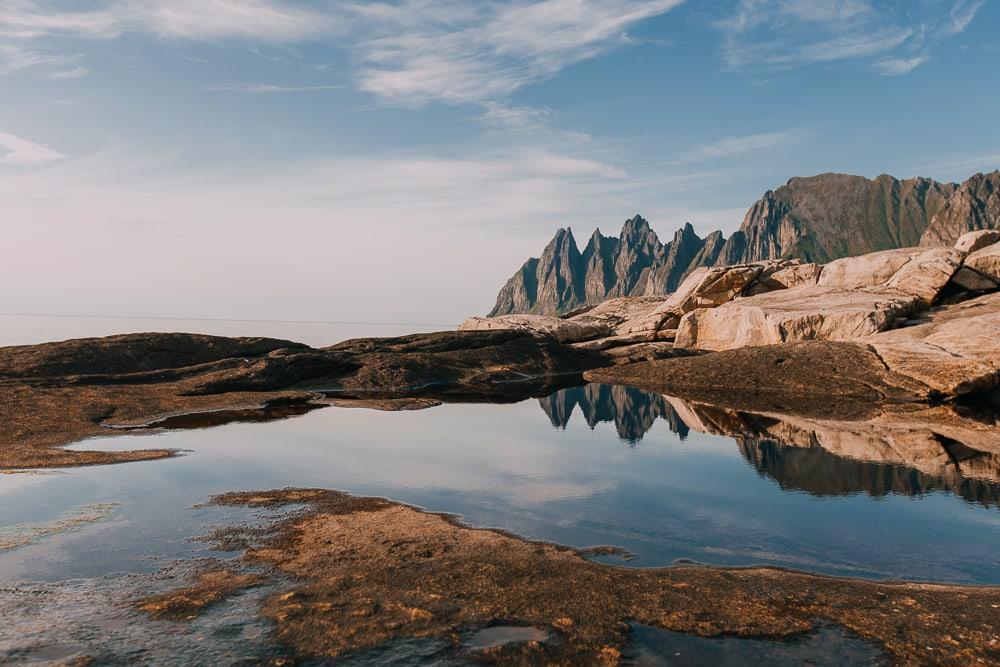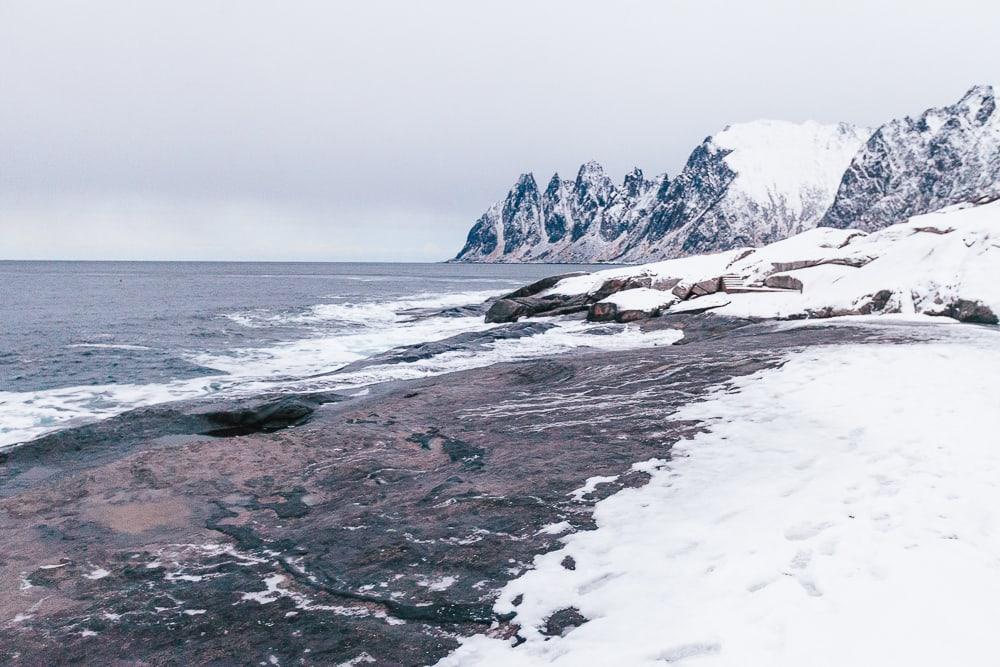 Hiking
There are so many incredible hikes on Senja, but the most famous hike is up Hesten, which gives a magnificent view of Senja's Segla mountain peak.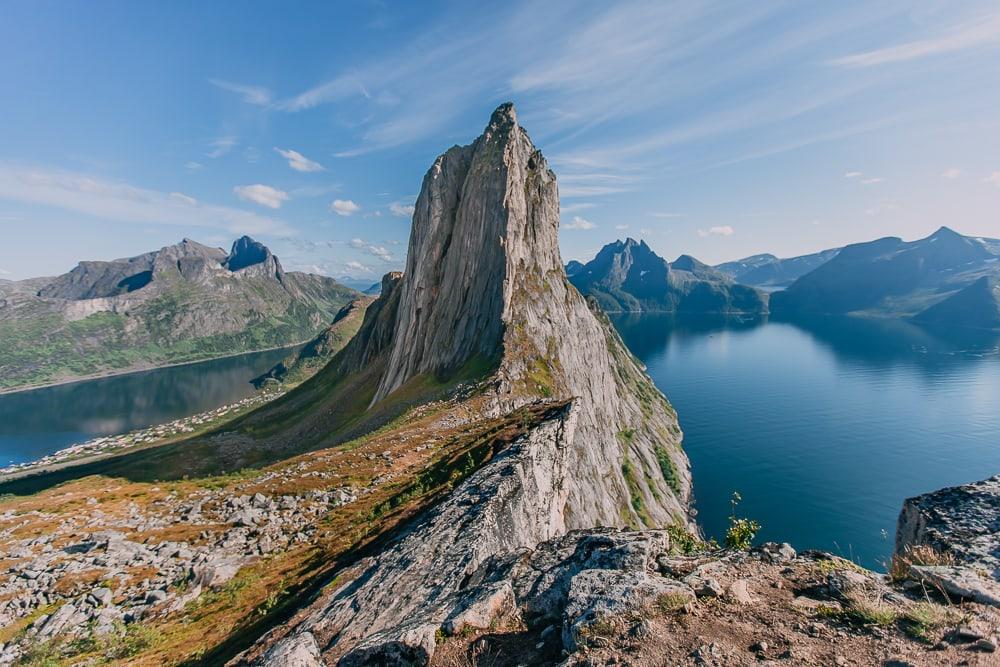 Hesten is rated a moderate level hike, and in fact this hike was a lot easier than I had expected. This is a really popular hike, so expect to see lots of people. Though we hiked Hesten on a beautiful sunny day in August and it certainly wasn't too crowded.
Hesten is also quite a short hike, so if you're not an experienced hiker you can take it really slowly with lots of stops and still manage to complete it in three or four hours. Or you could wild camp at the top for the night! Just be sure to bring plenty of water (and chocolate, obviously) as the only drinking streams are at the start of the hike.
If you want to hike Hesten you should park at the Segla trail parking, which is a big parking lot that's also nearby the Hesten trail head. And then there's a pub right by the parking lot if you want to get something to eat after your hike.
Another really popular hike is Husfjellet, though it's considerably less crowded than Hesten.
If you're new to hiking you could also opt to go with a tour guide. This Senja hiking tour also includes professional photos, as does this Midnight Sun nighttime hike.
Swimming
The weather was so nice during this recent Senja trip that Jessica and I were almost tempted to go for a dip in the sea – and in fact we saw a lot of people swimming at the beach at Norwegian Wild on our last day on Senja.
Ersjordstranda beach is a beautiful white sand beach surrounded by mountains, and also happens to be home to Senja's famous gold public toilet. We saw a lot of tents pitched here for the night, so if you're looking for a nice place to wild camp on Senja this could be a good option.
Kayaking
Norwegian Wild offers sea kayaking tours and courses, which you can book here.
Huskies
I went husky sledding with Senja Husky Adventure during my winter trip to Senja and had so much fun with them. We were there in December, but there was still plenty of daylight to take the huskies out. And if you're visiting Senja in the summer they also have other husky activities on offer that don't require snow.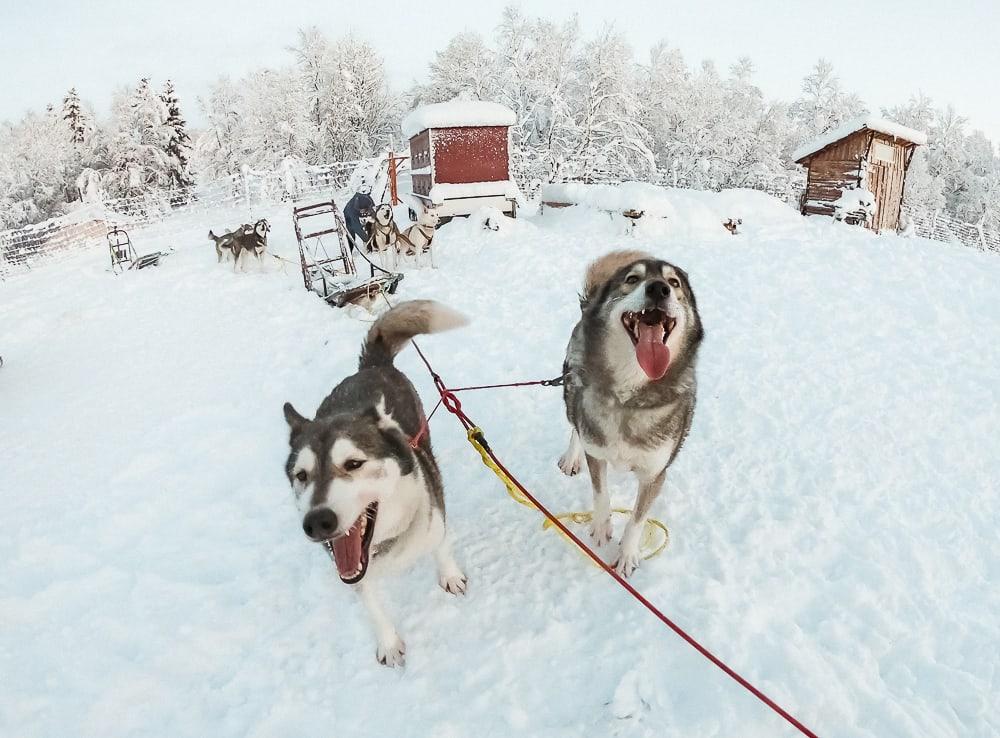 Northern lights on Senja
Senja is a wonderful place to chase the northern lights, because the dramatic landscape makes the aurora shows that much more spectacular.
To chase the northern lights on Senja I would simply follow the National Scenic route and stop at the viewpoints.
This photo is from the Tungeneset viewpoint along the scenic route: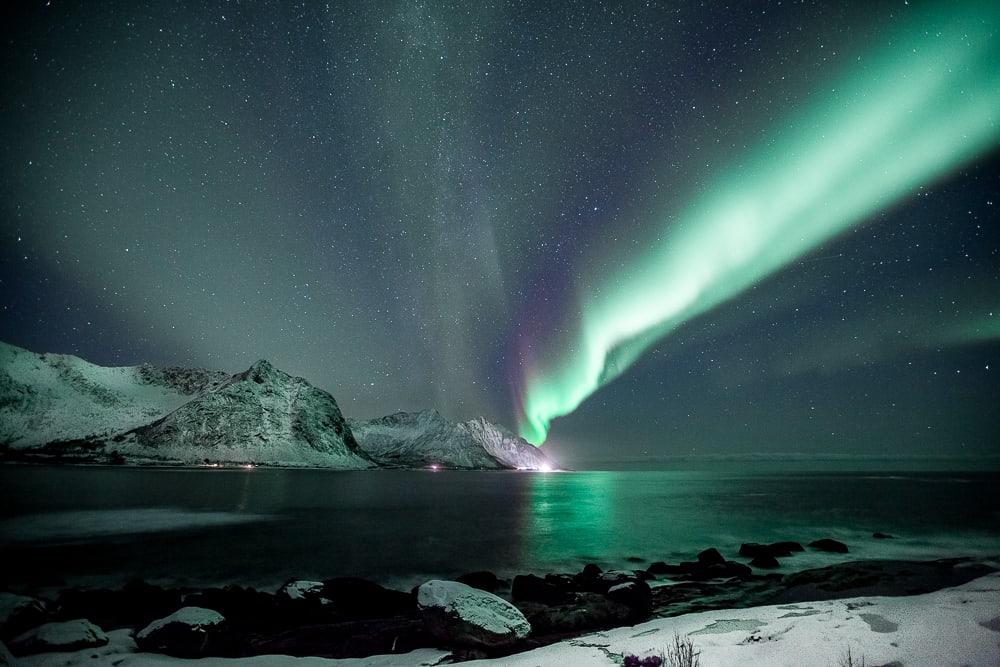 And this photo is from the Bergsbotn viewpoint: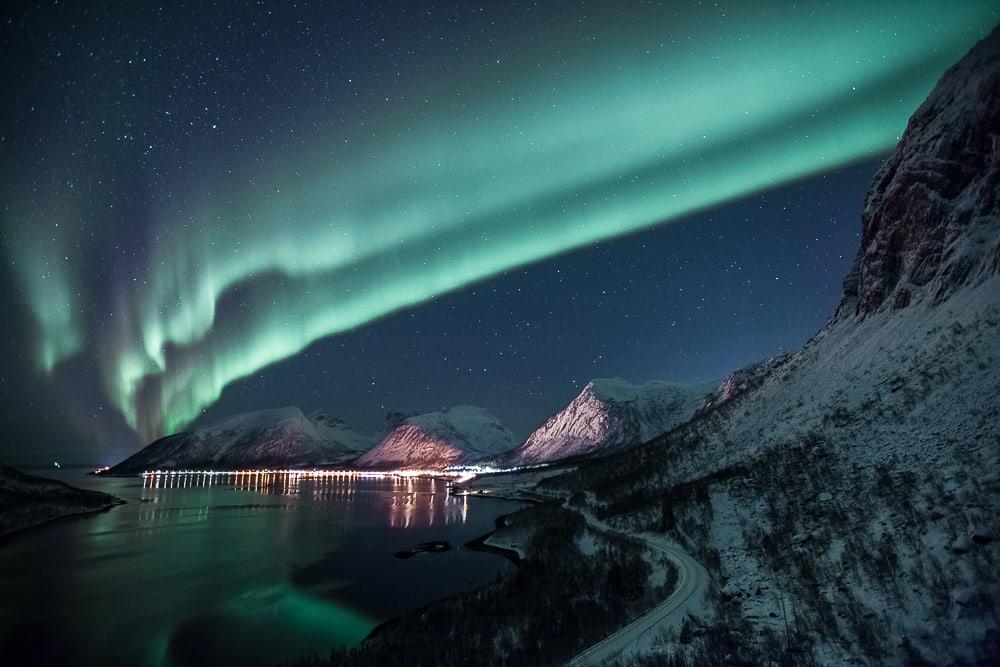 Though if you're new to northern lights chasing you might want to opt for a northern lights tour. Taking a tour is a great option because the guides are experts at finding places where you can spot the aurora, and they also provide warm winter suits and boots, a warm meal and campfire, and professional northern lights photos from the tour.
This northern lights tour from Senja says they will even drive as far as the Finnish border to find clear skies to see the aurora.
Snowshoeing
As such a mountainous island Senja is of course a hiker's dream, but what about in the winter? You can use snowshoes! I know Norway is the land of skis, but I secretly actually prefer snowshoeing, because it's slower paced and oh so peaceful. Plus there's less chance of falling.
This snowshoe tour departs just twenty minutes from Norwegian Wild.
What to pack for Senja
Senja is an outdoor paradise, so you'll definitely want to bring good hiking gear in the summer, including hiking boots and good hiking trousers, and snow gear in the winter. I've put together a packing guide for Norway in summer here and a guide for packing for Norway in winter here.