I've now lived in Tromsø for a full northern lights season (late August to late March) and it's certainly been magical getting to see the northern lights so often. Sometimes I'll be having a terrible day and grumpily take my dog Alfie out for a walk, but then I'll look up and feel like the luckiest person in the world.
That said, I'm not sure I would actually recommend Tromsø for your northern lights trip. Yes, we see the aurora a lot here, but Tromsø isn't the best place in Norway to see the northern lights.
Ideally you want to be somewhere really dark, away from city lights to see the aurora. You can absolutely still see the northern lights in the Tromsø city center, however whenever we get a really spectacular lights show here I secretly wish I were in the countryside where it would look even more incredible.
This is why a lot of people coming to Tromsø for the northern lights sign up for northern lights tours that will take them away from the city lights (and hopefully towards clear skies), which is a great option if you don't want to drive a car yourself. However the aurora is unpredictable and can appear and disappear and reappear in a matter of minutes, so if you want the highest chances of seeing the lights you'll want to spend as much time as possible in the countryside.
Also while Tromsø is a great little city and there are lots of museums, galleries, shops, and restaurants to keep you interested here, I think it's safe to guess that you've already been to much more exciting cities, and so if you're dreaming of seeing the northern lights getting out into the countryside should be your top priority. Plus the Norwegian countryside is way more stunning than any city in this country.
Tromsø northern lights tours
If you do choose to stay in Tromsø, you'll definitely want to book at least one northern lights tour. In fact even when my parents visited me here I booked them on a tour instead of driving them out myself. Northern lights tours usually include heavy duty outdoor winter clothing, which is super helpful on those freezing cold nights, especially if you're traveling from somewhere warmer. Guides are also in contact with each other so they can more effectively scout for the lights than you could on your own.
An added benefit of taking a northern lights tour is that most guides are trained in northern lights photography so usually the tour will include a photo of you under the northern lights! And tours also often include tripods so that you can try to take photos on your own camera too (you'll need a tripod to take sharp northern lights photos because of the long exposures necessary in the dark).
There are so many northern lights tours running out of Tromsø, and to be honest they're all pretty similar. I would just try to look for a really long tour, where your guide will be willing to drive out to Sweden or Finland if necessary to find clear skies.
This seven hour tour tour has excellent reviews, and this minibus tour also looks perfect. Or if you're looking for something a bit different, this northern lights sailing excursion looks really fun.
However if you are willing to stay outside of Tromsø, here are my top picks for the best places to see the northern lights in Norway (some of which won't require a car):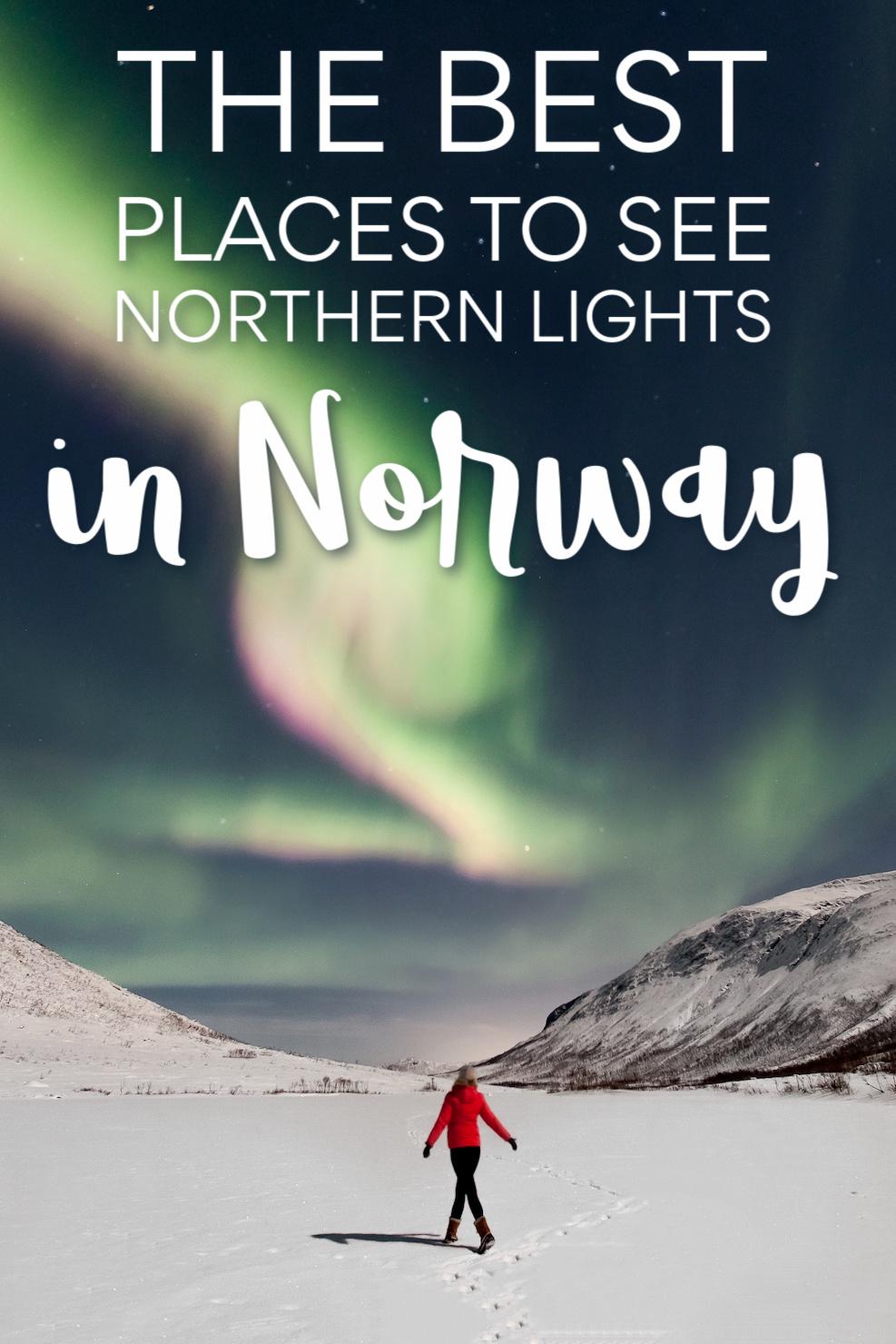 I've also gathered even more tips for your northern lights trip into an in depth ebook here. This covers all the necessities for planning a northern lights trip, going into much more detail than my blog posts. 
Sommarøy & Kvaløya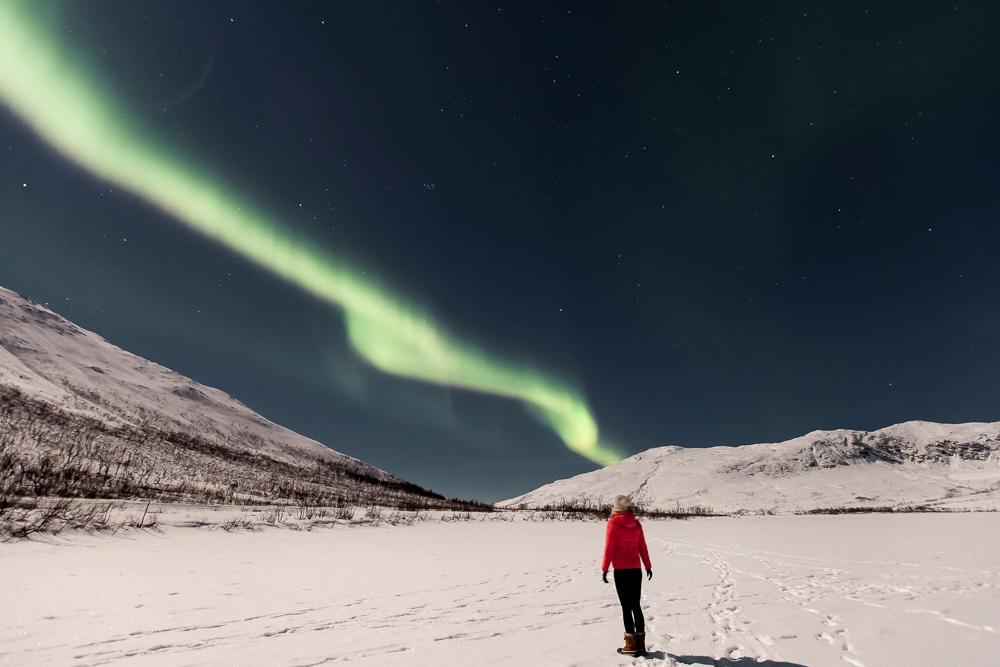 If you want to spend some time in Tromsø but don't mind renting a car, I recommend staying outside of the city and driving in for a visit during the day. This way you'll be in the right place when the lights do come out, but you can still have a bit of city experience as well.
Kvaløya, the island next to Tromsø, is a wonderful option because it's only about a half hour drive from Tromsø, but will have dark skies and beautiful landscapes perfect for northern lights viewing.
You could book a cabin here and then drive into Tromsø during the day, though you'll probably want to spend most of your time here because it's beautiful. This cabin would be perfect, or this is a great budget option.
Or if you venture a bit farther you could stay on Sommarøy, which is absolutely stunning and one of my favorite places near Tromsø. The Sommarøy Arctic Hotel has a bunch of accommodation options for different budgets, including gorgeous seaside cabins.
Lyngen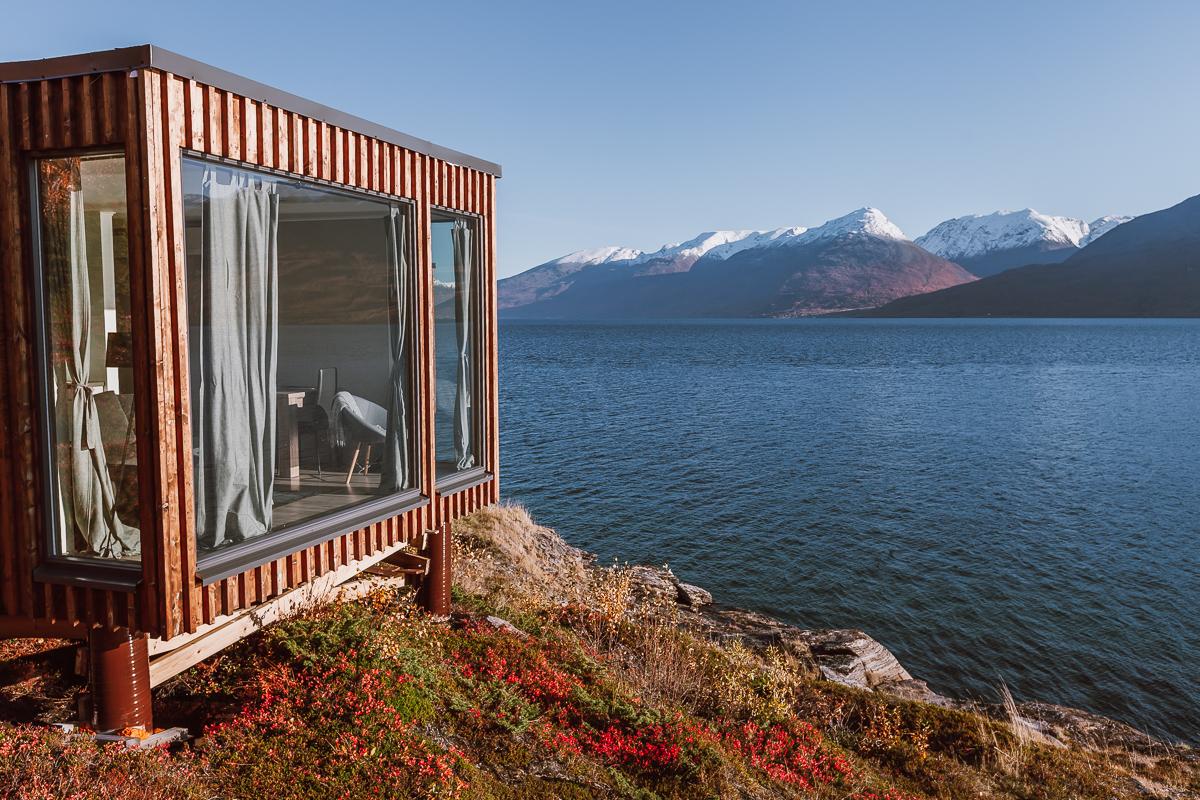 The Lyngen Alps is my favorite mountain getaway from Tromsø and just so happens to be home to two of my favorite northern lights hotels: the glass igloos at Lyngen North and the mini Aurora Fjord Cabins.
Read about my stay at the glass igloos in Lyngen here and my stay at the mini Aurora Fjord Cabins here.
Senja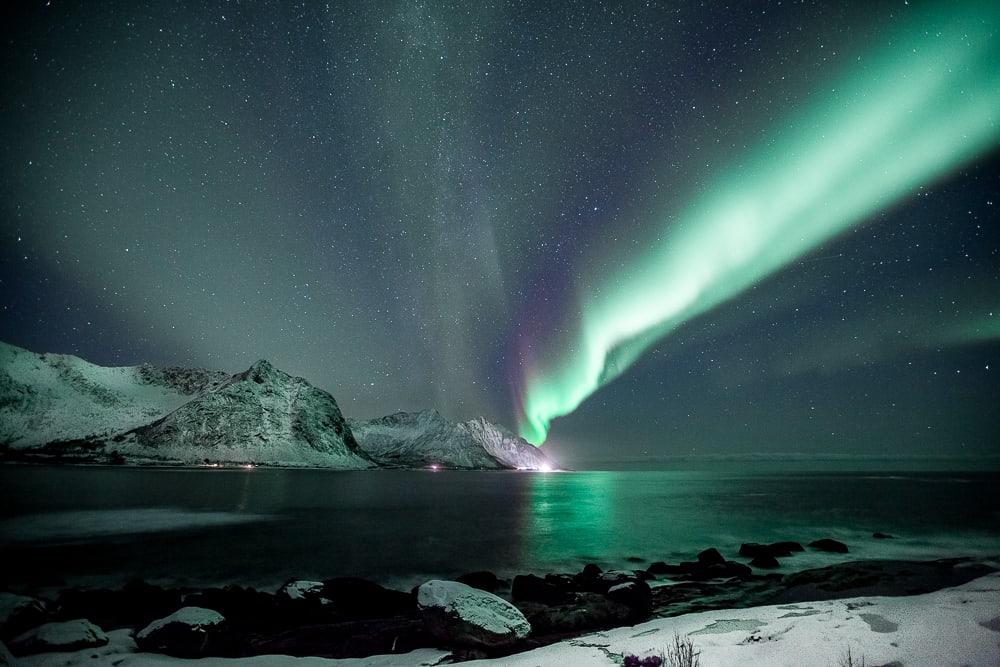 When my friends wanted to plan a winter trip to Tromsø a few years ago I convinced them to go to the island of Senja instead. Senja has stunning mountains, lots of winter activities on offer, and it's the perfect place to watch for the northern lights. Read more about our trip to Senja here.
Dyrøy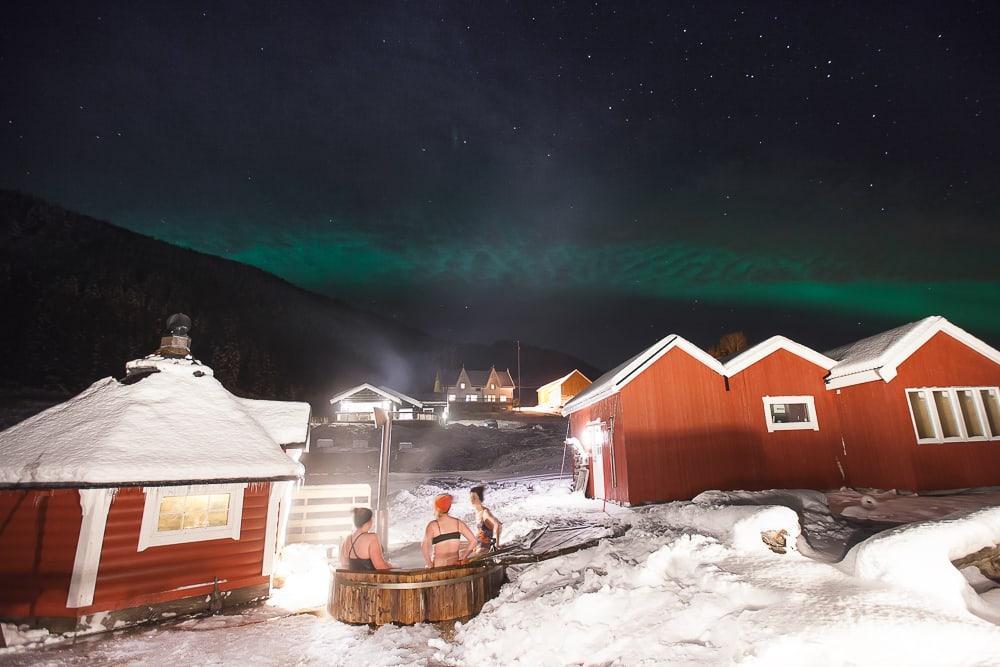 I hadn't actually hear of the island of Dyrøy before my visit to Senja, but we decided to add it onto our itinerary and it ended up being my favorite part of our trip. Dyrøy has incredible mountain views, and the owners of the cabin we stayed at were so wonderful. Plus we got to soak in a hot tub under the northern lights.
Read more about visiting Dyrøy here.
Vesterålen & Lofoten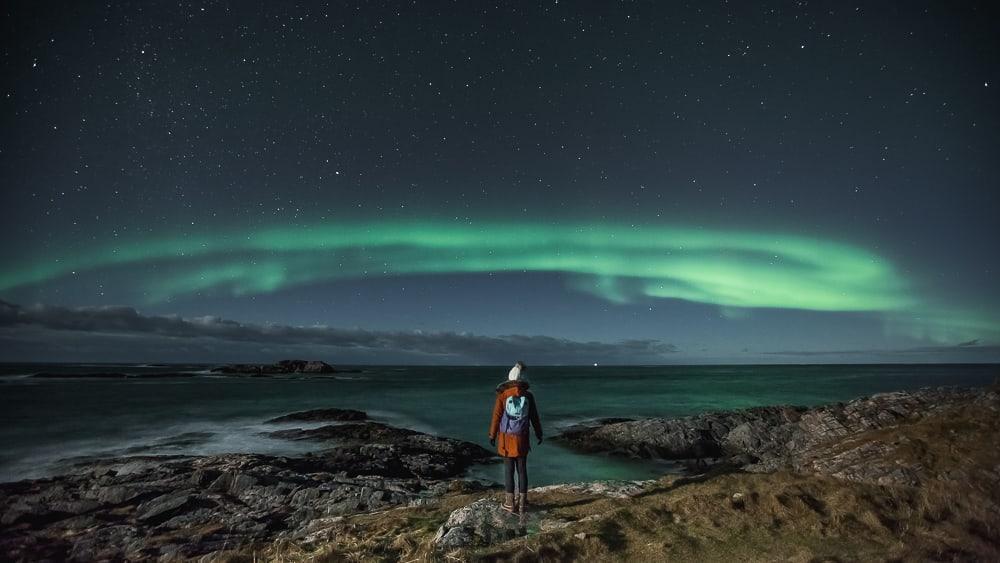 Vesterålen and Lofoten are two archipelagos about a six hour drive south of Tromsø. You won't get the highest chances of seeing the northern lights here as the weather can be really crazy, but the landscape might be incredible enough to make up for that.
I would say that choosing Vesterålen or Lofoten for your northern lights trip will be a bit of a gamble, but the scenery is so beautiful and there's so much to do here that you will definitely have an unforgettable trip, aurora or no aurora. Read more about visiting Vesterålen here and visiting Lofoten here.
Alta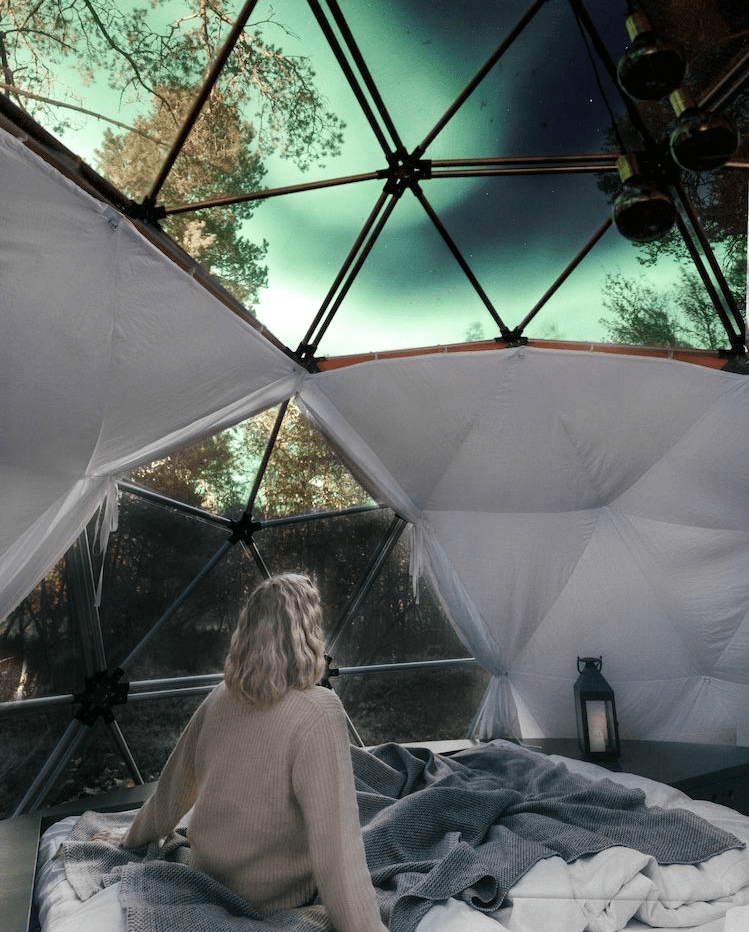 Alta is a small city of about 19,000 people so it doesn't have much light pollution, but it's a big tourist hub for Arctic tours and activities so you'll find a lot to do here when you aren't watching the northern lights. This is great because there's always a chance you'll be unlucky with the aurora and not get to see any northern lights, but if you fill your days with other fun activities you'll have an amazing trip regardless.
The best northern lights accommodation is somewhere with a clear roof or at least very big windows, so you can watch for the lights in comfort (and warmth!). This is why I really love Arctic Domes, and the Arctic Dome at Glød Explorer is perfect because you don't even need a car to visit. You can fly into Alta and they'll pick you up at the airport. Read more about staying at Glød Explorer here.
Arctic Dome in Kokelv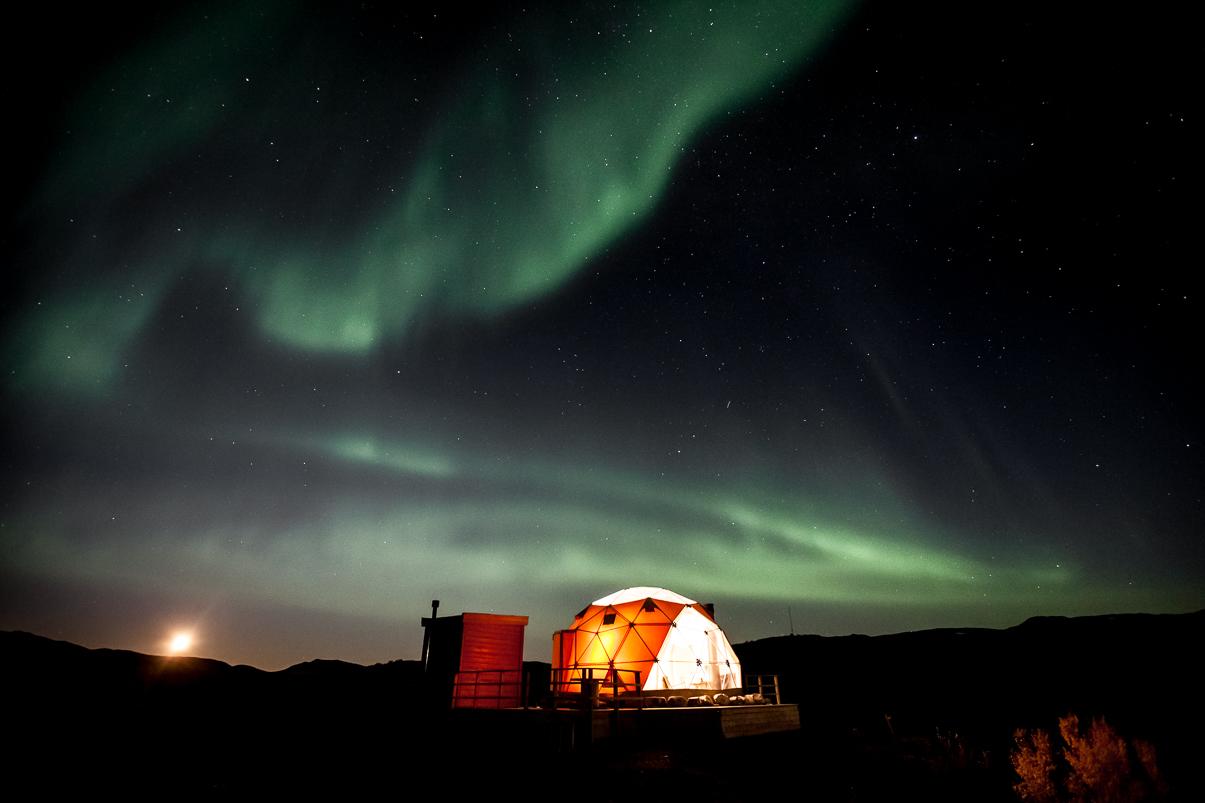 The Arctic Dome in Kokelv might just be my top recommendation for your northern lights trip to Norway. The dome is perfect for northern lights viewing – I actually had a lot of trouble going to sleep here because the lights kept appearing above my bed. The dome sits at the top of a hill so you'll get a full, unobstructed view of the sky, and a stay here also comes with a Sami style turf house with a fully equipped kitchen, shower, and sauna.
Kokelv is about a two hour drive from Alta so you'll definitely need a car for this one, but I promise it's well worth it. Plus the drive is beautiful. Read more about staying at the Arctic Dome in Kokelv here.
Kirkenes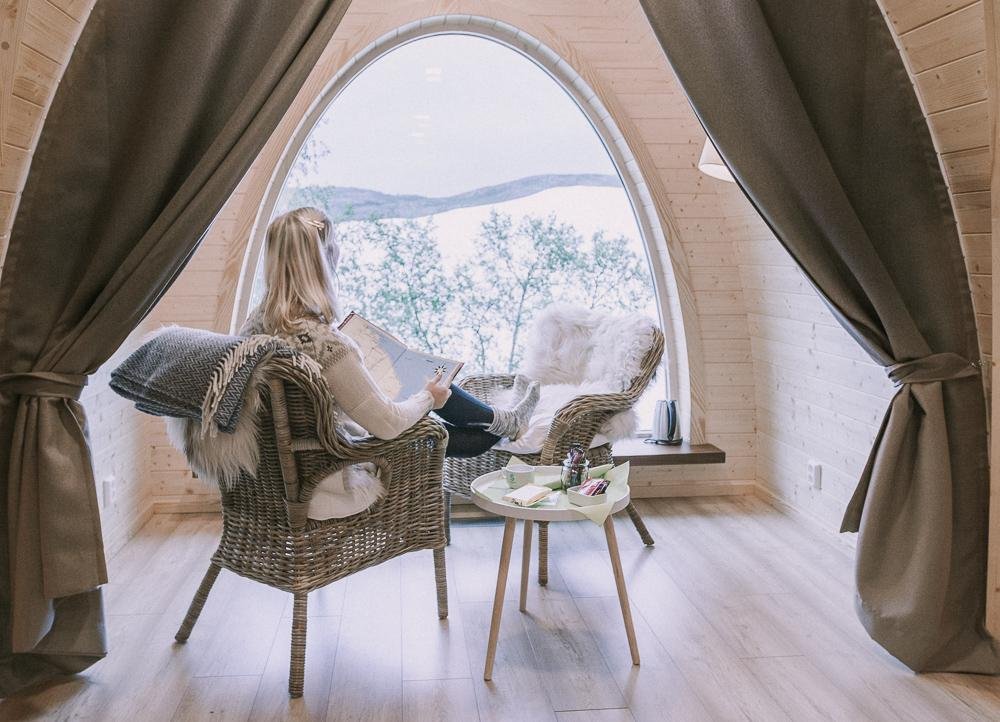 Kirkenes is one of my favorite towns in northern Norway. It's right by the borders to both Finland and Russia, which I feel like gives it a really interesting vibe, but also offers excellent northern lights viewing opportunities because it's easy to drive inland where the skies are usually less cloudy.
And you can even stay in an igloo hotel here!
Read more about visiting Kirkenes here.
Svalbard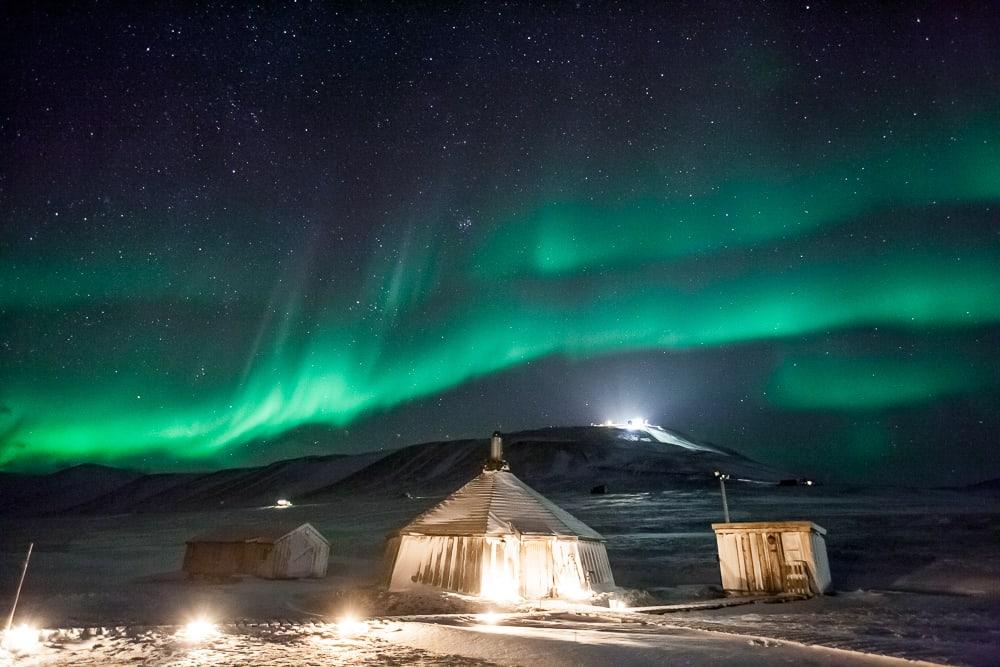 And then if you want a true Arctic adventure, you have to go to Svalbard! Svalbard's towns are the northernmost permanently inhabited spots on the planet (aside from a few research bases), and the archipelago is actually closer to the North Pole than to Oslo. Oh and Svalbard is one of the only places where you can see the daytime northern lights!
I was really surprised how easy it is to visit Svalbard – there are quite cheap flights from Oslo and Tromsø. Read more about planning a trip to Svalbard here.