I've now lived in Tromsø for two full northern lights seasons (late August to late March) and completely understand why Tromso northern lights tours are so popular. It's certainly been magical getting to see the northern lights so often while living here. Sometimes I'll be having a terrible day and grumpily take my dog Alfie out for a walk, but then I'll look up and feel like the luckiest person in the world.
When people ask me where in Norway to go to see the northern lights, I always recommend Tromsø first. Tromsø is a good place to see the northern lights because it lies so far above the Arctic Circle so the aurora activity is consistently high, but it's also on the coast, which means that the temperatures are a lot warmer than other places this high above the Arctic Circle.
That said, there are some things to know if you are planning a Tromsø northern lights trip. Yes, we see the aurora a lot here, but downtown Tromsø isn't the best place in Norway to see the northern lights, so if you want to see them you'll need to take a northern lights tour in Tromsø, or drive out on your own. And if you want to know how to photograph the northern lights read my full guide here,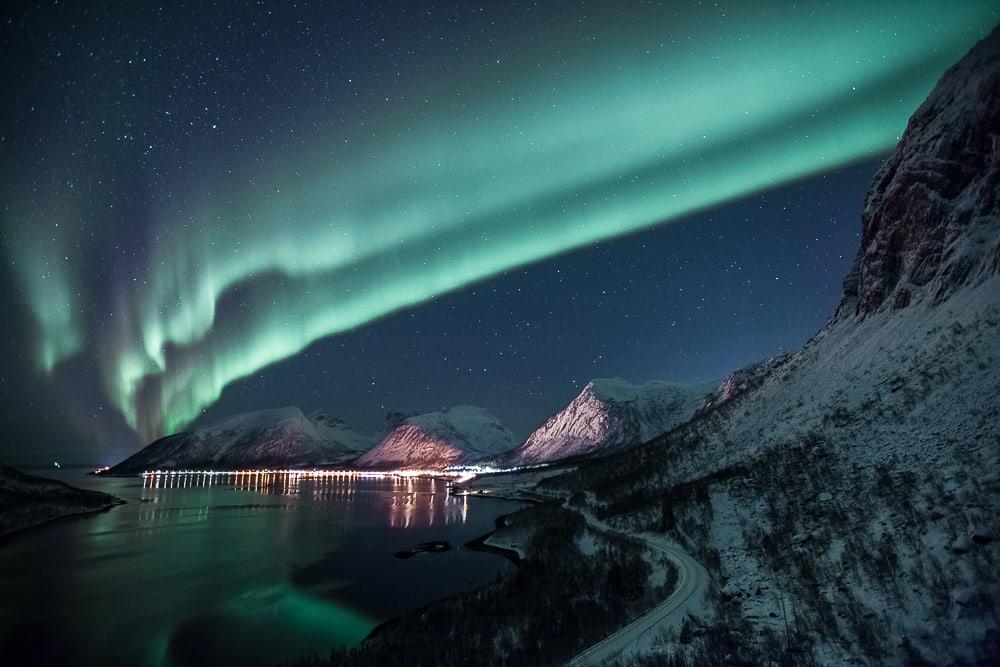 Ideally you want to be somewhere really dark, away from city lights to see the aurora. You can often still see the northern lights in the Tromsø city center, however whenever we get a really spectacular lights show here I secretly wish I were in the countryside where it would look even more incredible.
This is why a lot of people coming for the northern lights sign up for a Tromsø northern lights tour that will take them away from the city lights (and hopefully towards clear skies), which is a fantastic option. Then during the day you can explore downtown. Tromsø is a great little city with lots of cafes, galleries, museums, shops, restaurants, and bars to keep you interested when the northern lights aren't out. I've shared a full guide for the best things to do in Tromsø here.
If you don't want to sign up for a bunch of northern lights tours from Tromsø, you could also spend a few nights in the countryside. If you're comfortable renting a car, I would consider flying into Tromsø and then leaving the city to stay somewhere darker.
Best month to see the northern lights
And if you're wondering when is the best time to see the northern lights in Tromsø, you will have good chances of seeing them from September to the beginning of April. Personally February and March are my favorite months for northern lights in Tromsø, because there's snow on the ground and the sun has returned so you can enjoy your days a bit more as well. But if you hate the cold I definitely recommend visiting in September or October, as the weather is more tolerable for nights spent outside watching the sky.
And if you want more in depth advice, I've also gathered all my best tips for planning an incredible trip through both Southern and Northern Norway in two 95-page ebooks that cover everything you'll need to know to plan a Norway trip that you will love. You can purchase my Norway travel guides here.
Quick Tromsø Travel Guide
Tromsø Accommodation: Thon Hotel Polar and Thon Hotel Tromsø across the street are both excellent options right in the city center, and the breakfast buffet is incredible. The fanciest hotel in town is the Clarion Hotel The Edge, which is right on the water and home to Tromsø's only skybar. I've also written a full guide to the best Tromsø hotels here.
Tromsø Activities Hostel is a great option if you're on a tight budget. And if you want your own apartment, this glass roof loft near the center looks incredible. I don't recommend booking an Airbnb in Tromsø as allegedly there have been a bunch of legal problems with Airbnb in the Norway and lots of bookings now fall through.
Top Tromsø Activities:
Tromsø car rental: Tromsø is surrounded by incredible nature, but public transport is sparse so I recommend renting a car, if you can. I like Sixt for Tromsø car rentals, or you can compare prices at autoeurope.com.
Packing for Tromsø: You can find my summer packing guide for Norway here and my winter packing guide for Norway here. In general I would say focus on practical outdoors clothing – people dress very casually here, even when going out at night. Don't forget some warm sweaters, even in the summer!
Travel Insurance: It's always important to get travel insurance, especially for winter trips where more can go wrong. I always use World Nomads Travel Insurance, as I've had good experiences filing claims with them in the past.
Best Tromso northern lights tours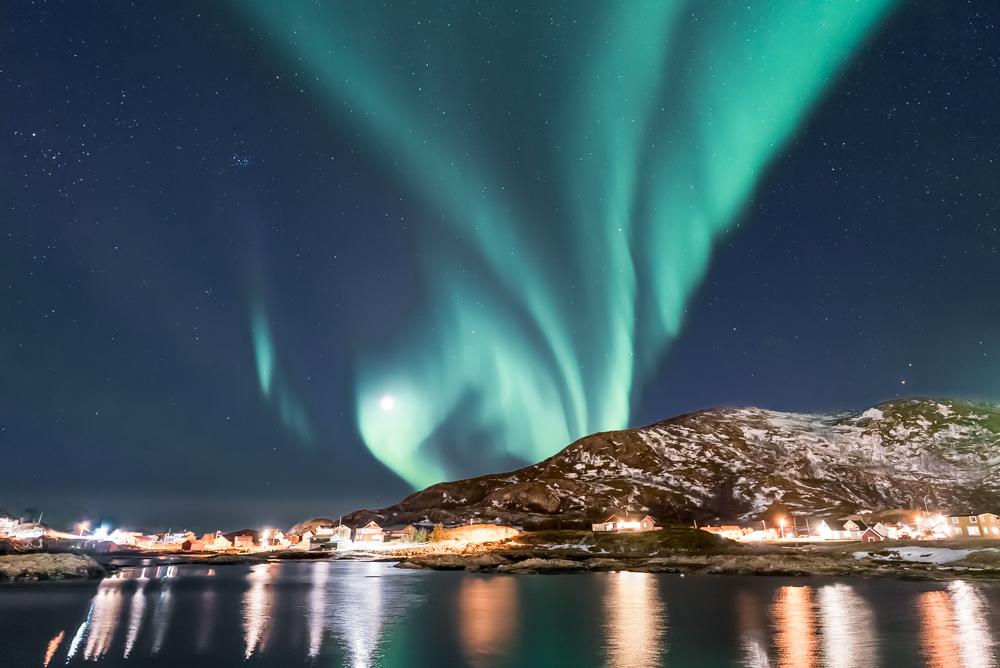 If you do choose to stay in Tromsø, you'll definitely want to book at least a couple northern lights tours. In fact even when my parents visited me here I booked them on a tour instead of driving them out myself. Northern lights tours usually include heavy duty outdoor winter clothing, which is super helpful on those freezing cold nights, especially if you're traveling from somewhere warmer. Guides are also in contact with each other so they can more effectively scout for the lights than you could on your own.
An added benefit of taking a northern lights tour is that most guides are trained in northern lights photography so usually the tour will include a photo of you under the northern lights! And tours also often include tripods so that you can try to take photos on your own camera too (you'll need a tripod to take sharp northern lights photos because of the long exposures necessary in the dark).
There are so many northern lights tours running out of Tromsø, and to be honest they're all pretty similar. I would just try to look for a long tour, where your guide will be willing to drive out to Sweden or Finland if necessary to find clear skies. And if your heart is really set on seeing the northern lights, I would absolutely book tours on multiple nights.
You can book northern lights tours on Manawa, GetYourGuide, or Viator. They all offer excellent and reliable service, but my personal favorite is Manawa as the tours tend to be a tiny bit cheaper through them and I love supporting a smaller company.
You can also buy a gift card from Manawa here. This would make a wonderful gift!
These would be my top picks for the five best northern lights tours from Tromsø: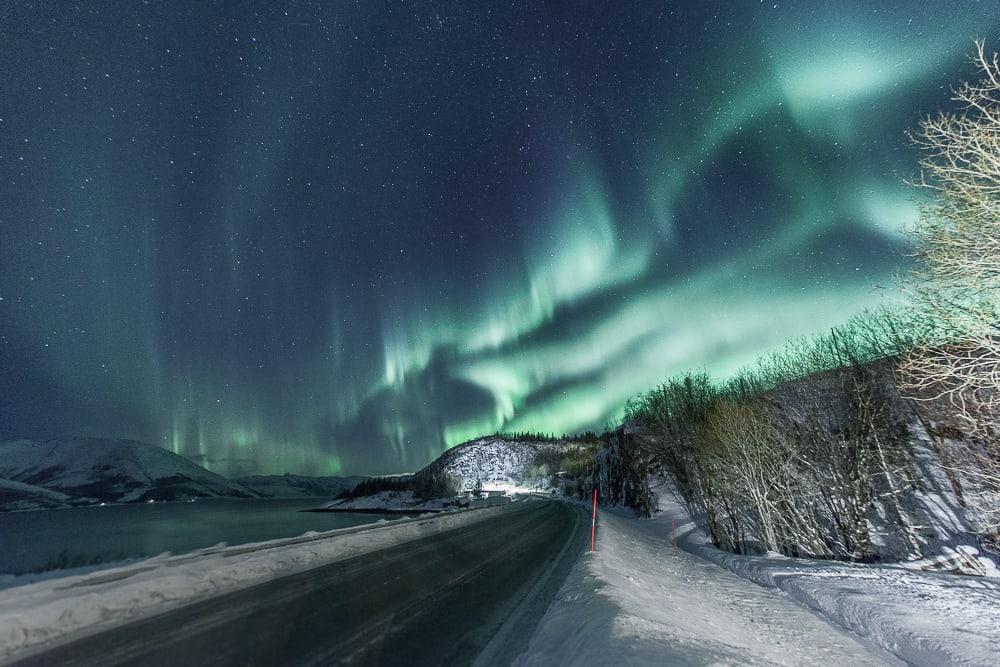 Cheapest Tromsø Northern Lights Tour
If you want the cheapest option for a northern lights bus chase, this seven hour northern lights bus tour is your best bet. It's a bit cheaper than other tours because it's a big bus and they only offer hot drinks and biscuits, not warm stew, and you have to go inside the tour bus to warm up instead of waiting around a campfire.
I don't think this is the very best tour option, but if you're on a budget it's still an excellent choice. You get a professional guide to find the best location to spot the northern lights, a warm thermal suit to wear, and your guide will even take professional photos of you under the northern lights. AND you get a 50% discount on your next tour if you don't spot the northern lights on this one.
Best Tromsø Northern Lights Tour
If you're willing to spend a bit more money, this minibus tour would be ideal. This is the tour my parents did and they loved it.
This tour will drive all the way to Finland if necessary to find clear skies, and they provide a thermal suit, a hot meal and beverages, and a campfire.
The guide will take professional photos of you under the northern lights, but I love that they also bring tripods for your camera if you want to try your own hand at photographing the northern lights! Your guide will help you with all the photo settings so that you can capture the aurora yourself.
This minibus tour is offered by a different company and isn't the exact one my parents did, but it looks very similar and is a bit cheaper!
And if you want something more exclusive, this Tesla tour is even smaller and still provides photos and a tripod to use.
Husky Northern Lights Excursion
Northern lights tours can definitely be a bit disappointing if you don't manage to see the aurora, so I love the idea of doing a fun activity outside at night so you'll have a chance of spotting the northern lights but also a great time even if you don't see the aurora.
This evening husky visit looks so much fun and will give you lots of chances of seeing the northern lights. You'll get to play with the huskies and then have dinner around a campfire while waiting for the northern lights to appear.
I wouldn't recommend this as your only northern lights tour in Tromsø, as you'll be staying in one location so you won't have as high chances of seeing the northern lights as if you were chasing them in a bus. But the huskies are so much fun, so if you like dogs I would highly recommend this as a second tour for one of your other nights in Tromsø!
Reindeer sleigh ride under the Northern Lights in Tromsø
If dogs aren't your thing, maybe you would prefer to hang out with some reindeer in Tromsø? This evening reindeer sleigh ride looks absolutely magical. Again, I wouldn't recommend this as your primary northern lights tour in Tromsø, but this would be an excellent option as a second tour to book.
Northern lights sailing excursion
This northern lights sailing excursion is actually the cheapest northern lights tour in Tromsø.
Sailing is a big part of life in Tromsø – I even know some students here who live on sailboats to save money on rent. So this is a great opportunity to get out on the water while here! Your chances of seeing the northern lights will be a bit lower as skies tend to be clearer inland. And it's hard to photograph the northern lights on a moving boat, because you need to keep your camera still for several seconds.
But if you're lucky, seeing the northern lights dancing over the water is one of the most extraordinary experiences I know!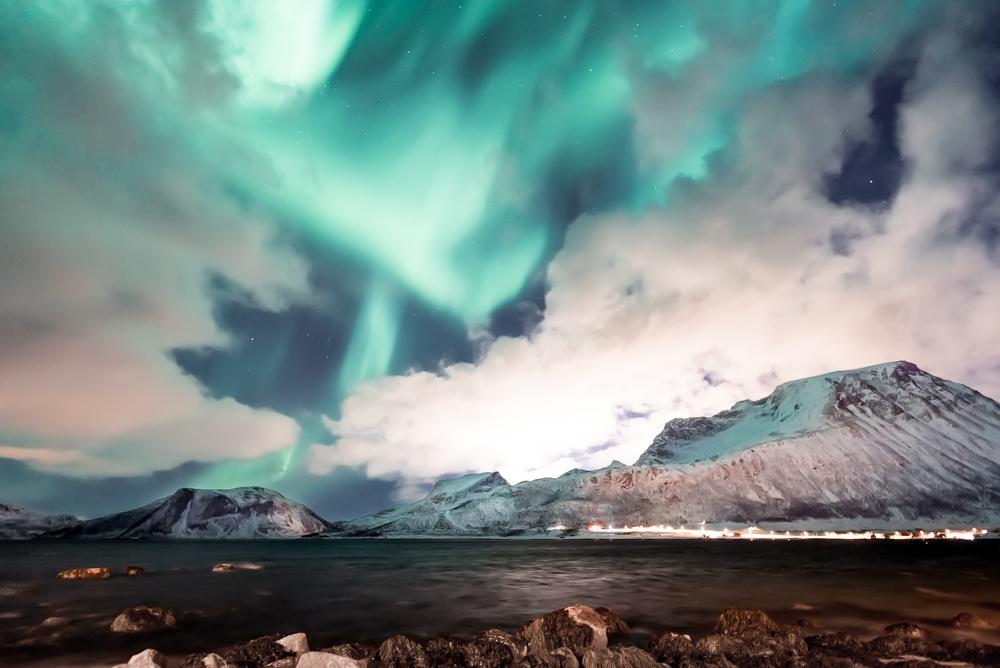 I also highly recommend filling your days with other fun activities to ensure that you have the best visit to Tromsø, even if you end up unlucky and don't get to see the northern lights.
Whale watching from Tromsø
From roughly November through January, you can see humpback whales and killer whales, or orcas, near Tromsø. The time they arrive does vary each year, as well as where you can see them. But luckily for you there are several Tromsø whale safari companies that send boats out to see the whales, wherever they may be (though of course whale sightings cannot be guaranteed).
If you want to stay on a warm boat the entire time, then this silent whale watching tour on an electric boat is perfect, and lasts around eight hours (depending on where the whales are) for optimal whale sighting chances.
And if you're feeling adventurous and want to see the whales up close, this boat/RIB whale watching tour takes you to the whales on a boat but then you switch to a RIB when you're near the whales.
Or if you want a full Arctic experience, this overnight whale lavvo trip includes a drive to Skjervøy, RIB tour to see the whales, and then an overnight stay in a glass roof lavvo where you can watch the northern lights.
Husky sledding in Tromsø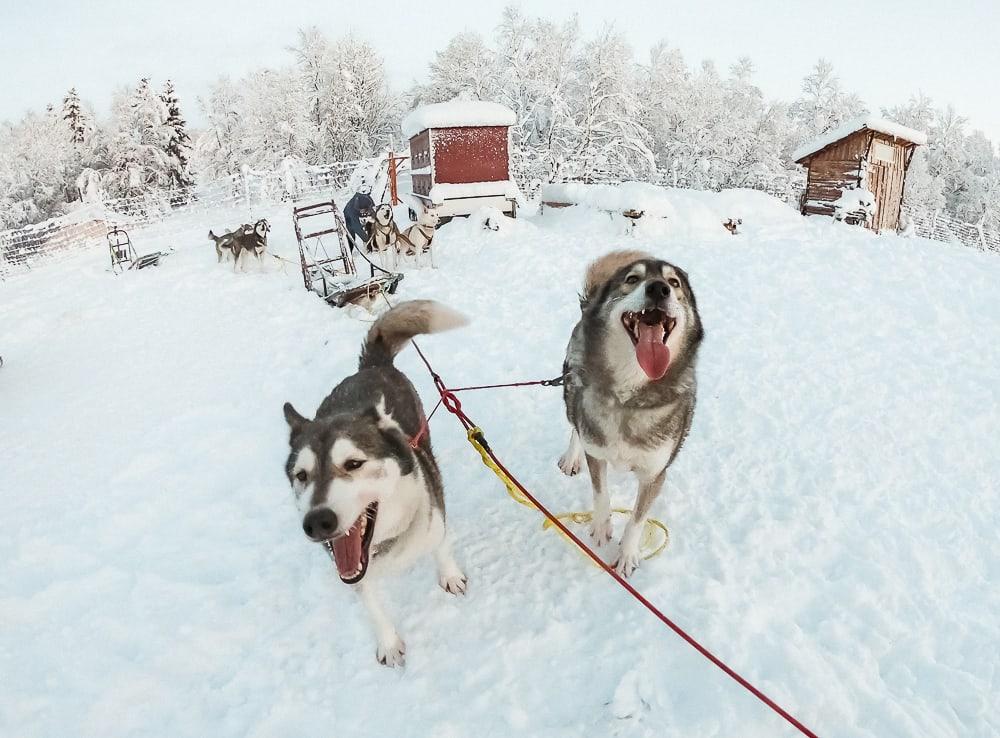 For best chances of snow I would do this in January, February, or March, but sometimes there will be enough snow on the ground in November and December for husky sledding. And then if there isn't enough snow, some companies will take out carts with wheels instead.
There are lots of different husky sledding tours offered from Tromsø which you can find here, but I recommend going with the Tromsø Wilderness Center. I know several people who have adopted retired huskies from the Wilderness Center and they offer really great care to the dogs when they aren't working.
This husky excursion is perfect for beginners.
Reindeer in Tromsø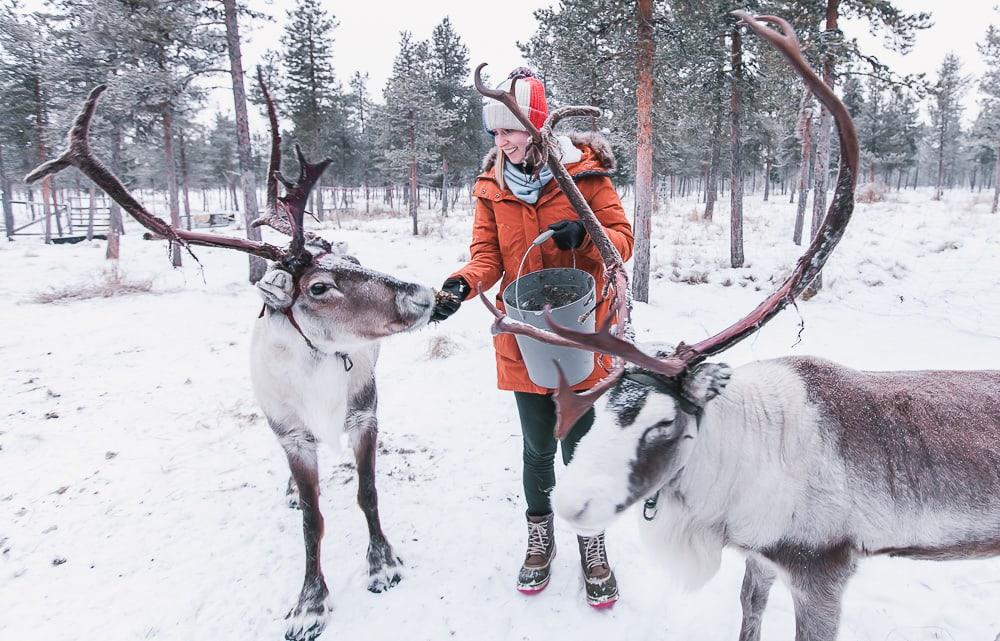 One of the fun things about living in Tromsø is that there are a lot of reindeer roaming outside the city!
Of course the best way to see some reindeer is to visit a reindeer camp. This reindeer excursion takes you just 30 minutes from the Tromsø center to feed reindeer, learn about Sami culture, and even take a short reindeer sleigh ride. Or this reindeer tour takes you out to the gorgeous Lyngen Alps, which is a bit longer of a drive but one of the most beautiful areas outside of Tromsø. They also offer an evening reindeer sleigh ride where you'll have the chance to see the northern lights.
Cross-country skiing
You can rent cross-country skis at Tromsø Outdoor right downtown (I believe rentals are 340 kroner for adults), but if you've never been on cross-country skis before you might prefer to go with a guide instead. This guided cross-country skiing Tromsø tour includes all the equipment, a ski lesson, hot drinks, and lunch.
Snowmobiling
Snowmobiling is incredibly popular here, and it's certainly a lot of fun. If you want to experience snowmobiling for yourself there are a bunch of snowmobile tours offered out of Tromsø here.
Tromsø accommodation
Tromsø has so many wonderful hotels, so you'll have lots of options here. I've stayed at the Thon Hotel Polar and loved it, and my parents usually stay at the Thon Hotel Tromsø across the street, which is just as wonderful.
But everyone I've asked in Tromsø seems to agree that the nicest hotel in town is the Clarion Hotel The Edge. The Edge is right on the water and is home to Tromsø's only skybar. My parents have also stayed here and loved it. Check current rates and availability here
And then if you are willing to stay outside of Tromsø, here are my top picks for the best places to see the northern lights in Norway (some of which won't require a car):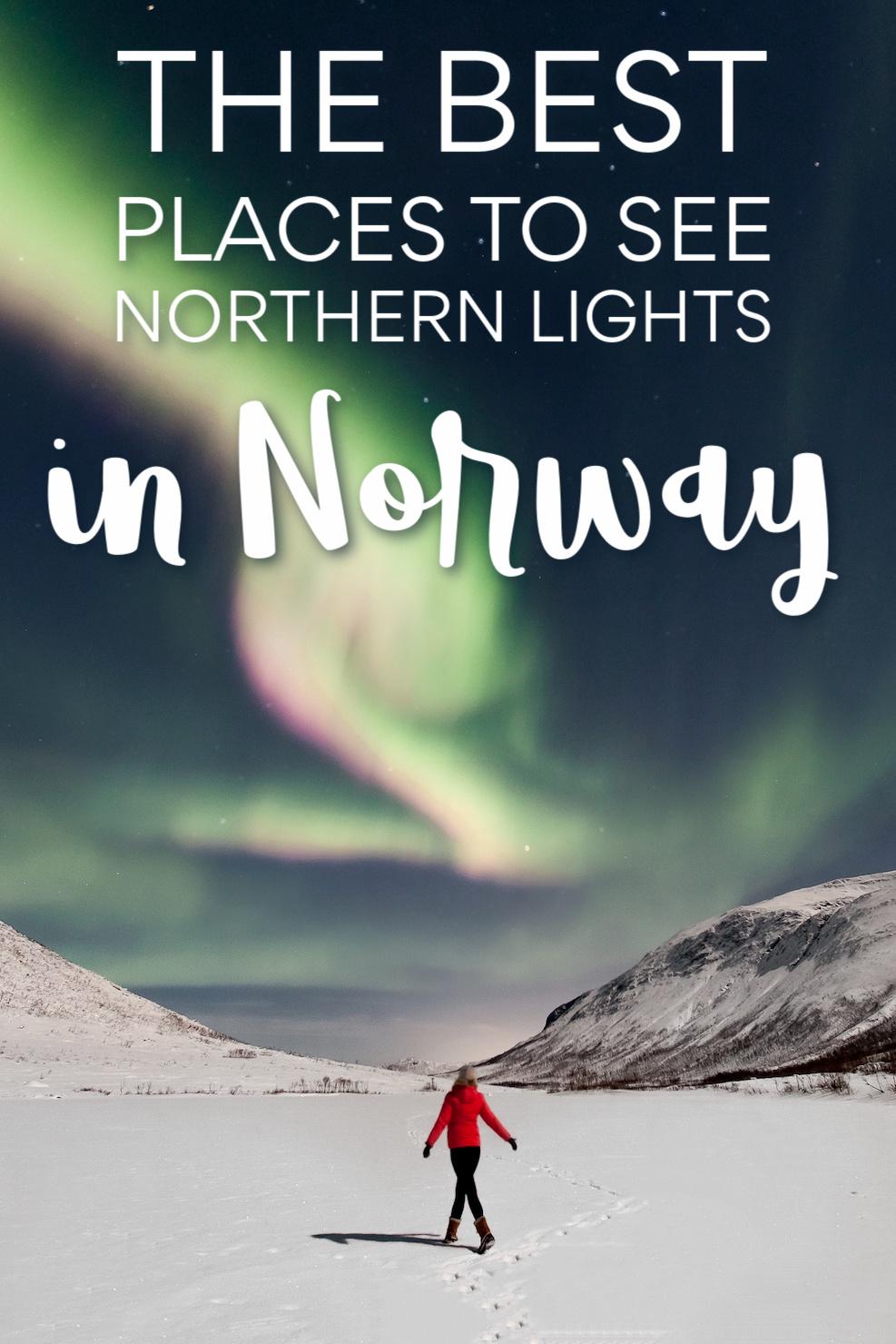 I've also gathered even more tips for your northern lights trip into an in depth ebook here. This covers all the necessities for planning a northern lights trip, going into much more detail than my blog posts.
Sommarøy & Kvaløya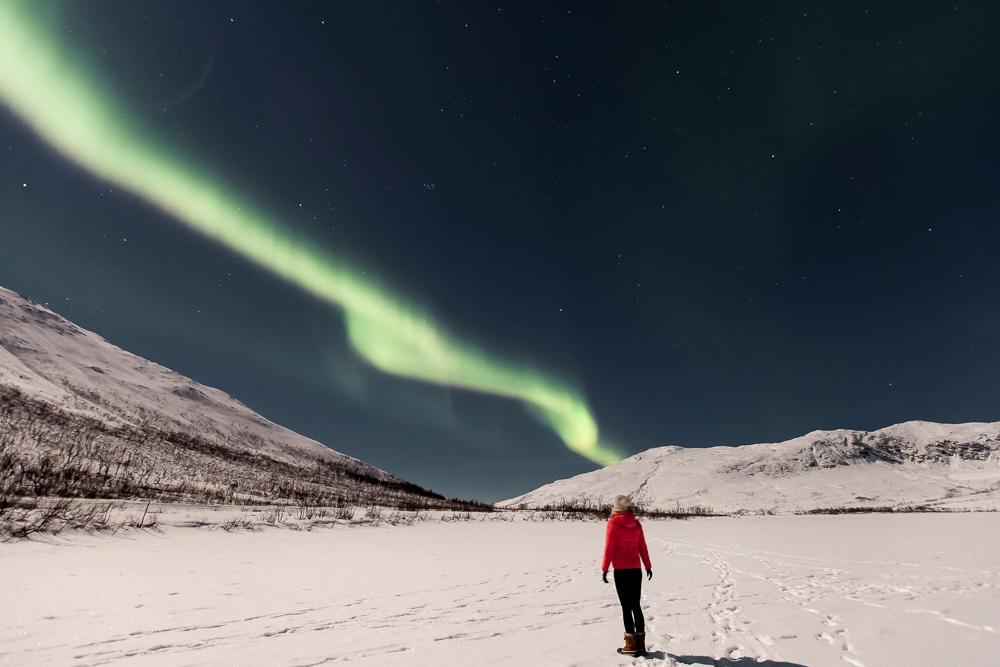 If you want to spend some time in Tromsø but don't mind renting a car, I recommend staying outside of the city and driving in for a visit during the day. This way you'll be in the right place when the lights do come out, but you can still have a bit of city experience as well. You can compare prices and book your rental at autoeurope.com.
Kvaløya, the island next to Tromsø, is a wonderful option because it's only about a half hour drive from Tromsø, but will have dark skies and beautiful landscapes perfect for northern lights viewing.
You could book a cabin here and then drive into Tromsø during the day, though you'll probably want to spend most of your time here because it's beautiful. This cabin would be perfect, or this is a great budget option.
Or if you venture a bit farther you could stay on Sommarøy, which is absolutely stunning and one of my favorite places near Tromsø. The Sommarøy Arctic Hotel has a bunch of accommodation options for different budgets, including gorgeous seaside cabins.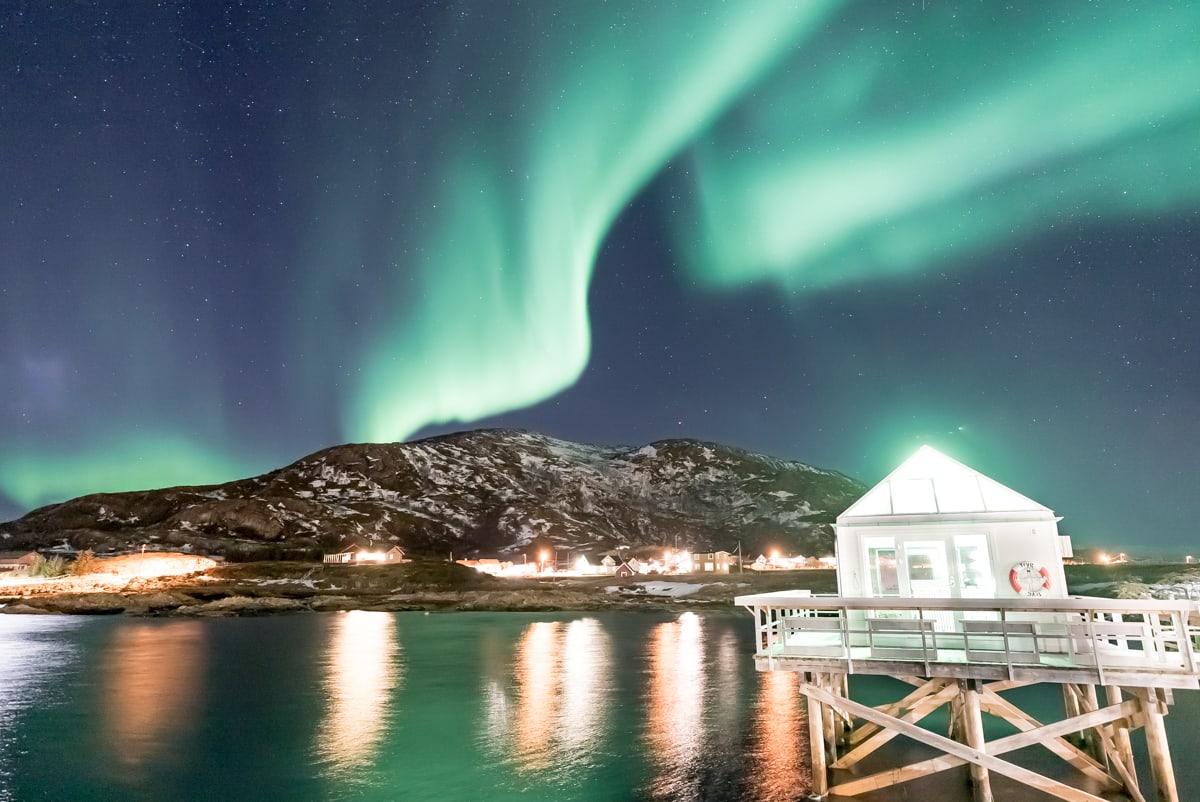 Lyngen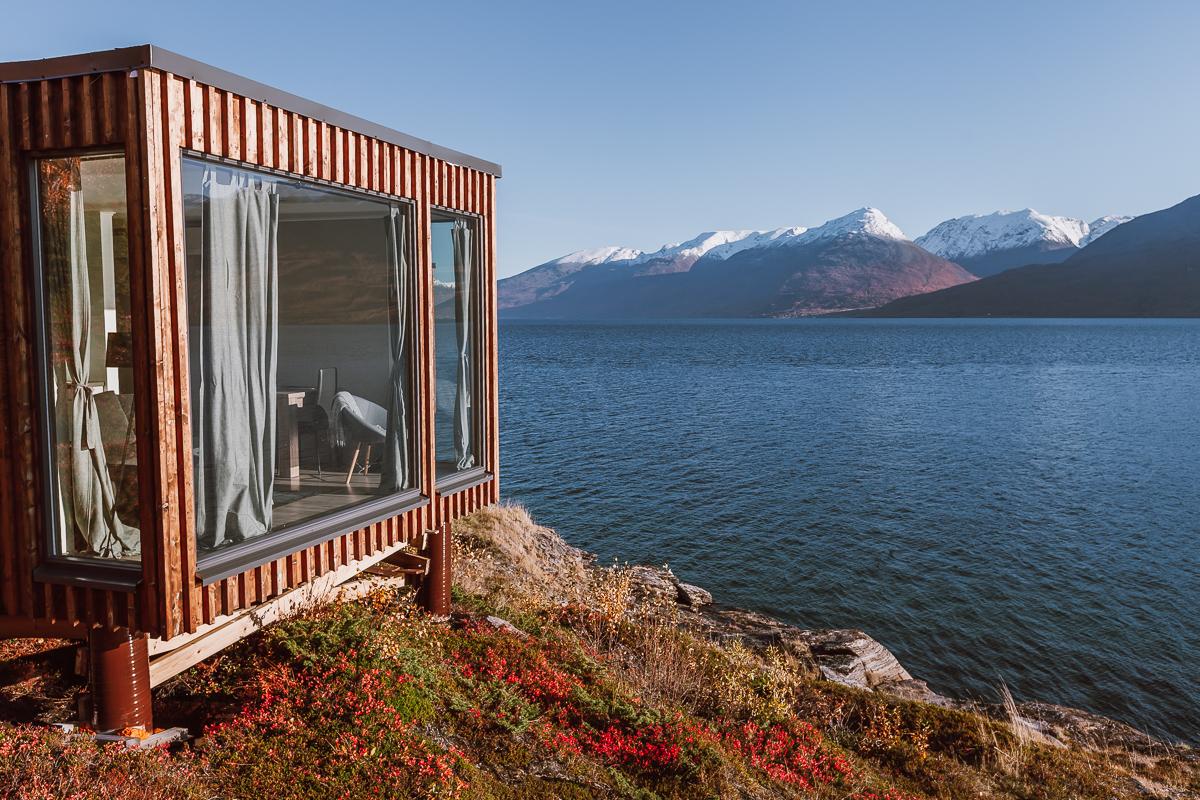 The Lyngen Alps is my favorite mountain getaway from Tromsø and just so happens to be home to two of my favorite northern lights hotels in Norway: the glass igloos at North Experience Basecamp and the mini Aurora Fjord Cabins.
Read about my stay at the mini Aurora Fjord Cabins here.
Senja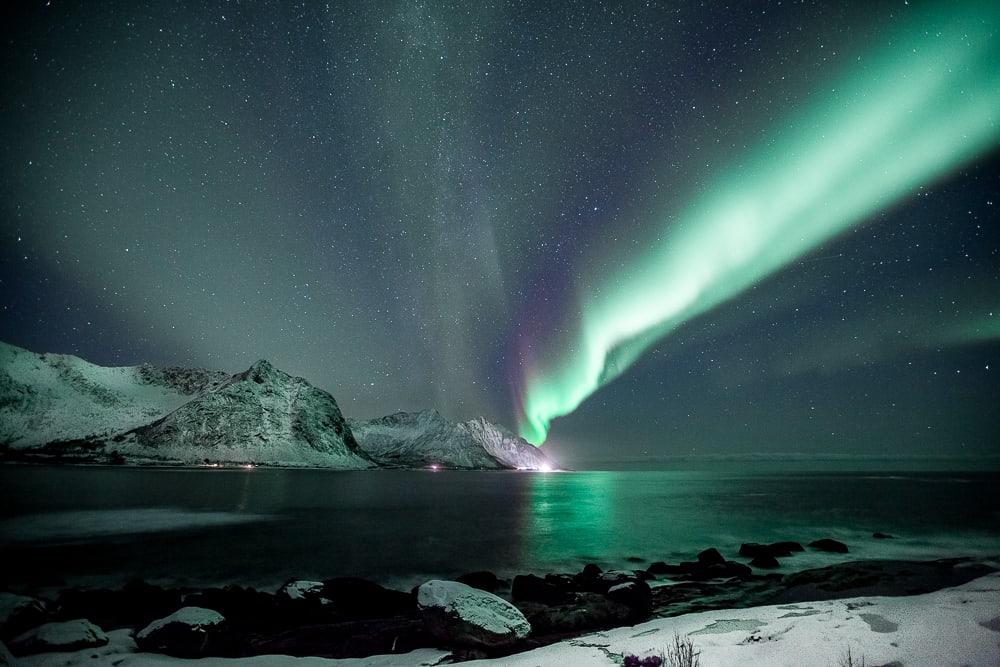 When my friends wanted to plan a winter trip to Tromsø a few years ago I convinced them to go to the island of Senja instead. Senja has stunning mountains, lots of winter activities on offer, and it's the perfect place to watch for the northern lights. Read more about our trip to Senja here.
Dyrøy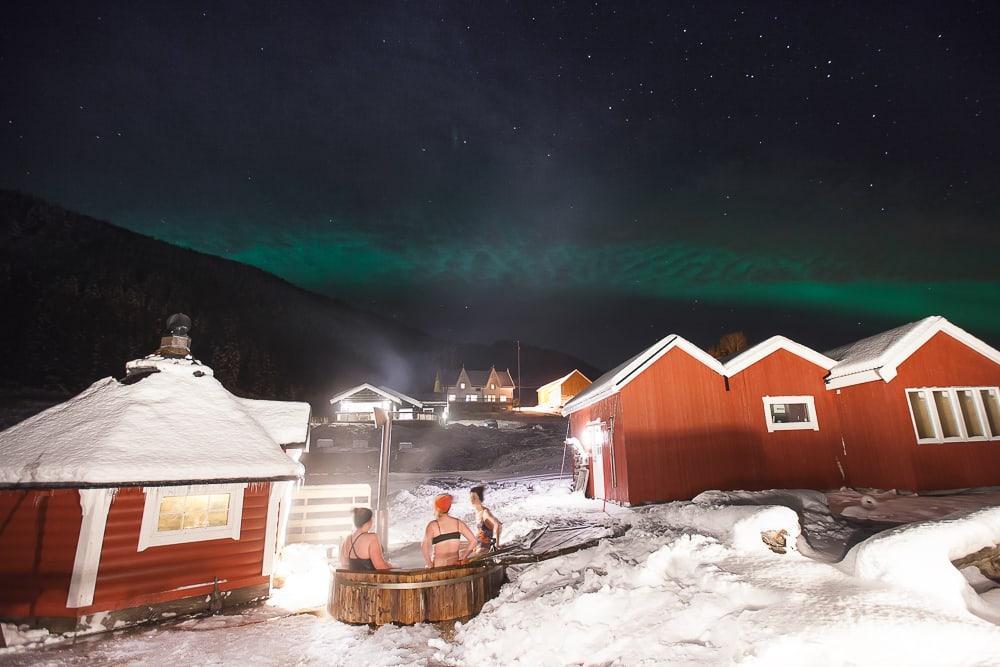 I hadn't actually hear of the island of Dyrøy before my visit to Senja, but we decided to add it onto our itinerary and it ended up being my favorite part of our trip. Dyrøy has incredible mountain views, and the owners of the cabin we stayed at were so wonderful. Plus we got to soak in a hot tub under the northern lights.
Read more about visiting Dyrøy here.
Vesterålen & Lofoten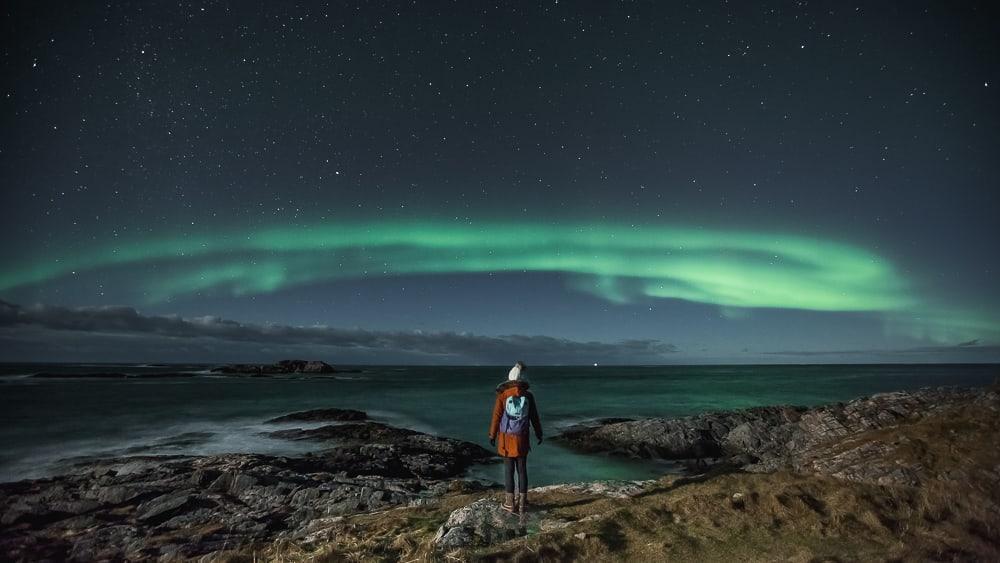 Vesterålen and Lofoten are two archipelagos about a six hour drive south of Tromsø. You won't get the highest chances of seeing the northern lights here as the weather can be really crazy, but the landscape might be incredible enough to make up for that.
I would say that choosing Vesterålen or Lofoten for your northern lights trip will be a bit of a gamble, but the scenery is so beautiful and there's so much to do here that you will definitely have an unforgettable trip, aurora or no aurora. Read more about visiting Vesterålen here and visiting Lofoten here.
Alta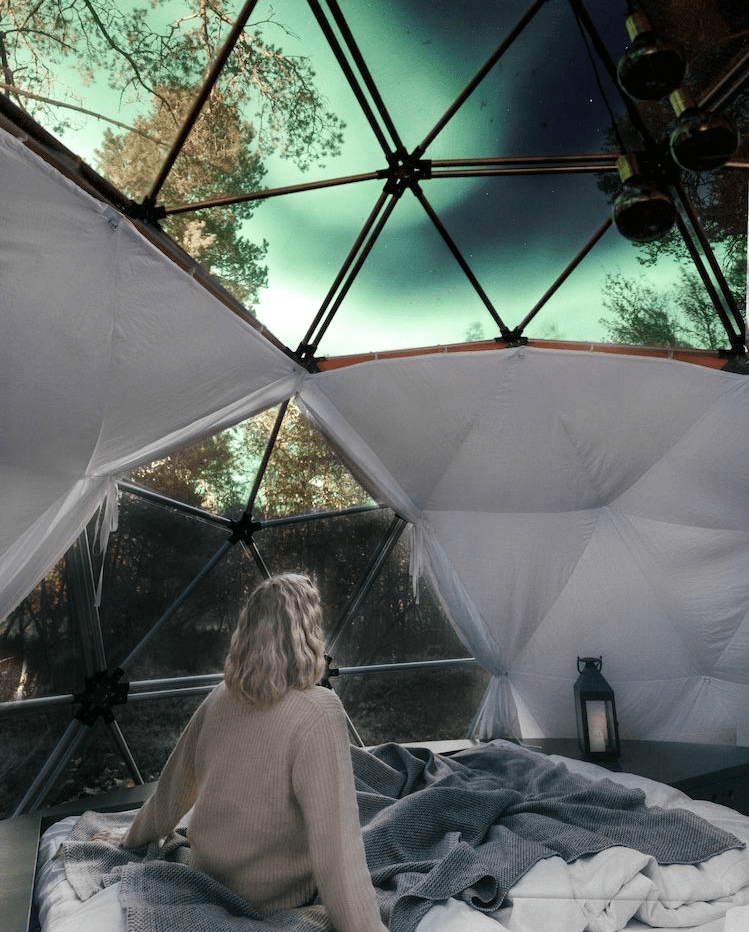 Alta is a small city of about 19,000 people so it doesn't have much light pollution, but it's a big tourist hub for Arctic tours and activities so you'll find a lot to do here when you aren't watching the northern lights. This is great because there's always a chance you'll be unlucky with the aurora and not get to see any northern lights, but if you fill your days with other fun activities you'll have an amazing trip regardless.
The best northern lights accommodation is somewhere with a clear roof or at least very big windows, so you can watch for the lights in comfort (and warmth!). This is why I really love Arctic Domes, and the Arctic Dome at Glød Explorer is perfect because you don't even need a car to visit. You can fly into Alta and they'll pick you up at the airport. Read more about staying at Glød Explorer here.
Arctic Dome in Kokelv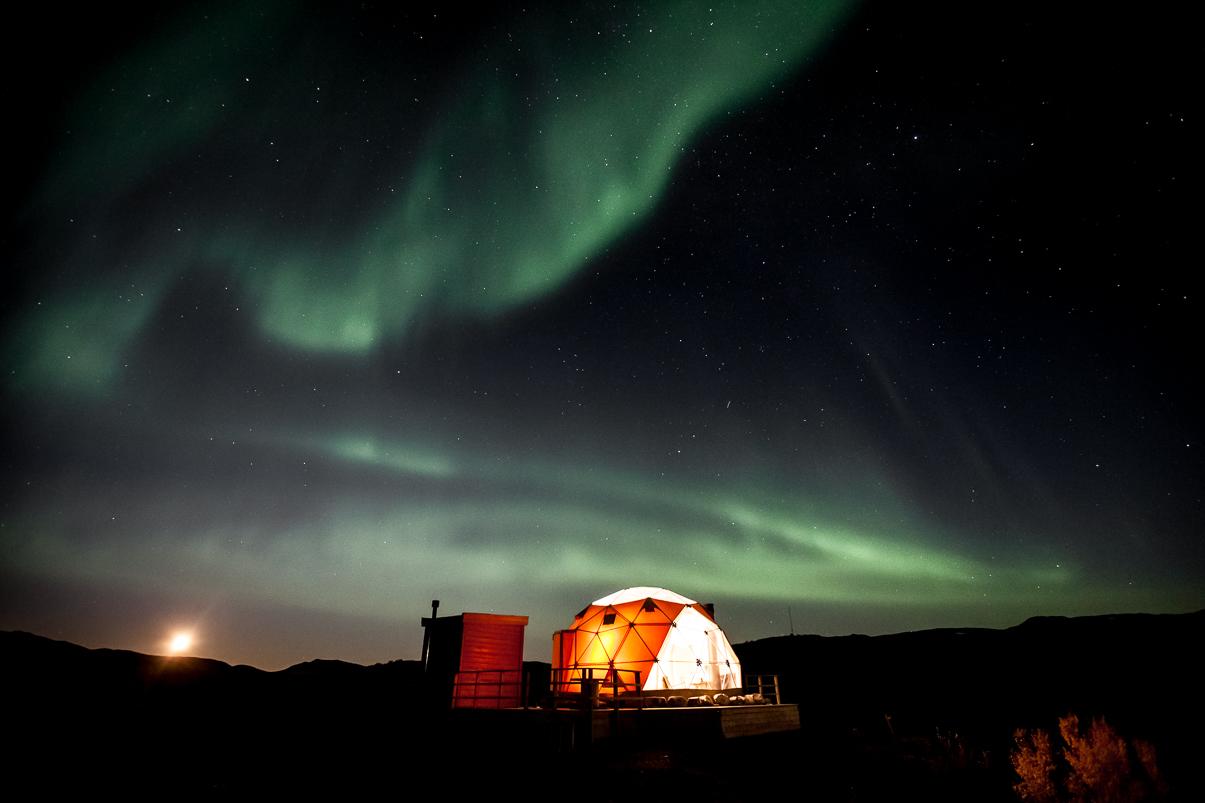 The Arctic Dome in Kokelv might just be my favorite place I've stayed on a northern lights trip in Norway. The dome is perfect for northern lights viewing – I actually had a lot of trouble going to sleep here because the lights kept appearing above my bed. The dome sits at the top of a hill so you'll get a full, unobstructed view of the sky, and a stay here also comes with a Sami style turf house with a fully equipped kitchen, shower, and sauna.
Kokelv is about a two hour drive from Alta so you'll definitely need a car for this one, so I do think that Glød Explorer in Alta is a more convenient option. Read more about staying at the Arctic Dome in Kokelv here.
Kirkenes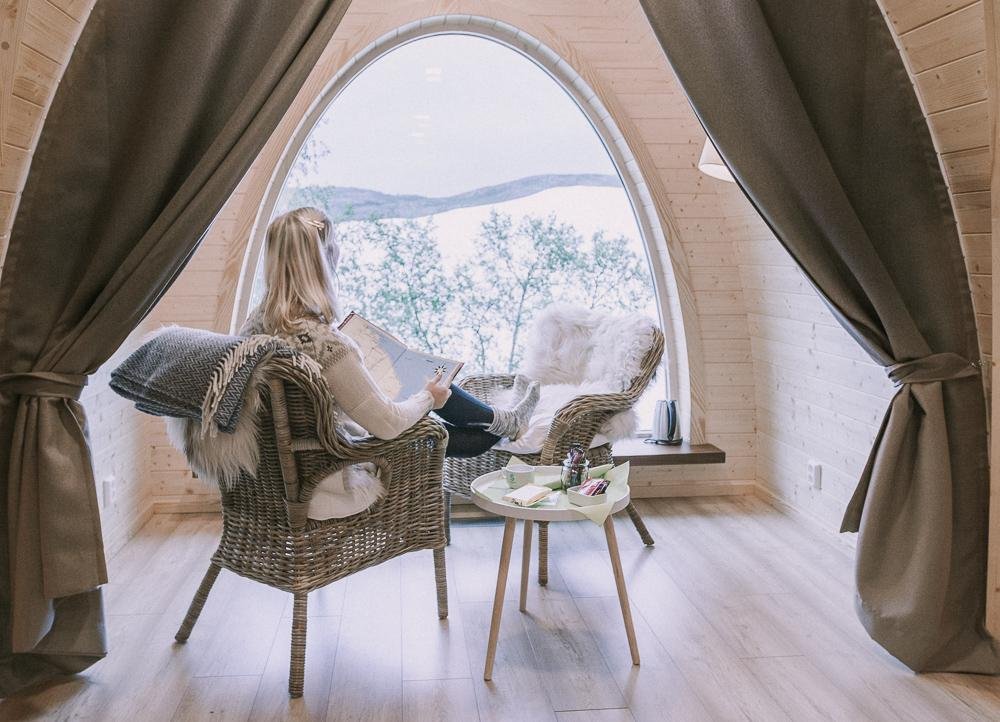 Kirkenes is one of my favorite towns in northern Norway. It's right by the borders to both Finland and Russia, which I feel like gives it a really interesting vibe, but also offers excellent northern lights viewing opportunities because it's easy to drive inland where the skies are usually less cloudy.
And you can even stay in an igloo hotel here!
Read more about visiting Kirkenes here.
Svalbard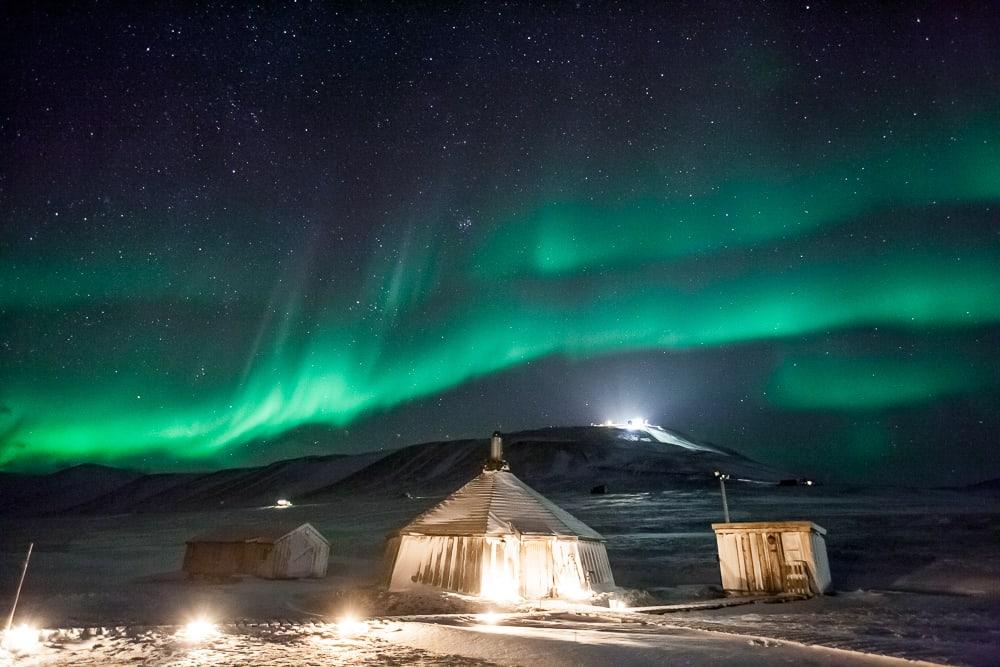 And then if you want a true Arctic adventure, you have to go to Svalbard! Svalbard's towns are the northernmost permanently inhabited spots on the planet (aside from a few research bases), and the archipelago is actually closer to the North Pole than to Oslo. Oh and Svalbard is one of the only places where you can see the daytime northern lights!
I was really surprised how easy it is to visit Svalbard – there are quite cheap flights from Oslo and Tromsø. Read more about planning a trip to Svalbard here.