Did I ever mention that I strongly considered moving to Ålesund, Norway before moving to Trondheim? It's one of Norway's most beautiful cities, there are so many things to do in Ålesund, and it's the perfect base from which to explore the Norwegian fjords and mountains. Um, perfect much?
In fact, one of the coolest things about Ålesund is how proud the locals are of it. Ask anyone there how they feel about living in Ålesund (and since I was considering moving there I asked everyone!) and they will go on and on about how it's not only Norway's most beautiful city but the most beautiful city in the world.
And while the latter might be an exaggeration, I can confirm that Ålesund is by far the most beautiful city I've visited during my many years living in Norway. Plus it's nearby some of Norway's most spectacular nature, including Geirangerfjord and Trollstigen as well as Hjørundfjord, so it makes the perfect base from which to explore the country.
I would recommend flying straight into Ålesund (you can find cheap flights to Ålesund here), booking a hotel directly in Ålesund (compare hotels here) and then renting a car to explore the surrounding area as well (I use AutoEurope for car rentals in Norway). Because while there are loads of things to do in Ålesund that will take up several days (2-3 days there would be ideal), there's also so much to do in the surrounding area.
While visiting Ålesund, Norway, be sure to also visit:
Trollstigen and Geirangerfjord // probably two of Norway's most famous (and stunning!) sites. Read more here.
Hjørundfjord // arguably the most beautiful fjord in all of Norway. Read more here.
Gamle Strynefjellsvegen // this is the most beautiful road trip I've done in Norway, and most people don't even know about it! Read more here.
Atlantic Ocean Road // if you want to head a bit farther north, you could visit Molde, Kristiansund, and Norway's most famous road, the Atlantic Ocean Road
Or if you want to see more of Norway, a visit to Ålesund is included in a couple of my one week Norway itineraries.
You could also drive from Ålesund to Bergen, which will take you through some of Norway's most epic fjords and mountains.
Norway Travel Guides! I've gathered all my best advice for planning an incredible trip through Southern and Northern Norway in two 95-page ebooks covering my top recommendations for places to visit (both on and off the beaten path), the best times of year to visit, how long to visit for, the best accommodation choices, transportation, what to eat, what to pack, and how to plan the perfect itinerary.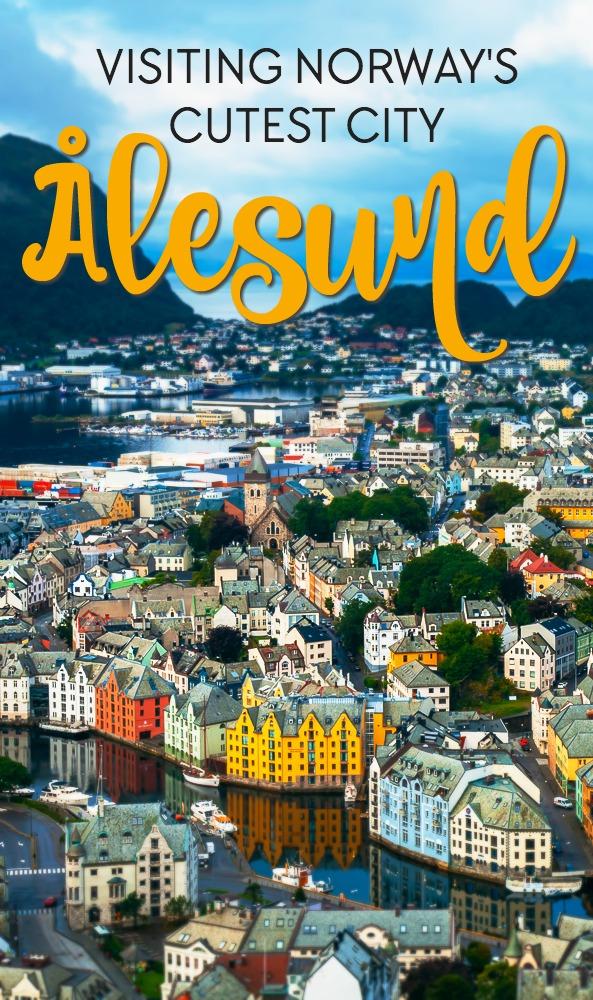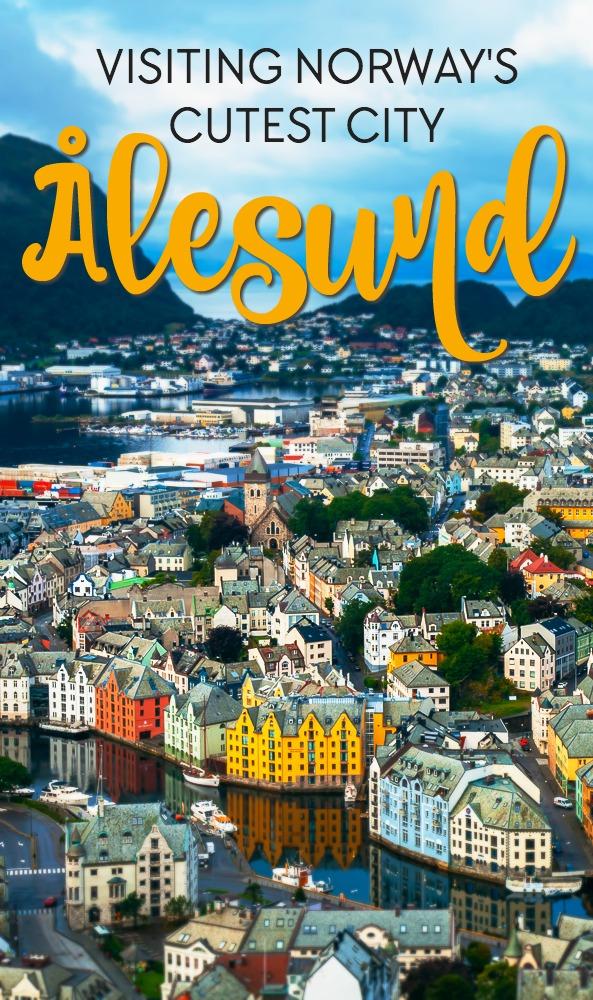 Things to Do in Ålesund, Norway
Walk through downtown Ålesund's Art Nouveau district
Ålesund is built on a row of islands extending out into the ocean, but it's most famous for its beautiful architecture, which is certainly something that not many (any?) Norwegian cities can say. You see, after a fire destroyed the city in 1904 it was rebuilt in vibrant Art Nouveau.
And that's what's really wonderful about Ålesund – I had seen pictures of the center before, but I always assumed it just had a few beautiful Art Nouveau buildings here and there. But because the entire city had to be rebuilt, it really is all Art Nouveau. I felt like I was wandering through the streets of some Central European city, not a Norwegian one (in a good way).
If you want something more guided, check out this walking tour.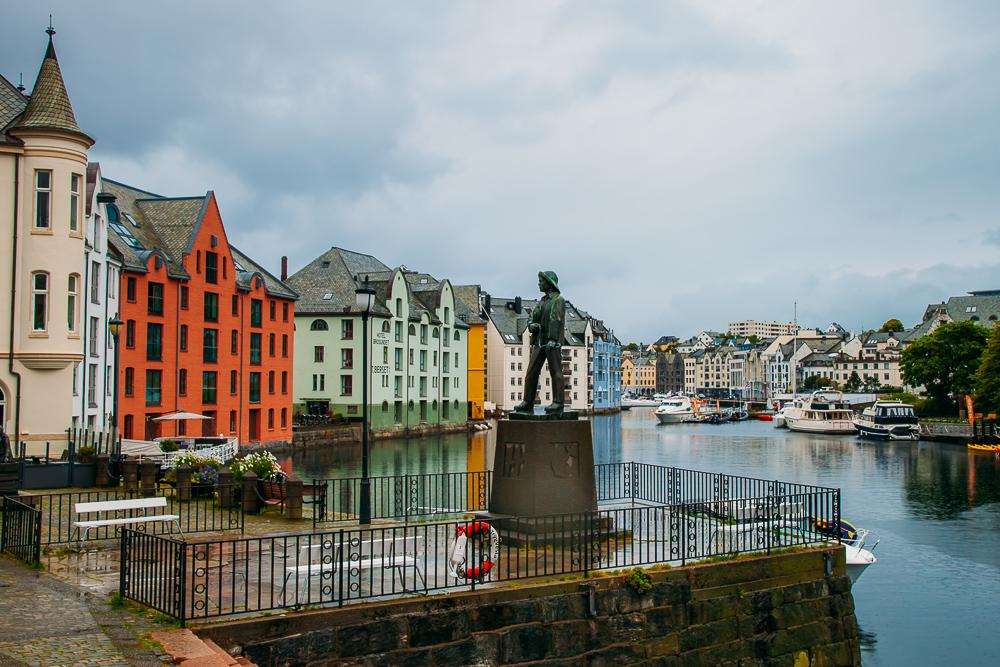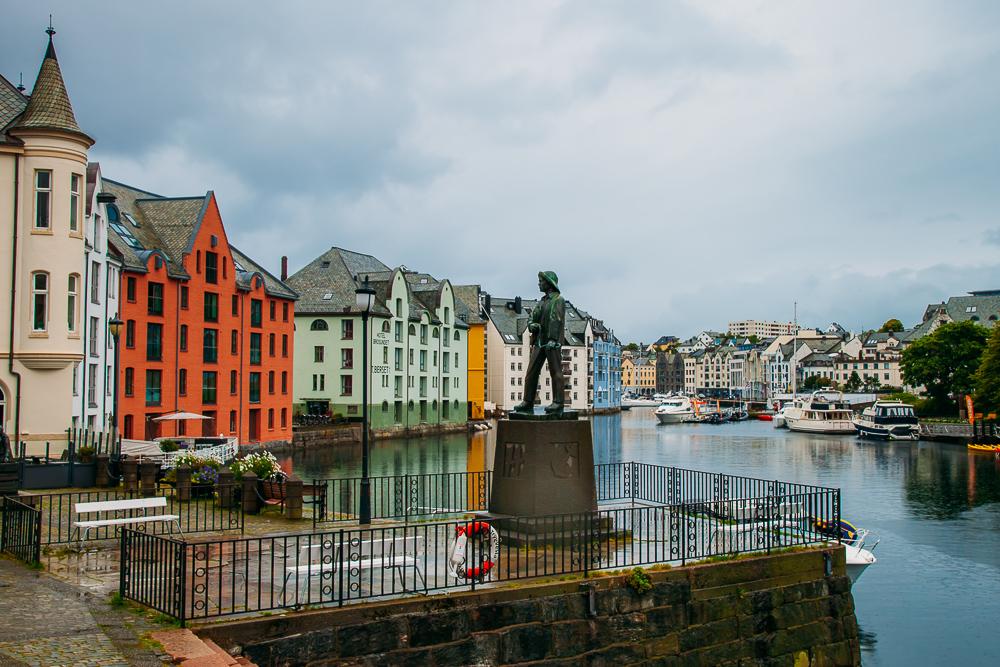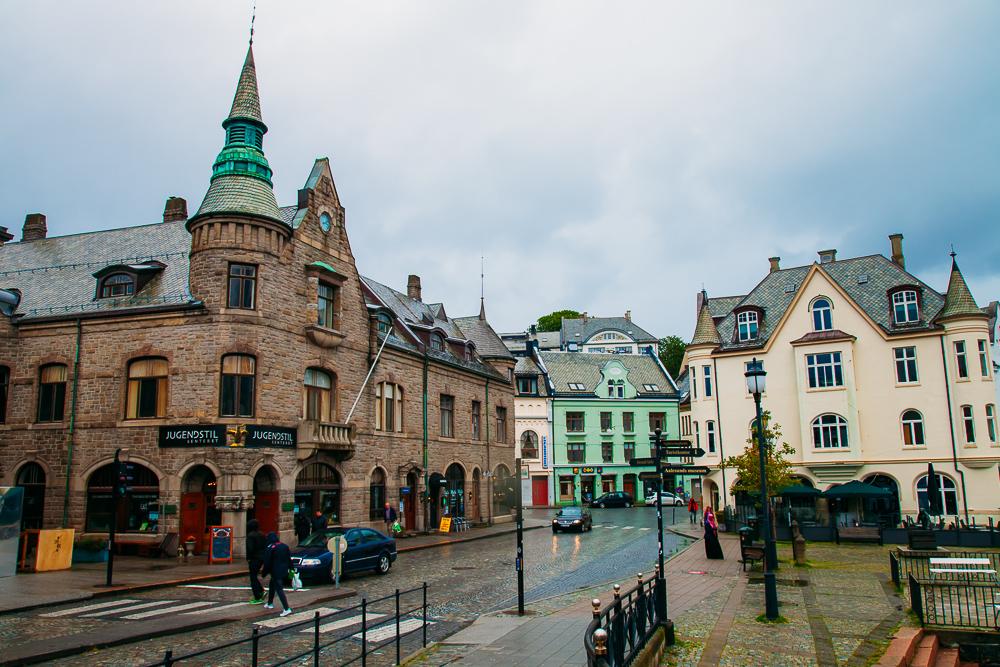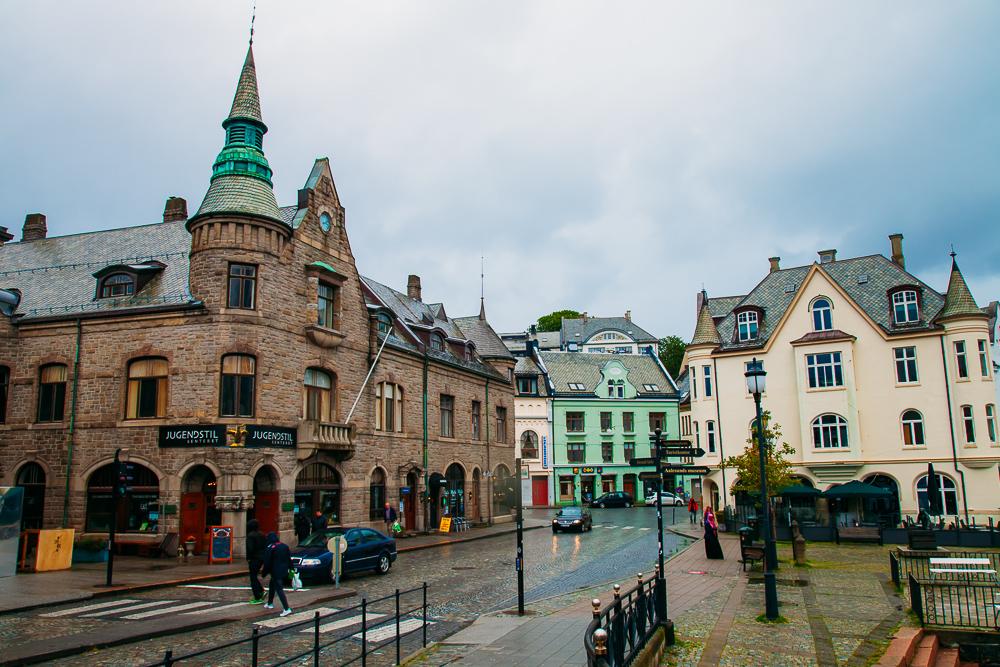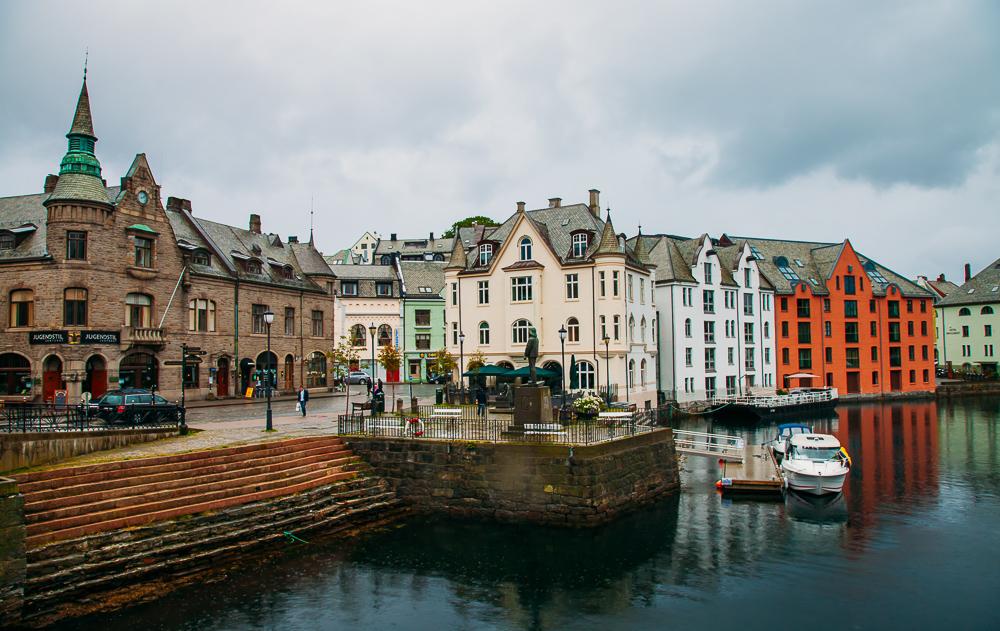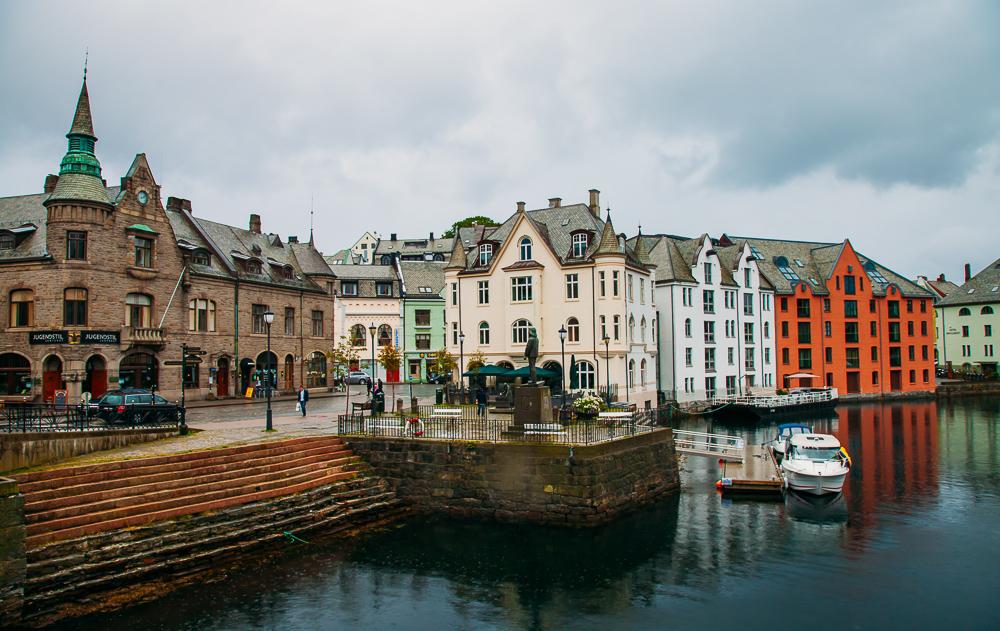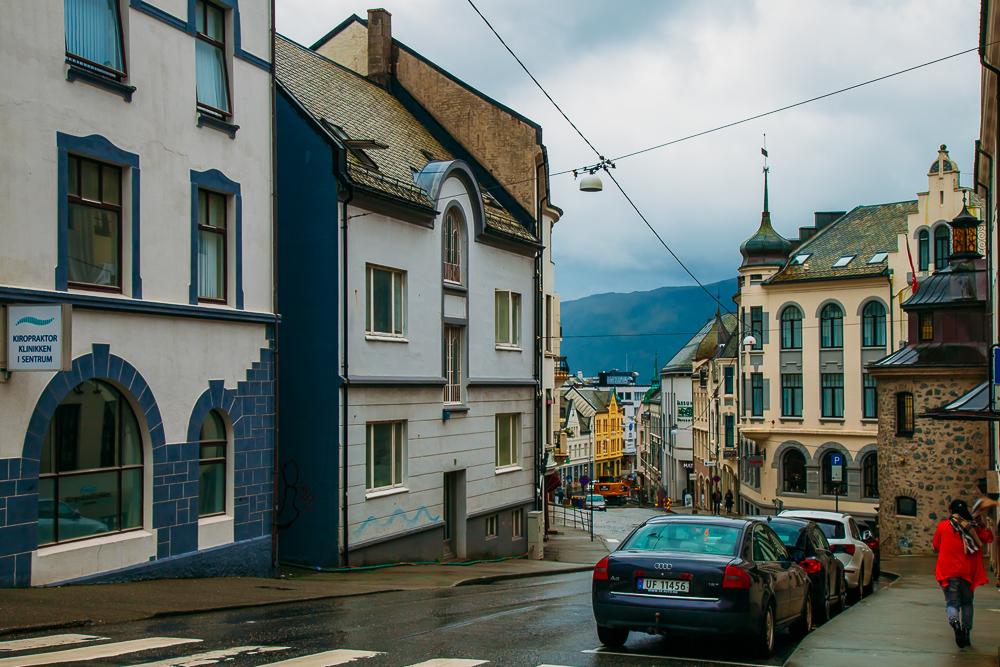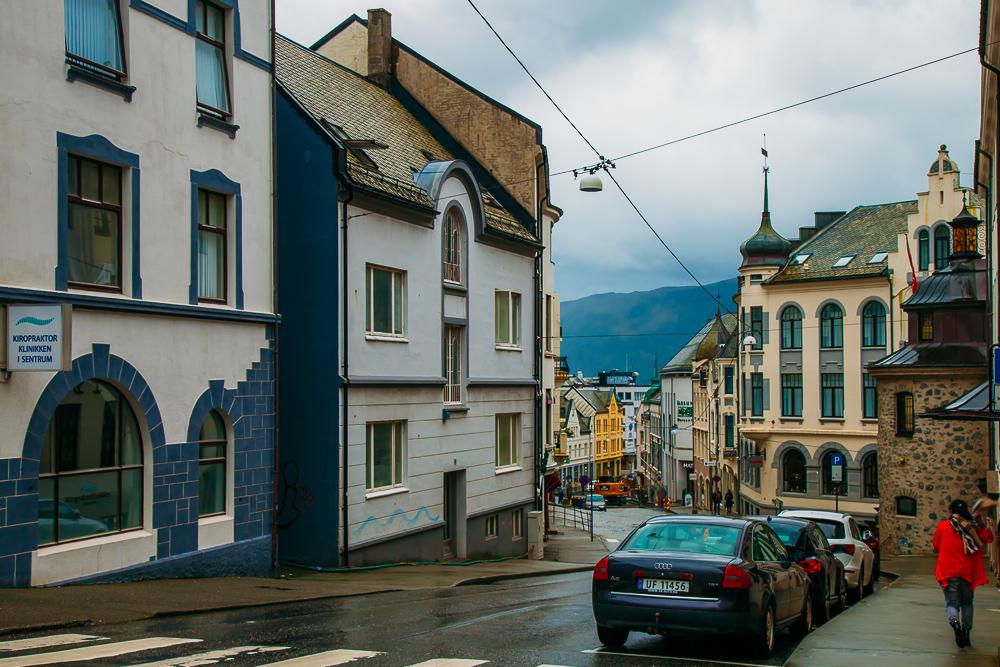 Walk up to Fjellstua for a view over Ålesund
Ålesund is incredibly walkable, as the downtown isn't too large, and the famous viewpoint over the city, Fjellstua, is just a 418 step walk up from the city park. Okay, maybe 418 steps are sort of a lot, but it's definitely worth it for the best view over Ålesund!
If you're planning to do a tour of, the Fjellstua viewpoint is included in this one.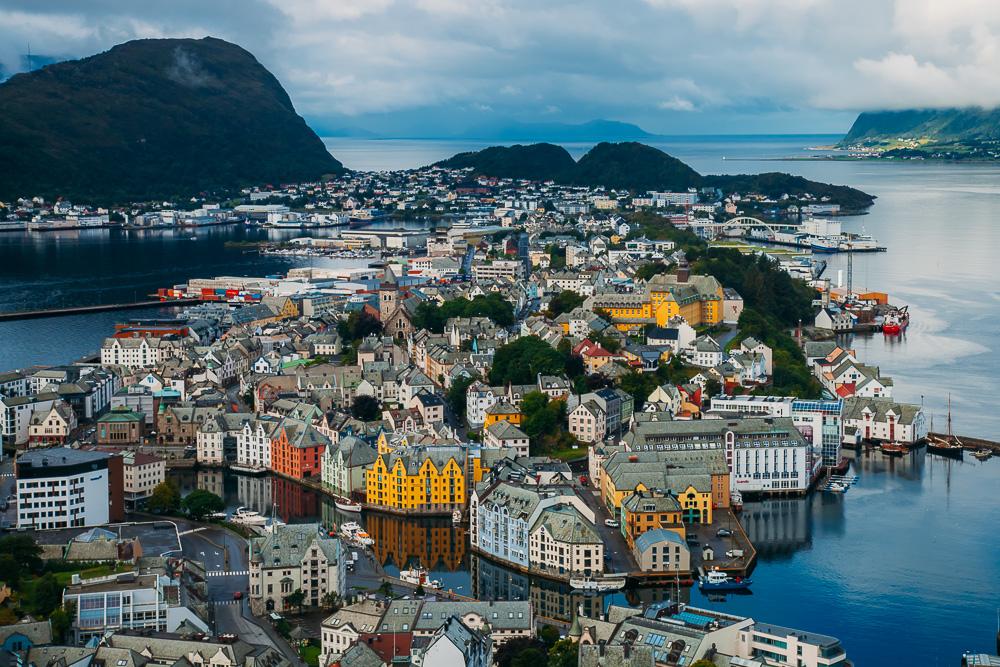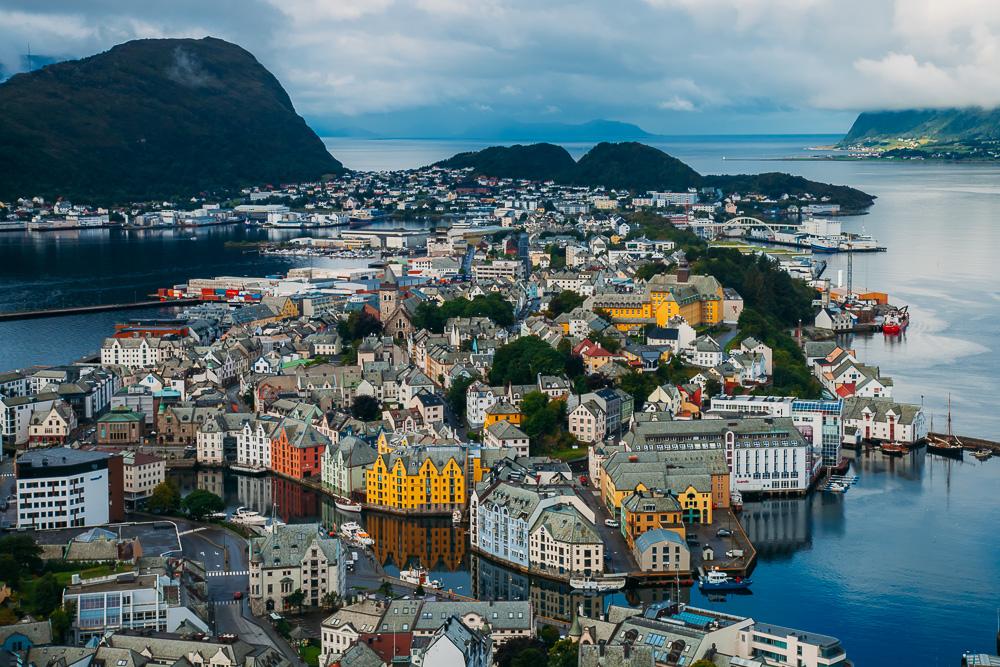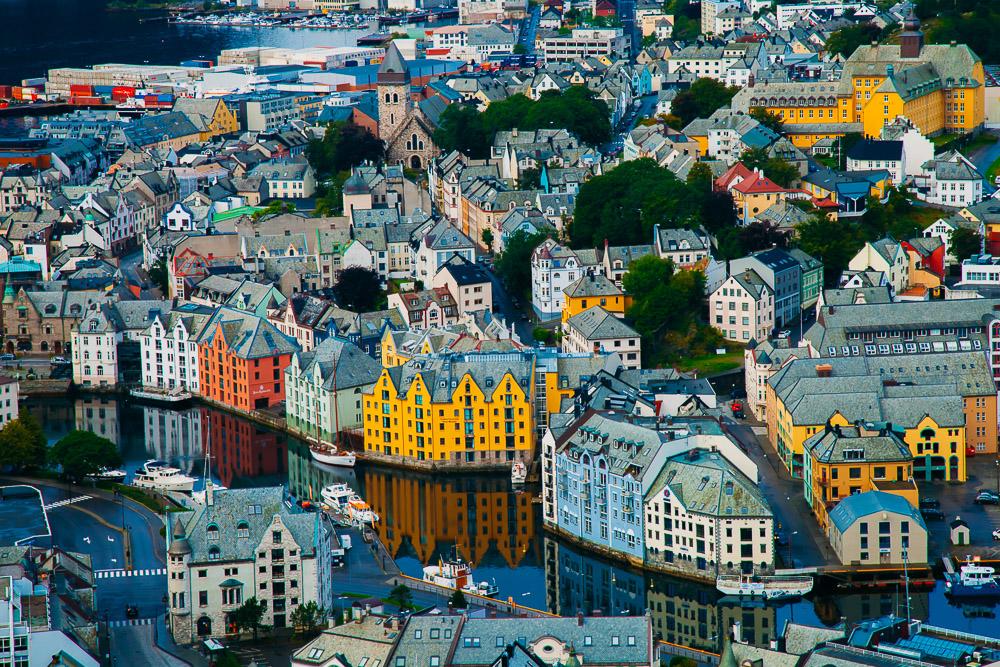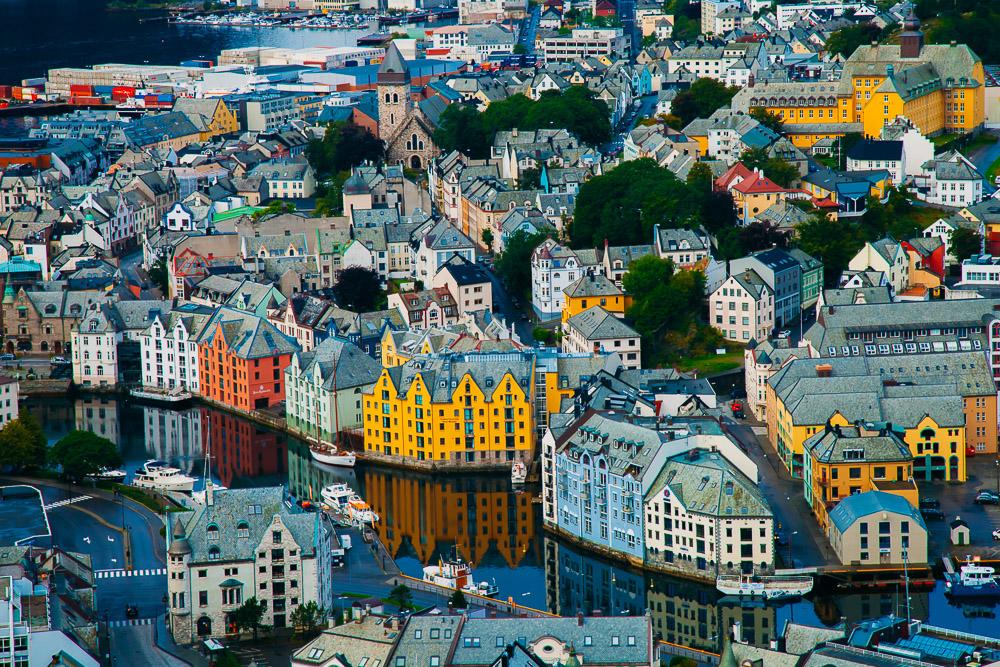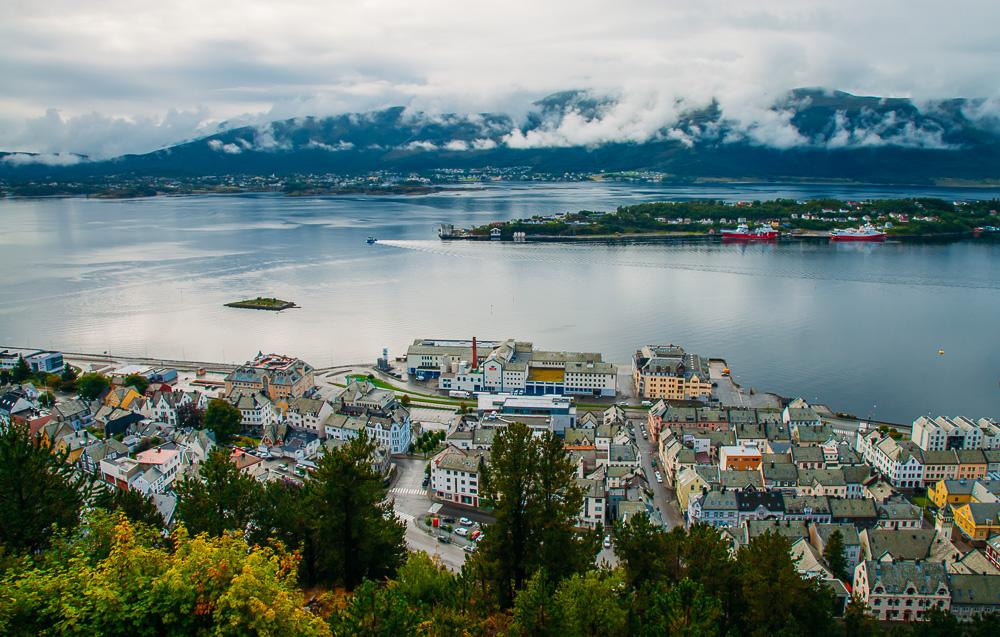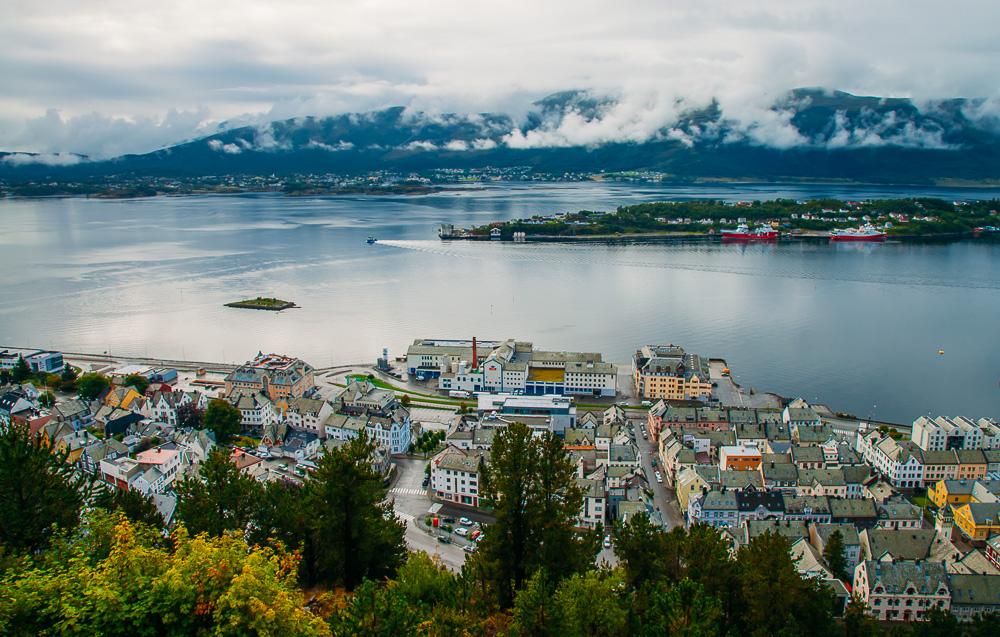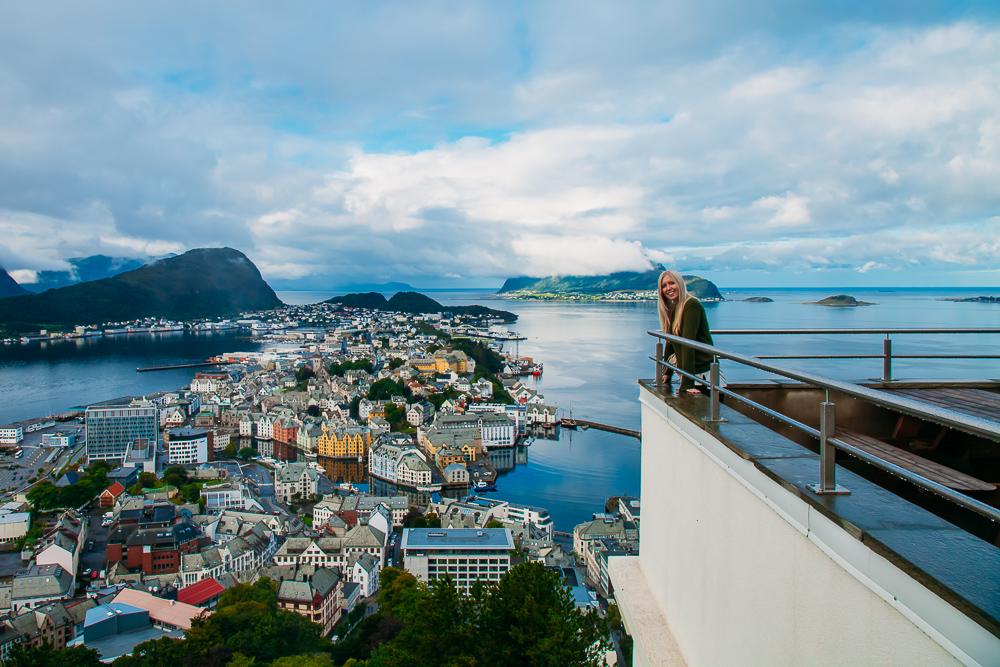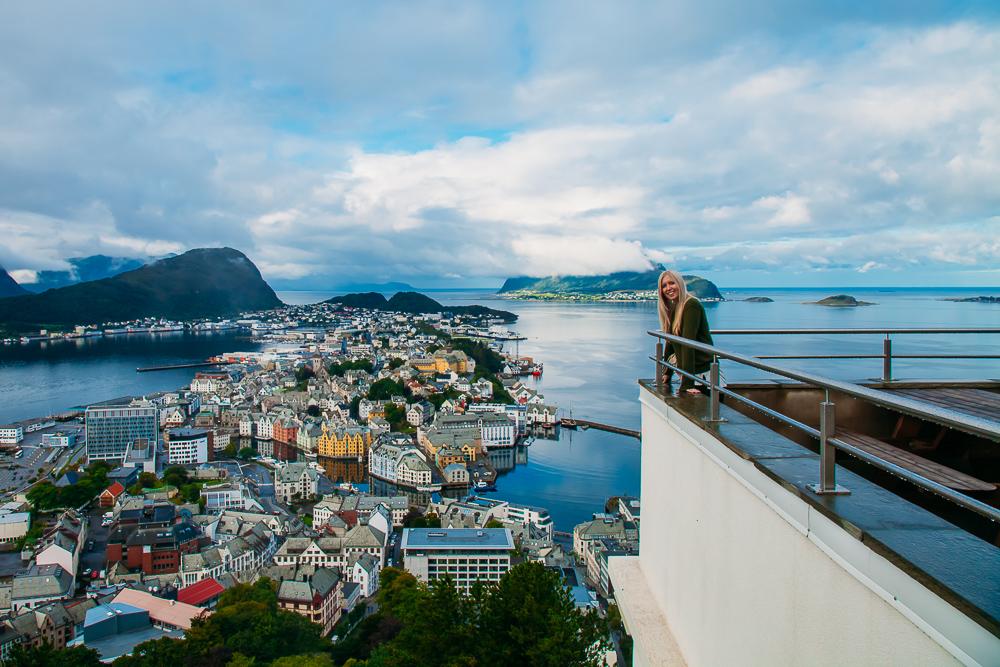 Sample local Ålesund delicacies
Ålesund is also home to Norway's most important fishing harbour! So, of course, you need to eat some fish while you're there. Plus there is nothing better than a hot bowl of fish soup on a rainy day. If the weather is better then you could sit outside with some fresh fish and chips and enjoy the views out over the harbour.
Also, eat the pizza
And this is totally random, but I also ate the best pizza I have ever had in Norway here. It was at a little pizza/kebab place in the center square, which I unhelpfully can't remember the name of, but if you go to the center you'll see it. Because you don't need to eat fish all the time while in Ålesund (though maybe don't tell any locals that I told you to eat pizza!).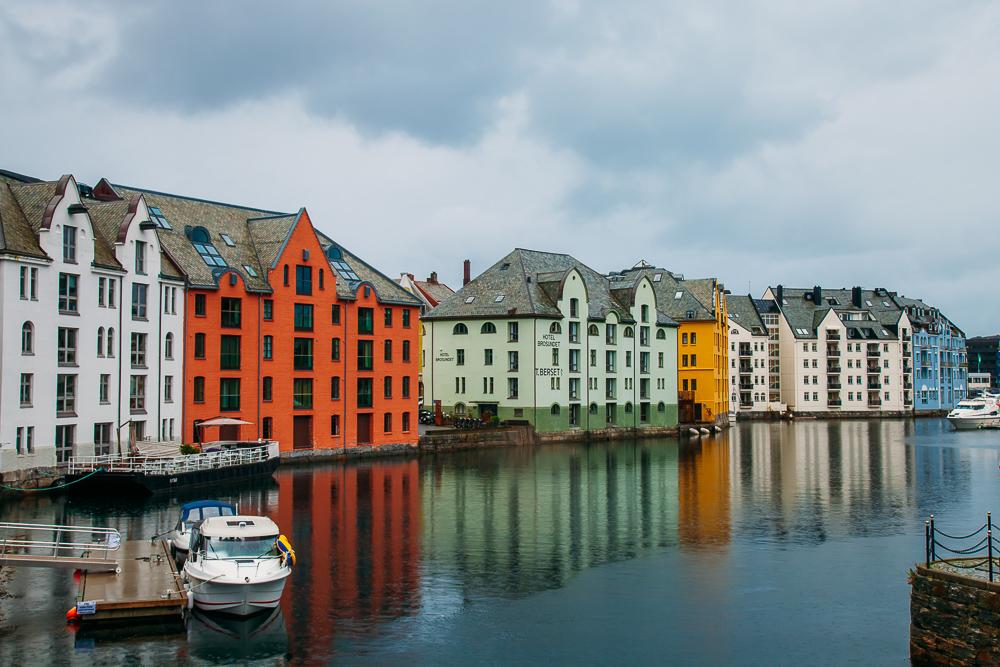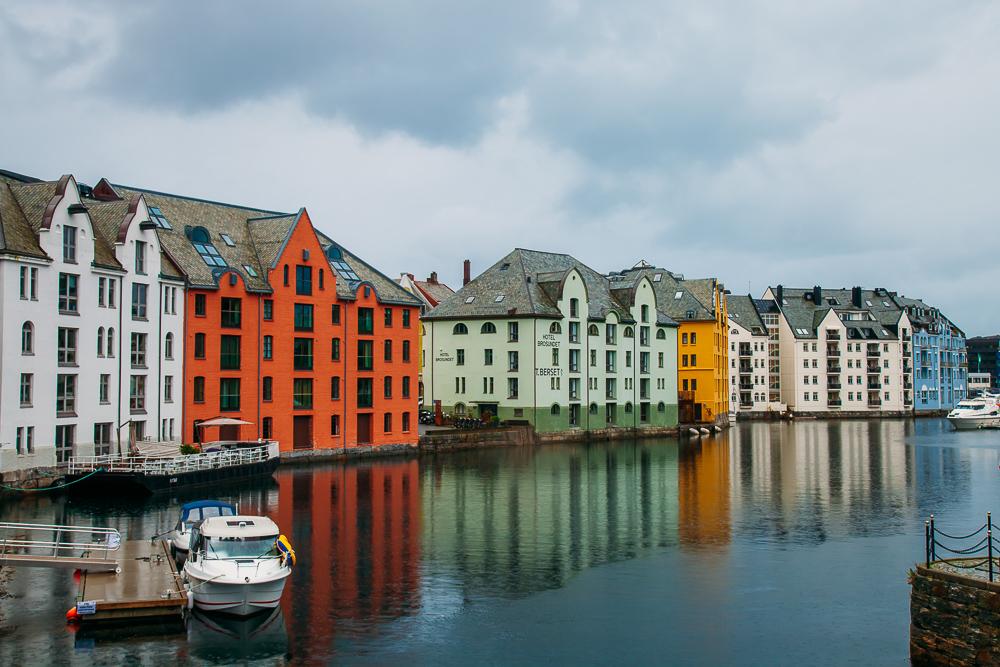 Visit Ålesund's record shops
If you're a music fan you are in luck, as Ålesund has several great record shops.
The first one I went to was Jukebox, right in the town center. It's one of those super cool shops where the staff wear suits and while I browse through records I try to pause on ones that I know are considered cool in the hopes that no one notices that I'm actually not even a tiny bit cool.
But the next shop, Serie Antikvariatet, was much more relaxed. I chatted with the guy running it (who thought I was Danish! ha) and browsed through piles and piles of records, vintage magazines, and movie stills. And I left confident that when I move to Ålesund I'll be visiting this store often. Because yes, after hanging out here I once again really wanted to move to Ålesund.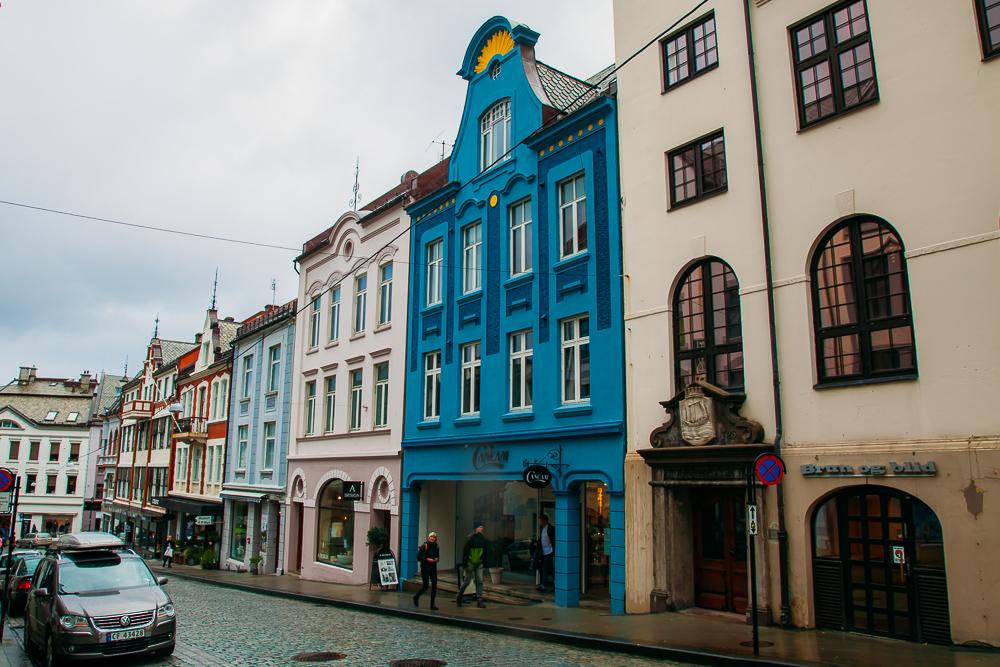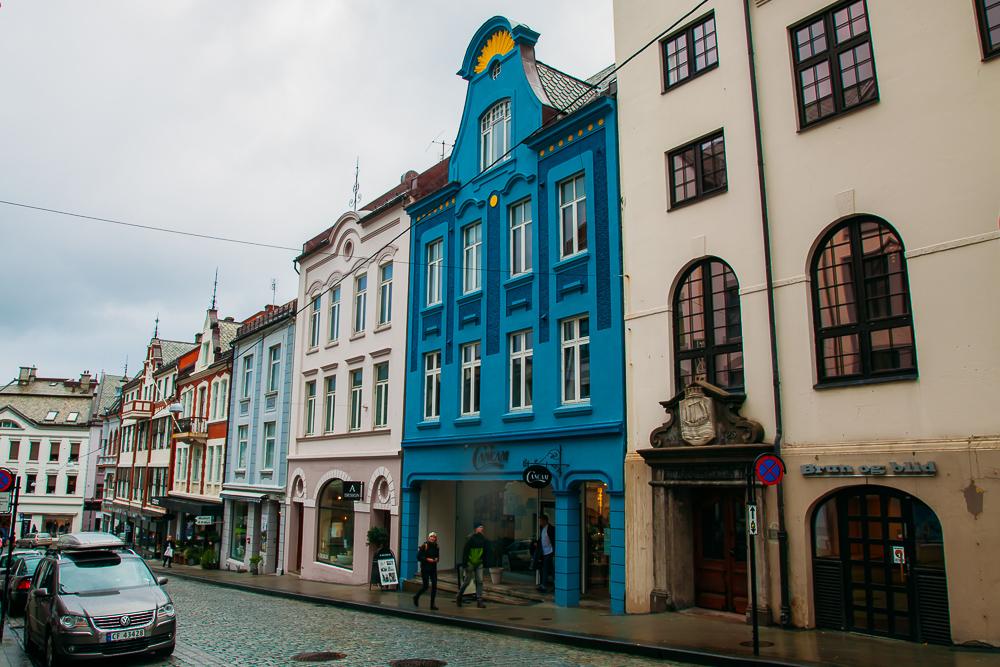 Visit Atlantic Sea Park
Ålesund's aquarium is quite famous in Norway – and for good reason. Here you'll find penguins, otters, and all sorts of other sea creatures. This one is especially good for families, or if you're looking for something to do on a rainy day.
Visit the Ålesund Museum
I'm not a big museum person, but the lifeboat display here was really cool! The museum offers a really comprehensive way of learning more about Ålesund's history and culture.
Listen to the Mark Kozelek song
Okay, you don't have to listen to Ålesund while in Ålesund, but it is pretty cool to listen to the song while you're actually there!
Drive out to the Alnes Lighthouse on Godøy
If you have a car and want to go somewhere peaceful nearby the city, you can drive out to the Alnes Lighthouse on the island of Godøyfor some pretty views. The lighthouse is about 30 minutes from the city. It's really quiet out there as there isn't much there besides the lighthouse, so it makes for a very peaceful escape. Plus if you visit in the summer you might see some surfers in the bay!
If you wind up not renting a car, you a visit to the Alnes Lighthouse is included on this shore excursion tour.
Stop in the Ålesund Church
Even if you're not religious, the Ålesund Church is worth a peek inside. The stained glass windows are beautiful and the church gives you a bit of a sense of what life was like for locals in Ålesund in the last century. It's a lovely little spot, and I think they only ask for 3 kroners to come in and see it.
Hike up Slogen
This isn't an easy hike by any means, but if you want a challenge and some beautiful mountain views near Ålesund then Slogen is perfect! You can see the Sunnmøre Alps from Slogen and there are some dramatic drops into the see (so don't lose your balance!)
Take a trip out to Hjørundfjord
Ålesund is near some amazing mountains and fjords, with one of the closest being Hjørundfjord. Hjørundfjord is surrounded by the Sunnmøre Alps, which are some of the prettiest peaks I've seen in Norway, making it extra special. You can drive here from Ålesund, but if you want an even more beautiful experience then take the boat! You can book your boat trip here
The boat trip to from Ålesund to Hjørundfjord takes 4 and a half hours and includes lunch at the famous Hotel Union Øye, which I've written about before.
The hotel was built in 1891 and is often referred to as the most beautiful hotel in Norway – most Norwegians know of it, even if they aren't lucky enough to have stayed there. I stayed here in spring 2020 and loved it. You could also combine your boat trip with a night at the hotel if you want to get the full experience. Check current rates and availability at Hotel Union Øye here
You can also check out this kayaking tour through Hjørundfjord.
Go kayaking around Ålesund
Instead of walking, explore Ålesund via kayak. You could do either an architecture-themed tour around the city or go out to an archipelago near the island of Ellingsøya on this tour.
Take advantage of Ålesund's hop-on, hop-off bus.
The 24-hour bus goes around to a few major sites: Sunmore Museum, Aksla Viewpoint, Parken Culture Centre, the Art Nouveau city centre, Alesund Church, and the Norwegian Aquarium. If you don't have a car or don't want to drive one day, it might be the most convenient way of getting around. Check here for more details
Go night ski touring in the Sunnmøre Alps
Why go skiing during the day when you can use a headlamp and explore the Alps at night? Check here for more on this unique tour
Go for a sea kayaking and hiking adventure
Kayak from Ålesund through Brosundet and across Aspevågen. Then once you get to the island of Hessa, you can hike up Mount Sukkertoppen and see views of the ocean, the Sunnmøre Alps, and Ålesund.
The Best Ålesund Hotels and Accommodation
Luxury Ålesund Hotels
Hotel 1904 is Ålesund's oldest hotel, located in a beautiful Art Nouveau building downtown. This is such a lovely boutique hotel with a lot of character and history, while still having all the modern luxuries you want. Check here for current rates and more details
Hotel Brosundet is in a beautifully restored Art Nouveau warehouse, with views out over the water. I love the decor here, with wooden beams in the rooms and creaky old wooden floors, but also how it still feels super modern, with gorgeous new bathrooms. Check here for current room rates and more details
Scandic Ålesund is also directly on the waterfront and has huge, spacious, modern rooms, many with sea views. The location is perfect – right downtown – with beautiful views, but the coolest thing about this hotel might just be the restaurant, with it's amazing panoramic views. Check here for more details and current rates
Mid-Range Ålesund Hotels
First Hotel Atlantica is a four-star hotel in right on the canal in downtown Ålesund, but it offers surprisingly affordable mid-range hotel rates. The breakfast is amazing here and the staff are incredibly friendly. Check current rates here
Scandic Scandinavie is located in an old Art Nouveau building from 1905, but its rooms are spacious and modern. Just a few minutes from Ålesund museum, this is a lovely location within easy walking distance of all of Ålesund's main sites. Check current rates here
Budget Accommodation in Ålesund
The first time I visited Ålesund, I stayed at this apartment, which was as cheap as a hostel, plus it had a kitchen so I didn't have to pay for eating out (one of the biggest expenses when traveling in Norway).
Alesund Hostel offers dorm accommodation downtown. Click here to see current rates and availability
What to pack for visiting Ålesund, Trollstigen, and Geiranger
To my great joy, after a very rainy week on Norway's coast, the weather forecast predicted clear skies for my entire stay in Ålesund! Except that apparently in Ålesund clear skies really means "clear skies," or actually just pouring rain. All the better, as that meant we'd get to experience what Ålesund is really like, since apparently sunny days there are quite rare.
The lesson? Bring appropriate clothing with you!
You can find my packing list for summer in Norway here, and winter in Norway here.