When we were planning our trip along Norway's coast Dan made me promise that we wouldn't spend the entire week in the car. Of course I agreed, as I also wanted to have plenty of time to go on hikes up into the fjords, seek out extra picturesque camping spots (I mean, hello Instagram!), get to know the cities we stopped through, and well, just relax. After all, we were on holiday!
Um, it was a good plan in theory. But as so often happens when I look at a map, I couldn't quite restrain my urge to go everywhere and see all the places, so we pretty much had to spend the entire week driving. Sorry, Dan!
Though that was partly due to my insistence on taking all of the scenic routes, which I'm going to go ahead and say was totally worth it. I saw more breathtaking views in one week than I have the entire time I've lived in Norway. And one of the most scenic days was our drive north out of Bergen towards Ålesund.
In fact we saw so much amazing and varied scenery in just that day that I think it would make a perfect road trip from Bergen if you wanted to rent a car for a couple of days. You could even head up here on a long day trip if you're really pressed for time.
We drove up to Flåm and then took the National Tourist Route (meaning Norway has decided it's not ugly) that runs 47 km between Aurlandsvangen and Lærdalsøyri.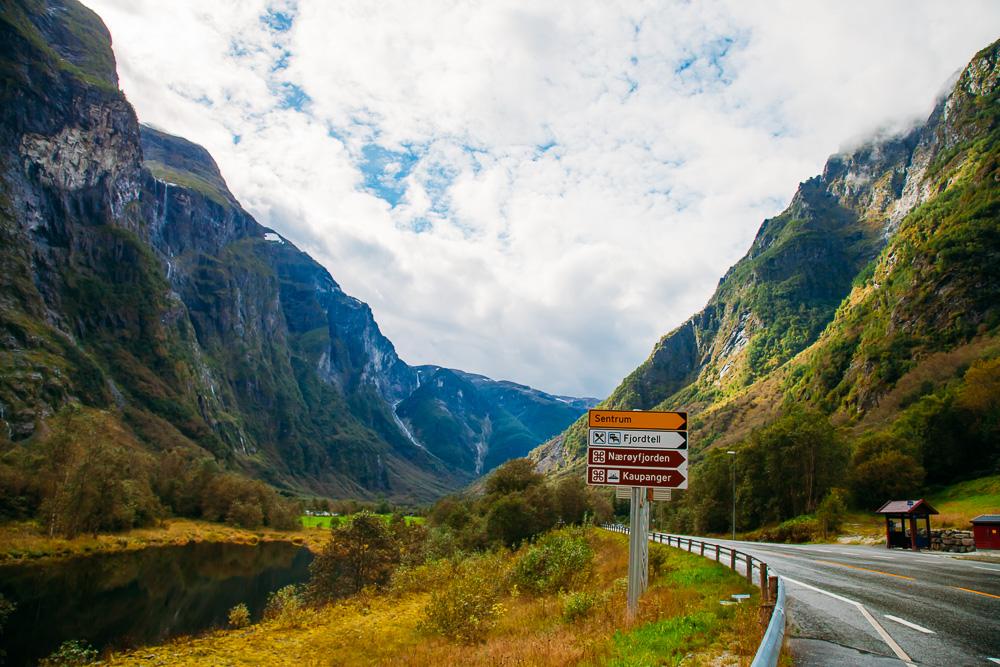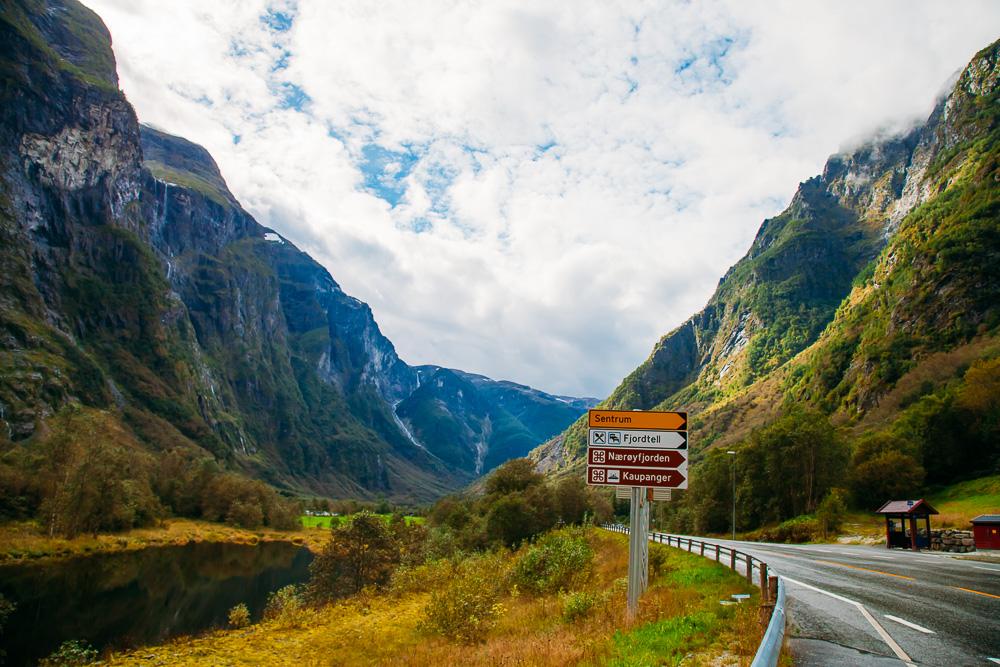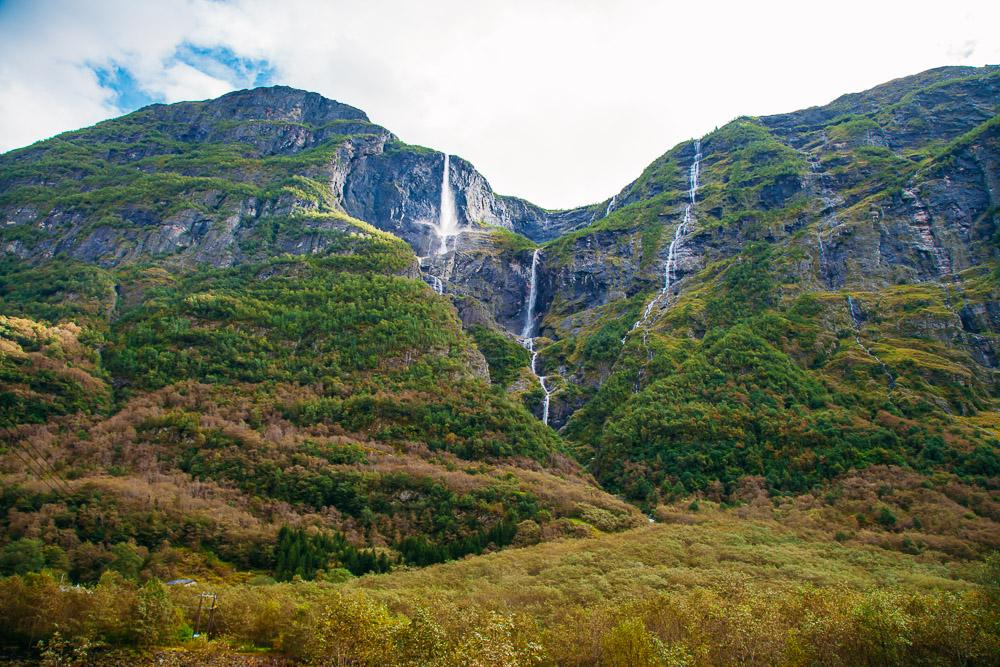 Driving on the National Tourist Route Aurlandsfjellet
The beginning was, well, touristy, and for good reason – the views out over Aurlandsfjord were actually literally breathtaking. Like, I don't live under a rock so I obviously knew the fjords were beautiful (plus I had been here before as a teenager) but I was still completely taken aback by how turquoise the water was. Uff, so much pretty.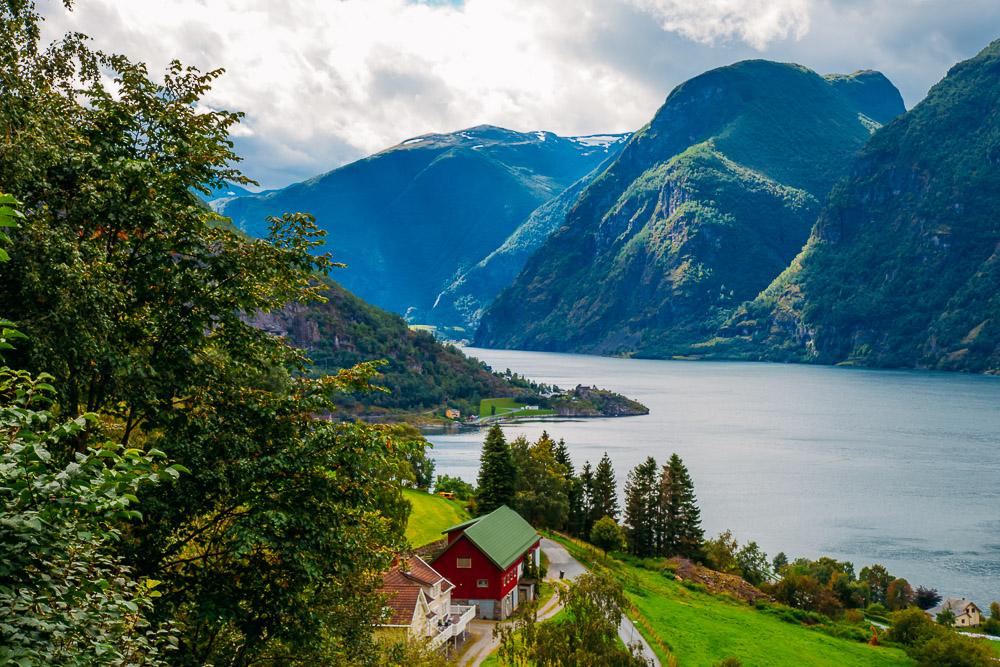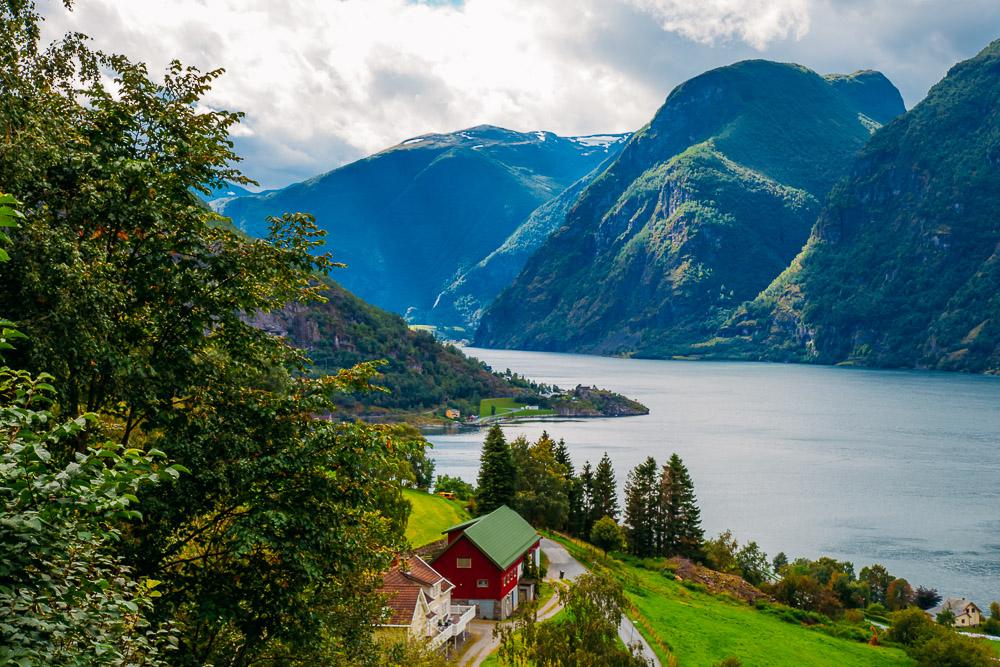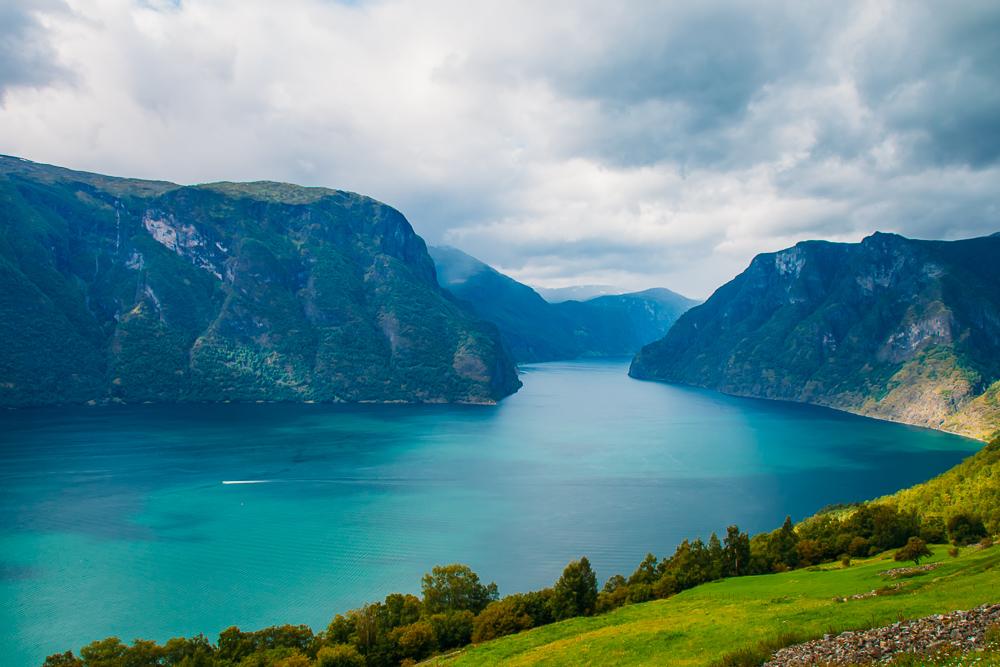 Like I said, even in September there were several tourist buses and a bunch of people driving around in those tiny electric go cart things that tourists can rent (have you seen them? they're the weirdest/I want to drive one), so I imagine in the summer the place must be packed.
But still, driving up and getting better and better views out over the fjord would make up for even the most crowded of road trips in my book. I mean, those views!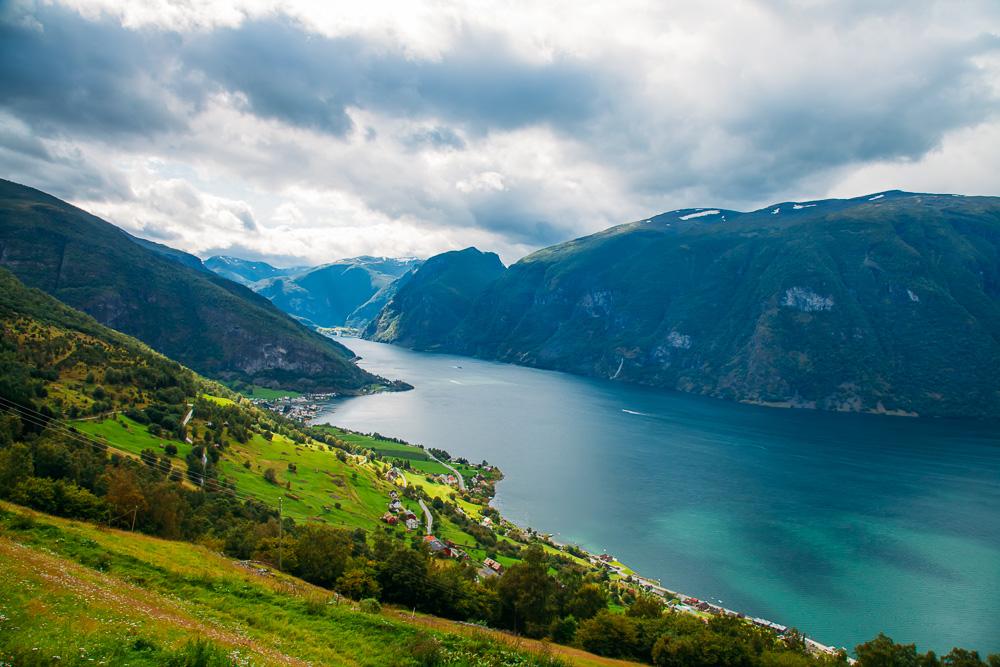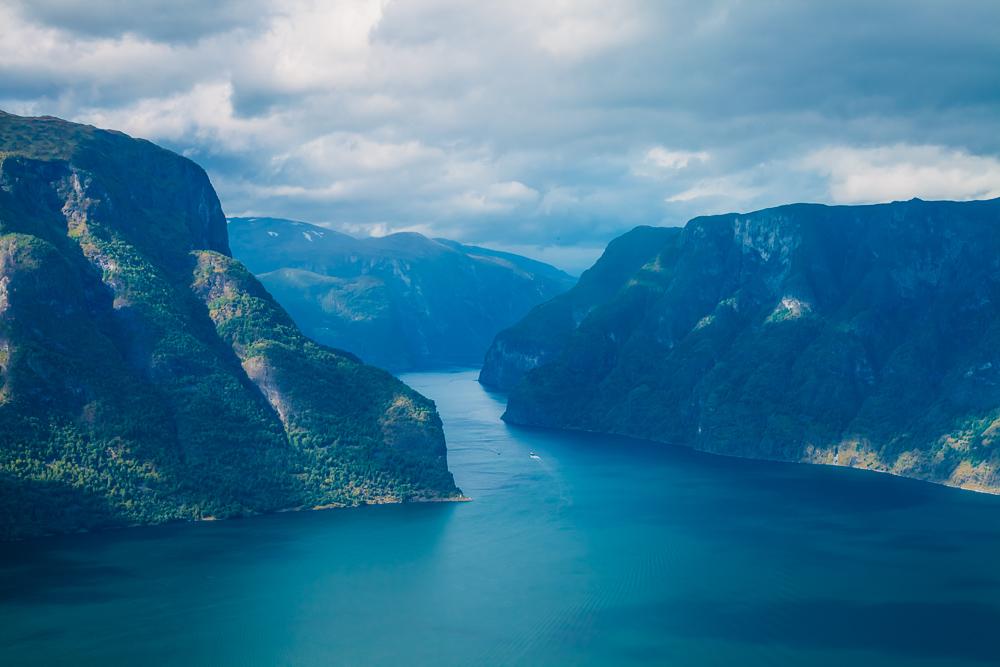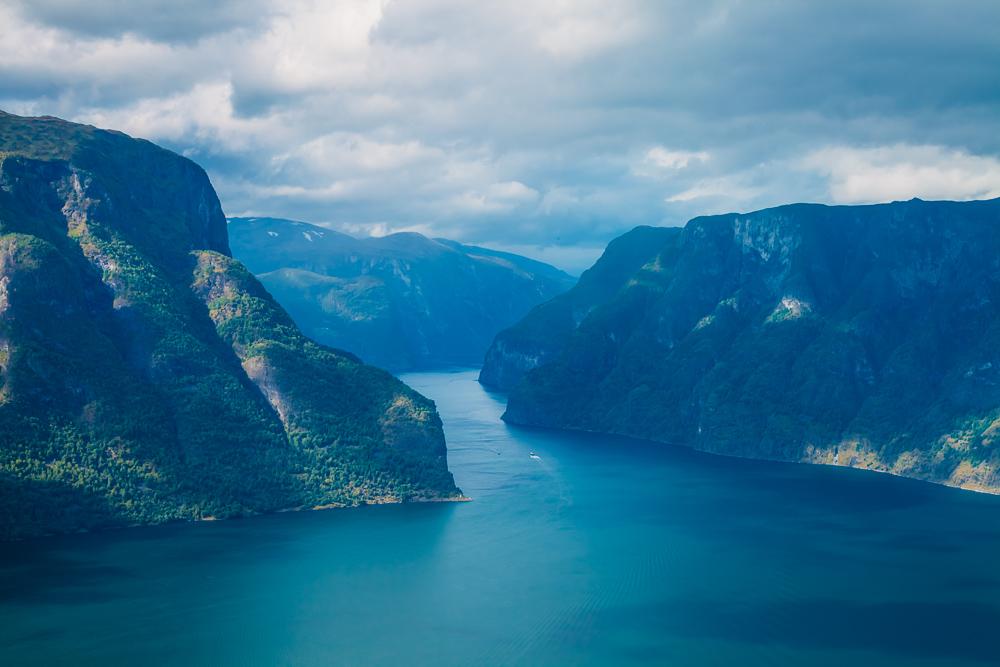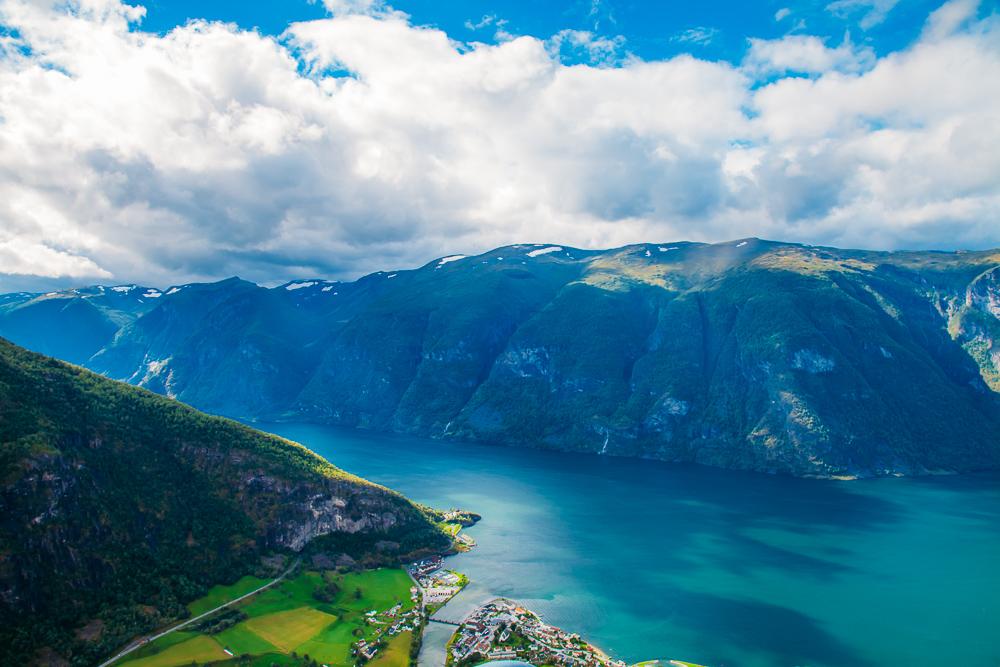 At the top there's a viewing platform called Stegastein that juts out over the fjord, giving the best photo opps. Though I'd say the best view is actually from the women's bathroom next to Stegastein which has a glass front looking right out over Aurlandsfjord (the men's bathroom is on the side without the view, sorry guys!).
Stegastein also apparently marks the end of tourist interest in this route, as once we drove past it the road suddenly became empty. And it wasn't just the road that was empty – we quickly drove up out from the tree line and the landscape totally changed and there wasn't much life to see.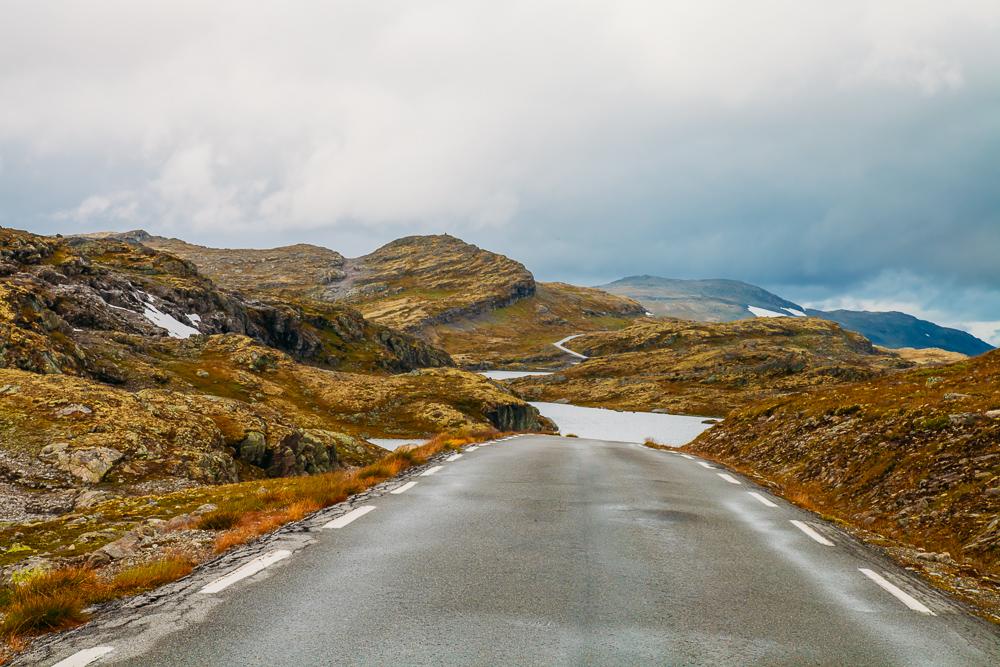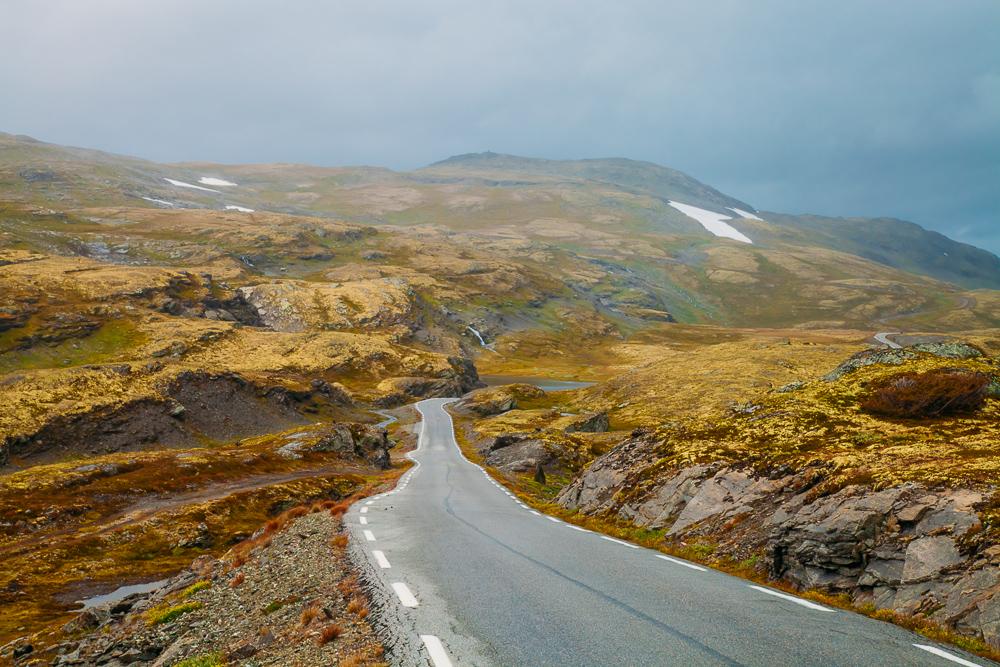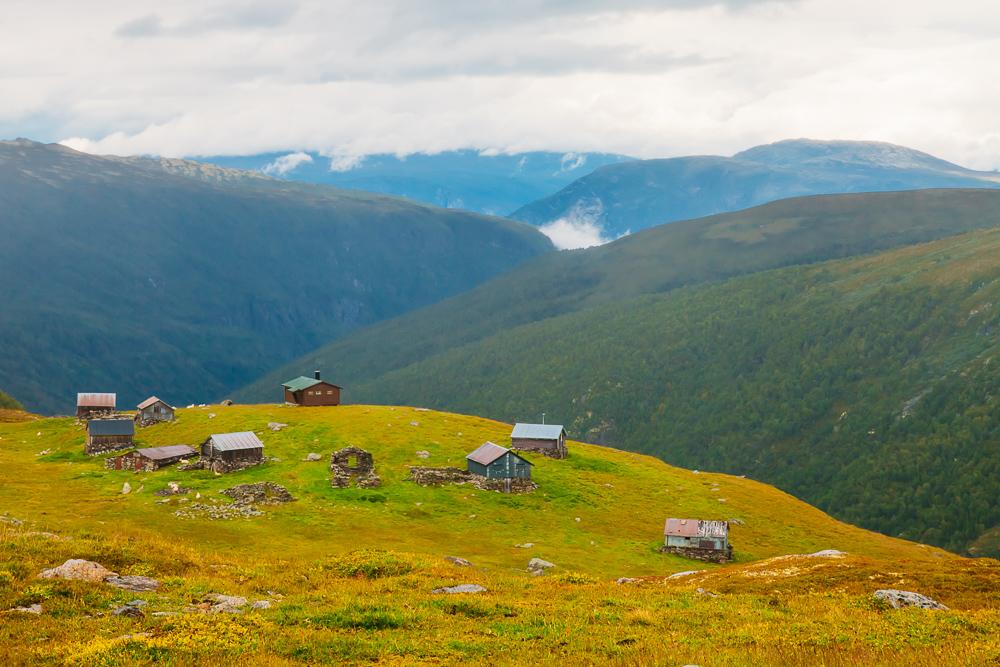 Though we did meet a few very friendly sheep!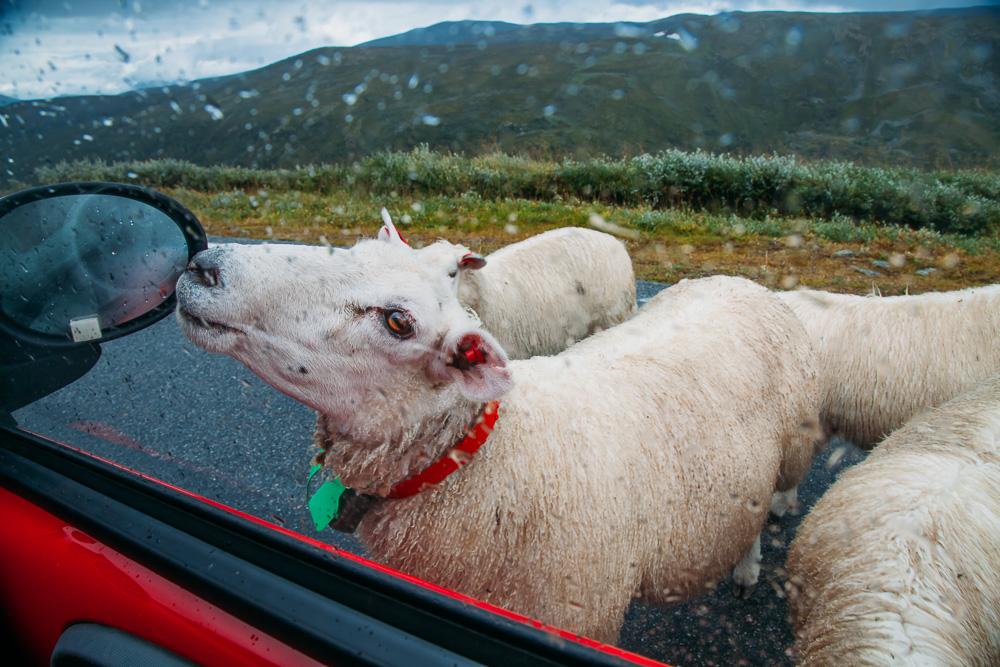 Maybe I'm just more of a mountain person, but driving over the top of Aurlandsfjellet was definitely my favorite part of the drive, so I was extra happy I wasn't on one of those tour buses that turns around at Stegastein.
Then we drove back down the other side of Aurlandsfjellet, took a quick ferry across Sognefjord, and quickly found ourselves on yet another National Tourist Route: Sognefjellet!
Driving on the National Tourist Route Sognefjellet
The road over Sognefjellet runs from Gaupne to Lom, starting with beautiful views back over Sognefjord but then quickly ascending into another barren mountaintop. This would be the point where you'd have to return back to Bergen if you're only coming out here on a day trip.
However we were looking for a place to wild camp here, so passing glowing blue glaciers made me just a bit nervous about the night's sleep I was going to have (I really need to get a warmer sleeping bag).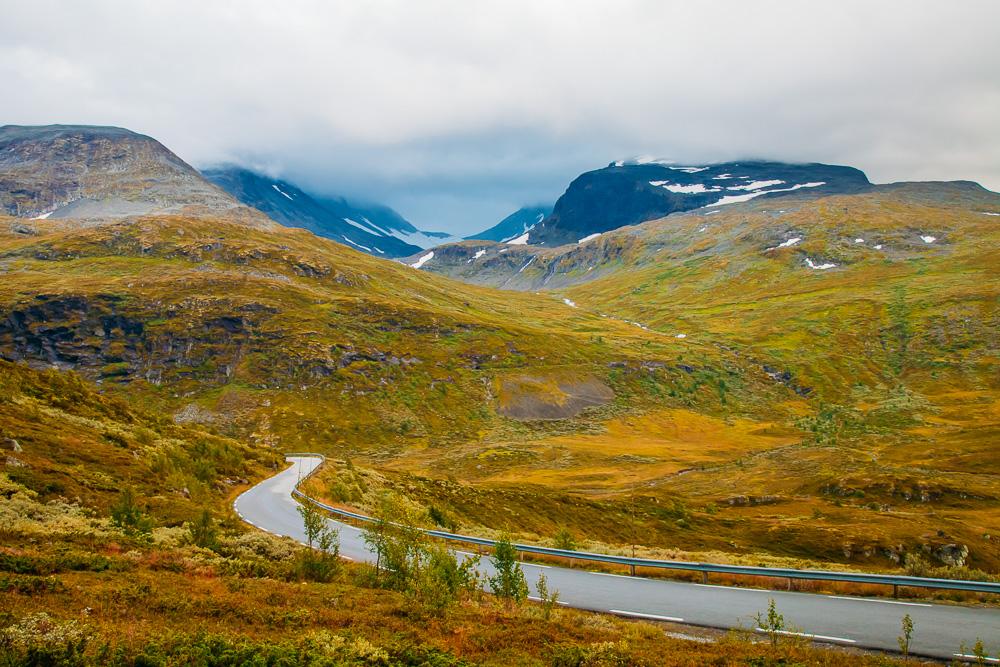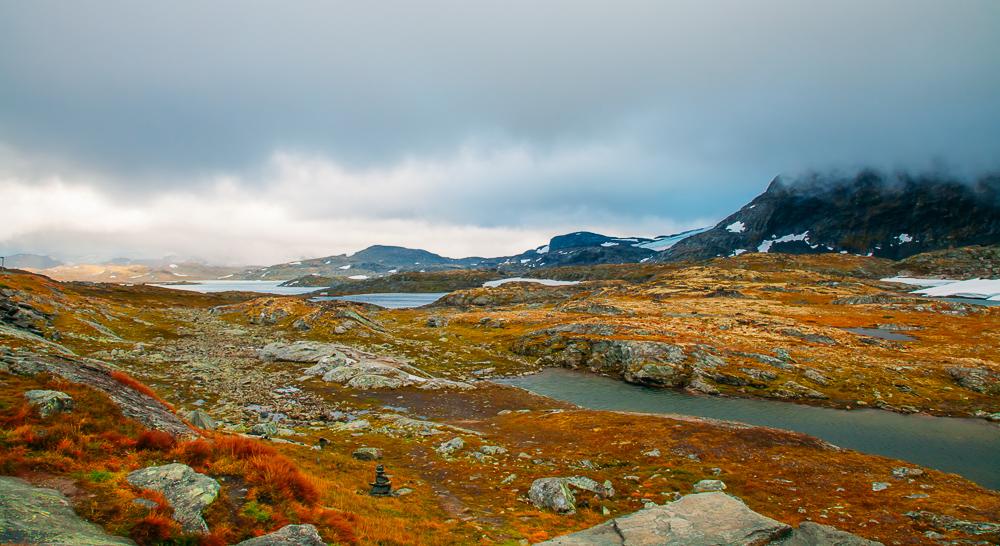 But after driving over the peak we lucked out with the perfect camping spot nestled into a hillside that gave some much needed protection against the wind.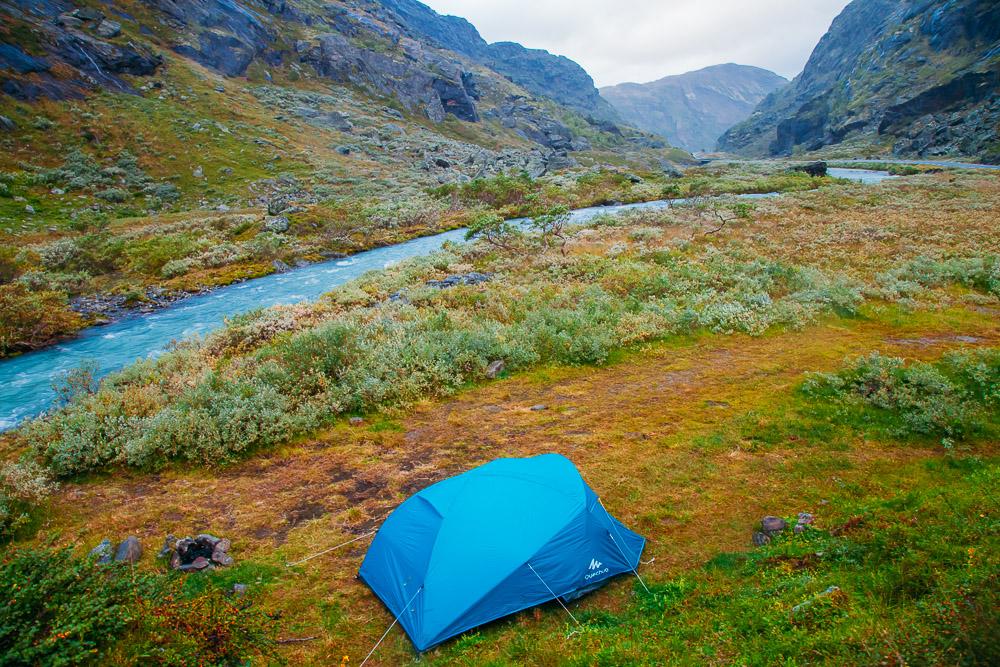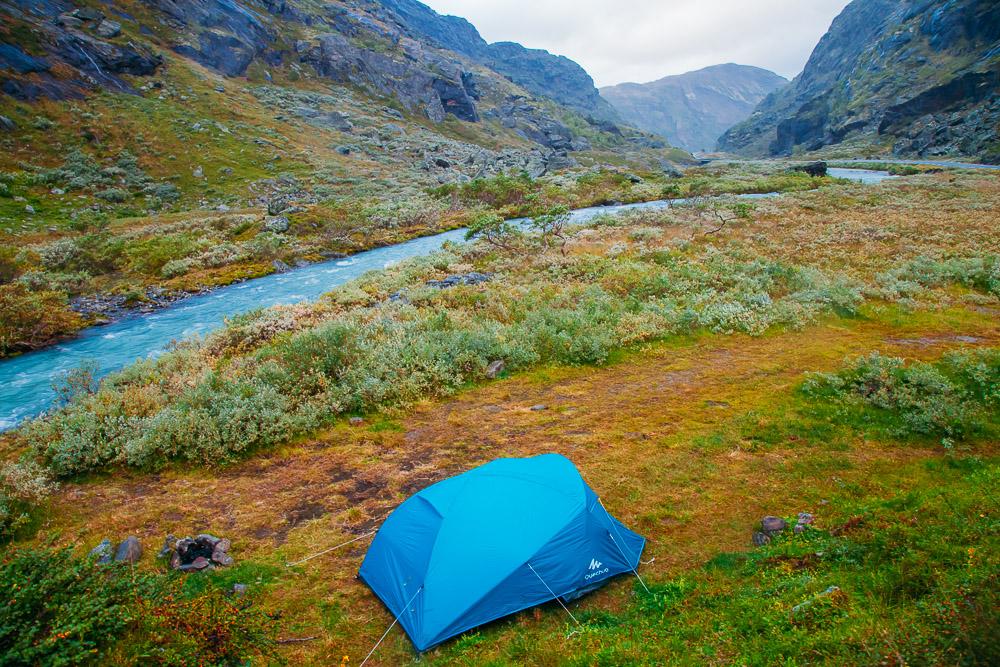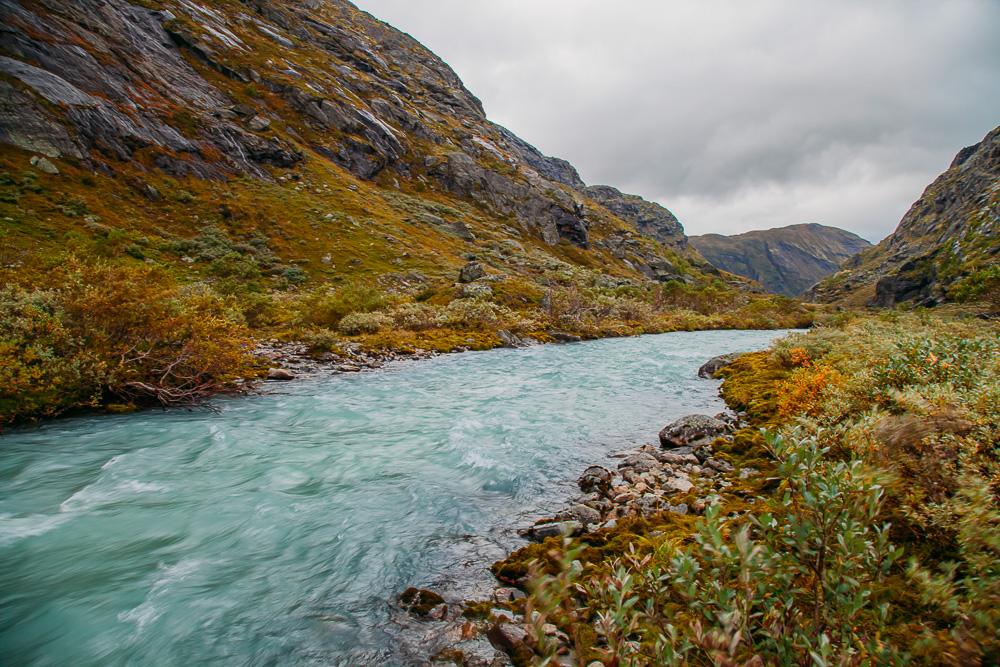 I think it was our best night of camping on our entire Norway road trip.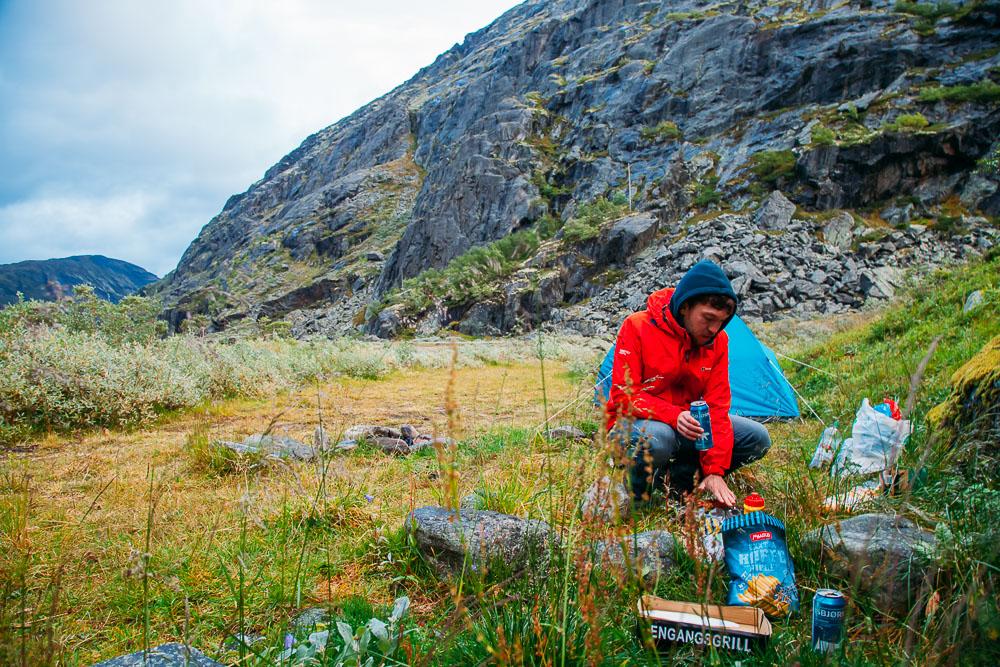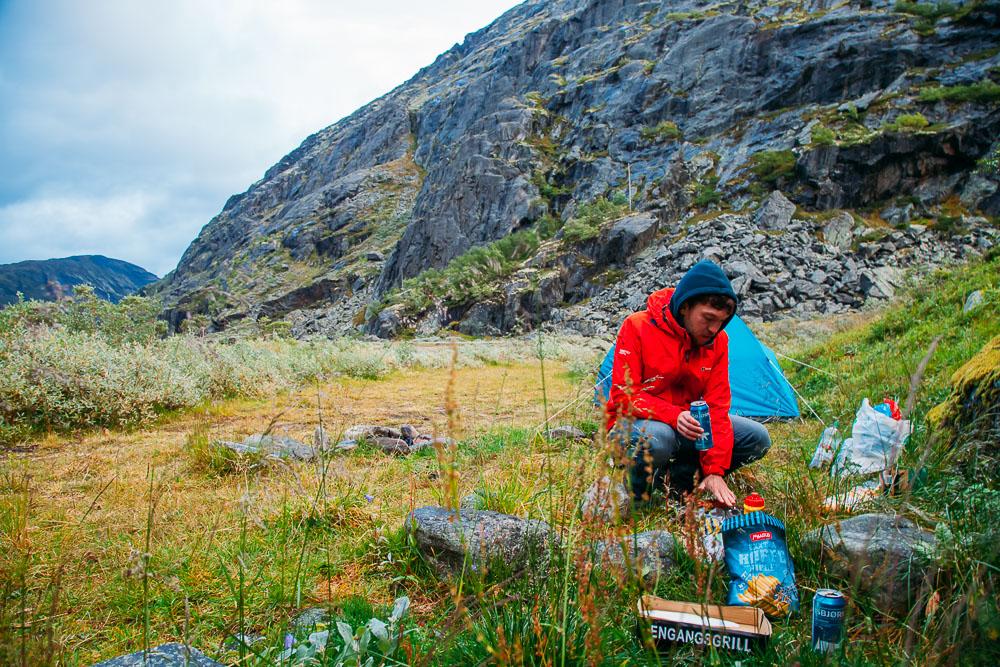 Now, if I had been doing this as a short road trip out of Bergen, I would have loved to return the next day via Gaularfjellet, passing through Vik and Balestrand.
But we had more exciting plans! We were heading to Geirangerfjord and our final destination, Ålesund.
pin it