It's no secret that I think Norway is one of the most beautiful countries in the world. In fact I think I probably go a bit overboard with my enthusiasm for this country. Okay fine, maybe a lot overboard. I mean, who couldn't love this place? It's gorgeous in the summer, beautiful in autumn, and don't get me started on those sparkling Norwegian winters. Norway is just the best!
Wait. Am I forgetting something?
Oh right, springtime.
I'm going to be honest here: I didn't have high expectations for spring in Norway, which might have something to do with the fact that all the locals in Rauland kept warning me that May up here is the worst. And yes, it is pretty gray. Everything is dead, and even the snow has lost its sparkle. I mean, last week it was really sunny and warm, but then it snowed again.
It's okay though, Norway can't be beautiful all the time – that just wouldn't be fair. Norway just doesn't do spring very well.
At least that's what I thought, until someone told me that in mid May the fruit trees along the Hardangerfjord are in bloom.
It turns out life isn't always fair.
Rauland is about 140 kilometers from the start of Hardangerfjord in Odda, so yesterday Dan and I packed up a picnic and set off in our little red car in search of these famous Hardanger fruit blossoms!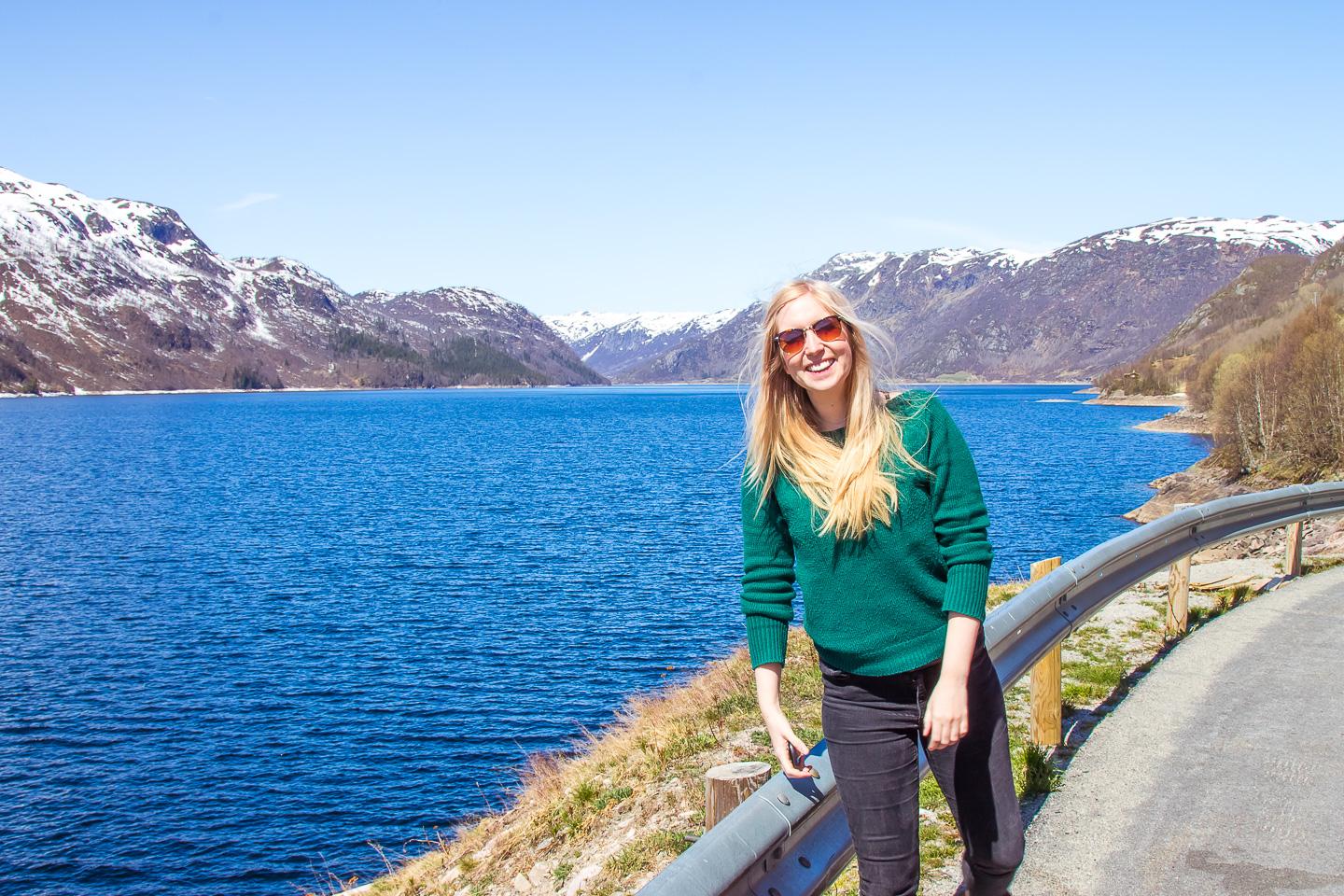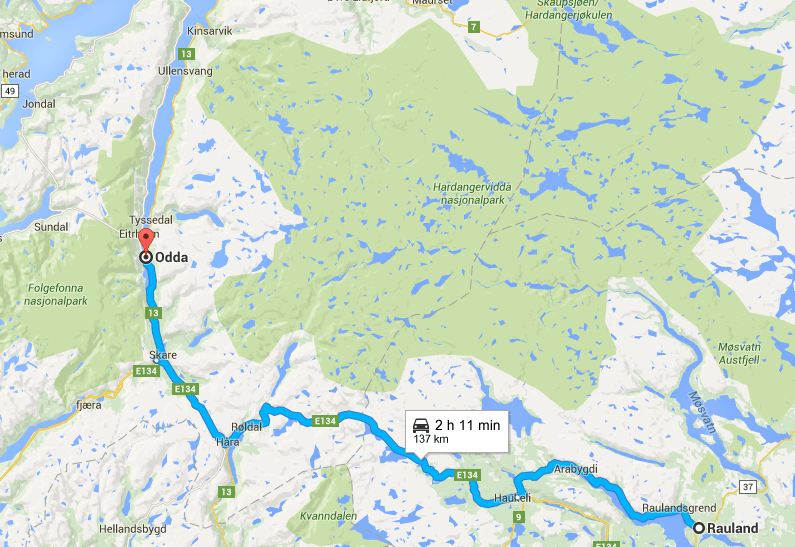 Our first stop wasn't too far from home, at the Urdøuri in Arabygdi, along Lake Totak. This is apparently the largest stone scree in Northern Europe, created one fateful evening when locals at a wedding celebration refused to let Thor join in the revelry with some beer.
So Thor did what Thor does and took out his anger with his hammer. I think the joke is on him though, as all the resulting boulders make for one fun playground.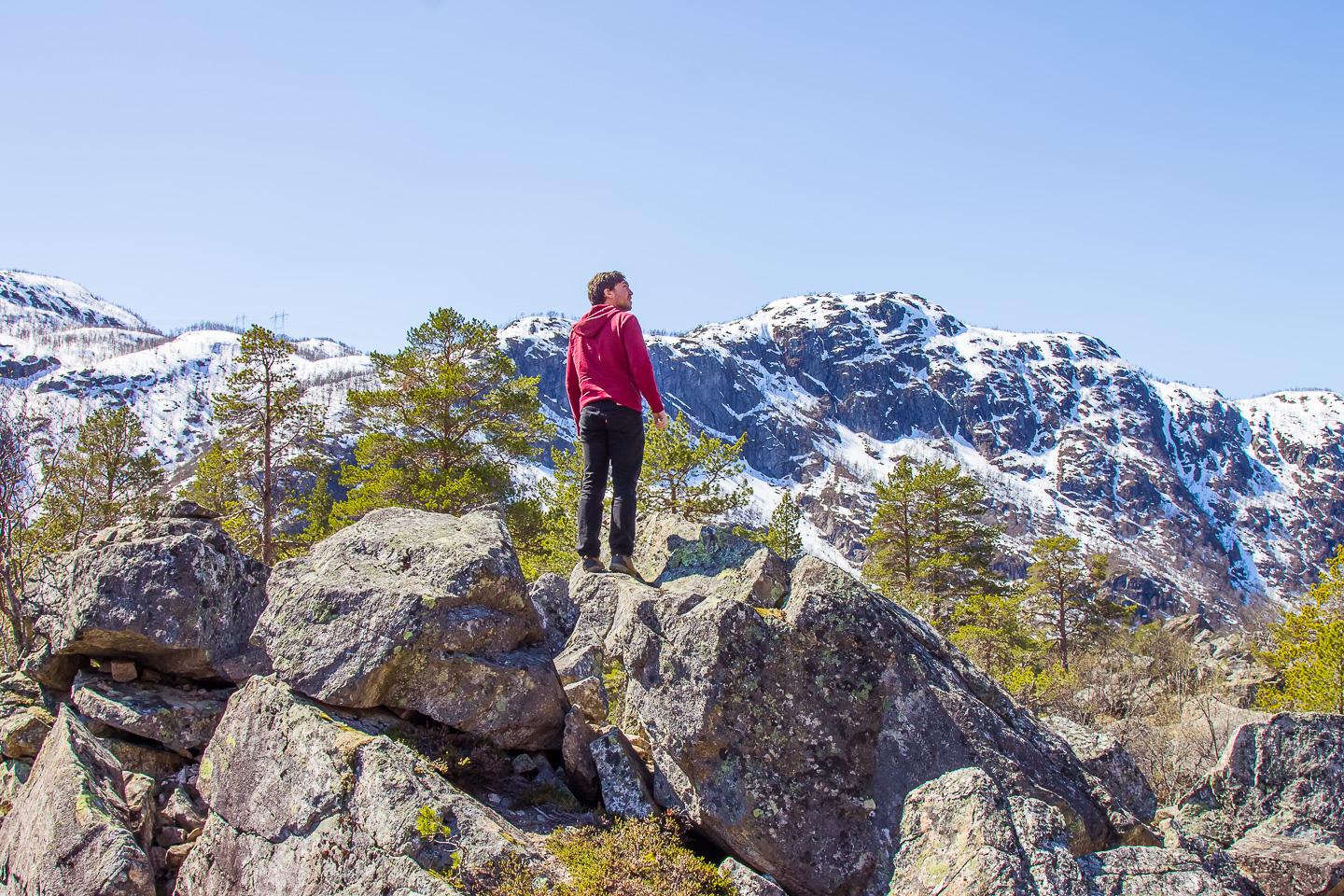 And then we drove up over the Haukeli pass back into winter! And I thought Rauland was struggling to get into springtime…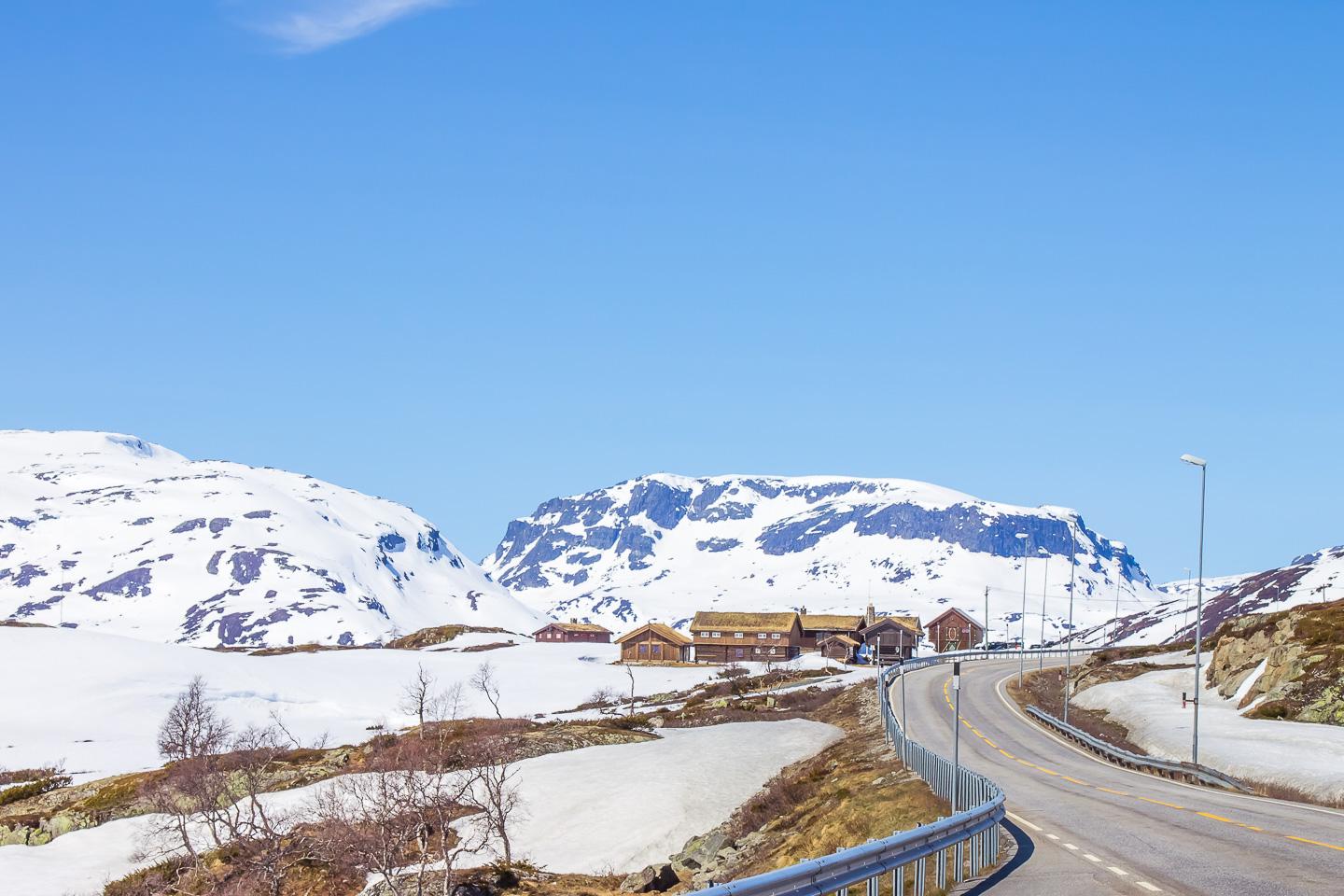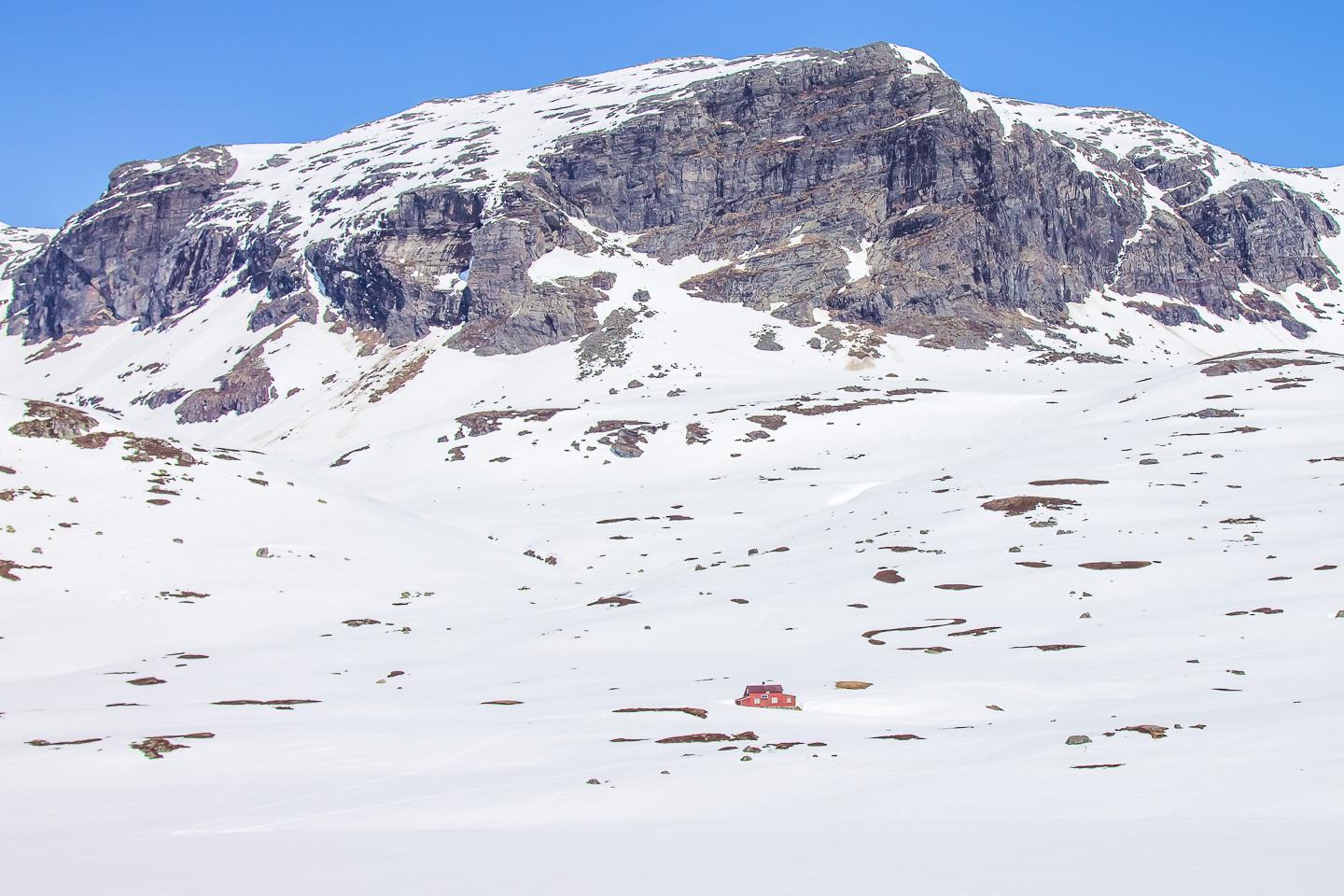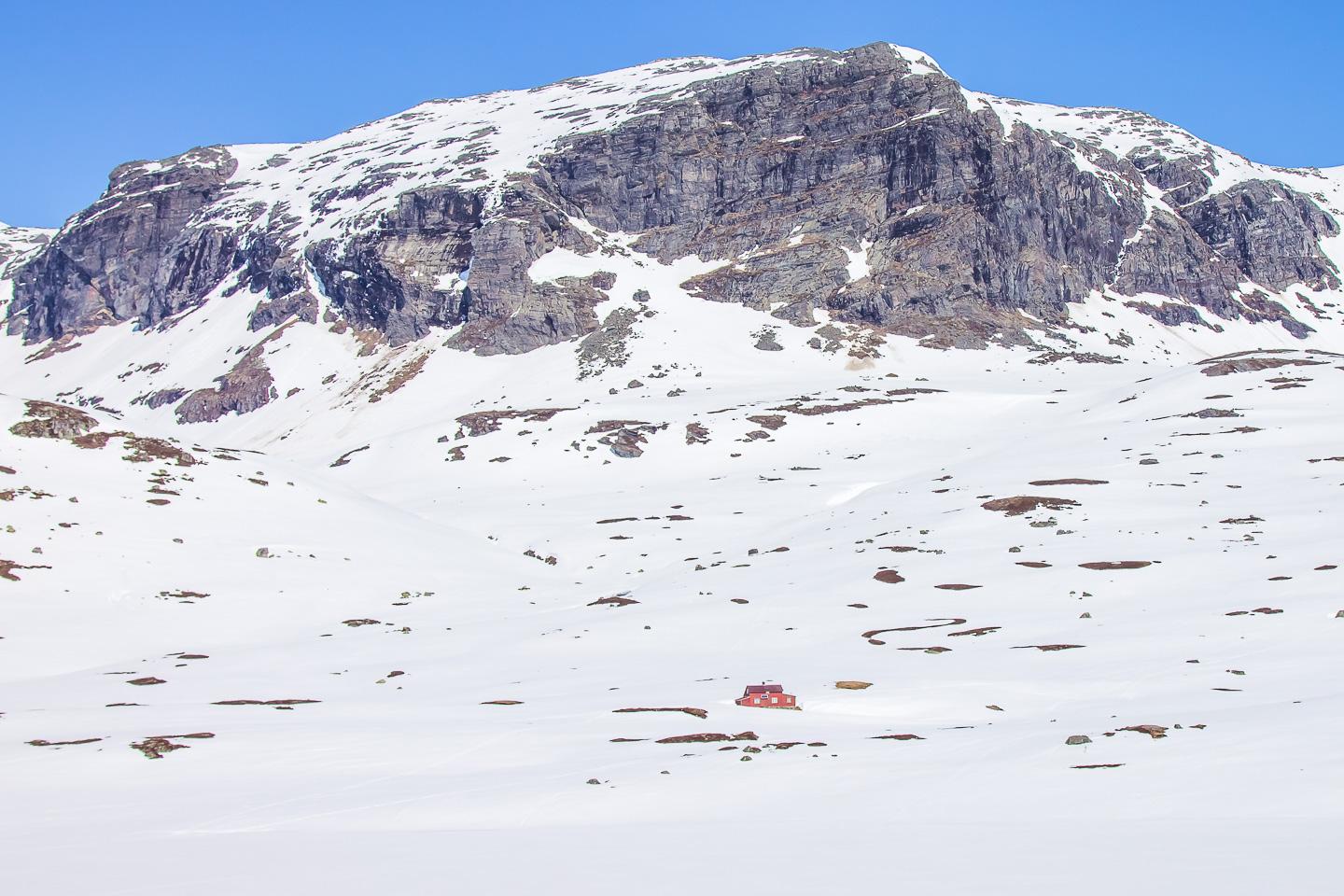 And then we made our descent down towards the fjord.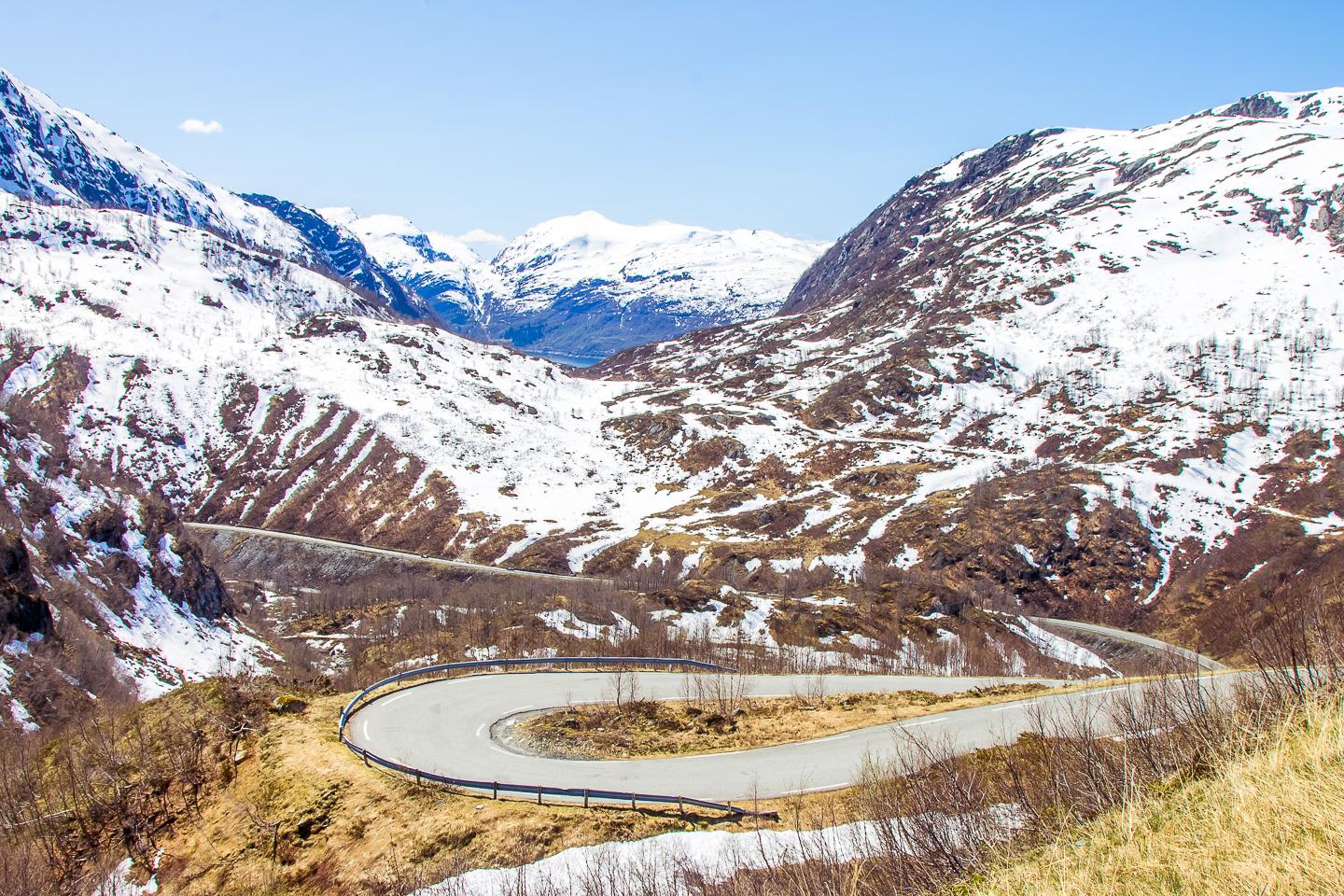 Okay fine, that's actually the old road – the new one is super fancy and full of tunnels.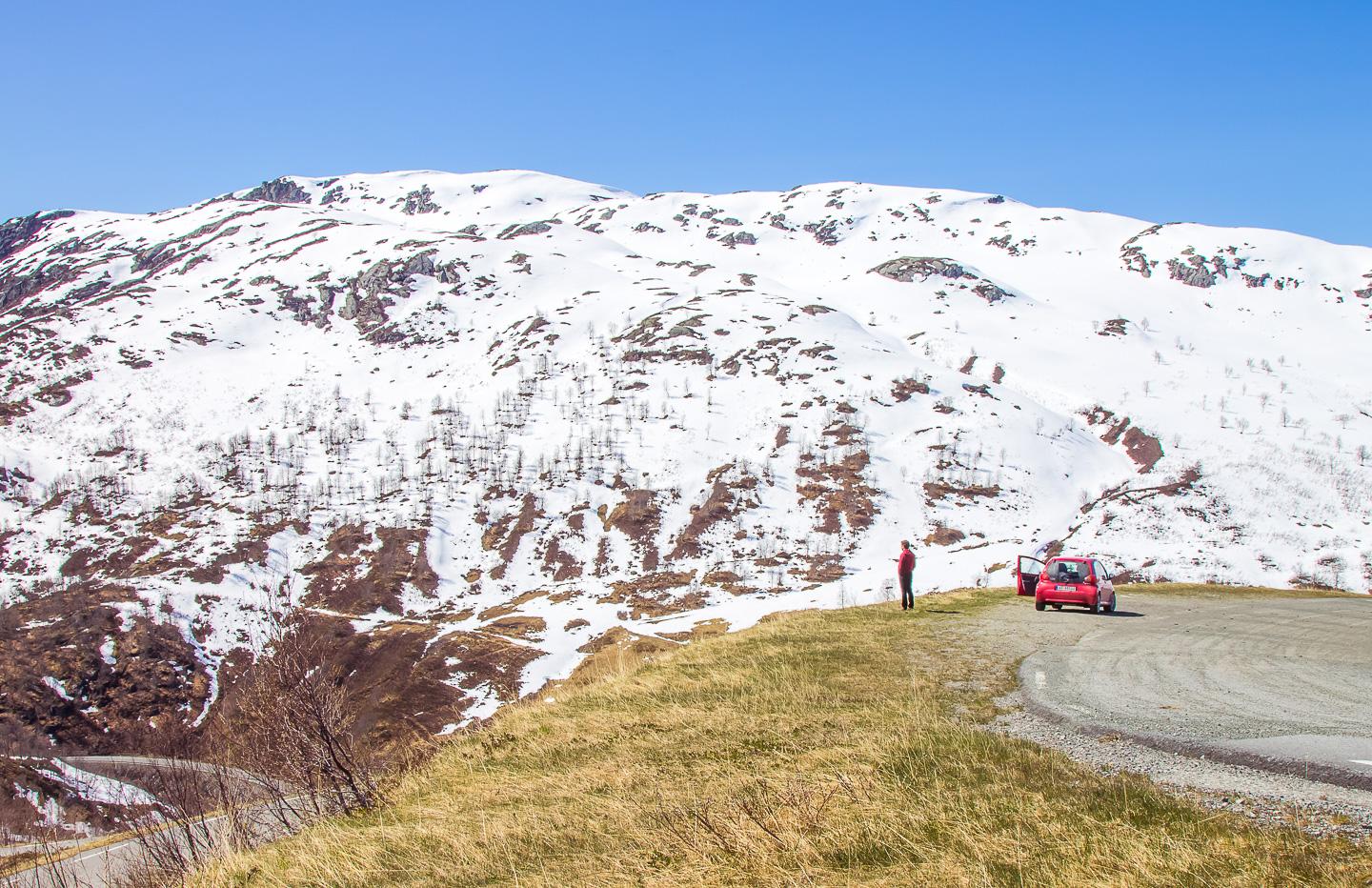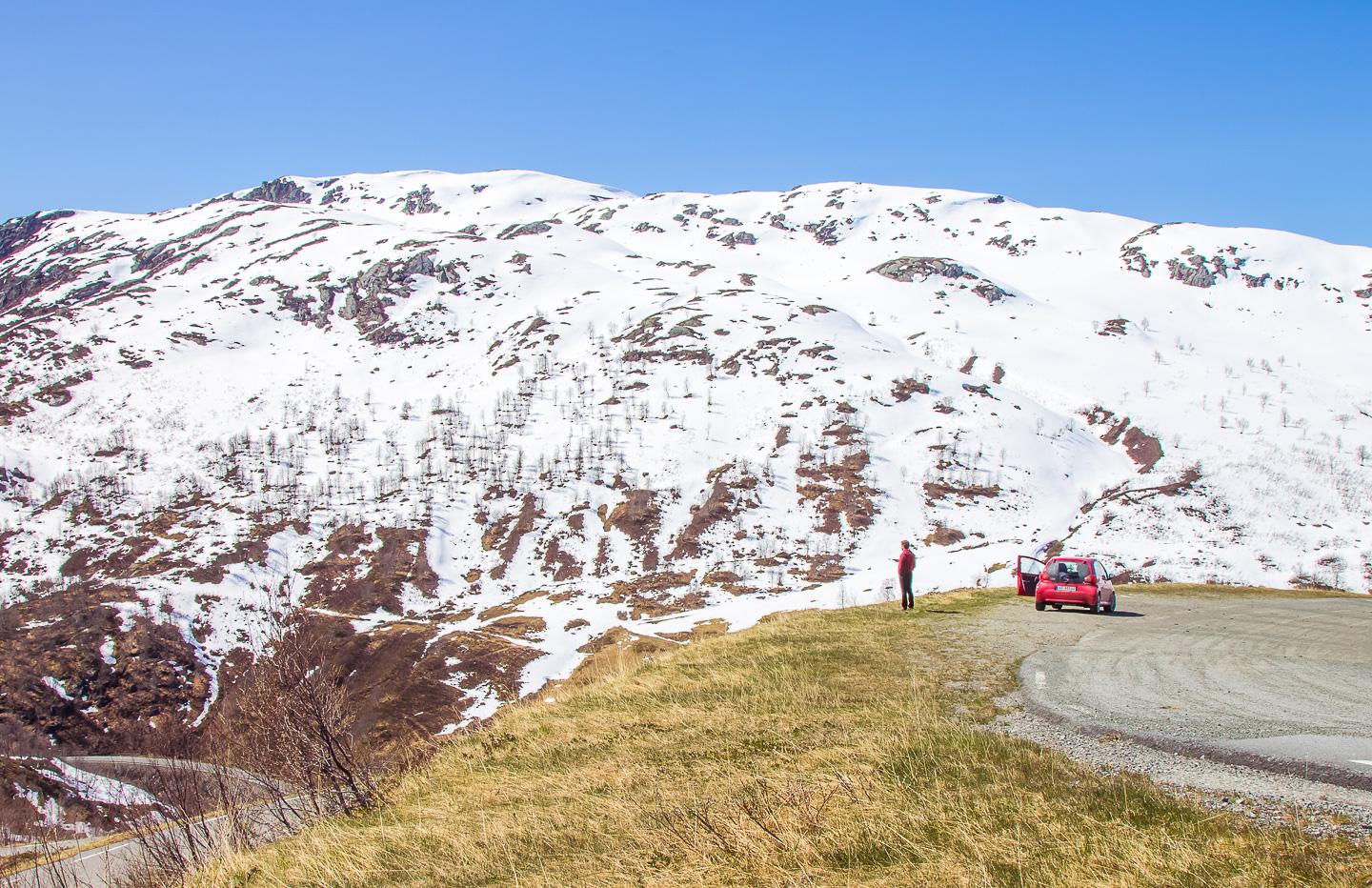 Now can we just take a moment to talk about how adorable Norway is? Even the bus stops have grass roofs!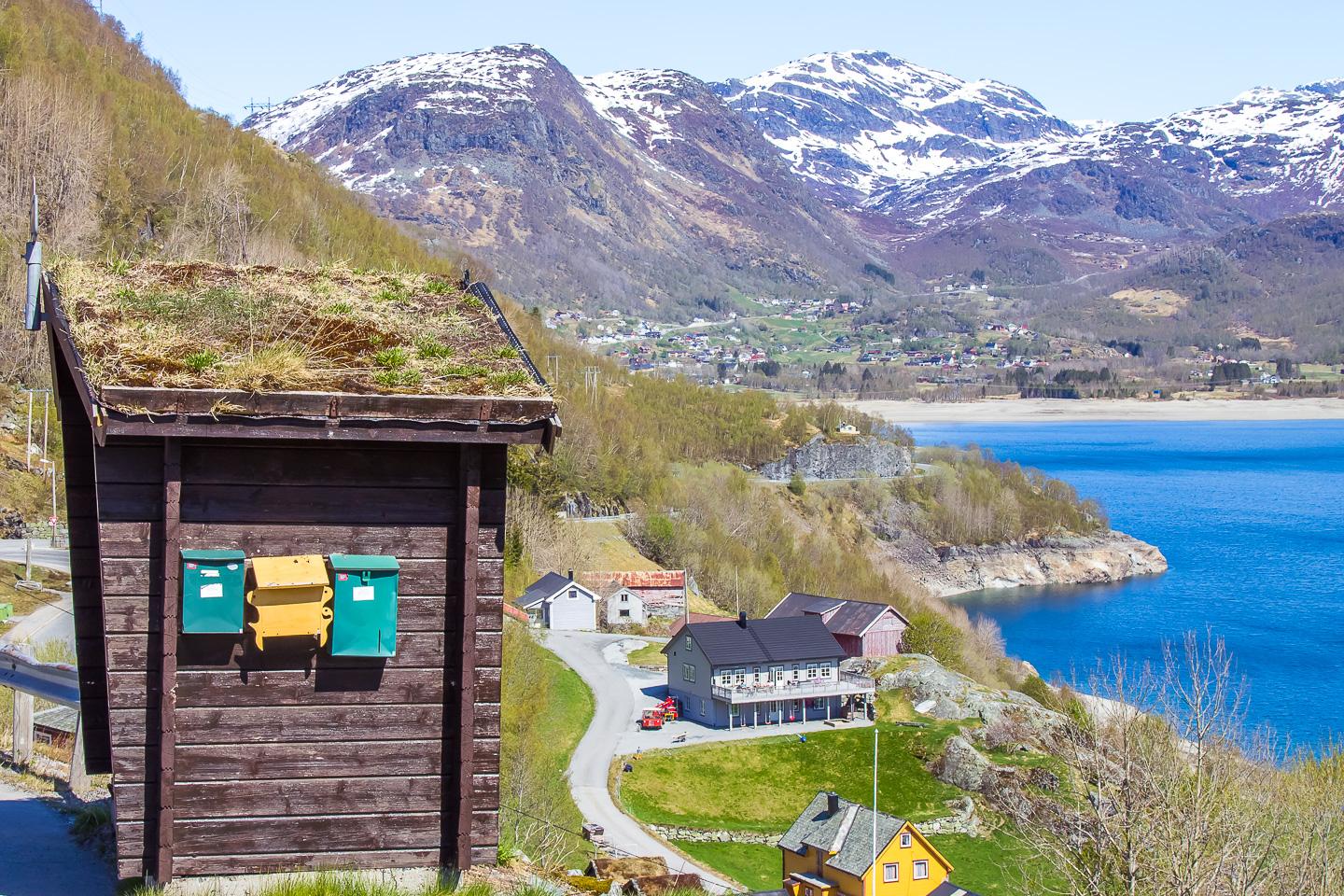 The views aren't the worst either.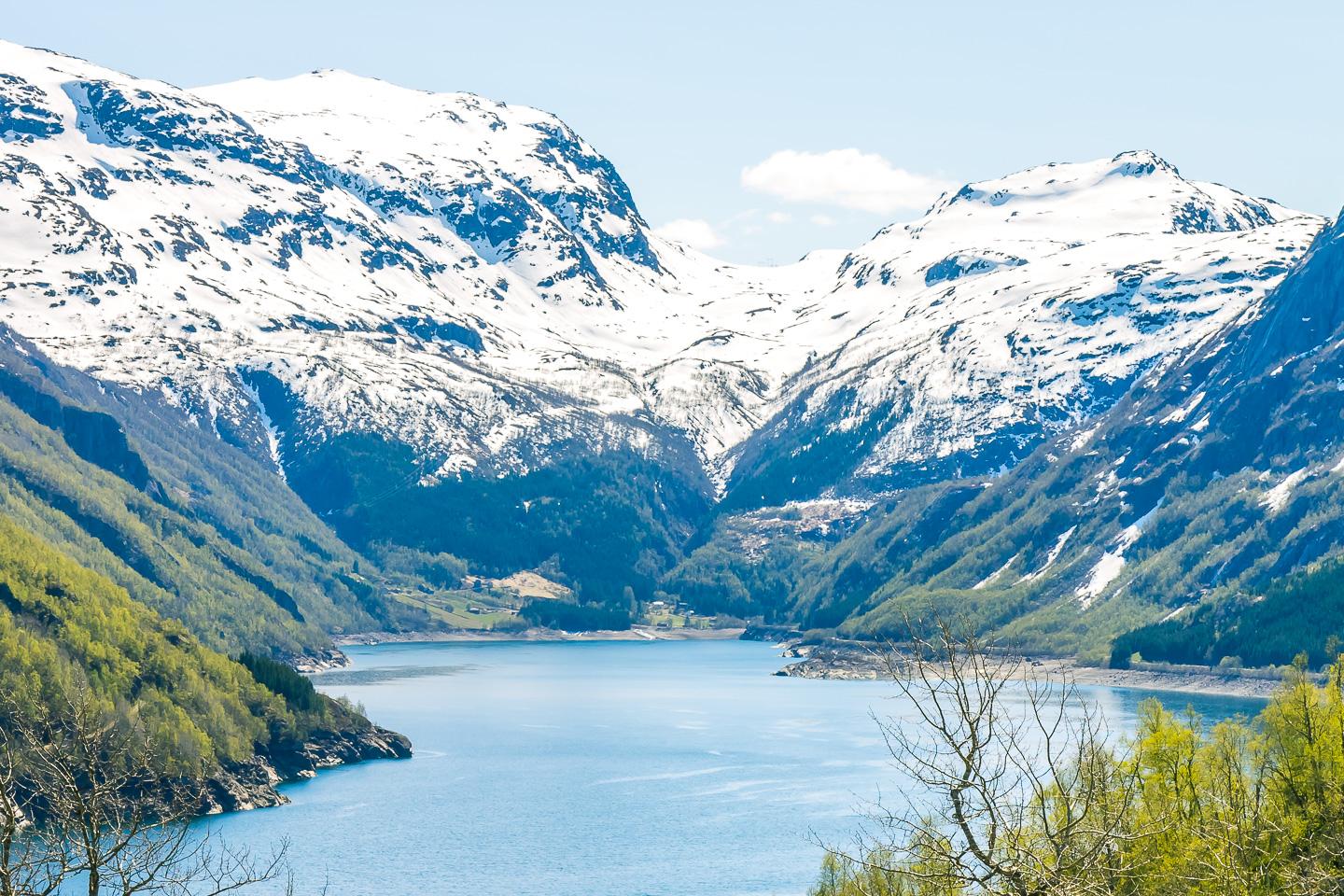 And oh my goodness, all the water falls! Now with the snow melting there are waterfalls everywhere (even the path to our cabin has turned into a lovely stream) but I still gasped when we drove by a cliff and were covered in spray from a massive waterfall. And a split second later there was another one!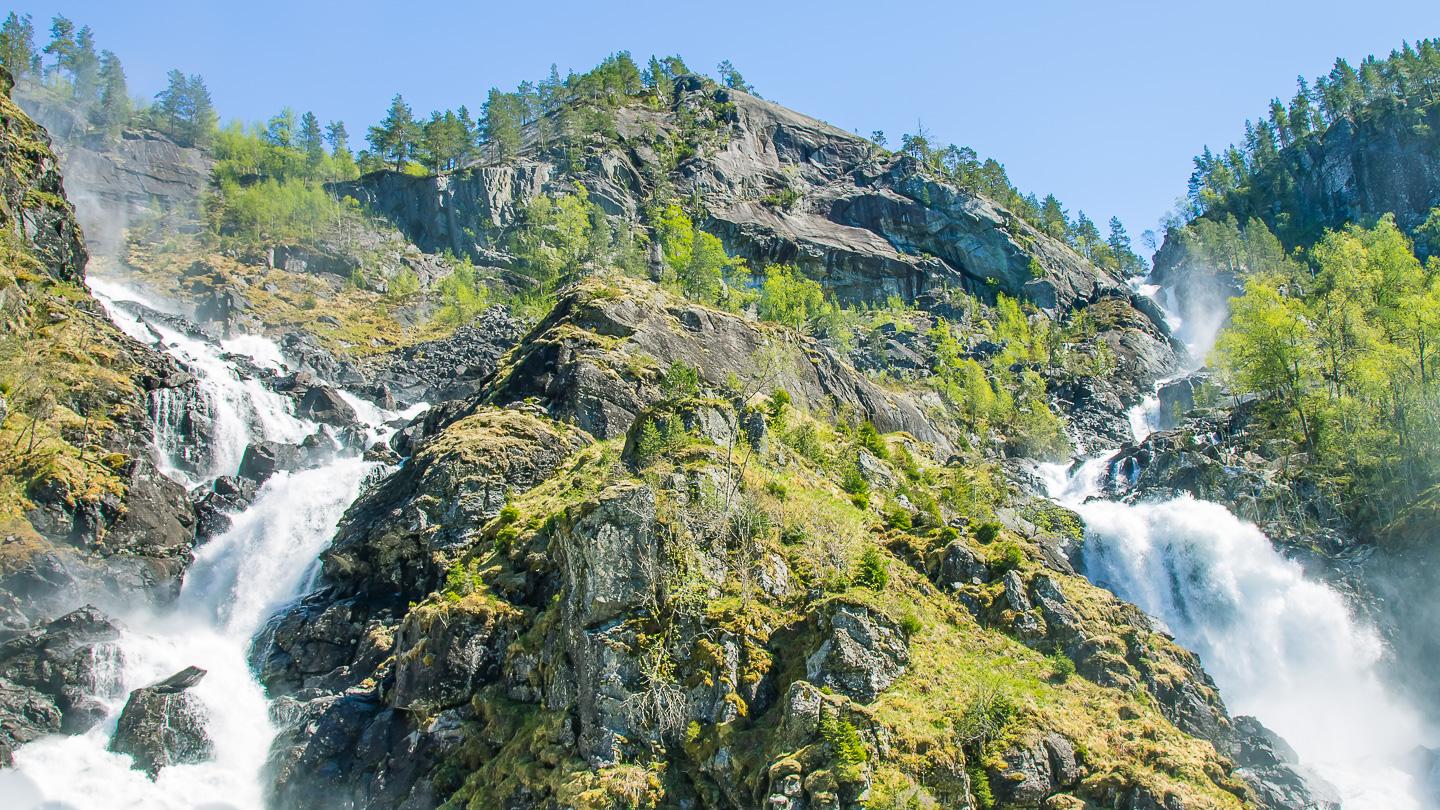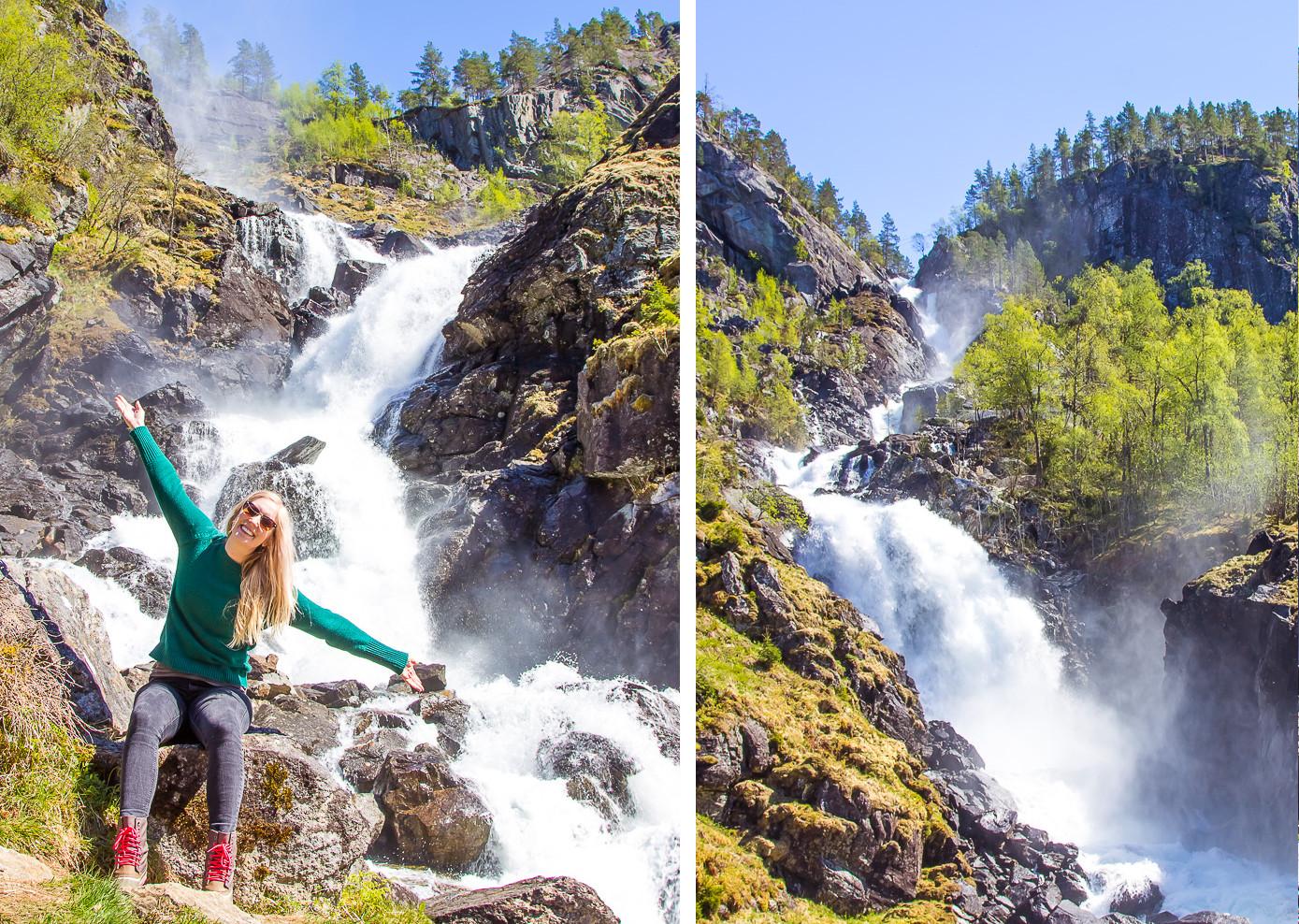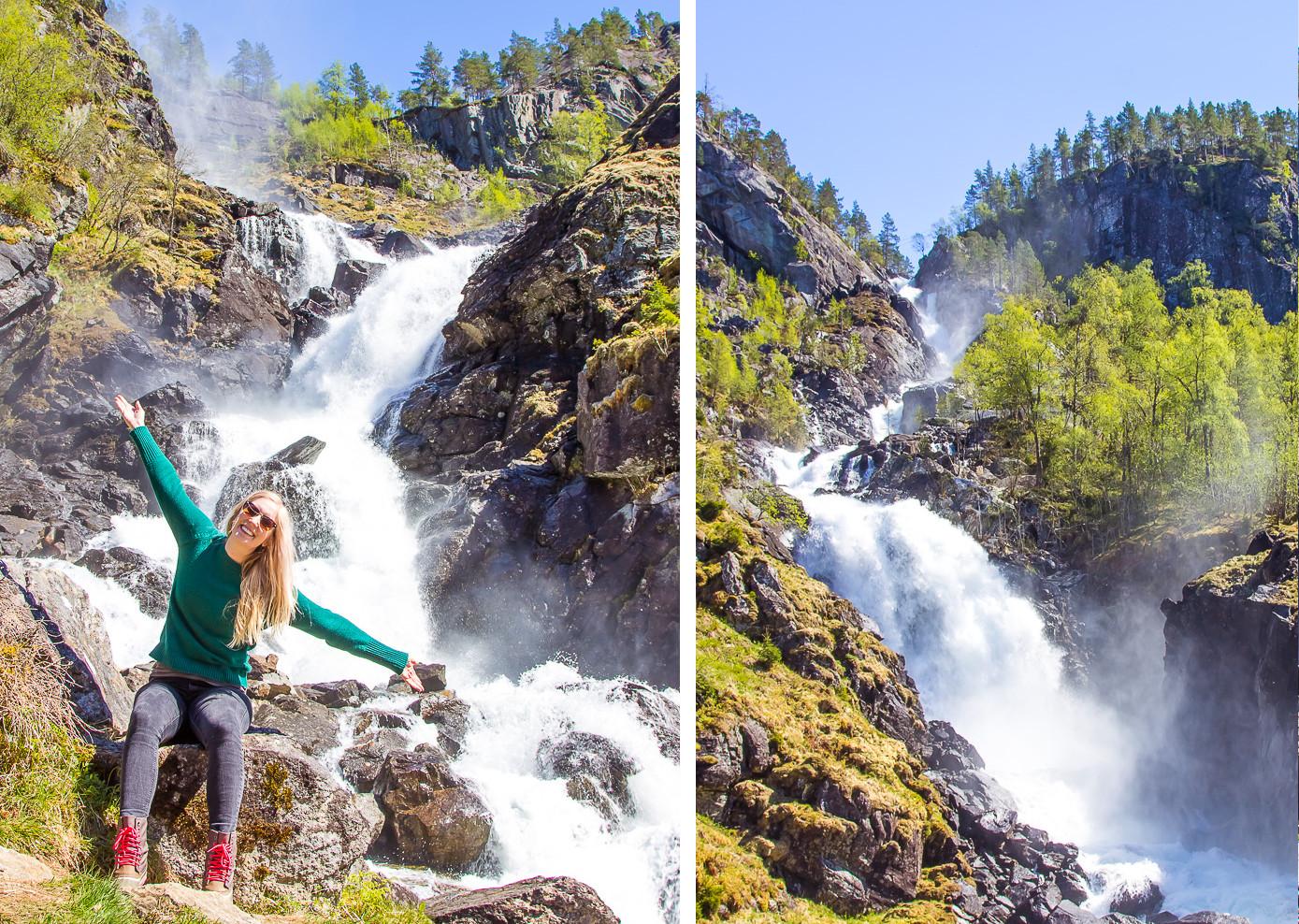 Låtefossen is 165 meters tall and splits into two streams as it goes over the mountainside, before joining together at the bottom to run under a bridge. Låtefossen also happens to be at the start of one of Norway's eighteen National Tourist Routes (marked by a knot-like symbol), so we knew we were in for a beautiful ride.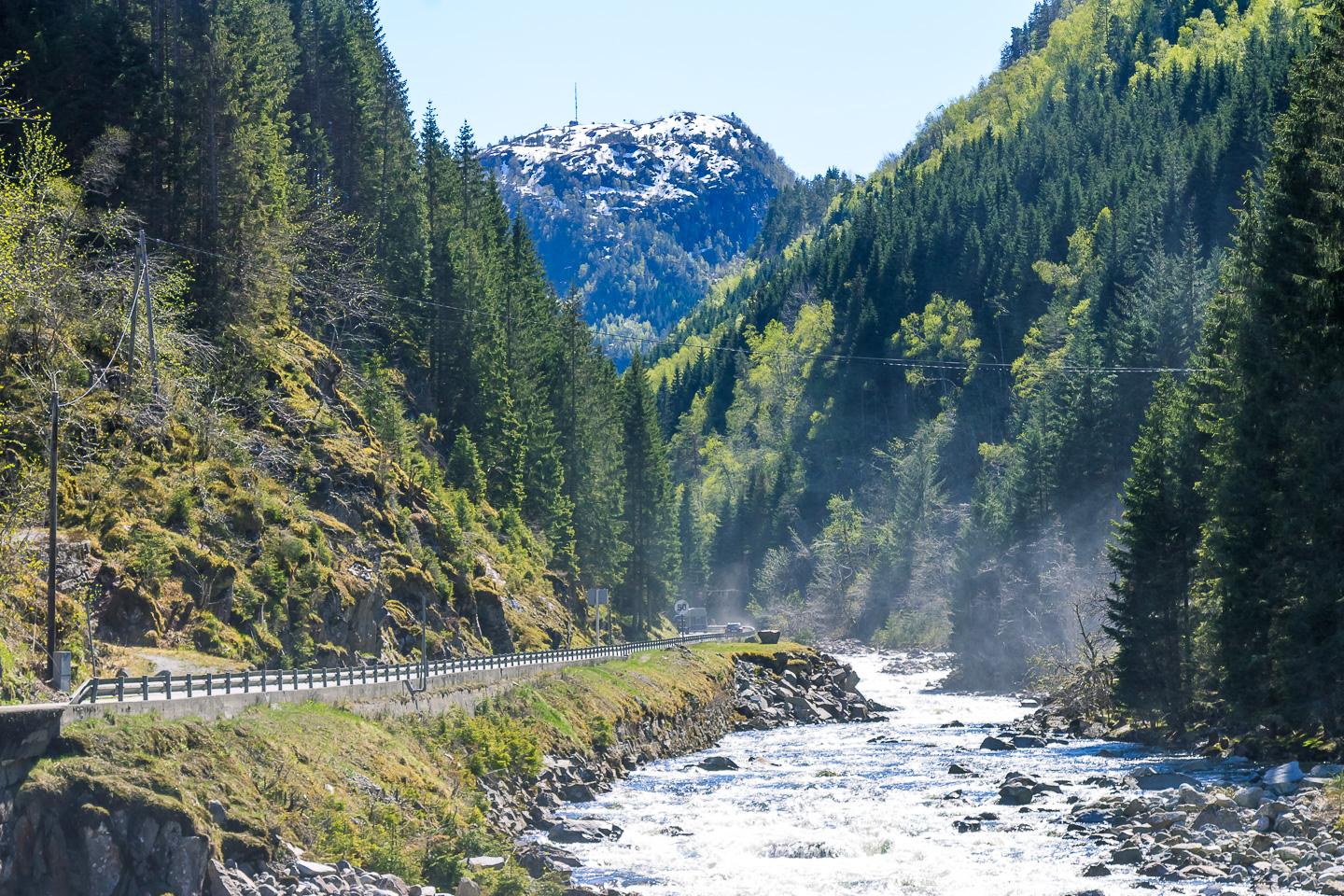 When we reached Odda – famous for Trolltunga – we were greeted by a flock of sea gulls and everything smelled of saltwater. We had reached the tip of Hardangerfjord! I love how the Norwegian fjords bring the sea inland; it totally felt like we were on the coast.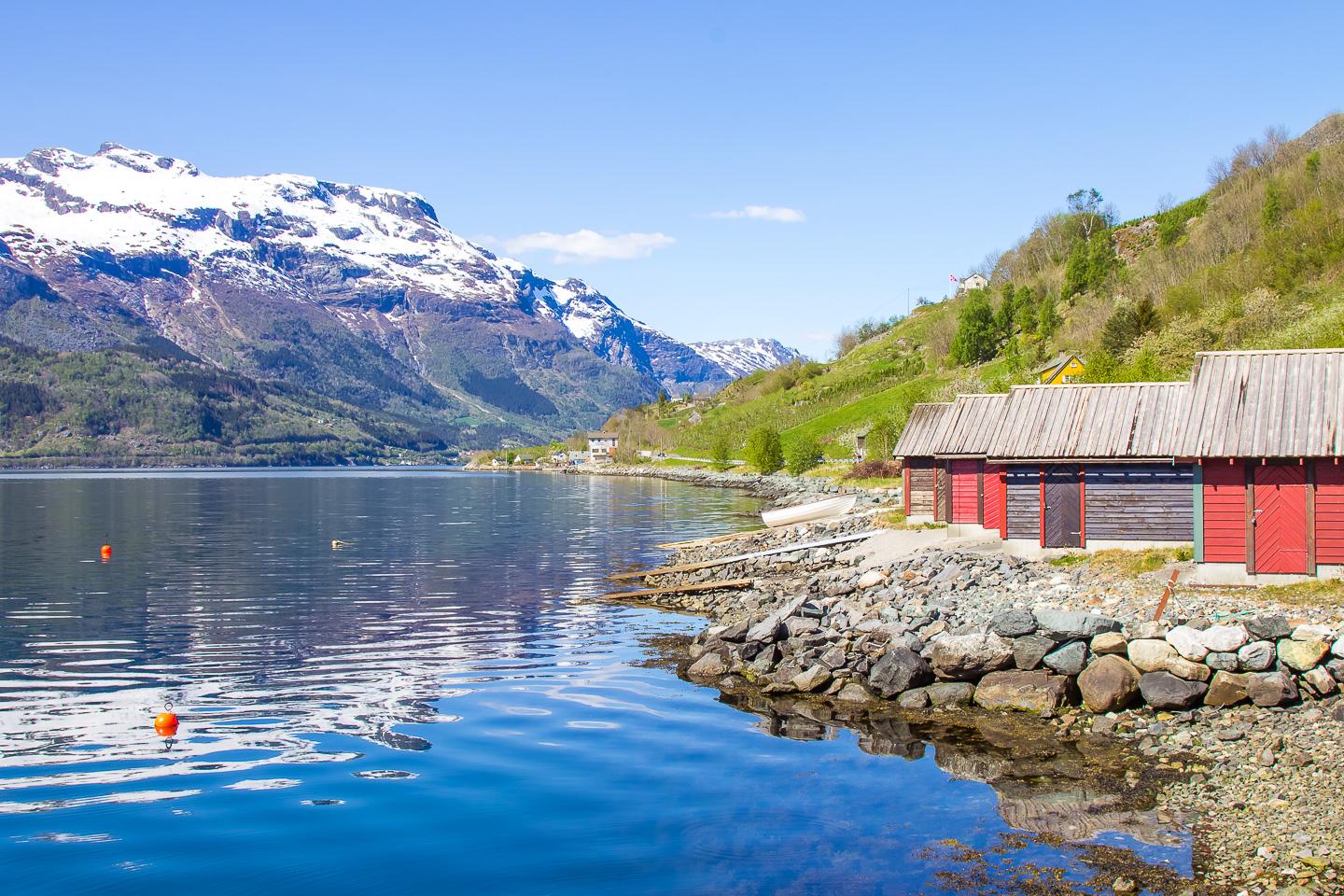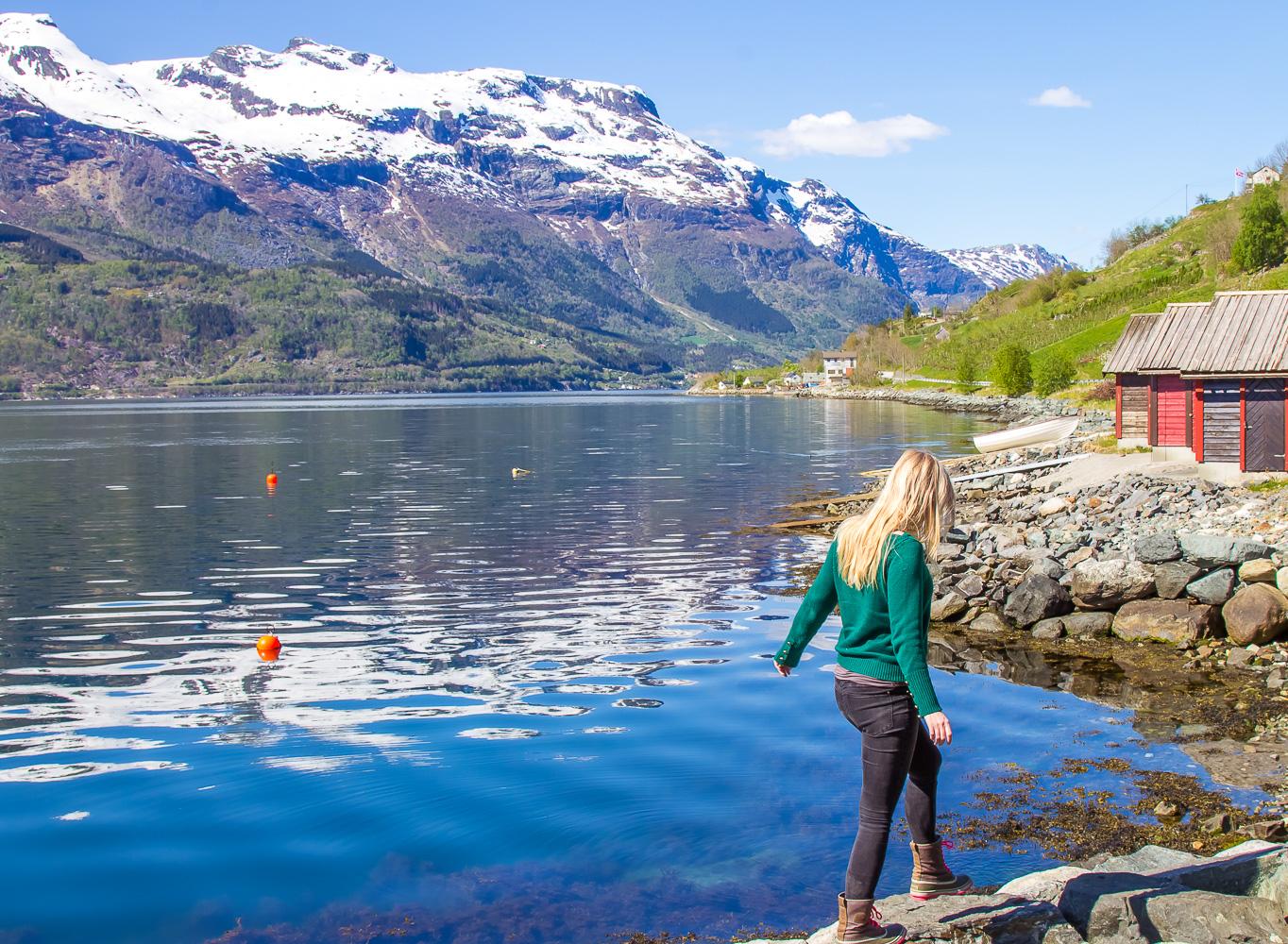 The road along the fjord from Odda to Brimnes passes by lots of orchards, and it turned out the rumors were true – the fruit trees really were in bloom!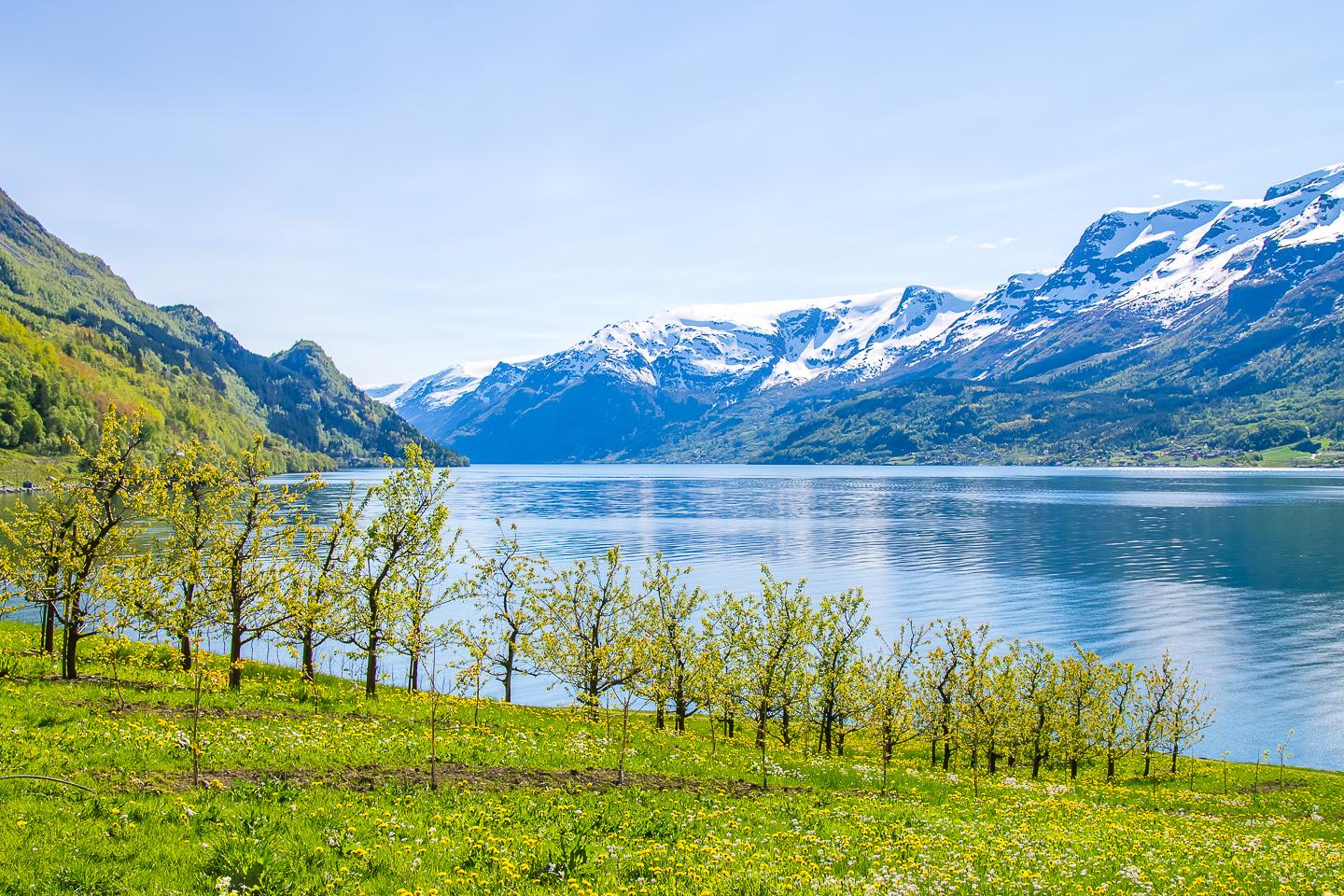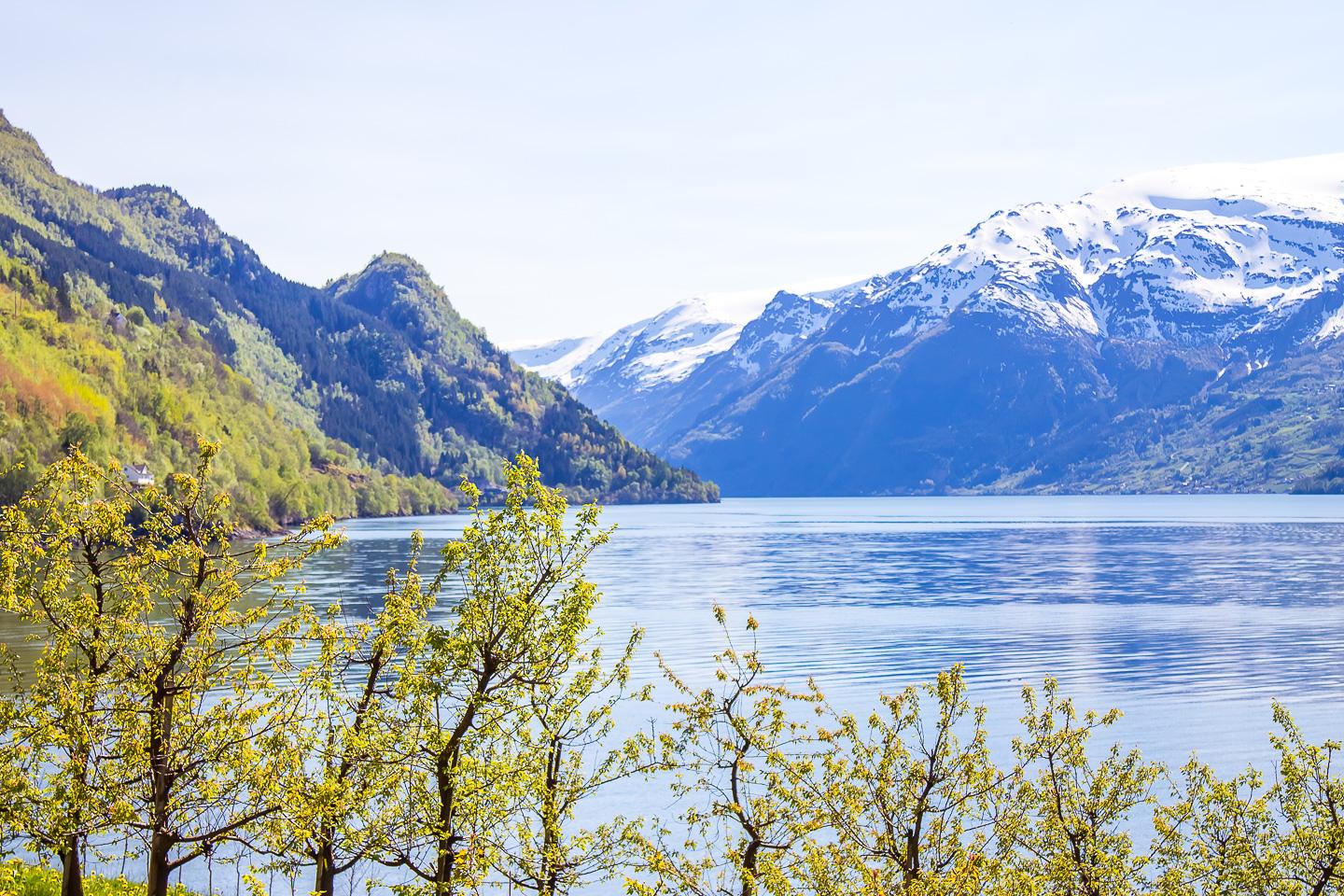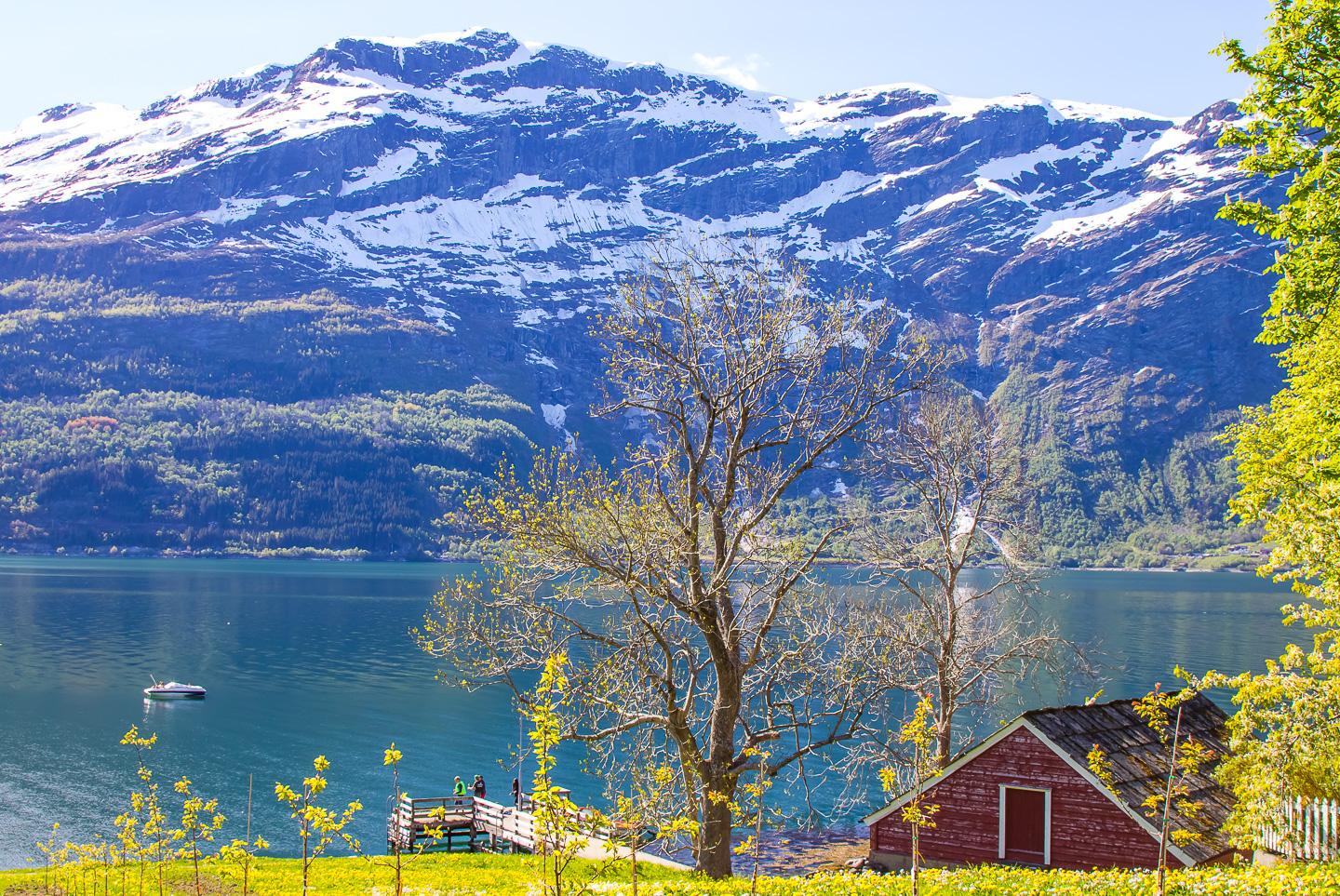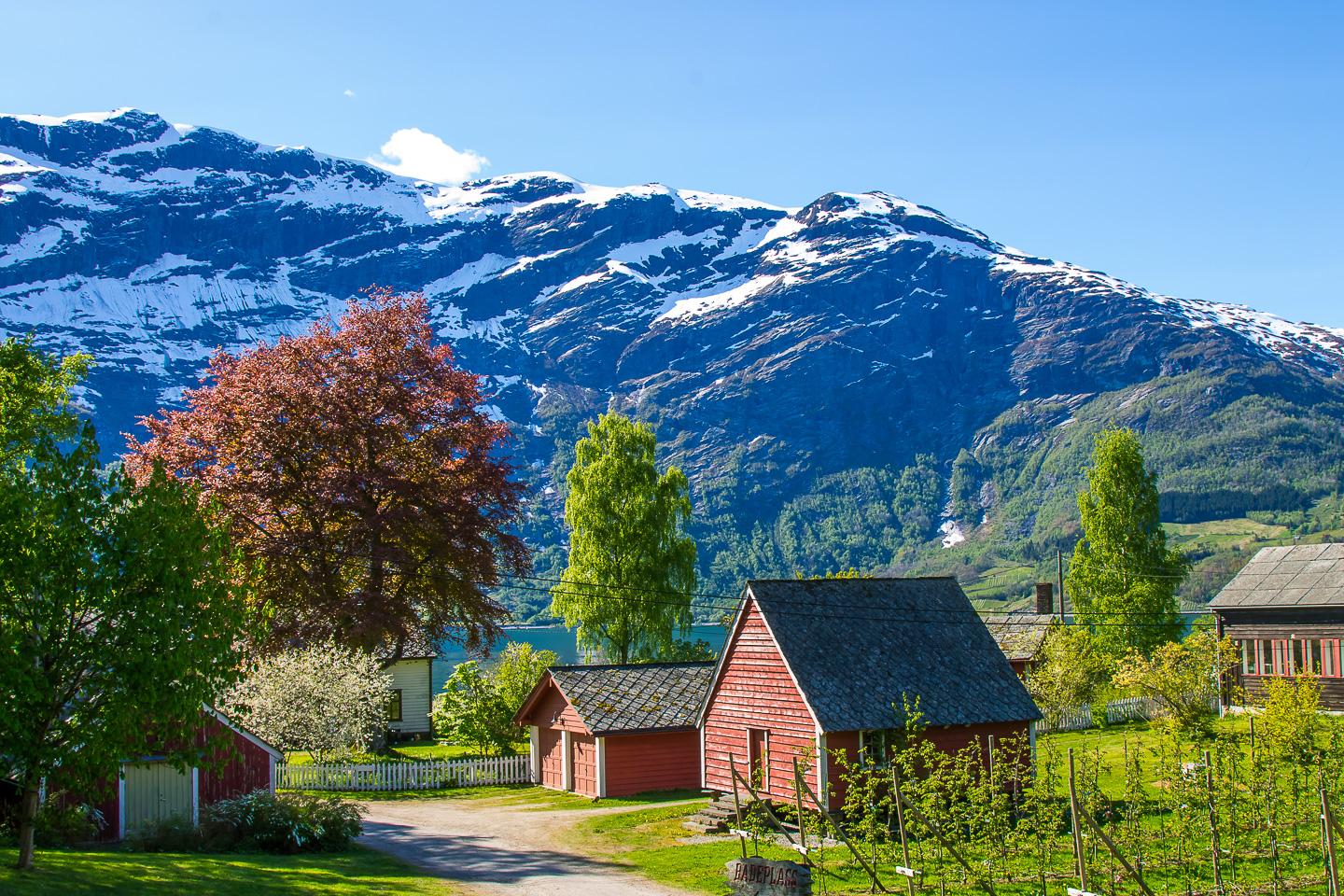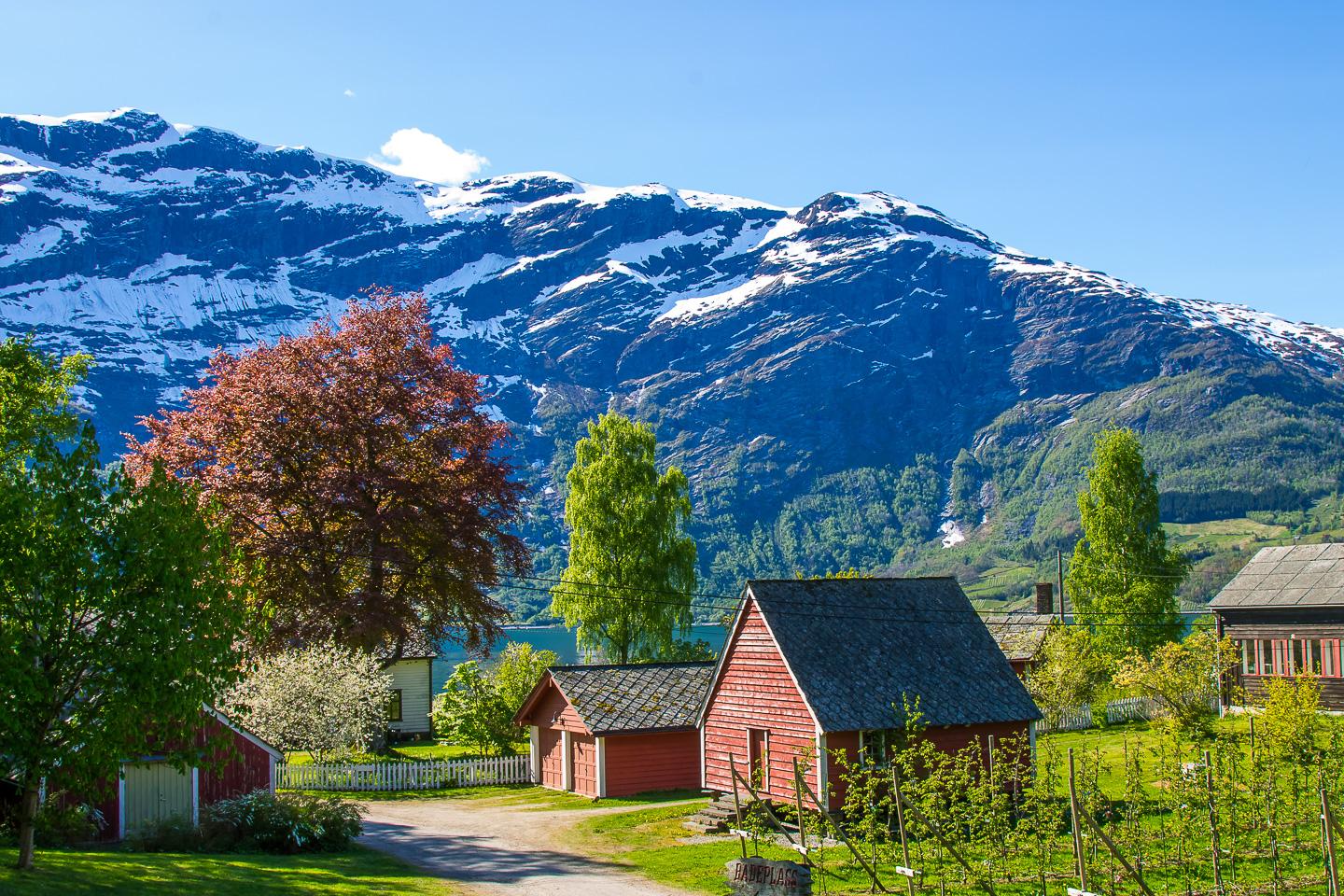 We had to turn around at Ullensvang as it was starting to get late, but not before picking out the perfect neighborhood to move to. I mean, how magical would it be to live on a fjord?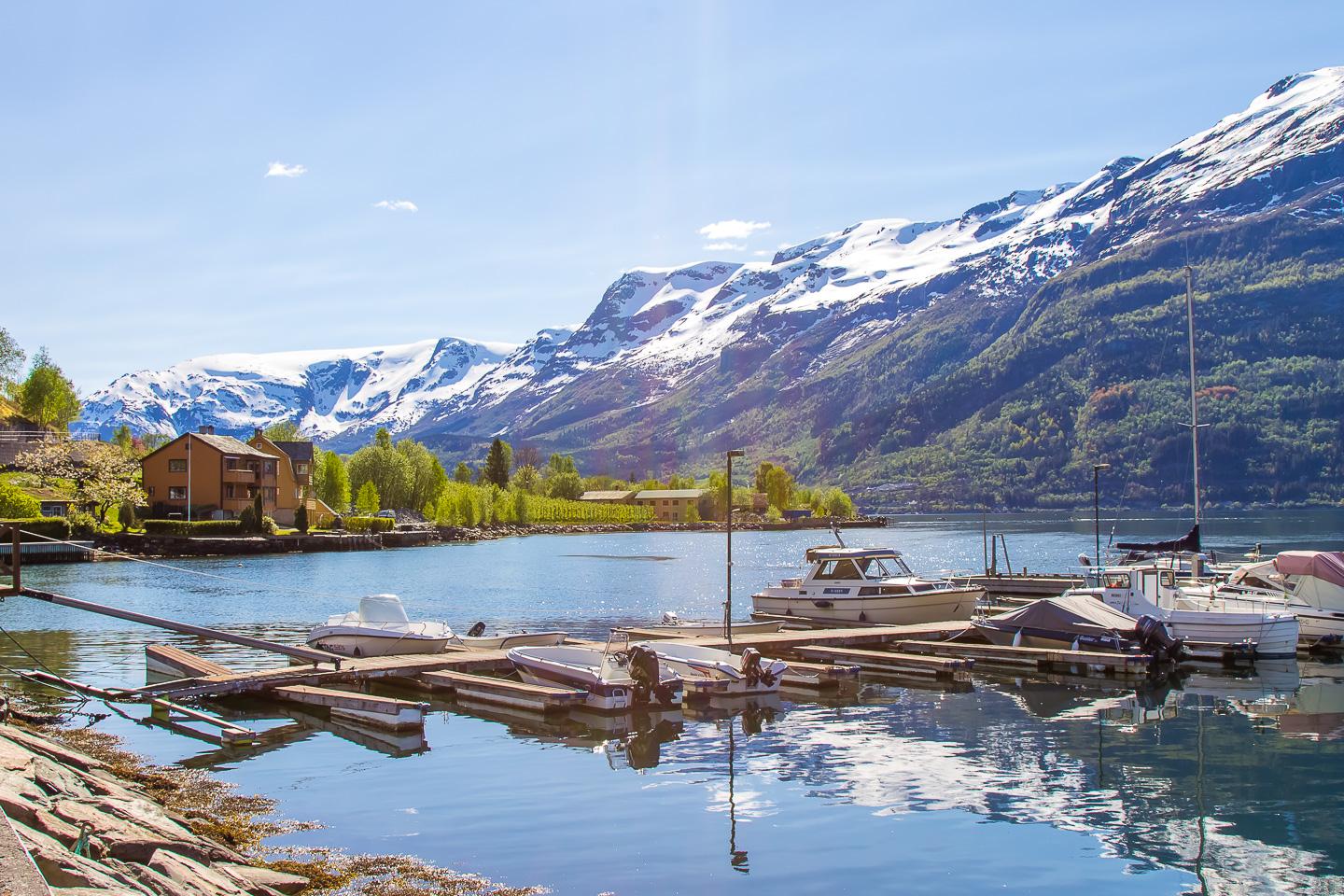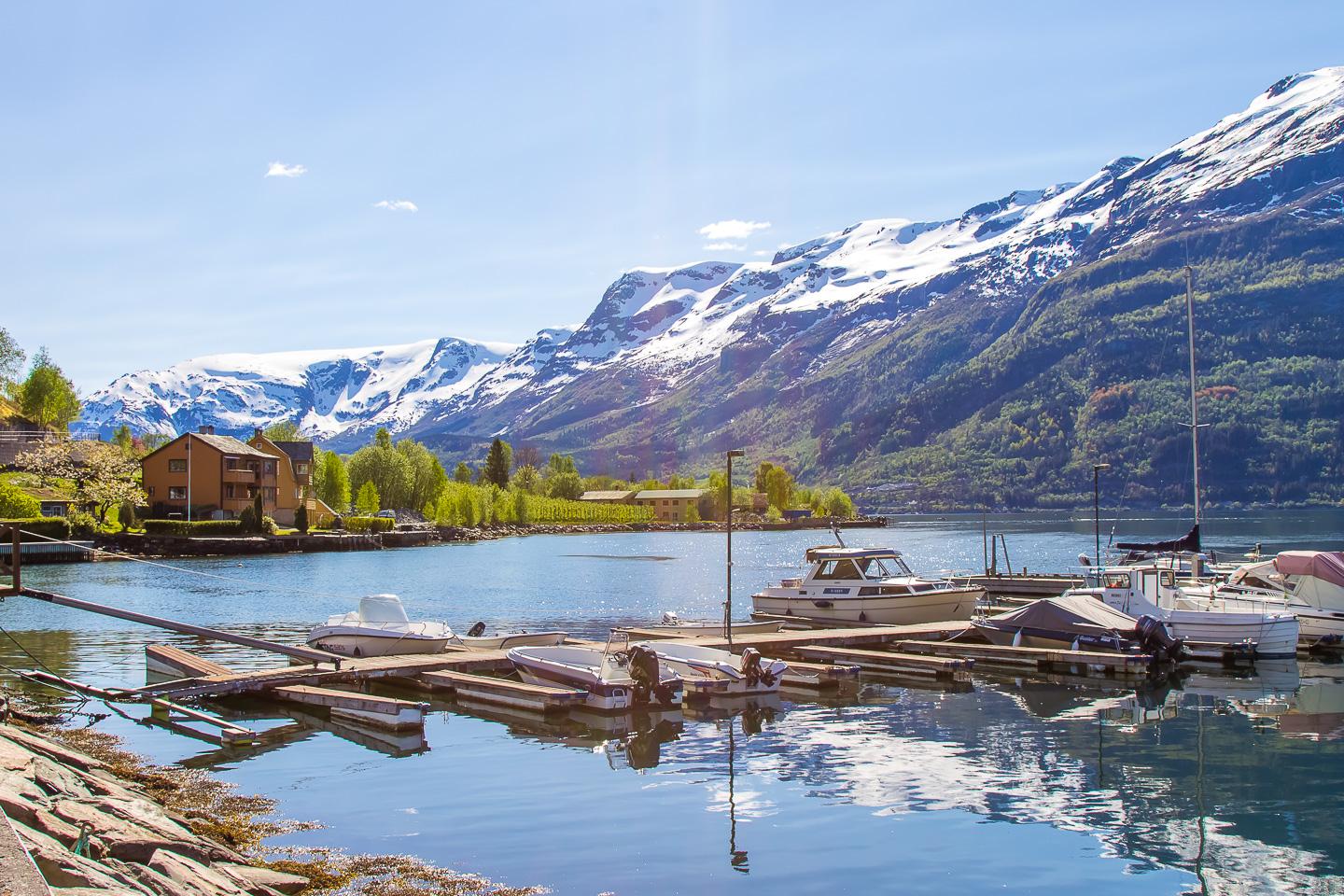 The verdict? Norway in the spring is actually pretty magical – at least on Hardangerfjord.
The fruit blossoms in Hardanger usually last about 4 weeks and while the timing depends on the weather each year, if you visit around mid-May you'll have a very good chance of seeing them.
And since we were driving and I couldn't get many photos of the actual fruit blossoms, here's a little video I made of the road trip. Let's pretend the shakiness and dirty windshield are artsy, okay? Okay.
Where to stay in Hardanger
If you want to spend a night (or few days!) in Hardanger, I can highly recommend Ullensvang Gjesteheim. This is in my favorite place in Hardanger, Ullensvang, and is set on a farm right by the water! It's super cosy, with the sweetest owners and a delicious breakfast. Check current rates here
READ ALSO
The Best Road Trip from Bergen
The Other Side of Trollstigen and Geiranger
Things to Do in Ålesund, Norway's Most Beautiful Fjord City