It's no secret that Norway has a beautiful coastline, especially considering those world-famous fjords. But for the very best of Norway, I prefer to head a little more inland. And up. Up and up and up, until I'm above the trees.
Actually, in Norway you don't have to go that high up before you pass the tree line – I guess because it's so cold here? In fact, over a third of mainland Norway is above the tree line. Which means…
Views forever!
I love the landscape above the tree line, where trees are replaced by small shrubs and berry bushes, and everything is covered in a thick layer of soft moss – perfect for throwing myself onto when the hike gets too hard and I just can't go on.
There's just something about being high up above the trees. I've never had much interest in diving deep into the sea (okay fine, just the thought of diving fills me with clausterphobia) but climbing high up a mountain towards the heavens I get. I can't get enough of it. I guess it's that same hubris that keeps me stubbornly climbing to a peak when all my body wants is to collapse on the soft bed of moss beneath me.
After spending a night in my friend Eirik's cabin last weekend, we all went on a 4-hour hike up Tostenkollen. And I only collapsed twice!
I think I was still a pain to hike with though, because I could not stop taking photos. Those colors! Those views!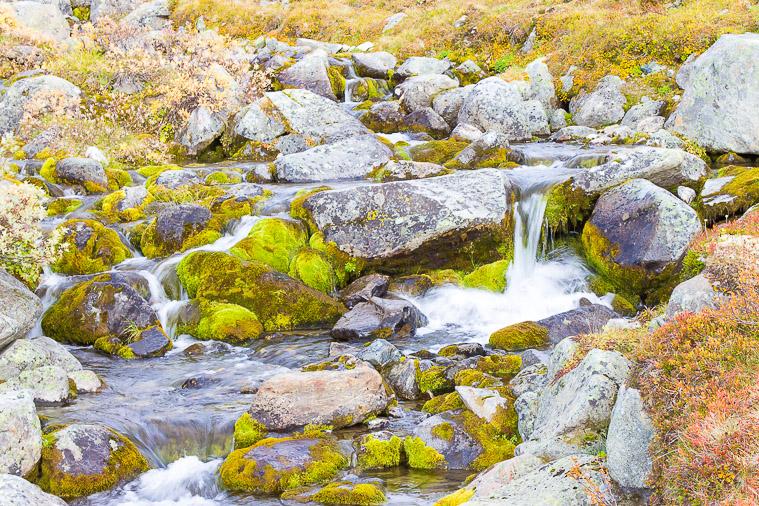 And we even made it to the top!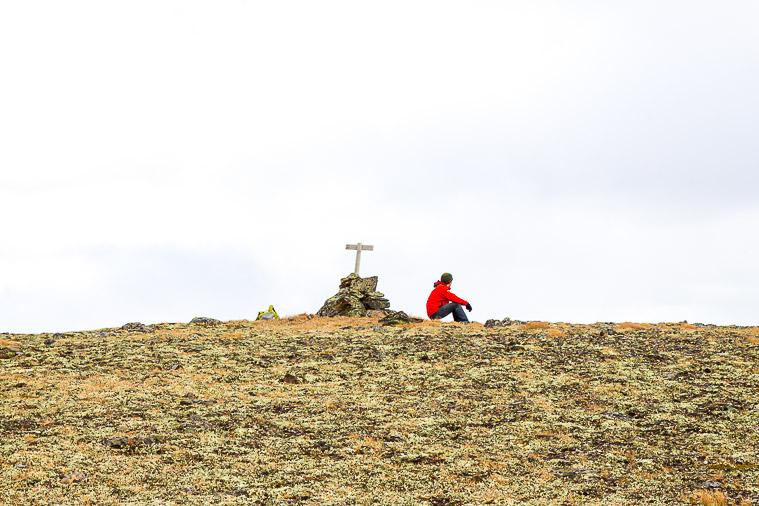 It was the perfect place to stop for some chocolate and hot tea. Well, except for the fact that it was super windy and cold.
But in Scandinavia there's an old saying "there's no such thing as bad weather, just bad clothing," and so when Eirik saw me shivering he rummaged through his backpack and pulled out a wind sack for me to warm up in!
Are wind sacks really a thing? I had never heard of them before, but now I need to get one because it was magic! Like having your own personal tent that you can walk around in. Plus it's so stylish!
It even had little arms so that I could continue taking photos of the pretty view.
It's always sad heading back down a mountain, but this time we had something to look forward to: dinner at Eirik's parents' home! We practically ran down the mountain in hunger and were rewarded with a delicious meal that included moose meat and milk fresh from the cows. Because Norway.
Eirik's family runs a farm that has been in their family forever. As in, before the United States was even a country forever. When Dan heard this he eagerly asked if my Norwegian family didn't have a farm they were looking to pass down to me, but sadly I think I'm just about last in line to inherit my grandmother's family's farm, sigh. I mean, whatever, I'd rather run a hostel anyway.
The best Folldal accommodation
While I stayed at a friend's cabin in Folldal, you can also stay in a traditional Norwegian cabin at Løkken Fjellgård, right on the edge of Rondane National Park. This is like the ultimate Norwegian experience – way better than staying in a generic hotel in one of the crowded tourist hubs! Check current rates for Løkken Fjellgård here
Another wonderful place to stay in Folldal is Kverbergsøya Gård, set on a farm from the 1600s. Again, this is just such a better experience than staying in a generic hotel in a tourist city – definitely a memorable experience to have in Norway! Check current rates and availability here
Where would you rather go – deep into the sea or up into the mountains?
PIN IT!