I still can't quite believe that Helgeland has managed to remain a Norwegian gem hidden away from international tourists. I guess most visitors to Norway focus on the fjords in the south and then the Arctic in the far north of Norway, totally skipping over the beautiful stretch of land north from Trondheim and south of Bodø.
And I'd say last summer confirmed how special Helgeland is, as most Norwegians chose to summer domestically and Helgeland had its biggest tourism year ever. Norwegians know that Helgeland is amazing!
But why though?
Helgeland is most famous for its beautiful coastline, dotted with mountainous islands that easily rival those of the incredibly popular Lofoten Islands. And then there's the historic town of Mosjøen, where I lived for a year and a half, and the rolling farmland of inner Helgeland where you can have a traditional Norwegian experience far away from crowded tour buses and cruise ships.
If this is your first visit to Helgeland I definitely recommend focusing on the coast, especially if you'll be visiting during the summer. You could spend months exploring this coastline, but you could also manage to see quite a bit in a matter of days.
Locals sometimes disagree where Helgeland begins and ends, but the Helgeland coast, or Helgelandskysten, generally marks the 434 kilometer stretch of coastline between Holm in the south and Godøystraumen in the north. That's a lot of coast!
While I usually always recommend renting a car for your Norway trip, you can actually easily explore the Helgeland coast by car or public transport. Having a car will help if you want to explore some of the larger islands, but if you stick to the smaller islands you can see everything by foot or bicycle.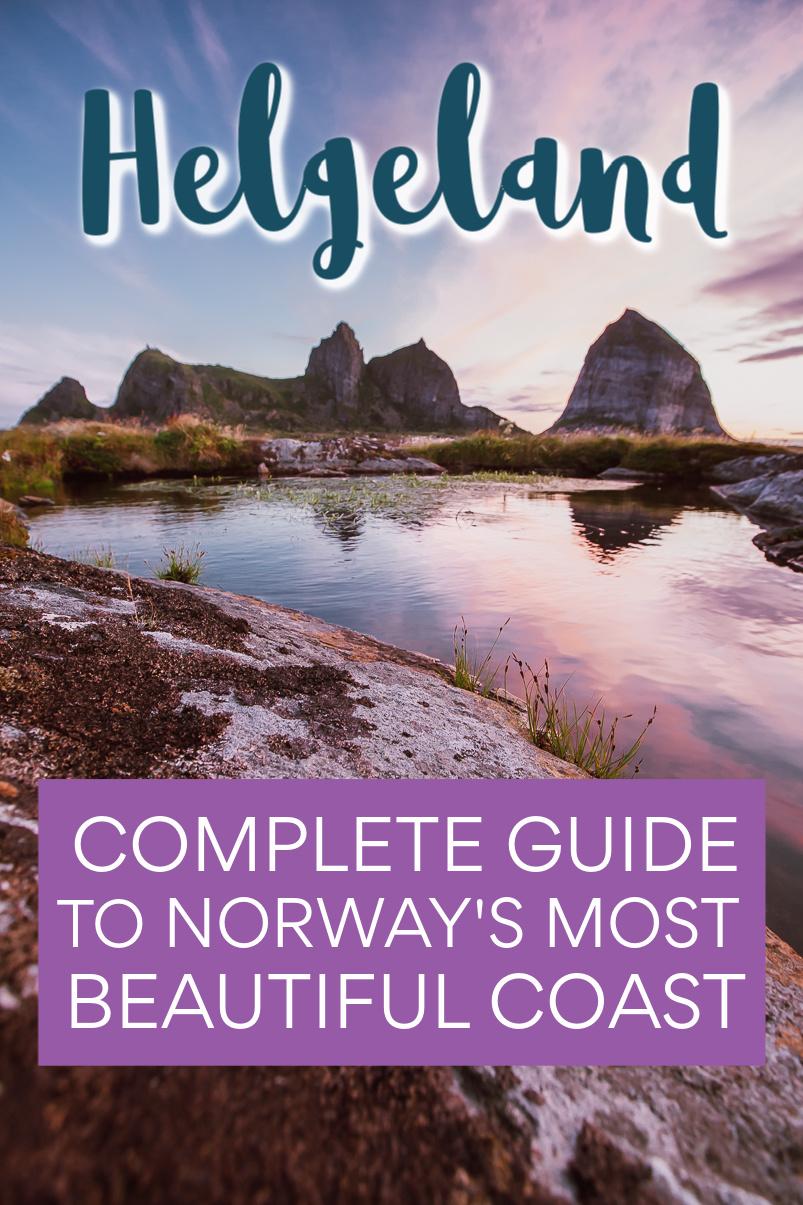 Helgeland islands
While the drive down the Helgeland coast is beautiful, you should definitely try to include a visit to at least one of the islands, if you have the time. Each island is unique so the more you can include in your trip the better, but my personal favorites are:
Træna
Traena is probably Helgeland's most iconic archipelago, and you might even already recognize the silhouette of the mountains of Sanna. This is definitely my top choice if you only have time for one island visit, and it's a particularly great place to camp! You also don't need a car here, which is nice. Read more about visiting Træna here.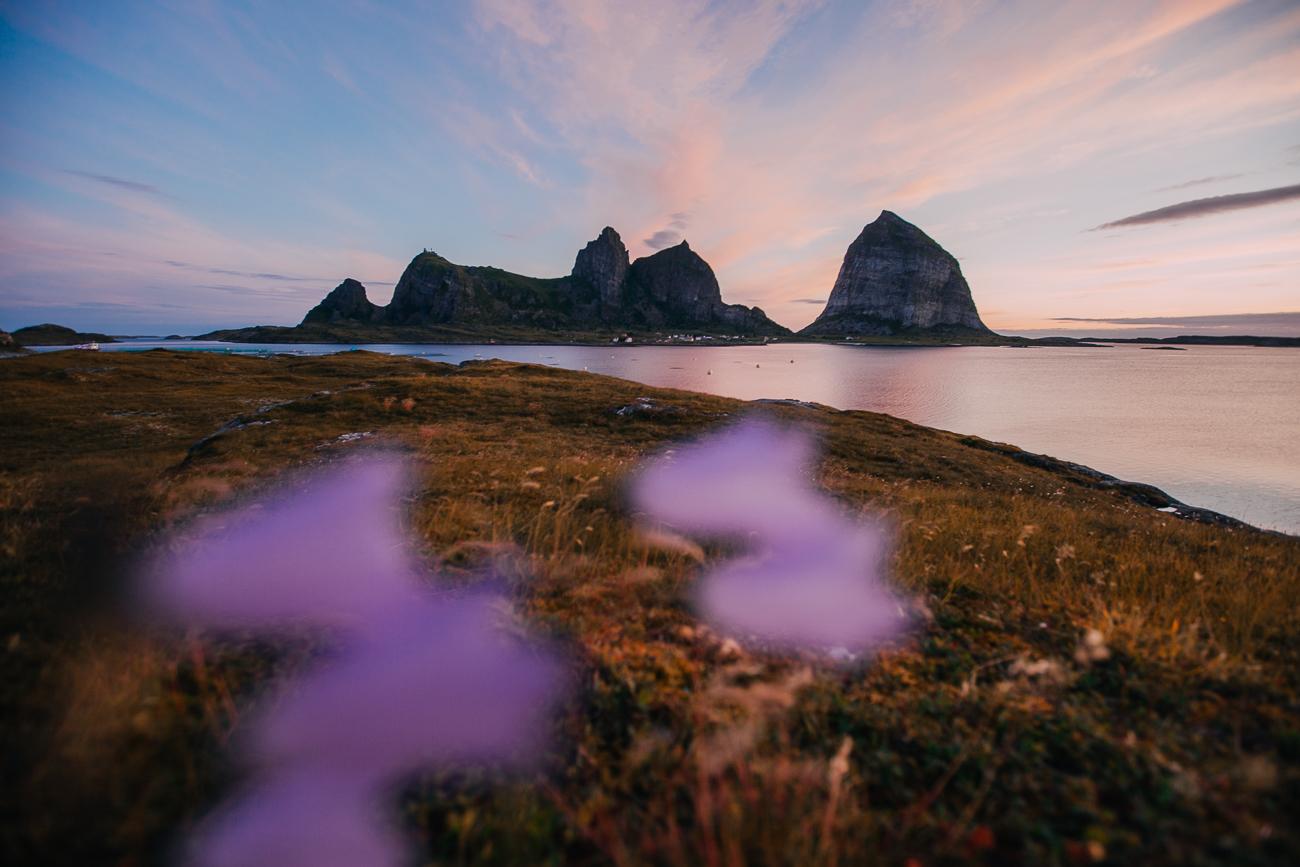 Støtt
Støtt is another favorite of mine, mostly because of the incredible accommodation at Støtt Brygge. This is the perfect place to learn more about the history and culture of northern Norway. So while Træna would be my top choice for epic views out in nature, Støtt is my top choice for a cultural experience. And you don't need a car here either. Read more about visiting Støtt here.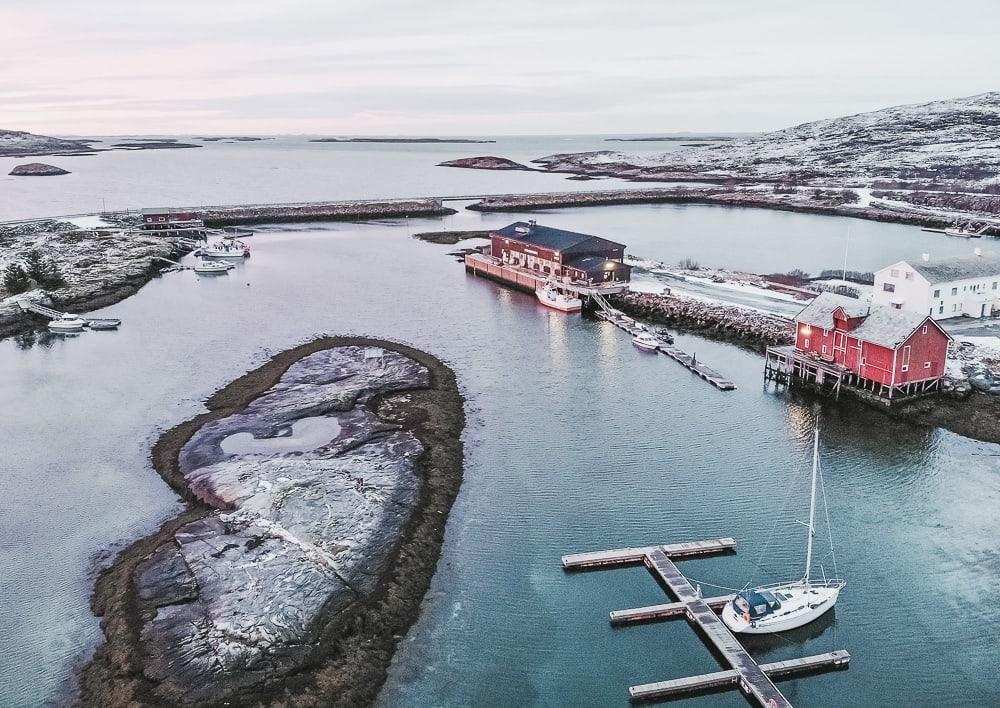 Lovund
There are two reasons to visit Lovund: as an important center for salmon farming, Lovund is probably the most lively of the Helgeland islands, and it also happens to be home to Helgeland's most gorgeous hotel. Lovund Hotel offers stunning views, and the food here is absolutely incredible. If you're a foodie, Lovund should definitely be on your Helgeland itinerary.
And no, you won't need a car here. Read more about visiting Lovund here.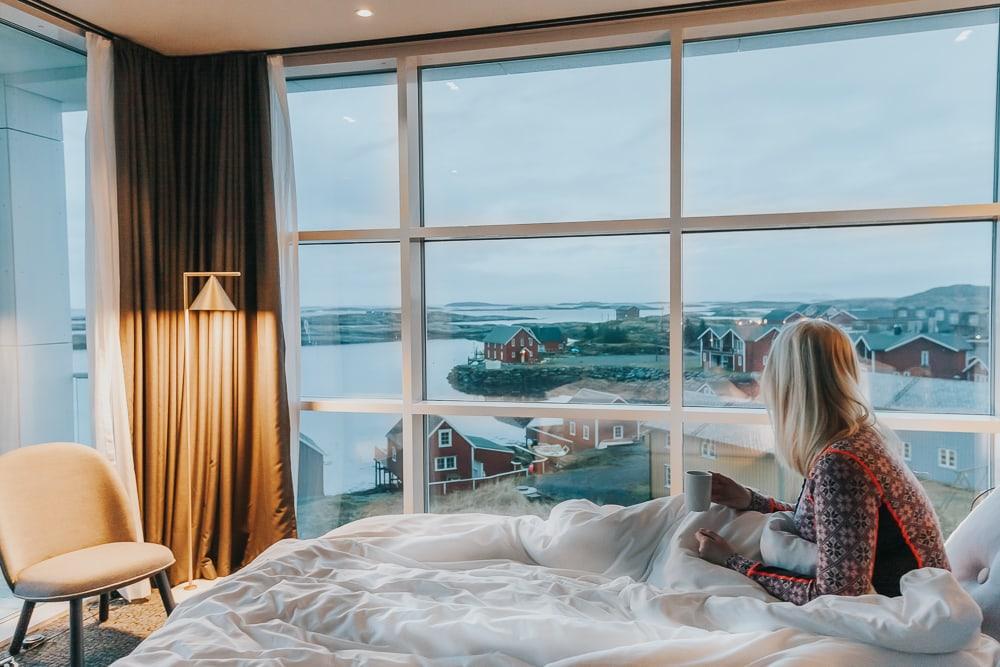 Bolga
When I told two of my friends in Mosjøen (both of whom were born and grew up in Helgeland) that I was visiting Bolga, they said they had never heard of the island before. Apparently this gem is even hidden from locals!
And Bolga truly is a gem. The landscape is incredible, and the accommodation at Bolga Brygge is well worth the visit alone. They even have a glamping dome! You won't need a car here. Read more about visiting Bolga here.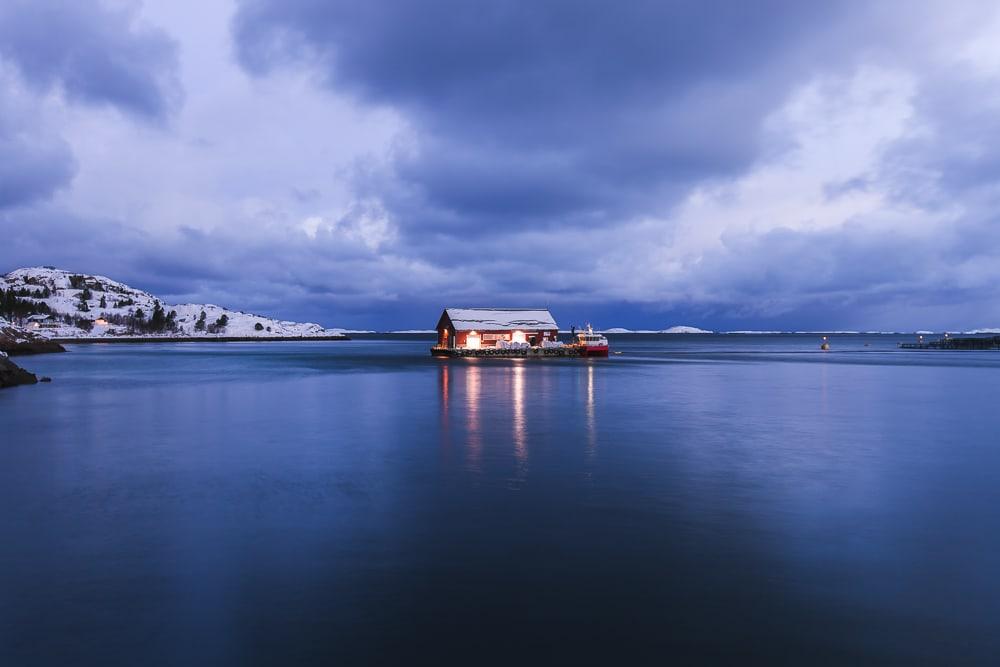 Dønna & Herøy
Dønna and Herøy are quite close to Mosjøen, so they're definitely the islands that I visited the most often. From turquoise beaches to challenging mountain hikes, quirky shops and cafés, and stunning views out towards the Seven Sisters, Dønna and Herøy really have everything you could possibly want for your island vacation.
Dønna and Herøy are connected to each other by bridge, so you get two islands for one ferry ride. You will want to have a car here, or at least a bicycle. Read more about visiting Dønna and Herøy here.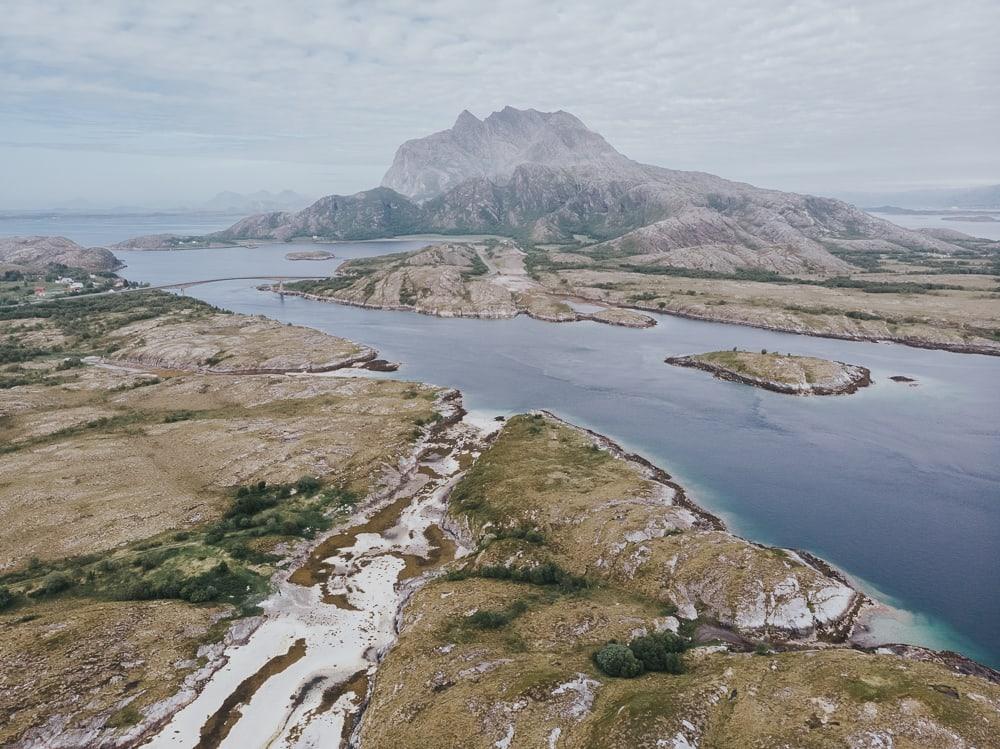 Vega
A UNESCO World Heritage Site, the Vega archipelago might actually be the most famous of the Helgeland islands. But I'm going to be controversial here and say that Vega is probably my least favorite on this list. Though keep in mind that I really, really love the other islands, so Vega is still pretty great.
Yes, there's so much interesting history here, but I think I personally prefer the smaller islands. Or maybe Vega has simply become a bit too touristy for my taste, because I feel like Vega doesn't have quite as much character as the other Helgeland islands I've visited.
Still, Vega is certainly well worth a visit, especially if you'll be driving along the southern portion of the Helgeland coast. You'll want to have a car here. Read more about visiting Vega here.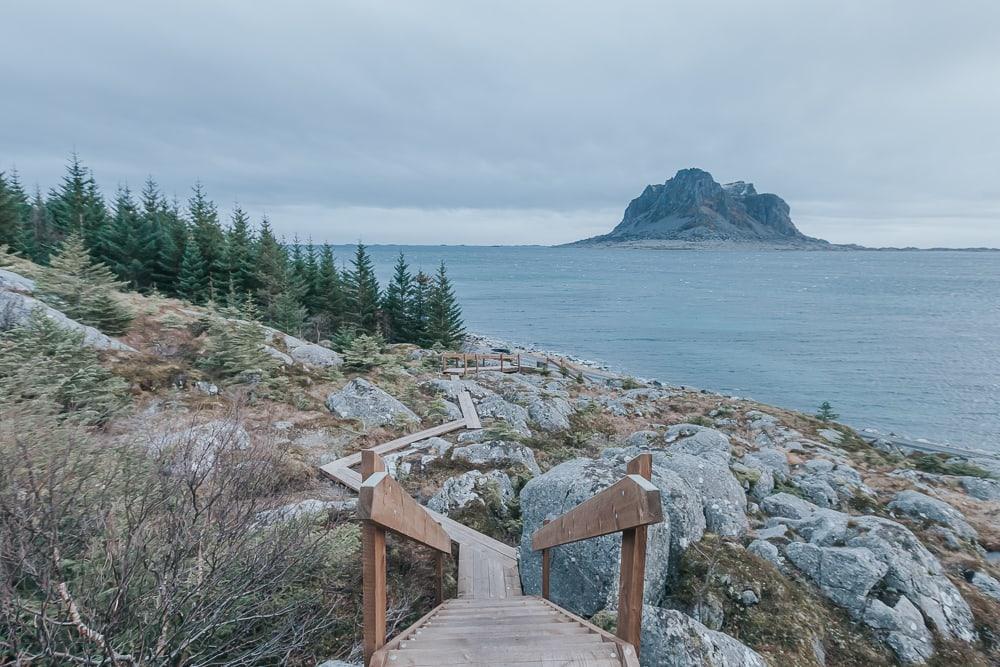 Myken
I haven't actually been to Myken yet, but it's definitely the next Helgeland island I want to visit. This tiny cluster of islands lies far out into the sea and is home to a tiny fishing village, as well as a whisky distillery! And there are no cars here.
Helgeland coast by car
Driving along the entire Helgeland coast involves six ferry rides, which means you have to time your trip carefully so that you aren't left waiting hours for the next ferry or stranded after the last ferry of the day. Also keep in mind that these ferries are quite pricey, around 300 kroner each for a car, so if you plan to drive the entire coastal route you'll want to budget for them. You can check each ferry schedule and price here.
No, you don't need to book your ticket in advance, but during the high season you should try to arrive at the ferry at least half an hour in advance (earlier if the ferries are extra busy). Simply drive on the ferry and then either someone will come up to your car with a credit card terminal for you to pay for your ticket, or they will take a photo of your license plate and you will be billed later (through your car rental company if you're renting). You cannot pay in cash.
The entire stretch of coastline is beautiful, but if you choose only to drive part of it I would recommend the northern part. The landscape is more dramatic in the north, with lots of jagged mountain peaks, while the south is flatter and better for cycling. Plus if you drive the northern part you'll get to cross the Arctic Circle!
You can fly into Bodø and rent a car from there, and then make a loop down the coast and then return back up along the inland road (so you can skip the ferries). If you do start in Bodø, definitely make a stop at the Saltstraumen maelstrom, one of the world's strongest tidal currents, on your way to the Helgeland coast. Read more about visiting Bodø and Saltstraumen here.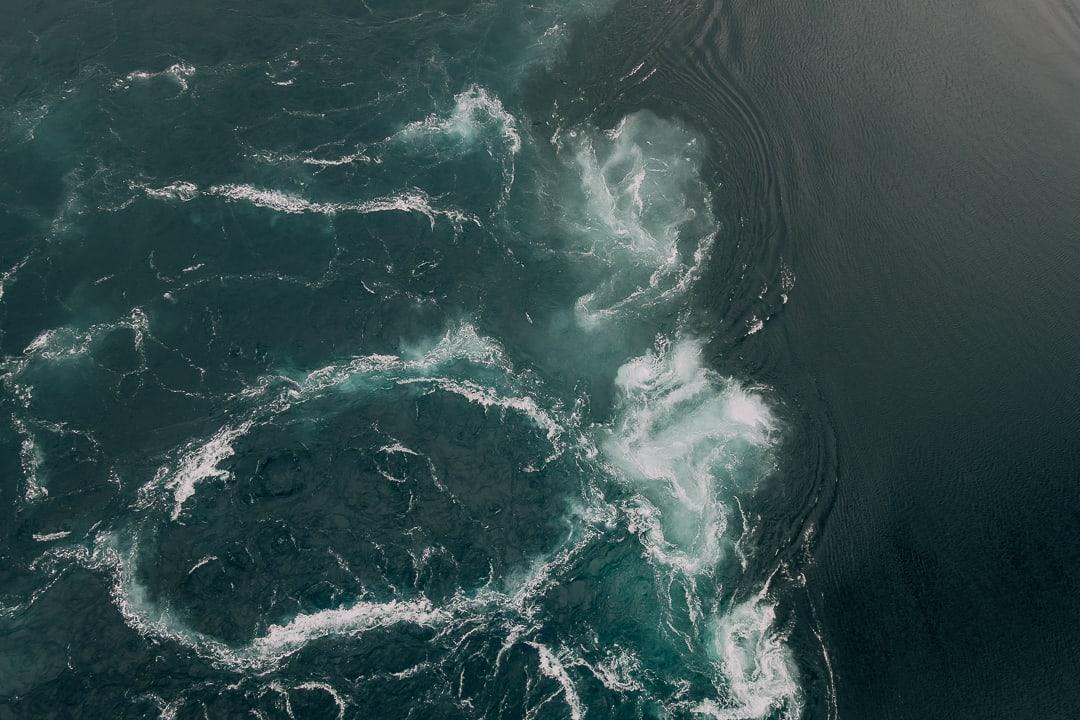 Another spot worth stopping at is the Ureddplassen public toilet. Yes, you read that right. Ureddplassen has been in the media so much that I seriously wonder what this toilet's marketing budget is – with news outlets across the world proclaiming it the world's most beautiful public toilet. And it is very pretty: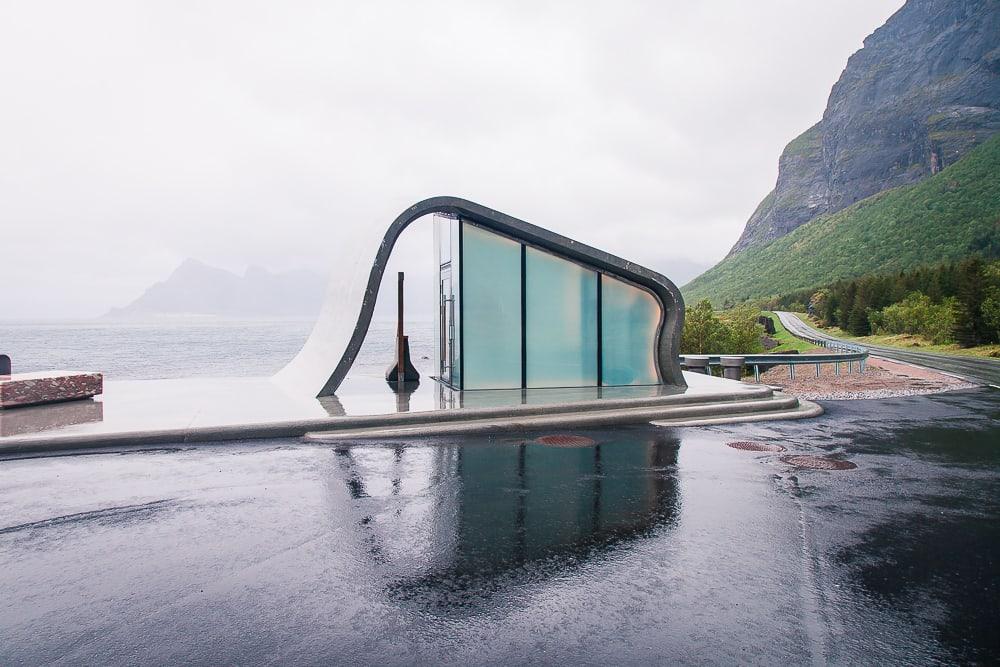 Then if you want to visit Bolga or Støtt you can get the express boat from Ørnes, leaving your car there. You can also get the boat from Ørnes to Træna, Lovund, and Myken, though for those islands it would make more sense to get the boat farther south in Stokkvågen instead, if you plan on driving that far south.
You can check the ferry and express boat schedule here.
Then south from Ørnes you'll pass by the famous Svartisen, Norway's second largest glacier. If you want to walk to the glacier you can get a boat from Holandsvik – find more information here.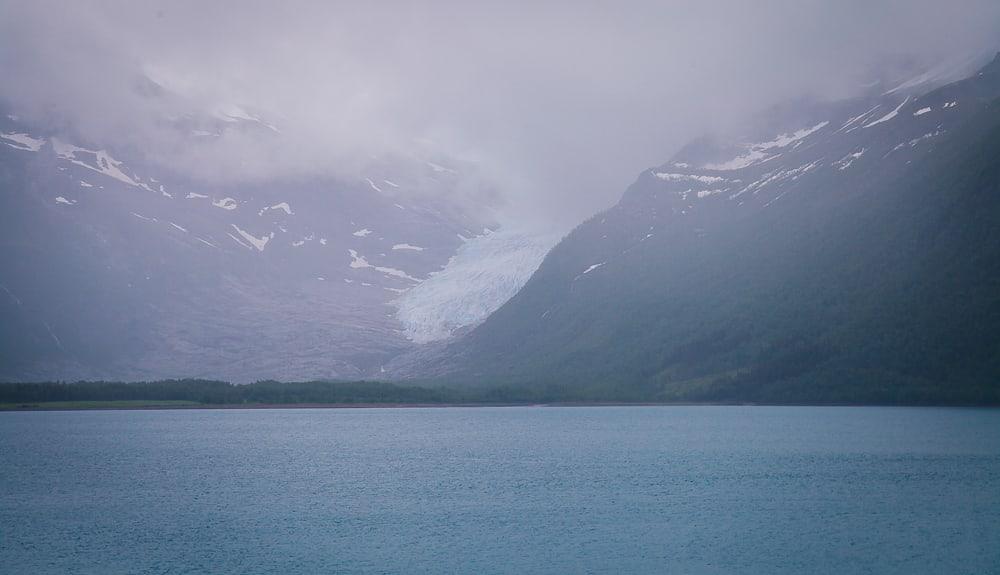 Right as you pass Svartisen you will take your first car ferry, from Forøy to Ågskardet.
Then the next ferry is quite soon after, from Jektvik to Kilboghamn. After this ferry you will pass through Stokkvågen, which is a good place to get the express boat to the islands of Træna, Lovund, and Myken. You can park for free at the parking lot here.
If you decide to only drive part of the Helgeland coast, you can either drive south to Mosjøen, or if you want a slightly shorter loop, head inland to Mo i Rana.
If driving south to Mosjøen you will next get the ferry from Nesna to Levang. Or you could choose to spend the night in Nesna at Havblikk Helgeland.
I think it's worth driving all the way down to Mosjøen as it's a really cute town with a lot of history. But if you choose to head inland to Mo i Rana instead you should at least try to make time for the short hike to Marmorslottet. Read more about visiting Mosjøen here and about Mo i Rana and hiking to Marmorslottet here.
You can also take a guided tour to Svartisen glacier from Skonseng, near Mo i Rana.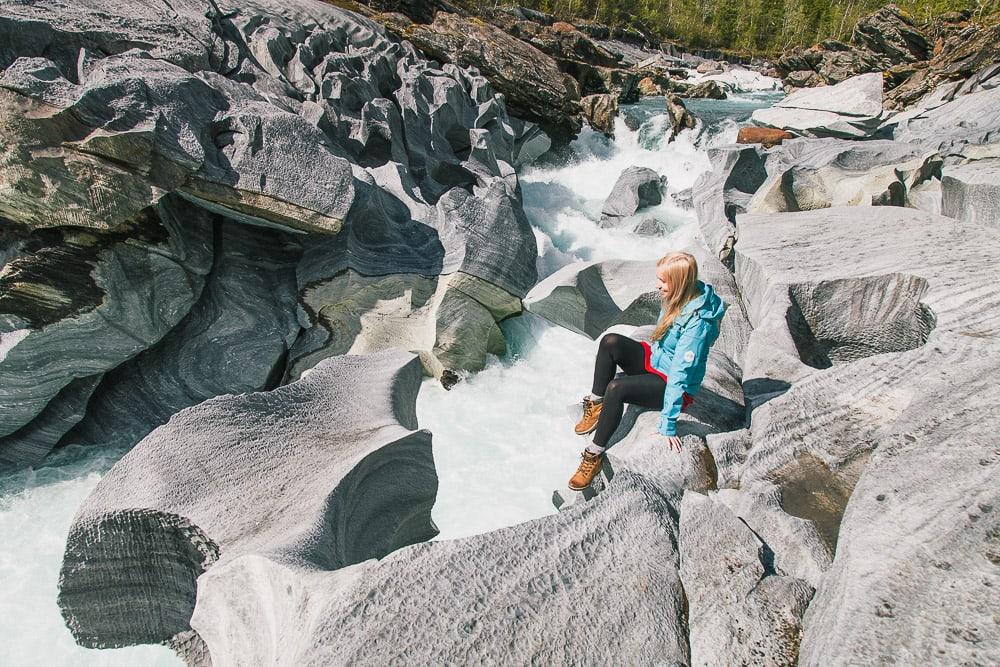 If you do choose to keep heading south down the Helgeland coast, you can make a detour to the islands of Dønna and Herøy from Sandnessjøen. Sandnessjøen itself isn't super interesting, but you'll find lots of shops and restaurants here, and you can overnight at the Scandic Syv Søstre, which overlooks the magnificent Syv Søstre (Seven Sisters) mountains.
Then your next ferry will be from Tjøtta to Forvik. If you're planning to visit the Vega islands you might also be able to get the ferry to Igerøya on Vega from Tjøtta, though it doesn't run every day, so check the schedule.
And then the final ferry of your Helgelandskysten road trip is from Anddalsvåg to Horn. And from Horn you can also get the ferry to Vega, which runs a lot more often than the one from Tjøtta.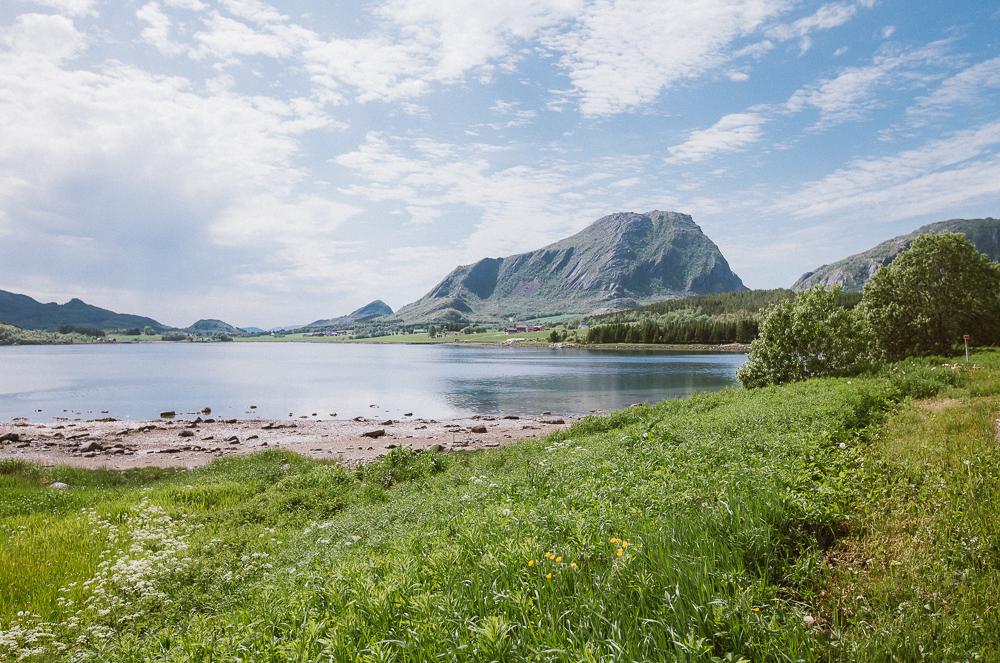 If you're looking for a place to stay after Horn, Brønnøysund is a lovely town with lots of tourist options. I recommend staying at the the seaside cabins at the Aquaculture Center. Read about visiting Brønnøysund here.
From here you can keep driving south towards Trondheim, in which case I highly recommend taking the Golden Detour. And you can find my Trondheim guide here and where to stay in Trondheim here.
Helgland coast by public transportation
If you want to explore the Helgelandskysten without a car, I recommend sticking to the smaller islands. You could also opt to bring a bicycle, though lugging it on and off ferries is a bit of a pain and unnecessary when some of the prettiest islands are tiny enough to explore by foot.
This is a great trip to do with a tent, as it's really easy to find incredible wild camping spots on the islands, but there are also plenty of accommodation options if you don't feel like carrying around lots of heavy camping gear.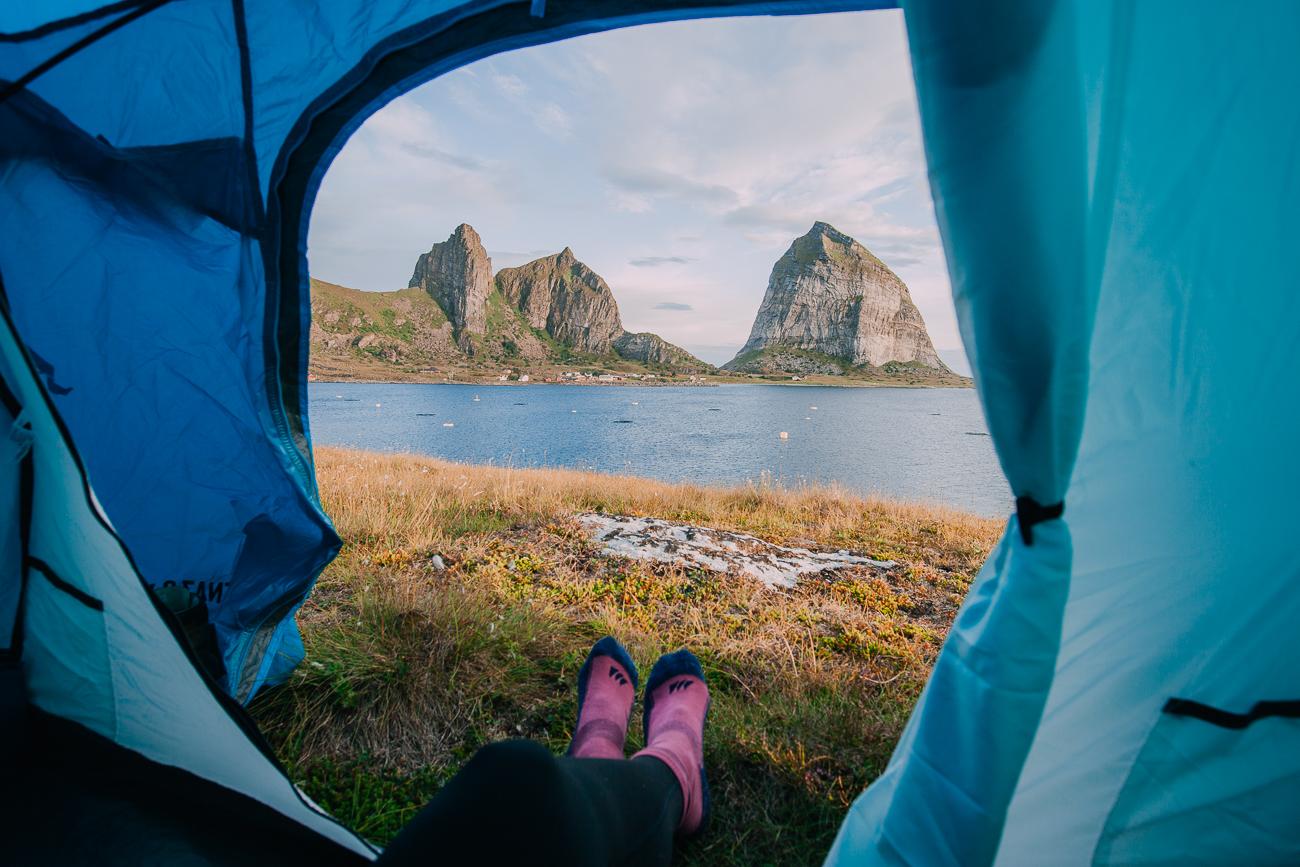 You could actually get the express boat to the islands from Bodø and do this entire trip by boat, or you could do a combination of boat and bus, if you want to see some of the Helgeland mainland as well.
If you buy the Travel Pass Norldand you can travel as much as you want by express boat, bus, and ferry (without a car of course) for one week for 990 kroner (445 for children under 16), which is quite a bargain if you'll be visiting lots of islands!
You can purchase the Travel Pass Nordland on their app, which is linked here. The Travel Pass will cover the cost of all your tickets, but be sure to still order your specific tickets for the express boats, as during the summer the boats can fill up. When you go to order your ticket simply check off the box saying that you're traveling with the Travel Pass and you won't be charged for your ticket reservation.