I guess we're all in the dreaming stage when it comes to travel, and I don't know about you, but I like to dream big. So I thought it would be fun to come up with the ultimate Norway dream list: the best of the best hotels in Norway.
I've stayed at a bunch of these, while others are still on my bucket list. And then a couple of these stays are so exclusive that I seriously doubt I'll ever experience them myself. But maybe you will?
A lot of these are quite pricey (though some are surprisingly affordable!), so my suggestion would be to have a look at your Norway itinerary (you can find all my Norway itineraries here) and see if you can swing staying at one or a few of these to really make your Norway trip special. If you're visiting Norway on a tight budget, check out my Norway budget accommodation guide.
And if you want more in depth Norway advice, I've also gathered all my best tips for planning an incredible trip through both Southern and Northern Norway in two 95-page ebooks that cover everything you'll need to know to plan a Norway trip that you will love. You can purchase my Norway travel guides here.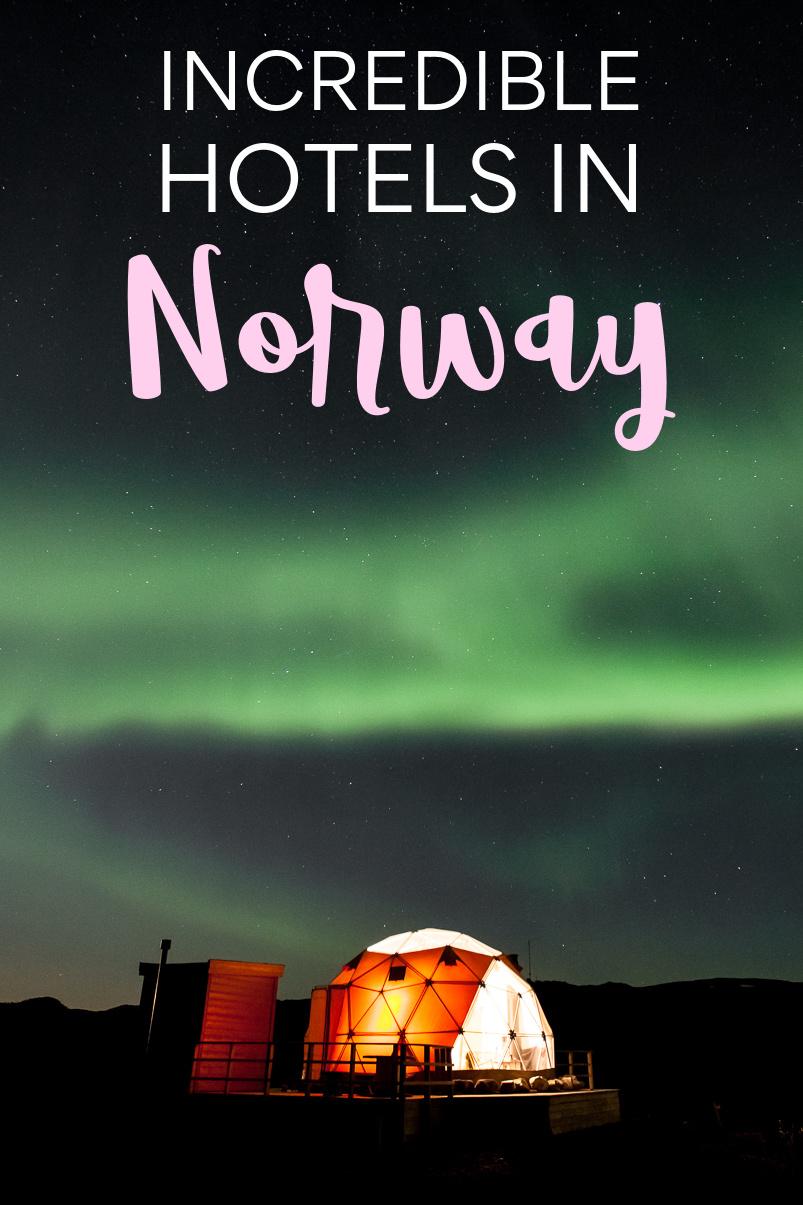 The Grand Hotel in Oslo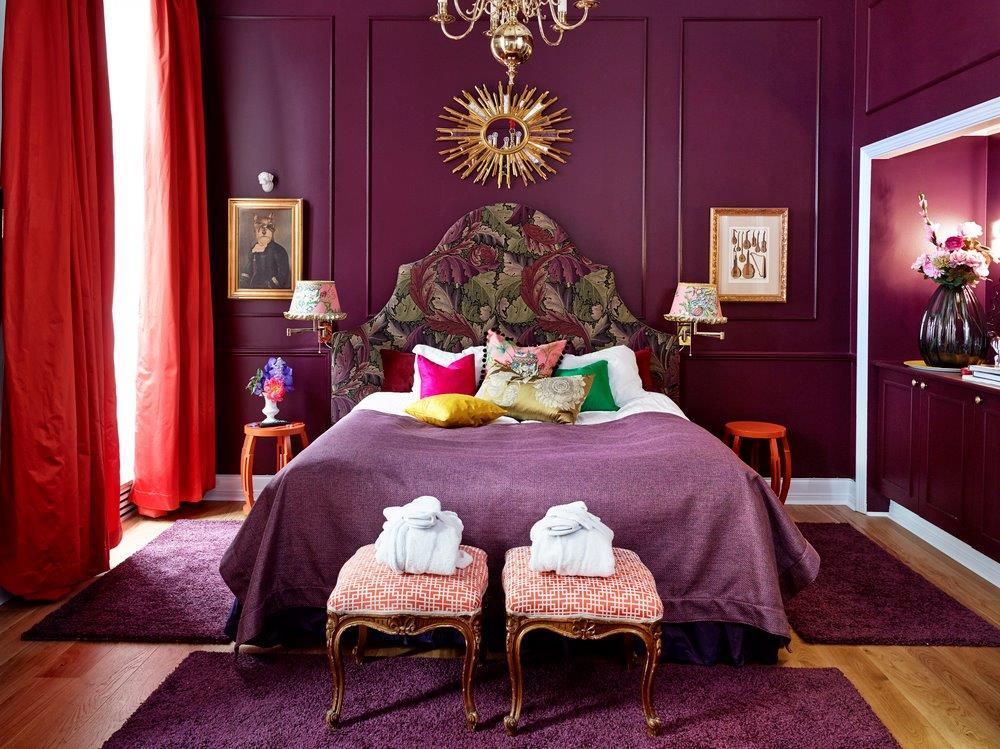 While I was growing up my family had a print in our bathroom of Henrik Ibsen at the Grand Café. Ibsen was a daily regular at the Grand Hotel's café for many years, and if it's good enough for Norway's famous playwright, I imagine it's good enough for all of us.
Opened in 1874, The Grand Hotel is Oslo's most well-known and prestigious hotel, so if you're looking to immerse yourself in the city's history, this is the hotel for you. Check current rates and availability here
Camillas Hus in Oslo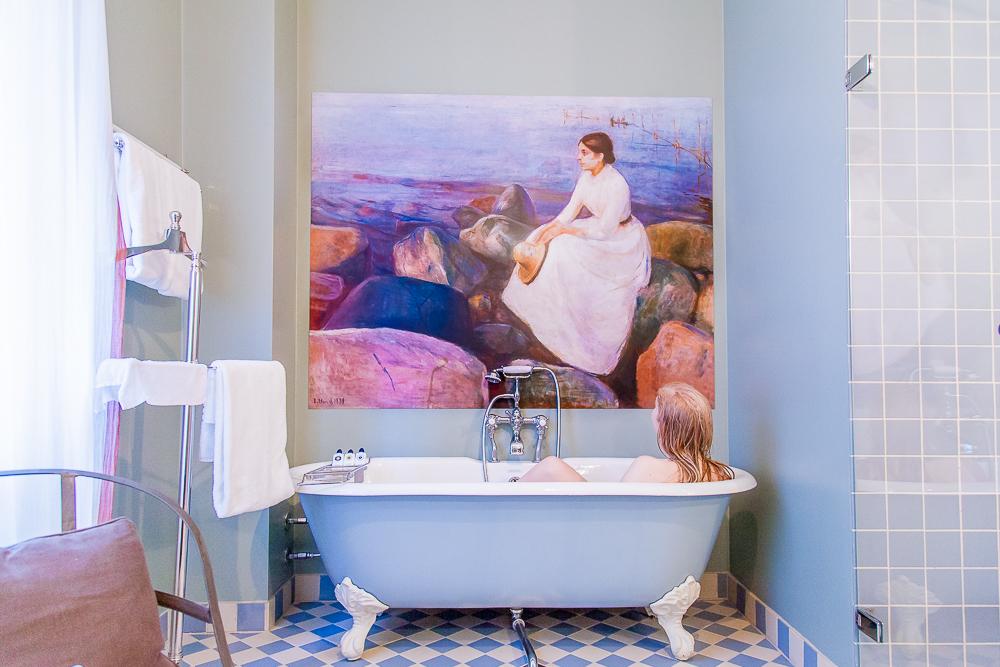 Camillas Hus was built in 1845 as part of the palace architect Linstow's plan for the area right around the Royal place. And one of the house's earliest tenants was Camilla Collett, a famous Norwegian novelist and women's rights activist. I've written about my stay at Camillas Hus here.
This place keeps so perfectly with its period theme without sacrificing any luxury. It's sort of like sleeping on a movie set! It's certainly the most unique luxury hotel I've stayed at in Oslo and I would say it's worth the money just for how immediately it immerses you in Norwegian history and culture. Check current rates and availability here
WonderINN
WonderINN has become a favorite amongst Norwegian Instagram celebrities, and it's easy to see why. These mirrored glass cabins offer a spectacular view out into nature, while maintaining guests' privacy inside. And if admiring the view from your cabin isn't cozy enough, there's also a wood-fired hot tub outside.
The great thing about WonderINN is that they're located just half an hour outside of Oslo, so they're super easy to get to if you want a quick nature escape after exploring Norway's capital. Check current rates and availability here
Dalen Hotel in Telemark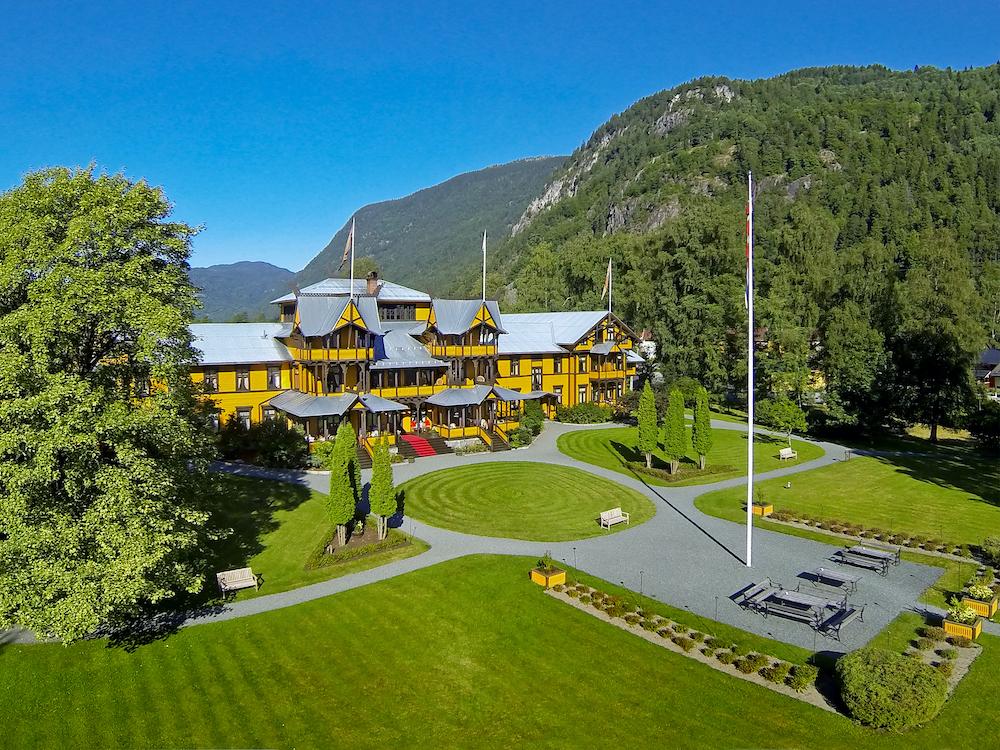 My mother grew up in Telemark, and actually my grandparents built Bø Hotel, which isn't quite epic enough for this list, but still really lovely! Instead when I sat down to compile this list the first hotel that came to mind was Telemark's famous Dalen Hotel.
It looks like an fairytale castle and is a popular place for weddings and events. In fact the Dalen Hotel was once popular amongst European royalty, and it is now one of the best preserved hotels of its size from the 1800s. It's a bit off the beaten path, in a really pretty valley perfect for a quiet escape. Check current rates and availability here
Utne Hotel on Hardangerfjord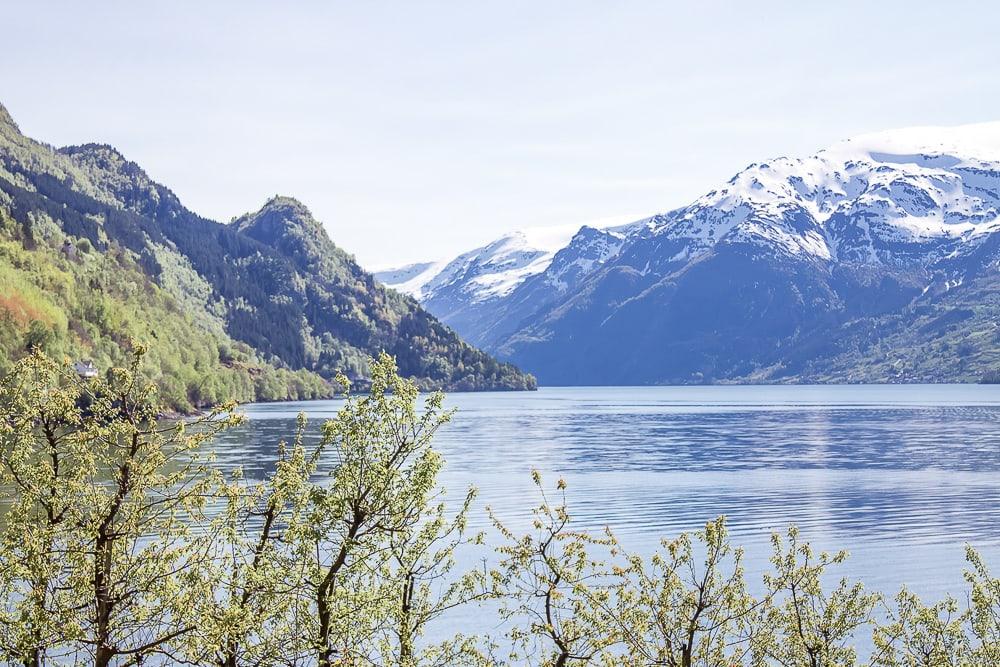 Hardangerfjord is one of my favorite Norwegian fjords, and the Utne Hotel is right on the edge of the fjord. The Utne Hotel dates back to 1722 and is perfect for anyone who enjoys unique, historical accommodation. Check current rates and availability here
Hardanger Panorama Lodge
Treetop accommodation is all the rage these days, and sure enough I've seen the Hardanger Panorama Lodge popping up a lot on Instagram lately. The views over Hardangefjord look incredible, and this looks like the perfect way to really get out in nature without actually having to camp outside. Check current rates and availability here
Det Hanseatiske Hotel in Bergen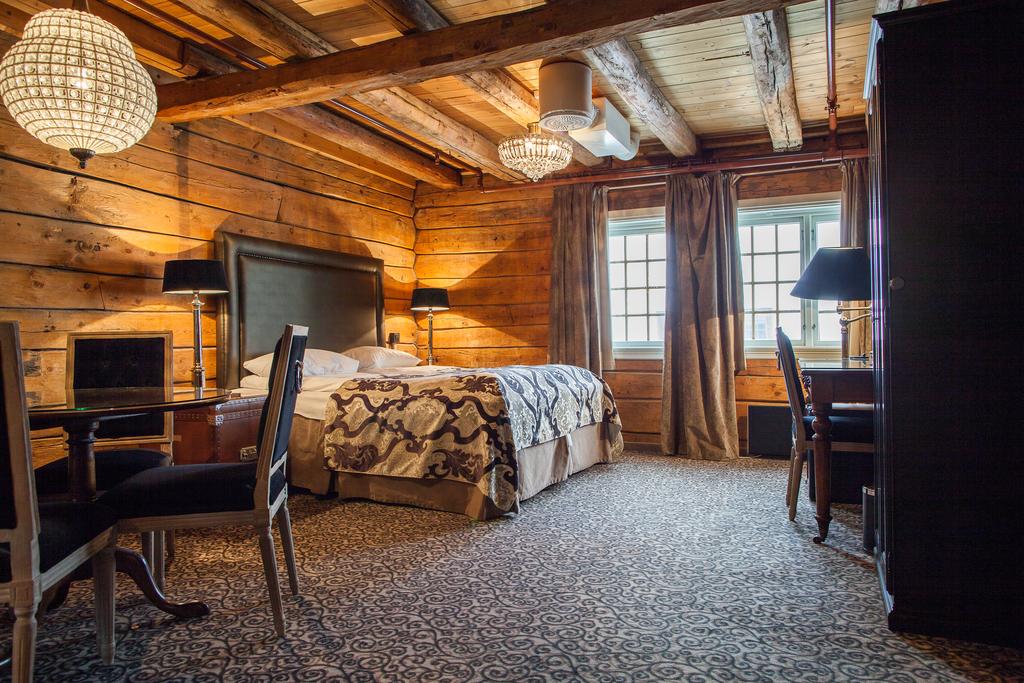 Det Hanseatiske Hotel is housed in a 16th century building in Bryggen, probably the most beautiful part of Bergen. I love all the little details here, like the bookshelves, artwork, leather couches, and deep bathtubs.
Staying here is a real cultural experience and a wonderful way to get to know more about Norway. It's also right downtown, so you'll be near all the main sights. Check current rates and availability here
Fretheim Hotel in Flåm
While I don't necessarily recommend staying in Flåm as it gets crazy touristy in the summer, if you want the convenience of staying in town (especially if you don't have a car) the Fretheim Hotel is the nicest hotel in town.
The Fretheim Hotel is right next to the Visitor's Center, and the hotel itself is a beautifully decorated, refurbished 1800s manor house, with luxurious rooms all with mountain or fjord views. The railway station and ferry port are both an easy 5-minute walk from the hotel, so it really is convenient. Just be sure to book your stay as soon as possible – Fretheim Hotel usually books up for the summer months in advance. Check current rates and availability here
Kviknes Hotel in Balestrand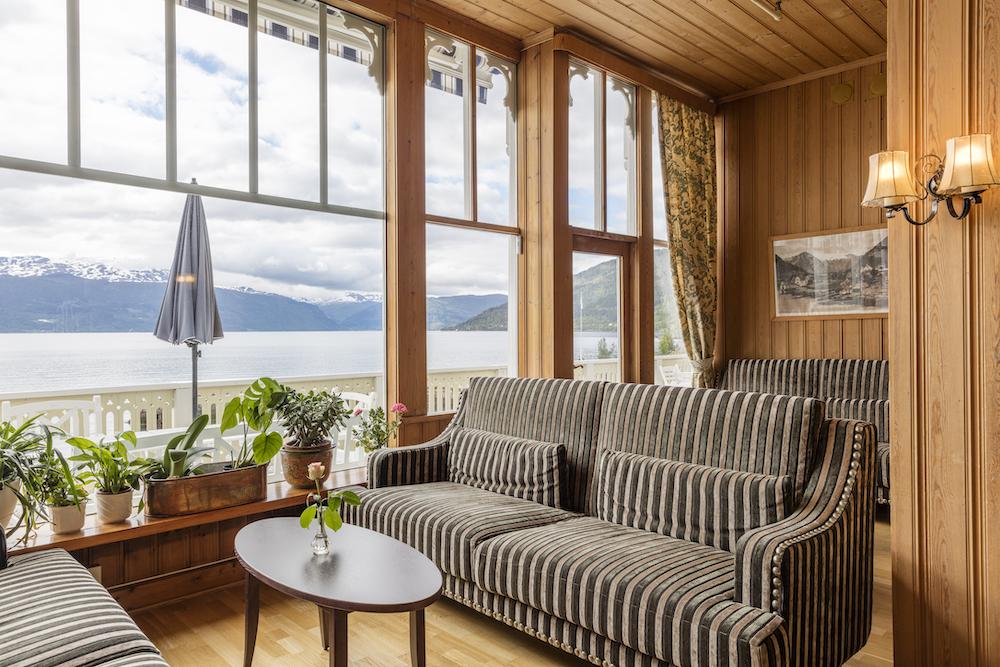 This grand 18th century hotel is right on the water, with both a modern wing and a historic wing filled with art and antiques. The views from here out over Sognefjord are breathtaking and here you'll enjoy one of your best breakfasts in Norway.
The best part of Kviknes Hotel is definitely its stunning location, as well as how conveniently central it is – you're just a short walk from the beach, shops, and cafés here. Click here for current rates and availability
Hotel Union Øye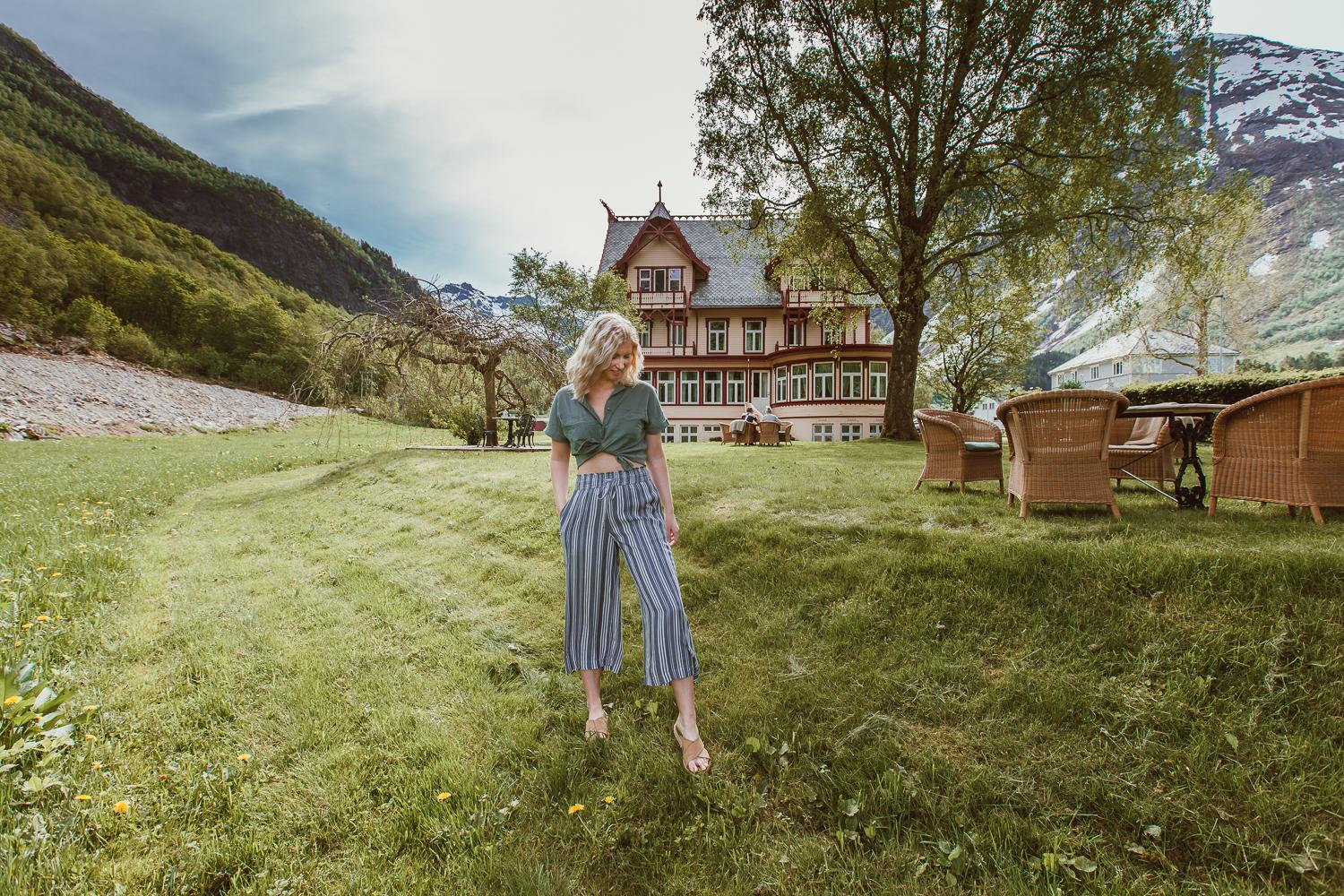 The Hotel Union Øye lies in the heart of Norway's magnificent Sunnmøre Alps, as well as at the end of Norangsfjord, a branch of Hjørundfjord, which many Norwegians consider to be Norway's most beautiful fjord – and I agree! I've written more about Hjørundfjord here. And you can read more about my stay at the Hotel Union Øye here.
Built in 1891, the Hotel Union Øye became a favorite getaway for famous writers, artists, and even royals. And now the rooms have been named for their renowned guests.
Staying here felt almost like spending a night in a museum, but in a good way! Check current rates and availability here.
Hotel Union Geiranger
The Hotel Union Geiranger was totally rebuilt in 1979 so is quite different from the Hotel Union in Øye, but it looks equally spectacular. Overlooking Geiranger Fjord, this is a spa hotel with indoor and outdoor swimming pools, a sauna and hot tub – and of course lots of beautiful views! Check current rates and availability here
Hjelle Hotel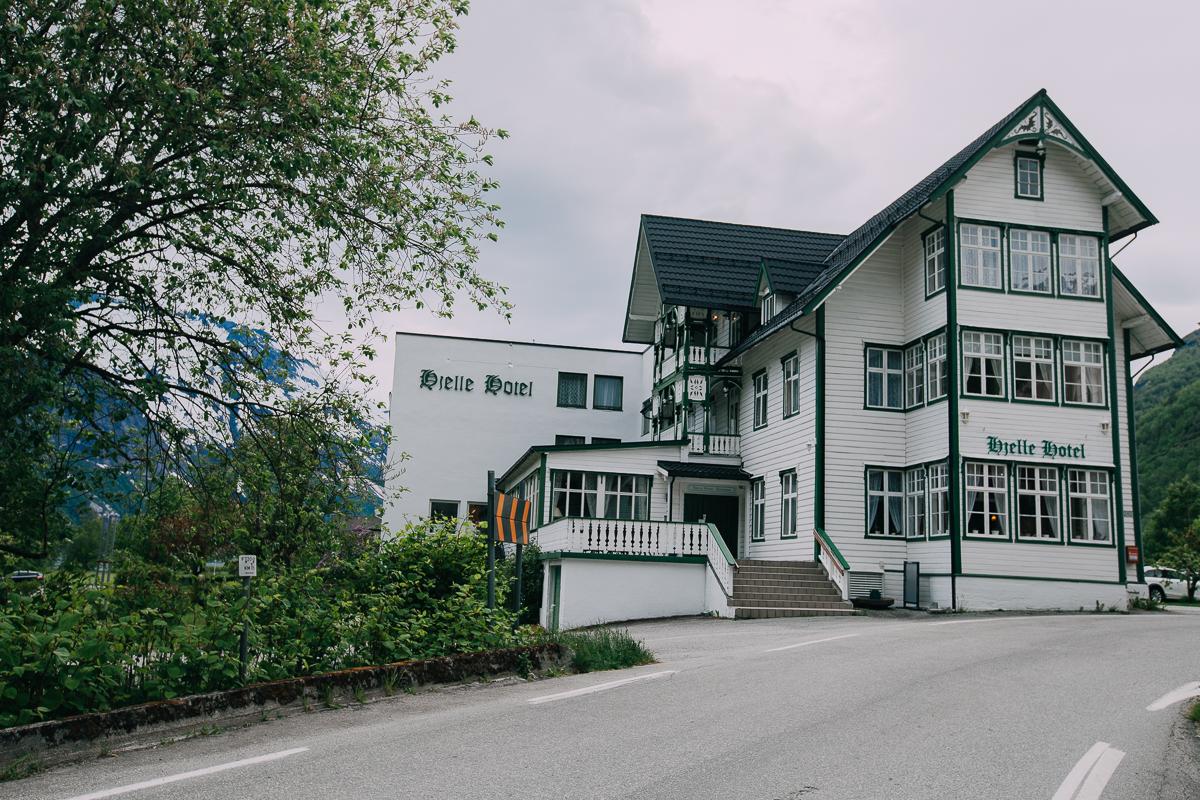 The Hjelle Hotel is another historic Norwegian hotel, built in 1896, but the most incredible part of staying here is the location, right on the turquoise Oppstrynsvatnet lake. There's even a white sand beach! I also love that it's far enough from Geirangerfjord to be away from the tourists crowds, but close enough for easy access. Check current rates and availability here.
Walaker Hotel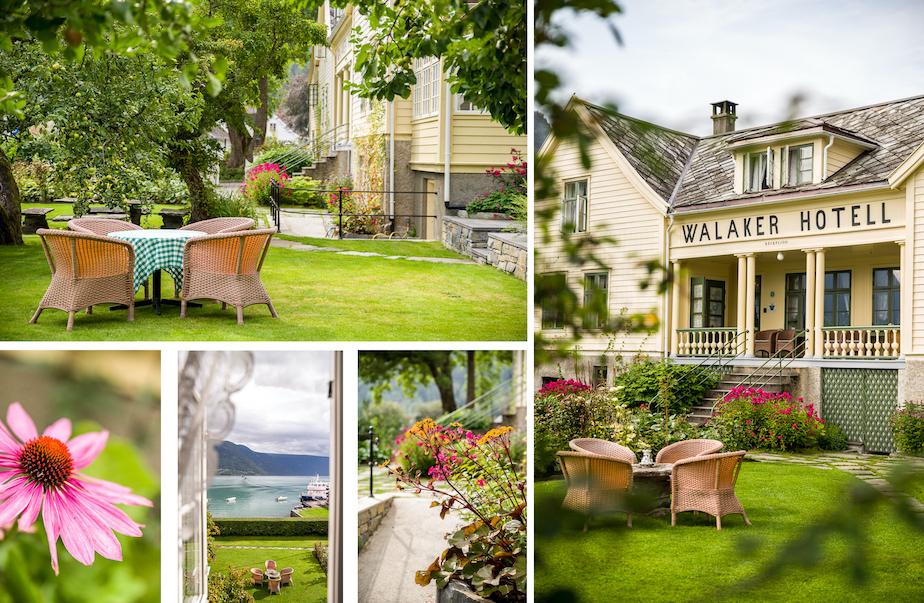 This 9th generation family-run hotel is actually Norway's oldest hotel, dating all the way back to 1640! The hotel keeps true to its historic roots with antique furniture and old-world decor, while also maintaining modern comforts with luxurious beds and pristine bathrooms. It's located in the quiet village of Svolvorn, and just a minute walk from the beach.
It's also worth dining in at the Walaker Hotel, as their 4-course Norwegian dinners overlooking Lustrafjord are truly an experience! The hotel is also nearby the 12th century Urnes Stave Church and Jostedalsbreen Glacier. Click here to check current rates and availability
Fjærland Fjordstove Hotel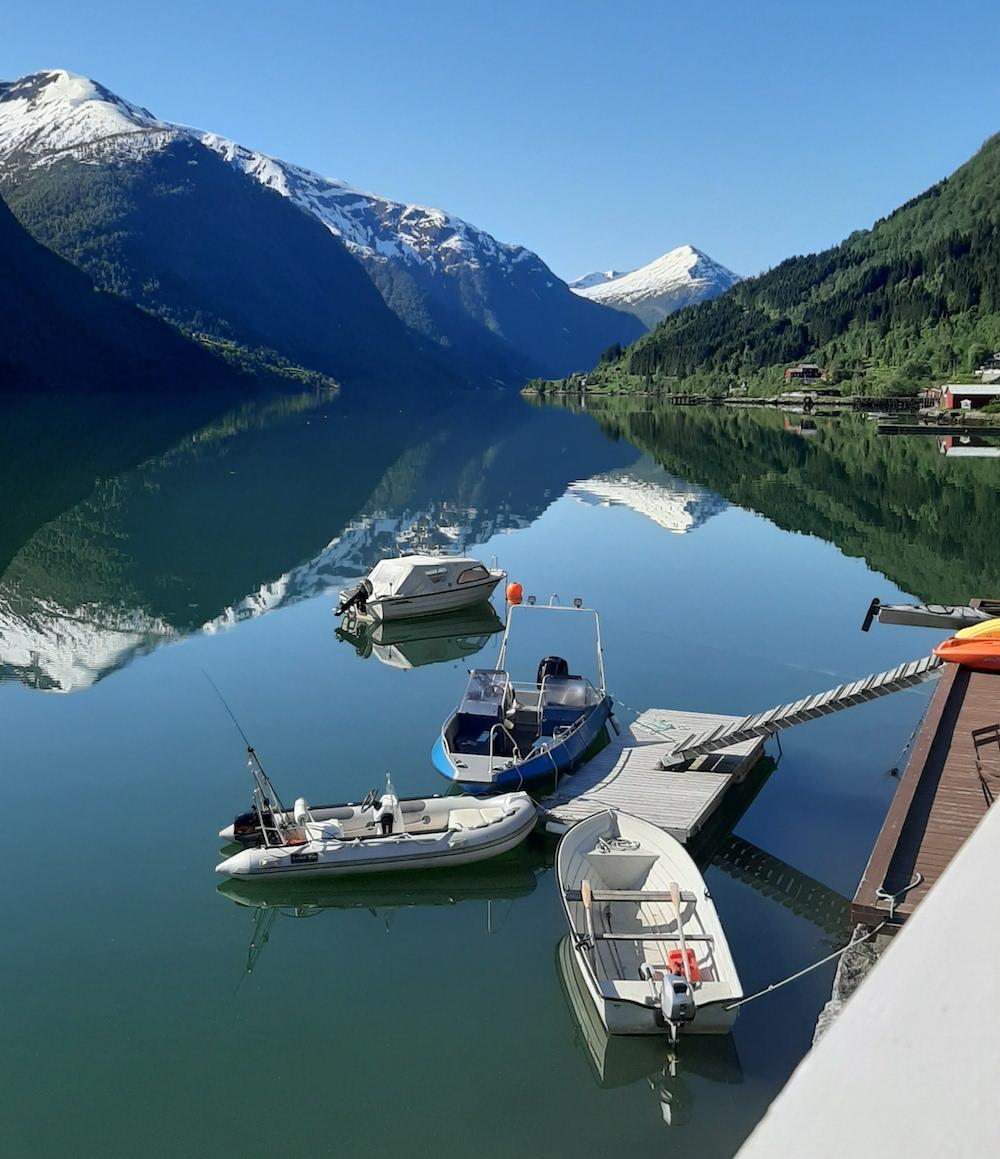 This old family-run hotel dates back to the 1930s and it just oozes character, while also maintaining an impressive level of luxury. The hotel is right on the fjord, and from the delicious Norwegian meals served in the restaurant to the old antique Norwegian furnishings, staying here is the perfect way to experience Norway. It even has a private beach!
While this perhaps might not be ideal for people looking for a modern luxury hotel, if you want to experience more of Norwegian culture the Fjærland Fjordstue Hotel could not be more perfect. Click here to check current rates and availability
Britannia Hotel in Trondheim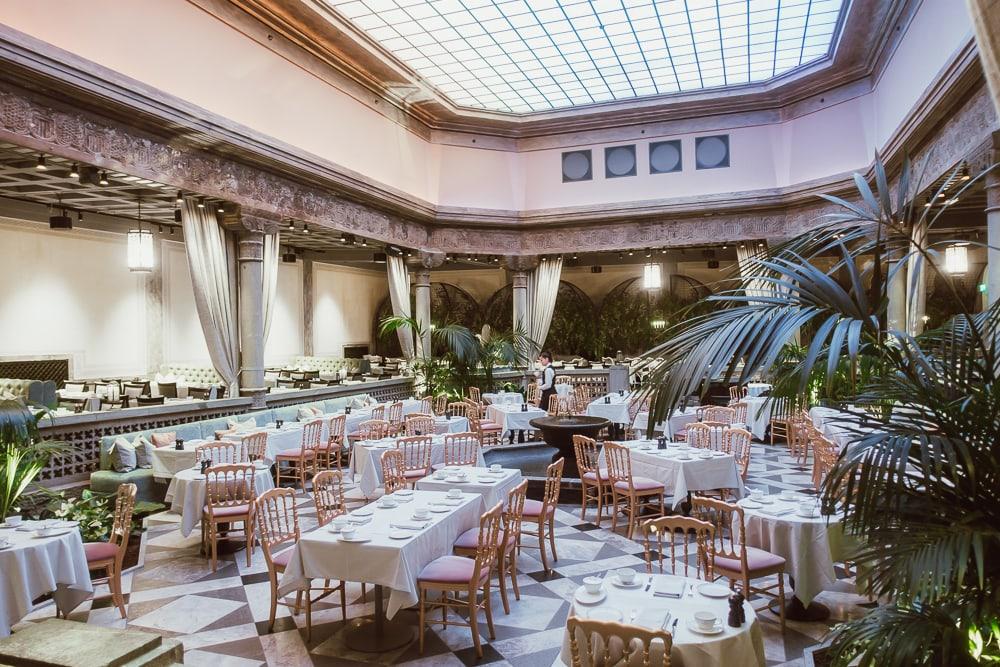 First opened in 1870, over the years the Britannia Hotel has hosted many notable guests including royals from Norway, the UK, and the US (Beyoncé and Jay-Z, of course). In 2019 the hotel completed a massive renovation, and the inside now is seriously impressive. Read about my stay at the Britannia Hotel here.
Oh and the breakfast here is amazing. Plus the breakfast room is gorgeous! And it's actually surprisingly affordable considering how high end the hotel is. Check current rates and availability here
Sæterstad Farm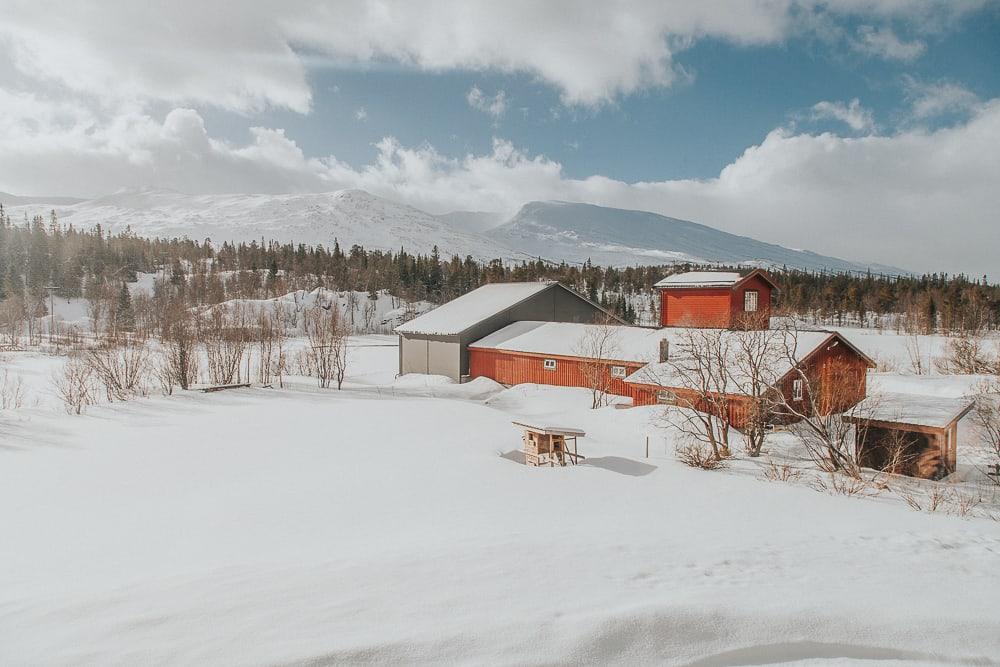 If you're interested in really immersing yourself in Norwegian culture, you should definitely include a farm stay in your Norway itinerary! There are so many amazing farm stays available on Booking.com, but one of my absolute favorites is Sæterstad Farm by Røssvatnet Lake in Helgeland. You can read about my stay at Sæterstad Farm here.
I love that this is a working farm – if you're lucky you can watch them making Norwegian brown cheese or help feed their goats – but the accommodation itself is totally luxurious. The view from the accommodation is beautiful, and you can enjoy it from their sauna and jacuzzi! Check current rates and availability here
Lovund Hotel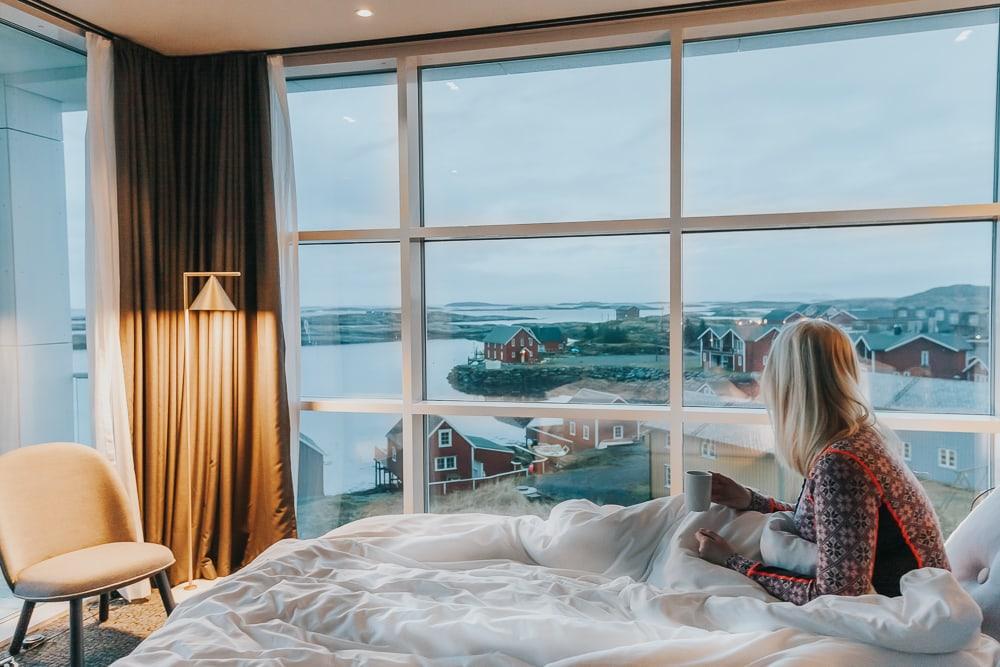 I lived in Helgeland for nearly two years and traveled a lot around the region during that time, and my favorite hotel was definitely Lovund Hotel on the magical little island of Lovund. In fact I loved it so much I stayed twice! Read about my stay at Lovund Hotel here.
Lovund Hotel is right on the water, which means it not only has views over Lovund, but also views out across the water to the neighboring islands. I'd recommend a stay here for the views alone, but Lovund hotel also has one of the best restaurants in Helgeland, so if you're a foodie you should definitely try to visit. Check current rates and availability here.
The Arctic Hideaway
The Arctic Hideaway is so artsy and hip I'm not even entirely sure what it is. The Hideaway consists of a series of houses on a small island in an archipelago south of Bodø, used for both artists in residence and guests. It all looks very interesting and I just read that they allow dogs, so maybe I will have to visit someday.
Check current rates and availability here
Arctic Dome in Narvik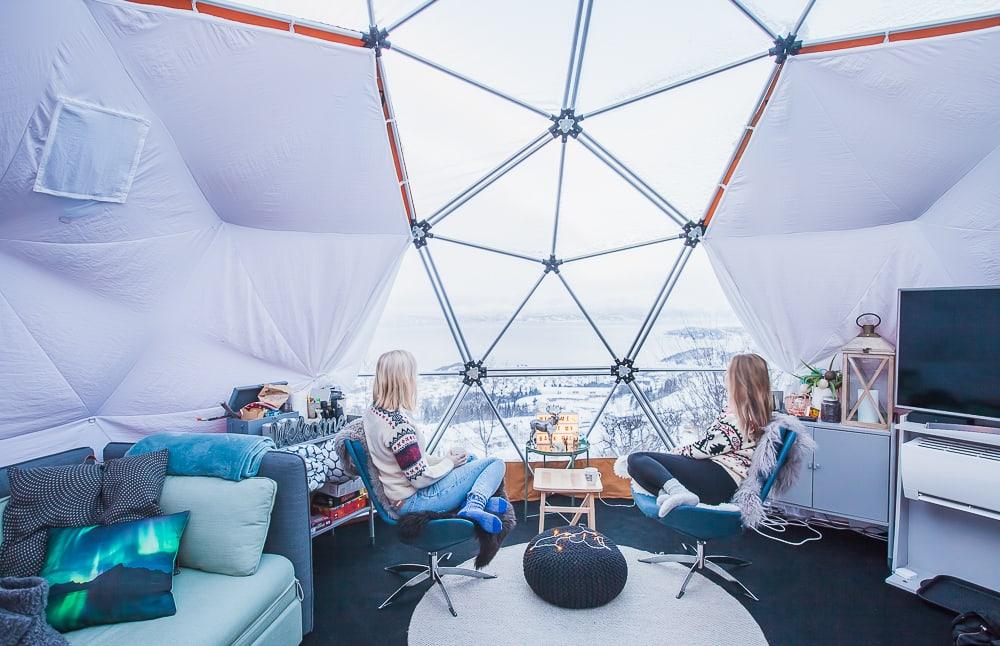 I absolutely love Arctic Domes and they truly are the best places to stay when you want to see the northern lights – or just feel one with nature. The Arctic Dome in Narvik is perched on the side of a mountain, making for some seriously incredible views, whether you're here in the winter or summer. Read about my stay at the Arctic Dome in Narvik here.
I will say this has gone up a lot in price since I stayed here, and the standard isn't anywhere near as high standard as the Arctic Dome in Alta, which is cheaper, but if you're going to be near Narvik then this is perfect. Check current rates and availability here
Nusfjord Arctic Resort in Lofoten
Lofoten has so many incredible places to stay, but the very top of the list has to be Nusfjord Arctic Resort.
Nusfjord is one of the cutest villages in the Lofoten Islands (read about my visit to Nusfjord here). The Nusfjord Arctic Resort has beautifully designed cabins right on the water, and an outdoor spa built with a wooden bath, sauna and natural outdoor shower. I actually was about to book a night here in December but decided to wait to visit until the spa opens up again after the pandemic. Check current rates and availability here
Wolf Lodge
Wolf Lodge is located in the wolf enclosure of Polar Park, the northernmost animal park in the world, where you can casually watch wolves come right up to your window. If that sounds like something you'd like to experience don't get too excited, this stay is so exclusive that the website even actively discourages people from inquiring about the price, explaining that a stay here is "one of the most exclusive, highly coveted experiences in the whole Nordic region, and is priced accordingly. There is only availability for around 15 stays each year."
But if you are mega-rich definitely inquire, because a stay here sounds very cool.
Norwegian Wild in Senja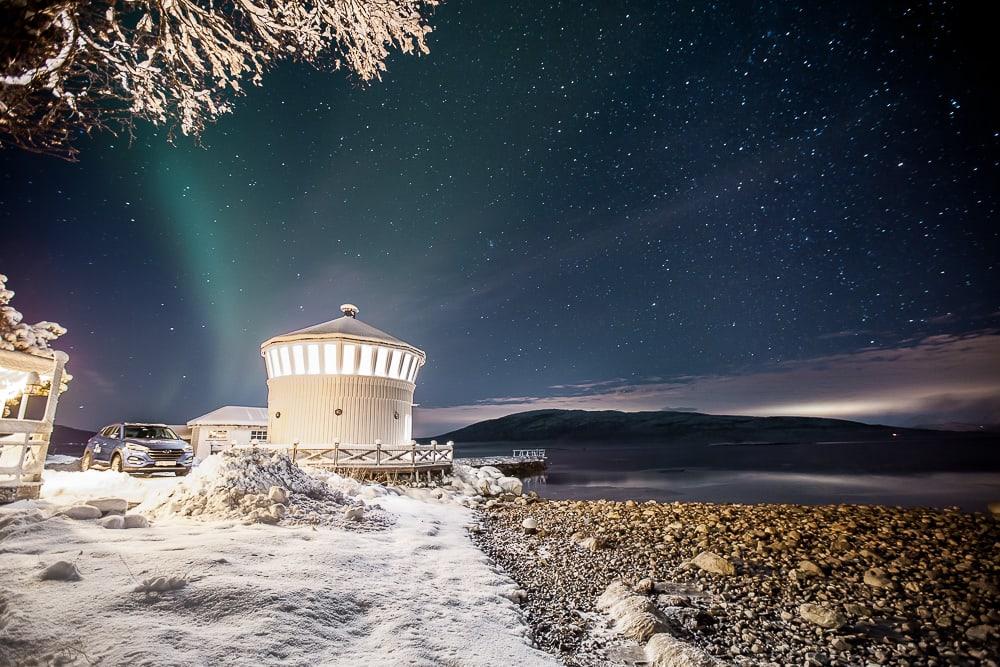 The lighthouse at Norwegian Wild on Senja is actually one of my favorite stays in Norway, partly because I was there with my friends. Read more about our Senja trip here.
Norwegian Wild is a big property on the seaside with lots of different accommodation options, including year-round camping and little cabins, but if you want a special experience, definitely book the lighthouse. The interior is beautifully designed with lots of cute Norwegian touches, and it's right on the water for incredible northern lights (or midnight sun) views. Check current rates and availability here
The Edge Tromsø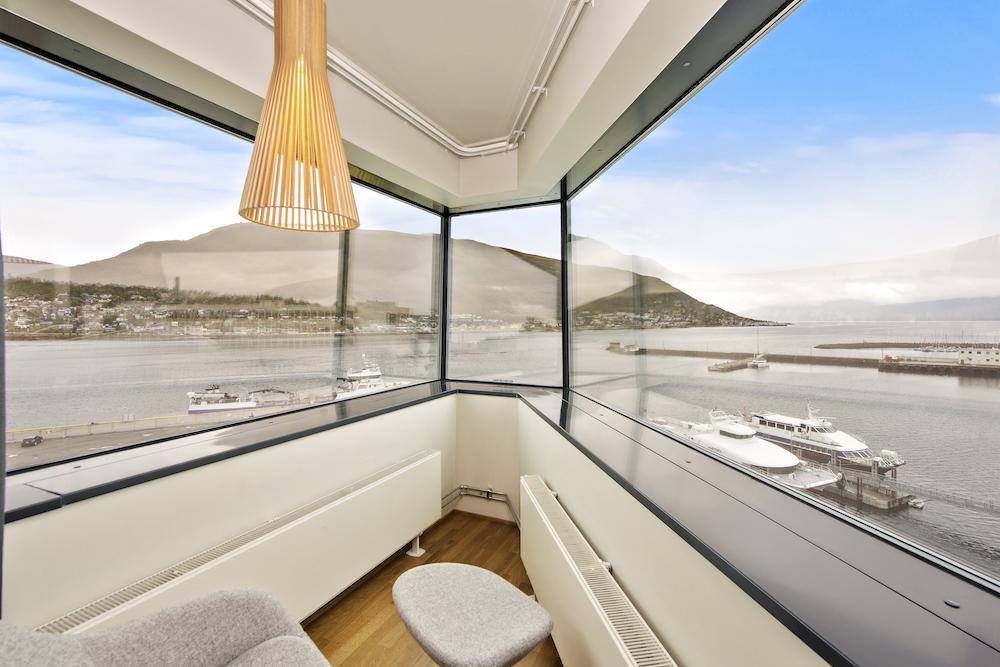 Tromsø has so many wonderful hotels (I stayed at the Thon Hotel Polar and loved it), but everyone I've asked in Tromsø seems to agree that the nicest hotel in town is the Clarion Hotel The Edge. The Edge is right on the water and is home to Tromsø's only skybar. Check current rates and availability here
Sommarøy Arctic Hotel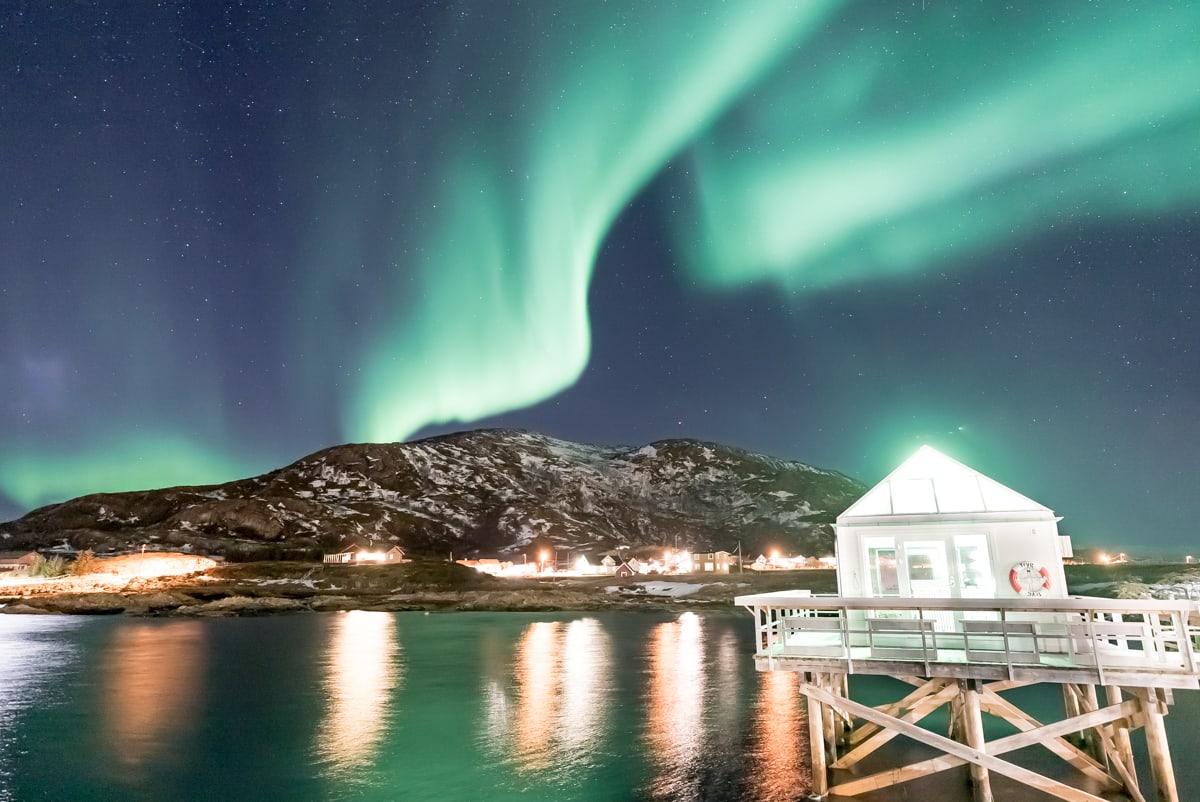 About an hour's drive from Tromsø, the island of Sommarøy is one of my favorite nature getaways here. The views are stunning, and the water is so turquoise you'd almost think you were in the tropics.
I stayed at the Sommarøy Arctic Hotel when my friend Samantha visited, and they even allow dogs! We stayed in one of their standard (dog friendly) rooms, but if you aren't traveling with a dog there are lots of other great options as well. The three-bedroom houses right on the water look incredible. The hotel has a sauna complete with a walkway right into the sea so you can take some icy dips, and there is also a jacuzzi to rent. The restaurant is also fantastic, with beautiful views out over the water. Check current rates and availability here
Sorrisniva Igloo Hotel in Alta
Sorrisniva Igloo Hotel is constructed entirely of snow and ice (rebuilt at the start of each winter season) and features beautiful ice sculptures. And don't worry, they provide super warm sleeping bags and reindeer skins to keep you warm inside the igloo at night. Check current rates and availability here
Aurora Canvas Dome in Alta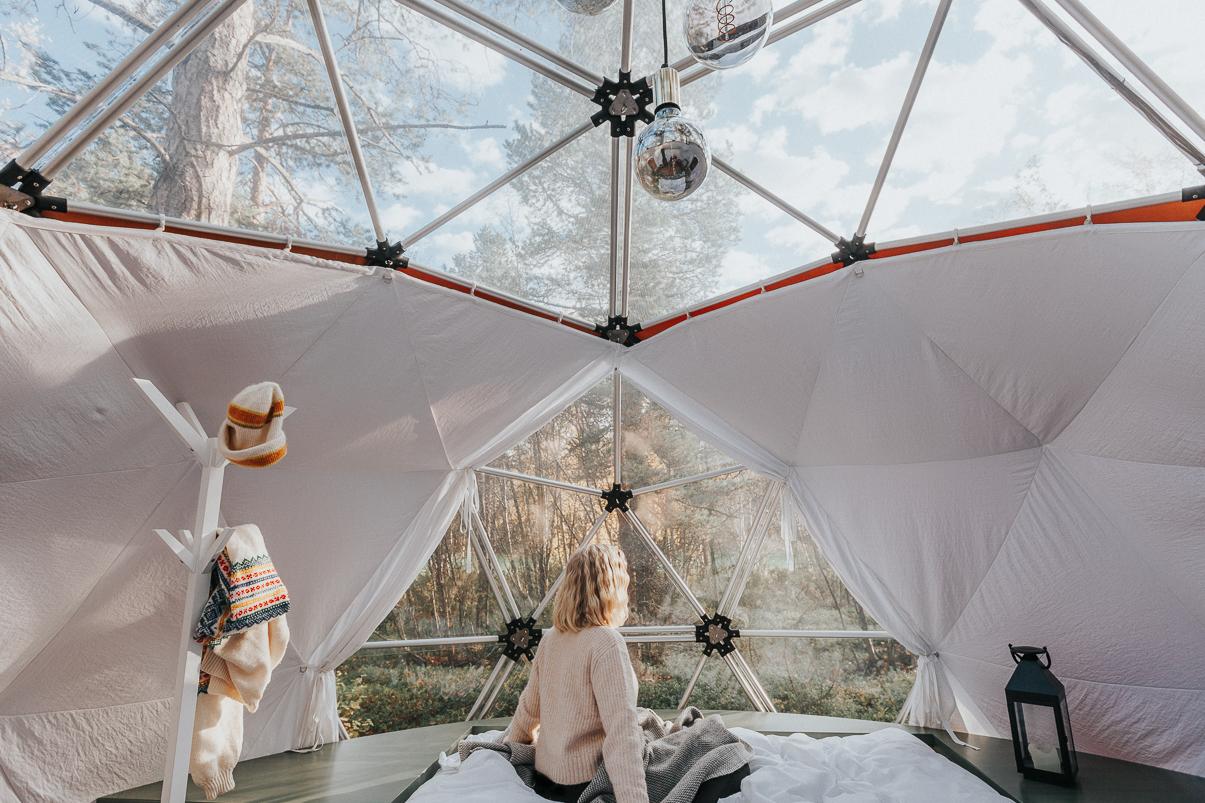 The Aurora Canvas Dome at Glød Explorer is the most luxurious Arctic Dome I've stayed in – there's an attached bathroom and they wake you in the morning with a coffee delivery and new fire in your personal wood-burning oven. You can read more about my stay at the Arctic Dome in Alta here. Check current rates and availability here
Turf House & Arctic Dome in Kokelv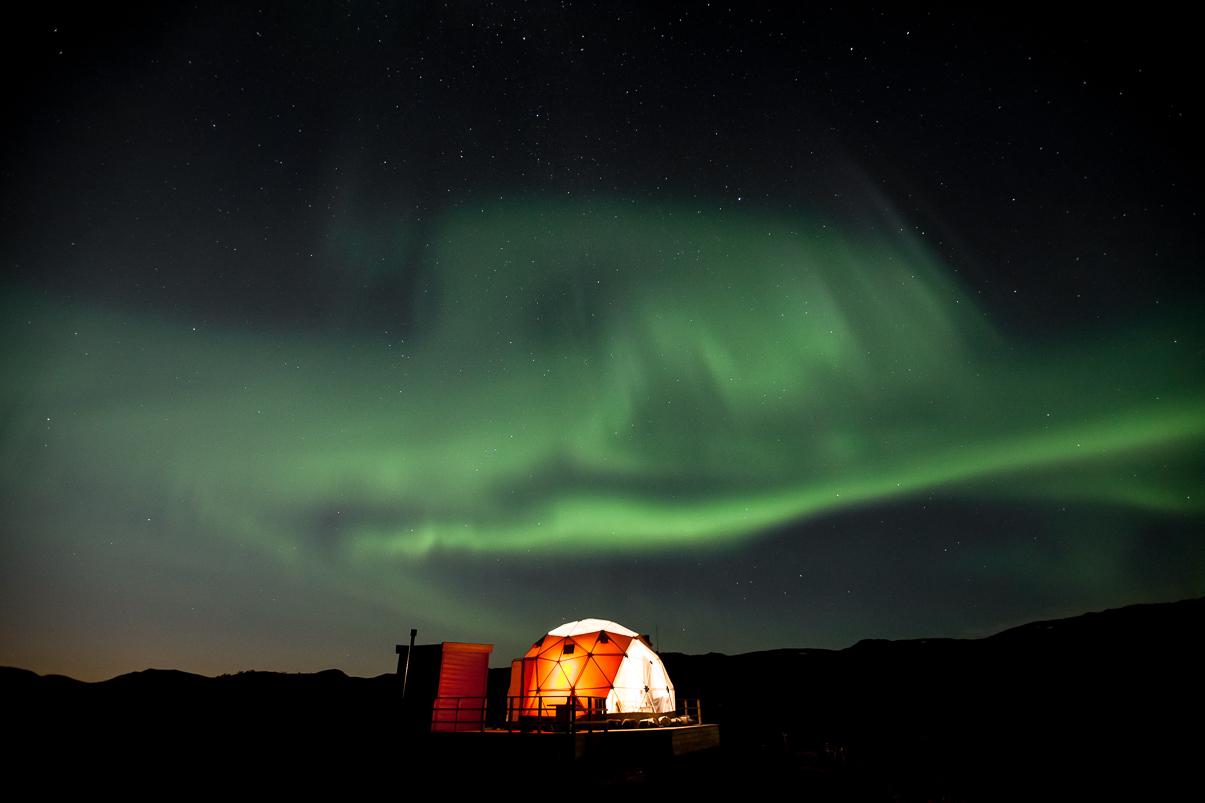 I guess you know by now that I really love Arctic Domes, especially for a northern lights trip, and the Arctic Dome in Kokelv is the most spectacular I've stayed in. Read about my stay here.
The location at the top of a hillside offers incredible, unobstructed views. And your booking actually also includes a traditional Sami style turf house at the bottom of the hill, complete with a kitchen and shower, for those who don't actually want to sleep in the Dome. Check current rates and availability here
Kirkenes Snow Hotel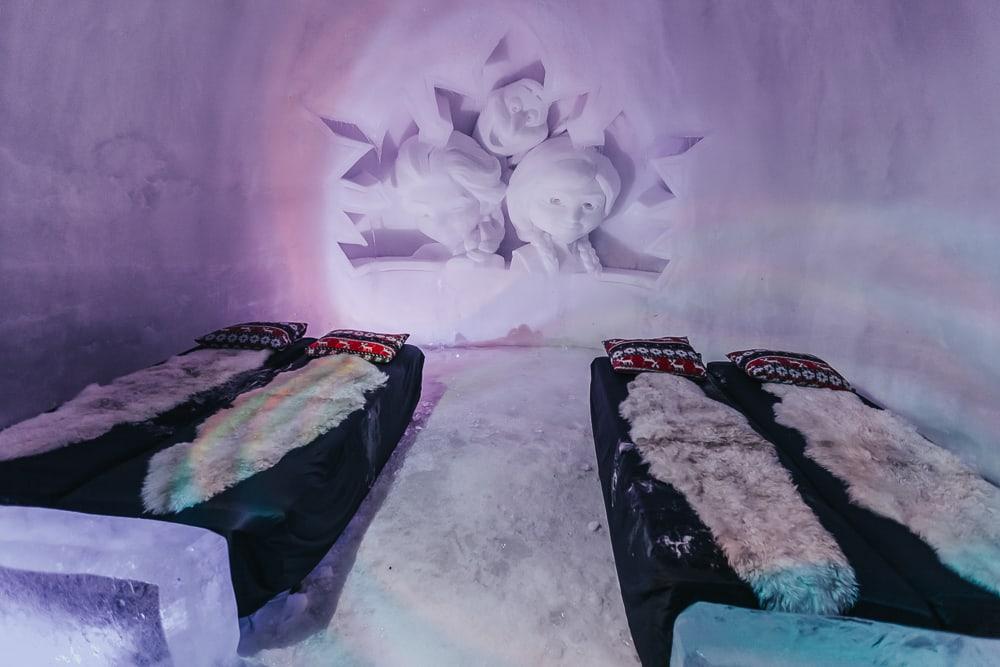 Kirkenes also has an igloo hotel made of snow and ice that you can overnight in. Plus they also offer cosy little cabins with huge windows facing north, so you have the option to visit the ice hotel during the day but sleep in a warm cabin instead. Read about my stay at the SnowHotel here.
They have a team of huskies and reindeer on site, and they organize king crab fishing excursions, husky sledding, and northern lights chasing tours. I stayed here on a solo trip and seriously had the best time – there's so much to do and the staff are incredibly friendly, so I never felt weird about being there on my own. Check current rates and availability here.
Mary-Ann's Polarrigg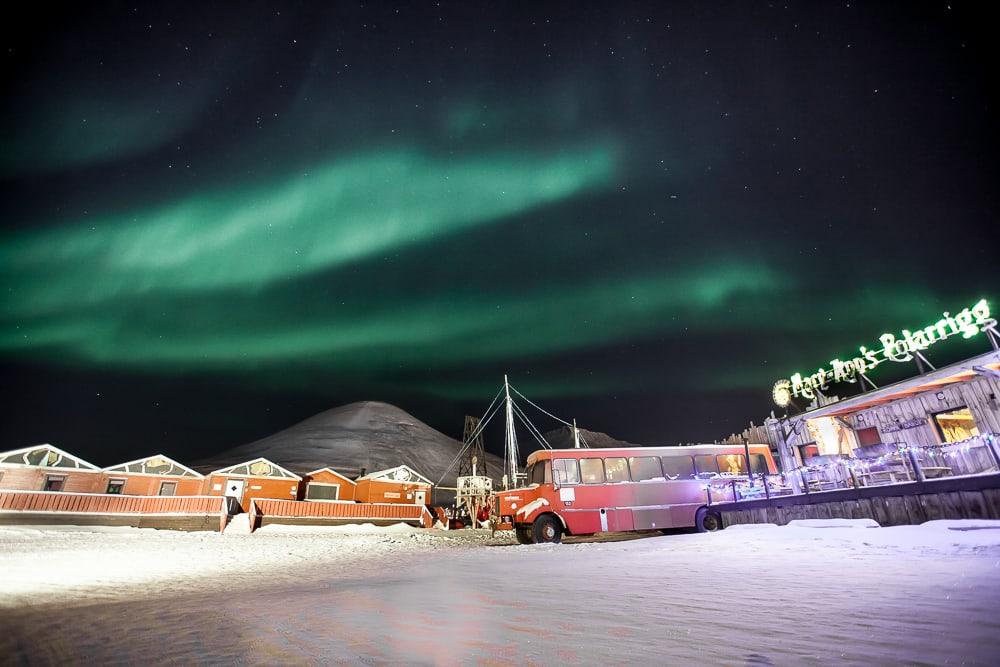 Svalbard is home to the northernmost permanently inhabited spots on the planet (aside from a few research bases), with pristine glaciers and Arctic wildlife including polar bears, walruses, humpback whales, orcas, and even narwhals!
Mary-Ann's Polarrigg is in a former miners barracks which has now been transformed into a hotel filled with quirky items, including a red miners bus which now offers a smoking shelter and a polar bear sporting boxing gloves.
As Svalbard used to be home mainly to coal miners, I'd say this is the most Svalbard place you can stay in Longyearbyen. Plus when I stayed there the breakfast buffet served local specialties like whale and seal meat. Read about my stay at Mary-Ann's here.
Check current rates and availability at Mary-Ann's here
Isfjord Radio Adventure Hotel
If you want an even more extreme Svalbard experience, the Isfjord Radio Adventure Hotel is a remote outpost with no road connection. During winter you can arrive here by dogsled or snowmobile, and in summer by boat. The radio station was built in 1933 but the inside has been renovated into a modern hotel, and you can go on all sorts of guided adventures during your stay here. I'm definitely adding it to my bucket list! Check current rates and availability here