Even though I've been living in Northern Norway for years, it took me quite a long time to visit Svalbard. I finally visited Spitsbergen, the main island of Svalbard, and it turns out Spitsbergen travel is actually easier than I thought, especially if you're already in Norway. I definitely want to go back again (and again and again) soon.
I chose to visit Svalbard in winter, and I'm so glad I did. While a lot of tourists visit Svalbard in spring and summer to see the polar bears, visiting Svalbard in winter was such a unique experience. I visited in December, when the skies were dark all day and the northern lights were dancing almost every night.
It was also fun to visit Svalbard, right after visiting the Falkland Islands – both remote island archipelagos on opposite ends of the earth. But while I'd say both make equally exciting destinations, planning a trip to Svalbard is a whole lot easier than planning a trip to the Falklands.
If you're wondering when is the best time to visit Svalbard, the main thing to keep in mind is the sunlight, or lack thereof. A lot of people want to visit Svalbard to see the polar bears, and you'll definitely have the best chance of seeing them when there is daylight, from March to September. However Svalbard in winter is also incredible. If you're on the fence, here are some reasons to consider visiting Svalbard in winter.
Several years ago LC wrote a guest post about her trip to Svalbard in October, which sounded remarkably different from my trip in December. Now I'll just have to return in the spring and summer to give you the full picture of the best time to visit Spitsbergen. For now I can at least say that winter in Svalbard is magical.
And if you want more in depth Norway advice, I've also gathered all my best tips for planning an incredible trip through both Southern and Northern Norway in two 95-page ebooks that cover everything you'll need to know to plan a Norway trip that you will love. You can purchase my Norway travel guides here.
And here are my tips for making your winter trip to Svalbard amazing: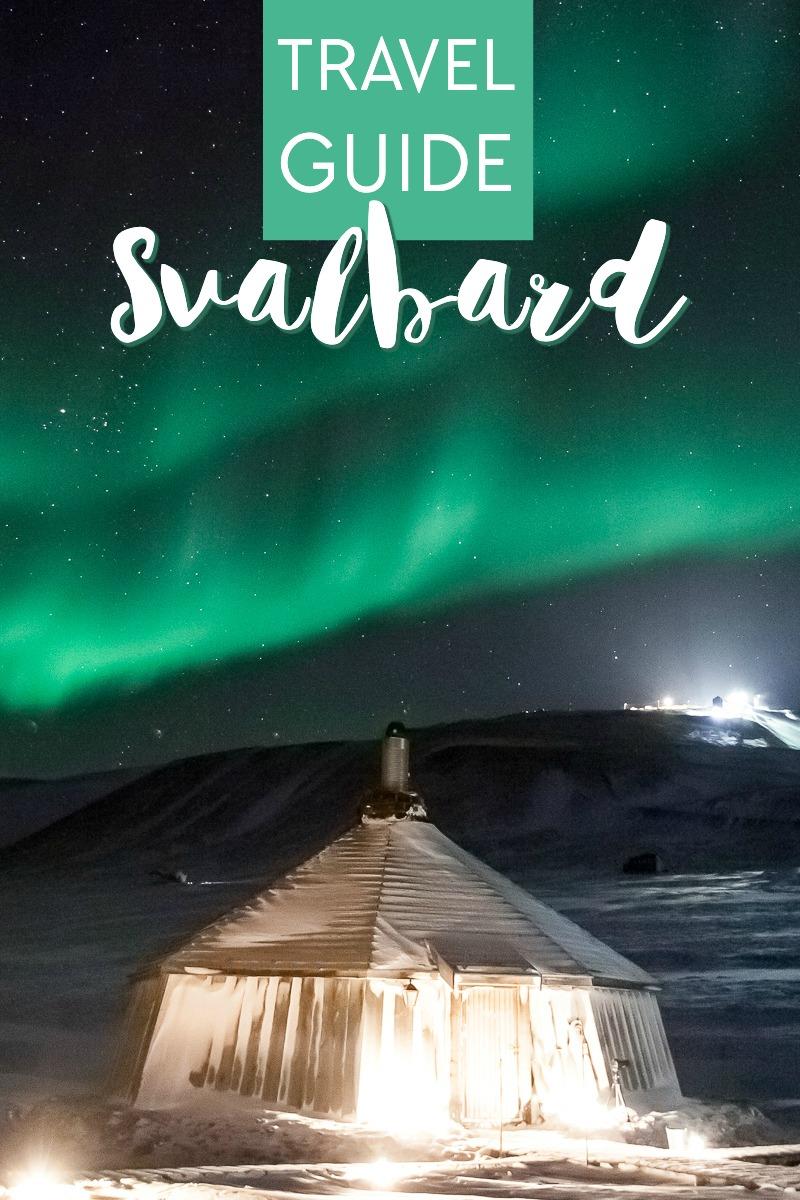 Things to do in Svalbard during polar night
Svalbard is quite the tourist destination these days, plus a lot of arctic tour guides come here to train, so you'll find lots of tours and guided activities on offer. But don't worry, due to limited flights and accommodation, even though Spitsbergen has become a tourist destination you won't find yourself amongst huge crowds of tourists. Not that many people know much about travel to Spitsbergen, so it still feels like an adventure off the beaten path.
And if you want to venture outside of Longyearbyen, you'll need an armed guide, in case you encounter a polar bear. What's more adventurous than that?
You can find a huge range of tours on the Visit Svalbard website, but here are the ones I can personally recommend. Oh and if you're visiting on your own, just be aware that most tours have a minimum of two participants. Three of my tours were actually cancelled because I was the only person signed up. But hopefully if that happens you can just join a different tour.
Hike to an ice cave
This was my favorite thing I did on Spitsbergen!
Svalbard Wildlife Expeditions organize a hike to an ice cave, which takes about two hours up the mountain and an hour down. It's the only mountain hike I've done through snow in the dark and it was surprisingly really fun! And it's definitely a unique experience to have on Svalbard. Plus our guide said that every time he leaves the ice cave the daytime northern lights appear – and sure enough there they were when we emerged from the cave.
I will say this hike is a bit challenging so you'll need to be quite fit – but I managed just fine and don't have a gym membership. They also provide all the necessary gear for the hike like helmets, ice grips for your boots, and hiking poles.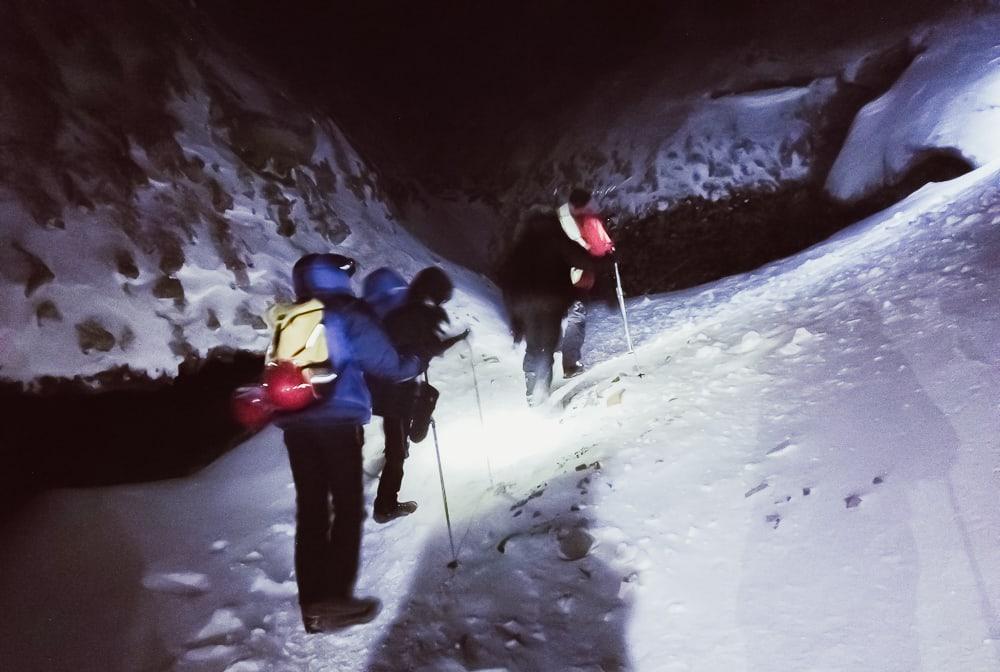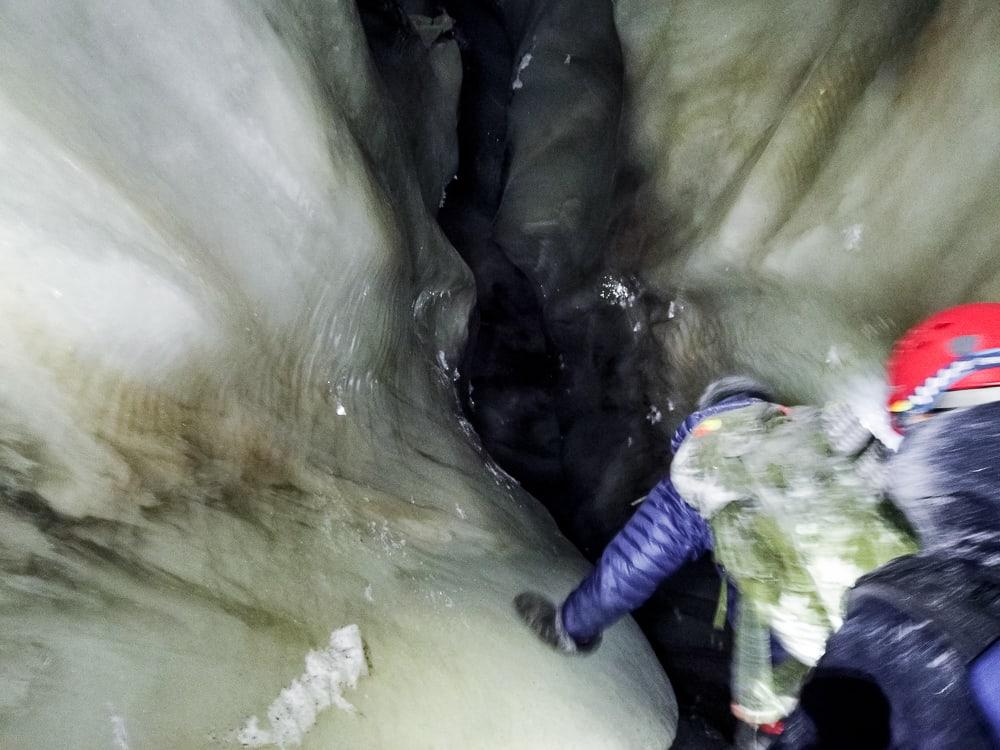 Husky Sledding
I mean, you know I love husky sledding, and I'd say there's no better way to feel like a true Arctic explorer than zooming through the frozen wilderness behind your team of huskies.
As I mentioned in my previous post, I always try to choose small, family-run husky experiences where I know the huskies will be loved and cared for like a member of the family. And Arctic Husky Travellers in Svalbard is one of the loveliest husky experiences I've had in Norway – and by now I've had quite a few!
They also use wheeled carts instead of sleds when there isn't enough snow, which can often be the case as Svalbard is technically an Arctic desert. We used wheeled carts when I was there and it's a lot easier to steer them than sleds! I also appreciated that this is an option instead of just canceling the excursion.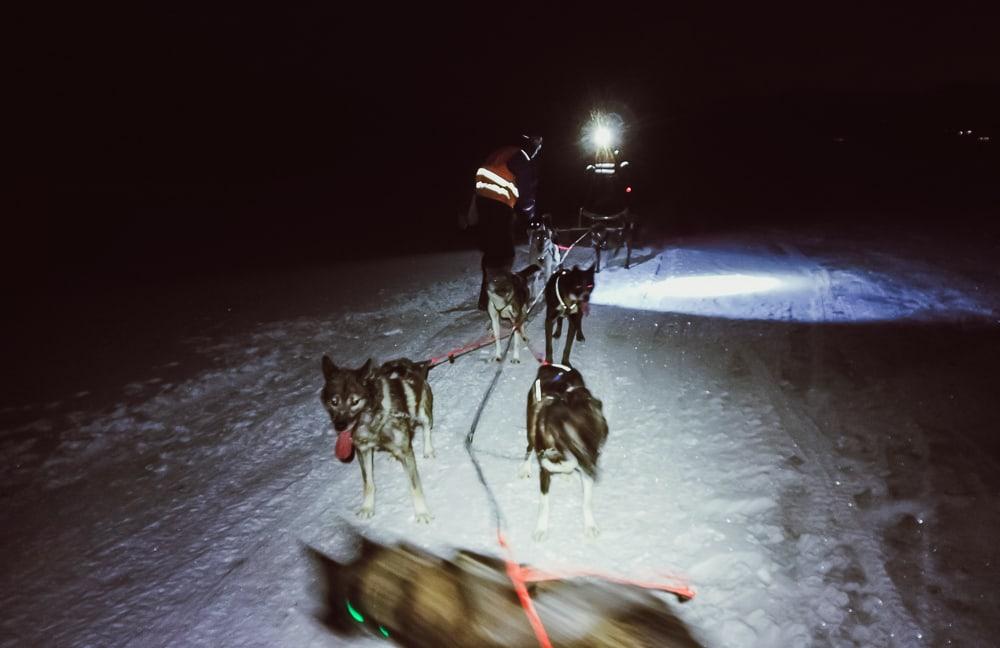 Northern lights snowmobile or snowcat tour
I was meant to take this electric snowmobile tour, but since I was the only one signed up I ended up taking this snowcat northern lights hunting tour instead.
While I was definitely a bit bummed to miss out on snowmobiling in the Svalbard wilderness, the snowcat also took us out in the wilderness, while staying a bit warmer than I would have on a snowmobile. The snowcat is a great option for people wanting to get off road into nature without having to drive their own snowmobile (or ride on the back of one).
We didn't see the northern lights that evening, but it still made for a fun introduction to Svalbard.
Oh and I've now updated my northern lights ebook to include more information from my trip to Svalbard! You can purchase the ebook here.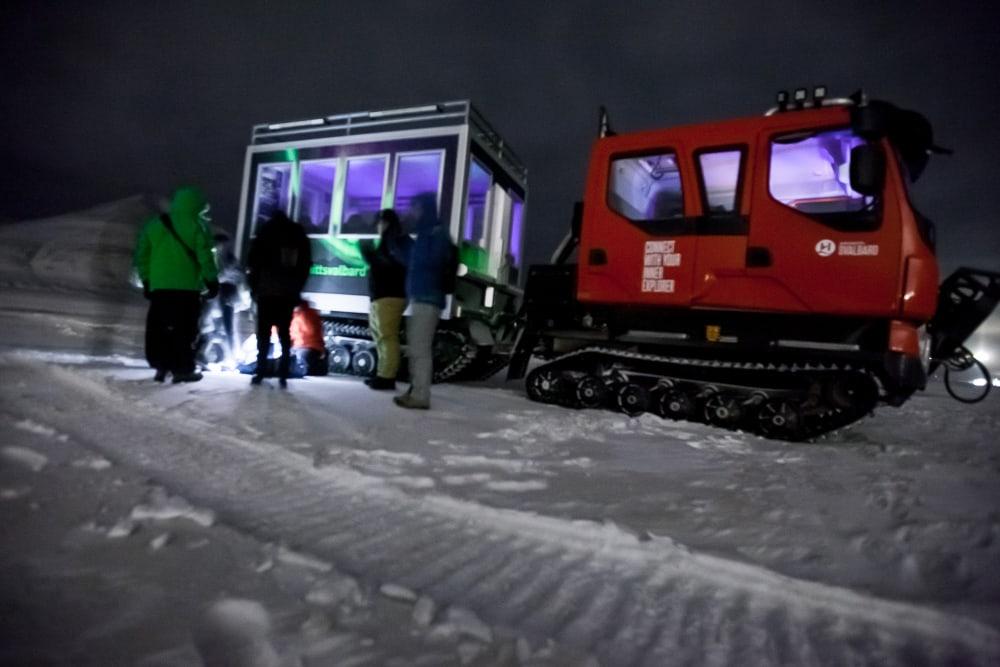 Camp Barentz northern lights evening
I've been on a lot of northern lights tours and they all tend to be fairly similar. Either you drive around in a minivan or bus and maybe drink some hot black currant juice by a camp fire, or you spend the evening in a lavvu tent sitting around a fire, waiting for the lights to come out.
But the Camp Barentz northern lights evening was something different!
Camp Barentz is a short drive out of Longyearbyen, away from the town's lights, and then they have a few cabins set up where we gathered for a dinner of reindeer stew. I'd say the best thing about the excursion is that it would be a really fun evening even if the northern lights didn't come out. The stew was delicious, and there were lots and lots of drinks being sent around – including plenty of aquavit, because Norway.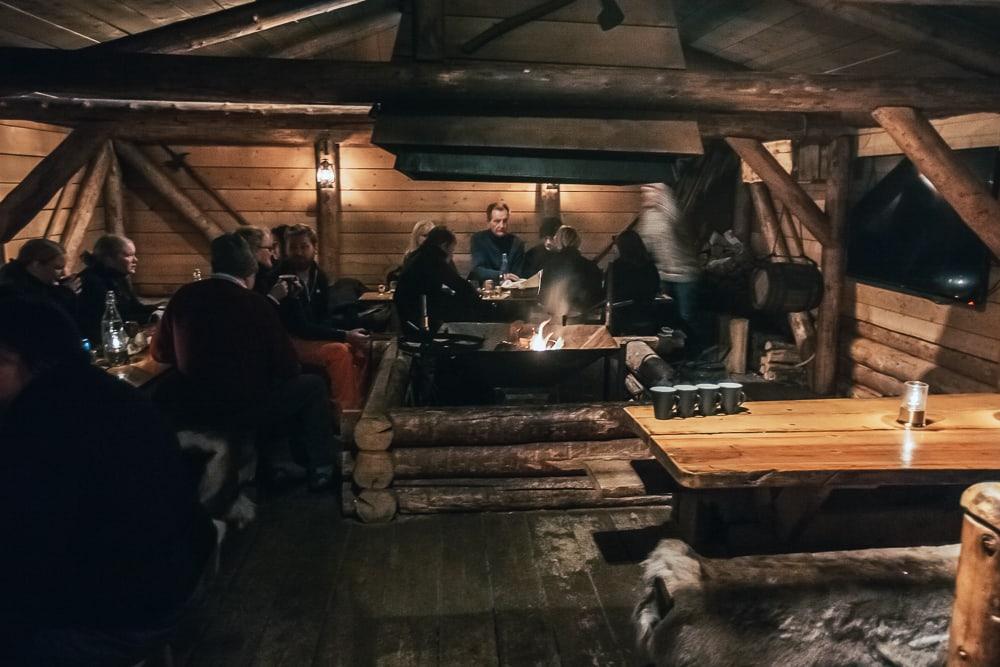 Though it's kind of funny that that's my favorite thing about this evening, as it turned out the northern lights were so active that I spent most of the evening outside and missed most of the dinner and the presentation on Svalbard and the northern lights. In fact the northern lights were out during our entire stay there.
I mean, I'm definitely not complaining, but I also feel like I have to go back again to have the full Camp Barentz experience.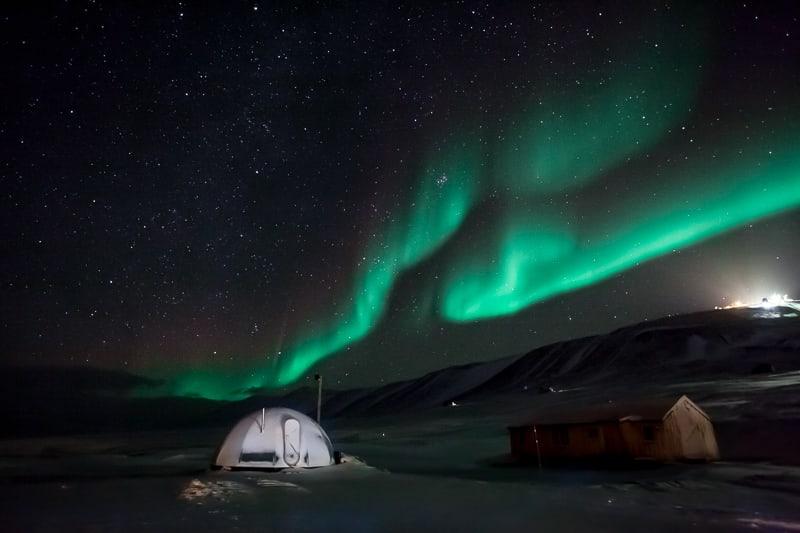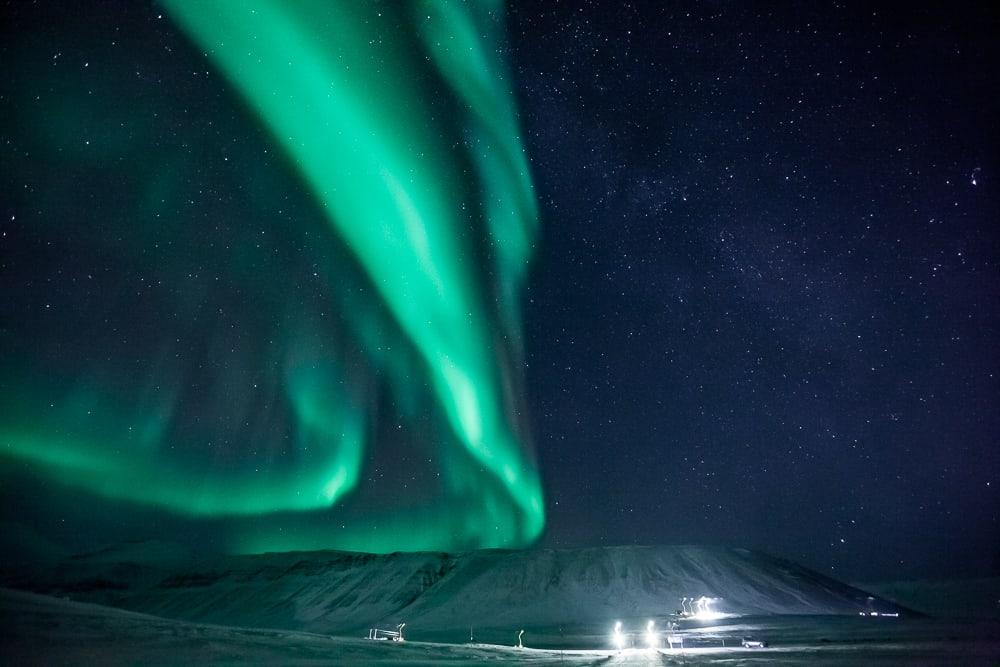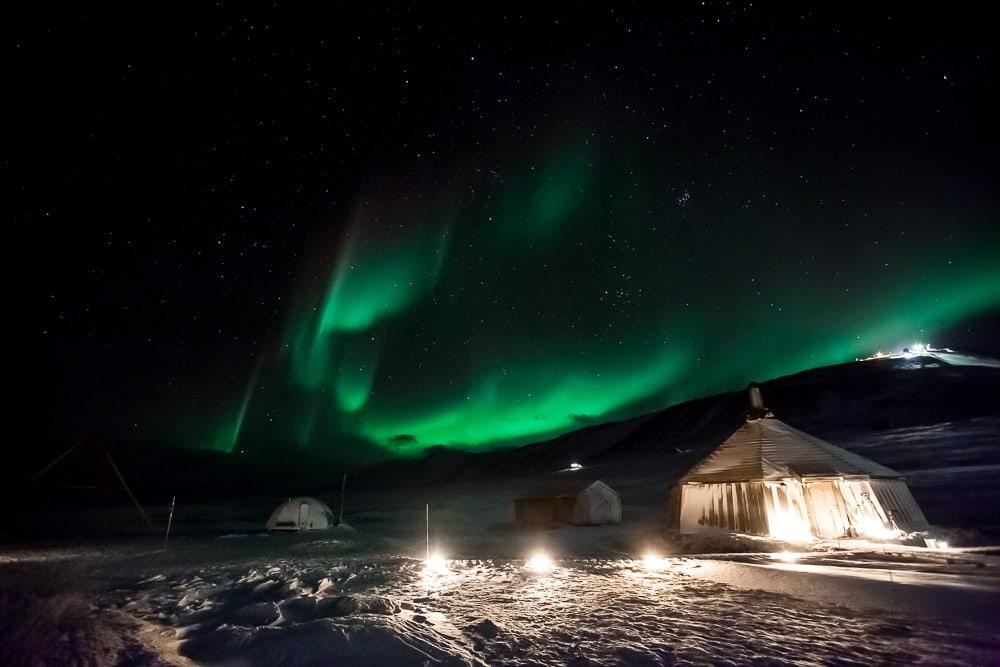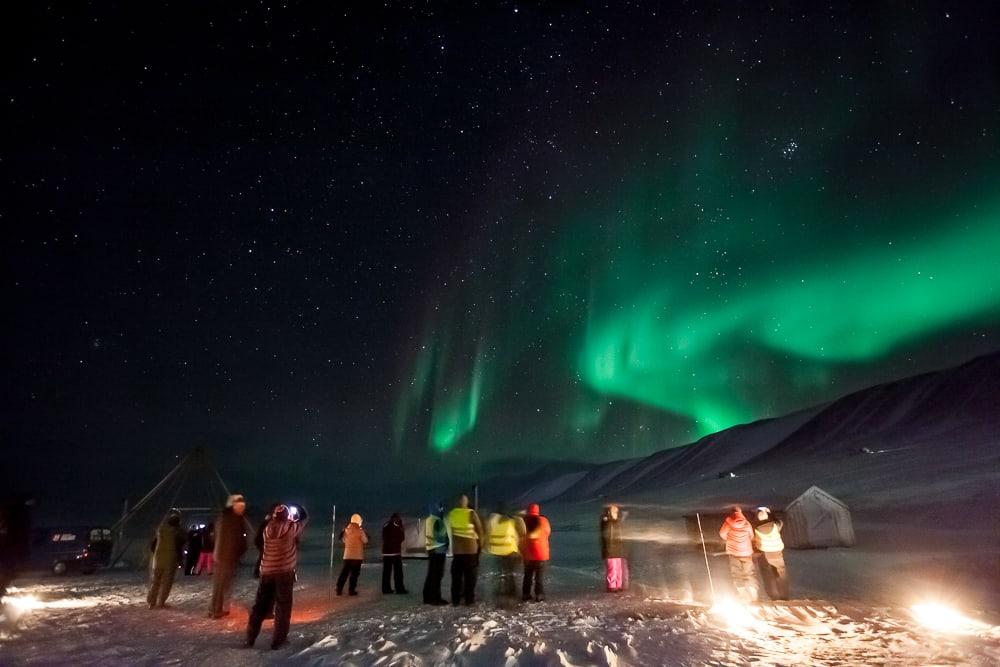 Visit a coal mine and the Global Seed Vault
Okay so I didn't actually get to do either of these. My coal mine tour was rescheduled since I was the only person who signed up, but then on the day it was rescheduled for there was a huge storm and we couldn't get up to the mine.
But I would have loved to visit a mine on Svalbard, as mining has played such an important role in Svalbard's history. The mine is also right by the airport, so if you have an afternoon flight you could do the tour in the morning and asked to be dropped off at the airport.
I also would have loved to visit the Svalbard Global Seed Vault. I guess I will have to return to Svalbard for that!
Where to eat and drink in Svalbard
Huset Restaurant
I had the most incredible 7-course dinner at Huset Restaurant. You're probably visiting Svalbard for the nature and wildlife, but getting to know a bit of the foodie culture here made me feel like I was getting to know life on Svalbard a bit better. And this best place for this was definitely Huset!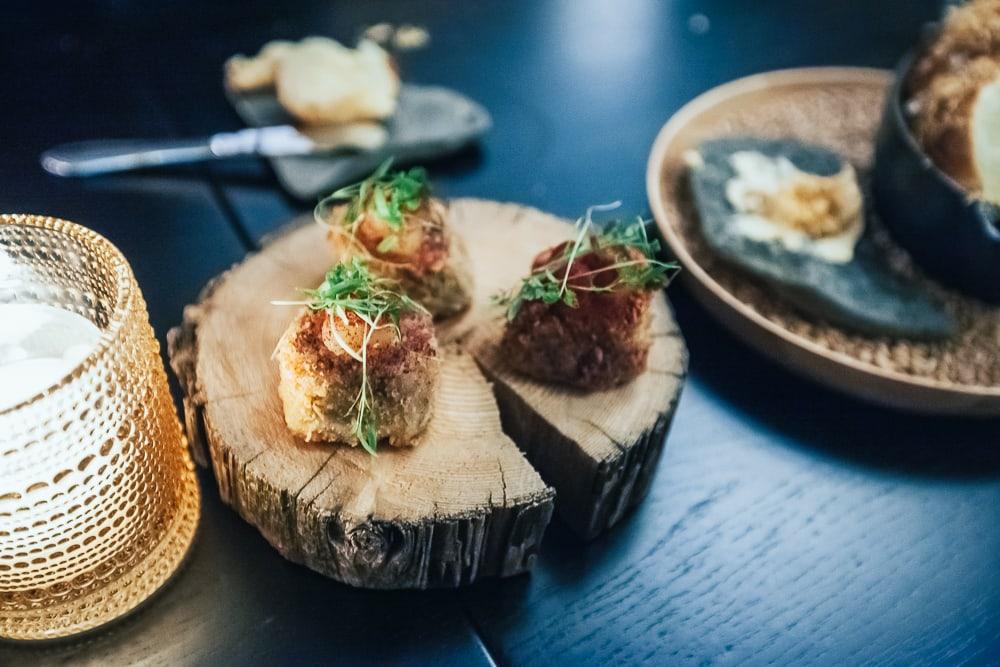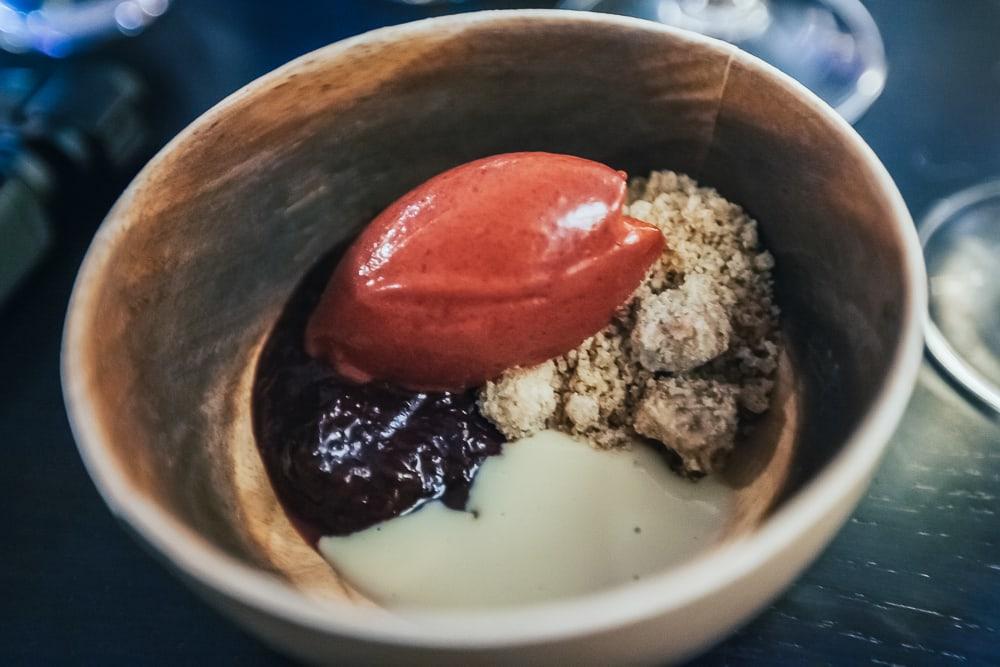 Kroa
Kroa is a really cosy pub type restaurant and it was nice and lively when I was there. And again the food here was really tasty.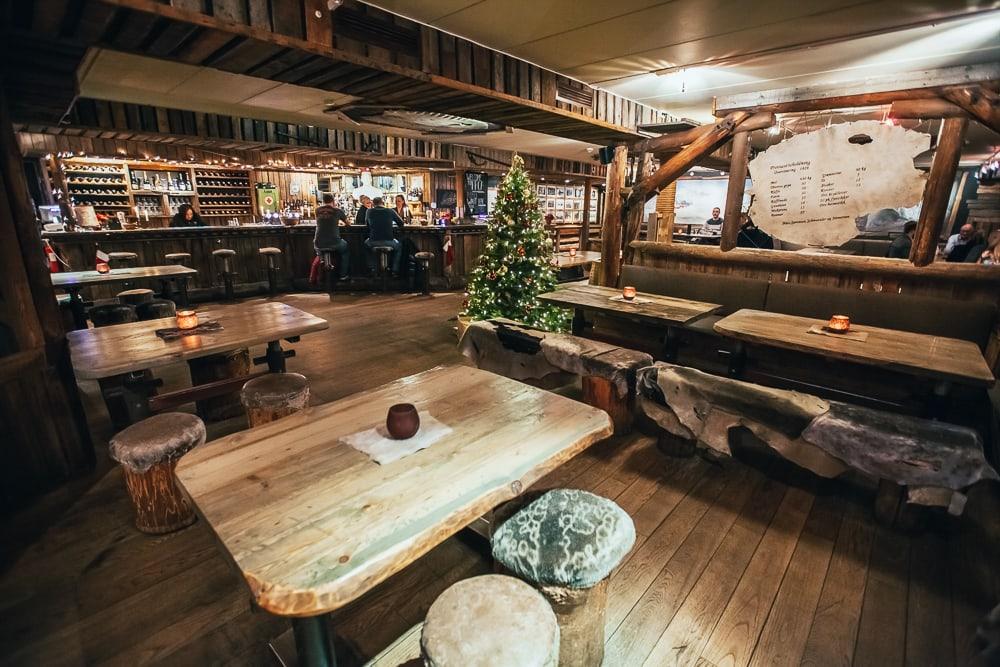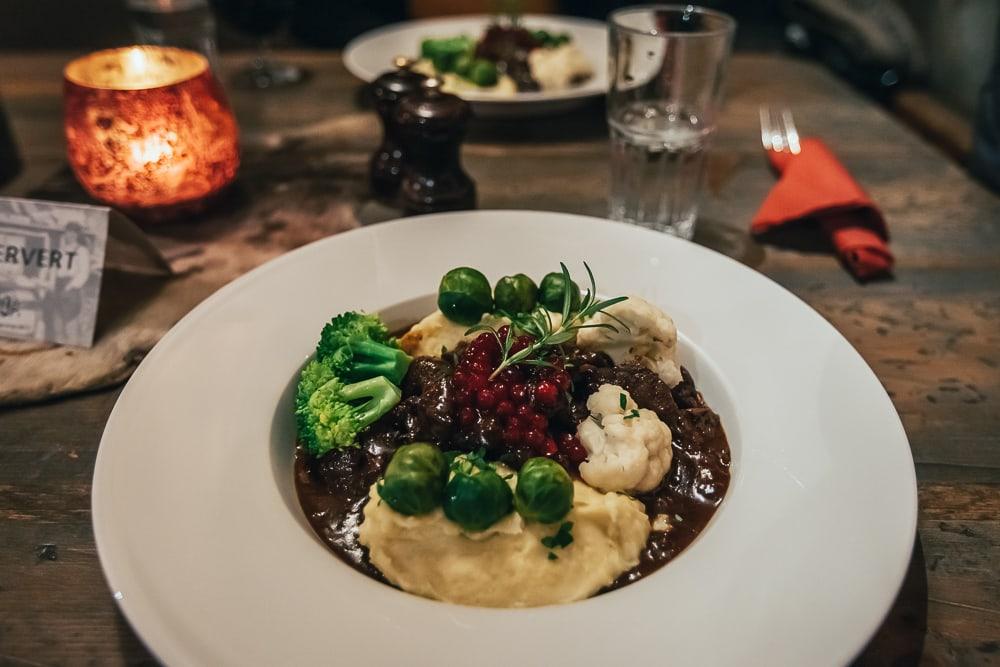 Arctic Tapas on the Polar Permaculture Bus
Polar Permaculture is a really interesting project run by an American guy and his son in Svalbard where they grow microgreens for restaurants and then collect back the leftovers to compost, in an attempt to reduce waste and better use resources in Svalbard. I visited their greenhouse, but you can also take their Arctic Tapas bus tour and see more of the island or hunt for northern lights while dining on board.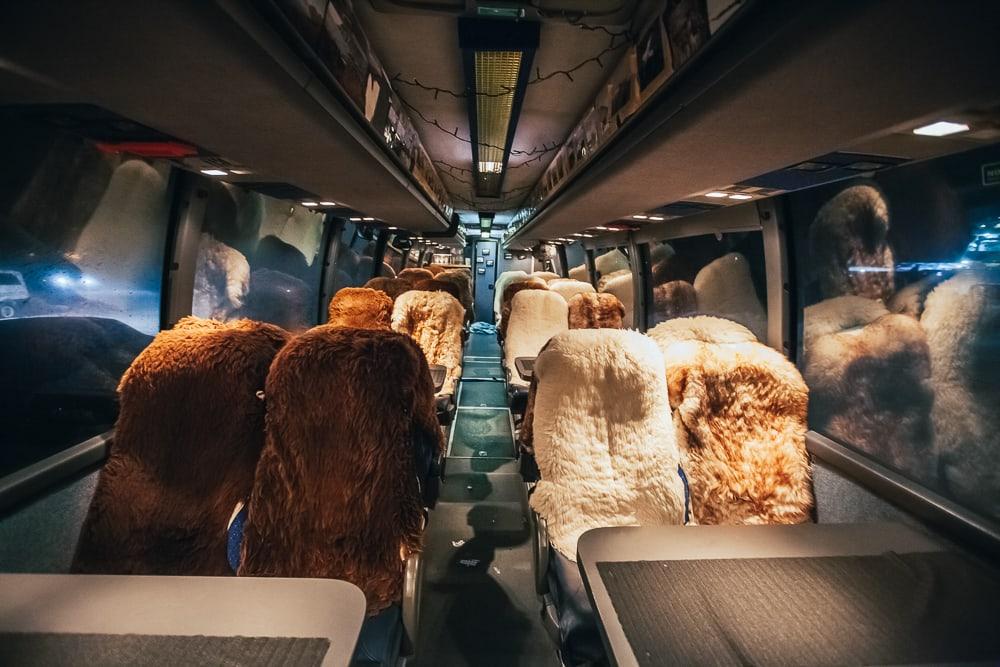 Restaurant Nansen
Nansen is in the Radisson hotel so I largely ate lunch here out of convenience, but the food was actually really delicious! Plus the restaurant is beautiful.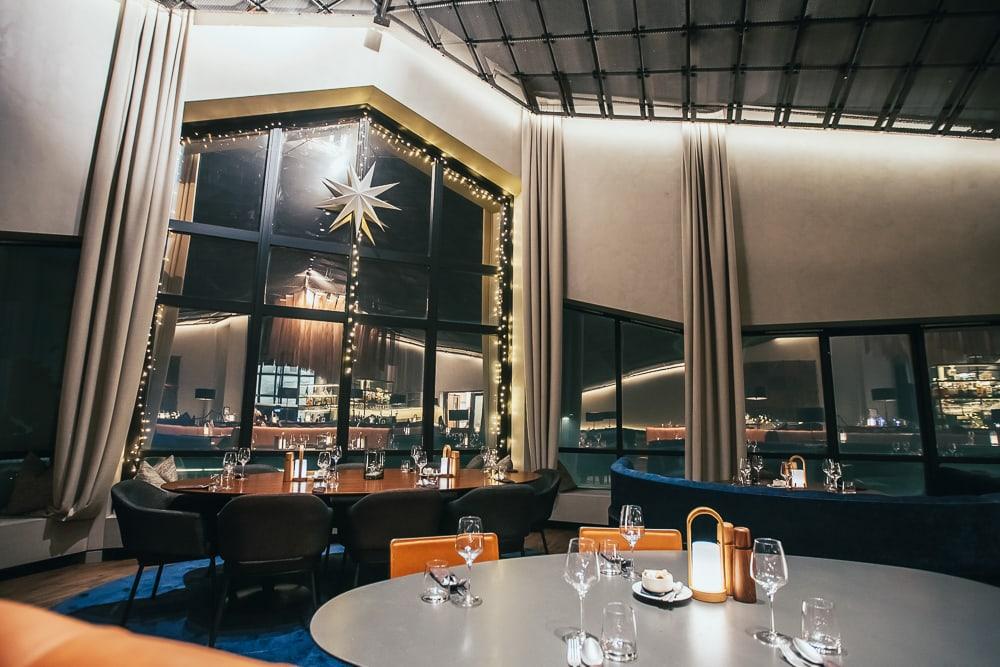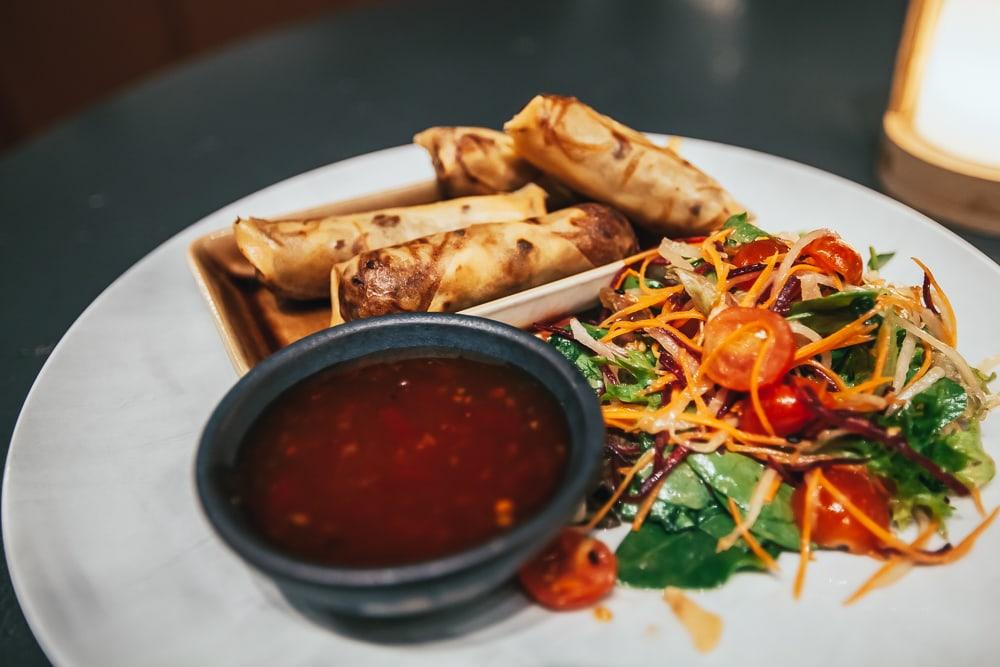 Barentz Gastropub
The Radisson is also home to Barentz Gastropub, which seemed to be one of the happening places in the evenings in Longyearbyen. I ordered a very tasty pizza from here during a blizzard on my last night – though admittedly I didn't actually eat it in the restaurant. I took it back to my hotel room so that I could watch a movie with my dinner.
Svalbard Bryggeri
And then if you like beer then you have to visit Svalbard Bryggeri for a tasting! Yes, Svablard has its own beer. The story behind this brewery is super interesting, and again I felt like this was a great way to get a closer feel for Svalbard life.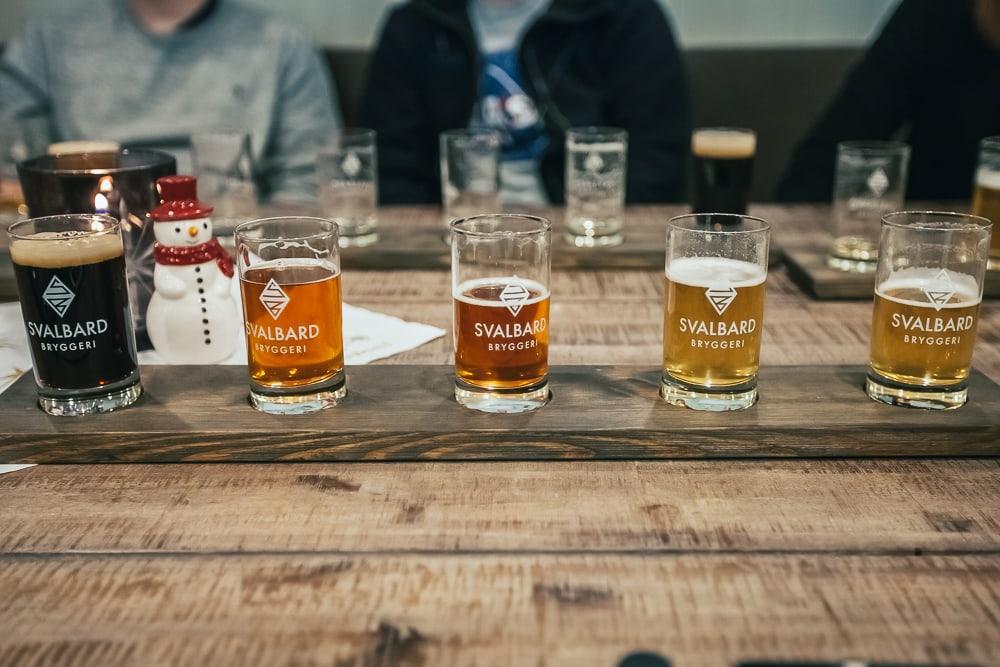 How to get to Svalbard
There are some cruises that go to Svalbard, but the easiest way to get there is to fly into Longyearbyen.
SAS and Norwegian both run flights to Svalbard. You'll need to connect through Oslo or Tromsø in Norway, and be aware that while Svalbard is part of Norway, it has a separate border so you'll need to go through immigration to get there. I nearly forgot to bring my passport because I was just thinking that I was traveling within Norway, but thankfully I remembered in time!
Speaking of immigration, thanks to the Svalbard Treaty, Svalbard is in the unique position of being visa-free for any citizen. That's right, nobody needs a visa to live and work in Svalbard!
However mainland Norway is not visa-free, and it's part of the Schengen area. This is important to remember if you have a stopover in Tromsø from Oslo, as then you will have to pass through immigration in Oslo before getting your domestic flight to Tromsø, and you may need need a Schengen visa, depending on your country of citizenship.
And then from the airport you can take the Svalbard Airport Bus to your accommodation. Tickets cost 75 NOK for adults, 50 NOK for students, and 25 NOK for children. Alternatively, you can take a taxi into town – it may cost less, depending on the size of your group.
The best Svalbard hotel
I stayed at two different hotels while in Svalbard – and they really were different.
Mary-Ann's Polarrigg
The first was Mary-Ann's Polarrigg, which has so much personality and quirky touches that it had to be my favorite. Plus on my first night there I saw a beautiful display of northern lights from the parking lot, so now I'll always have fond memories of my stay here.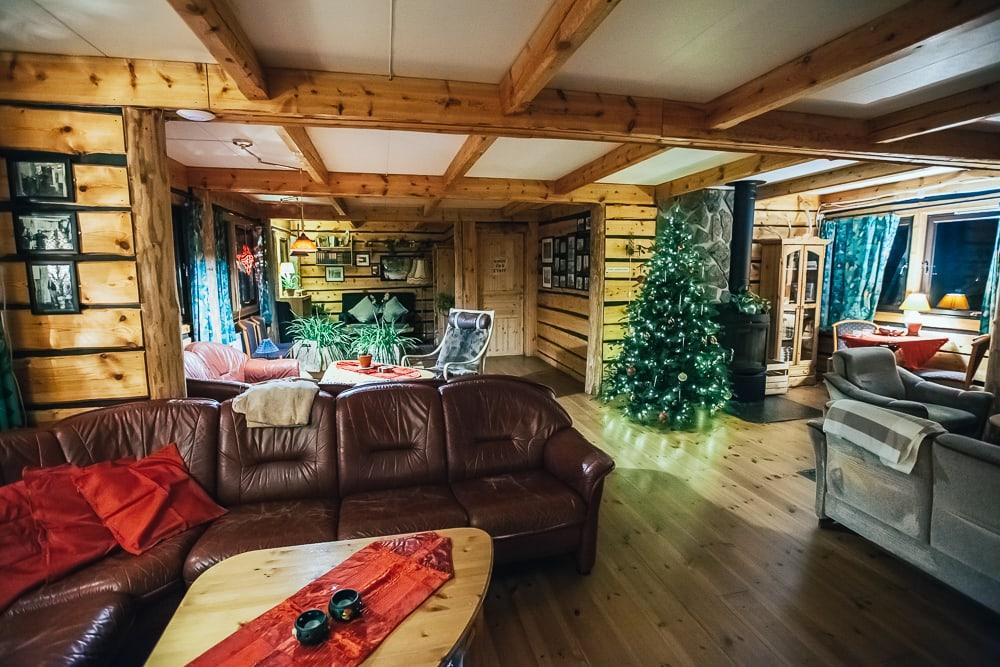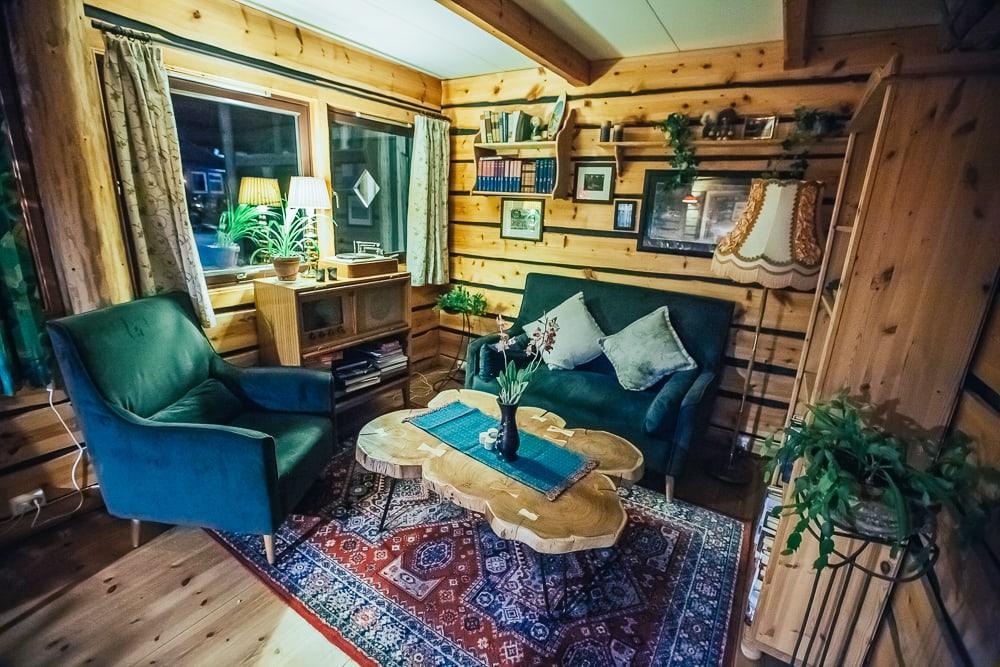 Mary-Ann's is in a former miners barracks which has now been transformed into a hotel filled with quirky items, including a red miners bus which now offers a smoking shelter and a polar bear sporting boxing gloves.
Check current rates and availability at Mary-Ann's here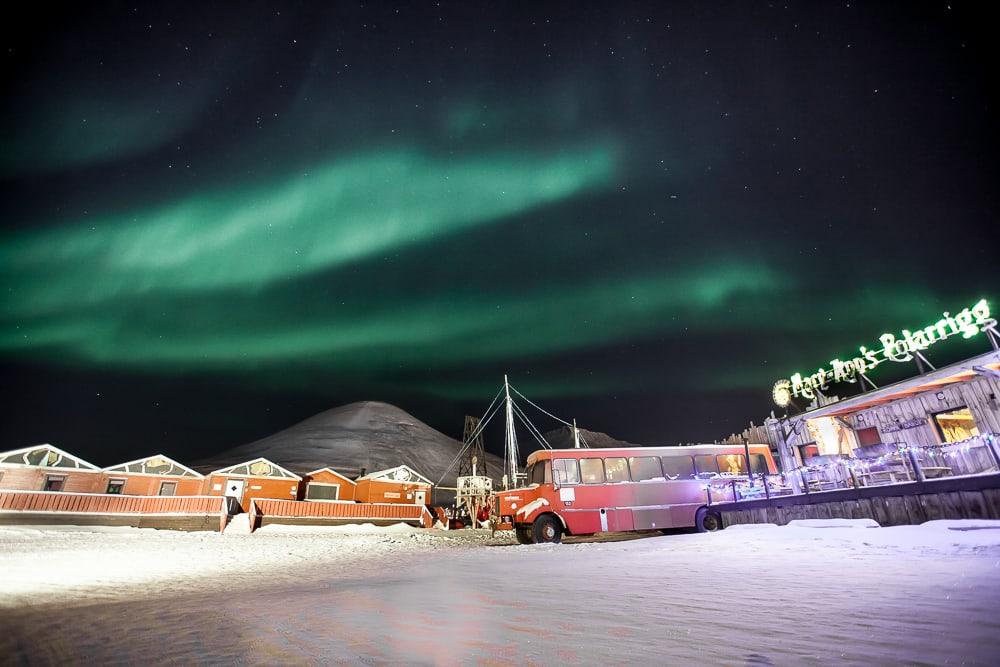 Radisson Blu Polar Hotel
And then I spent my last two nights at the Radisson Blu Polar Hotel, which is definitely the best location, right at the end of the main street downtown. It's similar to other Radisson Blu hotels I've stayed at in Norway, with spacious rooms and an incredible breakfast buffet. And they have a sauna and jacuzzi as well.
My one critique would be that the rooms are oddly dark. I don't know if there's some sort of reasoning behind that, like how you're supposed to drink hot drinks in hot weather. Maybe having a dark room makes the darkness outside during polar night feel less intense? Or maybe the lighting was totally normal and I was just craving the brightness of light that only the sun can offer.
Check current rates and availability at the Radisson Blu Polar Hotel here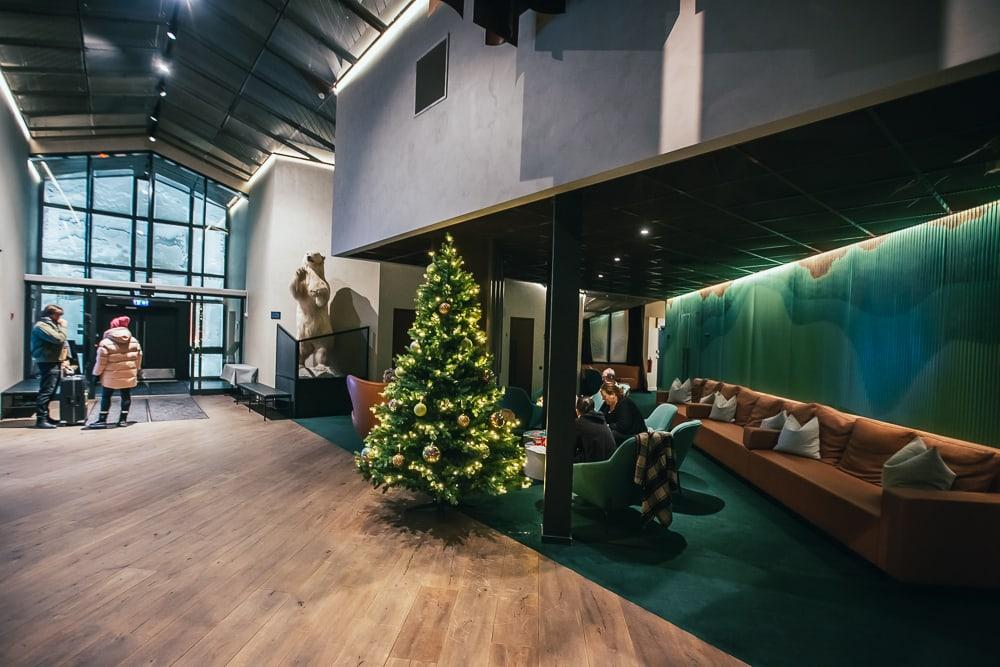 If you're trying to choose between Mary-Ann's and the Radisson I would choose Mary-Ann's for quirkiness and the best cultural experience – every inch of the places was just so very Svalbard. Whereas I would choose the Radisson for the highest room standard as well as convenience – the location is really perfect, right downtown and with two restaurants on site.
And if you're on a tight budget, these Coal Miner's Cabins are a great budget accommodation option for Svalbard!
Packing for Svalbard in winter
I have a winter packing list for Norway here, but packing for Svalbard is a bit different.
I mean yes, Svalbard is surprisingly warm for its latitude thanks to the Gulf Stream, but it's still a lot colder than many other parts of Norway. I just checked the weather and while it's currently 4 degrees C where I am on the island of Vega in the Helgeland coast (which is part of northern Norway, mind you!), right now it's -20C on Svalbard. Brr.
You can follow my Norway winter packing guide, but I would also be sure to include extra woolen layers, and definitely invest in a warm parka and good quality snow boots. And remember to bring reflectors, as it's very dark outside!
Your parka doesn't need to be down (mine isn't), but I would recommend having a longer one that covers your bum, just for added warmth.
I have these Sorel boots and absolutely love them. The textured soles are really grippy and lift your feet a bit off of the ground, which actually makes quite a difference in keeping your feet warmer. As always, be sure you have plenty of extra room in your boots for thick wool socks. Having air in your boots keeps your feet warmer, so you don't want your feet to be crammed in.
You also should definitely bring snow pants for this trip. I wore mine pretty much whenever I went outside. Most of the tours will provide overalls and thicker boots, hats, and mittens, but it's still good to have at least a basic pair of snow pants for when you go outside on your own.
And that's pretty much it!