So we've talked about how Norway really isn't as expensive as you think, and we've talked about how to get places in Norway on the cheap. But what about accommodation?
I'm so glad you asked!
Hotels and hostels in Norway tend not to be the best bargains (in fact on the bargain meter they probably come out closer to "worst"), but that doesn't mean accommodation has to make a huge dent in your travel budget. In fact, if you're willing to get a little creative and adventurous then accommodation doesn't have to make any dent at all!
If you're looking for the best budget accommodation options for a particular city or area of Norway, you can find all my Norway accommodation guides here.
But first, let's run through your Norway accommodation options, shall we?
Wild Camping
If you're visiting Norway in the summer and can bring a tent, then this is the cheapest (ahem, it's free) accommodation you can get, plus it means getting even closer to that gorgeous Norwegian nature.
Under Norway's "Right to Roam" policy, you can camp on pretty much any uncultivated land, as long as you're not pitching your tent closer than 150 meters to an inhabited house or cabin. Technically you're also not supposed to stay for longer than 2 days, but if you aren't disturbing the nature then you should be fine.
You can read more details about the Right to Roam here.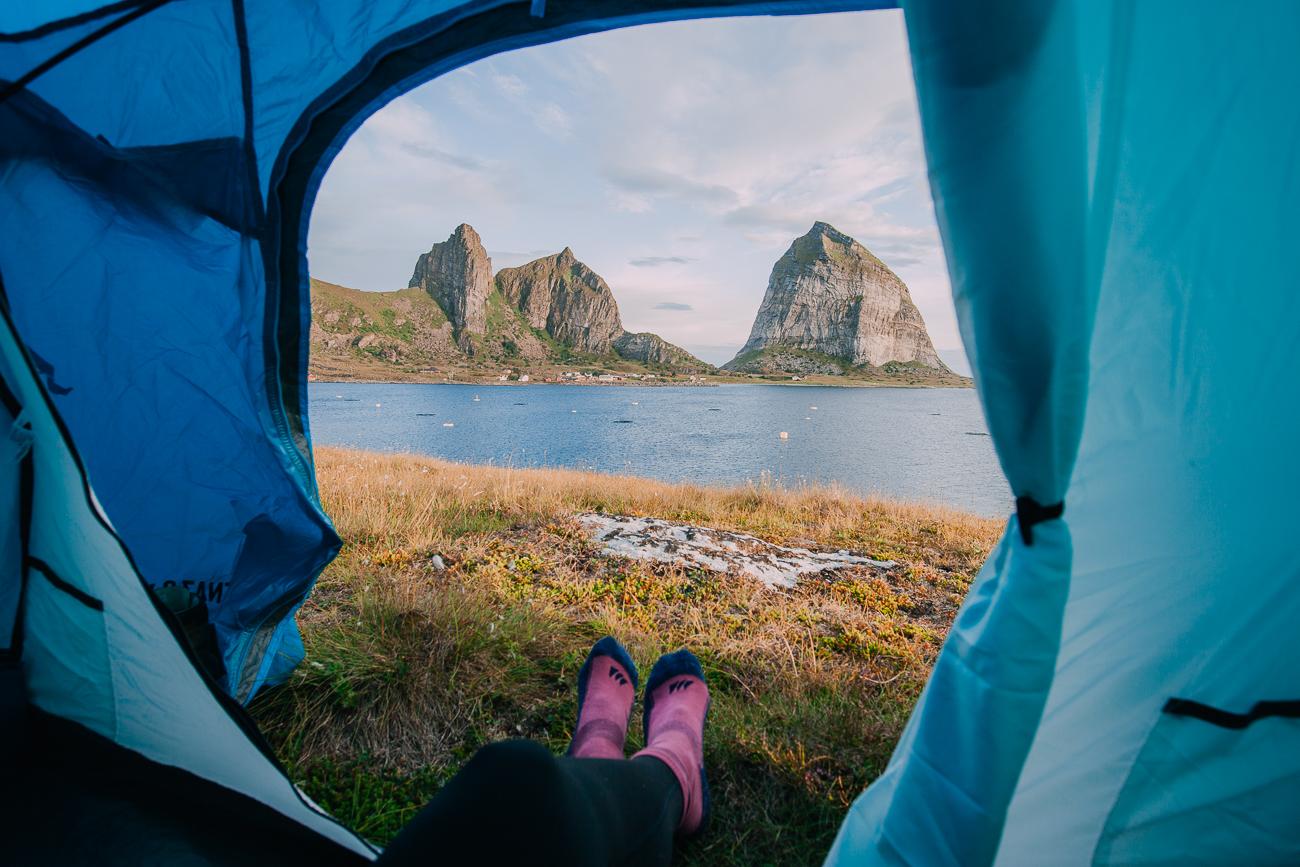 That could be you!
Campsites
If things like indoor toilets and showers are important to you, then instead of wild camping you can pitch your tent (or park your caravan) at a campsite. You'll have to pay, but it will still be cheaper than a hotel room.
And if you don't have a tent then a lot of campgrounds have small cabins you can stay in. It's generally cheaper than staying in a hotel or Airbnb, especially if you're with a bunch of people, and it's really cozy! Just search the name of the place your going + "camping" and you should find all the information you need.
These camping cabins are especially useful if you're looking for accommodation along hiking trails in Norway (because hiking without a tent = a much happier back!).
You'll generally find the best deals on campsites here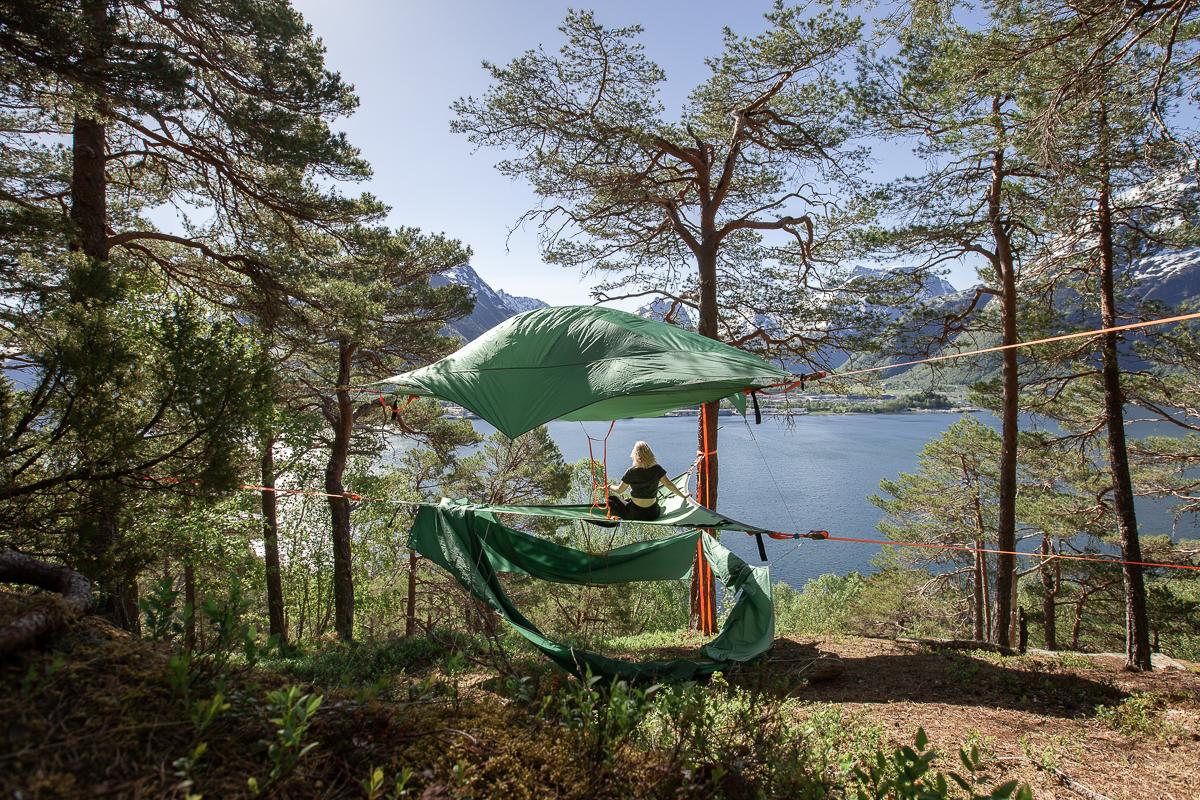 Couchsurf
Couchsurfing is a little past its prime in a lot of Western Europe, but it's still alive and well in Norway! Dan and I Couchsurfed for our first week in Trondheim, and I've met plenty of travelers who have Couchsurfed their way around the country without any problems.
I'm a huge fan of Couchsurfing as it's such an easy way to connect with locals and get the best inside tips on a place. And of course as it's free accommodation it's a huge relief to your budget.
Airbnb
Okay so this is my secret inside tip: almost any accommodation found on Airbnb in Norway will also be listed on Booking.com for cheaper, because Booking.com charges much lower fees. In general the feeling in Norway toward Airbnb has changed a lot (post pandemic) because there have been a lot of problems for hosts here, as well as horror stories of stranded travelers with last minute canceled bookings, so I would recommend avoiding booking through Airbnb here.
Another alternative is Vrbo, which has a great reputation and a growing number of listings here for vacation rentals. Vacation rentals are especially good for budget Norway trips because they come with access to a kitchen so you'll be able to self cater, which will be the biggest money saver of your trip. I've written a post about eating on a budget in Norway here, but basically if you're on a small budget in Norway then you want to eat out as little as possible.
And this is going to make me sound like a creeper, but Norwegian homes are so, so nice inside – like, nicer than most hotels – and Vrbo gives you the perfect excuse to peek inside them. Check for Vrbo options in Norway here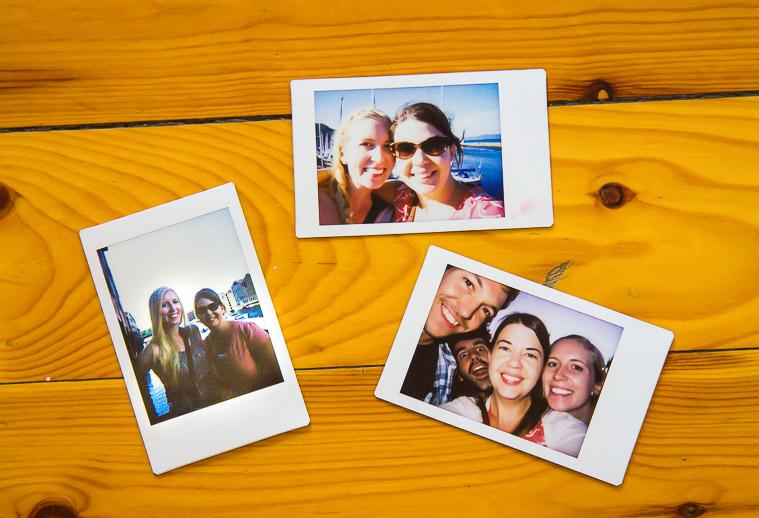 Hostel
If you've been following my blog for a while then you'll know that I'm a huge fan of hostels. I might even have confessed some dreams of opening my own someday. They can just be so, so incredible.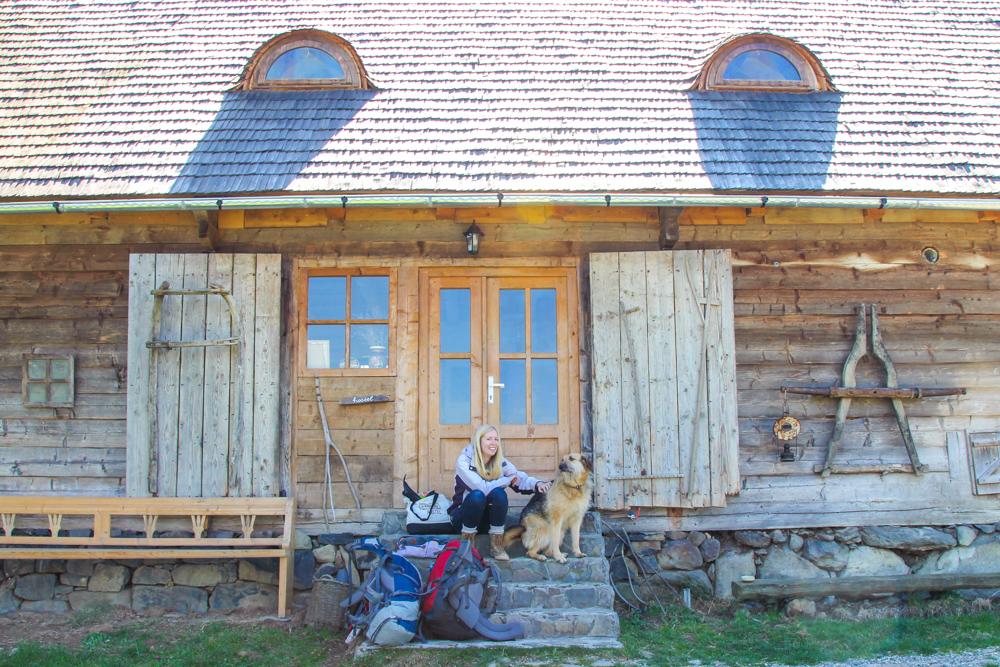 Unfortunately, word on the Norwegian streets is that hostels here tend to err on the less incredible side of things. I mean, they're perfectly fine, but not oh my goodness I'm obsessed with this place can I move here – there's even a hostel dog! incredible.
To be fair, that's a tough level of incredible to reach. Then again, when you're paying $50 for a bed in a dorm room, maybe it's not too much to ask for.
Norwegian hostels are really expensive, and while at least you can be assured of high standards, it might just be so hard to stomach forking over so much cash for a dorm bed that you'd be better off splurging for a budget hotel. Just a thought.
But if anyone has stayed at an awesome hostel in Norway please share the details in the comments, because I would so love to hear some positive news about hostel culture in Norway!
P.S. If you do book a hostel, be sure to check for added linen fees – they'll get you every time!
You'll find the best deals on hostels here, as this is the main booking site used in Norway.
Hotel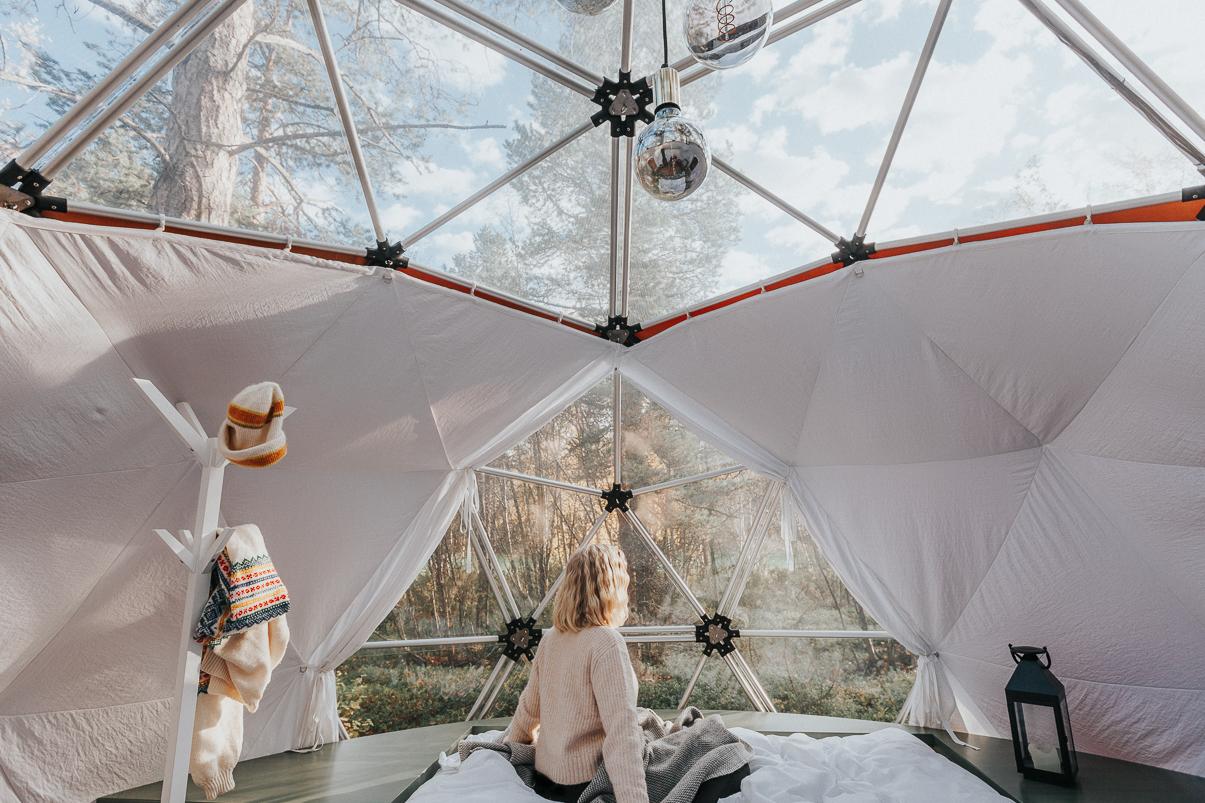 Accommodation prices in Norway generally seem absurdly high, whereas hotels are pretty comparable to hotels in the rest of Western Europe or the U.S. Which, in a bizarre way, means that hotels might be the best bargain?
Wait, that can't be the right wording. They're definitely not a bargain. But nice hotels in Norway are about how much you would expect to pay for a nice hotel a lot of places, so if you're thinking about splurging on a hotel someday, maybe consider making that a day you're in Norway.
I've shared the most incredible hotels in Norway here. Take a look and see if you can stay at one of them during your trip to Norway.
I've also written a bunch of accommodation guides to specific cities and areas in Norway, all of which you can read here.
Overnight trains
And last but not least, don't forget that if you have a few long train journeys you can do them overnight and save on a night's accommodation! I definitely don't recommend doing this too often (night trains comprised about a third of my night sleeps during my month in Russia last year and by the end I was quite the cranky toddler) but a few times will definitely ease the strain on your budget.
As always, if you have any more Norway accommodation tips or ideas please don't keep them to yourself – share in the comments!
PIN IT!