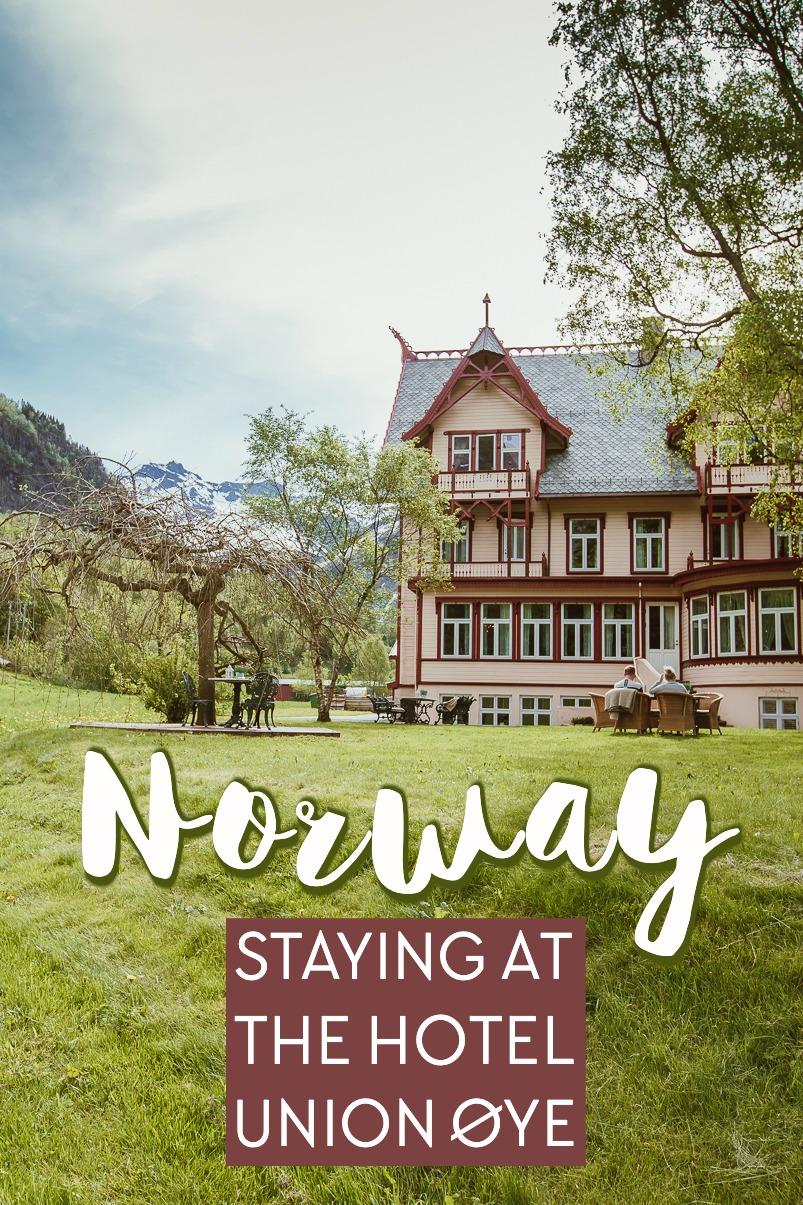 First off, just to be clear, I paid for my entire June road trip myself, including all my hotel stays. While I love to work with travel brands around Norway, I wanted this particular trip to be completely mine.
So you know this hotel must be special to get its very own blog post.
And it is! In fact the Hotel Union Øye is such an iconic institution in Norway that I've actually been recommending it for years.
First of all, the location could not be any better. The Hotel Union Øye lies in the heart of Norway's magnificent Sunnmøre Alps, as well as at the end of Norangsfjord, a branch of Hjørundfjord, which many Norwegians consider to be Norway's most beautiful fjord – and I agree! I've written more about Hjørundfjord here.
And if you're really into fjords, the Hotel Union Øye is also just a half hour drive to Hellesylt, which has one of the prettiest viewpoints of Geirangerfjord.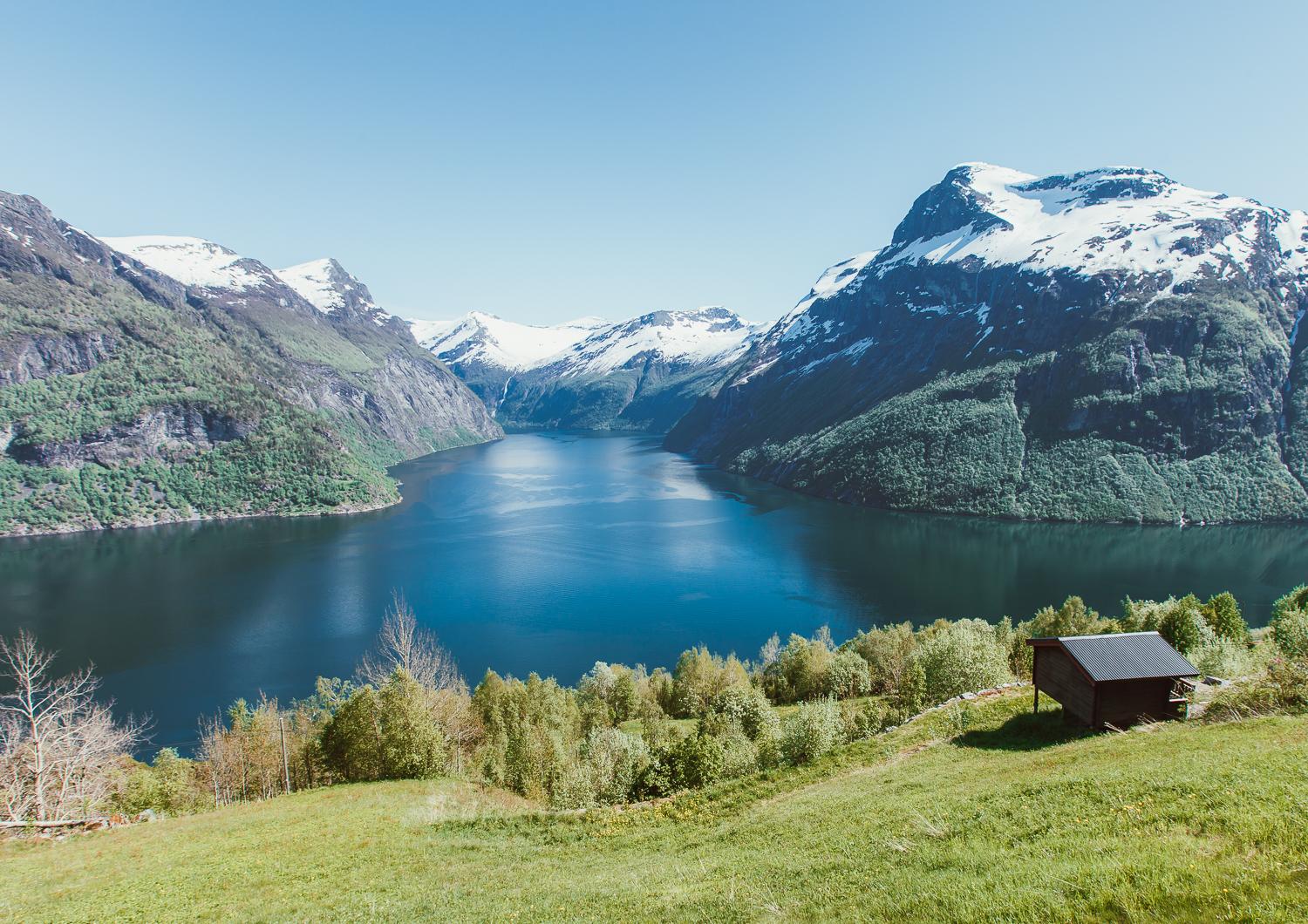 Southern Norway Guide!I've gathered all my best advice for planning an incredible trip through southern Norway (from the far south up to Trondheim) in a 93-page ebook covering my top recommendations for places to visit (both on and off the beaten path), the best times of year to visit, how long to visit for, the best accommodation choices, transportation, what to eat, what to pack, and a sample itinerary that covers my personal favorite route through the south.
With the mountains, fjord, and beautiful castle hotel, Øye feels like an actual fairytale village. There are lots of marked hikes in the area that you can take, and the hotel can even arrange a packed lunch for you, but the views from right by the road were so beautiful that I didn't end up venturing very far.
Though if you do want to take a fun outing, this kayaking trip from Øye takes you up to Hjørundfjord and looks incredible.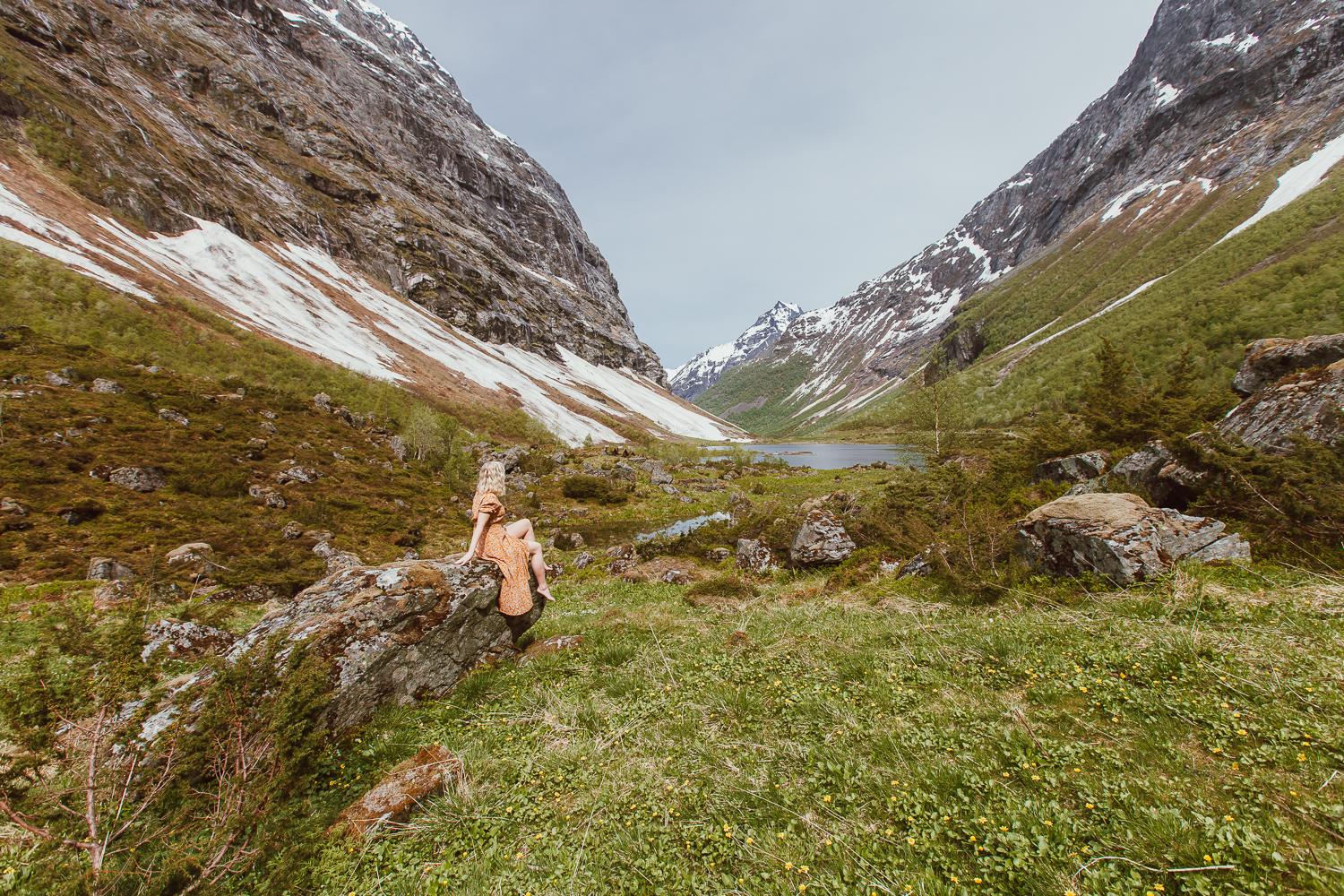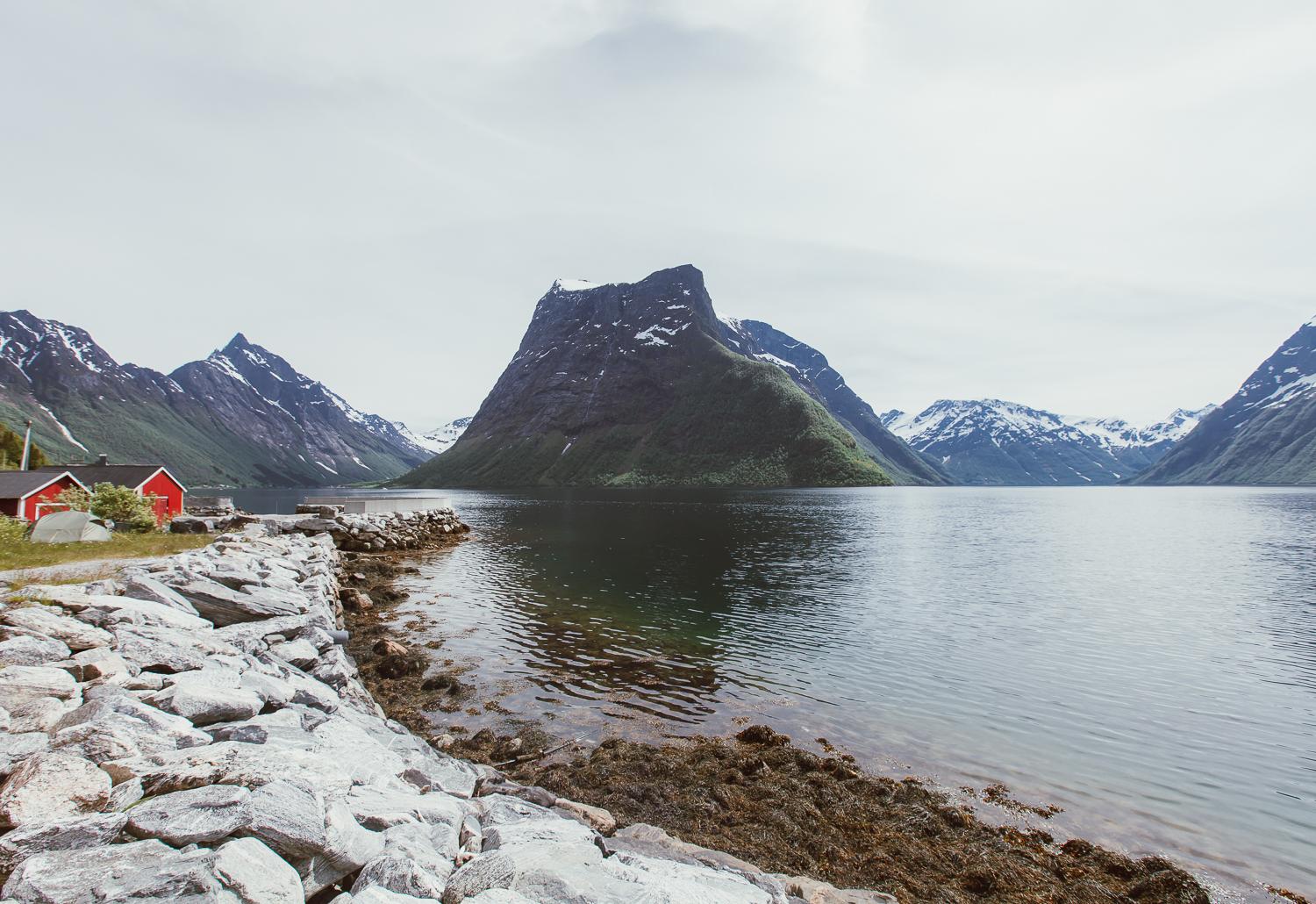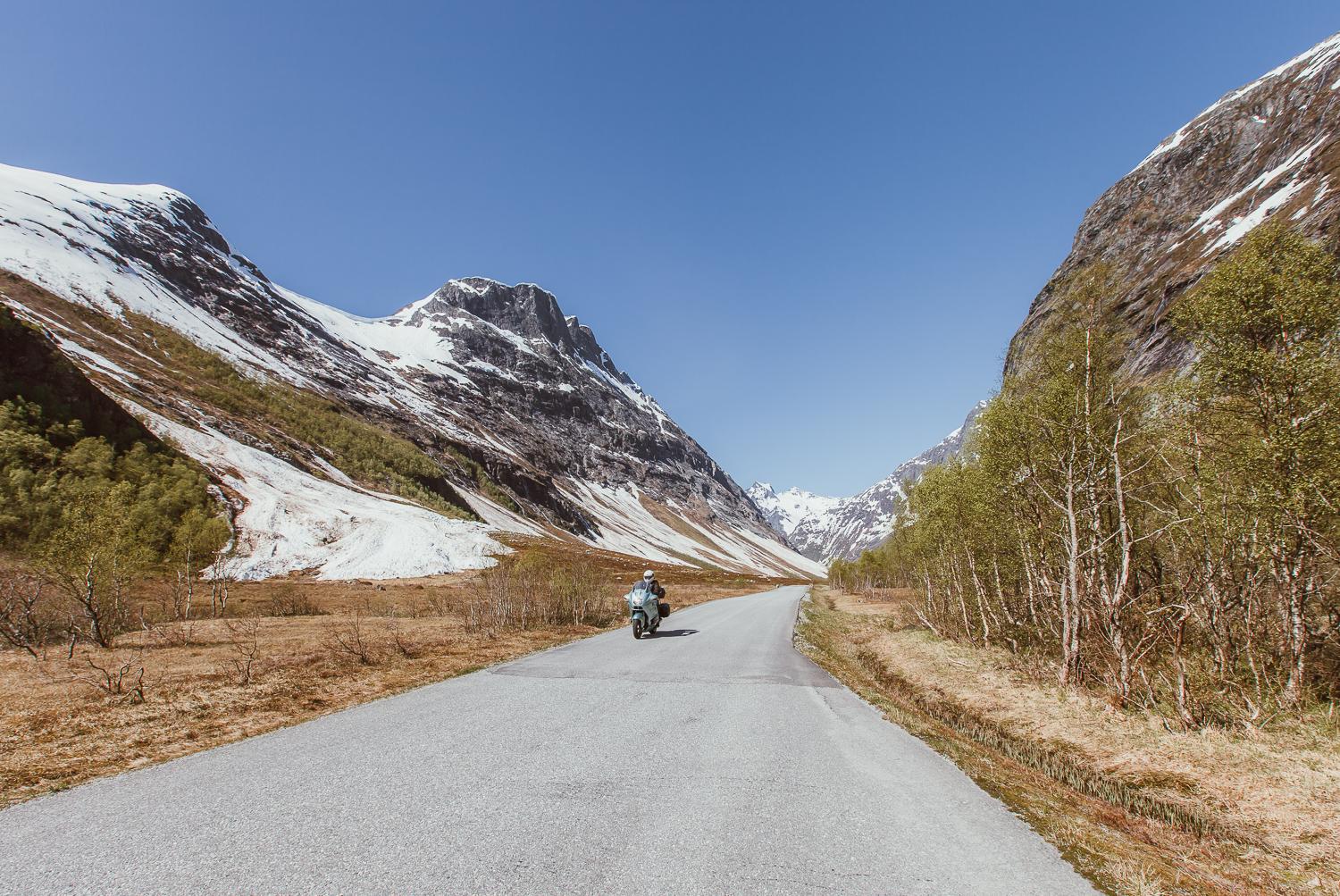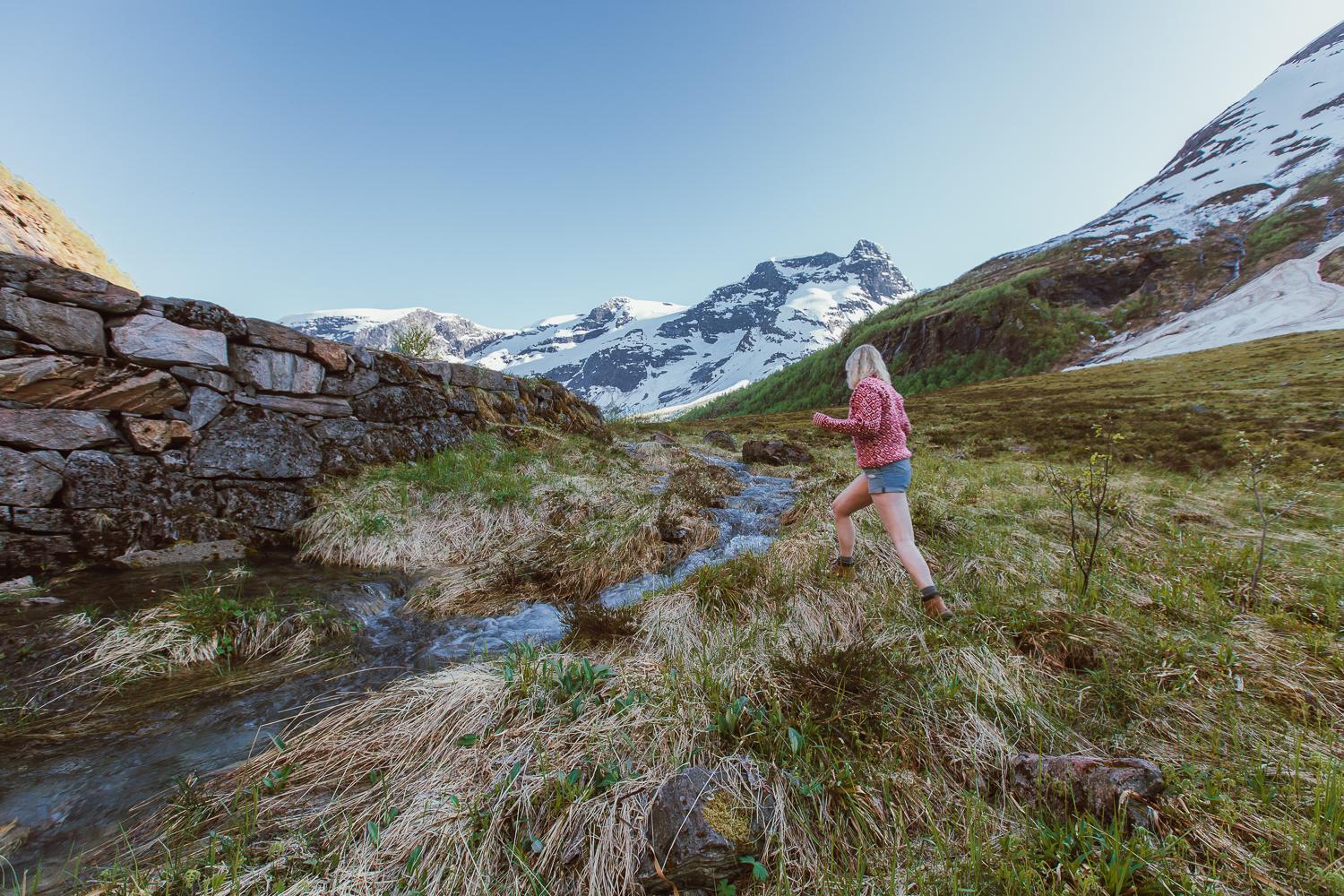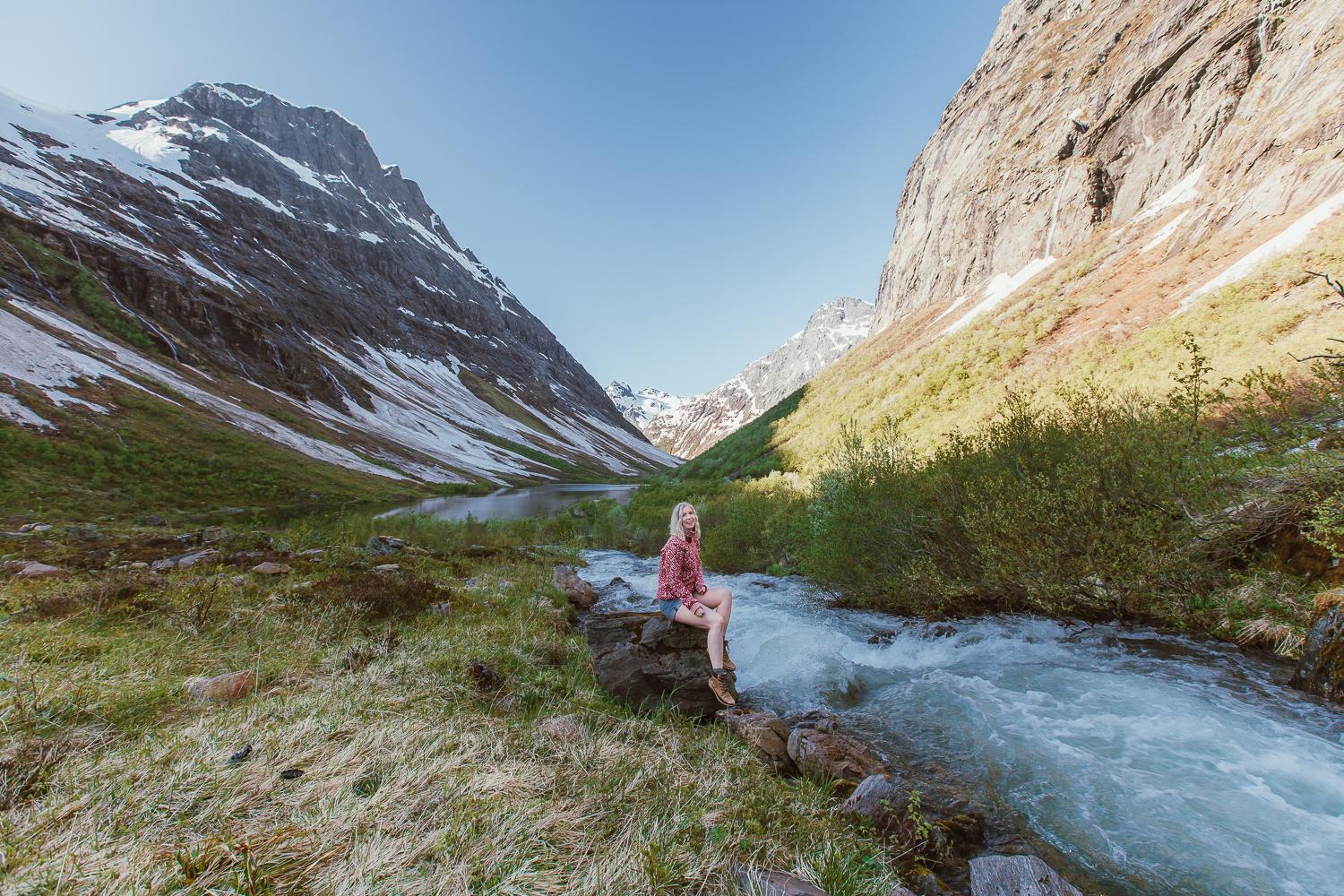 The hotel itself did not disappoint. Built in 1891, the Hotel Union Øye became a favorite getaway for famous writers, artists, and even royals. And now the rooms have been named for their renowned guests.
Staying here felt almost like spending a night in a museum, but in a good way! In fact the hotel keeps the doors of unoccupied rooms open so that guests can peek inside to see each of their unique designs, which I loved. Though the hotel room area is closed off to day visitors stopping at the hotel for lunch or a drink, so you don't have to worry about lots of strangers wandering around the corridors.
I stayed in the Bjørnstjerne Bjørnson room, which had the most amazing view of the mountains from my bed.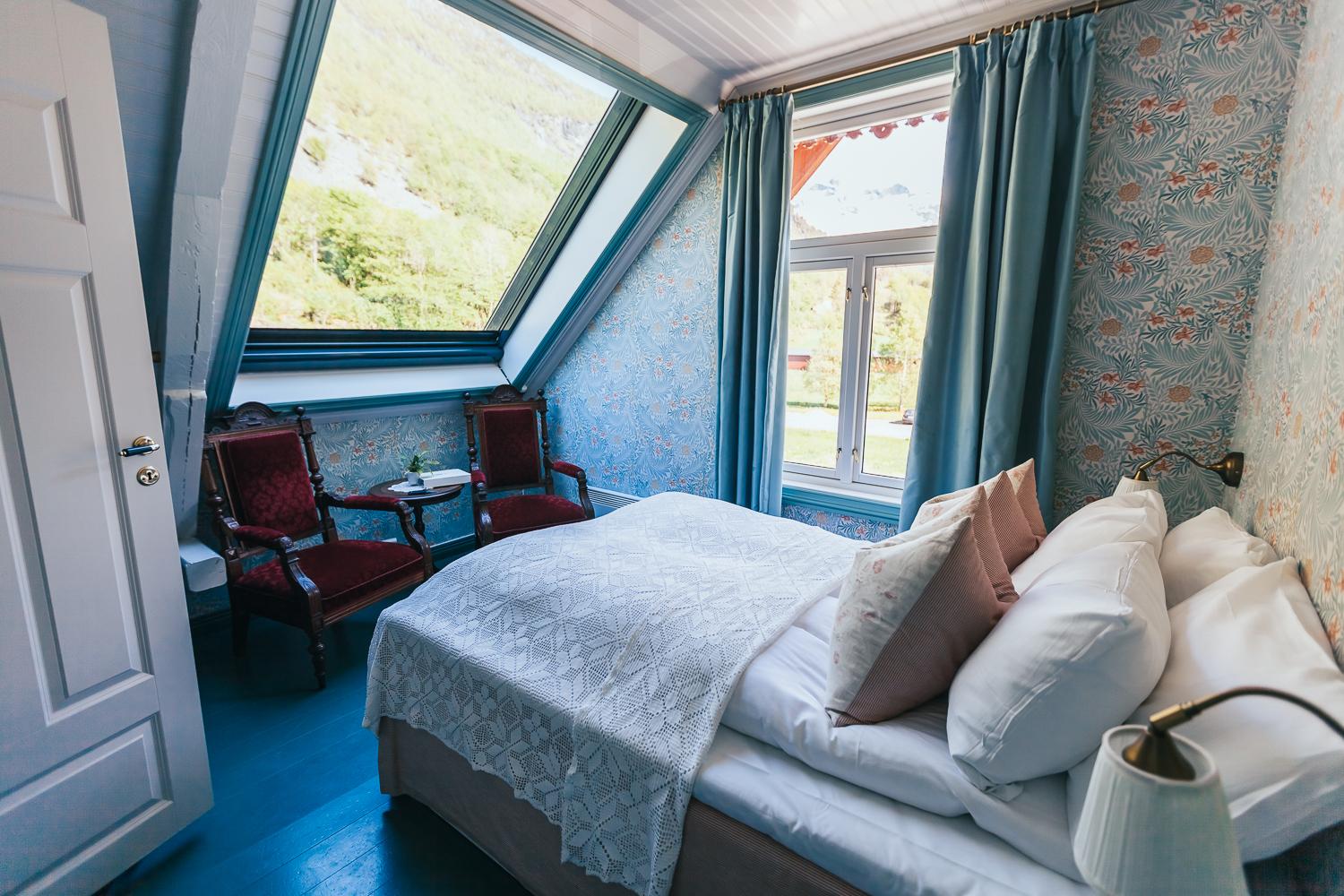 And then I also had to take a look at Queen Silvia's room, which I felt was calling my name somehow.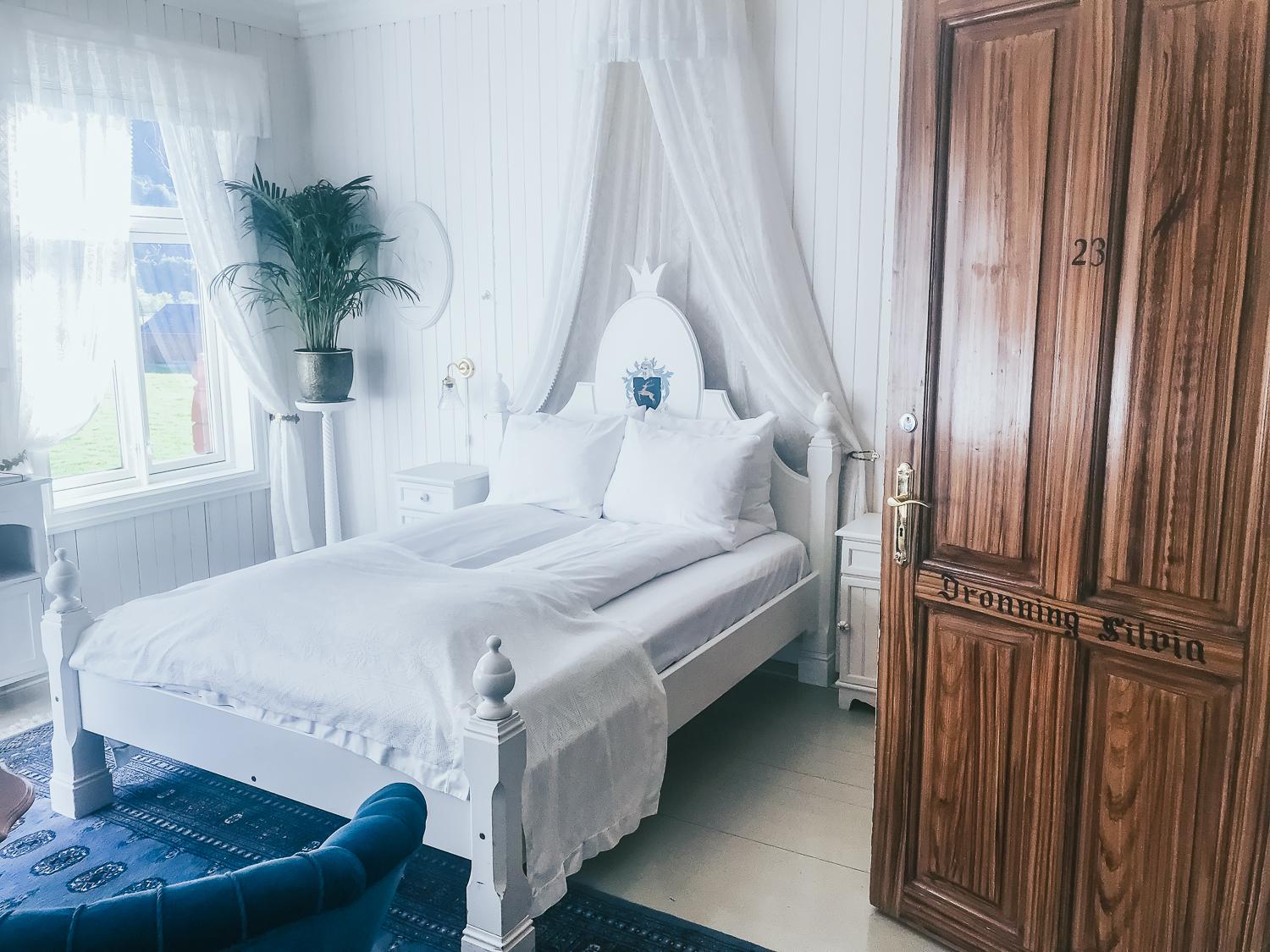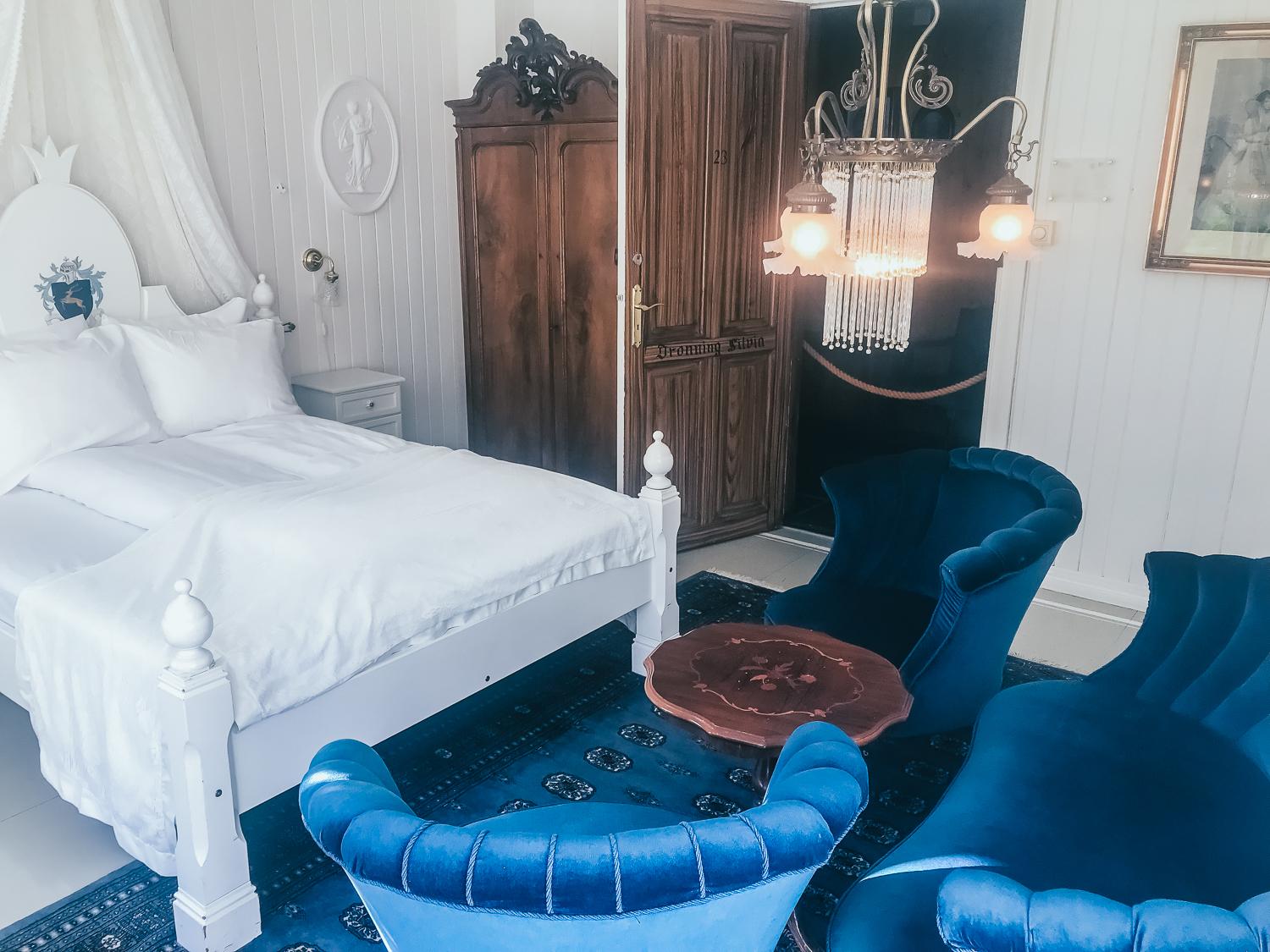 You know how much I love a hotel breakfast, and the breakfast at the Hotel Union Øye was definitely the best of my entire four week road trip. As hotels can't have buffets right now, here they brought the buffet to each table.
Though while delicious, to be honest it did feel wasteful to have so much food for one person, so to assuage my guilt I ate a lot. At least that meant I didn't have to stop for lunch later in the day!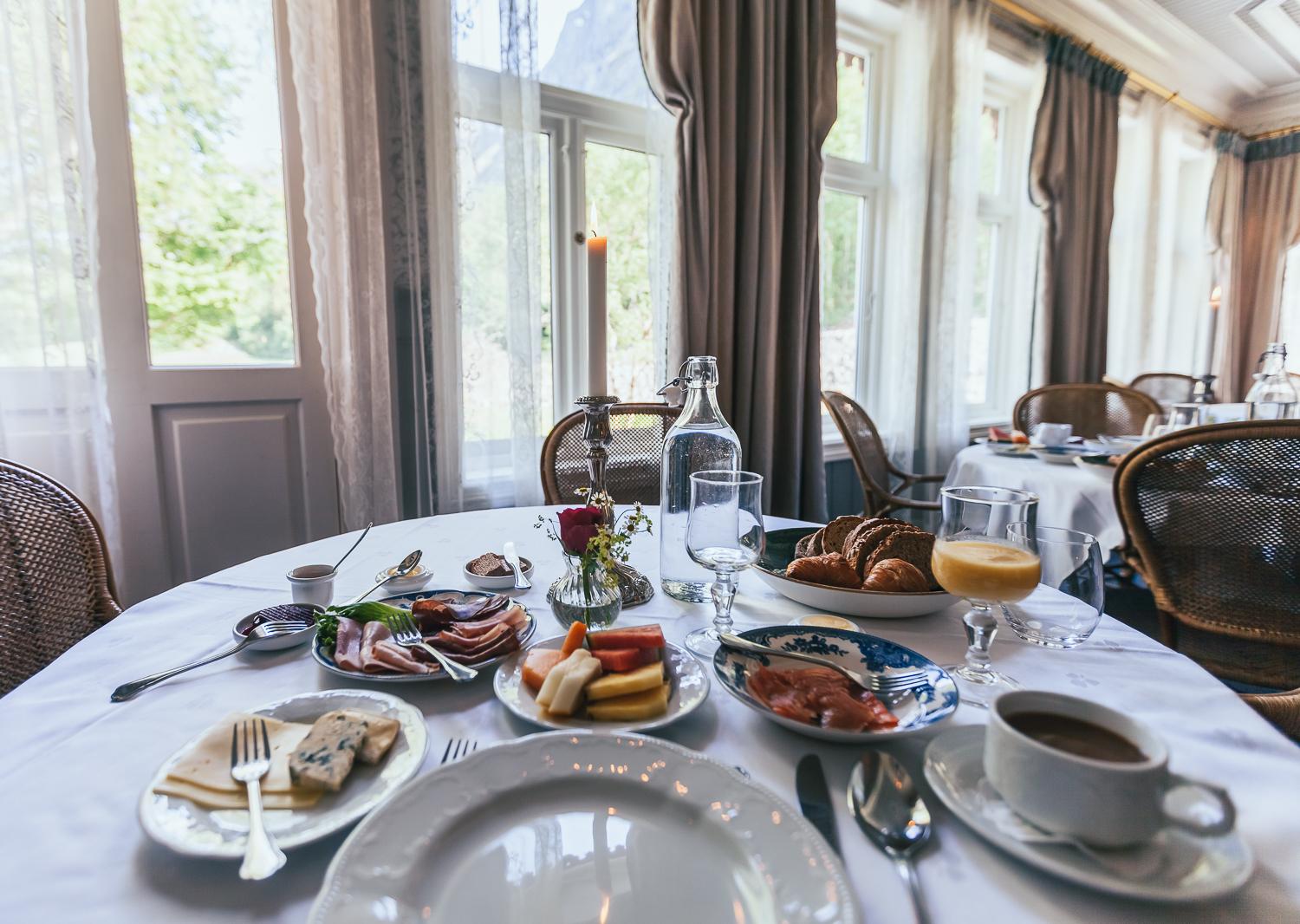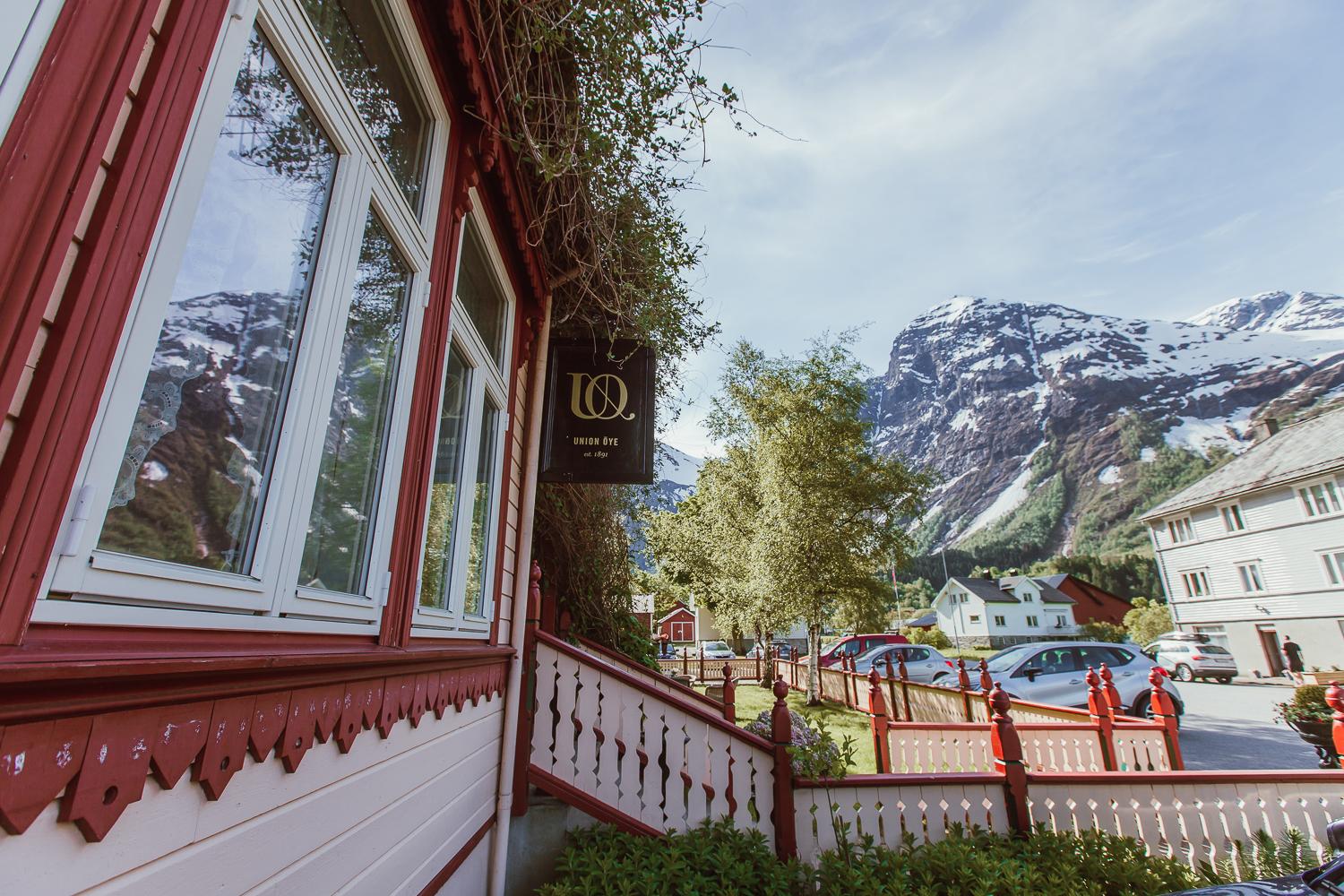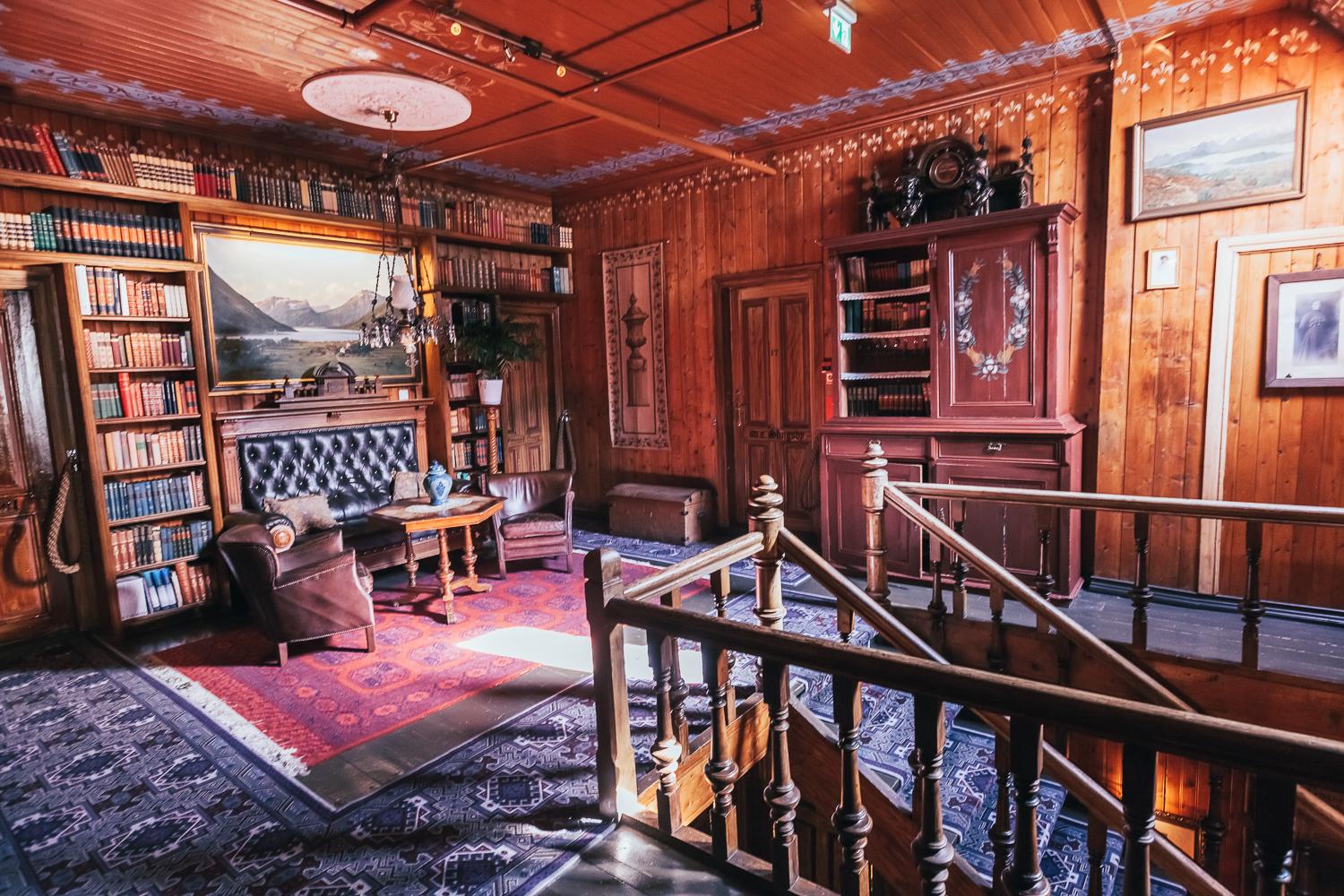 Now, while the Hotel Union Øye appears to be frozen in time, apparently that's not entirely true.
The story behind the Hotel Union Øye is quite remarkable, though considering I heard it from some locals across the fjord, I sort of wonder how much of what they said is true – and also how well I understood them. Seriously, why do old men always mumble so much?!
They told me that the most special historic hotels in Norway now are the ones that couldn't afford to make modern upgrades when the government started requiring standard safety features like smoke sensors with sprinklers.
So instead of totally redesigning the hotel to fit the new safety standards, or even tearing down the original building and replacing it with a new modern one, the Hotel Union Øye pretty much fell into disuse for many years. The rooms were emptied and the hotel was bought by Ørstra Free Church, who used the building as a school throughout the 1980s.
Eventually the hotel was sold to new owners and finally fully renovated so it could begin operations as a hotel again. The owners wanted to emphasize the hotel's age, so they went around Europe buying "all the old stuff they could find" – at least that's how my new local friends put it.
And I guess that explains why the interior feels not only like a museum, but also different to any other hotel I've stayed at in Norway.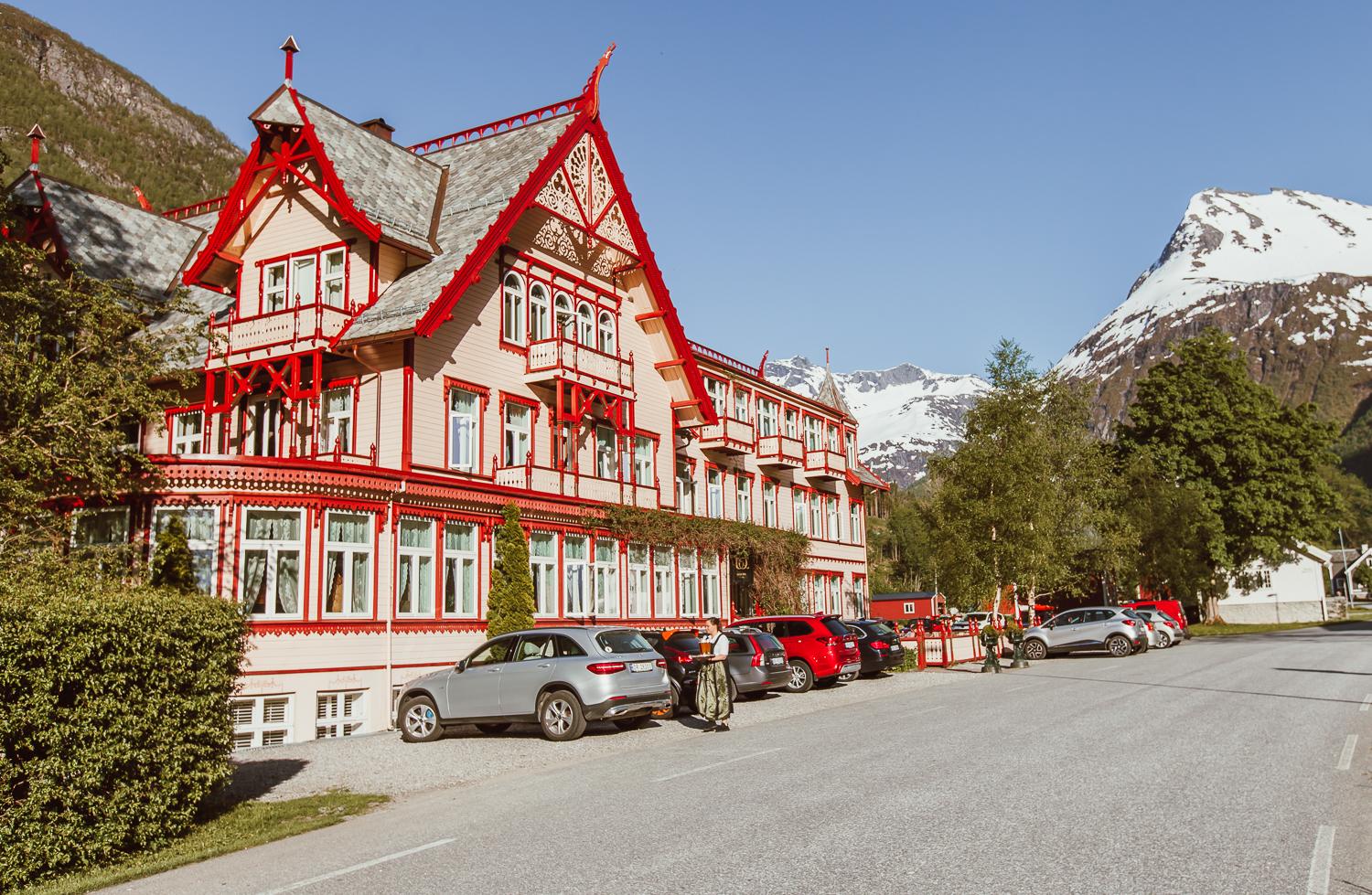 And while I would love to see what the hotel actually looked like back when foreign dignitaries like Kaiser Wilhelm II roamed the halls, they've done such a wonderful job of creating an atmosphere that takes us back in time. I especially appreciated this while visiting during a pandemic, as I felt like here I could escape the troubling realities of the outside world and truly relax for the first time in quite a while.
Check current rates and availability at the Hotel Union Øye here.
Even if you can't spend the night here, this is such a beautiful part of Norway and well worth a visit. You could easily take a day trip here from Ålesund by car or by boat. This boat trip from Ålesund includes a stop at the Hotel Union Øye for lunch.