Probably the three main reasons people visit Norway are to see the northern lights, Norwegian mountains, and the Norwegian fjords. And while over my years living in Norway I've written many blog posts about seeing the northern lights, and even an in depth northern lights ebook, as well as a guide to Norway's most beautiful mountains, I've never written a guide to the best Norwegian fjords.
I actually started a Norway fjord blog post several months ago, but realized there were a couple of fjords in southern Norway I had missed, so of course I had to take a road trip to the Norwegian fjords to investigate. But now I can say with full confidence that I have explored up and down the Norwegian coast well enough to share my list of the best fjords in Norway.
Norway Travel Guides! I've gathered all my best advice for planning an incredible trip through Southern and Northern Norway in two 95-page ebooks covering my top recommendations for places to visit (both on and off the beaten path), the best times of year to visit, how long to visit for, the best accommodation choices, transportation, what to eat, what to pack, and how to plan the perfect itinerary.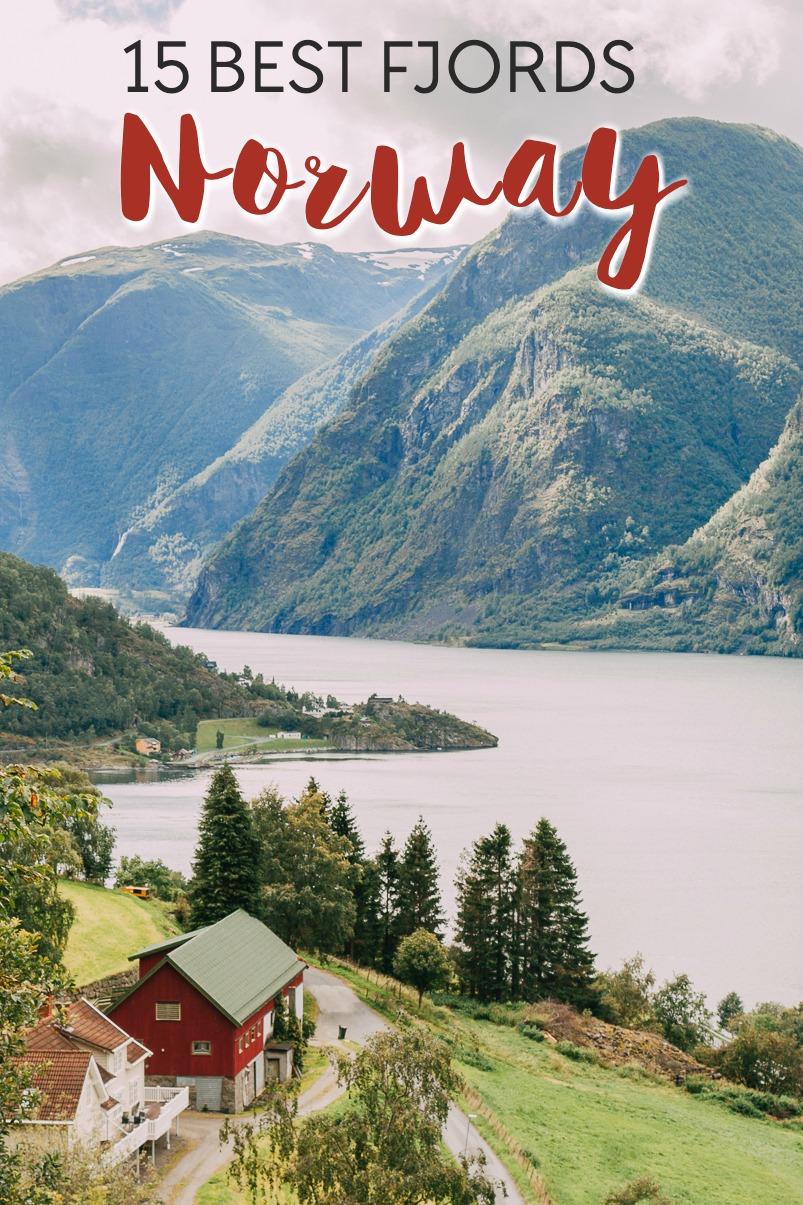 But what is a fjord?
Norway is famous for its fjords, so of course everyone who visits Norway wants to see them. But while the fjords will make it on every Norway bucket list, not everyone actually seems to know what a fjord really is.
I remember being on a boat trip in Finnmark and after hearing I live in Norway one of the passengers asked me if I knew where she could go to see a fjord. And then when I laughed and informed her that actually we were currently on a fjord she was so excited, like I had magically made the view even more incredible by naming it a fjord.
Though to be fair to any confused visitors, Norwegians use fjord in a broader meaning, referring to any long, narrow bay, whereas the international geological definition of a fjord is a long, narrow inlet with steep sides or cliffs, created by a glacier. So it's no wonder tourists are often disappointed when they first see the Oslo Fjord – it's not actually a fjord by the international understanding of the term.
This also means that you can't simply look at a map of Norway and randomly choose a fjord to visit – at least not if you're looking for steep cliffs and deep water. But don't worry, I've got you covered with this list of fifteen fjords that I promise will not disappoint.
Hjørundfjord
I tried to roughly organize this list with my favorite fjords first, and while I found it really hard to rank these fjords I did know which fjord should come first: Hjørundfjord.
Hjørundfjord is stunning, and a bit less visited than Geirangerfjord and Sognefjord, so you'll find some actually quiet nature escapes here.
I wrote about my visit to Hjørundfjord here, including some amazing accommodation options. You could also stay at Norway's historic Hotel Union Øye on Norangsfjord, which is an arm of Hjørundfjord. I wrote about my experience staying at the Hotel Union Øye here.
If you want to see Hjørundfjord on a day trip, this boat trip from Ålesund goes all the way down Hjørundfjord and then into Norangsfjord, where you can stop at the Hotel Union Øye for lunch.
Or if you're staying at the famous Hotel Union Øye you could even go kayaking on Hjørundfjord with this kayaking trip leaving from Øye.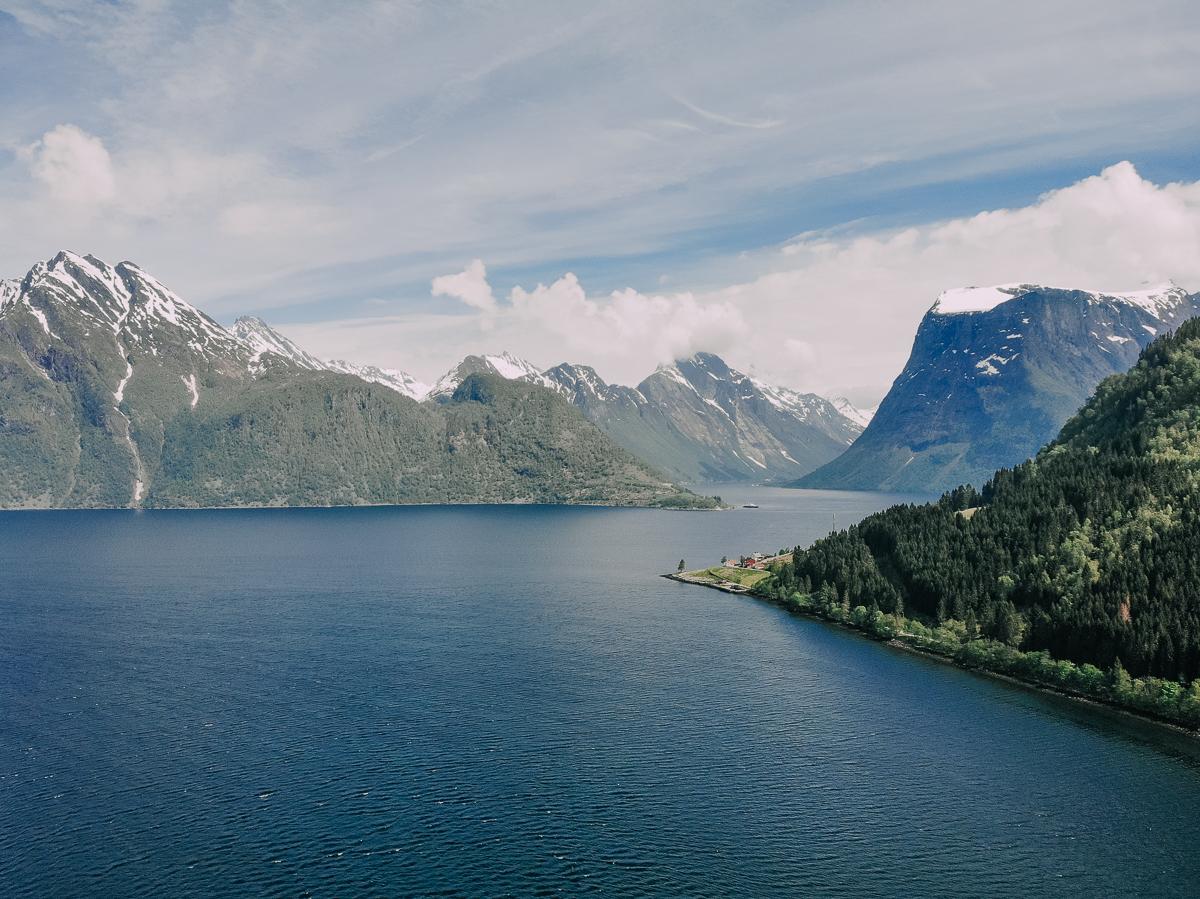 Romsdalsfjord
While Hjørundfjord is the prettiest fjord, my favorite fjord experience would have to hiking and camping in a tree tent along Romsdalsfjord. The views here are epic, with snow peaked mountains even in late June.
You could also stay in Åndalsnes, which is by the popular Rampestreken hike, as well as by the start of Norway's famous Trollstigen road, featuring eleven hairpin turns.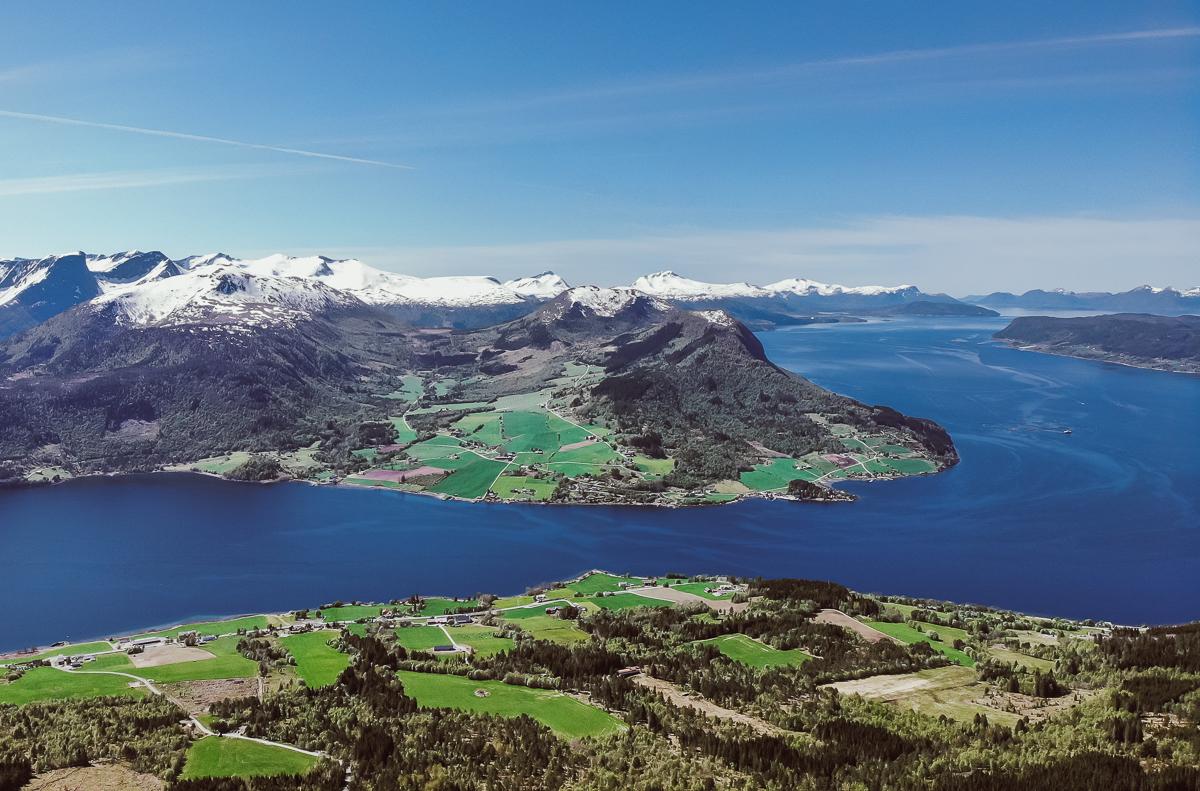 Lyngenfjord
I loved my first visit to Lyngenfjord a couple of years ago, but somehow I managed to fall even more in love when I visited last week. The views here are truly incredible, and I love that it's a bit less touristy than the main fjords in southern Norway. Plus, since it's in Northern Norway you're able to see the Midnight Sun here in the summer and the northern lights from September through March.
On Lyngenfjord I've stayed in a glass igloo at Lyngen North as well as in one of these mini aurora fjord cabins, both of which are ideal for watching the northern lights (while staying warm inside).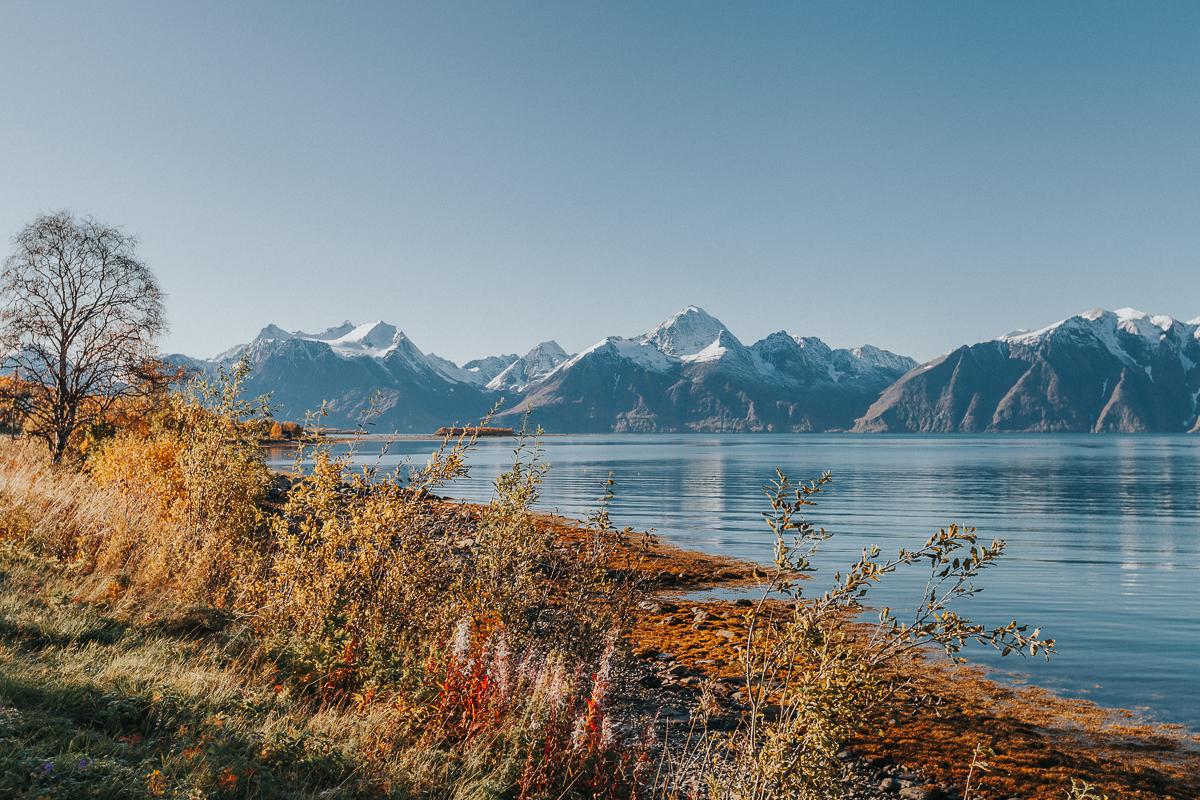 Sognefjord
Sognefjord is Norway's longest and deepest fjord, and the second longest and second deepest in the world, stretching over 200 kilometers and 1,000 meters deep at its deepest points. Several of its branches are probably the most popular fjords for tourists to visit, both because of the beautiful views and their relative easy accessibility from Bergen.
You could either take the express boat from Bergen into Sognefjord, or do the popular Norway in a Nutshell public transportation route. But of course my preferred way to explore the fjords is always by car, as you can get off the beaten path and travel at your own pace (public transport in Norway tends not to run very often).
I've compiled a list of incredible accommodation spots along Sognefjord here.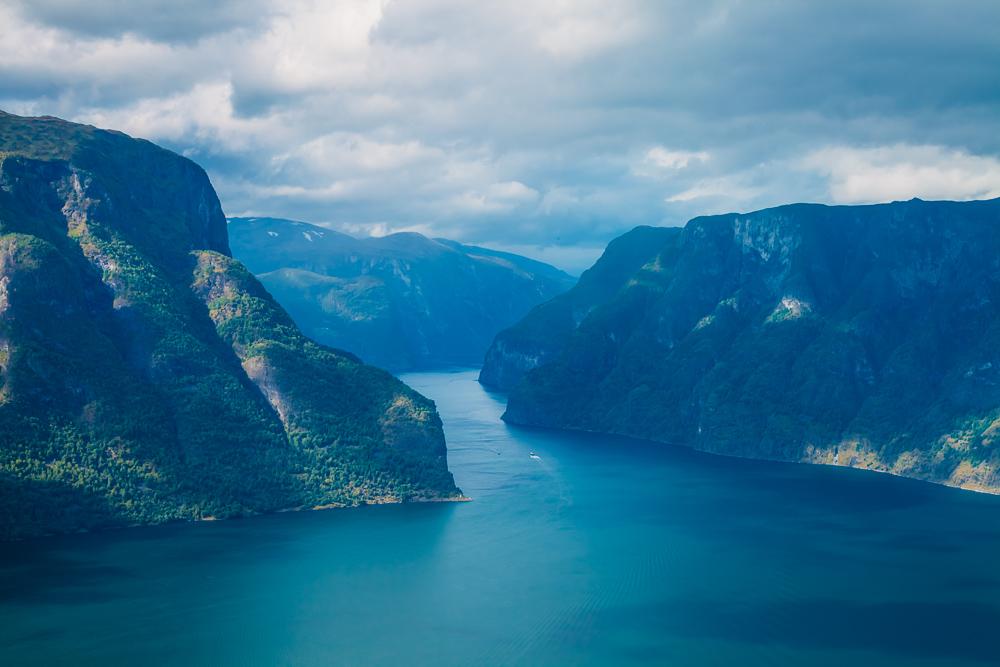 ♥ Nærøyfjord
Nærøyfjord is a branch of Sognefjord, but I thought I should specifically name it because it is definitely one of the prettiest fjords in Norway. However this is also one of the most visited fjords in Norway, so if you're coming in the summer you'll find a lot of tourist crowds here.
A great way to escape those crowds would be to get out on the water, like with this guided sea kayaking tour from Voss through Nærøyfjord, because there's no better way to experience a fjord than from a kayak. Check current prices and availability here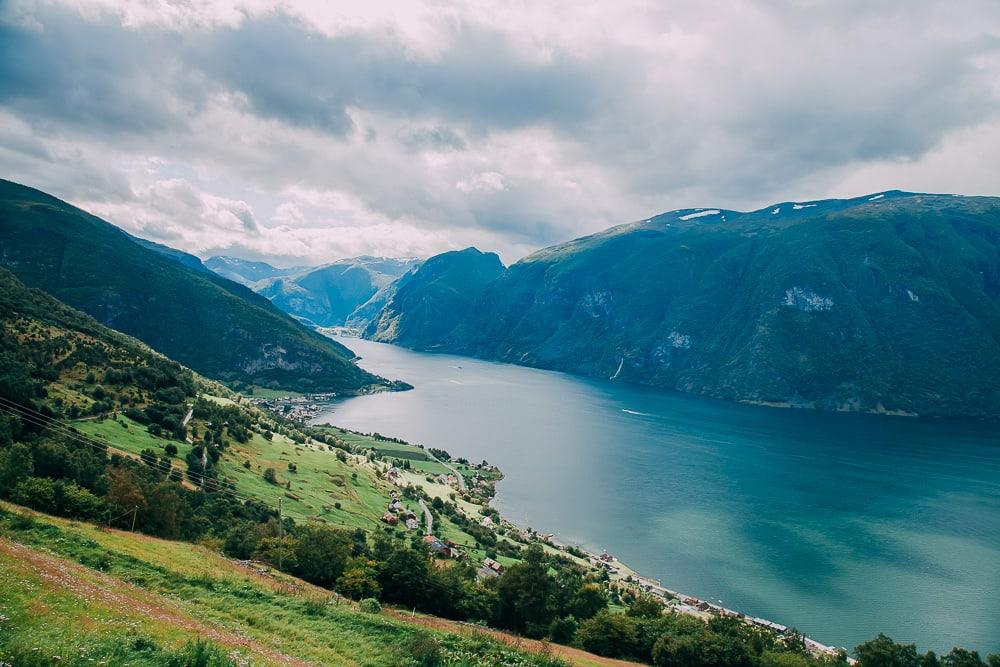 ♥ Aurlandsfjord
Aurlandsfjord and Nærøyfjord are both included in the Norway in a Nutshell route, but again, I preferred visiting by car so that I could stop and take all the photos. And it seems like every bend along Aurlandsfjord reveals another gorgeous view.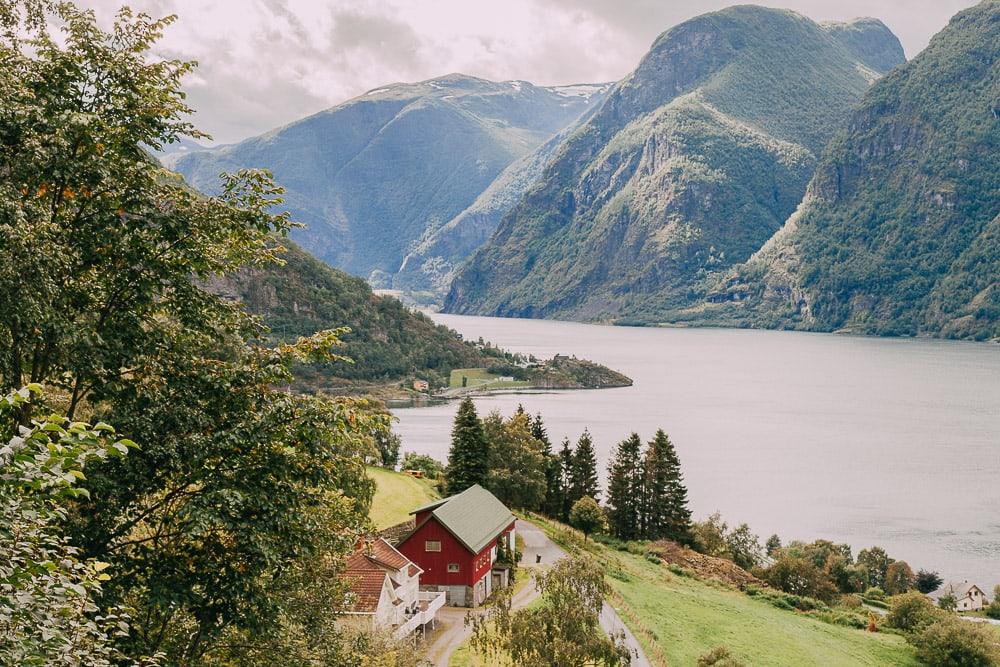 Trollfjord
I think most Norwegians would agree that Lofoten is one of the most picturesque areas of Norway, though the islands are known more for their pointy mountains and cute red fisherman cabins than fjords. Yet one fjord does stand out.
I visited Trollfjord on this sea eagle safari, and while I loved watching the sea eagles swooping down to the sea catching fish, I was most struck by the steep, dark cliffs of Trollfjord. I'm not saying Trollfjord is definitely enchanted, but it certainly could be.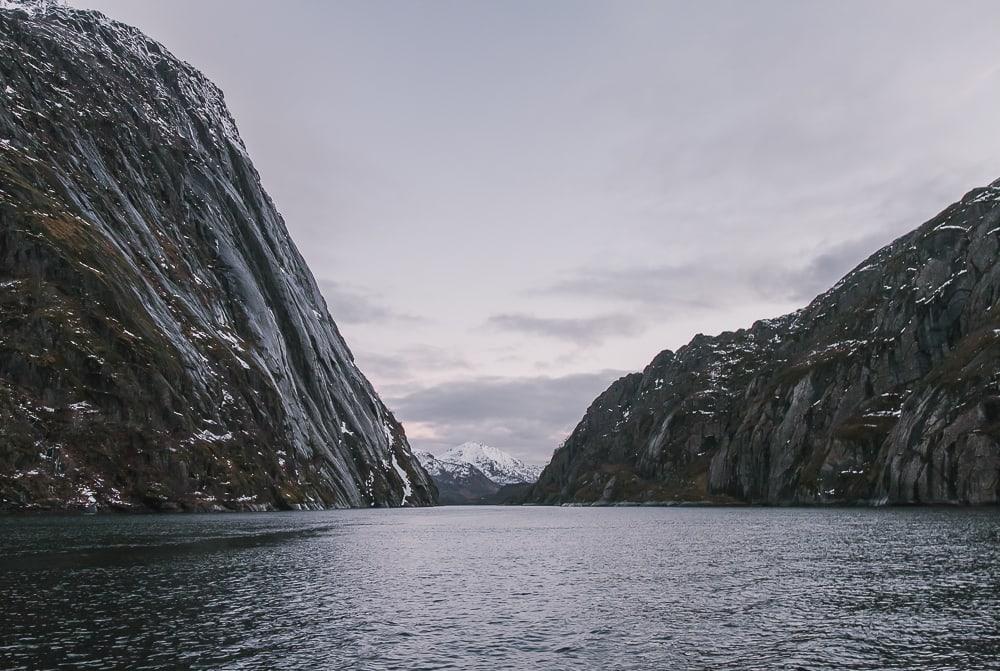 Geirangerfjord
Ask a Norwegian what the most beautiful fjord in Norway is and there's a good chance they'll say Geirangerfjord. Geirangerfjord is certainly one of Norway's most popular fjords, and for good reasons. The views here are truly epic. In fact I probably would agree that Geirangerfjord is Norway's most beautiful fjord if it weren't for all the tourist crowds.
Geirangerfjord gets so full of cruise ships and tourists that it doesn't quite offer the same quiet nature that my favorite fjords do, but if anywhere deserves so many visitors it would have to be Geirangerfjord.
If you want to escape the crowds you could try this two day kayaking trip through the fjord, which looks epic.
And I've compiled a list of amazing places to stay along Geirangerfjord here.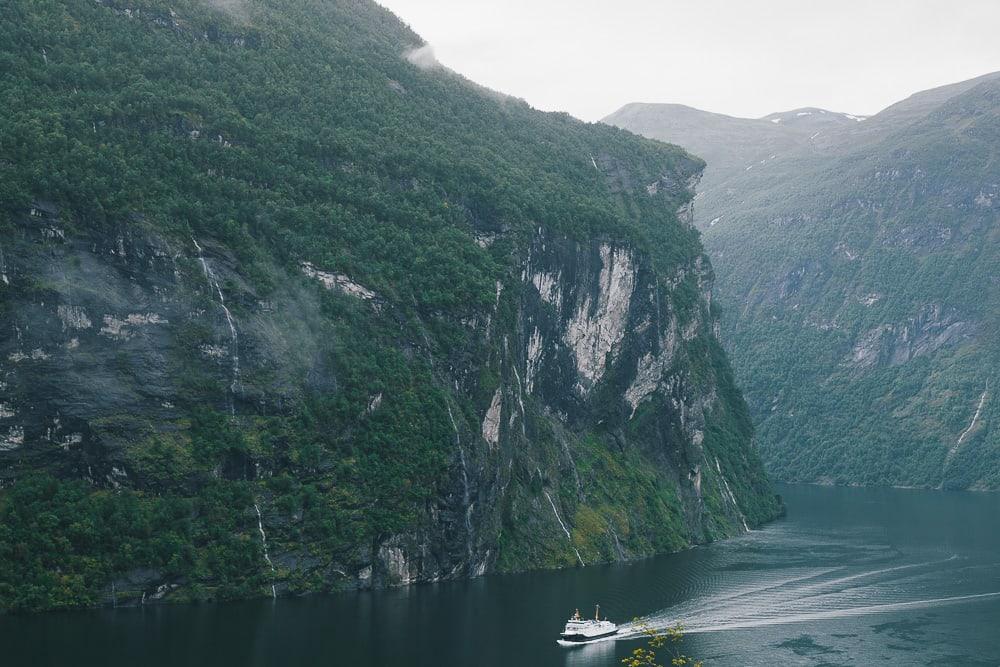 Lysefjord
Speaking of popular tourist spots, Lysefjord is another Norwegian bucket list item, home to Pulpit Rock, the start of the famous Kjeragbolten hike, and the Flørli Stairs, the longest wooden staircase in the world.
Melfjord
If you're not into the popular bucket lists and would rather get off the beaten path, Melfjord in Helgeland, located right on the Arctic Circle, is absolutely magical, and you will likely have the fjord all to yourself. You can read about my visit to Melfjord here.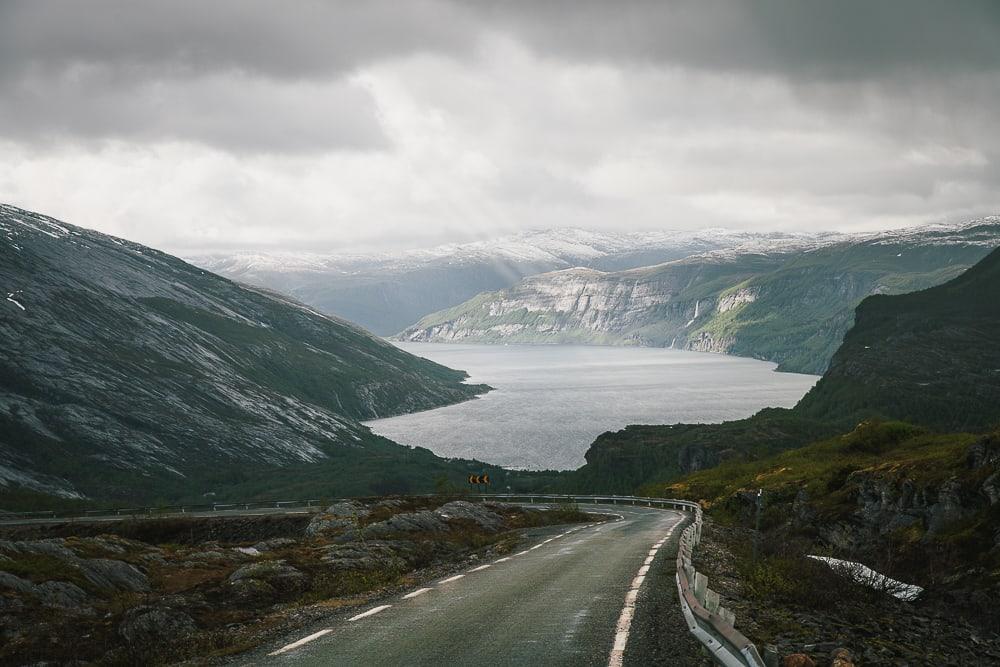 Hardangerfjord
The second longest fjord in Norway, Hardangerfjord is probably best known for its beautiful springtime views when the fruit trees are in bloom, which usually happens in May. But this fjord is beautiful anytime of year, and just an hour and a half from Bergen, making for a wonderful day trip from the city. Or you can visit from Odda, which is also close to Norway's famous Trolltunga hike.
If you won't be renting a car, or if you want to see the fjord by boat, there are lots of guided trips of Hardangerfjord on offer, including this boat trip from Odda, this small cruise from Bergen, and this minivan tour from Bergen. Or you could even take this epic day trip from Bergen to both Hardangefjord and Folgefonna Glacier, Norway's third largest glacier.
And you can read more about visiting Hardangerfjord here.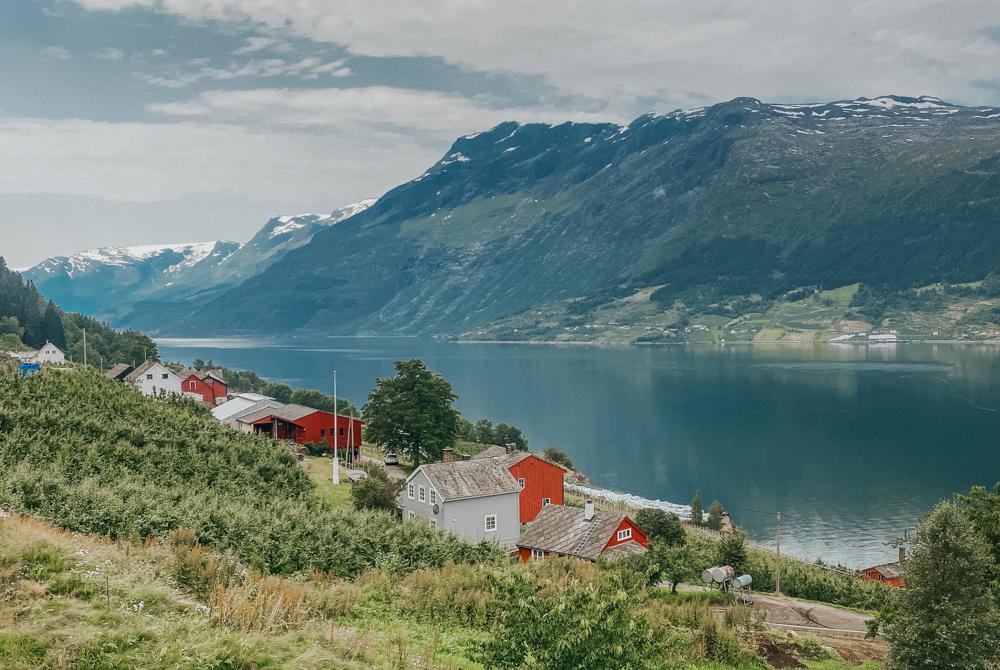 Nordfjord
A bit north of Sognefjord you'll find Nordfjord, which reaches an impressive 106 kilometers inland. This is a popular cruise ship destination, but I always recommend avoiding the cruises in Norway, as they tend to contribute nothing to local economies and it's just not a great way to actually see Norway (if you can't tell already, most locals really hate the big cruise companies).
But I've included Nordfjord on this list because there are so many cute villages and towns here, as well as some great hikes, including to Briksdalsbreen glacier, which can be reached from the village of Olden. And then at the end of Nordfjord you'll find Stryn and the beautiful Oppstrynsvatn lake, and the historic Hjelle Hotel.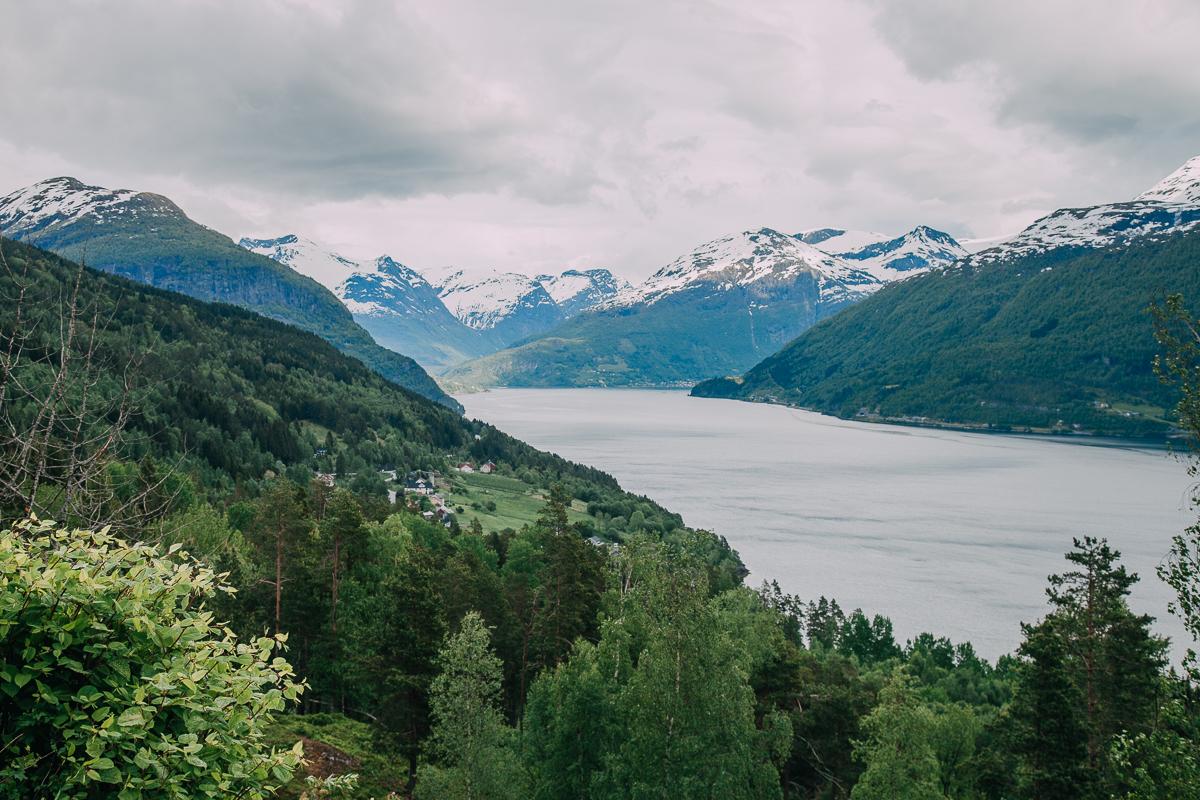 Porsangerfjord
I really, really love Finnmark, the northernmost region of Norway, so while Porsangerfjord doesn't have the dramatic high cliffs of other fjords on this list, I still wanted to include it. You really feel like you're driving up to the edge of the world along Porsangerfjord, and in fact if you continue driving north you'll reach the North Cape, which is the northernmost point of mainland Norway and Europe.

Varangerfjord
If you want to continue your journey along the edge of the world, head east to Varangefjord, Norway's easternmost fjord, which lies north of Finland. From here you can drive down to Kirkenes or up the Varanger National Scenic Route to the tiny village of Hamningberg, which is one of my favorite places in all of Norway. Read about my visit to Kirkenes, including the famous Snow Hotel here and Hamningberg here.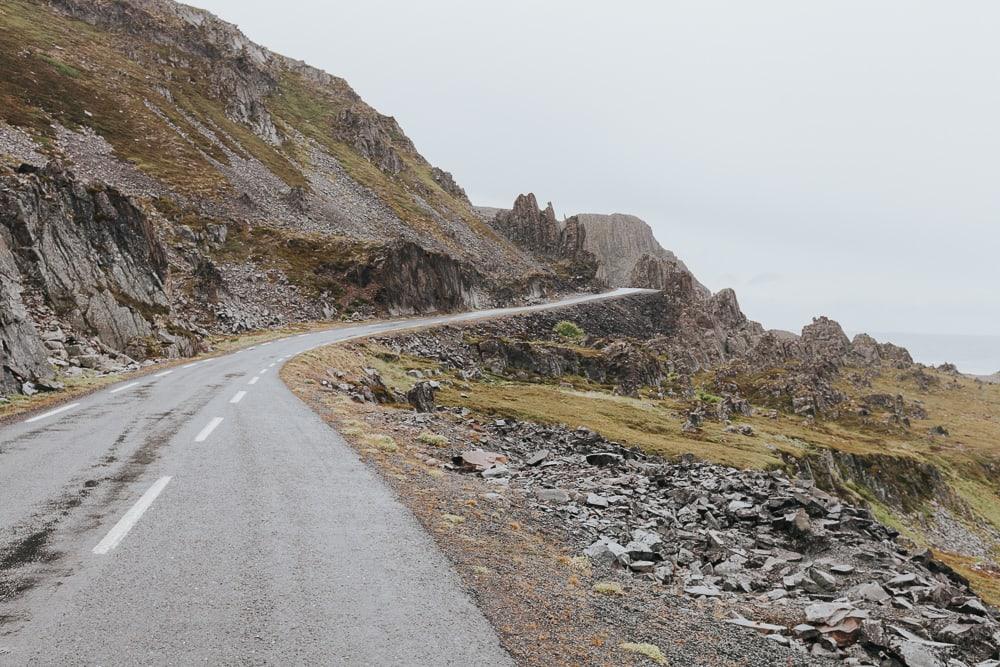 Isfjord
And finally, if you want a true adventure, head to Svalbard! Svalbard's towns are the northernmost permanently inhabited spots on the planet (aside from a few research bases), and in fact Svalbard is closer to the North Pole than to Bergen.
I've only visited Svalbard during polar night and am now itching to visit in the spring or summer to see it in the daylight. And the largest fjord on Svalbard is Isfjord, where you can have a chance to see whales, polar bears, and impressive glacier fronts by boat or you could even take this kayaking trip on the fjord.
You can read about my trip to Svalbard here.