One night in the Arctic Dome in Alta was definitely not enough, but luckily the next day I was headed to yet another Arctic Dome, this time farther north in Kokelv.
I had actually driven right by Kokelv a little over a year ago on my Midnight Sun road trip, when driving down the Havøysund National Scenic Route after my stay in Hammerfest. I loved how rugged the landscape is here, and it felt like I was driving along the edge of the world.
So I was very excited when I found this Arctic Dome in Kokelv on Airbnb.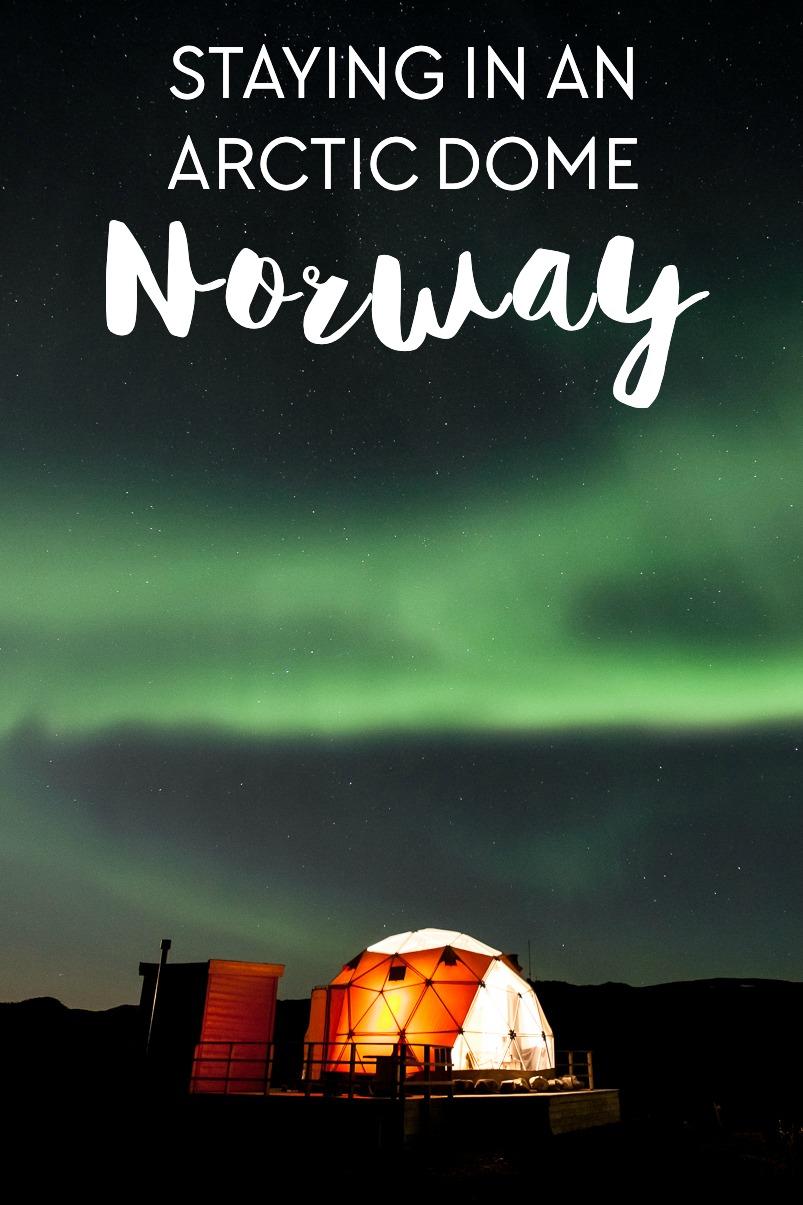 I've stayed at several different Arctic Domes now, and this one in Kokelv definitely feels the most remote, and as it sits on top of a hill there are clear views in every direction, so you'll have a full view of the aurora wherever it appears in the sky.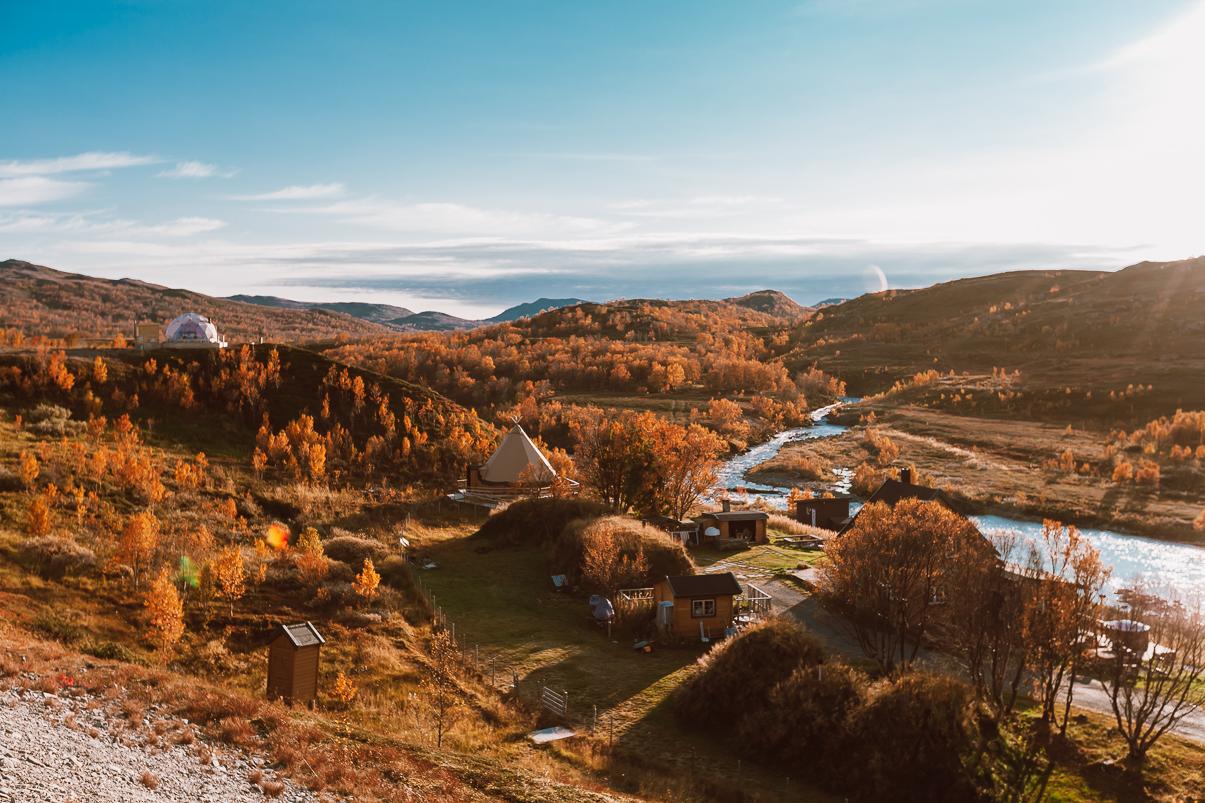 This Airbnb also comes with a turf house at the bottom of the hill, which is in the backyard of the Airbnb owners' house.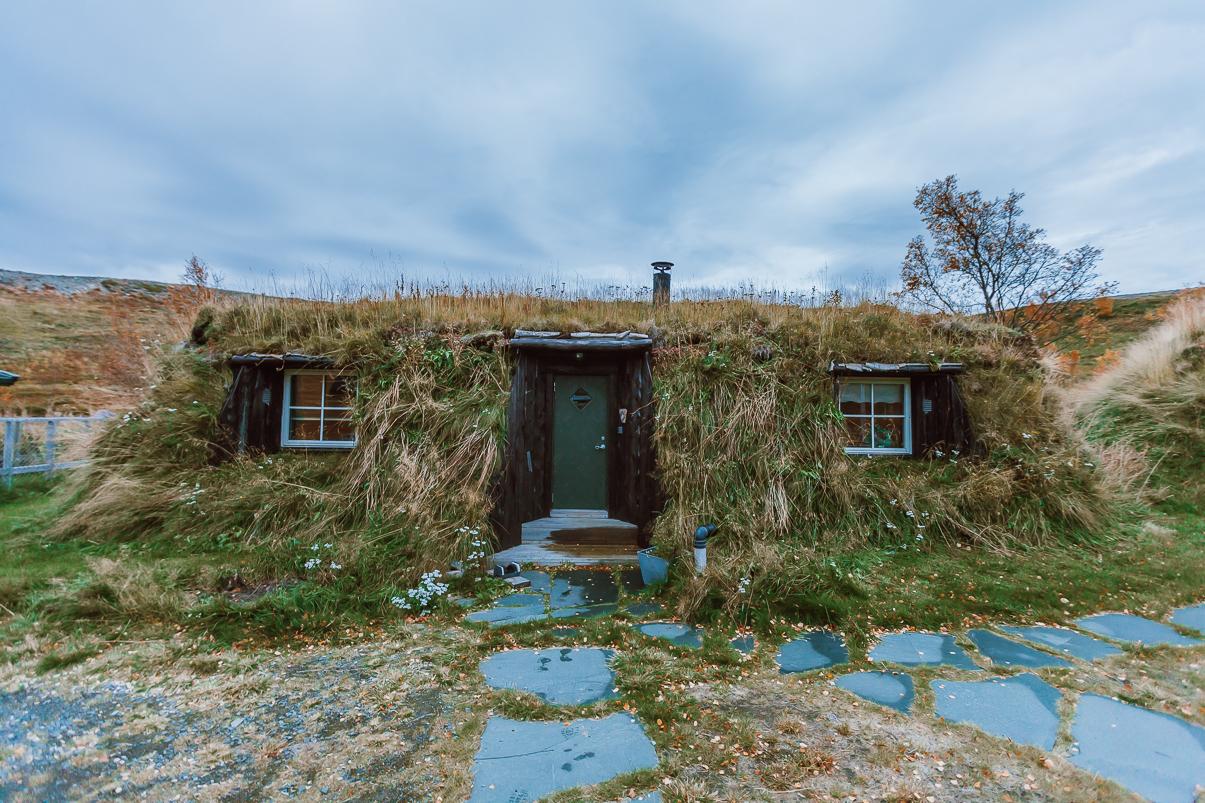 The turf house was built in the traditional Sami style and has a kitchen and shower, as well as two bedrooms. Of course I wanted to sleep up in the Arctic Dome, but it was really nice having the turf house during the day.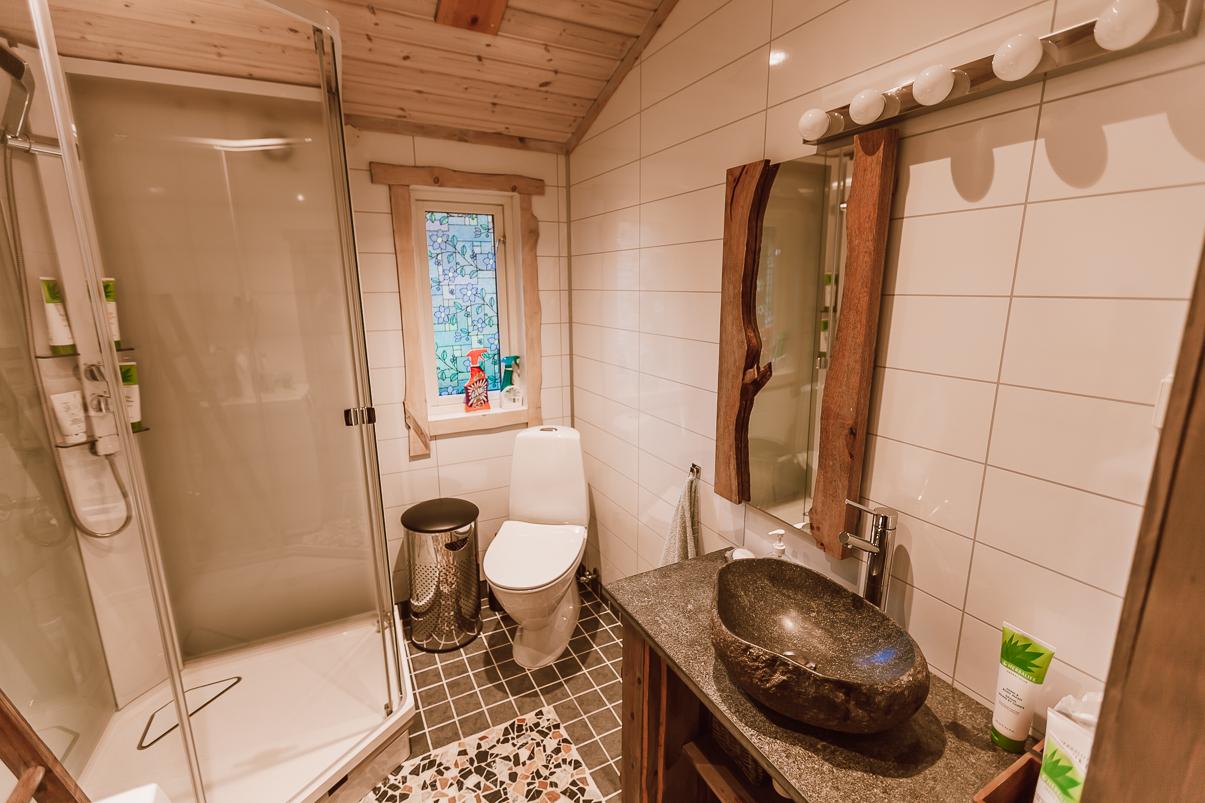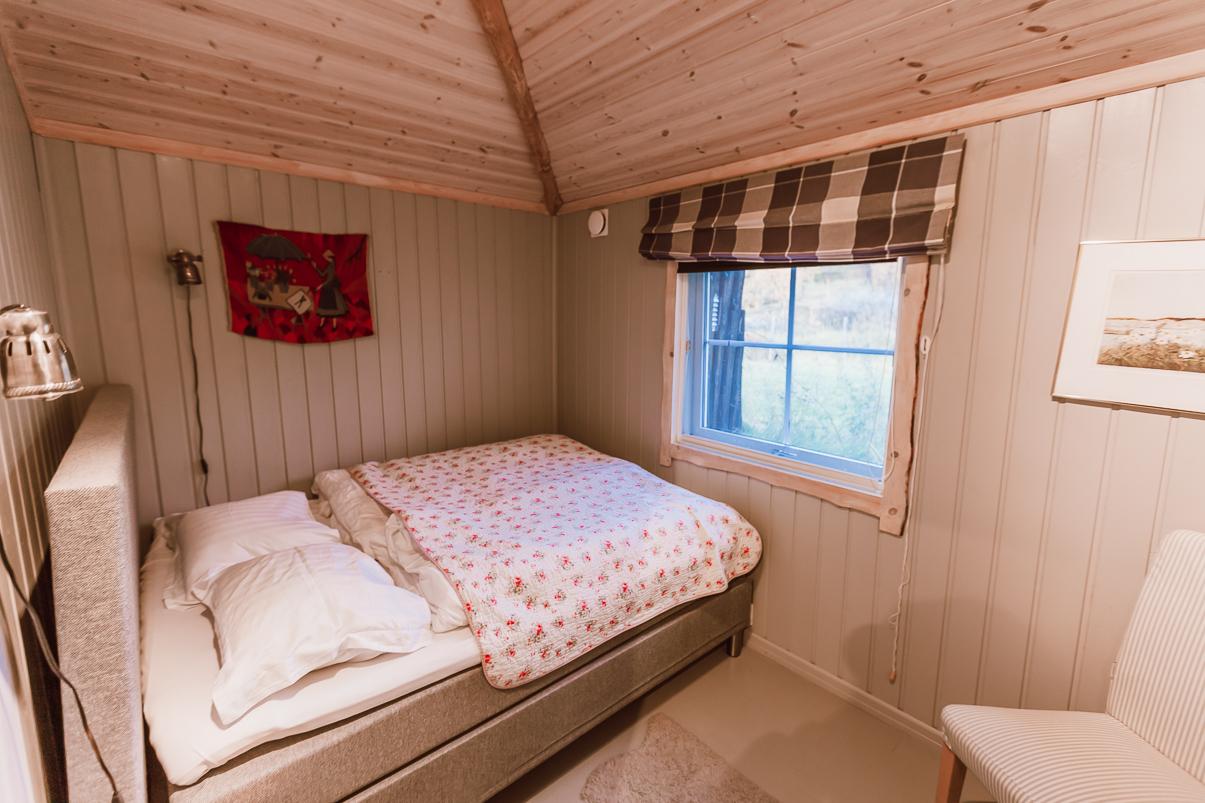 The Arctic Dome felt a bit more rustic than the one in Alta. I shared it with a family of spiders (that to be fair I could have easily kicked out), and while there is a toilet up there it's behind the dome, so you do need to go outside to use it. Of course if you're not much of a glamper you could instead choose to sleep in the turf house and just use the dome for northern lights viewing at night.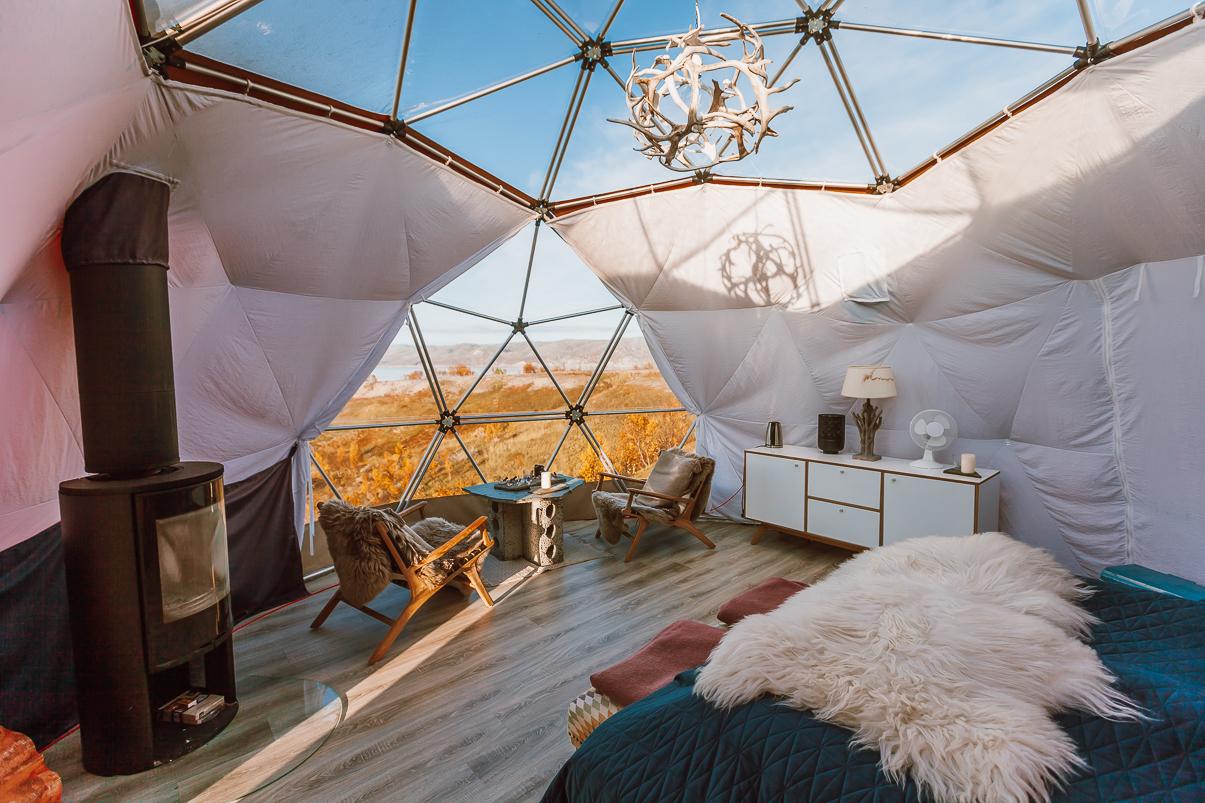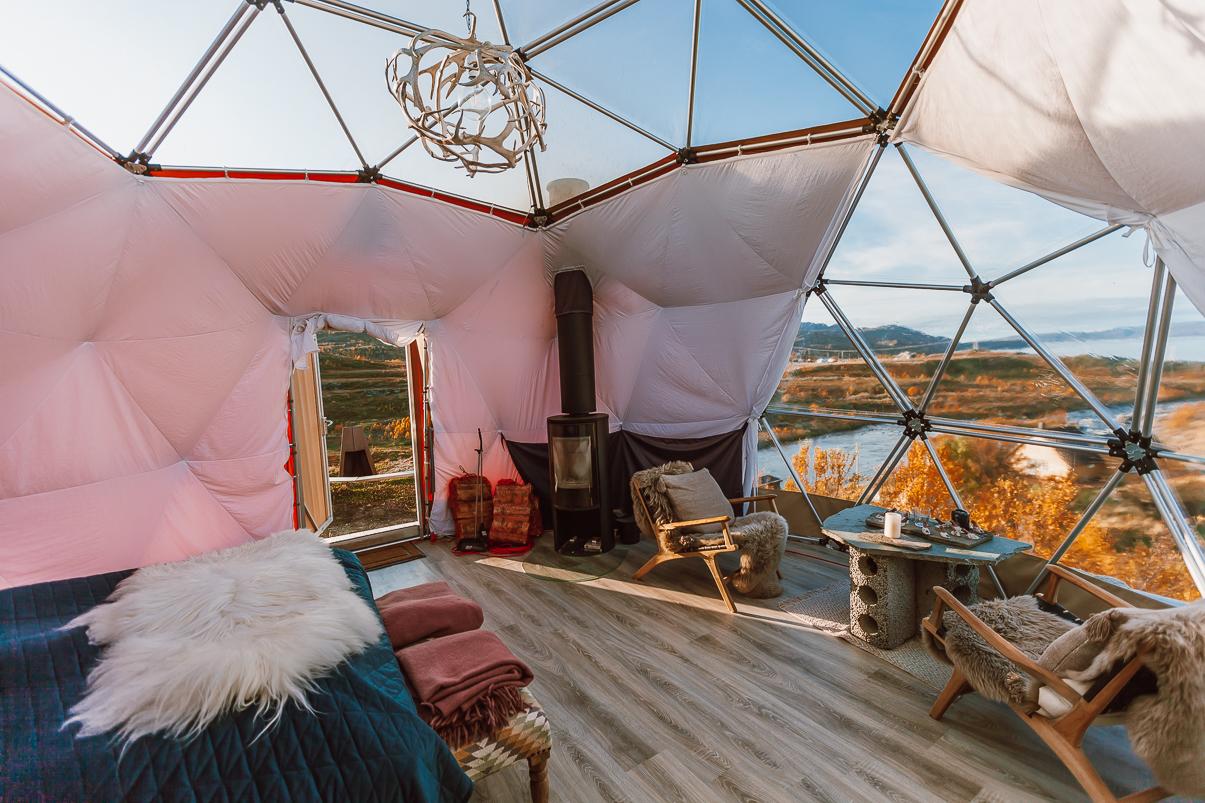 The couple who run this Airbnb are super sweet and helpful. At a lot of Airbnbs in Norway you won't even meet the owners, but here I saw a lot of them, and they even texted me the first time the northern lights appeared at night.
And wow, what a night.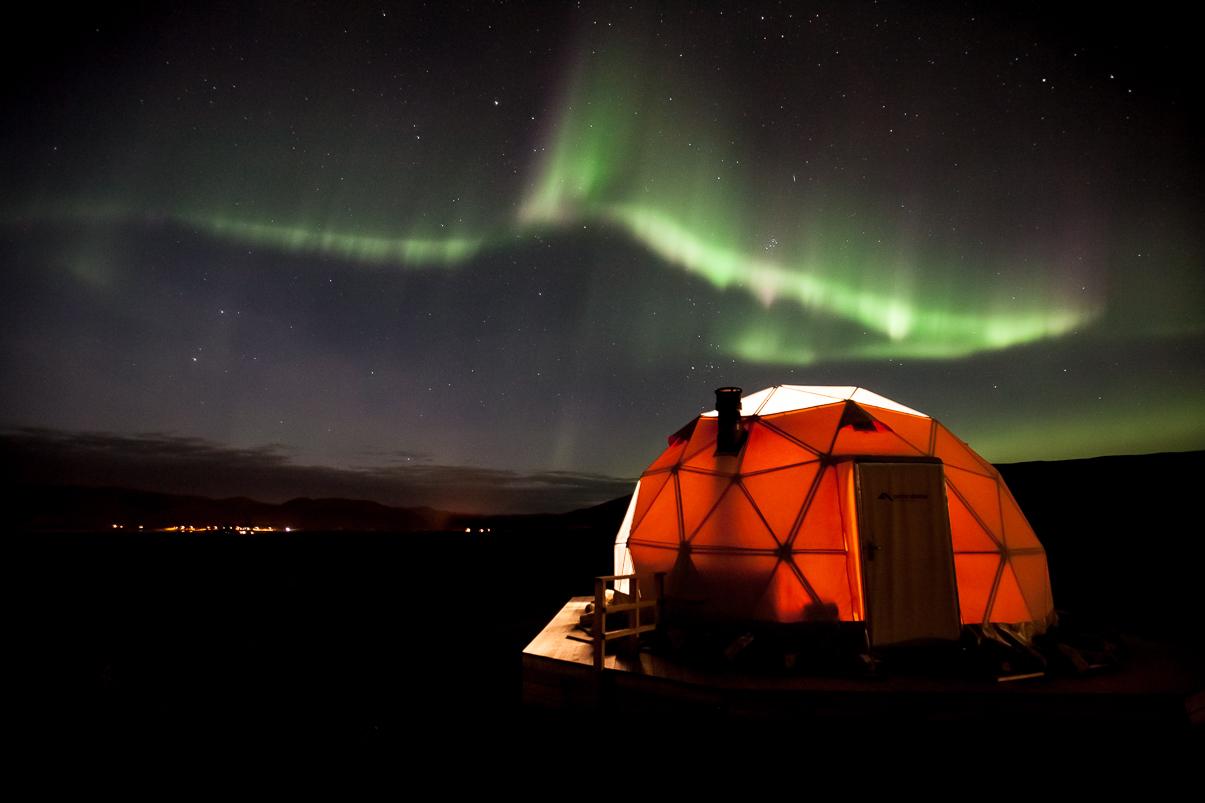 A lot of people have asked me if the northern lights arrived early this year, because they're used to seeing only winter photos of the aurora. The aurora is actually present all year, but in the summer months the sky is too light for us to see it. By the end of August the nights begin to get dark, so that's usually when we start seeing the aurora again. And in fact often the northern lights are extra active around the equinox, so September and October can bring some of the most fantastic northern lights displays.
You can find more tips for your northern lights trip in my ebook here. 
Another benefit of planning an autumn northern lights trip is the temperature! The weather was really mild when I was in Kokelv, so I was able to stay outside for a couple of hours without any frozen fingers or toes.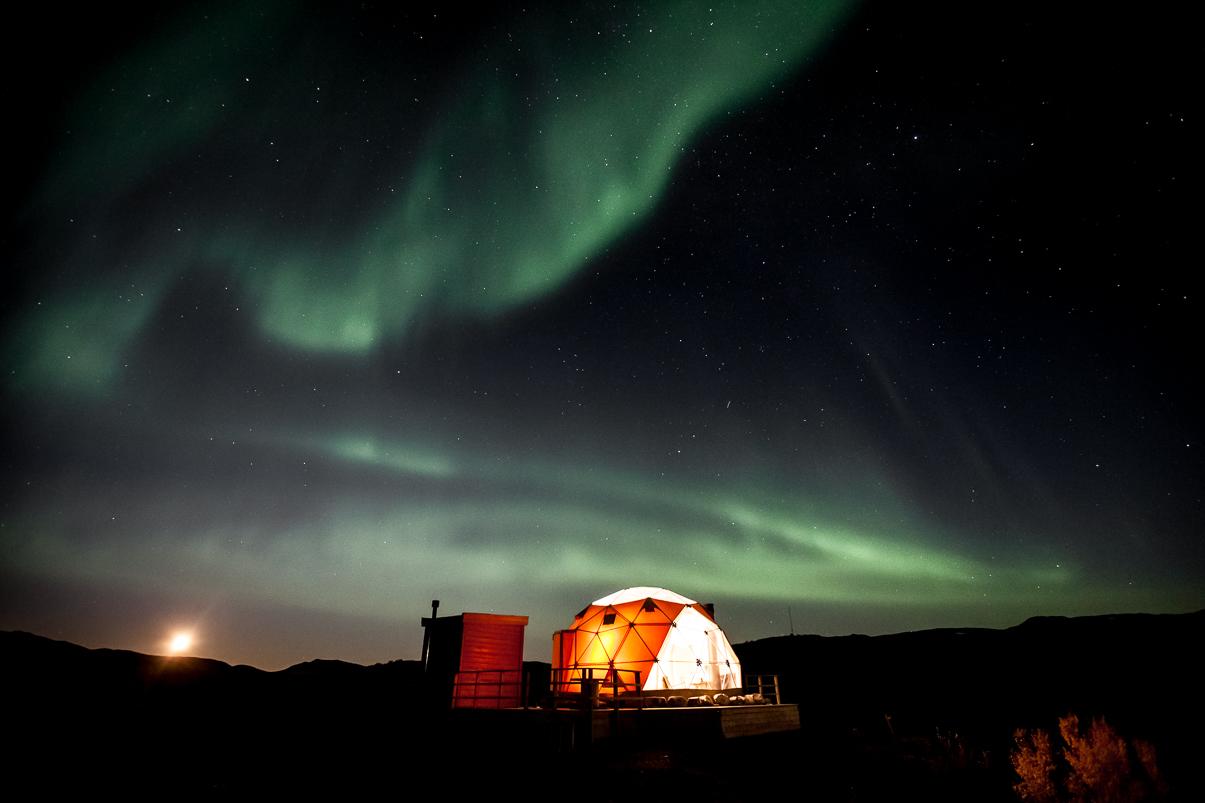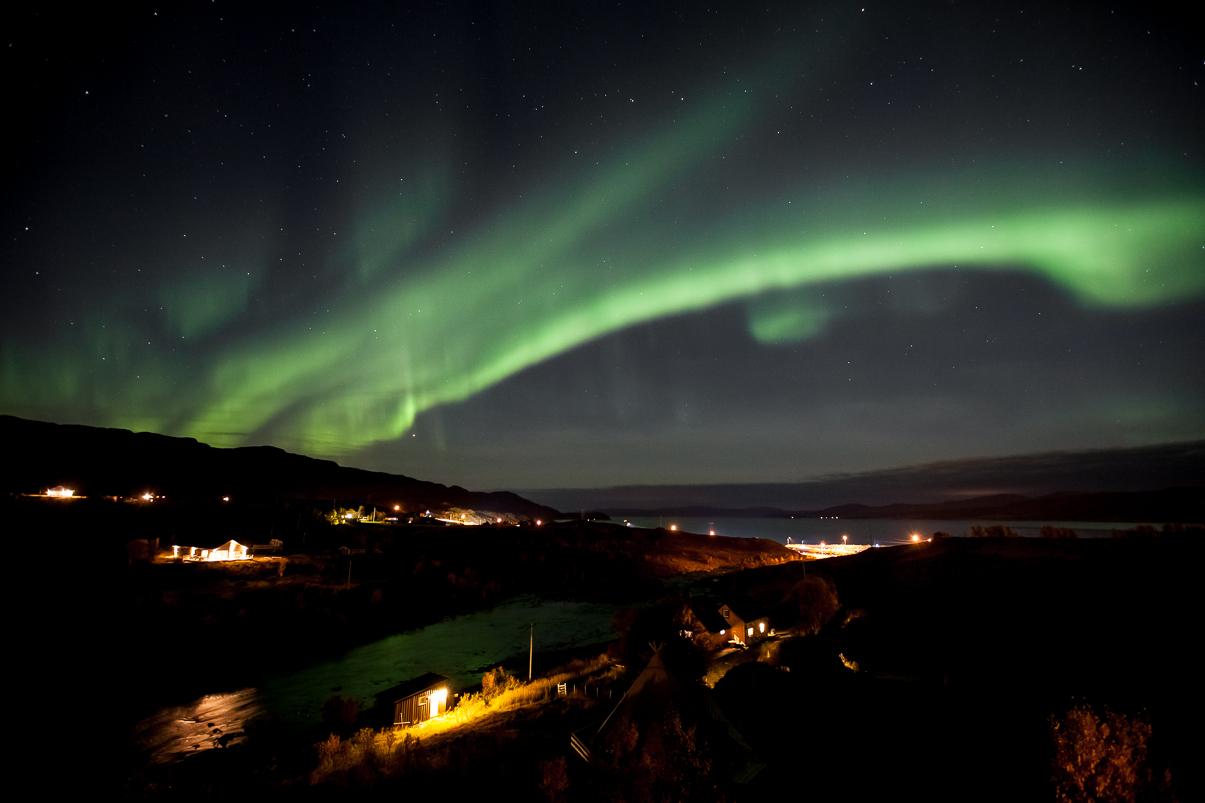 The moon also came out, but we were far from any cities so the sky was still dark enough for good northern lights viewing.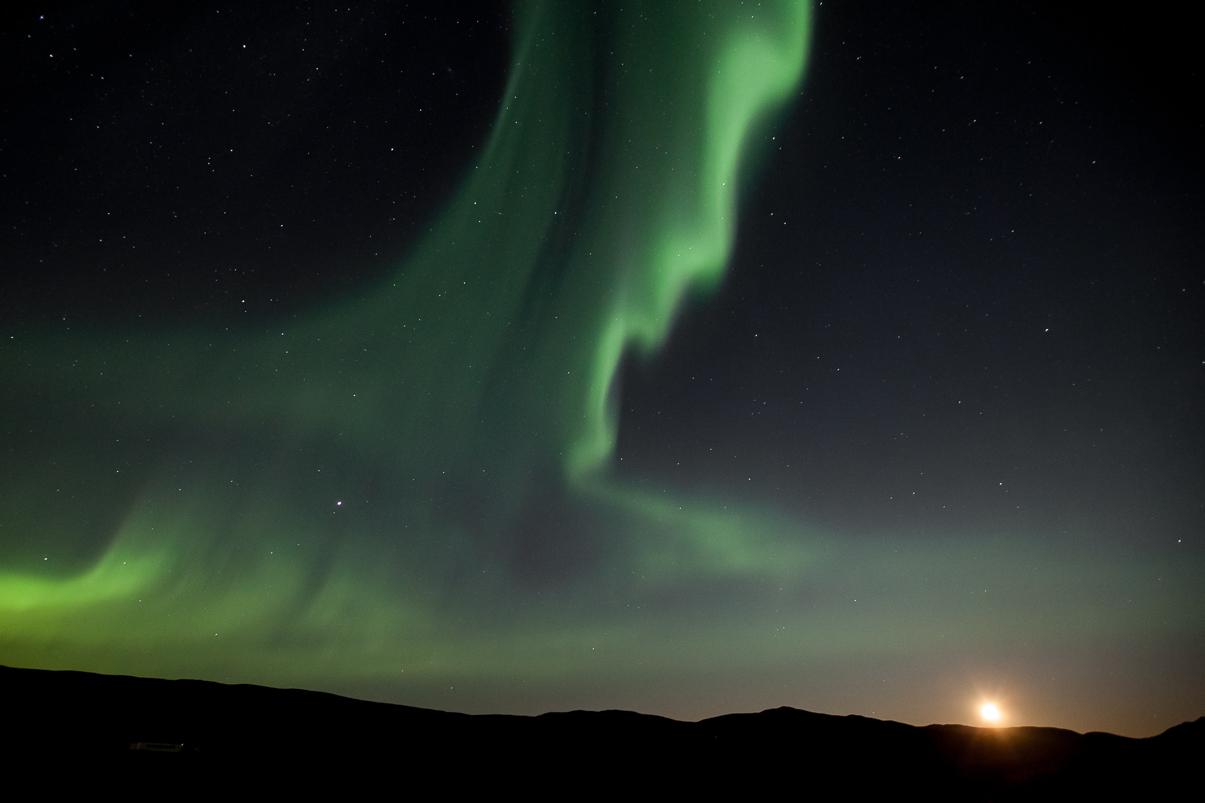 I would definitely say that this is my favorite Arctic Dome I've stayed in, thanks to the amazing 360° views. And the amenities in the turf house were a nice added bonus. However you will need a car to get here, so if you're traveling without one I would instead opt for the Arctic Dome in Alta, which can arrange transport for you as well as lots of tours and activities.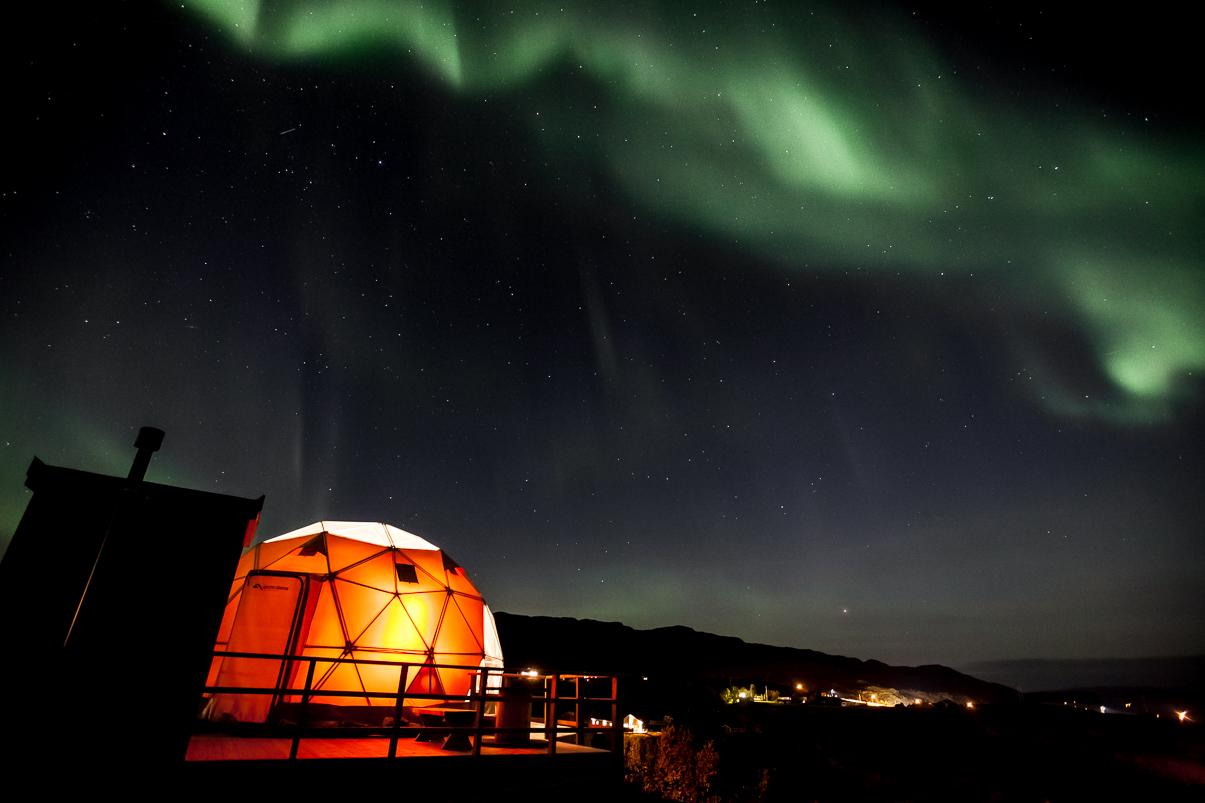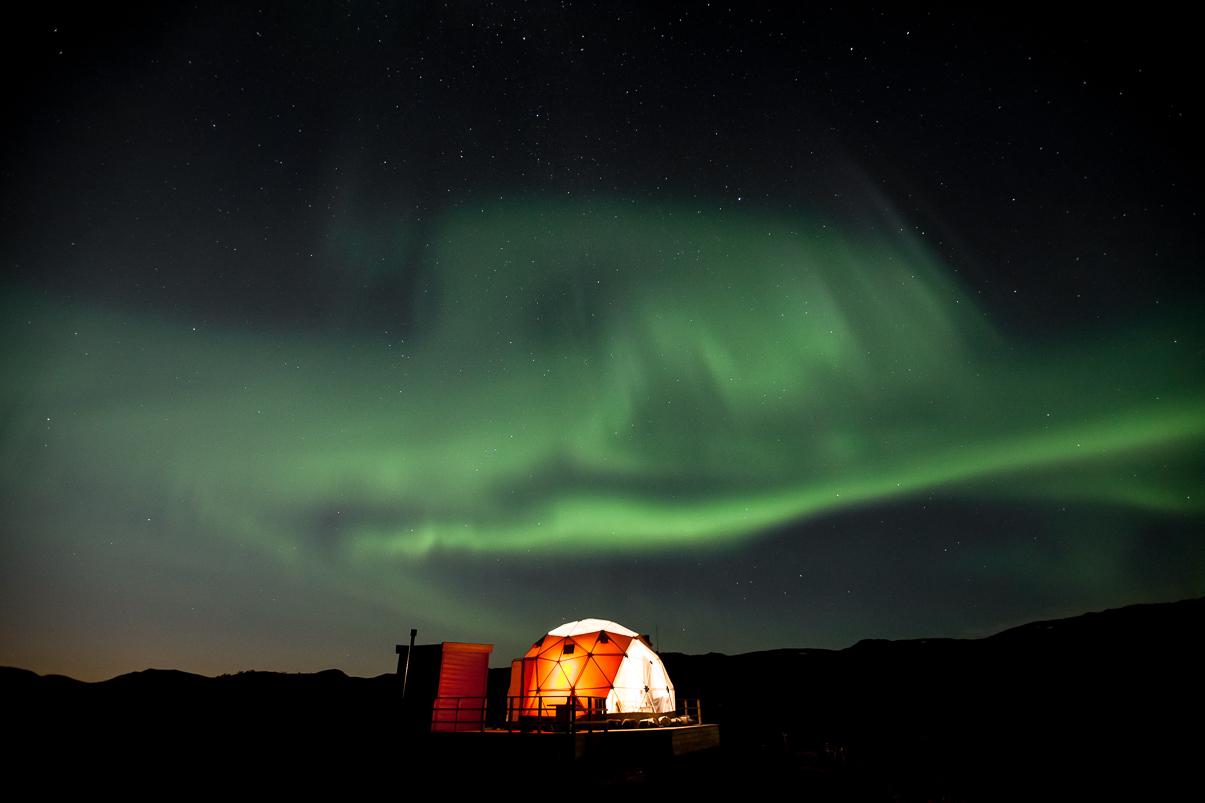 I would say the one real downside of sleeping in an Arctic Dome is that it's almost too easy to watch for the aurora. After taking lots and lots of photos, I finally put away my camera and snuggled into bed. And of course then the lights started back up in a brilliant display of pink and green that had me staring up at the sky way past my bedtime.
Then again, who goes on a northern lights trip expecting to get a good night's sleep?
You can check current rates and availability at the Arctic Dome here. And yes, I paid for my stay myself – this post is in no way sponsored.