I used to live halfway between Bergen and Oslo and whenever I traveled I would try to find flights out of Bergen instead of Oslo, because I liked Bergen so much more. And then I ended up moving to Bergen!
And I still always tell people to check for flights into Bergen instead of Oslo if they're heading to Norway, especially if they only have a short time to get a taste of the country. Bergen is such a beautiful city, and it's right by some of the country's most dramatic landscapes. Bergen is also Norway's second largest city, so you'll find lots of fun things to do in Bergen.
And yes, I guess I'm biased because I live in Bergen, but I could live anywhere in Norway and chose Bergen because it's such a wonderful city.
And if you want to take a road trip from Bergen to the fjords, here is my guide to the prettiest road trips from Bergen, from a day trip to a two week trip.
Quick Bergen Travel Guide
Bergen Accommodation: Opus 16, Bergen Børs Hotel (my parents always stay here and rave about the breakfast), or Det Hanseatiske Hotel (I've stayed here and loved it) for historic luxury accommodation, Bergen Citybox for mid range accommodation downtown, and City Hostel Bergen for budget accommodation. I don't recommend booking an Airbnb in Bergen.
Top Bergen Activities:
Bergen was founded around 1070 and was originally called Bjørgvin, which means "the green meadow among the mountains." And still today Bergen is known as the city of seven mountains, which contribute to the spectacular views from the city.
However, these mountains also help make Bergen one of the places in Norway with the most rainfall. But don't worry! While chances are high that you'll see at least a bit of rain while in Bergen, the weather changes really quickly here, so if you're patient the sun will hopefully make an appearance as well. Just make sure you pack lots of layers for your trip to Bergen. You can read my guides for packing for Norway in summer and packing for Norway in winter.
Bergen took over from Trondheim (then Nidaros) as Norway's capital in the 13th century, and it was Norway's largest city until Oslo (then Christiania) outgrew Bergen in the 1830s. But Bergen is still Norway's busiest port city, seeing an impressive number of both freight and tourist ships each day.
Norway Travel Guides! I've gathered all my best advice for planning an incredible trip through Southern and Northern Norway in two 95-page ebooks covering my top recommendations for places to visit (both on and off the beaten path), the best times of year to visit, how long to visit for, the best accommodation choices, transportation, what to eat, what to pack, and how to plan the perfect itinerary.
Things to do in Bergen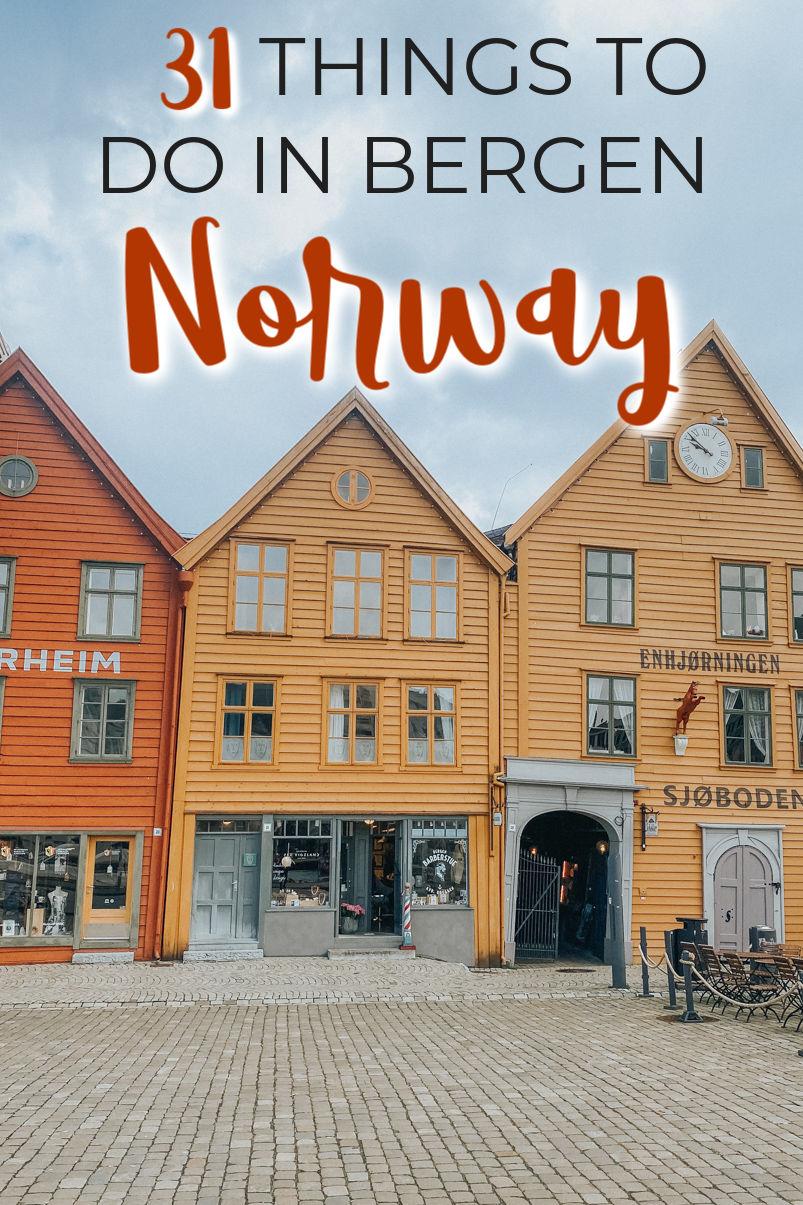 Walking tour of Bergen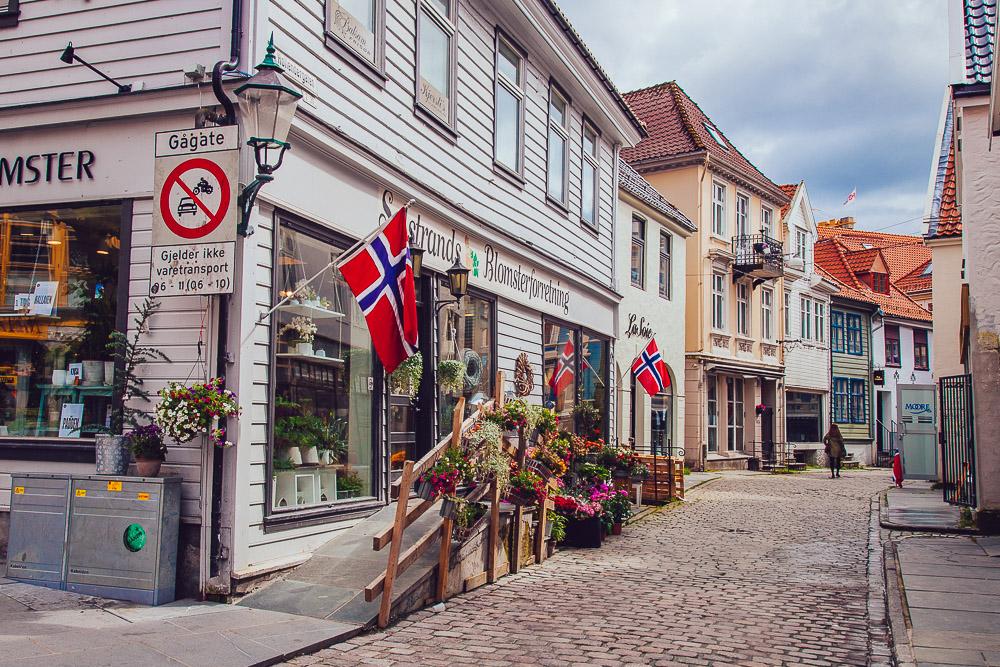 Downtown Bergen is very walkable, and if you're new to the city a great way to start off your time here is with a walking tour like this walking group tour of Bergen, this private walking tour, or if you are a foodie, this food and culture walk.
Bryggen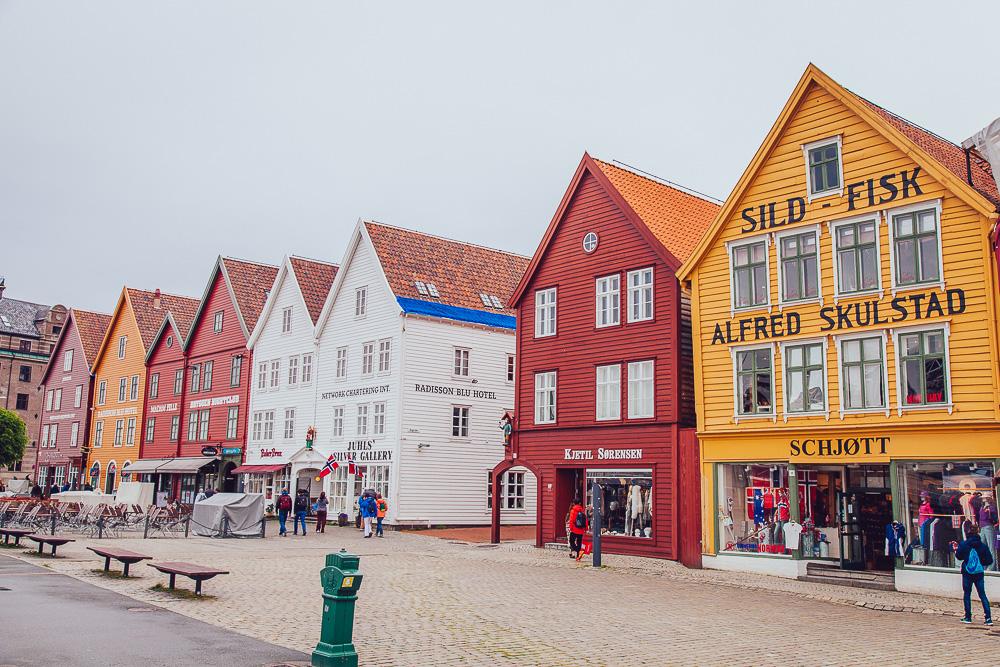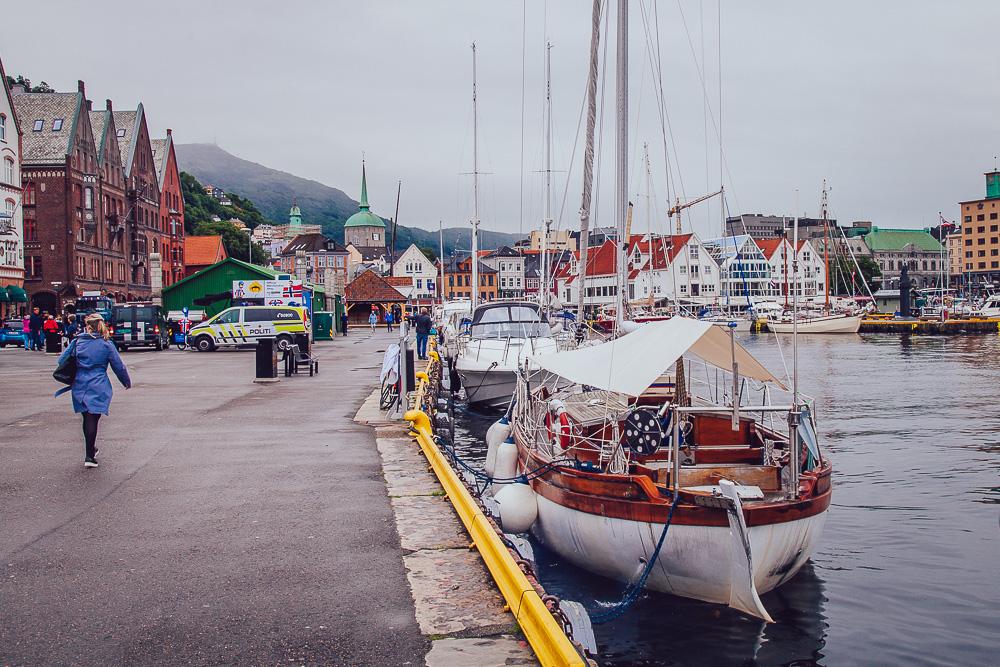 If you've seen photos of Bergen you already know Bryggen – that row of slender, colorful wooden houses. While Bryggen has been rebuilt after several fires, it still has its old foundations dating all the way back to the 12th century, giving you an insight into what the city looked like back then.
Bryggen is a must-see for every tourist visiting Bergen, but on a sunny day you'll also find lots of locals outside here enjoying an utepils (Norwegian for "beer outside").
If you explore Bryggen's winding passages you'll find small shops, galleries and artist studios. And then in the surrounding area you can visit lots of cafés, restaurants and shops, as well as Bergen's famous Fish Market.
The Hanseatic Museum and Schøtstuene
At the Hanseatic Museum you can learn about the Hanseatic merchants who lived and traded in Bergen for 400 years. And then with the same ticket you can go inside the Schøtstuene behind Bryggen, which were assembly halls for the Hanseatic League, with meeting rooms, banquet halls and courtrooms.
Mount Fløyen and Fløibanen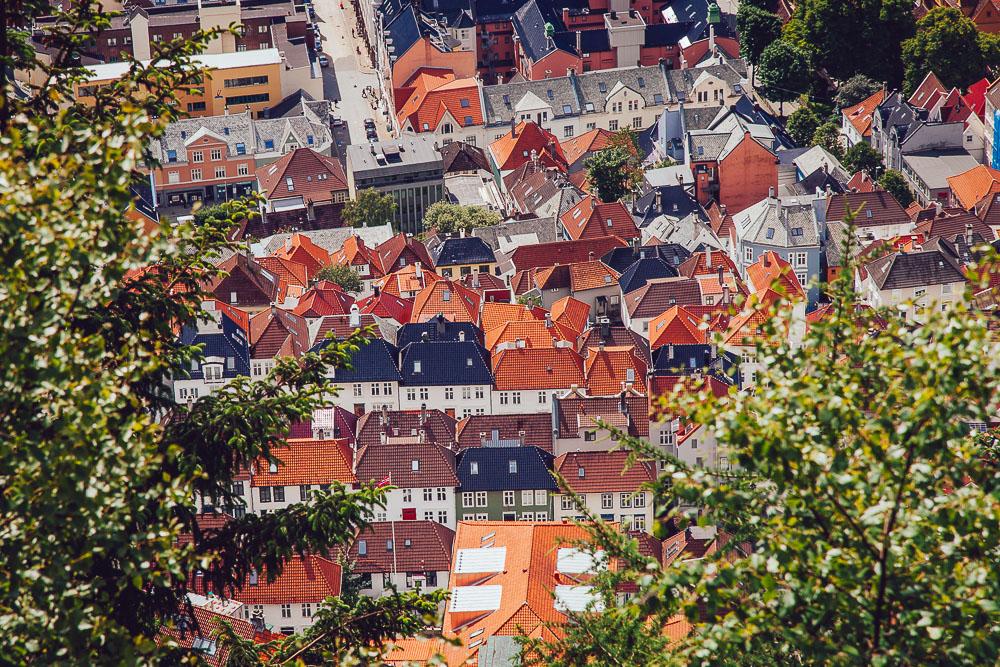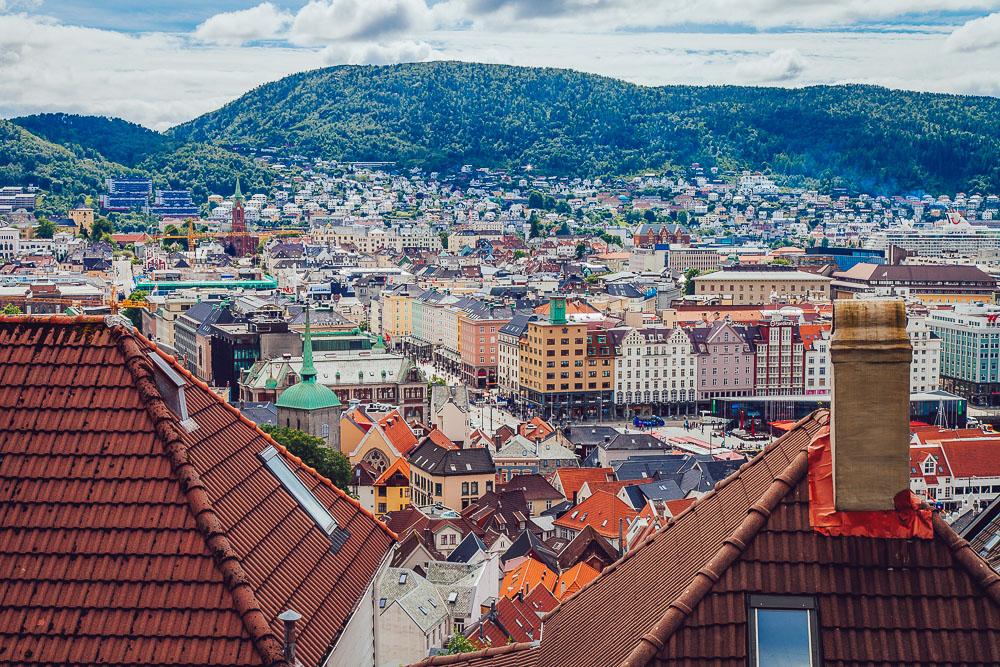 Just 150 metres from Bryggen you can get the Fløibanen funicular up to the top Fløyen, which rises 425 meters over Bergen. This is one of the best places to take photos of Bergen – both from the top and on your way back down.
Or if you're feeling active you can hike up from the city center instead, though it might be nicer to take the funicular up and then walk down. The walk back down to the center takes about an hour.
Hike up Skredderdalen to Mount Fløyen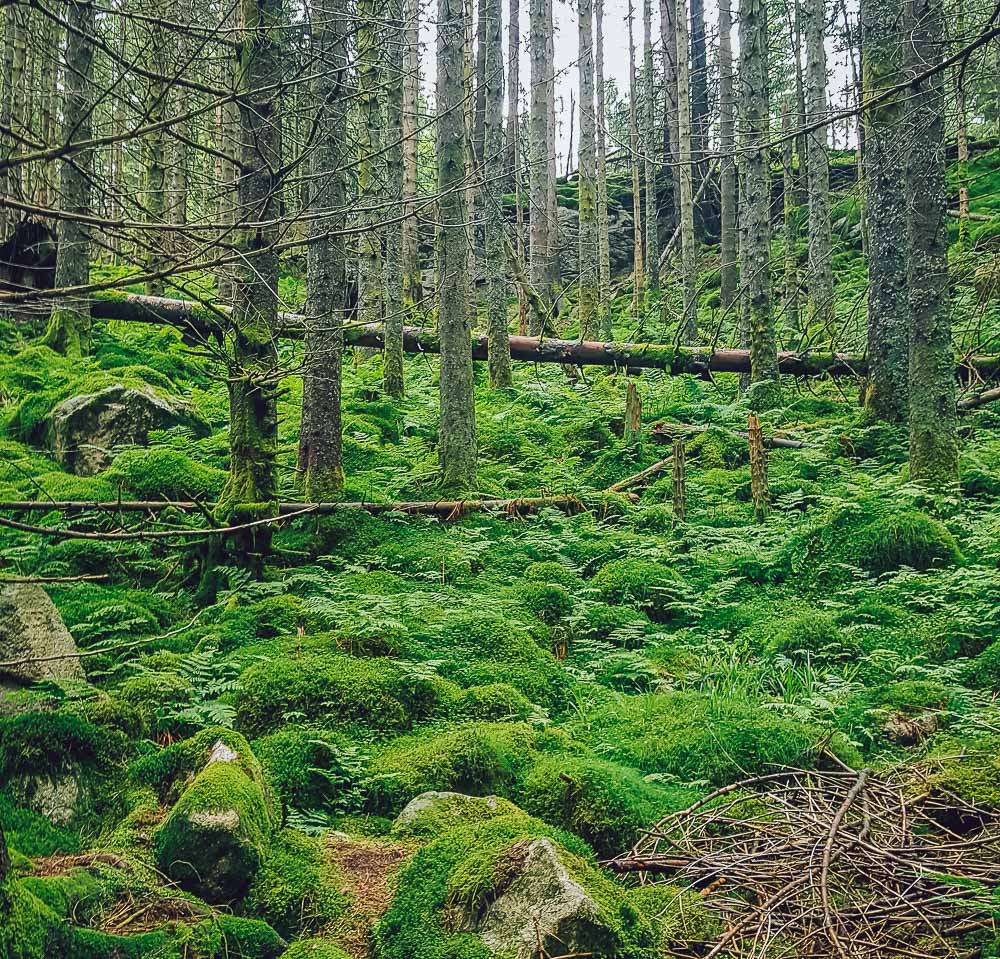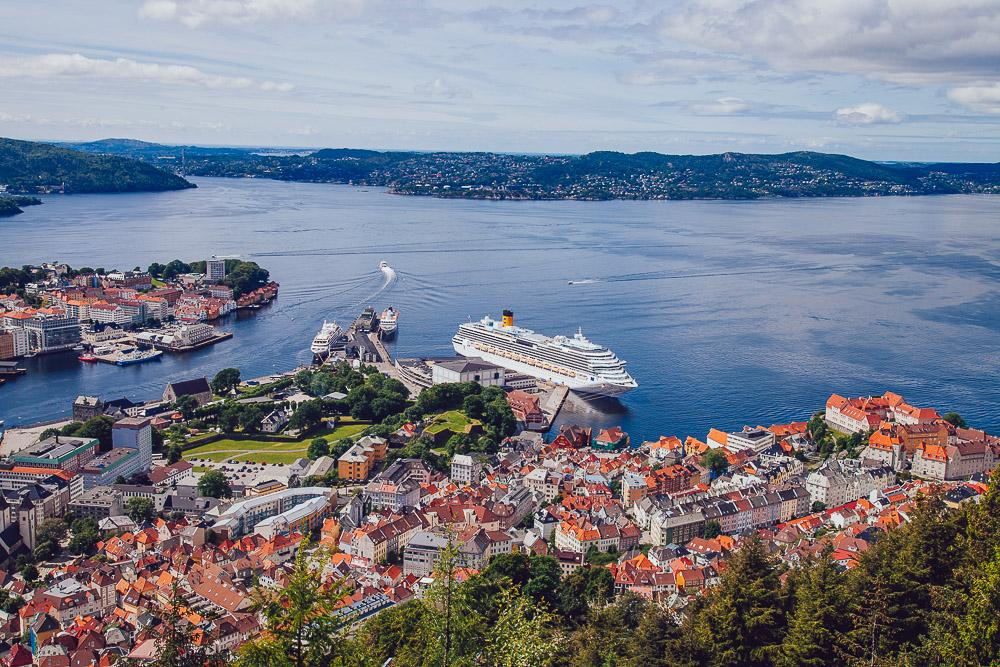 And if you want a proper hike, I can definitely recommend the hike up Skredderdalen to get to Fløyen, which is a quieter hike than hiking up from the city center. I love this hike because it starts close to the city center but really feels like you're out of the city in wilderness. I usually take Alfie on this route because there are fewer people and other dogs.
Skredderdalen is a great hike for people who are only in Norway for a few days and might not have time to get into the countryside, whereas the hike up Fløyen from the city center is much easier as it's a paved walkway, and has some really nice views out over the city.
Mount Ulriken
While Fløyen is Bergen's most popular mountain due to its easy access from the city center, Mount Ulriken is the tallest of Bergen's mountains. There are several routes up Mount Ulriken. The most popular is probably the Sherpa steps, which you can get to by taking bus 12 from the city center to Montana. You can also take the Ulriken Cable Car up the mountain, or hike up from where the cable car starts and then take the cable car down.
Walk around Gamle Bergen Open Air Museum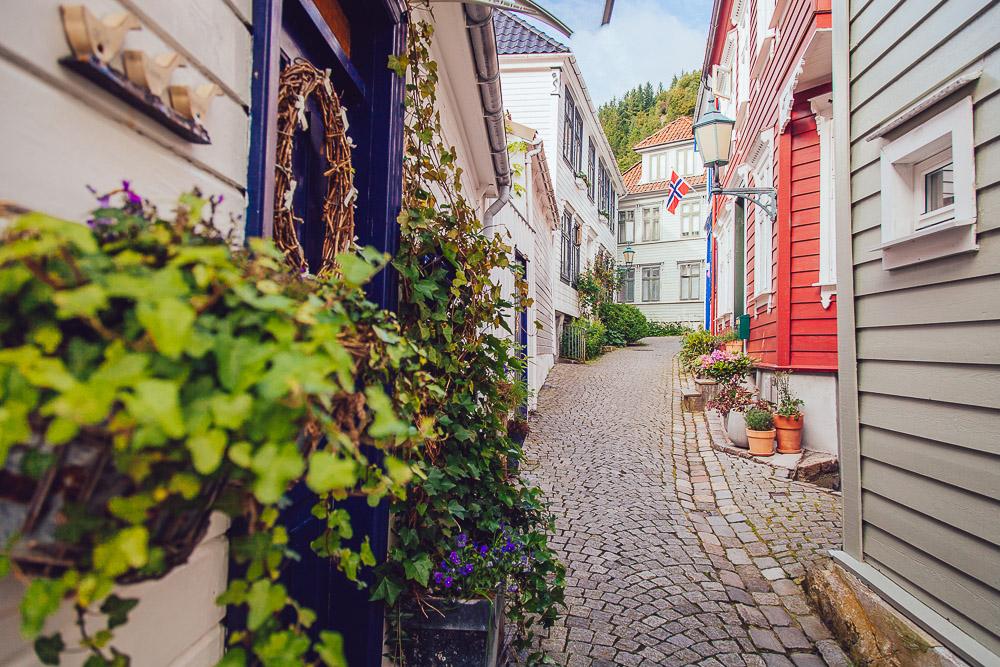 In the 1800s Bergen was actually Europe's biggest wooden city, and there's no better place to experience some of this history than Old Bergen's Open Air Museum, with houses from the eighteenth, nineteenth and twentieth centuries.
Kayaking around Bergen
Another fun way to get to know Bergen is from the sea while kayaking! This Bergen kayaking tour picks you up in Bergen and takes you out of the city to the beautiful Øygarden Islets for kayaking. And don't worry, you'll be with a guide so beginners are welcome as well.
RIB safari
There are so many fjord cruises on offer from Bergen, but I actually much prefer taking a high speed RIB tour like this one, especially if you have nice weather. The ride is fast and thrilling, and such a fun way to get out on the water around Bergen for a bit. I've done these all over Norway and always have so much fun.
Fjord cruise
There are lots of different public fjord cruises available from Bergen. The cheapest place to book these cruises is on the Visit Bergen website here.
But if you want a more special experience, you could instead book your own private cruise, like this private fjord cruise from Bergen.
KODE art museums
Bergen's KODE Art Museums and Composer Homes is one of Norway's biggest and best galleries, hosted in four buildings by the Lille Lungegårdsvannet lake in the city center. The collection consists of more than 50,000 paintings, sculptures, etc., so you'll need plenty of time to explore. My mom still always makes time for a stop at KODE when she visits me in Bergen, as they often have new temporary exhibitions as well.
Highlights of KODE include the Rasmus Meyer Collection, which covers the "Golden Age" of Norwegian painters, featuring works from Norway's most famous artists including Edvard Munch, J.C. Dahl, and Harriet Backer.
Troldhaugen, home of Edvard Grieg
Speaking of famous Norwegian artists, as part of the KODE museums you can also visit the home of Edvard Grieg, one of Norway's most famous composers. Troldhaugen is a short journey outside the city center (about 20 minutes by car and 45 minutes by public transport) but it's definitely worth a visit for the beautiful views here.
The Villa was built in 1885 and Edvard Grieg called it his "best opus so far." Troldhaugen became a museum in 1928 and includes Grieg's Villa, the composer's hut and the Grieg gravesite, as well as a new museum building and the concert hall Troldsalen, which seats 200 people.
Marineholmen Sandstrand beach
If you're in Bergen on a beautiful day, head to Marineholmen beach! This sandy beach is the perfect place to catch some sun with the locals and really feel like you live here.
Swim and sauna at Nordnes Sjøbad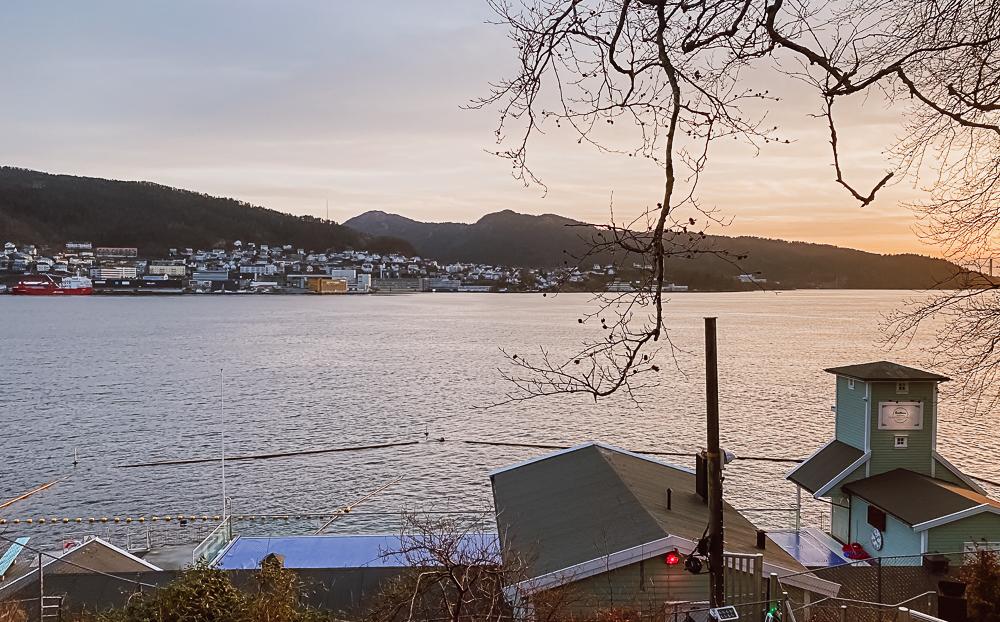 If the weather isn't nice enough for the beach (or even if it is!) you can instead go for a swim in the heated swimming pool at Nordnes Sjøbad, which is set right along the water so that you can swim in the sea as well. They also have a sauna here, so you can keep warm between dips in the sea. The pool is open for winter swimming as well, from January through April.
Heit Sauna
Heit Sauna is another great place for a sauna and dip in Bergen, year round. You can even book the whole sauna for a private group if you want.
Damsgård Manor
Damsgård Country Mansion was built in the 1770s and is considered one of Europe's best preserved wooden Rococco buildings with the original interior. Here you can At Damsgård you can join a tour of the building or wander through the garden exhibitions, which have been recreated as they would have been in the 1780s.
Bergen Maritime Museum
The Bergen Maritime Museum is one of Norway's oldest specialized museums, telling the story of Norwegian seafaring over thousands of years and the particular importance of the port city of Bergen.
Bergenhus Festning
Bergenhus Festning dates back to the 1500s and is now one of the best preserved stone fortifications in Norway. The fortress was more recently used in World War II by the German occupying forces, who used it as their western headquarters. Today it's a nice area to walk around for some peace and quiet right by Bryggen.
Rosenkrantz Tower
At the Bergenhus Fortress you'll also find the Rosenkrantz Tower, considered one of the most important renaissance monuments in Norway, with parts of the tower dating all the way back to the 1270s. You can buy tickets to climb up the tower, which offers great views.
Fantoft Stave Church
If you're up for a short trip out of the city I highly recommend catching the Bybanen Light Rail to Fantoft Stave Churce. Take Line 1 Bybanen to Fantoft and then simply follow the signs to the stave church. Fantoft Stave church was originally built in Fortun in Sogn in 1150 and then moved to Fantoft in 1883.
In true Nordic fashion, the church was burned down in 1992 by members of Norway's black metal scene, but it has since been rebuilt to look exactly as it did before.
Take a private helicopter tour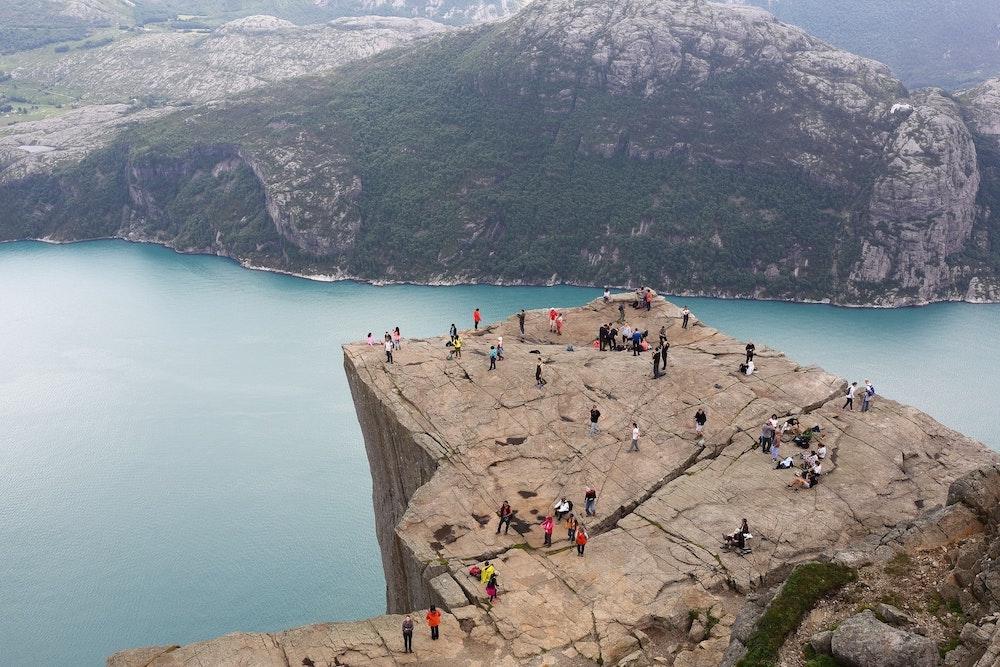 If you really want a once in a lifetime experience, Bergen offers quite a lot of private helicopter tours to some of the most magnificent nature landmarks near the city.
This helicopter tour from Bergen takes you over Hardangerfjord, glaciers, waterfalls, and Trolltunga (Troll's Tongue), Norway's most famous cliff. Or cheaper options are this helicopter tour over Folgefonna Glacier and this fjord and mountain helicopter tour from Bergen.
Then there's this private glacier helicopter tour from Bergen, this private coast & lighthouse helicopter tour, or you can go all out with this 2.5 hour ultimate Norway helicopter tour from Bergen, including Pulpit Rock, Trolltunga, and Folgefonna Glacier.
Norway in a Nutshell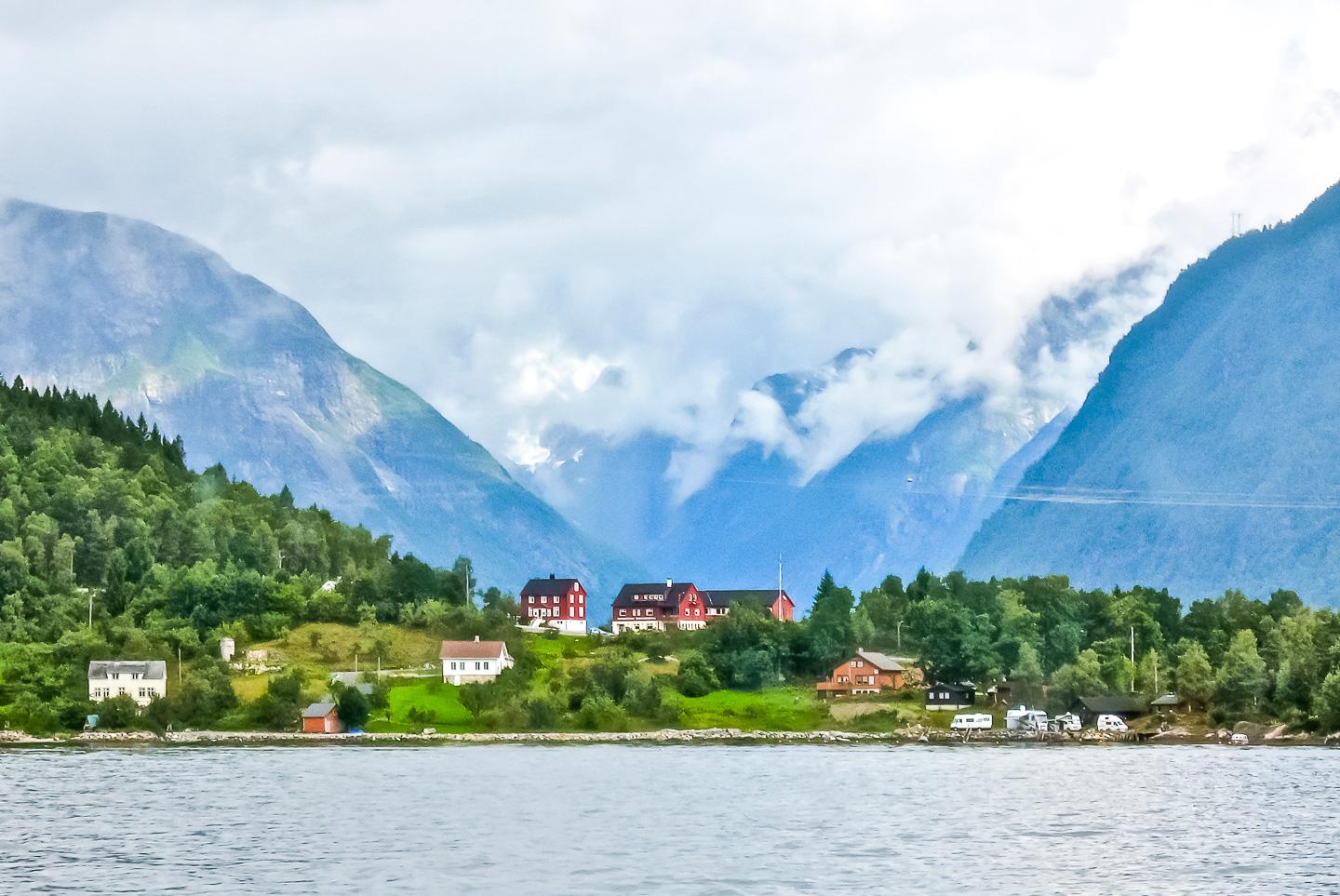 One of the most popular tours to take from Bergen is the Norway in a Nutshell. But watch out! This isn't an actual tour, but instead just a collection of marked up public transport tickets. You can read my guide to booking Norway in a Nutshell yourself for way cheaper (like half the price) here.
Cider tour
There really are so many tours offered from Bergen, and after reading through all of them this group cider tour was one of my favorites. This is a full day minivan tour and covers a lot of ground, including the Hopperstad Stave Church, Tvindefossen Waterfall, a cruise on Sognefjord, and lunch and a cider tasting at The Cider House in Balestrand. It is a big group tour, but that is reflected in the price – a private tour would be much more expensive.
Bergen Christmas Market
And if you're visiting Bergen during Christmastime, of course you will have to check out the Bergen Christmas Market downtown by Festplassen, which this year will run from November 25 – December 22, 2022. The Christmas market features a ferris wheel, horse carousel, and lots of cute little stalls selling warm drinks, Christmas treats, and of course plenty of Norwegian Christmas gifts.
The Bergen Card
Depending on what you want to do in Bergen, you might save money by buying the Bergen Card, which offers free or discounted entry to many museums and activities, as well as free access to the Bergen Light Rail between the city and airport. You can read more about the Bergen Card here.
Where to eat and drink in Bergen
Bergen has lots of cute cafés, restaurants, and bars, so you should definitely be able to find somewhere to satisfy your every craving while here.
Cafés in Bergen
Godt Brød and Baker Brun both have several locations and offer excellent baked goods, Det Lille Kaffekompaniet is a Bergen classic by the Floibanen funicular (it's tiny though, so often full), Kaffemisjonen, Blom and Bergen Kaffebrenneri are must visits for the true coffee buffs, Café Opera serves as a cute cafe during the day and popular cocktail bar at night with live DJs, Fjåk Café is famous for its coffee and chocolate, Solros is in a picturesque blue building with nice seating outside for those sunny Bergen days, and Løvetann Café & Bistro is super cosy on a picturesque hillside in Nordnes, just a short walk from the city center.
Restaurants in Bergen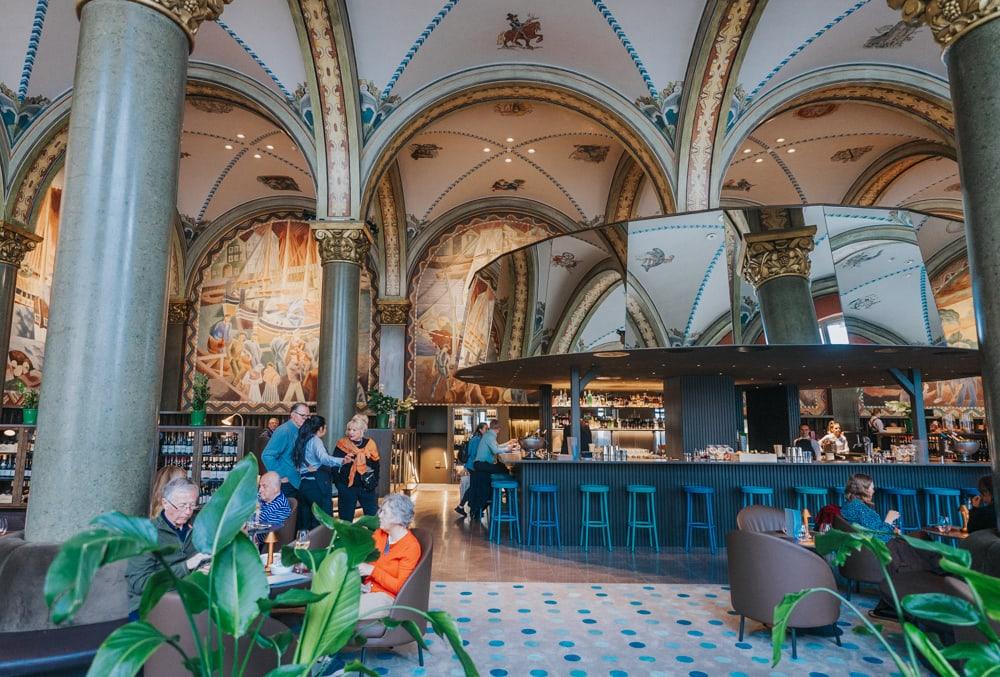 I recently had such a good meal at Bergen's newly opened Frescohallen, in the former stock exchange building. It's worth dining here for the beautiful fresco covered halls alone, but the food is also so good! Definitely order the enormous seafood tower to share, and their cocktails are also excellent.
Bryggeloftet is another one of my favorites for traditional Norwegian food and a beautiful ambience in Bryggen. Bryggeloftet is Bergen's oldest restaurant, run by the same family since 1910! The fish soup and steak here are both incredible.
I also love Bien Basar, which serves Norwegian specialties made with local ingredients. This is the place to go if you want to try local persetorsk, a codfish dish from Bergen, and rapseballer, traditional Norwegian potato dumplings served with salted meats only available on Thursdays.
When walking around the harbor by Bryggen you won't miss Bergen's famous fish market. You can buy all sorts of fish here, as well as other local products. And if you want something a bit fancier, try the saltwater fish at Lokalt & Lekkert, located in Mathallen at the fish market. Or if you want to save some money, head up the street from the fish market and try the fish soup and fish cakes at Søstrene Hagelin instead. I often stop here to pick up a few fish cakes on my way home from the center – they're so good! And quite cheap.
Lysverket is an excellent (expensive) seafood restaurant inside the KODE museum. Colonialen Kranen in the Solheimsviken district offers a unique dining experience, serving meals in an old industrial crane overlooking the city through glass walls. And the beloved Restaurant 1877 offers seasonally inspired dishes in Bergen's nostalgic meat bazaar.
Go to Stefano for the best pizza in Bergen (according to me), Pingvinen for budget friendly Norwegian food, Zupperia for reasonably priced Asian fusion, Jaja for street food and drinks, Nama for sushi, Namastey for Indian food, and Siam Ratree for Thai food.
If you want more suggestions, my friend Lisa has lived in Bergen for years and has a fantastic guide to the best restaurants in Bergen here (she has lots of other great Bergen and Norway tips on her blog as well).
Bars in Bergen
Luddi is super cute and right by Bryggen, Henrik Øl og Vinstove is one of the best beer bars in Bergen with over 50 beers on tap, Hulen is a student run bar and rock venue in a former WWII bomb shelter, Apollon Platebar is one of Norways oldest record shops from 1976 that now also has a bar with 35 beers on tap, Dyvekes is a cosy wine cellar, and No Stress, Rebel and 360 Xhibition are stylish cocktail bars. Or if you want something a bit different you could try the Magic Ice Bar!
Day trips from Bergen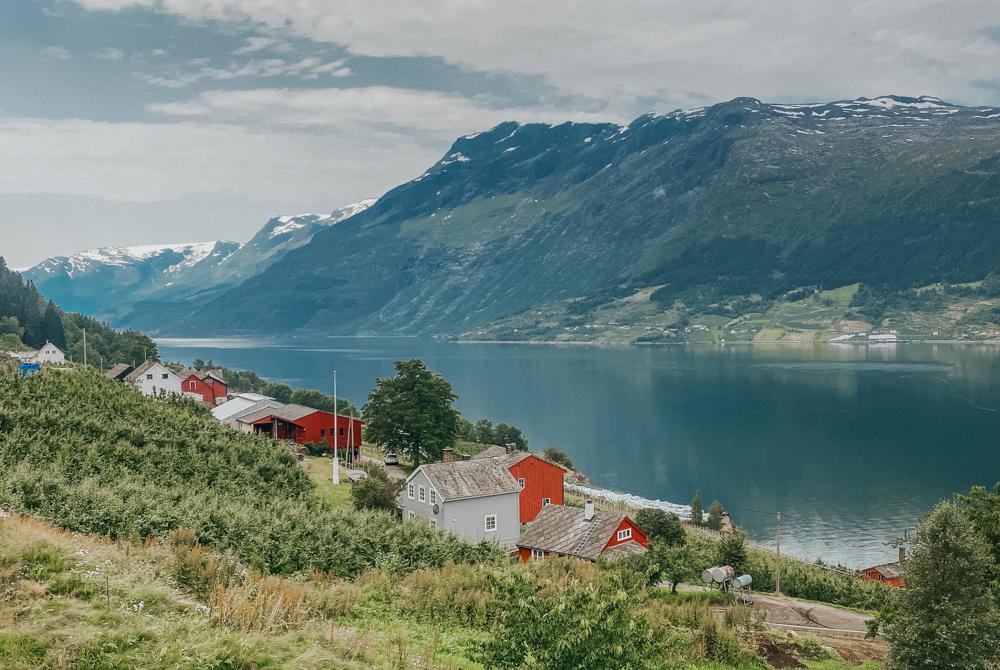 I've written a full guide to my top recommended day trips from Bergen here, but here is a quick summary:
Hardangerfjord
This small cruise from Bergen and this minivan tour from Bergen and this sea kayak tour leaving from Jondal both look incredible.
Folgefonna National Park
This epic day trip from Bergen to both Hardangefjord and Folgefonna Glacier, Norway's third largest glacier would be amazing.
Sognefjord
You could take the express boat from Bergen into Sognefjord stopping at Aurland, Flåm, or Balestrand, among other places, or do the popular Norway in a Nutshell public transportation route. I've made a detailed guide for Norway in a Nutshell here.
Sognefjord has a lot of branches, and my two favorites are probably Aurlandsfjord and Nærøyfjord. The village of Aurland is absolutely stunning, and as it's on the popular Norway in a Nutshell route there's a lot to do here, including the famous Stegastein viewing platform, which offers incredible views over the fjord.
And then Nærøyfjord is super narrow and dramatic, and here you'll also find the famous Viking village of Njardarheimr.
Voss
From Voss you can try guided sea kayaking through the Nærøyfjord, whitewater rafting through the Raundal valley, river kayaking courses, and guided rock climbing.
Where to stay in Bergen
The main thing to know when booking accommodation in Bergen is that you need to book as early as possible! Bergen is an incredibly popular tourist destination, and the city doesn't actually have enough hotel rooms to match the demand, so it's very common for every hotel in the city to be fully booked. Moreover, prices tend to go up with demand, so you'll get a much better deal if you book early. Like right now!
Luxury
Housed in a historic building from 1876, Opus XVI, is an Edvard Grieg Heritage Hotel. Each room is designed individually, but the highlight here must be the dining room, which often features live music. Check current rates and availability here
Located in an old stock exchange building from 1862, Bergen Børs Hotel is right in the city center. My parents always stay here when visiting Bergen and they love all the personal touches and say the Bergen Børs Hotel has the best breakfast in all of Norway – in the most beautiful restaurant. Check current rates and availability here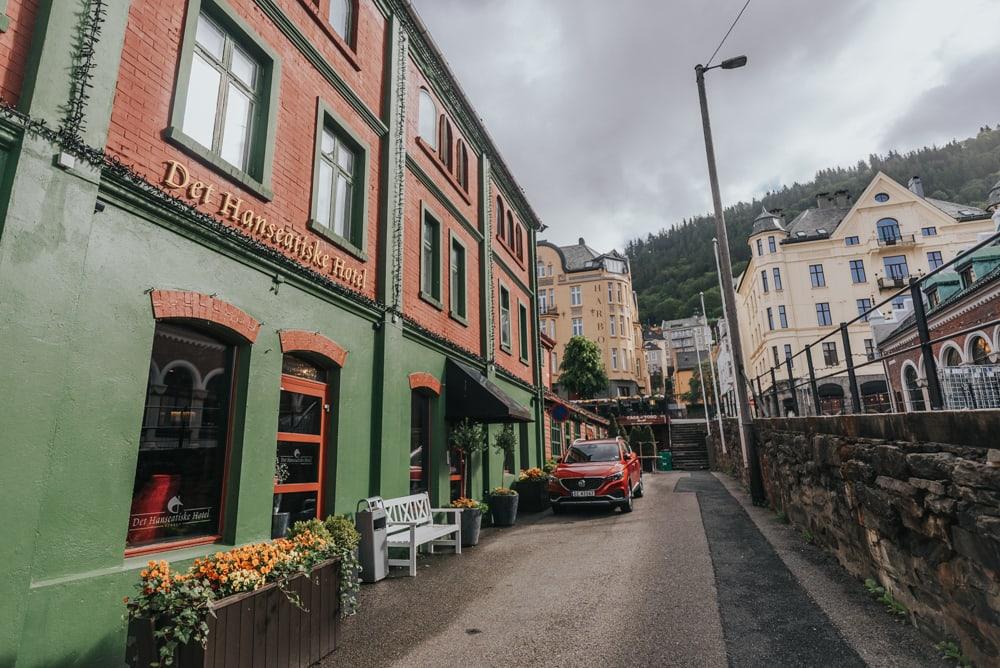 Det Hanseatiske Hotel is one of the most unique luxury hotels I've stayed at. It's housed in a 16th century building in Bryggen, probably the most beautiful part of Bergen. I love all the little details here, like the bookshelves, artwork, leather couches, and deep bathtubs.
Staying here is a real cultural experience and just such a wonderful way to get to know more about Norway. It's also right downtown, so you'll be near all the main sights (though it can get noisy especially on weekend nights, so ask for a room on an upper level). My parents have also stayed here and while they did prefer the breakfast at Bergen Børs, they loved their stay here as well. Check current rates and availability here
Mid-range
Hotel Norge is right in the city center and a favorite amongst celebrities visiting Bergen. If you book well in advance you can get a surprisingly good rate, considering how fancy this hotel is. Check current rates and availability here
Citybox Bergen City is also an excellent choice for a lower budget, but be sure to book early as it sells out quickly. Check current rates and availability here
Budget
City Hostel Bergen is a self-service hostel with a kitchen so that you can cook for yourself (a huge money saver in Bergen!).
It's just a 5-minute walk from Bryggen so gives easy access to most of Bergen's main attractions. Check current rates and availability here