I'm sure you've been busy working your way through all the Norwegian novels I recommended last week, so I figured now would be a good time to take a break and watch some Norwegian movies.
I also consulted my mom and some Norwegian friends on this list, though mostly I just learned that I apparently watch a lot more Norwegian films than Norwegians do? I don't know, I might spend too much time in front of the television – I promise I'll go for a walk outside later today.
Anyway, here are my top picks for the best Norwegian films. And seriously, some of these are so good, you have to watch them. I'll try to link places to watch these films, though availability on Amazon, Netflix, etc annoyingly does vary depending on country. But I think you should be able to get most of them!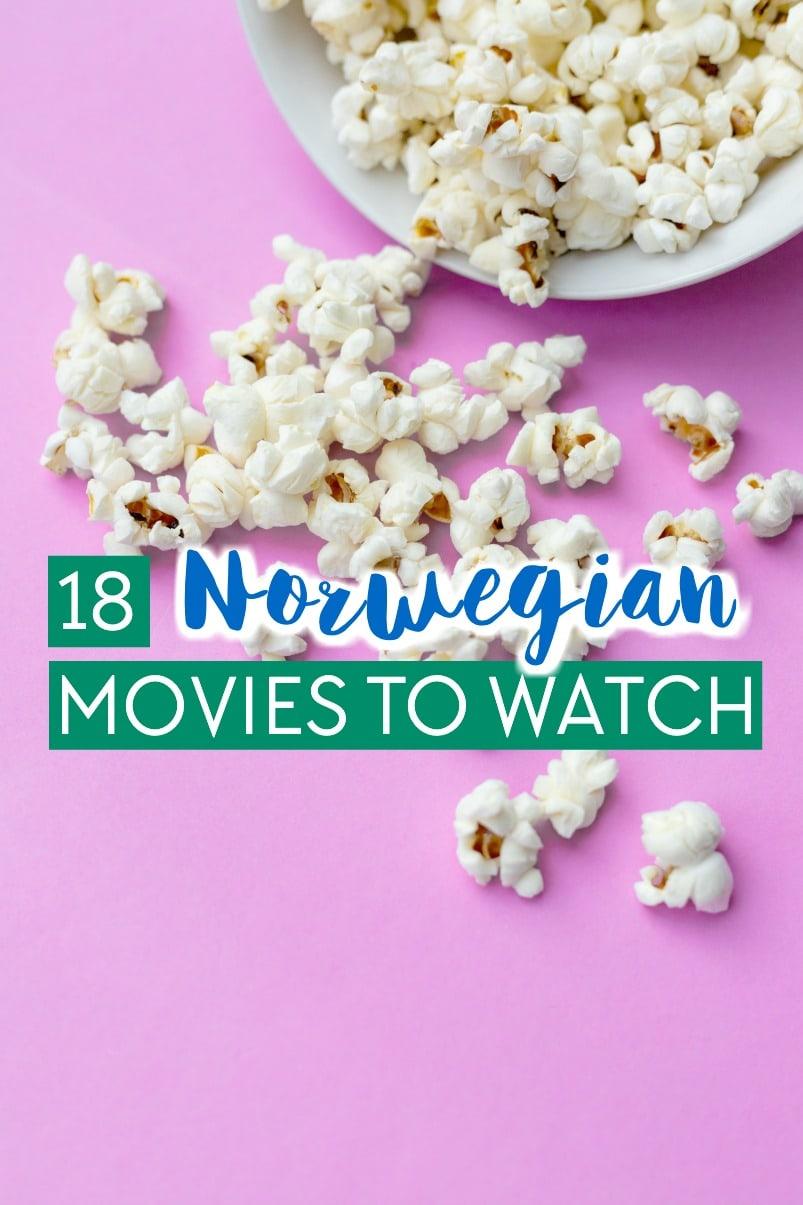 Kitchen Stories (2003)
This is probably my favorite Norwegian movie, it is just the sweetest. It's based on what apparently were real experiments conducted in the 1950s where Swedish researchers observed Norwegian bachelors in an attempt to modernize the home kitchen. Isak is one of these bachelors, very grumpy about having a stranger in his kitchen, but he and the researcher end up forming an odd sort of friendship and adventures ensue!
You can rent Kitchen Stories on Amazon here
O'Horten (2007)
This is another super touching movie about an old man, this time O'Horten, a train conductor who is forced into retirement. I was shocked no one I spoke to had seen this one, it's seriously so good.
You can rent O'Horten on Amazon here
Trollhunter (2011)
I always recommend this movie to foreigners visiting Norway because it's a great introduction to Norwegian culture + humor. It's a mockumentary about a group of university students attempting to document the adventures of a trollhunter.
You can rent Trollhunter on Amazon here, on YouTube here, or it looks like it's available on Netflix in some countries (not in Norway though).
The Worst Person in the World (2021)
The most recent movie on this list, The Worst Person in the World won lots of international film awards and even my American friends were talking about it. So if you haven't yet seen this one, you should! This existential tragicomedy follows Julie's love life over the span of four years.
You can rent The Worst Person in the World on Amazon here and watch it on Netflix here
Max Manus: Man of War (2010)
When I asked around for recommendations for this list, Max Manus was the first film most people mentioned, and sure enough it was one of the first Norwegian movies that came to my mind as well. It's feels like a Hollywood production – in a good way. The movie follows Max Manus in his resistance efforts against the Nazis in Norway during World War II.
You can rent Max Manus on Amazon here, or in Norway you can watch it on TV 2 Sumo here
Kon-Tiki (2013)
I already told you to read Kon-Tiki, so now you can watch the film! Or watch it instead of reading the book, I won't tell. Oh also it's in English!
You can rent Kon-Tiki on Amazon here, or you can watch it or on Netflix here, or in Norway on TV 2 Sumo here
Kon-Tiki (1950)
And if you're really becoming a Kon-Tiki fan, you should also watch the documentary about the journey, which even won an Academy Award, no big deal.
You can watch Kon-Tiki on Amazon here or on YouTube here
Elling (2002)
This is a quirky film about an unlikely pair of roommates learning to function in society. Hm I feel like that's not much of a description but trust me, it's a good one.
You can rent Elling on Amazon here, or in Norway you can watch it on TV 2 Sumo here
Welcome to Norway (2016)
My mom recommended this one to me, though she said that when she watched it at a cinema in Germany she seemed to be the only one laughing at all the jokes. And I can kind of see that – it's really funny if you understand how they're making fun of Norwegians, but for an outsider it might just make Norwegians look really horrible? It reminds me a lot of Lilyhammer, even down to do the music score, so if you enjoyed that show I think you'll really like this.
You can rent Welcome to Norway on Amazon here, or on YouTube here
The King's Choice (2017)
This follows the three days in April 1940 when Germany invaded Norway and the King had to decide what to do. It's sort of like the Norwegian version of The King's Speech, and I really enjoyed learning more about King Haakon VII and his son who became King Olav V, and the dynamic between the two. Norway was a part of Denmark and then Sweden from the 16th century until 1905, so King Haakon VII was actually imported from Denmark when we got independence, while his son was raised as a Norwegian.
You can watch The King's Choice on Amazon here or on Netflix here
The Last King (2016)
I watched this right after The King's Choice, and it was interesting to take a look at the Norwegian monarchy in the Middle Ages, before Denmark and Sweden took over. It's set in 1206 during a civil war in Norway, and while I couldn't really get into the plot, the film itself is beautiful, with lots of shots of Norwegians skiing through dramatic snow covered mountains.
You can rent The Last King on Amazon here or on YouTube here
Fools in the Mountains (1957)
Apparently one of the most popular Norwegian films of all time, this is a comedy set in a mountain hotel during ski season. It's a super cosy film, maybe because it's in black and white and feels like simpler times.
You can watch Fools in the Mountains on YouTube here (in Norwegian)
I Am Dina (2002)
My friend Katrine recommended this (as well as the book), and… I'm still reeling from watching it over the weekend. The first scene was so traumatic that I think I'll never have a corona nightmare again, I'll just be having night terrors about this – so I guess thanks? People seem to love the film though so maybe I'm just too sensitive (or too American) for it, or maybe you'll love it if you fast forward through the first five minutes.
You can watch I Am Dina on Amazon here or in Norway on TV 2 Sumo here
Buddy (2003)
This movie is so lovely and fun that it actually inspired my friend Catriona to study Norwegian. Are you curious if Catriona lives in a house or an apartment? She can tell you, in Norwegian (though please don't ask her any more questions in Norwegian). Buddy is a super fun, easy watch about a group of friends.
You can watch Buddy on Amazon here
The Pinchcliffe Grand Prix (1975) (Flåklypa Grand Prix)
This is a classic. Like when I was searching this on YouTube and a preview came up I immediately felt all warm and fuzzy inside. According to Wikipedia, this stop motion animated feature is the most viewed Norwegian film of all time, selling over 5.5 million tickets since its release in a country that only has a population of 5 million.
You can rent The Pinchcliffe Grand Prix on YouTube here (in Norwegian)
The Wave (2015)
While watching The Impossible at a movie theater I learned that I find films about tsunamis super traumatic after my experience in Japan, so personally I'm avoiding this one. But I've heard that it's great!
You can watch The Wave on Amazon here, on Netflix here, or in Norway on TV 2 Sumo here.
The Olsen Gang (1969)
I originally had this on my list but when I looked up the links I saw it was Danish and thought wow, I understood Danish when I was little. But then later a reader mentioned this and I looked it up again and realized there is a Norwegian version of this series of films. So I guess I wasn't a linguistic genius as a child. These are classics that probably every Norwegian kid watched while growing up.
You can rent Olsenbanden in Norwegian on YouTube here
Dead Snow (2009)
I haven't seen this as zombie films aren't really my thing, but a couple people suggested this for the list and it does sound ridiculous in an entertaining way.
You can rent Dead Snow on Amazon here
The 12th Man (2017)
I haven't seen this one yet either but a reader recommended it and oh my goodness it looks so good. It's another World War II film, but I each of the war movies on this list tell really different stories.
You can rent The 12th Man on Amazon here or on YouTube here
Have you seen any of these, or do you have any films to add to this list? Share in the comments!