I have always been interested in traveling to Israel, even though I had heard that the country is incredibly expensive and almost impossible to travel through on a tight budget. But after a couple of weeks there, I learned that thanks to amazing Israeli hospitality and some careful planning, it is absolutely possible to travel through Israel on the cheap!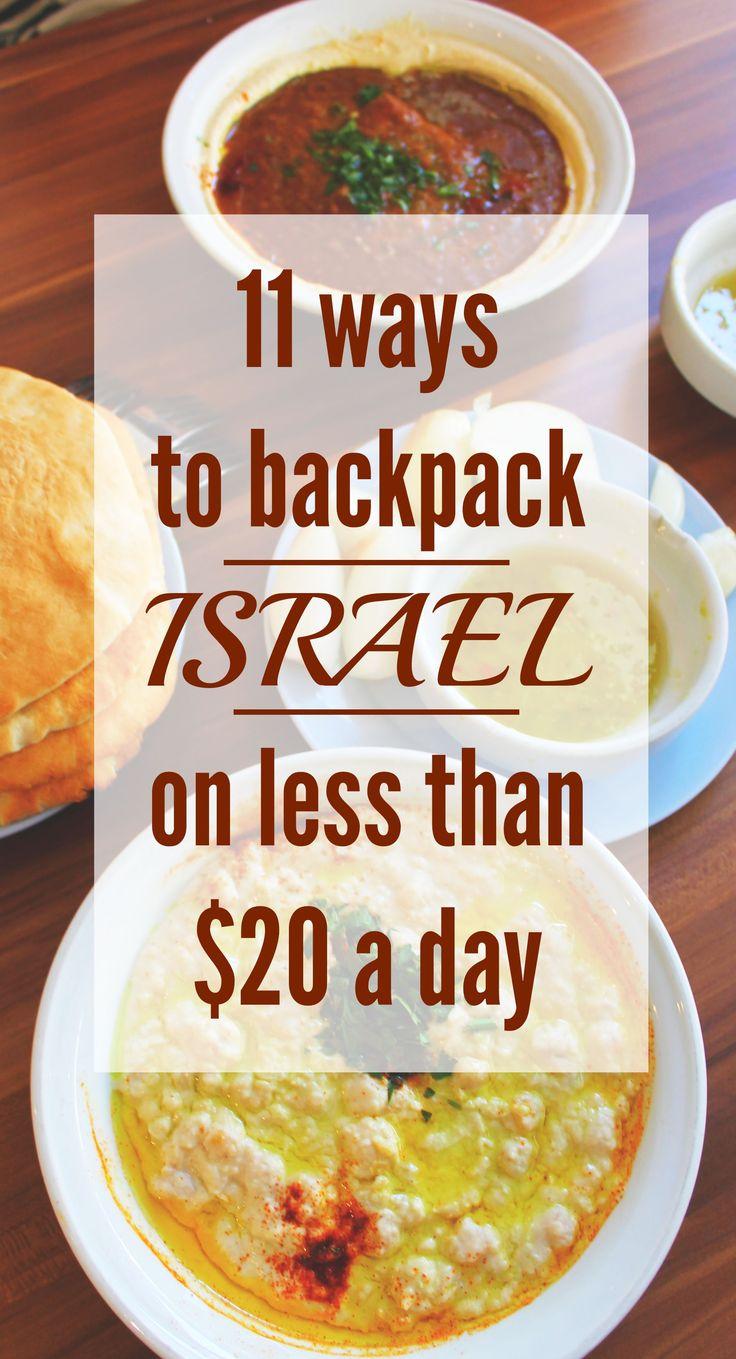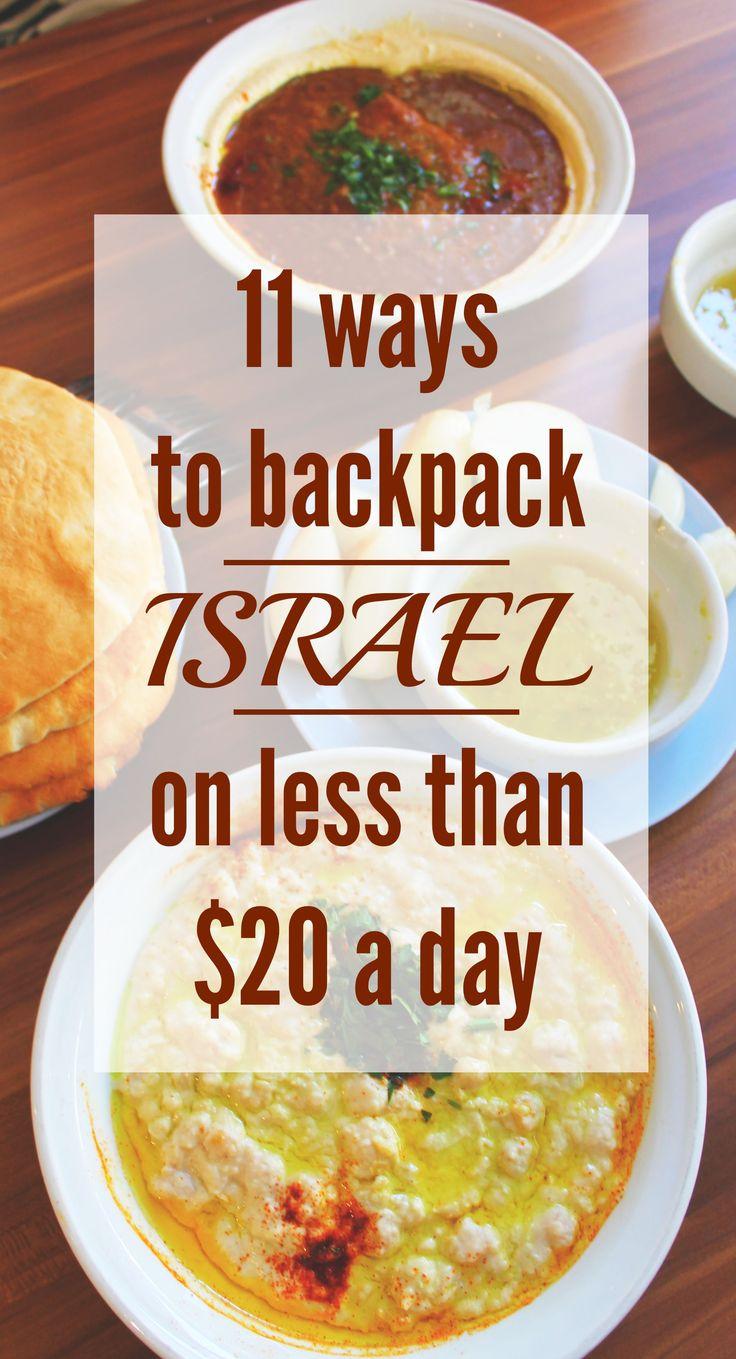 1. Transportation in Israel
Israel has excellent public transportation. The buses are reliable and long-distance buses even have wifi – the only problem is that they are pretty expensive. In Tel-Aviv and Jerusalem Danielle and I relied on buses to get around, but in the north and south of Israel we found it very easy  to hitchhike.
Hitchhiking of course is a bit of a gamble and can take a long time, but we always eventually found rides, and it was a great way to meet more locals!
Our longest wait for a ride was about two hours, when we were trying to get from Eilat up to Ein Gedi. While we were waiting, one driver who couldn't take us was nice enough to offer us some snacks, and another gave us his number to call in case we couldn't find a ride so that he could arrange accommodation for us for the night on his kibbutz. Israelis are so nice!
2. Budget accommodation in Israel
Danielle and I have used Couchsurfing a fair amount in the past, but with dorm beds in Israeli hostels costing at least $20/night, we became huge fans of Couchsurfing while backpacking in Israel.
All of our Israeli hosts were incredibly welcoming and hospitable, and having new local friends to show us around was a definite plus! I can't imagine what our time in Israel would have been like had we been staying in hostels, but I'm sure at least there would have been a lot more lazing around on our parts without our new friends telling us about special local spots we just had to wake up early to go check out.
We did pay for accommodation for one night, when we stayed at the women's Heritage House in Jerusalem, which offers cheap accommodation for Jewish travelers (my mother is a Russian Jew, didn't you know? Funny, neither did she…). At $6 a night for dorm beds in the center of the Old City, we decided it was worth the fib.
We did meet a lot of other backpackers who had been staying at hostels in Israel. Their top picks for best hostels in Israel were:
ROB'S PLACE // Jerusalem
People were obsessed with this hostel. The atmosphere is really nice, it's central but also quiet at night, and their dorm beds are really cheap (they also have slightly more expensive private rooms). You just have to book this one well in advance, as it can fill up. Check current rates and availability
MILK & HONEY HOSTEL // Tel Aviv
This one is also really popular, and for good reason – it's one of the cheapest, yet also nicest places to stay in Tel Aviv. It's near the beach, bars, and restaurants, as well as a bus stop, and the staff are friendly and helpful. Check current rates and availability
VILLA CUSTO // Eilat
Okay, this isn't a hostel, but it isn't too expensive and even has a pool! Check current rates and availability 
EIN GEDI CAMP LODGE // Ein Gedi National Park
This basically THE place to stay in Ein Gedi when you're on a budget. They have mixed dorm accommodation on a Kibbutz right by the park. Check current rates and availability
3. Drinking and going out in Israel
If you plan to drink in bars and clubs, you'll probably end up consuming your entire budget. Drink prices rival those of New York or even Tokyo.
At corner stores the cheapest bottle is often between $20-$30, and that's bottom shelf (though we once found a liter of vodka for $14, risky business).
P.S. The tap water is potable, so no more expensive bottled water!
4. Eating on a budget in Israel
You're probably thinking of delicious falafel sandwiches and succulent shwarma, right? But Israel's version of fast food, ranging from $3-$10 isn't the cheapest you can do (though it's certainly worth trying). We got our food almost exclusively from supermarkets and markets, known locally as shuks.
From supermarkets we usually purchased a giant container of hummus and a can of beans to mix in for extra protein. And of course the ubiquitous pita. Canned pickles, cottage cheese and chocolate milk in a pouch were also among our favorites.
At the shuk you can stock up on super cheap produce. Tomato basil sandwiches? Mixed olives? We got fancy.
We also got really obsessed with gummy candy, which is literally everywhere and not cheap at all (think $30/kilo). I think at the height our addiction we were each spending anywhere from $2-$4 per day. Consider yourself warned.
5. Visit Palestine
Palestine (or the West Bank, whatever you prefer – we're not here to get political) was such an interesting place that I devoted a separate blog post to it. We decided to put it on this list because goods and transport there are just a fraction of the price they are in Israel. Plus it was a great place to stock up on gummy candy!
6. Plan around Shabbat
As most of you know, Israel is a Jewish state, and once a week everything shuts down for Shabbat, the Jewish day of rest. This means that from just before sunset on Friday until just after sunset on Saturday public transport ceases and most (but not all) shops and restaurants close. Make sure you stock up on food and plan your travel accordingly.
It is possible to take private minibuses, known as sheiruts, around Tel Aviv and between Tel Aviv and Jerusalem but they are not so common, and you'll most likely end up paying for a taxi, especially if you plan on going out Friday night.
7. Do Shabbat dinner while in Israel
While Shabbat can be a bit of an annoyance it's also an opportunity to learn more about Jewish customs and share a delicious homemade meal with a local family (and rest, obviously). Hanging out with Danielle had already taught me quite a bit about Jewish culture, but celebrating Shabbat really took that to the next level!
If you're Jewish finding a Shabbat meal will be incredibly simple, especially if you ask around the Old City or stay at the Heritage House. That being said, I wasn't turned away, and another non-Jewish friend Alejandra enjoyed a special Shabbat meal with her Couchsurfing hosts.
8. Make friends
While Couchsurfing was a great resource for us to find accommodation in Israel, we also found places to stay simply by having friends put us in touch with people they knew living in areas we would be passing through. Can't find someone on Couchsurfing to host you at your next destination? Try asking a current or former host if they know anyone.
This was also a little easier for us because Danielle had been in Israel several times before, so she already had a lot of connections there. We stayed with a friend of hers in Tel-Aviv and another friend in Jerusalem for Shabbat.
For our trip to Ein Gedi, a national park along the Dead Sea, a friend of a friend put us in touch with some guys working at the park, who generously offered up their apartment even though they were going to be heading out of town.
As they worked at the park, they were also able to let us in for free, after which we walked down to a public beach on the Dead Sea to hunt for some mud (find it, don't buy it!) and float in the salty water.
9. How to pack for backpacking in Israel
In most of Israel it's fine to dress in shorts and tank tops. However, some areas do require more conservative dress, so pack appropriately to avoid an unnecessary shopping trip while in Israel!
For religious sites such as the Western Wall, you'll have to dress conservatively, keeping your knees and shoulders covered.
That being said, if you want a real cultural experience you should visit Mea Shearim, an ultra-Orthodox neighborhood in Jerusalem. Some people say that a trip to Mea Shearim is like traveling back to 19th century Poland.
Women: elbows covered, long skirts and don't even think about showing your collar bone. Something like this dress with a scarf would work perfectly.
10. Spend time outside of the center
For the 16 days we spent in Israel, we averaged just under $20 a day. However, the bulk of that was definitely spent while we were in Jerusalem and Tel-Aviv. In the north and south of Israel we spent about $5 a day.
Life outside of the center is also fairly different from the big cities, with everything seeming to move more slowly and the culture a bit bohemian. I especially enjoyed visiting a kibbutz in the north, and would recommend it to any traveler wanting to see a special side of Israeli culture.
11. Kibbutzes
While Danielle and I were traveling through Kyrgyzstan we met a lot of Israelis, including Yohai and Yair, both of whom live on kibbutzes along the Sea of Galilee in northern Israel.
When Yohai invited us to stay for a few days on his kibbutz, we of course said yes!
Kibbutzes are collective communities that were traditionally based on agriculture, but in recent years most of them have become more privatized. Most people seem to long for the old socialist days but recognize that it's pretty impossible to sustain a capitalist economy.
There are more than 250 kibbutzes in Israel, and a bit of online research will quickly turn up several kibbutzes looking to host volunteers, usually with a few week minimum stay.
We had so much fun relaxing, enjoying the community atmosphere, swimming (and swinging) in the Jordan River, playing with baby cows, eating in the dining hall (freshman year throwback!) and of course, spending time with old friends. It was the perfect ending to our time in Israel!
BONUS: Get travel insurance
Okay, maybe this one is obvious, but the easiest way to blow ALL your money while traveling in Israel is for an accident to happen and you have to pay a huge hospital bill or something.
I never, ever travel without travel insurance and it has saved me on multiple occasions – like that time I was bedridden in Beijing. My personal pick for travel insurance is World Nomads, and I have done a ton of research on different providers.
World Nomads is incredibly affordable, and when I have had to use them I simply sent my hospital receipts and had a check in the mail within a couple of weeks. So easy, and totally worth it. You can get a quote here: