Even though I've now left Helgeland and moved to Tromsø, I still consider the islands off the Helgeland coast to be the most beautiful part of Norway, and the most iconic islands of all would have to be the Træna archipelago. Even before living here I recognized the shape of the mountains of Træna as being from "that famous island in northern Norway." Træna is certainly special, and definitely worth a visit.
And if you want more in depth Norway advice, I've also gathered all my best tips for planning an incredible trip through both Southern and Northern Norway in two 95-page ebooks that cover everything you'll need to know to plan a Norway trip that you will love. You can purchase my Norway travel guides here.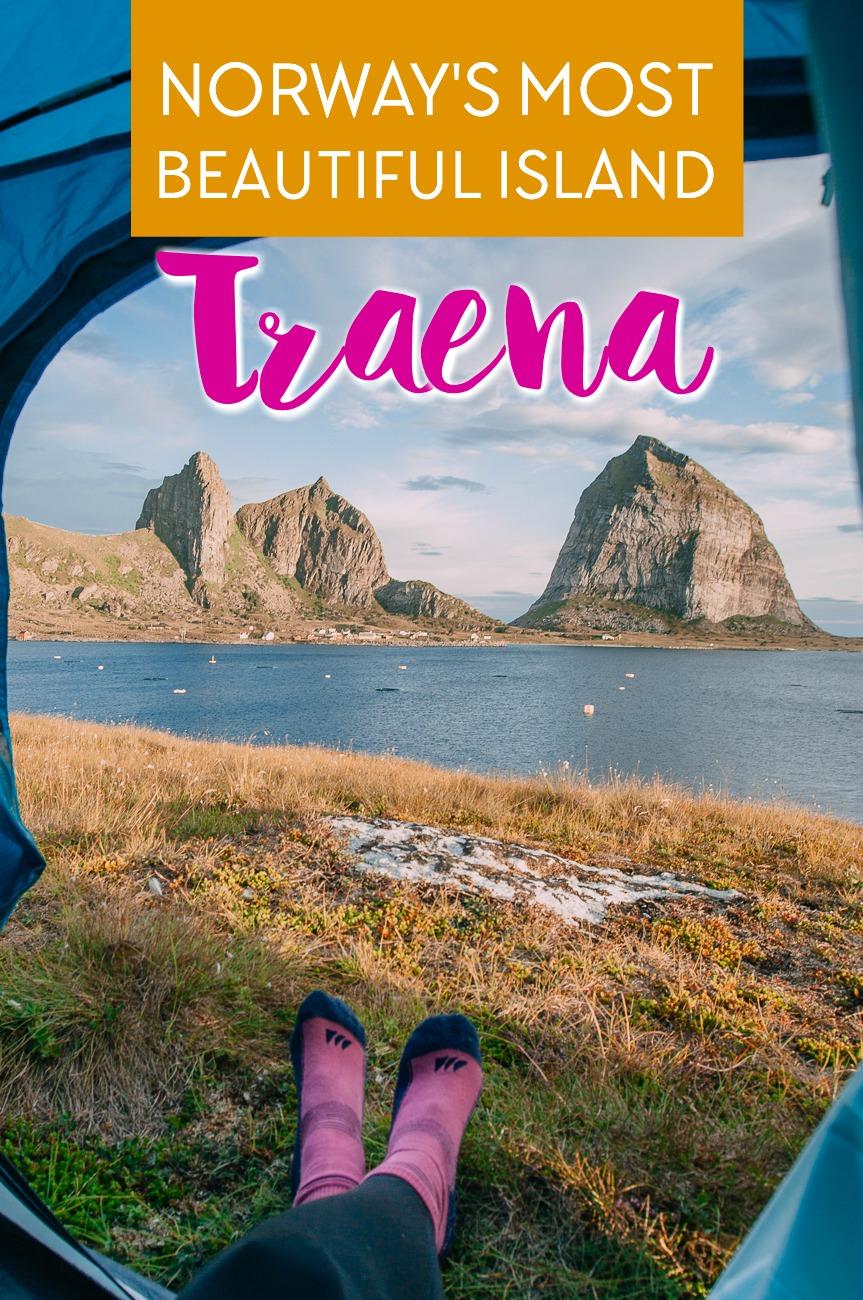 So I'm not sure why it took me until the week before I was leaving Helgeland to actually visit Træna.
Then again, lying sixty-five kilometers off the coast, Træna is a bit of a journey to get to. I got the ferry from Sandnessjøen, which is about an hour's drive (or bus ride) from Mosjøen. The ferry from Sandnessjøen to Træna takes two and a half hours, though if you're coming from the north you could get the ferry from Stokkvågen or even Bodø. You can check the ferry schedule and book your tickets here.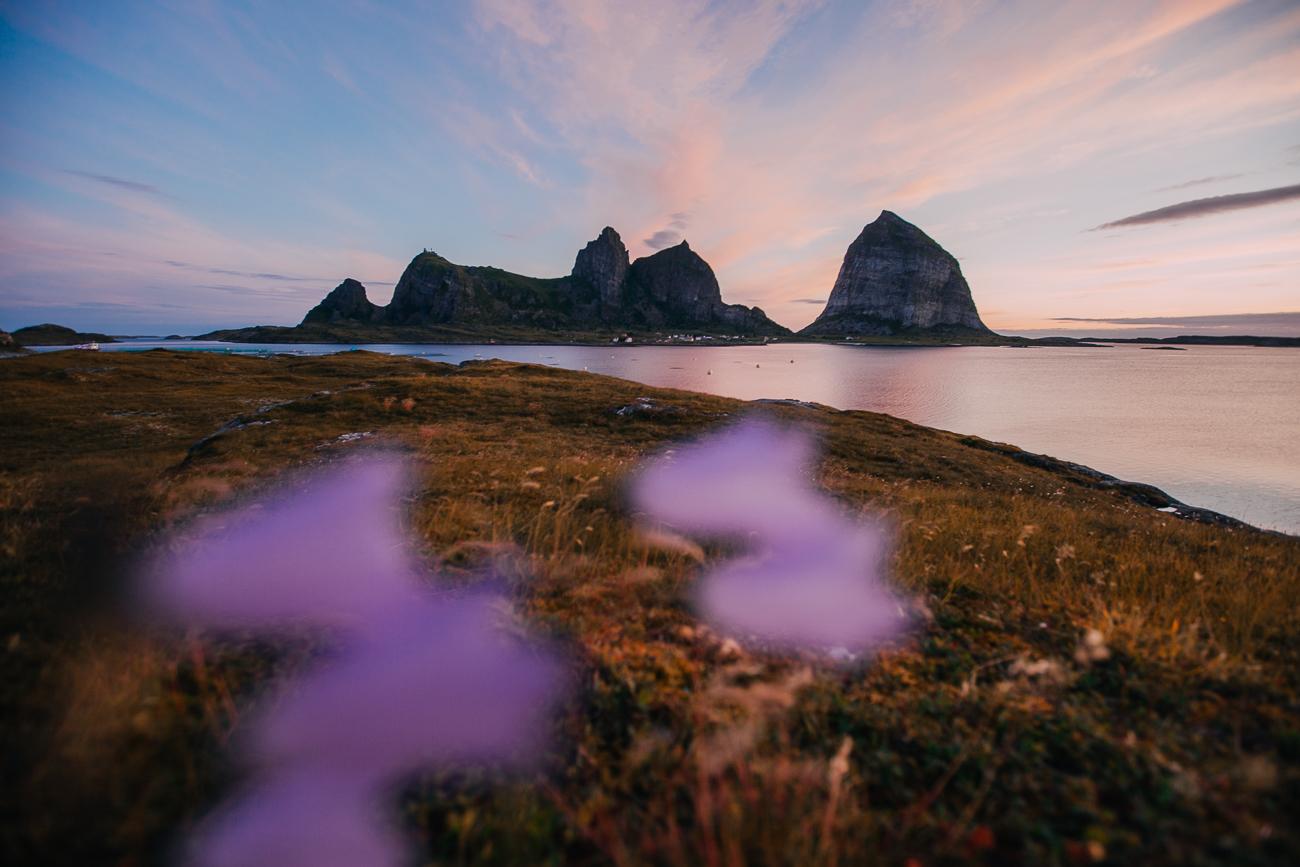 I already said this when writing about the island of Lovund, which incidentally neighbors Træna would make a great addition to a trip out here, but one of the wonderful things about these Helgeland islands is that you can get a ferry here from Bodø and you often won't need a car as they're usually small enough to explore by foot.
So while many of these islands are quite remote, they're actually really convenient to get to and get around – at least by Norwegian standards! You can simply board a ferry in downtown Bodø and a few hours later find yourself having a totally unique and truly authentic experience of Norwegian coastal life, far away from the tourist crowds of Lofoten and the fjords of southern Norway. And what you lose in crowds you certainly won't lose in views: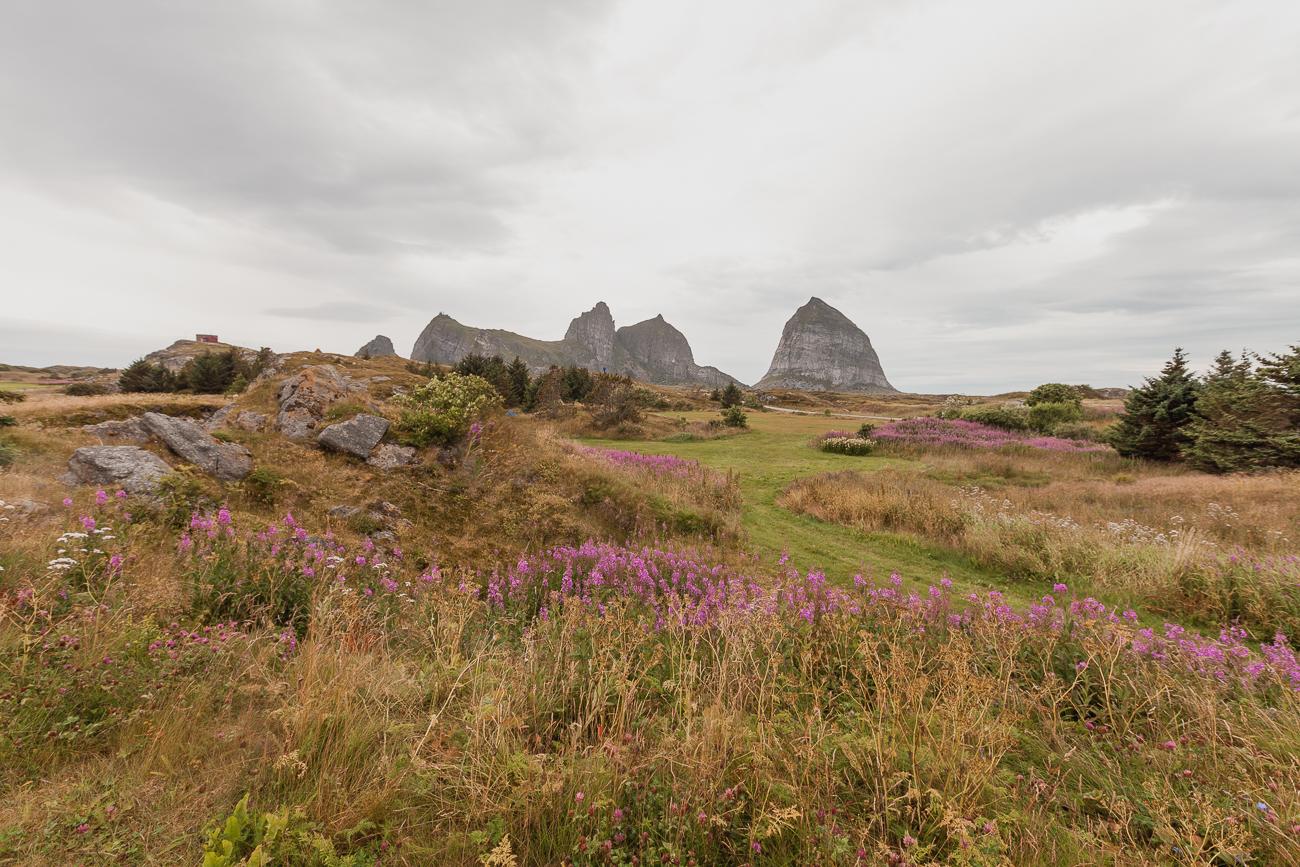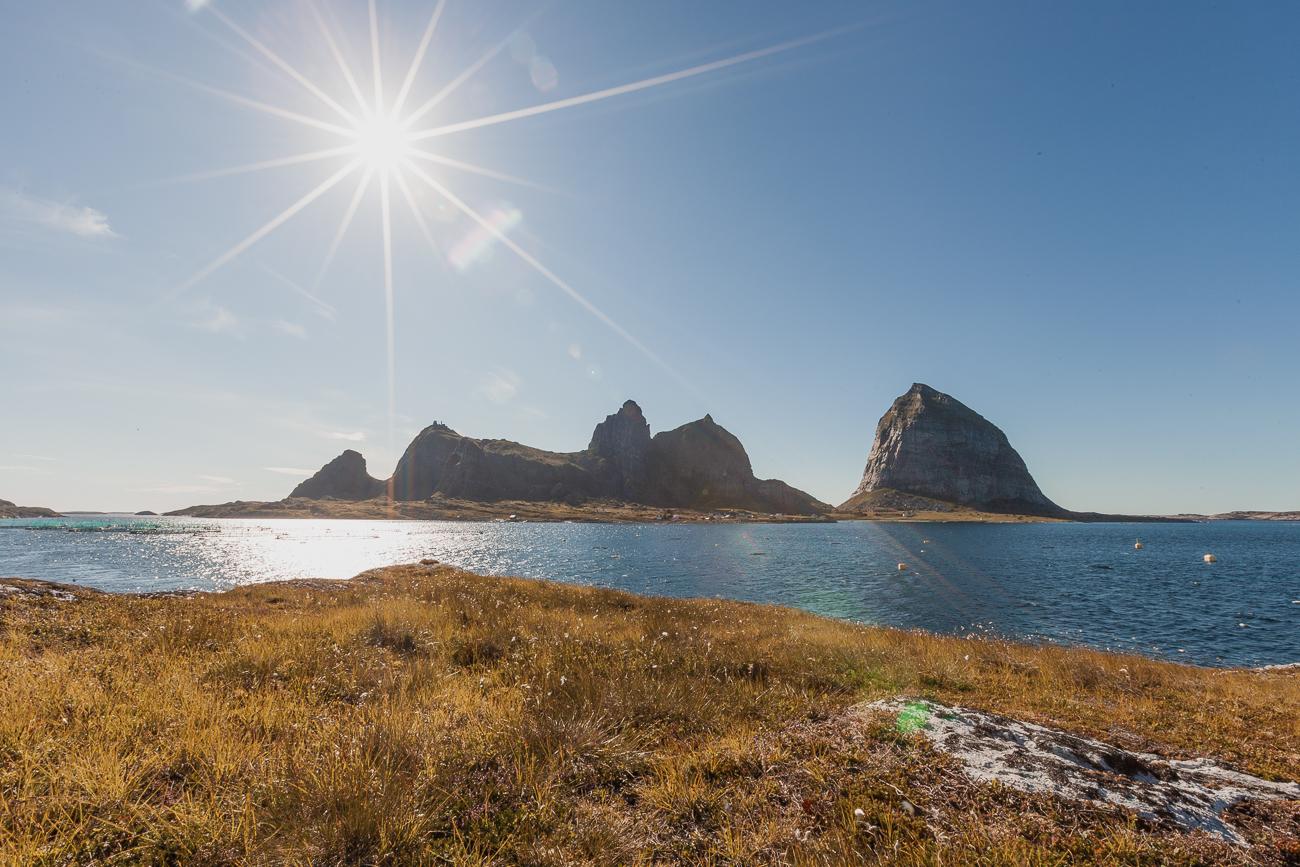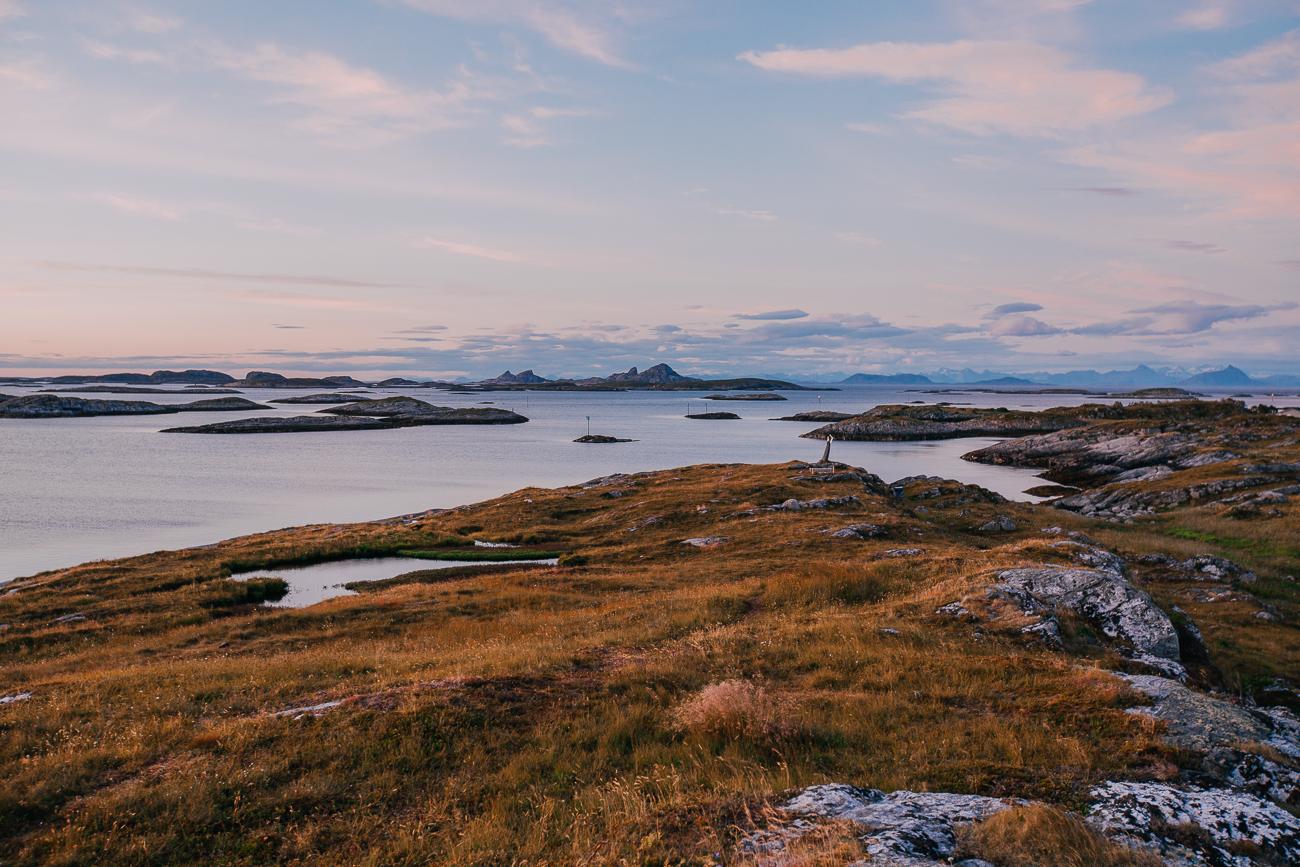 Fewer than 500 people live on Træna, on the islands of Husøya, Selvær, Sanna (the island with the famous mountain peaks) and Sandøy. I visited the main island of Husøya, where most of Træna's residents live. There's a supermarket here, as well as a few shops, cafés, a school, and several accommodation options. However – and now this is something I rarely say because I'm a huge fan of cute Norwegian accommodation – I really recommend wild camping on Træna.
Well, I recommend camping if you're visiting Træna in the summer and the weather looks nice. I actually waited for a hot, sunny day to book my ticket to Træna and still was very cold at night, as is the case with camping in Norway. But the views were totally worth the cold nose at night.
The great thing about camping on these islands is that while on mainland Norway it can actually be kind of difficult to find good wild camping spots unless you're hiking up into the mountains, often the islands have such small populations that it's easy to walk out of town and have tons of space to yourself. And that's exactly how it is on Husøya.
There is a campground here with showers and toilets, but unless you really need to be close to a toilet I would definitely recommend setting up your tent somewhere more secluded with a better view. The campground is mainly for those coming for the annual Træna Music Festival, but you can stay here for free during the rest of the summer.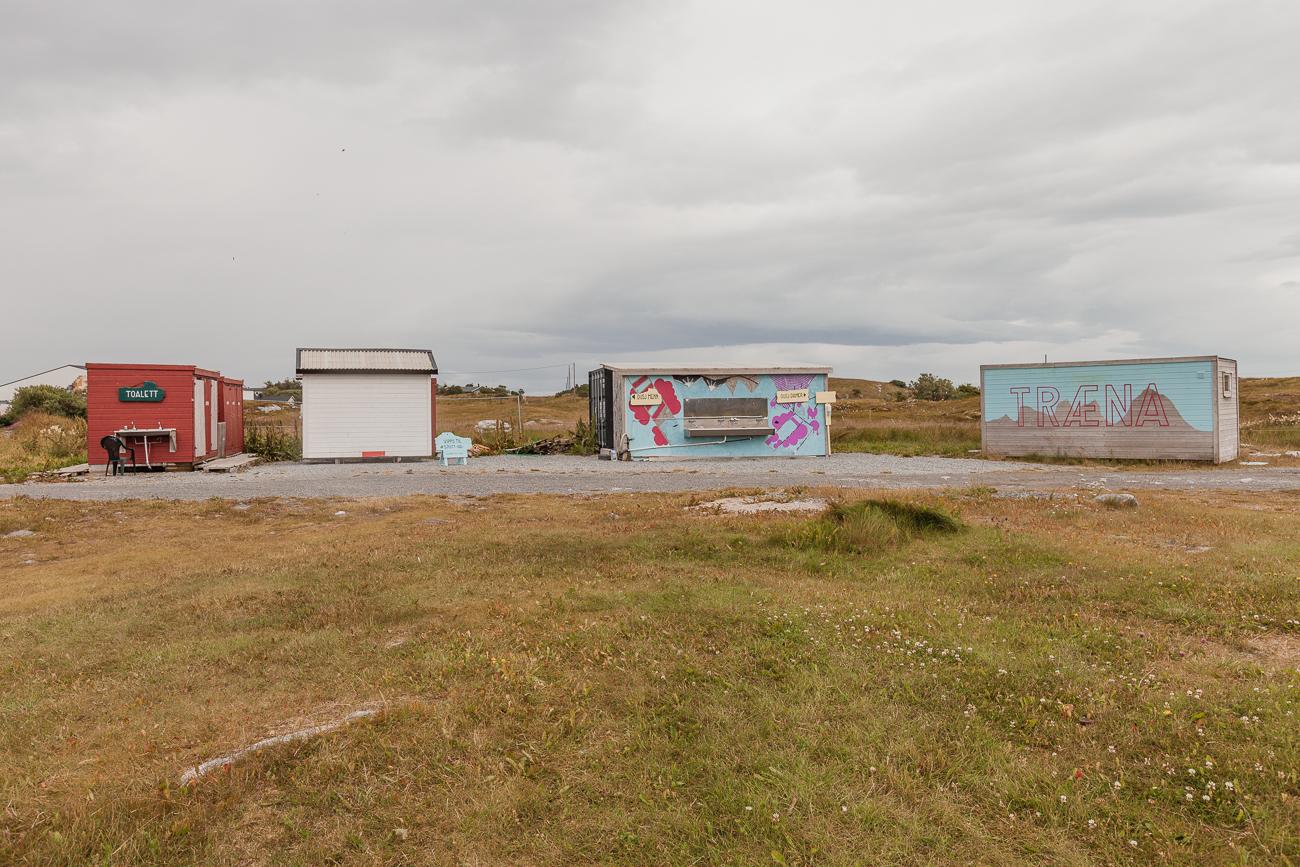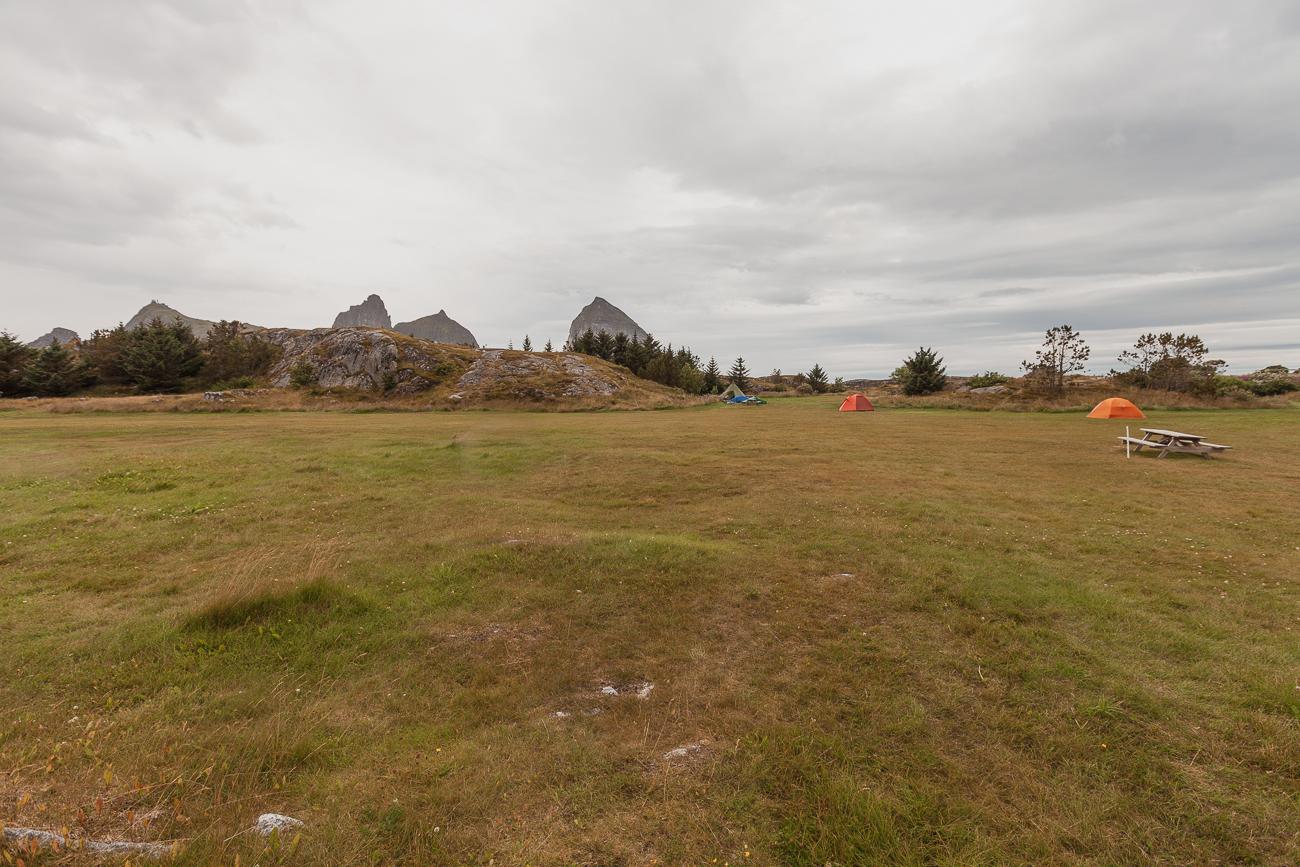 After getting off the ferry I first headed to the Petter Dass Chapel (there's a sign post at the end of the road from the ferry). The Petter Dass Chapel was built in 1997 in memory of theologian and poet Petter Dass, as well as those who struggled and disappeared at sea. Fishing has always been key to those living on Træna, and in fact ancient findings date Træna's fishing village back nearly 9000 years.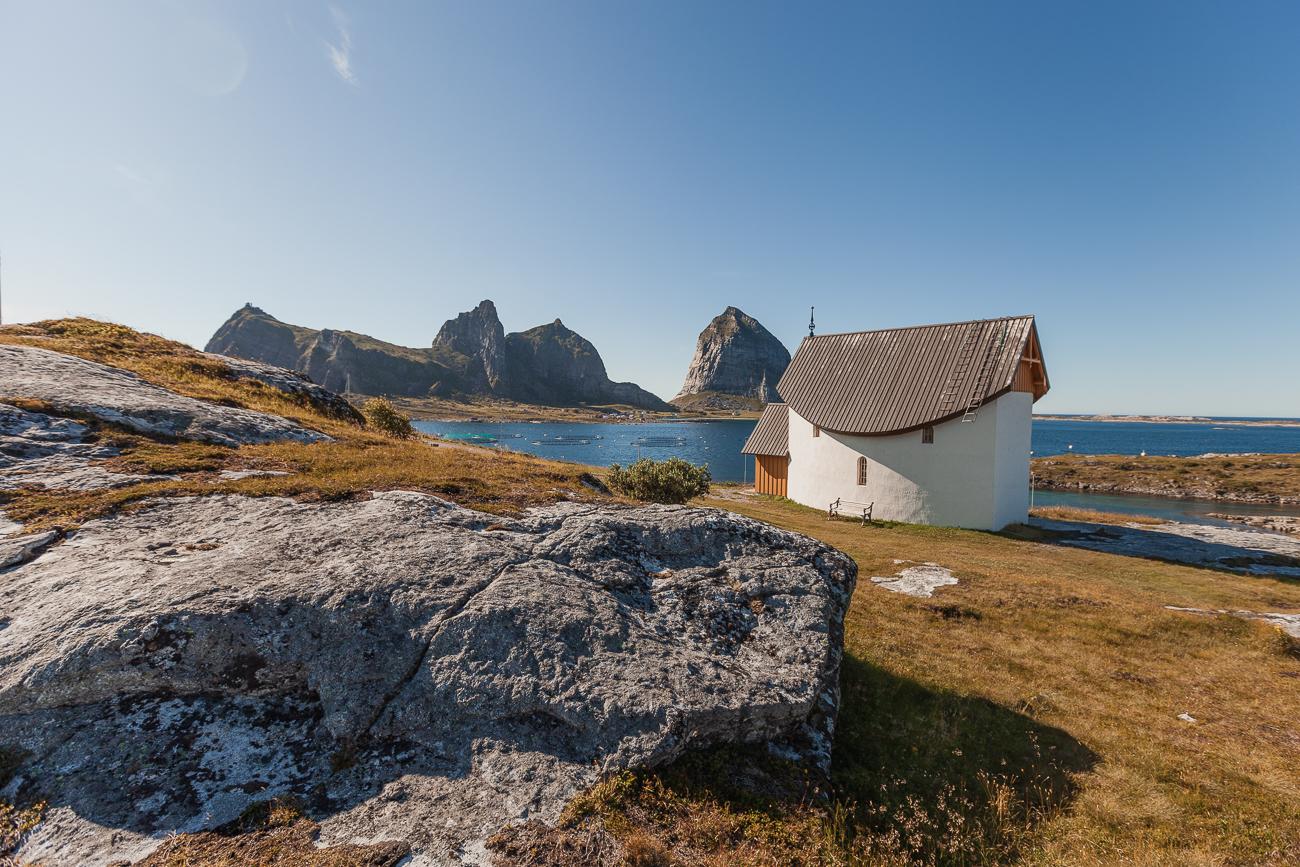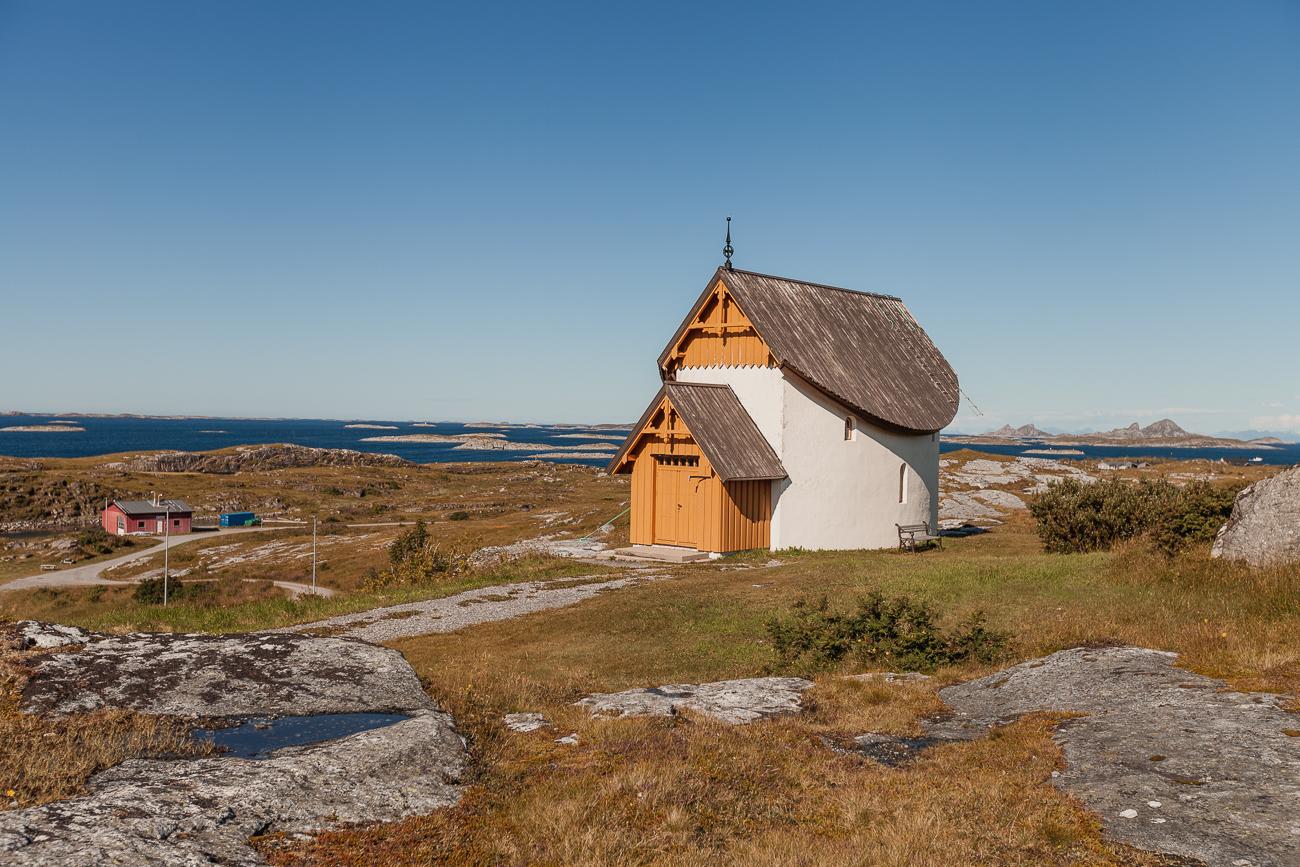 From the chapel I walked along the coast until I found the perfect spot to pitch my tent for the night. And by perfect spot I mean the place with the best view of those stunning mountains.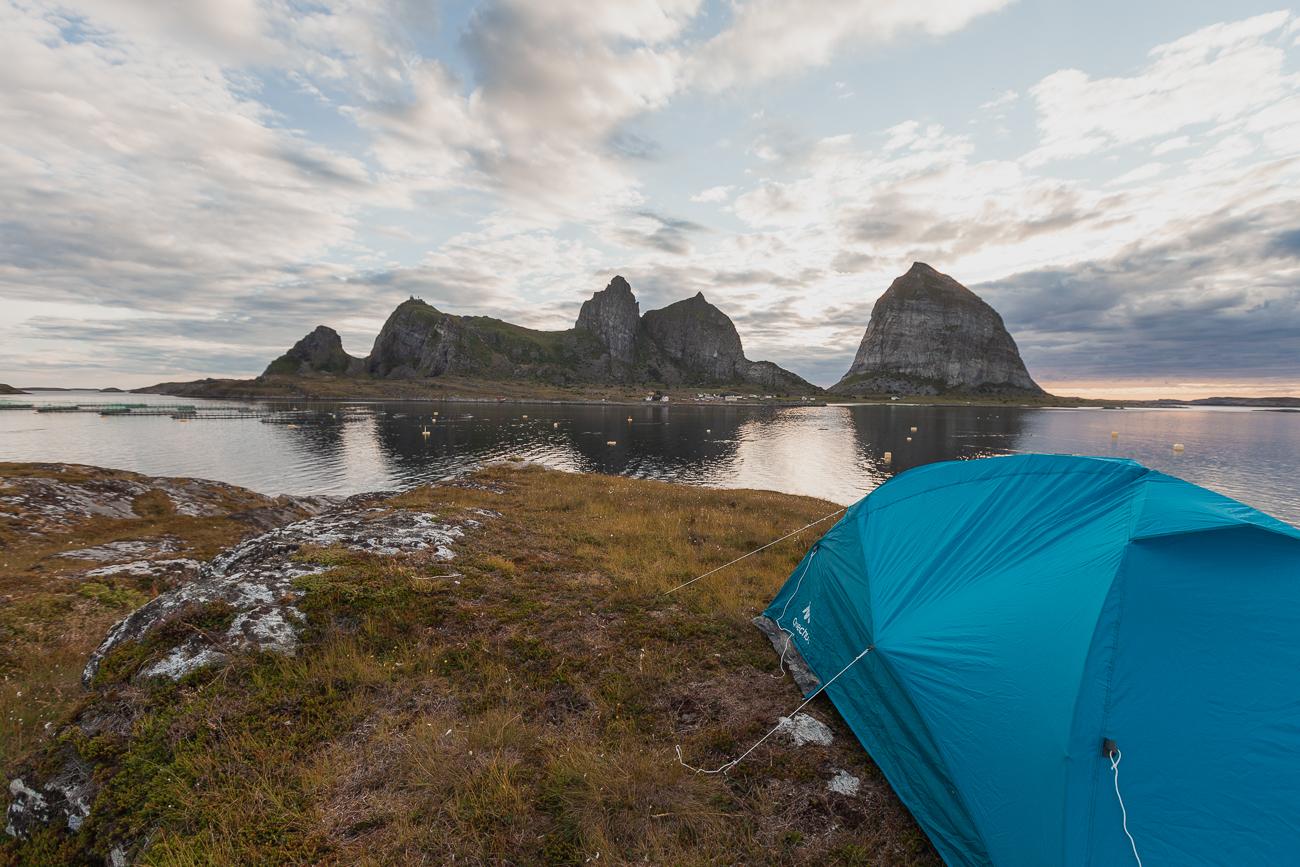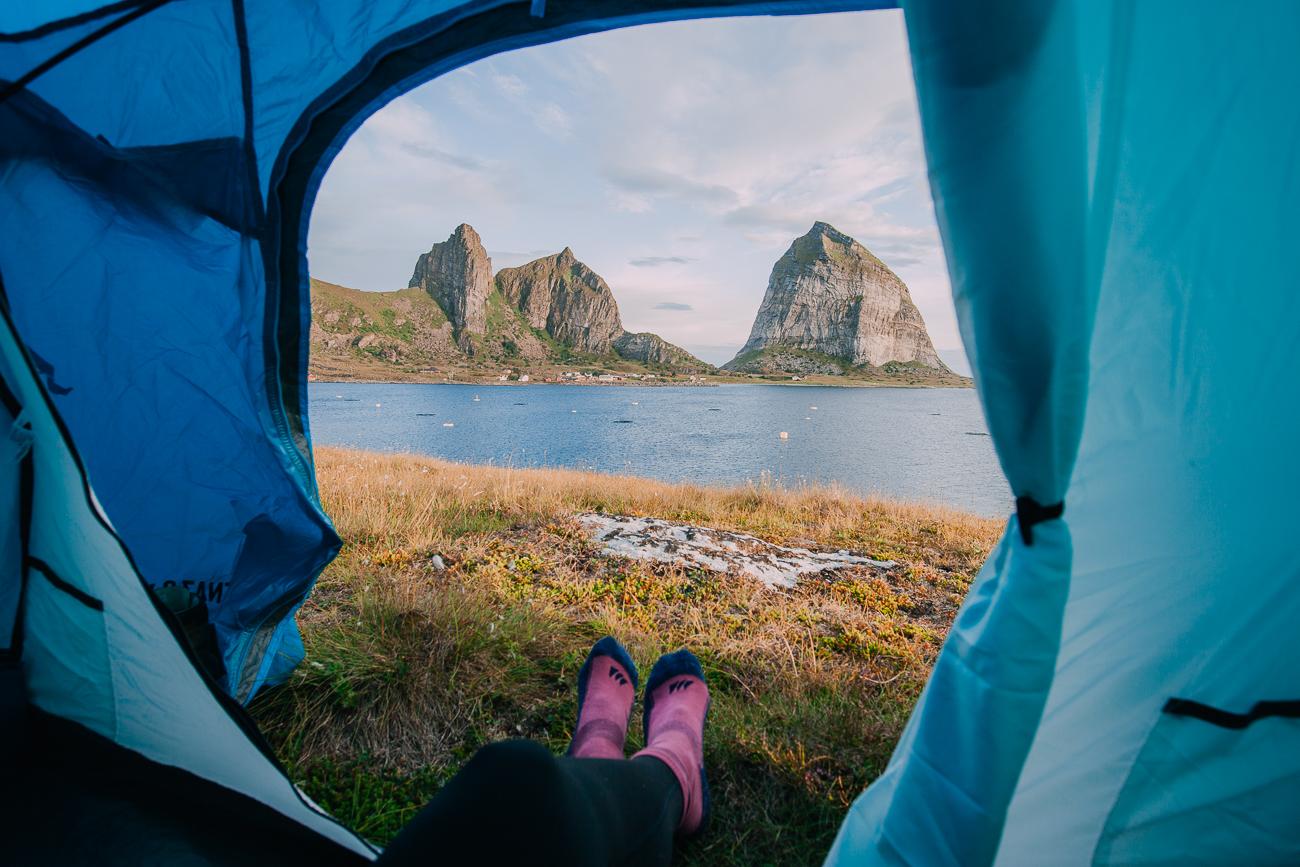 And this is exactly where I spent the rest of my time on Træna, because why would I ever leave?