When I moved to Mosjøen a year and a half ago, I was so excited to finally live somewhere without any plans to leave. In fact I think it was the first time I've ever moved to a place that I thought I could stay forever. And that felt so good.
I first visited Mosjøen on a two week road trip through Northern Norway. It was only the second town I visited on a list of ten potential places I could move to, yet within twenty minutes I knew this was the one. I was meant to live here, maybe even forever!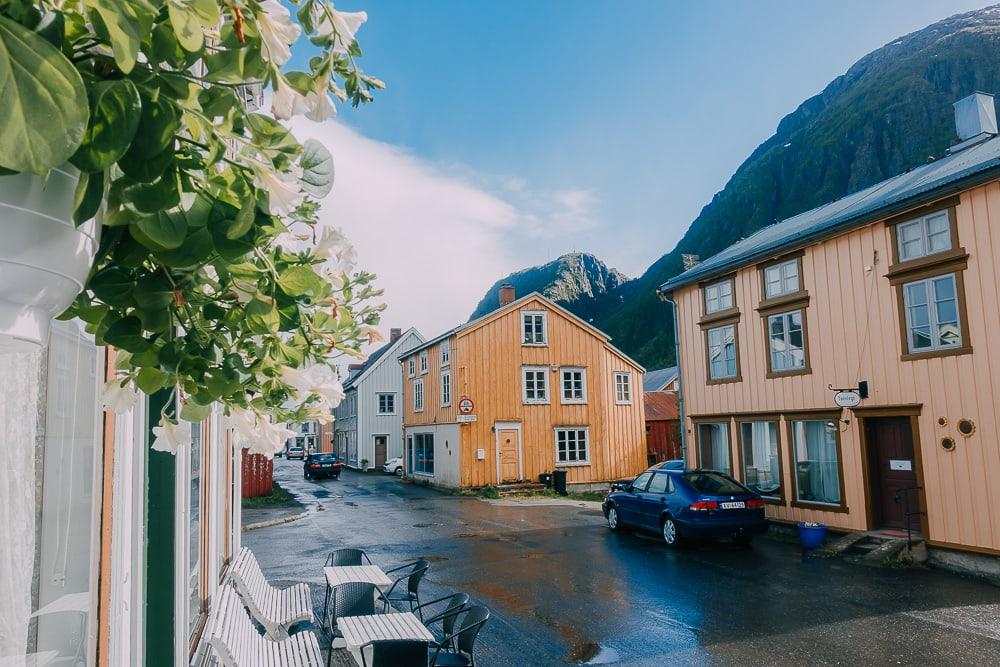 And now a year and I half later I've left.
So what happened?
Well, first of all I chose Mosjøen together with my ex-boyfriend when we were looking for a place to settle down, but I ended up moving there on my own. And then I pretty much spent the next year stressing over whether or not Mosjøen was a good fit for me and my new single life.
I think my continued questioning of whether Mosjøen was the right fit probably had something to do with recently having lost a relationship I had spent years pouring my heart into, and I didn't want to invest more time in yet another life that wouldn't last. But it also didn't help that most of my friends abroad expressed concern over my moving to a small town in the middle of nowhere at such a difficult point in my life (and in the dead of winter).
But despite my doubts, something kept me in Mosjøen.
I mean, I love Mosjøen. The downtown looks like a picture book, yet it also has the grit of a big aluminum factory keeping the town from feeling twee, I'm fully convinced that Helgeland is the most beautiful region in Norway, and my friend in Telemark seemed to be right when she said that Helgeland is home to the friendliest people in all of Norway. I still can't get over how welcoming people in Mosjøen were to me, even when I was so, so sad when I first got there and probably not much fun to be around.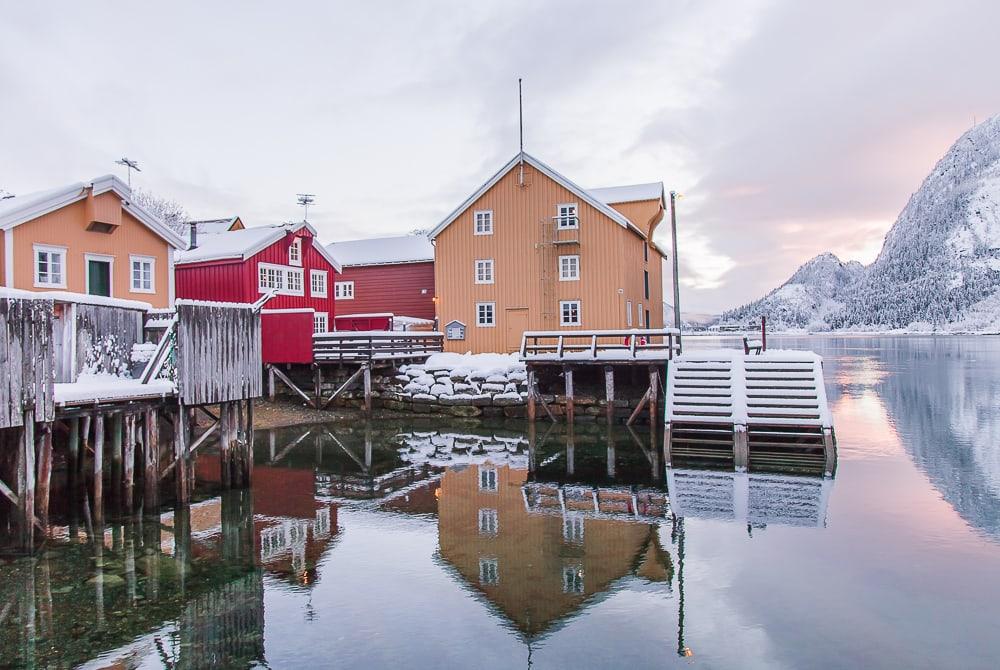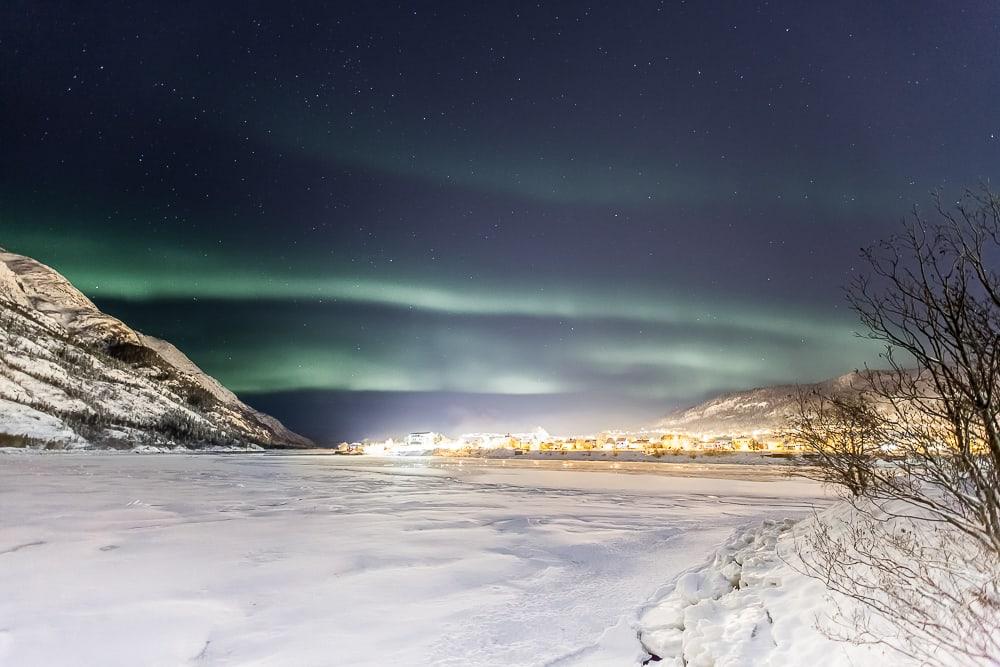 Where else in the world would a town gather outside on a dark December morning to eat porridge together?
And I loved having all of Helgeland at my fingertips, from the winter wonderland of Hattfjelldal to the islands of the Helgeland coast, each with its unique landscape and character.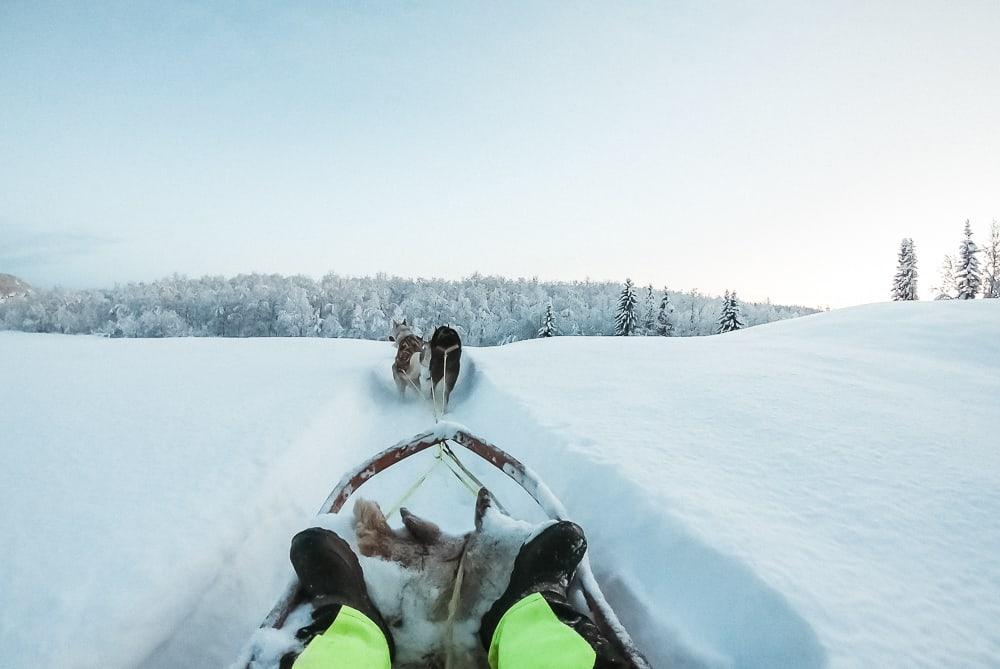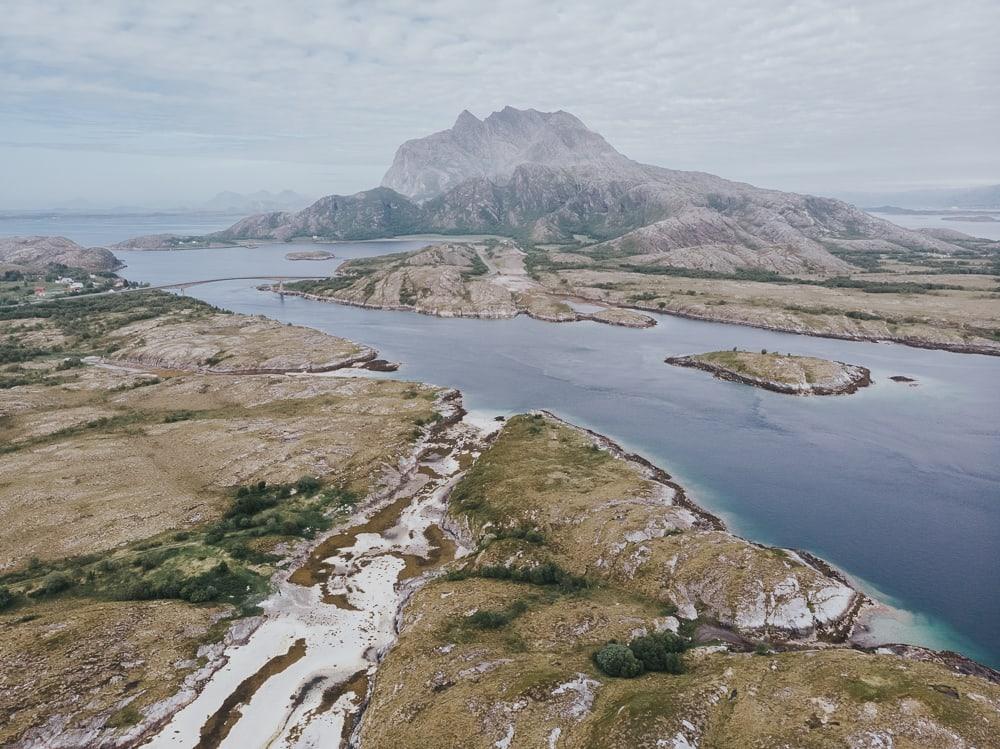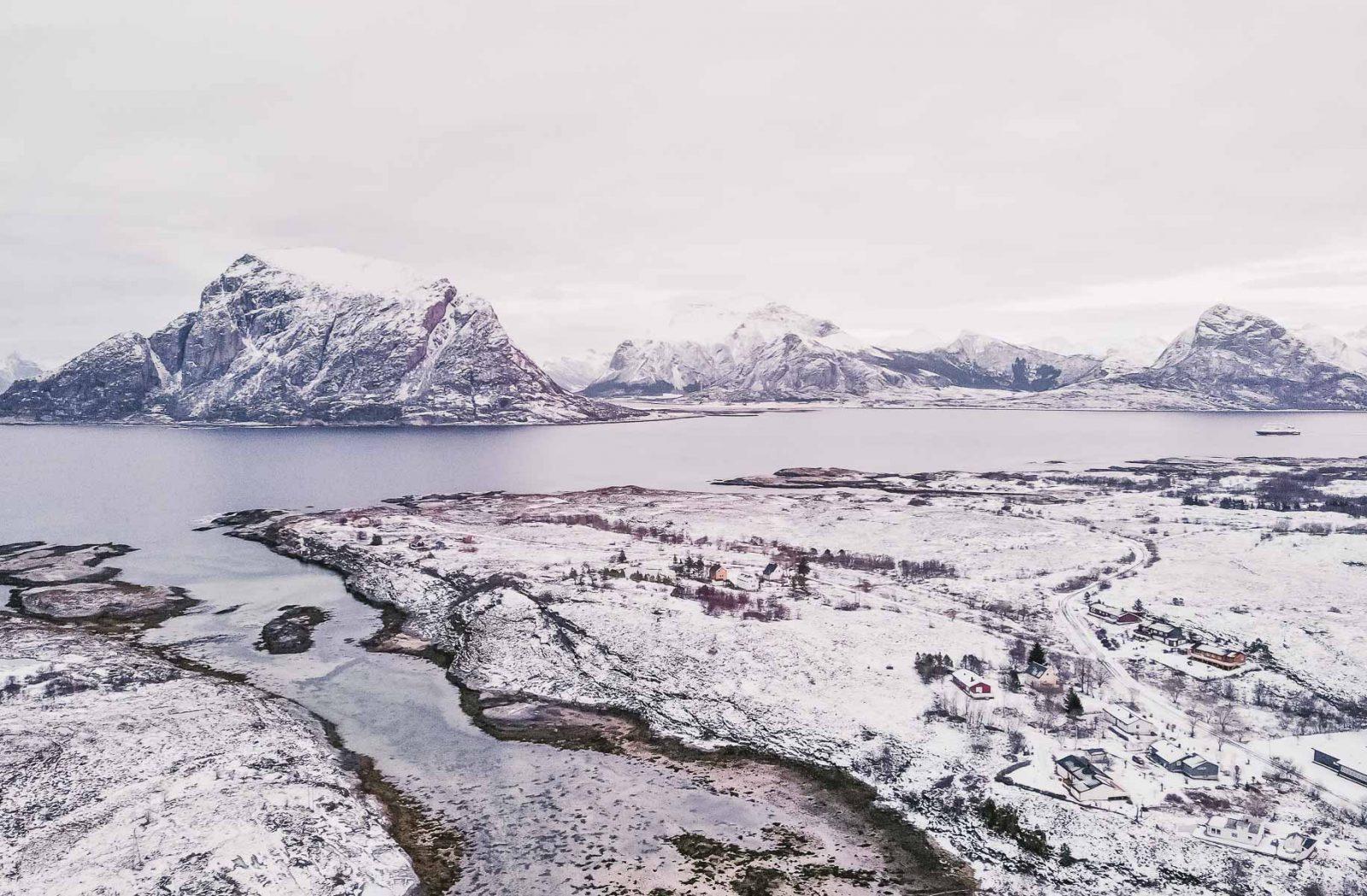 While most of my friends and family were skeptical towards Mosjøen, I now can't imagine a better place for me to have spent the past year and a half. People in Helgeland truly are incredibly warm and friendly, which are not adjectives typically used to describe Norwegian people.
And while I worried about living somewhere that I had originally chosen as a place to settle down with a partner, I think in a way living in Mosjøen let me see what that life would have looked like, and why it wouldn't have been right. You see not only is Mosjøen a family town, it's also a place with lots and lots of gossip.
I've always thought of gossip as malicious and often it is, but in this particular situation it turned out to be the oddest gift.
I have a habit of idealizing other people's lives, which is also a reason why I love traveling around the world and seeing how others live. Normally I would call this optimism, but at a time when I felt so bad about my own life this turned into deep self doubt.
I remember arriving in Mosjøen feeling like I had failed at life, looking around at my neighbors who all had perfect families in their perfect homes while I was all alone. Of course no one's life is actually perfect, but it was hard for me to see that.
Instead I had to be told that. By whom? My gossiping neighbors!
Learning that the perfect couple over there got together after the woman's first husband died in a tragic boating accident and that other couple up the street were actually dating other people when they got pregnant with their adorable son made me realize that okay, maybe these lives aren't as picture perfect as I thought.
Of course I'm making up these particular scenarios, but you get the point – lots of tragedy and lots of infidelity.
And while no one enjoys having their dirty laundry aired in public, there is something awfully comforting about seeing that you aren't the only person with spotted linens. I'm hoping that living in a town without secrets will have taught me to be less secretive about my life moving forward. Because projecting a perfect version of your life can end up hurting those around you more than it impresses anyone.
I feel like I should add that Mosjøen isn't a town of only tragedy and infidelity. Yes Mosjøen has its drama, and yes I took an odd sort of comfort in hearing about it all, but what I most enjoyed were the beautiful views, the friendly locals (have I mentioned yet how friendly people in Helgleand are??), and the love and appreciation people showed for this little part of Norway.
But then one day in early April I knew it was time to leave. Was it because Norway had been in strict lockdown and while all my friends in Mosjøen were at home with their families I was alone? I'm sure that had something to do with it. In fact before the pandemic hit I had been planning to buy a house in Mosjøen this summer!
Before lockdown it had never bothered me that most of my friends in Mosjøen were married with kids. Even my single friends in Mosjøen had children.
You may also have experienced the way in which this pandemic has separated out friend groups. I've found myself talking all day everyday to my friends who are living on their own, as we offer each other support in what otherwise would feel like a very lonely time. And while we've been missing human touch, our friends stuck at home with loved ones are seriously craving some alone time. So when we went into lockdown I realized that I was the only person I knew in Mosjøen who didn't have anyone to wait this out with and that maybe it would be nice to live in a place with other people in the same position as me.
Or maybe I was just feeling restless after all that time at home and wanted a change, and what better way to change my life during a time when we're stuck at home than move to a new home?
At any rate, after months of wondering whether or not Mosjøen was right for me I suddenly knew two things with absolute certainty: 1. it was time to leave, and 2. I had been in Mosjøen for exactly the right amount of time.
It's a shame that I spent so much energy worrying that I'd one day regret setting up a life in a town that I would eventually leave, yet once I knew I did want to leave I only felt gratitude for the time I had there. If only I had known from the start that my time in Mosjøen would be worthwhile I wouldn't have needed to worry!
When I was agonizing over whether Mosjøen was the right choice, I would always think back to that first day I visited and how quickly I knew that this was where I wanted to live. Maybe you've had the same feeling when looking for an apartment or house, when you set foot in a new place that already feels familiar, like home.
I put a lot of faith in that feeling, and in retrospect I'm so glad I did – even though it was wrong?! I mean who knows, maybe I will eventually end up back in Mosjøen. But now when I think back on that first visit I wonder if somewhere deep down I knew that this was the place that was going to help me through the heartache and loss that I hadn't even experienced yet.
Actually it's strange to think back on how I had been visiting with my ex imagining our lives together there, with no idea that by the time I moved I'd be on my own. And it breaks my heart all over again to think of the voice memo I sent to my friend Rachel a couple days later telling her about Mosjøen, never dreaming that this would be the place that would help me through the grief of losing her. Perhaps it actually is for the best that we can't see the future.
What's also strange is that while I knew it was time to leave Mosjøen, I had no idea where I wanted to move, and even now that I have moved, I have no idea how long I will be here, but that doesn't bother me at all.
I knew I needed a change from small town life and I knew I wanted to stay in Northern Norway, so the obvious choice was Tromsø, Northern Norway's largest city (which has about 70,000 people, because Norway).
I had often considered moving to Tromsø while debating whether or not to stay in Mosjøen, but I would always dismiss it as a real option because in my previous visits I wasn't a big fan of the city. I certainly never had that feeling of being home that I had when first visiting Mosjøen.
But I guess being ready to leave Mosjøen while at the same time grateful I had lived there taught me that it's okay to change our life plans. I have no idea what the future will bring (but fingers cross it involves a vaccine) so the only life I can make decisions about is the one I'm living right now. And right now I think it would be fun to experience life in the Arctic!
I'm not sure if living with months of polar night will be super cosy or super depressing, but it will be interesting to find out. And I think I'm going to enjoy discovering how I really feel about Tromsø. I've been here for almost two weeks now and I must admit Tromsø wins me over a little bit more each day.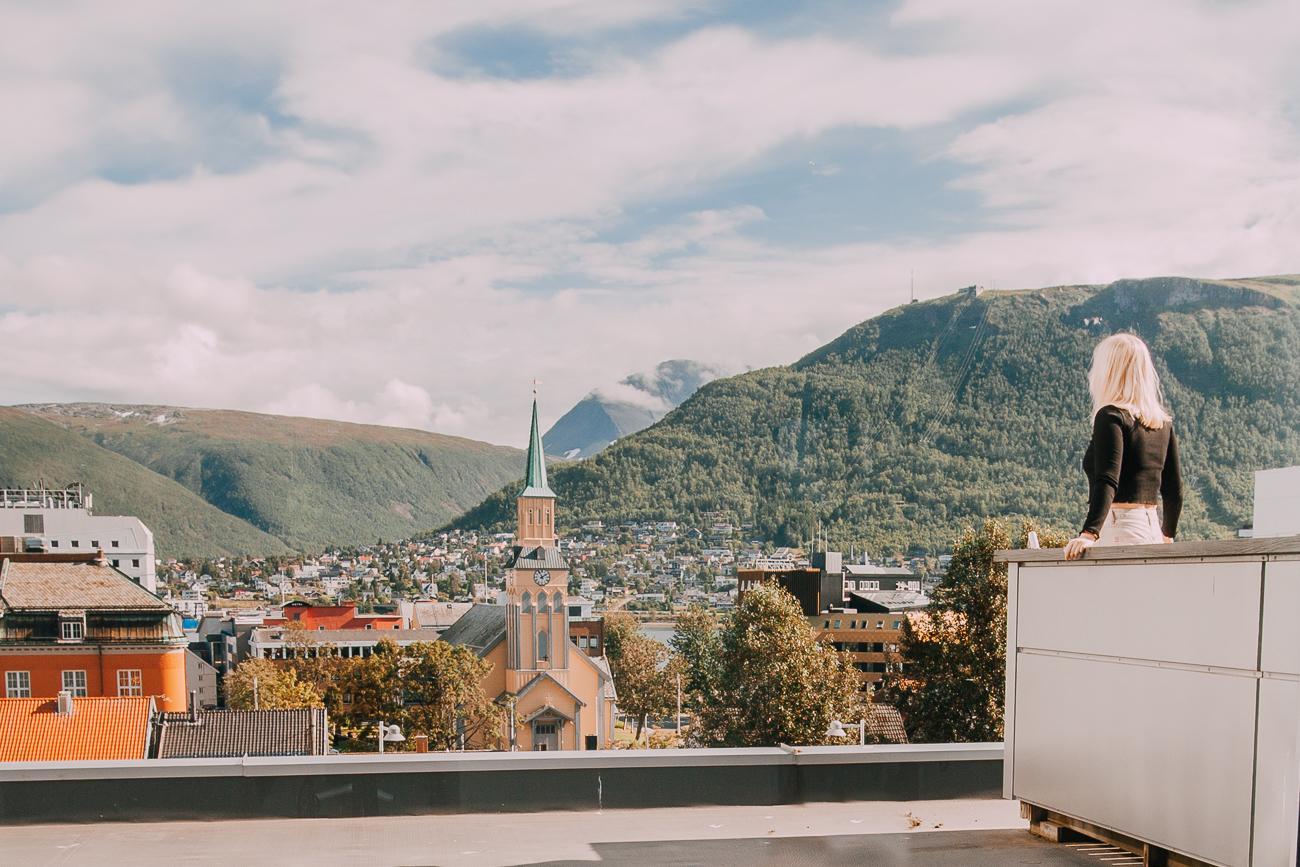 I'm also loving having a balcony!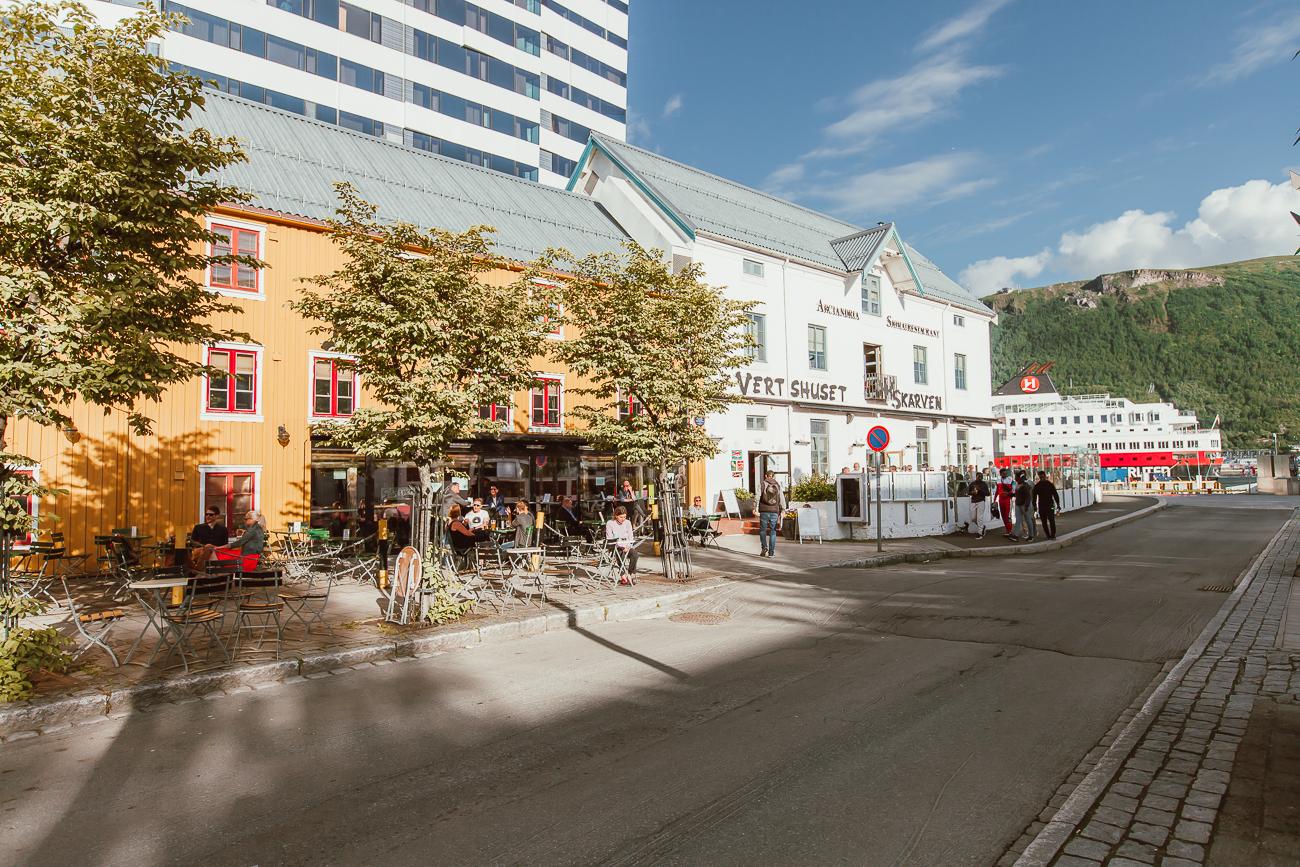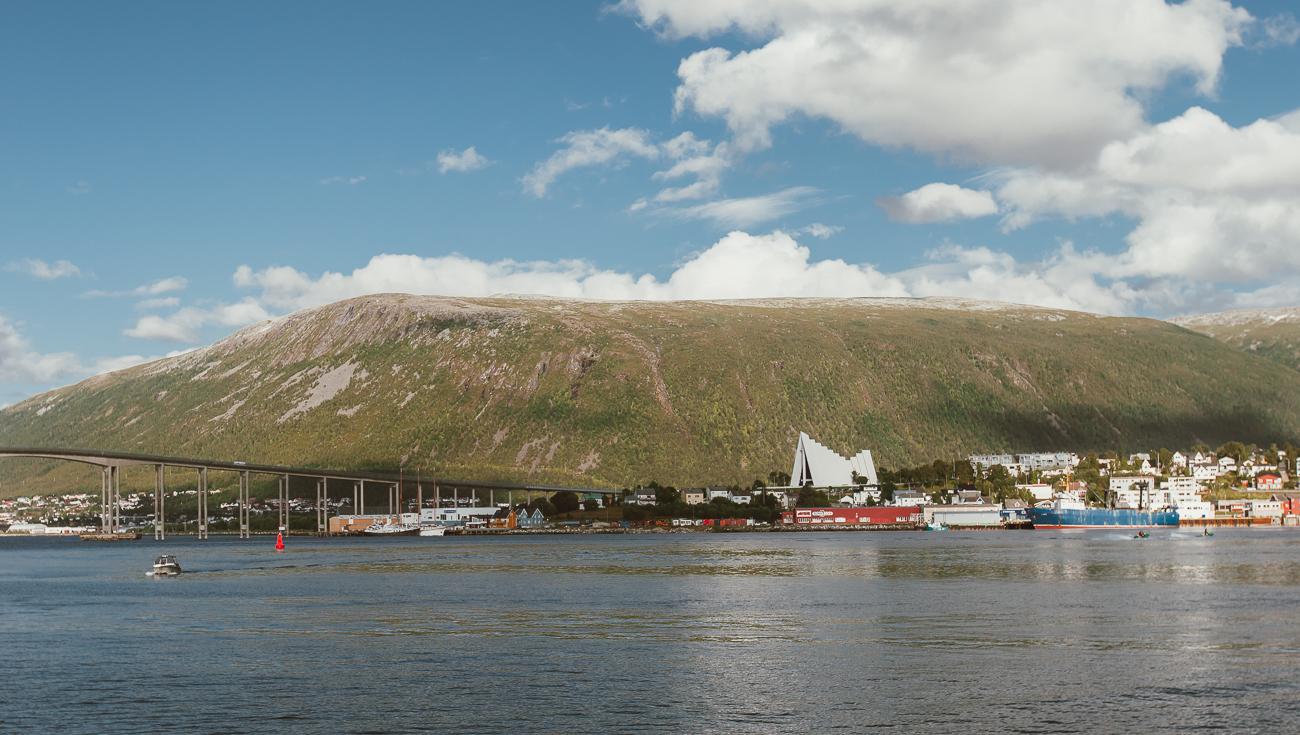 Just a couple of weeks after moving to Mosjøen I visited the nearby island of Støtt. My friends Catriona and Viv had just left after an amazing weekend together on Senja, and I remember feeling so lonely and overwhelmed by the idea of facing a dark winter in this corner of Northern Norway where I didn't know anyone. In fact I think I spent the morning before catching the ferry to Støtt crying in a public restroom in downtown Bodø.
Yet I ended up having such a wonderful time on Støtt and found great comfort in the realization that even when I was feeling so low nature's beauty continued to fill me with awe and inspiration. Over the coming months I would often think back to that trip to Støtt with the beautiful sunrise over snowy mountain peaks and long talks pouring my heart out to kind Helgeland locals.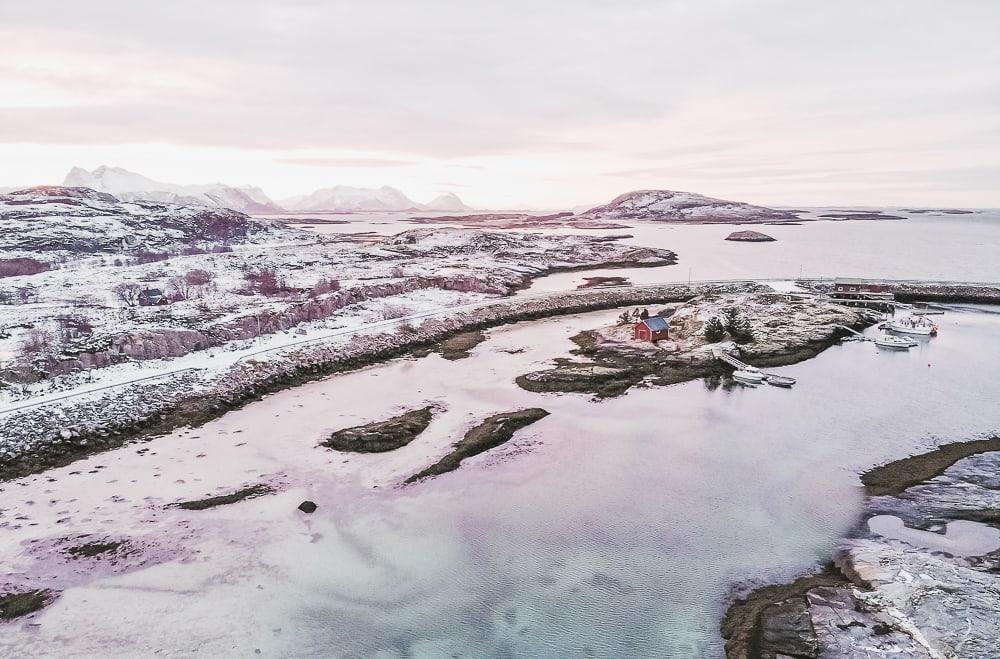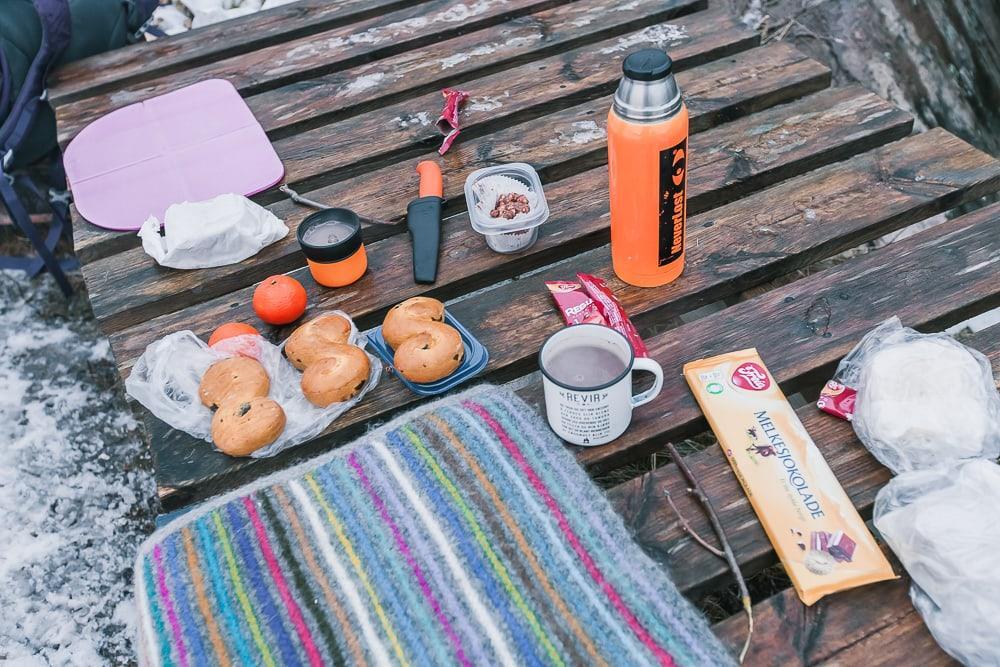 My trip to Støtt was the beginning of my love affair with the islands of the Helgeland coast, and while living in Mosjøen I made trips out to Bolga, Lovund, Vega, Dønna and Herøy. But there was one island (or technically archipelago) I almost missed: Træna.
Something told me that I couldn't leave Helgeland without seeing Træna, so just a few days before my move, when I really should have been packing, I grabbed my tent and hopped on a ferry.
I don't think I stopped smiling the entire time I was on Træna. I hiked out to a secluded hillside, pitched my tent and spent the rest of the day marveling over how #blessed I am to have lived in this incredible part of the world. My heart filled with so much joy that I nearly popped a shirt button.
And I thought back to that first visit to Støtt and how far I've come since then. The past year and a half feels like an entire lifetime in many ways, and while life will of course continue to bring ups and downs, I think my time in Helgeland will serve as a reminder that even in the darkest times we can find light – even if in the winter that light happens to be green.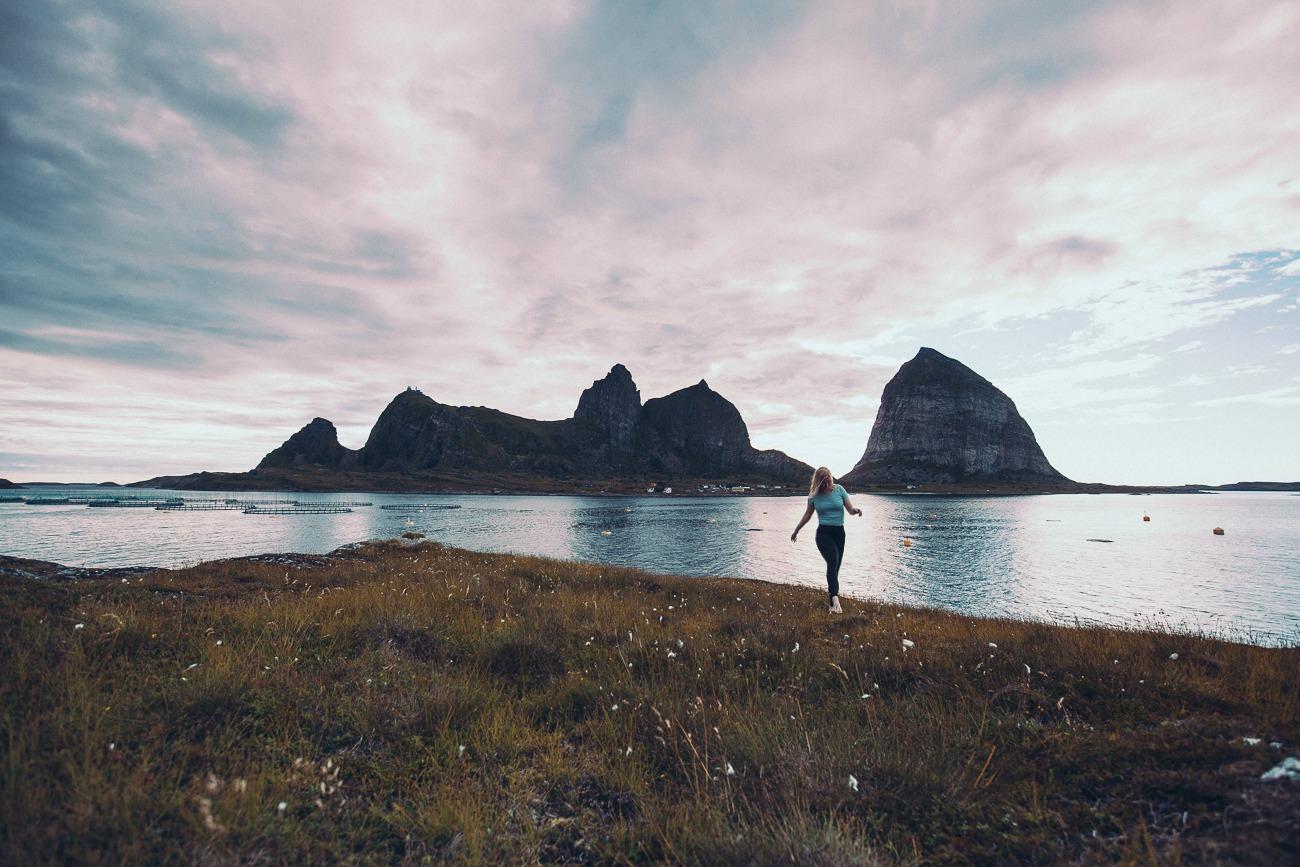 .