This past June I had exactly two weeks to explore northern Norway, and since I hadn't seen much of the region before, I filled my itinerary with as much as I could. This meant that I was constantly on the move and had to spend a lot of time in the car, but I don't think I would change any of it! So I thought I'd share my itinerary, in case any of you guys want to plan a northern Norway road trip of your own.
So here is my full two-week itinerary for northern Norway. And if you only have one week you could either just go south from Bodø or north, or start in Narvik if you want more time in the north.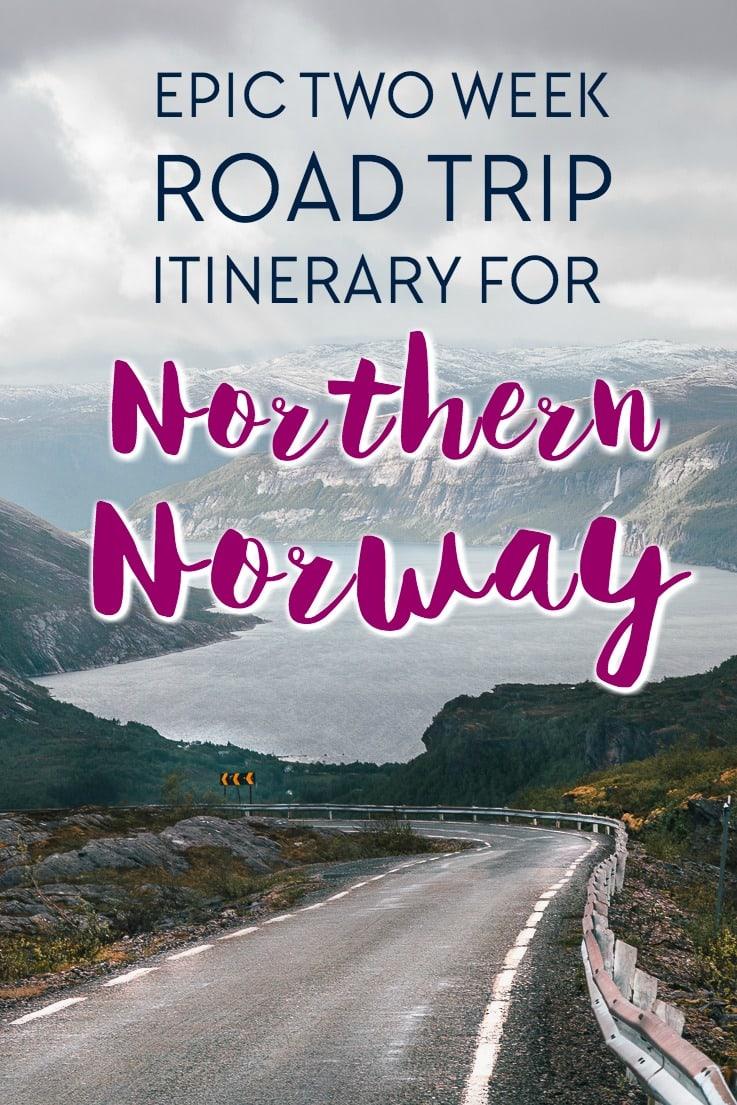 Days 1 – 2: Bodø
The great thing about starting off your northern Norway road trip in Bodø is that you can get there by plane or by train. Bodø is the last stop on the Norwegian train line in the north.
I opted to take the overnight train from Oslo to Trondheim and then the morning train from Trondheim to Bodø, which meant that I got to watch the landscape become more dramatic as I made my way up north. I got into Bodø in the evening, so I stayed there two nights so that I could explore the next day as well.
Bodø itself is a really cool city, with a lot of beautiful nature around it. Some of my favorite nearby places included Kjerringøy, Mjelle, and Saltstraumen. You can read more about my time in Bodø and my favorite spots in my blog post about Bodø.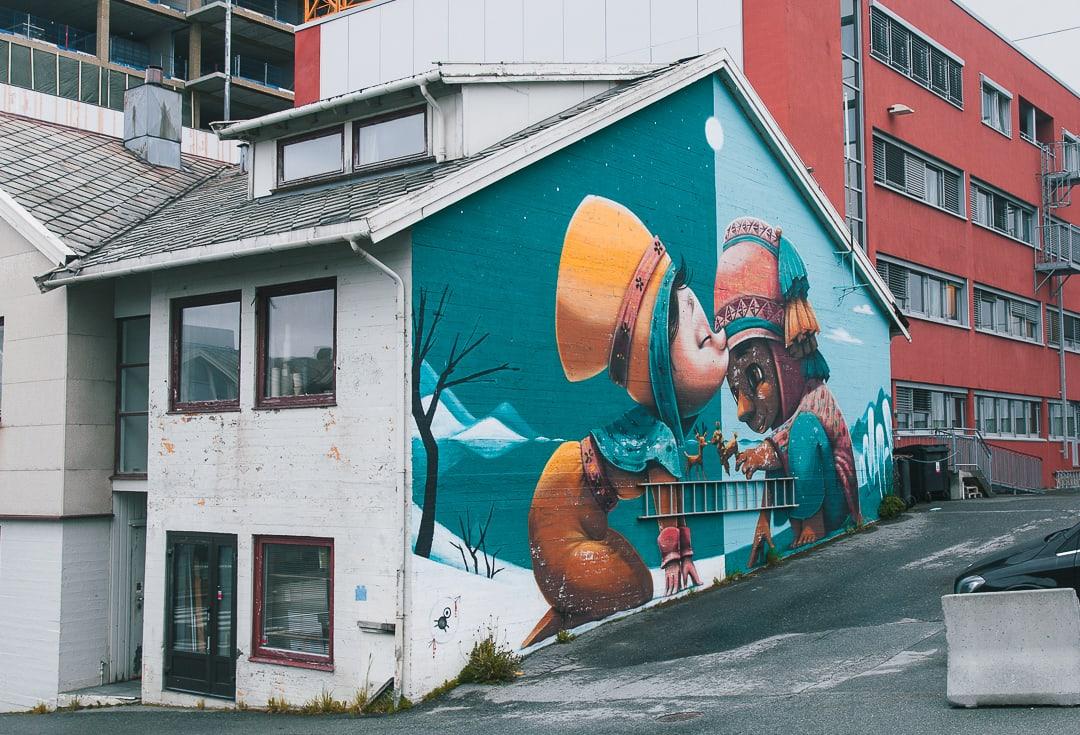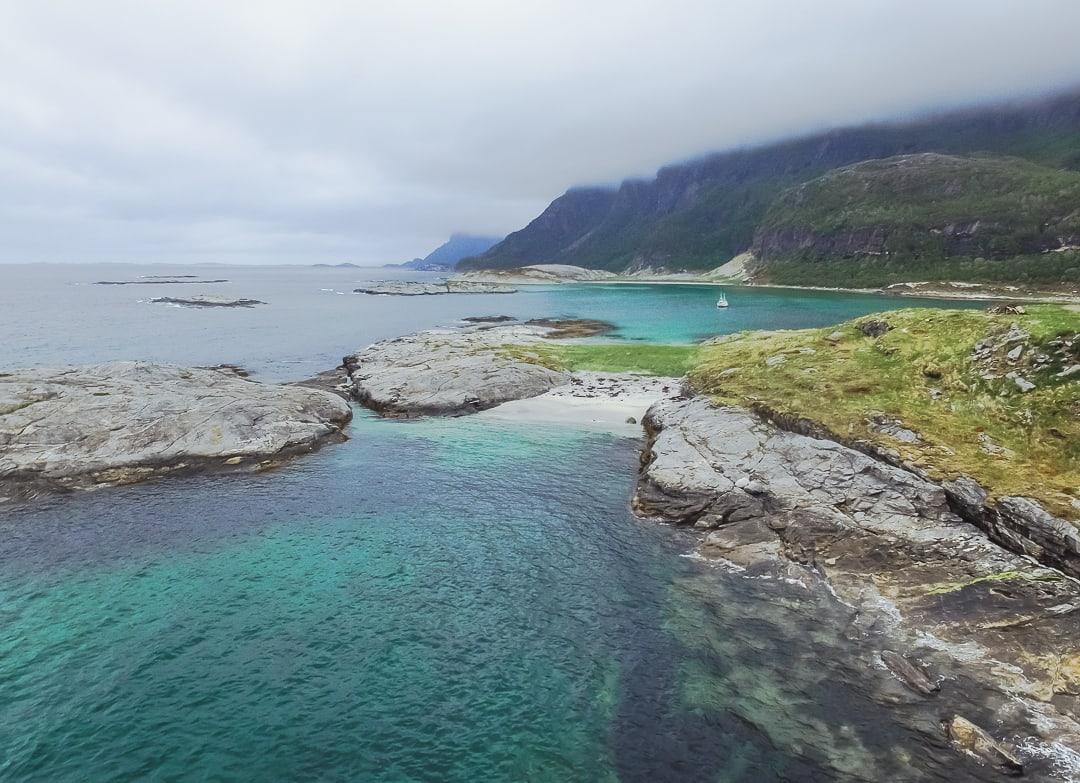 Accommodation in Bodø (two nights):
I stayed at the Thon Hotel Nordlys in the city center, which might just have been my favorite hotel of the trip. The hotel has amazing harbor views, and the breakfast buffet was incredible. Like, chocolate fountain incredible. Check current rates and availability here.
I also spent my last night at Saltstraumen Hotel outside of Bodø, which is a wonderful option if you'd rather be close to the nature – there are lots of hikes in the area! Check current rates and availability here
Day 3: Helgeland coast + Mosjøen
The Helgeland coast (Helgelandkysten) was probably my favorite drive of the trip, which is crazy because it was pouring rain the entire time. I didn't make it down the whole coastline because I was spending the night in Mosjøen, but I'd love to return and finish the drive someday.
I started from Bodø in the morning and didn't make it to Mosjøen until the evening, so it is a long day of driving – but a beautiful one!
You can read my blog post about Helgelandkysten here.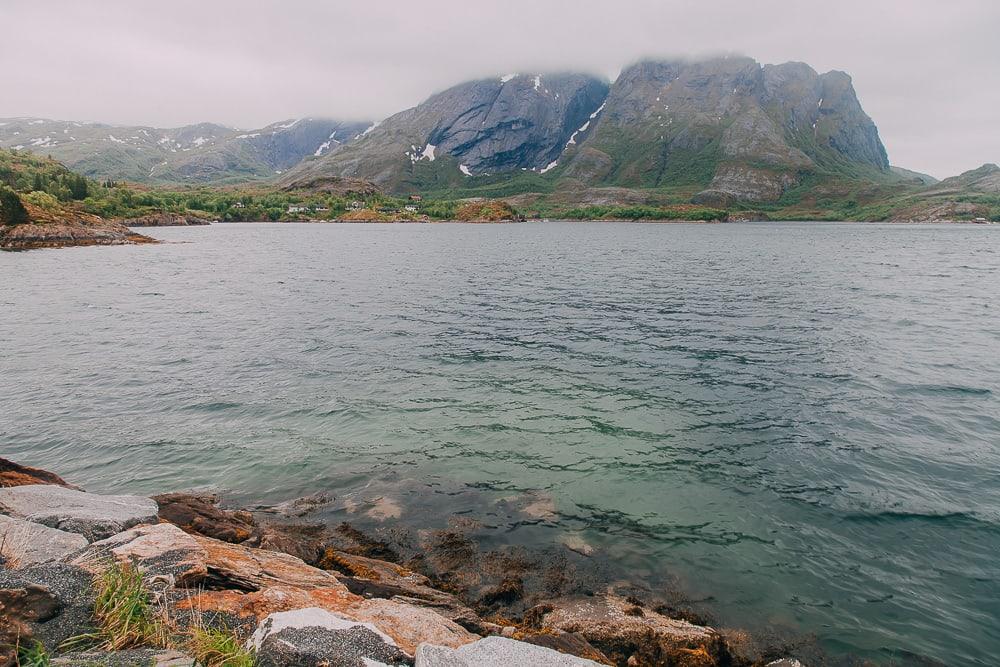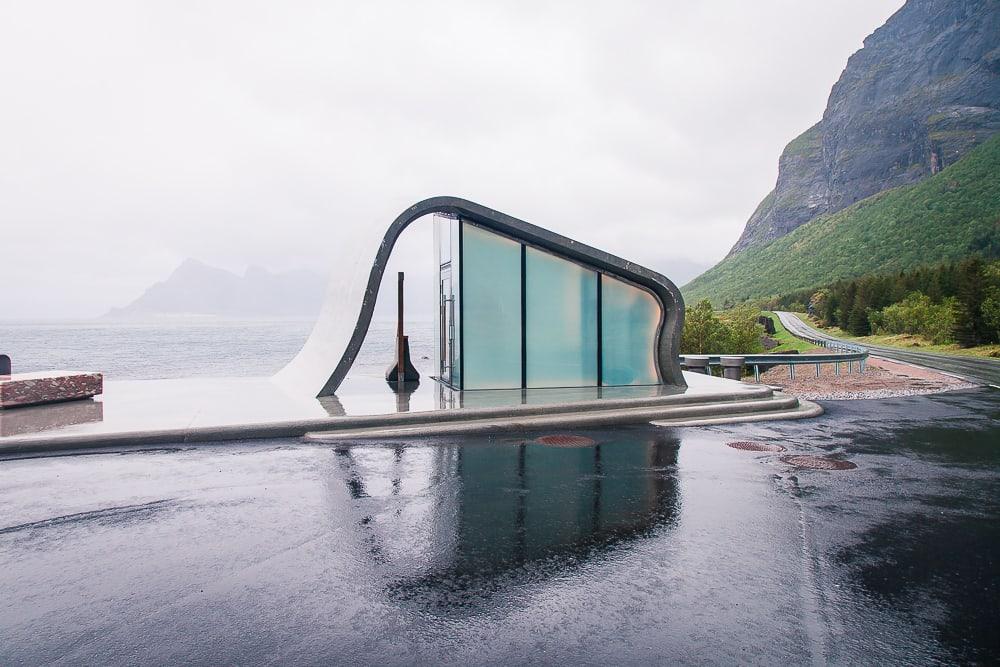 Accommodation in Mosjøen (two nights)
I stayed in one of the historic apartments on Sjøgata, which are self-catering holiday apartments on Mosjøen's most beautiful street. The accommodation is simple but very unique, with 19th century touches throughout the apartment. You can book the apartments here.
But if you'd prefer a bit more luxury, I'd stay at Fru Haugans Hotel, which is also on Sjøgata. Dating back over 200 years, Fru Haugans is actually northern Norway's oldest hotel. Their restaurant Ellen also happens to serve the best food in Mosjøen, so you should check it out even if you don't spend the night here. Check prices and availability here
Day 4: Mosjøen
Mosjøen is a lovely little town in Helgeland, and a day here made for the perfect break after a long day of driving down the Helgeland coast. I mostly just wandered around town, checked out Mosjøen's many cute cafés and restaurants, and explored the surrounding nature a bit with some hiking.
You can read more about things to do in Mosjøen (and why I think you should visit!) here.
In fact I loved this town so much I ended up moving to Mosjøen!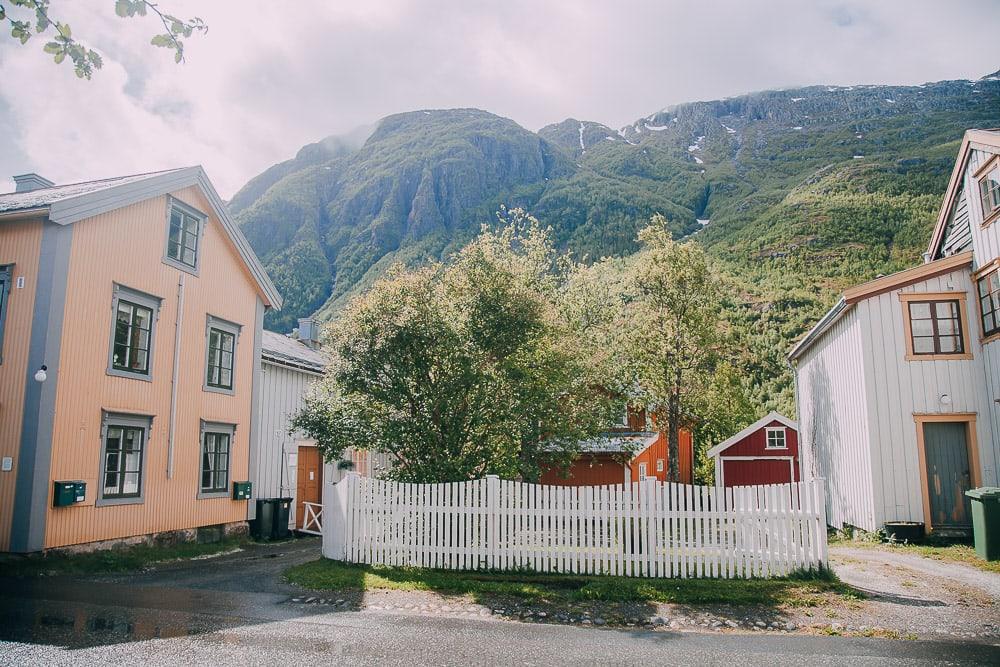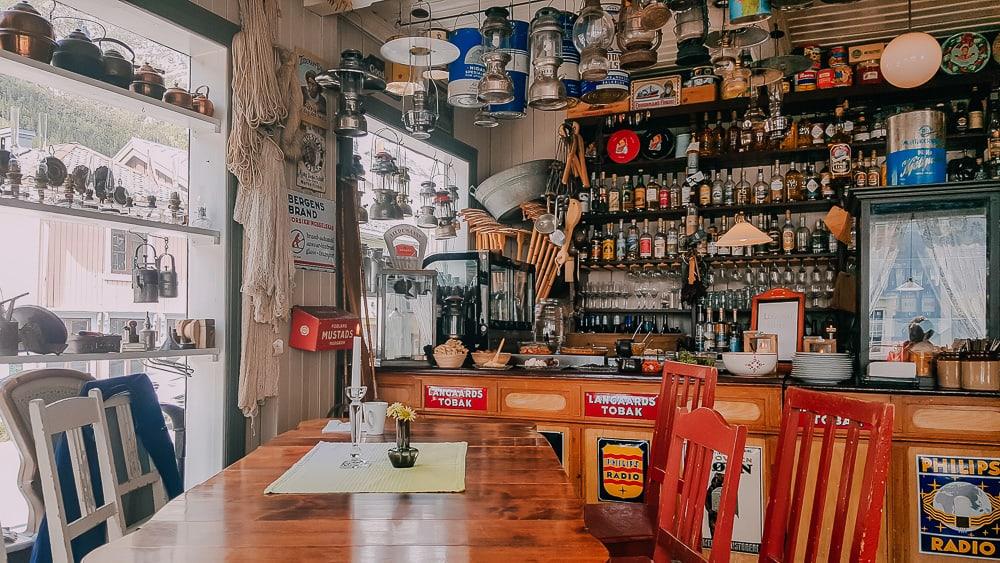 Day 5: Mo i Rana
Mo i Rana is only a little over an hour's drive from Mosjøen, so if you leave in the morning you can have a full day here. Mo i Rana is a cool town in itself, but the main reason I spent a night here was to hike to the nearby Marmorslottet, or the Marble Castle.
This is one of the most unique places I've been in Norway and I had the place entirely to myself. You can read more about my hike to Marmorslottet and time in Mo i Rana here.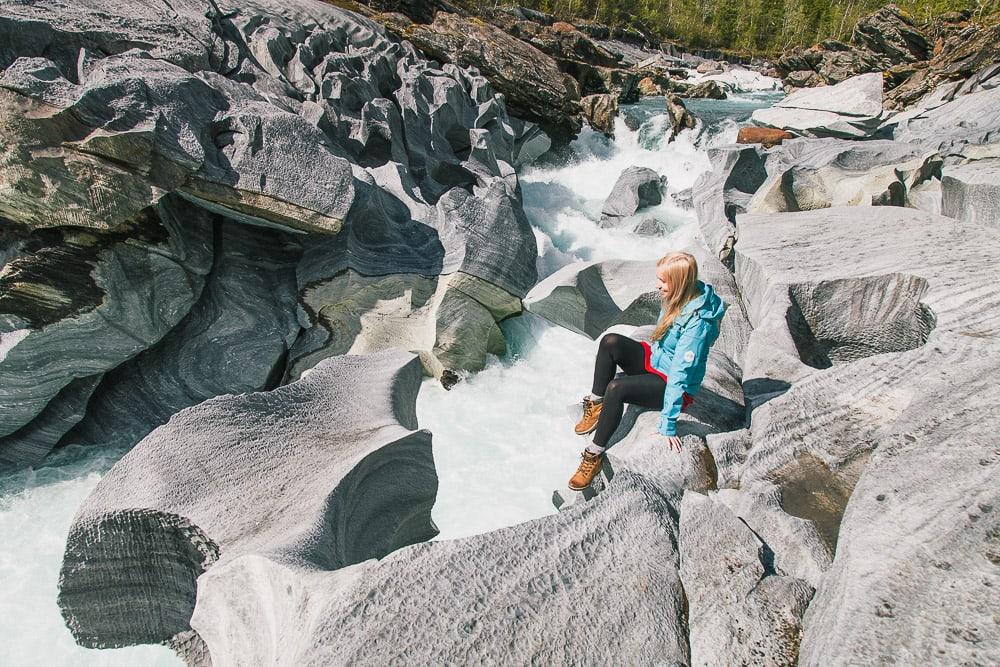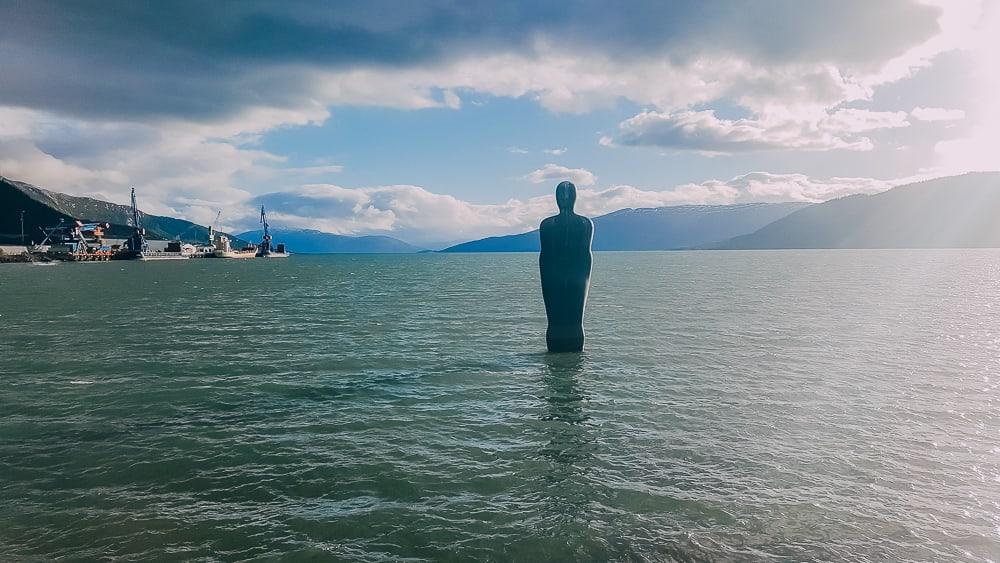 Accommodation in Mo i Rana
I stayed at the Fjordgaarden Hotell Mo i Rana, which is right on the water and near the train station, so super convenient. Check rates and availability here
Days 6 – 7: Narvik
At nearly 7 hours the drive from Mo i Rana to Narvik is one of the longest of the itinerary, but I promise it's a lovely one! Up near Narvik is where the Norwegian landscape really starts to change and become distinctively "northern," so I found the drive really exciting.
I got into Narvik in the evening, so I stayed here two nights so I could explore Narvik the next day.
Highlights for me in Narvik included taking the train over the mountains into Sweden, the cable car up Narvikfjellet, and stopping for cake at the super cosy Astrupgården Cafe in the town center. You can read more about my time in Narvik and what I did there here.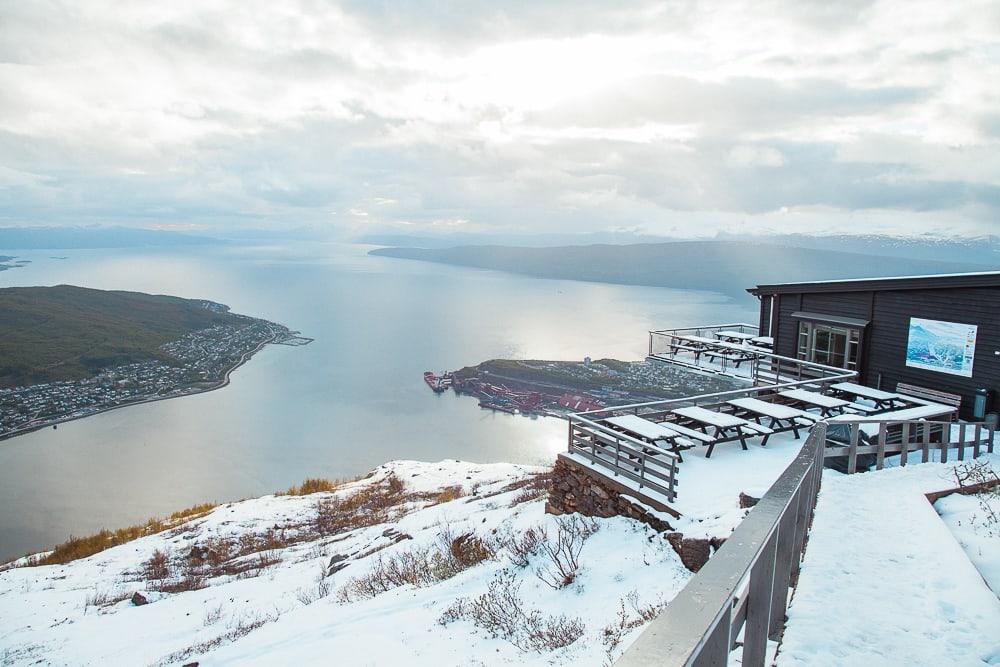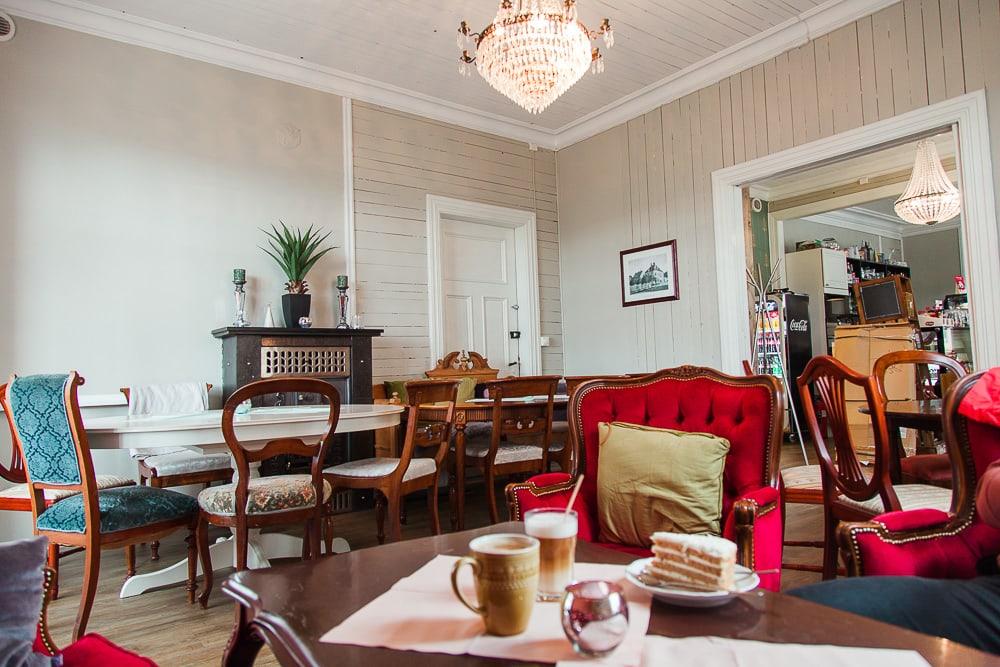 Accommodation in Narvik (two nights)
I stayed at the Quality Hotel Grand Royal, which I think must be the best place to stay in town. It's close to the town center but also on the side with the train station and cable car, and the adjacent restaurant is so good. They have brown cheese ice cream! Check prices and availability here
Days 8 -9: Tromsø
Tromsø is only 3 hours and 40 minutes from Narvik, but I'd actually recommend taking a detour to Kvaløya and Sommarøy on your way. There are so many picturesque villages here, and the beaches on Sommarøy must be the nicest in all of Norway. Seriously though!
And I think it's best to do this detour before going into Tromsø so that you can just leave your car in a parking garage for the rest of your time in the city.
You can read more about what I did in and around Tromsø here.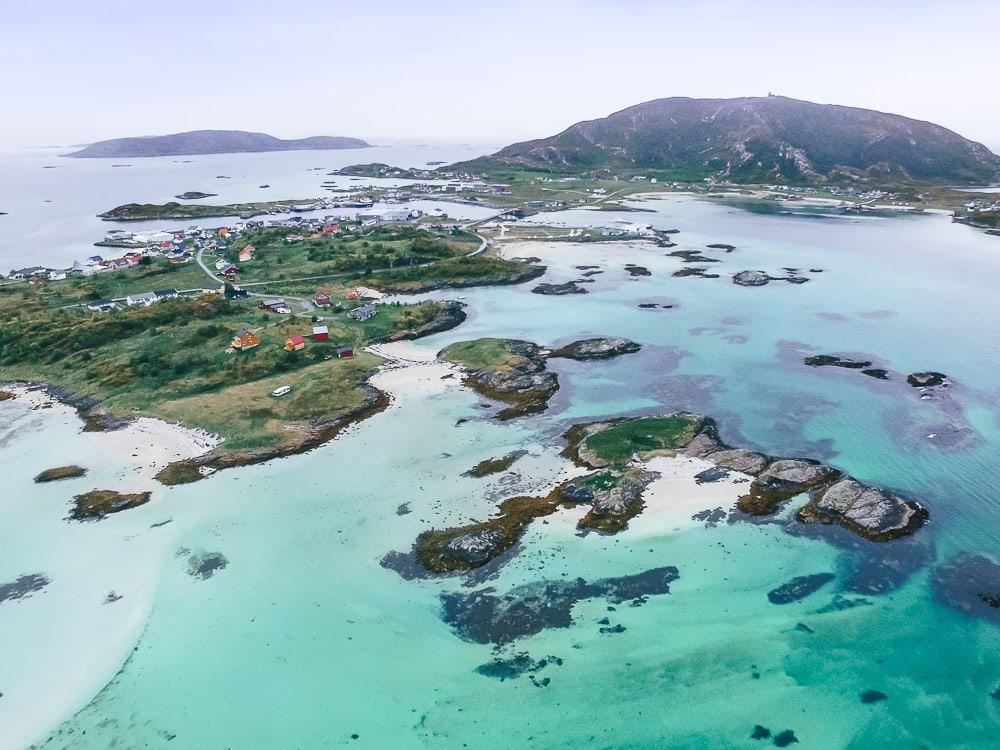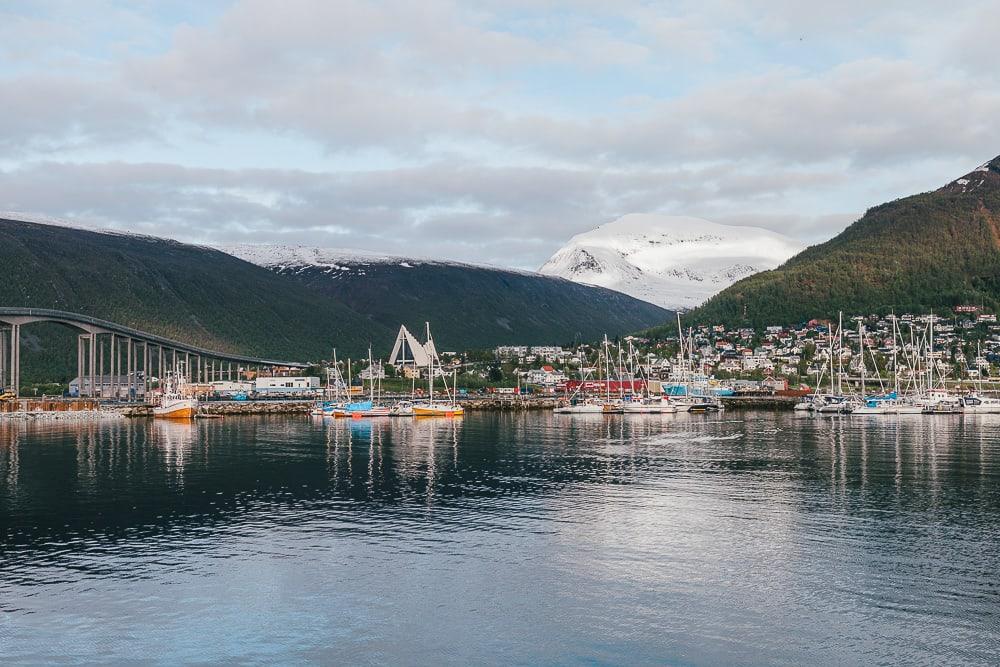 Accommodation in Tromsø
I stayed at the Thon Hotel Polar and I absolutely loved it. I'm always raving about the breakfast buffets at Thon hotels in Norway, and this one lived up to all my expectations. Plus the staff were really nice and the hotel is right in the city center so I could walk everywhere.  Check current rates and availability here
Day 10: Lyngen Alps
The Lyngen Alps are less than two hours from Tromsø, so you definitely need to come here if you're in Tromsø.
In fact I think Lyngen might have been my favorite place I visited. Wait, did I already say that about Helgeland? Well, I really, really liked it. The Lyngen Alps are so beautiful, and staying in a glass igloo at Lyngen North was definitely a trip highlight.
I could go on and on about how much I loved Lyngen, but it turns out I've already done that, so go over to this post to read more about our time exploring the Lyngen Alps.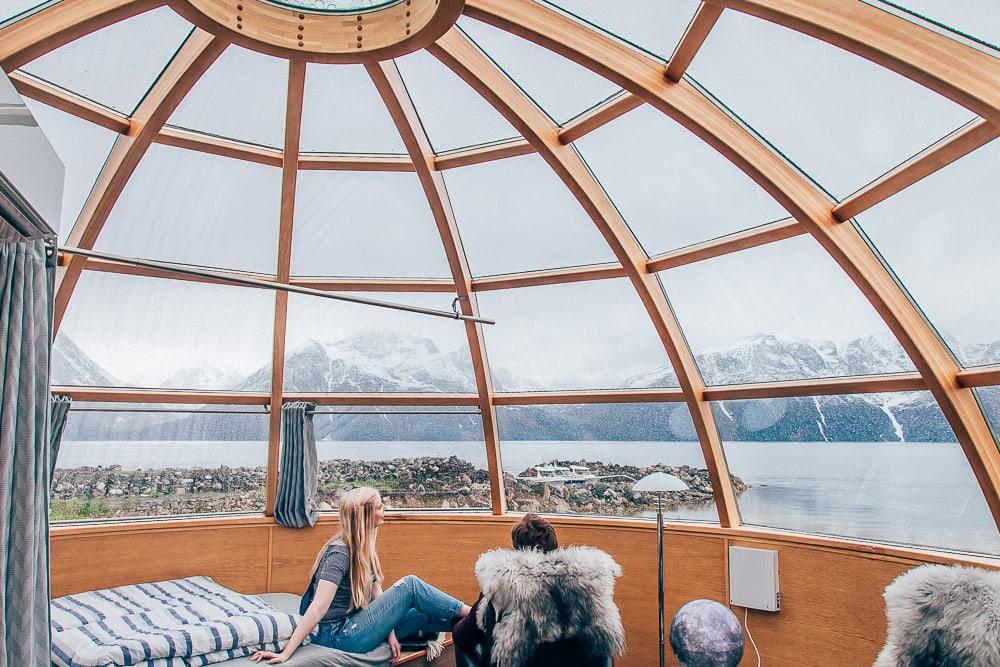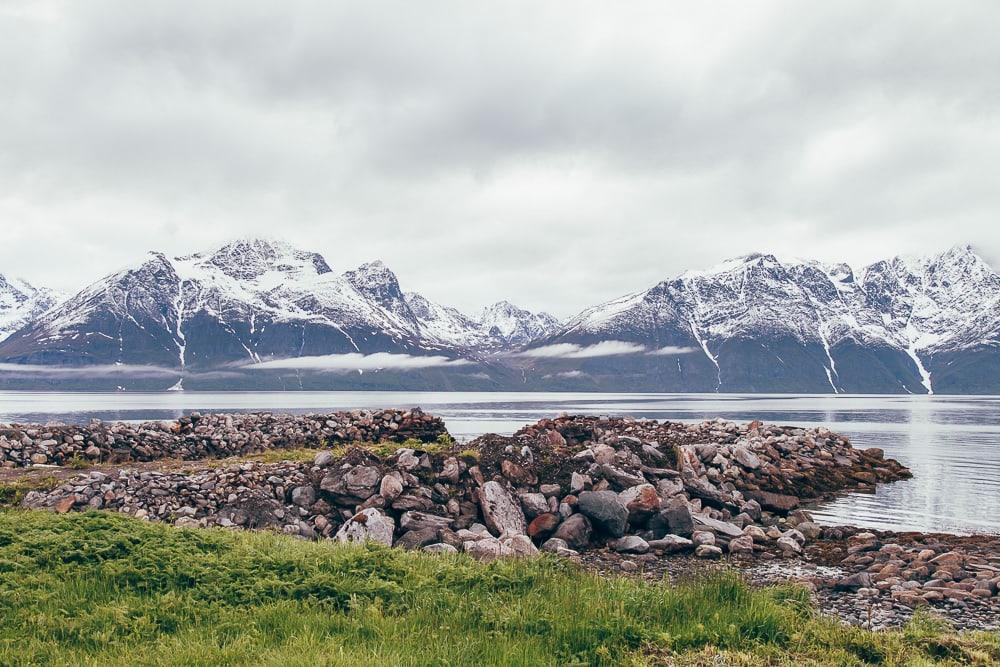 Accommodation in Lyngen
If you come to Lyngen you definitely need to stay in a glass igloo at Lyngen North. The property is beautiful and so peaceful, it's run by the nicest guy, and you'll be perfectly situated to see the midnight sun in the summer and northern lights in the winter. Just be sure to book early, because there are only two igloos and a couple of cabins here – it's not one of those big (and crowded) northern lights resorts. You can check prices and availability for Lyngen North here.
Day 11: Alta
The drive from Lyngen North to Alta takes under three hours so again, if you leave early you can have pretty much a full day in Alta.
This is the northernmost point we went to, but if you have an extra couple of days you should definitely try to make it all the way up to the North Cape! It's another 3.5 hours from Alta, and I was surprised by how hard I found it to turn around and head back to Bodø instead of continuing north.
But I'm glad I at least made it to Alta! Alta feels really arctic, and there are tons of outdoor activities here both in the summer and winter. You can read more about what I did in Alta here.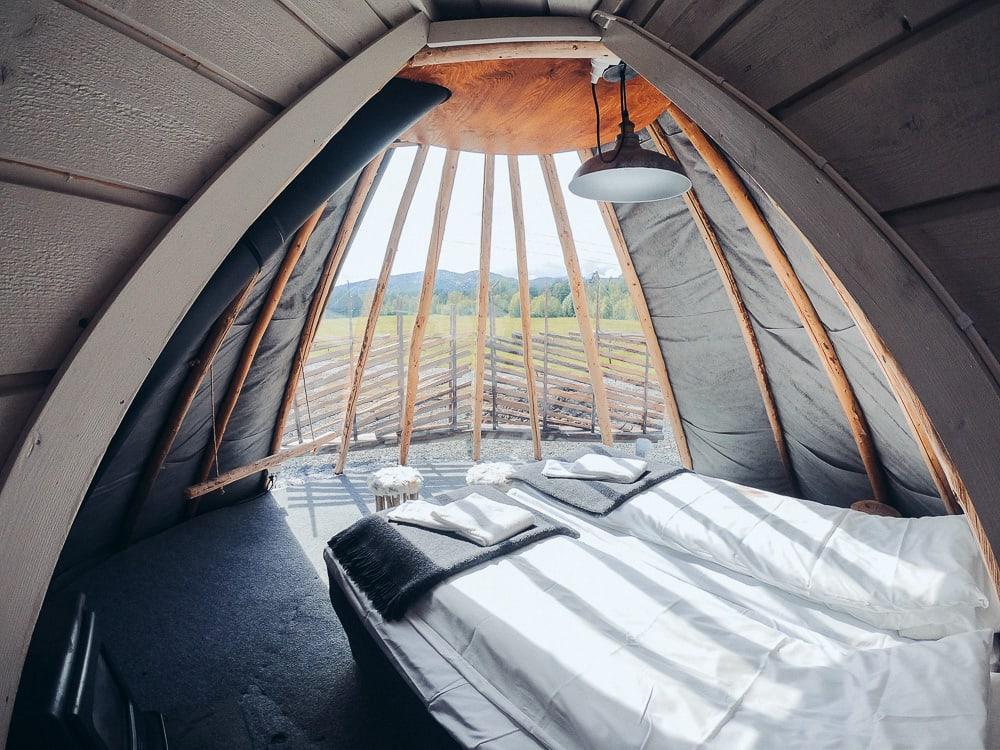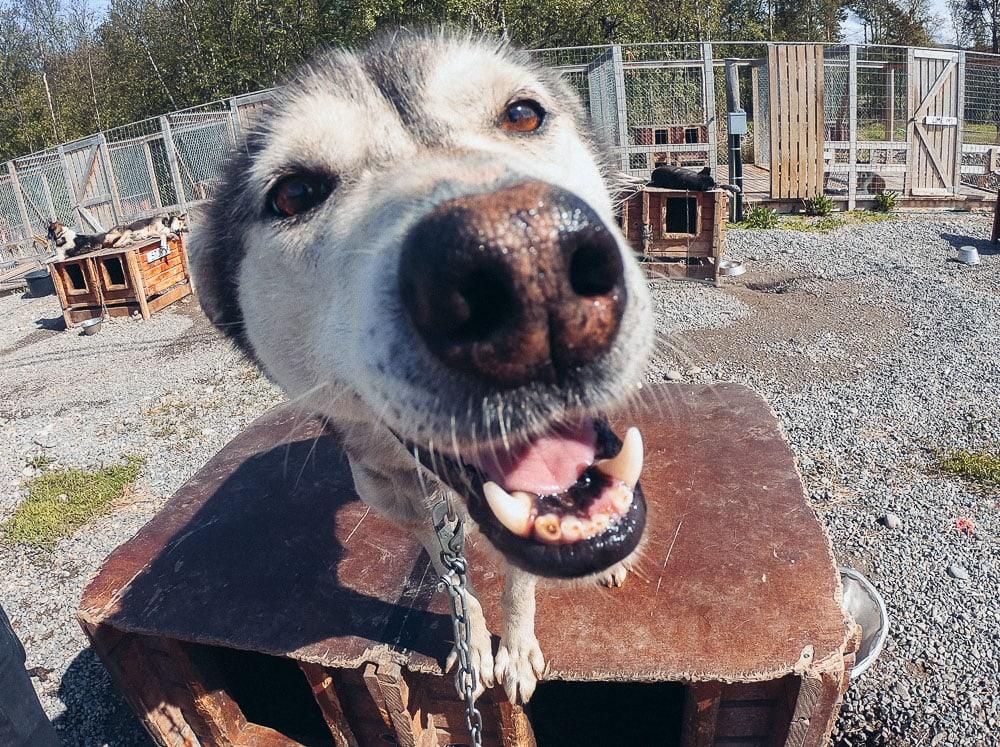 Accommodation in Alta
The highlight for me in Alta was definitely staying at Holmen Husky Lodge and getting to play with all the husky puppies! The accommodation is in super cosy lavvus and I imagine it would be even more magical here in the winter. Check prices and availability here. 
Day 12: Drive halfway back to Bodø
If you want to pay extra you could probably drop your rental car off in Tromsø or even Alta, but I opted to forego the hefty fee and return my rental car where I picked it up in Bodø. So that meant a lot of driving on my final two days.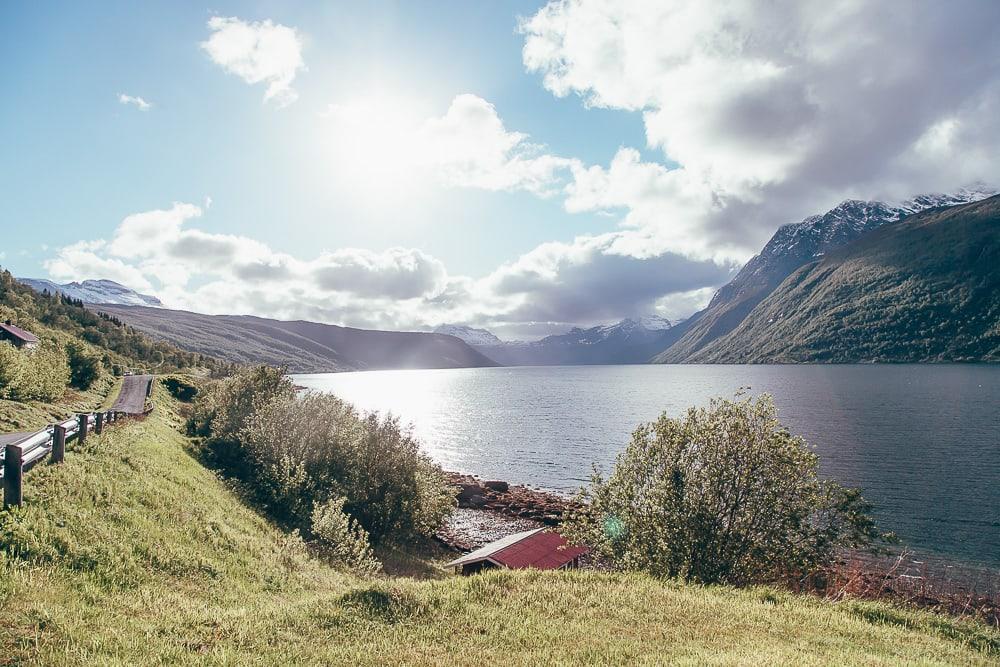 Accommodation in Tennevoll
I spent the night at Fjellkysten Gjestehus, which is on the RV84, just a short detour off of E6. This was about a seven hour drive from Alta, which I extended a bit by making a few stops along the way.
The hotel itself is in a lovely, quiet location and it made for the perfect stopover on our way back to Bodø. I also ate dinner here and the moose was delicious! Check prices and availability here
Day 13: Lofoten
In order to avoid driving down the same route I took up from Bodø, I decided to drive back down through Lofoten instead and take the ferry across to Bodø. Because who doesn't need an excuse to take a detour through the lovely Lofoten Islands?
My time here was super rushed because I wanted to get to Bodø early because I was catching a very early morning flight the next day, but if you have more time you could also spend the night here.
Of course Lofoten is such a beautiful place that it really deserves more than one day, but if you don't have time to extend your itinerary you can actually see a whole lot just on the drive south to the ferry port. You can see photos of my day trip through Lofoten here.
And if you do have more time, spend a few days in Lofoten! You can read my guide to planning an epic Lofoten trip, including where to stay if you do spend the night here.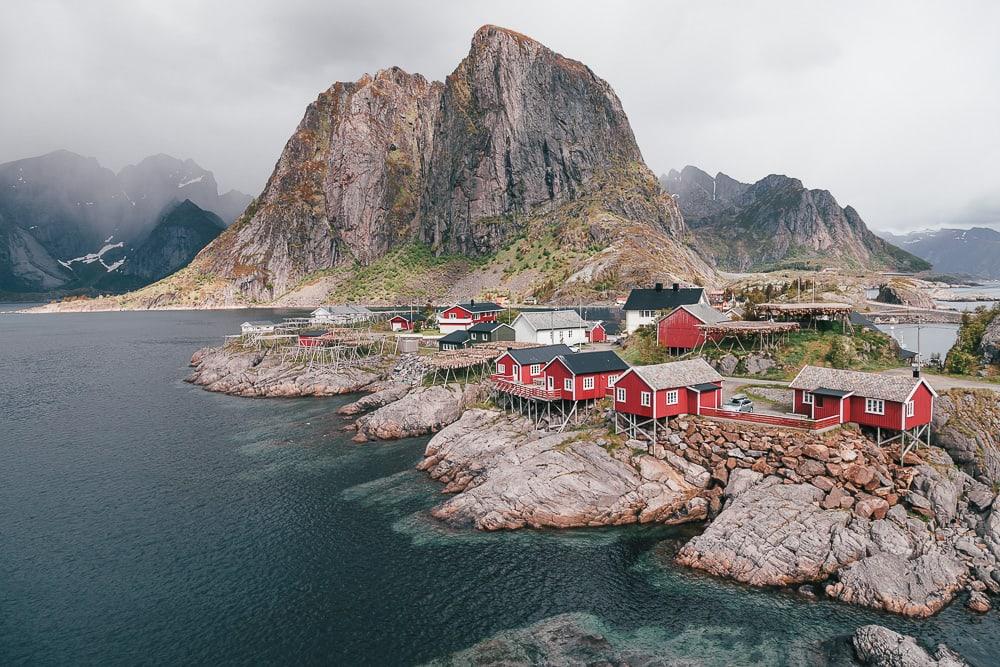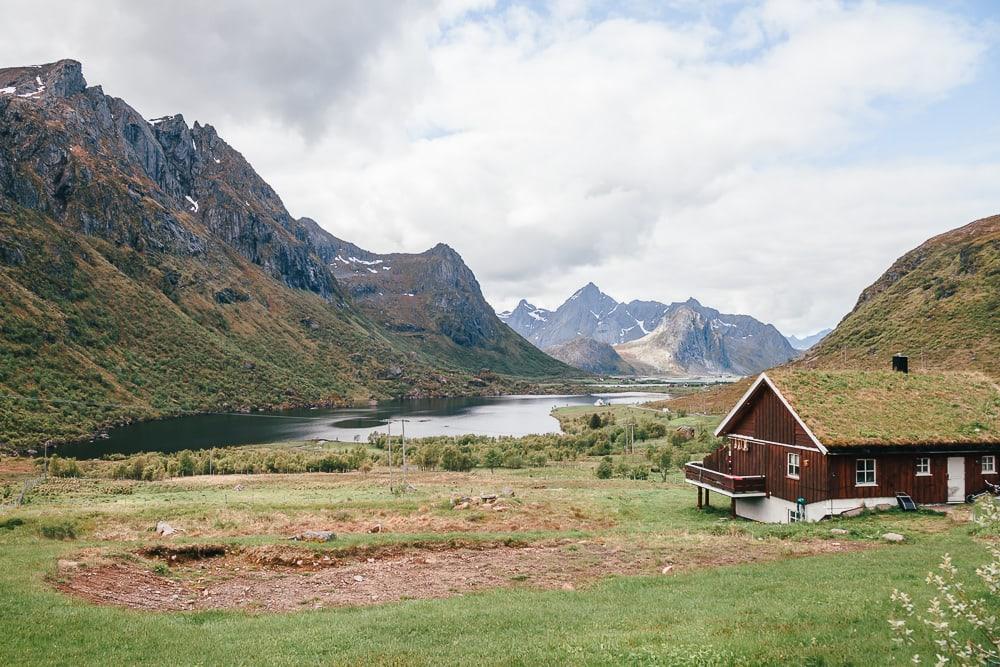 Day 14: Bodø
Depending on whether you chose to spend the previous night in Lofoten or not, you can either get the ferry back to Bodø today, explore the city, or head to the airport/train station for your journey home!
I organized this trip in collaboration with Northern Norway.