The last time I visited Tromsø I was, I don't know, like six years old? My only two memories are of listening to builders working outside my family's hotel room at 4 am in the bright sunlight and watching the midnight sun not quite set over a beach. Come to think of it, I'm pretty sure the second memory must have been from the North Cape, so I guess my only memory of Tromsø is from that hotel.
Isn't it strange the things we end up remembering? Like, I'm pretty sure out of all the things we experienced in Tromsø together my parents weren't like this, this is the stuff of memories. Silvia will never forget this hotel room!
Which is all to say, I was very intrigued to spend a couple of days in Tromsø again and experience everything the city has to offer you know, beyond the hotel rooms.
It turns out Tromsø has loads more to offer! In fact there were several aspects of Tromsø I ended up falling in love with (and a couple I didn't).
To help plan my trip to Tromsø I used this in depth Tromsø guide, written by my friend Vanessa who used to live there. It includes tips for places to stay, places to eat, and places to see in Tromsø, itineraries, and special tips for the budget traveller, the Northern Lights hunter and families. You can buy the ebook here.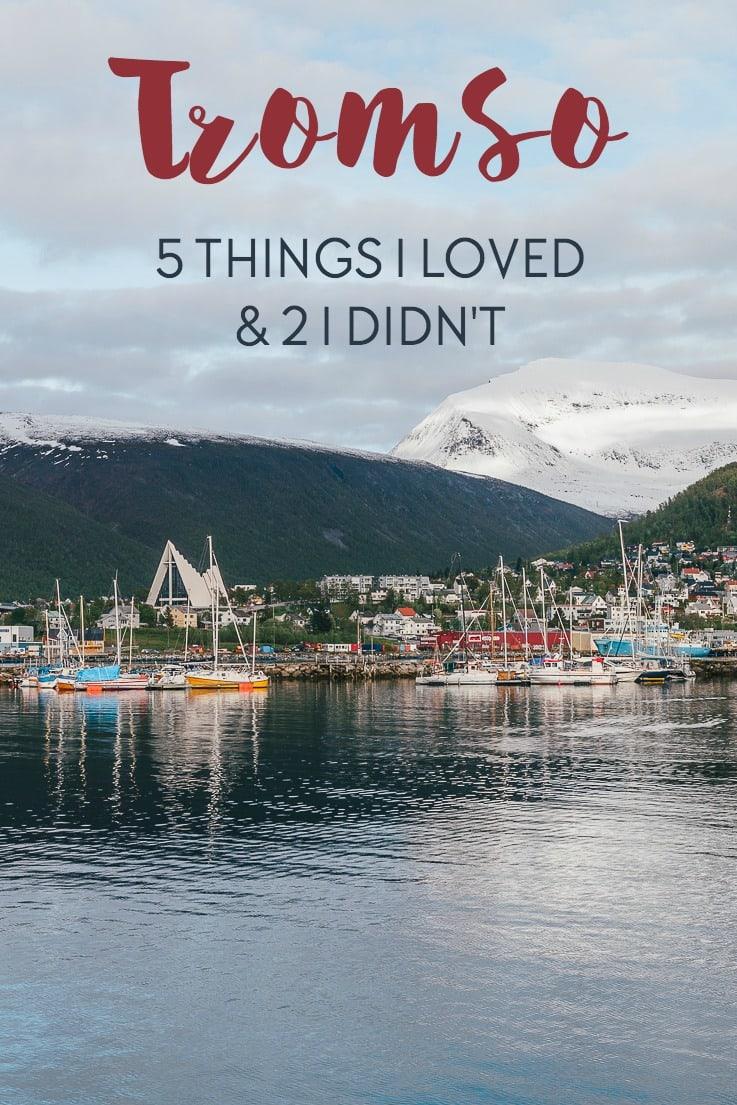 Loved: The food
I'm not the biggest foodie – I tend to find any and all food super delicious. Or wait, does that mean I am a big foodie? What I mean to say is, I usually don't write much about food in my blog posts because I will rave about just about anything I eat, even if it's objectively actually kind of gross. So I'm probably not the best person to be offering restaurant tips.
But I just had to mention the food in Tromsø because everything I ate there was so good. And I'm pretty sure you would agree (Dan did!). From our hotel breakfast (more on that later) to cafe nibbles to a couple of seriously yummy meals, Tromsø fed us well.
My two favorite places I ate were Burgr and Huken BRYGG. We went to Burgr on a recommendation from Vanessa's Tromsø guidebook and because Dan had read that it's full of retro video game memorabilia. I had the falafel burger with chips and kimchi on the side and it was super delicious. And while Huken BRYGG looked a bit trendy for us from the outside, the food was amazing (probably the best we had on our trip) and the atmosphere really cosy.
I don't have any photos of the restaurants, so instead here are some from the city ski jumps. I seriously can't believe people actually jump off of these! This is how I know I'm only half Norwegian.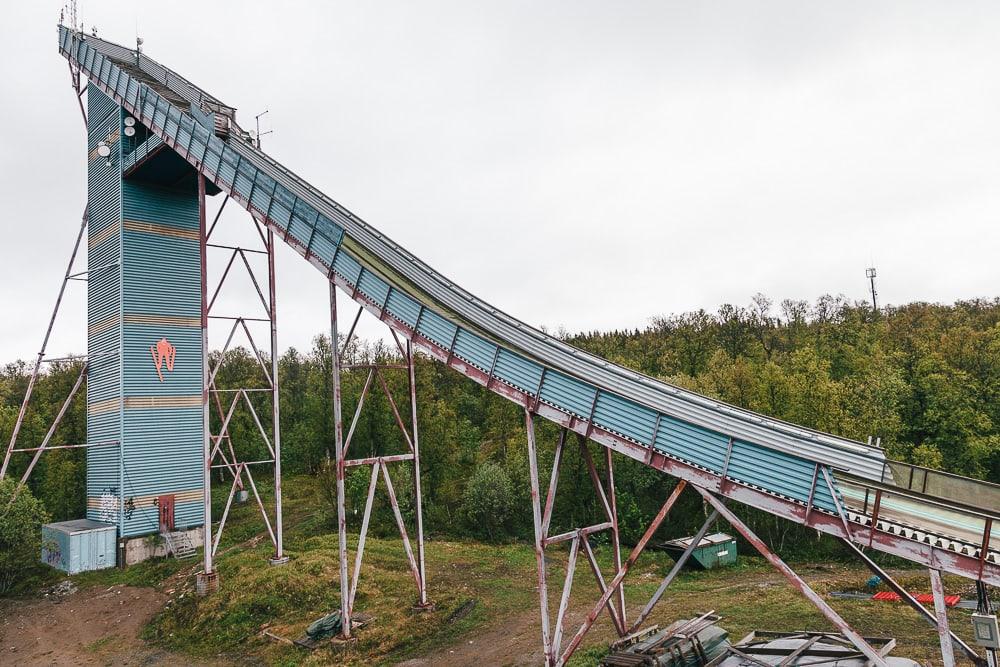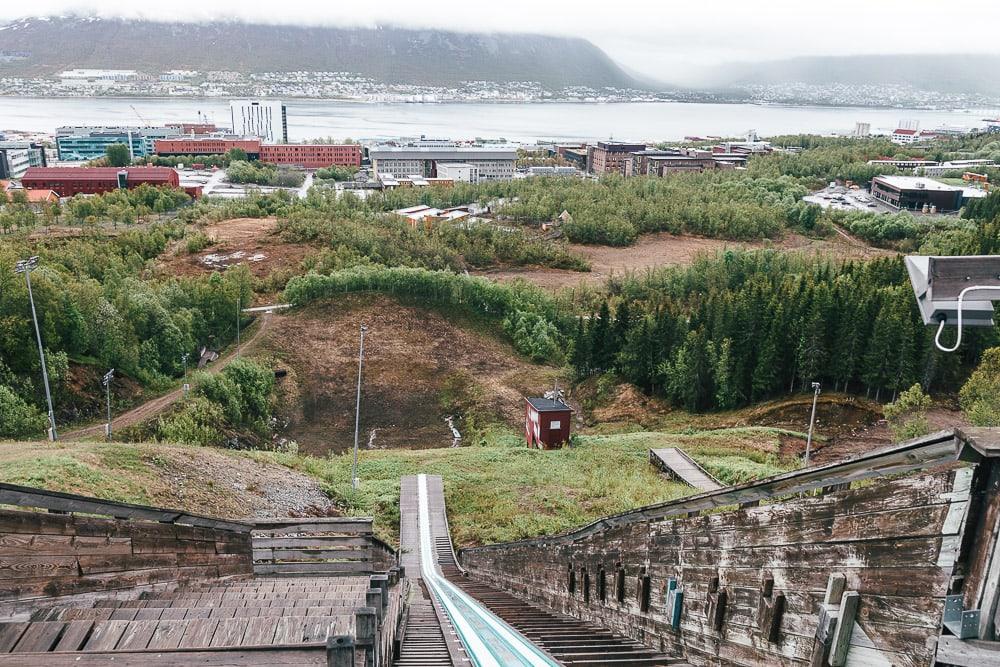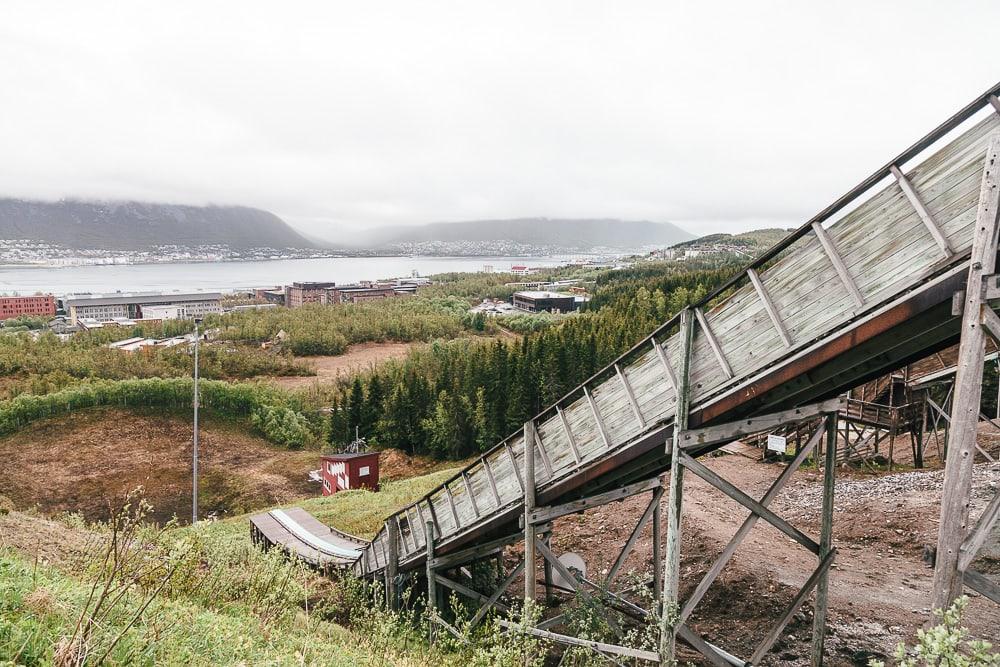 Loved: The surrounding nature
I can't get over the landscape in Northern Norway. The mountains are more rugged than in the south and even in June their peaks were covered in snow. And of all the landscape I saw, that surrounding Tromsø was some of the most beautiful.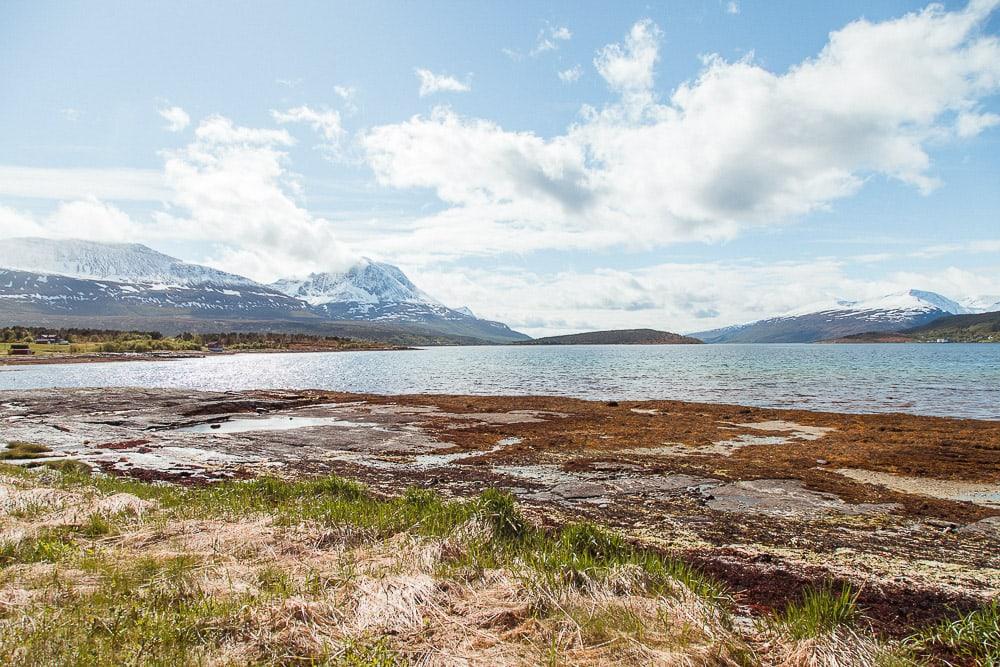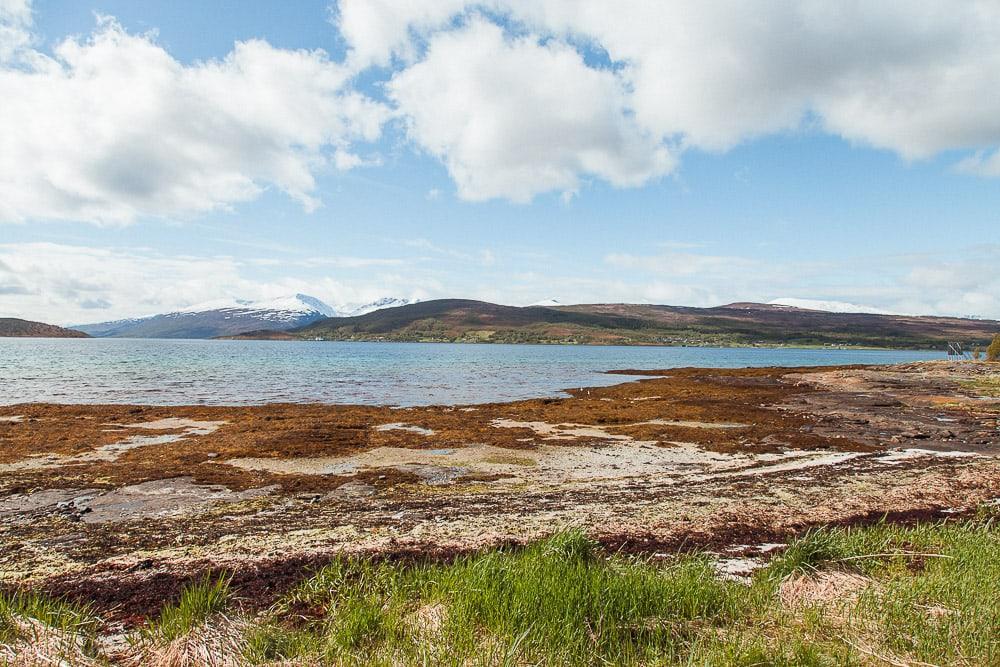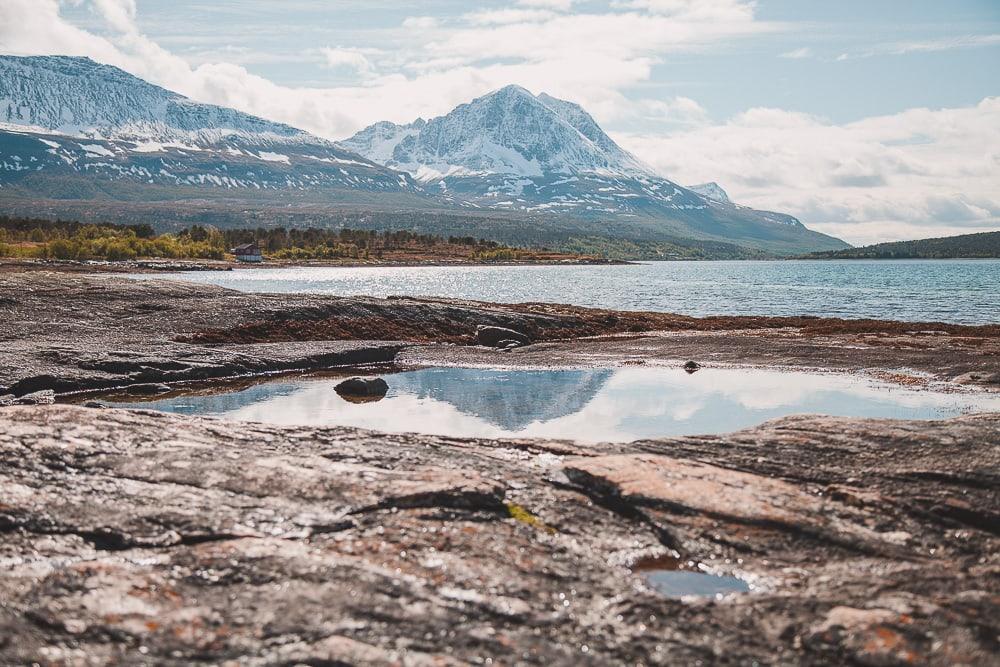 There are also so many lovely little villages close by Tromsø. We stopped in Ersfjordbotn as they were having a little festival and as we sat on the edge of the water with a coffee at Bryggejentene it was hard to believe we were so close to the city.
Didn't love: The weather
So we had a lovely time in Tromsø, but ugh I wish the weather had been better! I mean, that's not Tromsø's fault, and in fact the only reason I was sad about the rain and clouds was that when we first drove into the city the skies were actually clear.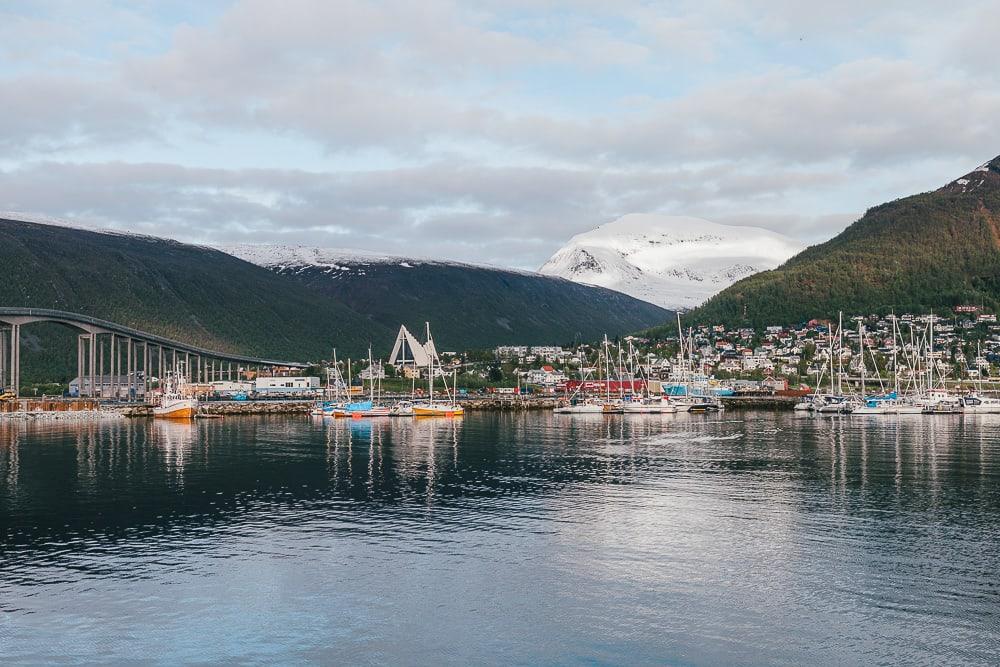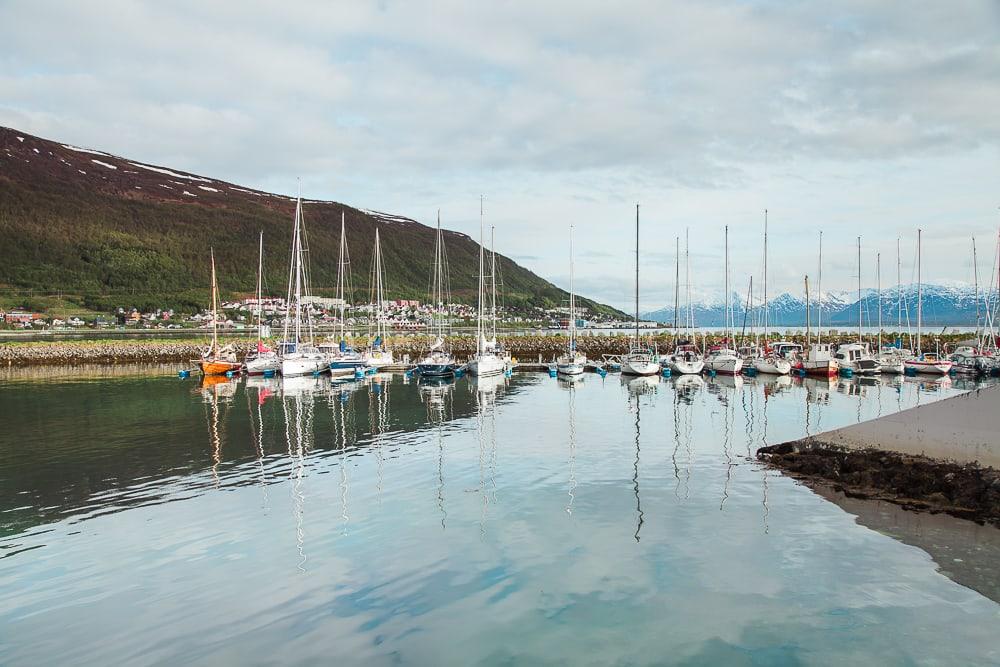 You see, Tromsø is surrounded by spectacular mountains making for some seriously incredible views, but when it's cloudy they all disappear! So basically when I arrived in Tromsø I was all whaat this place is magical! but then a few hours later the magic faded into a gray backdrop. So sad.
Loved: Sommarøy
Maybe the rainy weather wasn't such a bad thing after all, as even on a cloudy day Sommarøy looked like paradise.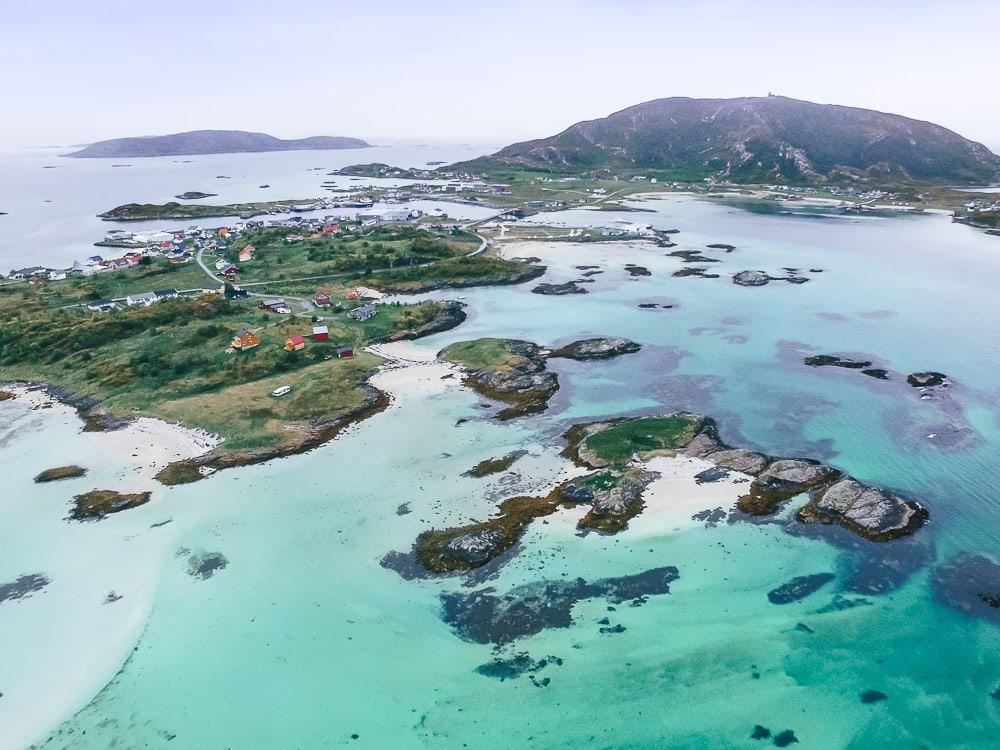 Sommarøy is about an hour's drive from Tromsø, but I can assure you it is well worth the detour! The beaches have the most turquoise water I've seen in Norway and it was so quiet and peaceful there.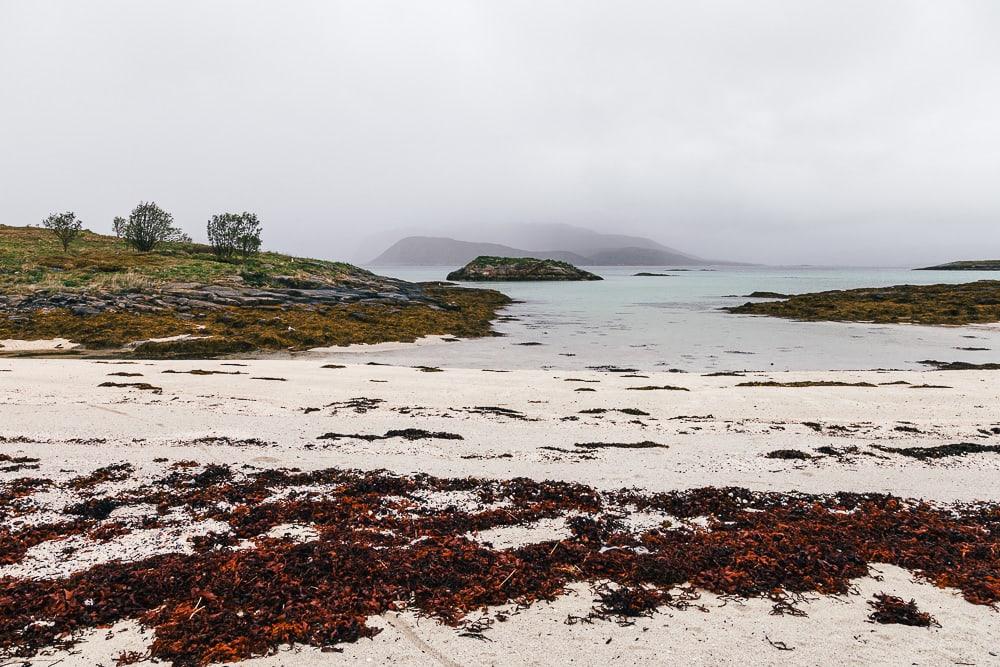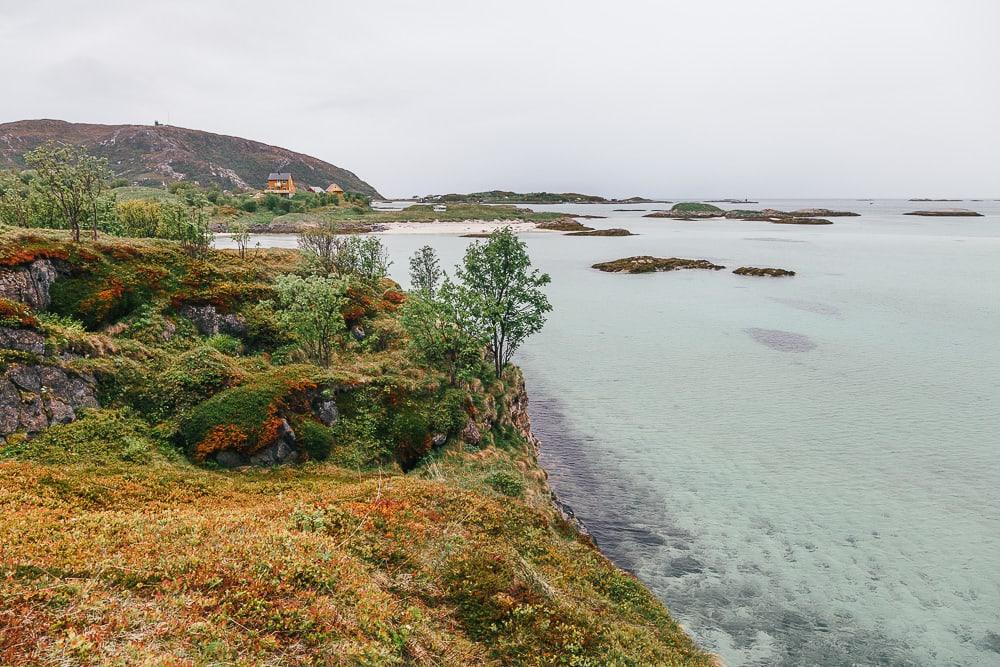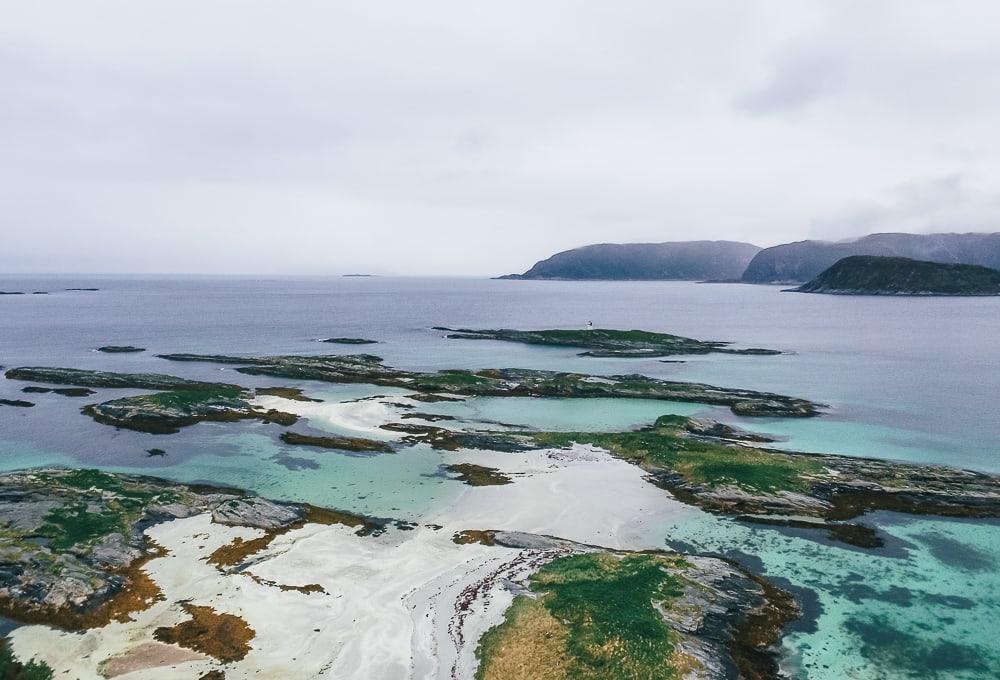 Loved: The hotel
It turns out that my hotel was memorable this time around as well!
We stayed at the Thon Hotel Polar and I feel like I have to mention it because it was one of my favorite stays of our two weeks in Northern Norway. Our room was spacious and bright, and the receptionist (who mysteriously always seemed to be there, day and night) was so incredibly sweet and helpful. And you may have already heard me rave about the breakfast buffets at Thon hotels before on my blog, and the breakfast at Thon Polar was no exception. Thon really does do the best hotel breakfast.
The hotel is right in the city center, within just a few minutes walking of most of the places we wanted to see. Just be aware that they don't have their own parking, but there's a parking garage about 50 meters from the hotel (I think we paid around 200 kroner a day). Check current rates and availability here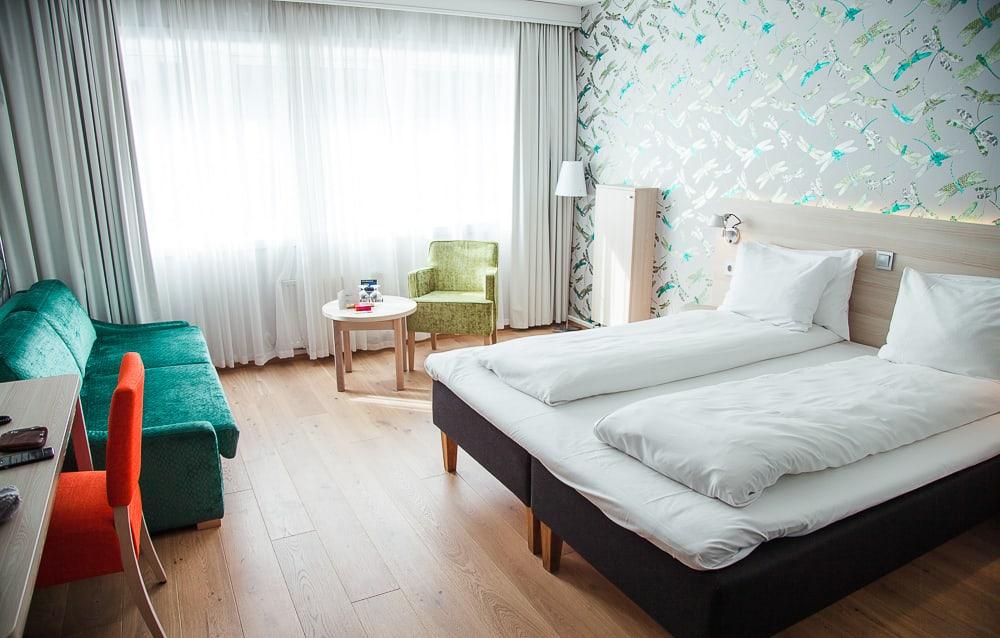 Loved: It's multicultural
I think Tromsø is the only place I've been in Norway where I've heard more English than Norwegian. It was crazy! Dan kept getting disheartened when people would answer his Norwegian questions in English, only to realize that they didn't actually speak Norwegian. None of the waiters anywhere we ate were Norwegian.
I don't know if that's just a summer thing or a Tromsø thing, but it made for a really fun vibe in the city. And if you're visiting and don't speak any Norwegian you can rest assured that that won't be a problem here at all!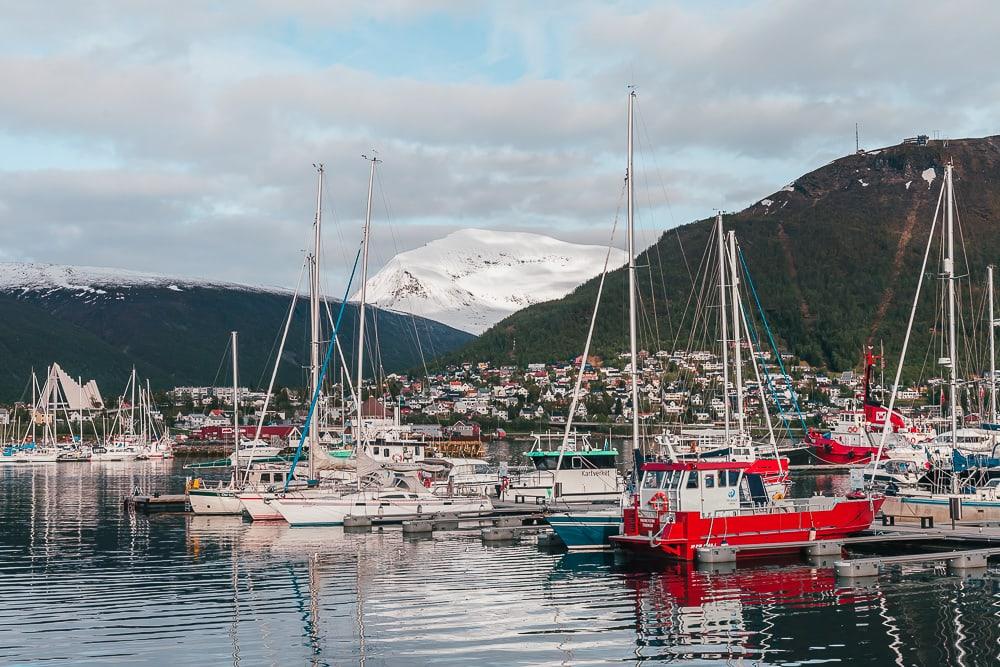 Didn't love: The crowds
Okay this is a bit embarrassing, but on our last night in Tromsø before going to bed Dan and I were talking about all the things we loved about Tromsø and then at the end I said, "but it will be nice to get away from the noise and traffic when we leave," and Dan nodded.
Guys, Tromsø has a population of under 80,000. Tromsø is not a big city, but Dan and I both found it kind of overwhelming! We both grew up in much larger cities – I mean, Dan grew up in the center of London – but maybe living in the mountains has turned us into country bumpkins?
Though I do still love other big cities around the world. I think more so I'm just drawn more to the countryside in Norway. At any rate, if you love cities you will love Tromsø, and if you live in the middle of nowhere and are used to seeing the same few hundred faces you might find Tromsø a bit much, haha.
Fun fact: when I was writing about my visits to Mo i Rana and Narvik I kept referring to both of them as cities and had to go back and change both articles when I read that they're actually both towns (what??). Luckily for my sanity our next stop would take us into the mountains – stay tuned!