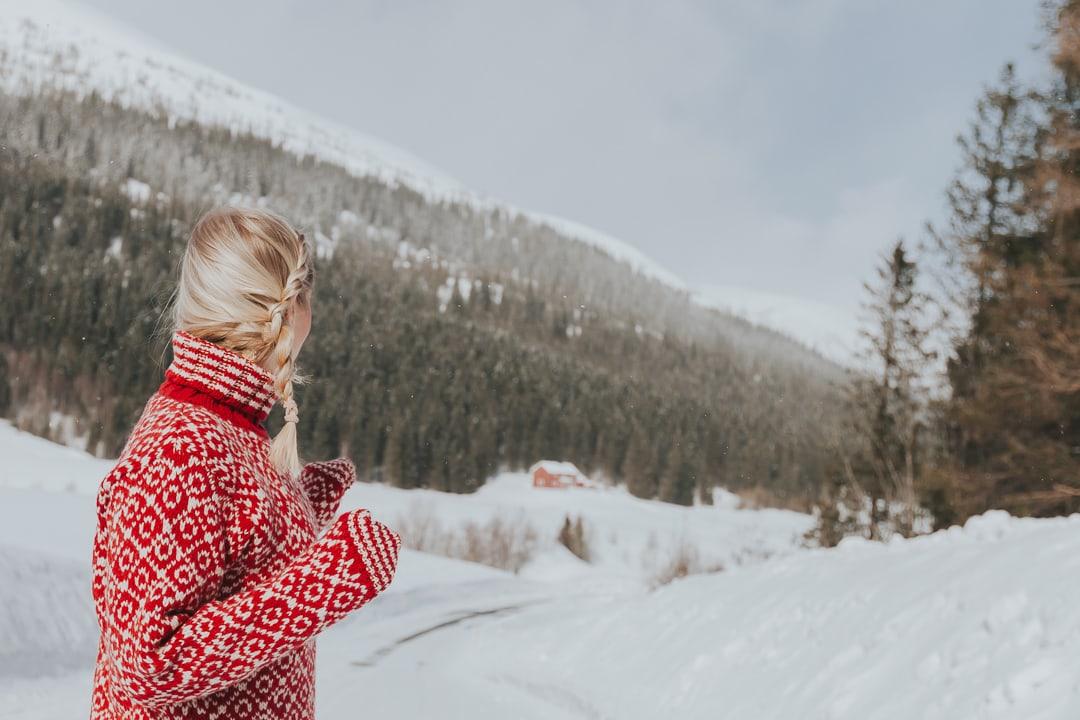 While I know I'm in a very lucky position here in Norway, this period of isolation has been hard. Over the weekend I video chatted with two of my friends in the US, and after discussing one's wedding plans and watching the other's baby crawl all over her I had to abruptly hang up and run to my bedroom for a cry.
And I cried and cried. It was one of those cries where for the first ten minutes I felt really bad for myself, but then eventually I wasn't even sure what I was crying about, and by the end I felt downright pious because I was crying for the WORLD, that's how much I care. Or something like that – I'm still not entirely sure.
I know what you're thinking: yes, this is exactly what we need to turn our attention to right now! A travel blogger crying into her duvet over being stuck at home.
But guys it's okay for me to cry about it, because haven't you heard?  Everyone on social media keeps saying that yes, others have it worse, but your feelings are valid. It's okay to feel stressed and unproductive even if the virus isn't affecting you personally yet, because your feelings are valid. It's okay guys, OUR FEELINGS ARE VALID.
That's what I told myself as I wiped the tears from my cheeks, to which I responded, but what even are my feelings? 
I've certainly experienced a wide range of emotions over the past several weeks, and yet I'm not sure I have an answer to that question.
I've seen a lot of travel businesses publicly despair over their vanished incomes. No, this isn't a great time to be in the travel industry. But luckily as a blogger I continue to make money as long as people continue to read – thank you for that!
So no, I wasn't crying over money, and for that I am so grateful. 
Living alone is beginning to take a toll – I literally have not touched another human in a month. And watching my friend talk to her fiancé in the background of our chat and my other friend cuddle with her baby while her husband sat at her feet was a brutal reminder that my loneliness right now is my own fault. If I had made different choices in my life, I too could be spending this isolation period with the person or people I love most in the world.
But instead I chose to spend my twenties traveling the world, scattering bits of my heart across the globe. Was that a mistake? 
Oh what I would give to have all those pieces back together here in my apartment right now.
I cried as I thought about how my current misery is my own doing. And then I cried even more as I wondered why I keep choosing travel, when I know deep down that I too want that warm, loving home life.
Which made me ask myself again, why was I crying? Was it because I felt lonely and stressed, or was I also missing travel?
To be honest, I don't really mind not being able to travel right now. There are obviously much larger problems in the world to worry about. But, while I'm not mourning the loss of my travel plans per se, I do think I am upset about what my life looks like without travel.
And that makes me wonder if maybe my love of travel wasn't about the destinations, but instead about getting to spend time away from home. Was it all just an escape?
I've written before about how my years as a backpacker totally shifted my life goals. I tossed aside the resume I so carefully had been building with pretentious elite schools and internships and jobs that looked good on paper but I secretly hated. I learned to backpack on a few dollars a day and ignore raised eyebrows when people asked what I was doing with my life.
Even now I've become a pro at smiling politely when someone asks me if I actually make enough money to live off of with my travel blog. Do I care that they don't recognize the amount of hard work and skill that has gone into building this (actually quite successful!) business? No!
Okay fine, it might be nice if someone responded with admiration instead of skepticism.
And while I tell myself that I'm happy forging my own path, when I look around at all of my neighbors who have lived here their entire lives and are surrounded by family, I can feel that growing fear in the pit of my stomach that there actually were rules for how to live this life, and I didn't follow them properly. And that's when I would grab my car keys and drive to Finland.
I've never felt brave for setting off for faraway places. In fact I always feel secretly guilty when people suggest that my travels show courage, because I know that being on the road is where I feel most at ease.
Seeing the different ways people live around the world is a reassuring reminder that there is no right way to live. It's the same reason why I've always felt most comfortable living abroad. Being a foreigner is the perfect excuse for not quite fitting in (something I've never been great at). It's okay if I'm different, because I'm a literal alien!
These days I don't want to travel as far, but instead of feeling like I've become less adventurous in my thirties, I'm secretly proud that I can now scratch that travel itch closer to home. Because I do want to feel at home, well, at home. So by limiting my travels to Norway it's like I'm circling in on that home I hope to have – exploring closer and closer until one day I'll be content roaming around my garden. But for now being on the open road is still my favorite feeling in the world.
Travel reminds me that I can decide how I want to live my life. Sure some people might say we should live a certain way, but over there those people say something different. So really it's up to me.
Except right now it isn't.
I'm looking around at my totally empty living room, wondering if this is now all I have in life.
But wait, this living room wasn't always empty.
About a month ago, upon hearing that I had to self quarantine because I had recently traveled abroad, I decided to move all the furniture out of my living room to create a dance studio. What better time to work on my pirouettes and regain the flexibility I had back in my dancing days?
And if I peer into the next room I see that it has changed quite a bit as well. My kitchen table is currently covered with colorful pieces of fruit, laid out in carefully measured angles. You see, I'm trying to wrap my mind around planetary aspects. I've always been interested in different belief systems, and while I covered most world religions in my philosophy major, I thought now would be the perfect time to dive into astrology!
This is all to say that yes, I am stuck at home, but wow has my home been changing a lot during this period of isolation.
I've seen so many people stress the importance of healthy routines during this uncertain time, and sure enough plenty of my peers seem to be thriving in their new normal with morning yoga, healthy breakfasts, efficient working from home setups and a single nightly episode of Tiger King.
But then on the other hand, a whole lot of us seem to be doing exactly the opposite. Forget routine, this is no time to finally try to be normal!
Catriona has joined an online choir where she records videos of herself singing, Sam sends our group chat a new book idea every day, and Sher seems overnight to have become a gourmet chef. Oh and Danielle is learning to bake bread – and she doesn't even eat bread! And I mean, I've always worked from home, so this situation should be affecting me the least of all people. Yet I feel like my life has flipped upside down.
And so as I look around at my empty living room I remember what I briefly forgot during my conversation with my friends: I've had a wonderful past few weeks. Okay that sounds bad. Of course I'm worried for the world and anxious for my friends and family. But I'm also kind of really excited about how my life at home continues to transform.
I've been having fun coming up with new projects and distractions, and I've loved seeing all the creative ways my friends are now filling their days. It's honestly so inspiring.
I know there's a lot of fear around what life will look like after this virus, and it's something I worry about as well. We're already seeing huge economic impacts, and yes, having so many freedoms taken away overnight is certainly distressing. Many are comparing this to 9/11, and no, it didn't seem like the world changed for the better after those attacks. In fact my parents never quite got over the marked difference in their students who were raised before and after 9/11, to the point where they decided to retire earlier than planned.
Now I'm not about to tell you to screw the government, exercise your freedom and go back outside! For goodness' sake, please stay home right now.
But to all the people hinting that this unprecedented level of restriction is taking away our freedom at a rate more alarming than the spread of any virus, I say, sure, you might be able to gain some control over people who feel safest at home. But don't for a moment think that the travelers will stop exploring. And what's more freeing than that? As my dad told me:
The only thing that matters at the moment is to see this: our travel days are not over. Even when stuck at home, with the hands of the clock no longer moving and time seemingly at a standstill, once the eye of the imagination comes open, the entire universe is ours to explore.
I can't wait to see where we all go.
And ugh yes, I realize my dad is much more eloquent than I am, it's very annoying. Or in times like these, perhaps inspiring. In fact maybe I can get him to share more with us?
Well look at that, here's his own blog post.