Personally I love Norway most for its nature, but we do have a lot of great cities in Norway as well. And since most of Norway's population is found in Norwegian cities, if you want to really experience Norway you'll want to include at list one city in your Norway itinerary.
But which Norwegian city should you choose? I have some ideas! Here's my list of the best cities in Norway, ranked from best to … least best. Of course this is just my opinion – I would love to hear how you would rank the cities of Norway in the comments!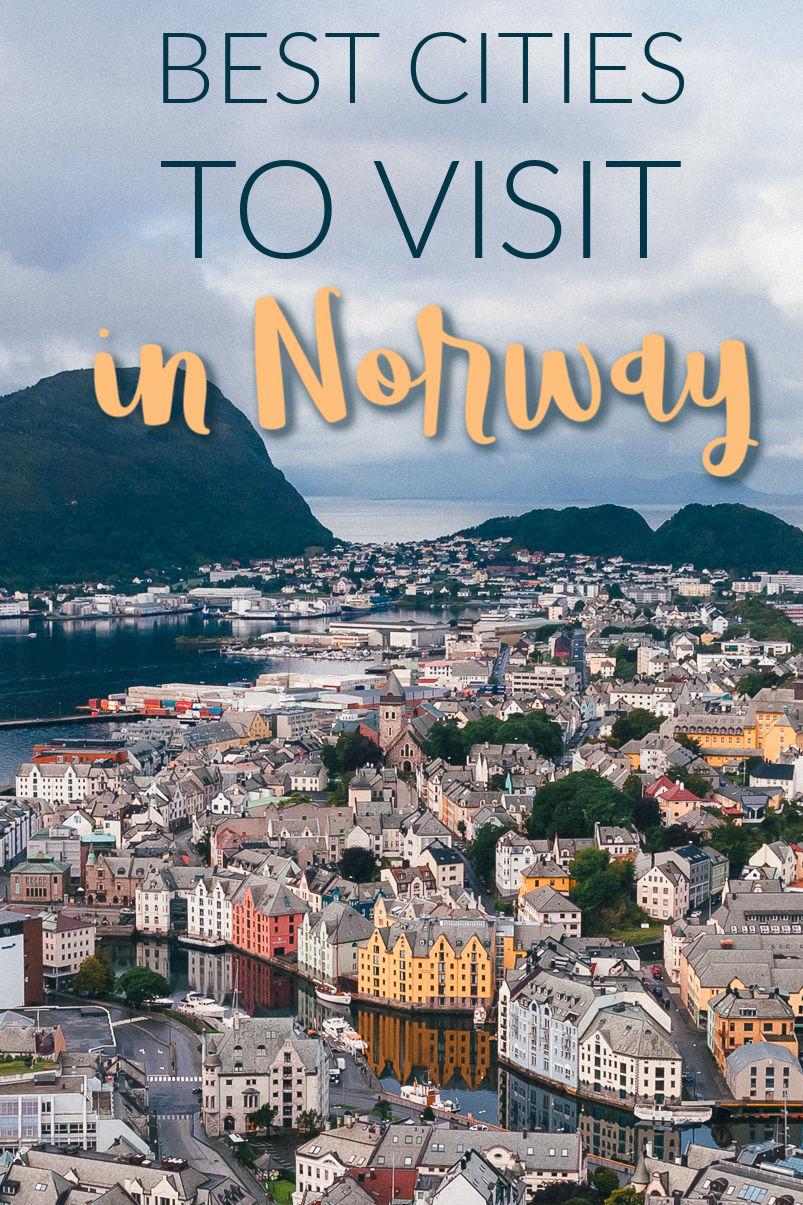 Norway Travel Guides! I've gathered all my best advice for planning an incredible trip through southern and northern Norway in two 95-page ebooks covering my top recommendations for places to visit (both on and off the beaten path), the best times of year to visit, how long to visit for, the best accommodation choices, transportation, what to eat, what to pack, and how to plan the perfect itinerary.
Tromsø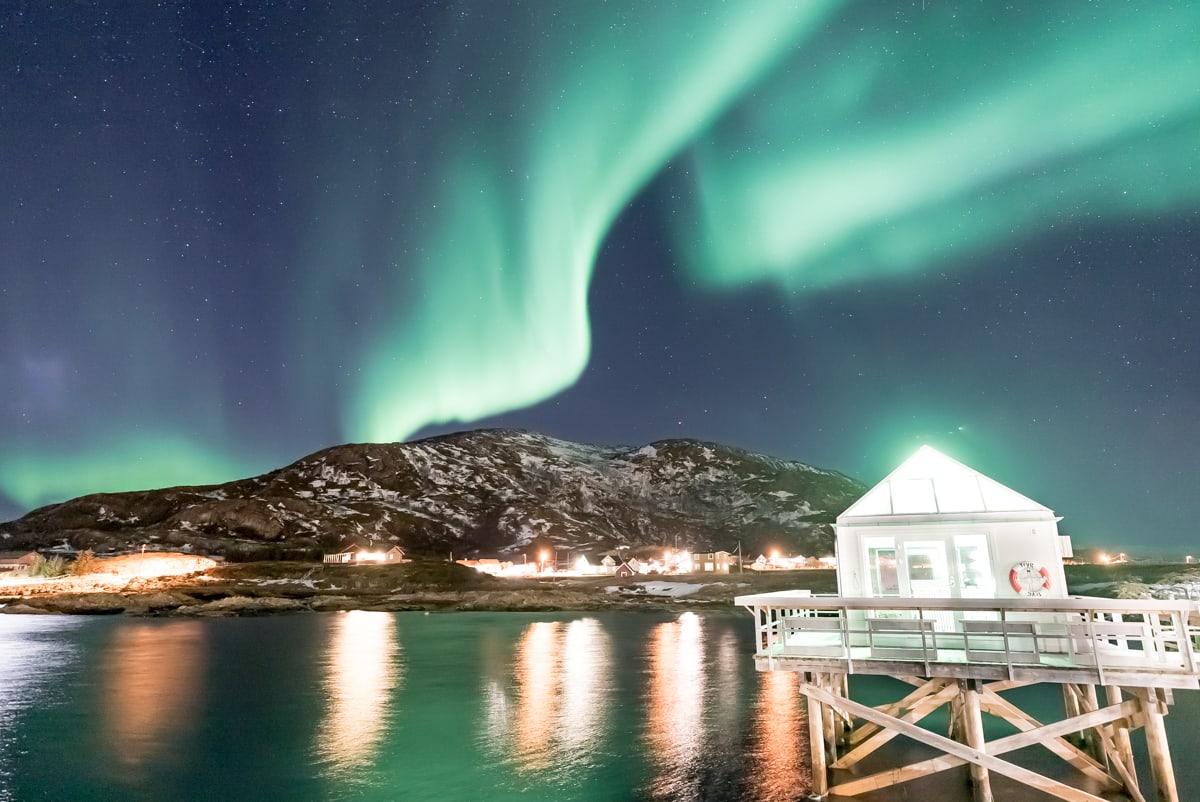 Biased? Me? No way!
Ok fine, of course I'm biased, but that's also how I'm able to come up with this list in the first place – a girl has to have opinions. Really my main feeling is that northern Norway is far superior to the south, and as northern Norway's largest city, Tromsø must be the best. And that means that the best city in Norway is Tromsø!
I always laugh when people ask if I like living in Tromsø, because the truth is there's nothing really keeping me here besides how much I like it. If I wanted to live somewhere else in Norway I would. Tromsø has all the conveniences and excitement of a city – in fact it has the most bars per capita in Norway – but with easy access to stunning nature.
Even in the heart of downtown Tromsø you can have one of the world's most special nature experiences simply by looking up, whether it's at the northern lights in the winter or midnight sun in the summer. You can't do that in Bergen!
Read my guide for things to do in Tromsø here.
Ålesund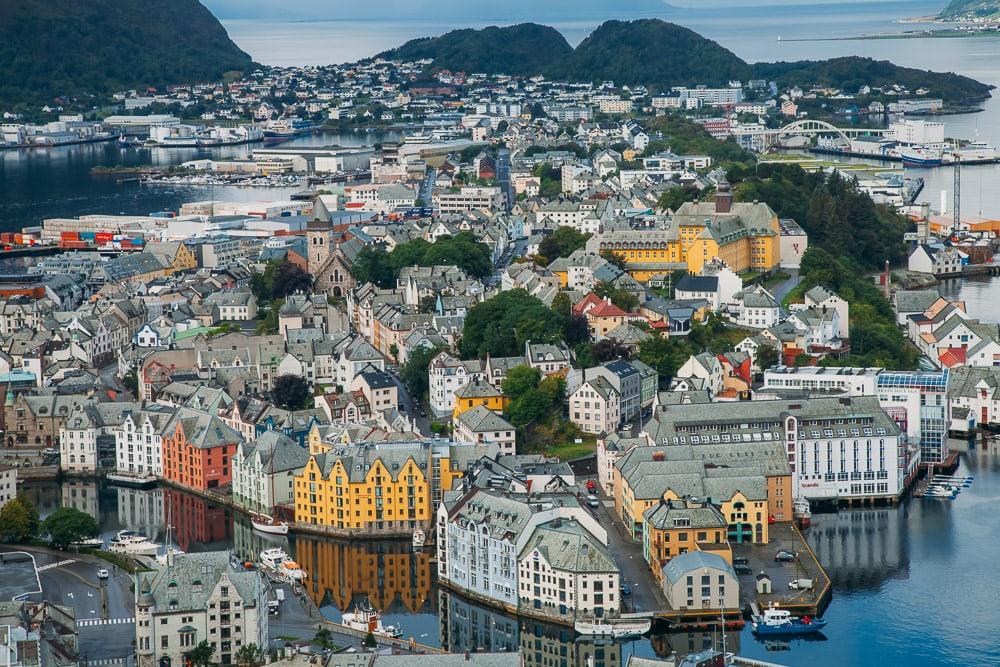 I guess I'm a fan of small(ish) cities surrounded by beautiful nature, because Ålesund also has this winning combination. Many Norwegians consider Ålesund to be Norway's most beautiful city, and you'll quickly see why when you visit.
Plus Ålesund is right by some of Norway's most beautiful fjords and hikes, so it makes a great base from which to explore Norway's west coast. Personally I prefer the area around Ålesund over the area around Bergen, and it's a bit less touristy, but Ålesund is also somewhat less convenient to get to – you'll likely need to get a domestic flight here from Bergen or Oslo.
Read my guide for things to do in Ålesund here.
Bergen

I always tell people flying to Norway to check if they can fly into Bergen instead of Oslo. Bergen is such a beautiful city, and then it's right by some of the country's most dramatic landscapes. Bergen is Norway's second largest city, so you'll find tons to do here.
Bergen is also a great city to visit if you only have a weekend to spend in Norway, as you can spend a day in the city and then easily see the fjords with a DIY Norway in a Nutshell tour.
Read my guide for things to do in Bergen here and best day trips from Bergen here.
Trondheim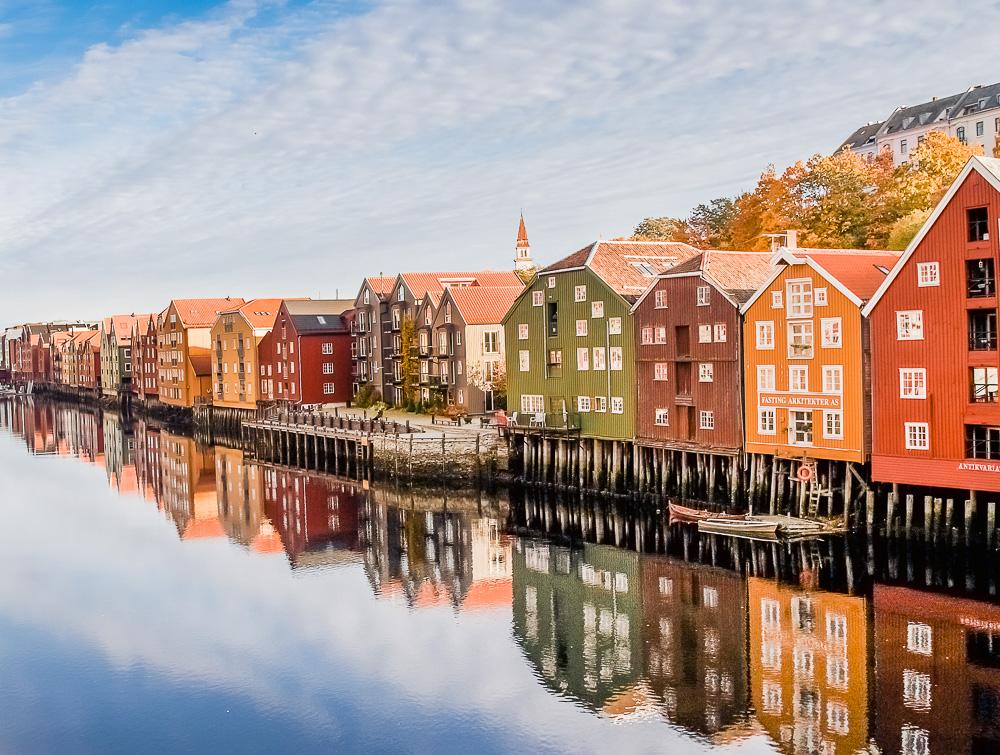 While most people start their Norway trips in Bergen or Oslo, I actually think Trondheim might make the best base from which to explore the country. You can get the train here from Oslo (if you do I really recommend making a stop in Røros on your way!) or you can fly directly here – Trondheim has connections both to Amsterdam and London.
I find Trondheim equally as impressive as Bergen, but it has the advantage of being farther north, and I do love northern Norway! The old town is particularly beautiful, and then you can take the train farther north into Helgeland and Bodø.
Read my guide for things to do in Trondheim here and where to stay in Trondheim here. And if you're looking for inspiration for a Trondheim based itinerary, this two week Trondheim – Helgeland – Lofoten itinerary covers my favorite places in Norway.
Stavanger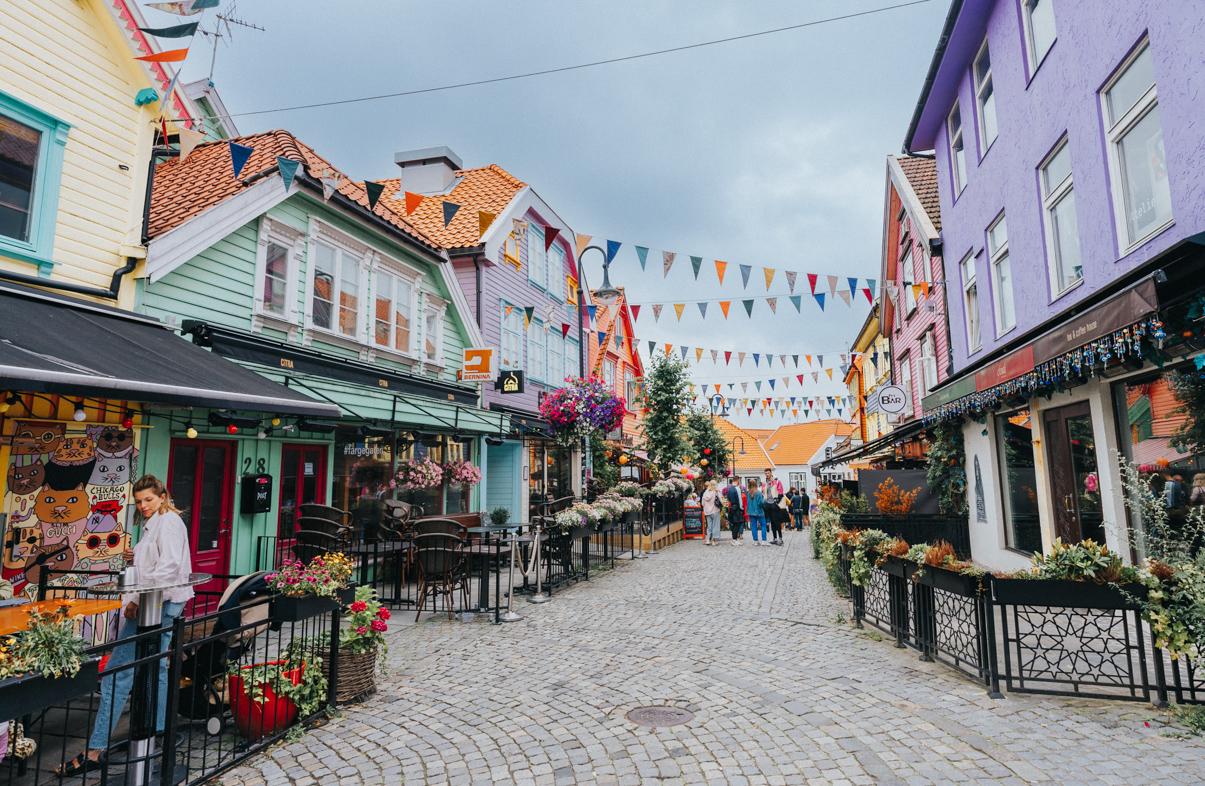 I didn't used to think much of Stavanger, but then my friend Vanessa moved to Stavanger and after visiting her there a few times I now love it!
Stavanger has a really cute old town, and Fargegaten might be one of the best (and prettiest!) nightlife streets in Norway. But the great thing about Stavanger is that it's really close to some of Norway's most dramatic landscapes and iconic hikes, like Pulpit Rock. So you can spend a couple of days in the city and then head out to the fjords for some incredible nature views.
Read my guide for things to do in Stavanger here.
Oslo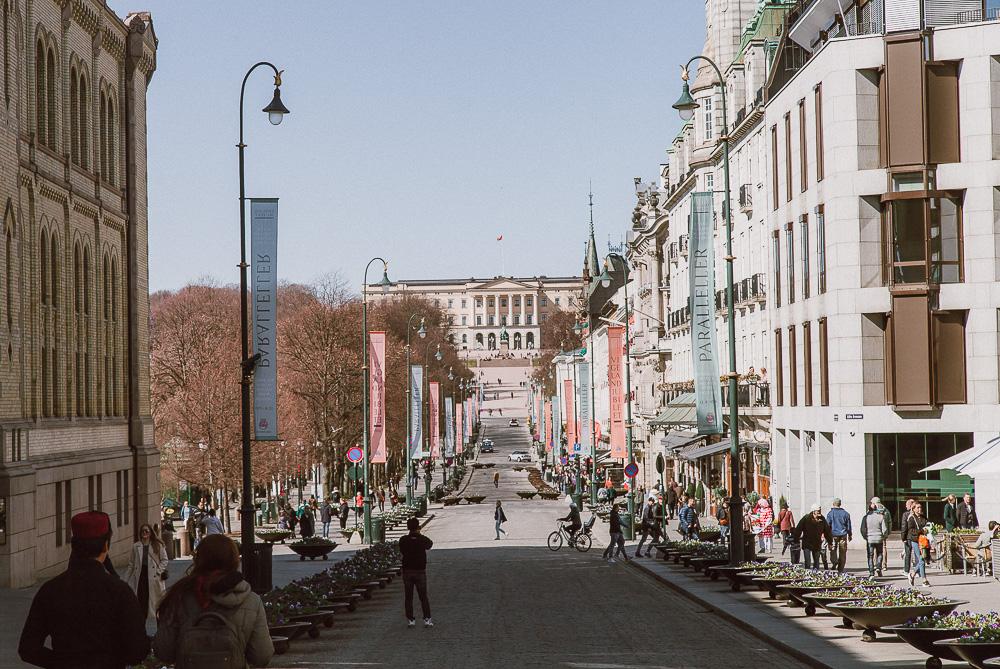 Okay I'm always a little hard on Oslo, but it's only because I know most visitors to Norway come here for the dramatic landscapes and stunning views, and Oslo doesn't really have either. And as Norway used to be quite a poor country, you won't find as much impressive architecture here as in Stockholm or Copenhagen.
However as Norway's biggest city, Oslo is definitely the city that offers the most things to do. There are so many museums and parks and cafés and shops here that you certainly won't be bored.
Read my guide for things to do in Oslo here and where to stay in Oslo here.
And if you only have a weekend in Norway and are flying into Oslo, I highly recommend at least taking a short trip out of the city and spending a night in the countryside, to get a real experience of Norway. A great choice would be spending a night in Rjukan, at the foot of one of Norway's most beautiful mountains. Read more about visiting Rjukan from Oslo here.
Bodø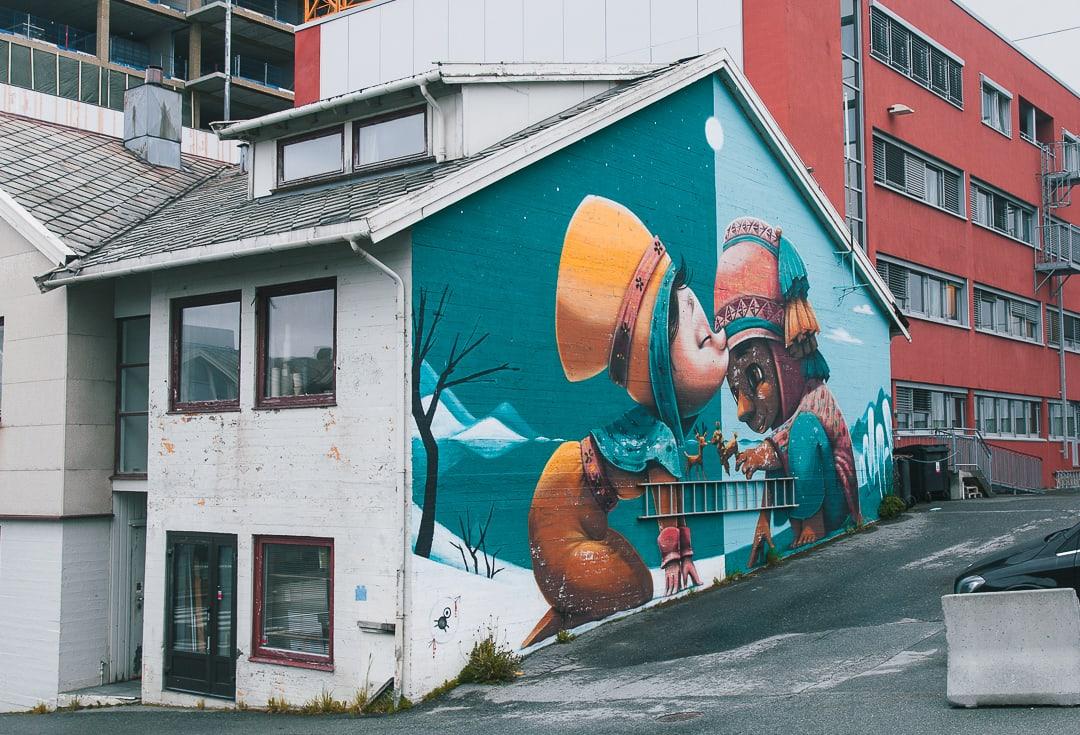 If you ask a southern Norwegian about Bodø they'll probably describe it as that gray, windy city in the north. But I actually think Bodø is Norway's most underrated city – though it's quickly growing in popularity!
Bodø is covered in quirky street art and full of lots of shops and cafés, as well as a ton of startups, giving the city a very young energy. The surrounding landscape is also incredible, and it's just a ferry ride away from the amazing Lofoten Islands and arguably Norway's most beautiful island, Træna.
Read my guide to things to do in Bodø here.
Molde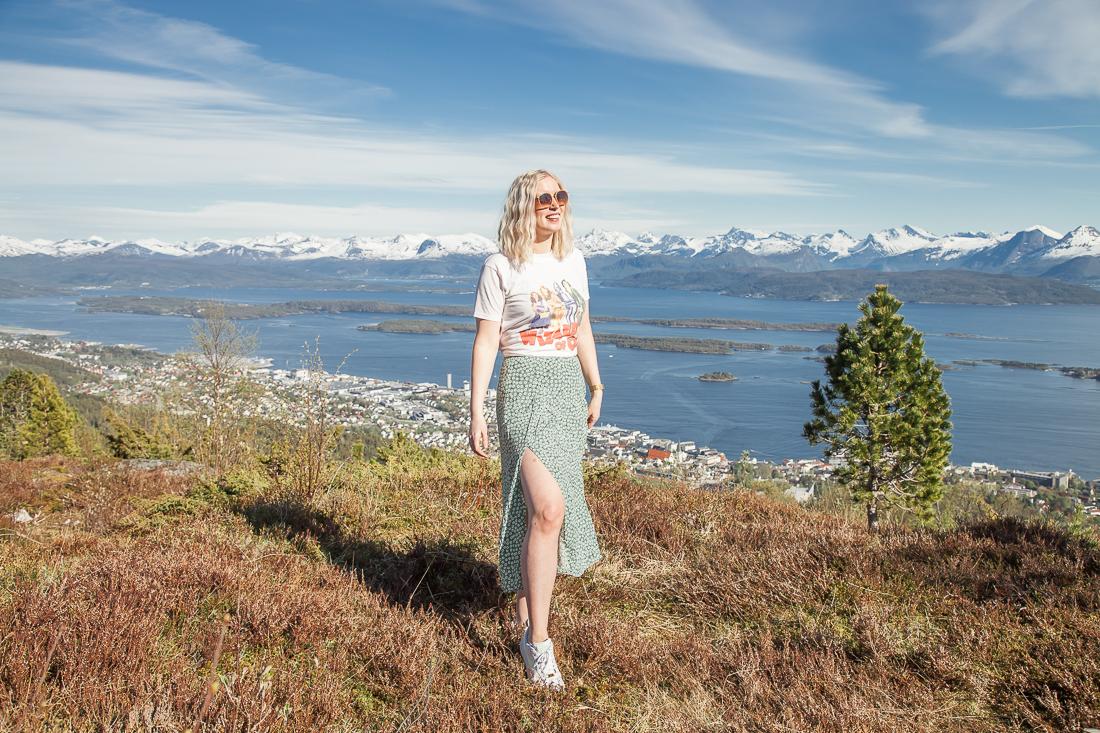 I was tempted to put Molde right at the top of this list (well, under Tromsø, of course), but decided that my love for this city is so personal that maybe this is a fairer placement.
Why do I love Molde so much? Honestly I think I mostly loved my visit to Molde so much because I visited on the first truly warm day of spring last year, and everyone was in such a good mood due to the sunshine.
But I'm sure Molde would also be special in the rain! Molde was heavily hit during World War II, which along with a fire in 1916 explains Molde's clean lines and lack of the typical old wooden houses we find in most Norwegian cities. Instead you'll find some of the same Art Deco style architecture of Ålesund, with an impressive backdrop of 222 snowcapped mountain peaks.
Downtown Molde is full of cute coffee shops and restaurants and definitely feels like one of Norway's more lively city centers.
Read my full guide to things to do in Molde here.
Kristiansand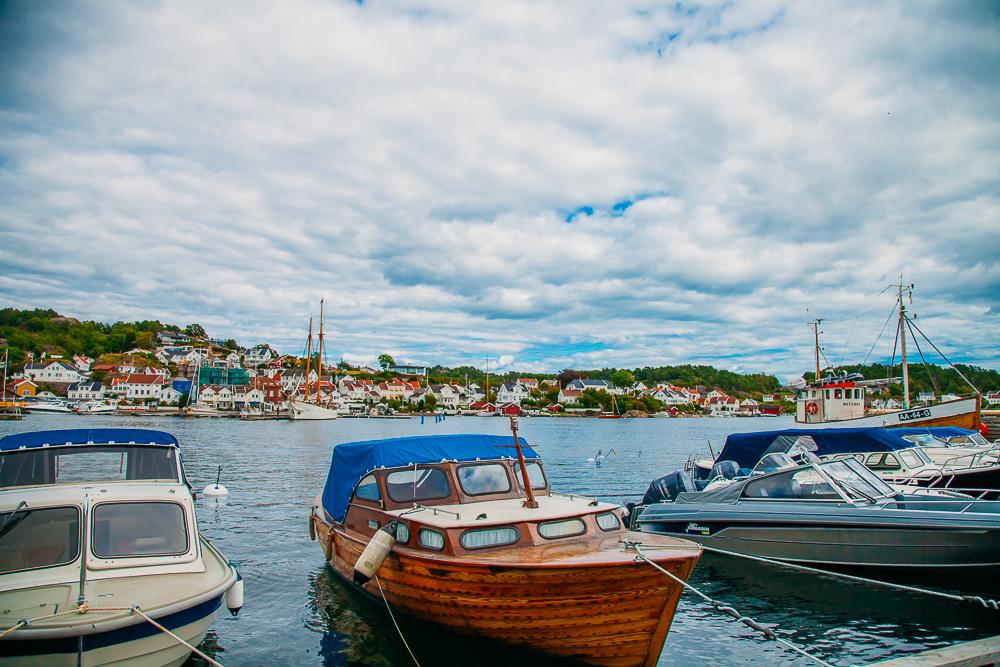 Kristiansand is a cute coastal city in the far south of Norway. It's on the train line, which makes it easy to reach by public transport, and then you can explore a lot of the city's highlights, including the cute white wooden houses of Posebyen in the old town area and the big, beautiful Bystranden beach, complete with palm trees. But after exploring downtown Kristiansand I recommend you also rent a car and explore the small little coastal towns in the area.
The south coast of Norway, called Sørlandet, is the go-to summer getaway for Norwegians. But what's funny is that foreign tourists rarely go here.
Norwegians love the south for its warm, sunny climate, colorful summer cottages dotted across the coast and its islands. The catch? Foreigners might not consider the climate quite as warm and sunny as Norwegians do. But if you want to get a real feel for how Norwegians summer, Kristiansand is well worth a visit.
But is it worth a visit in the winter? Honestly, no.
Kristiansund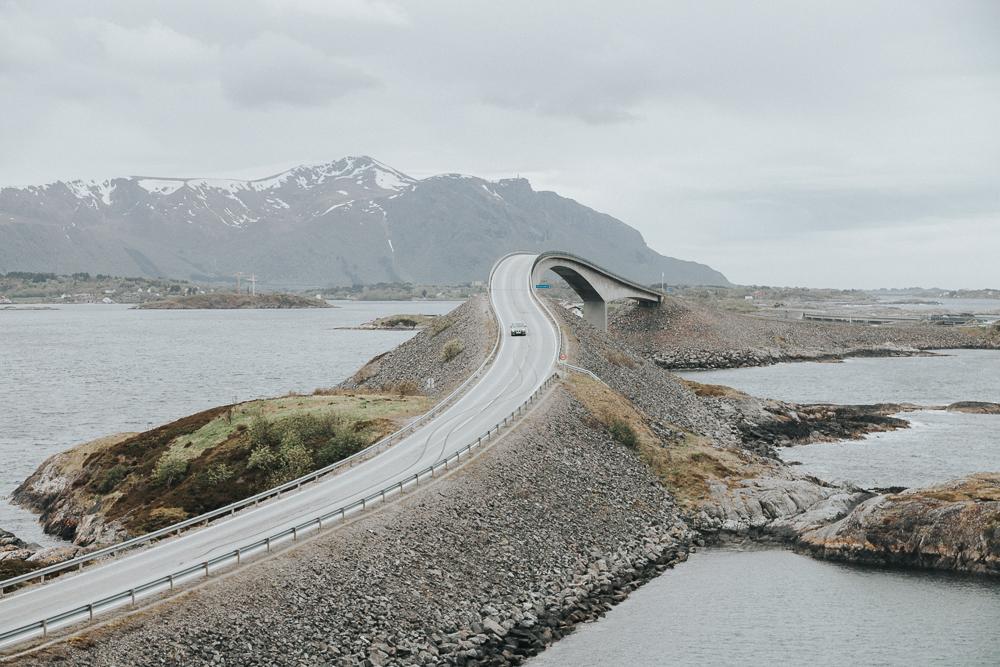 No you haven't already read this – Kristiansund is in fact a totally different city from Kristiansand. But I agree, it's confusing.
Kristiansund is conveniently located right by the start of Norway's famous Atlantic Ocean Road, which in turn takes you down to some of Norway's most beautiful fjords. This area is also slightly less touristy than the fjords by Bergen, but almost as easily accessible, as you can get to Kristiansund both by the express boat from Trondheim or the Hurtigruten.
But prime location aside, Kristiansund is also a lovely city in its own right. It's a small city of about 25,000 people with colorful wooden houses, seaside views, and laidback vibes.
Read my guide to things to do in Kristiansund here.
Tønsberg
And finally, no list of Norwegian cities would be complete without Norway's oldest city: Tønsberg. Tønsberg was founded by the Vikings in the 9th century and you can see ruins from the Viking Period here, as well as a full-scale copy of the world-famous Oseberg Viking ship moored in Tønsberg harbor.
Okay to be honest, Tønsberg isn't the most exciting city to visit in Norway. But it is really beautiful in the summer and usually has quite nice weather. And if you are here during nice weather you should definitely try to go out to the islands of Nøtterøy, Tjøme or Hvasser.