I visited Muscat a couple of years ago on a long layover and was so intrigued by Oman, so when a reader named Astrid contacted me and asked if I would like to publish a post about her experience in Salalah Oman I couldn't have been more thrilled! Not that I had ever heard of Salalah before, but a quick Google search was enough to get me excited.
The Country
Oman
The Place
Salalah
Why You Need to Visit Salalah, Oman
Salalah in southern Oman is the capital of the Dhofar province. The city is an ideal base for exploring this relatively unknown part of the country. Dhofar is also called "frankincense country". Frankincense has been produced here since ancient times and you can smell it everywhere – streets, shops, hotels, even inside the airport. The culture of the Dhofar province is closely linked to the Hadramaut region in nearby Yemen and therefore different from the north of the country.
Dhofar is also known for a climate phenomenon called khareef. It is just touched by monsoon winds which develop their full force several latitudes to the south. The period between June and September is called Khareef season, the temperatures drop to a "cool" 20-25 degrees Celsius and it is raining often.
Locals spend their summer holidays here and the Khareef festival attracts visitors from neighboring countries (especially Saudi Arabia) looking to escape the scorchingly hot temperatures at home. The landscape changes dramatically from yellow and grey desert to lush green valleys and meadows. However, this only happens in a strip of land measuring about 100 km around Salalah. This is what makes it so special. Even in the dry season there is a lot more vegetation here compared to the rock and sand deserts of the rest of the country.
You can get a glimpse of what the Khareef season is like in this video:
The city of Salalah Oman has a population of about 120 000 and has seem rapid development in recent years, the industrial port is gaining importance and the government is trying to build up local industry. However, the bazaar area, Al Husn Souq, still has a lively oriental vibe, there are back streets waiting to be explored and long, narrow lanes with shops selling spices, incense and traditional garments. Haggling is expected here!
The Ibn Afif Mosque is also worth a short stop. If you are interested in history, I recommend a visit to the Museum of the Frankincense Land. I have to confess I'm not usually a fan of museums (very much like Silvia) but the concept of this one managed to draw me in. You can learn a lot about the history of the region and the whole country and many of the displays are interactive. There is no entrance fee.
From here you can go on day trips to explore the rest of the province. One morning I visited a place called Job's Tomb. It is said that this is the place where Saint Job of the Old Testament is buried.Although no scientific proof has been found, the place is worth a stop for the views alone. It is situated on top of a plateau in the mountains near Salalah, about half an hour's drive from the city.
East of Salalah, another half day roundtrip takes you to some really interesting places: Taqah Castle where you can see the typical architecture of this region, and Sumhuram/Khor Rori archeological site (50 km from Salalah). In Sumhuram, a team of archeologists from Italy is leading excavations of an ancient city. Very little is known about the settlement, but they already found a citadel, temples and the remnants of a port.
It was founded by the kings of Hadramaut during the 4th century B.C. Some believe this to have been the mythical capital of the kingdom of Saba. Because there are hardly any visitors you can even ask if you are allowed to help digging for a bit and talk to the archaeologists. This was the most interesting part for me because altough the landscape is beautiful, the ruins themselves were not all that spectacular, to be honest. However, I have heard that they have made great progress and there is now a lot more to see. The entrance fee was 0,5 Rial at the time I visited (about 1,15 Euros).
Other places to see are the town of Mirbat with its beautiful harbour area where they also have a big fish auction in the mornings and the fantastic beaches of Mughsayl (about 40 km from Salalah). In Mughsayl there is a beautiful lagoon with thousands of birds and even flamingoes but most people come for the beaches and the blowholes.
Remember that this is an Islamic country and you should not swim in your bikini if you are not at a hotel beach. Swimming elsewhere is possible, but cover up with a tunic or light dress. You do not have to wear a headscarf in Oman. I always wore loose long pants or skirts and tops with ¾ or full lenght sleeves.
Around Salalah there are many beautiful and clean beaches and the weather is warm and sunny year-round except for khareef season.
How to Get to Salalah
There are Oman Air flights from Muscat and Dubai (each about 1-1.5 hrs). You can also take a bus from Muscat which crosses the desert and takes between 13 to 15 hours. The distance to Muscat is about 1000 km.
I highly recommend hiring a car with a driver because that way you get a lot of information and most of the drivers speak very good English. Plus, you don't have to concentrate on driving. The other option is renting a car and driving yourself which is very doable. The roads are generally very well maintained. If you drive long distances, plan your fuel stops as there are hardly any gas stations outside the city. Public transport was non-existent when I visited. There are some taxis.
Where to Stay in Oman
There aren't a lot of options. You can find some international big names here, for example a Hilton and a Crowne Plaza. I have also heard good things about a place called Beach Villas/Beach Spa Tourism and there is a hostel called Areen Youth Hostel. Don't expect super cheap deals here; tourism in this part of Oman is only just beginning to grow and there are hardly any budget options.
Editor's note: I just checked and it looks like there are now some Airbnb options in Salalah Oman as well!
About the Author: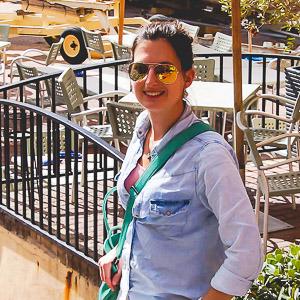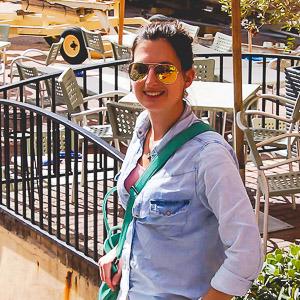 Astrid was born in Munich, Germany in 1986 and now lives in Austria while working in a small town in southern Germany. She's a 4th year medical resident training to be a general practitioner/family doctor.
Travelling has been her passion for as long as she can remember (together with medicine) and she's trying to see as much of the world as possible while working full time. She has already visited 40 countries and always has new travel plans. She loves travelling because it offers the excitement of seeing something new, getting to know foreign places and people and getting out of her comfort zone!
PIN IT!
Have a special place off the beaten path you'd like to share? Email me at heartmybackpack@gmail.com with the destination and I'll send you some questions to answer about it!