I've spent a lot of time in Oslo in the years I've been living in Norway and have experienced a wide range of Oslo hotels – from budget (well, as budget as you can be in Norway) to super luxury. Oslo accommodation definitely is a bit of a mixed bag, with some Oslo hotels totally nailing comfort whereas some just… don't.
But don't worry! As a total hotel nerd (my grandparents used to own a hotel here in Norway) I've put together a guide for what I consider the best Oslo hotels and accommodation for a wide range of budgets, so if you're wondering where to stay in Oslo I've got you covered.
And if you're looking for hotels in other parts of Norway, I've also written a guide to the most incredible hotels in Norway.
As far as which neighborhood in Oslo to stay in, I would really recommend trying to stay somewhere in walking distance to the Central Station and Karl Johan, the main street leading up to the Royal Palace. This is where you'll be arriving in Oslo (the train from the airport takes 23 minutes and brings you to Oslo S, the central station) and the city is small enough that you can get around easily from here either on foot or by metro and tram. This is also the center of all the main attractions in Oslo, so you might not even want to stray too far from this area, depending on how long you're visiting Oslo for.
With that in mind, most of these hotel recommendations are going to be as close to the city center as possible.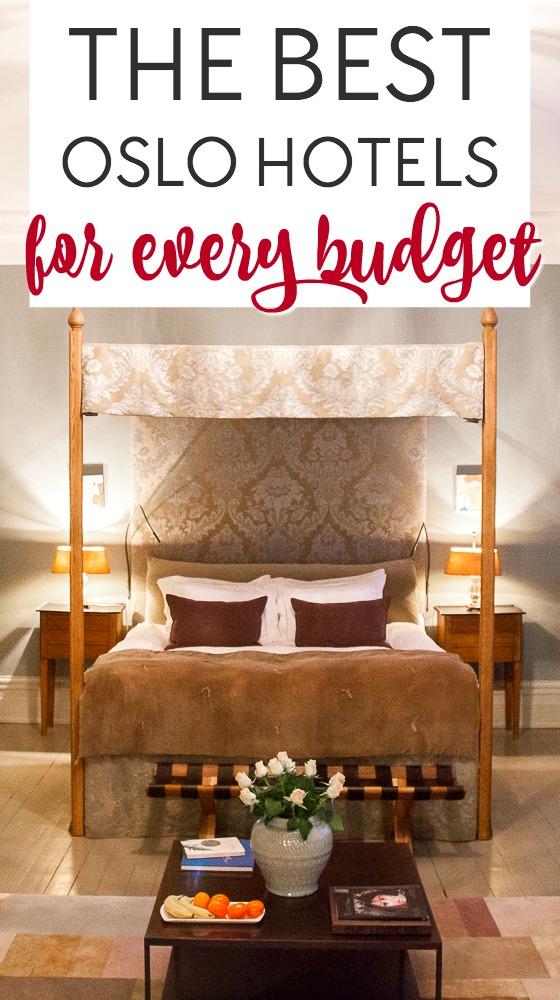 Best Luxury Hotels and Accommodation in Oslo
I've only stayed at one luxury hotel in Oslo so far, but I really can't imagine any place better (plus I did tons of research when choosing it).
Camillas Hus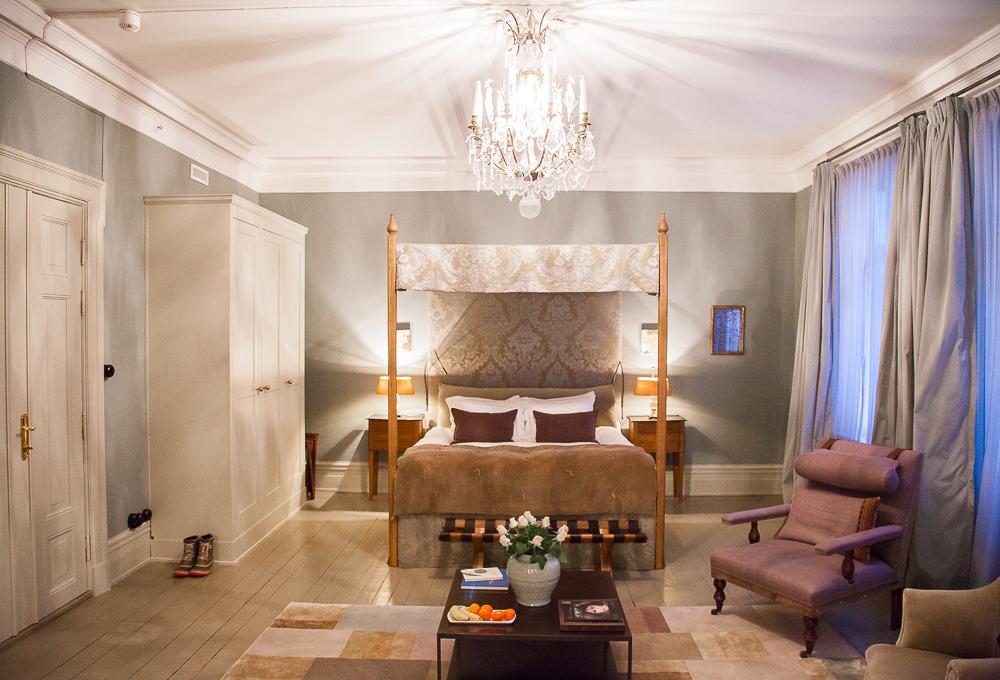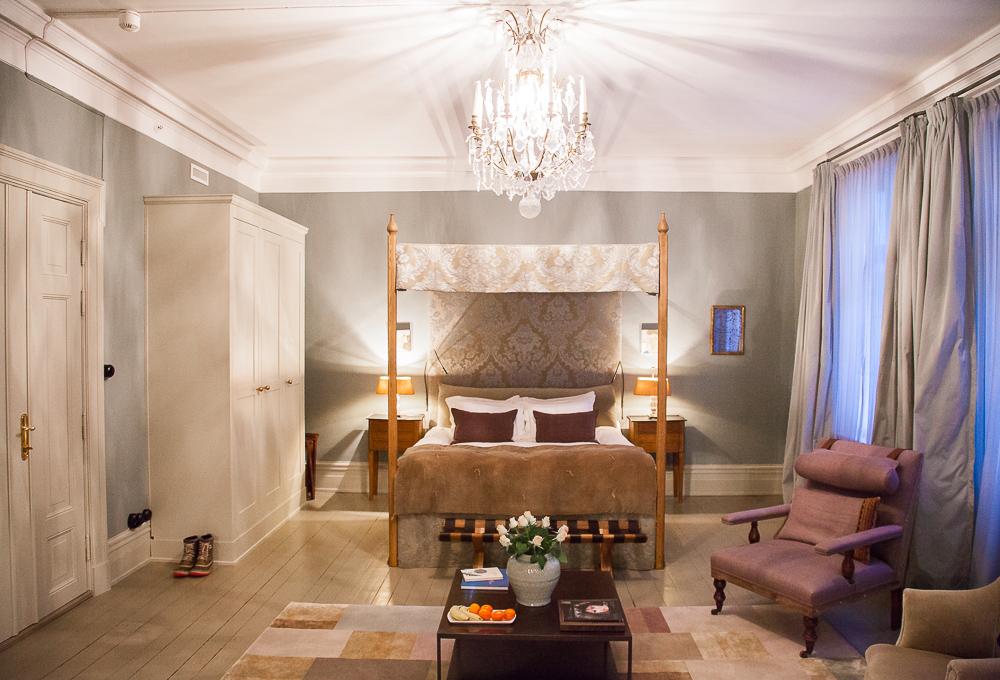 I've written up an entire review of Camillas Hus, but basically it's the coolest hotel I've stayed at, ever. Camillas Hus was built in 1845 as part of the palace architect Linstow's plan for the area right around the Royal place. And one of the house's earliest tenants was Camilla Collett, a famous Norwegian novelist and women's rights activist.
This place keeps so perfectly with its period theme without sacrificing any luxury. It's sort of like sleeping on a movie set! It must be the most unique luxury hotel in Oslo and I would say is worth the money just for how immediately it immerses you in Norwegian history and culture.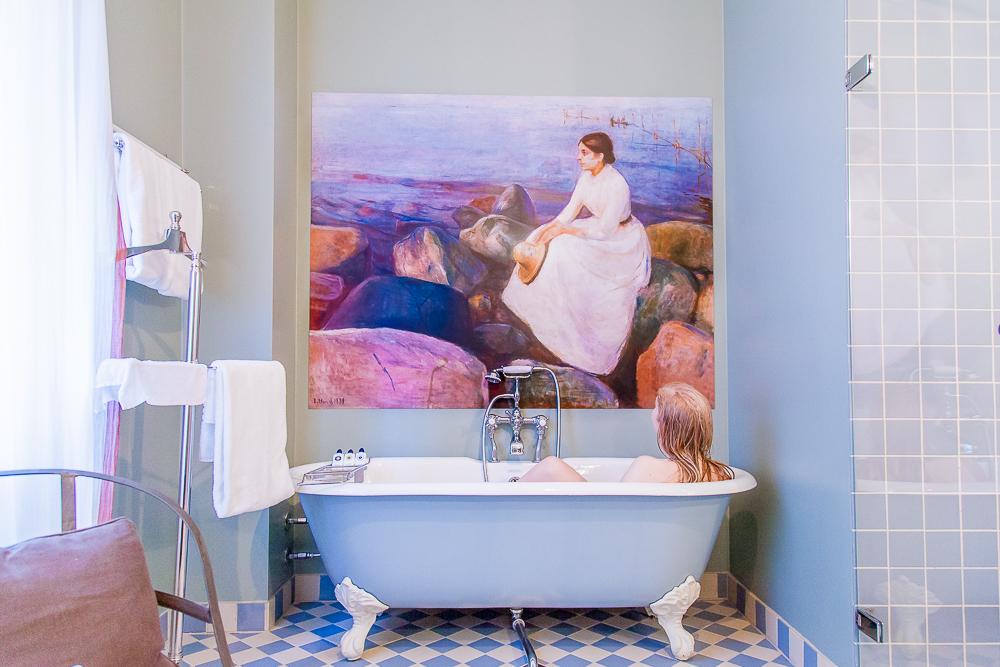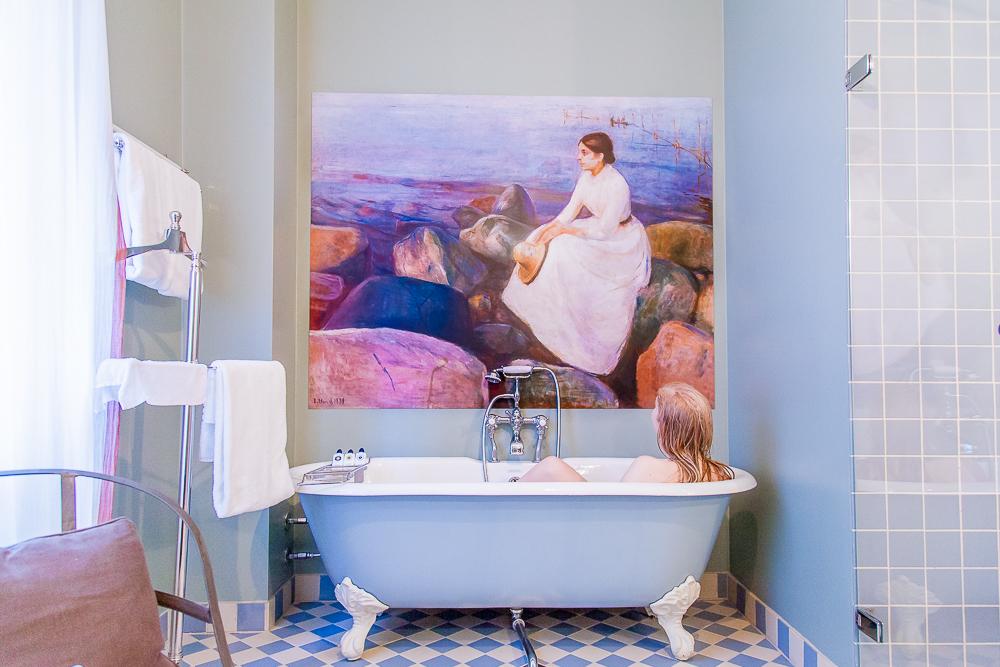 But maybe the best part is the gourmet restaurant where breakfast is served – you can tell the chef exactly what you'd like to eat and he'll whip it up for you (or you can choose from the delicious menu options).
I don't know if you can tell, but I am so, so enthusiastic about this place and I really think that everyone who comes to Oslo (who can afford it) should try to stay here.
Click here to see current rates and availability at Camillas Hus
The Grand Hotel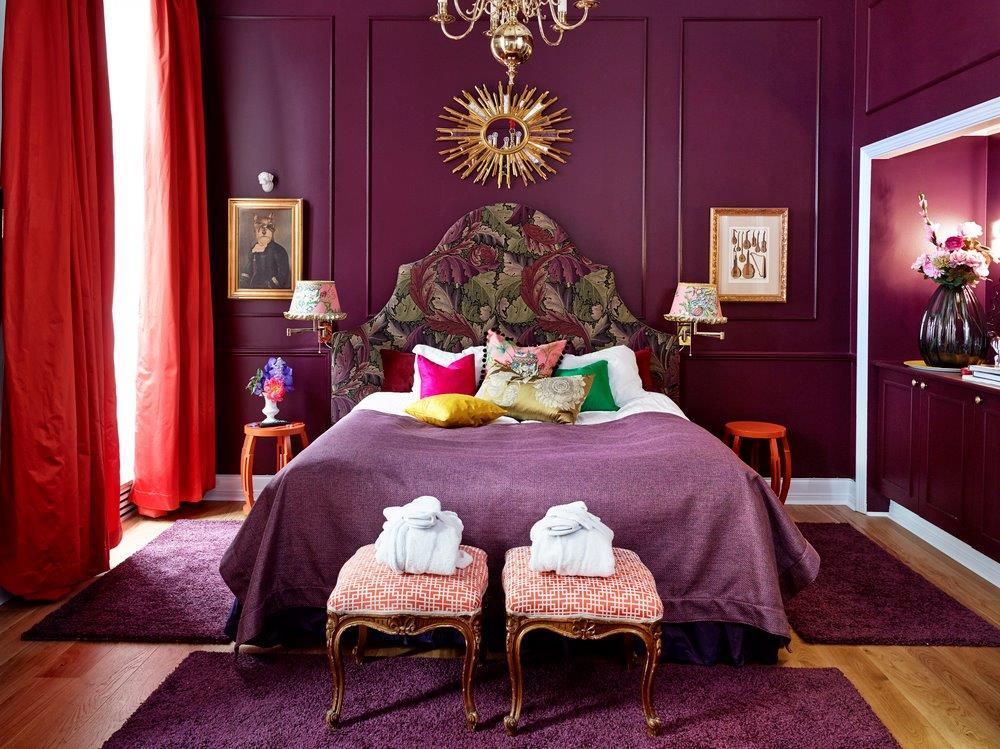 While I was growing up my family had a print in our bathroom of Henrik Ibsen at the Grand Café. Ibsen was a daily regular at the Grand Hotel's café for many years, and if it's good enough for Norway's famous playwright, I imagine it's good enough for all of us.
Opened in 1874, The Grand Hotel is Oslo's most well-known and prestigious hotel, so if you're looking to immerse yourself in the city's history, this is the hotel for you. It's right downtown, just a few minutes from the Royal Palace.
Check current rates and availability here
Best Mid-Range and Boutique Hotels and Accommodation in Oslo
If you want a cheap hotel in Oslo but don't really want to stay in a dorm room (I hear you!) then there are a few good options in Oslo.
Note: these hotels are all really good bargains in Oslo so they often book out really quickly – you'll want to book these ones as far in advance as possible!
Oslo Citybox Hotel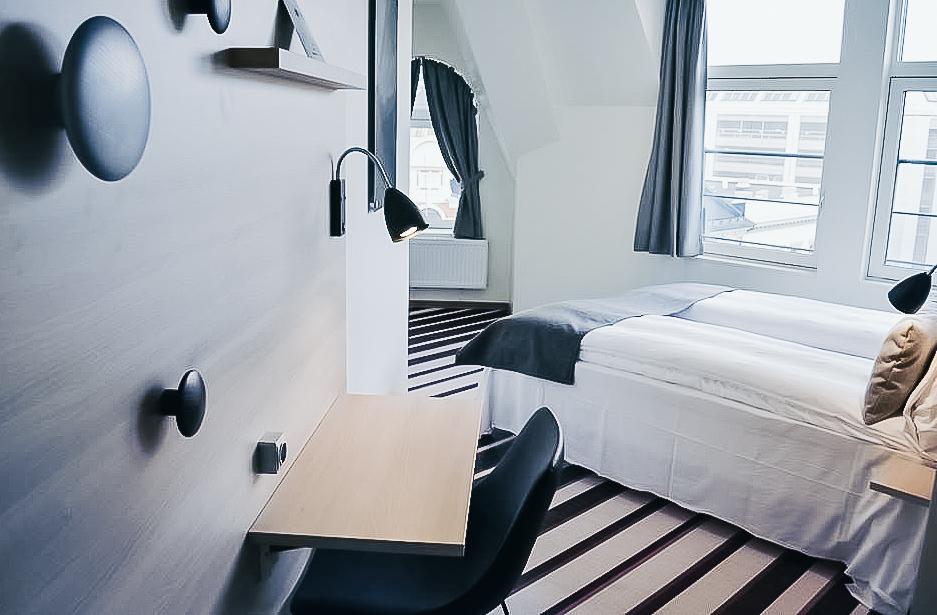 If you want convenience, the Oslo Citybox Hotel is perfect. It's right next to the central train and bus station, so you won't need a taxi, and the check-in is self-service at a machine, which I really liked because when I arrived there I was way too tired to interact with people.
I also have been able to check in as early as 11:45 am, which is always a nice plus!
The rooms here aren't very fancy, but they're super clean and the beds are comfortable. The WiFi also works really well.
Click here to see the latest prices and more details about Oslo Citybox Hotel
And if Oslo Citybox is booked up, there's another almost identical hotel to it farther up by the royal palace – Smarthotel Oslo.
The rooms are designed the same as Citybox, and they also have a computerized system (though check in is done in person). I don't think the location is quiet as good as Citybox, but I have stayed here a few times when my other top choices have been booked.
Click here to see the latest prices and more details about Smarthotel Oslo
Comfort Hotel Xpress Youngstorget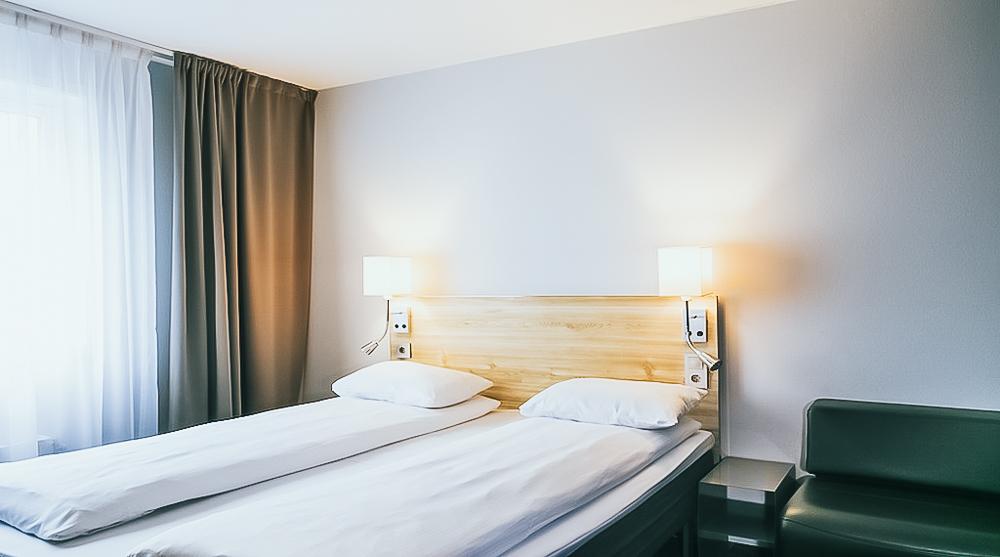 This is another automated check in hotel, but the design has a bit more character with lots of art in the common areas. It's right by the Rockefeller Music Hall, which is in easy walking distance of all of Oslo's main sites. This is also the edge of Grünnerløkka, which is Oslo's trendy hipster neighborhood full of cafes, bars, and restaurants.
The only downside is that it can get noisy at night, depending on where your room is, though I'm such a deep sleeper I didn't actually mind the noise at all. This is my top choice for when I get to Oslo a bit earlier and don't mind to walk (a tiny bit) farther than Citybox Hotel.
Click here to see the latest prices and more details about Comfort Hotel Xpress
First Hotel Millennium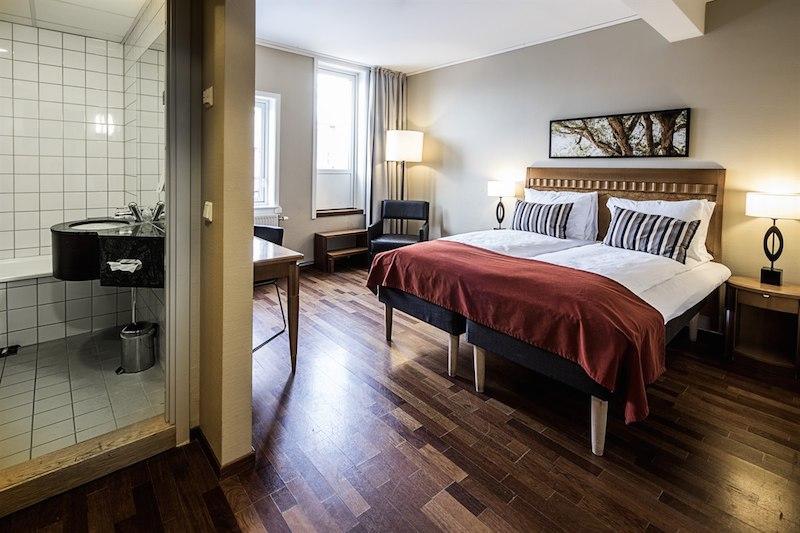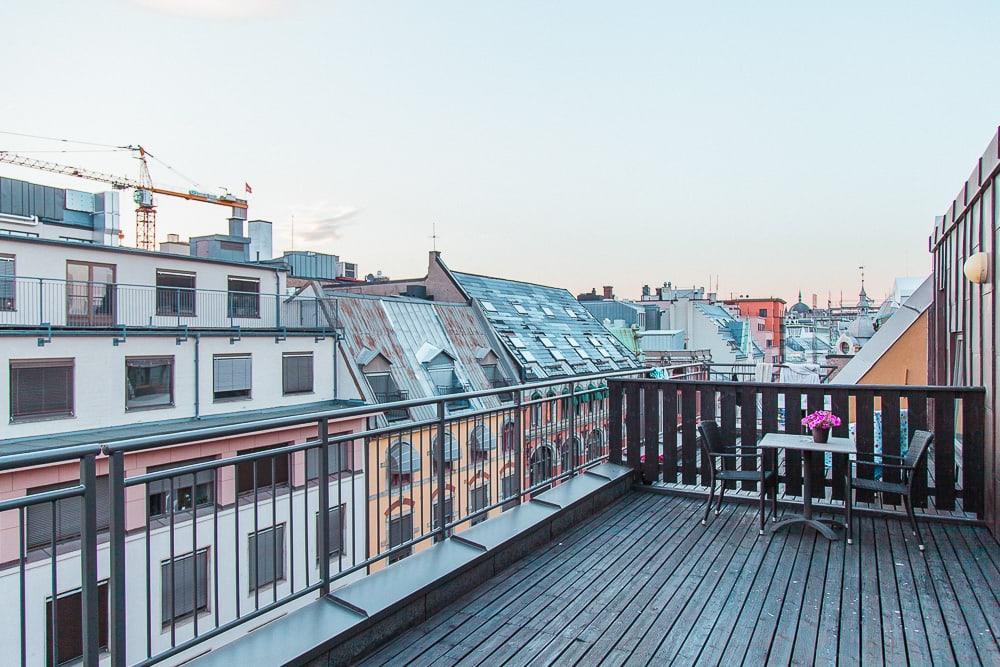 This is more of a traditional hotel experience than the self check in hotels, and it includes a delicious Norwegian breakfast buffet! It's also located within walking distance to the main train and bus station (pretty much every hotel I stay at in Oslo is) and the beds are so, so comfortable. Plus a lot of rooms come with a huge balcony, which is especially great in the summer.
This hotel feels like a luxury hotel but is actually a bargain for Oslo prices. But that also means it can book up months in advance – I can only stay here when I plan way ahead!
Click here to see the latest prices and more details about First Hotel Millennium
Best Budget Hostels and Accommodation in Oslo
Okay, so Norway isn't the best place for budget accommodation. Even hostels here are going to be quite expensive. But if you're wondering where to stay in Oslo on a budget, there are a couple pretty good options.
Saga Poshtel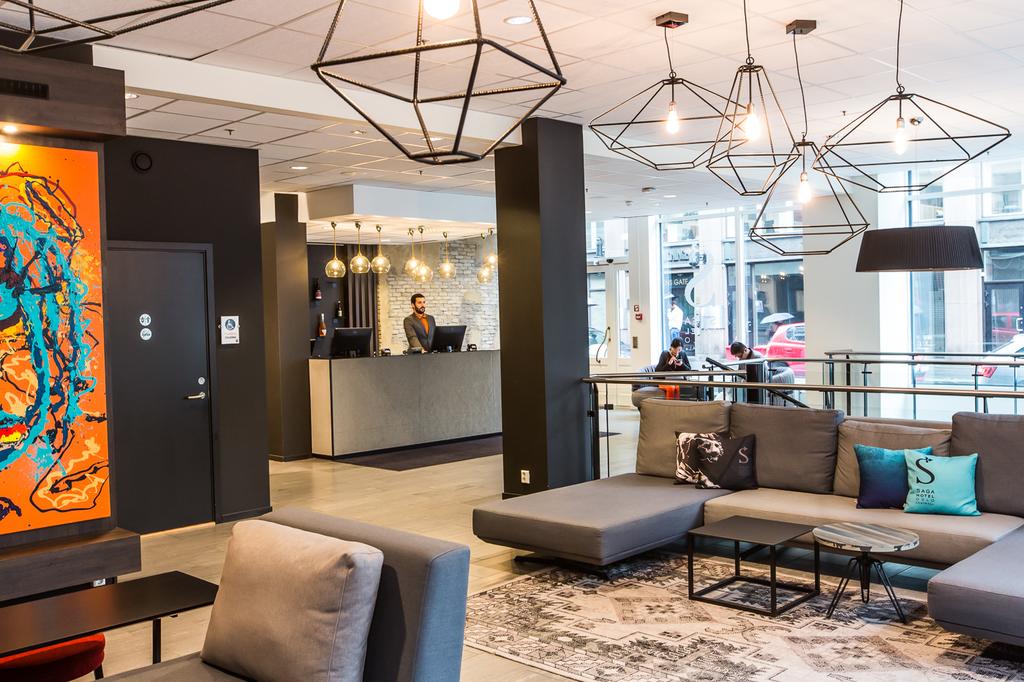 My top pick for the best hostel in Oslo would be Saga Poshtel. It's not the absolute cheapest option, but it's definitely worth paying the extra money for it. Plus it comes with a delicious breakfast. The hostel is part of a hotel, so you actually get a full hotel breakfast buffet here.
The best part about Saga Poshtel, however, is the amazing location. It's just a short walk from the main Oslo train and bus station, which is just a 25 minute train ride from Oslo's main airport. So basically it's the most convenient location ever, and thus will save you even more money since you won't need to get a tram or a taxi to get there. Win!
Click here to see the latest prices and more details about Saga Poshtel in Oslo
Anker Hostel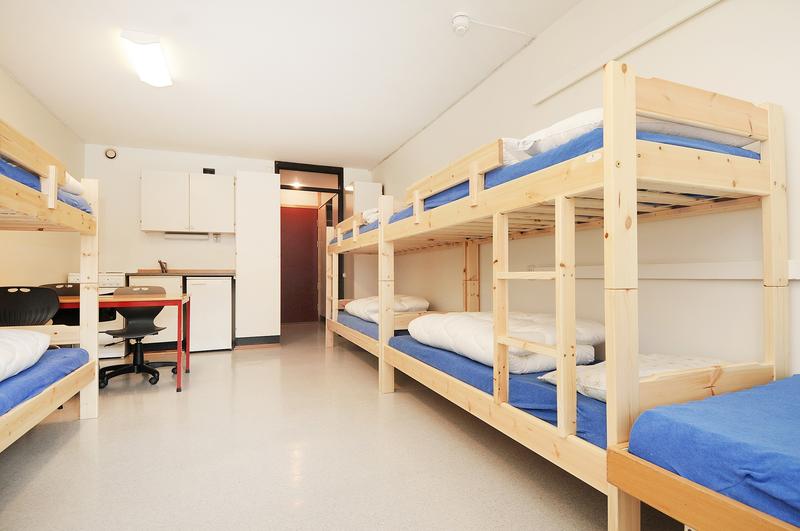 This is the cheapest hostel in Oslo. It's not as nice as Saga Poshtel and a little farther from the train station and central shops (but you can still walk), but if you want the cheapest accommodation in Oslo then this is it!
A lot of backpackers stay here, which means it can get noisy, but it also is a place to meet other budget travelers. And not only are the dorms cheap, but they also offer the cheapest single rooms in Oslo, if you want a bit more privacy.
Be aware that you do have to pay 50 NOK extra for linens (which are mandatory), though it even with the extra cost it still ends up being the cheapest option in Oslo.
Click here to see the latest prices and more details about Anker Hostel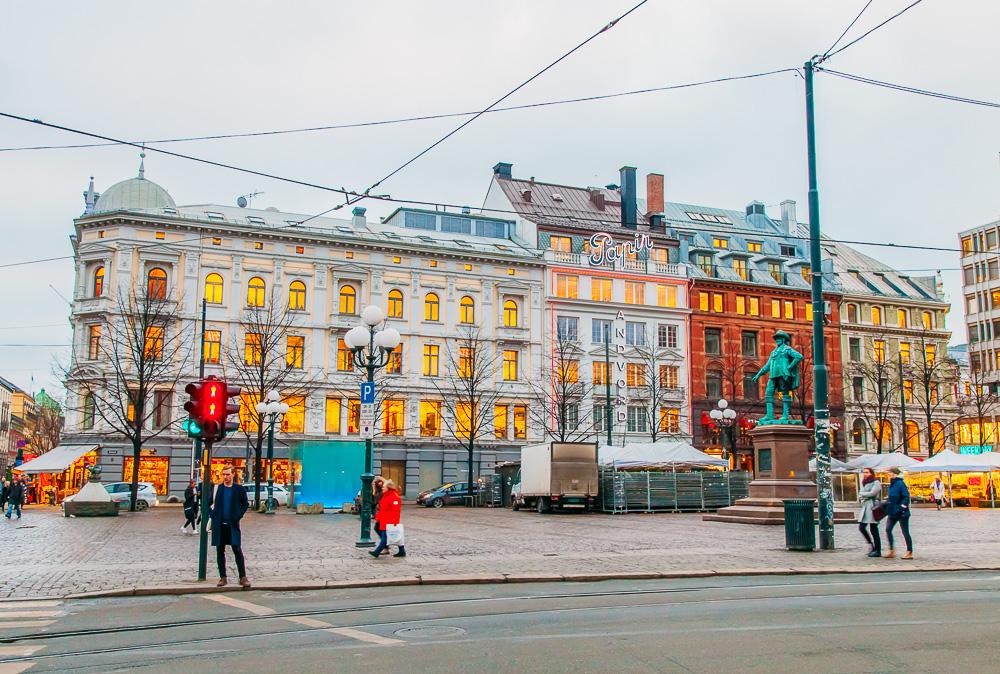 Fun Activities in Oslo
There are a lot of fun things to do in Oslo, like visiting the Christmas markets. I've written a huge guide of things to do in Oslo here, but here are some of my favorite tours to get you started: