To be honest I'm not usually a fan of gift guides because they seem impersonal and often lead me to buying something no one is ever going to use, which is why I've never written one before.
But over the summer I was taking a shower in Panama using my favorite facial cleansing brush and I thought to myself, every traveler should have one of these.
Except it's expensive and maybe not actually essential – more like the perfect thing to be given as a gift. And then I came up with a few other key luxuries any traveler would love, and I realized I had myself a gift list! Except I already had all of these things, so it was really a list for someone else. Maybe for you?
I'm keeping this gift guide short because I only want to include the things I know I'd personally actually really recommend, so here are my top ideas for gifts for travelers.
FOREO LUNA Mini
So, more about that facial cleansing brush. If you haven't heard of it before, the FOREO LUNA is basically like the next generation after the Clarisonic brushes, when people realized that circular brushing can actually be really harsh on the skin and the Clarisonic brushes weren't very hygienic unless you replaced them often, which got expensive.
The FOREO LUNA on the other hand is silicon, which means no brush heads to be replaced, and it pulses instead of turns so it's so much better for your skin. Plus it's waterproof so you can keep it in the shower and in the three years I've had mine I've had to recharge the battery twice.
And yes, it does seem quite expensive for what it is, but I promise it is so worth the money – plus you'll only need to buy it once and then you can keep it forever!
FOREO is a Swedish brand so I'm not sure if they're as popular everywhere else, but in Norway everyone is obsessed – and for good reason.
I made my mother buy one, and then I gave one to Dan's mother for Christmas last year. I can't remember if my sister has one too, but I hope she does.
I could seriously go on and on about this (if you know me in person I likely made you stroke my face after I got it to see how soft my skin had become, uh sorry) but really what I need to tell you is why it's so perfect for travelers!
Travel takes a serious toll on the skin, whether you're subjecting it to recycled airplane air, long bus rides, or you know, just stress. So I now take my LUNA with me everywhere, not only to keep my skin in the best condition it can be in, but also because a facial massage at the end of a day of traveling feels so good.
I bought the LUNA mini, which is meant for all skin types, but FOREO have since come out with lots of different varieties, including the super tiny which is even more travel-sized. Though I couldn't be happier with my LUNA, so that's still what I'll recommend getting. You can find the FOREO LUNA on Amazon here. 
Sea Bands
Never would I have imagined that some small pieces of fabric and plastic could change my life, but oh they have!
I first heard about Sea Bands years ago, and I'm ashamed to say I totally dismissed the idea of them. I was living with refugees on the Thai-Burma border at the time and one of my roommates told me that a volunteer had given her Sea Bands to help with car sickness on the very long, very windy road to Mae Sot. And I basically patted her on the head and told her that that was nice, but I suffered from real motion sickness.
Ugh when I think of all of the horrible car rides that needn't have been so horrible had I just listened to her!
I finally bought a pair of Sea Bands this summer and I can honestly say they've changed my life. I used to get so ill even sitting in the front seat of a car staring at the road (Norwegian roads aren't the kindest on stomachs), but now I can sit in the back of a bus reading. It's insane.
The point is, if you know anyone who suffers from motion sickness who hasn't tried Sea Bands, buy them some. And even if you're not sure if your traveler gets motion sick, chances are their journey will take them on some winding roads or rough ferries that can challenge even the strongest stomachs. Buy them some Sea Bands here.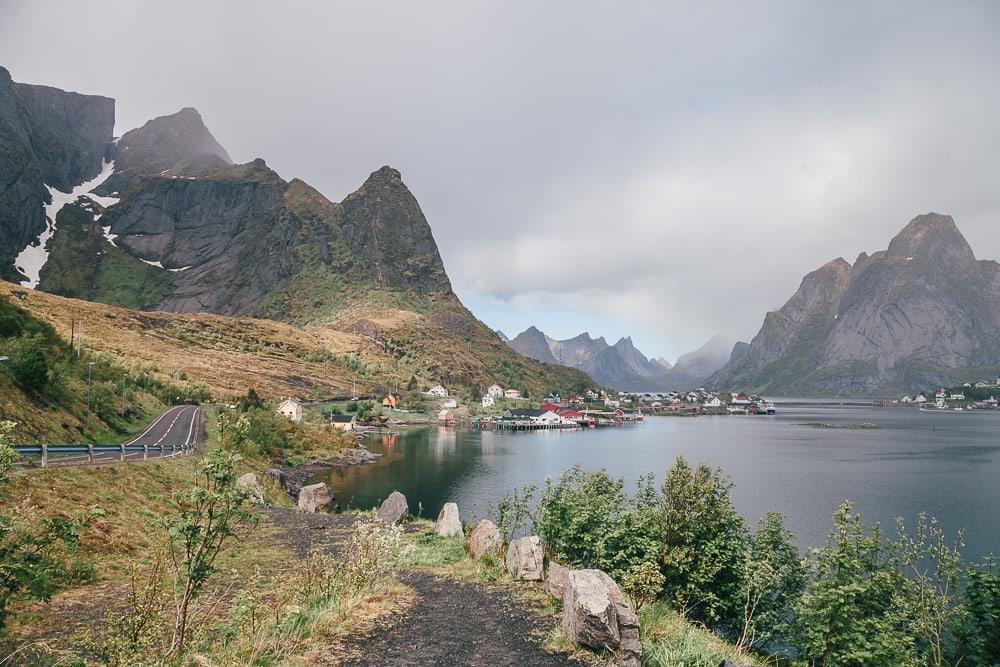 Instax share
printer 
In an age when all of our photos seem to be stored on social media instead of hung on our walls, I've been loving seeing so many photo printers pop up recently.
I bought my sister and her husband the Instax share SP-2 printer last Christmas, which is a little portable printer that allows you to print photos from your phone onto ever so cool and retro polaroid film. And then when I was leaving Japan last month I saw that Fujifilm has come out with the SP-3 printer, which prints onto larger square film. I was feeling sorry for myself for the long plane journey ahead of me so I spontaneously splurged on it and oh my goodness, I'm obsessed!
I especially love that the photos are square not only because that means they're larger, but also because it means I can print directly from Instagram without cropping. And in fact the Instax app can connect directly to Instagram, so I'm literally just printing off my Instagram photos, so easy. I can't wait to hang them up in my new apartment! Have I mentioned I'm moving in a couple of weeks?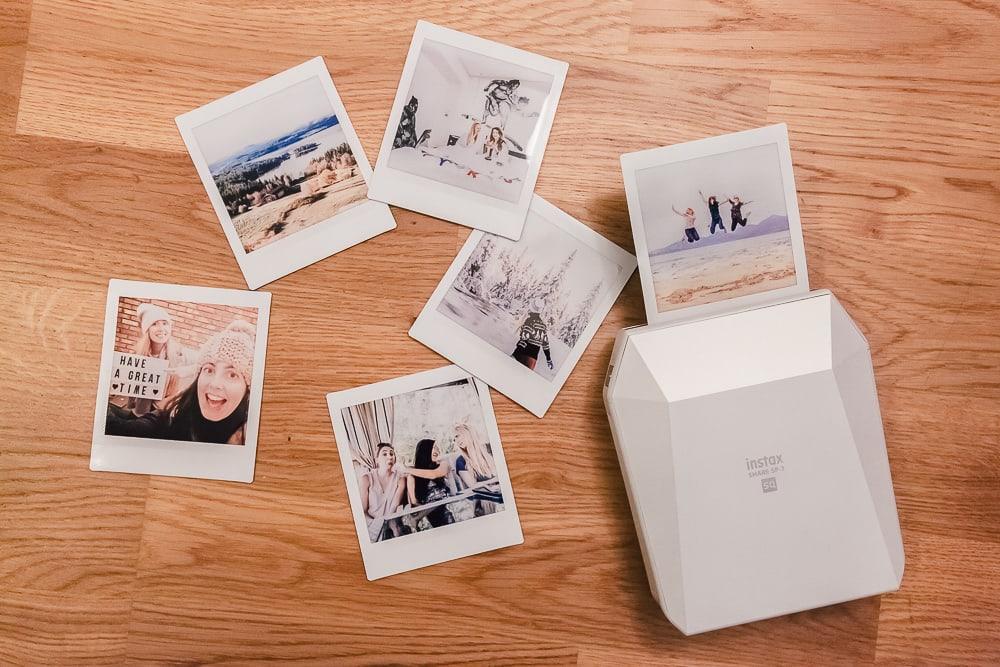 The film is a bit expensive coming out around $1 per photo, but each print feels like a little treasure – I can't explain how wonderful it is to hold a moment from my travels in my hands. Ugh does that sound mushy?
But I was also thinking, the printer is so tiny and portable it would actually be great to take on my travels, especially when I'm going to places where locals might not have ready access to photos. Sometimes I'll take photos with people I meet and show them on my phone, but how wonderful would it be to actually be able to print out the photo to give to them?
When we were in Kyrgyzstan Danielle and I took a bunch of photos with a family we stayed with in Sary Tash and as they had no camera of their own we promised to send them prints of the photos when we got to a city. But by then we had lost their address, and even years later I still think about what a shame it was that we never got to give them any photos.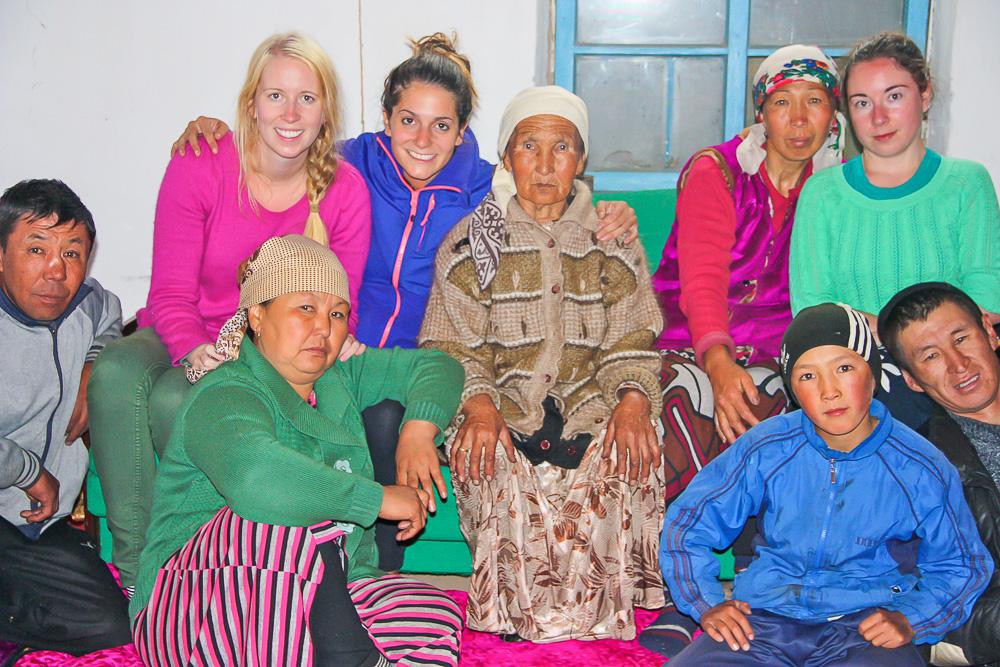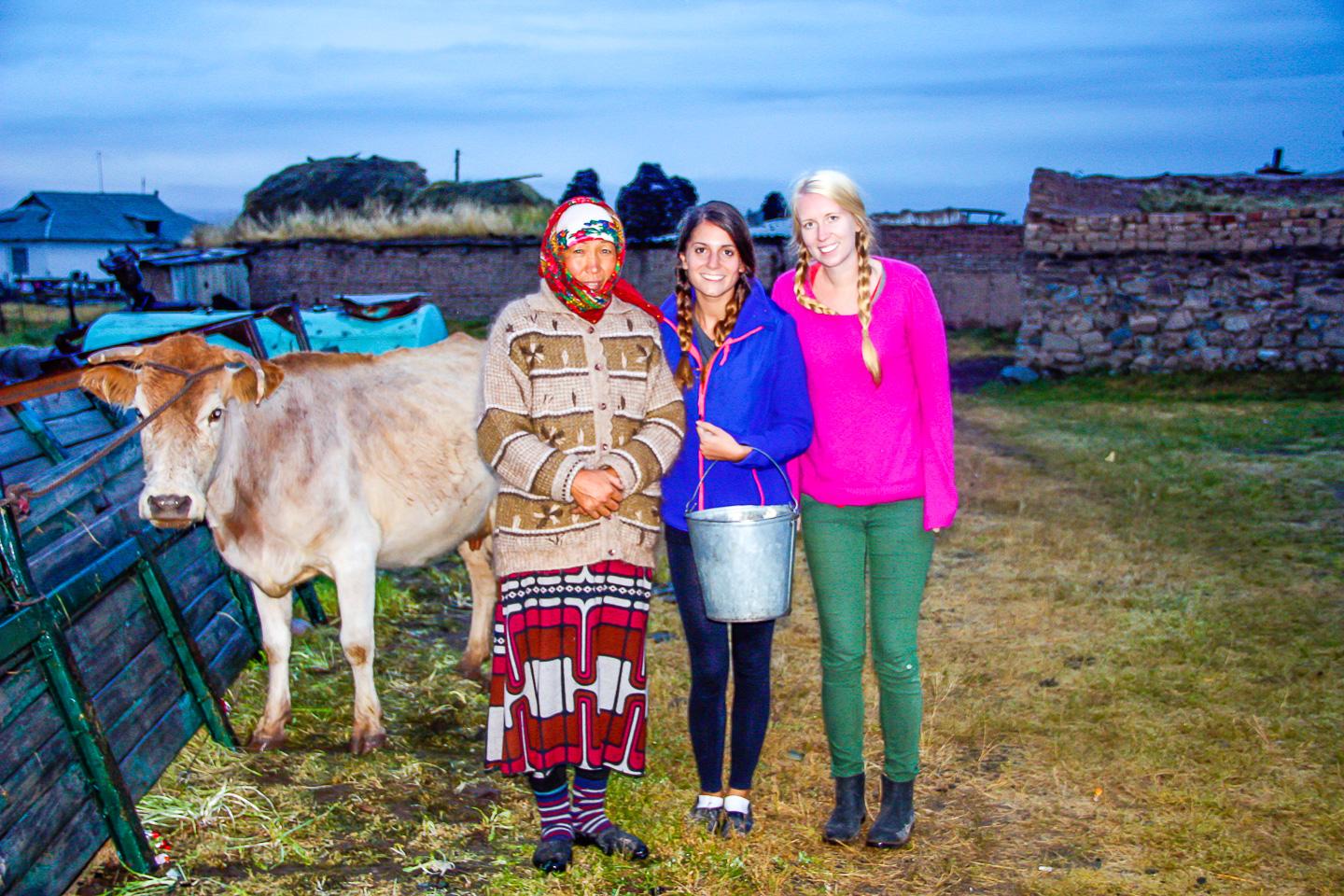 The HP Sprocket is another even smaller portable printer that could also be a good option for traveling with (and the paper might be cheaper). It prints onto sticky paper so you can use the photo as a sticker, though I personally still prefer the look of the Instax prints myself.
An experience
A lot of times travelers aren't really looking to accumulate more things, especially if they're the nomadic type who carry all their belongings on their back, so instead you could offer to pay for a special experience on their next trip.
There are many ways you could do this. I mean, you could just straight up give them cash, or one time my mom gave me a card full of euros for my trip to Spain, which was really nice because it meant I had to spend the money on something on the trip, so it wouldn't just disappear on something boring like groceries.
If you know the details of their travel plans you could get super specific about what experience you'd like to pay for, or if you want more flexibility I've heard a lot of bloggers talking about Tinggly experience gift boxes, where you essentially gift someone a voucher that is valid for a wide range of experiences – and they have five years to redeem it! Tinggly also has a bunch of different themes for the gift boxes, so they'll be a lot more personal than simply handing over some money.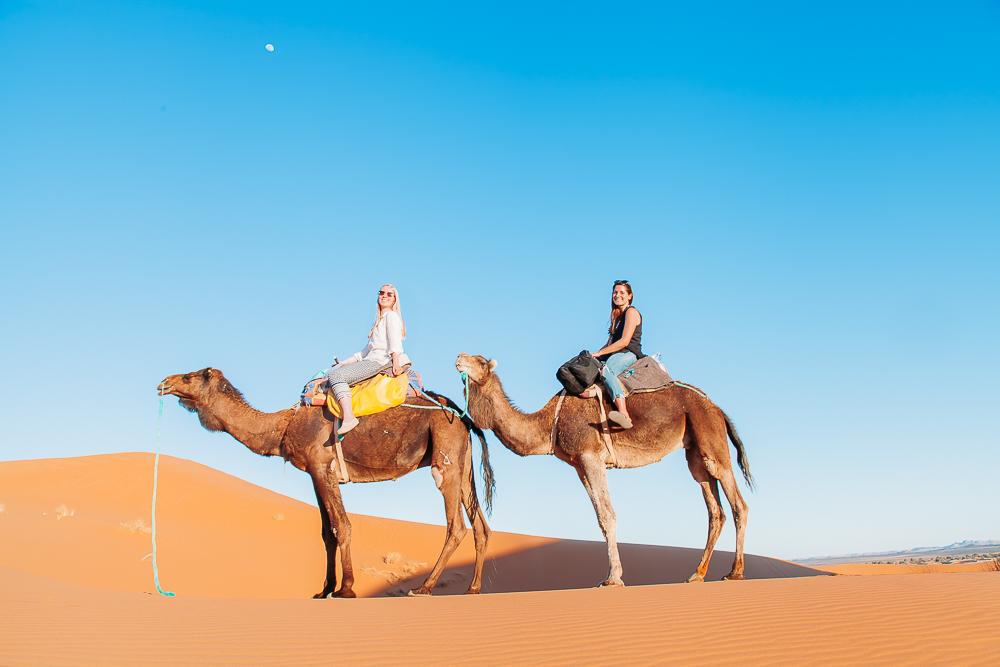 Eye mask + ear plugs
An eye mask and ear plugs might sound like a totally boring gift, but they might just be the most useful things you can give someone who travels a lot – and yet they likely won't already have this, or at least not as nice a version as you'll be giving them.
This probably makes me sound like an old woman, but I am just so over long bus and plane rides that now I try to sleep through them all. And with the help of an eye mask and ear plugs I usually can! I keep a tiny case with a pair of ear plugs and an eye mask in my bag at all times, and these days I find myself whipping them out for a quick nap more often than I'd like to admit.
Seriously though, they are so useful to have with me all the time and I can't believe I traveled so many years without them.
I used to have a really nice eye mask like this one that I took with me everywhere, but I stupidly forgot it on a bus and have since been punishing myself with a free Aeroflot mask. As for the ear plugs, just make sure they come in a little case or pouch so that they won't be misplaced.
Again, it might seem like a boring gift, but the traveler in your life will love you for it, I promise.
GoPro action camera
If you're looking for a more extravagant (and exciting) gift, then a GoPro action camera might be just the thing.
It's not exactly a packing list essential, but it's so tiny that it's easy to bring everywhere and you'd be surprised by how useful it proves.
GoPro sent me the Hero 6 when it launched and to be honest I was a little miffed because I don't consider myself the sporty adventure type who needs an action camera, but I began bringing it with me everywhere because when someone gives me something (especially something expensive) I feel obligated to use it.
But I've since fallen in love with my GoPro and if anything ever happens to it I'll definitely be replacing it! It's fun to have a waterproof camera for underwater shots, but I've also found myself using it in all sorts of situations, like when I want a more discreet camera for a crowded marketplace, an ultra wide angle lens to capture a landscape, or a tiny little camera that will let me get right up in a reindeer's face.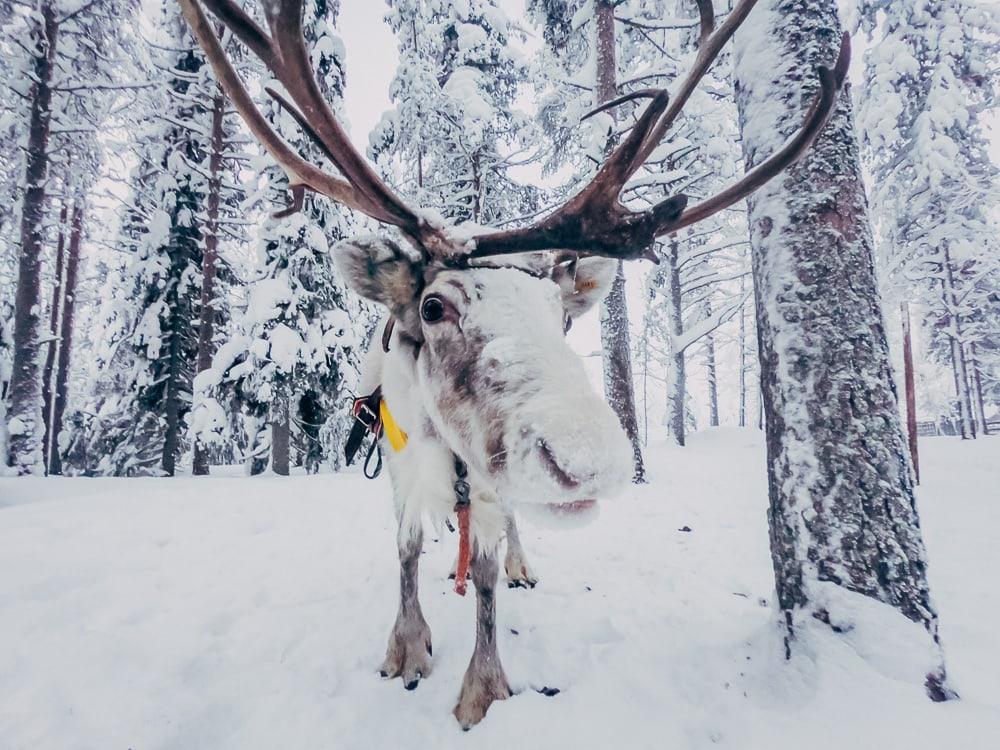 The video quality is also amazing and so incredibly smooth – I always use my GoPro now when I want to take video clips when I'm walking or skiing or on a shaky bus. And I've heard the stabilization on the new GoPro Hero is even more impressive, if that's possible.
Most of this video was recorded on my GoPro and a Phantom 3 drone. Oh my goodness, if you really love them you could buy them a drone! I just upgraded to the Mavic Air and whoa, it's like something from the future:
Specialty gear
If you know where the traveler you're shopping for is planning to visit next, you could always scour packing lists for the region for any specialty gear that they might not otherwise have.
It's always a pain to have to buy things for trips that I know I won't use at home, and I would love for someone to take away a bit of the pain – plus I'd be so touched to see they've done the research to find out what I need to bring in the first place!
So like, if they're headed to the Amazon rainforest you could buy them a head lamp or a quick dry shirt, and if they're off somewhere freezing you could buy them that expensive face oil that they won't want to splurge on themselves (and then buy yourself some as well, because it's seriously like a magic wand for your face, no joke).
Here you can find my packing lists for:
Bonus: some things to possibly avoid
And finally, here's something that you shouldn't give – maybe?
Actually I know a lot of people who love travel so much that they want all the travel related paraphernalia. Maps, passport covers, boarding pass themed throw pillows, travel quote mugs, passport stamped bedding – they want it all.
I am not one of those people.
I mean, I guess it's like this with all hobbies – yes we love them, but that doesn't mean all of our stuff has to be all about them. How many dads have sighed as they unwrap yet another golf mug, and even at eleven I remember being slightly alarmed that all of my Christmas presents were covered in ballet slippers – a few hours of dance a week and is that all I am to these people now?
Personally I would much rather decorate my home with things from the places in the world that mean something to me, and those places include wherever the people I love live. So like, I'd way rather receive a nice candle or print or throw or whatever from your local shop than yet another globe.
Actually scratch that, I don't own a globe and I'd really like one. Just saying!