I wouldn't say I'm the best packer, because I usually leave packing to around midnight the night before I leave on a trip, which probably isn't the best approach. But with the number of trips I take each month I've at least become very practiced at packing, to the point where I don't really have to think about it at all.
That was not the case when packing for Guyana.
Not only was I uncharacteristically flustered when it came to deciding what to pack for Guyana, but I also sort of got it wrong. Like, kind of really wrong.
So I thought I'd share what my Guyana packing list should have looked like, with all the things one actually needs to pack for a trip to the Amazon.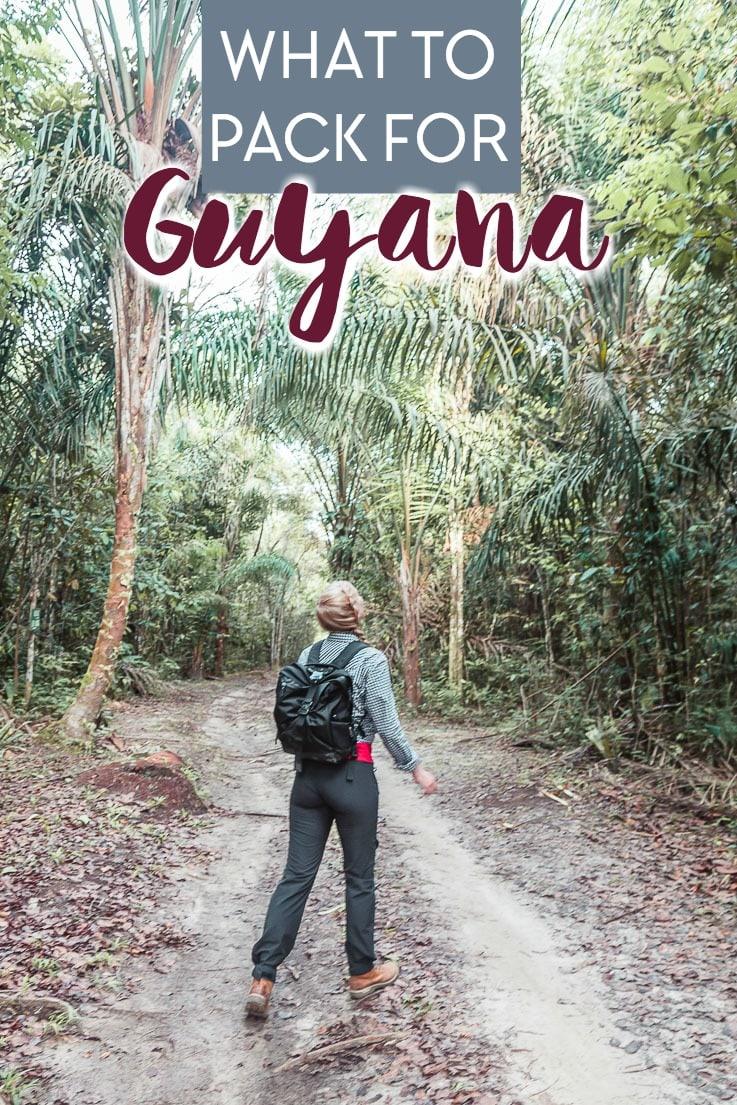 First Aid Kit + Compeed blister plasters
I'll start with one thing I did get right: bringing a packet of blister plasters. We did a lot of hiking in the rainforest so had to wear hiking boots, which weren't always the most comfortable. You see, the thing with hot and humid environments is that your feet can get awfully sweaty. And sweaty feet = blisters (even though I've had my boots for years and never usually get blisters from them).
And if all those years of ballet taught me anything, it's that regular bandaids do not help with blisters. Luckily I had packed Compeed plasters with me, which stayed put even when my feet were sweaty and also helped against the pain.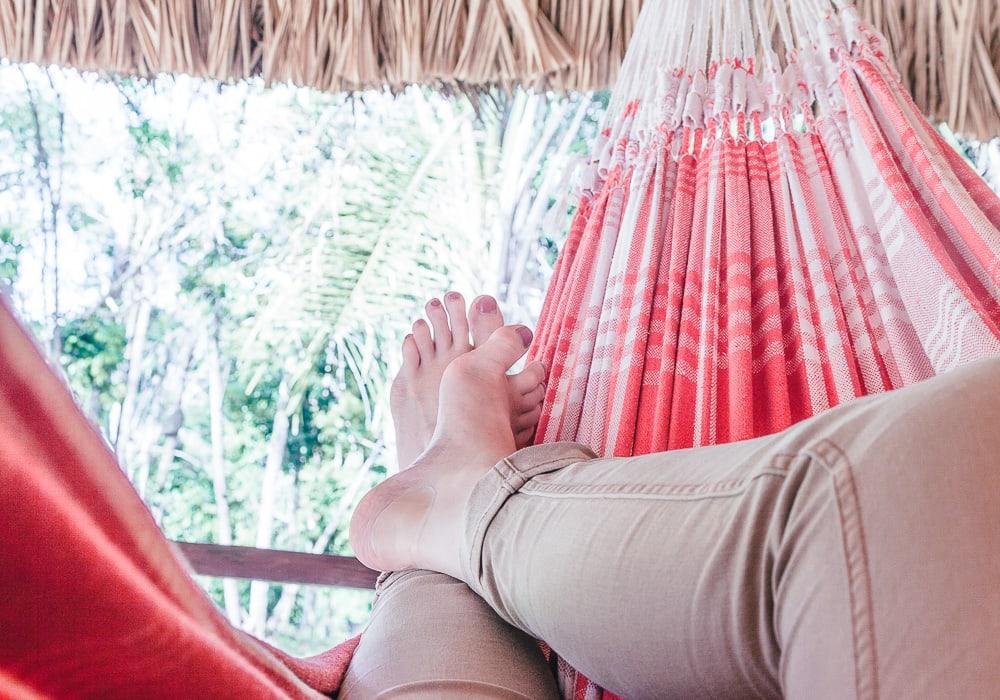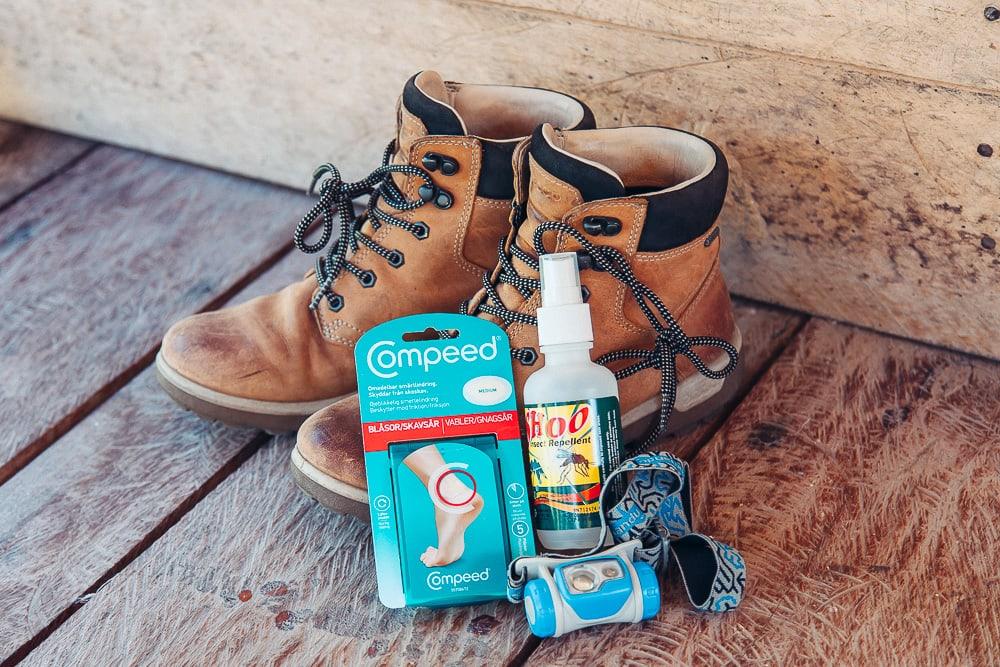 But I wish I had brought a more extensive first aid kit with me. I had rehydration salts with me, which were also much needed, but I could have also really used some anti-itch cream for all those bug bites. Actually I could still really use some anti-itch cream for them – do Norwegian pharmacies even sell it though? Not that Rauland even has a pharmacy.
3 Pairs of shoes
I know, this totally sounds excessive.
I needed one pair of sturdy, worn-in hiking boots with ankle support for all the hikes through the rainforest. Ideally these shouldn't be Gore-tex lined because that will keep in the moisture.
Then I also brought a pair of canvas shoes to wear around Georgetown and the lodges at night. These are super lightweight and barely take up any luggage space.
But I also really wish I had brought a pair of rubber flip flops to wear in the shower. A lot of the eco lodges in Guyana have outdoor bathrooms and I definitely would have been more comfortable showering in flip-flops.
I am usually super against buying special travel clothes. The way I see it, locals wear normal clothing, so it's kind of embarrassing when tourists insist on decking themselves out in quick-dry zip-off pants and other unnecessary gear.
But Guyana was the first place I've visited where I couldn't simply dress like the locals. Because bugs.
While the local Amerindians have become basically immune to mosquito and kabura bites, I served as a human-sized snack for them. So like, whenever I exposed just the tiniest bit of skin it would get chewed up with super, super itchy bites. The only thing to do really was ignore the heat and cover up.
I was in the rainforest for 8 days and brought 4 button-down shirts with me, which was a good number. I actually just brought Dan's old shirts that he doesn't wear anymore because they fit nicely (a bit baggy for extra breeze).
But I sort of wish I had bought quick dry button downs like this one from Columbia or this one from Backcountry, because it was so humid that it was impossible to wash and dry the shirts at night. Instead I had to wait until I had some spare time to wash them during the day so they could dry under the sun.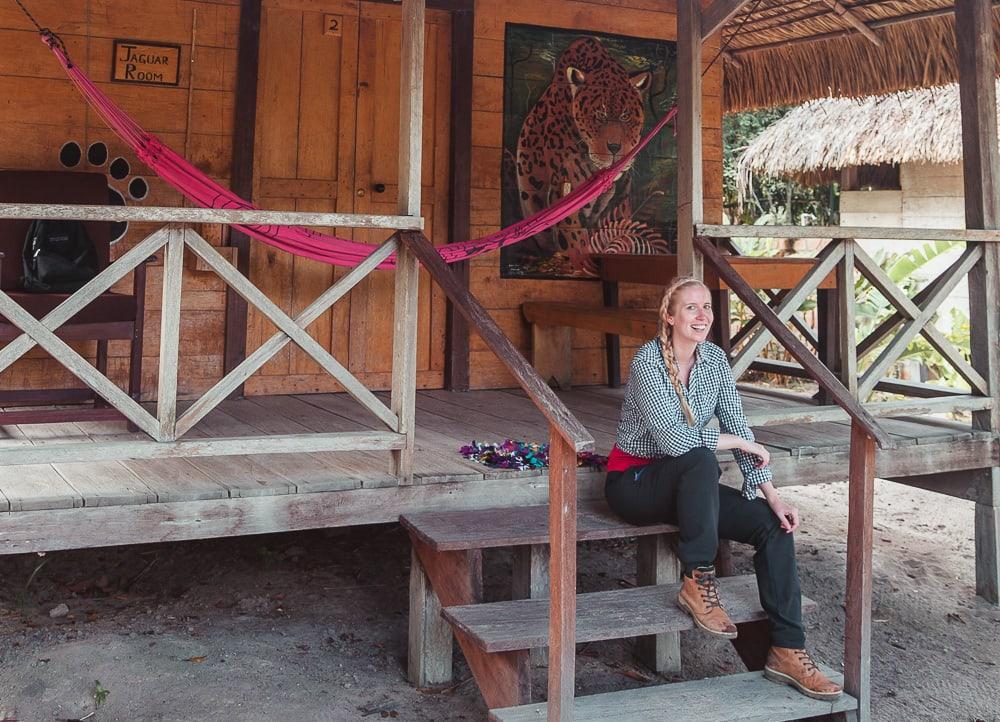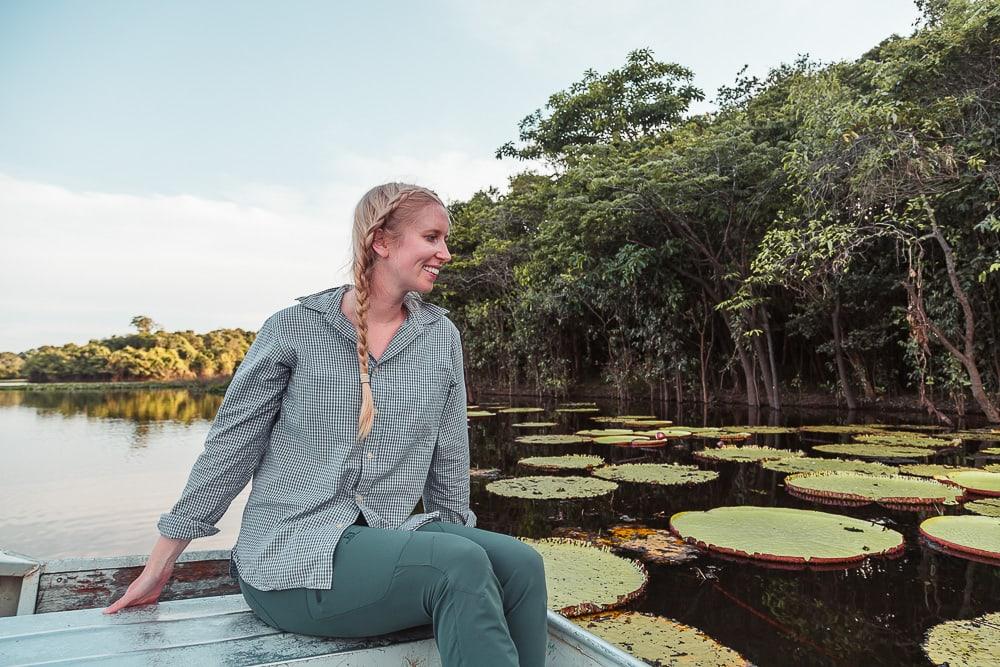 Thin tank tops/base layer
I brought three tank tops for 8 days in the rainforest, but actually I think 4 or even 5 would have been better, as these got soaked in sweat during the day.
I brought regular tank tops, though even better would have been the AIRism tanks from Uniqlo that I used to wear when I lived in Japan. They seriously do keep you cooler!
Quick dry hiking pants
I brought two pairs of hiking pants and one pair of light colored jeans, but I think three pairs of hiking pants would have been better. I also had leggings with me, but it was way too hot to wear them.
My favorite hiking pants were these ones from Salomon.
You could also consider bringing a light pair of sweatpants for lounging around at the lodge after a day in the jungle. But if you're pressed for space, don't worry about it.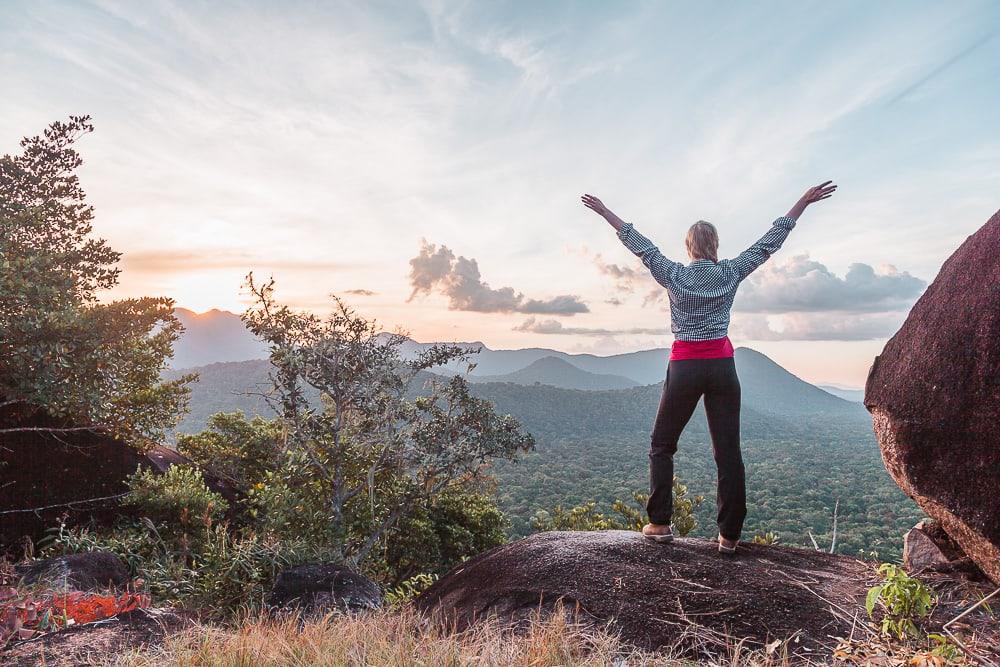 Lightweight, long pjs
If you can bear it, I'd really recommend wearing long pjs because those mosquitos always find a way into the mosquito net. Most of the eco lodges in Guyana are genuinely eco though, meaning they don't have fans, so it might be too hot for long pjs. I think I ended up taking mine off for a couple of the nights, but I always regretted it in the morning!
Dresses
I brought two dresses with me, one for each day I spent in Georgetown. I kept them fairly conservative with short sleeves and reaching my knees, but I saw plenty of women in sleeveless short dresses too, so it seems like anything goes in Georgetown.
Lots of socks and underwear
Since it was hard to do laundry at night, I wish I had brought a lot more socks with me. Basically bring as many pairs as you can, but at least one pair for every two days in the rainforest. The same goes for underwear.
And I would bring the thinnest bras you have, as they seem to just serve as a place to gather sweat. I wore bikini tops because I'm not sporty enough to own any sports bras.
A lightweight rain jacket
I carried my raincoat with me in my backpack everywhere just in case, so the having a lightweight one was handy.
A small daypack
I usually always travel with my purple Patagonia daypack, but this time I brought my black Kosan daypack (I used the big Kosan pack for my main luggage) because I new it would get really muddy in the rainforest. A rain cover for it could also be helpful, though I actually didn't end up using mine (mostly just because I forgot I had it).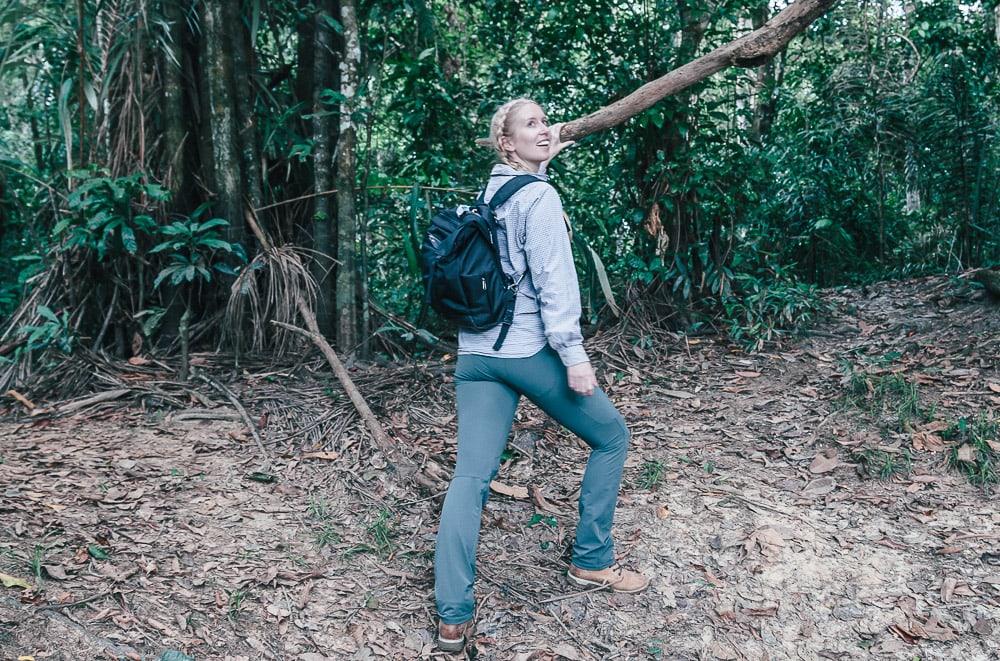 A hat
I usually never ever wear hats in the summer, but I kept my baseball cap on every day in the rainforest, both to protect from the sun and from the random things that fall from the rainforest canopy.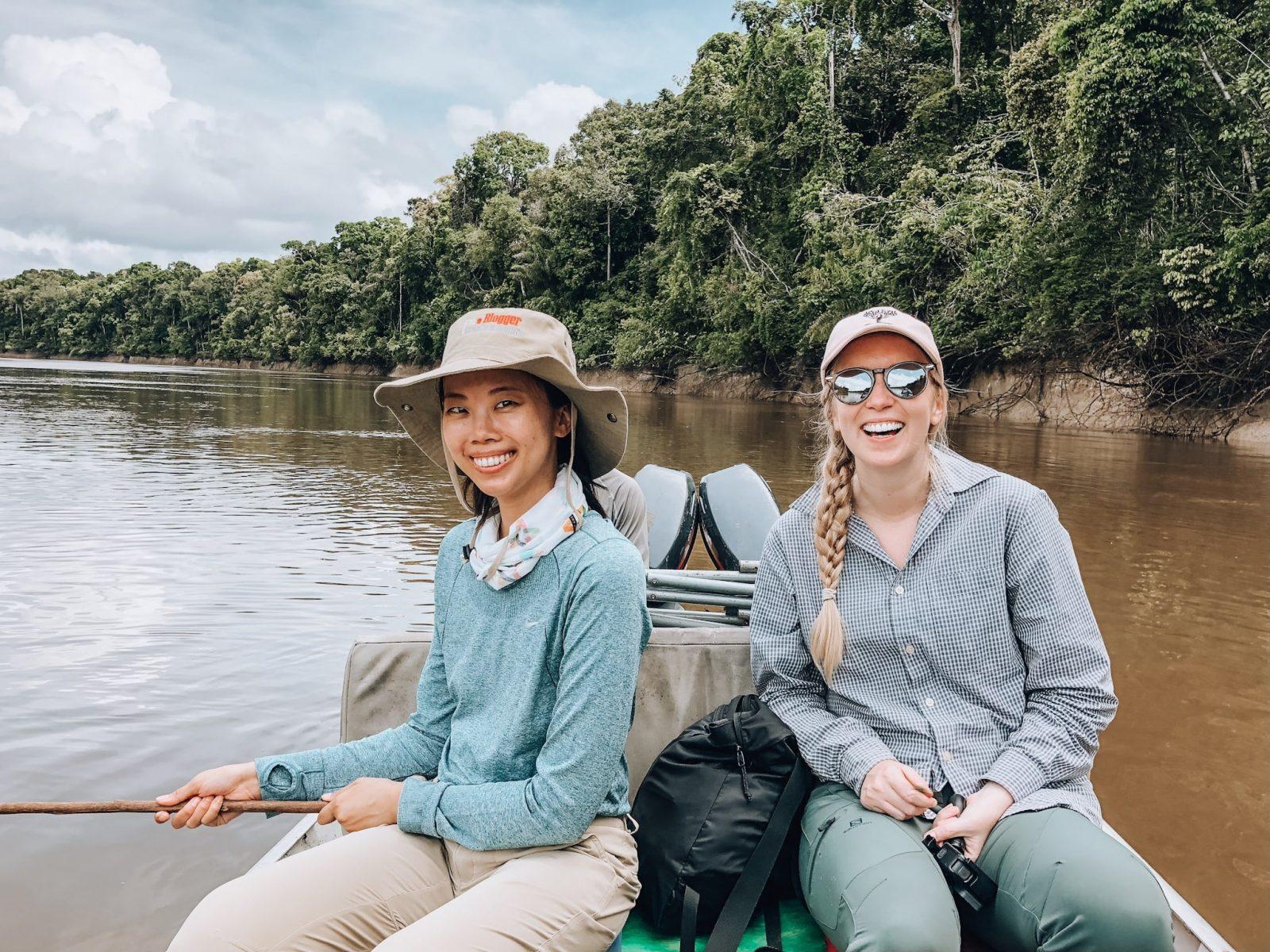 A headlamp
Guyana is on the equator so the sun sets and rises around 6, which means a lot of time in the dark! It's good to get one that has a red light mode so you don't attract all the bugs. I borrowed Dan's headlamp and still need to tell him that I lost it on Awarmie Mountains, ahh….
Cameras
Guyana is gorgeous, so definitely bring a camera with you – or be like me and bring three!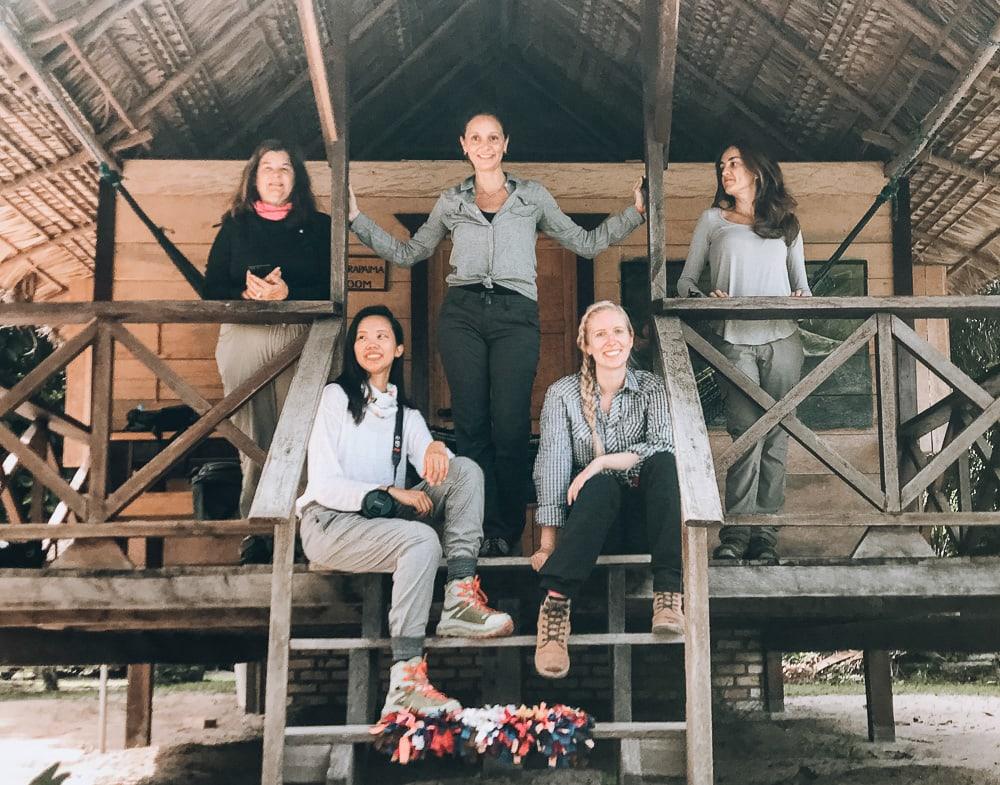 Luggage
It doesn't really matter what sort of luggage you bring – a small suitcase or backpack is fine – but just keep in mind that there are strict weight limits on internal flights in Guyana as the planes are so small. I was limited to 40 pounds of luggage total, and they even made me step on the scale at the airport!
Toiletries
I kept toiletries to a minimum – basically deodorant, toothpaste, toothbrush, hairbrush, moisturizer, wet wipes, and solid shampoo that I could also use as soap (though most of the lodges also provided soap). You might want some makeup for Georgetown, but you won't need it for the rainforest. In fact I don't think I even put on moisturizer at night because Guyana was so humid – definitely different from Norway.
Sunscreen and mosquito repellant
I don't know why I put these last on the list, because they are probably the most important of all!