Some of you guys have shrewdly observed that I'm now traveling with a boy. What?!
I know, it's a change.
Now I no longer have to ask strangers to help me lift my bag into absurdly high luggage compartments, I have access to an iPod with good music (his, not mine), and not once has a strange man interrupted my travel bliss with a lewd offer to "show me around." 
Plus it's pretty great traveling with someone with such a high tolerance for my annoying antics.
But the best part about traveling with a boy? This time around my travel plans weren't met with the shock and concern that they so often were when I was traveling alone.
And by best I mean worst, because, seriously? Last year I felt like I had been hurled back centuries through time when people kept reacting to my plans to backpack through Iran with horror, telling me that I couldn't possibly travel there alone as a woman.
If you haven't read through my Iran archives here's a spoiler: I didn't get kidnapped and I didn't get raped. In fact, I'm tempted to say that traveling through Iran is actually easier as a woman, because it seemed like every girl and her grandmother considered it their personal responsibility to look after me. Yes it was annoying having to separate from men on public transportation, but I'm going to let you in on a secret: the women's section is so much more fun!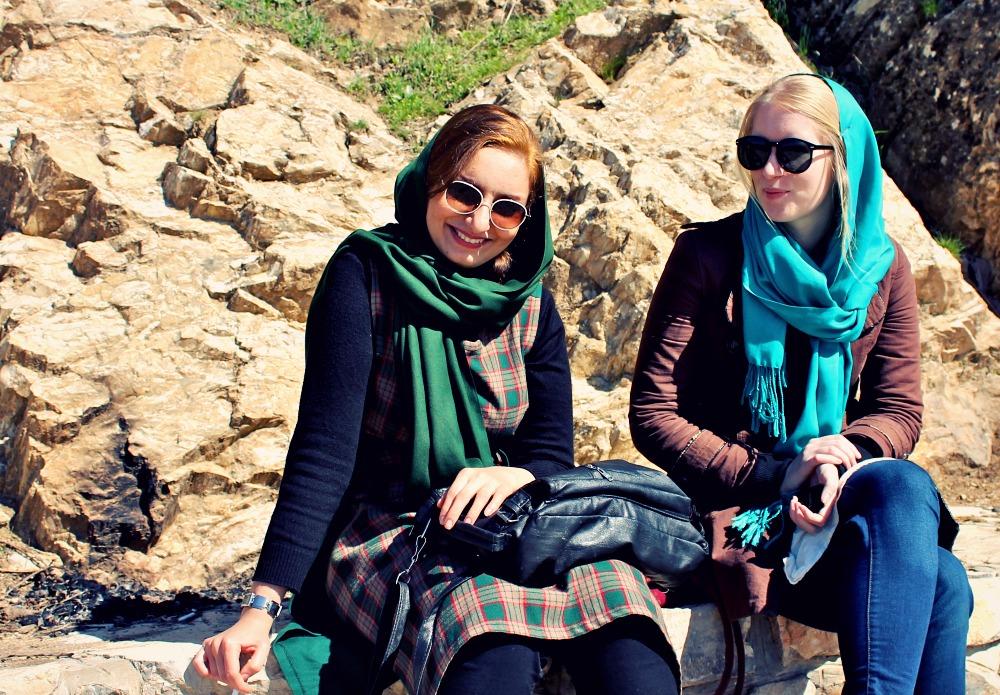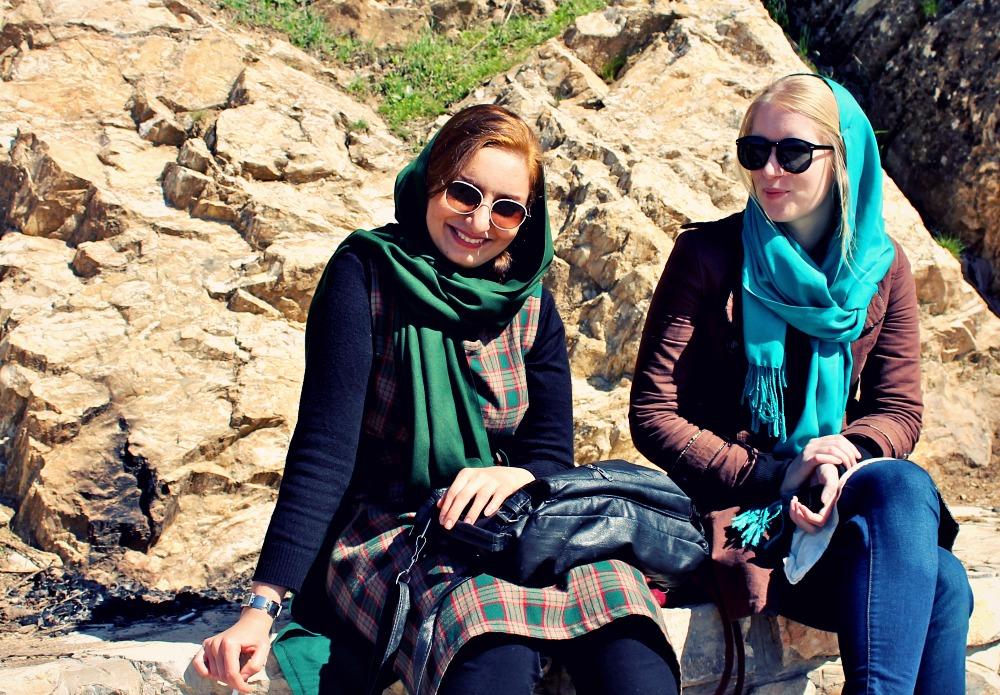 I love traveling with Dan, but when I was traveling with Danielle we had loads of adventures that I don't think I could have with a guy. Like that time we hitchhiked with the Tajik mafia on the Pamir Highway, or when we "innocently" wandered through Europe's marijuana growing capital and were treated to lunch and drinks by local harvesters. And then there was that time we used lipstick and casual chitchat to help us sneak across the Kazakh border when we had forgotten to register our visas.
Being a girl doesn't suck.
On the border between Afghanistan and Tajikistan
Recently at a hostel in Malaysia people in my dorm were talking about where they had been traveling and I launched into my usual (super obnoxious, I'm sorry) rant about how Central Asia is the best place in the world to backpack and everyone should go there now. One of the girls responded that she was surprised that I had been to the Stans, because I seem like "such a girl."
Um, yes. But also, what does that even mean?
My travel essentials include nail polish and lipstick, my iPod is pink, and right now I'm backpacking with four skirts and only one pair of jeans. Sometimes when I walk my arms float around me like I'm dancing (I blame all the ballet lessons), and books, cartoons, pretty places, winding roads, Taylor Swift songs, stern Russian women, and onions have all been known to turn me into a weepy mess. So if that's what Sara meant by saying I'm "such a girl" then yes, I'm such a girl.
But I'm not sure I know what that has to do with my travels in Central Asia.
At least I wish I didn't. The truth is, I'm all too familiar with the connection.
While traveling through the Stans, Sasha, Danielle and I were often greeted with raised eyebrows from fellow backpackers.
The backpacker scene in Central Asia is mostly male (or at least it was when I was there in 2013) and when we did meet other female travelers they were almost always there with their boyfriends. So I imagine Danielle, Sasha, and I did make for an unexpected sight when we'd arrive at a hostel with our lopsided backpacks overstuffed with super serious backpacking essentials like dresses and gummy candy.
Usually other backpackers would just look a little amused, but sometimes they seemed downright offended by our lack of seriousness.
Glancing at our flimsy flip-flops in disgust Serious Backpacker would be all, "Wait, you've been in Kyrgyzstan for three weeks and you still haven't gone hiking?!"
Funny, because I was feeling the same sort of dismay at your never having tried the local qurt balls.
Maybe I'd understand their attitude if we weren't making any attempts to explore the country, but while Serious Backpacker was staying solely at hostels and going on solitary hikes, we were doing mostly home stays and skipping the popular tourist activities to instead hang out with locals. I mean, had Serious Backpacker even bothered learning any Russian for this trip?
With our host family in Sary-Tash, Kyrgyzstan
Really, getting to know a local culture is a far better way of traveling than talking only to other tourists at hostels and spending time alone in the wilderness.
That's total nonsense, of course. Frankly it's none of my business how someone else chooses to travel. There's no "right" way to travel.
You don't have to run everyday and be able to lift 200 kg to travel through Kyrgyzstan, you don't have to love partying and look awesome in a bikini to travel through Thailand, and you don't have to be a vegetarian obsessed with yoga to travel through India.
I do try to encourage people to get off the beaten track and visit less touristy countries, but if seeing Paris is your dream, then forget Armenia, by all means go to France! And if you don't really want to visit the Louvre and Eiffel Tower but instead would rather spend all your time in an adorable cafe gorging on pastries, well, bon appétit!
Happy International Women's Day!
I love how big of a deal Women's Day is in Russia – most of the women I've seen today are walking around with bouquets of flowers. I'm still waiting for my flowers, but I'm sure I'll get them eventually.
When I buy them for myself because I'm an independent woman like that, duh!
PIN IT!