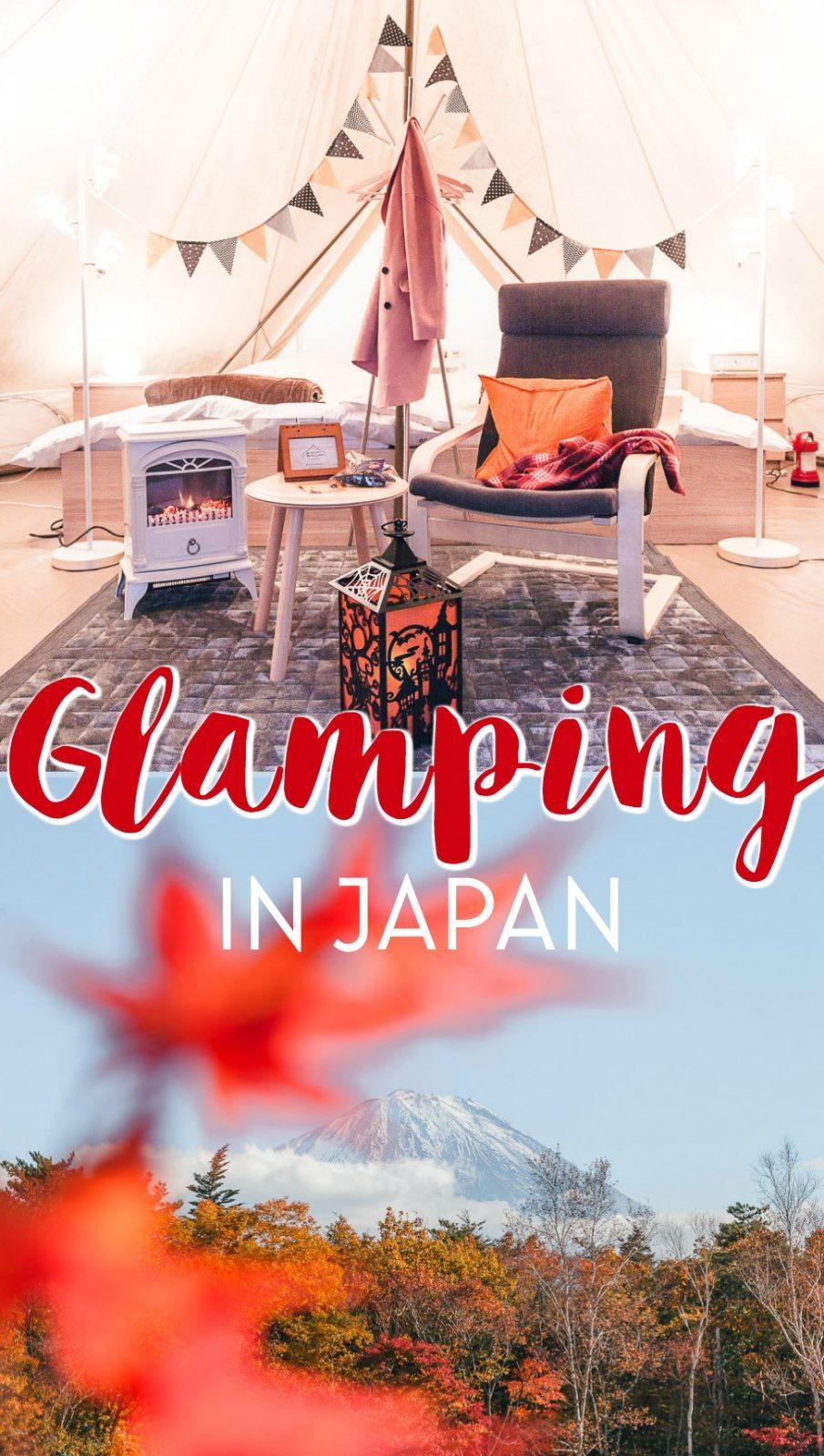 This trip was sponsored by JNTO
Autumn is my favorite time in Japan, not only because the trees turn different colors and the mountains top with white, but because the temperature drops to much more bearable degrees after a long hot summer so that you can actually go outside and explore the nature. And I've said it before – sure Japan's cities are impressive, but for me the Japanese countryside is where it's at. By it I mean the heart eyes.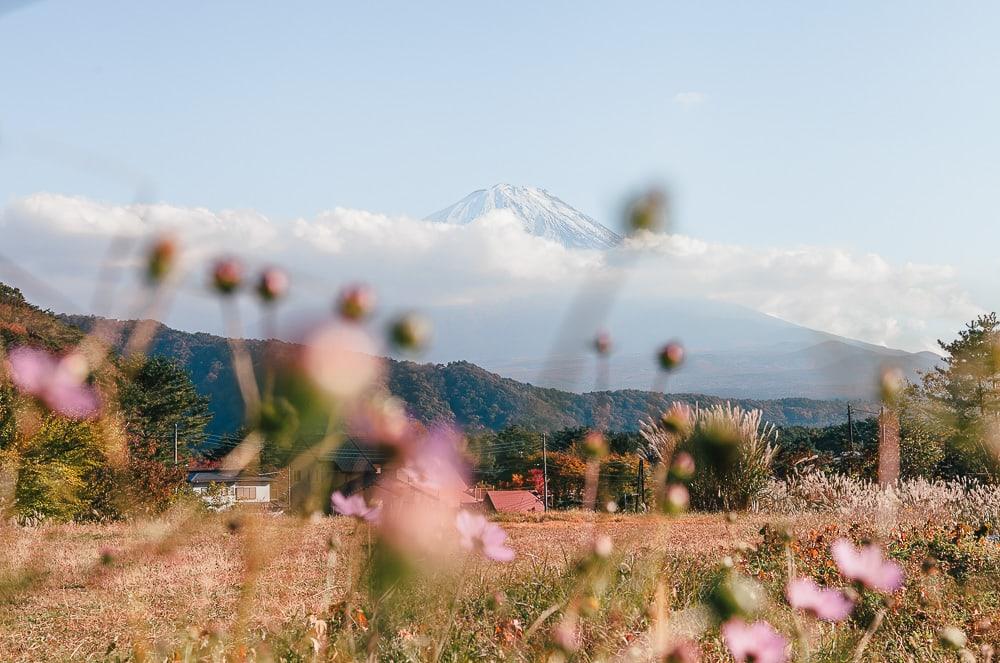 So I was excited to join some other bloggers for a camping road trip through the Japanese countryside, with Mount Fuji as our destination. I had never actually been camping in Japan before, though after my time in the Guyanese rainforest I was a little relieved that this trip would err on the glamping side of camping. No sleeping in hammocks this time!
Day 1: Tokyo to Shizuoka
Atami City & Ajiro, Shizuoka
From central Tokyo we headed straight to Atami City in Shizuoka, where we first stoped at the Hashiriyu hot spring in a cave. You can walk right into the little cave and feel the water spraying up – it's very hot, but an old lady coming out of the cave when I arrived told me the humidity took five years off her skin, so there's that!
Then we walked up to a shrine overlooking the city. Japanese shrines always seem to have the best views.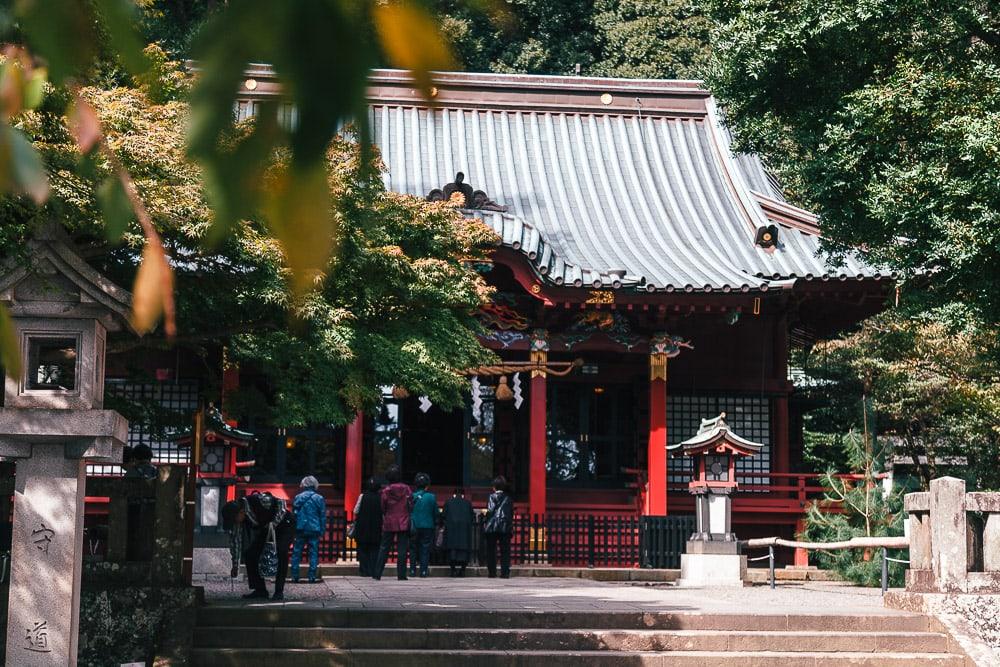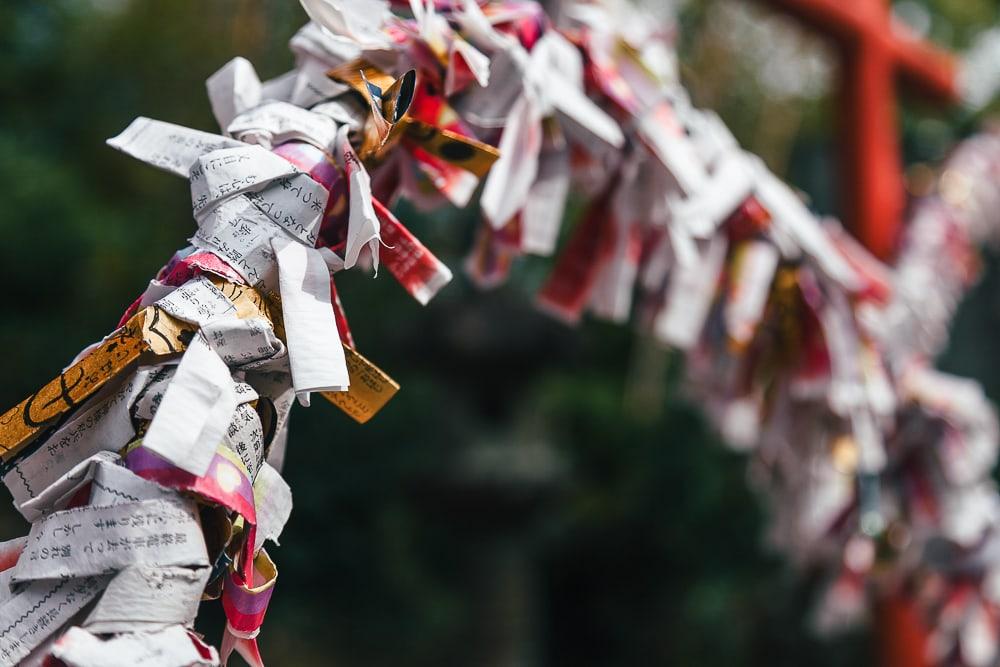 And then we headed to Ajiro Port to catch some lunch!
This was a super gimmicky fishing experience that I normally wouldn't have been into – we took a little boat to a fish farm in the harbor where of course we easily "caught" a bunch of fish – but there was something so Japanese and cute about the way the fisherman would cheer us on as we were fishing that it ended up being a highlight of my day.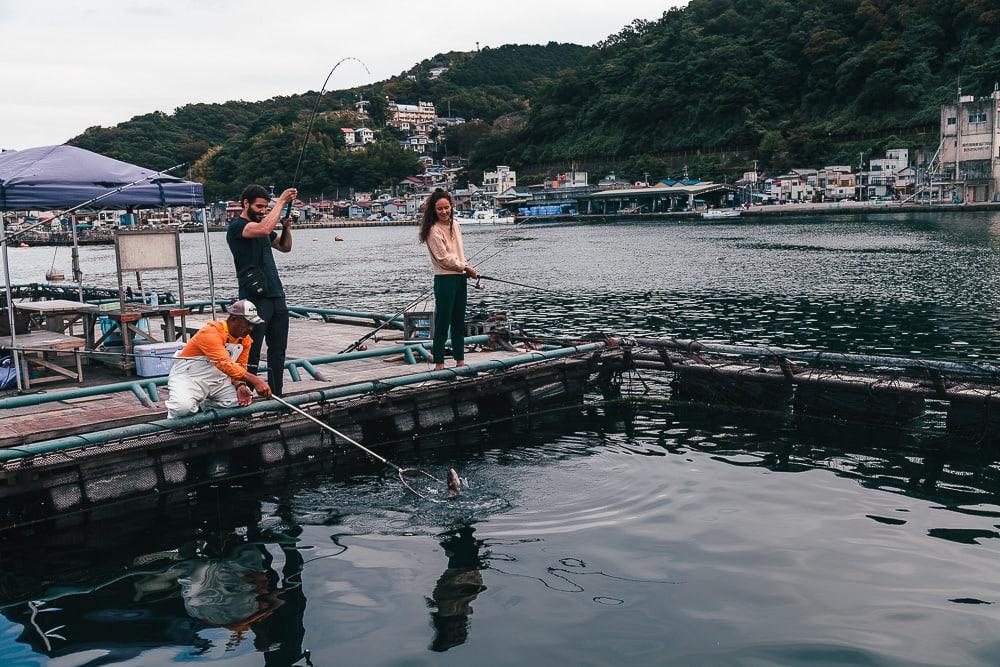 And then we took our fresh catch across the street to Ton-Ga-Ra-Shi restaurant for them to cook up for us and it seriously was such a delicious meal.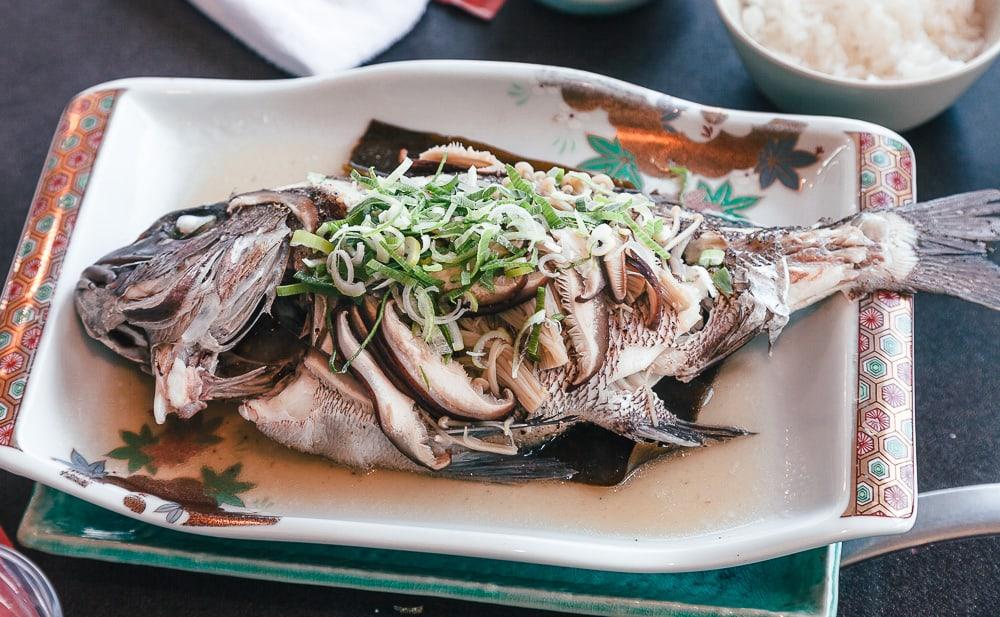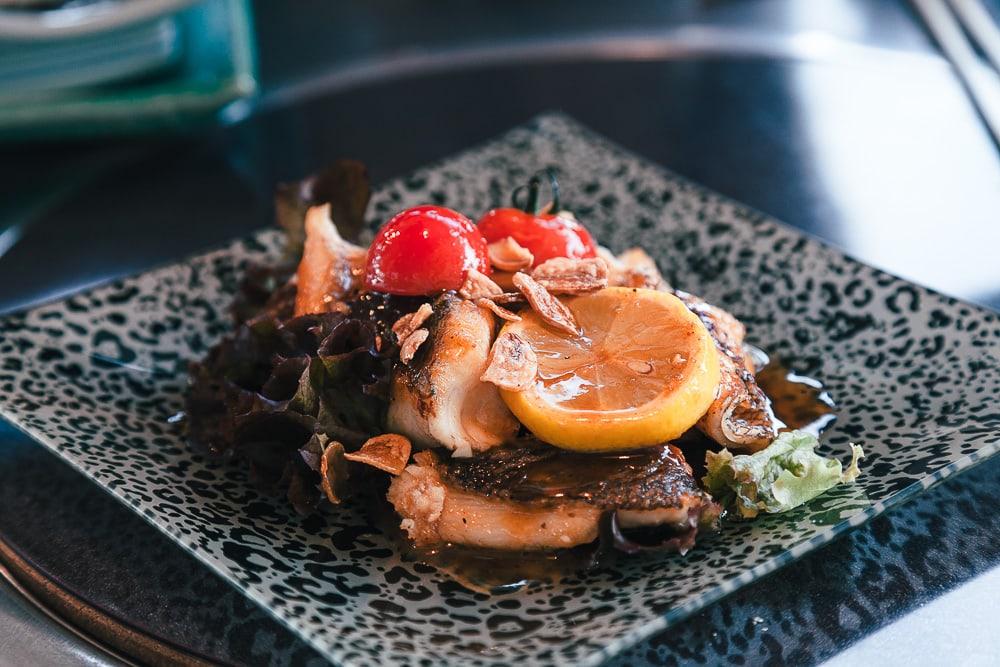 If you don't have a car you can also get the JR train to Atami Station and take the local bus to get around the area. 
UFUFU Village Glamping
We finished the day's drive at UFUFU Village along the Izu coast, which was our glamping home for the night.
Guys, this place is crazy. And so funny. And so Japanese, even though it's not like anything I've experienced in Japan before.
For anyone a bit behind the times (in other words, for my dad), glamping is a "glamorous camping" trend that Instagram has made all the rage. I've stayed in a few glamping spots in the past few years, usually featuring cozy heated yurts instead of pitched tents or full on beds inside a tent, because who wants to sleep on the ground? I even considered our campsite at the top of Awarmie Mountain glamping, especially when I saw the colorful mats they had laid out for us beneath our hammocks (also because there was a "they" setting up the camp for us).
But UFUFU Village was next level. I mean of course it was, this is Japan we're talking about.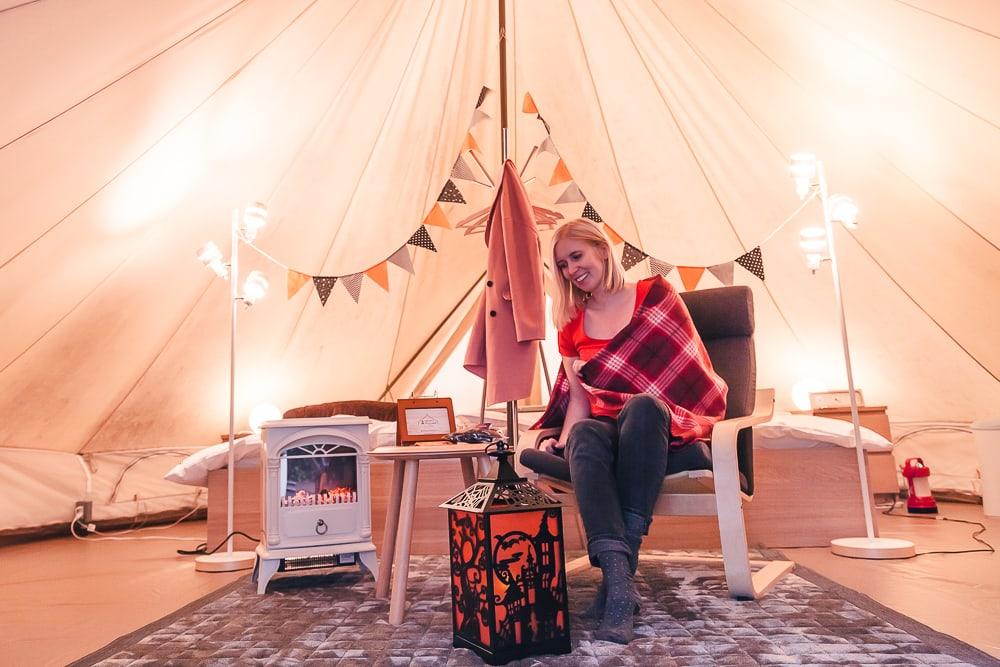 The tents are super warm and cozy inside, and they each come with a covered patio fitted with a barbecue for cooking up dinner. At meal times I could go to the kitchen and fetch a picnic basket full of goodies ready to put straight on the grill. And then when I was done I simply put all of my dirty dishes in a plastic box where they were magically whisked away during the night to be cleaned.
In other words, it was the very easiest camping experience ever. It's like UFUFU Village had really thought of everything to make the stay as luxurious as possible, while still feeling like camping – sort of.
The campsite itself isn't exactly in the wilderness as it's right on the edge of a town, but there's a woods area to explore in the back with a river running through it, and falling asleep to the sound of the river was so lovely.
If you don't have a car you can still take public transport to UFUFU Village. Take a train to Mishima, then take the Izuhakone bus for 30 minutes to Shuzenji, and then get the bus for 25 minutes to Tsukigase Onsen.
Day 2: Dogashima, Shiraito Falls, and Mt. Fuji Camping
Dogashima
In the morning I packed my things back in the car and headed to Dogashima on the western coast of the Izu Peninsula. The drive here was so beautiful, along the hilly coastline and through the tiniest Japanese villages.
The original plan had been to take the Dogashima marine boat to see the Tensodo sea cave, however the waves were too choppy so instead I walked around the park along the coast. It was still beautiful! I'd say coming here is worth it for the drive alone though, because it's such a pretty little corner of Japan.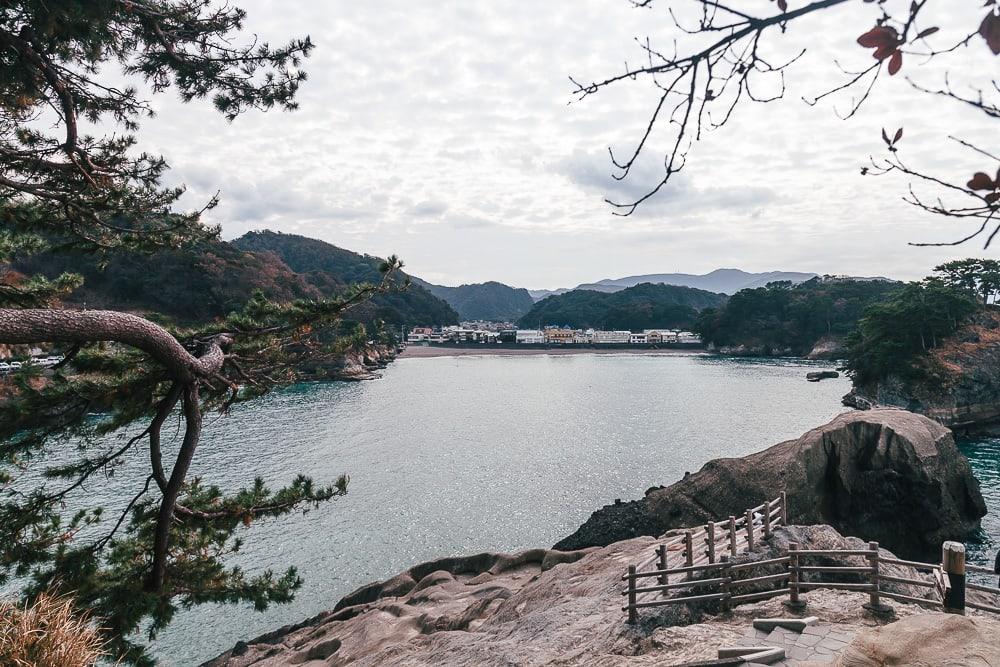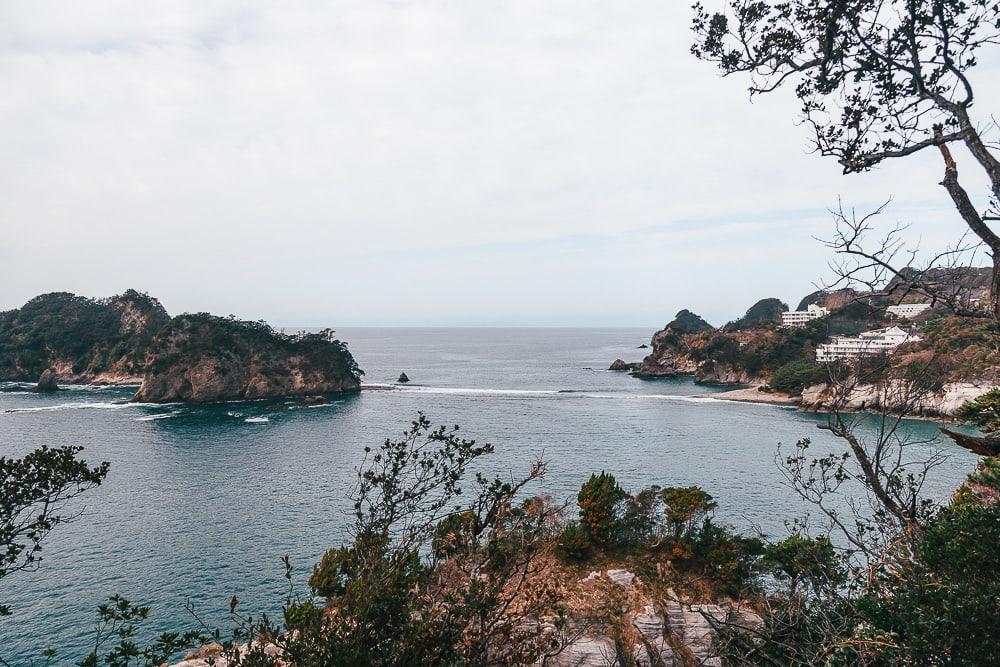 After exploring the park I stopped in Kaisen-don Kao Sushi, which is right by the parking lot by the harbor and oh my goodness, so delicious. I love eating sushi wherever I am, but there really is something special about the sushi in Japan.
The owners were super friendly and thought it was hilarious that I used to live on Tanegashima, as it's such a random little island. Almost as hilarious as how tall I turned out to be when I stood up, thanks guys.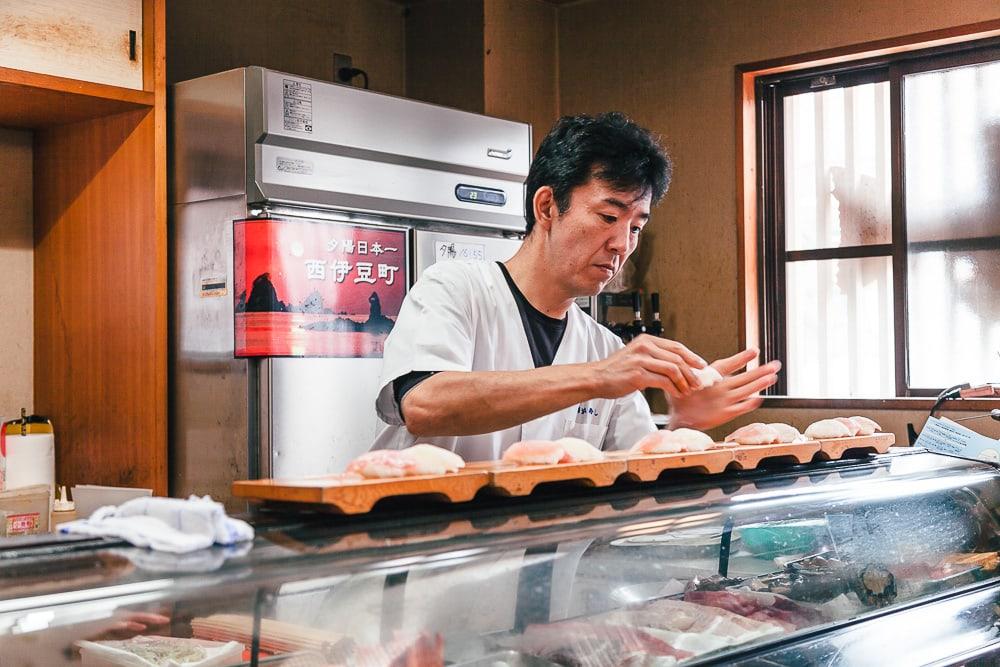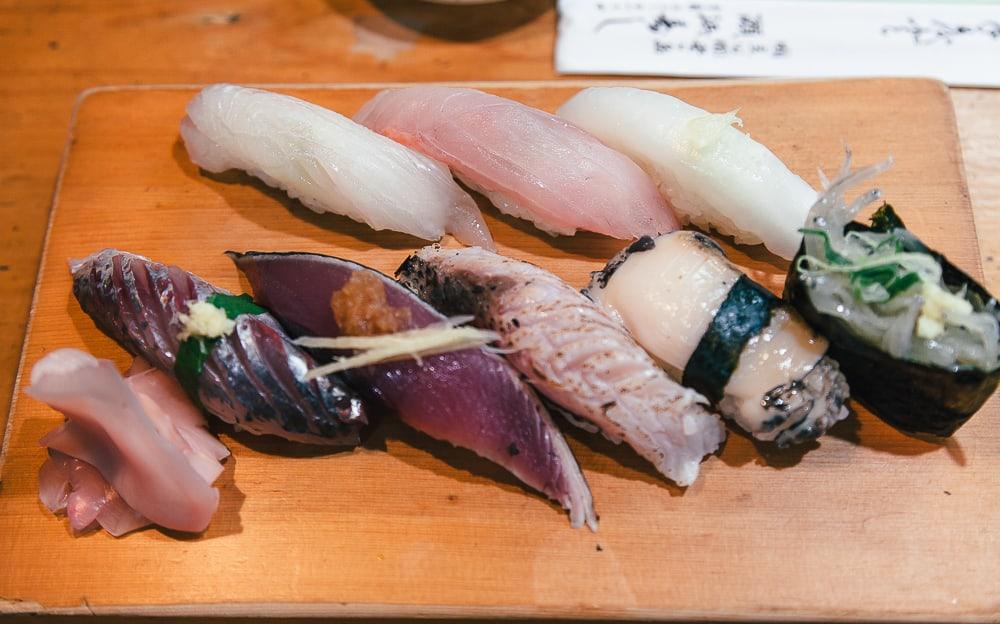 Shiraito Falls
And then we got back in the car and drove to Shiraito Falls in Fujinomiya. The drive here came with many spectacular views of Mount Fuji, though unfortunately the clouds settled in by the time I got to Shiraito Falls, so I couldn't see them with Fuji as a backdrop. But that didn't matter too much, as the falls are spectacular all our on their own!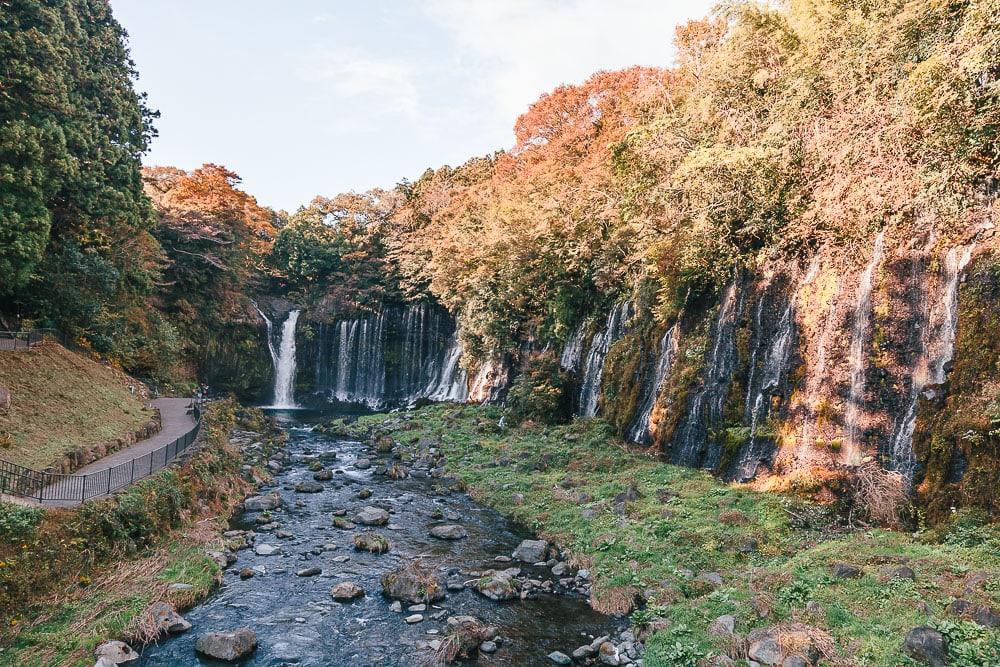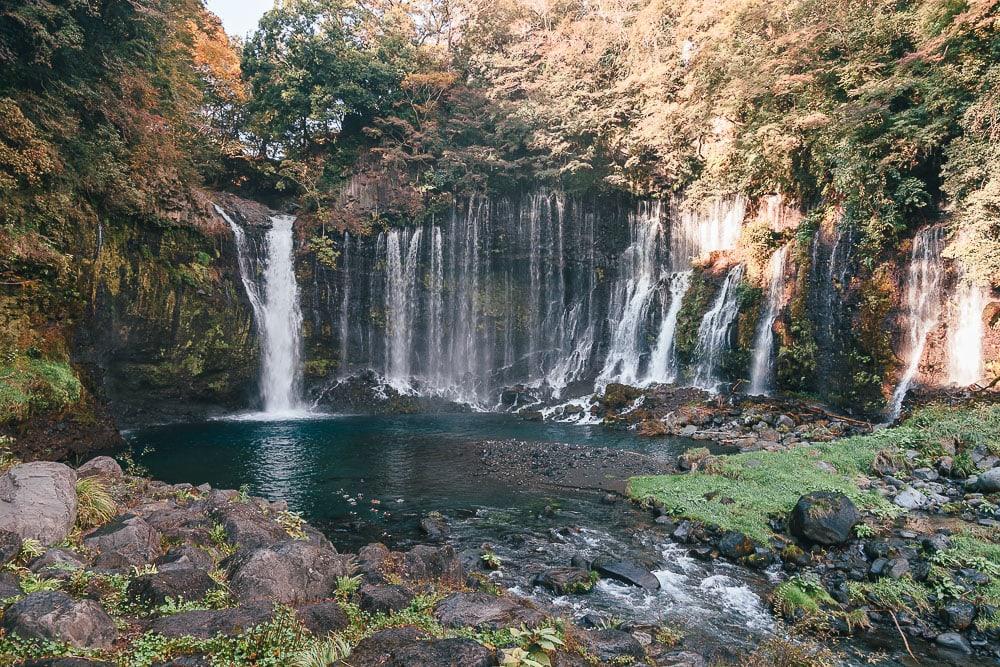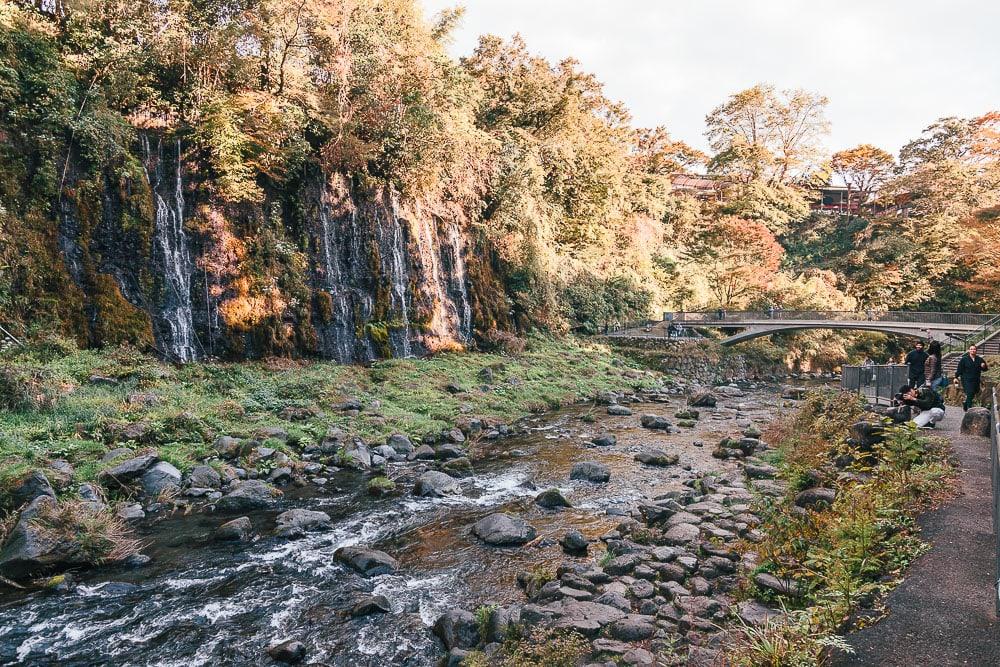 The falls are designated a Natural Treasure of Japan. The water comes from Mount Fuji, and what I found so special about the falls is that while they're only about 20 meters high, they're 150 meters wide! It looks as if the water is falling from the forest above – so magical.
PICA Fuji Saiko camping site
And then we headed to our final stop of the day: the the PICA Fuji Saiko camping site.
This campsite wasn't quite as adorable as UFUFU Village, but instead this was all about the gorgeous surrounding nature.
I spend the night in a little trailer, with two more barbecues for dinner and breakfast. What a life!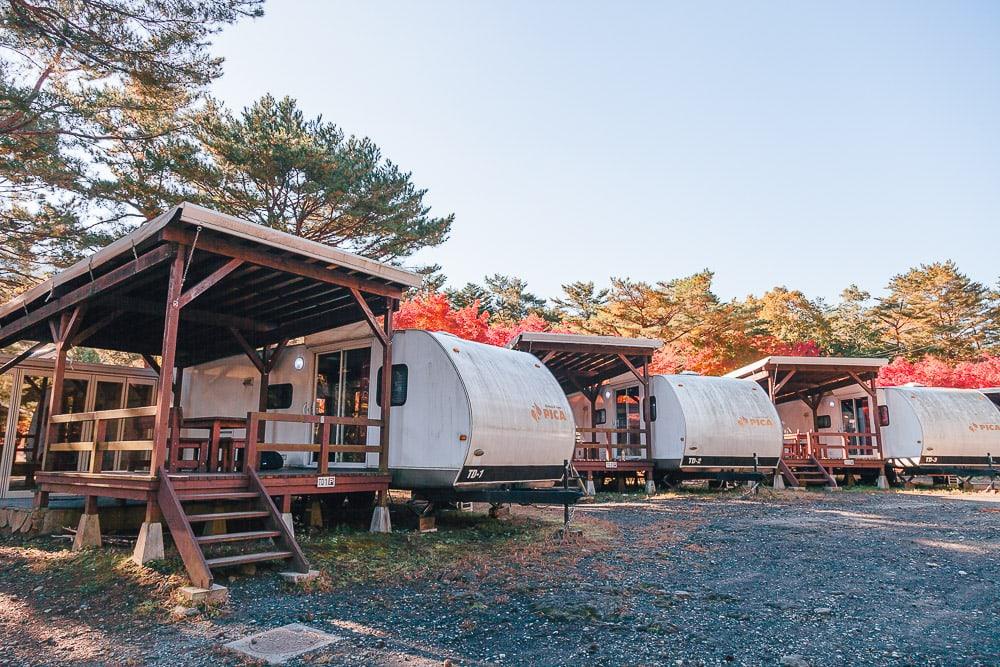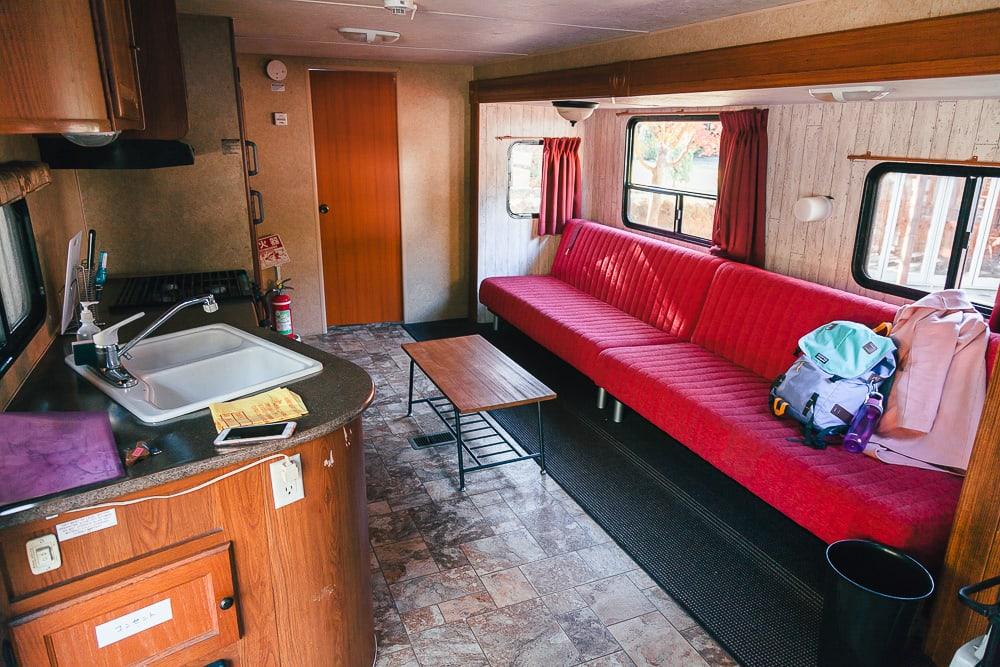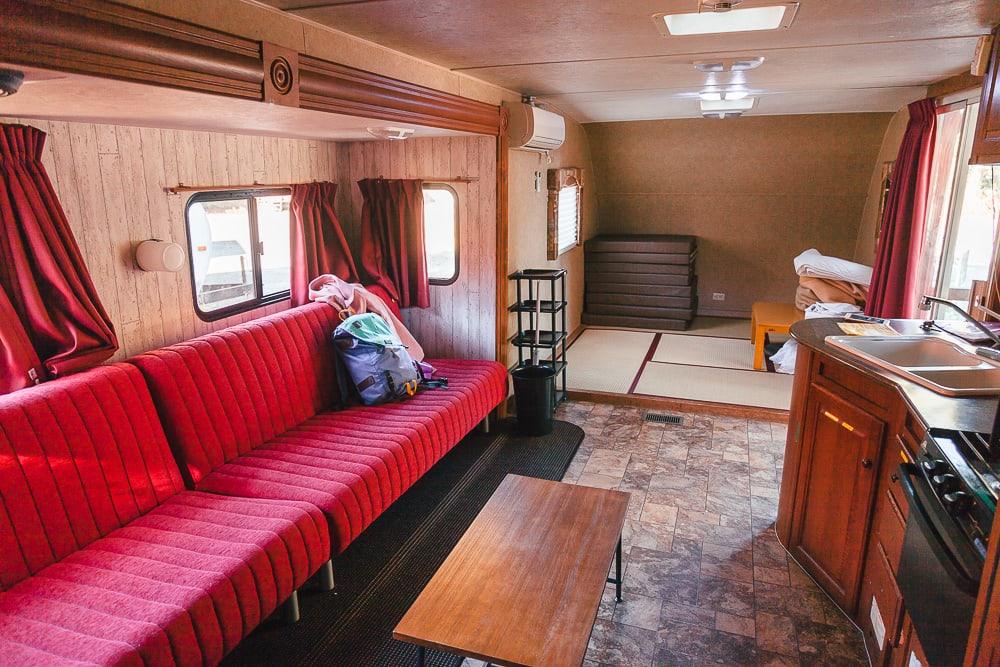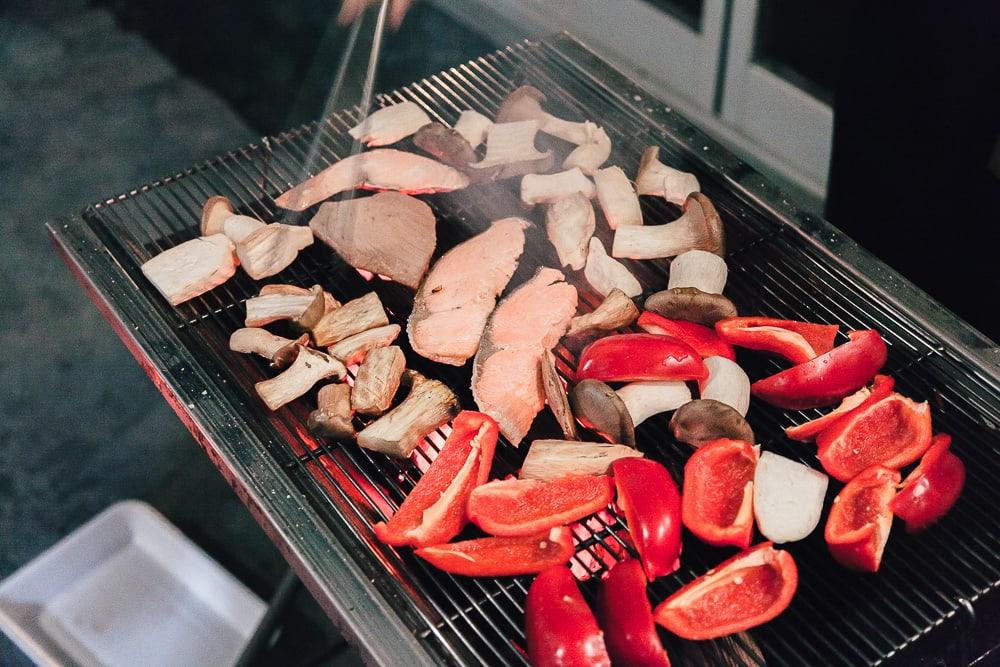 Day 3: Canoeing, Mount Fuji, and Tokyo
Canoeing on Fuji Saiko Lake
I started the morning with an hour of canoeing on Fuji Saiko Lake, right by the campsite (you can arrange this with a guide directly at the accommodation).
And guys, this might just have been my favorite part of the entire trip. The lake is small so not too exhausting to explore even if you have zero upper body strength, and there were even views of the top of Mount Fuji!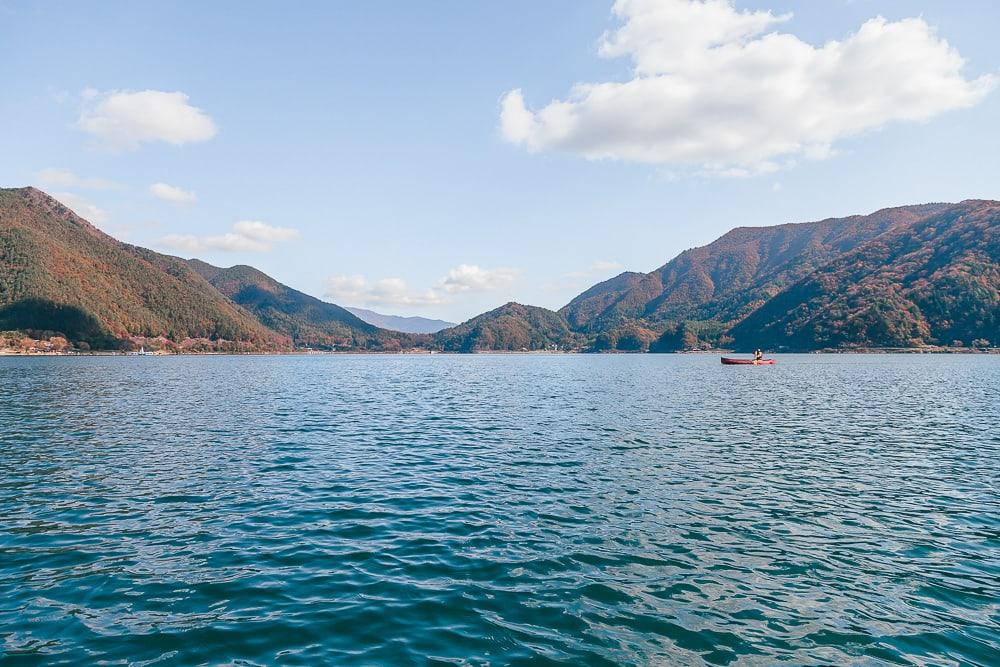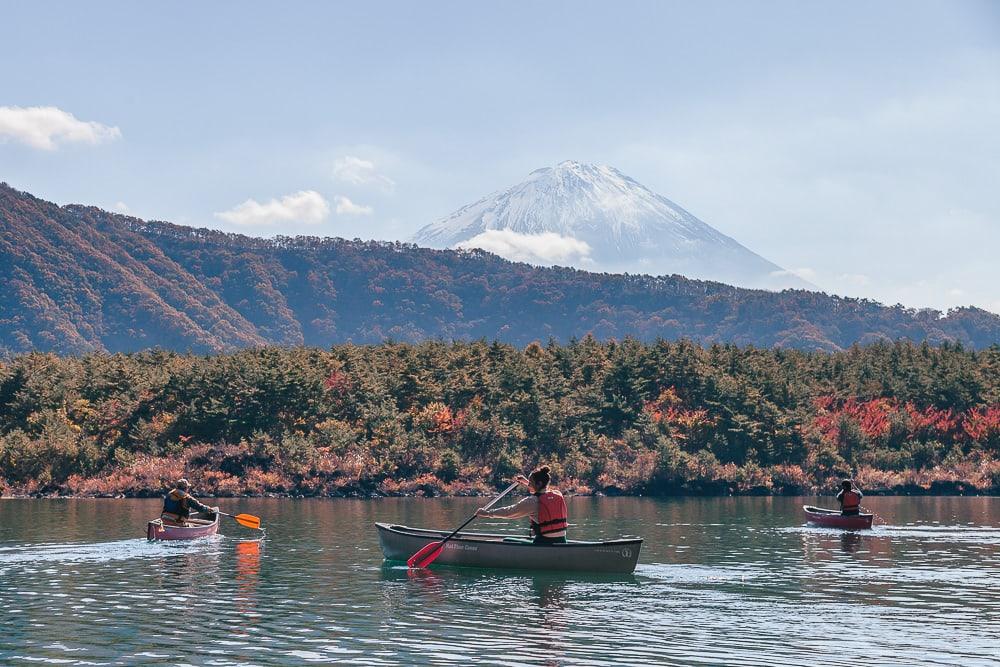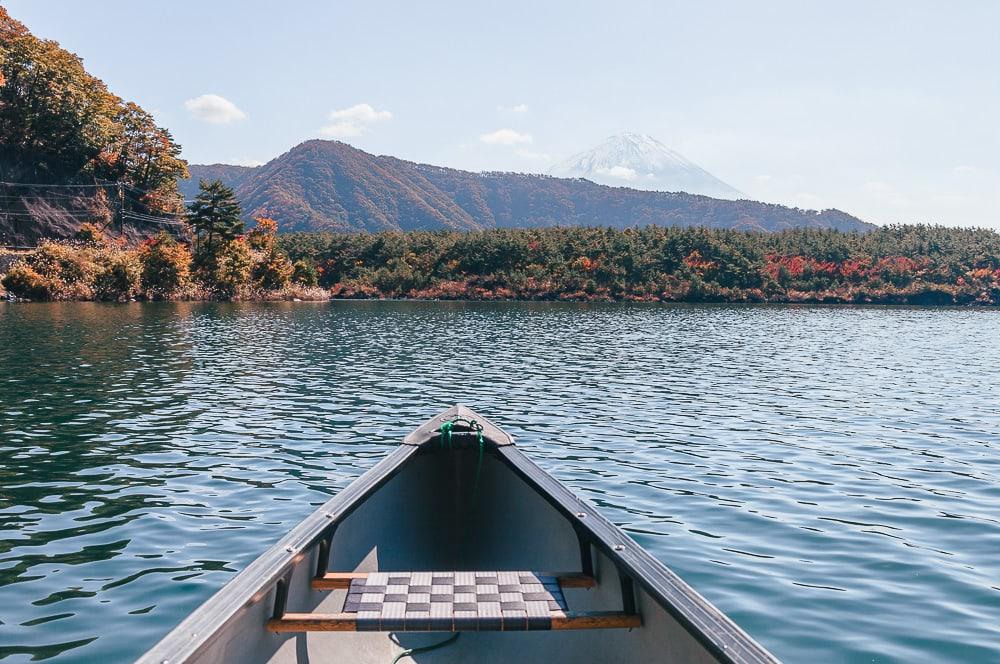 Mount Fuji
After canoeing we drove to Momijitani observatory. The observatory is a lovely 30-minute hike up a mountain and while unfortunately Fuji was hiding behind clouds when I got to the top, it still made for a nice walk in the nature. And then we walked back down to have the most delicious lunch of hoto, a miso soup with thick, flat noodles that apparently is a local specialty in Yamanashi. 
Oh my goodness, hoto is so delicious. Like, I'd say this was possibly the best meal of my entire trip to Japan. Definitely try it when you come to Yamanashi!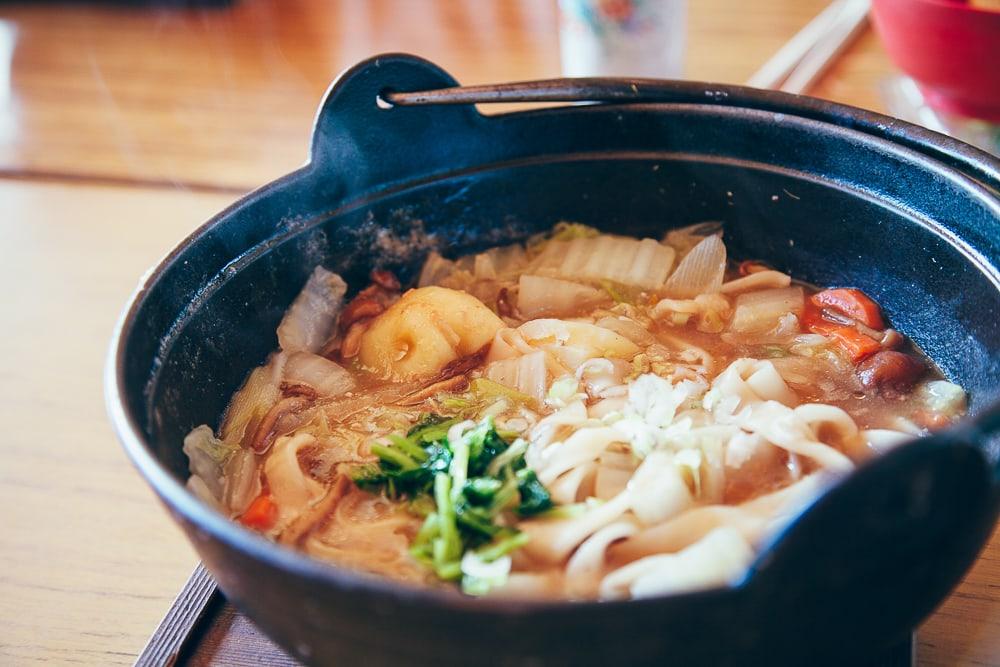 Next we headed to Saiko Yacho no Mori Park, which is full of lovely little forest walks and apparently is popular amongst birdwatchers. The entrance to the park also happens to have the most stunning view of Mount Fuji!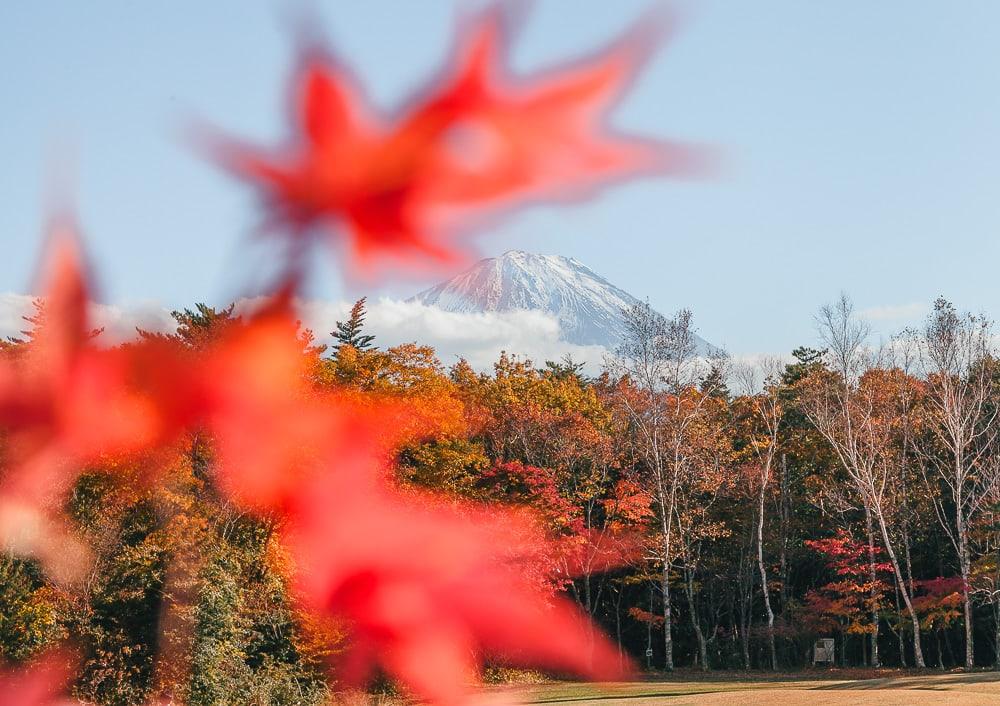 And then our final stop was Saiko Iyashino-Sato Nenba, a restored ancient thatch roofed village with Mount Fuji as a backdrop. Apparently the Nenba district used to be lined with thatch roof houses and recently Fujikawaguchiko City decided to restore some of the houses to make this little museum area.
The houses are now home to souvenir shops and exhibits, though my favorite part of visiting was simply wandering through the village and imagining what life must have been like living in these houses under this amazing view of Mt Fuji. I mean, right?!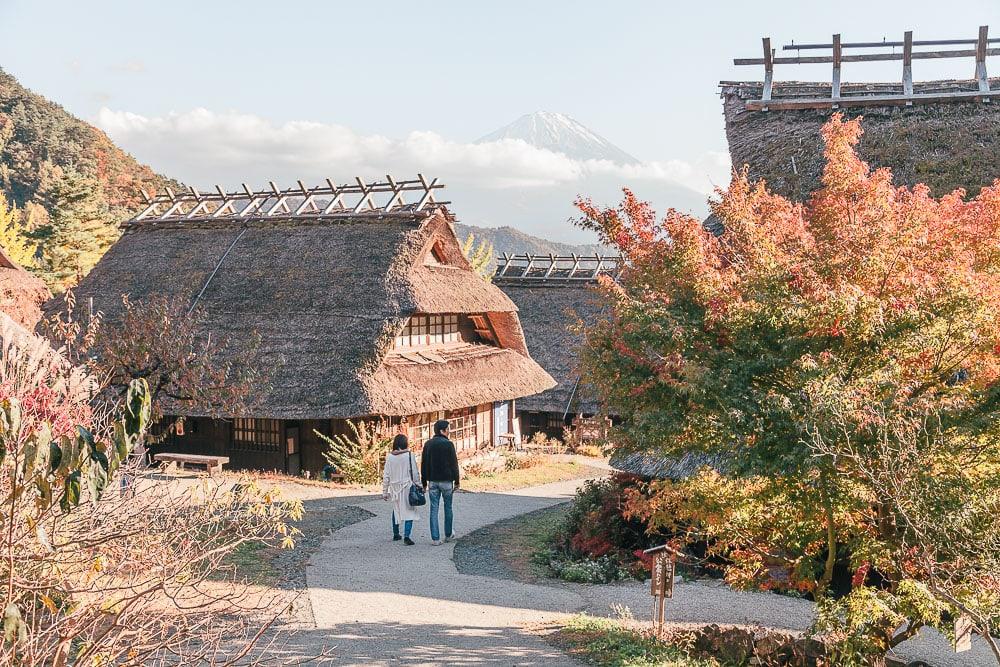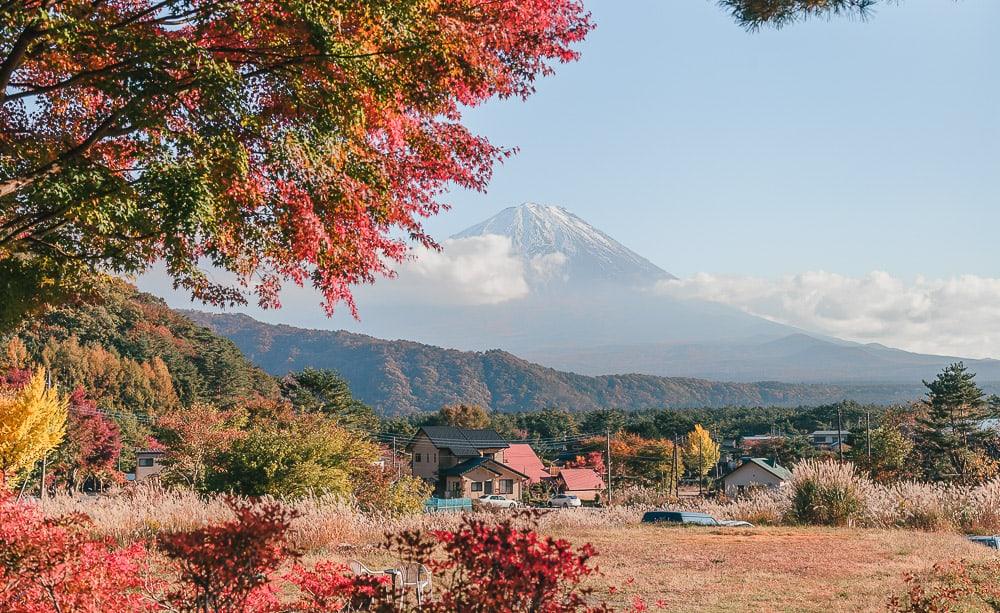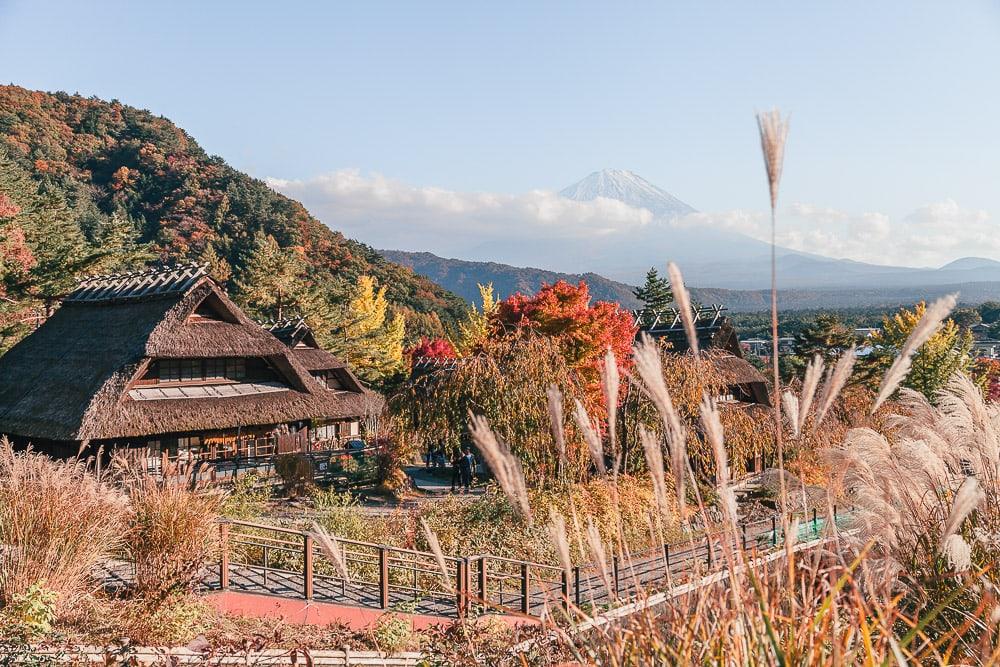 And then we drove back to Tokyo, getting in around 7 pm.
All in all it was a great way to get out to the Japanese countryside on a very short timeframe, and we got to see so many beautiful views of Mount Fuji. And of course camping made for such a fun way to feel closer to the Japanese nature – plus it was fun to see the Japanese take on camping.