Winter in Finland can be really, really cold, so you definitely want to pack accordingly. I've already talked a lot about my winter packing essentials for Norway, but I was surprised to hear that a lot of you wanted me to be even more specific.
So instead of adding to my post about what to pack for Norway, or even writing a separate Norway packing post, here is exactly what I packed for my 2-week winter trip to another cold destination: Finland!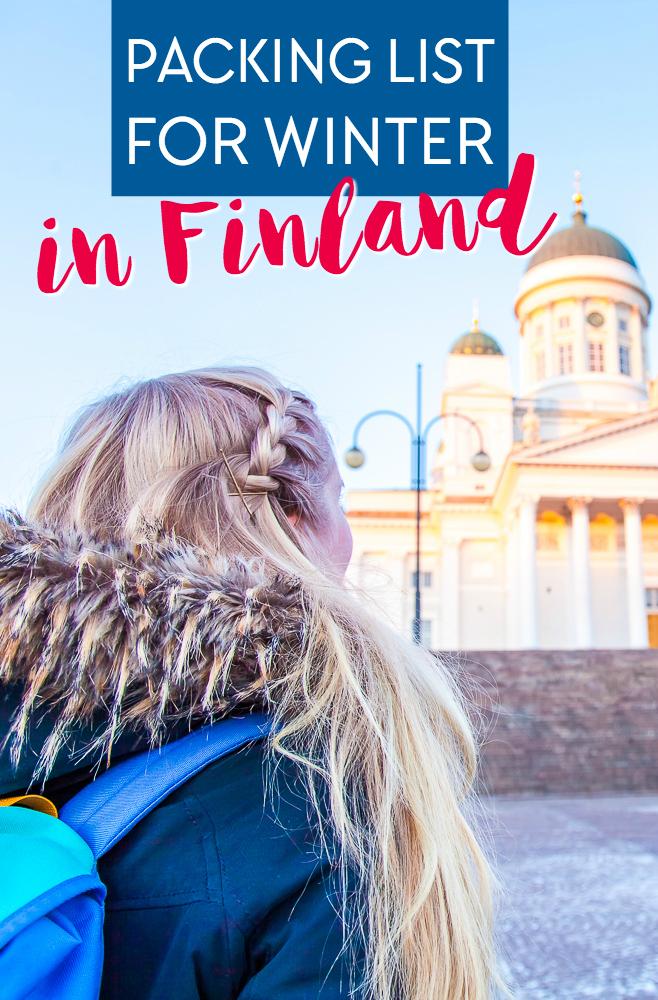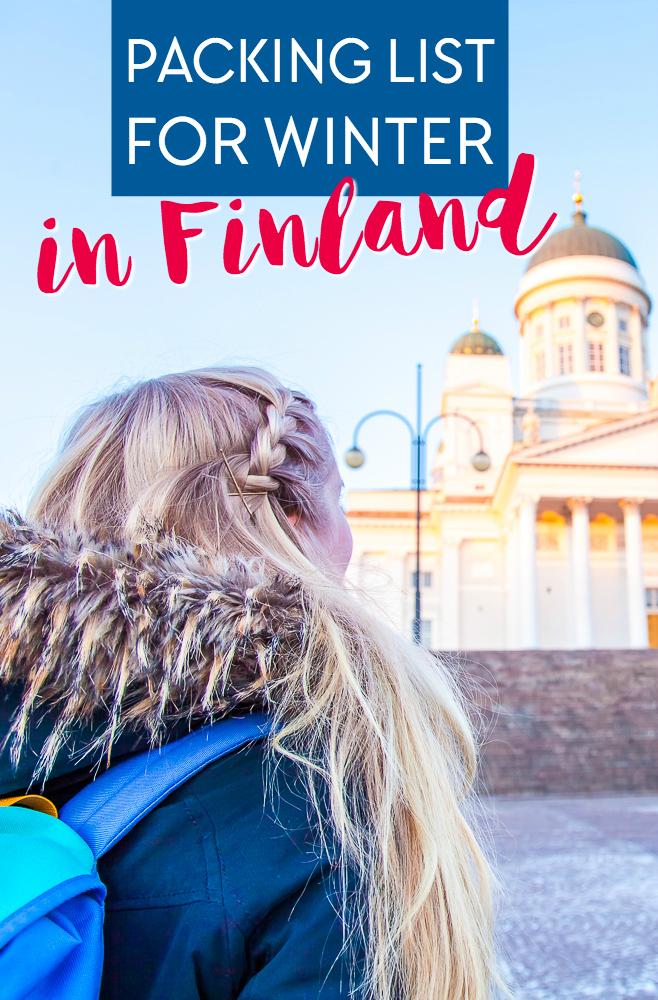 5 sweaters
I should probably tell you right now that I opted to check a bag for this trip. I definitely could have brought just carry on luggage, in which case I would have brought three sweaters instead of five, but since I was on holiday I wanted to have some more options.
I brought two thin cashmere sweaters which I basically lived in everyday, using them as an under layer on cold days, or on their own on the milder days.
I brought one pretty but not so warm sweater (it didn't have any wool in it – don't tell my grandmother!) because even on mild days I think it's cozy to wear sweaters. If I had been tight on luggage I would have skipped this piece.
And then I packed two thick wool sweaters to wear on cold days when I'd be outside a lot. I definitely could have gotten away with only bringing on of these sweaters, but again, it was nice to have options!
2 pairs of jeans
I brought one pair of black jeans and one pair of blue jeans, which I wore with thermals underneath on cold days.
3 miniskirts
I'm a big fan of miniskirts in the winter because I'm not really comfortable wearing leggings as pants (thanks, Blair) so adding a little skirt on top basically gives the comfort of wearing leggings with just a bit more coverage. I also had a few nights out planned in Helsinki, where I switched out the leggings for woolen tights to make the skirts feel a bit fancier.
4 t-shirts
That doesn't sound like very much for two weeks, but mostly I was just wearing my cashmere sweaters as my base layer anyway. Two of these t-shirts were long-sleeved and two were short-sleeved.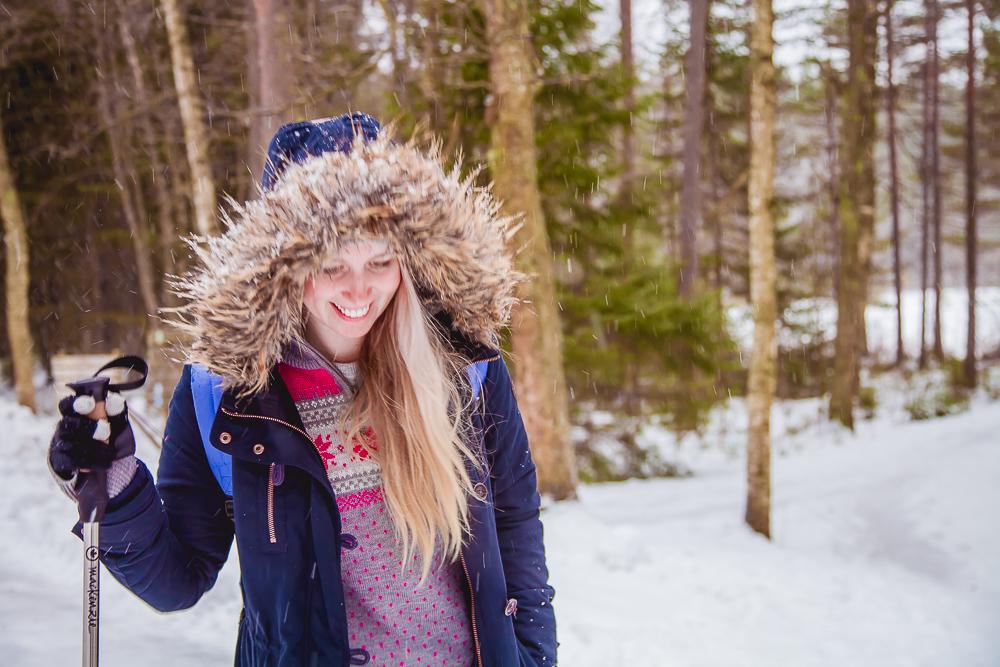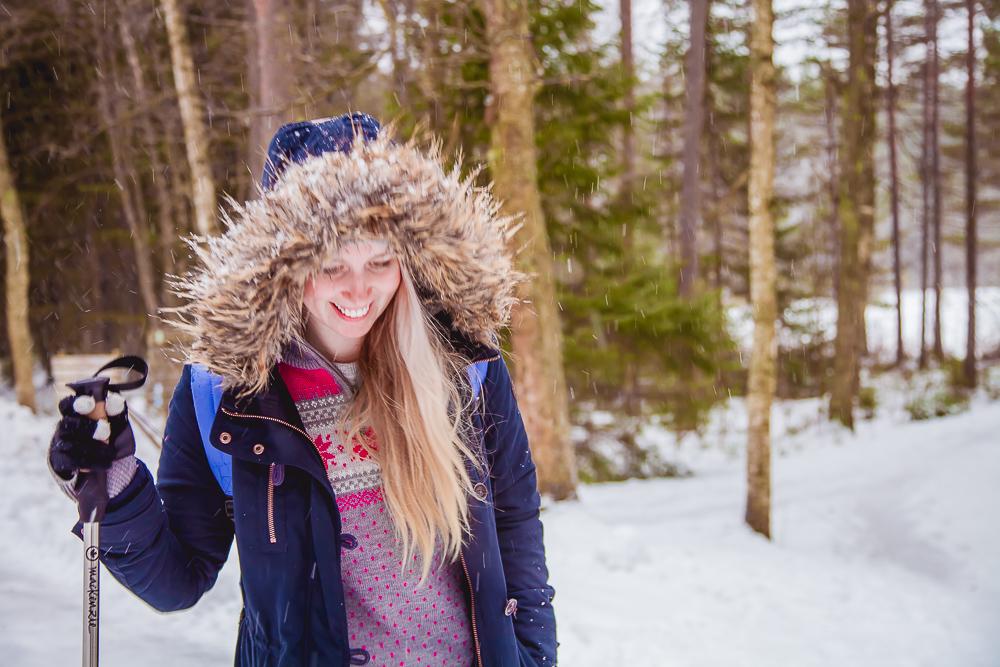 pajamas
I brought warm flannel bottoms and a long sleeved top.
a bunch of underwear
I did laundry halfway through the trip.
8 pairs of socks
5 pairs of normal socks, 3 pairs of thick woolen socks
3 pairs of woolen tights and 3 pairs of thermal leggings
Super important!
a bikini
It might sound weird for a Finland winter packing list, but having a swimsuit in Finland is essential – because of the saunas of course! While private saunas tend to be naked, you'll need a swimsuit for any public mixed saunas you'll be going to.
probably too much camera gear
Ugh, when did I become such a gadget person?
Now, most normal people probably don't need to bring many (or really any) of this stuff, but since I'm sharing my exact packing list I'll tell you what camera gear I brought along as well.
My Canon 5d Mark II with the 24-105 mm f/4 L lens (I also really wished I had brought along my 50 mm f/1.8 lens for inside shots).
My phone! I have a Samsung Galaxy S6, which is what I took all my video footage on.
Lanparte gimbal– I was making a couple of videos in Finland, so I brought along my gimbal to stabilize my shots (seriously that thing is magic)
My tripod – this took up half my bag but it meant I could do some night photography.
My camera remote – because selfies!
my laptop
I was in Finland on work, so I couldn't really leave it at home. Luckily my Macbook Air weighs almost nothing.
2 pairs of boots
I wish I hadn't bothered to bring my black ankle boots, but I thought I might need them for fancier nights. I traveled in my Sorel winter boots, which I wore everyday.
my backpack
I packed my smaller backpack to use during the day, since I way prefer carrying around my camera and gimbal in a backpack than in a purse. I have a foam insert for my backpack that protects my camera so I don't need to have it in its own camera bag.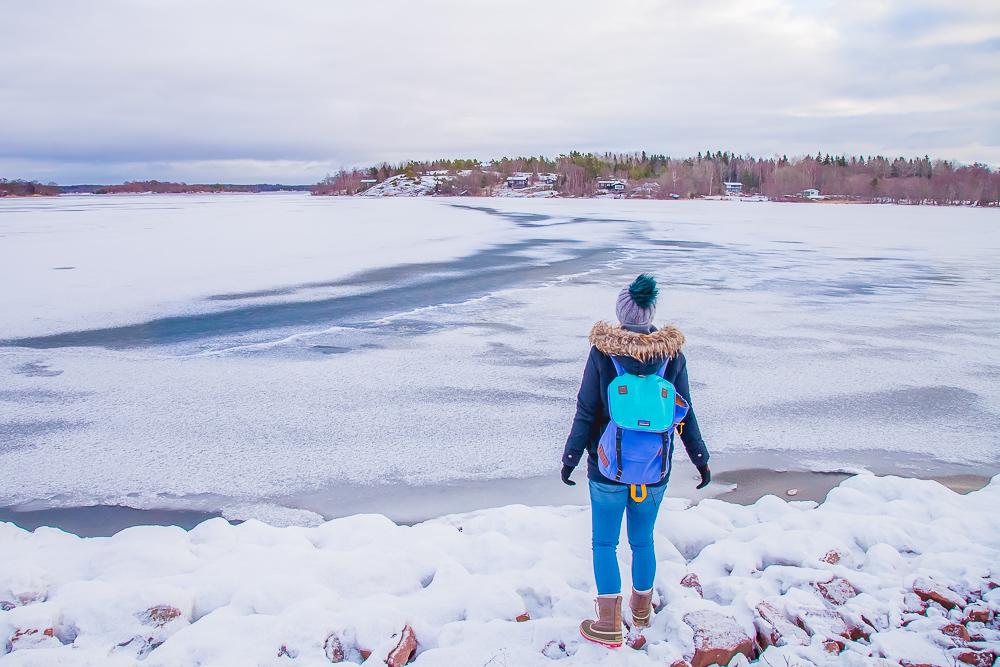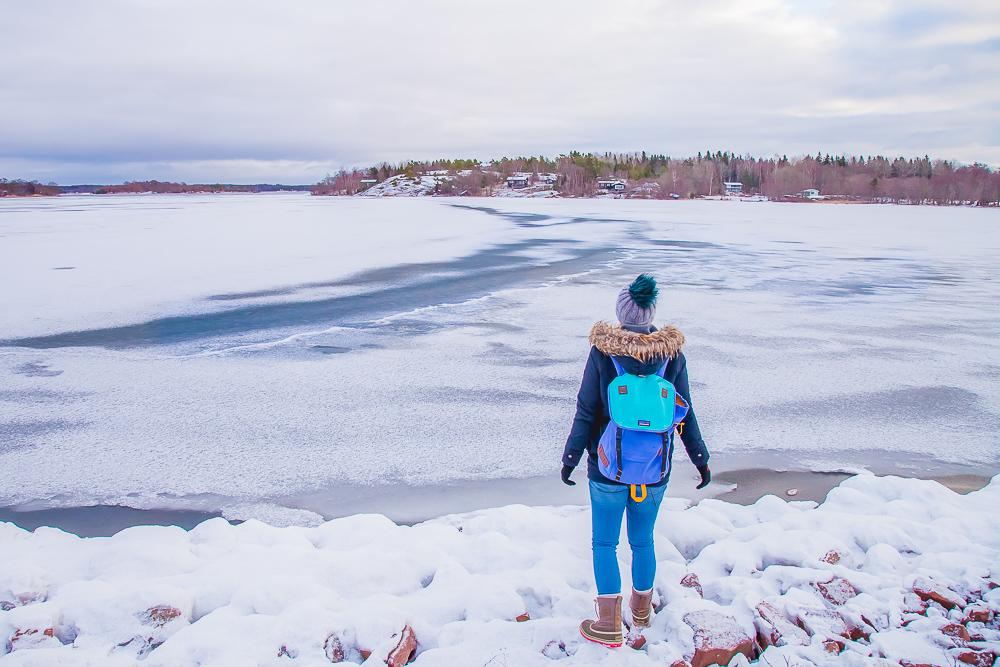 outerwear
I brought my parka, scarf, hat, and gloves, which I all wore on my journey so I didn't actually have to pack them.
a book
I was reading a Kjell Westö book to learn more about Finland!
toiletries
And finally, that thing I always forget about leaving room for in my bag so it ends up crammed on the very top – my toiletry bag!
I brought all the normal stuff, but if you want to know: a toothbrush, toothpaste, Lush solid shampoo, face wash, moisturizer, foundation, concealer, mascara, eyeliner, blush, some bobby pins and hair elastics, a hairbrush, and lip balm!
And that's it! Possibly the most boring post I've written, haha, but hopefully someone will find it helpful!