I've already written up a packing guide for winter in Norway, so now I figured it was time for a summer version of my Norway packing list!
Because while at first I thought packing for winter in Norway was the biggest challenge for visitors, it's actually quite simple: just pack all the warmest clothes you own. But packing for Norway in summer is a bit more complicated, because you need to be prepared for, well, everything.
Luckily for you, having lived here for over six years now, I know exactly what to pack for Norway in summer.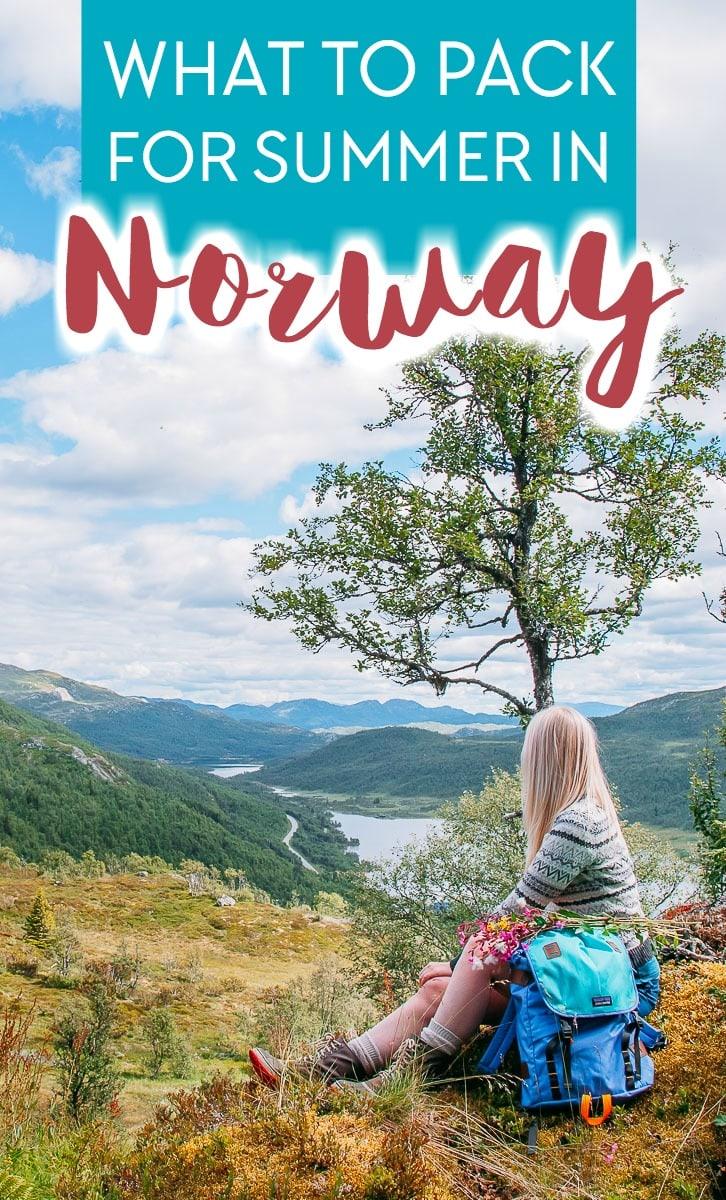 Norway Travel Guides! I've gathered all my best advice for planning an incredible trip through Southern and Northern Norway in two 95-page ebooks covering my top recommendations for places to visit (both on and off the beaten path), the best times of year to visit, how long to visit for, the best accommodation choices, transportation, what to eat, what to pack, and how to plan the perfect itinerary.
I'd say there are two rules you need to follow when packing for Norway in summer:
1. Pack for every kind of weather
Norwegians aren't joking when they say you can experience all four seasons in a day here, especially in the summertime. So it's best to be prepared for all weather.
And don't think just because you'll be in Southern Norway it will be warm, or in Northern Norway it will be cold – that's actually not the case at all.
Some days in Tromsø it will be 72 degrees (22C) while in my previous hometown in the mountains of Southern Norway it's been 51 degrees (11C). The reason? Higher altitudes and being farther from the warmth of the Gulf Stream often mean lower temperatures.
2. Don't trust weather forecasts
Okay, so maybe there's only one rule for packing for Norwegian summer. The weather here is unpredictable, so come prepared!
I don't just mean come to Norway prepared – come to every day in Norway prepared. Because while a day might start off sunny it will probably be raining in twenty minutes, then it will be sunny again, and then you'll go on a hike and it will snow and you'll get back to your hotel realizing you're totally sunburnt.
Layers
Your Norwegian wardrobe is going to be all about layers. Ideally you want to build up an outfit that will be warm enough for a seriously chilly day, but one that you can also strip down to something appropriate for a hot summer's day (they do exist in Norway!).
This is especially important if you'll be hiking up any mountains, as temperatures will drop surprisingly quickly as you make your way up. So while it might be warm and sunny at the start of your hike, still bring enough clothing for a very cold, rainy day, as that might be exactly what you find at the top of the mountain.
Of course it will depend how long you'll be in Norway for, but I'd bring a couple of tank tops, a few t-shirts, a couple of light cardigans/sweaters, at least one warmer cardigan/sweater (cashmere is my favorite because it's lightweight, super warm, and doesn't need to be washed often), and at least one very warm wool sweater from your winter closet.
If you don't have a 100% wool sweater already, this is a great thing to buy in Norway and keep as a souvenir! Most sports shops have these sweaters, or actually souvenir shops can be a great place to get them as well.
Lightweight waterproofs
Definitely bring a waterproof jacket – the Norwegian winds laugh at umbrellas – and if you're planning on doing some hiking I'd try to bring waterproof trousers as well. If you can, try to get a raincoat that folds up really small, so you can bring it with you everywhere, just in case.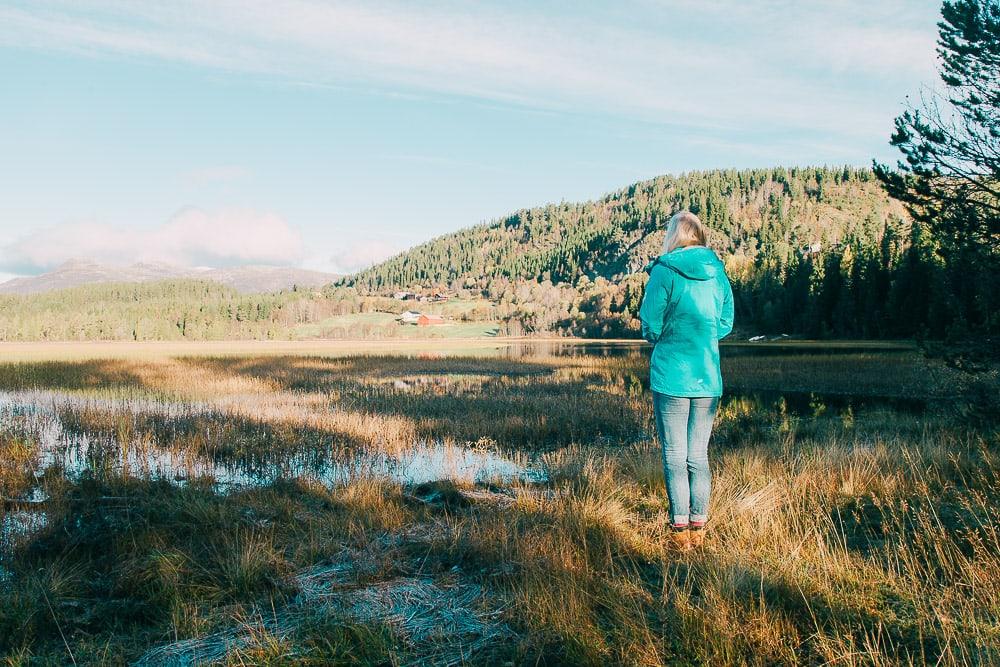 Waterproof hiking boots
I wouldn't bother bringing rain boots as they weigh a ton and tend not to be super comfortable, but instead I would recommend bringing some comfortable waterproof hiking boots (I have these ones and love them).
They double up quite nicely as rain boots as well, so you won't have to worry about walking around on very wet days – something Norway has a lot of.
If you don't want to wear your hiking boots all the time, bring some lightweight trainers/shoes as well. Personally I never wear sandals in Norway because it's just too cold and wet.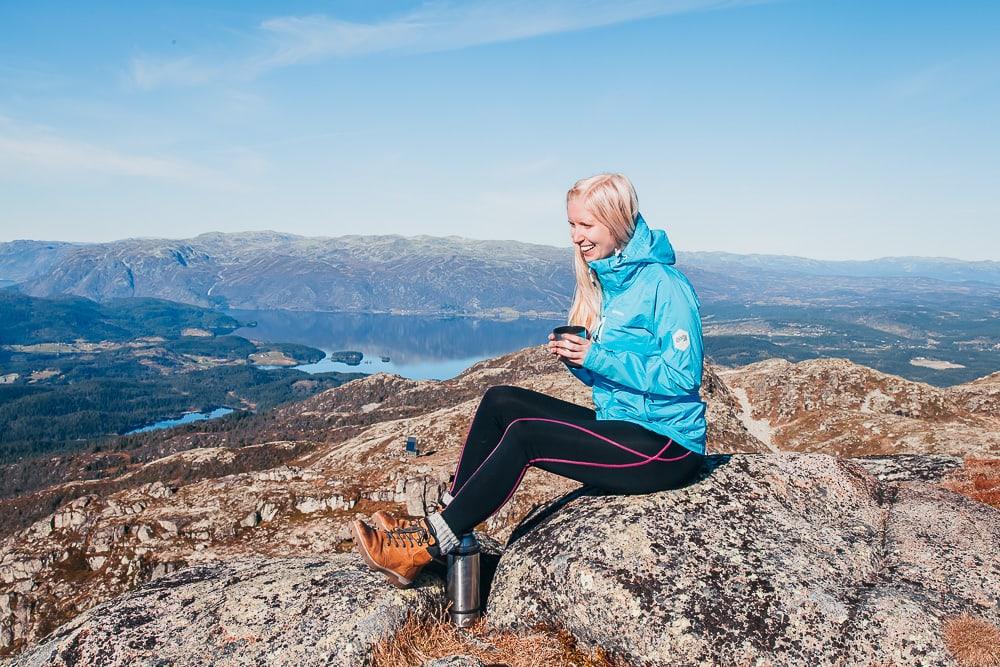 Leggings/sportswear
A lot of people ask me what to wear in Norway to blend in, and I think the answer might be sportswear. At least up in the mountains it seems like people only every wear leggings and sports clothing – we have to be prepared for an impromptu hike!
Of course it depends on what your itinerary looks like, but if you plan on spending a lot of time out in the nature in Norway then you'll want something suitable for an active day. And please don't be one of those tourists who hikes up a mountain in jeans – it never ends well.
Swimsuit!
You might not think it, but thanks to the Gulf Stream the water in Norway can be surprisingly warm.
Okay, "warm" might not be quite the word for it. But it's definitely possible to swim in the sea and lakes around Norway, and in fact if you meet any Norwegians they will definitely pressure you into going for a dip. Plus, don't you want to be able to say you've gone swimming in a fjord?
Even if the answer is no, a lot of hotels of saunas and jacuzzis, so you're going to want that swimsuit.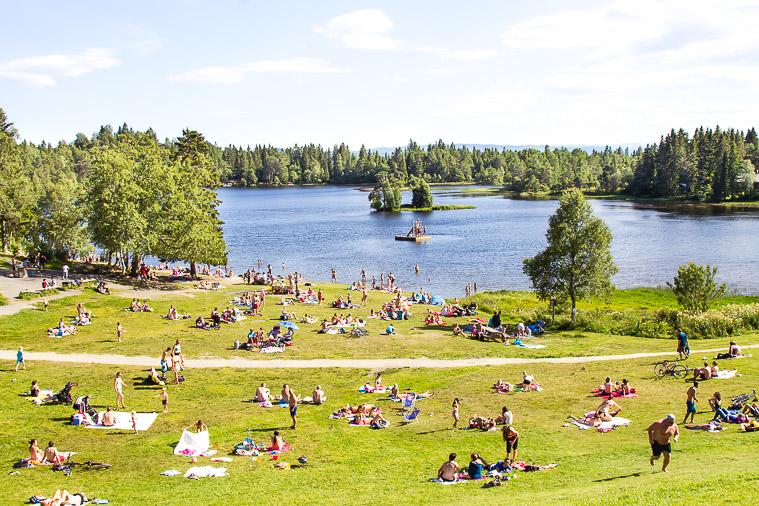 Shorts and sundresses
Yes, Norwegian summer can be quite cold, but it can also be surprisingly hot! So don't forget some summer clothes. Plus, if you want to fit in with Norwegians, dress like it's summer even if it feels like late autumn.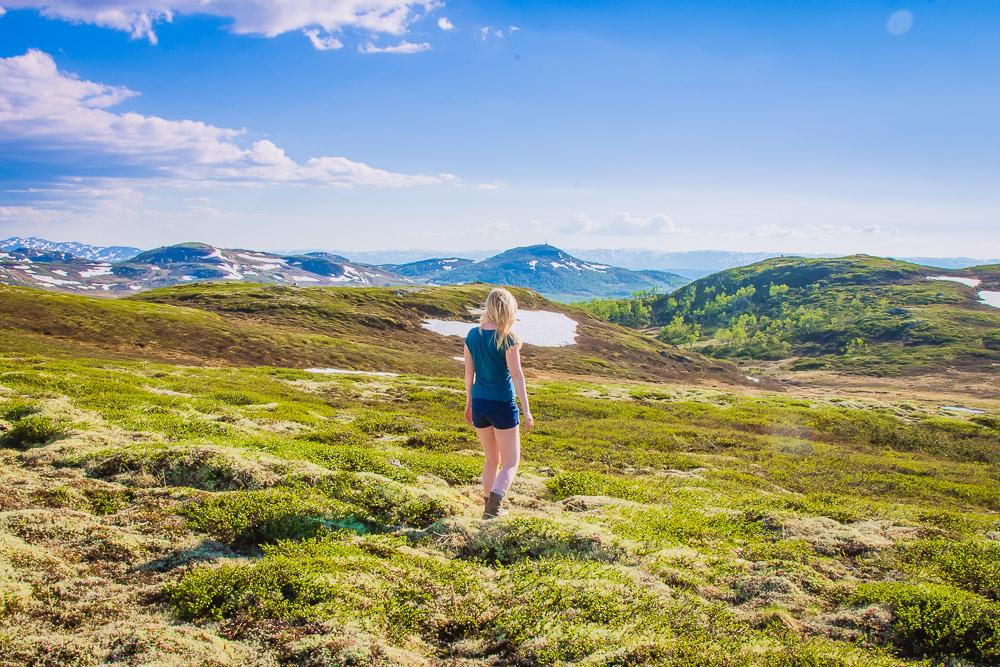 Wool
I mean, I couldn't write a Norway packing list without including wool!
Try to bring at least one really warm wool sweater (think winter clothing here), and maybe another lightweight one for walks outside. It will keep you warm and dry, and you won't need to wash it too often. Plus, Norwegians love their wool, so you'll totally fit in with the locals!
Thermals
And while you're digging through that box of winter clothing, go ahead and grab some thermal leggings as well – especially if you're planning on spending time up in the mountains. It can reach freezing temperatures up here even in the middle of summer, and it's so not fun to spend your summer holiday shivering.
You'll also appreciate having thermals with you if you're planning to spend a lot of time on ferries or cruise ships around Norway, as it can get awfully chilly on deck.
The Kari Traa wool leggings and shirts are especially popular here and you'll often see women wearing them in photos.
Sunscreen and mosquito repellent
All of the worst sunburns in my life happened in Norway, because the air is often too cold to feel your skin burning. So don't forget sunscreen!
You'll also definitely be needing some mosquito repellent, and since both sunscreen and mosquito repellent are quite expensive in Norway, I'd recommend bringing some from home. Though if you're traveling carry-on only don't worry, you can easily buy both in Norway as well.
Something for motion sickness
Unless you'll be traveling exclusively by rail or plane, you'll be encountering some very twisty roads and maybe a few ferry crossings over choppy waters. You can buy motion sickness tablets and Sea-Bands at most Norwegian pharmacies, but again, they're probably cheaper at home. Personally I get incredibly motion sick and swear by Sea-Bands.
Sleeping mask
You know those cute sleeping masks that glamorous women in movies always seem to sleep in, even though no one does that in real life? Well, here's your excuse to buy one. It never gets dark in Norway in the summer, which is something that throws a lot of visitors' sleep schedules off, especially if they're already suffering from jet lag.
While most hotels and homes in Norway are equipped with blackout shades, sometimes you might find yourself trying to sleep in what, judging from the sky outside, would appear to be the middle of the day. And while tying a shirt around your head can work, a sleep mask is much more comfortable! I sleep with one every day in the summer here.
Sunglasses
I'm including this because for some reason whenever I'm traveling somewhere cool I always forget to bring sunglasses! Don't be like me.
Hat
No, I'm afraid I'm not talking about one of those super chic Instagram sun hats.
If you're planning any hikes for your summer trip to Norway, then consider bringing a warm beanie to protect your ears from those chilly winds up in the mountains. You don't need to go full on winter hat here, but you'll definitely appreciate having something to keep your ears warm on top of the mountain.
And if it's not too depressing to add to a summer packing list, you might also want to bring gloves and a scarf. Norwegians love spending as much time as possible outside in the summer, regardless of the weather, and if you want to do as Norwegians do you'll need to be prepared for some chilly days and evenings outside.
Daypack
Norway is a wonderful country to explore on foot, so bring a daypack with you so you can head off on an adventure. Plus, eating out in Norway is kind of really expensive, so this way you can bring all the food and snacks you'll need for the day.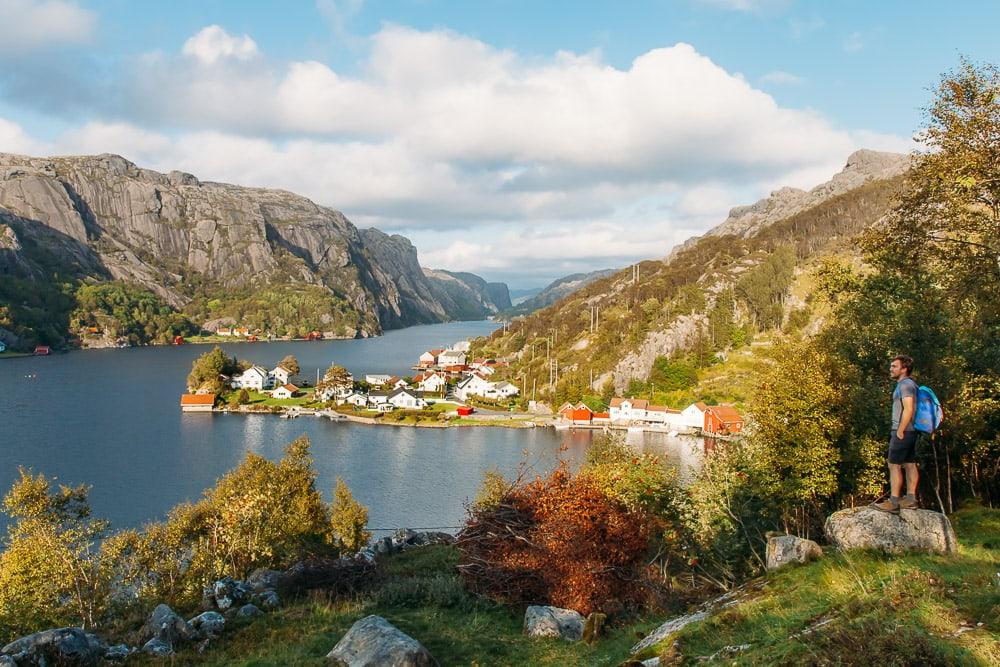 Reusable water bottle (and thermos)
Bottled water in Norway is super expensive, and the tap water here is delicious, so be sure to bring a reusable bottle with you. And if you have extra space in your luggage I'd consider bringing a thermos as well, especially if you'll be going on any long hikes. It's just so cosy to stop for coffee/tea/hot chocolate up in the mountains – and life in Norway is all about getting cosy.
TRAVEL INSURANCE!!
Guys, always, always get travel insurance! And like, not just the free travel insurance from your credit card, because they pretty much never pay.
If you're European you can use your European health card in Norway, but to be honest I'd still recommend getting travel insurance because you never know what will happen. Norway's weather is unpredictable, unexpected things can happen, and let's face it, Norway is not a cheap country to travel through, so if there's any time you should buy travel insurance it's when you're visiting Norway.
I personally use World Nomads because that's what I used as a backpacker and I've had to file claims twice with them now and they paid me promptly, no additional questions asked. They also helped get me to a hospital in Beijing when I was too overwhelmed/dying to find one on my own, so I am forever grateful to those guys.

Have I missed anything? If you have any other tips for packing for summer in Norway please share in the comments and I'll add them to the post!