While hiking in Slovakia's High Tatras, I found my happy place.
So much so, in fact, that Alicia had to email me to double check that I was still planning to move to Norway, because she thought I might have decided to stay in the Slovakian Tatra Mountains forever. That girl knows me so well.
The reason?
These mountains:
totally worth a trip to Slovakia, right? 
The funny thing is, we didn't really travel to the Tatra Mountains because we had heard how beautiful they are or for the great hiking routes, but because we kept hearing about a little mountain hostel in Zdiar called The Ginger Monkey.
We first heard about it from an Italian backpacker at our hostel in Vilnius. When we told him we were going to Slovakia, he said that we absolutely had to spend a few nights at a place called, what was it again, The Red Squirrel?
Then our favorite 3 Bros in Cieszyn told us to go there, and when we told our Couchsurfing host in Spisska Nova Ves we were heading to Zdiar she responded with a smile: "Ah, to stay at The Ginger Monkey!"
From Spisska Nova Ves we caught the train to Poprad, where we got a bus to Zdiar. When the bus driver saw our backpacks he laughed and said "to The Ginger Monkey!"
Apparently everyone knows The Ginger Monkey.
Before I continue raving about this place I should probably note that this is not a sponsored post, and we paid for our stay at The Ginger Monkey.
Hiking in the High Tatras in Slovakia
Dan and I were so excited to spend some time in the mountains that we booked four nights in Zdiar – the longest we had spent anywhere since traveling from Myanmar in January. What followed were four blissful days of mountain hikes, taking the hostel's adorable/insane dog Wally for walks, and bowls and bowls of goulash.
High Tatras Slovakia
While I'm pretty sure I would have fallen for Slovakia's High Tatras under any condition, we were also incredibly lucky with the weather while there. It was that perfect start of springtime weather where there's still snow on the ground but you can hike in a t-shirt. Did I already say something about bliss?
We did several hikes around Zdiar, but my absolute favorite, which from now on I will be encouraging everyone I meet to go to Slovakia and do (because, yes, sadly I'm obnoxious like that), was the hike up to Zelenom plese, or the Green Lake. I mean, I think all hiking in Slovakia is magical, but this was my favorite.
It took about three hours to reach the lake and was at times very slow going in the melting snow, but wow was it worth it!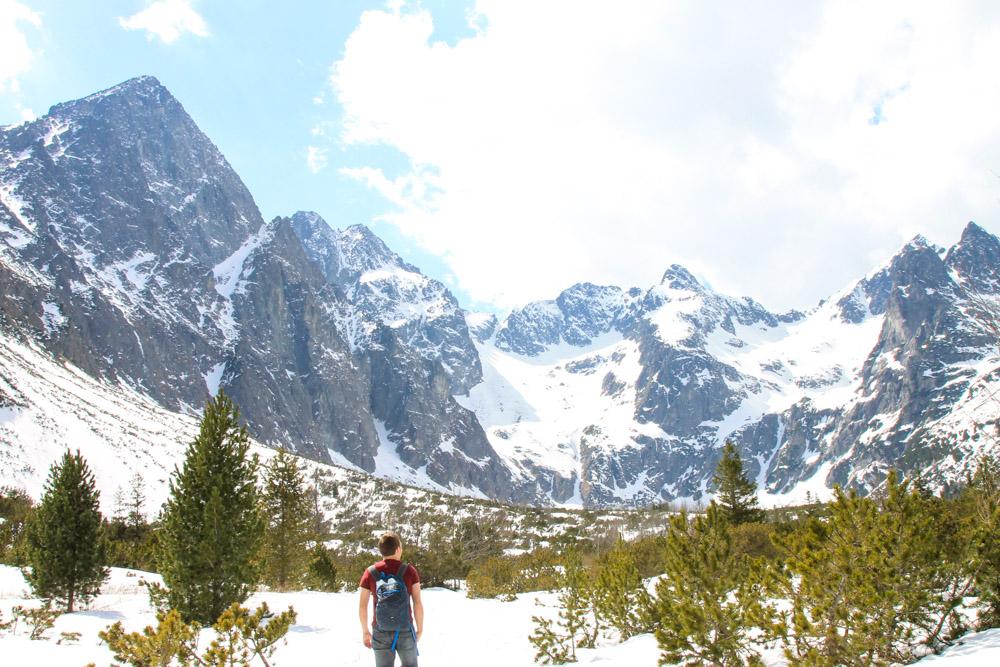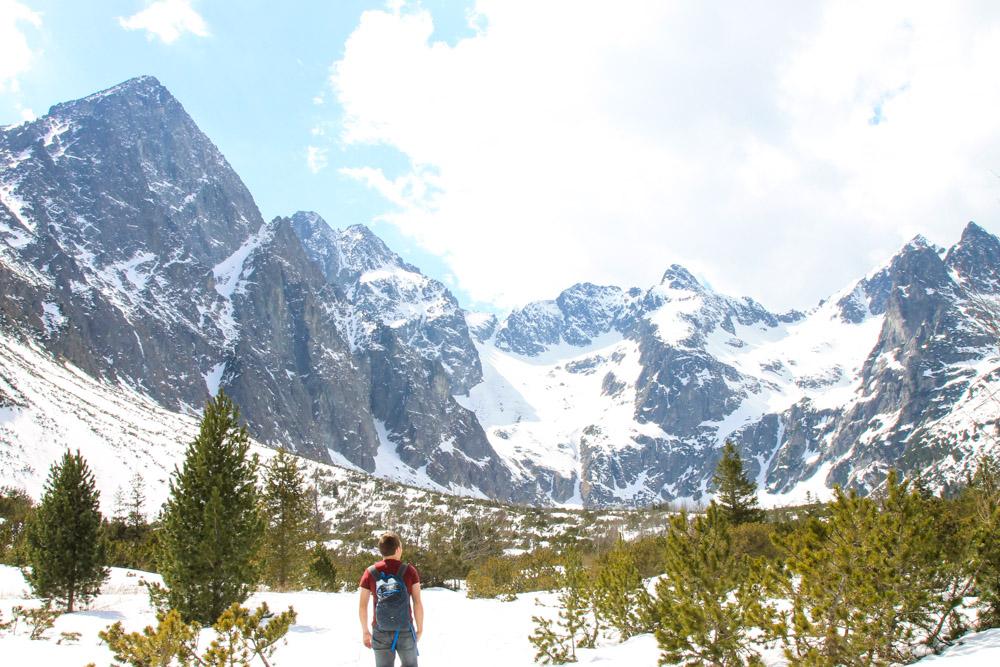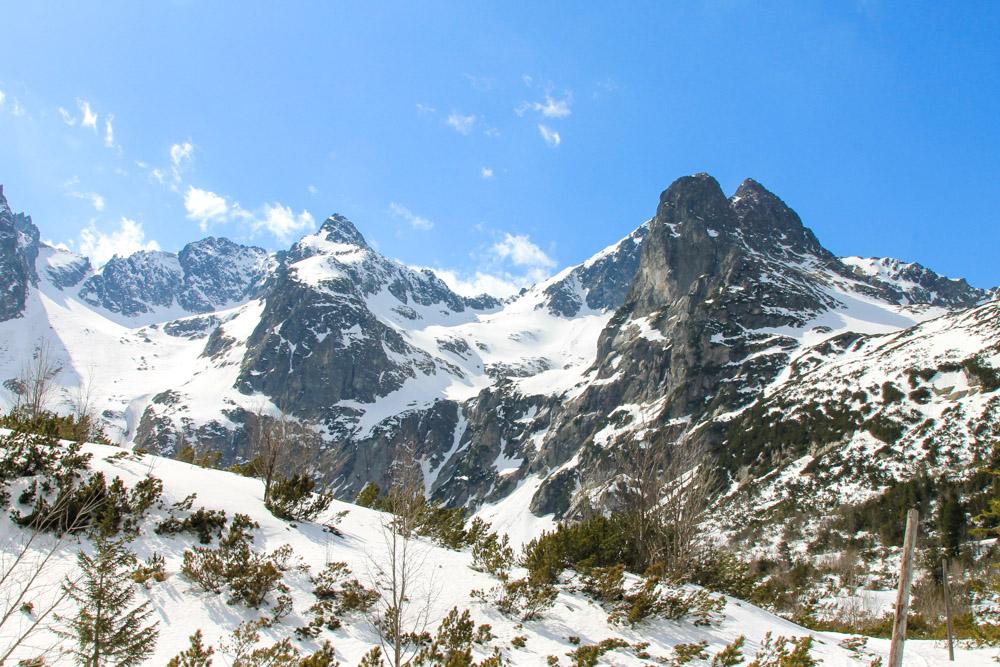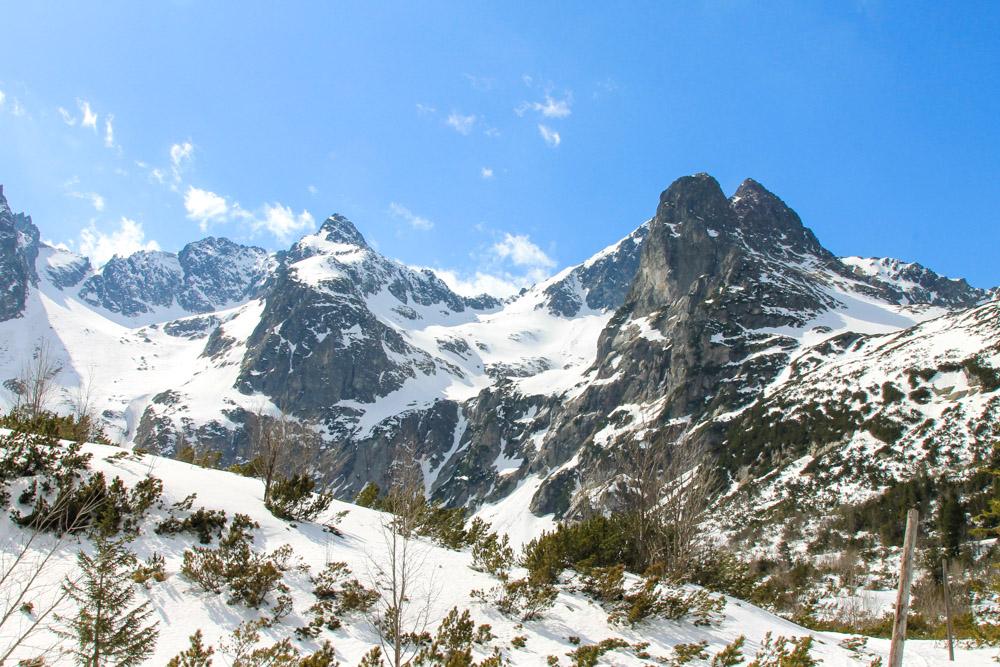 As a reward for your efforts, there's even a restaurant (Chata pri Zelenom plese) next to the lake offering up hot bowls of soup, dangerously delicious pie, and prime views of the mountains.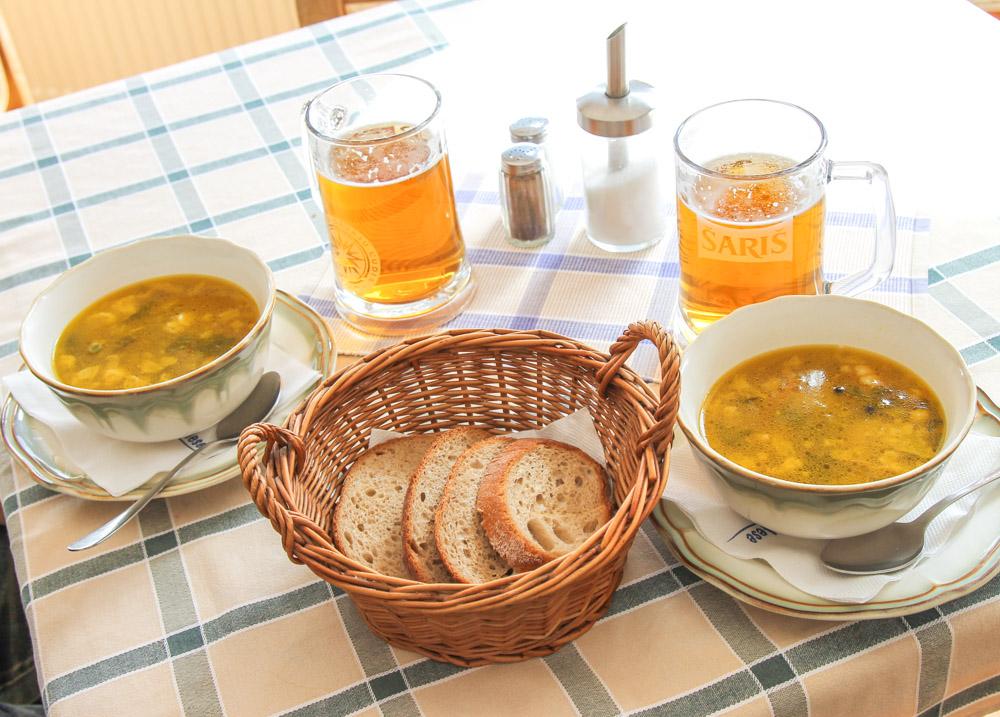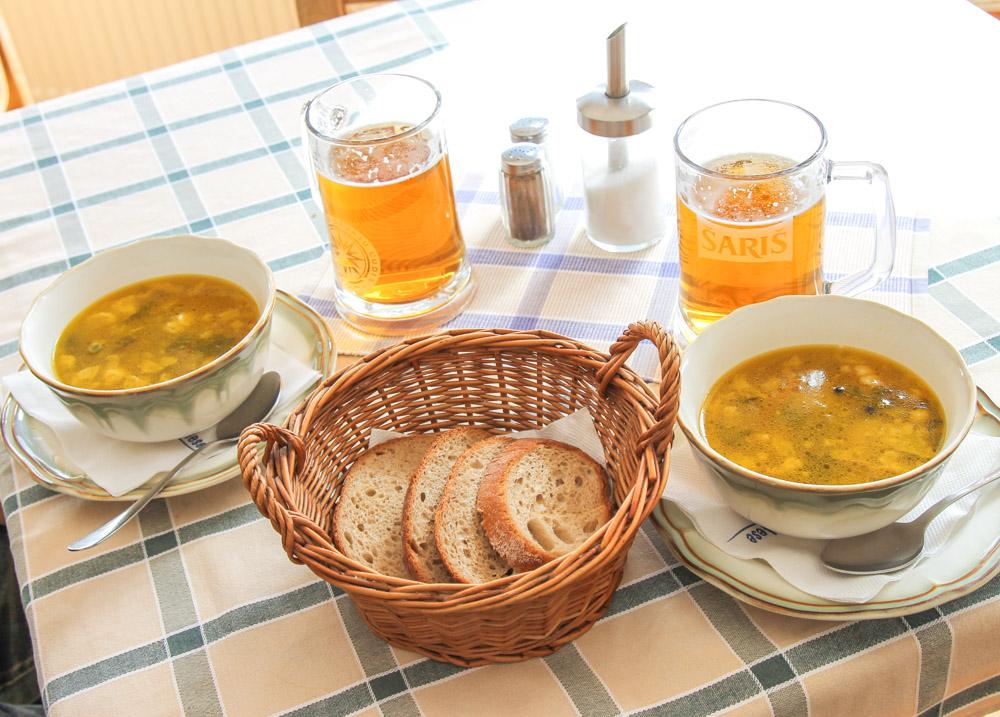 My jaw dropped to the table when we noticed five people skiing down from one of the highest peaks. And I thought climbing the steep ladders at Slovak Paradise was an adventure!
Just beware that the inn's dog will definitely climb up on your picnic table to give you kisses, because he is ENORMOUS. Ahhh what a sweetie!
You can also spend the night at Chata pri Zelenom plese, which I would have loved to do. If we had known about it, we probably would have spent a night at the Ginger Monkey in Zdiar, hiked up to the Green Lake (with smaller bags) and spent one or two nights there, and then returned to The Ginger Monkey for another night.
Check current rates and availability at The Ginger Monkey here
Though it was also so, so nice to stay in one place for four nights. The Ginger Monkey was so cozy, and there was a great atmosphere among the guests traveling through Slovakia. Plus, there were three other English guys there, so Dan finally had someone else to talk about the Premier League with, much to both our relief.
So, when are you going to Zdiar?