You know I love to road trip around Norway, and since getting a dog a few years ago I almost only travel by car so I can take Alfie along with me. And now after eight years living in Norway, it feels like I've driven down every road in the country – almost! So it's with good authority that I can say that Trollstigen truly is one of Norway's most spectacular roads.
I've included Trollstigen in this Norwegian road trip itinerary.
I think Trollstigen with its 11 hairpin turns pretty much instantly became one of Norway's top tourist attractions as soon as it was opened in 1936. Of course how close Trollstigen is to the equally famous Geirangerfjord doesn't hurt either!
Trollstigen, which translates to "troll's trail" is one of Norway's 18 Scenic Routes. I've driven all 18 of these routes, and I think Trollstigen is definitely one of the most spectacular! Not only is the road itself impressive, but at the top you'll also get views of some of the region's most impressive mountain peaks: Bispen (1462 m), Kongen (1614 m), Dronninga (1544 m), Stigbottshornet (1583 m), and Storgrovfjellet (1629 m).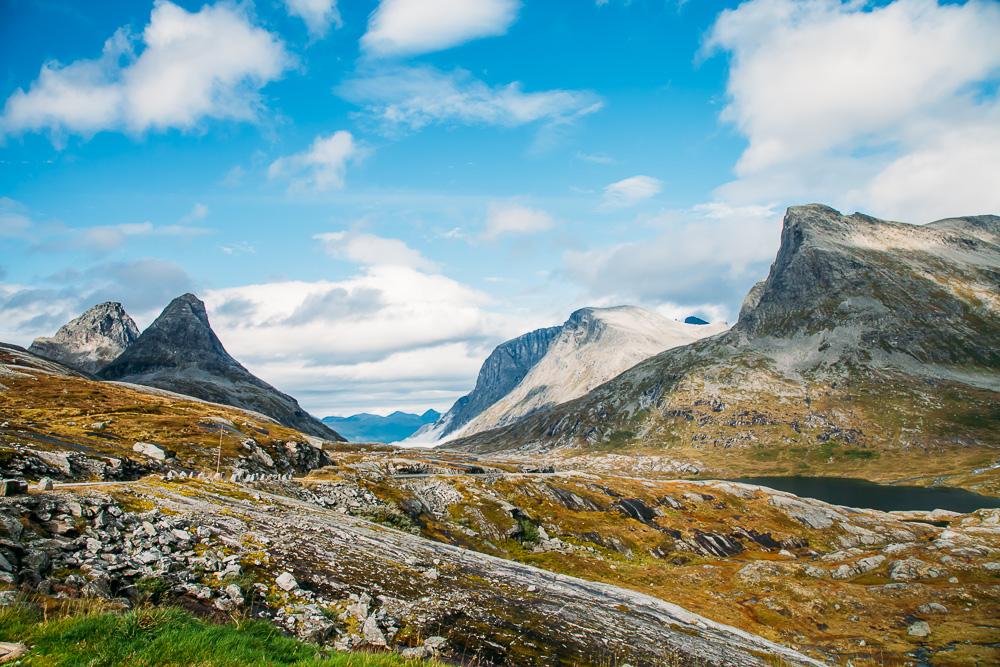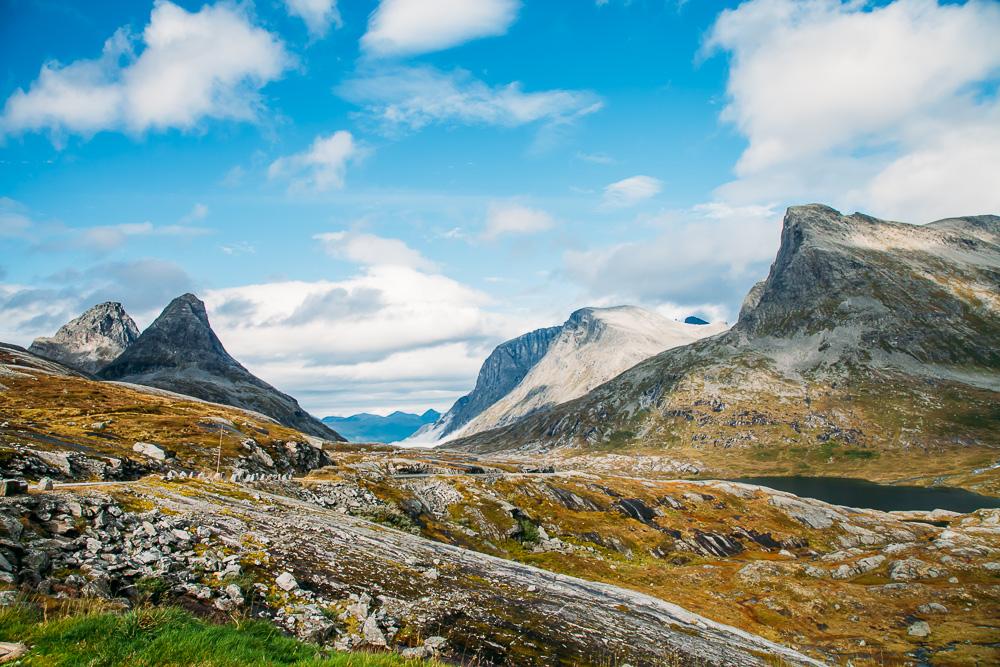 When to visit Trollstigen
Unfortunately Trollstigen is closed in the winter, so if you want to take this iconic drive you'll need to visit in the summer.
Trollstigen usually opens in late May or early June, depending on how much snow needs to be cleared that year. The earliest Trollstigen opened for the season was May 11th, and the latest opening date was June 12th. And the earliest closure for the season was October 5th, and the latest was December 7th. If you want to be on the safe side I would aim to visit anytime after mid-June and before October.
You can check the road status at Vegvesen.no.
Also, keep in mind that Google Maps won't suggest routes that are currently closed, so if you're planning your road trip through Trollstigen before the road has opened for the year, Maps will redirect you to another route.
Getting to Trollstigen
Trollstigen runs between Åndalsnes and Geiranger and climbs up to Stigrøra, at 858 meters above sea level. You can either approach Trollstigen from Geiranger, which will bring you to the top of Trollstigen to drive down the hairpins towards Åndalsnes, or you can start from the bottom at Åndalsnes and drive up the mountain.
Driving Trollstigen
A lot of Trollstigen is single track with passing points. People also often pull over at the passing points to take photos, which can make this a slow drive when the road is busy. But you'll probably want to take it slowly anyway so you can enjoy all the views.
You should also be prepared for the chance that fog will totally obstruct your view. It's not uncommon for the view from the top of Trollstigen to look like this: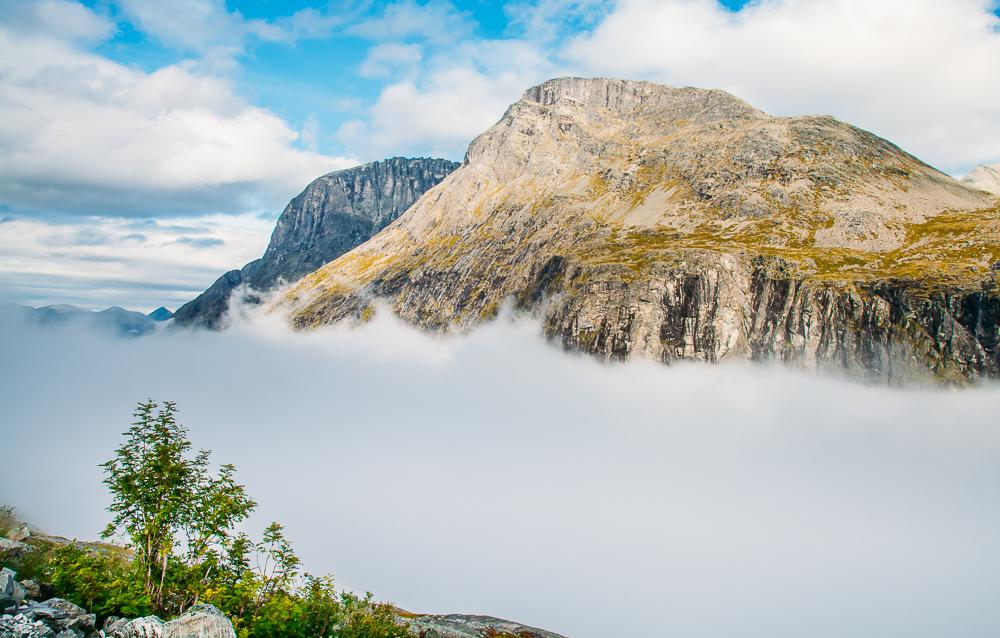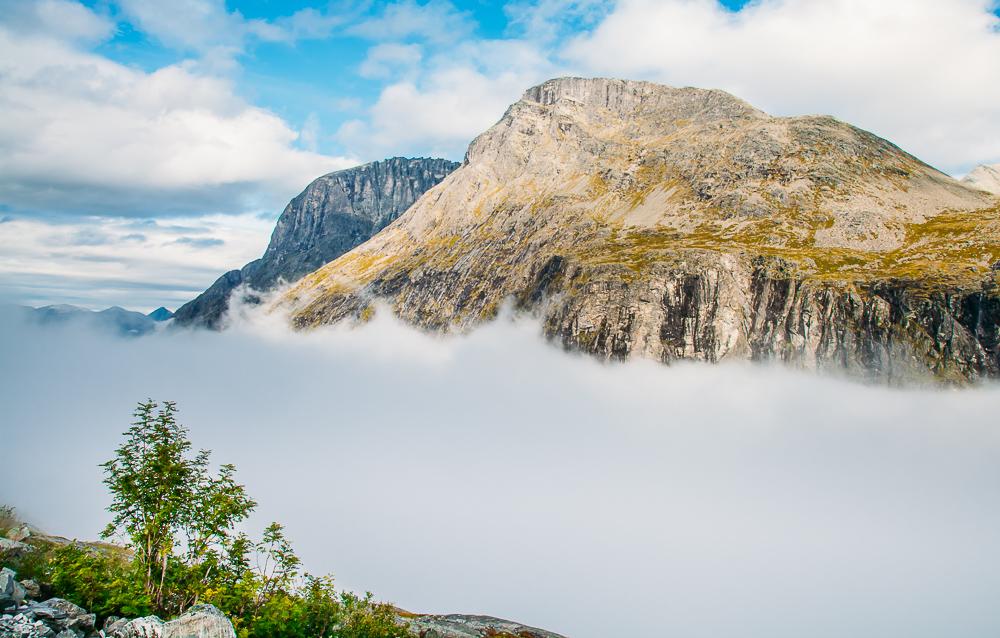 If the road is covered in fog when you arrive, try to wait around for a while, because often the fog will clear, if only for a short time. Because of this I always tell people to give themselves lots of extra time on Trollstigen, because it's definitely worth waiting until you get to see the road in all its glory.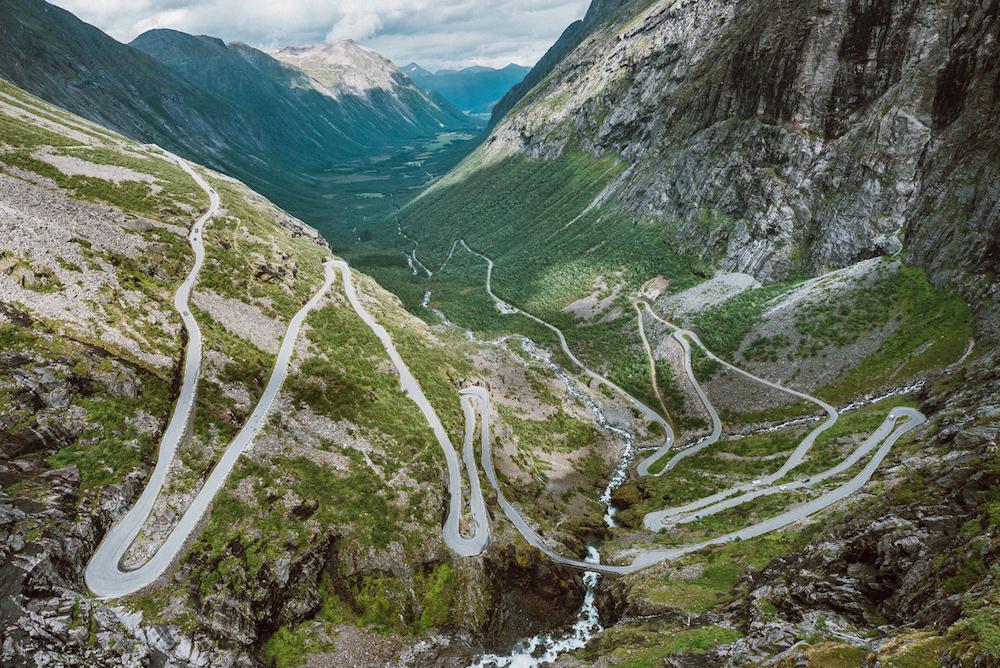 But even if Trollstigen is covered in fog, you should be able to see the incredible mountains at the top.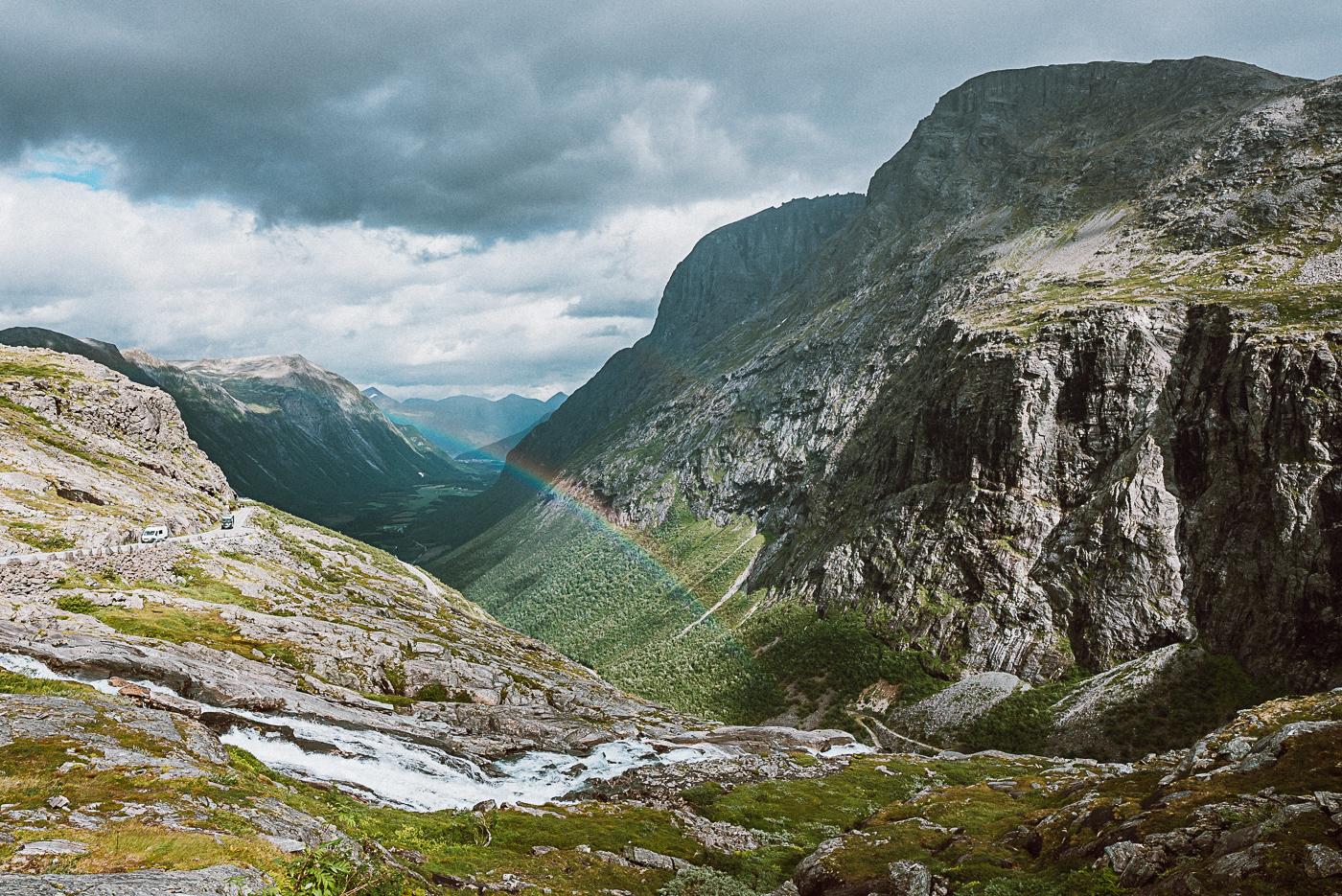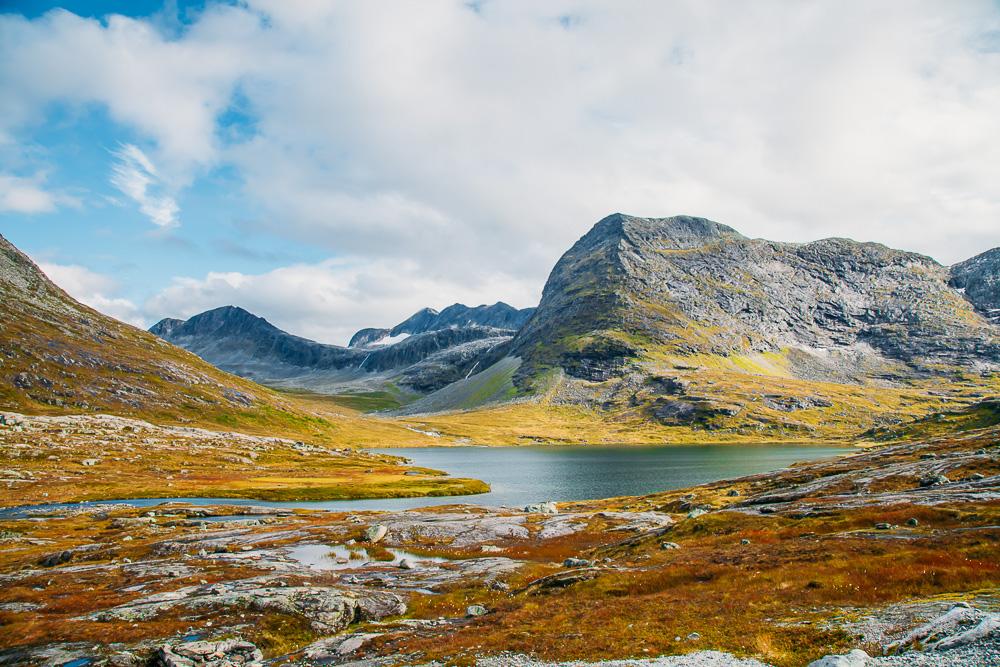 Trollstigen viewing platforms
At the top of Trollstigen, there's a large parking lot in front of a visitor's center. Here you'll find a cafe and gift shop, but the real attraction lies behind the visitor's center. A wooden walkway takes you to three impressive viewing platforms, each with different views down to Trollstigen. If you want photos of Trollstigen, this is the best place to take them!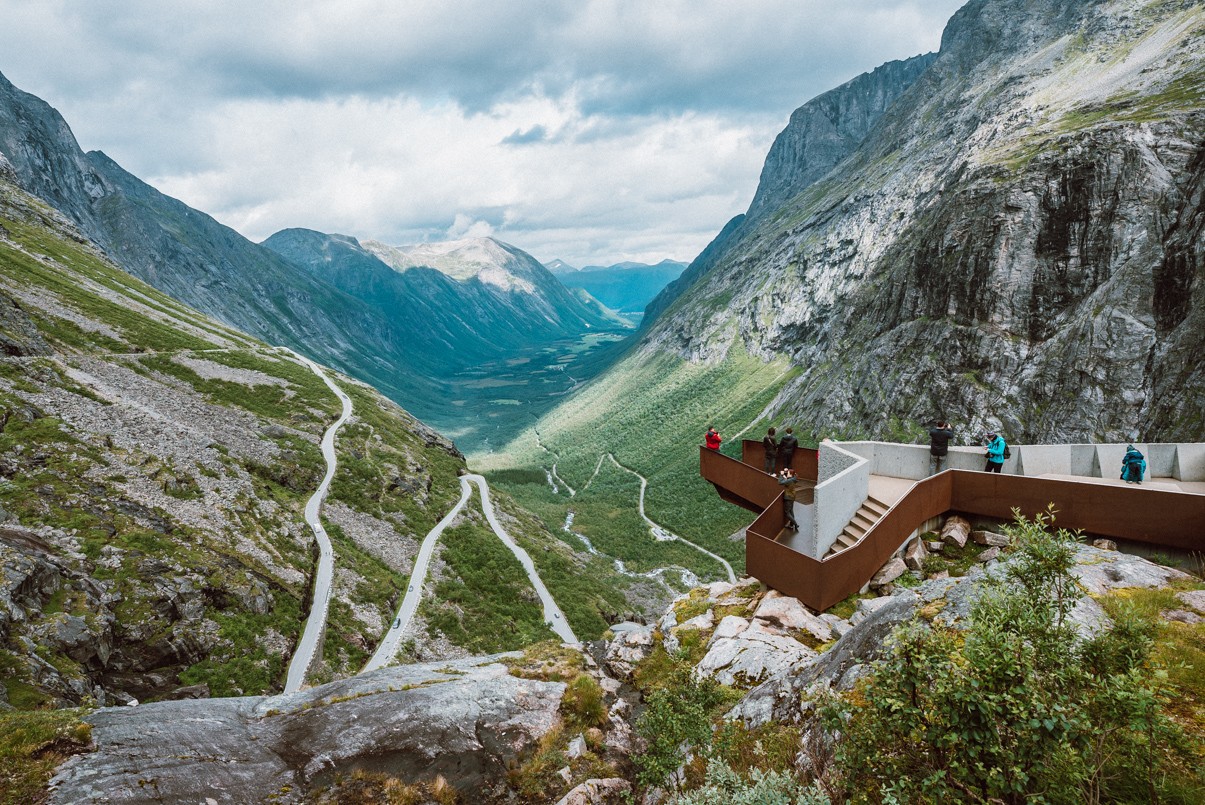 Where to stay near Trollstigen
After driving down Trollstigen you'll come to Åndalsnes. The town itself isn't particularly special, but it makes a great base from which to explore. If you have time for a hike, the Rampestreken hike is famous for its viewing platform over the Romsdalsfjord and Romsdal Alps.
In Åndalsnes I recommend staying at the Grand Hotel. Or if you're up for a longer drive, you could keep going and drive all the way to Ålesund, which is about an hour and a half drive from Åndalsnes.
Or if you're driving up Trollstigen towards Geiranger, you can stay at Valldal Fjordhotell, about a 40 minute drive from the top of Trollstigen. I stayed here with Alfie and loved it. It has an amazing view of the fjord and makes for the perfect base from which to explore Norway's fjords.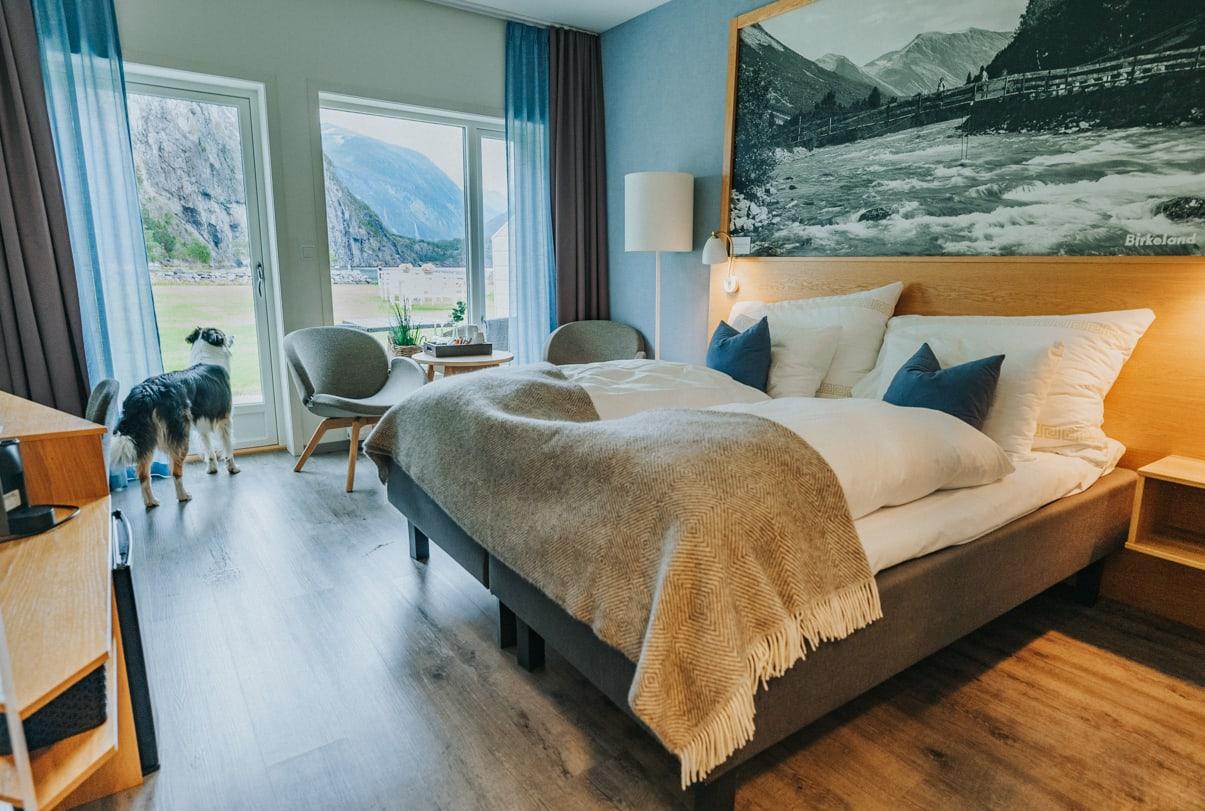 Valldal is known as the "strawberry valley" and here you can buy freshly picked strawberries, or visit Valldal Safteri for fresh berry juice and jam.
Or if you want to drive all the way to Geirangerfjord, I recommend staying at either the Hotel Union Geiranger, or the Grande Fjord Hotel.
The Hotel Union Geiranger is very grand and perched a bit above Geirangerfjord, so if you upgrade to a room with a view you'll get wonderful views of the fjord right from your bedroom. They also have a spa and pool, and breakfast is fantastic – one of the best I've had in Norway.
On the other side of Geiranger, about 2 kilometers from the center, the Grande Fjord Hotel has some of the best views of Geirangerfjord. I haven't yet stayed here myself, but the breakfast is supposed to be fantastic, and they have a very inviting jacuzzi overlooking Geirangerfjord.
Read my guide to Geiranger here.