Most people visiting Tromsø in winter are here to see the northern lights. And yes, the aurora is definitely one of the things I love most about living in Tromsø. But as the northern lights are part of nature and can't be guaranteed, I always stress the importance of filling your Tromsø trip with other fun activities, so you know you will have an amazing time even if you are unlucky with the northern lights. And one of the top activities I recommend is meeting some of the Tromsø reindeer!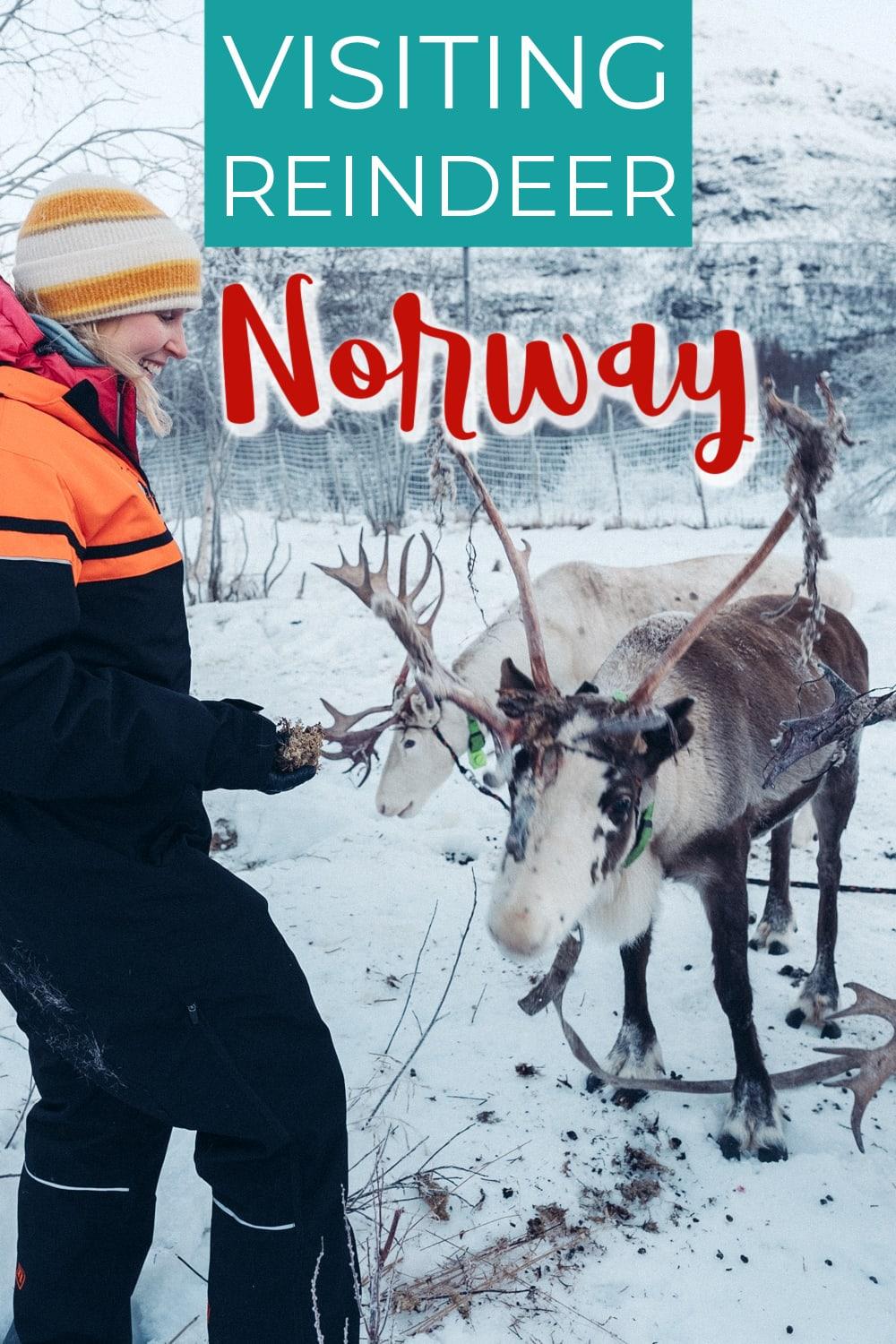 Quick Tromsø Travel Guide
Tromsø Accommodation: Thon Hotel Polar and Thon Hotel Tromsø across the street are both excellent options right in the city center, and the breakfast buffet is incredible. The fanciest hotel in town is the Clarion Hotel The Edge, which is right on the water and home to Tromsø's only skybar. I've also written a full guide to the best Tromsø hotels here.
Tromsø Activities Hostel is a great option if you're on a tight budget. And if you want your own apartment, this glass roof loft near the center looks incredible. I don't recommend booking an Airbnb in Tromsø.
Top Tromsø Activities:
Tromsø car rental: Tromsø is surrounded by incredible nature, but public transport is sparse so I recommend renting a car, if you can. You can compare prices and book your Tromsø car rental at autoeurope.com.
Packing for Tromsø: You can find my winter packing guide for Norway here. In general I would say focus on practical outdoors clothing – people dress very casually here, even when going out at night. Don't forget some warm sweaters, even in the summer!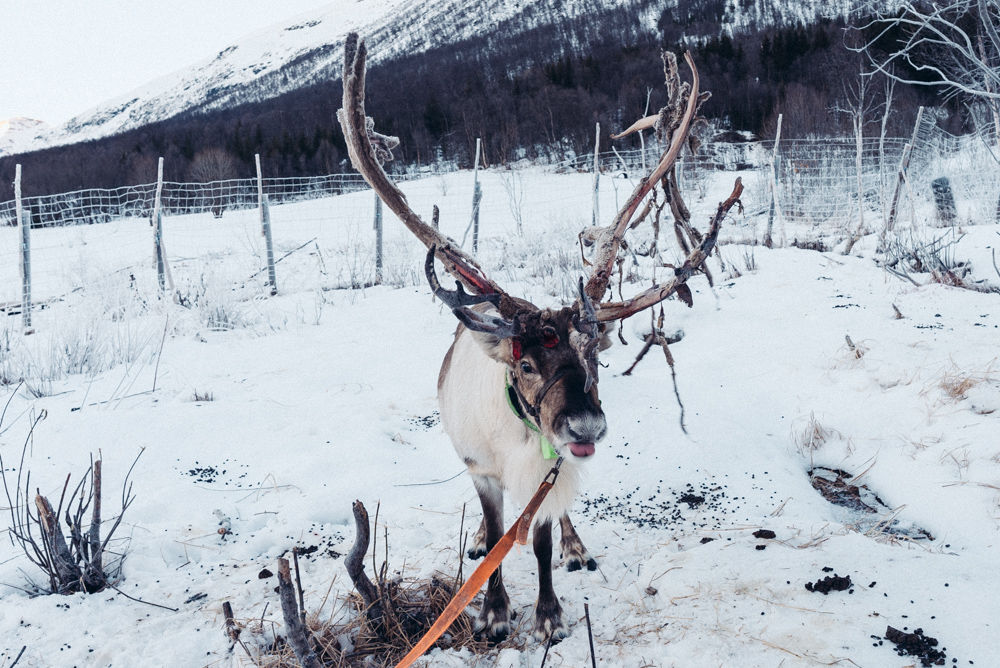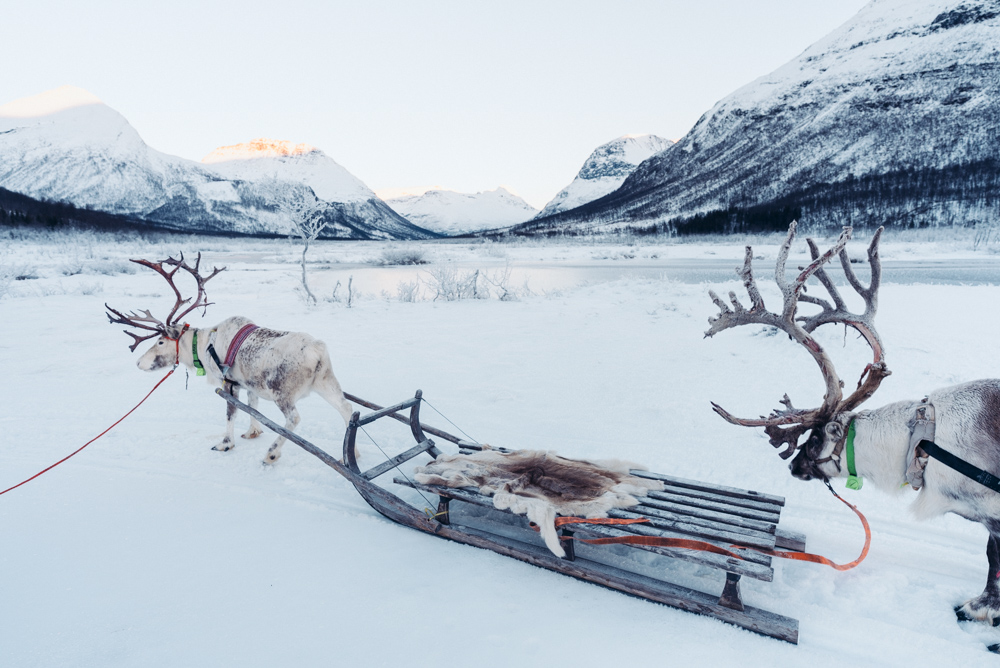 Reindeer are such special animals, and if you've never been up close to one you're in for a treat. But often the highlight of visiting the reindeer in Tromsø is learning about the Sámi culture here. The Sámi have lived in northern Norway for thousands of years, and many continue their nomadic way of life today. The Sámi are also the only people in Norway who are allowed to own and herd reindeer.
And I mean, even if the main reason you're visiting Tromsø is to see the northern lights, it would be such a shame to travel all this way and not learn a bit about the Sámi culture here as well. Plus reindeer are so beautiful!
There are two Sámi camps near Tromsø where tourists can visit reindeer. The closest one is Tromsø Arctic Reindeer, which is about a 30 minute drive from the city center. All tours include transportation from the center. Check current prices and book a reindeer visit with sledding at Tromsø Arctic Reindeer here.
But if you have the time, my best reindeer tour recommendation would be to visit the reindeer at Camp Tamok, a 90 minute drive outside of the city. Again, transport here is included in the tour.
Camp Tamok lies at the bottom of Lyngenfjord, one of the most beautiful fjords in Norway. And because the camp is farther inland than Tromsø, there's often more snow here. In fact when I visited in mid November there was no snow in Tromsø but there was enough snow here to go sledding! That makes this Camp Tamok reindeer tour a particularly good option if you're disappointed by the lack of snow in Tromsø, which can sometimes be the case in November and December.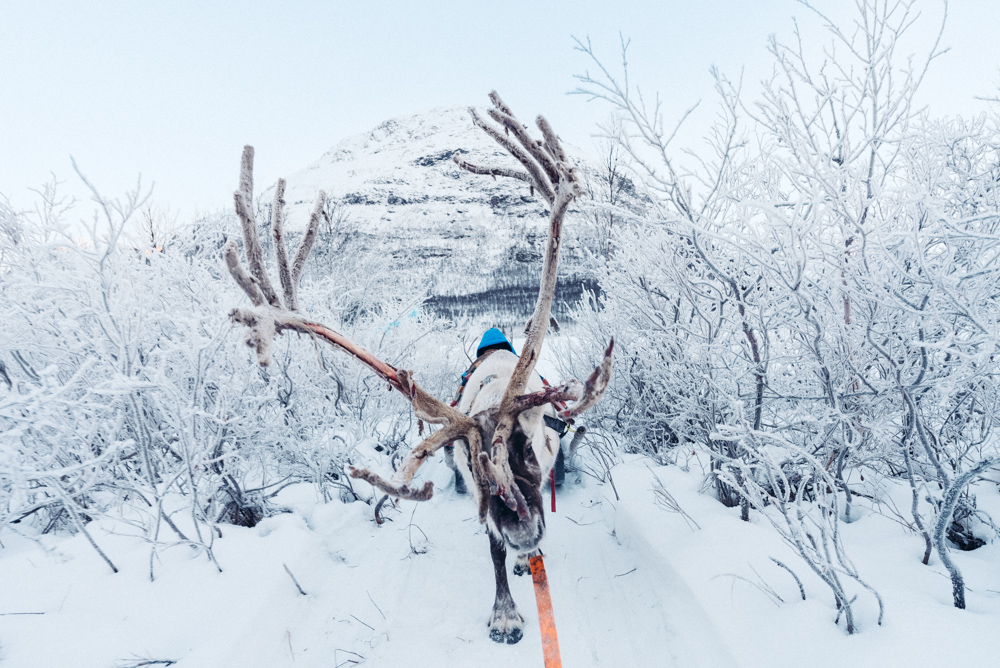 Visiting the reindeer at Camp Tamok
My friend Katie and I did this reindeer sledding day trip to Camp Tamok. We chose the day tour because we wanted to see the reindeer in the daylight, but you can also take a nighttime reindeer excursion. If you go at night you'll have a chance to see the northern lights, but keep in mind that it will be dark. Our Sámi guide said that the night tours can be really cold and windy, but sledding under the northern lights is a very special experience.
Or if you'd like to see the ice hotel as well, you could do this daytime reindeer sledding trip with an added visit to the Ice Domes.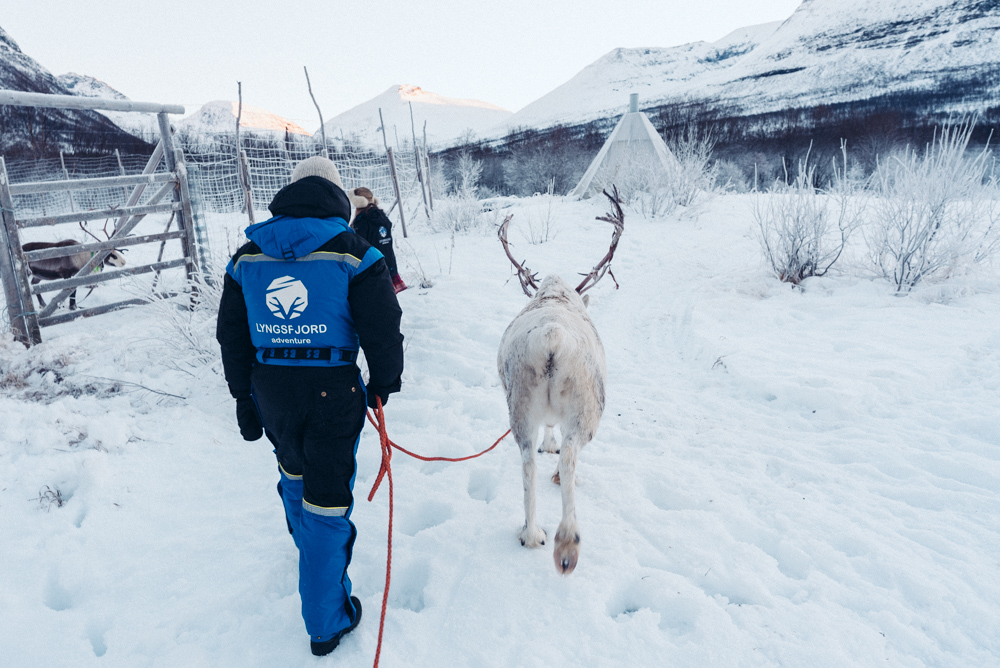 After the minivan drive to Camp Tamok, the guides fitted us with warm snowsuits, boots and mittens. Then we headed down to the reindeer enclosure to meet some of the reindeer! We got to walk them out of the enclosure to hook them up to the sleds. I loved that we were able to walk the reindeer ourselves and get to know them a bit.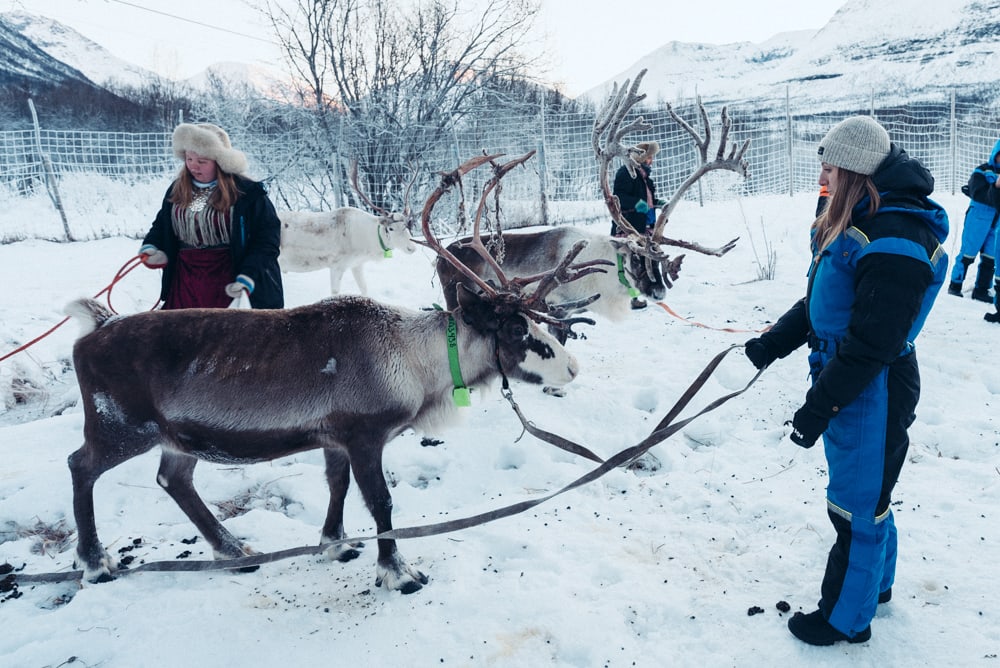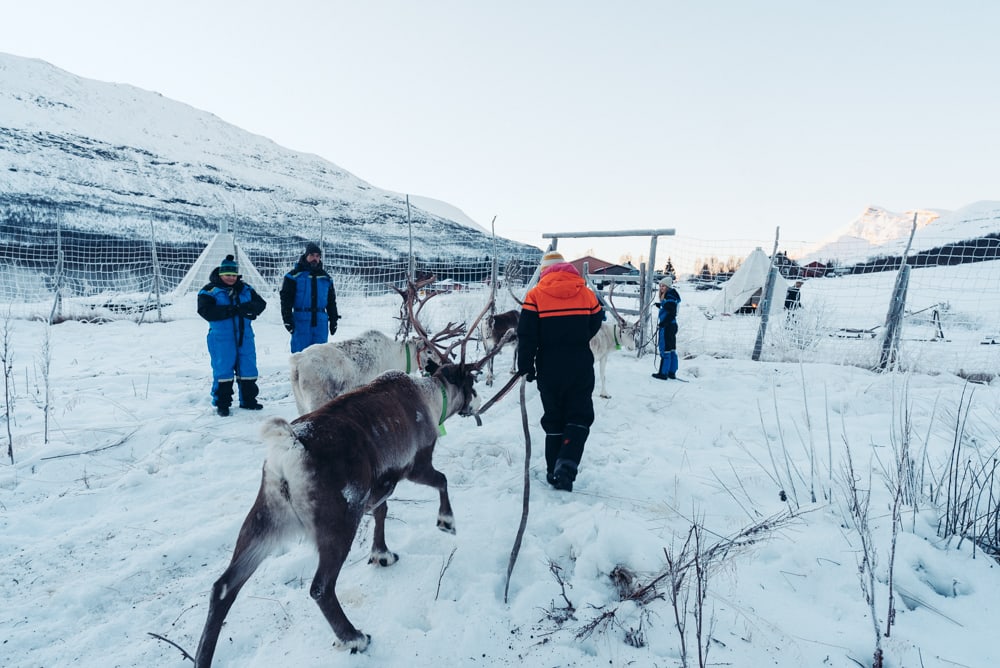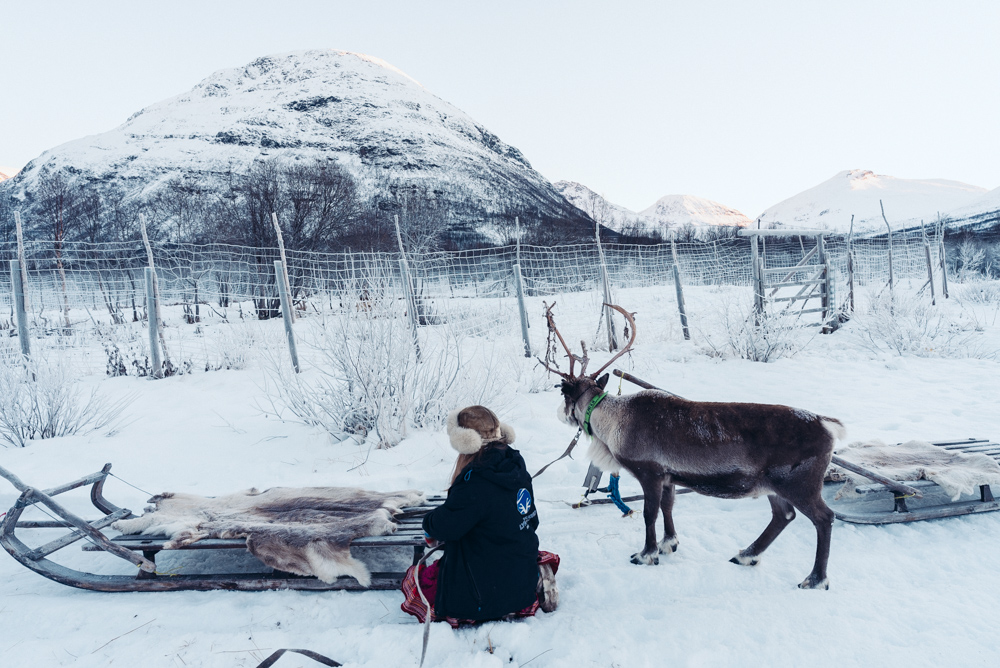 We were about fifteen people, so we split up into two groups, half of whom went out on the sleds first, while the other half went inside a warm lavvu to learn more about the Sámi history and way of life now. We were free to ask our Sámi guide lots of questions and even though I've visited a lot of these Sámi camps I still learned so much from him.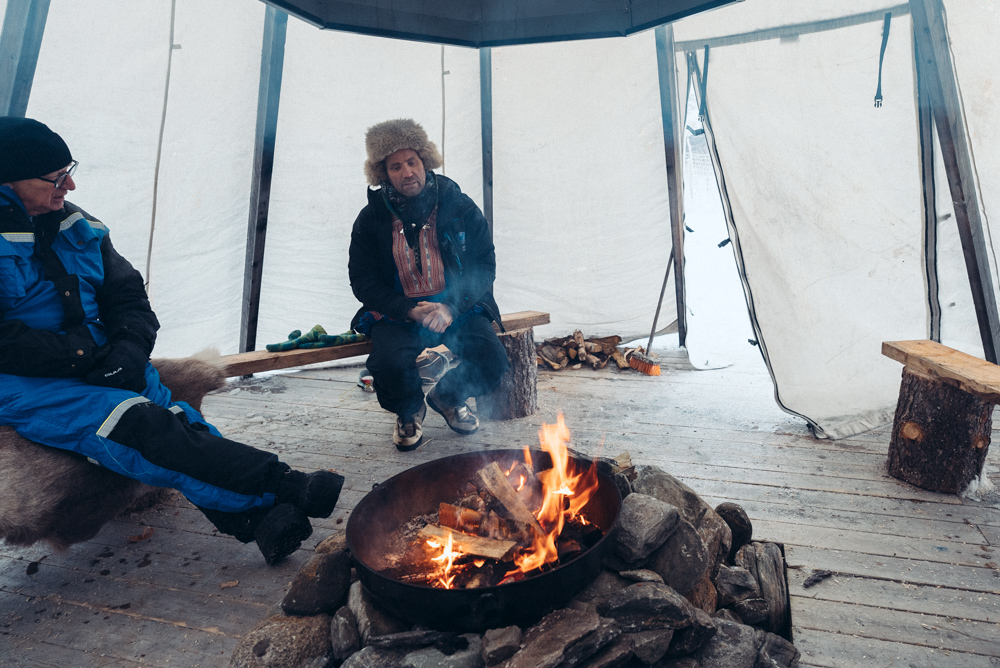 And then we went for a ride on the sleds! We were two to a sled, except for one guy who had his own sled as he was traveling in a group of three. When I've done these tours on my own I've always been given my own sled.
The landscape around Camp Tamok is so stunning that I was really happy I opted to come out here, despite the longer drive. The sled ride took about twenty minutes, with a stop halfway through to enjoy the landscape, take some photos and ask our guide more questions about the reindeer and Sámi way of life.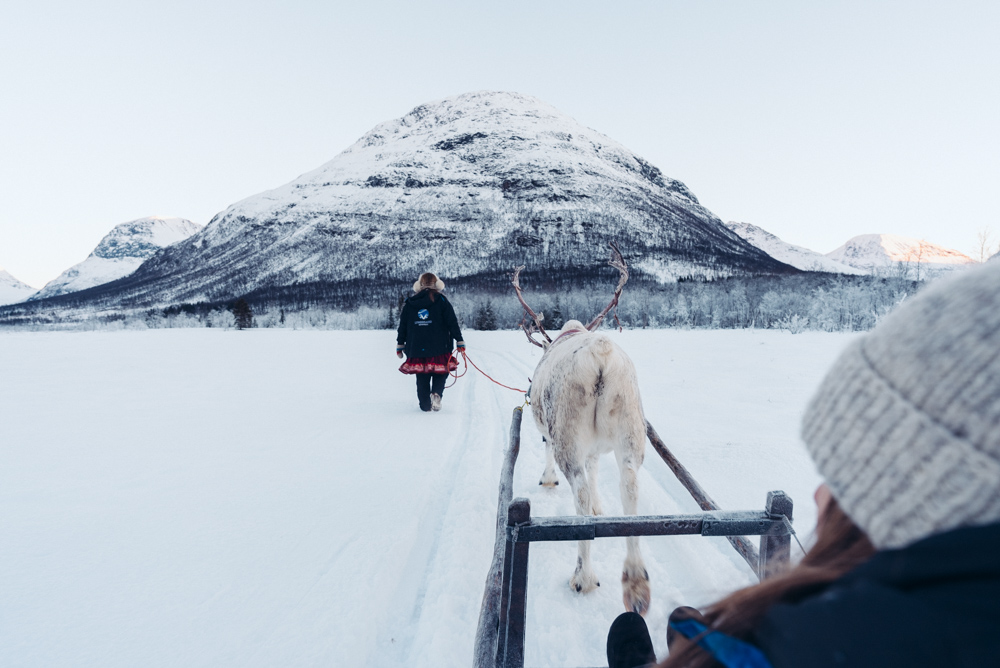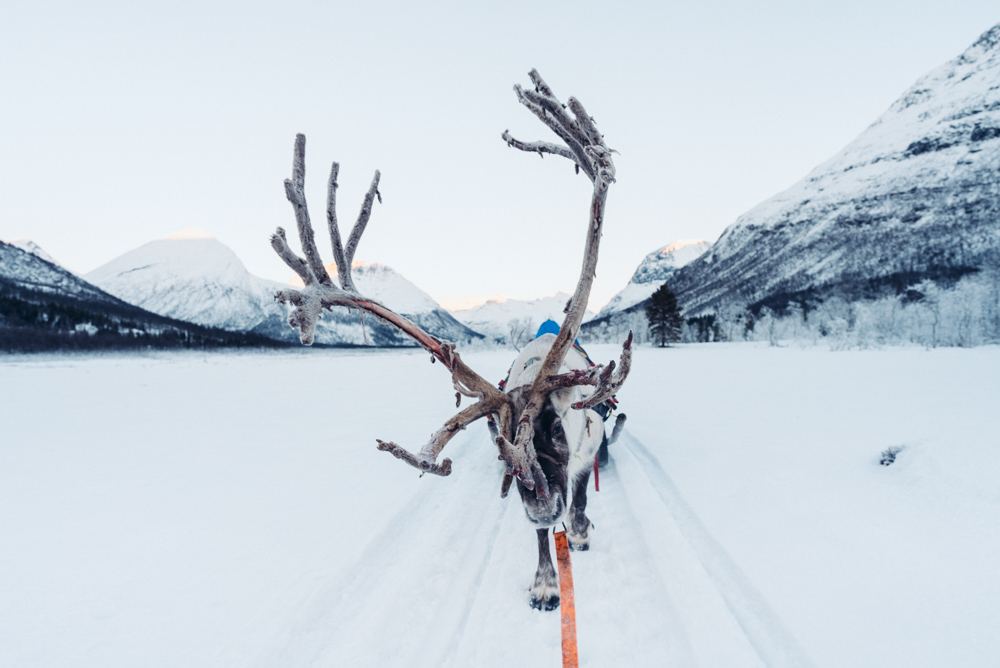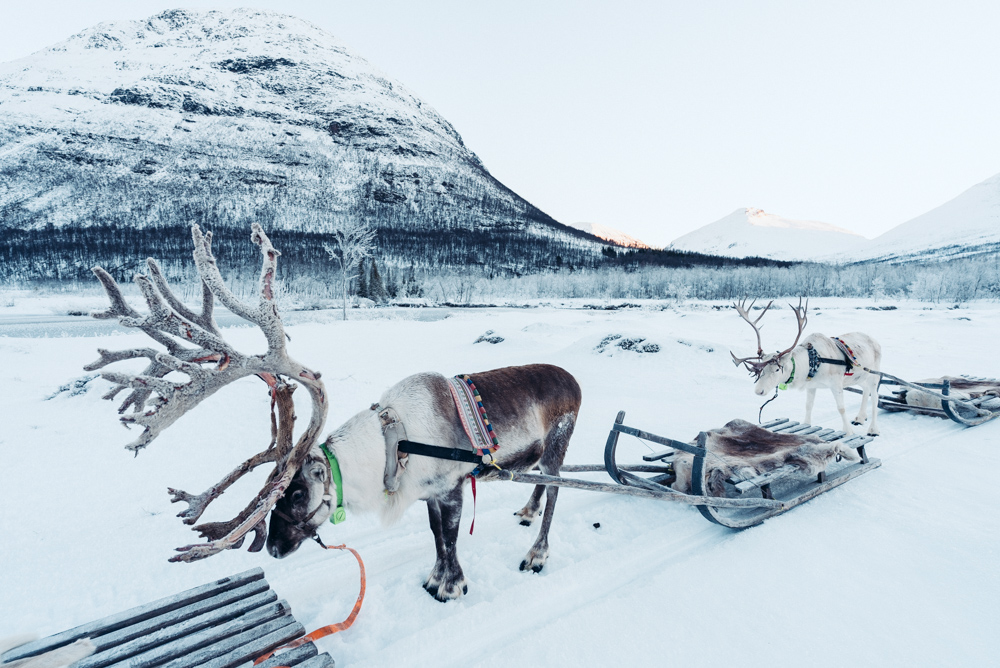 After the sled ride we took the reindeer back to their enclosure and got to feed them. This was probably my favorite part of the tour, because the reindeer are so cute when they're eating.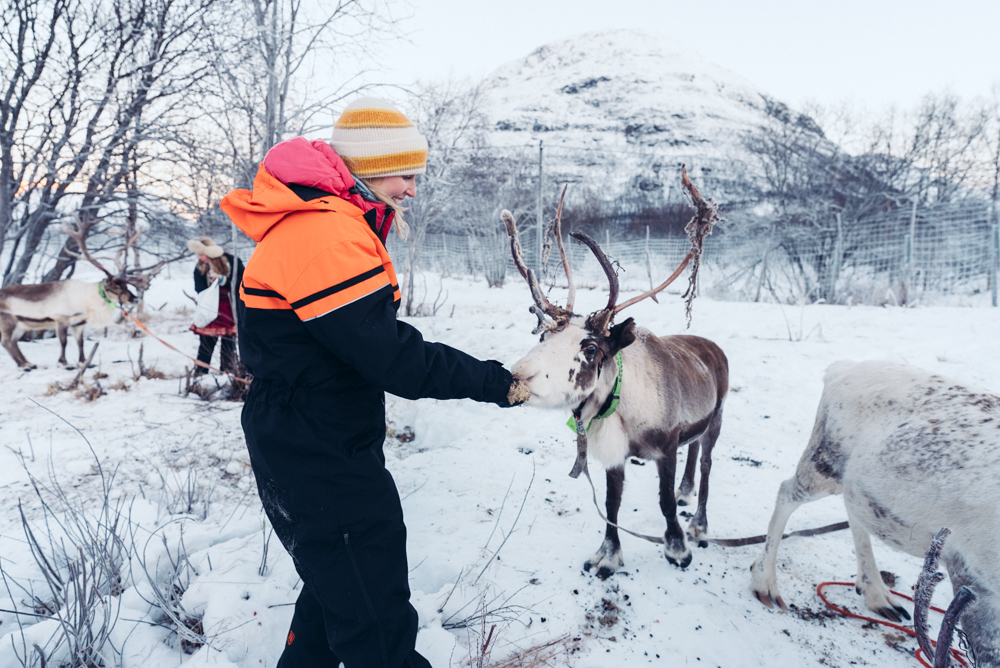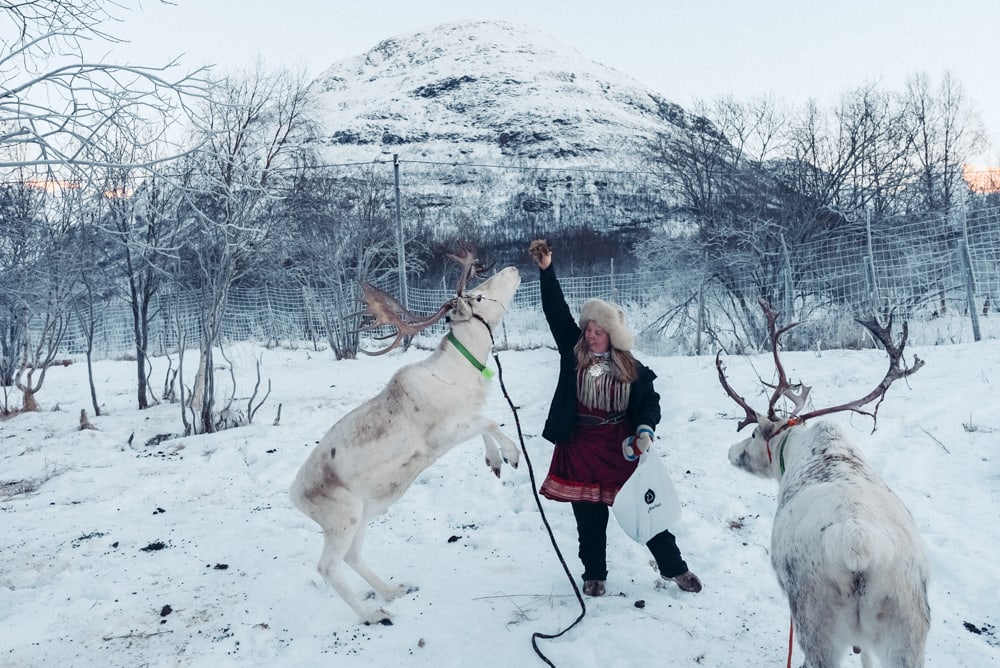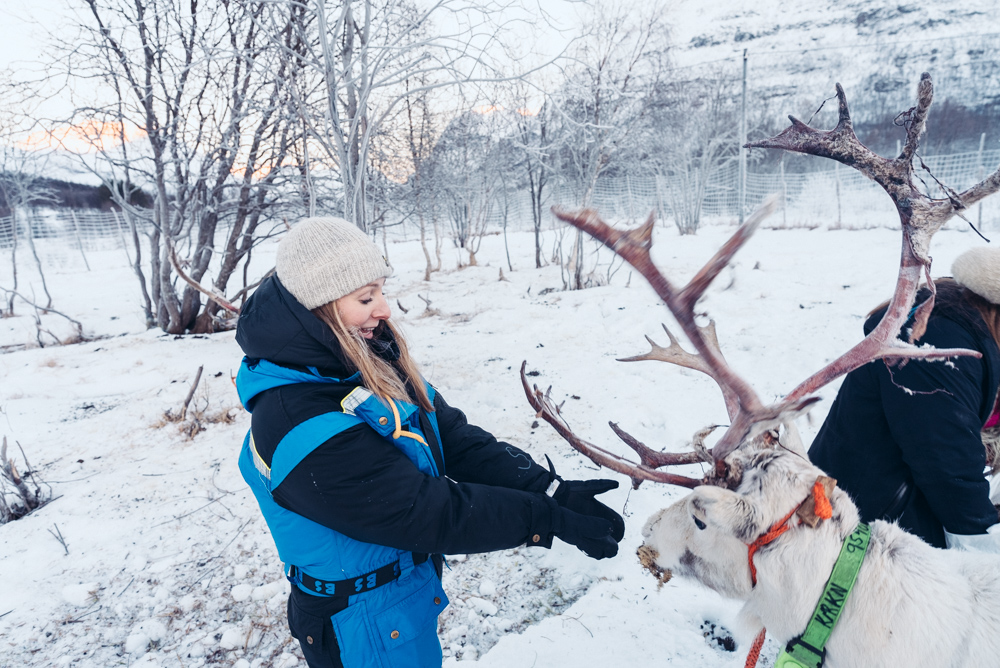 After that we made our way up to the restaurant lavvu for some hot drinks and stew. But first we took a quick detour to say hi to the huskies at Camp Tamok, because you know I never turn down dog cuddles. And neither does Katie.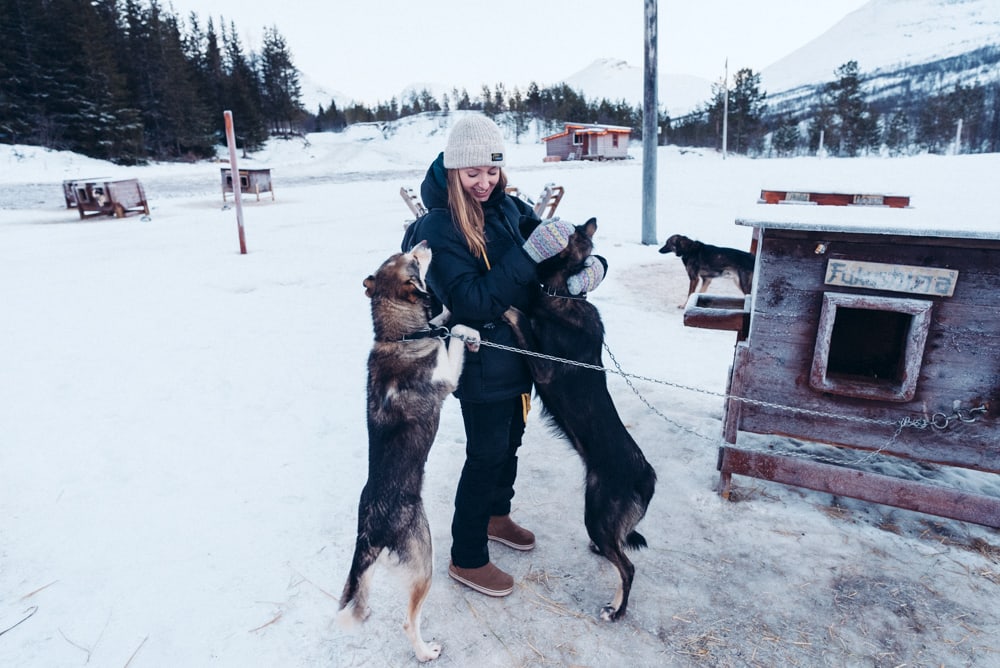 Is reindeer sledding ethical?
I'm always careful with any activity involving animals, so of course I've asked many Sámi what they think about reindeer sledding with tourists.
First of all, the reindeer you will meet here are not wild reindeer. They are part of the Sámi camp's herd and are often put to work.
Sámi people do not typically ride in sleds pulled by reindeer, but instead they walk alongside the reindeer who pull sleds full of supplies. So no, this activity isn't a traditional Sámi experience. However, the people I spoke with assured me that the reindeer can pull much heavier sleds than those with the tourists, and they're used to pulling these heavy sleds for hours, not just 30 minutes, so this activity is actually quite easy work for the reindeer and a wonderful way for tourists to experience these enchanting animals.
However the sledding portion of the tour is always optional.
While visiting the reindeer camp you'll also learn more about the struggles Sámi face in maintaining their traditions in a modern Norway and how tourism now plays a crucial role in helping many Sámi to keep their culture alive. So you can book this tour knowing not only that you'll get to spend some time with beautiful reindeer, but also that you'll be supporting a culture whose ties to this Arctic landscape date back thousands of years.