Having lived in Northern Norway for over four years, I now get so many questions from people planning winter trips to Norway to see the northern lights. And after telling them my picks for the best places in Norway to see the northern lights, I always stress one thing: make sure to plan lots of fun daytime activities so that you have an amazing trip even if you are unlucky with the northern lights.
And one of my favorite winter activities in Norway is dog sledding! I love dogs so much, and before I got Alfie I would often go dog sledding just to get to hang out with some dogs. You usually get to cuddle with the dogs at the end of the sledding trip, and sometimes there are even some puppies.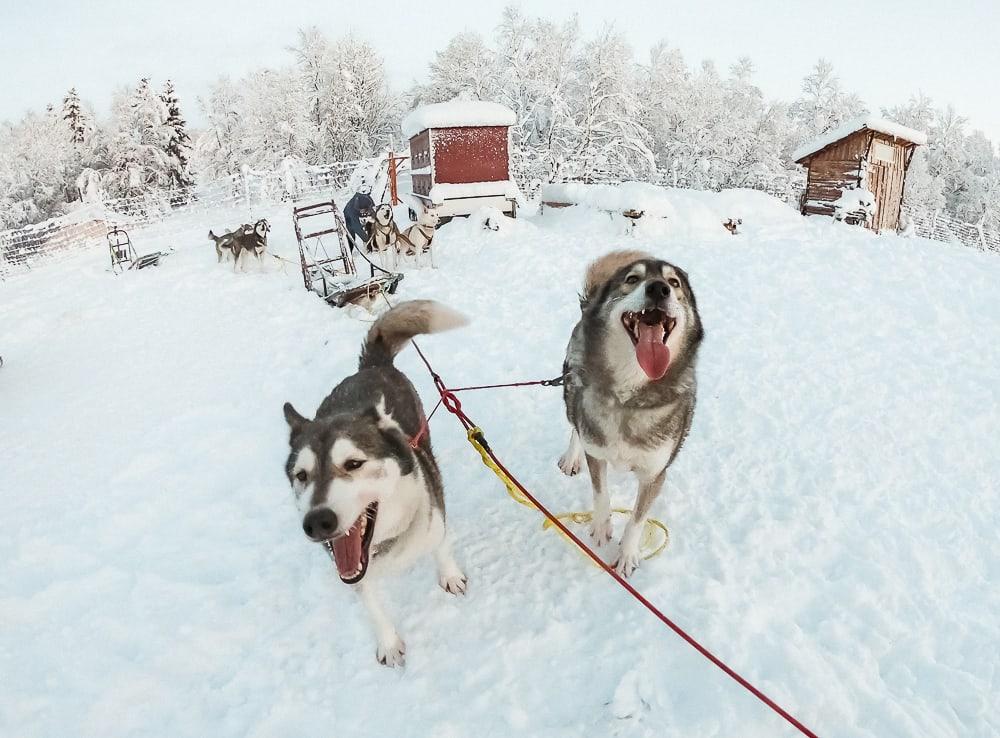 Being such a dog lover, I was a little unsure about dogsledding when I first moved to Northern Norway. Any activities that involve animals of course bring up questions about the welfare of the animals. But once I visited the huskies I realized very quickly that they love dog sledding. And when I think about how much my dog loves just going for a walk, it makes sense!
I'd even say that huskies probably enjoy this life a whole lot more than most pets who are stuck at home alone all day with just a short evening walk to look forward to.
Still, when choosing a place to go husky sledding it's important to pick a place where you know the huskies will be properly loved and cared for. There are some bigger husky kennels with tons of staff that switch out each year, where I'm not sure how well cared for the dogs are, especially if they get injured or become too old to pull sleds.
Because of this I always choose smaller, family-run husky experiences where available, or wilderness centers that make sure to care for their retired huskies or find good homes for them.
The sledding itself is so much fun! I was nervous my first time, but it's actually not scary at all. Usually you'll be in pairs for this, with one person driving and one seated on the sled, though when I've traveled alone I'm usually given a sled for myself. The guides will teach you everything you need to know to drive the sleds – it's definitely a workout (especially if you have to run uphill in the snow a bit) but certainly not difficult.
It's fairly easy to control the speed so you don't go too fast if you don't want to, and on some of the hills you might need to run with the huskies, so it really feels like team work. Most dog sledding tours in Norway will provide snowsuits, gloves, and boots, so even if you do take a spill in the snow (which I promise doesn't hurt at all) you won't freeze.
The best time to go dog sledding in Norway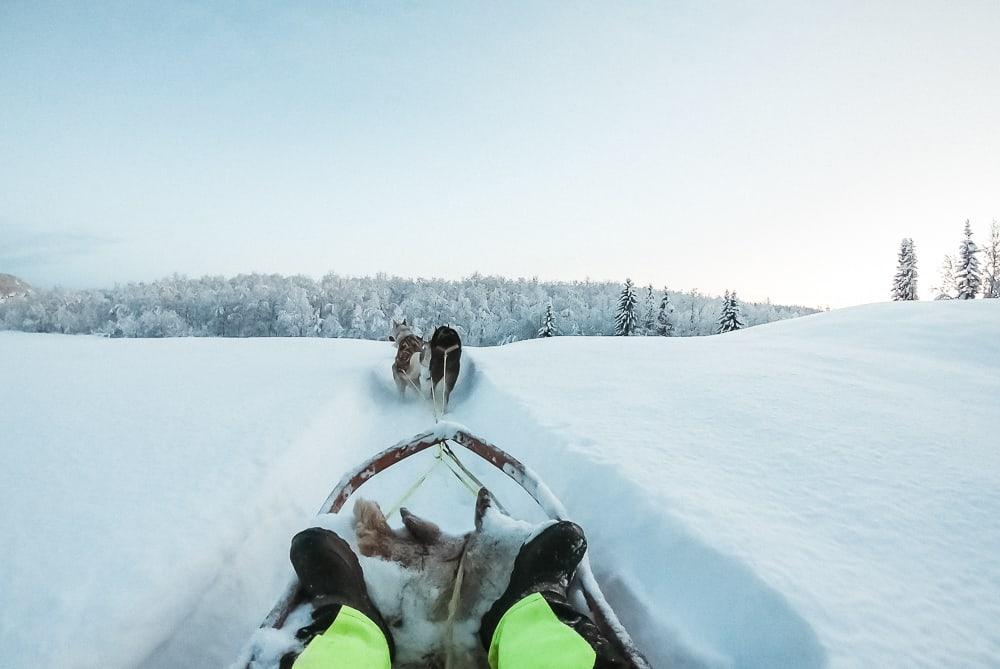 For best chances of snow I would do this in January, February, or March, but sometimes there will be enough snow on the ground in November and December for husky sledding. And then if there isn't enough snow, some companies will take out carts with wheels instead.
Now, if you're planning on going dog sledding in Northern Norway, you may be wondering how we do this all in the dark, as the sun doesn't rise over most of Northern Norway from the November until January or even February.
If you'll be in Svalbard in December, it will be dark 24/7, so you will have to go dog sledding in the dark. But it's actually quite fun! You'll get a head lamp so you can see, and the dogs know the tracks well, so they already know where to run. Plus if you go dogsledding at night, there's also a chance to see the northern lights!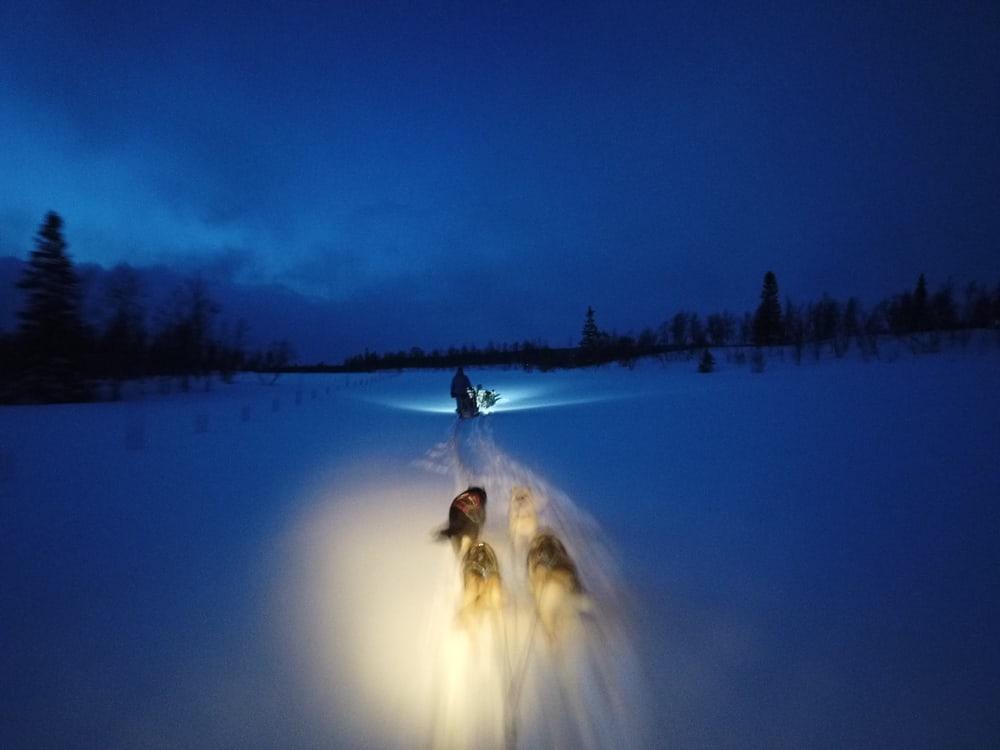 But if you're visiting mainland Norway, even in December there will be three or four hours of twilight during the day, when the sun approaches the horizon (but doesn't actually rise).
Dog sledding in Tromsø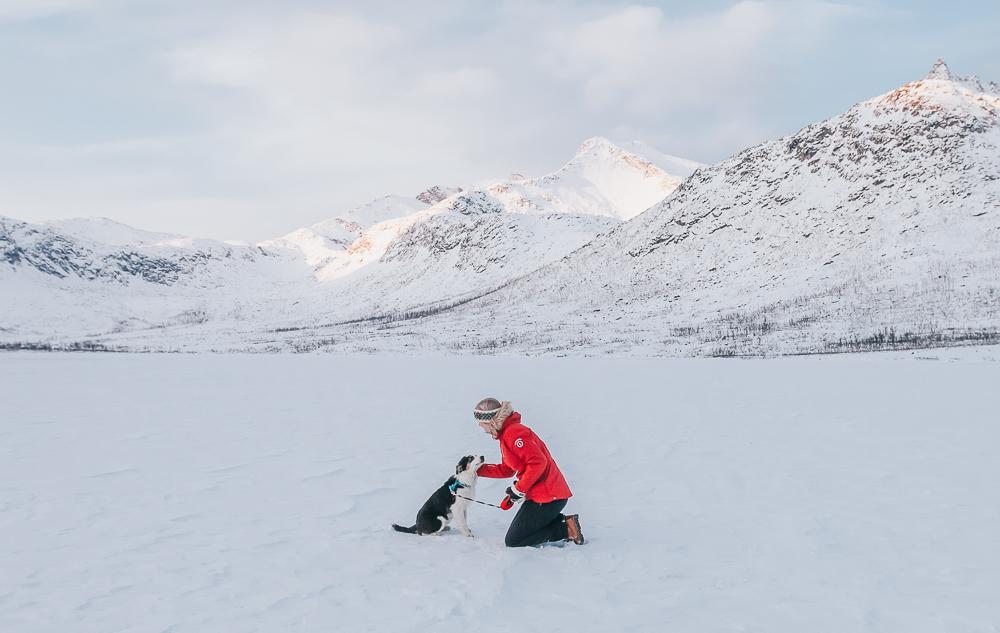 I'd argue the easiest place to go dog sledding in Norway is Tromsø. Tromsø is far enough north that it gets plenty of snow in the winter, it's a great place to see the northern lights as well, and it's set up to receive lots of tourists. There are lots of dog sledding tours in Tromsø, and all of them include a transfer from the city center, so there's no need to rent a car. I would say that the only other place that is this easy to go dog sledding in Norway is Svalbard, and Tromsø is easier to get to than Svalbard.
I lived in Tromsø for two years, and I had friends who worked at the Tromsø Wilderness Center, as well as friends who adopted retired huskies from the Wilderness Center. So it's no surprise that my top recommendation for dog sledding in Tromsø is the Tromsø Wilderness Center!
This husky excursion is perfect for beginners. Or if you aren't interested in sledding but would like to meet the huskies, along with a chance to see the northern lights, you could take this evening husky northern lights tour.
Or you could go all out with this incredible overnight northern lights glamping and dog sledding adventure.
Read my guide to visiting Tromsø in winter here.
Dog sledding in Alta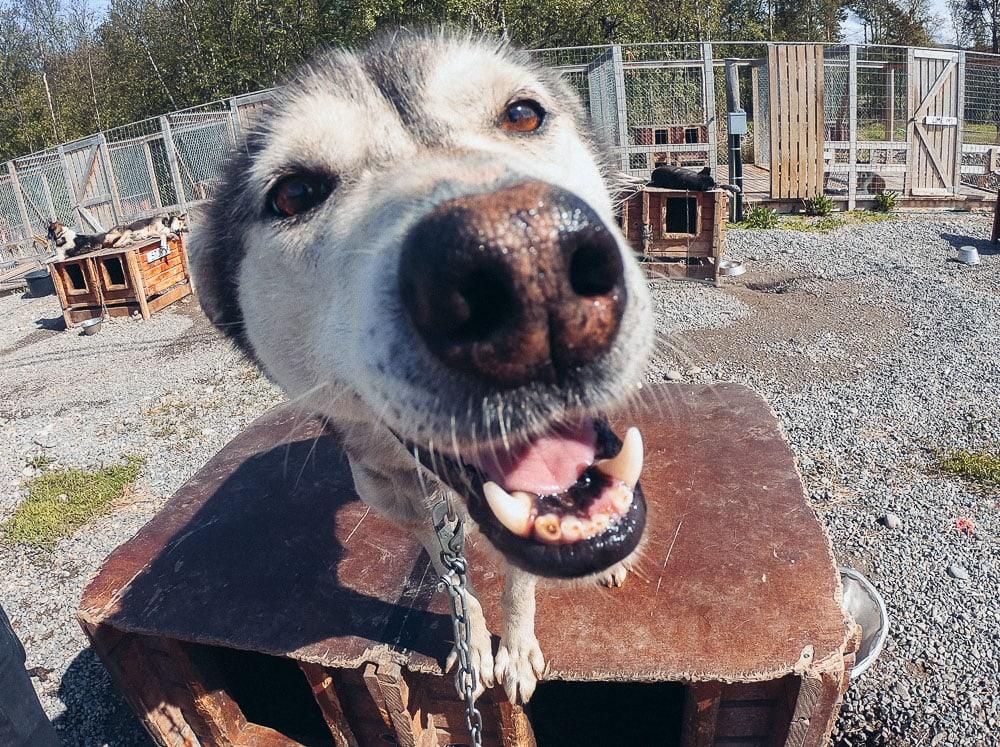 After Tromsø, Alta is probably the second most popular northern lights destination in Norway. Alta is a few hours north of Tromsø and much smaller, so it has more of a barren, wild feel than Tromsø.
I haven't gone dog sledding in Alta, but I have stayed at Holmen Husky Lodge in the summer and met their huskies. Holmen Husky Lodge organizes dog sledding tours in Alta. They have both a 2.5 hour dog sledding experience and 5 hour, both of which you can book here (or simply write a note when you book the accommodation on Booking.com).
For accommodation, Holmen Husky Lodge has super cute little tents with wood burning ovens to keep warm.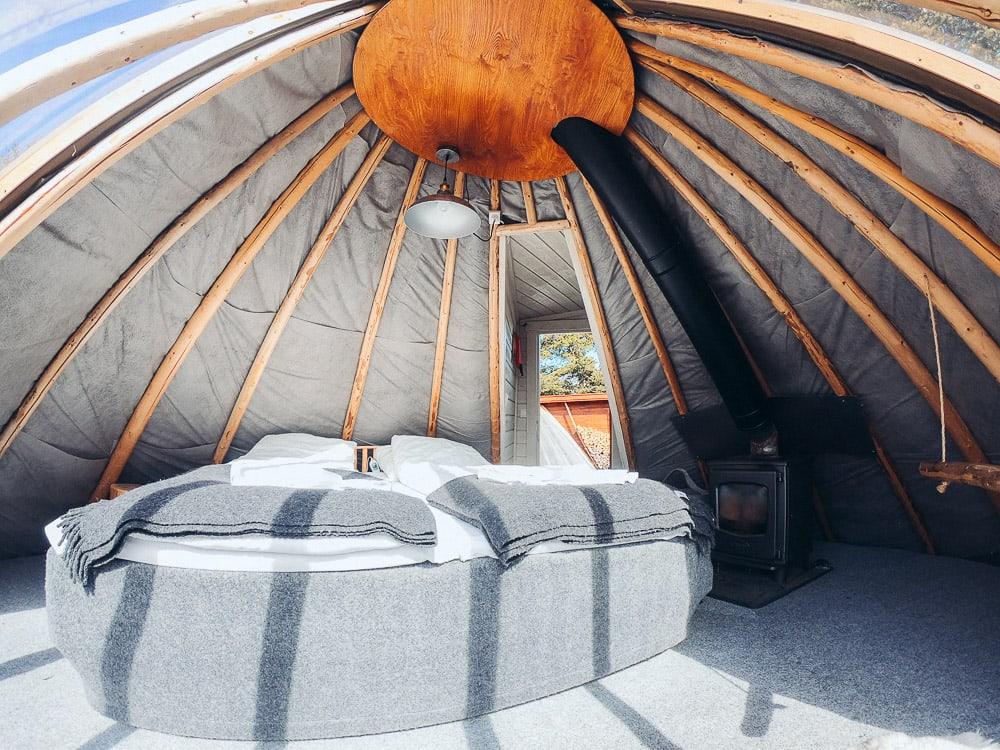 But my favorite accommodation in Alta is definitely GLØD Explorer, and they also have huskies for dogsledding! The Arctic Domes at GLØD are ideal for northern lights viewing at night because you can watch the northern lights from the warmth of your own bed!
These are actually the most luxurious Arctic Domes I've stayed at in Norway because they have attached bathrooms and wood burning ovens. The staff will even wake you in the morning with a cup of coffee and light up the fire for you, if you like. You can simply write a note when you make your booking on Booking.com letting them know you're interested in going dog sledding.
Read about my stay at GLØD in Alta here.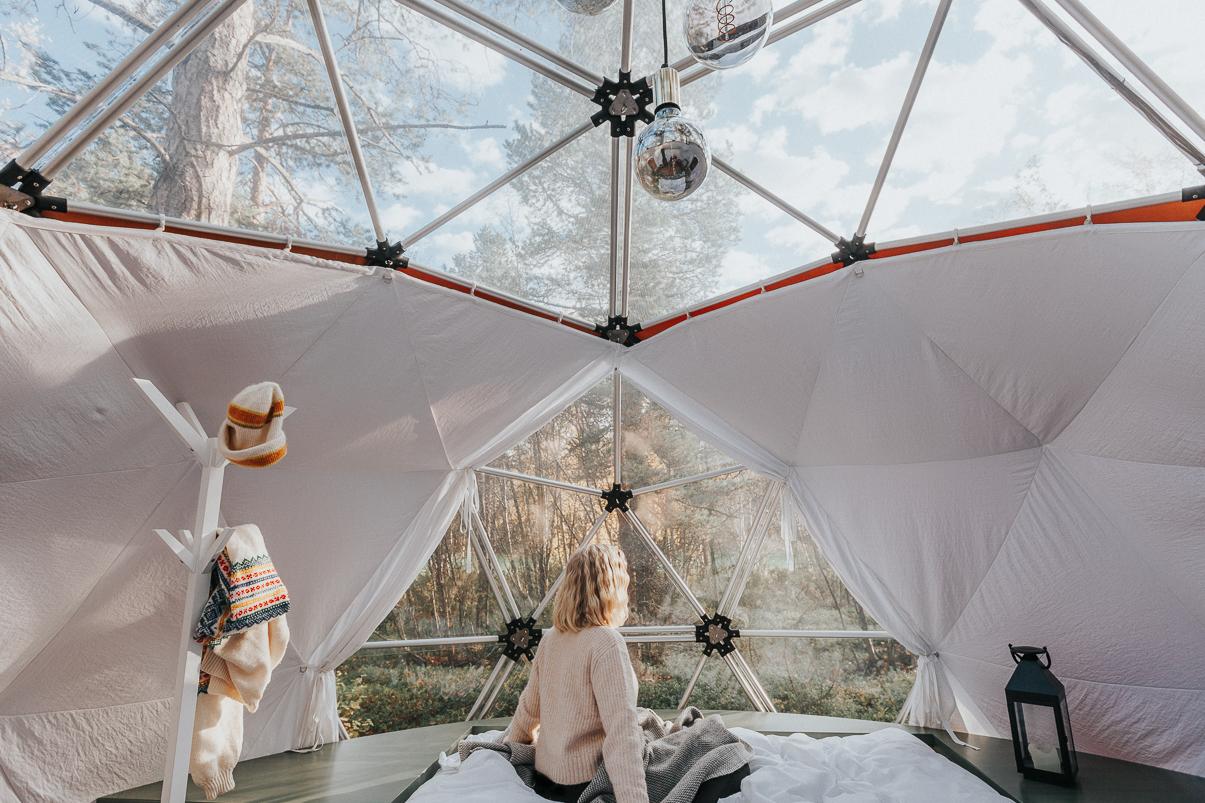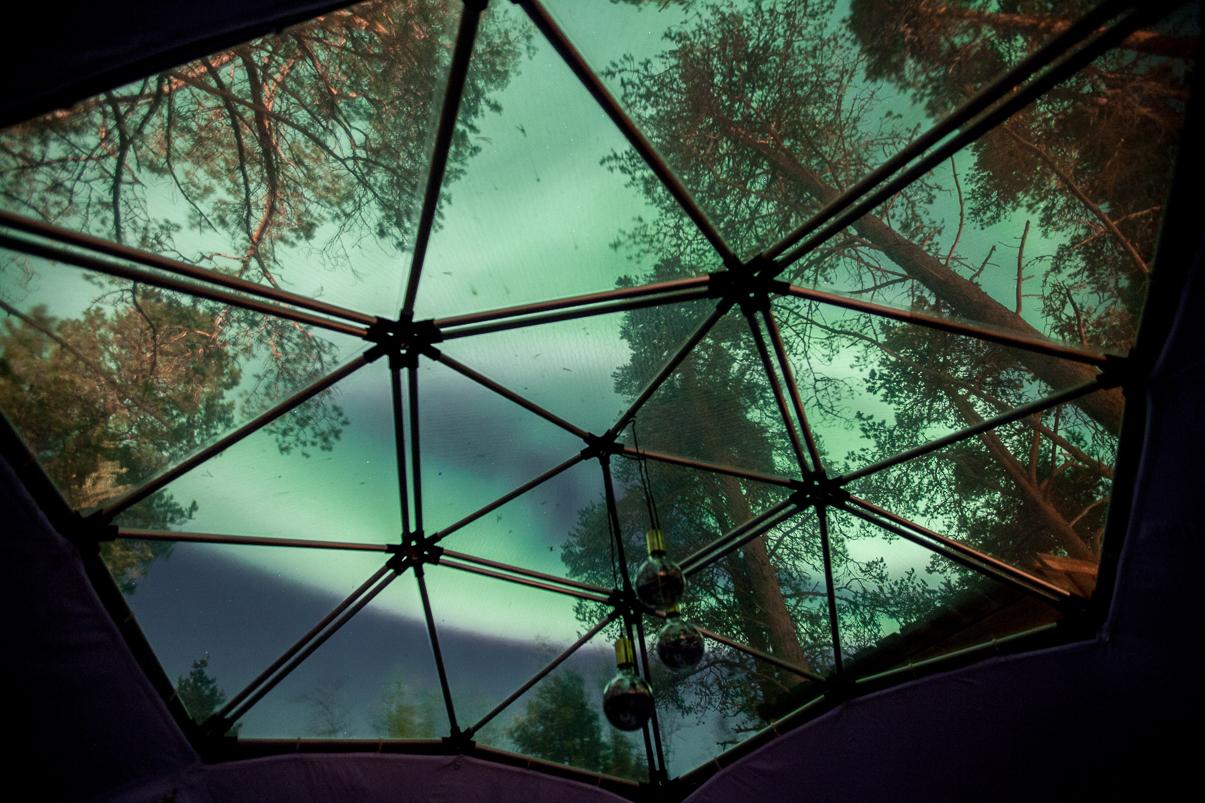 Or you can book this dog sledding experience that leaves from the Alta center, or this short one that does hotel pickups.
Dog sledding in Svalbard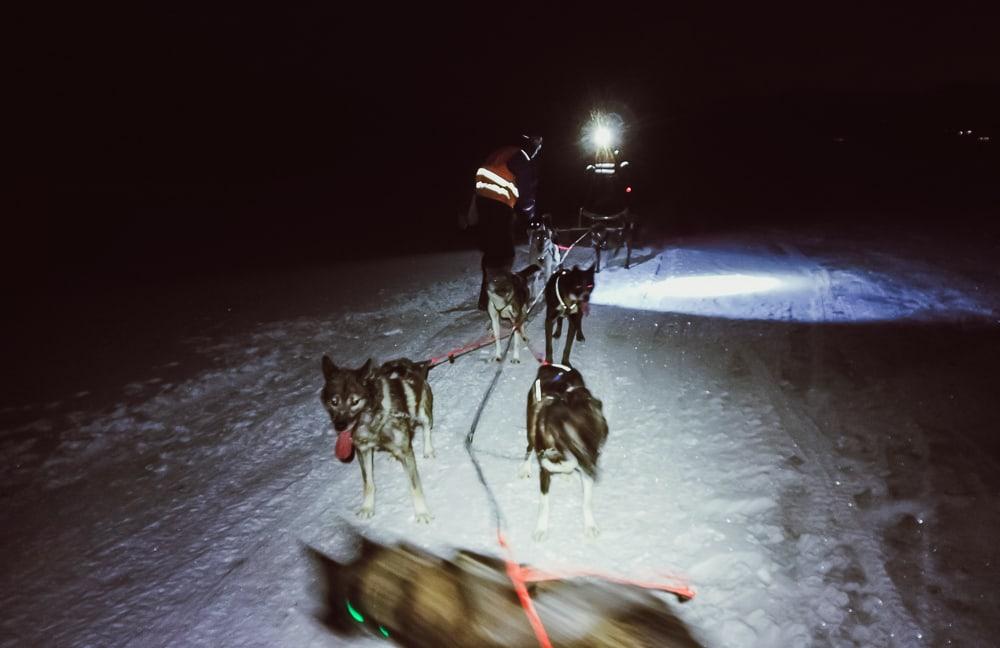 Probably the most fitting place to go dog sledding is Svalbard. You'll feel like a true polar adventurer dog sledding so close to the North Pole! In fact, my dog sledding guide in Svalbard actually had gone with his husky pack to the North Pole.
And Arctic Husky Travellers in Svalbard is one of the loveliest husky experiences I've had in Norway – and by now I've had quite a few!
They also use wheeled carts instead of sleds when there isn't enough snow, which can often be the case as Svalbard is technically an Arctic desert. We used wheeled carts when I was there and it's a lot easier to steer them than sleds! I also appreciated that this is an option instead of just canceling the excursion.
Read my guide to visiting Svalbard in winter here.
Dog sledding in Senja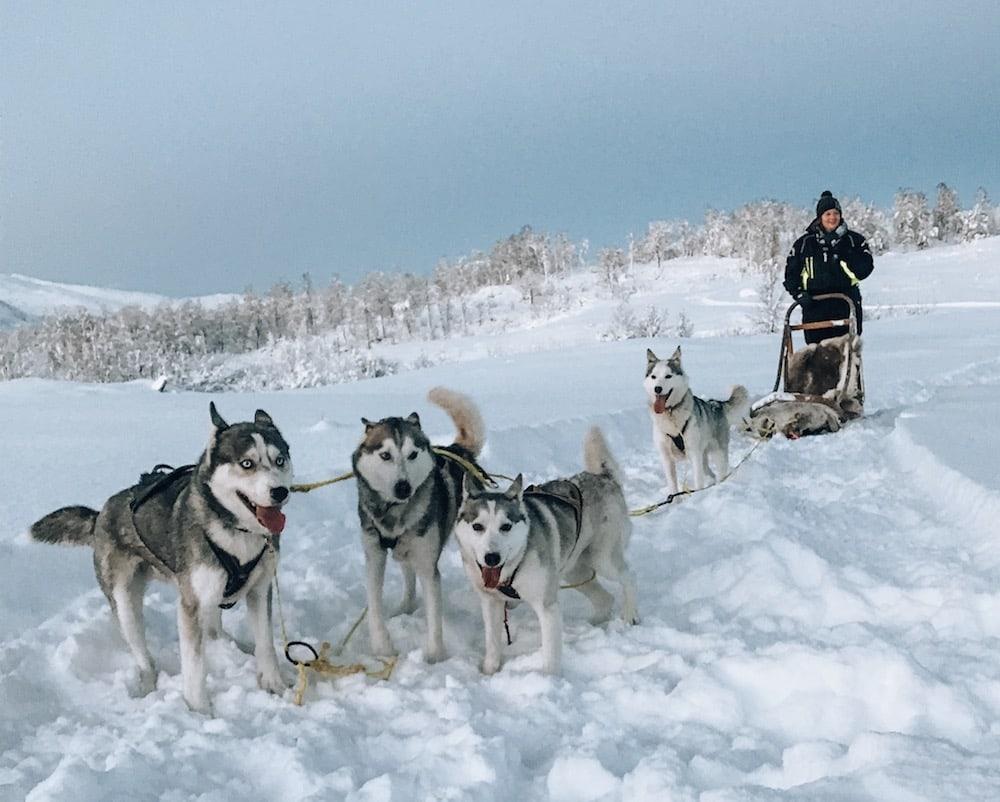 The first place I ever went dog sledding in Norway was in Senja! And this will forever be one of my favorite dog sledding experience, not only because it was my first time, but also because Senja Husky Adventure is such a wonderful family run husky home.
I really love how small and personal Senja Husky Adventure is. A lot of companies around the more touristy areas of Norway are so big and usually staffed by foreigners, while Senja Husky Adventure is run by the sweetest Norwegian couple. They clearly love each and every husky, and every night they'll bring a different husky inside to sleep with the family.
And then of course Senja is a beautiful place to visit! Senja is about a three hour drive from Tromsø, so you will need to rent a car. I recommend renting through AutoEurope. But it's absolutely worth the drive!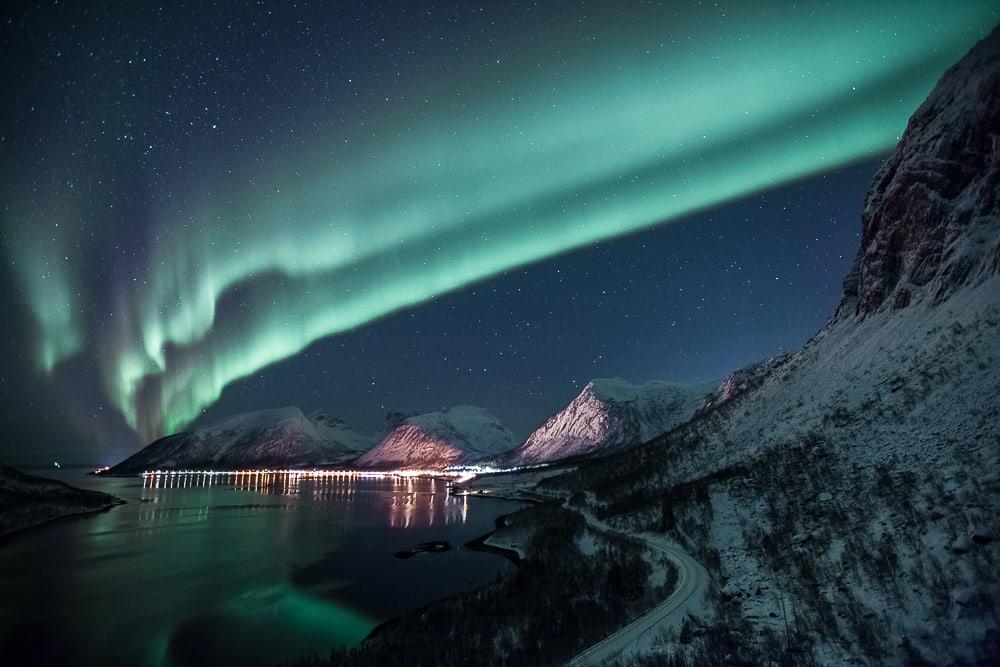 Read more about visiting Senja here.
Dog sledding in Helgeland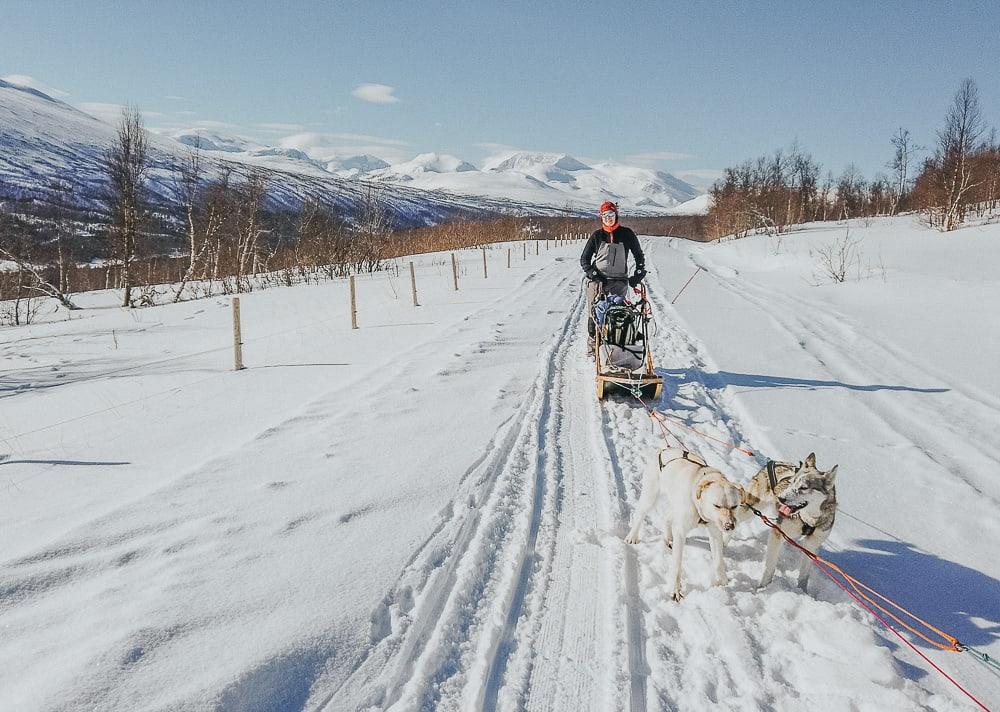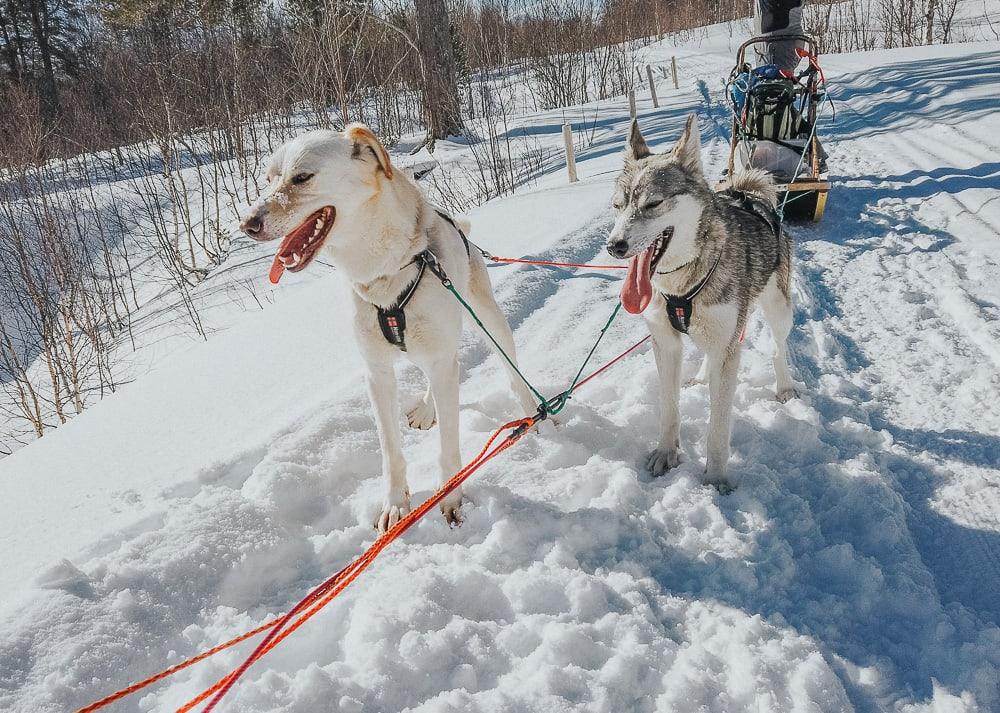 Inner Helgeland is definitely off the typical tourist trail in Northern Norway, but I have to include it because this was the best dog sledding experience I've had in Norway. I loved it so much I went back again when my friends visited from the US.
Husky sledding with Aaslid Polar in Susendal is quite different from any other dog sledding I've done in Norway.
Instead of the usual short 1-2 hour trip to experience husky sledding, we loaded up our sleds with supplies and headed up for a day in the mountains. We stopped at a frozen lake, where we unharnessed the dogs and set out building a fire and digging holes in the ice to go ice fishing.
Then we warmed up with steaming cups of coffee and shared a lunch of reindeer stew cooked over a campfire.
My past husky trips have taken me on a nice loop where I'd see some beautiful scenery and get a feel for driving a husky sled, but this time felt like we actually had a purpose with our huskies. We were driving the huskies to a particular destination, using the sleds to carry our supplies. It was a much fuller experience of dog sledding, and I loved that it gave me the chance to bond with the dogs even more.
And on my second dog sledding drip with Aaslid Polar, we started a bit later so that it became dark while we were out, which was quite exciting!
If go dog sledding in Susendal, you can stay in Mosjøen, my favorite small town in all of Norway. Mosjøen is about an hour and a half drive from Susendal. You can fly to Mosjøen, or get the train from Trondheim. And you can rent a car at AutoEurope.