I visited Dyrøy in collaboration with Visit Senja.
Viv, Catriona, and I were so sad to leave Senja after only a couple of days there, and I'll admit that I wondered if splitting our four days between Senja and the nearby island of Dyrøy was a mistake.
But oh my goodness, as much as I loved the huskies and lighthouse on Senja, Dyrøy totally stole my heart!
As with Senja, a lot of people probably think of Dyrøy as a summer destination (if people are even thinking about Dyrøy at all – it's not as well known as Senja), so I was pleased to find that Dyrøy also happens to be a magical wonderland in winter.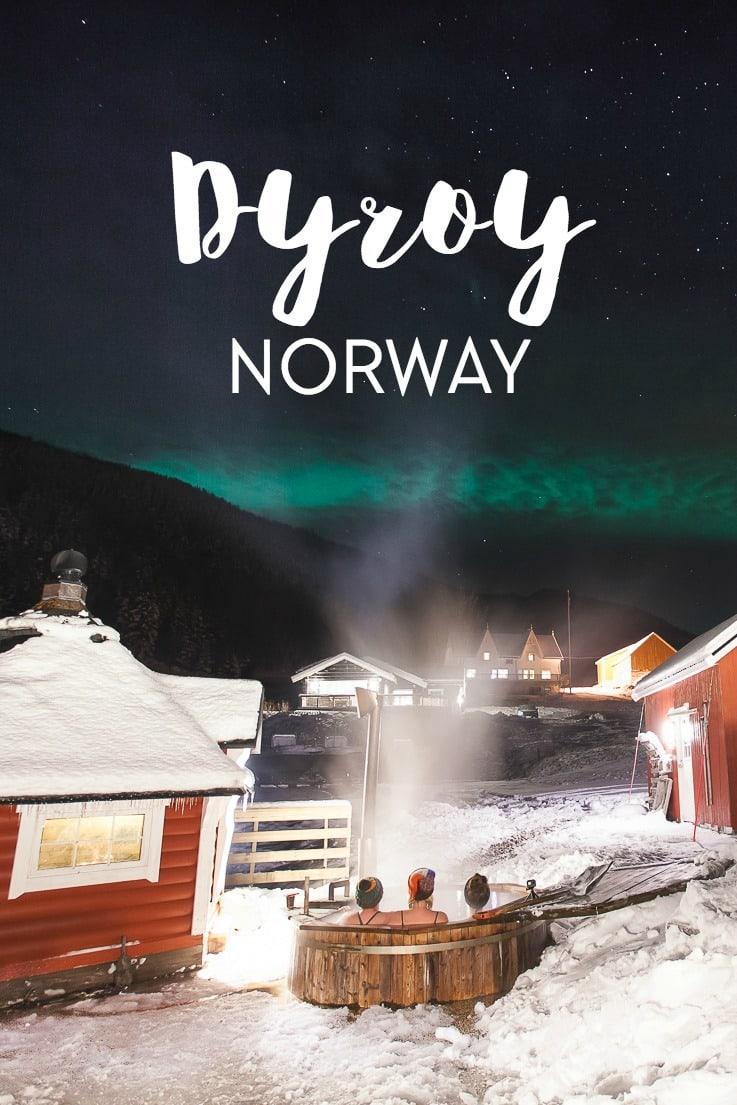 We stayed at Dyrøy Holiday, which is run by the nicest couple who made our stay an absolute dream. Like, when we drove down to our cabin we got stuck in the snow (as happens to me about once a week in Norway lol), and Ragnar invited us into his home for dinner while he and his friend pulled out the car. Like what? Such a lovely welcome.
And as yet another welcome, the aurora came out shortly after we arrived! We watched it from the terrace of our cabin, which I'd say is one of the most perfect places I've seen the Northern Lights from. There's a big open field in front of the cabin, so we had an unobstructed view of the sky.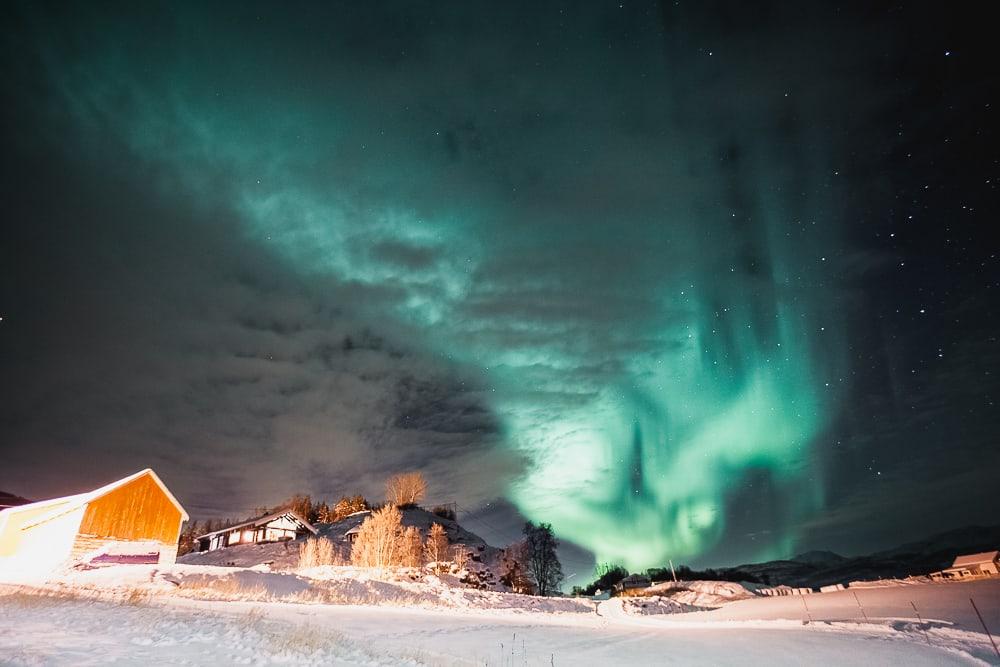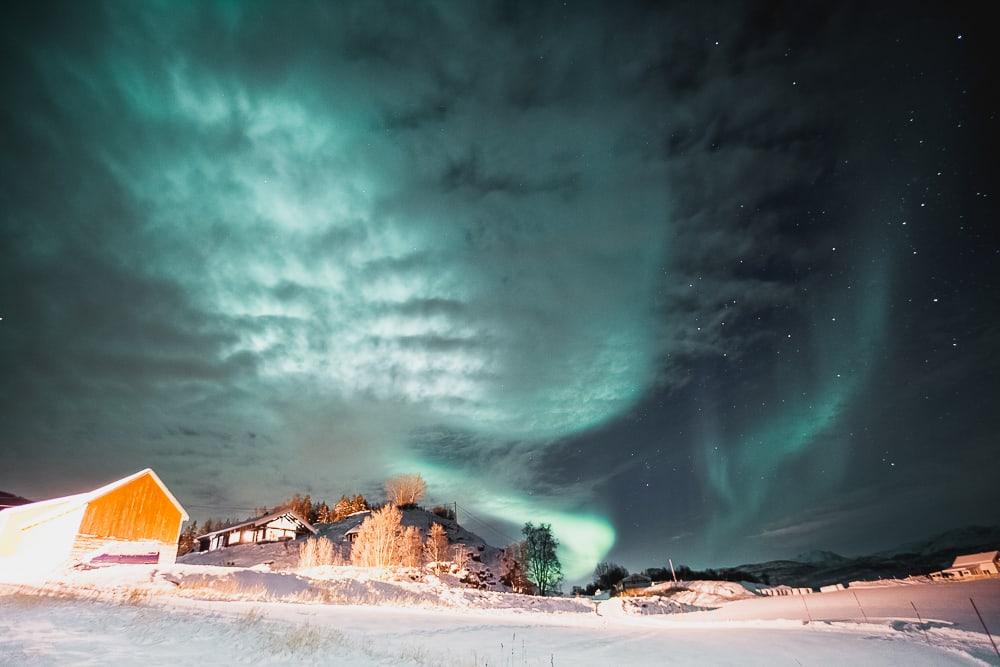 Ragna and Ragnar also have an apartment for rent on Airbnb, but we stayed in their log cabin, which Catriona quickly declared to be possibly the coolest place she's ever stayed. It's also huge! Like, it made me wish I had more friends to fill up all the rooms.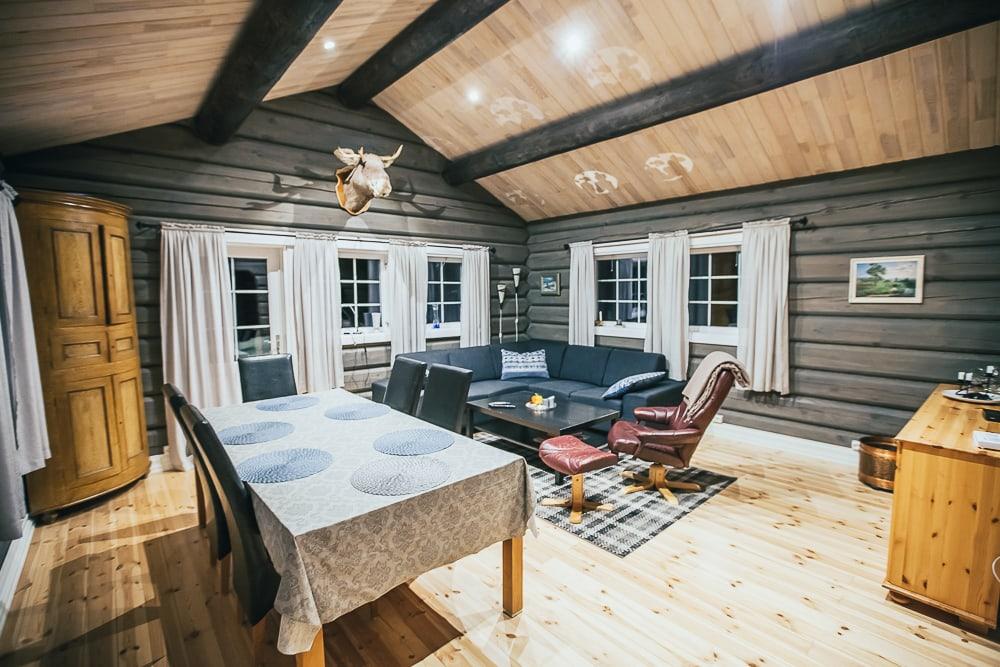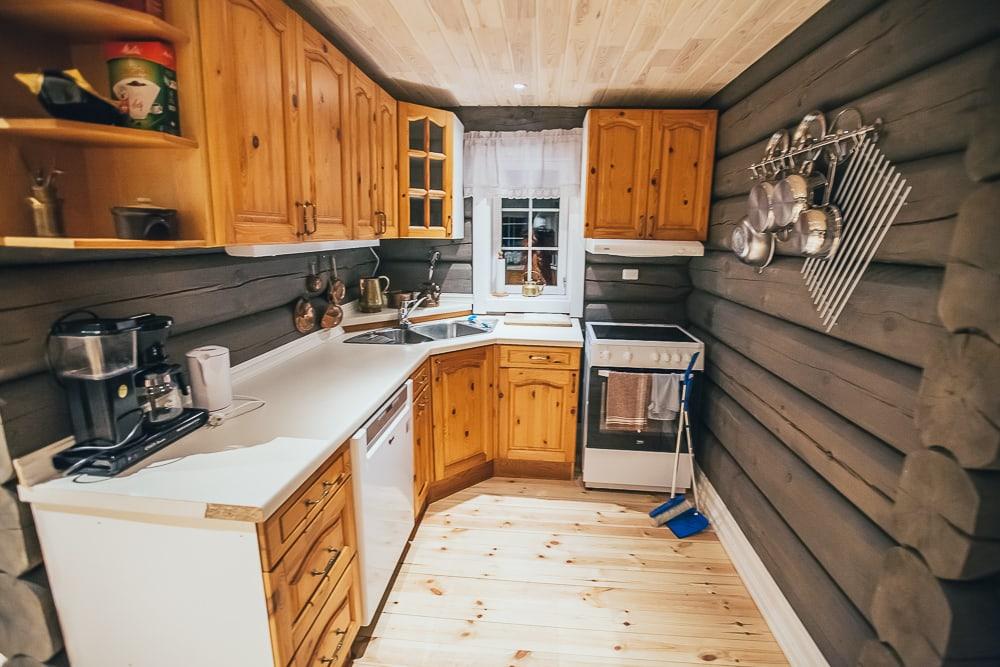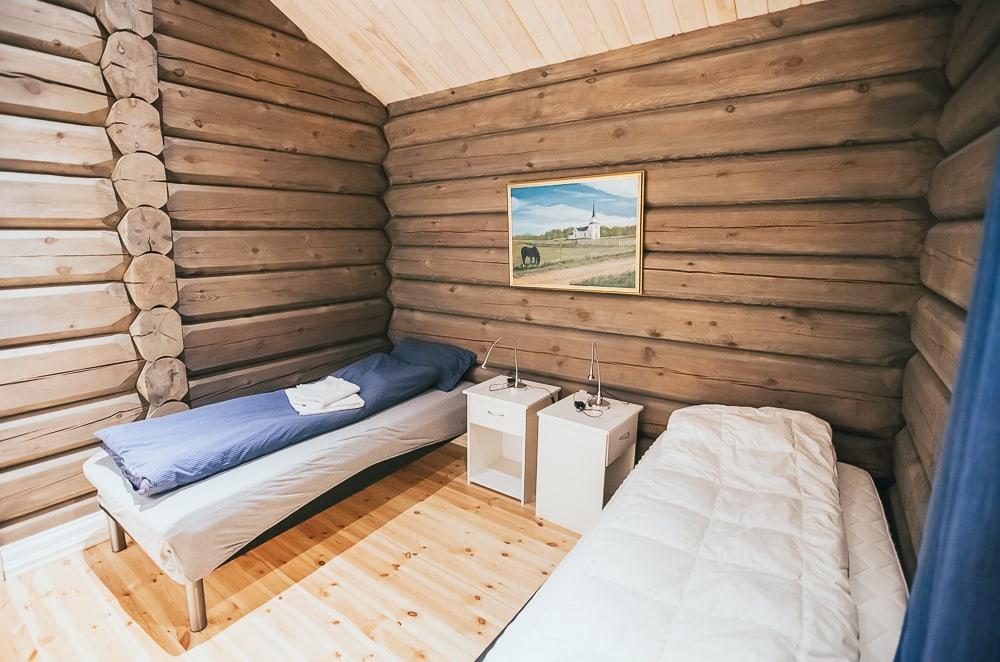 I included a full house tour in my vlog from Dyrøy here (and if you want you can watch the whole video to see what we got up to on Senja and Dyrøy):
The next morning when it finally became light enough to see where we were, well, I couldn't believe where we were! I can't think of a more beautiful, quiet escape in all of Norway. Like, sorry for all the exclamation marks and italics, I just really loved my time on Dyrøy!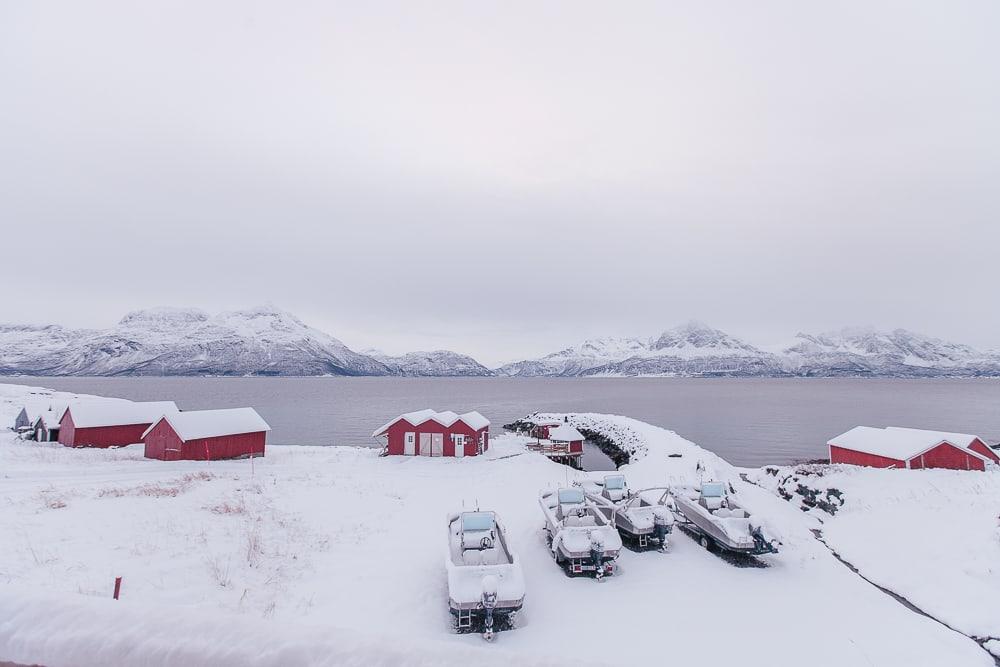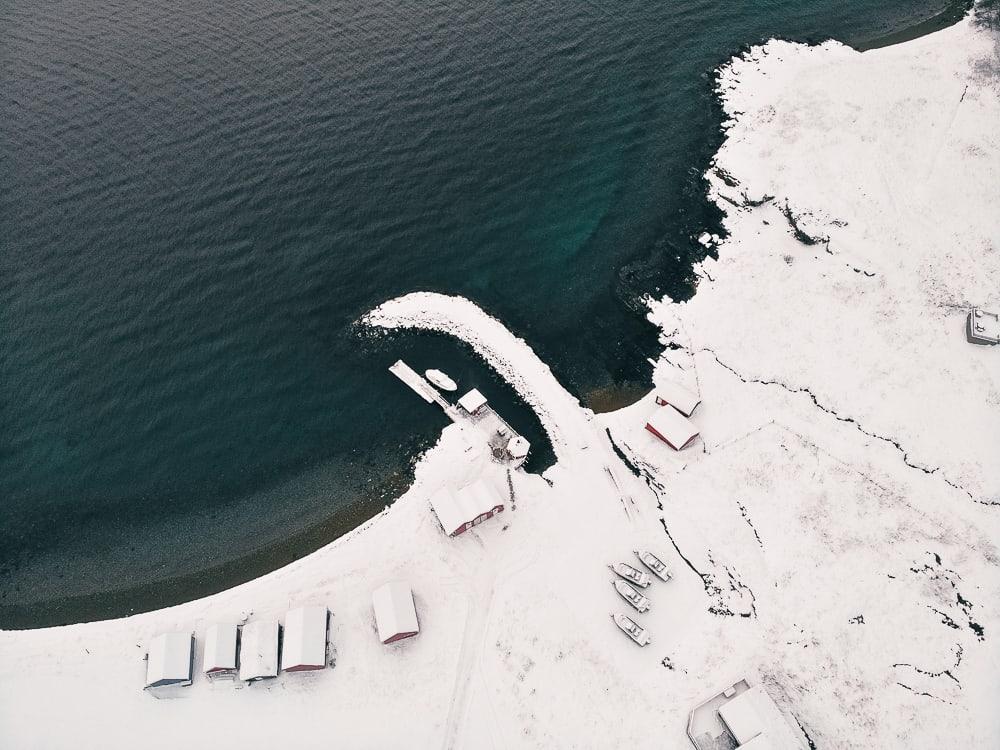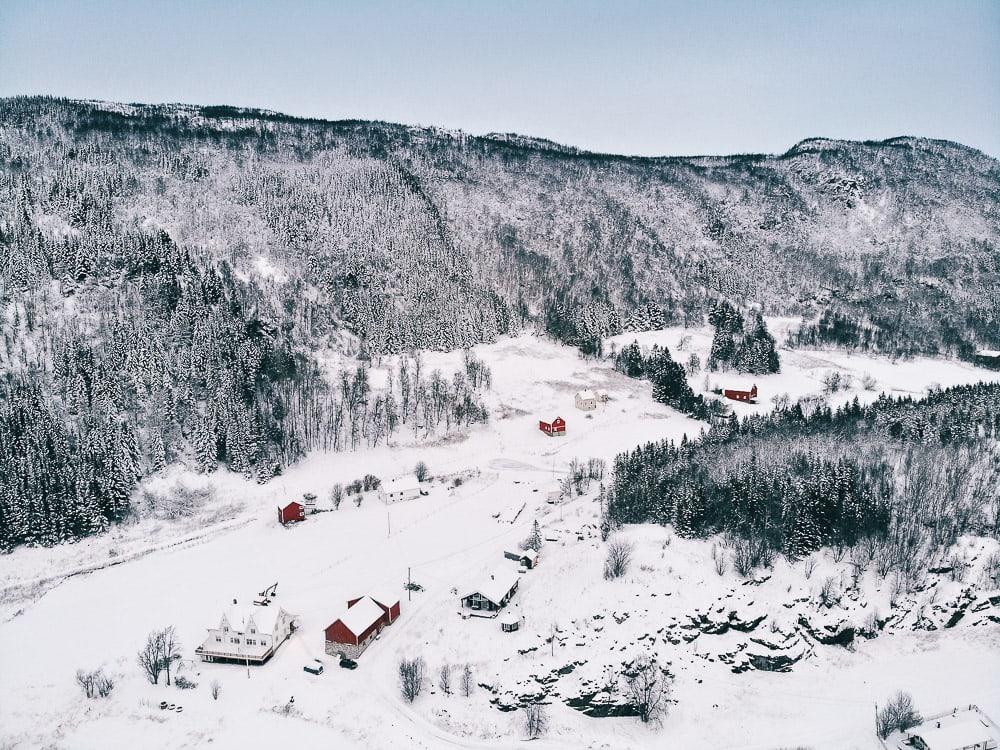 Oh and of course Viv and Catriona had to build a snowman, because Norway (I mean, because Frozen). His name is Johnny.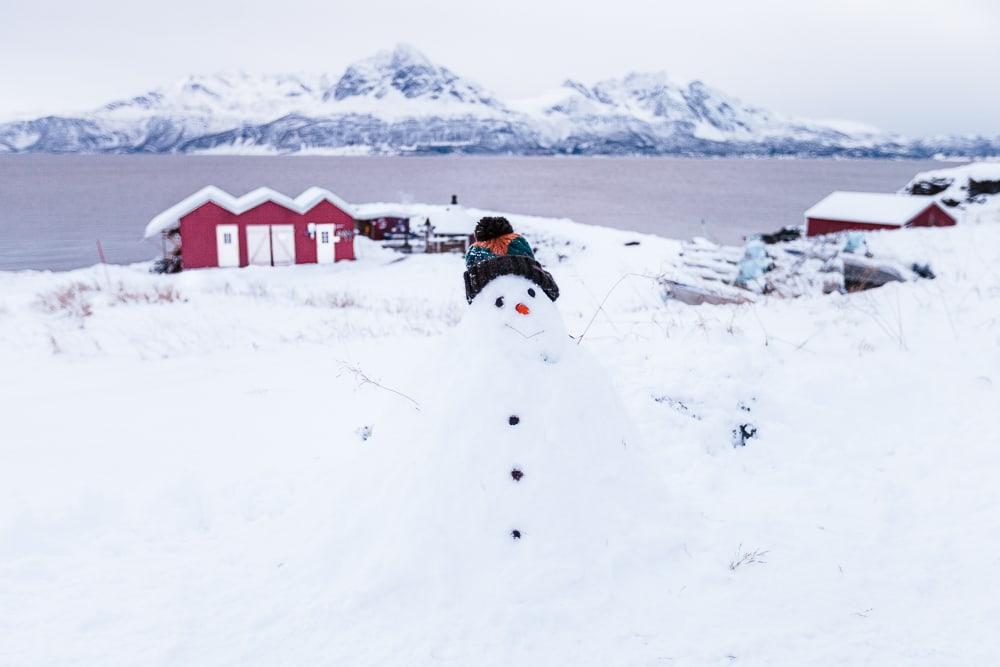 There's a lot to do in the area (you can also organize husky sledding here!), but we opted to take a walk to Hagenes, an old fortress from the German occupation. We went with Berit, a local farmer/guide, and it was such a great way to explore the surroundings while learning about the area, even if the World War II history here is very sad.
The fortress also has beautiful views out over the water, and we even had a little picnic of hot chocolate and cookies in the snow. If you stay at Dyrøy Holiday definitely see if they can arrange this tour for you.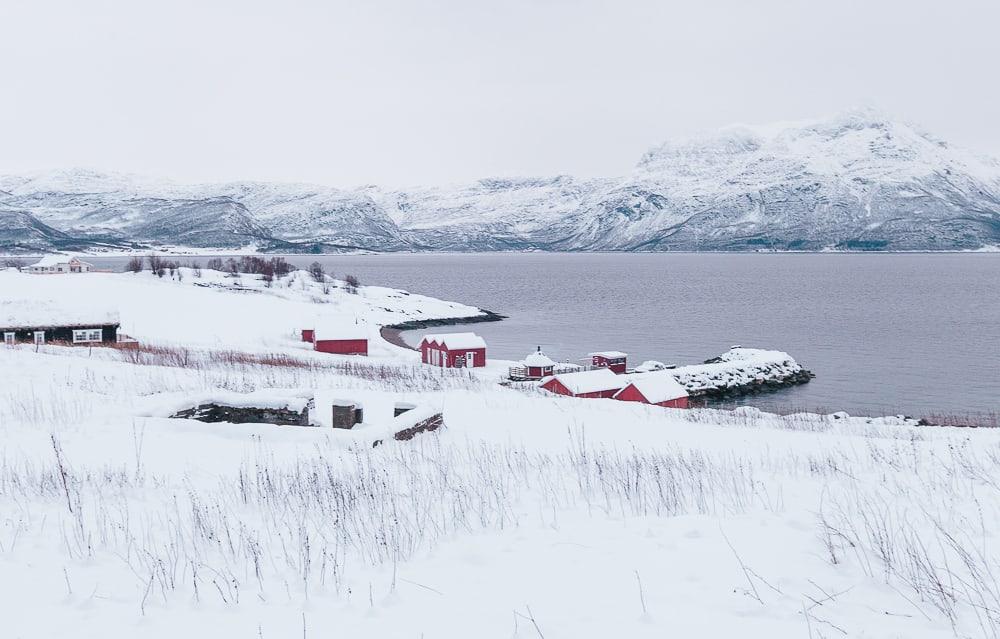 And then when we returned to our cabin Ragnar asked us what time he should heat up the hot tub!
They have a small grill hut right by the water, where we warmed up with some cups of gløgg (sort of like Norwegian mulled wine) before braving the cold in our swimsuits.
Except the hot tub was so hot that we had to shovel snow into it so that we could even get in (don't worry, Ragnar said it was fine to add snow), and then when we got too hot sitting in the tub we ran out and rolled in the snow – after I swore to Catriona and Viv that this would sort our immune systems for the rest of the winter.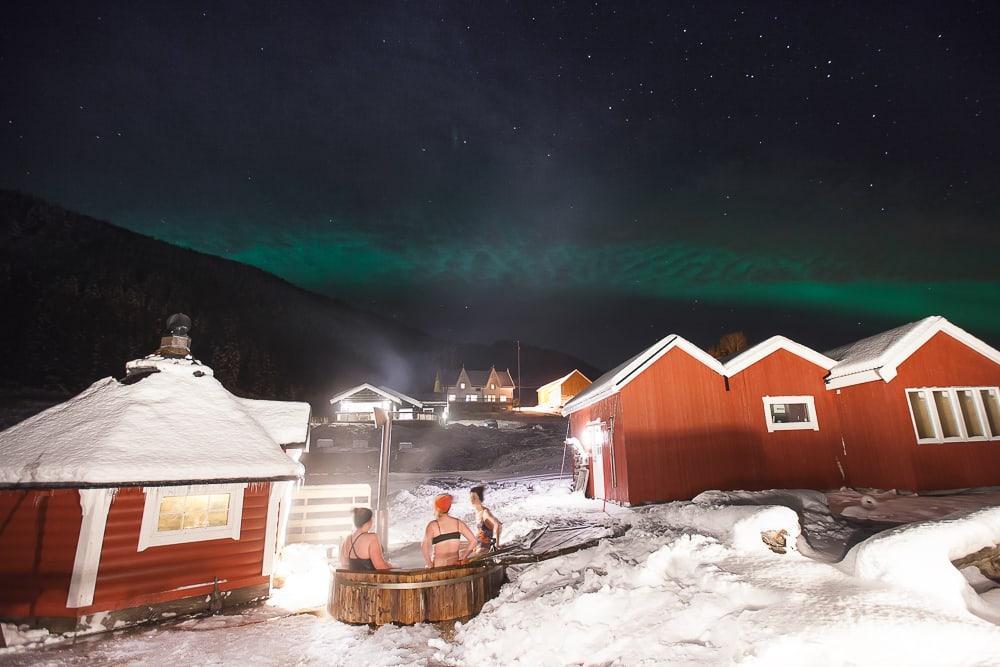 It was such a fun evening, made even more special by the glow of the Northern Lights above us. Like, after nearly four years living in Norway and a lifetime of yearly visits, I would say my time on Dyrøy was one of my top experiences here ever.
If you want to see the Northern Lights in Norway while getting away from the tourist buses and tour groups, definitely, definitely rent a car and spend a few days on Dyrøy.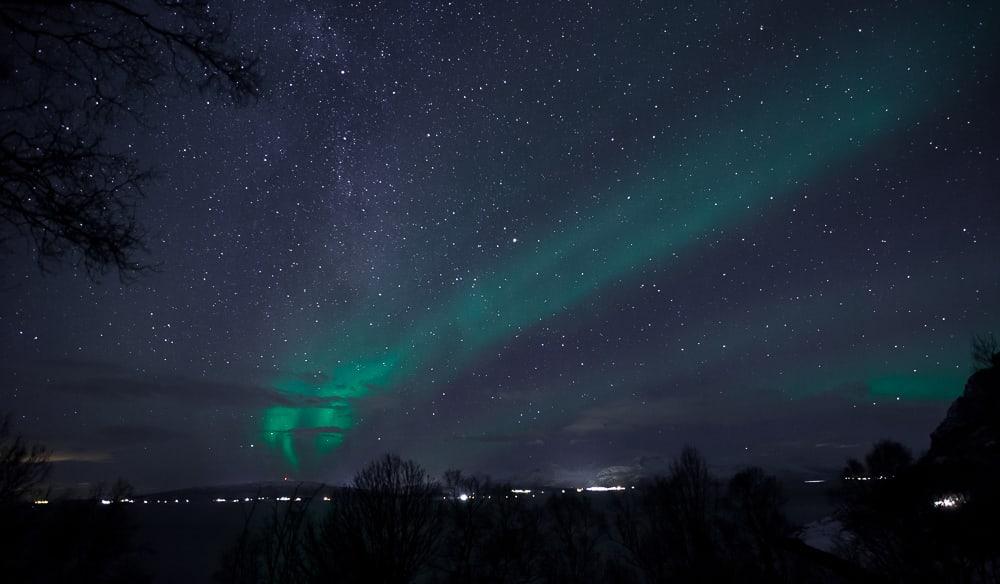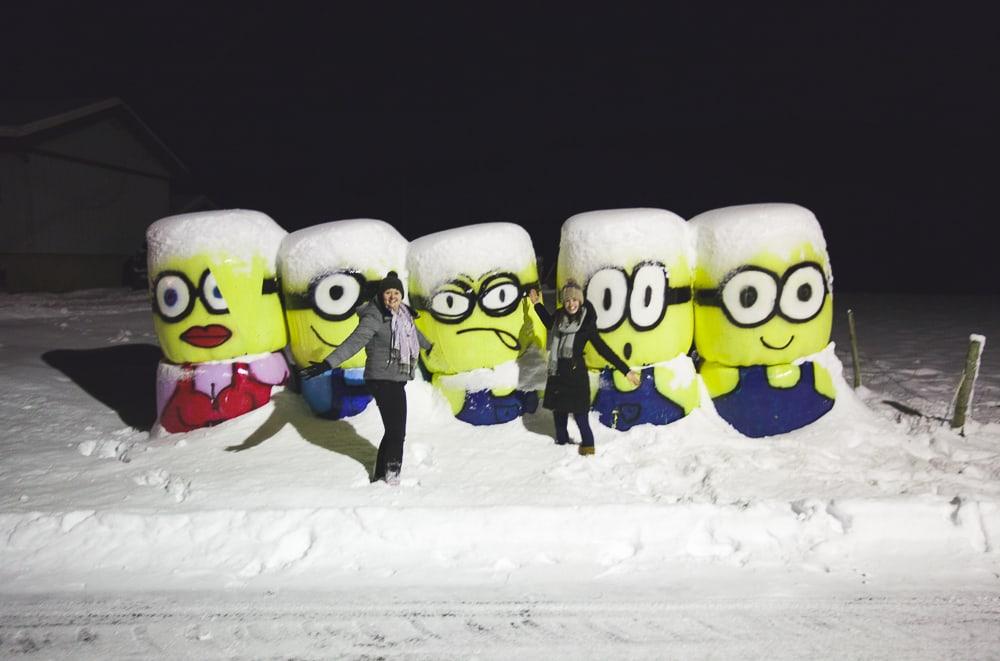 just some Minions hanging by the side of the road, because apparently that's how Dyrøy rolls
It's the perfect place to watch the Northern Lights from, plus you'll have such an amazing time here that it won't even matter if you're unlucky with the weather and can't see the aurora. Instead of spending all your time in a tour bus you'll get a true glimpse of life on a quiet island in Northern Norway. And I really do believe that it's the quiet escapes into nature that Norway does best.
Oh and you can actually even get here with public transport – you can find more information about getting to Dyrøy here.
Just remember to tell Ragna and Ragnar hi from me when you visit!