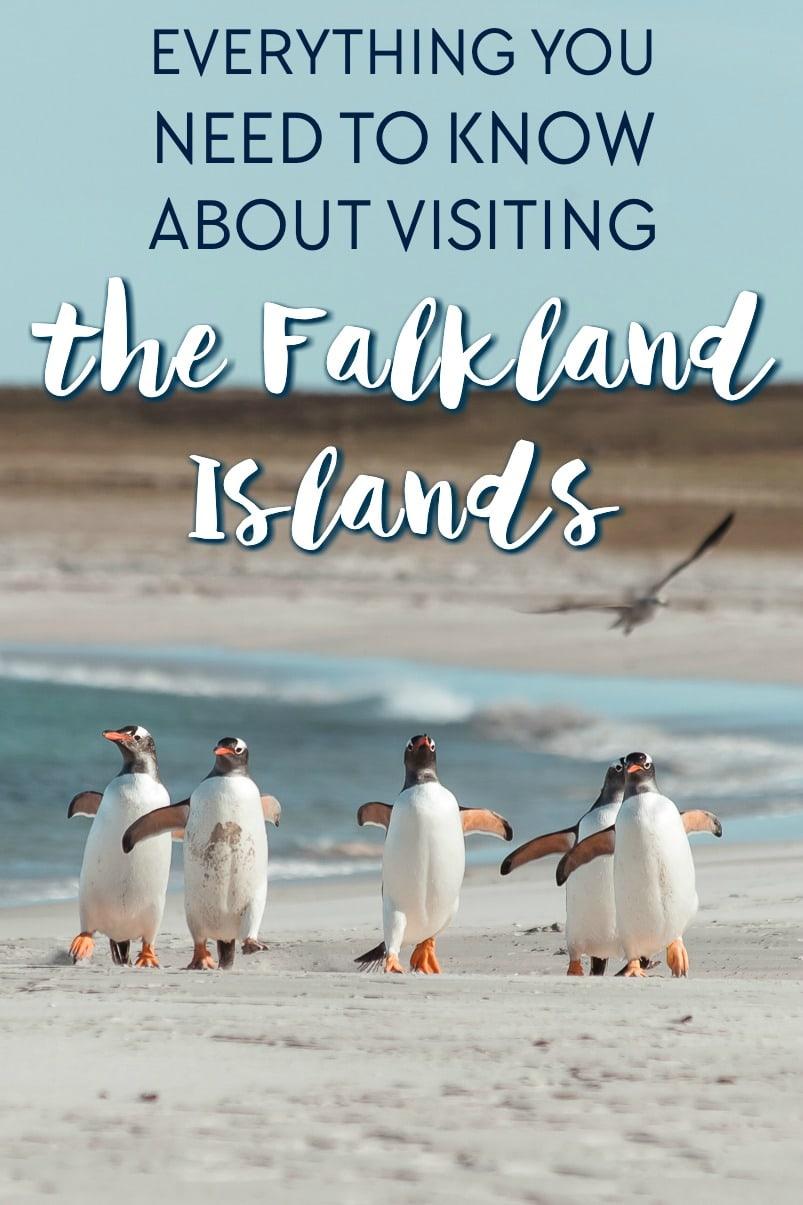 The Falkland Islands have been on my radar for a while, but always as a cruise destination. I had never considered simply flying to the Falklands from Europe, and I didn't know the first thing about planning a trip there.
Luckily I had a lot of help in planning this trip, as I was working with the Falkland Islands tourism board and they arranged my itinerary. And like, who knows the Falklands better than the tourism board?
And in speaking with other tourists while in the Falklands I realized how lucky I really was, as it turns out panning a trip to the Falklands is no easy task. One person even said that they wished they would have had my blog post when they were planning their trip – a blog post I hadn't actually yet written, mind you.
There's not a ton of information online about visiting the Falklands, which made more sense to me once I got there and realized how slow and expensive Internet access on the Falklands is, which means that you'll need a bit of patience and flexibility when it comes to booking your trip here.
But I'm going to try to dispel the confusion so you can plan the best trip ever to the Falkland Islands. And I mean, you definitely should try to visit the Falklands if you can, as I've already gone on and on about.
I've also made a video about my entire Falkland trip here:
Getting to the Falkland Islands
As I said, the Falkland Islands are a popular cruise destination, as a lot of Antarctic cruises stop here. Though after speaking to locals and spending time in the Falklands myself, I'd definitely recommend spending more time here than a cruise allows.
I actually heard that now people are starting to add on time in the Falklands before or after their Antarctic cruises, which could be a good option.
Personally accounts of how crowded the Antarctic waters are getting with enormous cruise ships has sort of been freaking me out though. One of the days I was in Stanley a cruise ship was in and it was so big – and then someone told me it was technically one of the "small" expedition boats. I'm not surprised that locals feel overwhelmed when these boats come in, with more passengers than the entire population of the Falklands, and it's a little bit scary to picture all of these ships down in Antarctica.
So I was happy to get a taste of the region and wildlife while sleeping on land.
There are several different flight options. The easiest and cheapest route would be to fly with LATAM Airlines, which has flights leaving from Santiago, Chile (SLC) every Saturday, and from São Paulo, Brazil (GRU) every Wednesday.
However I took the Royal Air Force flight from Brize Norton, in the UK, which was an experience in itself. Brize Norton is about an hour and a half drive from Heathrow. Only a few taxi companies have security clearance to drive onto the base – I booked with Charlie's Taxis – otherwise you can just be dropped off at the gate and walk onto the base (you'll see the visitor office right at the front).
Return flights cost £2,222 (£1,111 for children over two), so the LATAM flight will most likely work out cheaper, plus since it's not a commercial flight the schedule isn't super reliable – apparently often it gets delayed for several days.
But it was quite fun to fly from an air force base, and the flight back to the UK with the military personel going home on leave felt like a 17 hour long celebration – and there isn't even alcohol allowed on board (drinking alcohol during the layover in Cape Verde is also banned).
On the way to the Falklands we flew in an AirTanker, which was perfectly comfortable though it didn't have in flight entertainment. It also seemed like we were being fed every couple of hours, so you definitely won't get hungry on this flight!
On the way back though the AirTanker was down for repairs so we flew in an old Jet2 plane, which is like a Ryanair type plane without reclining seats or much leg room. But at least on both ways there were two seats per passenger, which apparently is typical on this flight as it carries a lot of cargo.
All in all I would say flying LATAM would probably be more convenient and reliable, but flying with RAF was a surprisingly fun experience and everyone was incredibly nice, so there's no reason to be intimidated.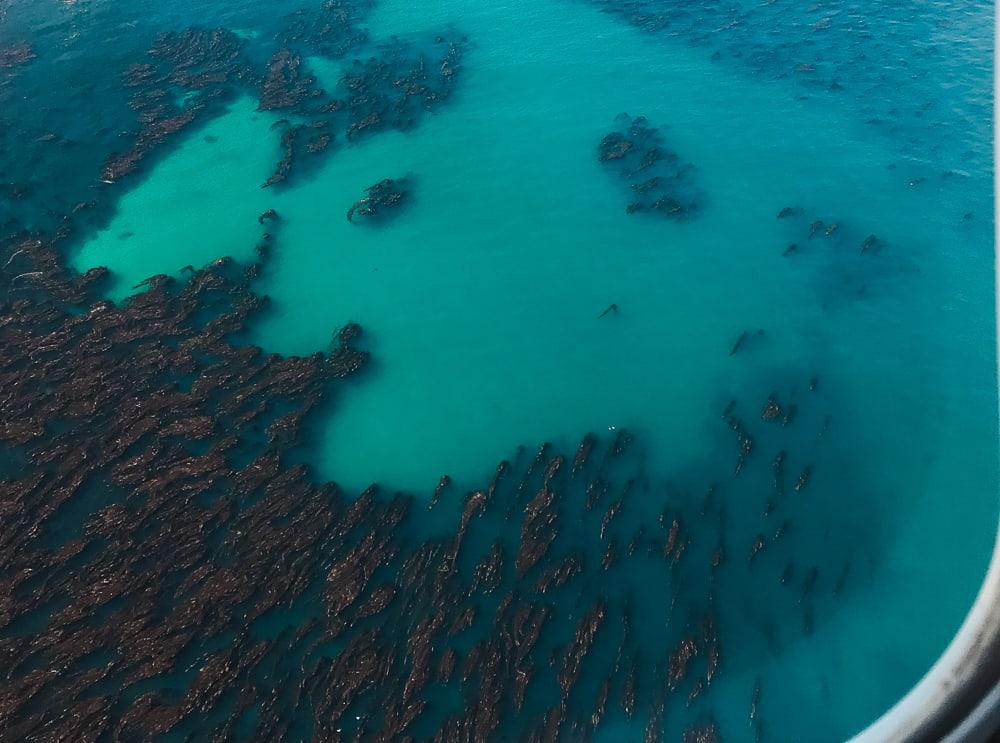 Transport around the Falkland Islands
The two main islands of the Falklands are East Falkland and West Falkland. East Falkland is home to the capital, Stanley, as well as most of the roads in the Falklands. You can rent a 4×4 vehicle here, and I believe there is one rental company that allows you to take the vehicle to West Falkland as well.
I didn't do any driving myself here, but I also didn't spend much time on East and West Falkland.
There are a bunch of companies offering private transfers and shuttles from Mount Pleasant Airport (where you fly into) to Stanley, and then I took a battlefield tour in a 4×4 to get from Stanley to Darwin, before flying to the smaller islands.
To get around the smaller islands you'll get a FIGAS flight on the small Islander planes. These 8-seater planes are really tiny, but so much fun!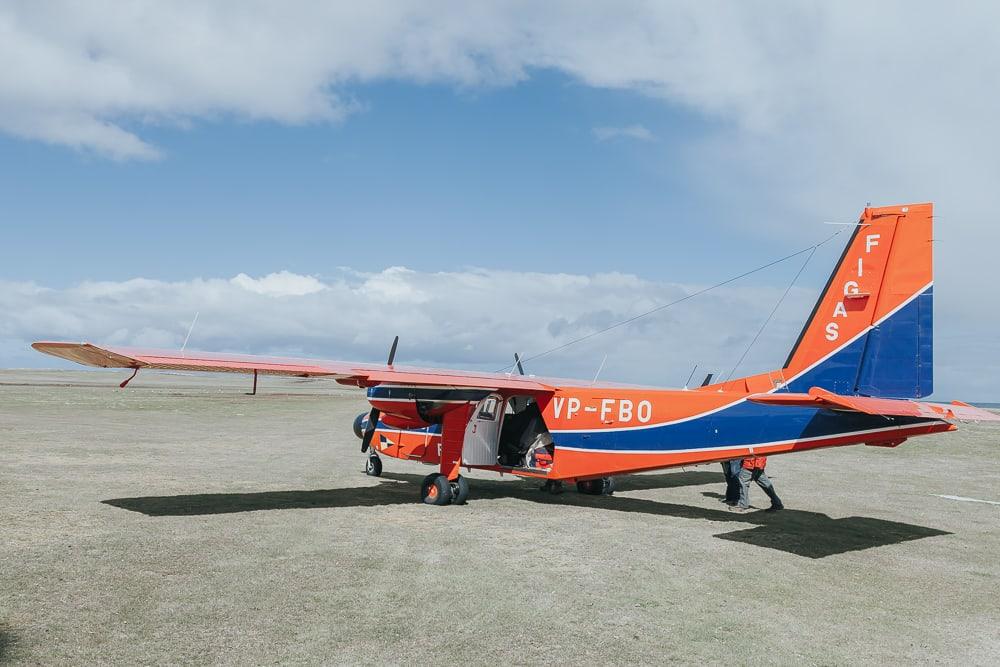 When someone asked at the end of my trip what my favorite place in the Falklands was, I told them it was being up in the Islander plane. The plane never flies too high, so there are amazing views the entire way. And the plane picks up and drops off passengers as it goes, so usually each flight to a new island would include stops at several other islands, making for the perfect scenic tour of the Falklands.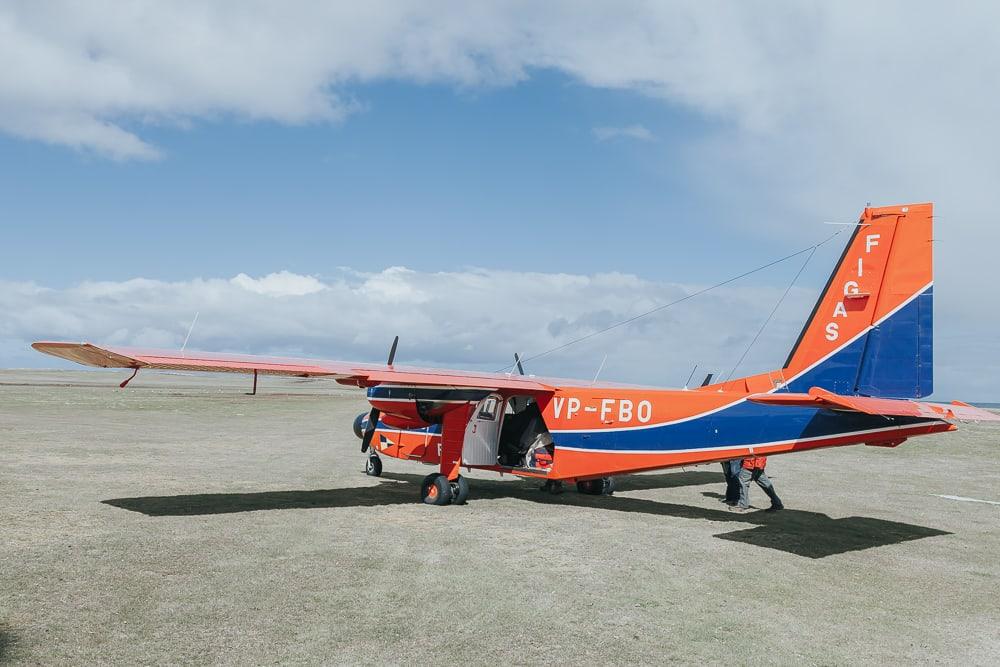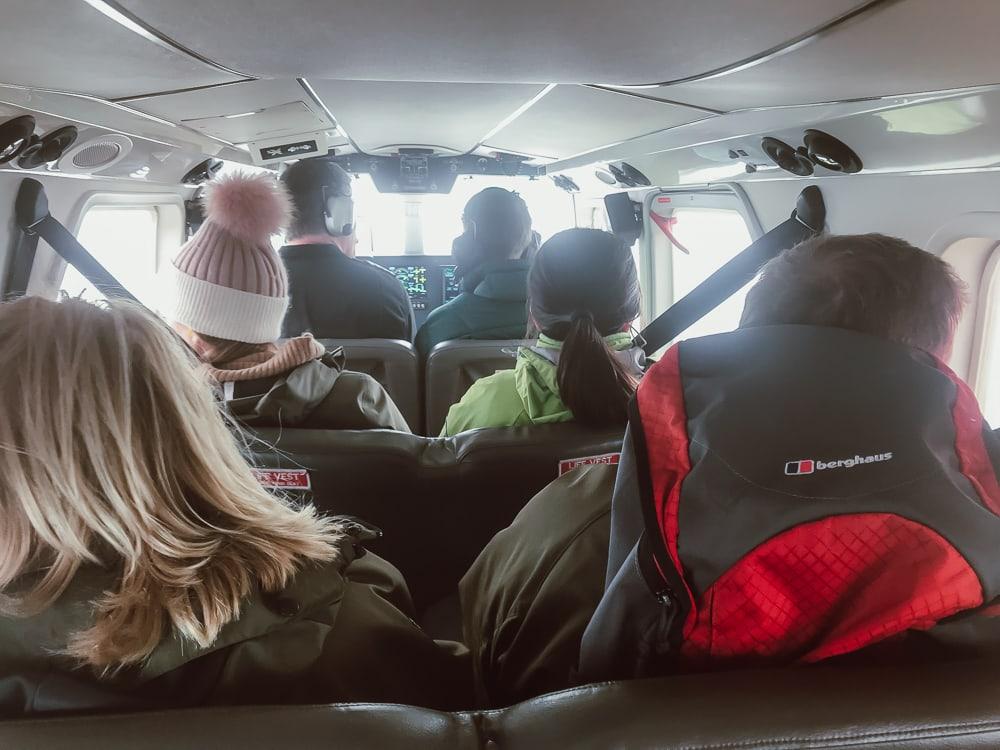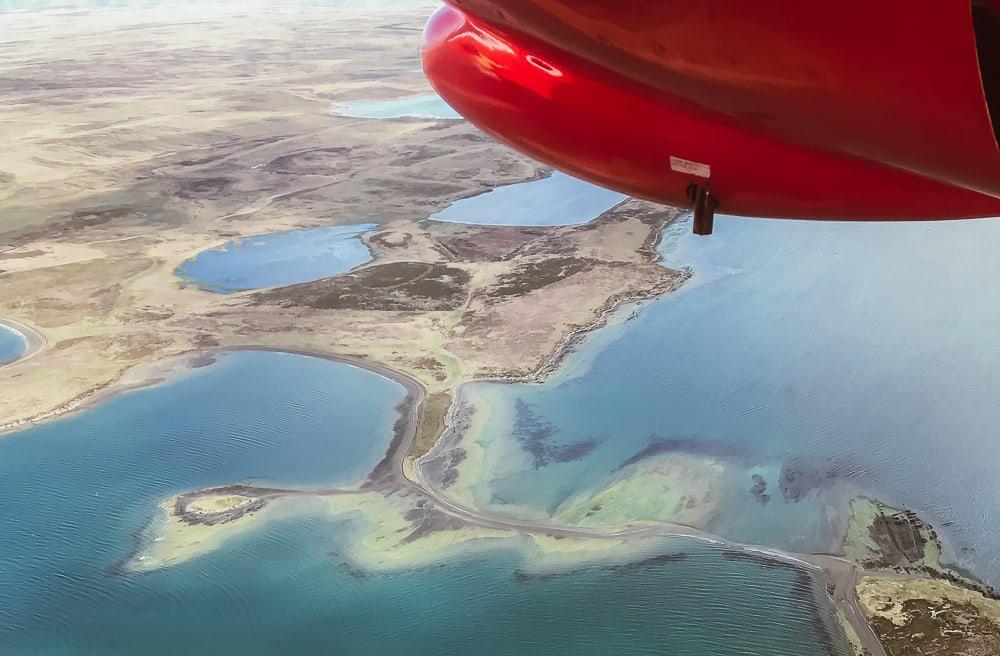 Also if you're lucky the pilot will let you sit up front with him, which definitely has the best views, plus you can chat with the pilot over the headset.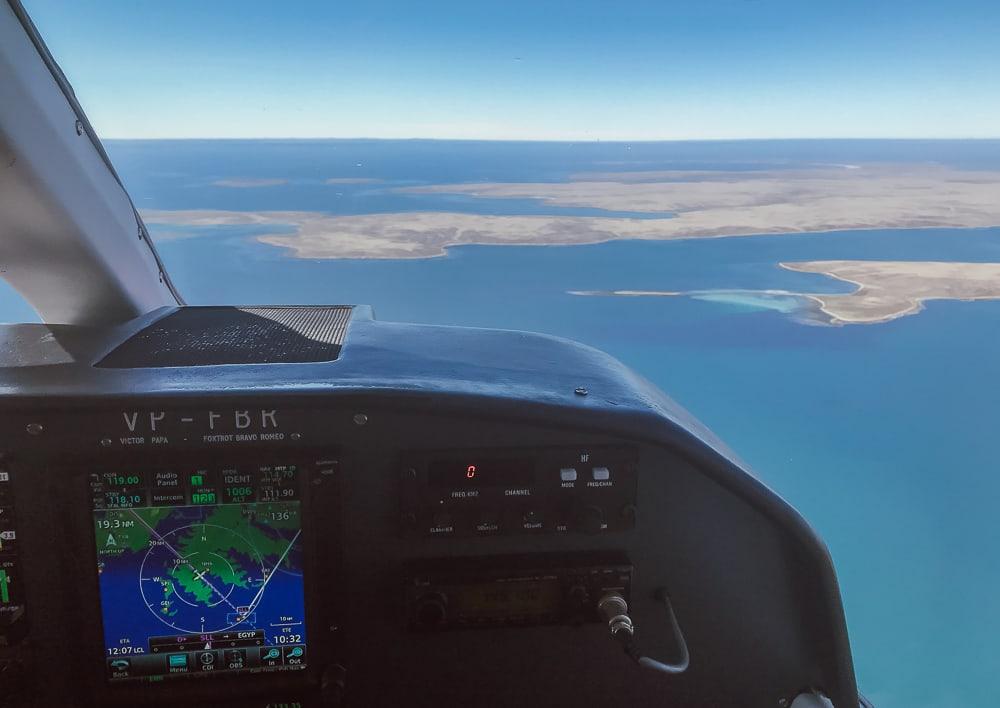 One important thing to note with the FIGAS flights is that the scheduled flying time isn't announced until the day before your flight.
You can request an early or later flight, but really it depends on who else is flying. You might have to leave early in the morning, or you might not leave until late afternoon, so you'll need to keep your schedule on flight days totally flexible. There was also one day where the planes couldn't fly at all due to weather, so I would schedule at least two nights in Stanley before any international flights leaving the Falklands.
The lodges usually set out the list of flight times at dinner, so we could all check when we were leaving the next day.
Booking your trip
You'll need some patience when it comes to planning a trip to the Falklands, but honestly that's part of what makes these islands so special. The entire islands have a population of under 5,000 people, and Internet connection here is slow and spotty, which means you'll be sending a lot of emails, and sometimes you might need to wait a bit for a reply. But I promise it will be worth it!
A couple of the lodges did say they're hoping to get one booking system up and running eventually, or at least an availability calendar on their websites, however it's still a bit tricky, especially with the slower Internet on the Falklands.
Because of this, a lot of people book their trips through travel agents on the Falklands, so the agents can work out the itineraries.
To be honest I heard mixed reviews from travelers about booking through travel agents, as a lot of people felt like they didn't have much say in their itineraries, or that the travel agents didn't really explain much about how travel around the Falklands works (like how the FIGAS flight times aren't announced until the day before your flight).
So if you want more control of your trip it might be worth trying to book it yourself. Or if emailing lots of lodges and trying to figure out an itinerary stresses you out, book through a travel agent!
The two main travel agents on the Falklands are Falkland Islands Holidays and International Tours & Travel.
Generally it seems that if you're booking towards the start or end of the season, which runs from October through the end of March, then you might be able to find accommodation just a few months in advance. I was there from November 6th to 20th and at a couple of the lodges I was the only guest. I think only one of the lodges was totally full while I was there.
However from what I've heard that often isn't the case, so you'll be best off booking as early as you can. In fact most people I met had booked their trips at least a year in advance.
Booking early also makes the whole process a lot easier, as unfortunately there's not yet a unified booking system for the Falklands, so you'll need to email each property individually to see if they have availability. So if you book early there's a better chance that everywhere will still have space, so it should be easier to coordinate dates.
And then the same goes for booking the FIGAS flights around the islands as well as any tours or activities you want to do – you'll need to send an email asking for prices and availability.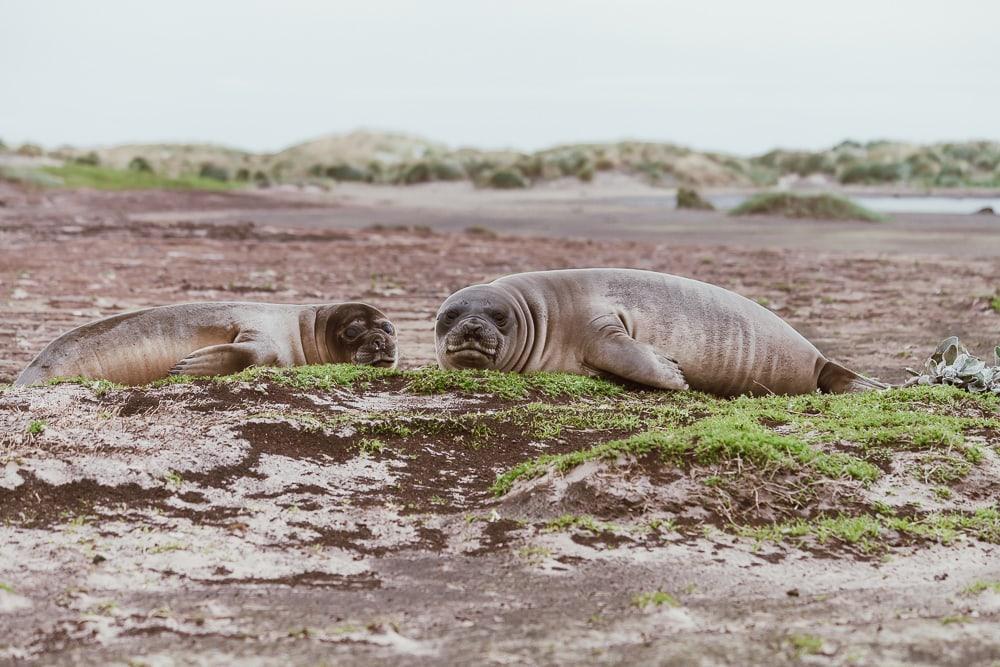 Places to visit in the Falkland Islands
Once you start looking into all the different islands in the Falklands you'll probably wish you had several months to spend there. But I do feel like I managed to see a whole lot in two weeks, without feeling too rushed.
I would definitely try to stay at at least one of the smaller islands, as that's where I saw the most wildlife. Plus getting a feel for life in the small islands is such a unique Falkland experience. And ideally you'd want at least two nights on each island, as you won't know how early or late you'll arrive and have to leave – it would be a shame to be put on a late flight to the island and then an early morning flight the next day.
Stanley
Stanley is the capital of the Falklands and while it feels like a fairly small town, there is a lot to do here.
It's also such an interesting little town. It feels very British – the supermarkets and corner shops felt like they were plucked straight from the UK – but then the surrounding wildlife is so exotic.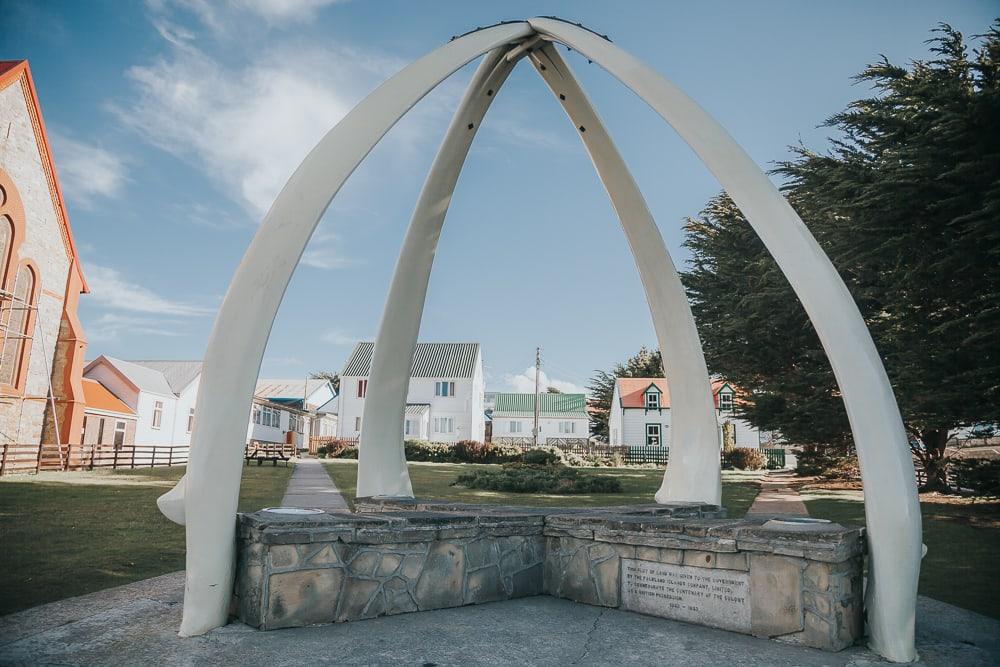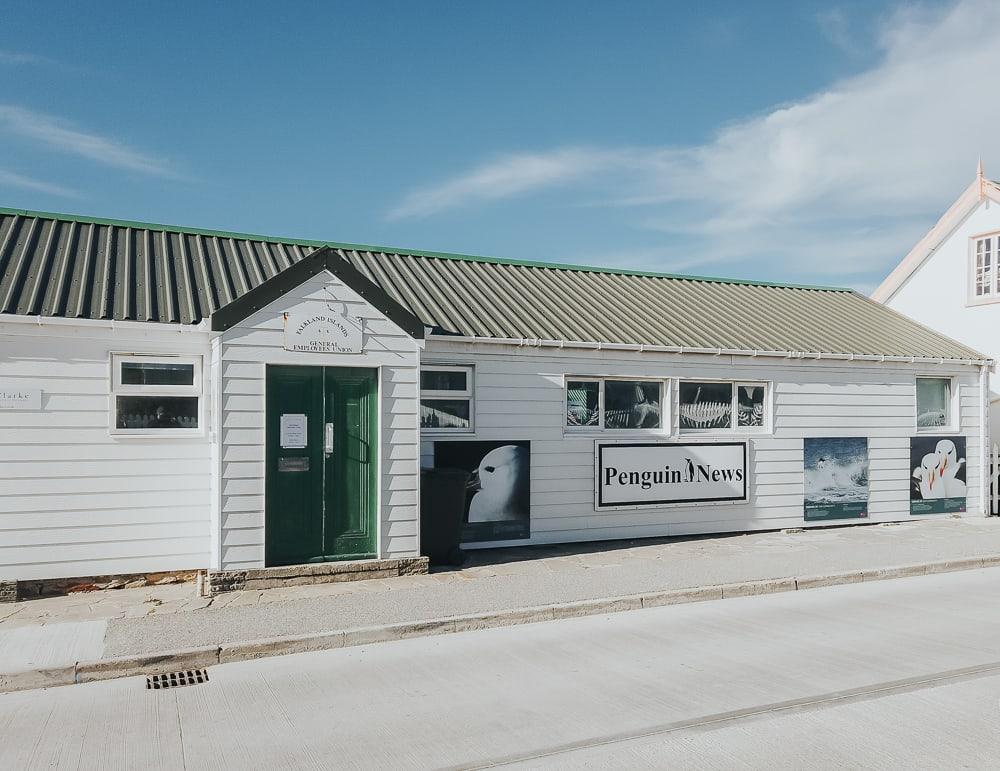 I only spent one full day in Stanley, at the end of my trip, so unfortunately I don't have a lot of recommendations for things to do here. However I can highly recommend how I did spend that day! I went kayaking with Falkland Outdoors, and honestly it was the very best way to end my time in the Falklands.
They offer lots of different activities including sea kayaking, climbing, and wildlife tours to nearby beaches. I met my guide Daniel in the morning and he seemed super flexible. Basically he just asked what I was interested in doing and I chose kayaking.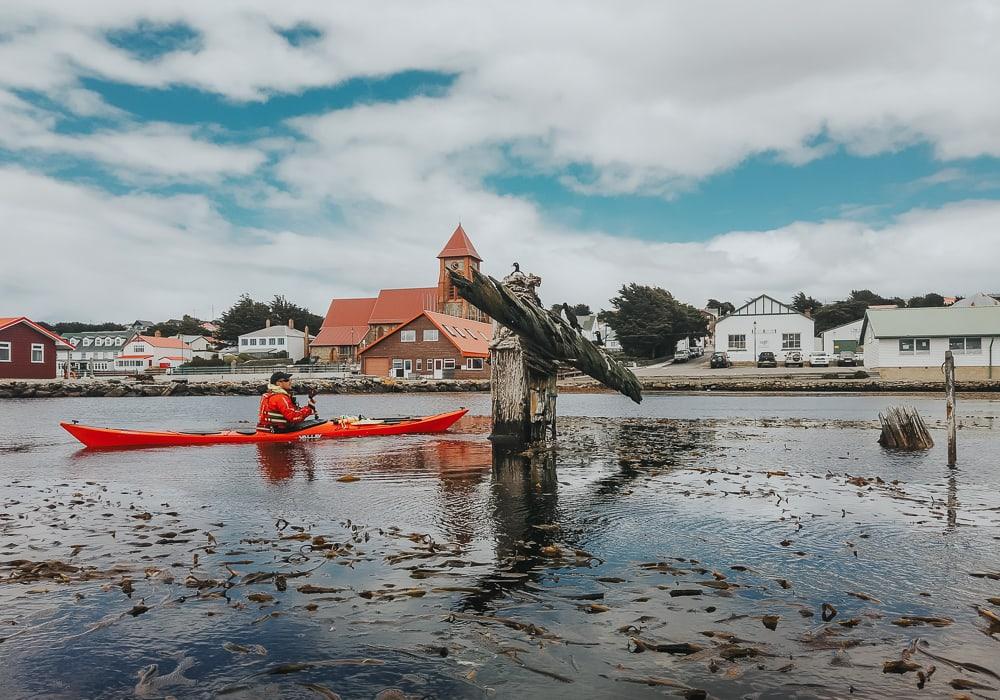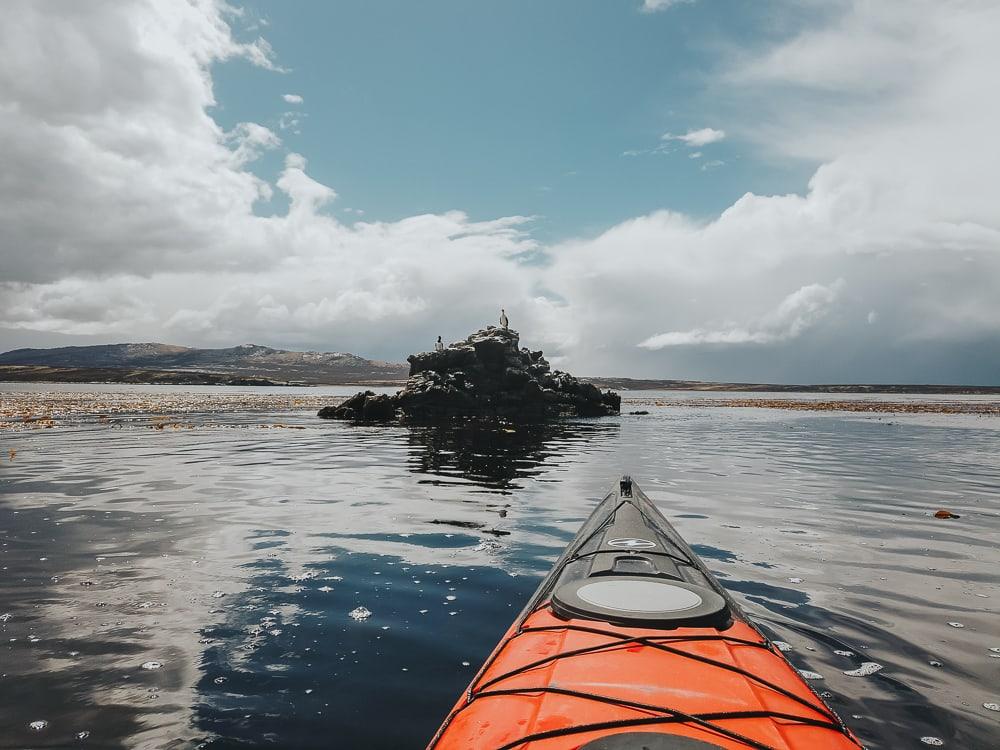 I spent my first night in Stanley at Malvina House Hotel, which has beautiful rooms as well as a huge dining room with views out over the water. Dinner here was one of my favorite meals in the Falklands.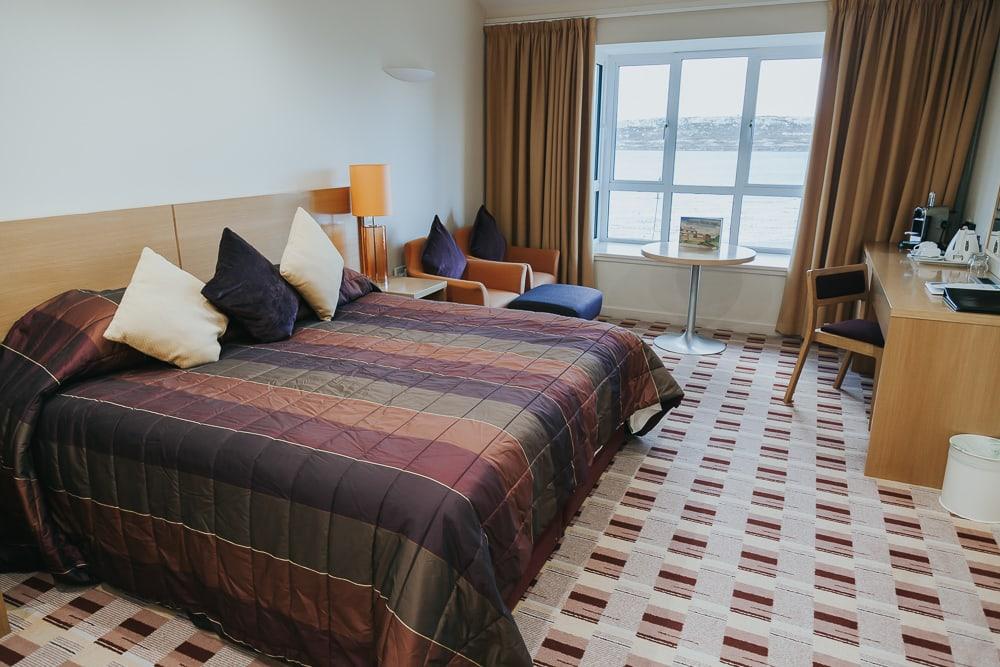 And then I spent my last two nights in Stanley at The Waterfront Boutique Hotel, which might actually have been my favorite accommodation of the entire trip. The hotel is beautiful and there were so many lovely personal touches that really added to the experience.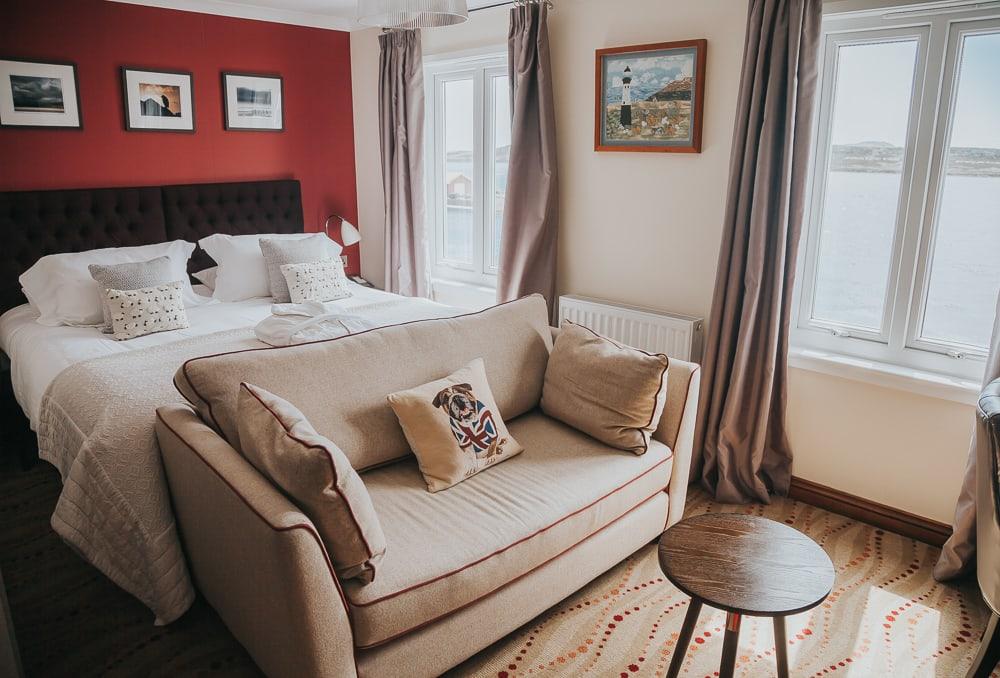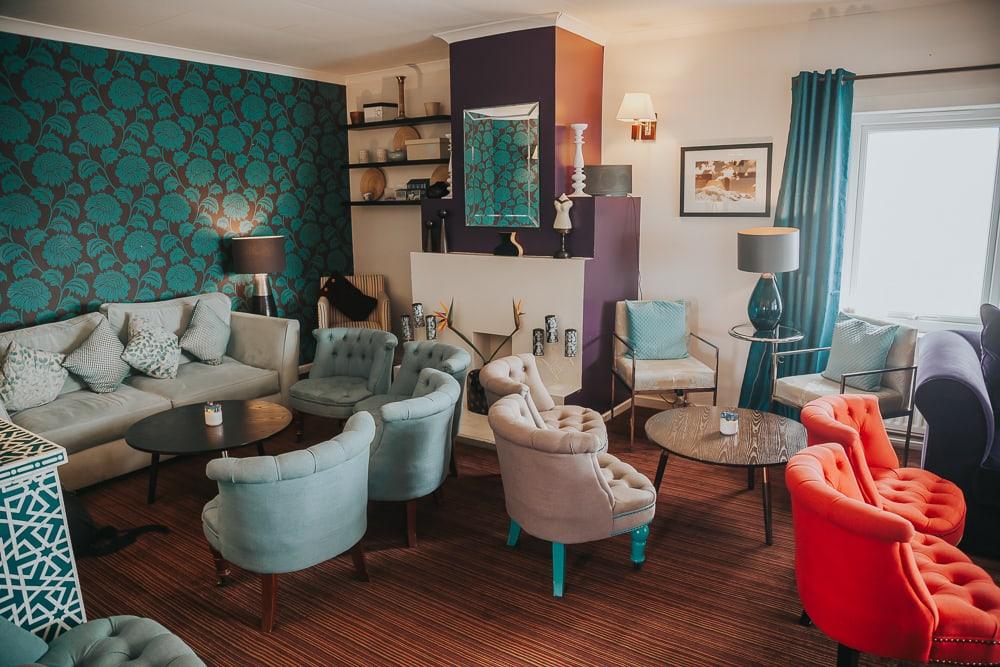 The restaurant and café here is also wonderful, so even if you don't stay here I'd recommend having a meal here.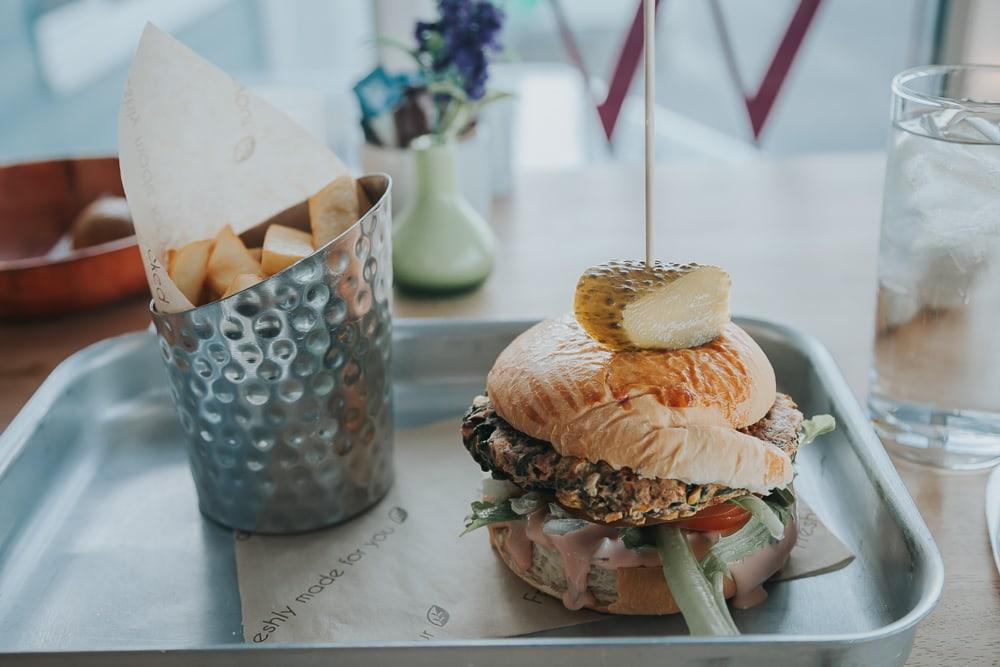 Battlefield tour
While you've probably heard of the Falklands War in 1982, if you're like me you might not actually know many of the details.
To be honest I did have to do a bunch of research before deciding to work with the tourism board here, because I had sort of assumed that the British were the bad guys here – as they were while colonizing a lot places around the world!
So I was relieved to find that actually here that wasn't the case at all. In fact there were uninhabited before the arrival of Europeans in 18th century. You can read more about the war here, but I also highly recommend taking a battlefield tour to learn more about what the war was actually like for the people on the islands.
I took a tour with Estancia Excursions, and my guide was wonderful. I also was glad to do this at the start of my time in the Falklands, as I learned so much about the history here and could ask my guide all the questions I had about life here.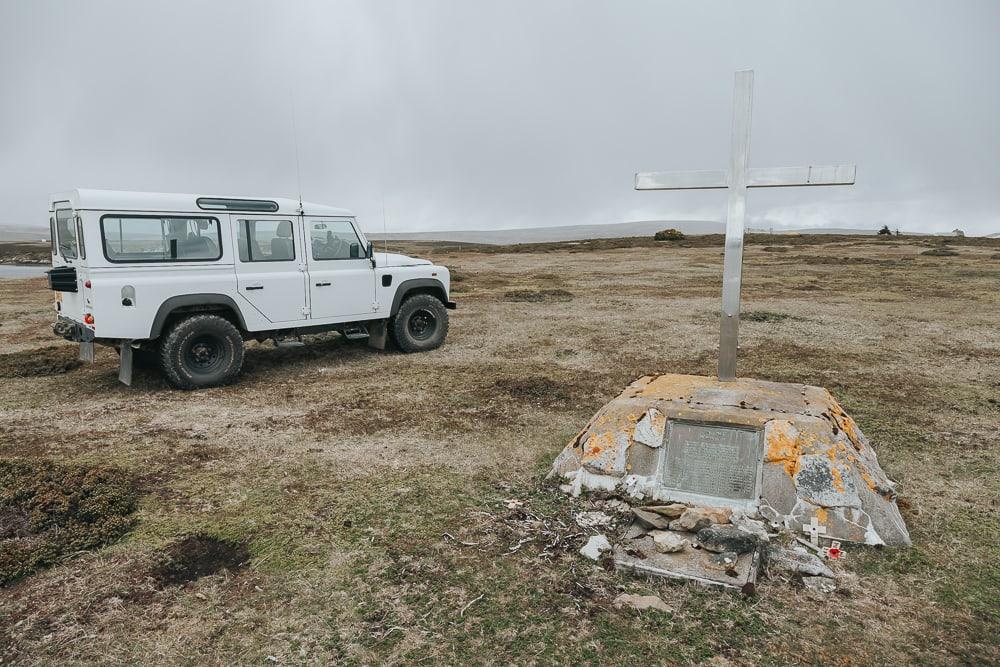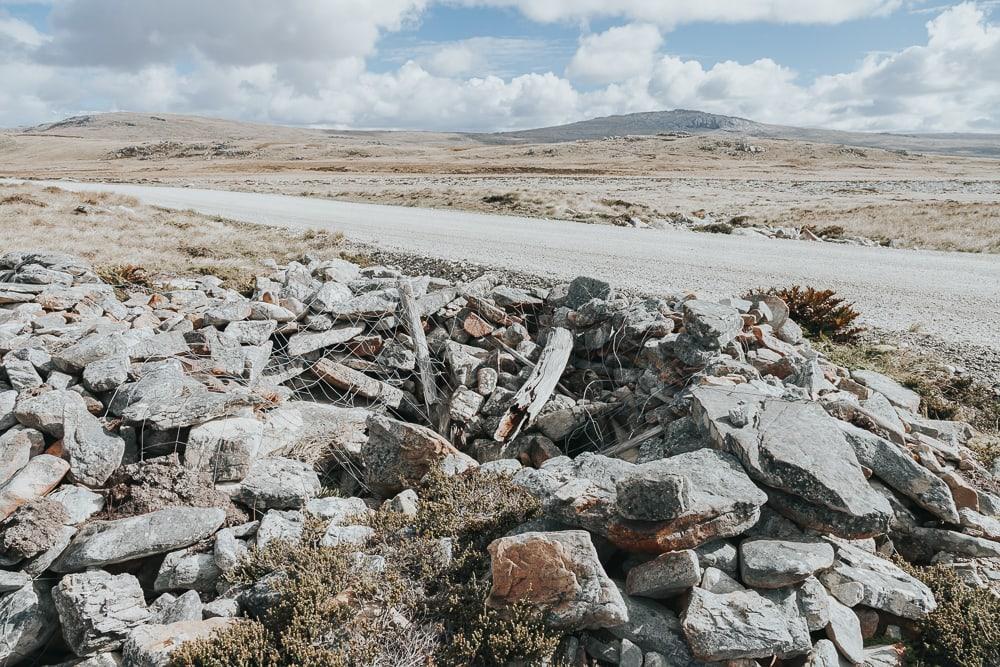 Darwin
My battlefield tour started in Stanley and my driver dropped me off at Darwin House, my accommodation for the night.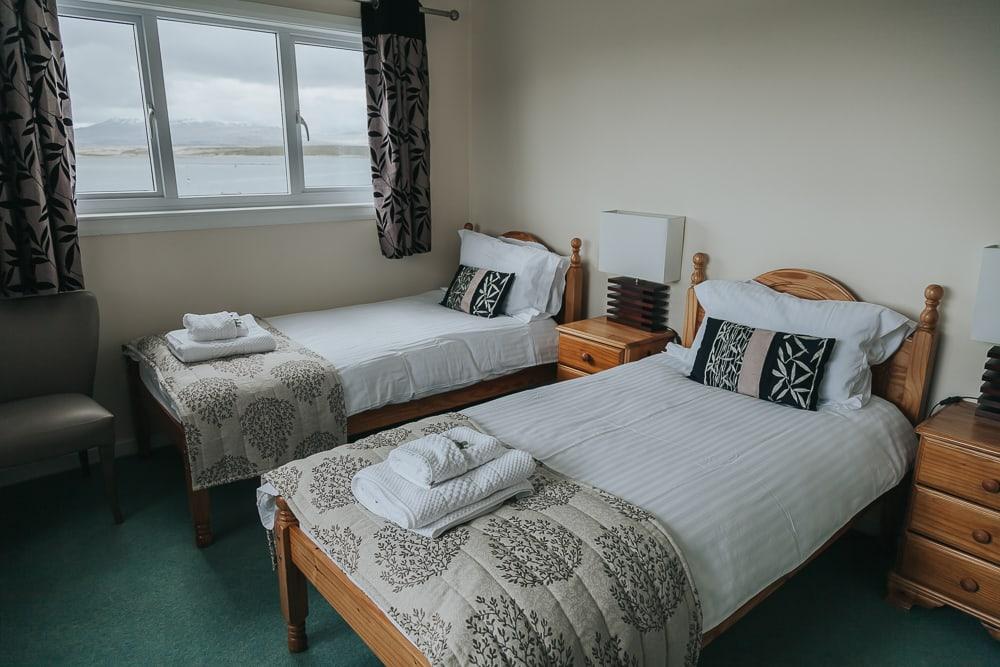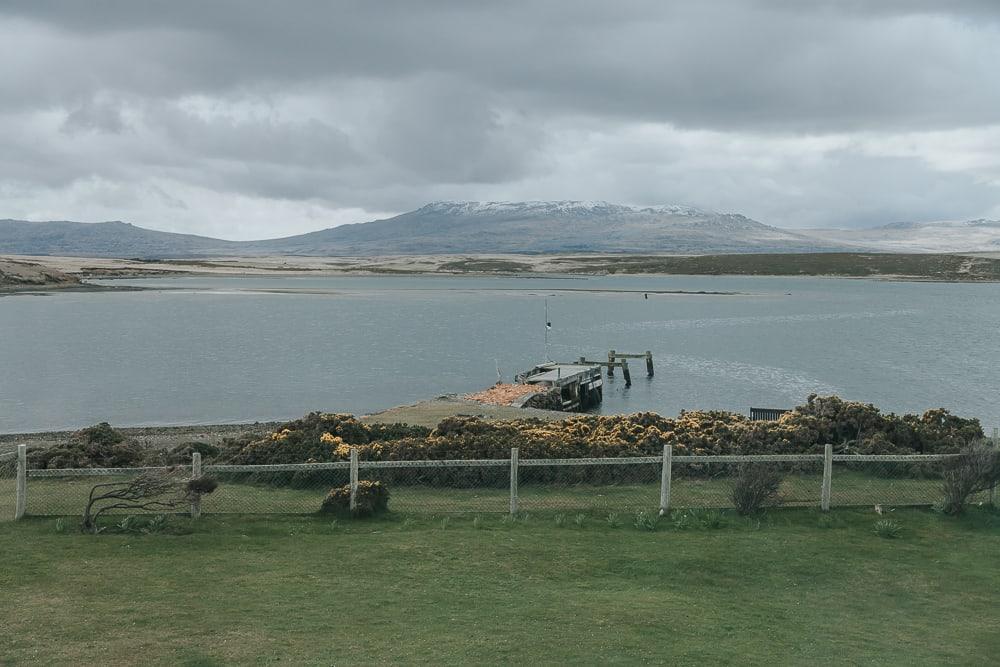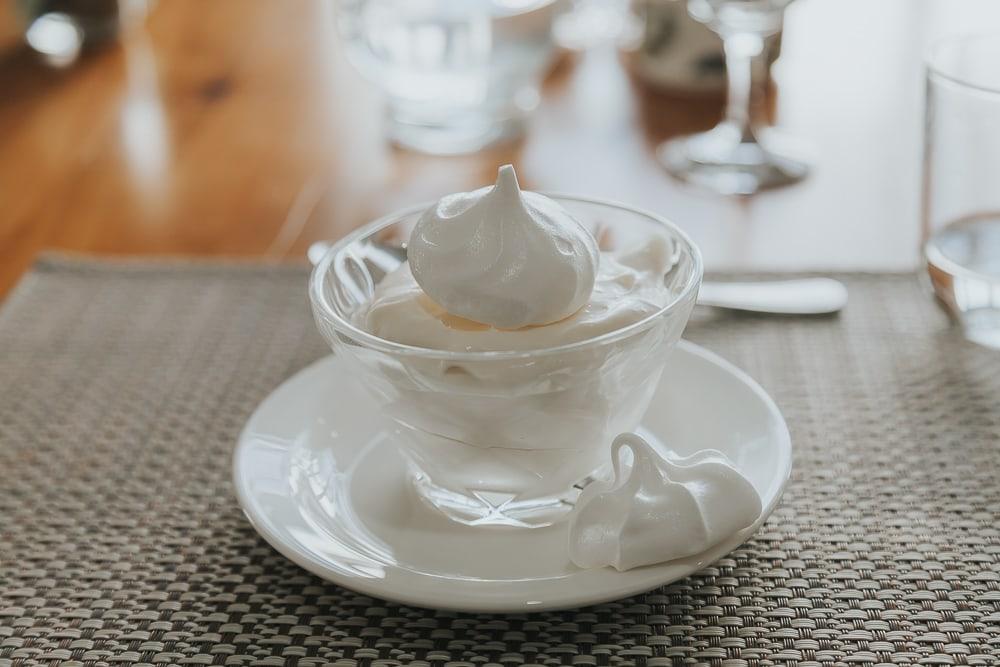 Again, I loved staying here at the start of the trip as it was a wonderful place to learn more about Falklands history and local culture, whereas the islands were more about seeing wildlife and definitely felt more touristy. And I guess that makes sense, as apparently Darwin House is also a popular getaway for local families in the Falklands.
I feel like my stay at Darwin House was where I really fell in love with the Falklands – and that was before I had even seen a single penguin or seal! The manager Anton Livermore was a wealth of knowledge about the Falklands and he was definitely the most chatty of the accommodation managers, happy to answer all of my questions. He was the police chief during the Falklands War and afterwards worked in policy, so I really felt like I was getting my questions answered straight from the source.
And he and his wife Dolly were so welcoming and warm that I was really sad to already leave the next morning.
Darwin House is right by the Goose Green airstrip, where I caught my flight to Carcass Island, however it also happens to be the nearest accommodation to Mount Pleasant Airport, so it would also make a great place to stay at the start or end of your Falklands trip.
Darwin House is also open from September through May, which is a longer season than most of the island accommodation, so if you're booking at the start or end of the season (which can be a good way to get more accommodation options), then again this would make a good start or end to your trip.
You can find more information about Darwin House as well as the contact email on their website here.
Carcass Island
Landing on Carcass Island was my first taste of island life in the Falklands, and I was surprised by how different it felt from East Falkland. There were even some trees! I had two nights here, with one day spent on the neighboring West Point Island.
I spent my day here walking to a few different beaches, watching gentoo penguins shoot out of the water, and getting really, really, really sunburnt. I would say my favorite part about Carcass Island were the stunning white sand beaches, which were positioned perfectly for penguins to surf the waves.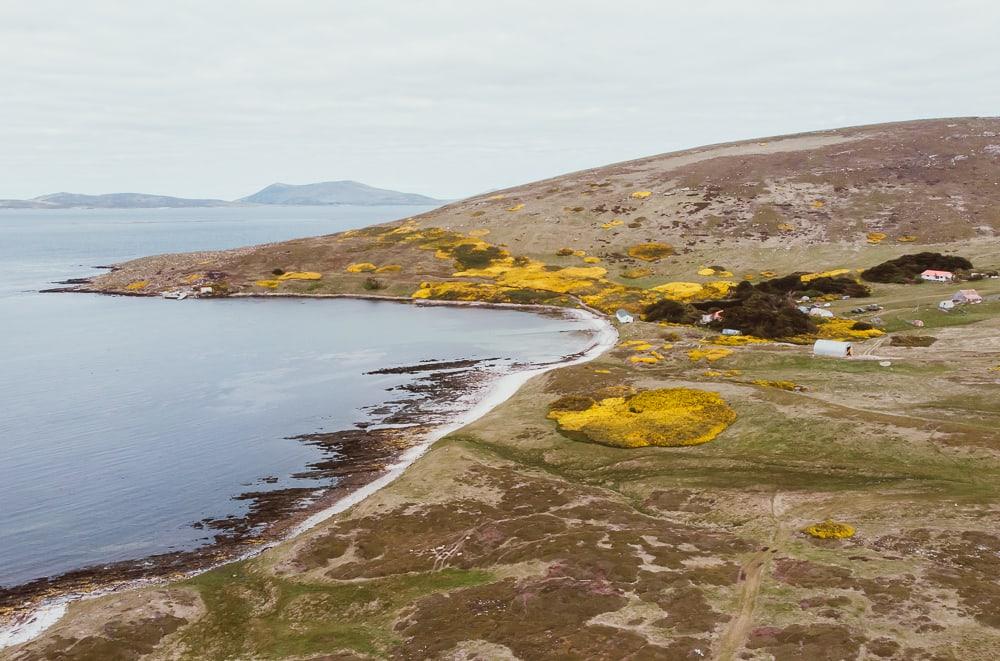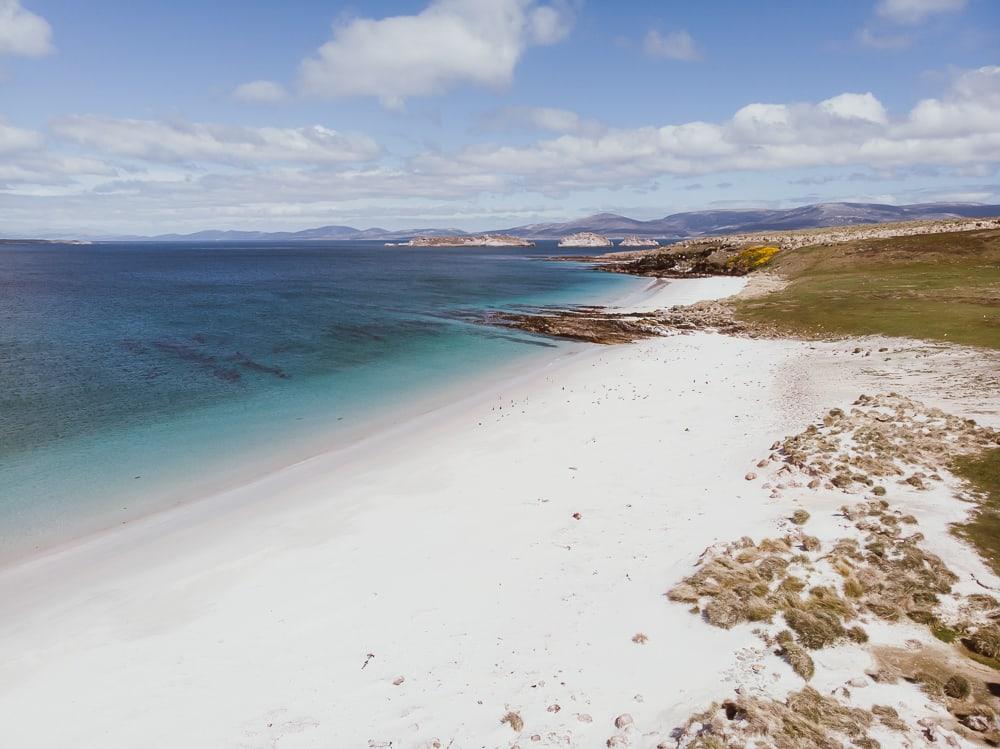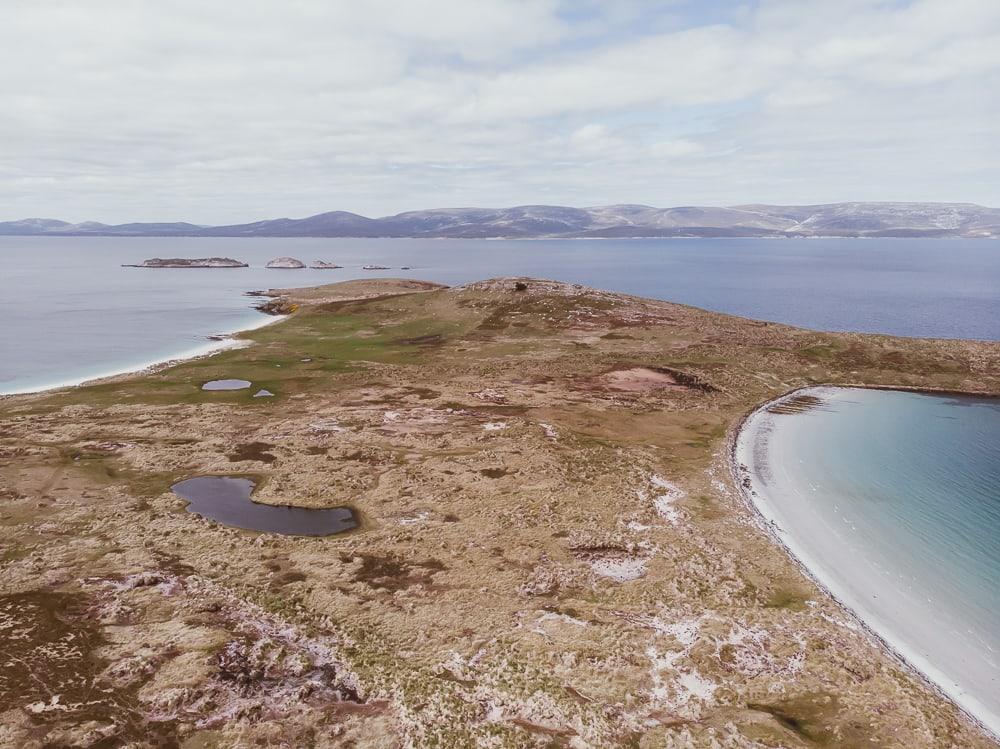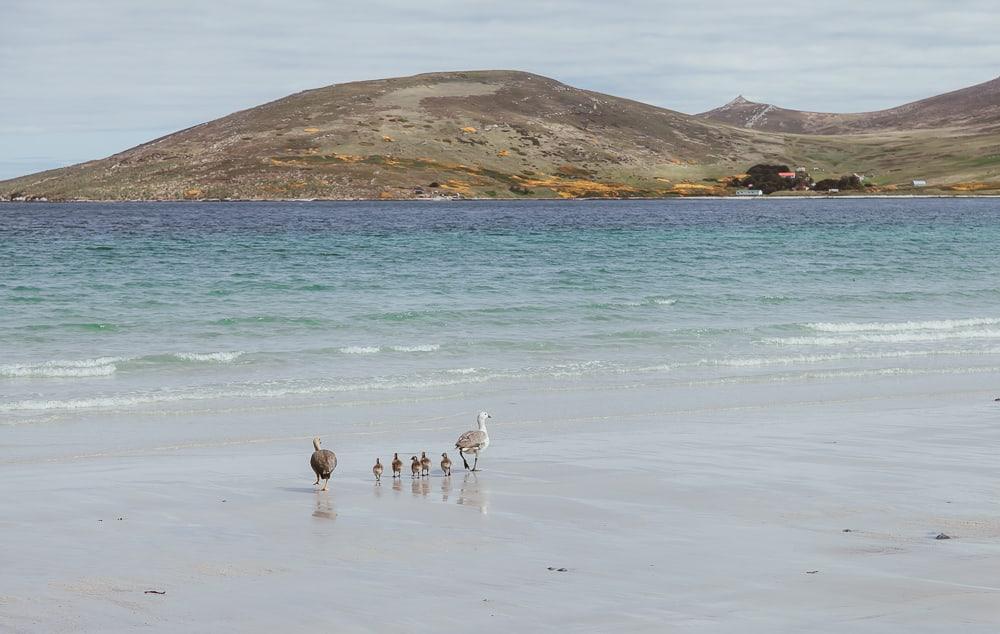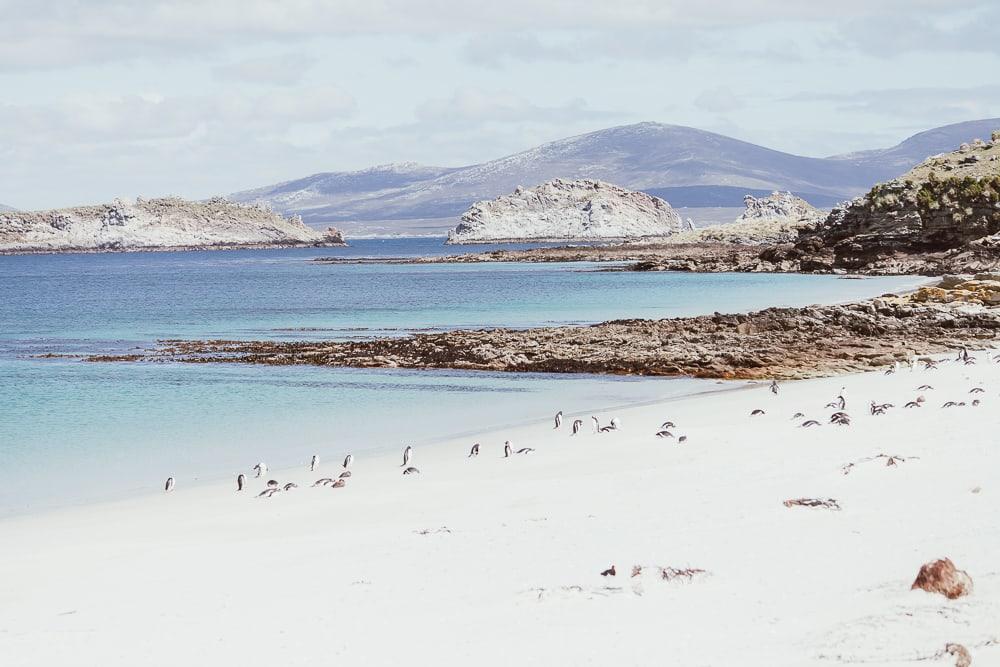 They also have elephant seals here, but they were on the opposite side of the island so visitors had to get a ride from the staff or borrow a 4×4 to get there, and I preferred just walking on my own.
And then in the evenings all the visitors gathered in the dining room for dinner, and to share stories and photos from the day. It was such a cosy way to end the day, and I especially appreciated the communal atmosphere as a solo traveler here.
Carcass Island Lodge doesn't have a website, but they do have an active Facebook page here where they can answer your questions.
West Point Island
You can also arrange an optional day trip from Carcass Island to West Point Island via boat.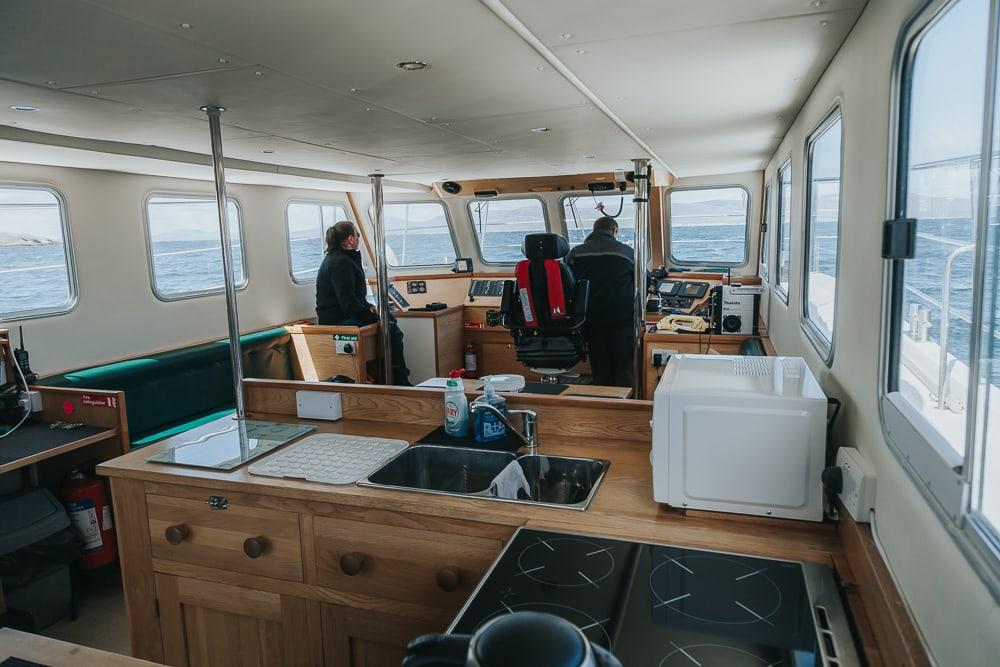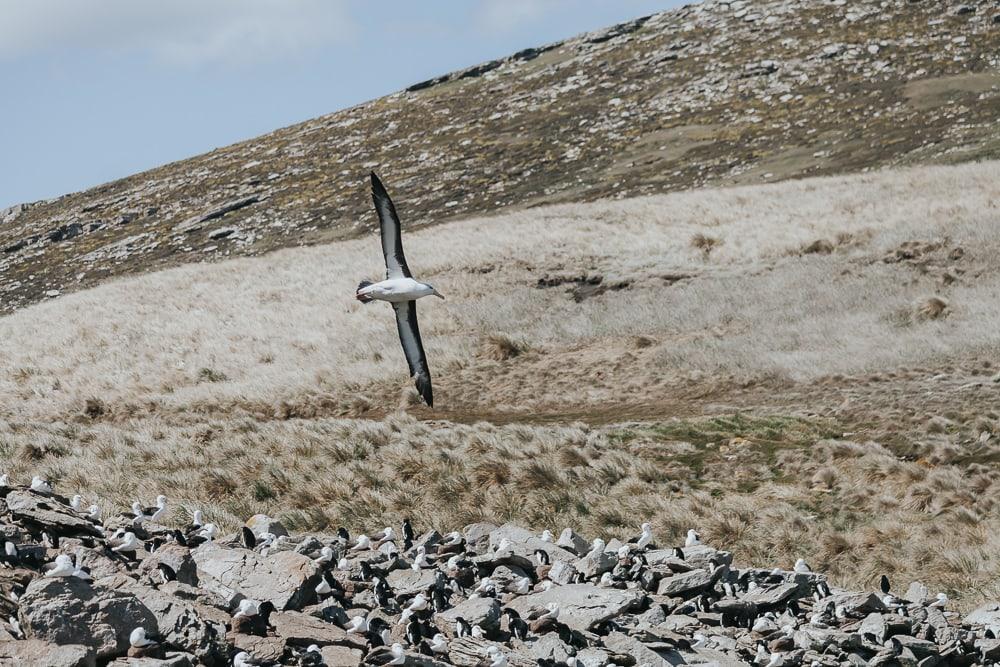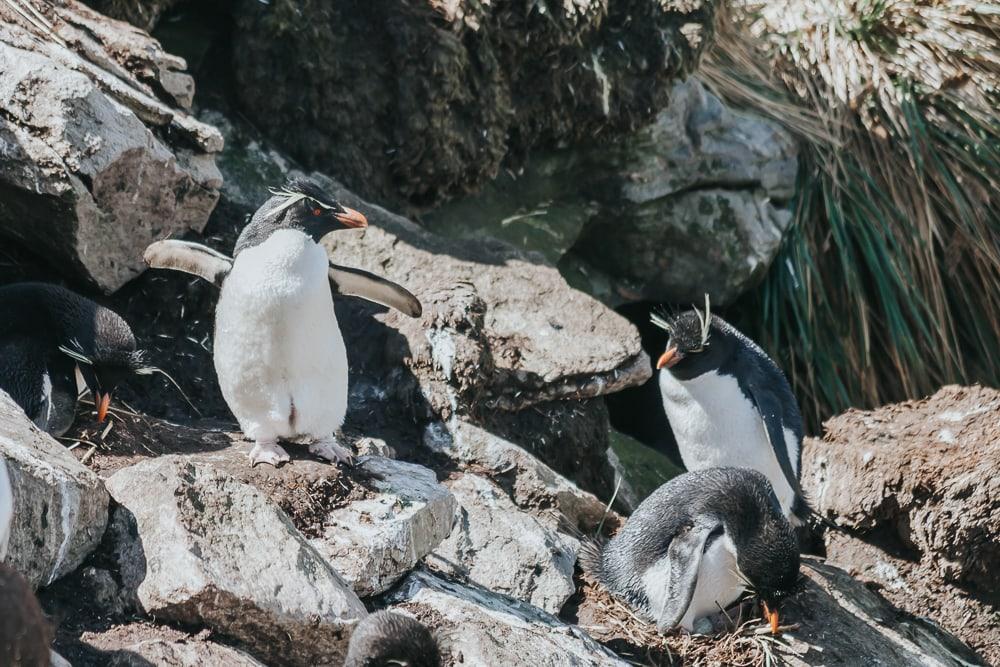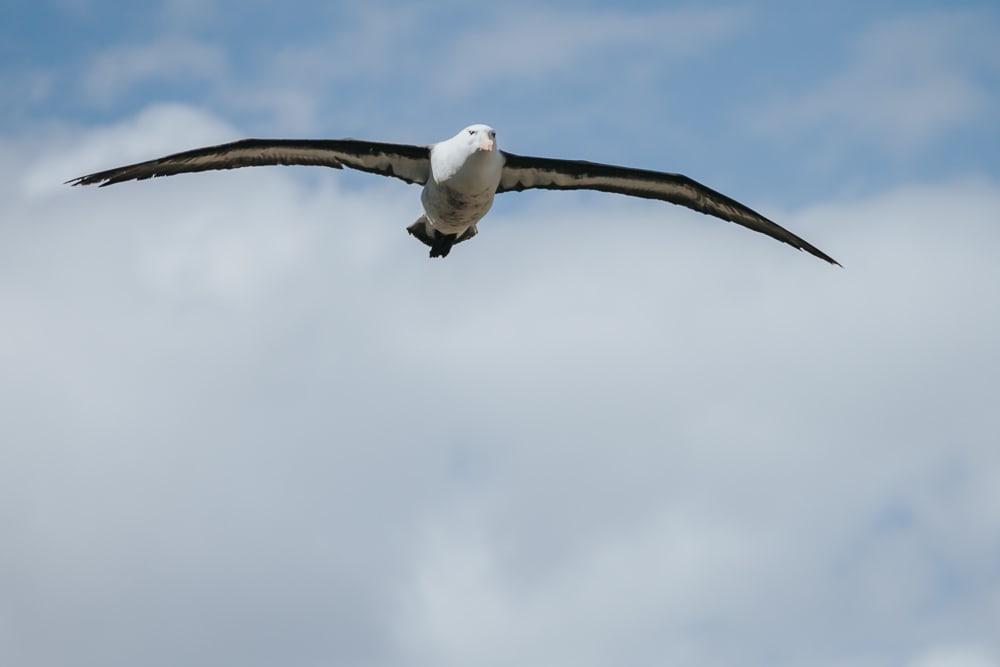 I really enjoyed the boat ride and the island is beautiful, but to be honest I would mostly just recommend this trip if you really want to see albatrosses.
All of the birders staying on Carcass Island were really excited about West Point Island because of the albatrosses, but I actually preferred Carcass Island and in retrospect I would rather have had this time on Carcass Island instead.
Pebble Island
I was so sure Pebble Island was going to be my favorite island I visited, but in the last minute Bleaker Island took the top spot. But Pebble Island was definitely my second favorite!
The coastline here is more rugged than what I saw on the other islands, and they have a bit of war history here as well, which was really interesting to learn about.
I also took a day tour in a 4×4 with one of the guides here, which I would definitely recommend as the island is quite large.
The highlight was definitely the enormous colony of rockhopper penguins, whom we could watch bathing in the sea and then hopping their way back up to the island.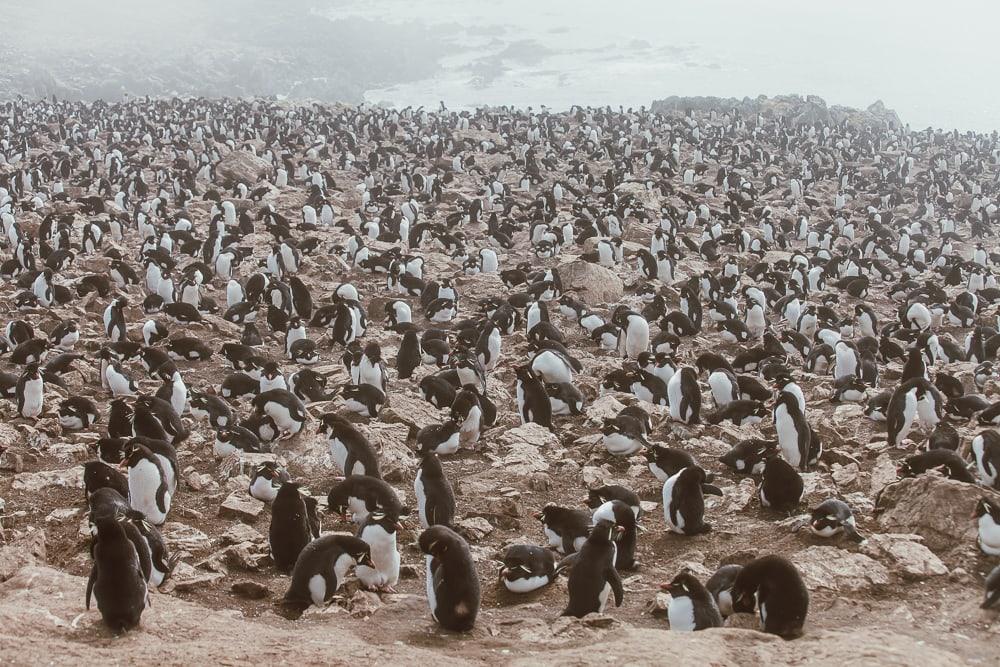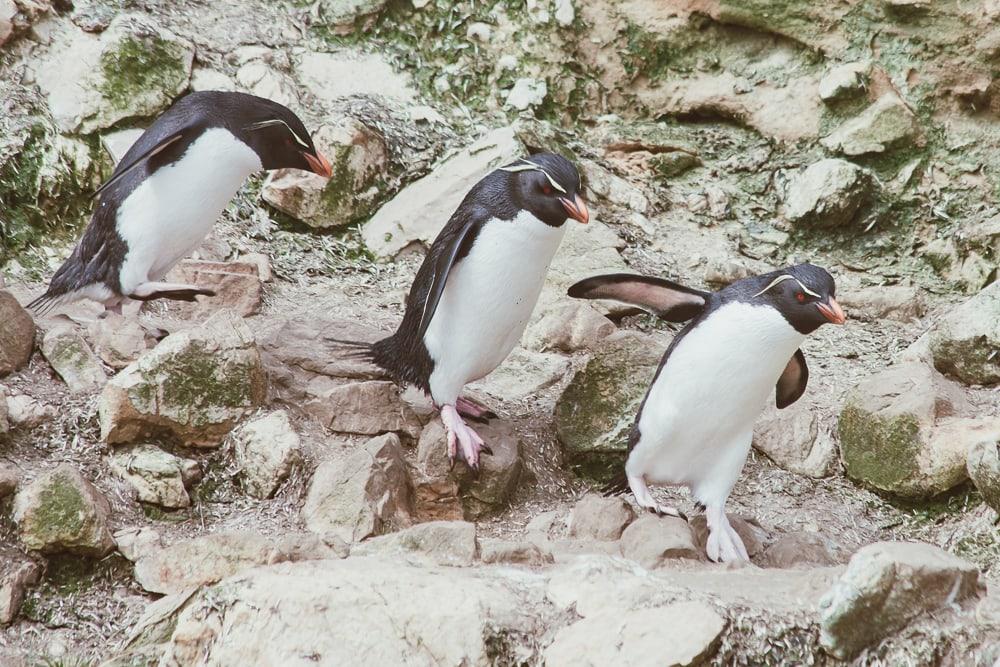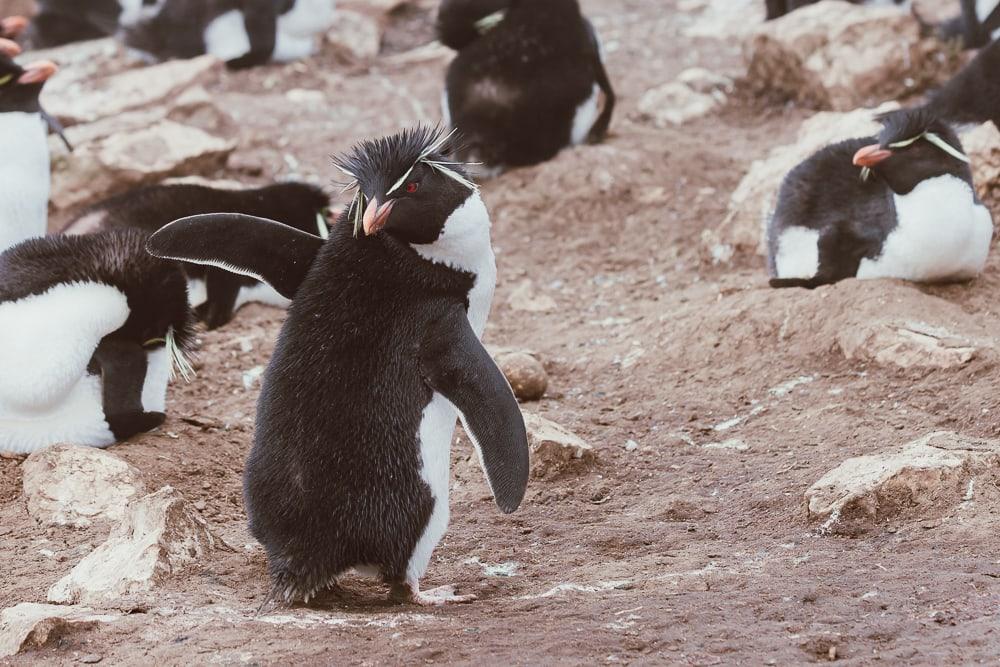 Rockhoppers are such funny penguins – I feel like they look a bit like grumpy old men – and they did not seem a bit bothered by people. I think if I had stood in one of their paths they would have hopped right into me. Most of my rockhopper penguin footage in my videos is from Pebble Island.
I actually got "stuck" for an extra day here as there was really thick fog so the flights couldn't go. But I certainly didn't mind having an extra day on Pebble Island.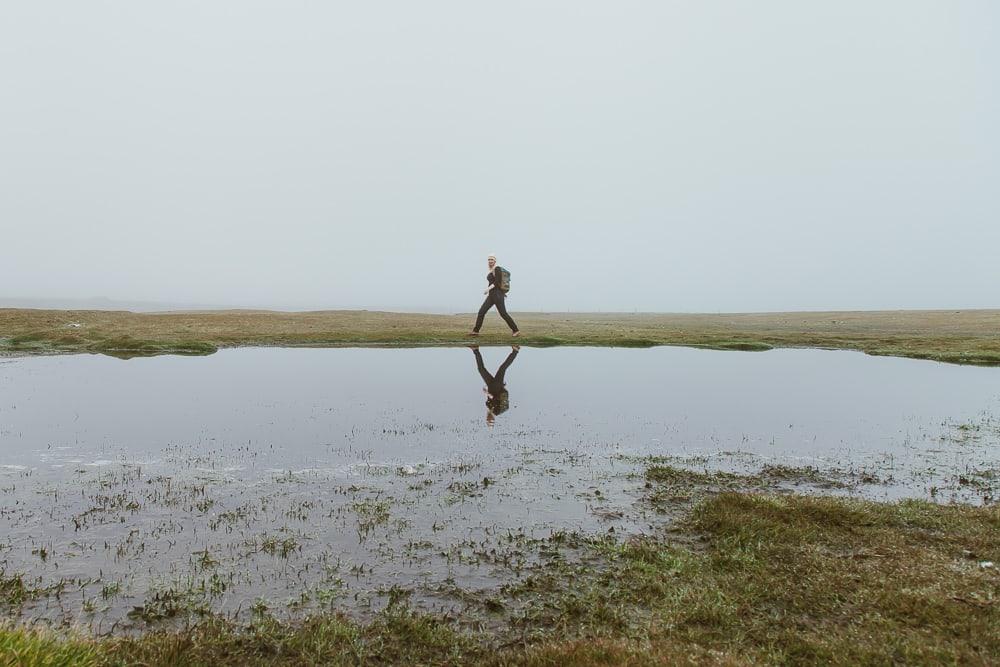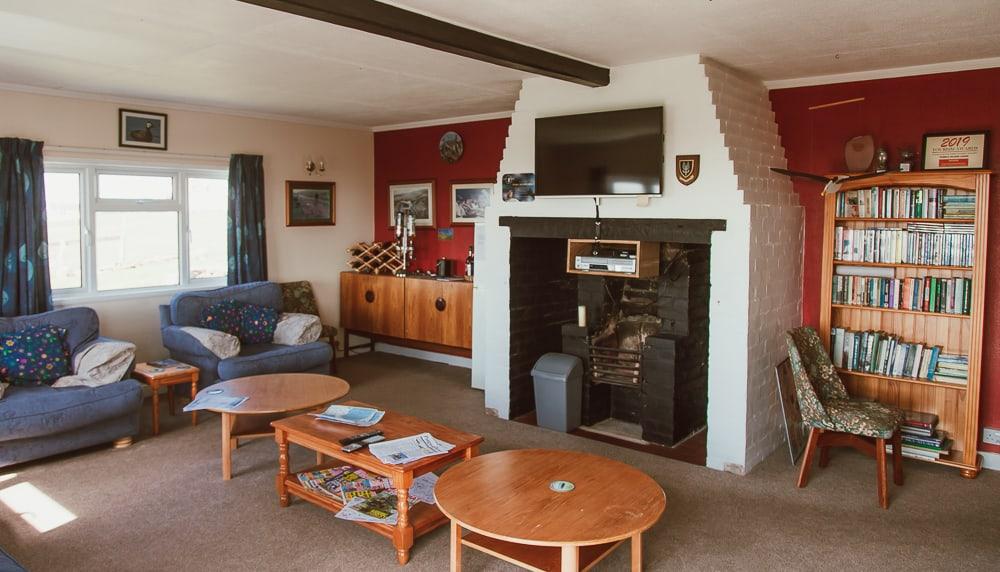 You can find more information including prices, tours, and room options here.
Sea Lion Island
Sea Lion Island seemed to be the most popular island for visitors to the Falklands, and I can definitely understand why.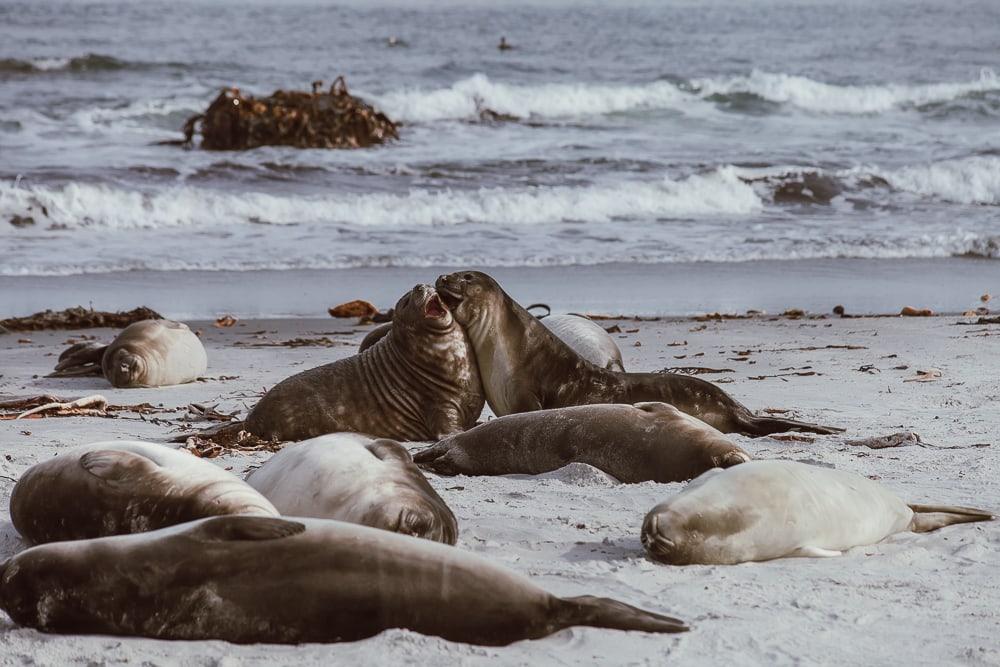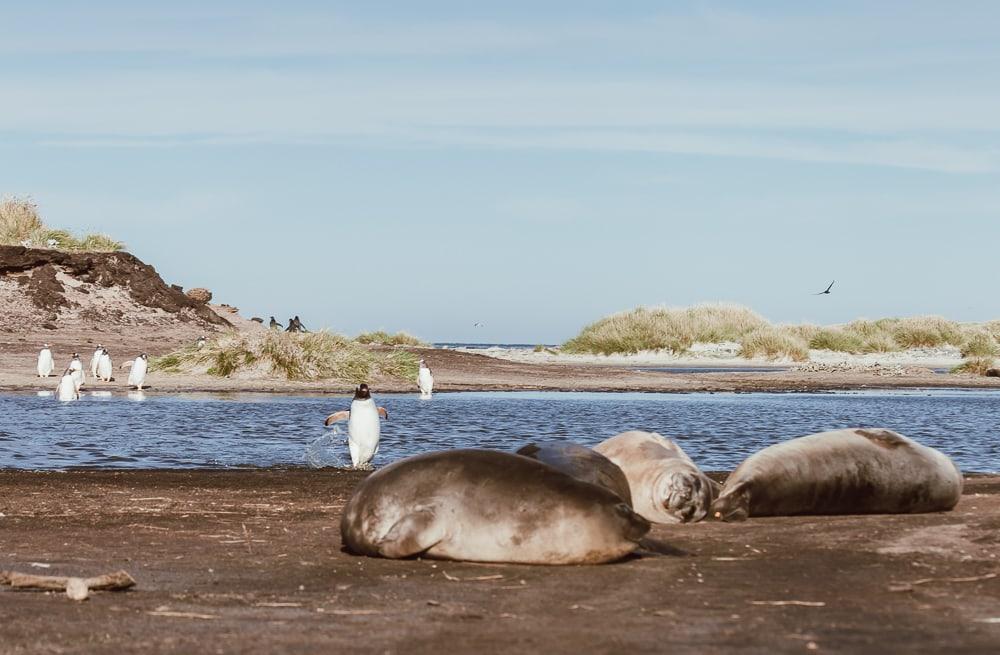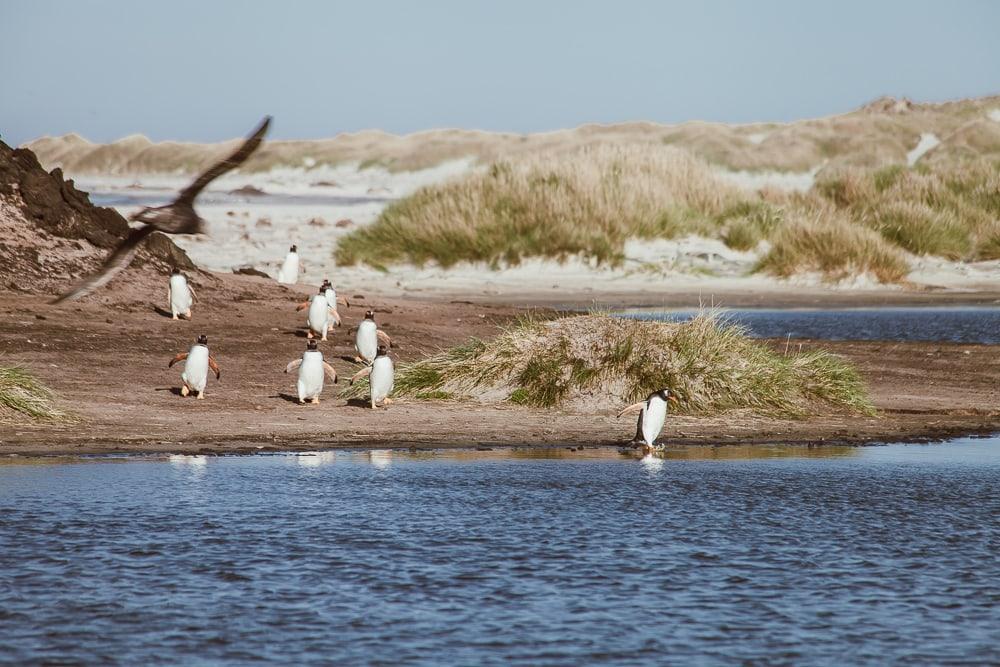 I was meant to have two nights here, but after having an extra day on Pebble Island my time on Sea Lion Island was cut a day short.
But this was probably the best place to have to have a shorter stay, as the island is quite small and mostly walkable.
Sea Lion Island definitely felt the most "touristy" of the islands (if you can really say that at all about the Falklands?), and another guest mentioned that this might have to do with the fact that the manager here didn't own the lodge, or the island as some others did. So there wasn't quite the same homey feeling here. Plus I do think this is the most popular island to visit, so they're used to accommodating a lot of guests.
But I can totally see why it was so popular. Walking around Sea Lion Island was seriously like walking through the set of a wildlife documentary.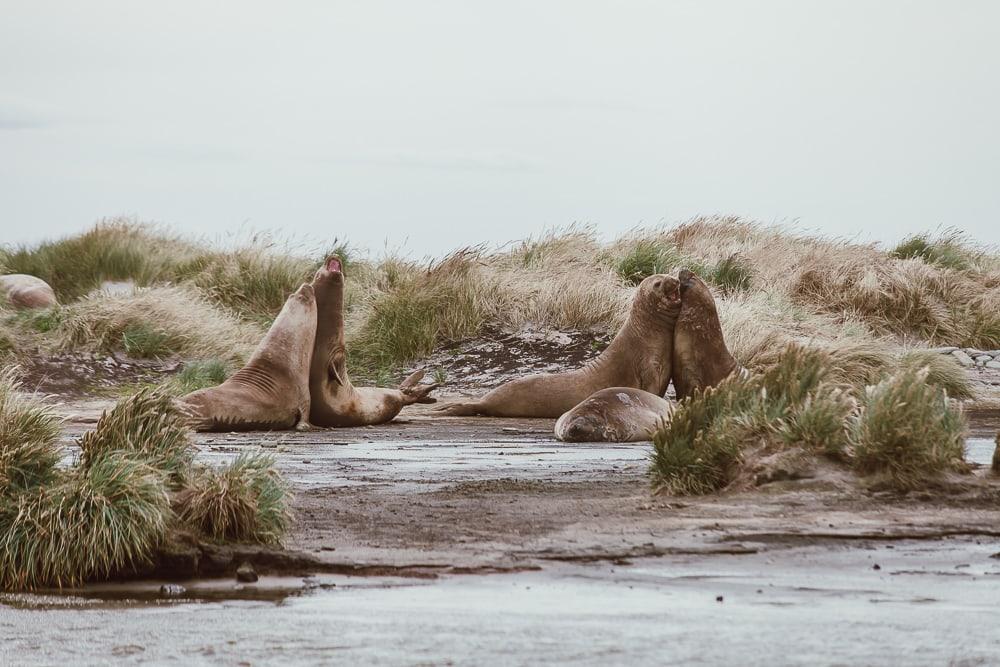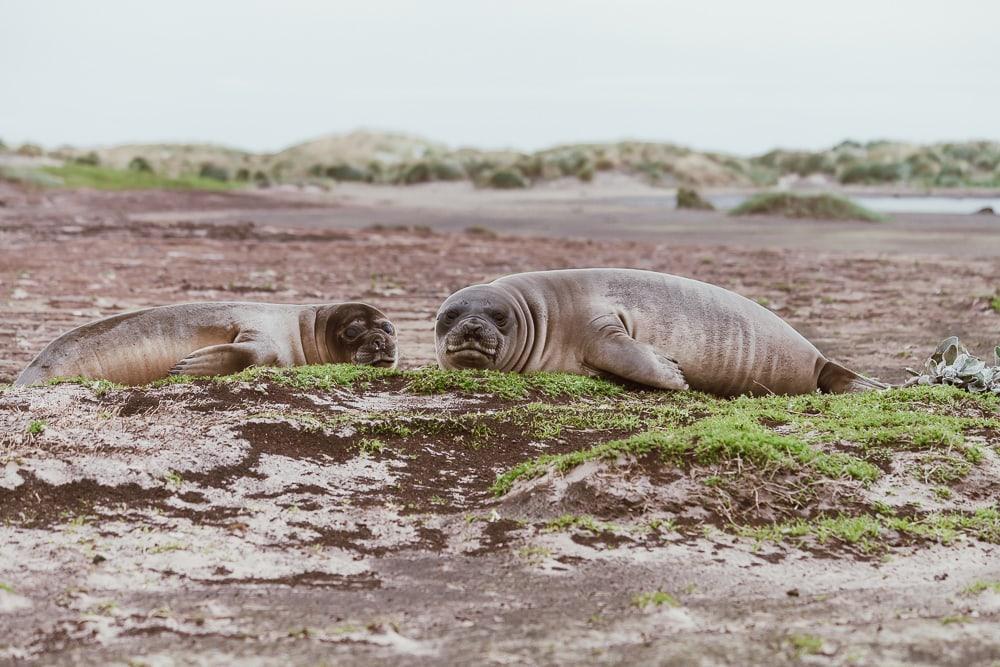 There was a colony of gentoo penguins right outside the door to the lodge, so I could see penguins waddling by from the window of my bedroom. And then if I followed the penguins towards the water I ended up at a beach full of enormous elephant seals. And I mean enormous.
Oh and then in the early mornings orcas swam from the ocean into a small channel on the beach to hunt seal pups for their breakfast. Like, what?
I'd say Sea Lion Island definitely felt the most surreal of the islands I was visiting, and probably offered the most exciting wildlife experience.
You can find more information including prices and room options here.
Bleaker Island
Bleaker Island was my last stop before returning to Stanley, and it was definitely my favorite island of my Falklands trip.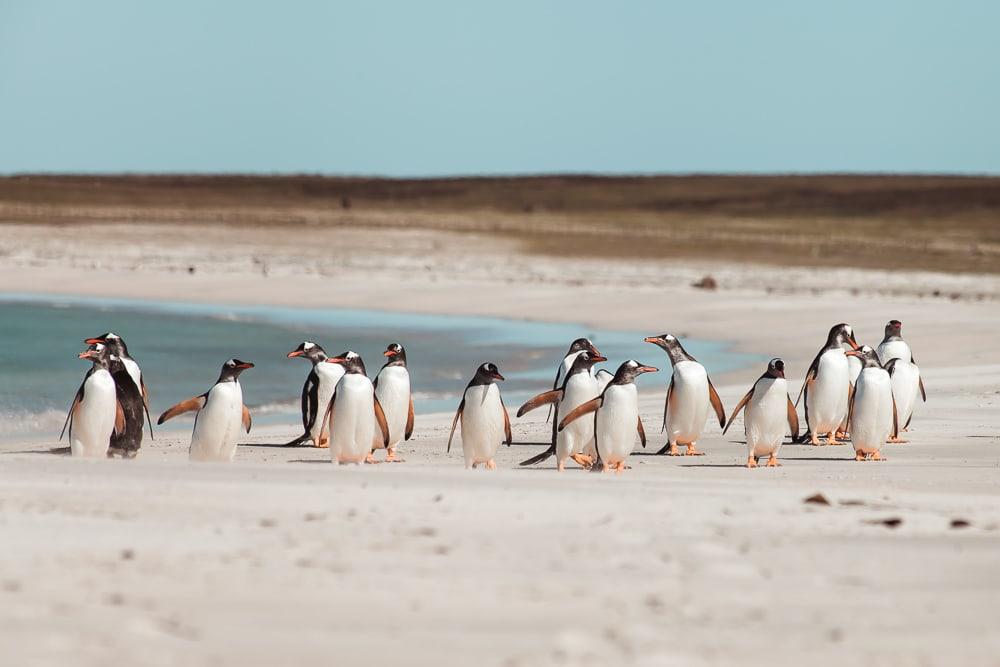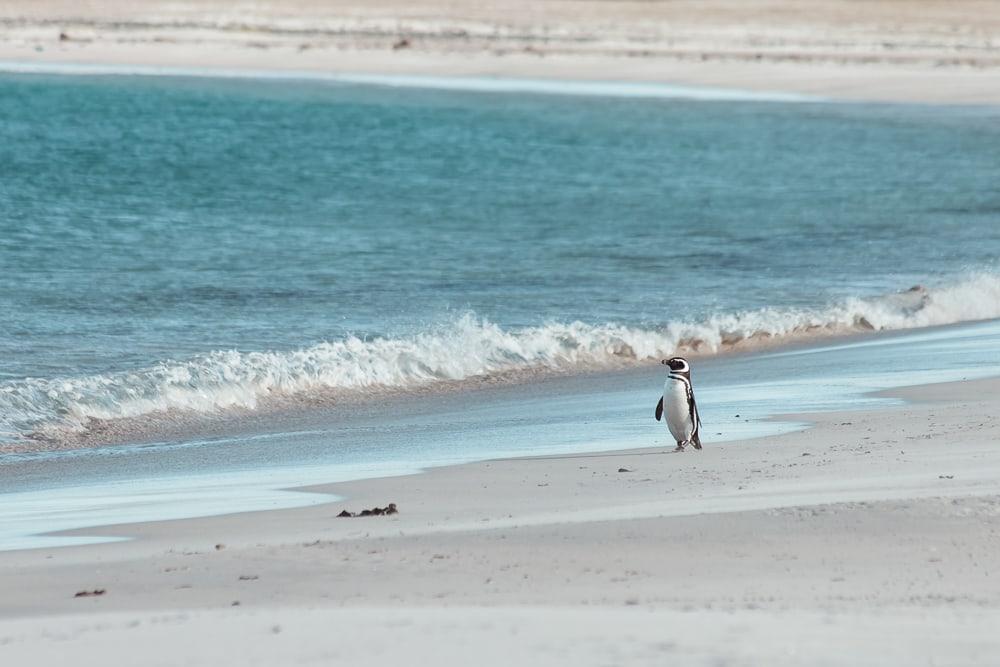 I wonder if this might be partly because Bleaker Island is newer to hosting guests and it still seemed quite underrated. Plus the family who own the island were so incredibly nice and probably the friendliest of the lodge managers on the small islands.
I liked that the island is small and walkable, and also functions as an organic farm with sheep and some cattle. Staying here really felt like I was simply visiting someone's farm – well, a farm with penguins, sea lions, and a leopard seal.
But really I think my favorite part of Bleaker Island was the long Sandy Beach, which served as the perfect place to watch gentoo penguins. This is where most of the gentoo penguin footage in my videos was shot.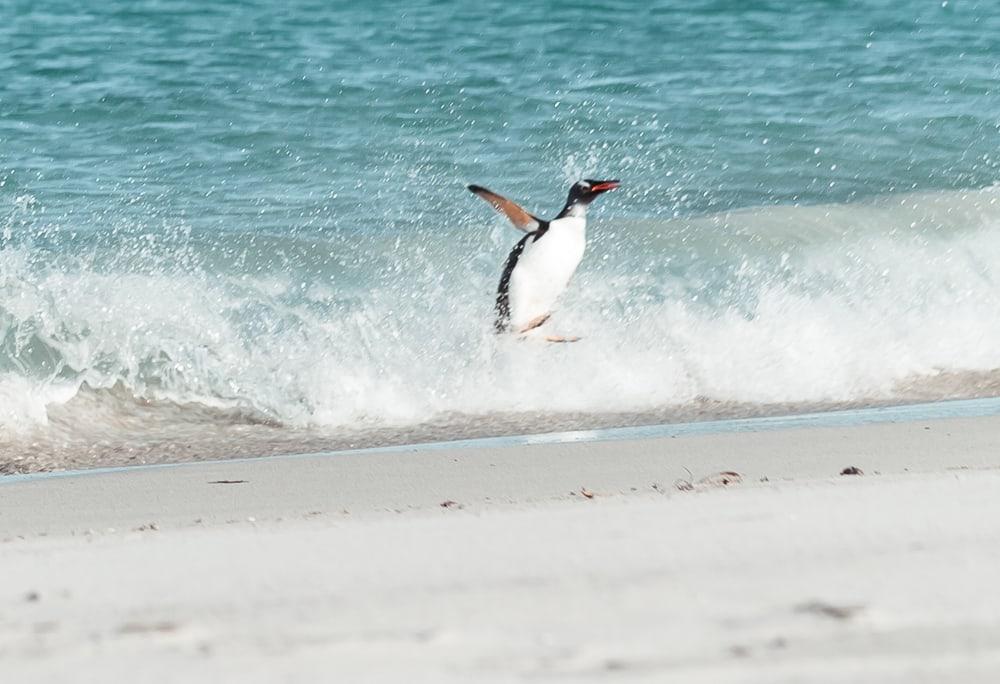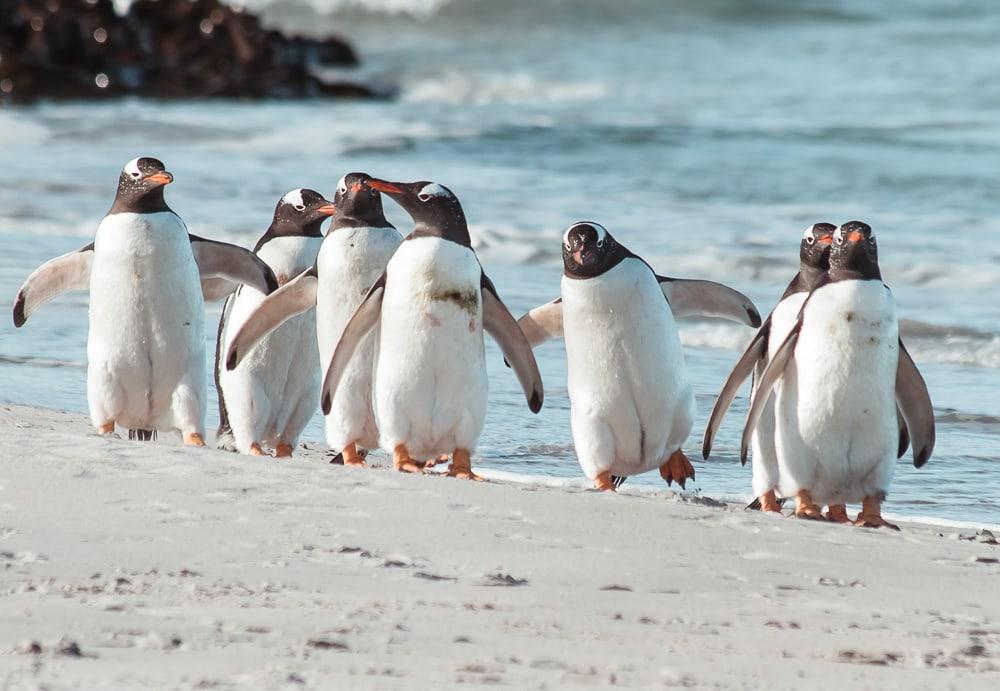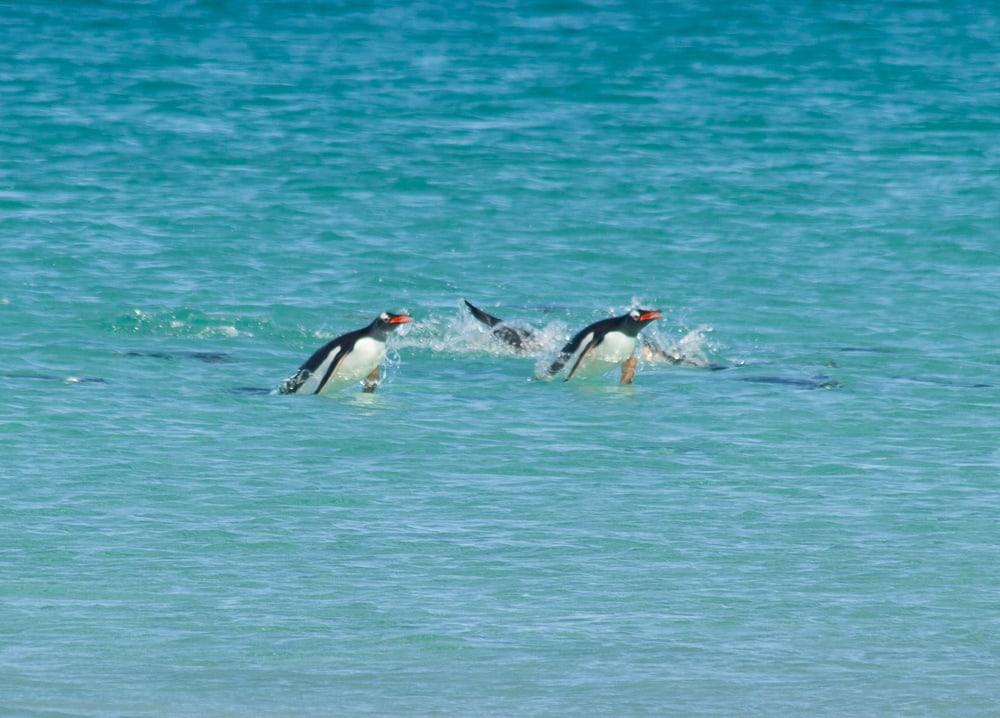 They also had a leopard seal on this beach hunting penguins.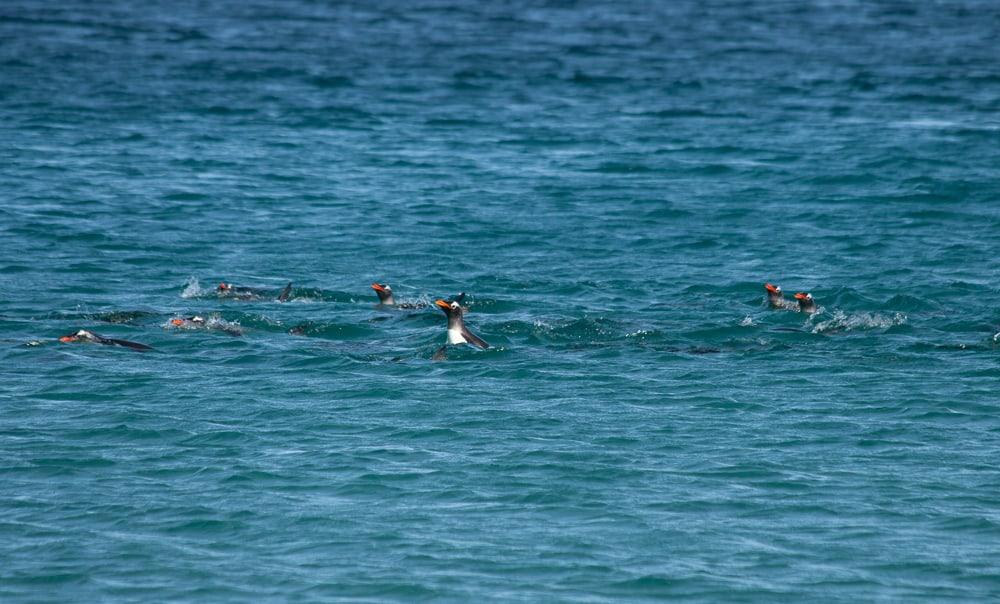 As an added bonus, this was also the cheapest lodge I stayed at on the islands.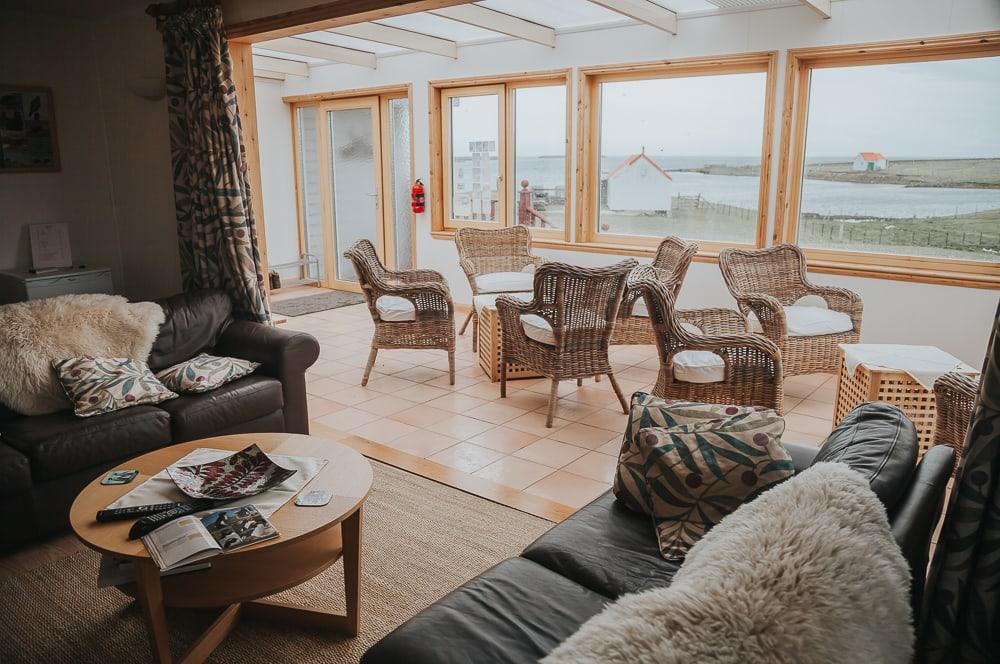 You can find more information including prices and room options here.
Saunders Island
I didn't visit Saunders Island, though I did stop here twice while on my way to other islands. But I would have loved to stay here to see the king penguins, which are the largest of the penguins on the Falklands.
Accommodation here is self-catering, so it's a bit of a different experience from the other lodges, but it's also cheaper. You can find more information including prices and room options here.
Volunteer Point
I actually had been meant to take a helicopter to Volunteer Point, which has the largest king penguin colony in the Falklands, but due to a flight change my itinerary had to be cut a bit short.
You might be thinking that taking a helicopter here is a bit extravagant and not very eco-friendly, but locals I spoke to were actually very pleased about this new flight option, as Volunteer Point is the most popular excursion for cruise tourists, and all the overland rides there have really torn up the ground in the area.
I also couldn't believe how affordable the flight is – the flight to Volunteer point is £349 per person, while they offer shorter scenic flights starting at just £100 per person. At least in Norway helicopter flights cost way more than that.
Okay so to summarize:
I'd visit Bleaker Island for the most "authentic" experience of island life as well as the best place to watch gentoo penguins swimming.
I'd visit Pebble Island for the best views of rockhoppers, Falkland War history, and landscape.
I'd visit Sea Lion Island if you want to see as much wildlife as possible.
I'd visit Carcass Island for the prettiest beaches and elephant seals, and the chance to get the boat to West Point Island to see albatrosses.
I'd visit Saunders Island for the king penguins, or if you don't want to self cater I would visit Volunteer Point for the king penguins.
How much does a trip to the Falklands cost?
Speaking of money, you're probably wondering how much visiting the Falkland Islands will cost you. Well it turns out another tricky aspect of planning your Falklands trip is that the prices vary quite a bit.
In fact even the tourism board couldn't tell me how much my two week trip cost – they were unsure of how much accommodation, the FIGAS flights, and even the tours and excursions I did cost.
This seems to be because the prices change a lot depending on availability and popularity. Some of the accommodation and tour operators I spoke with said that they do offer last minute discounts, but they also all emphasized that booking last minute can be tricky and you won't actually save that much, and you might miss out on a lot of the better islands and activities. So the general consensus seems to be to book early!
I will say that from speaking with other tourists in the Falklands, this trip seems to be a lot more budget-friendly than I would have thought – especially compared to travel in the Nordics!
The tourists I spoke to who were also visiting for two weeks said they were paying from about 3,000 to 6,000 GBP for their trip around the islands. This excluded international flights to the Falklands, but included all activities, accommodation, and meals. These were also people who were visiting a bunch of different islands and booking lots of tours and activities – I didn't speak to any budget travelers, so I imagine you could do this trip for cheaper if you really needed to.
And if you prefer to pay an agent to arrange your trip, you can find some tour package prices for the Falklands here.
Some of the lodges list their prices on their website, otherwise you'll need to enquire via email. But most run from around 100 – 150 GBP, usually including all meals, which would mean that the most expensive hotel of my entire trip was actually my airport hotel in Trondheim the night before my flight.
Prices are per person, but there is sometimes a single occupancy charge if you're traveling solo and staying in a twin room. Yeah, it's annoying, but I guess also understandable considering accommodation is often fully booked during high season, so lodges will lose a bit of money on solo guests.
The LATAM flight prices vary depending on when you're booking them, while the flight from Brize Norton always costs 2222 GBP (it's cheaper for Falkland residents and Falkland War veterans).
People also said that the local FIGAS flights around the islands varied a lot in price for tourists – from around 100 GBP to 400 GBP – and while I was told prices vary depending on distance, tourists told me that there didn't actually seem to be any pattern for the price variation.
Again your best bet here will be to book early! Oh and if you're traveling with kids, 0-3 years fly for free, 4-7 years pay 25% of the full fare, and 8-15 years pay 50% of the full fare.
What to pack for the Falklands
Probably the most challenging thing about packing for the Falkland Islands is that the internal FIGAS flights around the islands have a 20 kg baggage (including carry on) weight limit for tourists (locals have a limit of 14 kg, but they also get cheaper flights). At least, it was challenging for me to stay under the limit as my camera gear is quite heavy.
So you definitely don't want to waste precious luggage space with things you won't need!
Here's what I would make sure to bring
Trousers
I brought two pairs of jeans and one pair of weather resistant hiking pants. I think I could have switched out one of the jeans for a second pair of hiking pants, as I pretty much lived in the pair I brought. Plus they're so lightweight.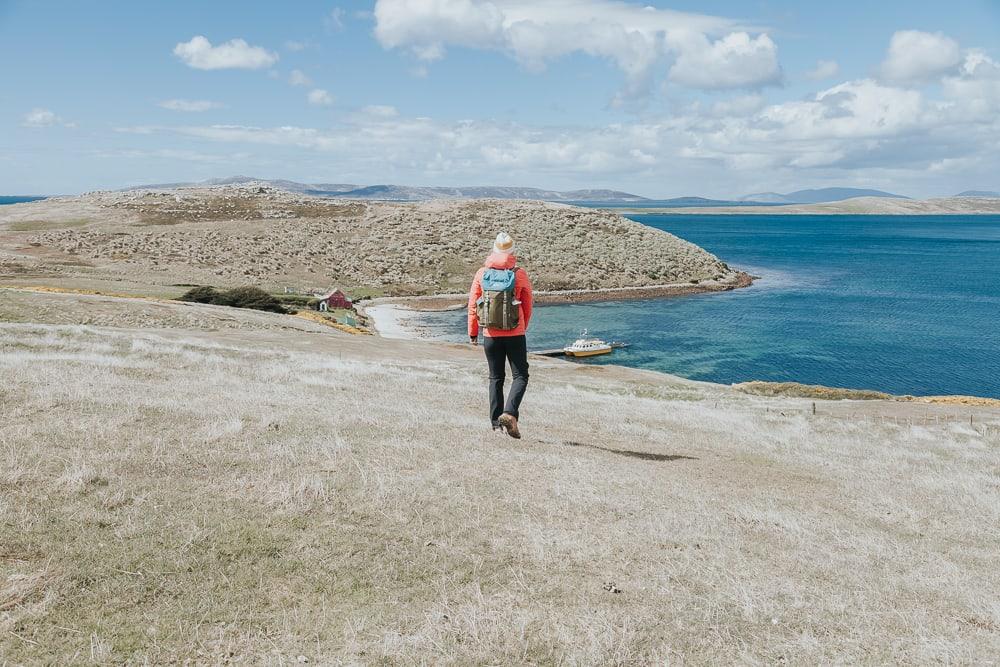 Hiking boots
You'll definitely want waterproof hiking boots for your trip. These were the only footwear I brought – my hiking boots are several years old and now they fit like slippers, so I didn't mind wearing them on the flight.
Wool sweaters
You know I love my wool sweaters! Even though it was early summer when I was visiting, some days were really cold, so I was happy to have some sweaters with me. I brought three thick wool sweaters and one thin cashmere sweater with me.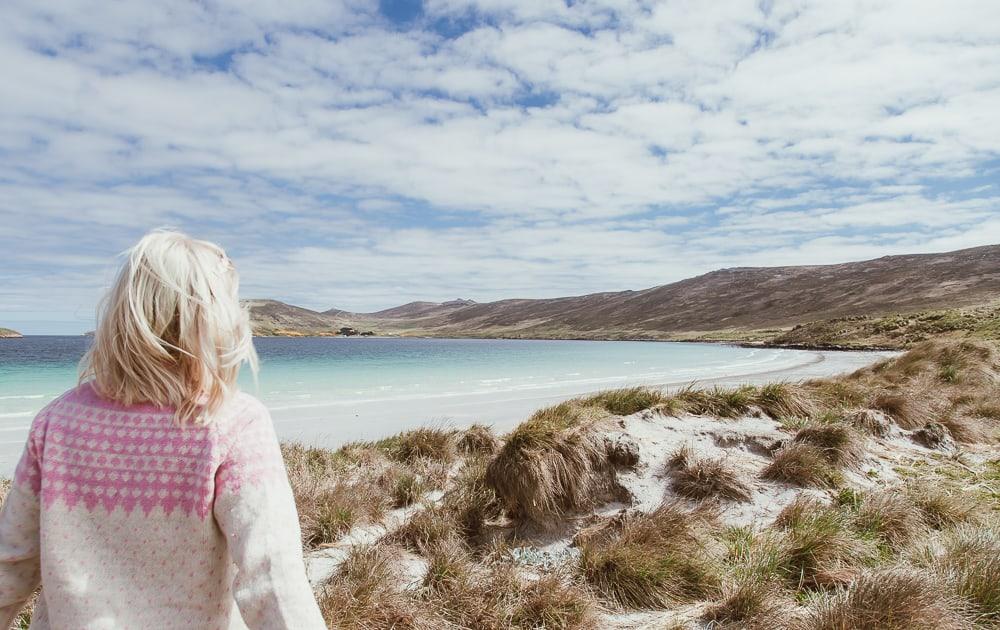 Ski jacket
I was torn between bringing a waterproof shell jacket or a thicker winter coat, and in the end I brought this ski jacket, which worked out perfectly. It blocked out the wind really well (and the Falklands are windy) and it kept me warm, but also not too warm on the sunny days.
Hat and gloves
Again, even while visiting in the summer you'll want a hat to protect your ears from the wind. I also brought a pair of gloves that I only wore on the coldest days, but I was still glad I had them.
A buff
I also had a scarf with me as I was coming from winter in Norway, but I never needed it in the Falklands. Then again I'm used to really cold weather, so if you get cold easily a scarf might be a good idea.
What I actually wish I had brought instead is a thinner buff that I could have used to protect my face against the wind and sun. Something like this UV face mask would have been perfect.
Sunglasses
I actually forgot to pack sunglasses and remembered as I was walking to the train station on my way to Trondheim. I ended up dropping my bag and running home to get them, and I'm so glad I did! Did I mention that the sun in the Falklands is really strong? Or I guess really it's that the ozone layer there is really thin.
Sunscreen
Speaking of the sun, ugh, I got so sunburnt in the Falklands – while wearing SPF 50! I mean, granted I basically walk outside and get a sunburn, but this was one of the worst sunburns I've had in years, so even if you don't have my pathetic Nordic skin you'll probably want to be careful.  I think it took a solid month for my nose to look like my nose again.
Lesson learned: definitely bring high SPF sunscreen and reapply continuously throughout the day.
Camera
I know our phones take great photos these days, but if you've ever considered buying a camera this would be the time to do so. Ideally you'll want something with a zoom lens for photographing wildlife. I've mentioned before that I'm not super into wildlife photography (largely because I'm terrible at it), but even I couldn't get enough of photographing the penguins here. They're just such funny creatures!
I brought my Canon 5D EOS Mark II with the Canon 24-105mm f/4L lens for landscape shots and the Canon 75-300mm f/4-5.6 lens for wildlife.
I also brought a DJI Mavic Air drone, as I was told flying a drone is allowed in most areas as long as you get permission from the land owners, however only one of the lodge owners gave me permission to fly and the others seemed quite annoyed at the mention of a drone. Maybe I just look like an irresponsible pilot, or maybe they're cracking down on drone usage, which is totally understandable around all the wildlife.
At any rate, I wouldn't waste precious luggage space on a drone. You likely won't be allowed to fly it, and you can get plenty of aerial shots from the FIGAS flights around the islands anyway.
And I shot my videos with my Canon camera and my DJI Osmo Pocket.
Spare batteries
Many days I was outside photographing all day, so it was definitely helpful to have spare batteries on hand.
Though I will say my phone barely used any battery at all during the day, which made me realize how much less I use it without Internet connection.
Entertainment
I had some sort of idea that I'd spend my time in the Falklands reading, writing blog posts, and editing photos and videos, so I didn't bring any films or TV shows on my laptop.
But I finished my book halfway through my flight to the Falklands and most evenings I was too tired from walking all day to work, so I did wish I had maybe brought a few movies or TV shows to watch.
I mean, it was probably good to disconnect for a bit, but usually after dinner the couples would all go back to their rooms and I'd be alone and kind of bored.
Internet access in the Falklands
Yes, there is Internet access in the Falklands, but yes, it's very limited.
All of the lodges I stayed at had WiFi hotspots and sold access cards for £10 that gave about an hour of Internet. The only thing is, the Internet was so slow and hour was just enough time to load my emails and maybe post a few photos (never videos!) on Instagram.
So like yes, you'll be able to keep in touch with people while in the Falklands, but don't expect to do much beyond simple messaging.
Solo Travel in the Falklands
Finally I feel like I should say something about traveling solo to the Falklands.
The only other solo travelers I met were also here for work (mostly as photographers), whereas everyone else was here with their partner and/or families.
In some ways I found the Falklands a great place to travel to on my own. I loved spending the days outside on my own (I do love a solo hike), and then breakfast and dinner was always shared with the other guests at the lodges, so I felt like it was easy to meet people.
At the same time, as silly as this sounds, I think the lack of Internet access made me feel quite lonely at times. Because when I was alone at night I was like, really alone.
The Falklands were also so amazing and unique that now I sort of wish I had shared my experience there with someone. And because it's quite a big trip I think I would recommend taking it with a friend. Plus then you won't have to worry about that pesky single occupancy fee.
That's not to say you should come here on your own! But if you're trying to decide when to visit and whom to come with, I think it would be worth trying to plan with someone you'd like to share the trip with.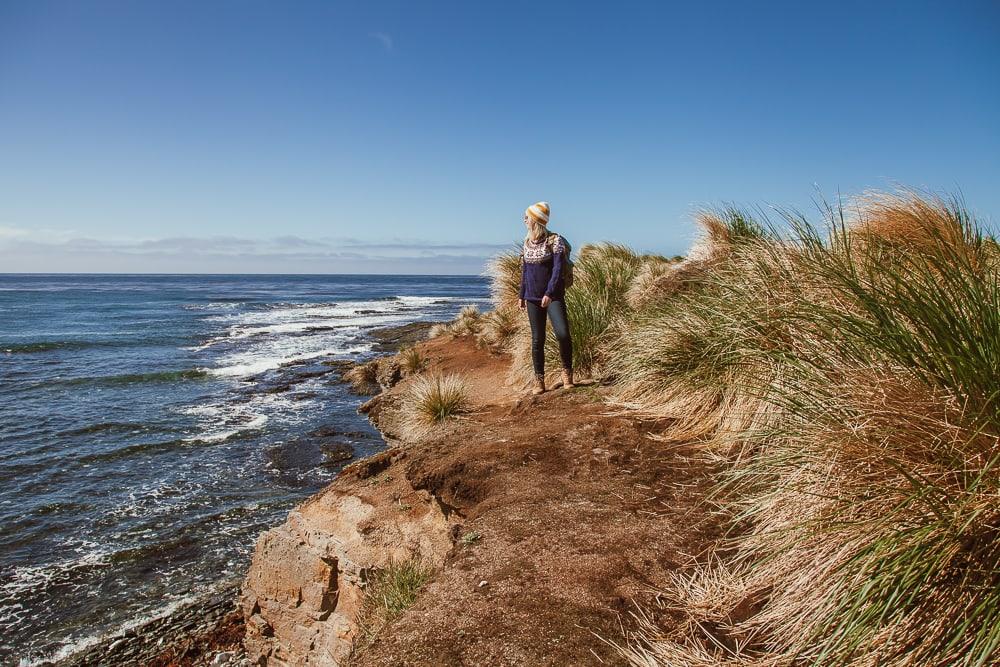 I visited the Falkland Islands as part of a paid collaboration with the Falkland Islands Tourist Board