People are always asking me where the best place to see the Northern Lights in Norway is, and the answer does depend a bit on what type of trip you want. I've seen the Northern Lights in many places in northern Norway, Sweden and Finland, and here are my top recommendations.
The best place to see the Northern Lights in Norway: Tromsø
I usually send most people to Tromsø, Norway to see the Northern Lights, as it's a big enough city to offer lots of Northern Lights tours and other activities, and it's far enough north to have very high aurora activity. I lived in Tromsø for two years and usually saw the Northern Lights several times a week in the winter.
But I do have some other excellent suggestions for places to see the Northern Lights that are sometimes even better than Tromsø!
By all rights Norway should be the best place to see the Northern Lights in Europe – I mean, it reaches the farthest north – and yet it has one huge downfall that has ruined many a Northern Lights chasing tour.
Sorry, Northern Norway, but your weather sucks.
So if you head to one of the popular places in Norway to see the Northern Lights like Tromsø, Bodø, Lofoten, or Alta, while there's a very high chance that the Northern Lights will be dancing above you every night you're there, there's an even higher chance that you're not going to see any of it through all those thick clouds. So dumb.
Okay wait, maybe you don't want to fully give up on Norway quite yet. While the weather in Norway is unpredictable, if you're willing to drive around or take a Northern Lights tour, then your chances of seeing the Northern Lights in Norway are really high, especially if you're staying for at least five days.
You see, Northern Norway is full of mountains, which means that the weather can vary a lot even over short distances. So your Northern Lights tour guide should be able to drive somewhere with clear skies. Northern Norway is also quite narrow, so it's also possible for your guide to drive all the way to Finland as well.
So what I always tell people is this: if you want to experience the most beautiful landscape and are willing to pay for Northern Lights tours (or are comfortable driving in the snow), definitely head to Northern Norway. You can find my top choices for where to visit here and the best Northern Lights hotels in Norway here.
The best place to see Northern Lights in Sweden: Abisko
Another excellent place to see the Northern Lights is actually in Sweden!
Abisko is a magical little village in the very north of Swedish Lapland, which is in the middle of nowhere so there's no light pollution, and it lies directly under the aurora oval, so there's pretty much always going to be at least some aurora activity there. The views here are nowhere near as beautiful as Norway, but your chances of seeing the Northern Lights even without a tour are excellent.
I've also written an in depth ebook covering all aspects of planning your northern lights trip, including the best places in the Nordics to see the northern lights, the best time to see the northern lights, my top northern lights accommodation choices, tour options, how to chase the northern lights (including which apps I use), how to photograph and film the northern lights, what to pack for your trip, and other exciting Arctic activities to try on your trip up North.
If you want to ensure you have the best northern lights trip possible, you can purchase the ebook here.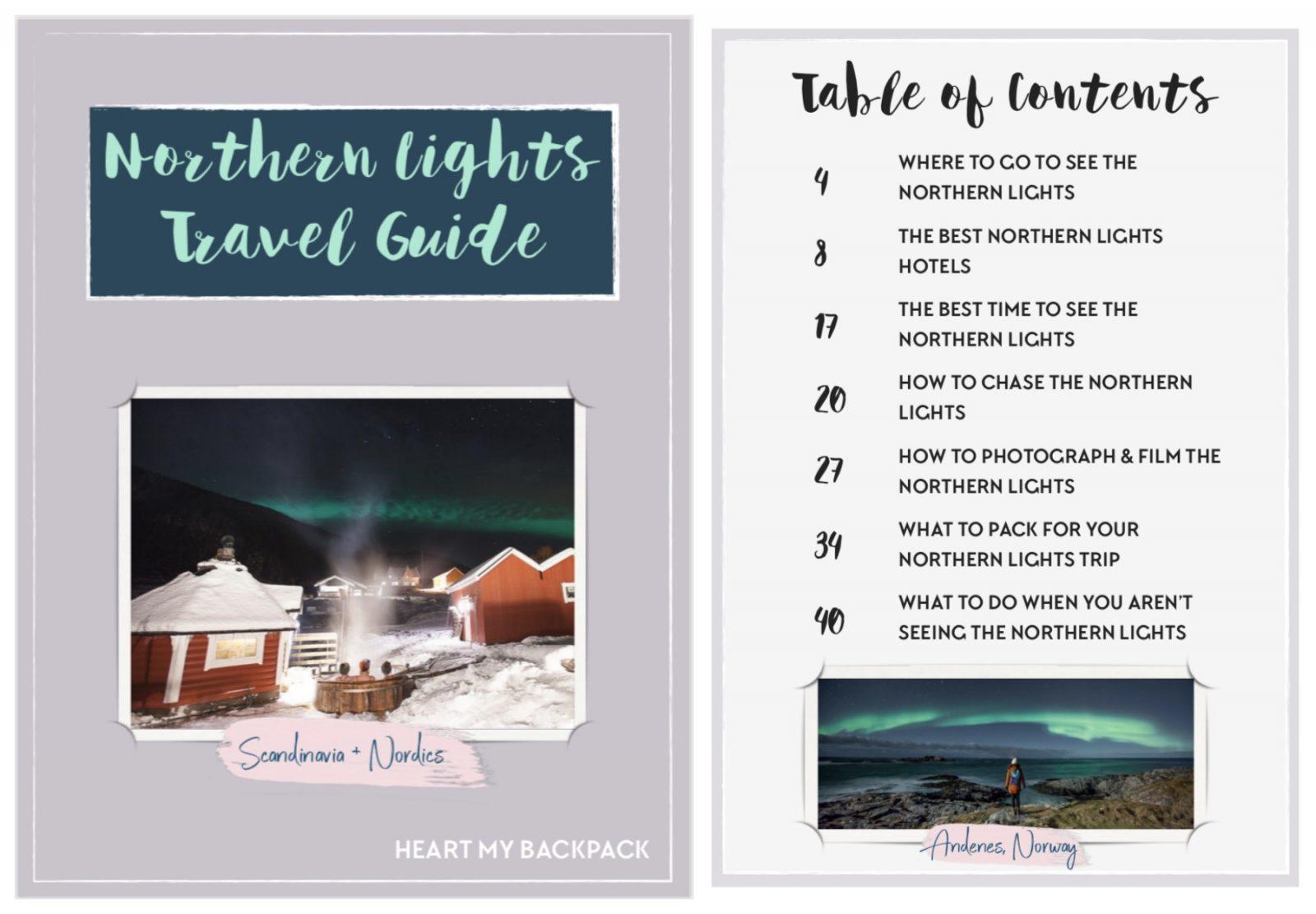 The surrounding mountains and lakes actually pull any clouds away so that it enjoys more clear nights than nearly anywhere else in the world under the aurora oval.
And if you really do have your heart set on Norway, Abisko is actually just a short train ride away from the Norwegian city of Narvik, and then from Narvik you can get a bus (like the Arctic Route bus) either to Lofoten or Tromsø. So it's totally possible to see the Northern Lights in Abisko and also experience some of Northern Norway!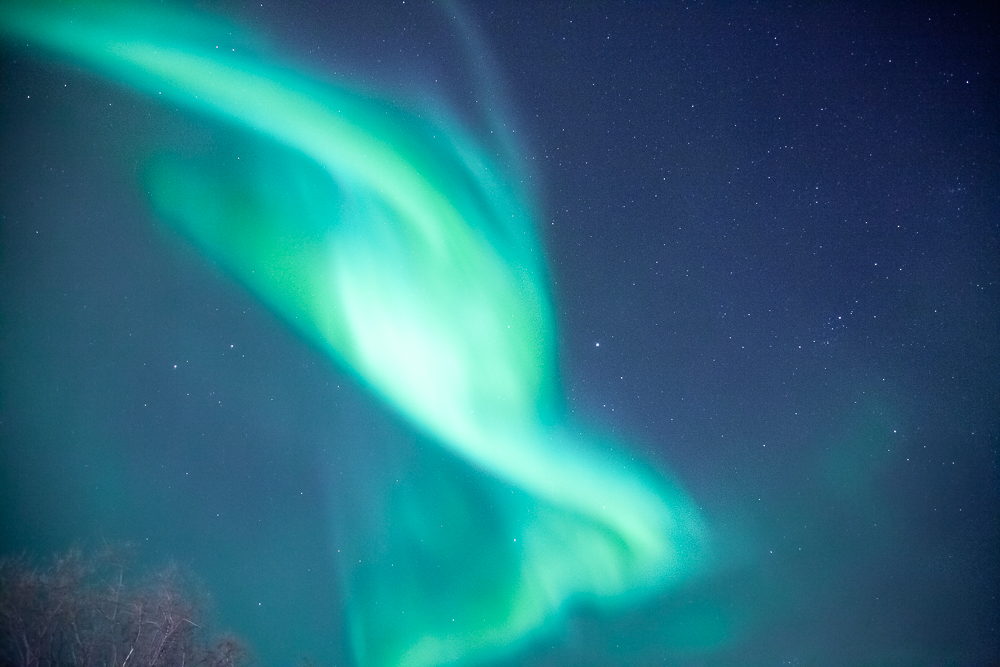 How do I know so much about Abisko? I'd love to pretend that I just nerdily did all this research myself, but actually I learned about Abisko through my friend Rachel who works in Abisko!
Rachel works for a Northern Lights tour company, where her partner is a photography tour guide and Rachel helps with admin work – meaning that she really does seem to know everything about Abisko and the Northern Lights, including impressive figures like how in the past four seasons 99% (400 out of 404) of the guests that joined one of their 4-day+ packages saw the Northern Lights on at least one of their nights in the Park.
So basically if you can set aside at least 4 days to spend in Abisko you're very nearly guaranteed to see the lights – especially if you have tour guides to help you chase them.
In fact there was cloudy and snowy weather forecast for every single night I was in Abisko, yet her partner's tours managed to see the lights every night thanks to the Blue Hole opening up.
Like, did you just read that? EVERYONE: get yourselves to Abisko!!
Another bit of insider knowledge I got from Rachel is that people are already booking their Northern Lights trips for next winter already in the spring.
I'm more of a last-minute planner so I was actually thinking of publishing this post next autumn, when I figured people would start thinking about making trips up to see the Northern Lights, but nope, you should probably start thinking about it now as tours and accommodation in Abisko can book out really quickly.
The aurora season in Abisko starts in early November and finishes in late March.
I've written up a guide to seeing the Northern Lights in Abisko on a budget, but if you do have the funds I would recommend booking a tour for every day you're in Abisko and staying at the Abisko Turiststation.
There are lots of other accommodation options in Abisko, but the STF was my personal favorite of the places I saw, and it's conveniently located at the foot of the Aurora Sky Station – a good viewing point for the aurora – as well as the start of other trails and hikes out to aurora viewpoints. Plus they serve delicious Swedish pancakes at their lunch buffet on Thursdays! Check current prices and availability here
And while you definitely don't need to be on a tour to see the Northern Lights, it does add an extra chance of seeing them because your tour guide will do everything possible to help you experience them, even if it means they have to drive you far out towards clearer skies. You can book a Northern Lights tour with Rachel's company here.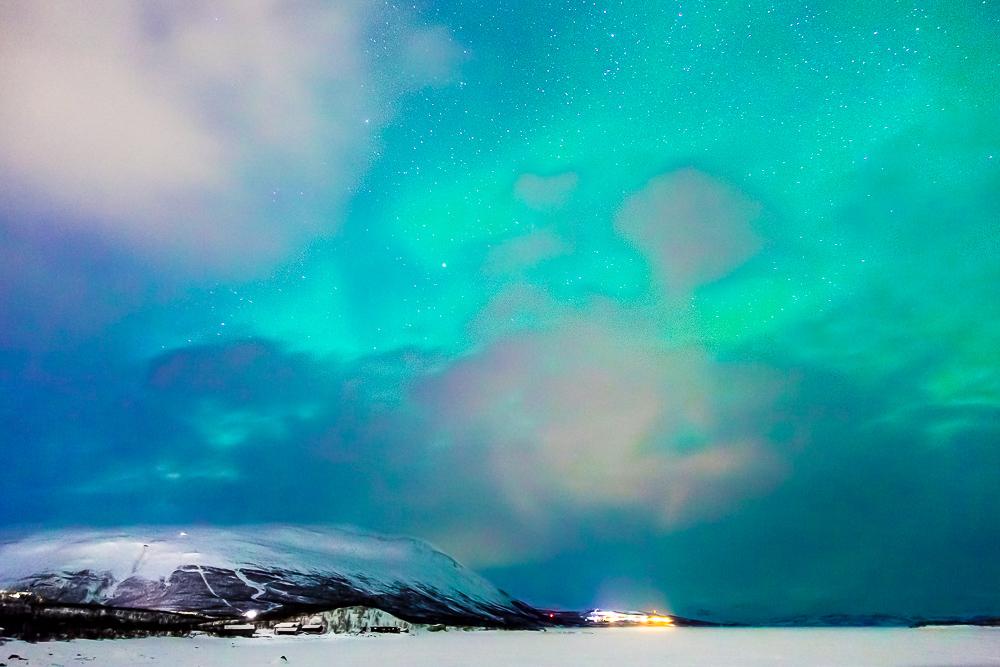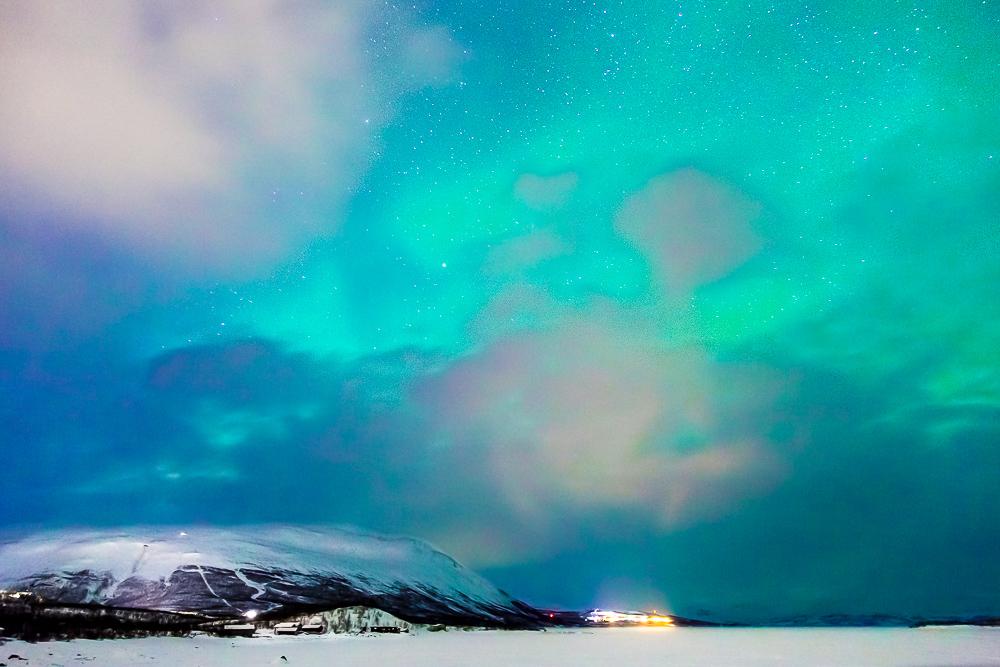 The tour is also just a really fun experience. Our guide walked us up to a tepee that he had set up on a mountainside and then anytime we wanted a rest from taking photos we could go into the tepee and warm up in front of the fire. Or if you're more adventurous, you could try this Northern Lights snowmobile tour!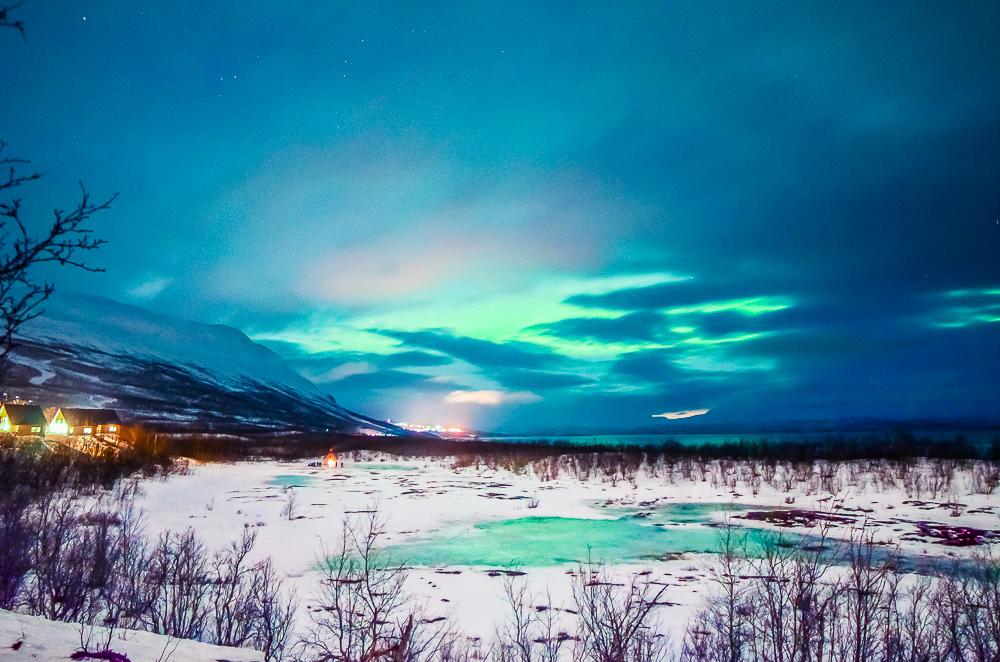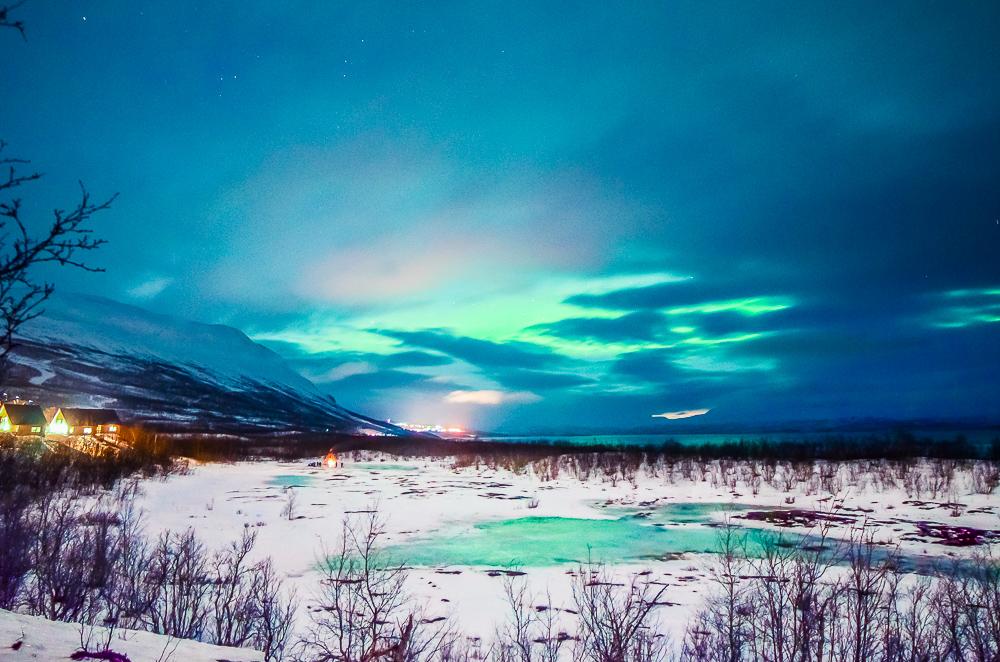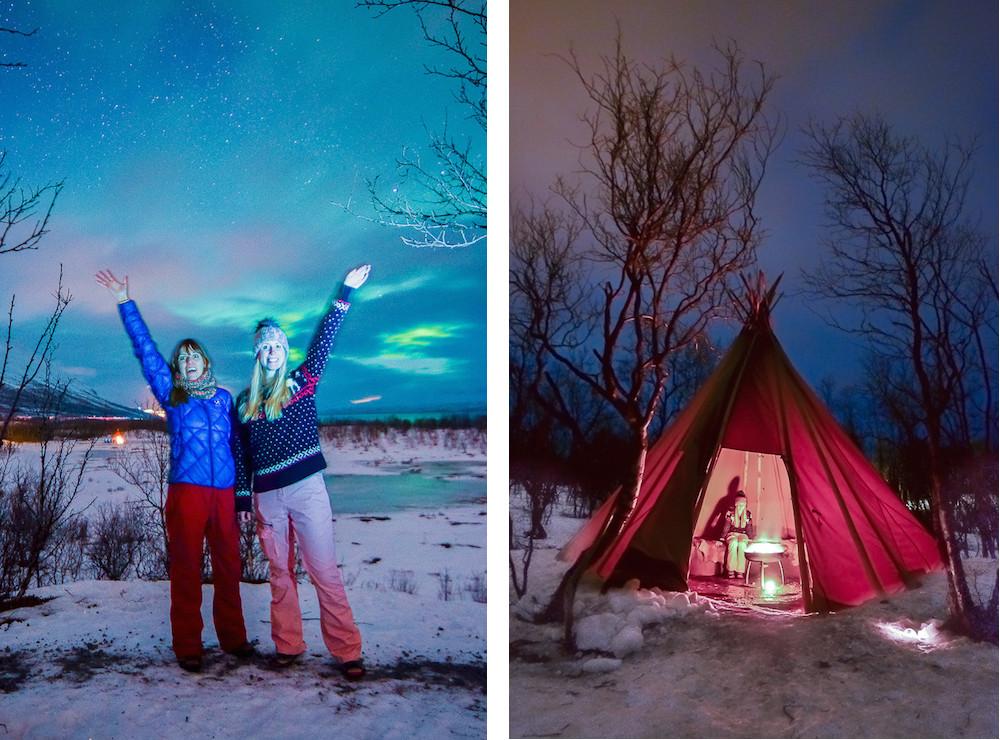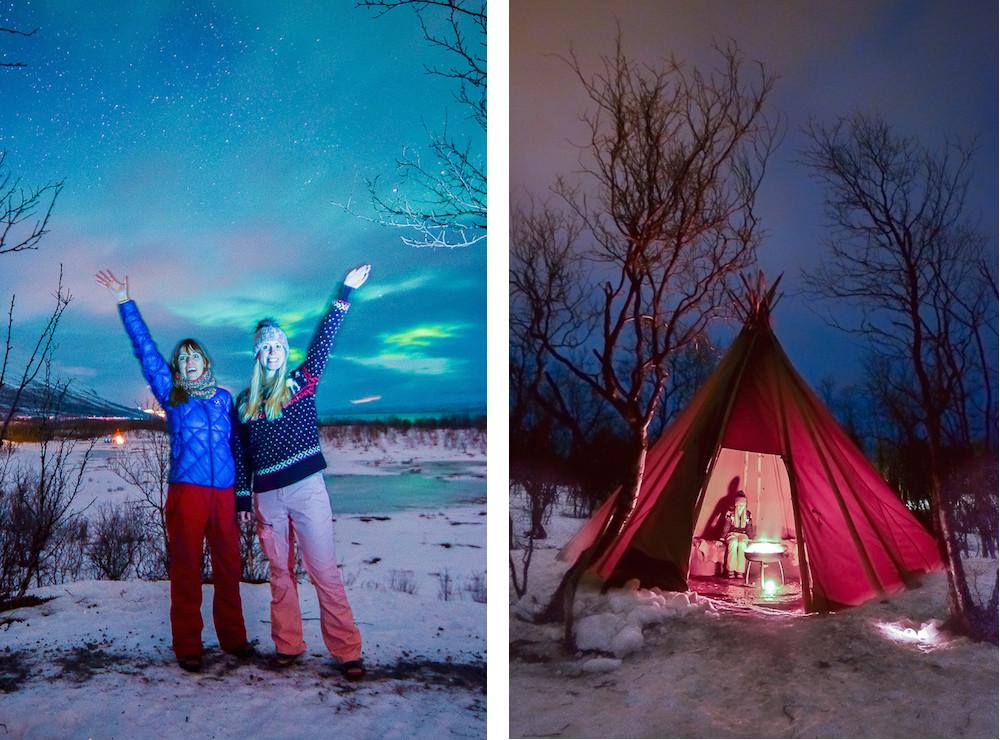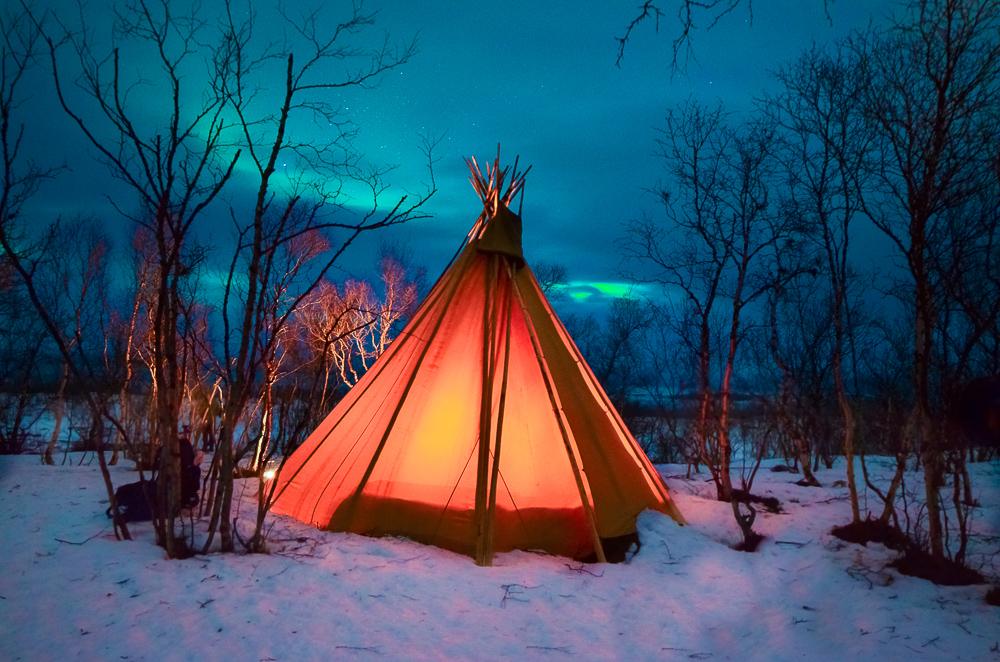 I spent the rest of my nights in Abisko in Rachel's camper or down at the nearby lake. When we were inside Rachel just made sure to always have the Lights over Lapland aurora webcam up on her computer – it updates every five minutes so we could see if we needed to go outside.
In fact, on one of my last nights in Abisko it had been snowing all day, so I was totally caught off guard when late at night Rachel starting yelling at me to grab my tripod and get outside. The Blue Hole of Abisko had opened once again, this time for an amazing show!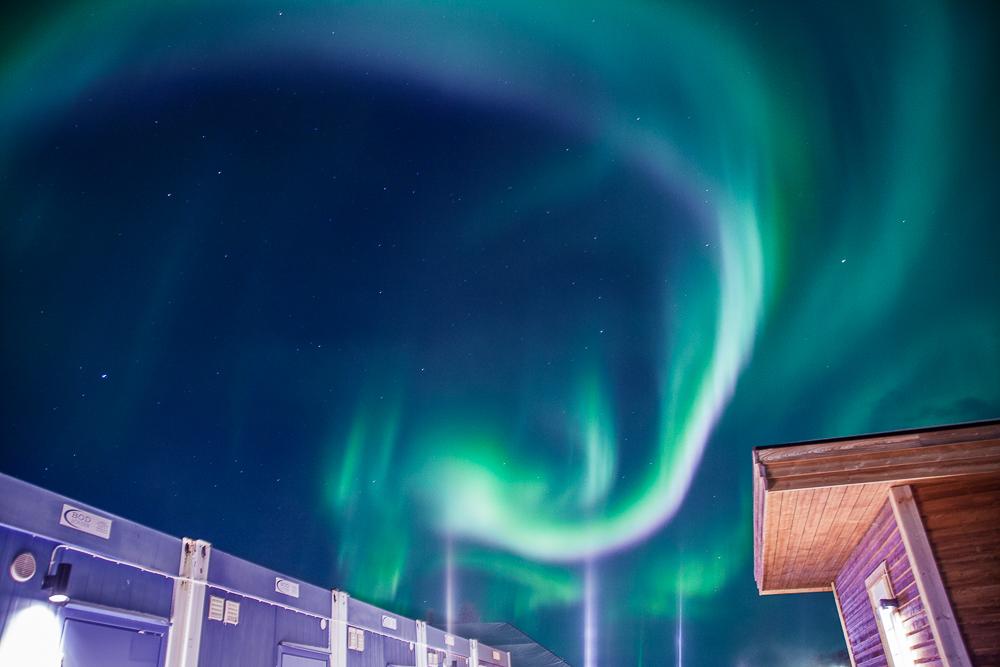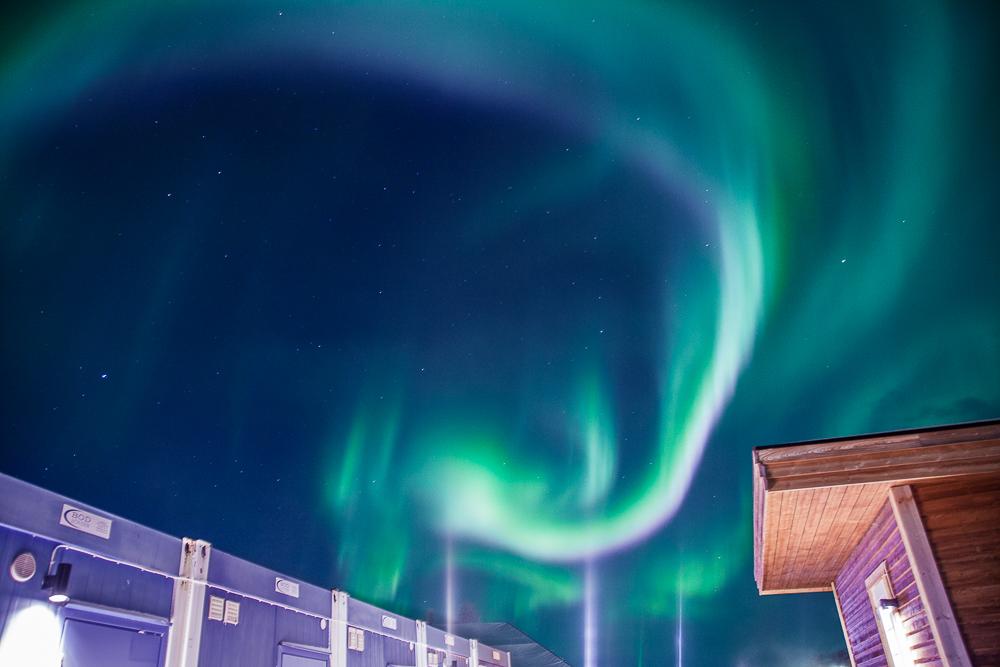 It only lasted for a few minutes, most of which Rachel and I spent laughing and falling over in the snow, so I didn't really get any good photos of it. Uh, plus we were in a truck depot, which isn't the most photogenic place. But it was amazing – and solid proof that the Blue Hole of Abisko really is a thing.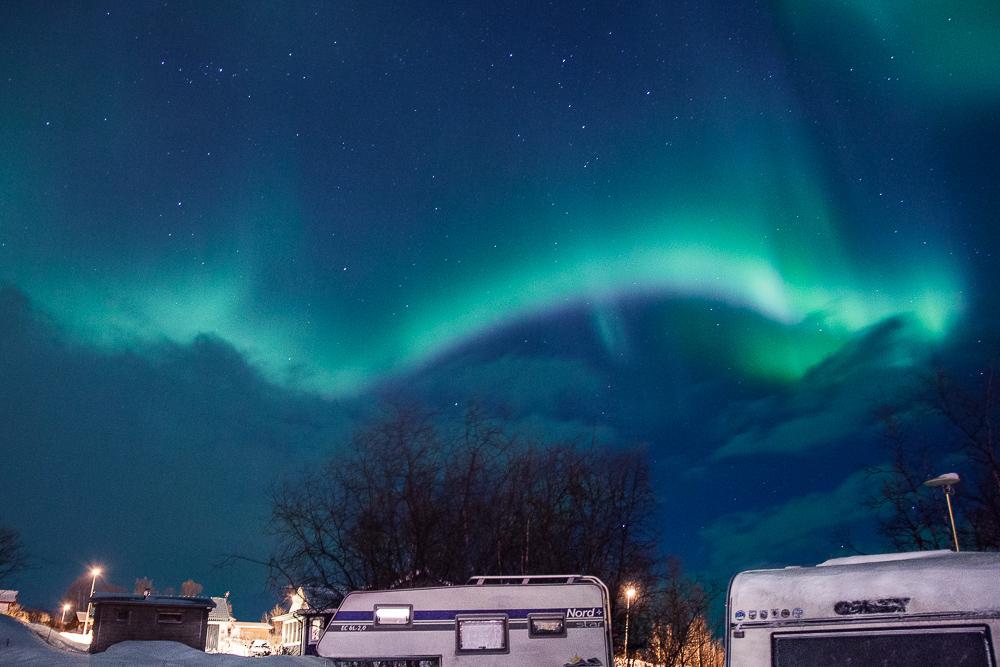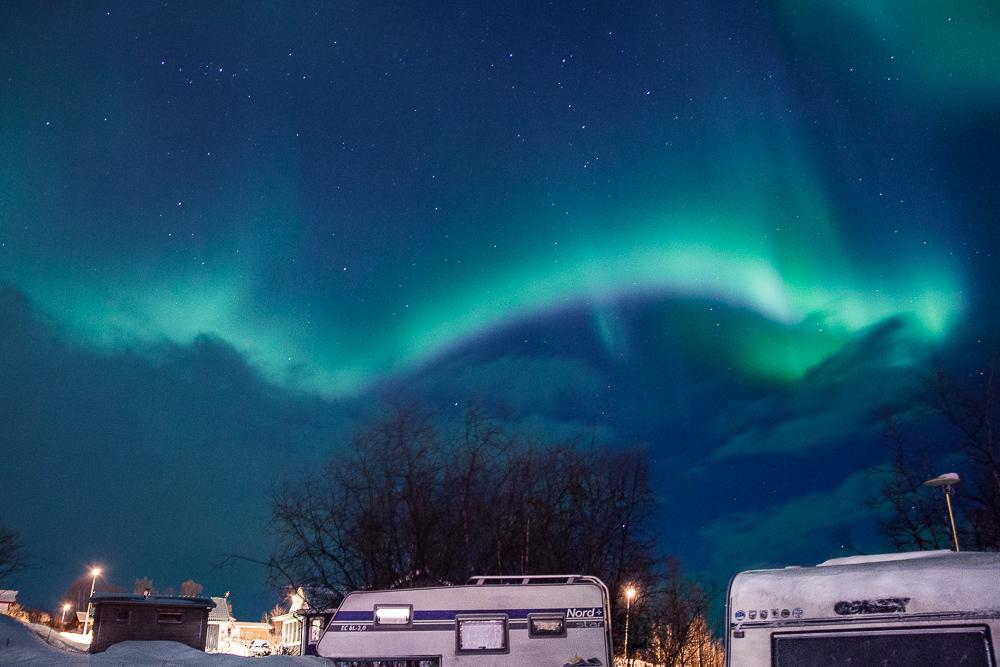 The best place to see the Northern Lights in Finland: Saariselka
Now we can't forget about Finland! Northern Finland has lots of popular Northern Lights resorts, but the best is definitely as far north as possible in Saariselka.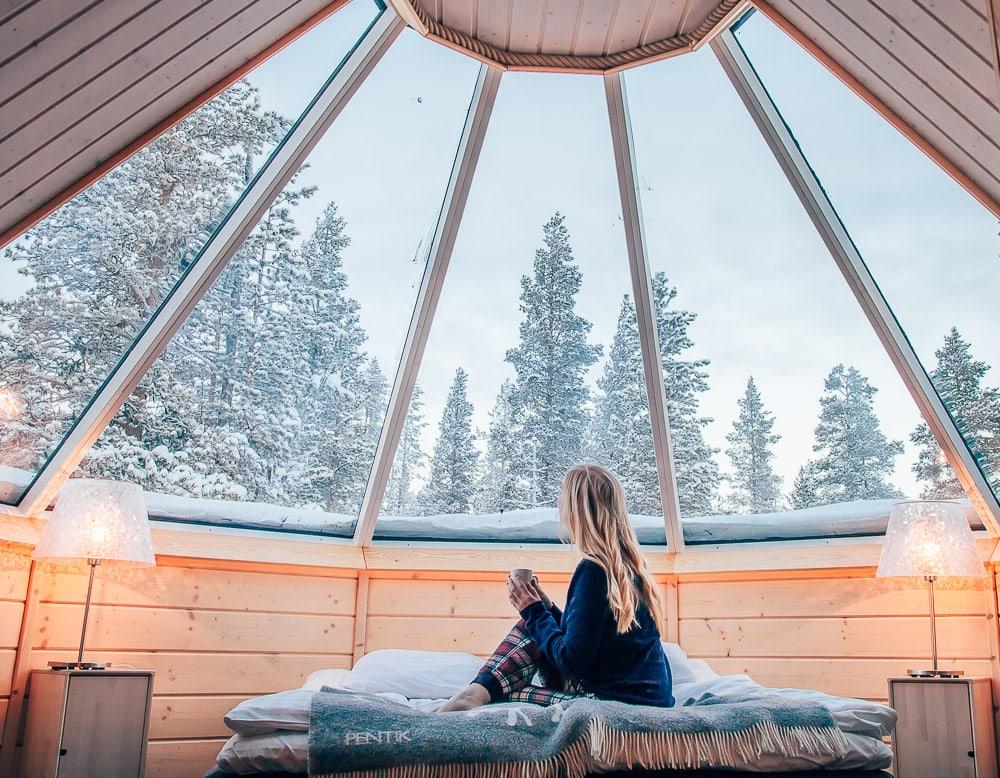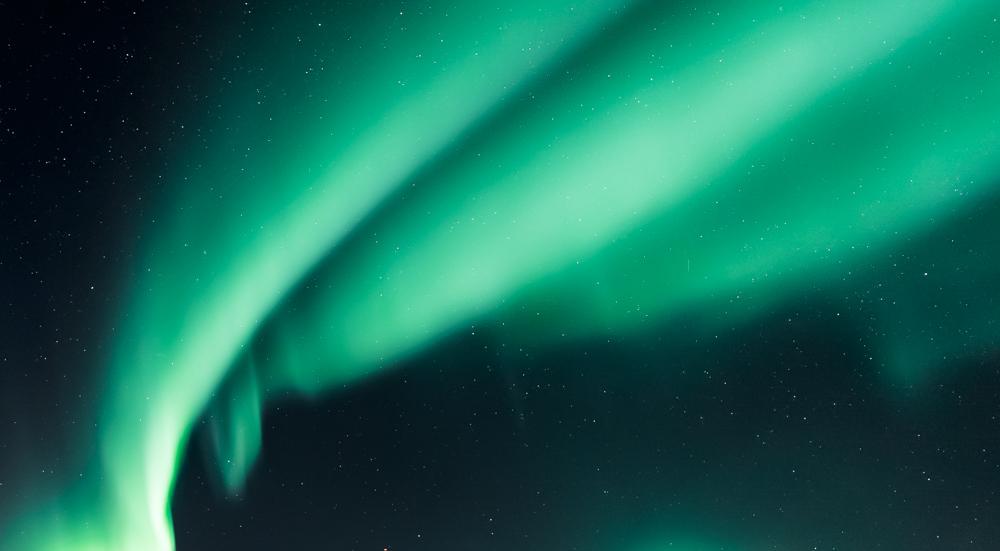 I've also stayed in Rovaniemi twice and loved it, but you'll have better chances of seeing the aurora in Saariselka, as it's much farther north.
The great thing about visiting Finland to see the Northern Lights is that Finland has lots of Northern Lights resorts with glass igloos and glass roof cabins. Standing outside all night waiting for the Northern Lights to appear is freezing business, so it's much nicer to do it from the comfort and warmth of your bed! I really wish Northern Norway had more glass roof accommodation options.
I stayed at the Northern Lights Village in a cabin with a glass roof, which is a splurge but so worth it! Plus they offer lots of fun activities during the day, so you'll have an amazing time here even if you don't see the Northern Lights.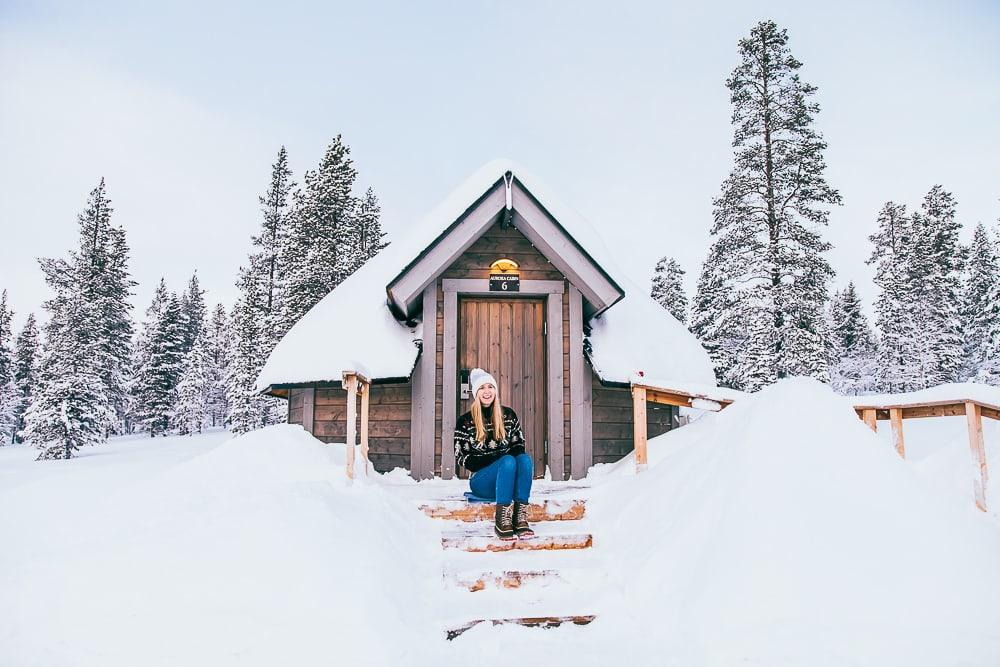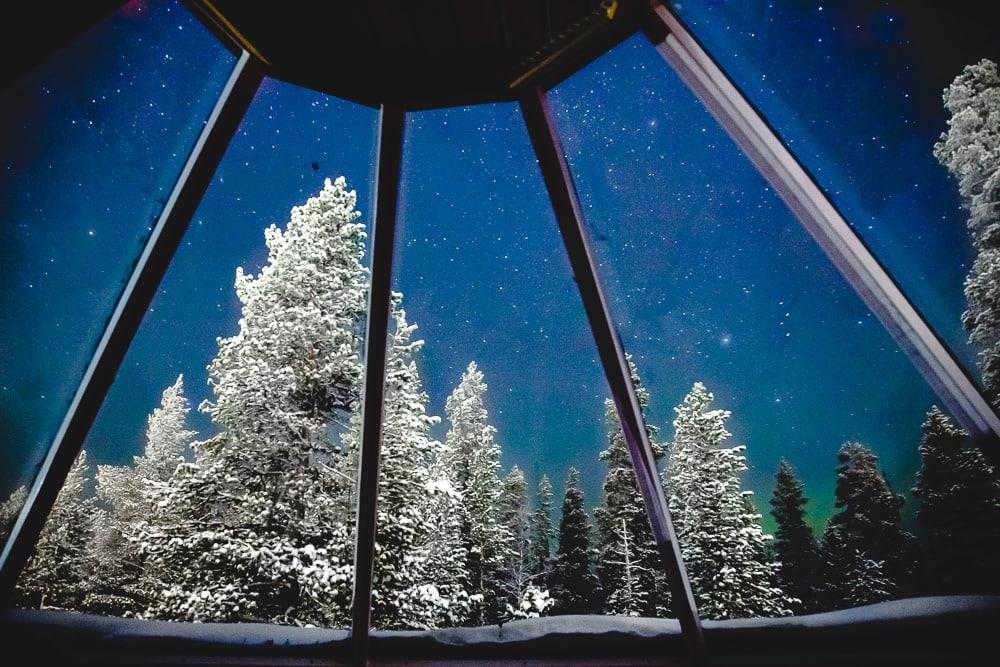 You can read about my experience at the Northern Lights Village here.