While I love living in Tromsø all year, I have to admit winter in Tromsø is particularly special. Of course the highlight for most people visiting Tromsø in winter is getting a chance to see the northern lights, but there are also so many other fun winter activities on offer here.
Winter is the best time to visit Tromsø if you want to go dog sledding, whale watching, reindeer sledding, polar swimming, skiing, snowshoeing and so much more. But there are also some important things to know before planning a winter trip to Tromsø. You can read my full guide for things to do in Tromsø in any season here, including where to eat, where to go out, and where to stay in Tromsø.
Quick Tromsø Travel Guide
Tromsø Accommodation: Thon Hotel Polar and Thon Hotel Tromsø across the street are both excellent options right in the city center, and the breakfast buffet is incredible. The fanciest hotel in town is the Clarion Hotel The Edge, which is right on the water and home to Tromsø's only skybar. Or you can read my full guide to the best Tromsø hotels here.
Tromsø Activities Hostel is a great option if you're on a tight budget. And if you want your own apartment, this glass roof loft near the center looks incredible. I don't recommend booking an Airbnb in Tromsø.
Top Tromsø Activities:
Tromsø car rental: Tromsø is surrounded by incredible nature, but public transport is sparse so I recommend renting a car, if you can. I like Sixt for Tromsø car rentals, or you can compare prices at autoeurope.com.
Packing for Tromsø: You can find my winter packing guide for Norway here. In general I would say focus on practical outdoors clothing – people dress very casually here, even when going out at night.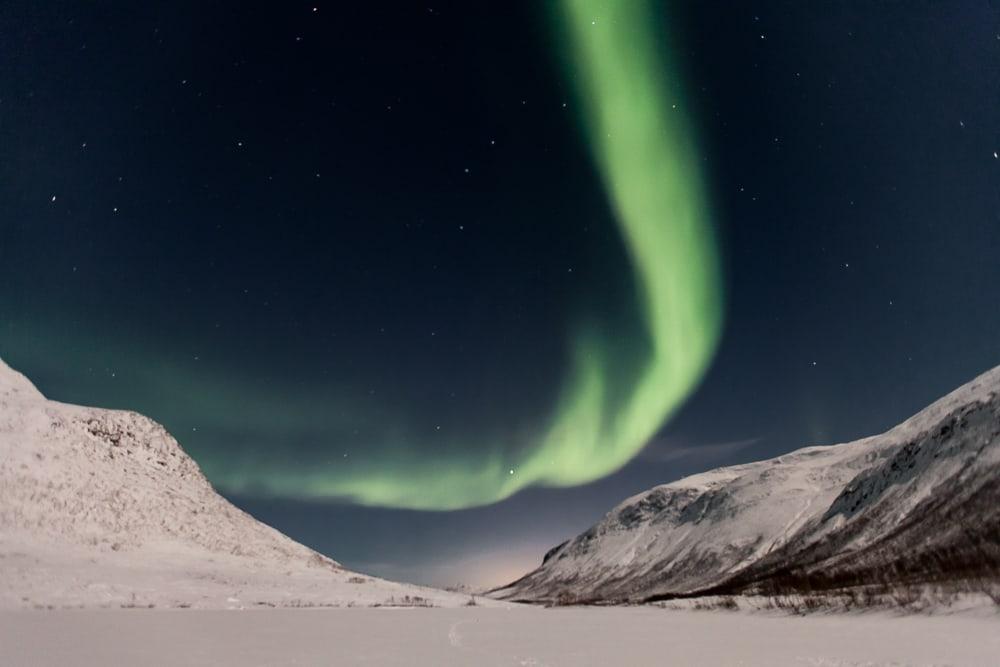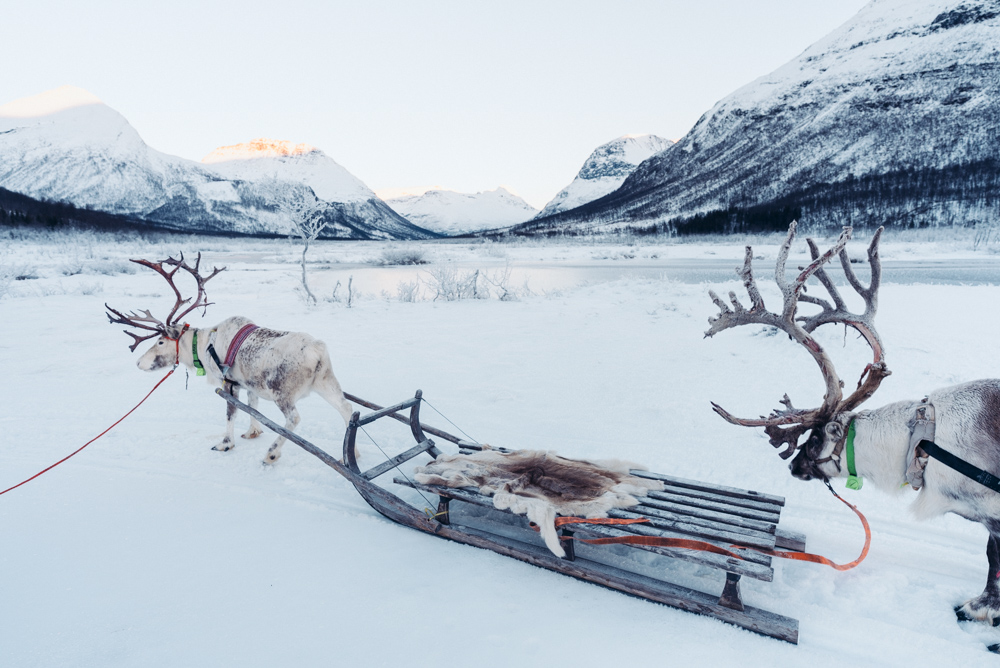 How cold does it get in Tromsø in winter?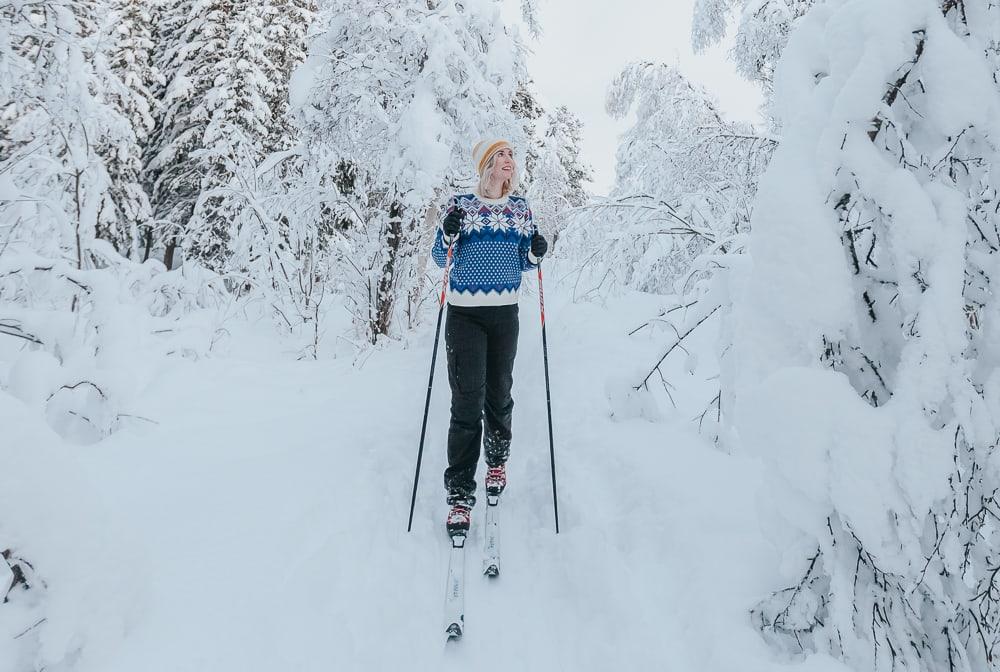 If you're nervous about visiting the Arctic in the winter, you might be surprised by how mild the Tromsø winter temperatures can be. Thanks to the Gulf Stream, temperatures in Tromsø often sit around 0° C (32° F) in the winter, and rarely dip below -10° C (14° F). The coldest month in Tromsø is January, with average temperatures of -3° C (27° F).
But one thing to keep in mind is that most northern lights tours will take you inland, where there's a higher chance of clear skies, but where the temperatures can be much, much colder. So while the temperature might be around zero in Tromsø, if you drive a couple hours inland temperatures could drop to -25° C (-13° F).
This is one of the reasons I recommend chasing the northern lights with a tour that provides warm snowsuits and boots. But if you'll be chasing the northern lights on your own, be sure to pack very warm clothing, and consider bringing a wool blanket or mat to stand on outside in the snow so your feet don't freeze.
As long as you pack the right clothing, you should be perfectly comfortable here in winter. I've written up a guide for what to pack for winter in Norway here.
How dark is Tromsø in winter?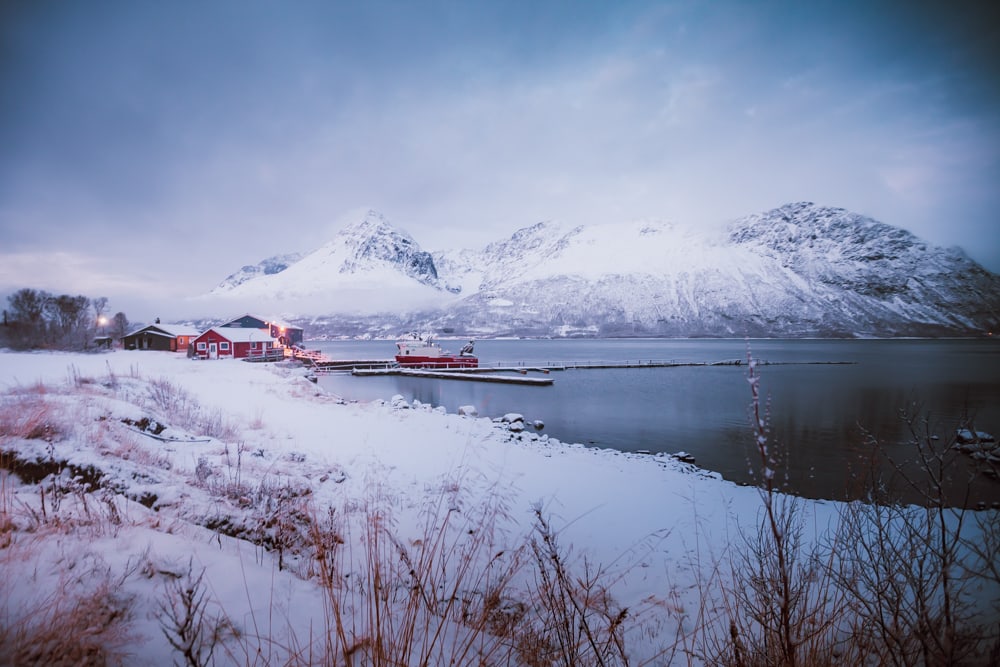 As Tromsø lies far above the Arctic Circle, the city does experience polar night in the winter. This means that from the 27th of November to the 15th of January, the sun does not rise in Tromsø.
But this doesn't mean that it's pitch black out all day! The sun still approaches the horizon, even if it doesn't actually rise above it, which means that we still get several hours of beautiful blue light (like twilight) even in December, the darkest month of the year. And in November and January we also get gorgeous pink light, as the sun gets even closer to the horizon. It's basically like an extended sunrise/sunset.
This means that you will still have several hours each day to see the city in the light, which is great for skiing, exploring Tromsø's beautiful landscape, and other outdoor activities like whale watching, husky sledding, and reindeer experiences.
Things to do in Tromsø in winter
Seeing the northern lights in Tromsø
I've written more about how to see the northern lights in Tromsø here, but essentially you'll have the best chances of seeing the northern lights if you sign up for a tour that can chase clear skies – sometimes as far as Finland. The guides on these tours understand how the landscape affects weather patterns and they're in contact with other guides in the region so they can best find clear skies. In addition, tours provide warm clothing and often photos of you under the northern lights.
This seven hour tour has excellent reviews, and this minibus tour also looks perfect. Or if you're looking for something a bit different, this northern lights sailing excursion looks really fun.
And if your heart is truly set on seeing the northern lights, I've put together a complete ebook guide covering everything you need to know to plan an epic northern lights trip. You can read more and purchase the ebook here.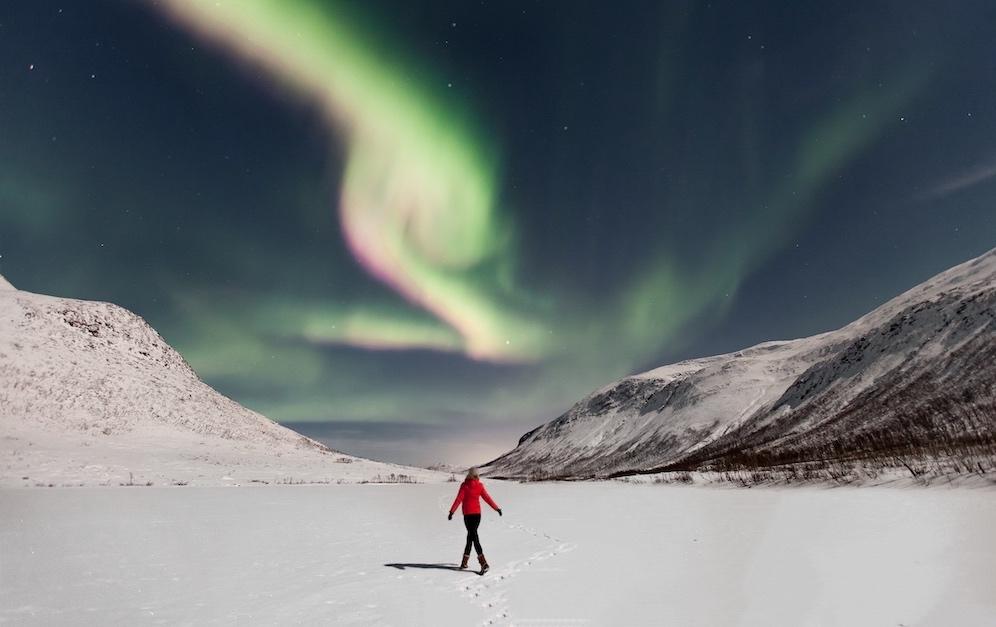 Whale watching in Tromsø
From roughly November through January, you can see humpback whales and killer whales, or orcas, near Tromsø. The time they arrive does vary each year, as well as where you can see them. This winter they are off the coast of Skjervøy, which is a few hours by boat or minivan from Tromsø. There are several Tromsø whale safari companies that take you to see the whales, wherever they may be (though of course whale sightings cannot be guaranteed).
I've been on many whale tours, seeing humpback, sperm, and killer whales. If you're wondering if whale safaris are ethical, rest assured that these tours follow guidelines to ensure the wellbeing of the whales. Only a few boats are allowed out by a pod at a time, and they have to keep a set distance from them.
If you want to get up close to the whales, then you can take a tour on a RIB, which is a small inflatable boat that will float alongside the whales. If the whales are feeling friendly they often approach the RIB, and if not they will keep their distance.
Riding on the RIB is my favorite way of seeing the whales, but keep in mind that it can get incredibly cold. You'll be provided with heavy duty floatation suits to keep warm, but it's still a chilly experience, so if you want to stay warm and toasty I would opt for a regular boat tour instead.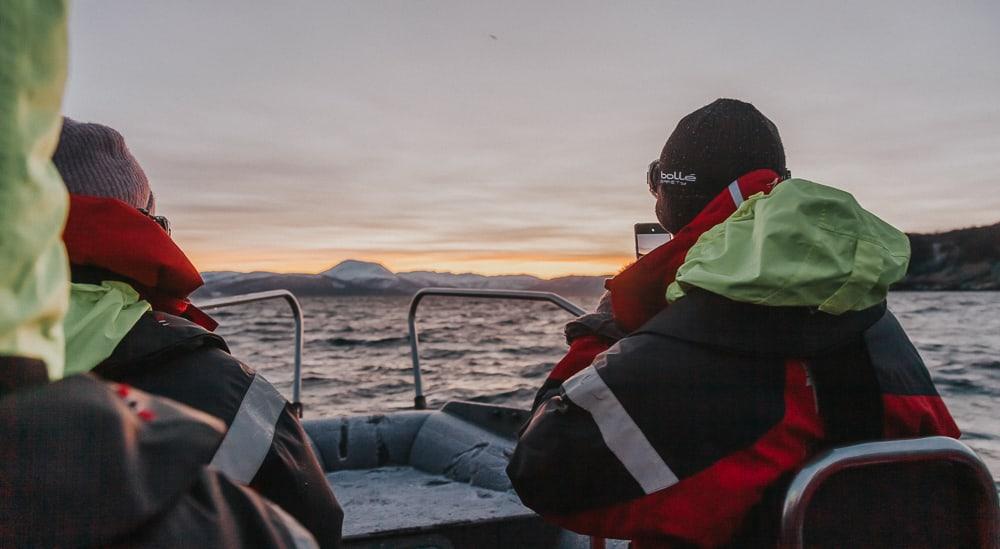 Remember that the sun doesn't rise in Tromsø from the end of November until the end of January, so you'll likely be watching the whales in the beautiful blue light that we get here during the daytime during polar night (like twilight). This is actually ideal light for whale watching, as the colors are gorgeous.
If you want to stay on a warm boat the entire time, this silent whale watching tour on an electric boat is perfect, and lasts around eight hours (depending on where the whales are) for optimal whale sighting chances. My friend Katie is a marine biologist and just took this tour through Manawa and loved it.
And if you're feeling adventurous and want to see the whales up close, this boat/RIB whale watching tour takes you to the whales on a boat but then you switch to a RIB when you're near the whales. This tour is run by Green Gold of Norway, who have a reputation as the most ethical whale tour company in Tromsø, as they are very respectful of the whales and cooperate directly with the whale researchers in the area.
Or if you want a full Arctic experience, this overnight whale lavvo trip includes a drive to Skjervøy, RIB tour to see the whales, and then an overnight stay in a glass roof lavvo where you can watch the northern lights.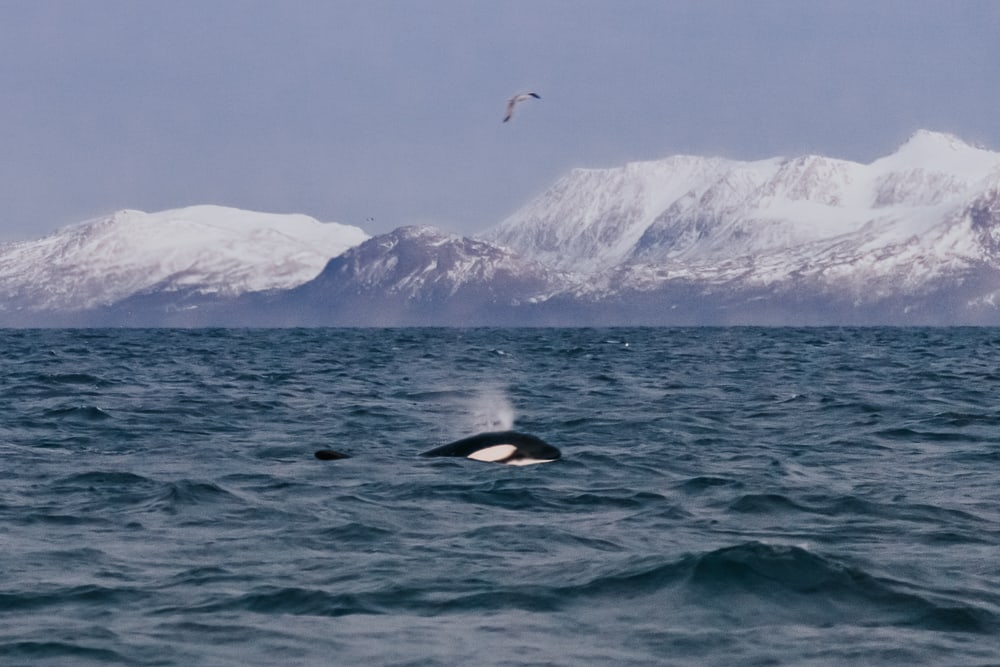 Dog sledding in Tromsø
I love husky sledding. I've gone on Senja, in Helgeland (twice), in Sweden, and on Svalbard, all of which were such fun experiences. And don't worry, the huskies absolutely love it. These huskies are bred to pull sleds and are much happier running out in the cold than huskies that are kept as pets in warm climates.
For best chances of snow I would do this in January, February, or March, but sometimes there will be enough snow on the ground in November and December for husky sledding.
Usually you'll be in pairs for this, with one person driving and one seated on the sled, though when I've traveled alone I've always been given a sled for myself. The guides will teach you everything you need to know to drive the sleds – it's definitely a workout (especially if you have to run uphill in the snow a bit) but not difficult. I tend to spend the entire husky tour laughing because it's so much fun.
There are lots of different husky sledding tours offered from Tromsø which you can find here, but I recommend going with the Tromsø Wilderness Center. I know several people who have adopted retired huskies from the Wilderness Center and they offer really great care to the dogs when they aren't working.
This husky excursion is perfect for beginners. Or if you aren't interested in sledding but would like to meet the huskies, along with a chance to see the northern lights, you could take this evening husky northern lights tour.
Or you could go all out with this incredible overnight northern lights glamping and dog sledding adventure.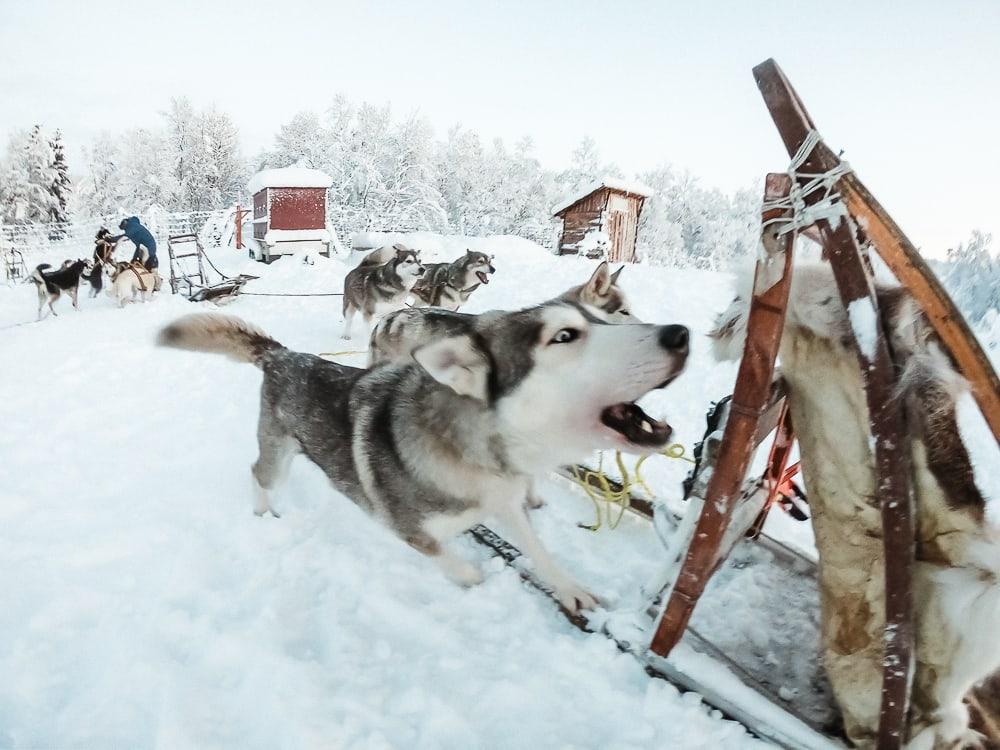 Reindeer
One of the fun things about living in Tromsø is that there are a lot of reindeer here! In fact when I drive to the neighboring island of Kvaløya I'll often see reindeer roaming the streets.
Of course the best way to see some reindeer is to visit a reindeer camp. This reindeer excursion takes you just 30 minutes from the Tromsø center to feed reindeer, learn about Sami culture, and even take a short reindeer sleigh ride.
But my top recommendation would be this reindeer tour, which takes you out to the gorgeous Lyngen Alps. It's about a 90 minute ride in a minivan, but this is one of the most beautiful areas outside of Tromsø. I've done this tour and it was definitely worth the drive out to this Sami camp. Plus, Camp Tamok is farther inland so you're more likely to have snow here. I visited in mid November when there was no snow in Tromsø, but plenty of snow here! They also offer an evening reindeer sleigh ride where you'll have the chance to see the northern lights. Read more about my experience reindeer sledding here.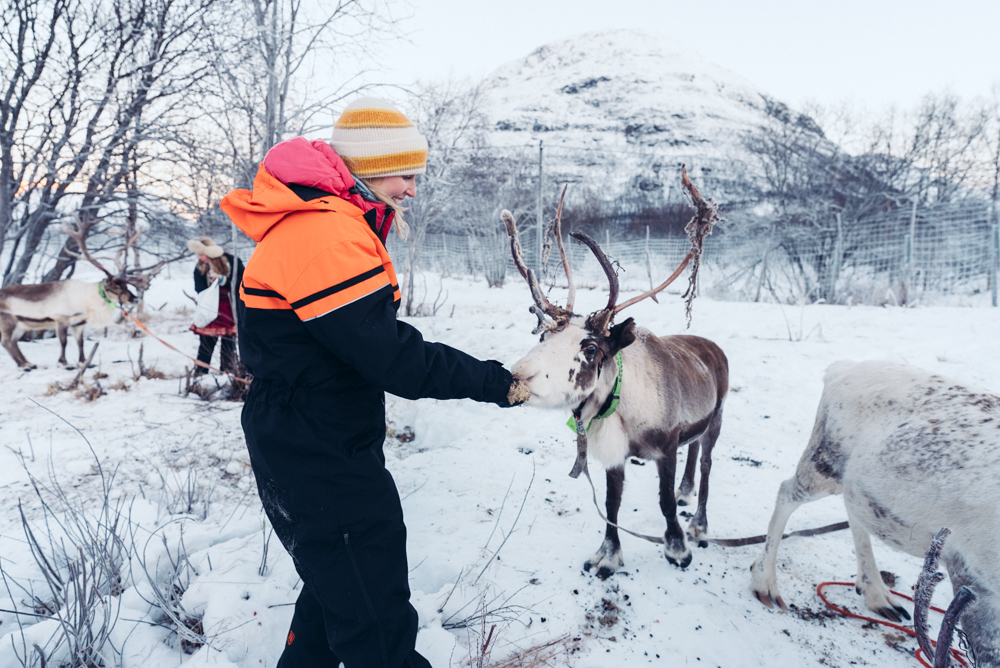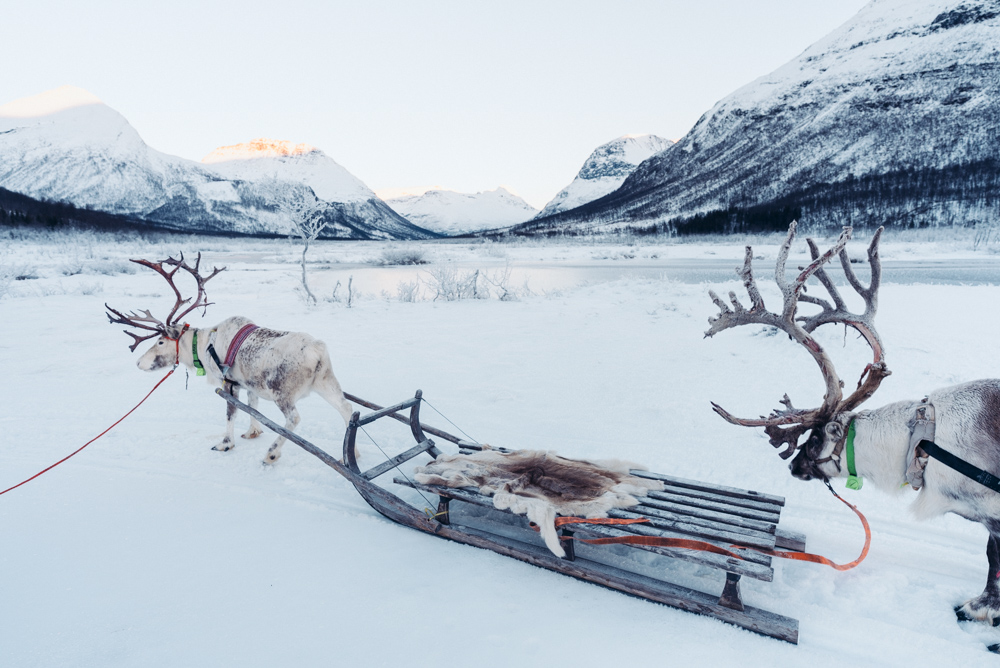 Cross-country skiing
It's true that cross-country skiing is Norway's national past time. It's incredibly popular in Tromsø, and there are some easy trails for you to try it yourself, even as a beginner.
You can rent cross-country skis at Tromsø Outdoor right downtown (I believe rentals are 340 kroner for adults), but if you've never been on cross-country skis before you might prefer to go with a guide instead. This guided cross-country skiing Tromsø tour includes all the equipment, a ski lesson, hot drinks, and lunch.
Alpine skiing
If you want to go downhill skiing near Tromsø, Tromsø Alpinpark is a short bus ride from the city center and offers equipment rentals.
Ski touring
The Tromsø region has become quit famous for its incredible ski touring opportunities. This is a great place for beginners – I went ski touring for the first time last year and loved it – as well as experts.
But be sure to follow all the safety guidelines and avalanche reports before heading out. Last year we had several deaths and serious accidents from skiers caught in avalanches, and locals have struggled with tourists heading up into the mountains against safety advisories. If in doubt, contact Tromsø Ski Guides and hire a guide.
Snowshoeing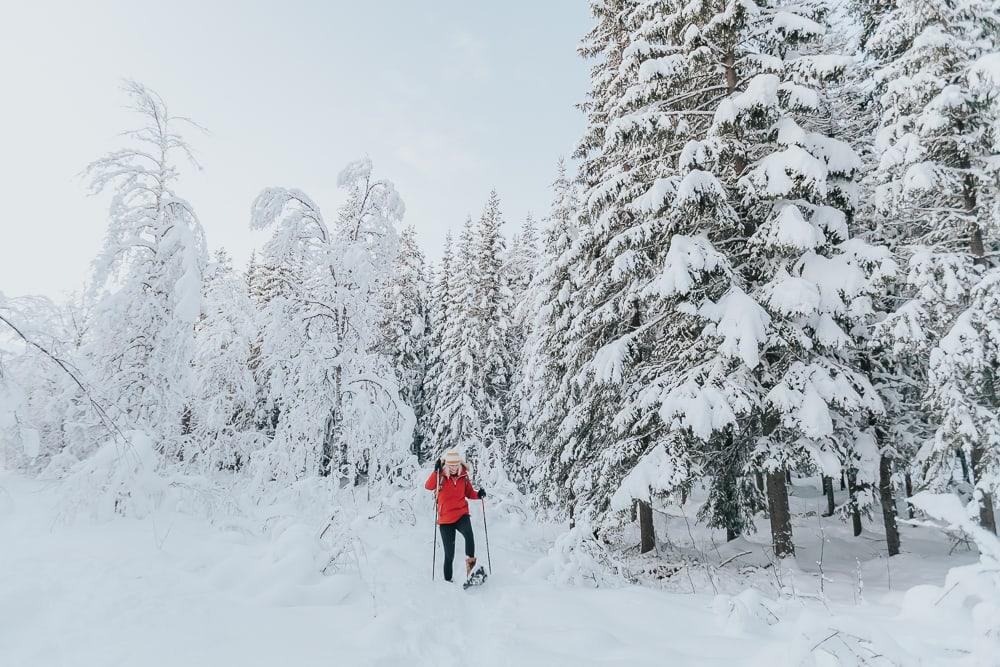 Norwegians are all about skis, but I actually think snowshoes are really underrated! I miss hiking so much here during the winter, but on snowshoes you can still experience a bit of hiking, and I love the slow pace of snowshoeing – it's very peaceful. You can also rent snowshoes at Tromsø Outdoor downtown.
There are also several different snowshoeing tours on offer in Tromsø, which you can find here.
Ice skating
If you come at the right time, when it's cold enough for the lakes to freeze but not too snowy, then you'll find most of Tromsø out iceskating on the weekends. You can rent ice skates downtown and join in the fun!
Snowmobiling
Snowmobiling is incredibly popular here, and it's certainly a lot of fun. If you want to experience snowmobiling for yourself there are a bunch of snowmobile tours offered out of Tromsø here.
Fjellheisen
The one thing I tell everyone to do when visiting Tromsø is to take the Fjellheisen cable car, which offers great views of the city. Plus lots of hiking trails start here, or you could take the cable car up and then hike back down. There's also an indoor cafe at the top with great views.
I actually first went up here during polar night when it was totally dark and I thought it would be really boring, but the city lights were beautiful. And then if you're lucky the northern lights might make an appearance.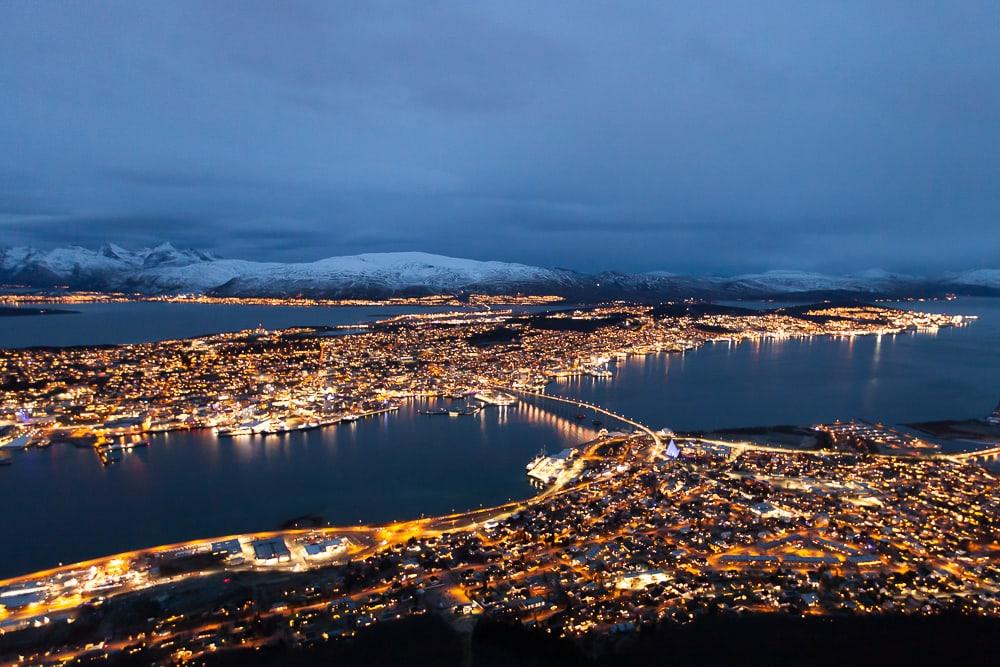 Tromsø sauna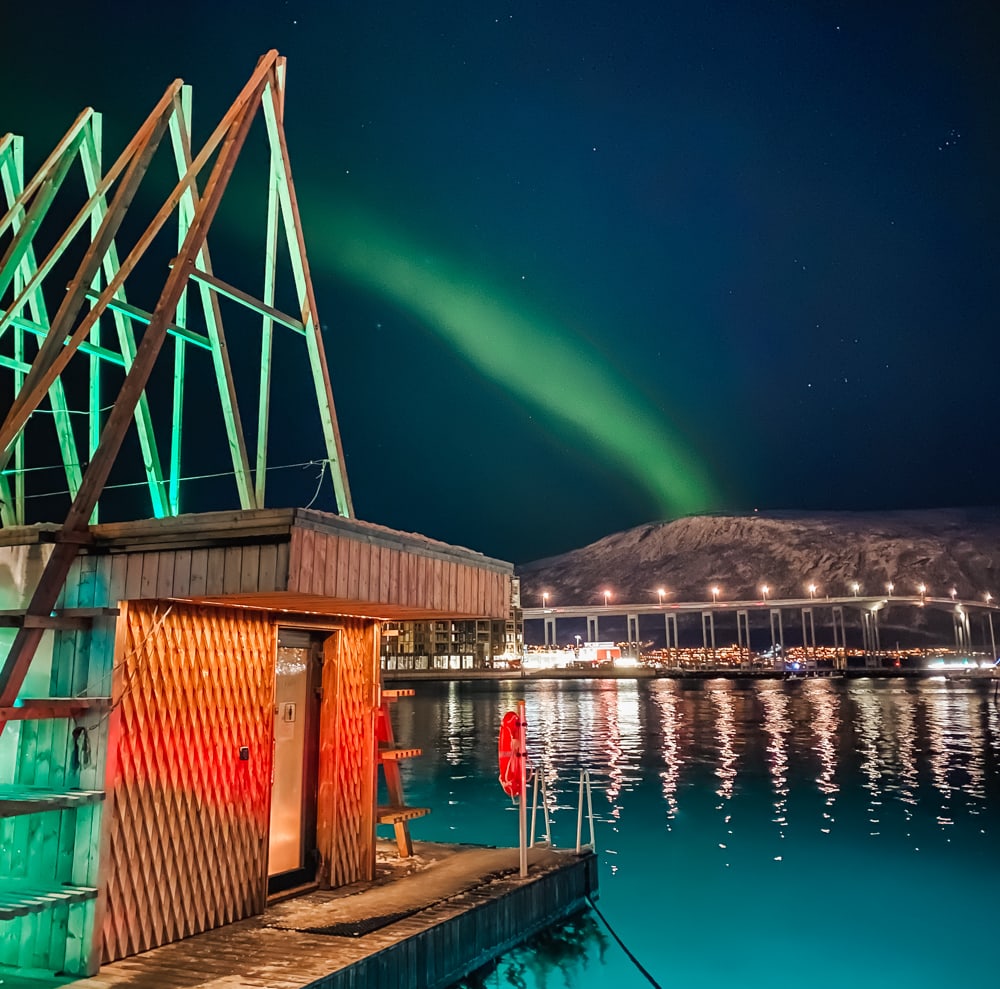 Probably my second top recommendation for everyone visiting Tromsø is to try one of our saunas.
Pust is my favorite sauna in Tromsø. The sauna is in a wooden structure floating on the harbor with a beautiful view of the Arctic Cathedral, and since it's right on the water you can easily run out for a few dips in the sea (it may sound awful, but I promise you will feel incredible afterwards!). You can book a time slot at Pust here. I don't know if it's a glitch, but I noticed that you can only book a drop-in hour if you're on the Norwegian version of the site.
Or if you want a fancier sauna experience, the Vulkana spa boat has a sauna and hot tub on board. It's only available for group bookings so this solo traveler hasn't tried it, but it looks fun!
A cheaper option if you aren't traveling in a big group is this fjord cruise with a sauna/jacuzzi on board – it looks like only some of their boats have the sauna and jacuzzi, so I'd check with them when booking to make sure you get the right boat.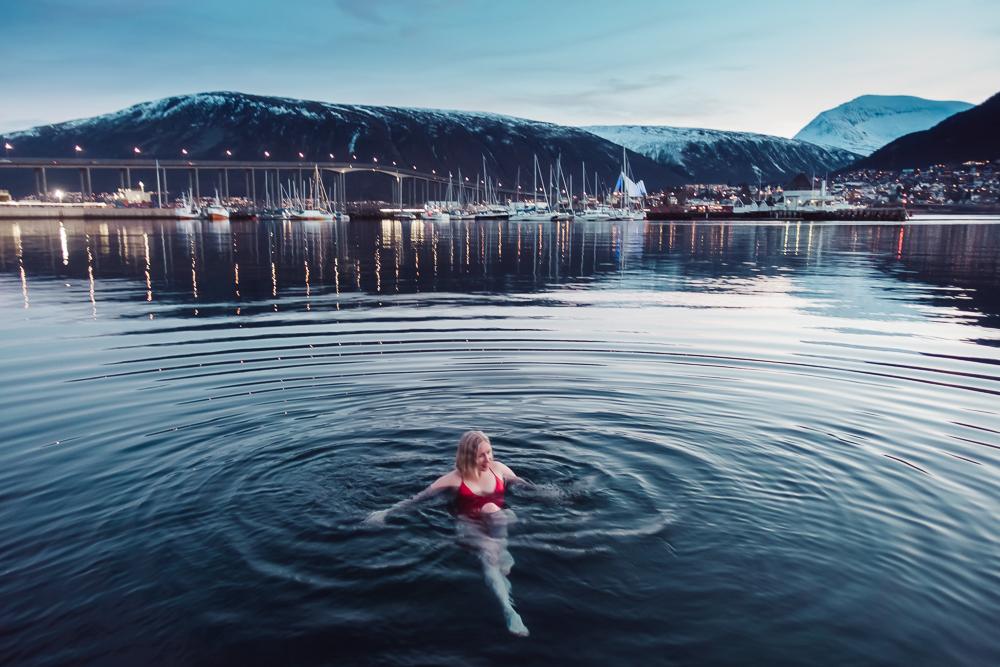 Tromsø fjord cruises
One of the best things about Tromsø is the gorgeous surrounding landscape, and what better way to experience it than by boat? There are tons of fjord cruises on offer here, like this fjord cruise with a sauna/jacuzzi on board, this Arctic sailing safari, or this Northern Lights luxury catamaran trip (in winter).
The Arctic Cathedral
Tromsø's Arctic Cathedral was opened in 1965 and is probably Tromsø's most famous landmark now. It's actually in Tromsdalen on the mainland, so you'll have to cross over the bridge from downtown Tromsø to go and see it. The view from the bridge is beautiful, but actually I don't think you need to go all the way to the church if you don't want to, unless you want to attend one of the many concerts held there. Personally I find the Arctic Cathedral most impressive from afar.
Tromsø museums
I'm not a big fan of museums, but my mother is and she's visited just about every museum in Tromsø, and her top recommendations are Perspektivet, the Polar Museum and the Nordnorsk Kunstmuseum.
Downtown Tromsø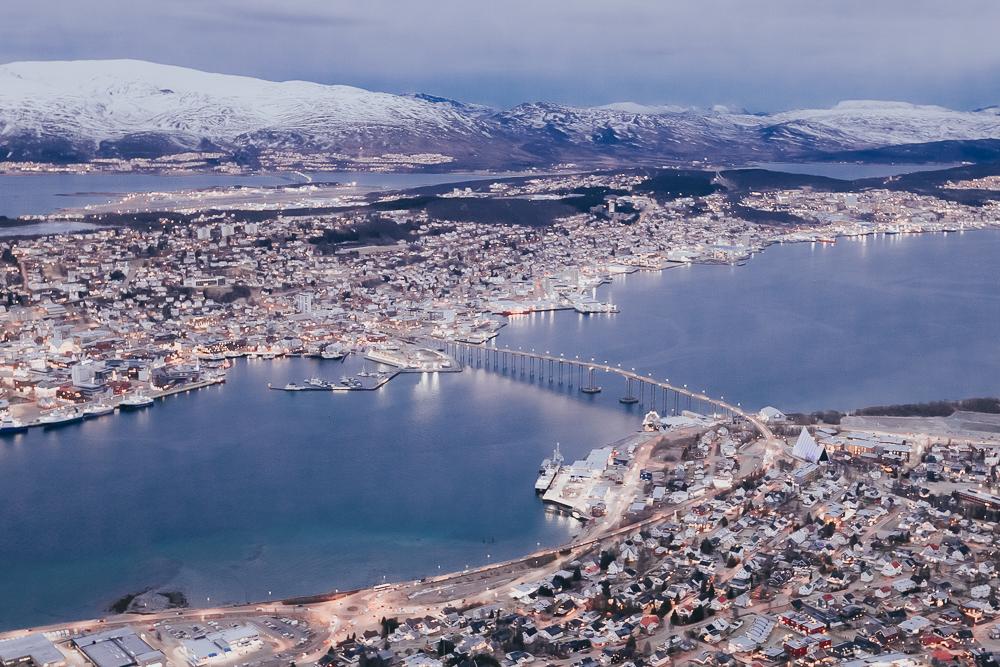 One of my favorite things to do in Tromsø is simply to wander around downtown. There are several cute shopping streets with colorful wooden buildings, and so many lovely cafes and restaurants to check out.
There are also approximately one million souvenir shops here, so if you want to buy any Norwegian trinkets, or perhaps a Norwegian wool sweater, this is the place to do it. Actually if you do want some Norwegian wool, there's a discount store next to the Intersport on Storgata that has tons of heavily discounted wool sweaters, socks, hats, mittens, etc.
Postludium and Edel are two really lovely vintage shops that are worth checking out as well.
Tromsøbadet swimming pool center
Tromsøbadet is a big indoor swimming pool complex in Tromsø. It has several different swimming pools, jacuzzis, a sauna and steam room, and a heated outdoor pool area with beautiful views. I was a bit skeptical before visiting, but it's actually well worth a visit! This can be a great rainy day activity or a fun option if you're traveling with kids.
Christmas in Tromsø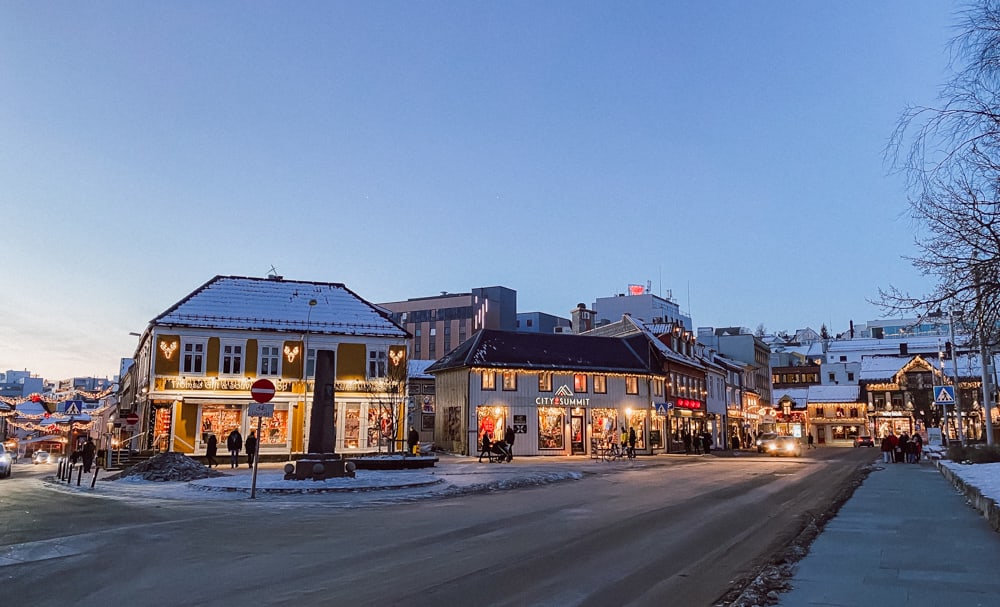 I'm going to be totally honest here: Tromsø is not my favorite place to spend Christmas in Norway. It's definitely worth visiting for Christmas if you want to see the northern lights. Tromsø has lots of pretty Christmas decorations, and in the main square there's a big Christmas tree and a small Christmas market. We also have a ferris wheel set up for Christmas and a tiny ice rink.
However if you're looking for the best Christmas in Norway, I would recommend going to Røros or Mosjøen instead. These are really cute Norwegian towns that get lots of snow in December and have the cosiest Norwegian Christmas I know.